Classic, modern meets rustic in this stunning maroon and navy wedding located at one of Wisconsin's beautiful outdoor venues, The Swan Barn Door. Kate Senger Photography captured this fun, heartwarming affair full of beautiful DIY touches, music from Jukebox Bandstand, and luscious florals throughout. A large wedding party in classic attire, a dress with a story and a groom dressed to impress in a tux from Men's Wearhouse. Chula Vista Shuttle provided transportation for all and they danced the night away after heartfelt and loving speeches from family, and a family-made cake. Read more about Kayla and Zack's memory filled day down below!
WEDDING DATE: 07/14/18

HOW DID YOU MEET? Long story short, we met when we were both sophomores in high school. We went to different high schools, but our schools were playing each other in baseball. Funny thing is, I met his best man that day and turns out we actually went on a date first. Zach and I didn't meet until a couple of weeks later. He's the one that introduced us!
HOW DID YOU KNOW YOU'D MEET "THE ONE"? This is a hard question. I would say that for me, I knew he was the one when we both left Wisconsin and moved out to go to college in Colorado Springs together. The cool thing was we both lived in separate houses for 4 of the 5 years we were there. I lived with four girls, and he lived with four guys. That way we both could do our own thing, while also having each other there at the same time. I really realized that he was the one when I got that "home" feeling being with him out in Colorado.
TELL US ABOUT YOUR PROPOSAL: We were in the Apostle Islands celebrating our 6 years together. One of our nights there, Zach drove us up to this golf course on the top of a hill, overlooking all the islands. We went out to one of the holes and were sitting on the bench when he told me to show him my best golf swing. When I turned around after my swing, he was down on one knee. My first thought was that it was a joke! I told him to get up right away and laughed!
WERE THERE ANY PERSONAL TOUCHES OR DIY ELEMENTS? Our wedding decor was mostly all DIY/ personal touches! Our moms were honestly the best crafters/décor team around! All our signs were homemade, primarily out of wood pallets that we spray painted and decorated ourselves. We handmade all of our centerpieces - painted wine bottles to display flowers, used wine corks to hold the table numbers, wire flowers were made and decorated with nail polish to differentiate food choices on the name cards, etc.
WHAT WAS YOUR WEDDING COLOR PALETTE? Maroon and Navy Blue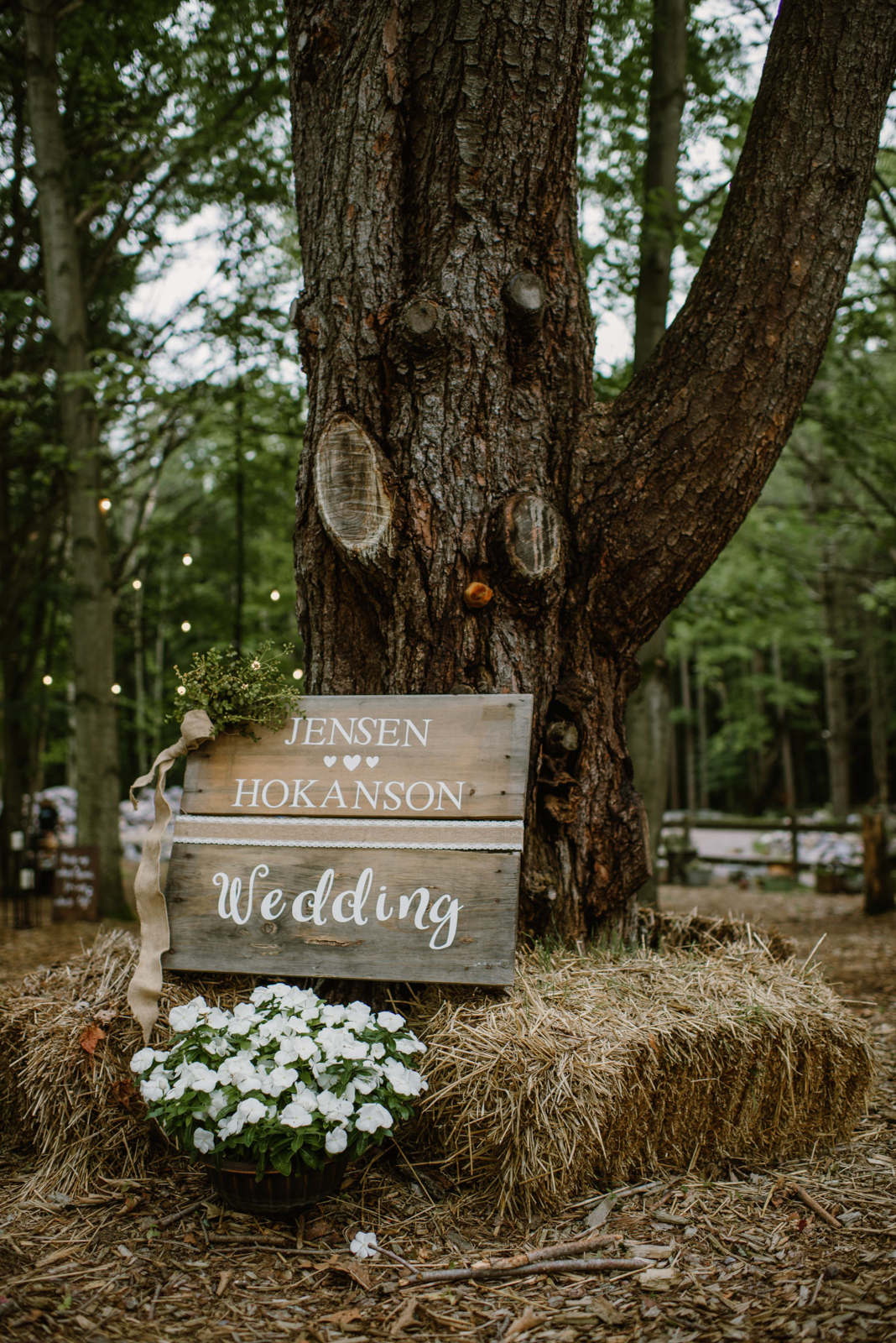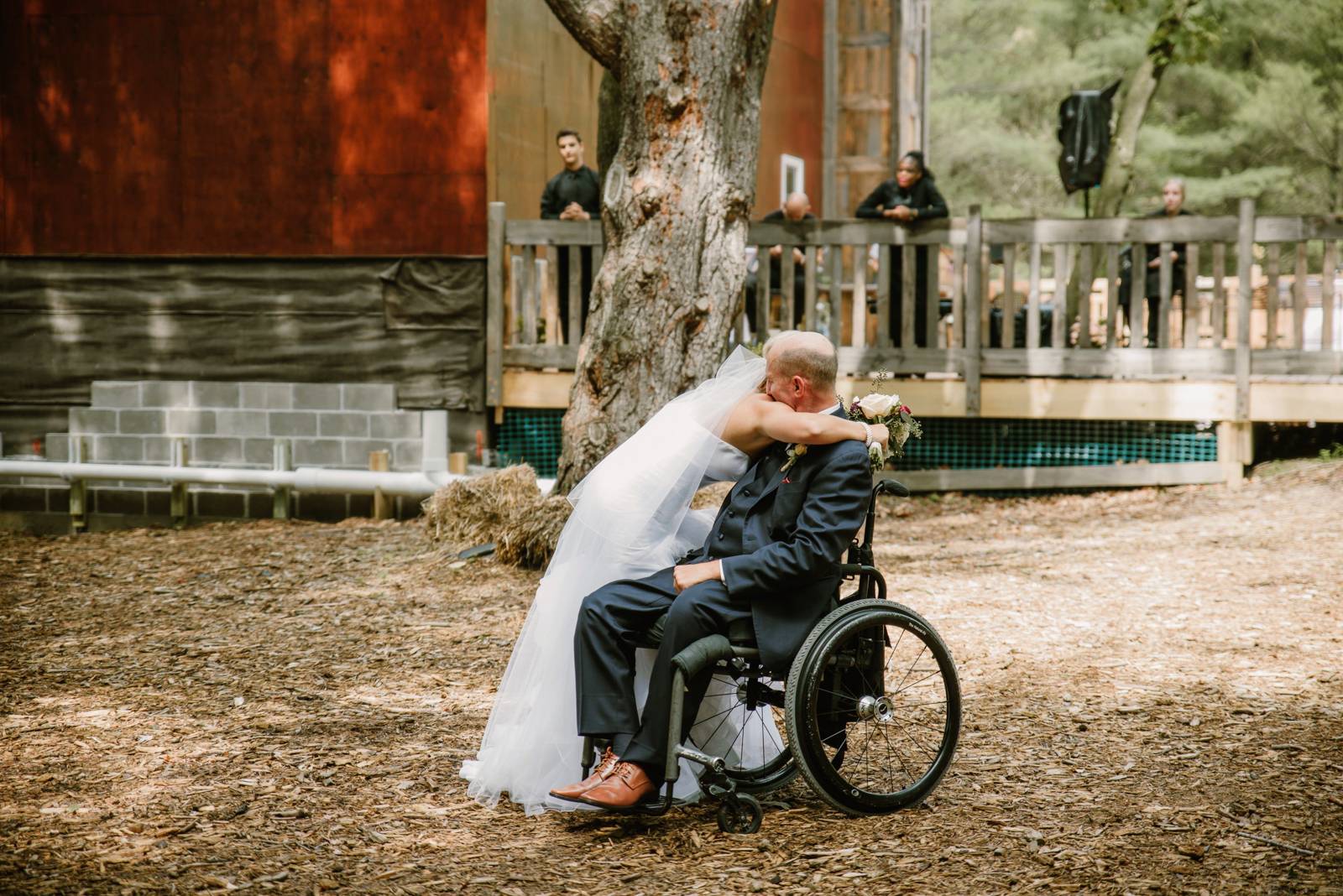 TELL US ABOUT FINDING YOUR DRESS: This is sort of unbelievable, but I actually found my dress at the first store I went too. I also ended up buying the first dress I EVER tried on. I went with my mom, sisters and about four of my bridesmaids to Tie the Knot in Green Bay. The first dress I tried on I fell 100% in LOVE with. It was honestly just perfect. I told myself okay, this is only because it's the first wedding dress I'm trying on. I tried on about 12 other dresses that day and couldn't help but keep thinking about that first one. I decided I didn't even want to look anywhere else, that was the dress!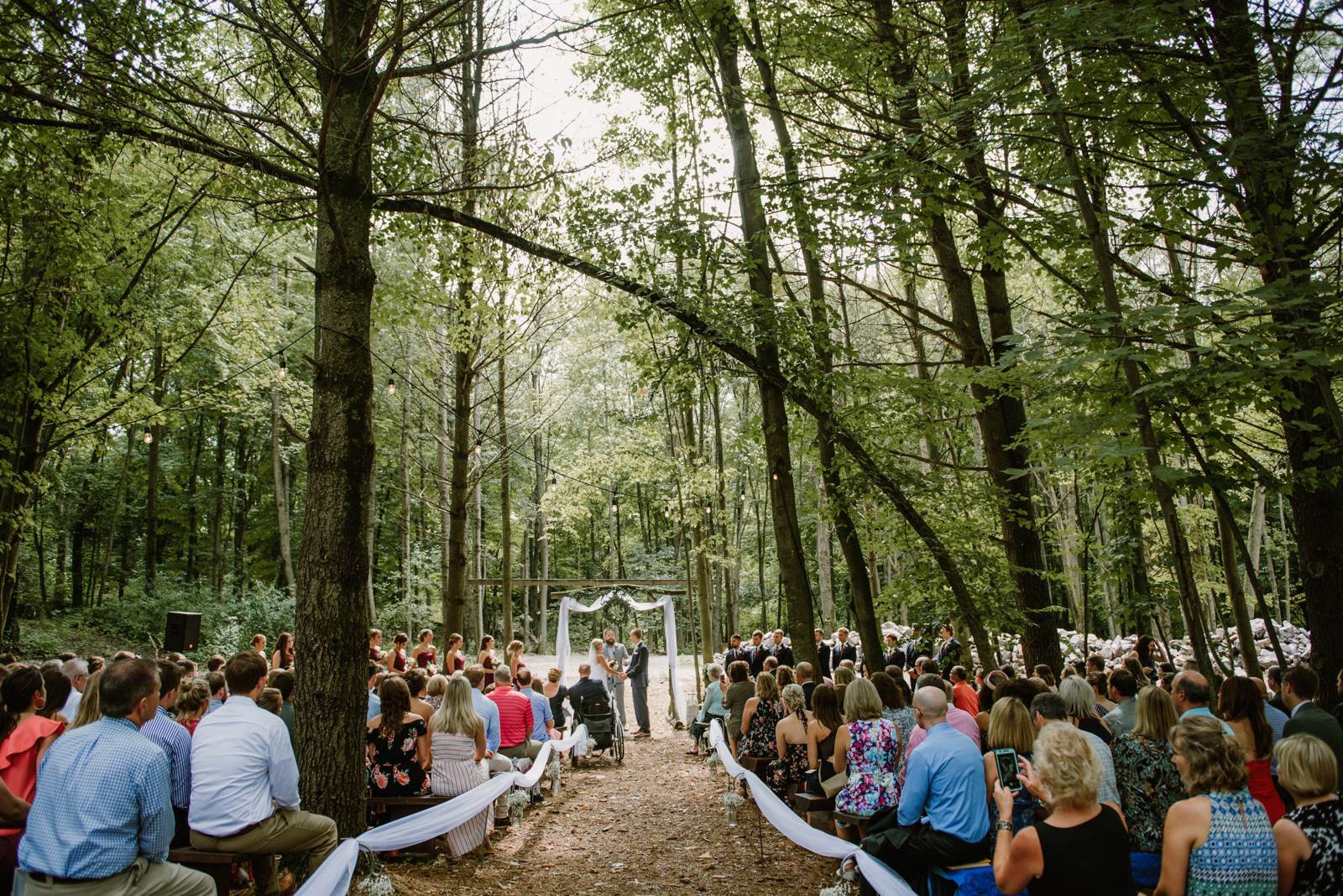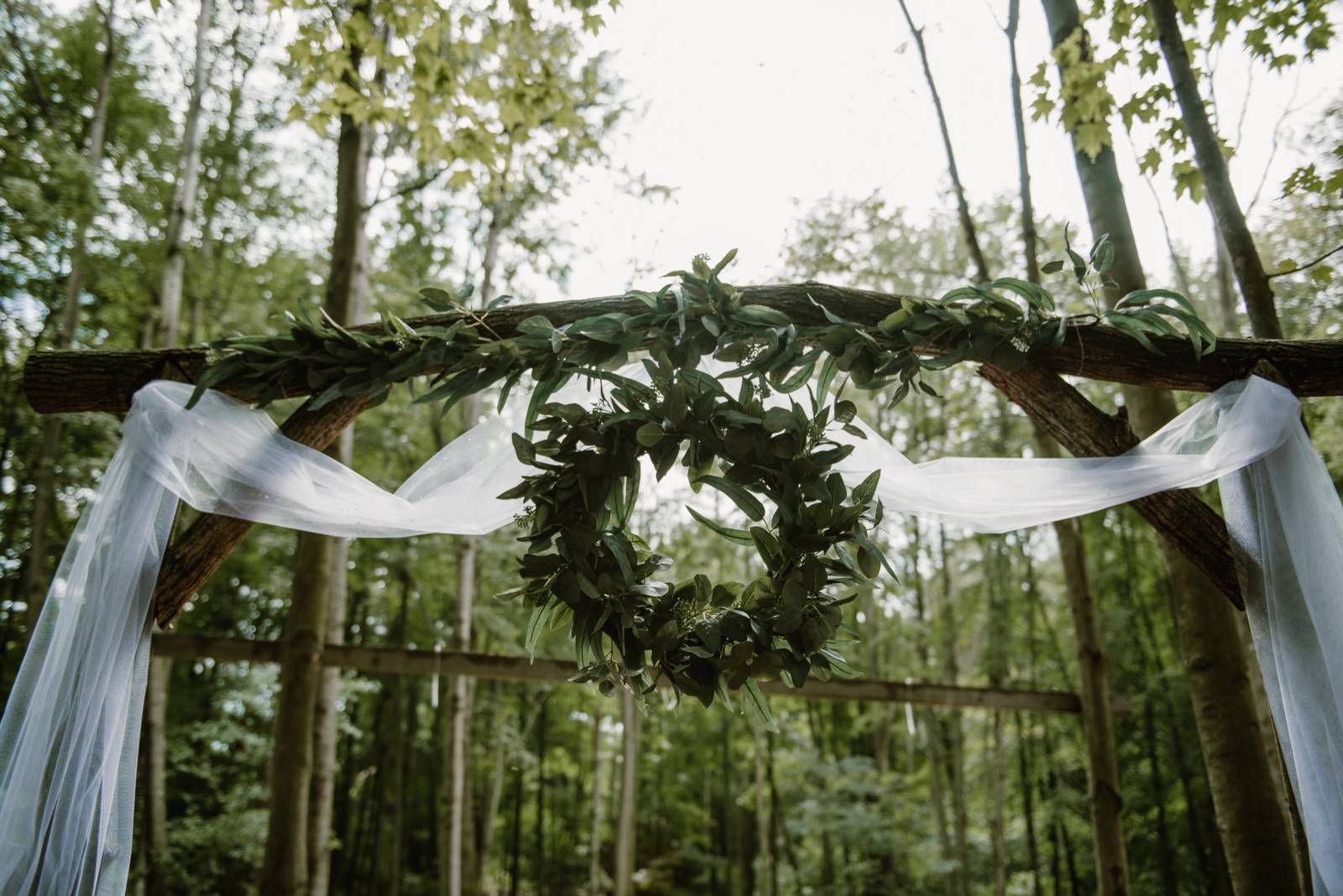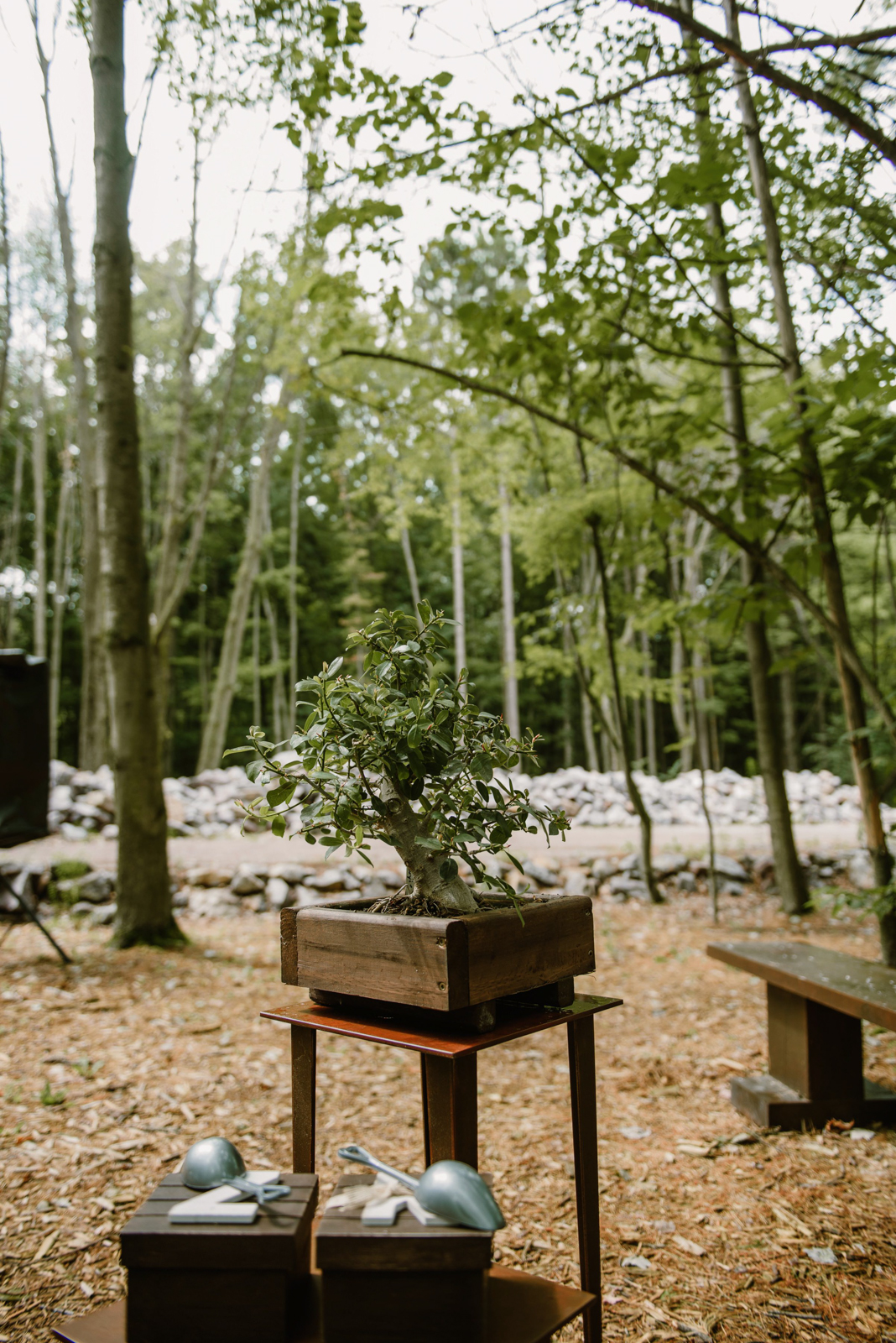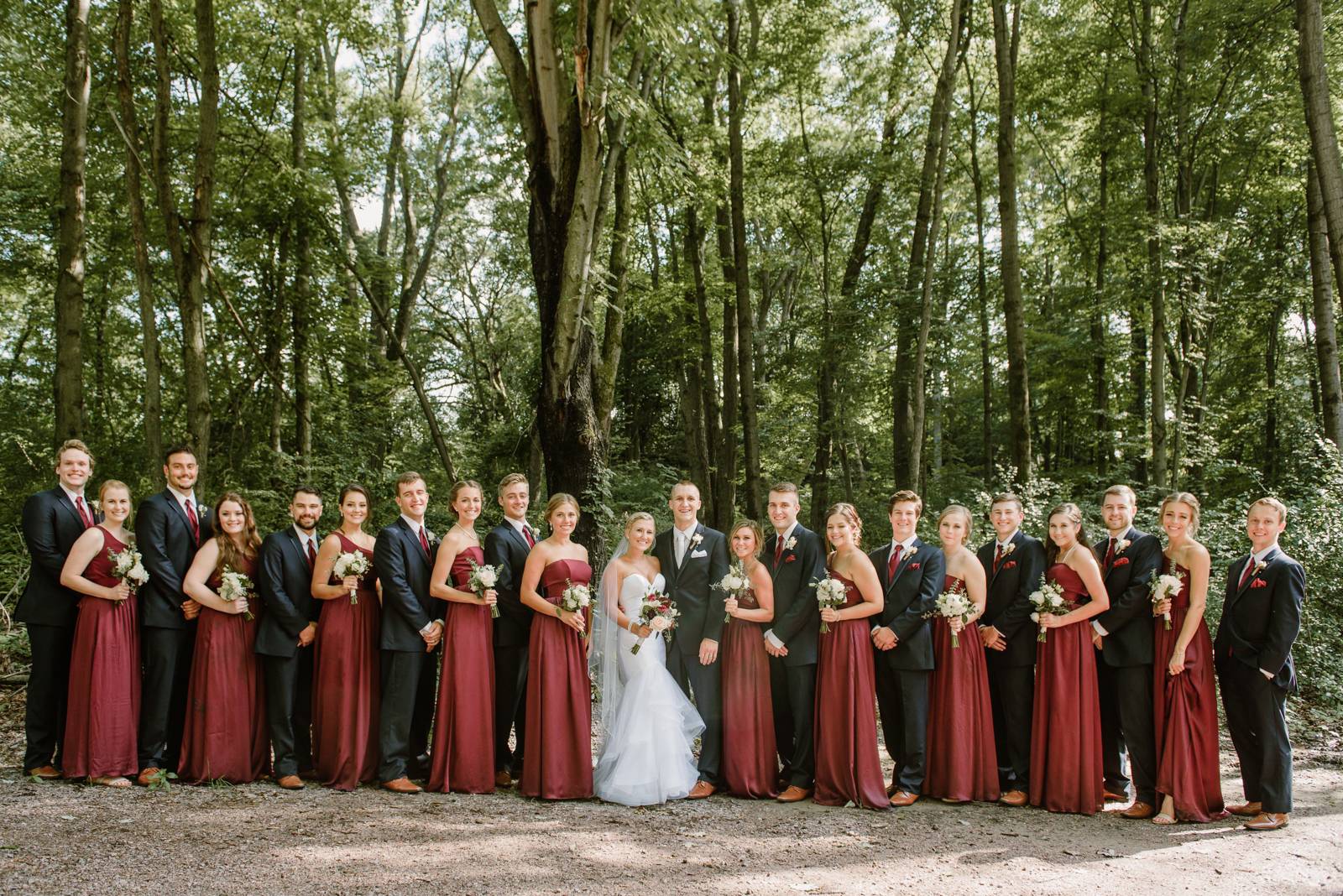 DESCRIBE YOUR WEDDING FLOWERS: We used white flowers in mason jars that hung on Shepard's hooks down the aisle. The bridesmaid bouquets were all white flowers with greenery. My bridal bouquet was a beautiful mix of white and different maroon colored flowers accented with greens. The men's corsages were white. My beloved Grandma, the morning of the wedding, gave me a tiny dried up rose about the size of a pea. She shared with me that it was a rose she had kept from her bridal bouquet! It was so incredible and heartfelt that she gifted it to me.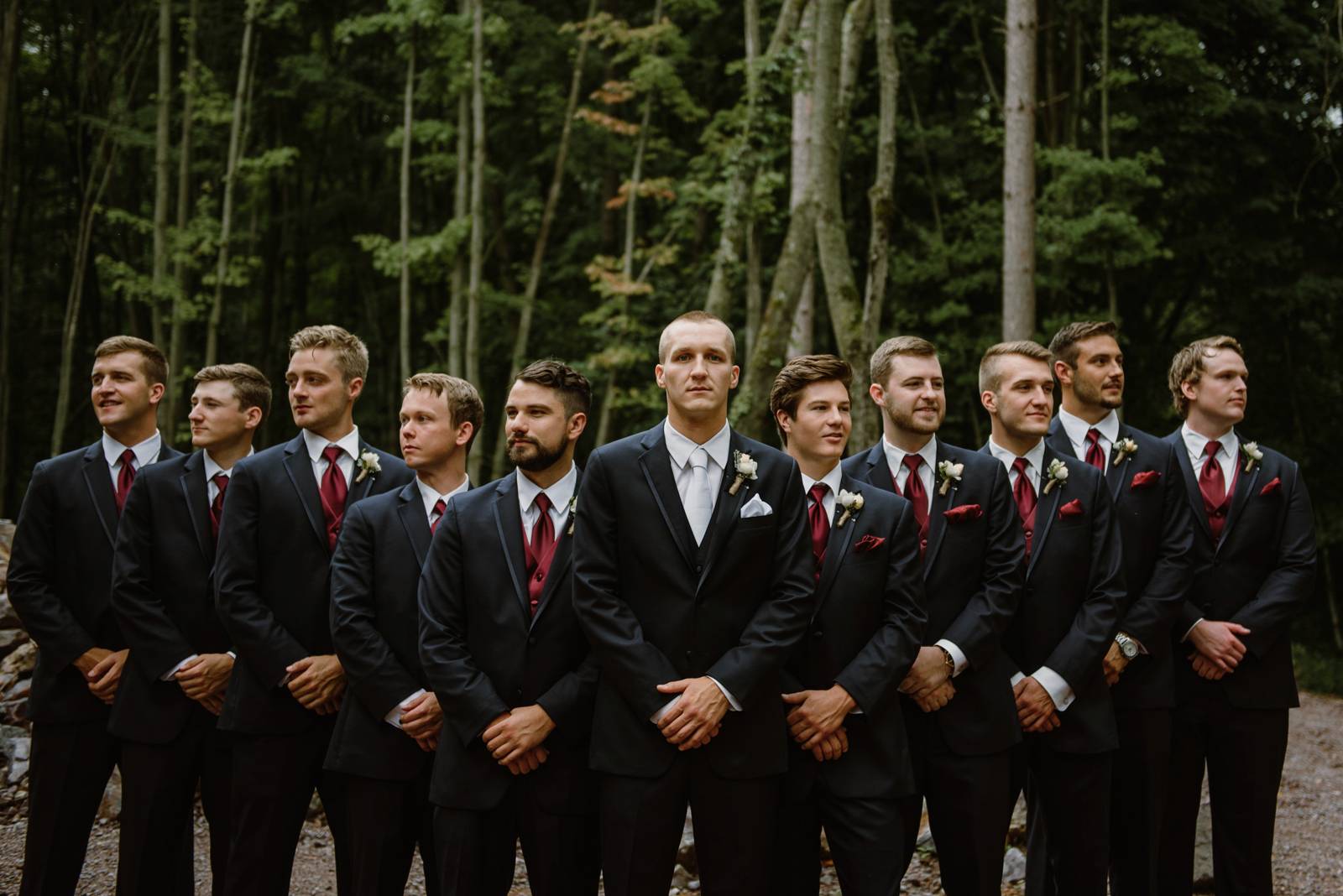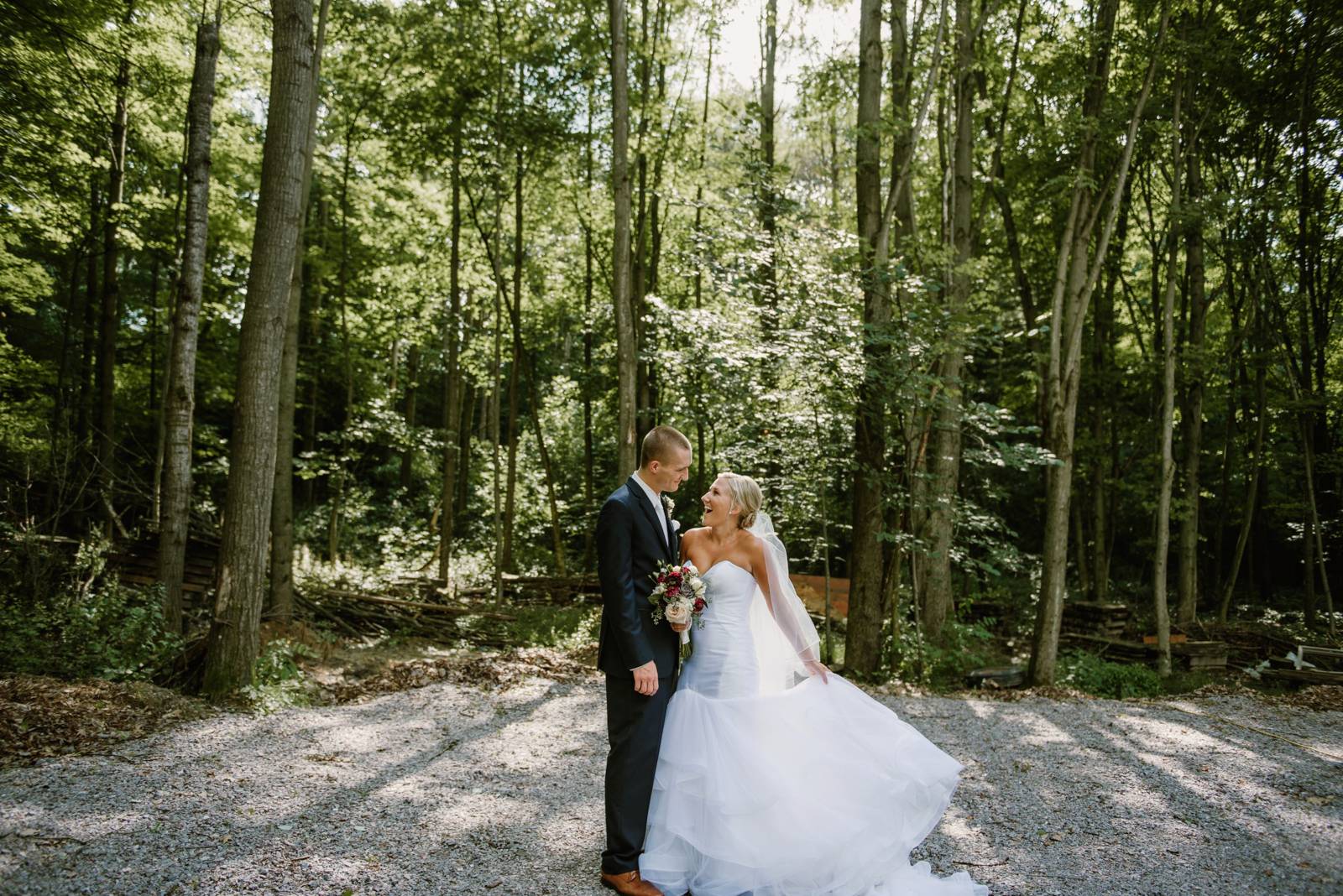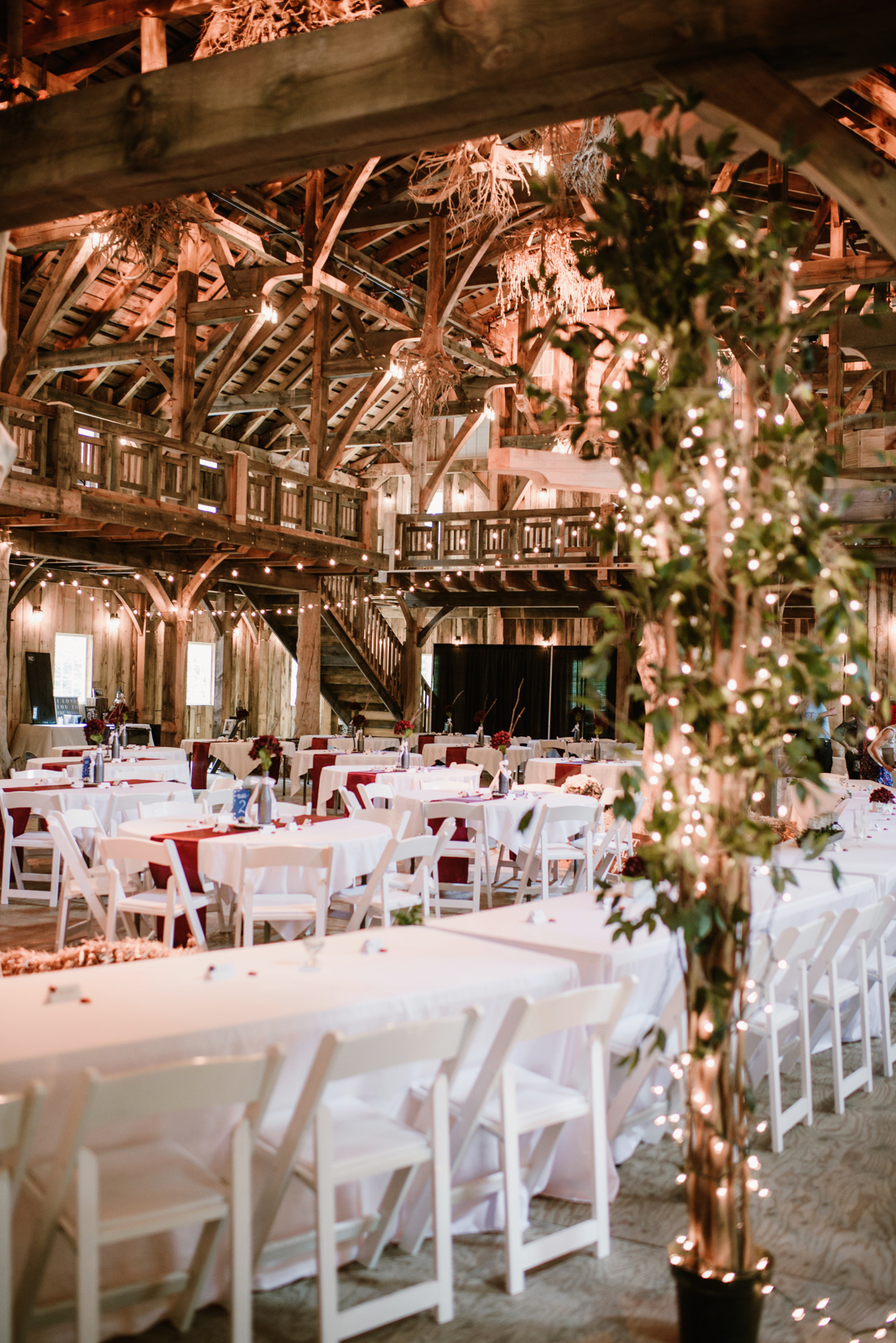 DID YOU USE ANY SPECIALTY CHAIRS, LINENS, CHARGERS, GLASSWARE OR DINNERWARE? Zach and I used the same champagne glasses that my parents used at their wedding. Also, our cake table linen was a tablecloth that my Grandma had made and used at her own wedding.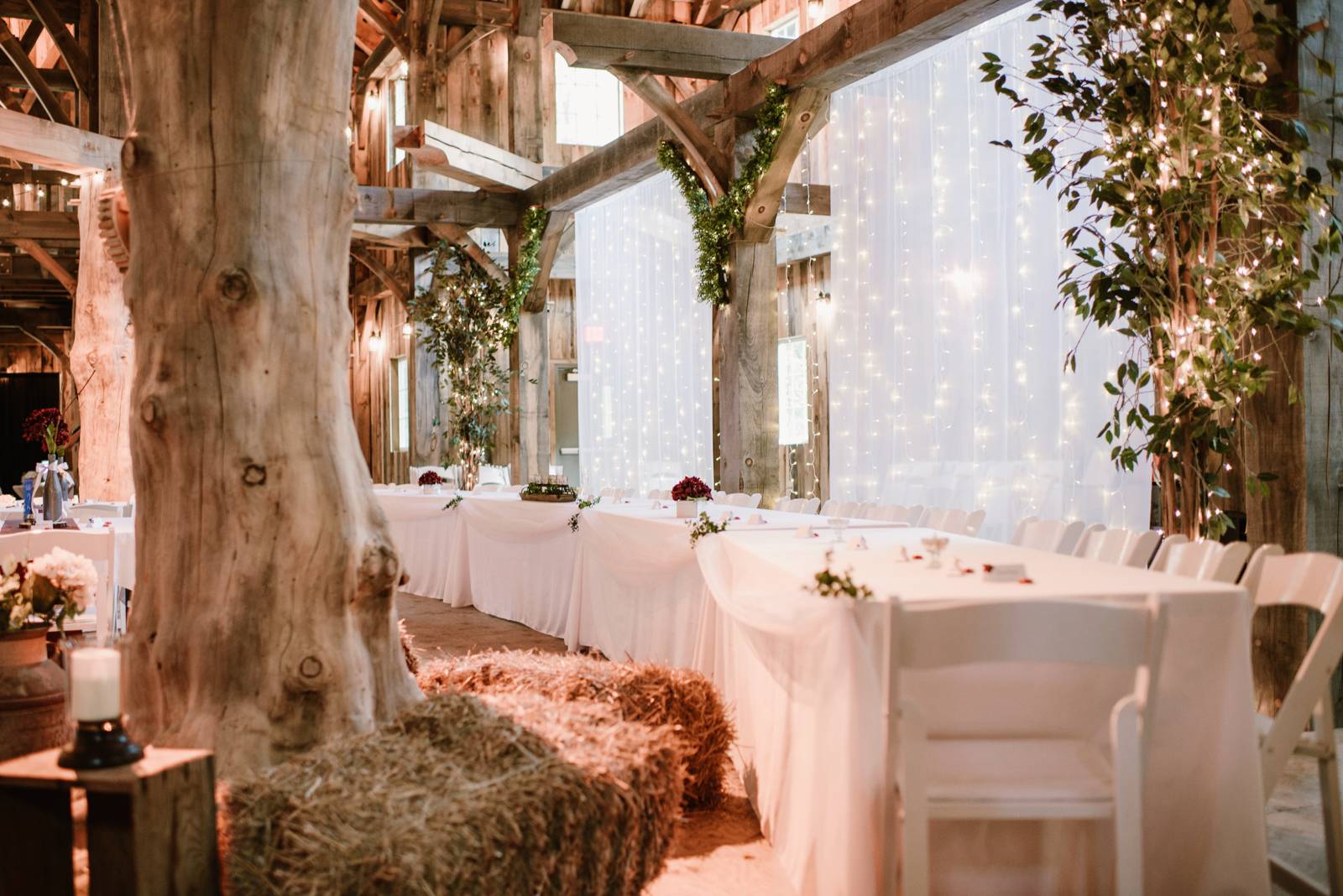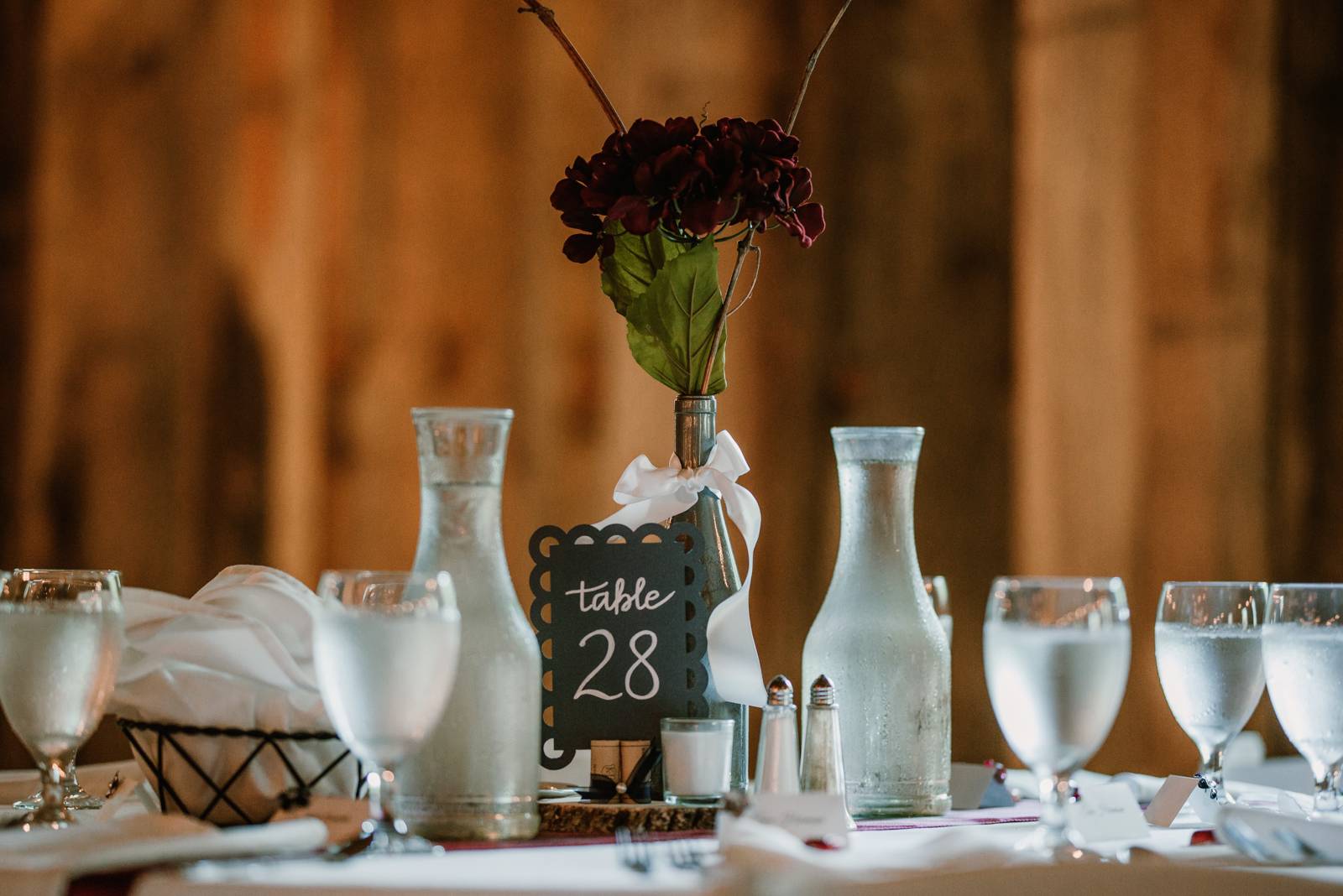 TELL US ABOUT THE FOOD, DESSERTS AND ANY SPECIALTY BEVERAGES ON THE MENU: Our food was hands down UNBELIEVABLE. Zach's cousin Carley made us the BEST cake I could have ever dreamed of. My favorite kind of cake is funfetti, so of course, this was one of our three cake tiers. The other flavors were Red Velvet (Zach's favorite) and marble (always a crowd pleaser).
WHAT WAS YOUR FAVORITE MOMENT FROM YOUR WEDDING? Honestly, I have two favorites. My first favorite would have to be listening to the speeches. My dad, my sister (maid of honor), and our best man gave the most heartfelt speeches. It was such a memorable moment because while they were talking, I got to look out into the crowd of everyone that we loved and really take in the moment. It was something I'll remember forever.
My second favorite moment of the wedding is very unique. My husband and his four closest friends have this tradition of singing the song Piano Man by Billy Joel. I always remember them in high school jumping up on pool tables or whatever was around so they would be up above everyone else at the party, and the five of them would sing that song together. No one else was ever allowed up to sing with them. At the wedding, Piano Man came on, and the five of them jumped up on the hay bales on the dance floor and started singing. The moment when they pulled me up to sing with them brought tears to my eyes! It was incredible.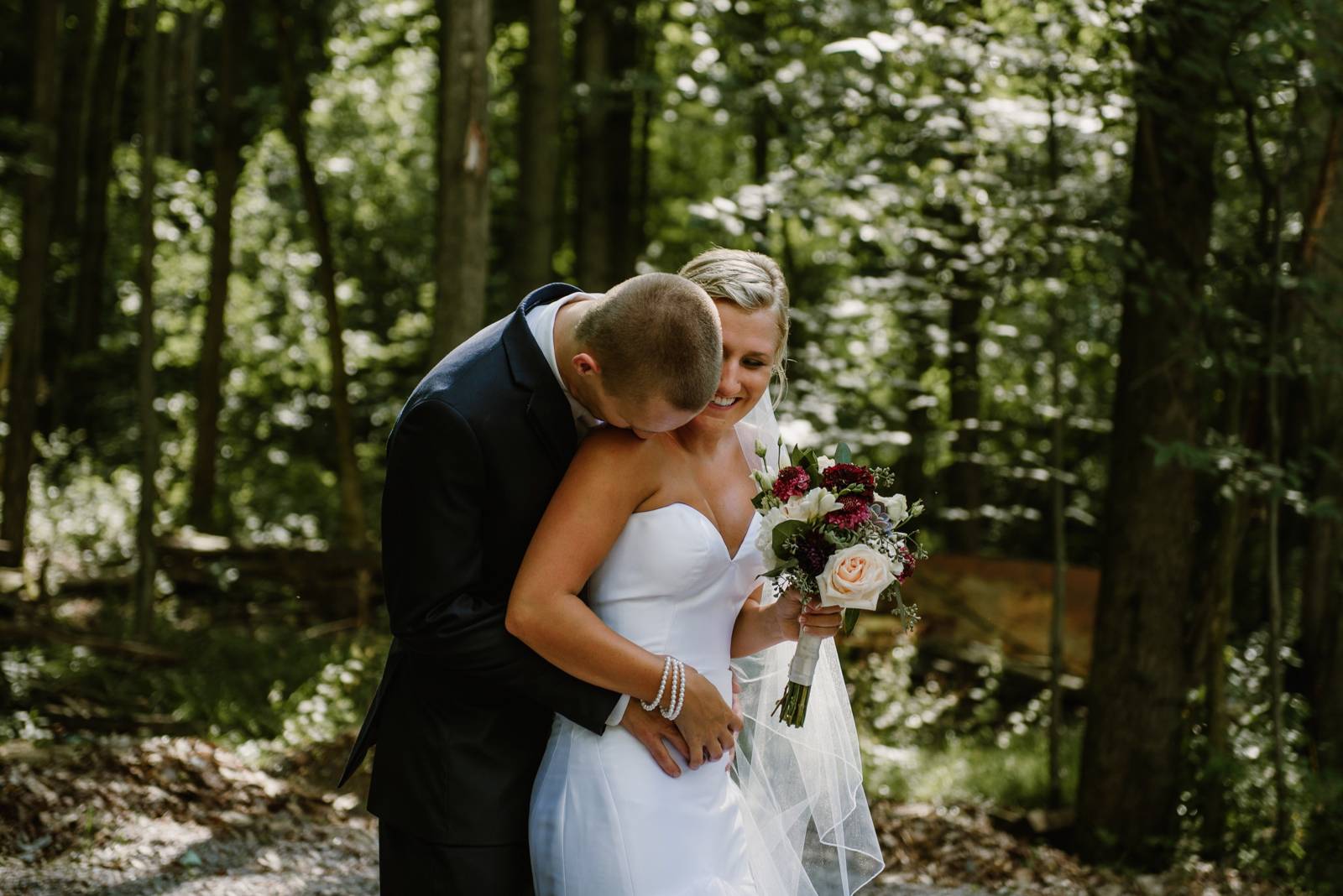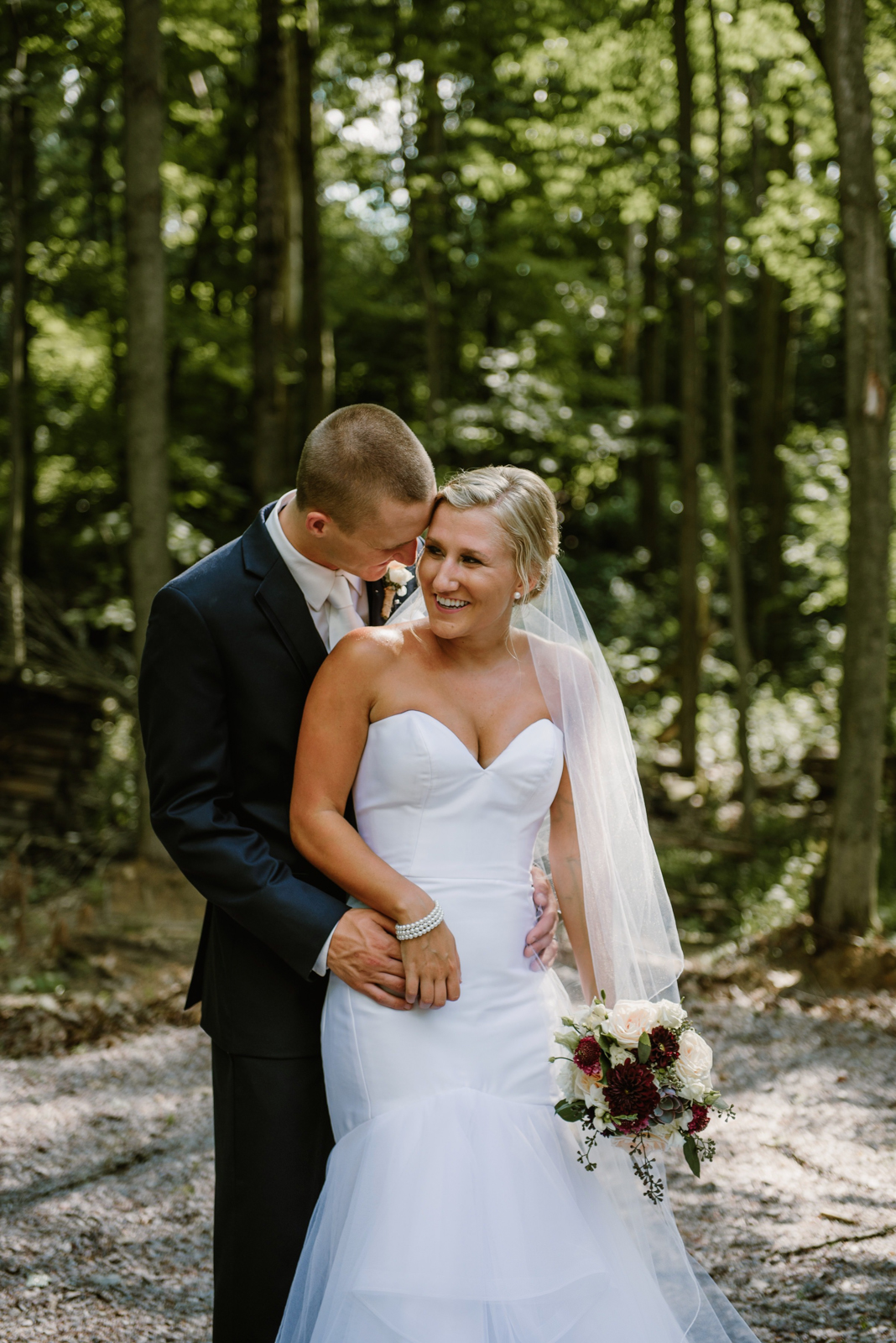 TELL US ABOUT YOUR HONEYMOON: We actually have yet to go on our honeymoon. We got married in the middle of July, and I was scheduled to take my NCLEX (Nursing Boards Exam) at the end of August. We also were working on moving to Madison and applying for our first professional jobs since graduating college in May. It was an incredibly busy summer that didn't stop after the wedding! We didn't want to rush our honeymoon or be stressed during, so we decided to push it off for a while. We have our money set aside for the trip though and plan to go sometime maybe in the fall of 2019. We will for sure be traveling out of the country, but that is all that is set in stone so far!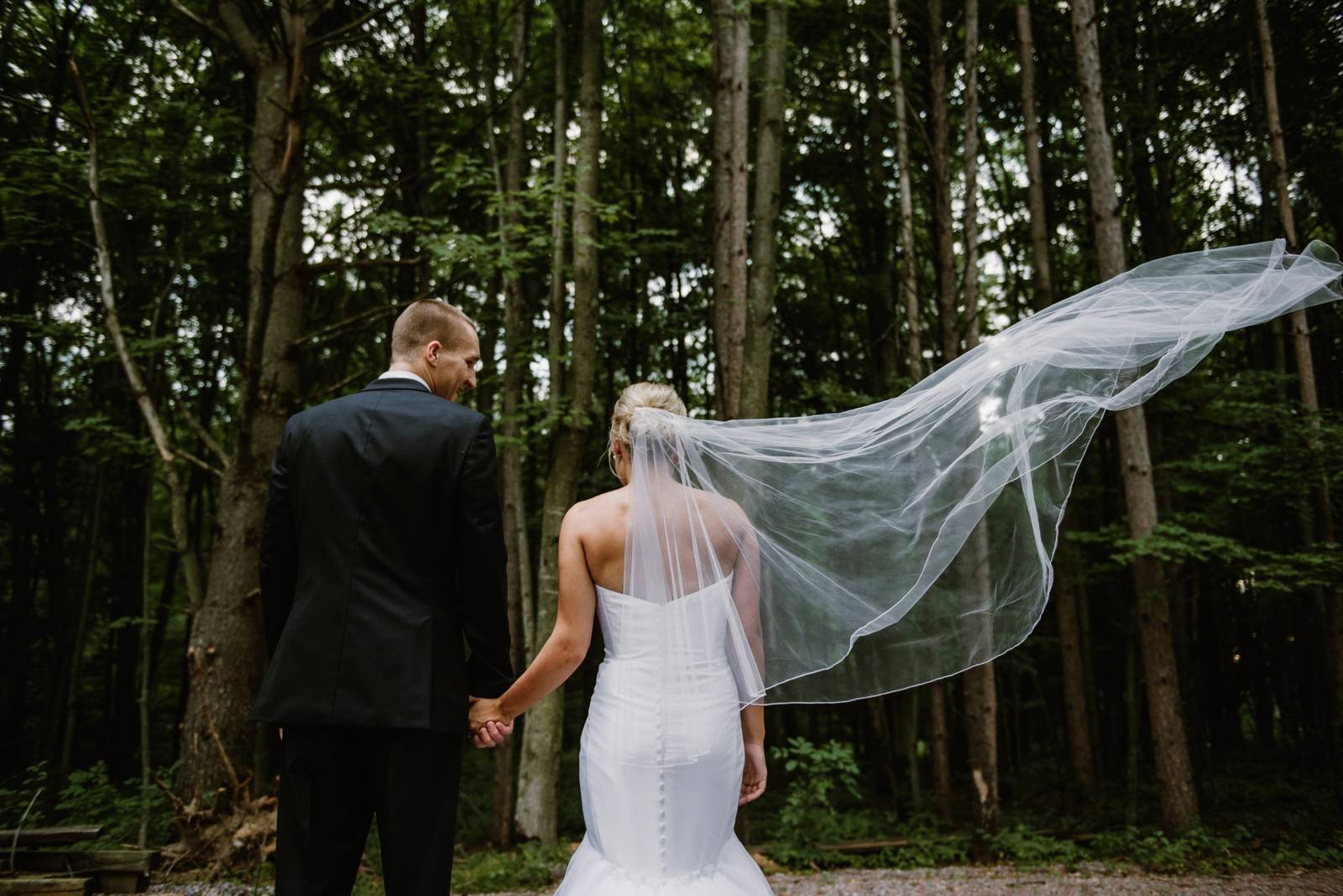 IS THERE ANY ADVICE YOU'D GIVE TO OTHER COUPLES PLANNING THEIR WEDDING? Enjoy it! We loved planning our wedding. If it gets to a point where it's getting stressful, stop for the night and pick it up again the next day. Also, don't be afraid to ask for help. We had ten bridesmaids, ten groomsmen, and a family that it wouldn't have been possible without!

ANY WEDDING PLANNING REGRETS YOU'D DO DIFFERENTLY? This is a funny answer, I honestly had the hardest time with my fake eyelashes that day and night. I had only ever worn fake eyelashes a few times before that, so they drove me insane the whole day! I also forgot to put my veil down in front of my face before walking down the aisle (which I had planned to do), so it was back the whole time. It sounds cheesy but other than those two very superficial details, it was honestly the most perfect day.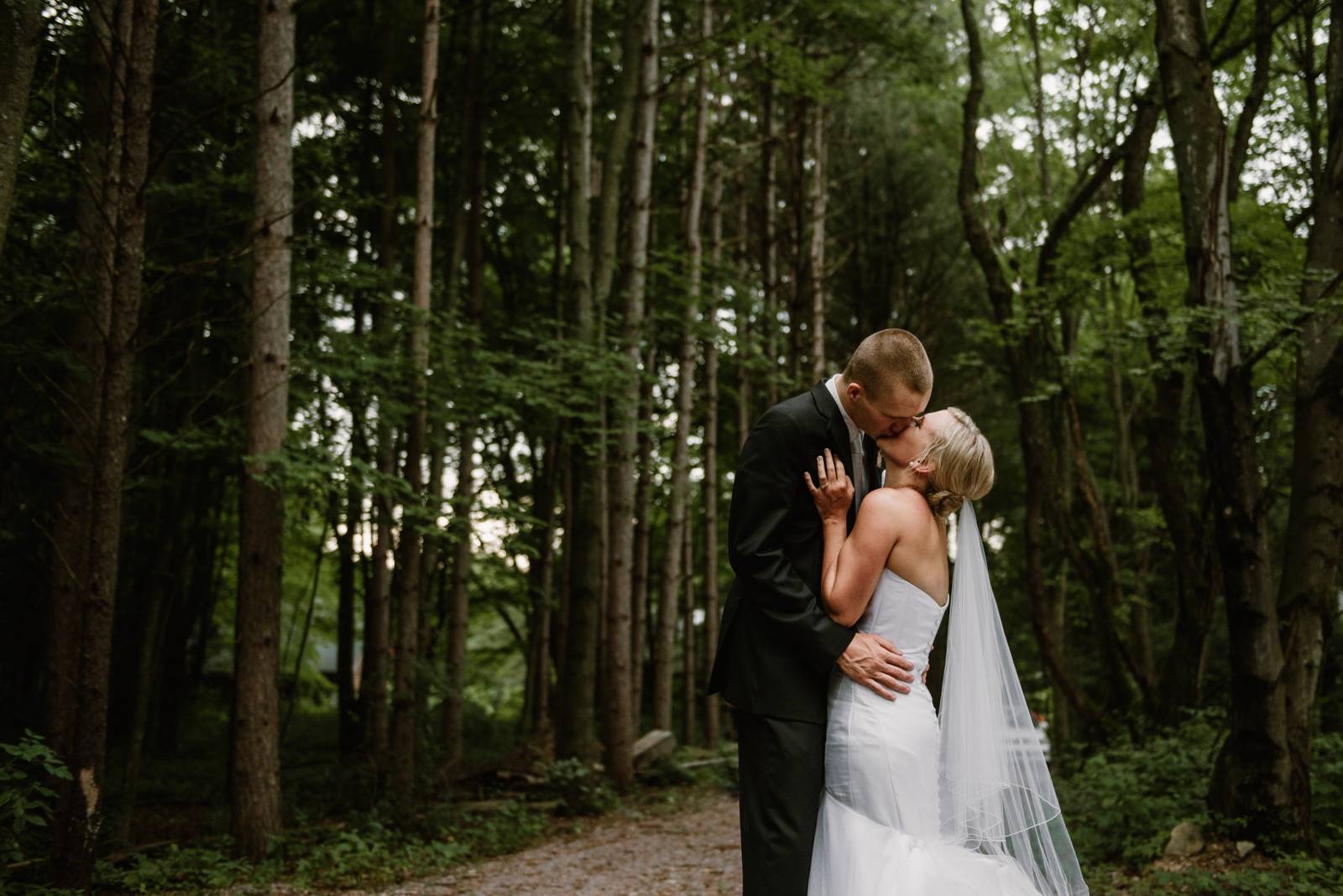 WHAT DOES LIFE LOOK LIKE AFTER THE WEDDING? Life for us is just enjoying being married! We both took our first jobs after college and really like them. We also just adopted a new puppy from the Humane Society, so that is keeping us busy as well! We are genuinely just enjoying being married and getting to live together with only the two of us.