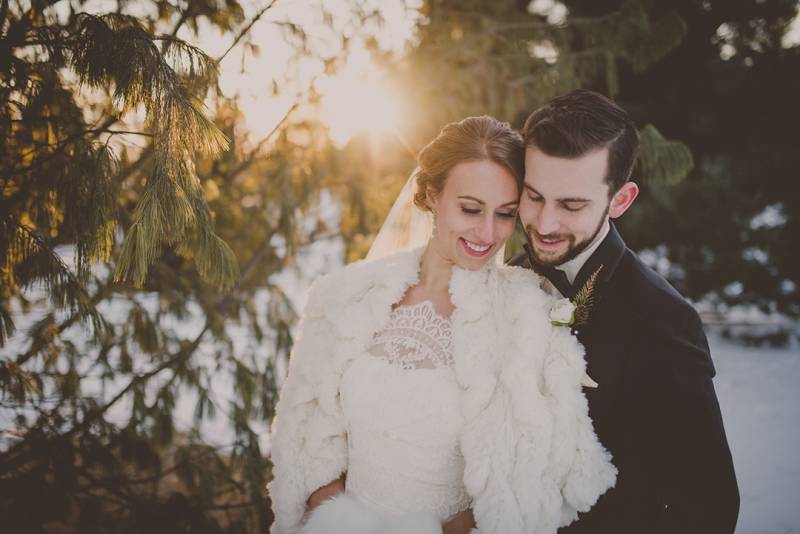 We're loving the rich hues of marsala in this stunning winter wedding captured by Twig & Olive. The bouquets were custom made by the bride herself, Brittany, with peonies, woodsy greenery, hints of gold and cones to give a beautiful and elegant winter feel.
WEDDING DATE: February 13th, 2016

HOW DID YOU AND YOUR HUSBAND MEET? Kip and I met in college at UW- La Crosse. A group of friends needed a picture taken so I asked a random man (Kip) to take our photo.
HOW DID YOU KNOW HE WAS "THE ONE"? I was living in California and my life was missing something. Kip and I were on a long-distance break and I decided to cold call him and see how he was doing. We picked up exactly where we left off and I moved home so we could continue to write our love story. I never felt more myself than when I am with him. He makes me laugh every day, especially with his song remixes.
TELL US ABOUT YOUR PROPOSAL: I told Brittany we were going on a dinner date and asked her to dress nicely. We ate a nice meal at Sardine in Madison, WI, and I was timing the sunset on my phone. We even finished our meals too early before sunset so I convinced her to order dessert to buy more time. After dinner, we took a walk to the end of the Tenney Park Pier on Lake Mendota and I proposed to her as the sun set over the lake. I had my sister hiding along the pier to capture the moment on camera.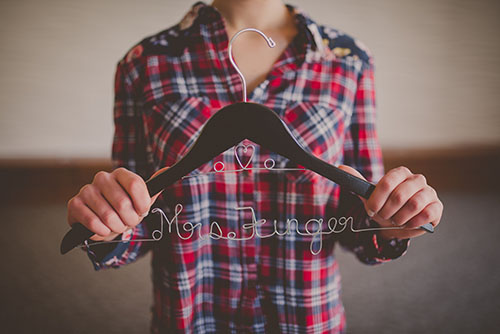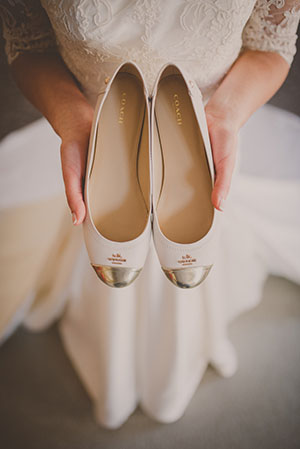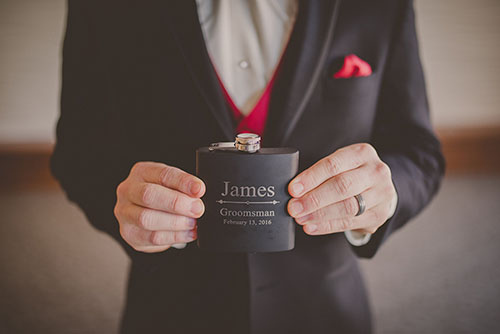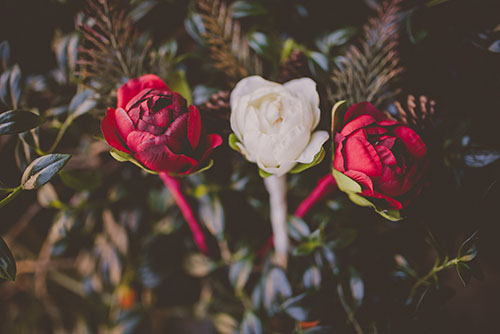 TELL US ABOUT YOUR DRESS: I always pictured myself getting married in a dress with long sleeves; little did I know long sleeves were not available in many dresses at the time. Thus my dress was a combination of two pieces. The delicate lace bolero was ordered to go over my satin trumpet style gown. I was nervous ordering two pieces from two different companies; Would the colors compliment one another? How can I attach the top of the dress to the bottom? Thankfully I had an excellent seamstress to pull off the combination dress.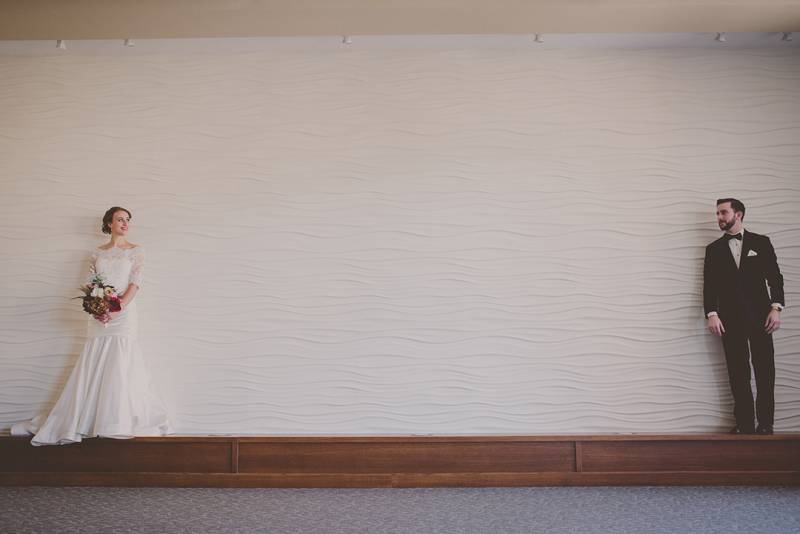 DESCRIBE YOUR WEDDING FLOWERS: Made with love. This was one of the most fun to do myself. My bouquet incorporates marsala colored peonies, branches of pine, a few pine cones, and lambs ear to warm up the winter feel.
WERE THERE ANY PERSONAL TOUCHES OR DIY ELEMENTS? Almost everything was DIY! I love craft projects and the wedding was the perfect way to let my creativity flow. I DIY'ed everything from the bouquets to boutonnieres, centerpieces, signage, champagne glasses, wedding party glassware, unity candle, name cards, programs, church decor, and we even had a fake cake that Kip and I decorated. My favorite personal touch was having our parents' and grandparents' cake cutting wedding photos around our cake. It was fun to cut our cake around photos of our family doing the same thing years ago.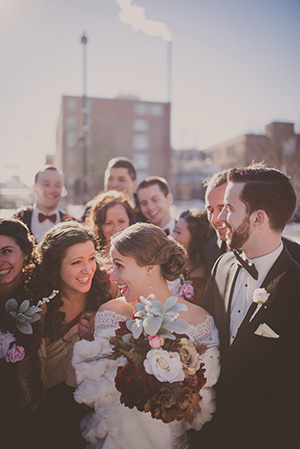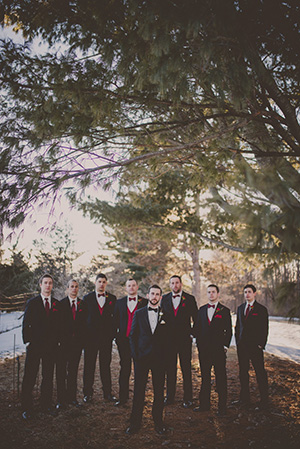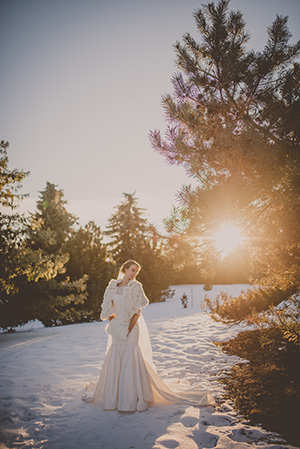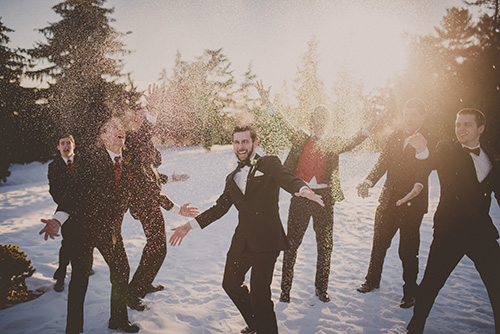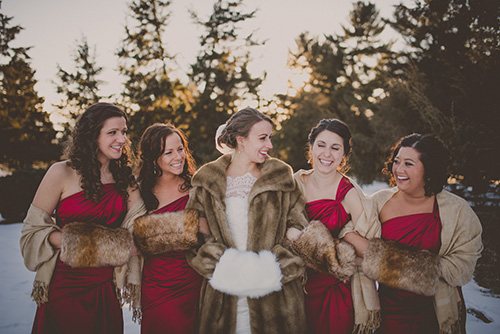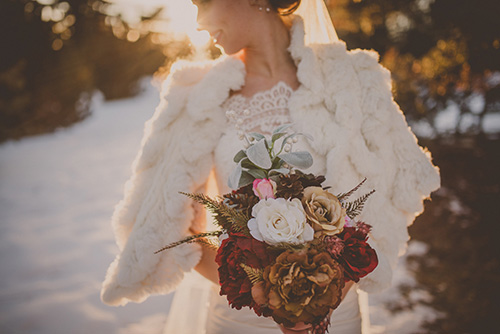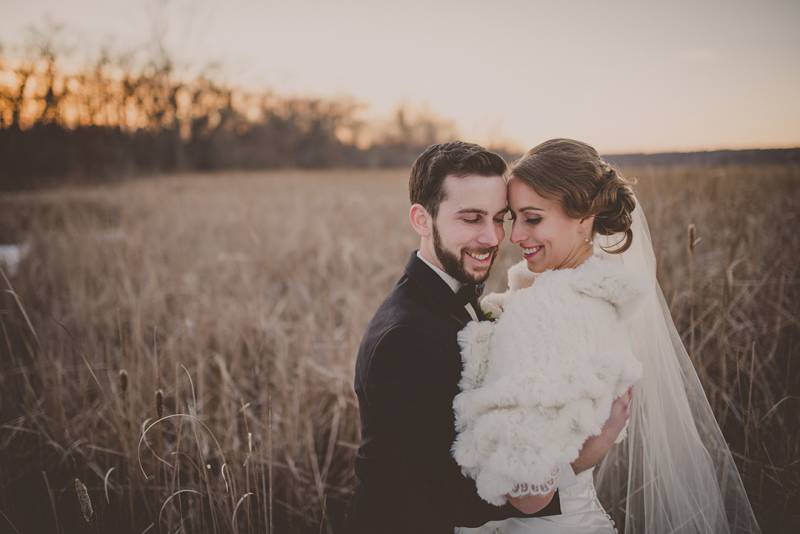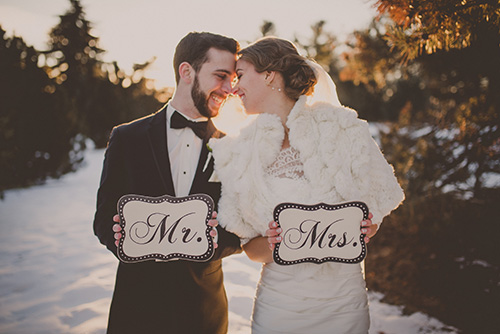 WHAT WAS YOUR FAVORITE MOMENT FROM YOUR WEDDING? My favorite moment from our wedding day was our first dance. We had a semi-choreographed dance to "Just The Way You Look Tonight" by Frank Sinatra. It was a moment where we could fully enjoy each other and reflect at how amazing the day was.
DID YOU USE ANY SPECIALTY CHAIRS, LINENS, CHARGERS, GLASSWARE OR DINNERWARE? I hand painted all of the glassware to match everyone's outfits. My champagne glass even has buttons going down the back to match my gown. Kip's champagne glass featured a tuxedo identical to the one he wore. Bridesmaids, groomsmen, ushers, and parents of the bride and groom had coordinating glassware.