Chelly and Mark's casual laid back outdoor Madison wedding at Tenney Park IS the proverbial "all that and more!" Harmonious Union Events assured that this lovely couple would have a day to celebrate their marriage, their sweet little newborn baby and the people they loved, filled with memories of a lifetime! With a dreamy bridal bouquet like this one and table greenery from Madison wedding florist, Sweet Pea Floral, fruitwood chairs, and harvest tables accented with lace runners from Event Essentials, lounge furniture and vintage dessert plates from A La Crate Rentals, you know it's going to be spectacular....all captured behind the lens with Audre Rae Photography.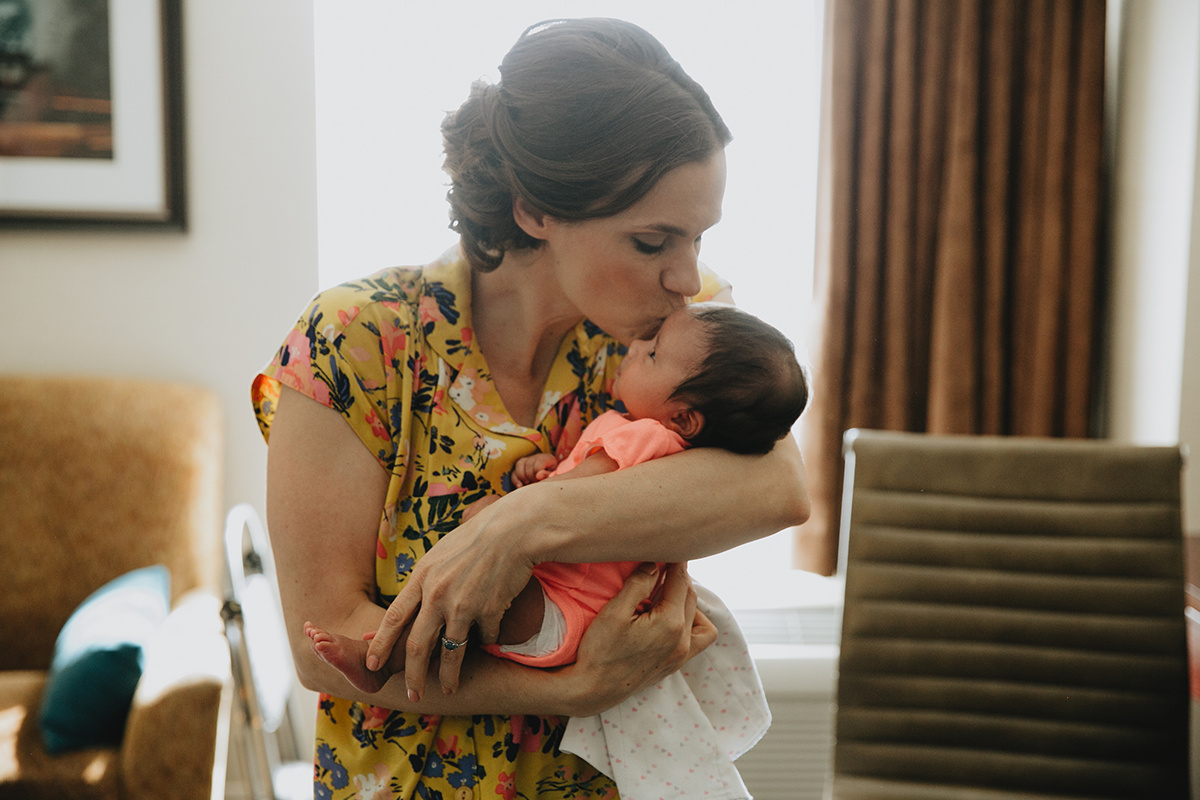 WEDDING DATE: 09/16/2017

HOW DID YOU MEET? Doing Crossfit.
HOW DID YOU KNOW HE/SHE WAS "THE ONE"? I think we knew on our first date. We have similar worldviews, interests, and goals. We communicate with each other really easily.
TELL US ABOUT YOUR PROPOSAL: We were on vacation in Miami. We went out to a nice dinner and Mark proposed right before dessert.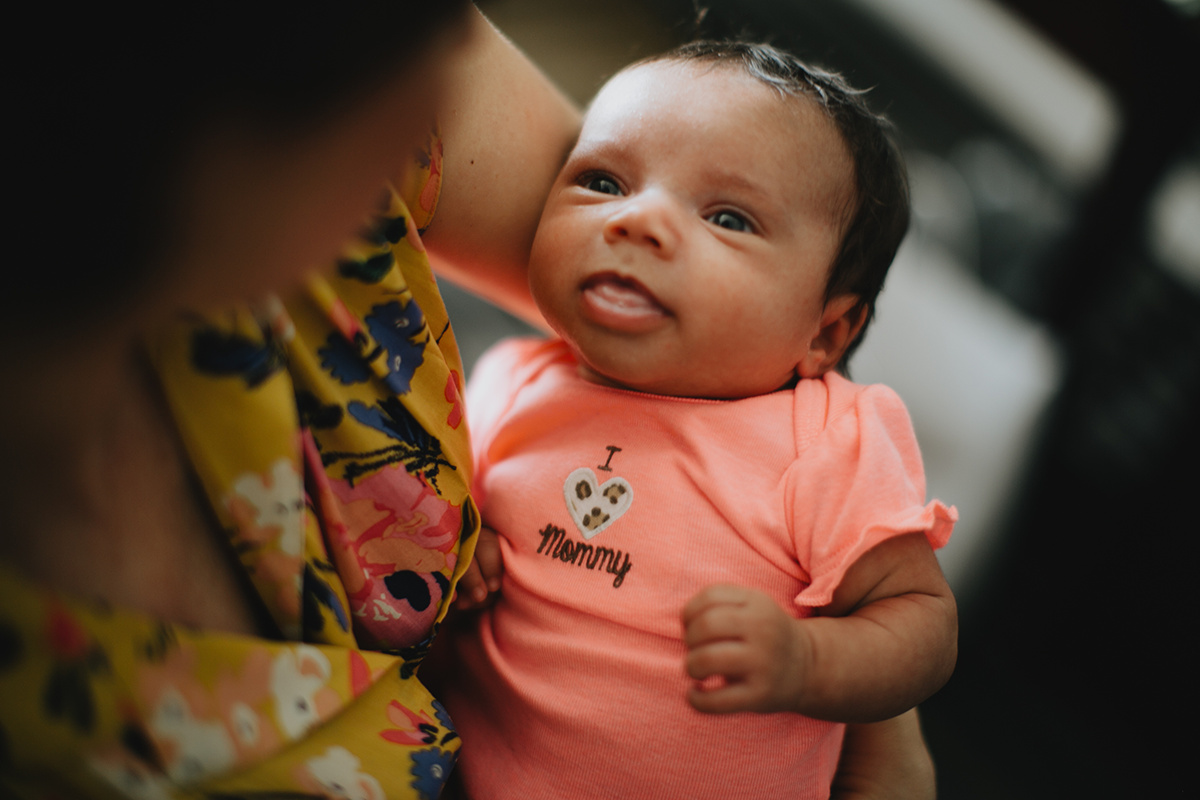 TELL US ABOUT FINDING YOUR DRESS: It took a few trips to a few different shops. And a couple trips back to the same shop when I found it. The dress had a mix of modern and traditional elements, which suits my personality. The flower design in the lace was my favorite detail.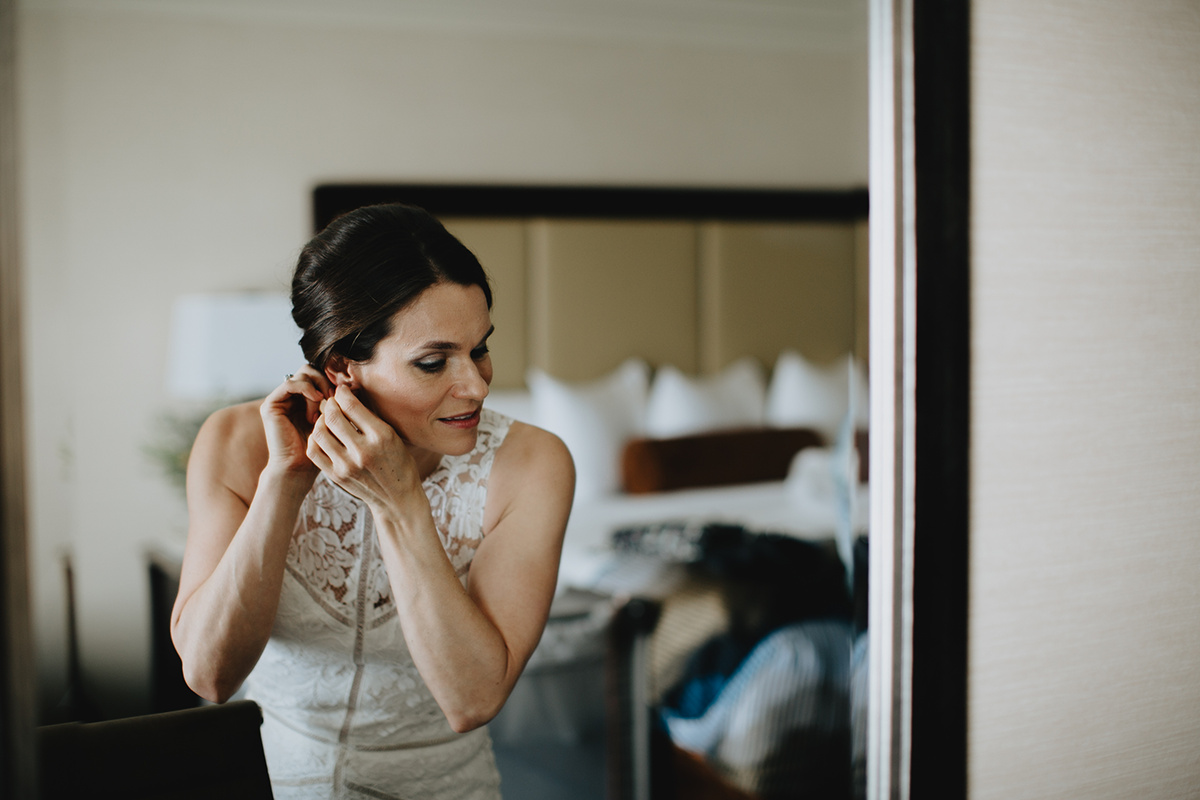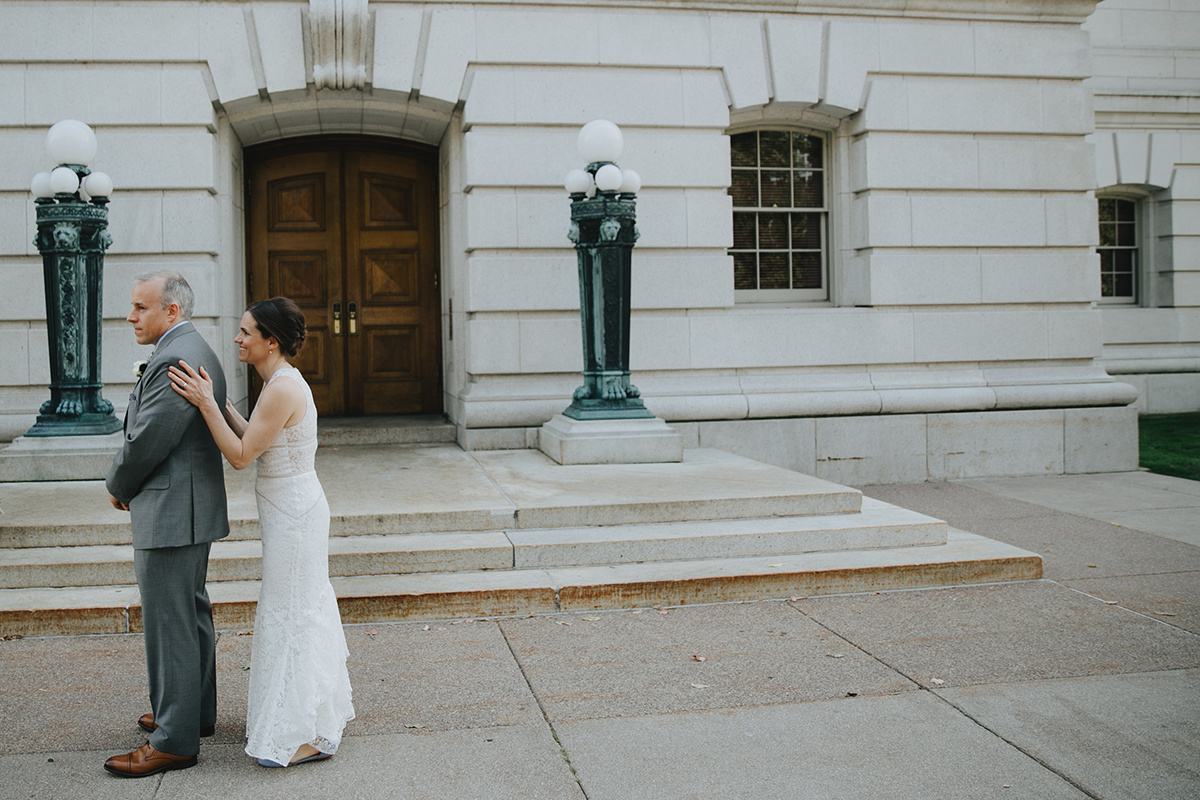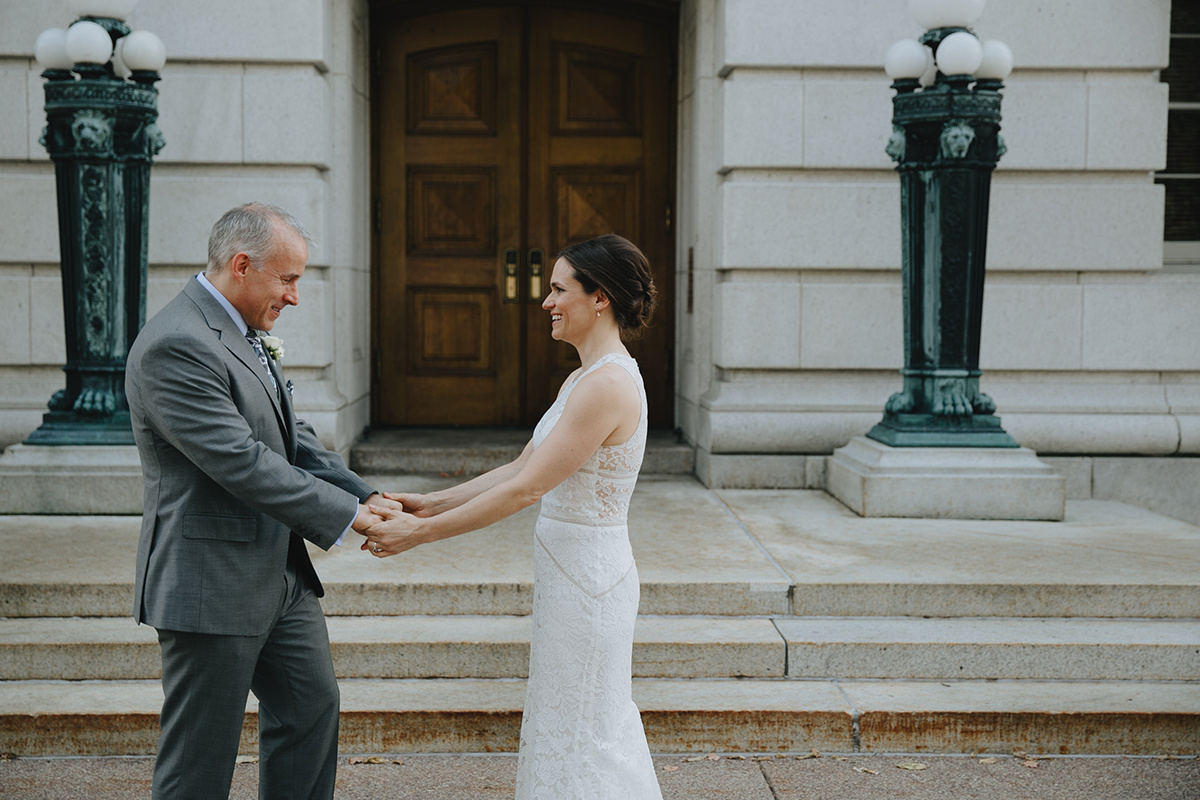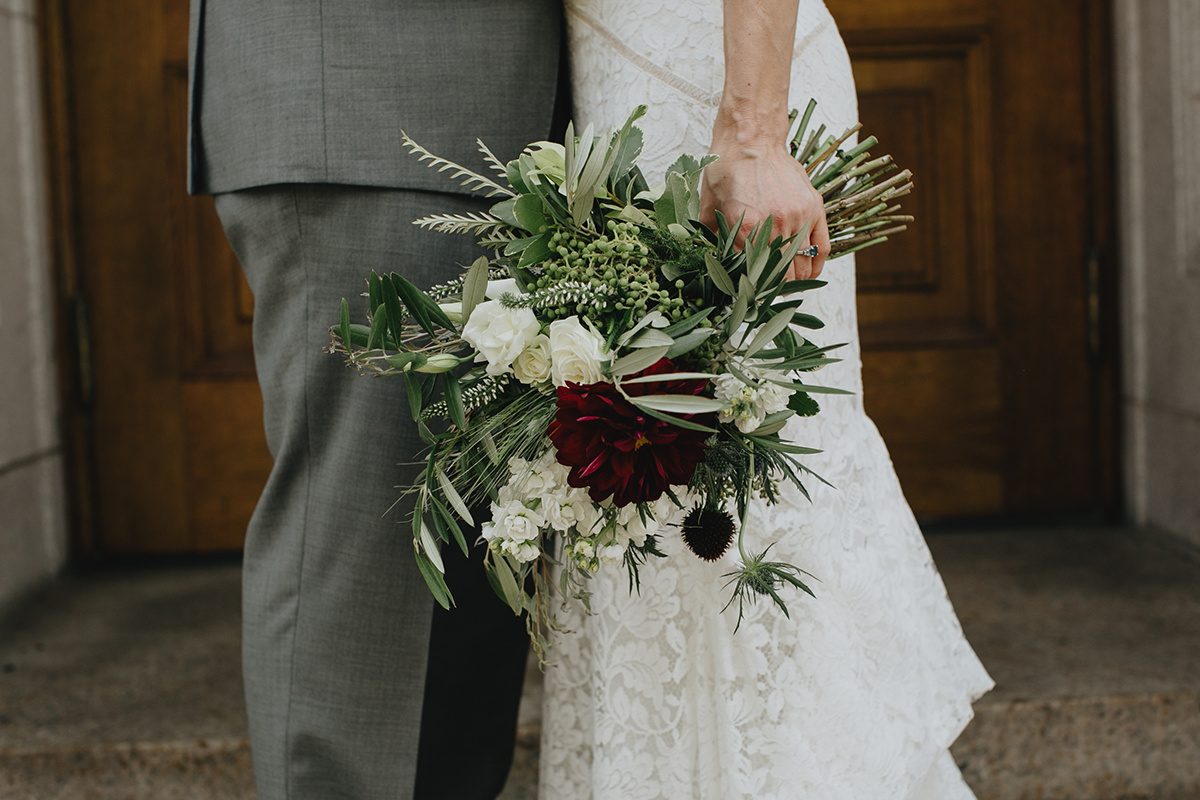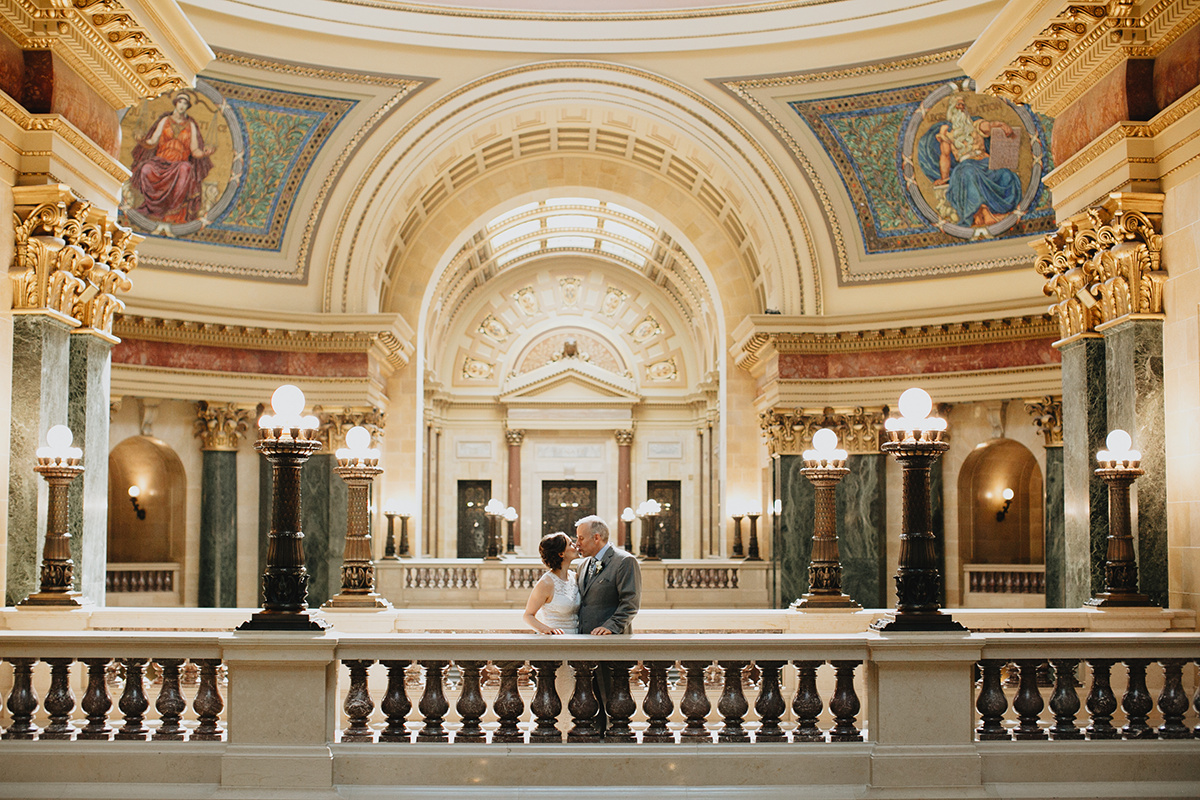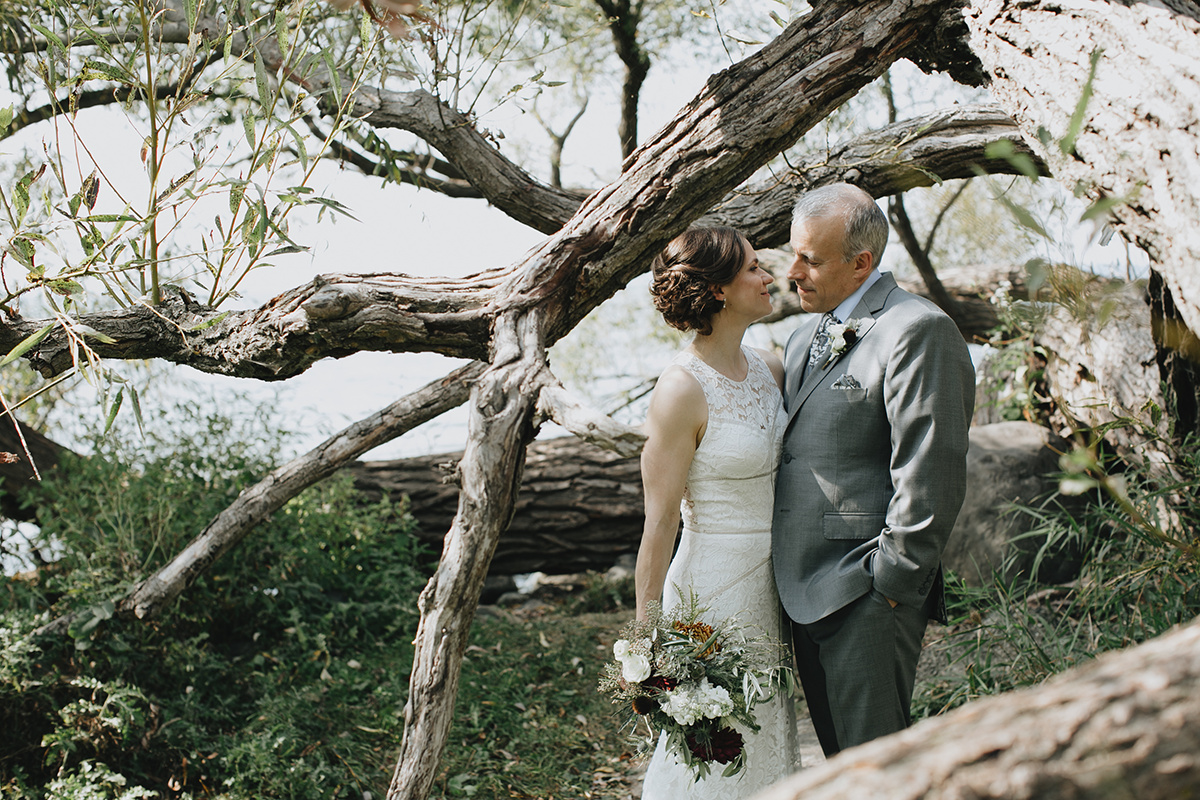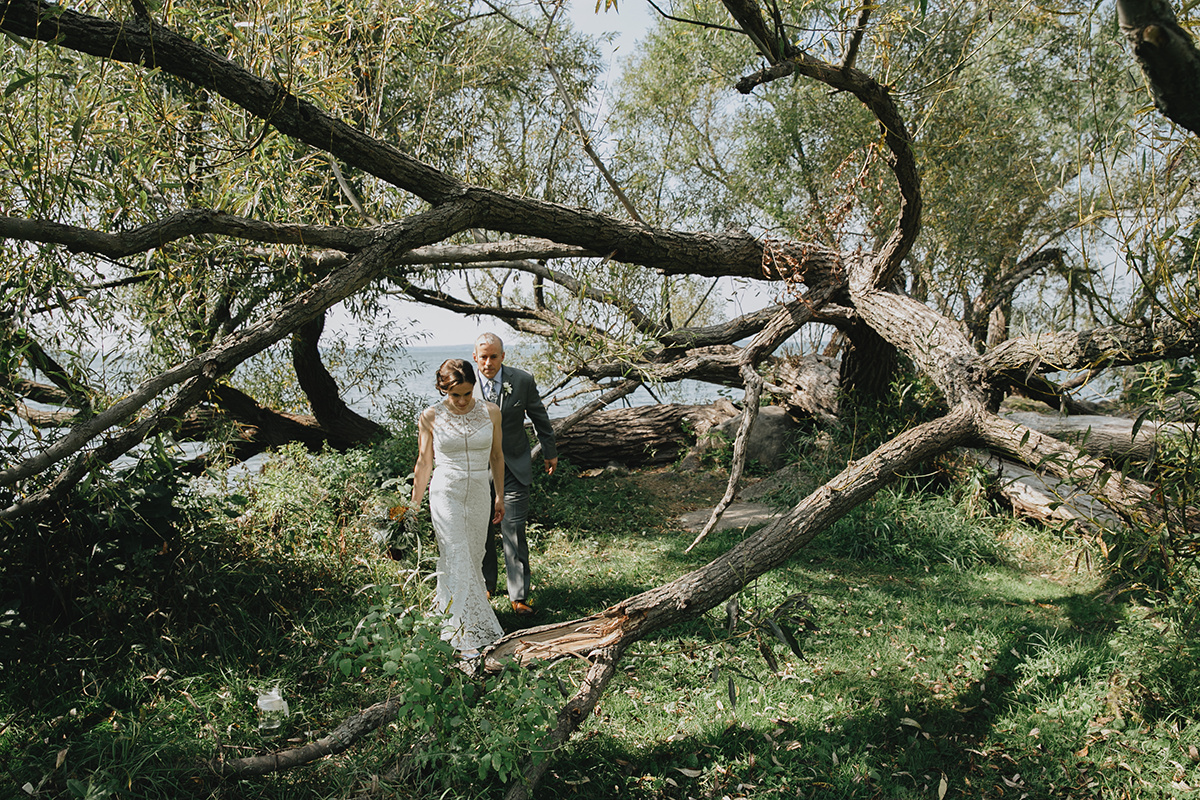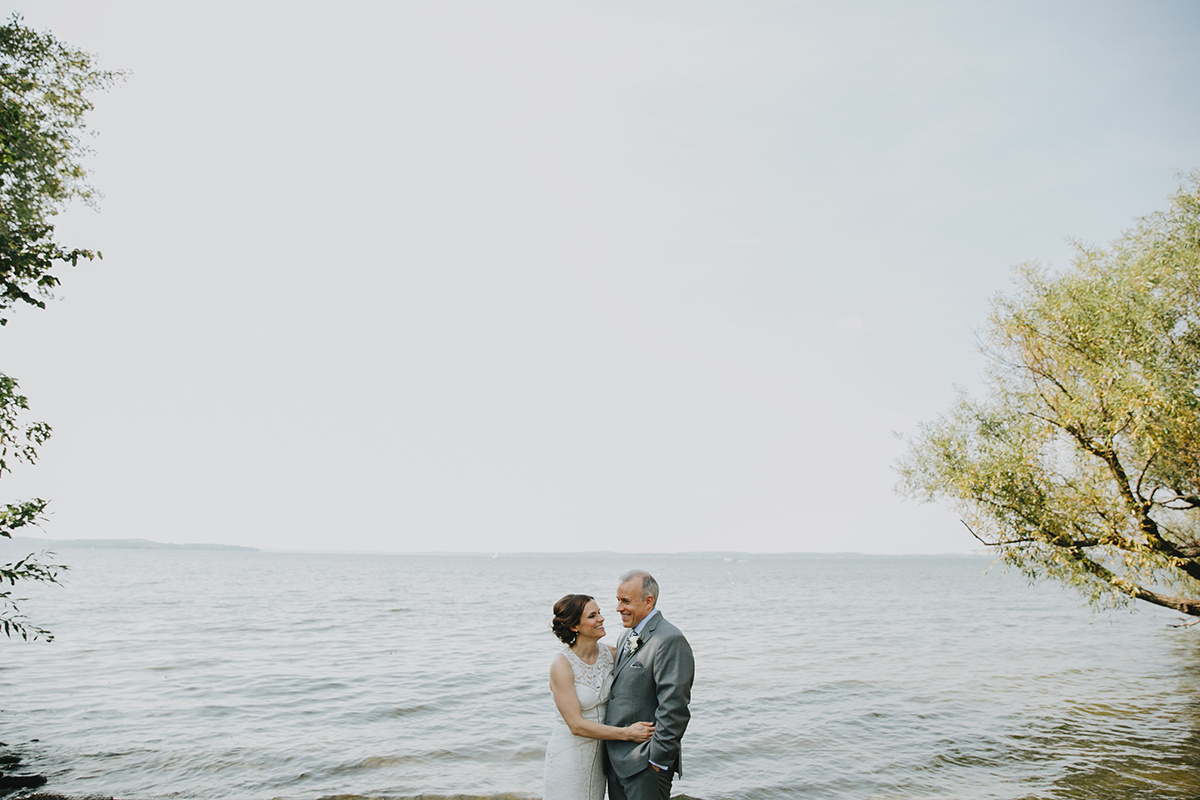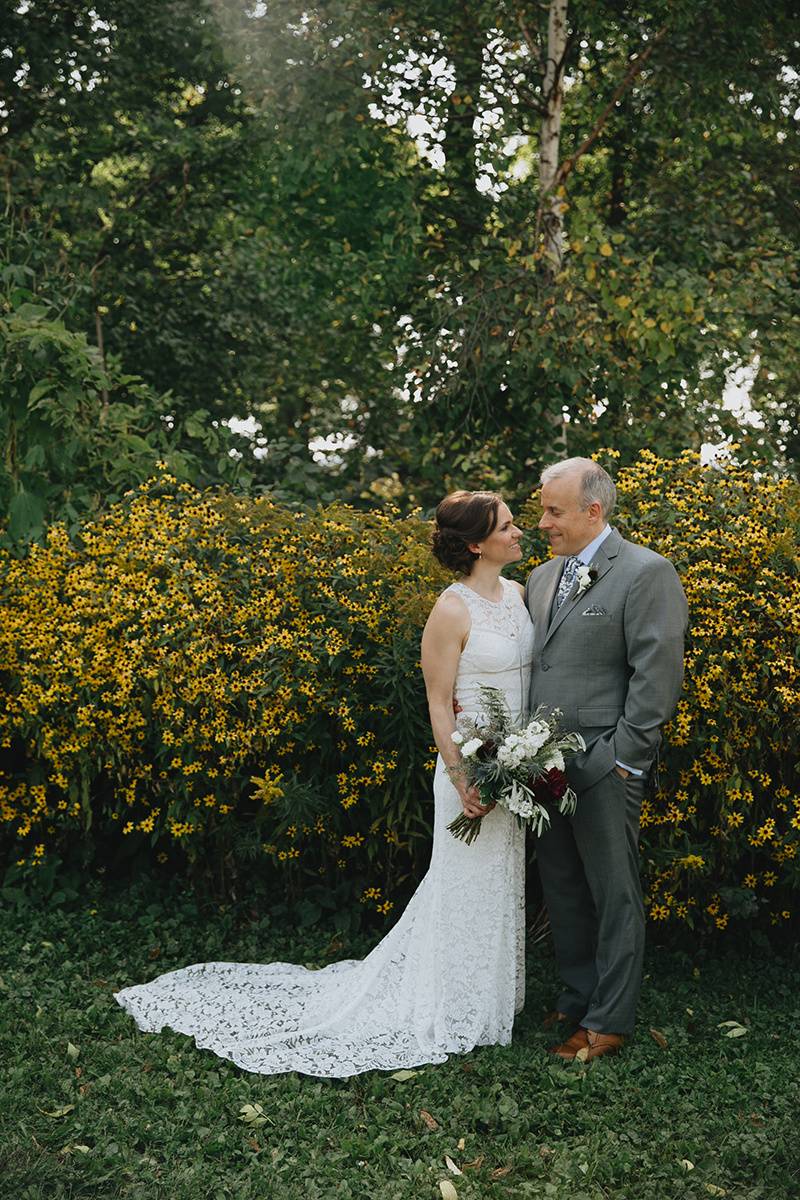 WHAT WERE YOUR WEDDING COLORS? We didn't choose specific colors, but we leaned toward white, green, and blue.
DESCRIBE YOUR WEDDING FLOWERS: They were beautiful, mostly white and red hues with lots of greenery. We wanted to choose seasonal flowers, so we waited until closer to the wedding to make selections. That was about the time when our baby was born, so we left the choices up to our florist, which turned out to be the best decision. She really knows her work!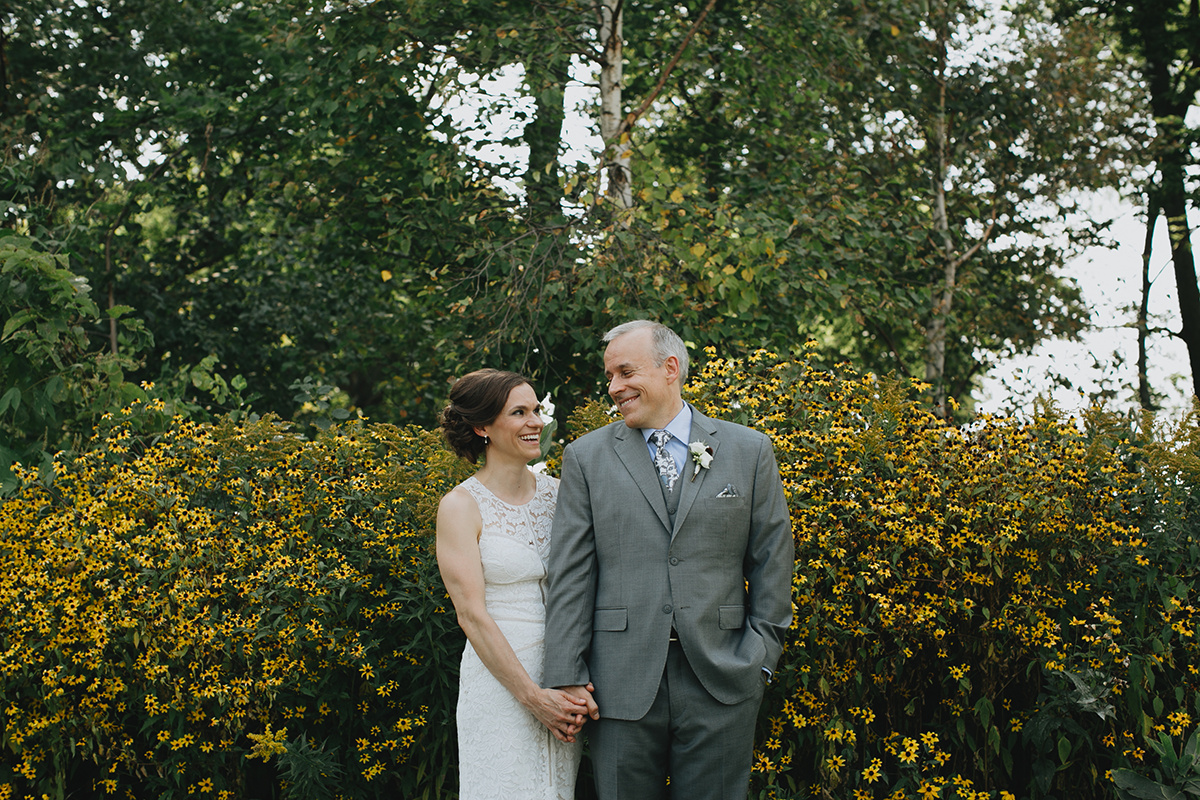 WHAT WAS YOUR FAVORITE MOMENT FROM YOUR WEDDING? We had the ceremony under an old tree in Tenney Park and Mark carried our six-week-old daughter in during the processional. We had an uncle act as the officiant and asked a brother-in-law to write and give a reading, which was so thoughtful that it brought us to tears.
DID YOU USE ANY SPECIALTY TABLES, CHAIRS, LINENS OR DINNERWARE? Yes, we rented everything to arrange long wooden tables with lace runners in the Tenney Park Pavilion. We added greenery and white flowers in small glass vases. Our wedding planner ensured that everything came together perfectly. One of my favorite details was the assortment of small floral plates we rented for serving the cake.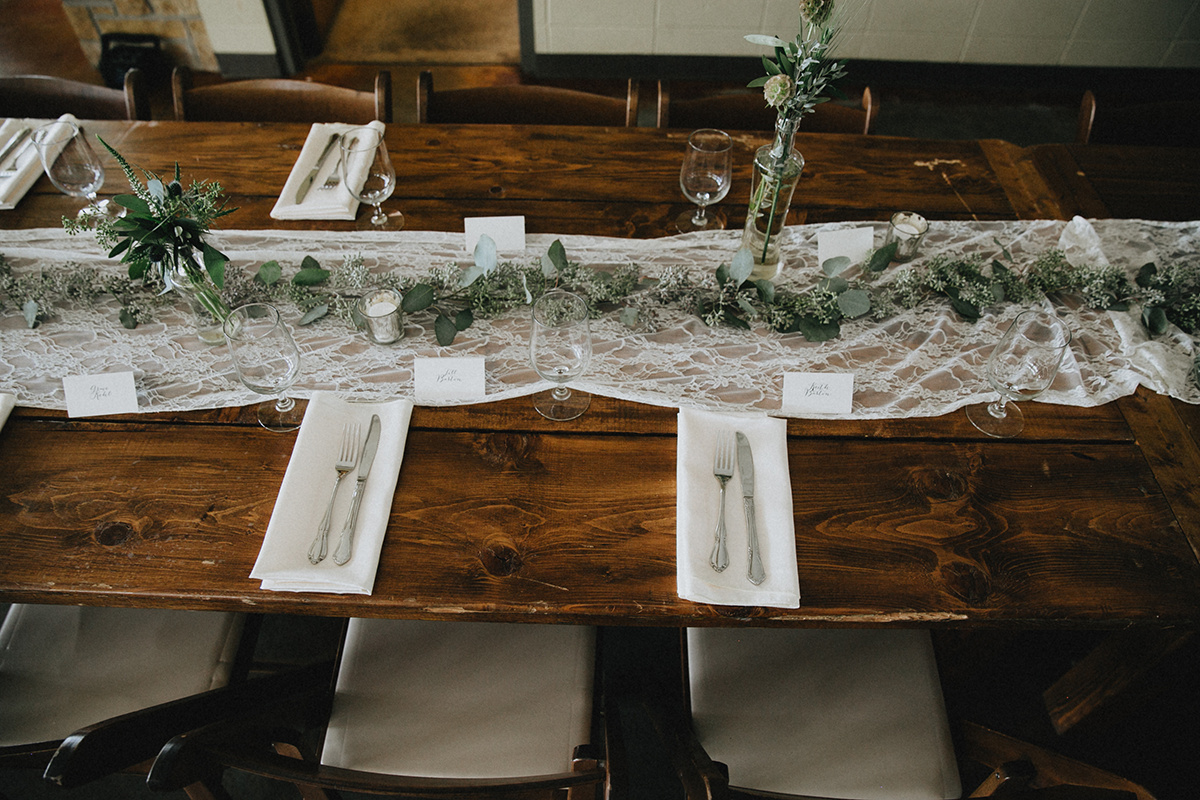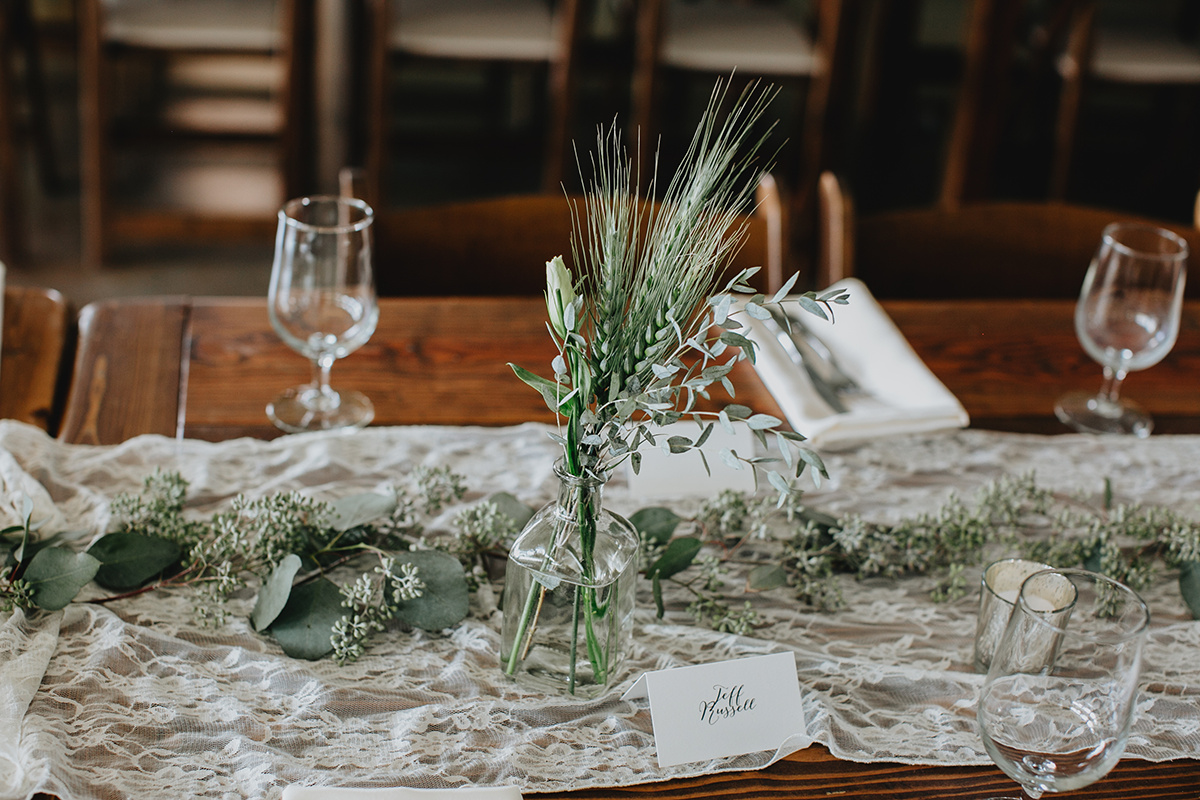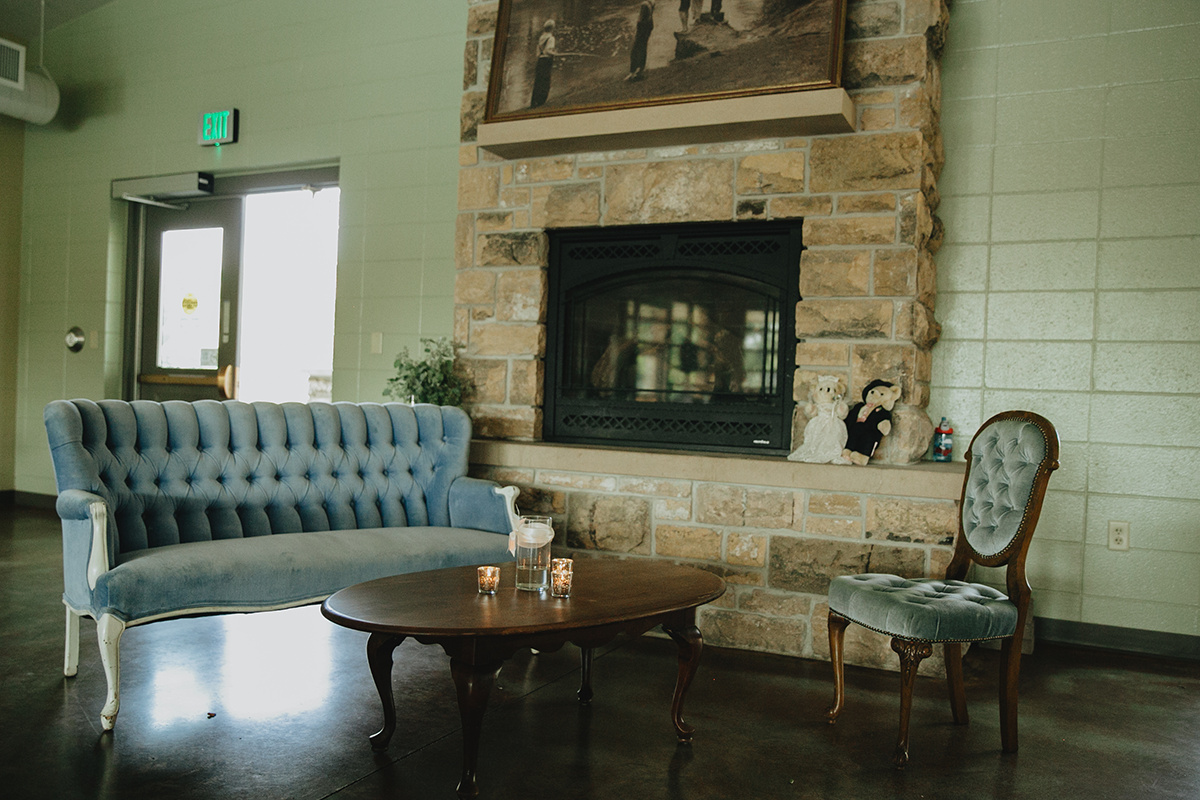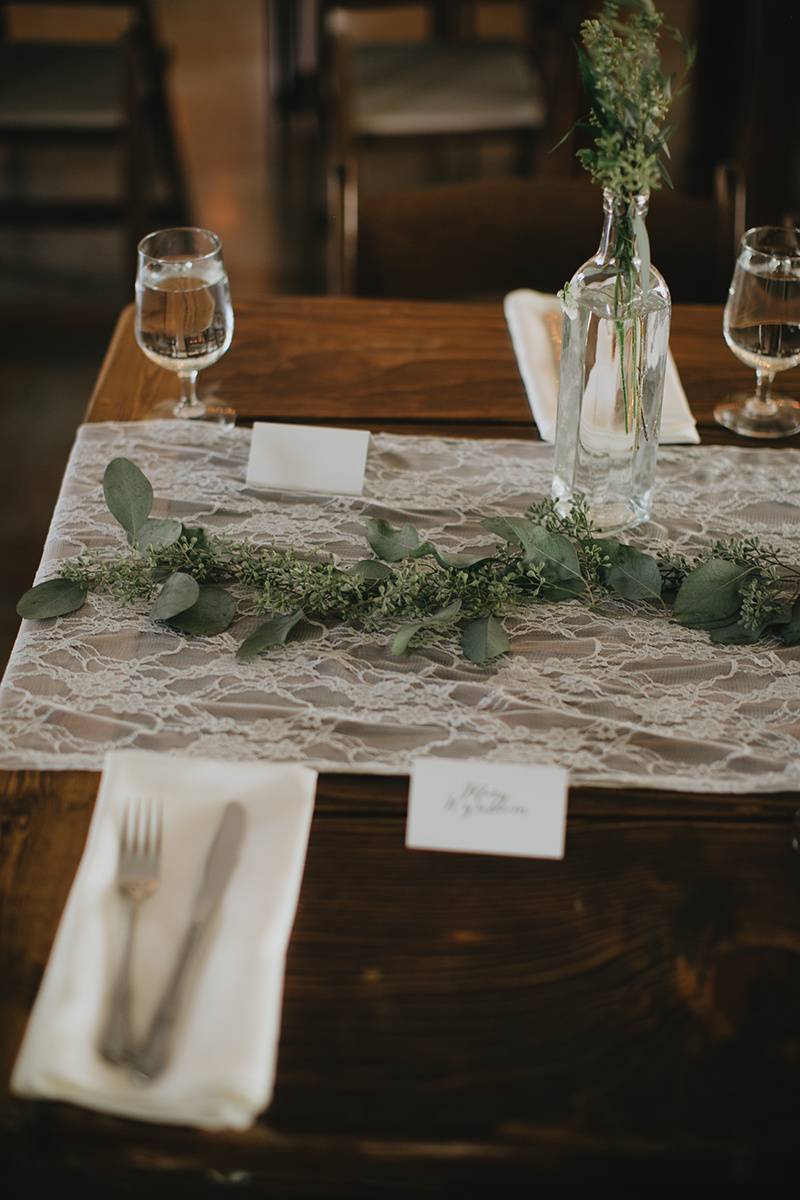 WERE THERE ANY PERSONAL TOUCHES OR DIY ELEMENTS? We live out of state and were in the process of adopting our little girl during the planning (she was born six weeks before the wedding) so we couldn't devote much time to small details. Our wedding planner, Sarah Davidson, did a fantastic job of helping us choose the details that matched our personalities and pulling it all together. For our cake topper, Mark's mother had little peg dolls painted to match our wedding attire, including a smaller one that looked like our daughter in her blue and lace dress. She also created a sweet candy table with custom bags so our guests could take candy home.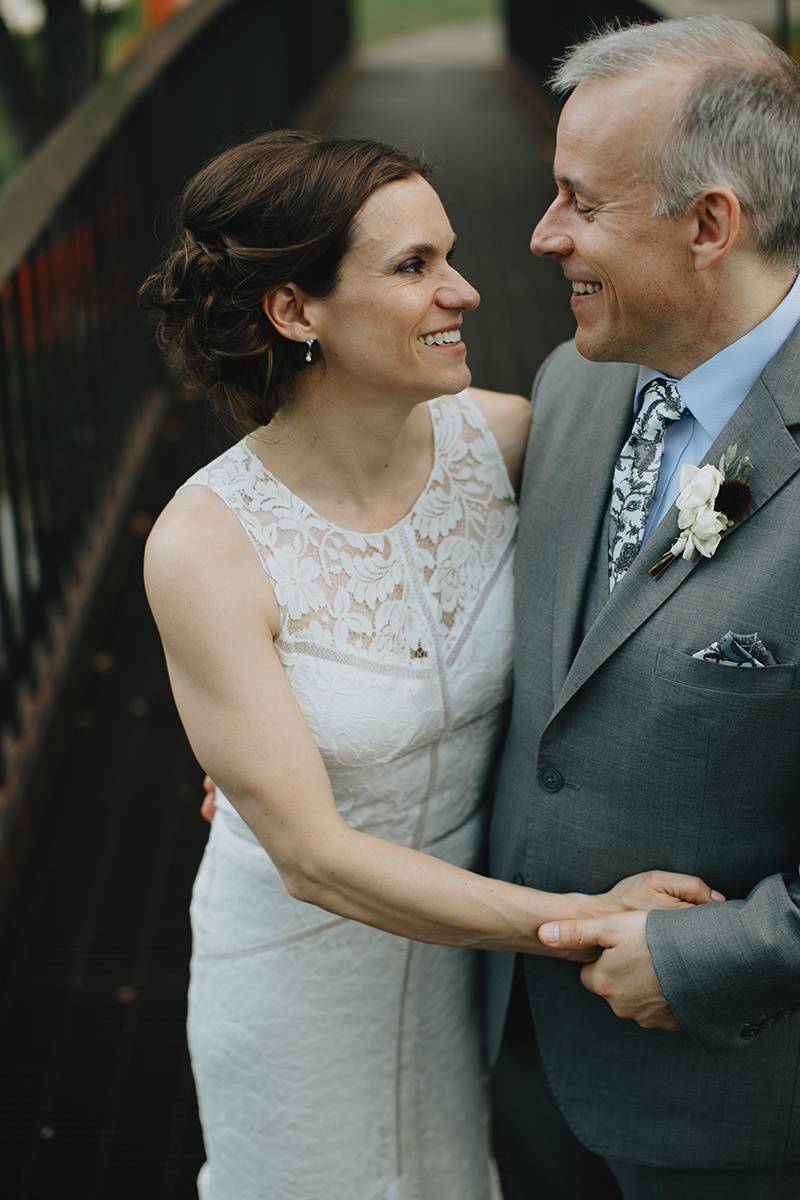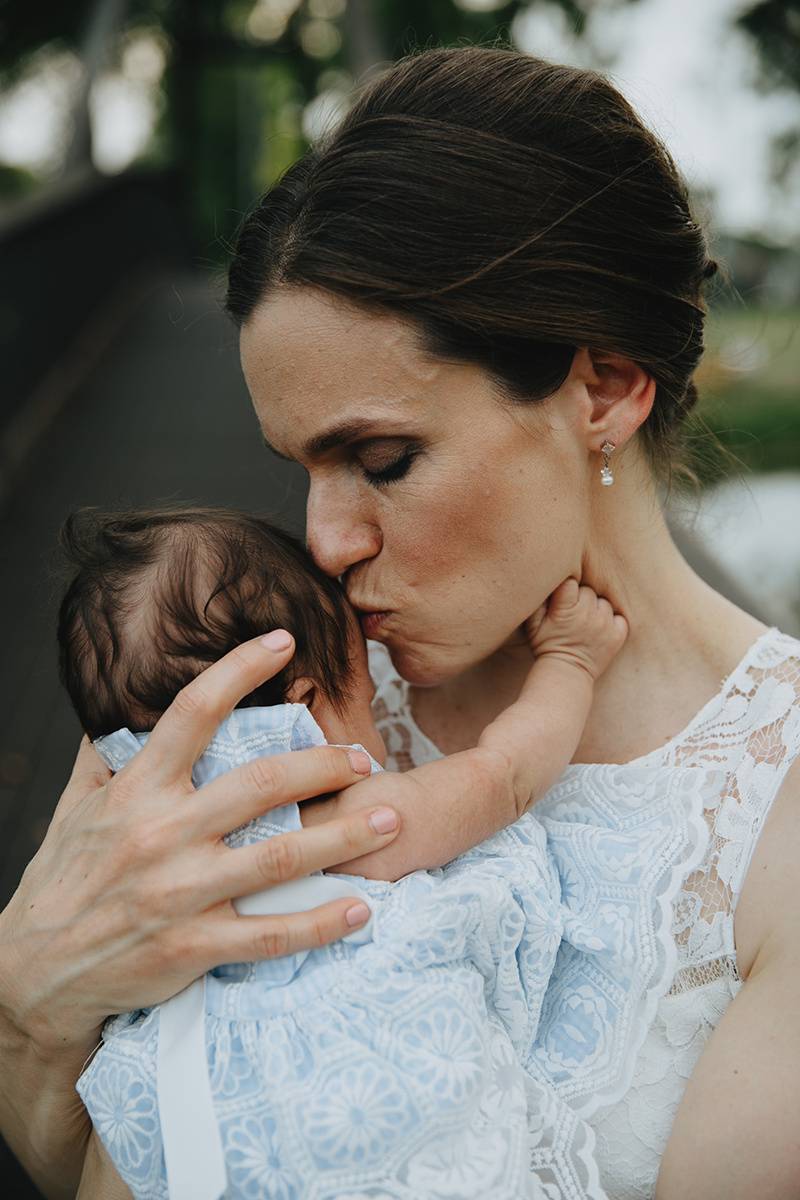 WHAT DOES LIFE LOOK LIKE AFTER THE WEDDING? We went back home to life with newborn and nighttime feedings!
IS THERE ANY ADVICE YOU'D GIVE TO OTHERS PLANNING THEIR WEDDING? Something I did that helped a lot was to find and follow local wedding vendors on Instagram. Because I'm not in the industry, I didn't really have a feel for what was possible. Through Instagram, I was able to see the best work from local wedding planners, photographers, florists, and venues and I was better able to communicate with my wedding planner about what I wanted. Another piece of advice that I give is this, the cost of a wedding planner will save you money in the long run. A good wedding planner can ensure that you stay within your budget, telling you how much you can reasonably spend on each thing while helping you pull together the details that create a wedding that best matches you and your partner.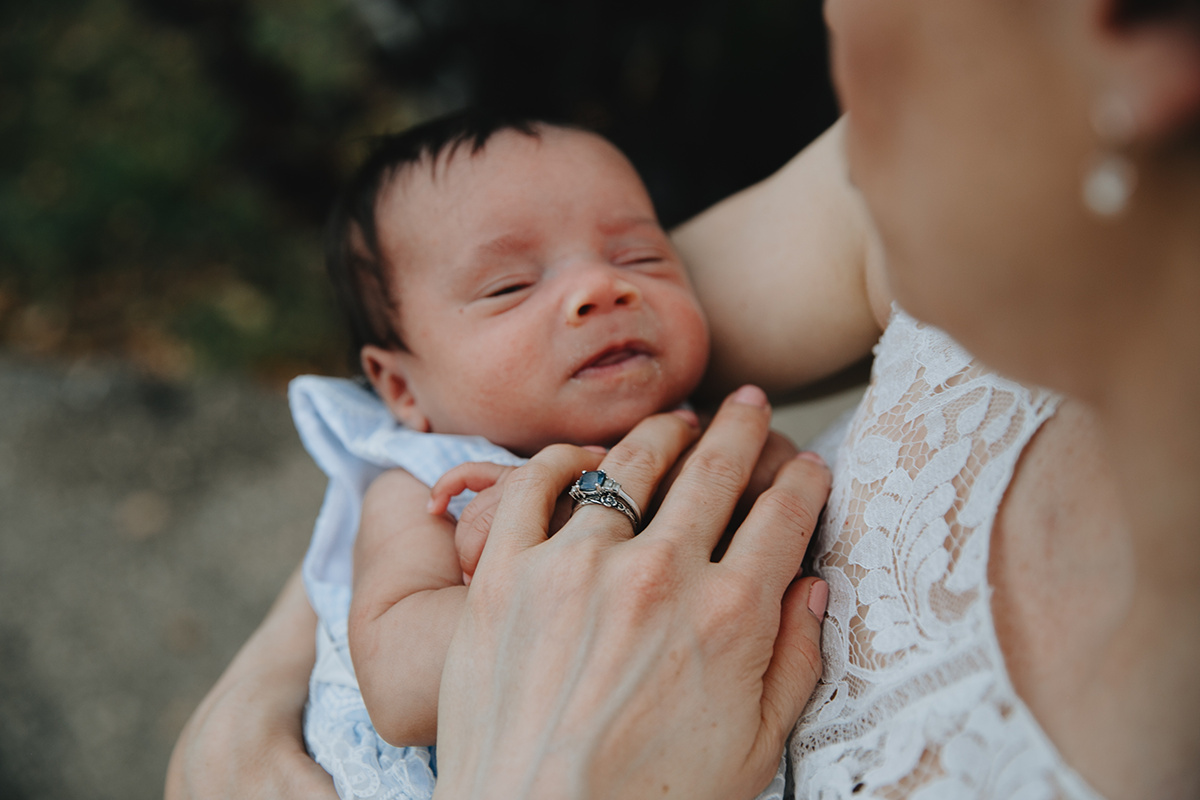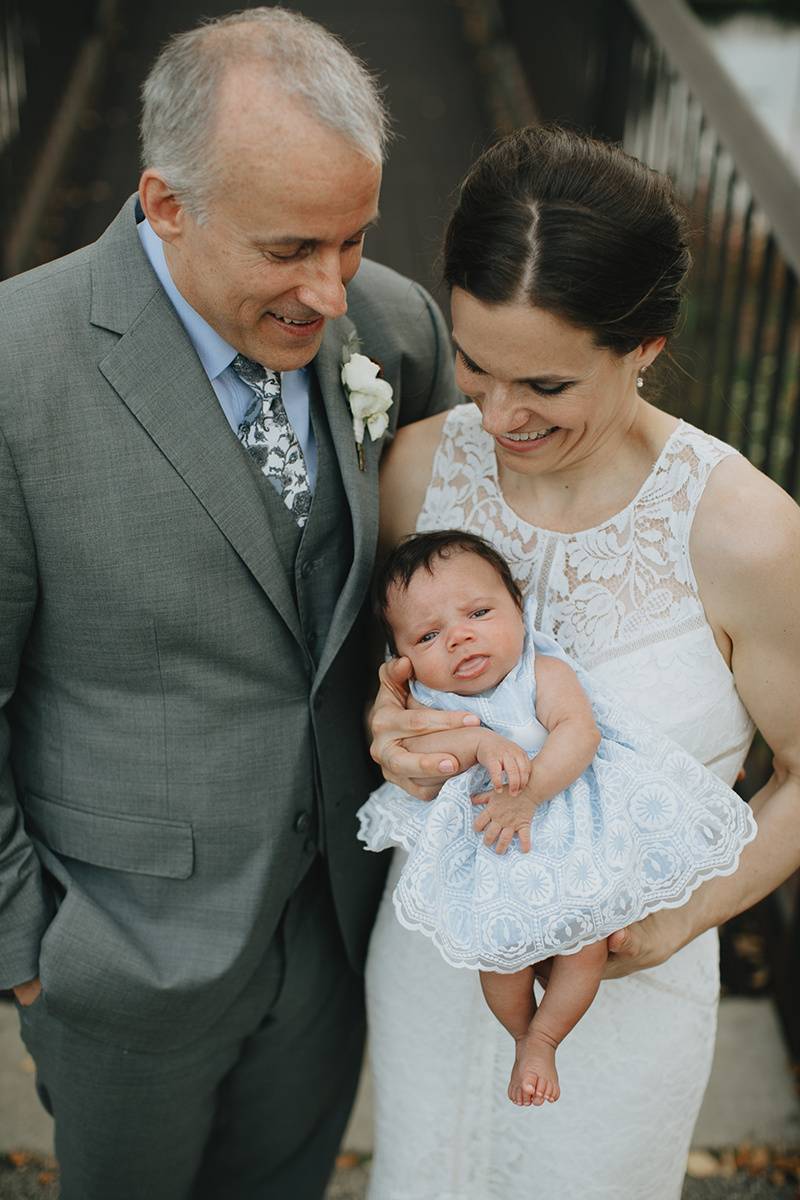 Find more real wedding inspiration below and find more local Madison wedding florists in our online vendor gallery here.