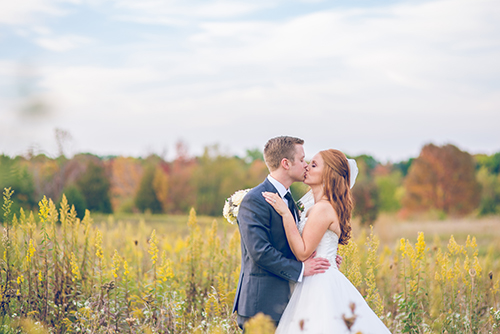 Miranda & Nick grew up in the same neighborhood but were mostly acquaintances for years. "He was literally the boy next door that I had a crush on since I was 12 and I would always get butterflies every time I would see or talk to him," said Miranda. Years later toward the end of college, they reconnected, becoming best friends. Through phone calls, emails and breaks from school, they fell in love. Miranda was living in Milwaukee and Nick shortly made his move to come back after living in Arizona for 5 years.
PROPOSAL
While in Switzerland, (this already sounds like such a romantic and epic story) Miranda & Nick took a three hour train ride up through the Swiss Alps and watched the sunrise. Once they reached their final destination, Jungfraujoch, which is considered to be "The Top of Europe," boasting mountain peaks covered in white, sparkling, fresh snow. If this doesn't sound like heaven already, after touring through tunnels and ice caves, they ended up on a beautiful outdoor observatory deck over looking the most incredible, picturesque mountains. Nick had found someone inside, without Miranda's knowledge, and asked him to take a few photos of them. After the 4th photo, Nick got down on one knee and proposed. Miranda cried "of course!"
A mix of rustic and elegance, this fall green, gold & silver wedding consisted of wooden center pieces, a wooden guest book piece made by the couple's friend, kraft paper programs along with hundreds of mason jars that adorned the tables.