We don't know what we love more about this wedding - Madison's magnificent Overture Center for the Arts wedding venue with beautiful views of the Capitol, the couple's cute little pup, Beacon in a bow tie, the gold foil cake from Gigi's Cupcakes, or the lux florals from Daffodil Parker. Every moment captured by Caynay Photography is modern yet timeless, and oh-so-good. But our favorite part of all is the intimacy of the gathering and hosting the cocktail hour BEFORE the ceremony - genius call. Wanting to show their appreciation for their friends and family and everything Madison has to offer, the bride and groom gave Wisconsin shaped cookies from Curtis & Cake to each of their beloved guests.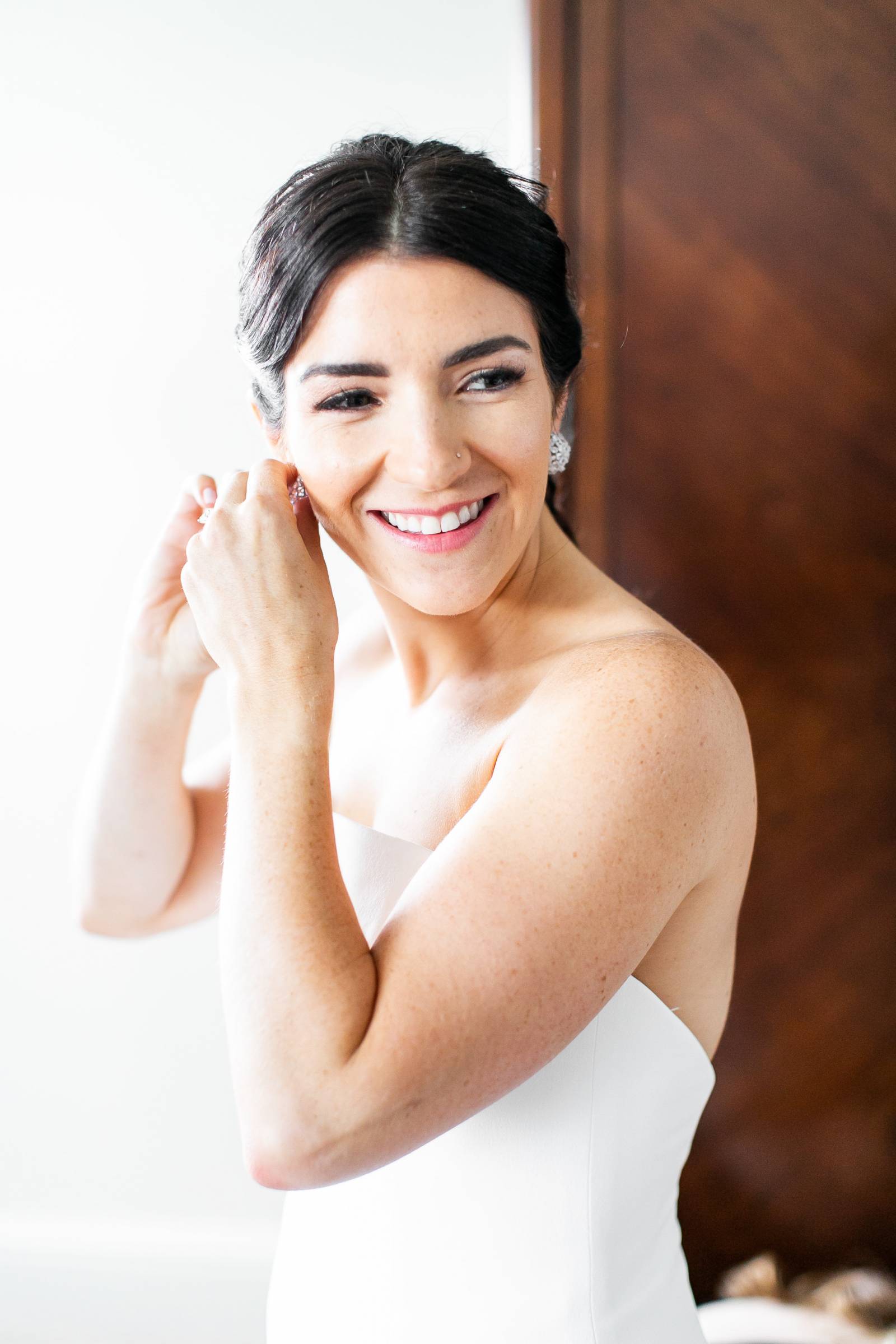 WEDDING DATE: 07/21/2018
HOW DID YOU MEET: We first met our freshman year of college at a wedding. Scott's best friend from growing up, Kate, became one of Libby's best friends in college. Kate's sister was getting married, and Scott's entire family was invited to the wedding. Kate invited Libby and a few other friends to join the wedding reception, and that's where Libby and Scott first met--and shared their first kiss. Over the next 11 years, they swerved in and out of each other's lives as friends, going on vacations with friends together, spending 4th of July at Kate's parent's lake house together, and even working at a retail store one summer together, until they finally started dating in 2015.
HOW DID YOU KNOW HE/SHE WAS "THE ONE"?
Scott: When Libby and I started dating, I was always trying to get her to watch classic 80's and 90's movies. I kept bothering her to watch movies that I liked that she had never seen. One day, I convinced her to watch Road House, the 1980's Patrick Swayze classic. When the movie ended, she said she actually liked it - and then I knew that she was the one.
Libby: Scott and I had been dating for about 9 months when my sister got married in Boston. As the Maid of Honor, I was nervous about making sure everything went perfectly. When we first got to the hotel before the rehearsal dinner, Scott offered to go buy a bottle of wine for us to enjoy while we were getting ready (the first good sign!). When he got back to the hotel room, he realized there wasn't a wine opener anywhere in the room. Knowing it was best to let me get ready without letting me know about this snafu, he surreptitiously found a YouTube video depicting how to open a bottle of wine with a wire coat hanger. Within minutes, he had a glass of wine in my hand as I nervously fretted about some small detail, and he recounted the story of his ingenuity. I was so impressed with his creative problem-solving skills and how much effort he put into helping make me feel comfortable and at ease during a nerve-wracking time that I knew I needed to never let him go.
TELL US ABOUT YOUR PROPOSAL: Scott's family (including his parents, brothers, their wives, and our nieces/nephews) were all spending the weekend together at Scott's parents' lake house in Twin Lakes, Wisconsin. We drove up there with our dog, Beacon, and when we arrived, Scott asked his sister-in-law Ashley to take a "family picture" of the two of us with Beacon at the edge of the lake. Once we took our phone back from Ashley to look at the photo, Scott turned to Libby and said, "We make a good looking family. I want to make it official." He got down on one knee and proposed by the lake, and we got to instantly celebrate with Scott's family. In an incredibly fortuitous coincidence, our mutual friend Kate who introduced us (and would later officiate our wedding!) happened to be 15 minutes away visiting her family at their lake house, so they were able to come and share a glass of champagne with us, which really felt like things came full circle as we reminisced about their elder daughter's wedding where we had met 13 years earlier.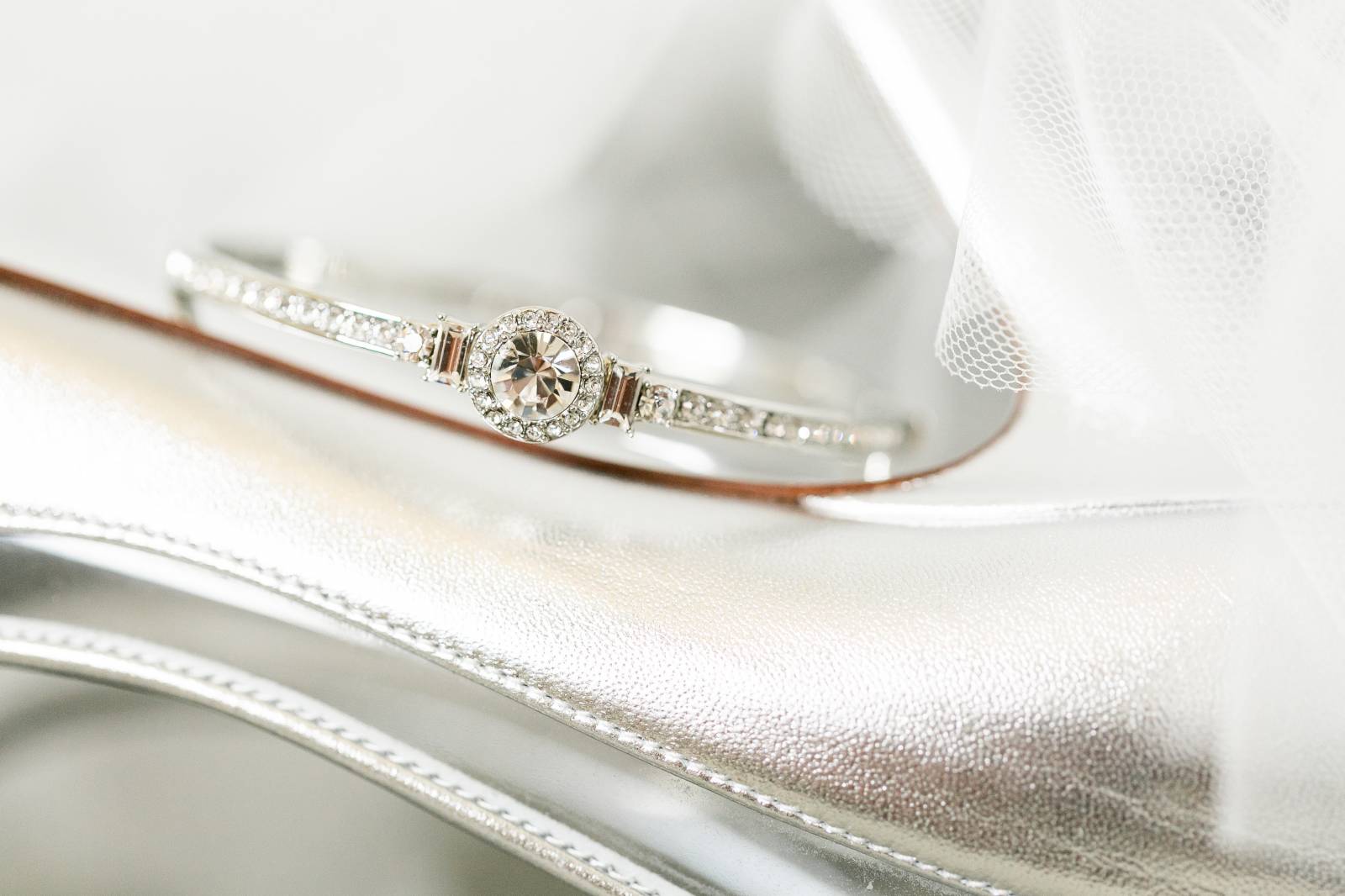 TELL US ABOUT FINDING YOUR DRESS: I wasn't sure what I was looking for in a dress. I knew I wanted something classic and timeless but with a unique and fun twist. I wanted to avoid thinking in 20 years, "That looks so 2018!", while still showcasing my general tendency towards flashy edginess. I went to several bridal stores in Chicago (including one that had mysteriously closed without informing me, which resulted in an impromptu but much-needed mimosa break) and tried on lots of dresses that looked fabulous. Once I tried on "the dress" at Vera Wang, it didn't take long to realize how perfectly it checked the timeless and edgy boxes. I called it my mullet dress - business in the front, party in the back. Those who know me well know that I love something with a little kitsch (fanny packs, reversible clothing items, pretty much anything advertised in an infomercial), so the detachable train pretty much sealed the deal.
WHAT WAS YOUR WEDDING COLOR PALETTE? White and gold. We wanted to let the venue shine without detracting from its modern elegance.

DESCRIBE YOUR WEDDING FLOWERS: Full, white blooms with hints of pale pink and green to add depth and softness.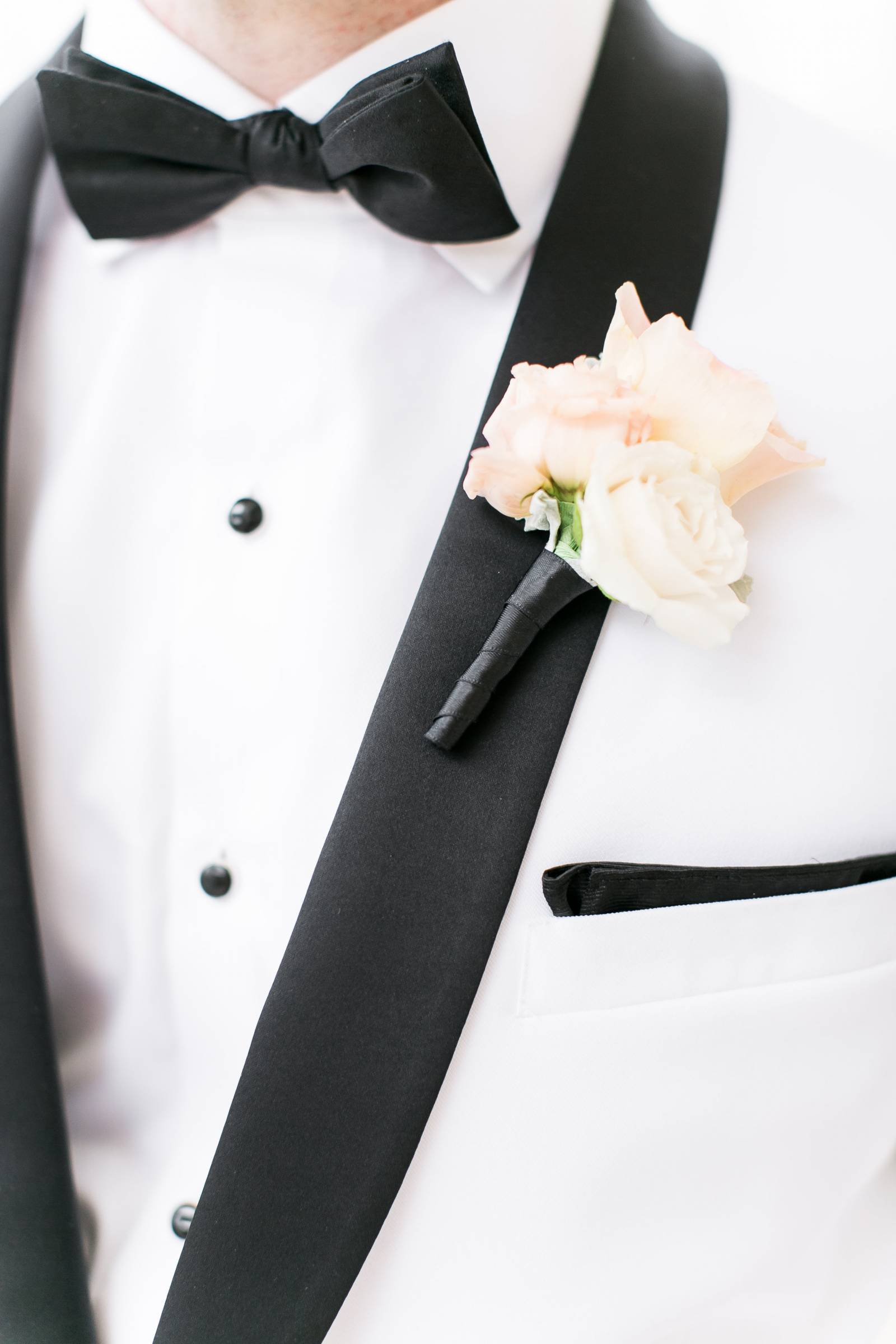 WHAT WAS YOUR FAVORITE MOMENT FROM YOUR WEDDING? We put much more time into planning the details of our reception than our ceremony, but we both felt like the ceremony was so much more intimate, personal, unique, and meaningful than we really anticipated. Having our best friend share our history with our family and friends and sharing our vows to each other in front of them was a brief but genuinely joyous 20 minutes.
WERE THERE ANY PERSONAL TOUCHES OR DIY ELEMENTS? Almost all of our guests came from out of town, so we wanted to showcase all that Madison and Wisconsin has to offer. Our venue featured the Capitol building beautifully, we served Spotted Cow beer at our cocktail hour and reception, and we provided Wisconsin-shaped cookies as our favor. Our mutual friend, Kate, who grew up with Scott and is one of Libby's best friends from college, officiated the wedding nearly 14 years after facilitating our first meeting. Our dog, Beacon, walked down the aisle in a white leash and bowtie with our nephews who were ring bearers. We printed two photos in two frames displayed on our gift table - one from 2005 when we went on spring break in Destin, FL, and one from our engagement photo shoot to illustrate how far back our friendship goes. And perhaps the most personal touch was that we had our cocktail hour before our wedding ceremony. We love a good party and believe in the value of a tasty cocktail in hand!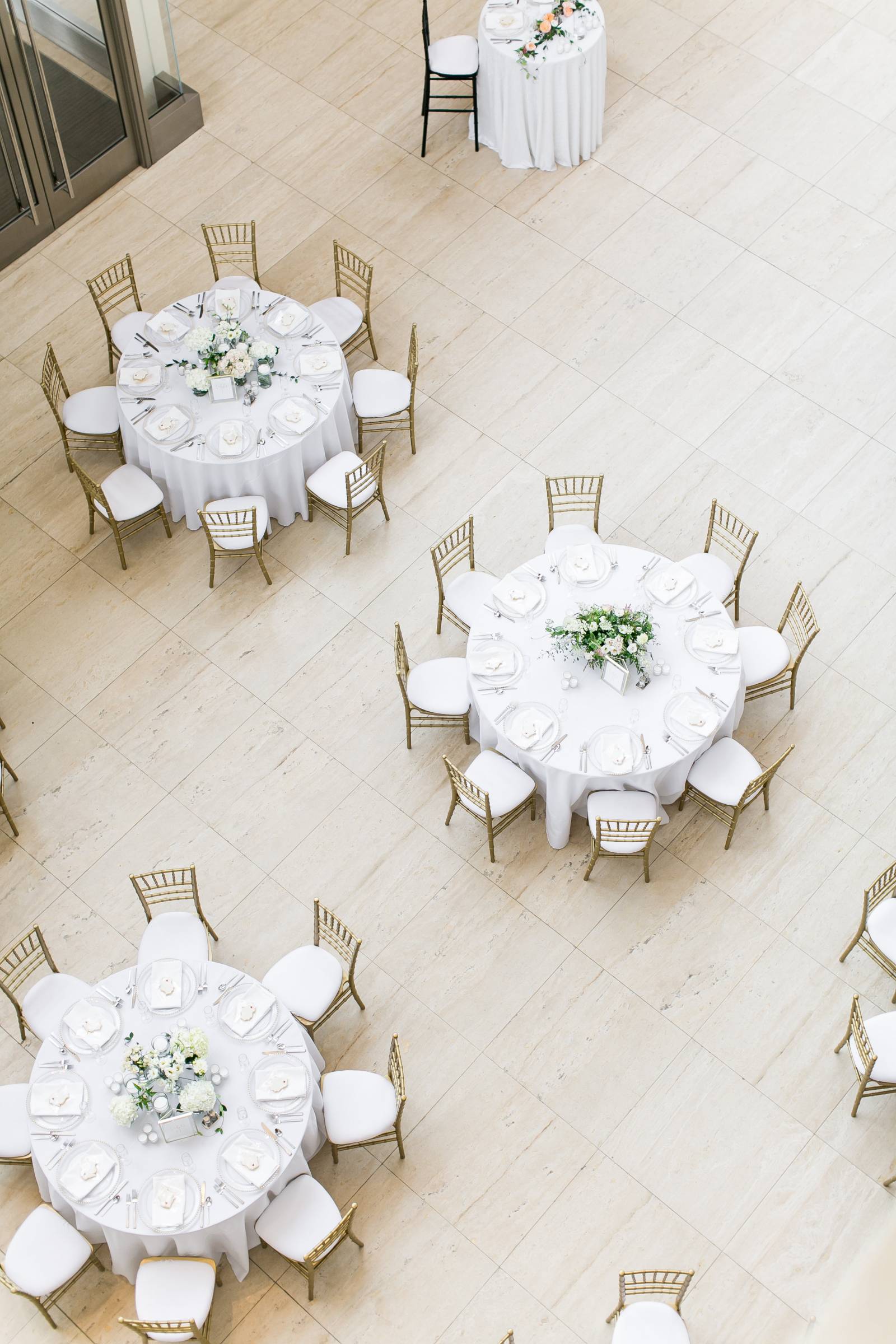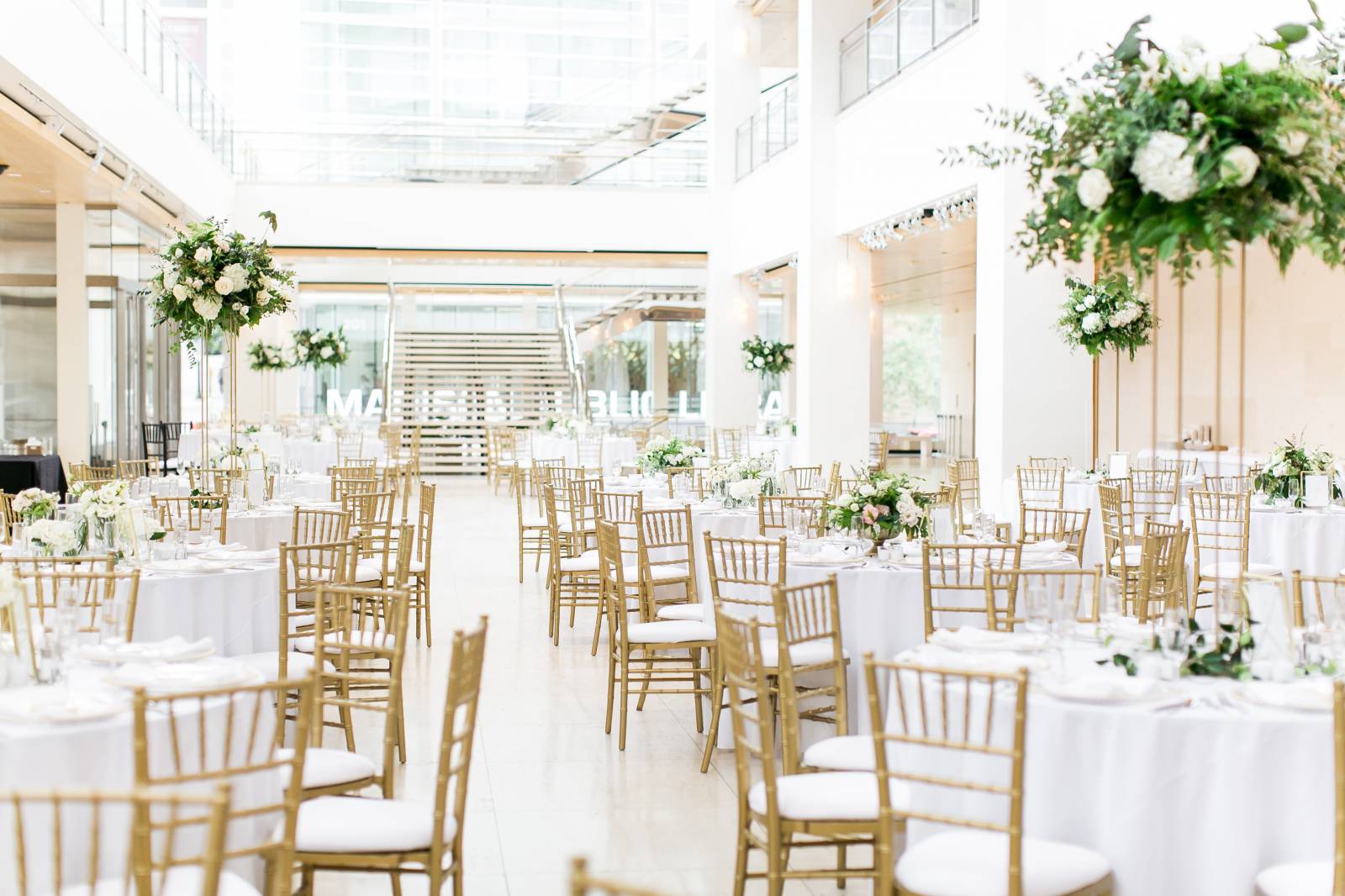 DID YOU USE ANY SPECIALTY TABLES, CHAIRS, LINENS CHARGERS OR DINNERWARE? We had white folding chairs for our wedding ceremony, glass chargers with gold beaded trim, white linens for round tables, glitz tablecloths for our gift table and cake table, gold chivari chairs with white cushions, silver steak knives, and a cocktail-sized sweetheart table with black chivari bar stools.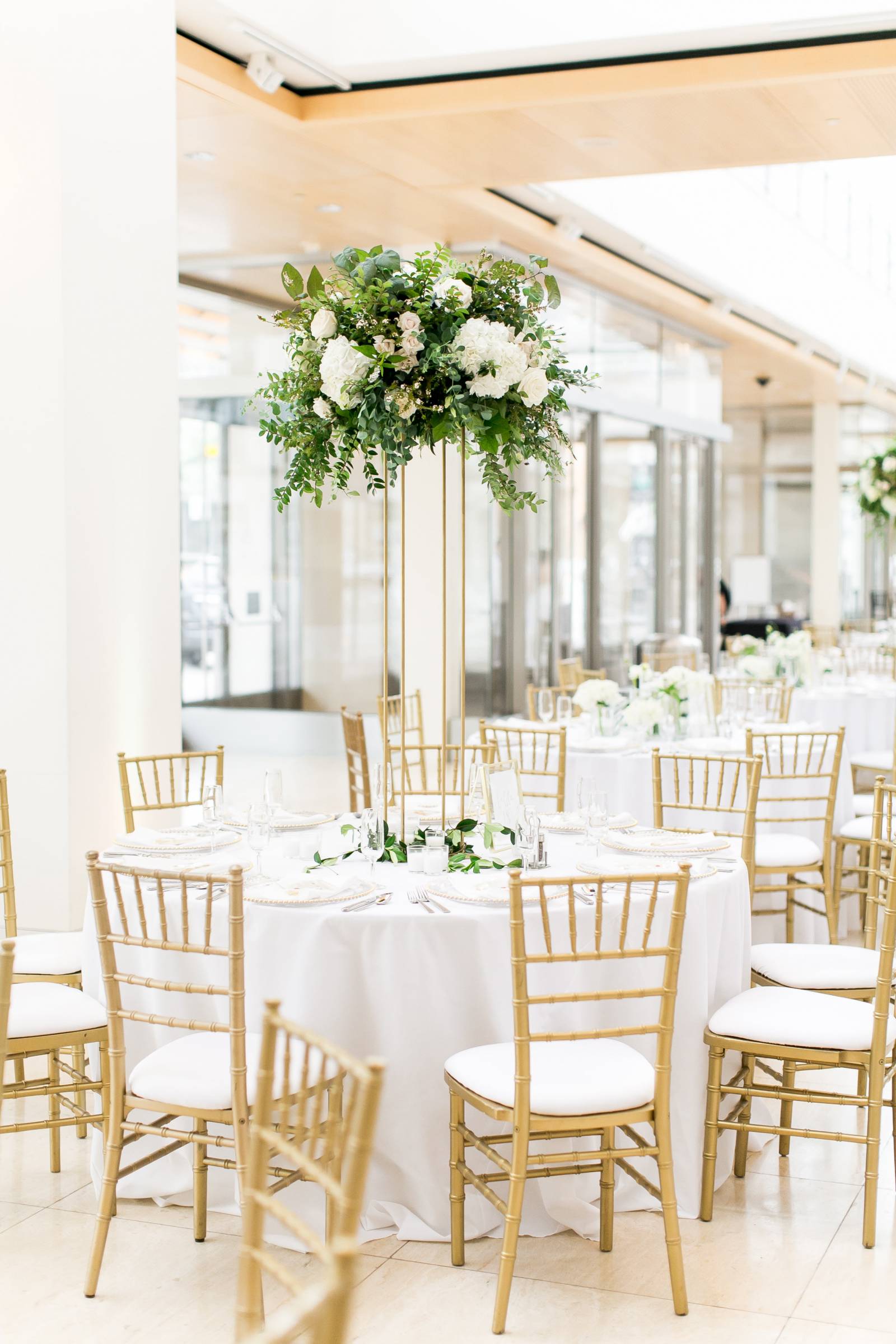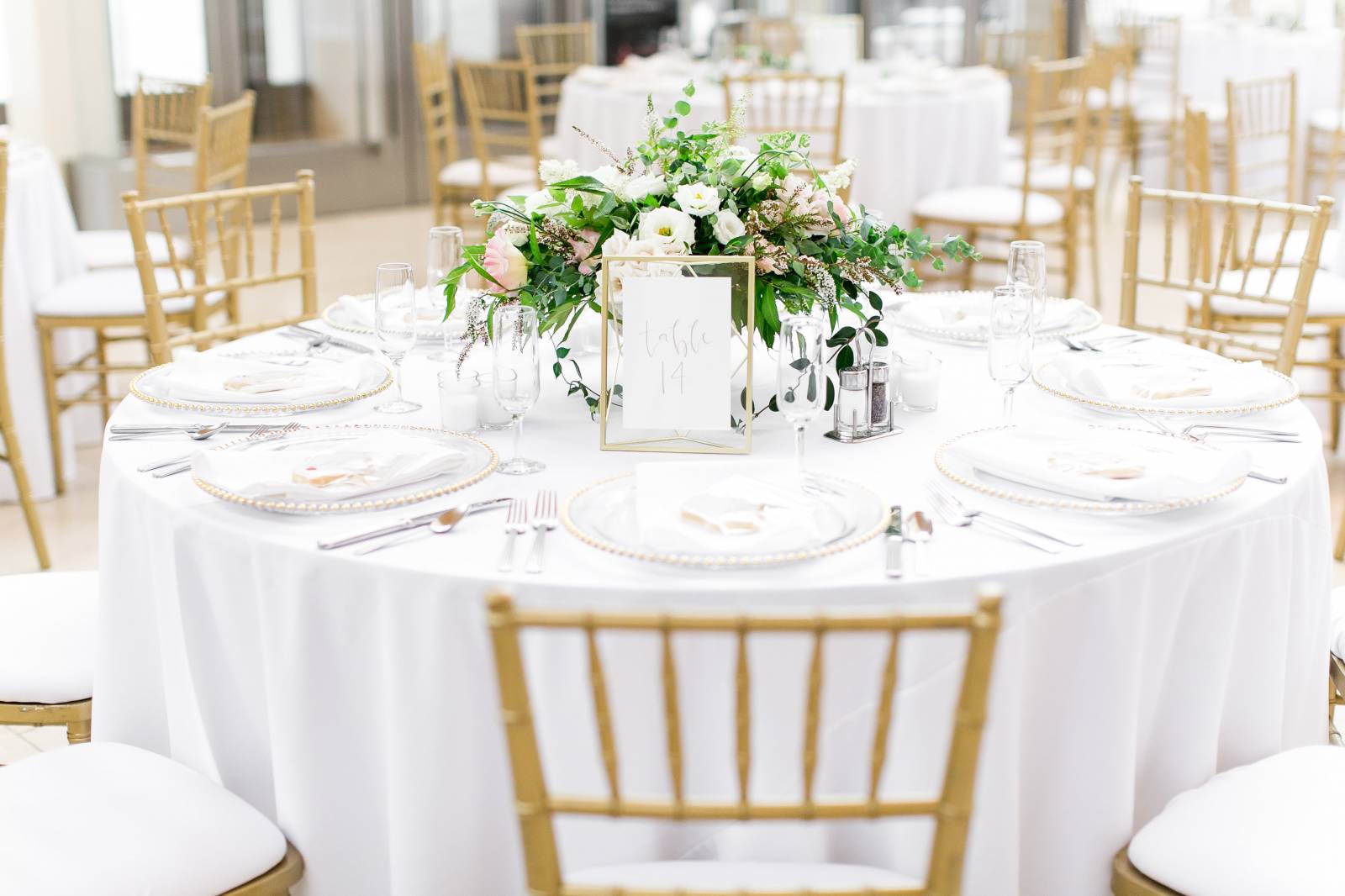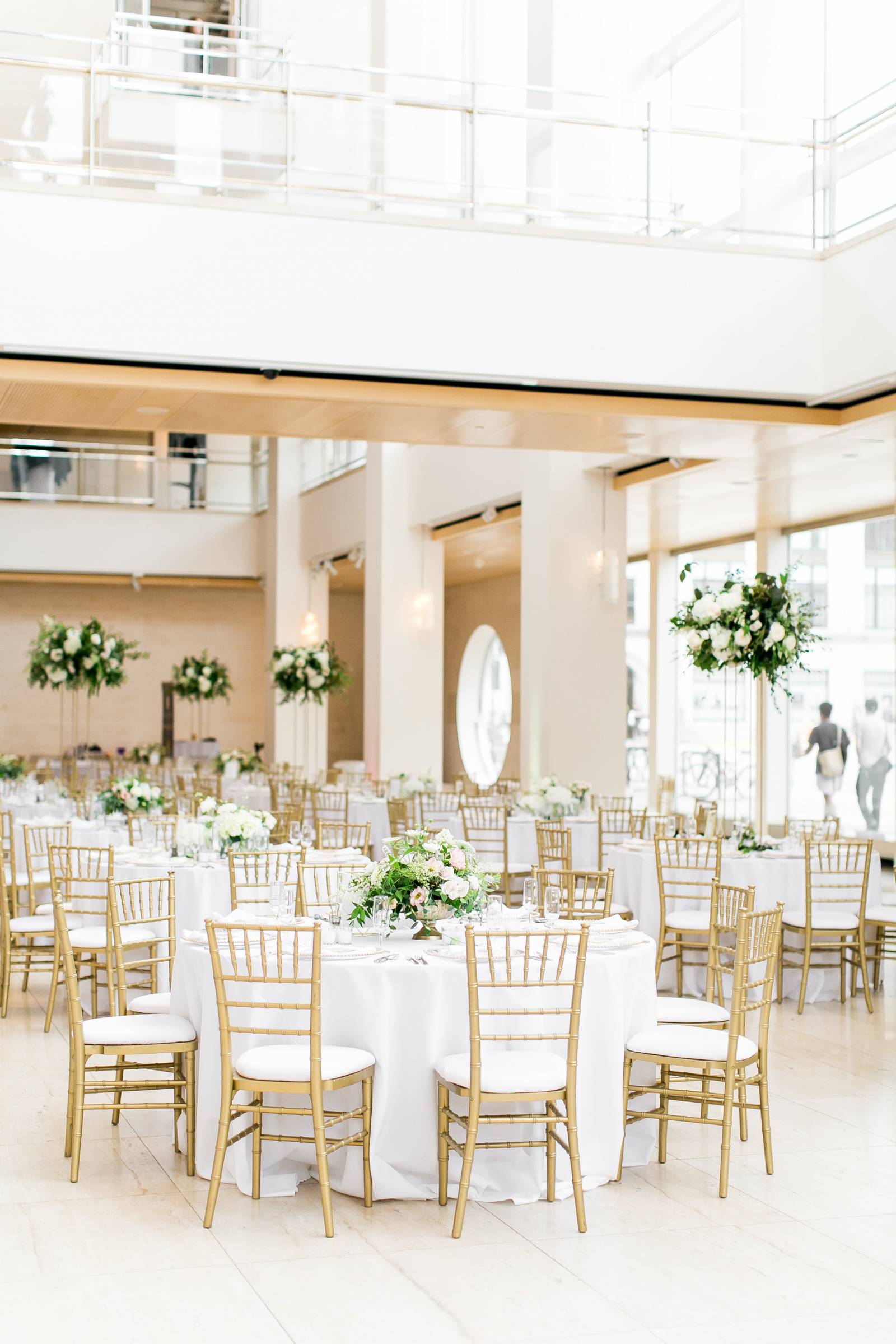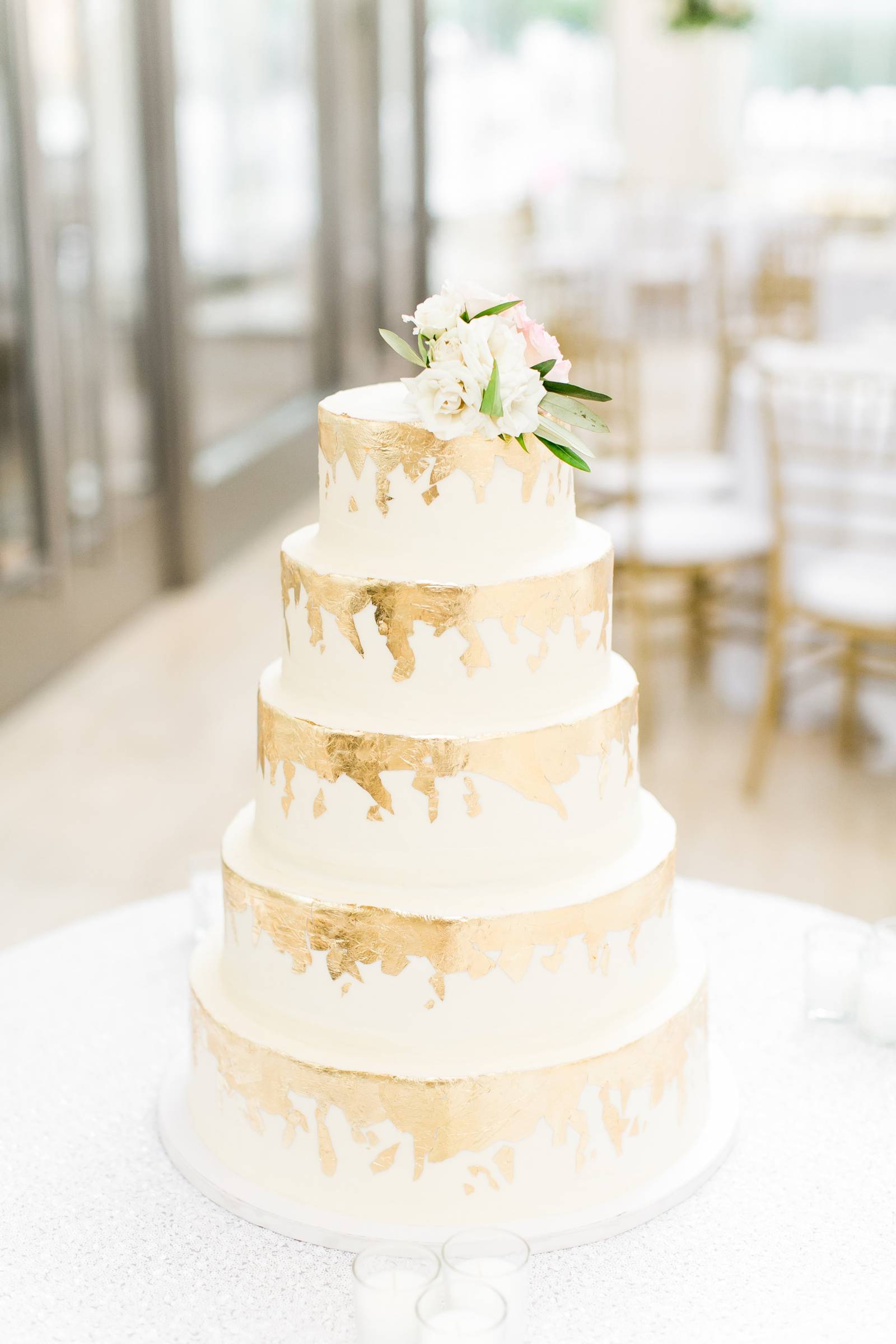 TELL US ABOUT YOUR HONEYMOON PLANS: We spent 8 nights in St. Lucia. Our first few nights were spent at Sugar Beach Viceroy on the southern part of the island, and the second half at the Royalton Hideaway on the northern tip of the island. We had just the right amount of adventure with a whole lot of relaxing.
WHAT DOES LIFE LOOK LIKE AFTER THE WEDDING? Pretty much the same! We lived together in our condo with our dog before we were married, and now we are starting to look for a house to move into next year.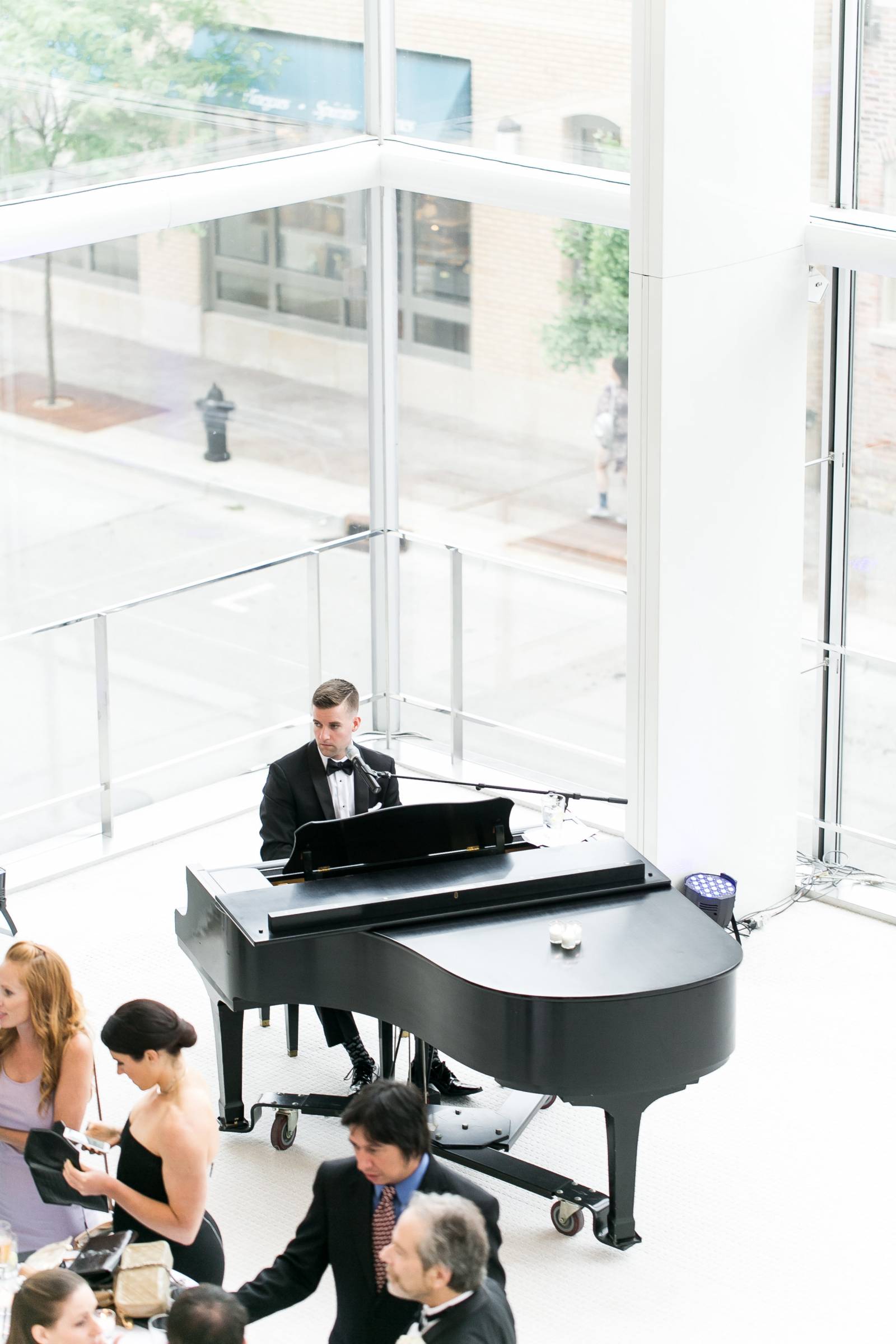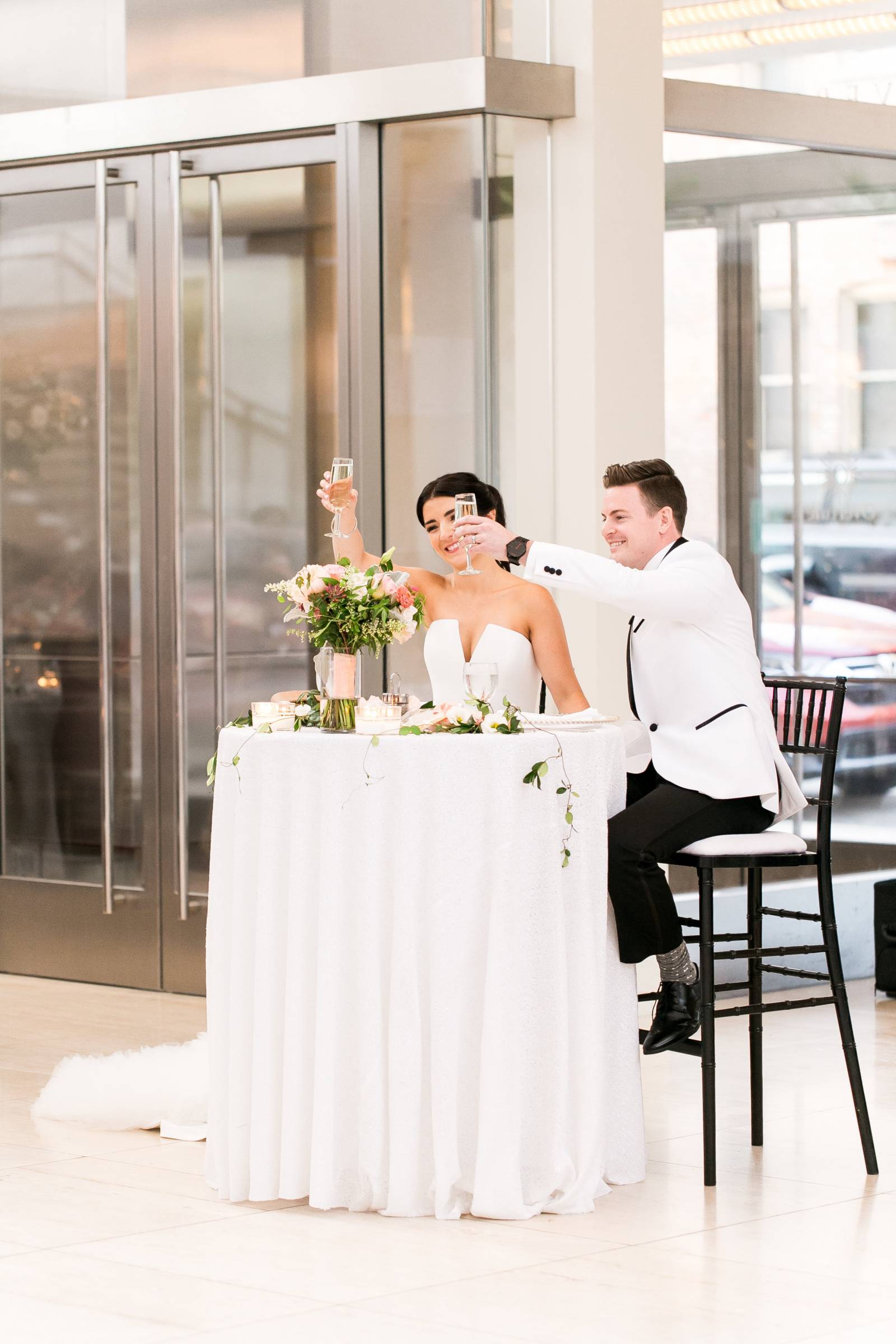 IS THERE ANY ADVICE YOU'D GIVE TO OTHERS PLANNING THEIR WEDDING? Discuss your vision at the very beginning with each other. You'll find lots of things you agree on, and plenty you disagree on. Making sure you come to an understanding of the major decision points at the start of the process will allow you to divide and conquer the tasks while feeling confident that both of you will be on the same page.
ANY WEDDING PLANNING REGRETS YOU'D DO DIFFERENTLY? In hindsight, we would have hired a wedding coordinator/planner earlier in the process to help handle all of the emails, contracts, deadline tracking, and project management. We also opted for certain shortcuts that we thought would make our lives easier instead of thoroughly researching all of our options; in retrospect, it's worth the time to make sure you feel really confident about each and every vendor you select and every decision you make. It can get tiring to make so many decisions throughout the process, which is why it's helpful to have a professional help you early on!