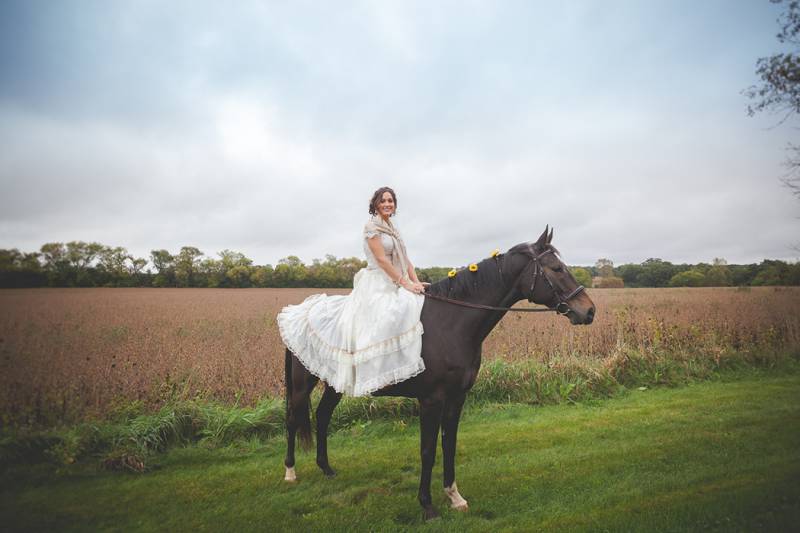 Sometimes mother nature has a mind of its own and doesn't always allow weddings to go according to plan. But that didn't stop Angela and Bradley from having the farm wedding of their dreams with their beautiful horses, sunflowers and homemade wine. Their ceremony was supposed to be outdoors on the family farm, but a week solid of rain made that impossible. A backup plan was finalized two days before the wedding with the aisle way in the barn and a hay backdrop. Three years prior a different barn had stood in that same location, which burned down. A devastating experience for the family made way for a beautiful new barn which was the location for the proposal, the wedding shower, the rehearsal dinner, the ceremony, the cocktail hour and the day after BBQ. "So many pieces of the puzzle were just meant to be," says Angela.
WEDDING DATE: 10/01/2016

HOW DID YOU AND YOUR HUSBAND MEET? We had briefly met at the feed store where Bradley use to work, always in passing. I was training two horses for Bradley's father and he was always trying to come up with ways to set us up. Our first official conversation was at the farm that his father managed. It was about four months of casual chatting before we decided we were avoiding the inevitable. The horses brought us together.
HOW DID YOU KNOW HE WAS "THE ONE"? While I was in the arena working with one of the horses he walked in to say hello to his father. In that moment I looked at him and it was as if literally nothing else existed, I knew then early on.
TELL US ABOUT YOUR PROPOSAL: In front of our family and friends, during a fall party, he had an entire plan. He asked my dad to play a video on a television in our barn that he had previously recorded. The video was of him being interviewed asking about how we met and what he loved about us etc. While the video ended a friend of his walked in to escort me to the indoor arena where we ride the horses. There was a table set up with candles, flowers and champagne. I was sat down and poured a glass. At that moment Lee Brice's song "I Don't Dance" started playing (our wedding song) and he came in on my horse from the opposite end of the arena. He rode down to me and got down on one knee and asked in front of all our family and friends. We then celebrated and took many pictures.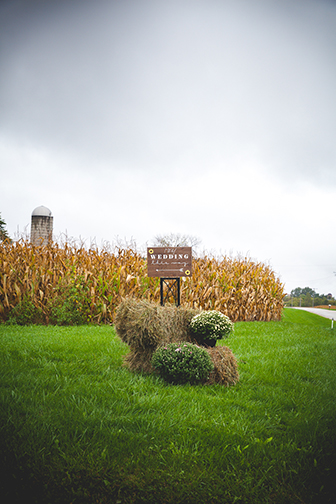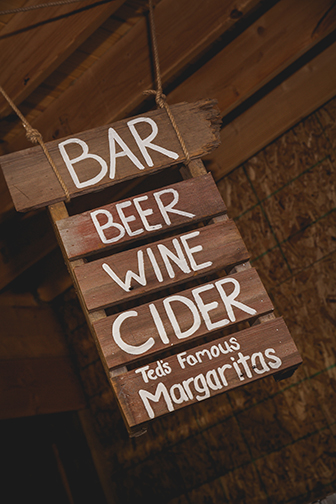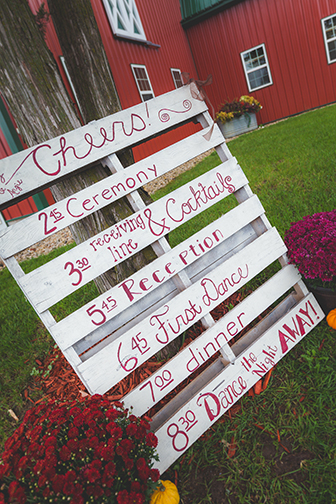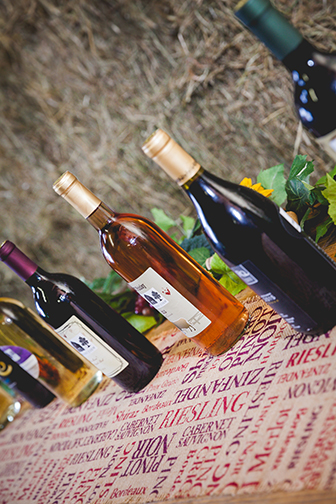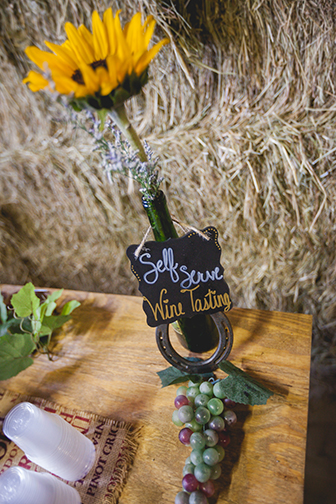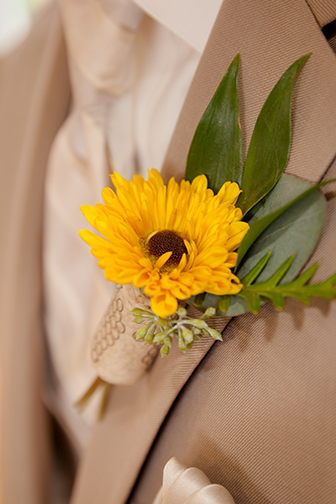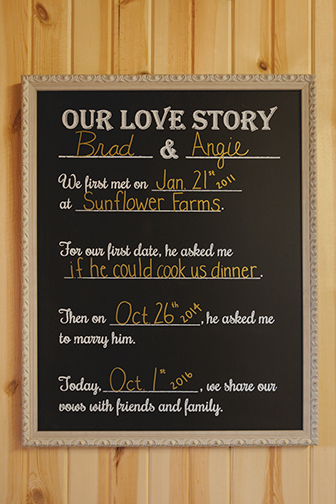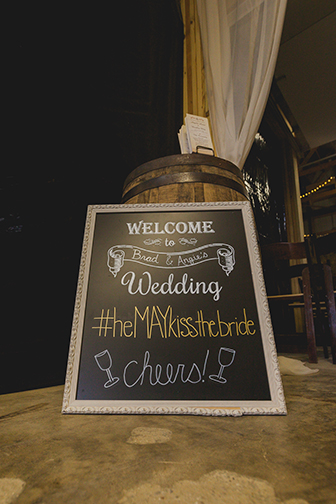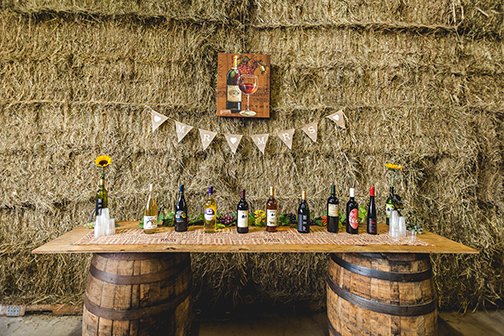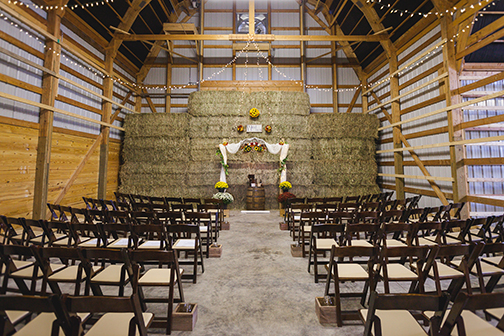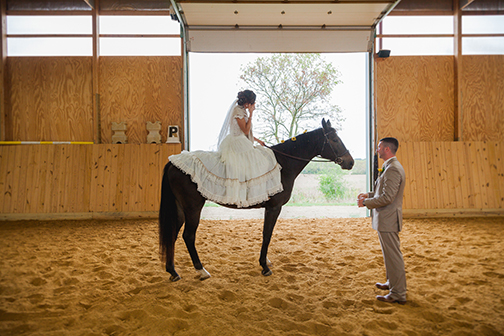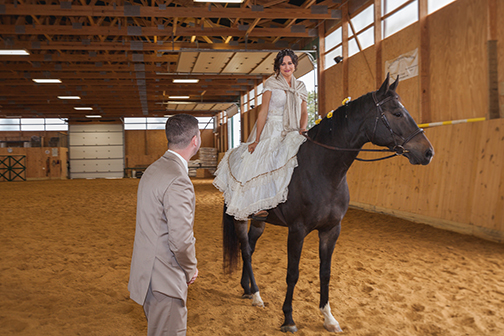 TELL US ABOUT YOUR DRESS: Absolutely stunning. It was the fifth dress that I tried at the first and only bridal salon we went to in downtown Chicago. It was perfectly fitted, Ivory, lace and pearls with just the right accents. I also had a custom skirt made to go over the dress for when I rode my horse into the ceremony.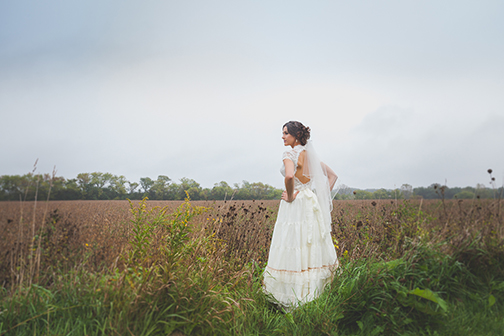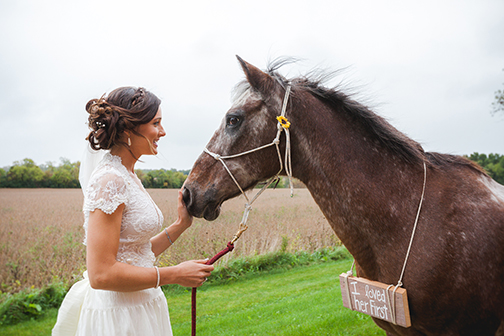 DESCRIBE YOUR WEDDING FLOWERS: Sunflowers, and fall accent flowers
WERE THERE ANY PERSONAL TOUCHES OR DIY ELEMENTS? We had a two-year engagement so nearly every detail was personal or DIY. A majority of the wedding décor was homemade. The ceremony was completely unique, designed by the bride and groom and their officiant friends including songs for each piece of the ceremony, the songs used during the ceremony were from the proposal. A very spiritual ceremony that had nearly everyone crying. A friend of my parents had old barn wood in their barn that we used to build the floral boxes for the centerpieces. We painted a pallet with the schedule. We made every cork number for the tables, used corks for the boutonnieres, and corks for the name cards. One of our hobbies is to make wine so we used our own homemade wine for the wedding gifts. We also used our empty homemade wine bottles for the centerpieces, to hold sunflowers.
We stained Plywood to sit on top of our wine barrels, that my parents picked up in Califorina for the cake table, name card table, wine tasting table, and gift table
We used an arbor to be married under, that my parents built for my sister's wedding years before. We combined two of our wines for our unity ceremony. Made over a dozen floral balls that hung from the ceiling. My dad and uncle made two pallet bars for the cocktail hour and day after BBQ at our farm. A wine barrel top made by my uncle for the sign-in table. My father and uncle also made a pallet bench for the reception for us to use at our King and Queen table. The background for our ceremony was a wall of hay. Horseshoes were also included with every wine bottle and sunflower. ALL of the stationary for every little piece was done through Vistaprint by the bride, it was the perfect way to include little details.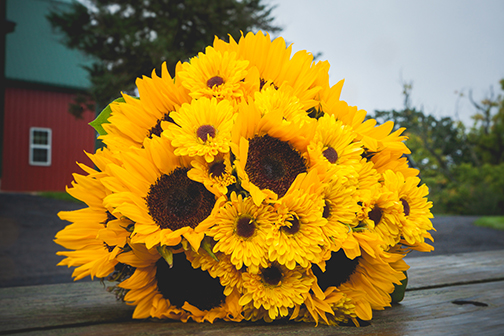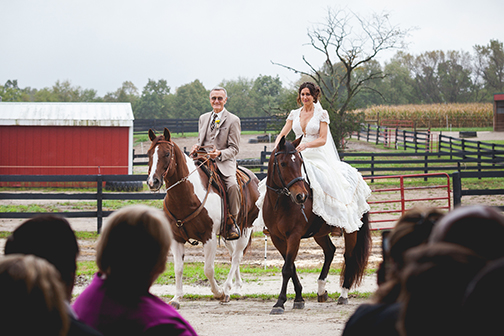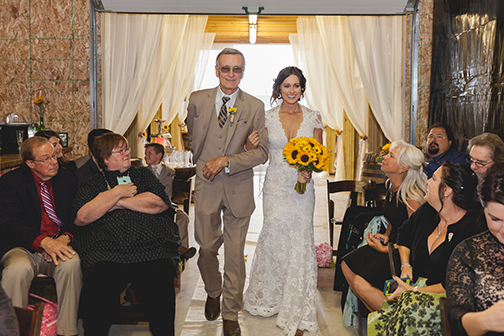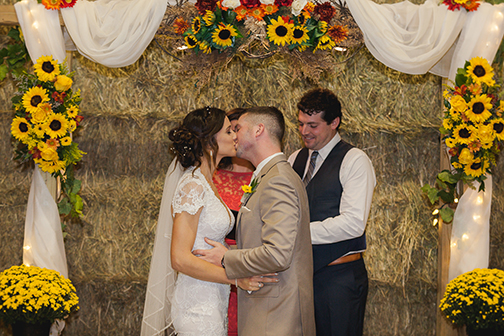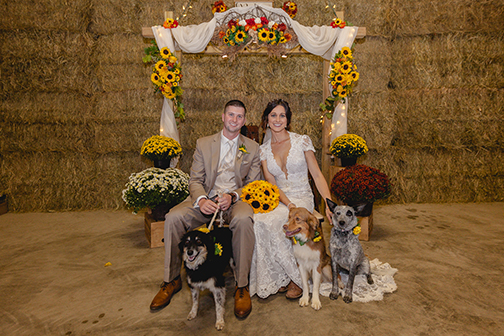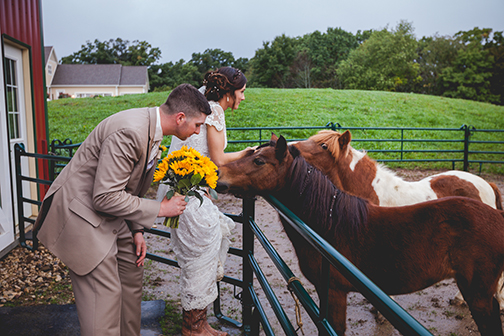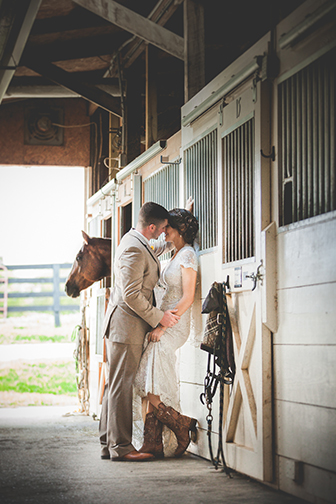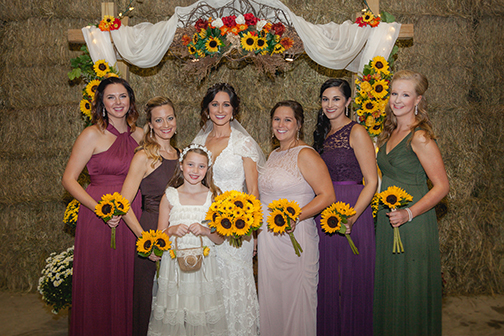 WHAT WAS YOUR FAVORITE MOMENT FROM YOUR WEDDING? Angie- 1. Sharing our vows - in that moment nothing else existed, I never felt so much love and joy. 2. Rain subsiding enough so my dad and I could ride into the ceremony. Bradley - Watching her ride into the ceremony and walk down the aisle. I have never seen a more beautiful girl and have never felt a more intimate moment, even with so many people surrounding us.
One memory that will not be forgotten was the rainbow that appeared over the bride and her father when they were practicing on horseback during the rehearsal dinner the night before.