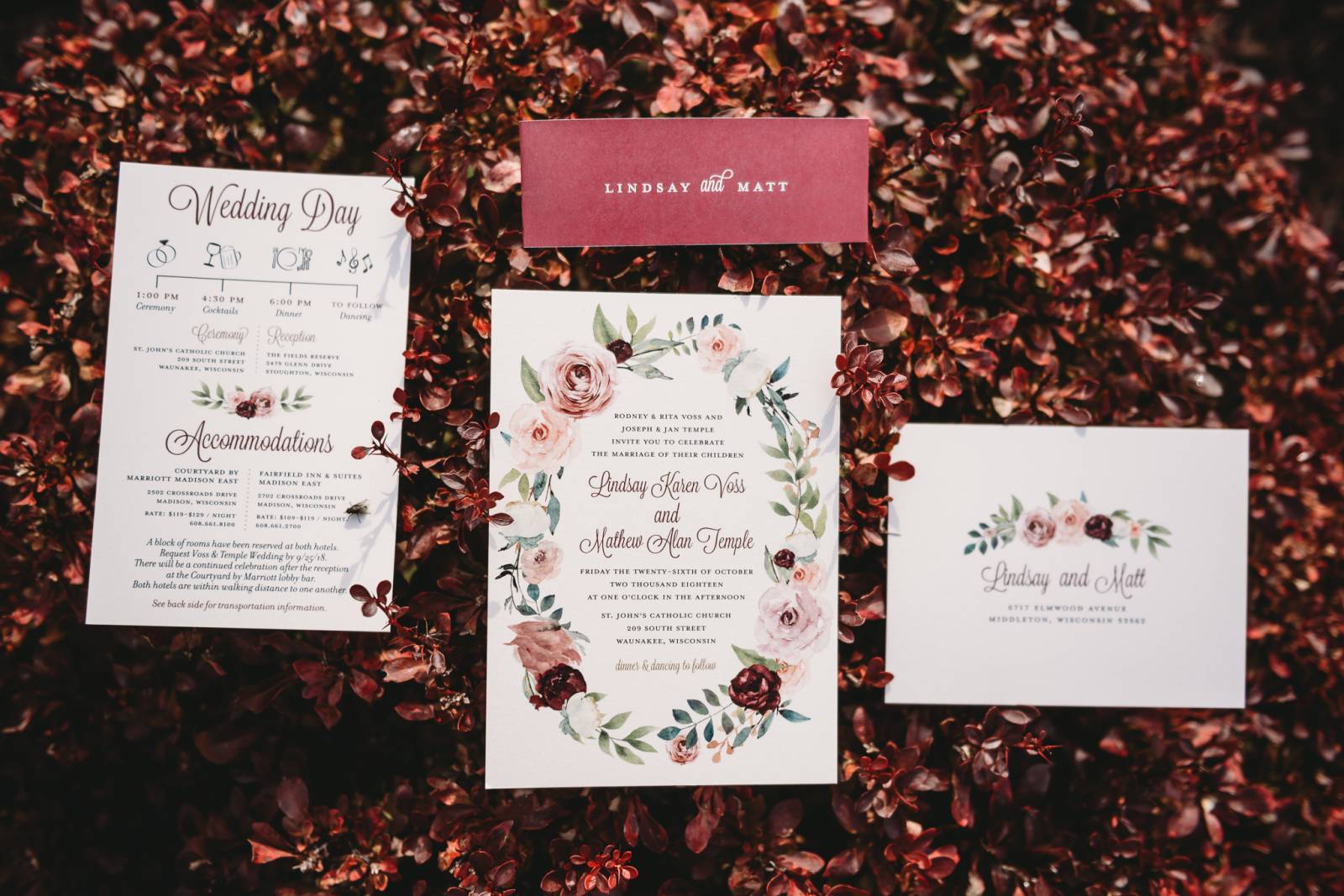 WEDDING DATE: 10/26/2018

HOW DID YOU MEET? Well, we have quite the history. Our families all went to grade school and high school together in Middleton and have known each other for 50+ years. My uncle was Matt's uncle's best man in his wedding and they have been best friends since childhood. In more recent years, our dads have also become best friends. We both went to the same high school in Waunakee, but Matt is five years older so we always knew of each other, but never really hung out. Four years ago, Matt was living in Chicago and came home for Christmas. We both coincidentally went to the same local bar in Waunakee at the same time, on the same night, to meet our dads and the last barstools left were next to each other and well, the rest is history...
HOW DID YOU KNOW HE/SHE WAS "THE ONE"?
Lindsay: I always knew of Matt because our dads are really good friends, but never hung out with him because he was quite a bit older than me and was living in different parts of the country. I would see him around town over the years when he would come home for the holidays, summer, etc. and always thought he was very handsome and had a crush on him. When he came home for the holidays four years ago and we sat down and started talking, we just instantly had a connection. We had so much in common it was like we had been best friends for years. Everything came naturally and the fact that our families already knew each other and got along so well was just an added bonus.
Matt: Right away I knew we clicked, but once I found out how much we enjoy the same things and how similar we were, I knew she could be my best friend for life. It also helped that I really liked her family.
TELL US ABOUT YOUR PROPOSAL: Matt's family has a cabin up north in Lac du Flambeau and it has been in his family for over 60 years. It is one of his favorite places in the world and holds a lot of memories for him and his family. We went up there to go fishing for the weekend with his family and some of his aunts and uncles. He woke me up really early one morning and asked if I would like to go down to their pier. It was just Matt and I on the pier, drinking coffee, looking out at the calm water and enjoying the beauty of up north. He got down on one knee on the pier and asked to marry me, it was perfect.
TELL US ABOUT FINDING YOUR DRESS: I had set up appointments at two different bridal shops and got a big group together of my friends, mother, future mother-in-law and future grandma to find the dress of my dreams. After trying on probably 30 dresses, I just couldn't seem to find one that I loved, it was honestly pretty discouraging and I didn't know if I was being too picky or what it was. So a week later, I decided to meet one of my bridesmaids after work at Vera's House of Bridals. I live only a couple miles away so it was super convenient and I just wanted to see what they had but wasn't very hopeful as I had tried on so many dresses already. After trying on only 2 or 3 dresses, I had found the most perfect dress, well almost perfect! There was some extra lace on the neckline that I wanted removed and Vera's was able to alter it exactly how I had envisioned. It was pretty amazing because it was almost like I had my own custom dress.
WHAT WAS YOUR WEDDING COLOR PALETTE? Wine, blush, ivory, and navy blue. We got married in late fall, so we really wanted to emphasize the beautiful colors that fall brings as well as enhance the beauty of all the wood tones at The Fields Reserve.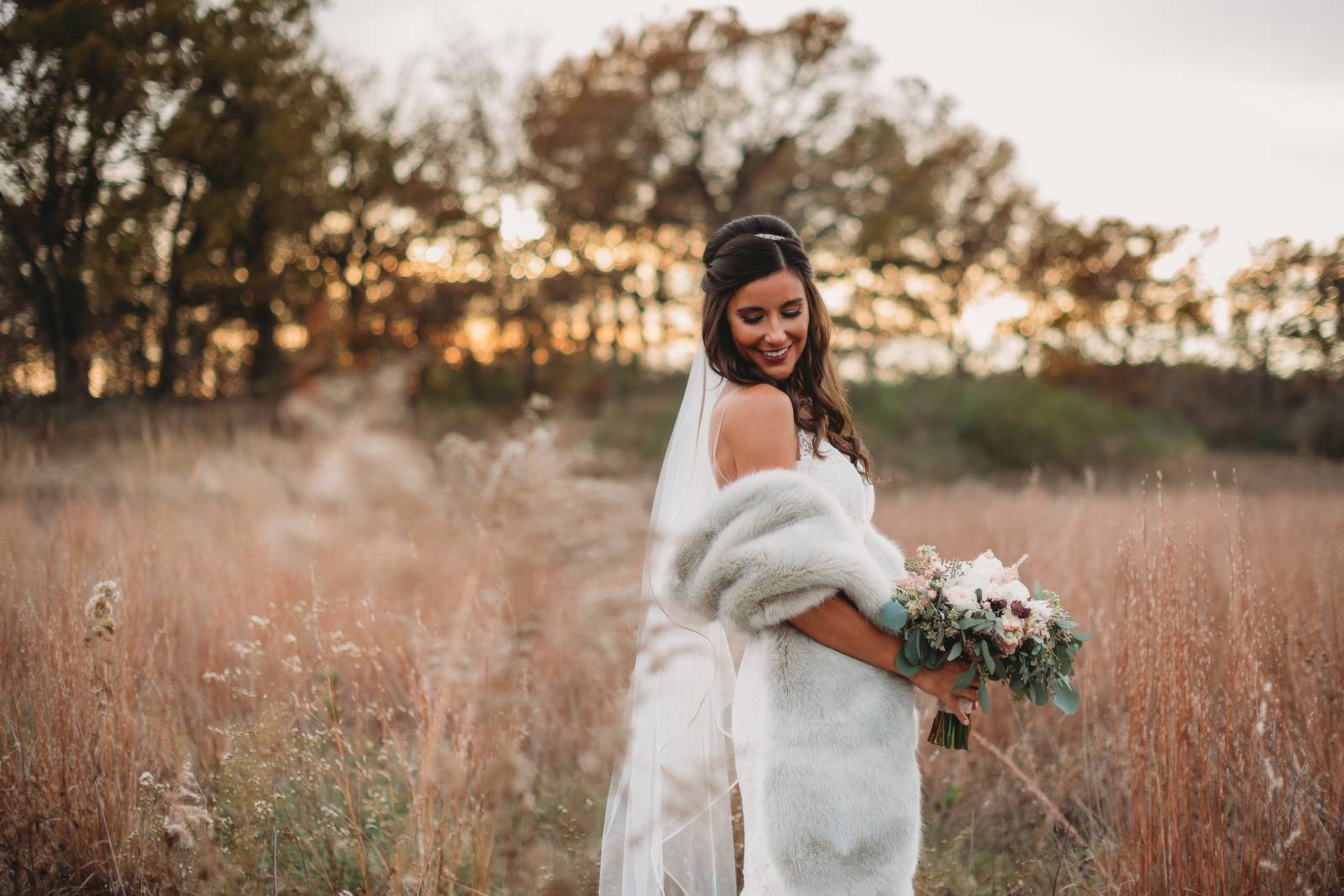 WHAT WAS YOUR FAVORITE MOMENT FROM YOUR WEDDING?
Lindsay: Mine is a tie. Our first look was one of my favorite moments because it is so personal and I got to see Matt's face just a couple inches away from mine when he saw me for the first time in my dress. His reaction is something that will forever be in my mind. There was also a moment during dinner when I just stopped and looked at our head table at all of our closest friends and then out into the crowd at our families, everyone important to us, and just thought, "wow" this is all for us. Pretty surreal moment.
Matt: The moment after I hugged my mom and was standing alone at the alter waiting to watch my beautiful bride walk down the aisle. That's a once in a lifetime moment I'll remember forever.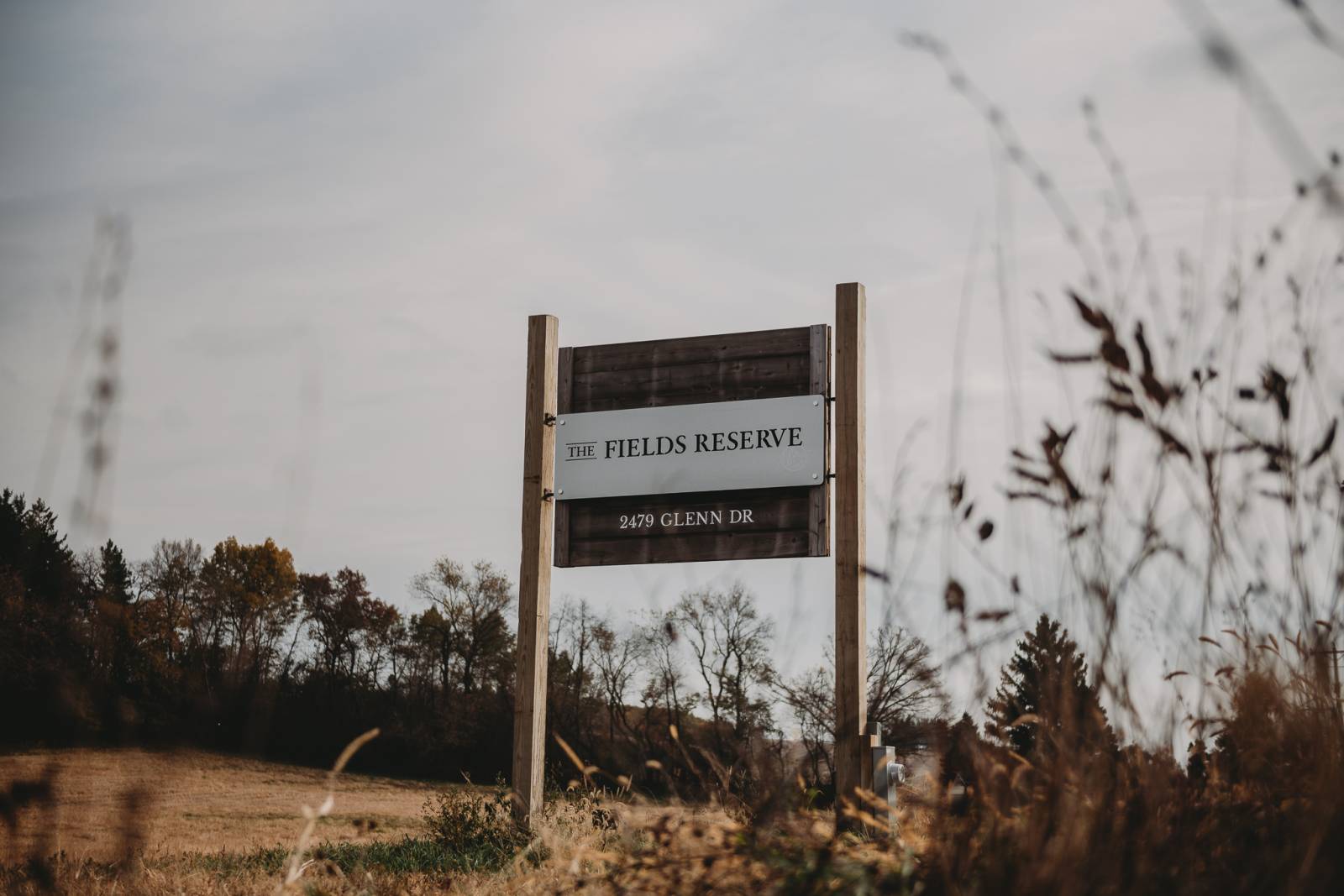 WERE THERE ANY PERSONAL TOUCHES OR DIY ELEMENTS? Oh, absolutely! We wanted to make our wedding as personalized as it could be. We had our ceremony at St. John the Baptist Catholic Church in Waunakee (we both went to Catholic School there) and Matt actually worked as a mason laborer during the summers and helped to build the church. My cousin and his wife are super talented musicians and they performed all the music at our ceremony which made it extra special. I also had my grandmother's rosary wrapped around the base of my bouquet as well as an engraved charm one of my bridesmaids gave me as a gift.
We had some fun directional signs placed at our reception venue (The Fields Reserve) as well as a custom wood welcome sign with our names and date on it right outside of the main entrance. There have been many beautiful weddings at The Fields Reserve, but we wanted to customize ours and do something no one else has. We added café lights in the middle of the barn over the dance floor, cascading among the chandeliers, as well as soft amber uplighting throughout the entire barn. We also (with the help of the very talented Chance Productions) created a custom pole that was the length of the outdoor patio (110 feet) so we could hang sheer drapery to the posts and connect them with beautiful greenery mixed with floral and string lights. It added a layer of elegance that really accented the beauty of the outdoors.
Our ring box was made from wood with our names on it, as well as our welcome board that everyone could sign instead of a guestbook. Something very important to us was to have a tribute to our parents, who have both been married over 30 years. When you entered The Fields Reserve there is an old dresser with two wine barrels on either side. I had extra lace from my wedding dress that I laid over the dresser and we placed a picture of each of our parents on their wedding day on top, along with a sign that said: "All because two people fell in love."
DESCRIBE YOUR WEDDING FLOWERS: A beautiful mix of greenery and floral. They mimicked our theme of rustic and elegant perfectly. They were mostly light in color (ivory and blush) with pops of wine, blue thistle and berries. I wanted all the bouquets and arrangements to look very "textured" and that they had a lot of depth.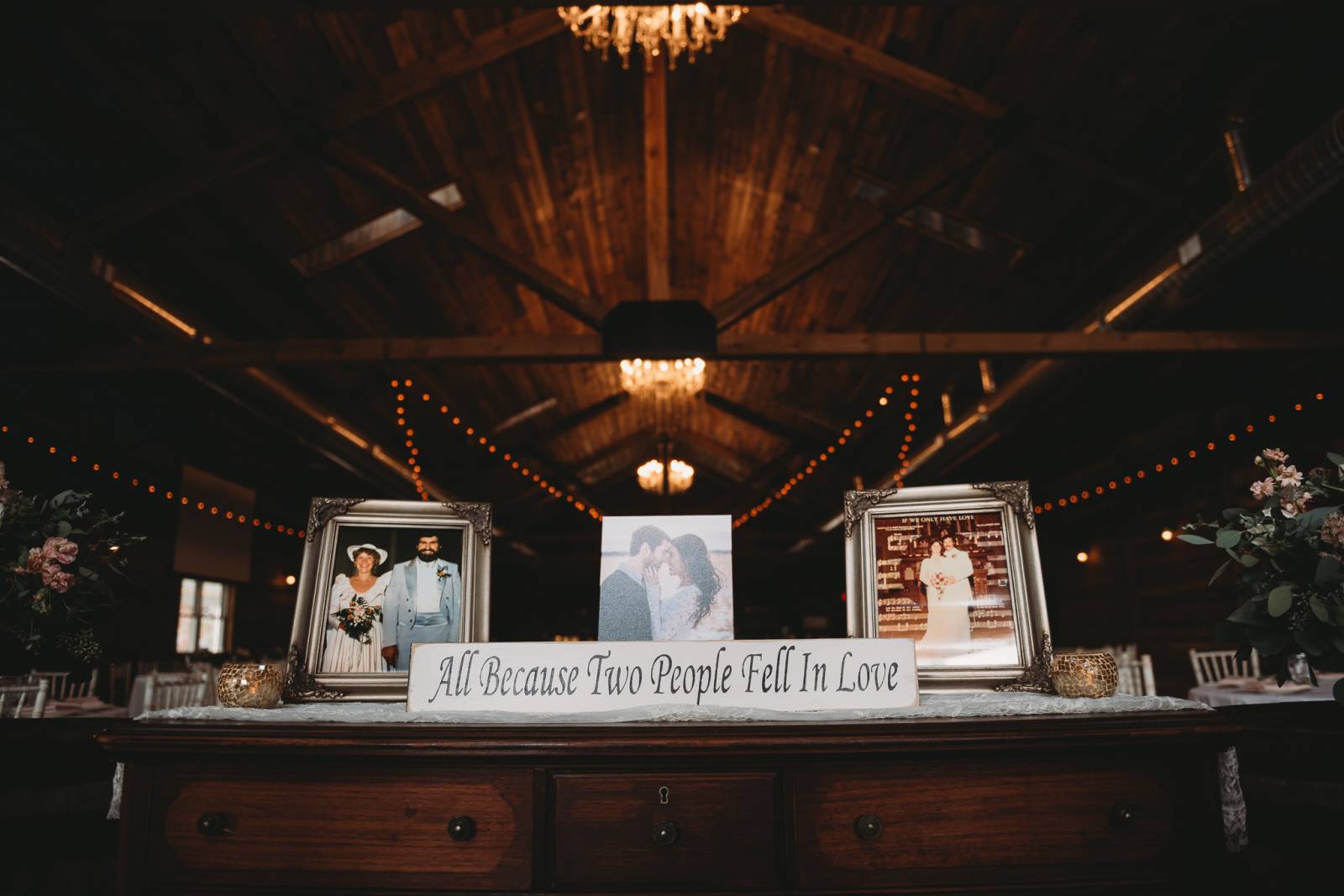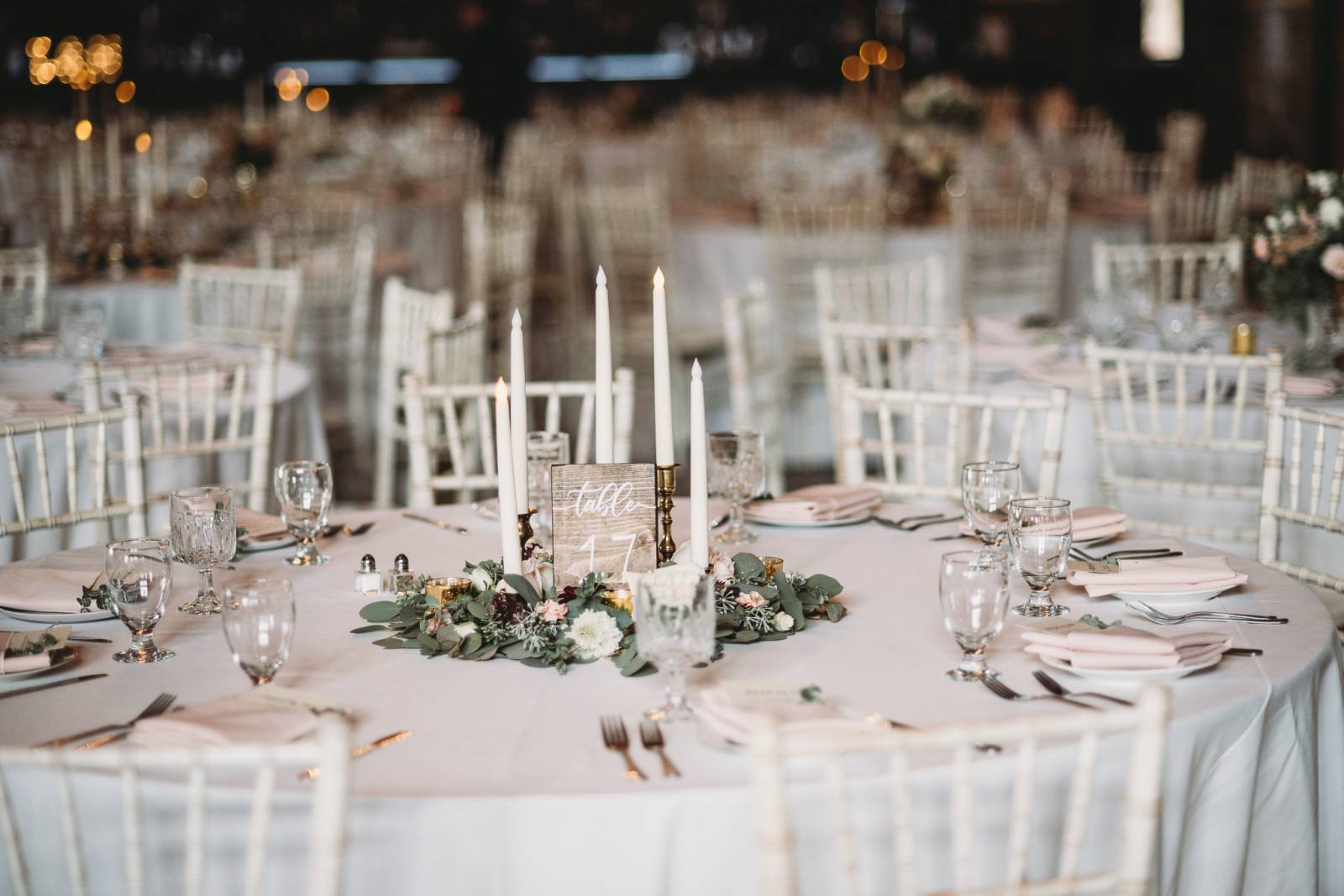 DID YOU USE ANY SPECIALTY CHAIRS, LINENS, GLASSWARE OR DINNERWARE? The chairs were cream chiavari from The Fields Reserve that are a bit distressed. There were also blush colored napkins on all the tables with menus inside of them along with eucalyptus tucked inside. The parent's table as well as the head table had wine waxflowers in addition to the eucalyptus in their napkins. All of our dinnerware and glassware were vintage, mismatched china dishes that our caterer provided. We loved this as it went with our theme and really brought some individuality and charm to our dinner.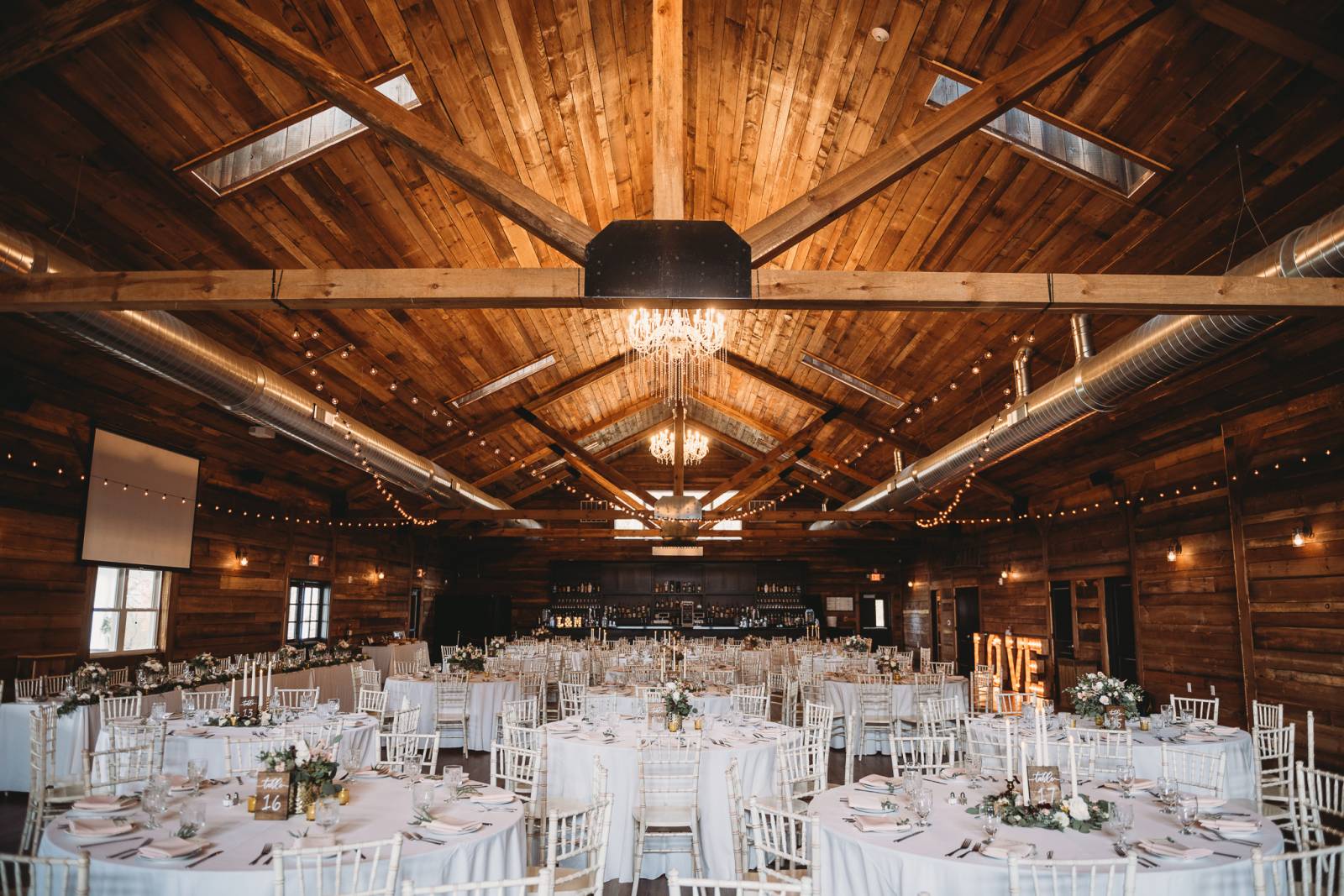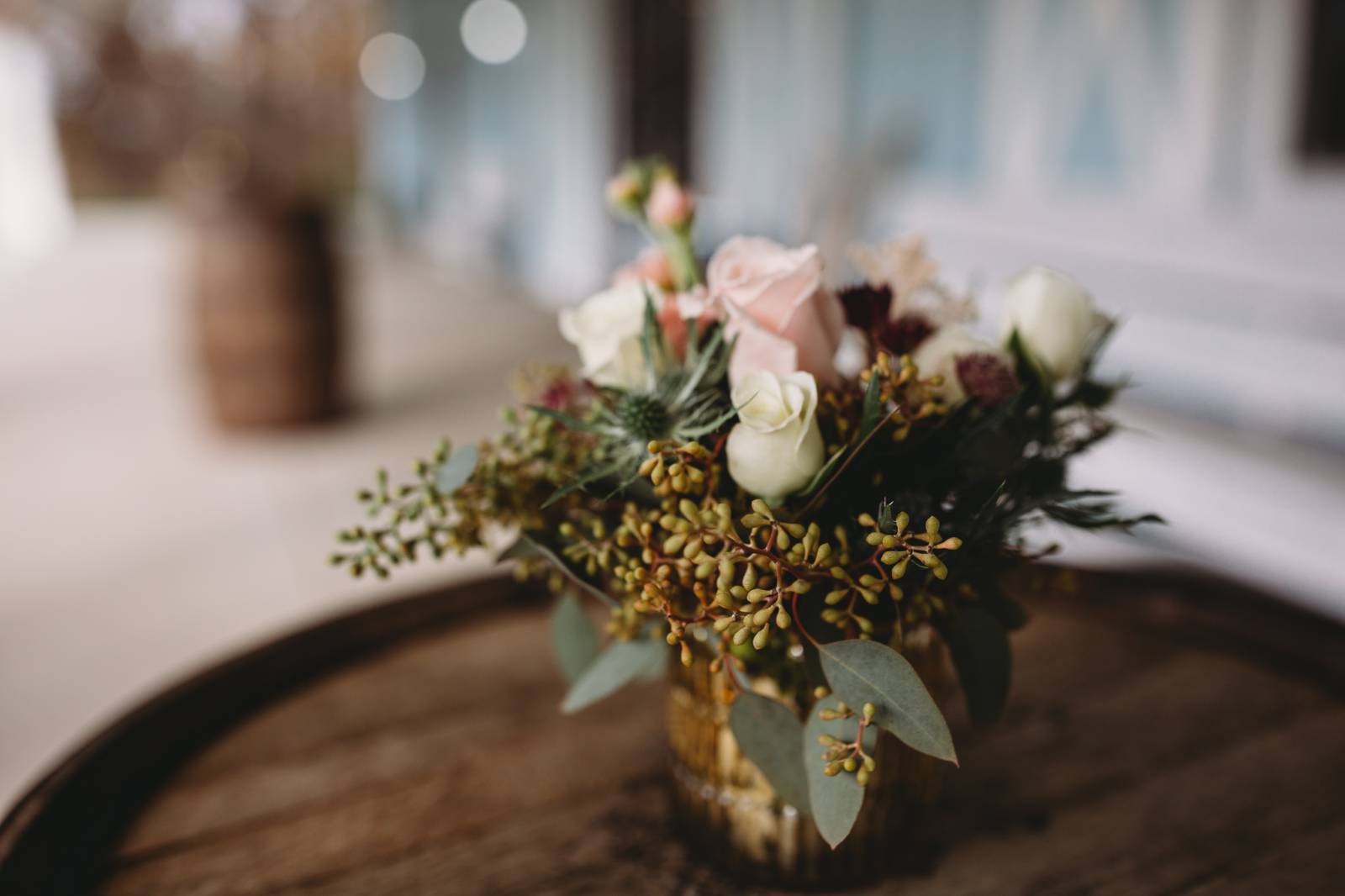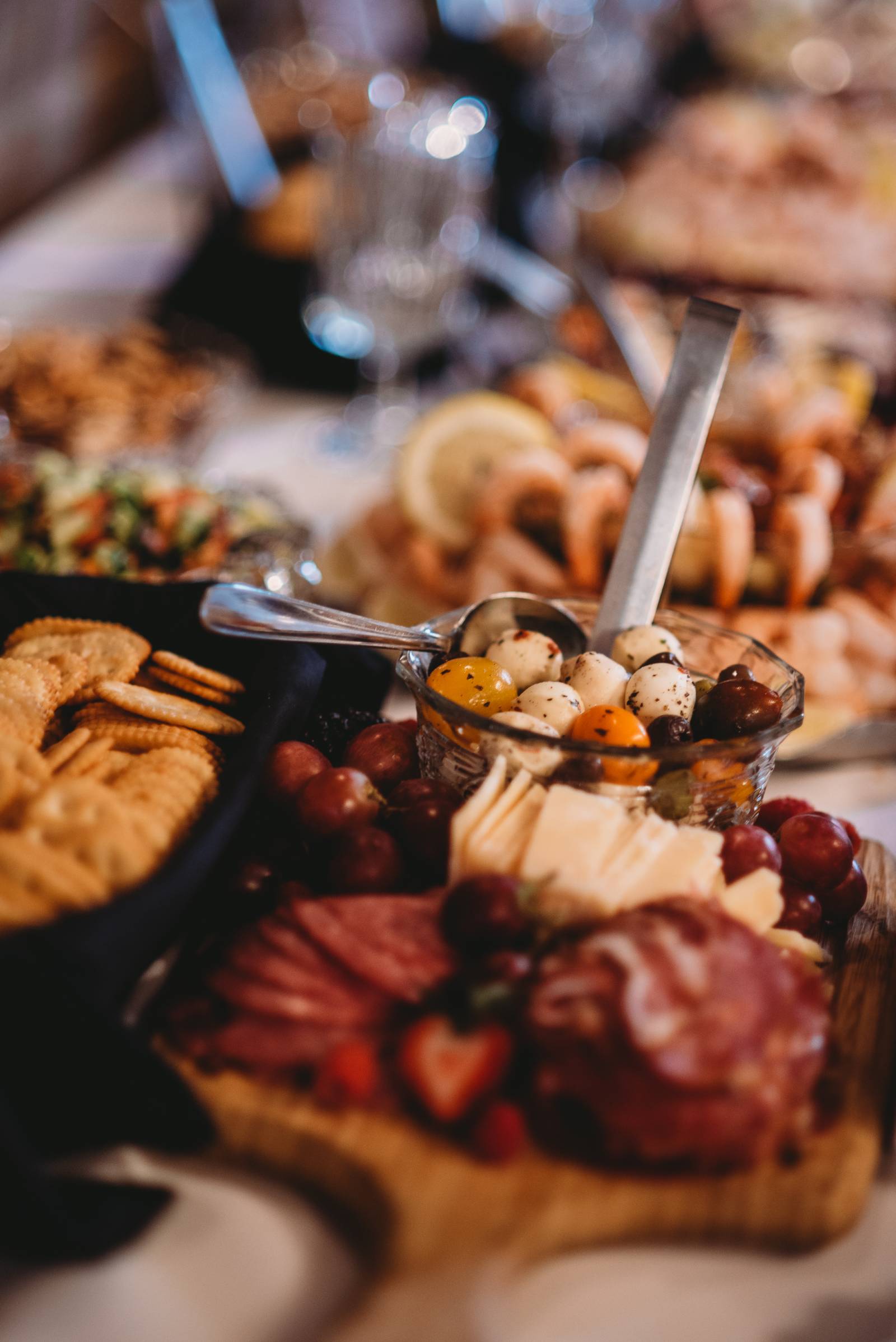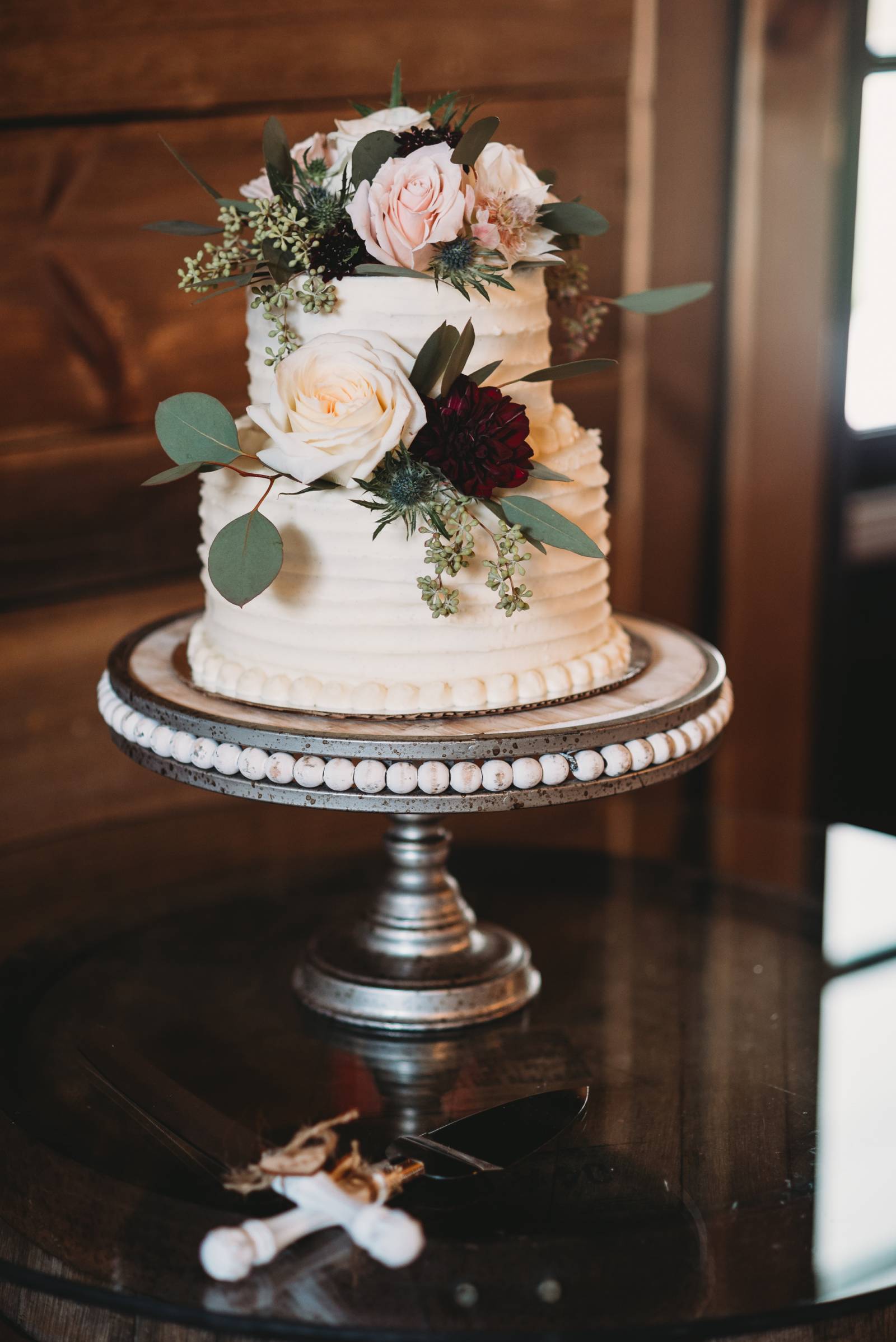 TELL US ABOUT YOUR HONEYMOON PLANS: Matt is a huge hunter, so for those of you who do not know, the weeks after our wedding are "prime" for hunting. So needless to say, we were not going anywhere right after our wedding. It actually worked out well because we both wanted to go somewhere warm during the very cold winter months here. We are actually in the middle of planning it right now! We are deciding between Jamaica and St. Lucia. Our main criteria were warm weather, beach, pools and unlimited drinks-so I think we will be good with either.
WHAT DOES LIFE LOOK LIKE AFTER THE WEDDING? Pretty much the same as before! We had been living together for two years before we got married, so continue living in our duplex and saving to build or buy a house in the next couple of years and start a family together.
IS THERE ANY ADVICE YOU'D GIVE TO OTHERS PLANNING THEIR WEDDING? Try to not stress about the small things, even though it is very easy to do. No one will notice what your table numbers or napkins looked like! There are SO many decisions you have to make when planning a wedding that if you stress and agonize over each one it will drive you crazy. And hire a day of planner--they make the day so stress-free and really help with the logistics and making sure everyone is where they need to be and nothing is forgotten.
ANY WEDDING PLANNING REGRETS YOU'D DO DIFFERENTLY? Don't check the weather until the morning of your wedding!!! I started checking the weather 10 days in advance and it changed every day multiple times a day. Even the day before, it said it was supposed to rain the day of my wedding, all day. I just went in with the mindset that if it rains, it rains, there is nothing we can do about it, it will still be beautiful no matter what. My mom actually prayed to my grandma in heaven for no rain. Our wedding day came and it never rained a drop, it was actually sunny and we had the most beautiful golden hour for pictures!
See a full list of Madison wedding florists here in our online vendor gallery or peruse through more real wedding inspo below from real couples for your very own playbook.