In today's Vendor Spotlight, we are honored and thrilled to give you an inside look at the multi-faceted and talented LK Bridal Studio! Lindsey and her creative team are passionate about providing you and your love both unique and stunning images and stationery that reflects you two on your most special day. From engagement, boudoir, wedding, and anniversary photography to custom invitations, paper goods, and signage personalized down to the smallest detail, learn more about this intentional and creative vendor down below!
TELL US ABOUT YOUR BUSINESS AND WHAT YOU OFFER: Hi! I'm Lindsey, the creator of LK Bridal Studio. As a photographer, designer and artist, I thoroughly enjoy creating and have a passion for photography - documenting life as it happens and capturing the special moments in a style filled with playfulness, warmth, and love. I understand that my team and I are capturing memories, pieces of your history you will cherish for years to come. Every photograph and invitation deserves to be as unique as the wedding it belongs to. Your dreams, your style, and your budget come above all else. We strive to give our clients an unparalleled experience where you are cared for at every step of the process and walk away with memories you will never forget.
A bit about my photography...
When you hire your wedding photographer, you're commissioning more than just an individual to press a button on a camera - you are entrusting an artist to create a piece of history, memories you will cherish forever. Bringing together our knowledge and creativity, we provide you with stunning, dynamic wedding photography. We will help you through the planning and detail process, easing your wedding day's stress while sharing some laughs along the way.
• Engagement Photography
An opportunity to get to know me better, for me to get to know you more, and to capture some fun photos! I cherish these more relaxed and casual sessions.
• Boudoir Photography
I help your inner and outer beauty shine while boosting your self-confidence and put a smile on both your and your love's faces. Your other half will love this beautifully intimate and personal gift on your wedding night, honeymoon, anniversary, or any special occasion because what's better than the gift of you?
• Wedding Photography
My studio takes an illustrative approach to photography. This style is a pleasing blend of editorial and photojournalistic, emphasizing composition, lighting, and background. I weave together the story of your day to treasure and relive for years to come.
• Anniversary Photography
This shoot encourages couples to get in front of the camera not just once in their lifetime. It is a chance for my couples to get dressed up, have gorgeous pictures taken, and take a quiet day off to celebrate one another and their marriage.
A bit about my invitations and stationery pieces...
My studio is passionate about wedding invitations and all of the wonderful elements enhancing your celebration. You are preparing for one of the biggest days of your life, and it's a big deal! Your wedding should reflect your personality, and each element should be cohesive, including the stationery design. I pride myself on thinking outside the box and working with you to create pieces you will love. Some things we offer at LK Bridal Studio:
• Save the Dates
Send a keepsake to have and to hold using one of our memorable save the date options. Fashionable early reminders provide your guests with plenty of time to mark their calendars.
• Throw the Perfect Party
Celebrate the engagement, throw a bridal shower, let the bride shine at her bachelorette party, toast at the rehearsal and enjoy the glow at the post-wedding brunch and celebrate the anniversary milestones.
• Wedding Invitations
From my basic set to my most elaborate suite, I promise wow-worthy pieces. All pieces I customize down to the smallest detail. Don't forget the reception card, map and directions, additional information, and accommodations cards!
• Envelopes
First impressions are everything! I'll help you find the right size, style, and colored envelopes to deliver your wedding invitations. My studio even can print white ink, allowing us to address dark envelopes for a dramatic effect.
• Day-of-Essentials
Style doesn't have to stop at the invitation. Get coordinating day-of-essentials! Ceremony and reception pieces, such as place cards and table numbers, are small details that make a big impact. Thank you signage, dessert table cards, menus, and guest books are all pieces that can be customized and designed to match.
• Say Thanks
For all of the people that helped make your big day the best day- your loved ones, friends, and even your vendors appreciate a kind word.
TELL US ABOUT YOUR JOURNEY STARTING YOUR BUSINESS: Within a year of opening my main company, LK Design & Photography, I discovered a need for wedding photography and custom wedding invitations in my area. Many couples were still ordering invites out of catalogs, only being able to change the text to their event information, but little else. I knew right away I could create genuinely unique invitations that perfectly highlight my couple's wedding style. I started the LK Bridal brand to allow me to showcase my wedding services. My wedding photography was a natural tie-in to the sessions I was already offering.
From the beginning, my couples have adored the creativity and thoughtfulness in my photos and designs. Big or small, over-the-top or simple and elegant, I can create the perfect vibe for your wedding.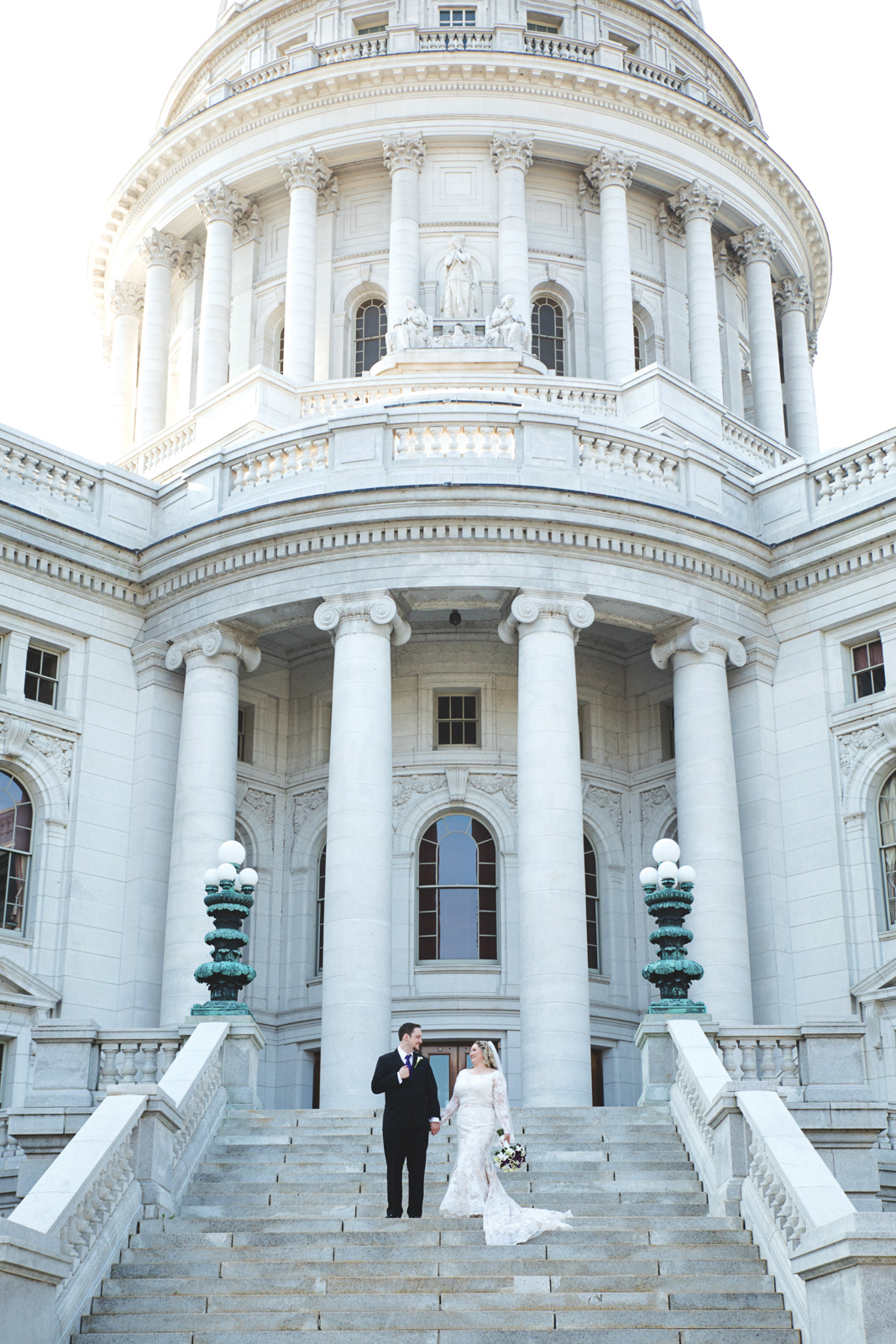 WHAT SETS YOU APART FROM OTHER VENDORS IN YOUR INDUSTRY? My studio is a creative powerhouse. Many of my clients love that I can help them with both the creative photography and stationery needs for their wedding. Mixing my design skills and knowledge with my eye for composition allows me to create beautiful photos.
I am also known for my unlimited creativity and an adventurous mindset - designing beautiful pieces that convey information or emotion is the heart of what I do. Taking that a step further and bringing dimension, texture, or the unexpected into the design makes my heart sing! I am not afraid to step into the extraordinary. Here are a few fun stationery highlights:
Fire-Branded Wood Save the Date
Faux Cowhide Event Ticket Invitation Suite
Sea Glass Invitation Suite
Authentic CD Invitation with Covers performed by the talented couple
Screenprinted Burlap Invitation Suite
Laser-Engraved Wood Invitation Suite
Laser-Contour Cut Barn Invitation Suite
Magnetic Wisconsin Save the Date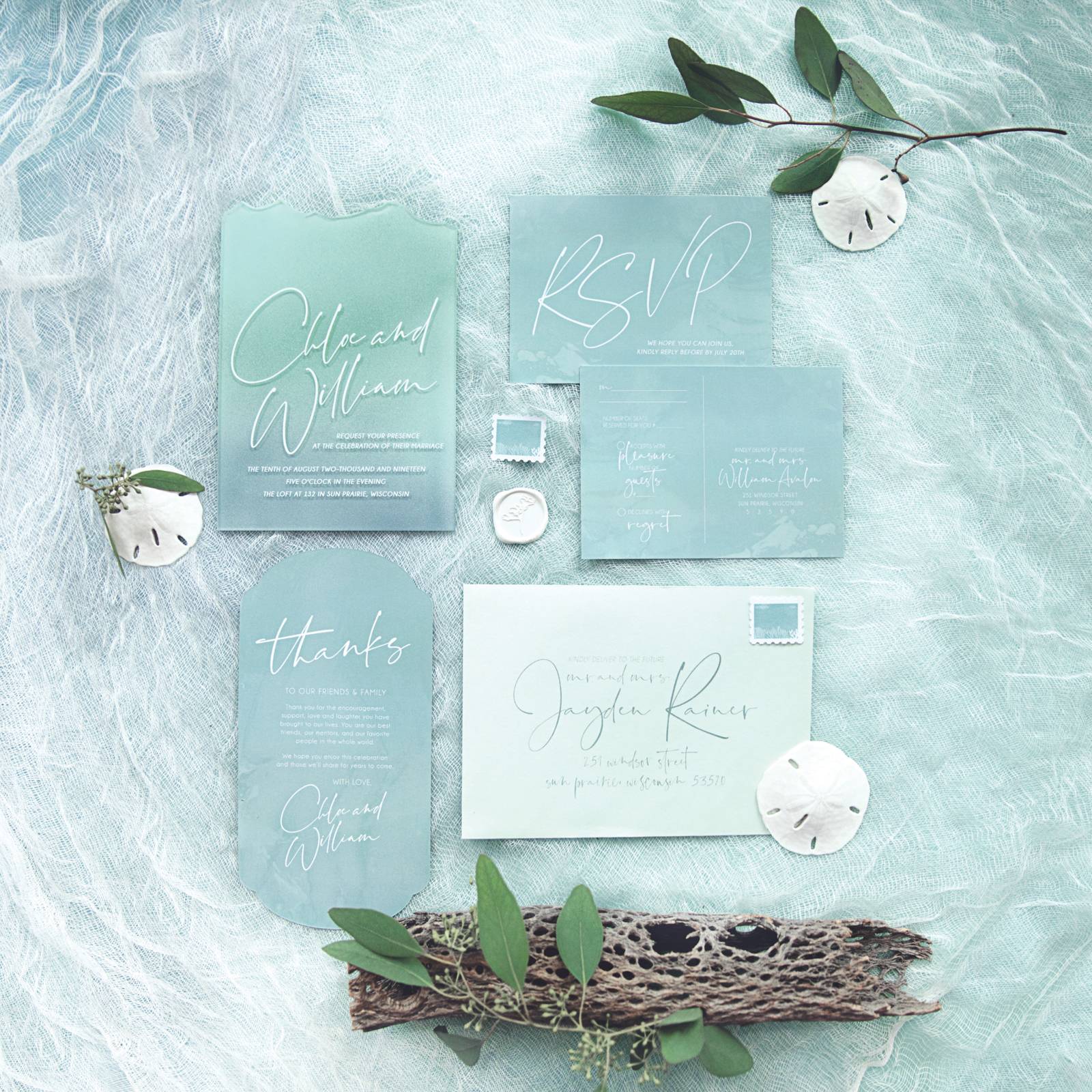 WHAT DO YOU LOVE MOST ABOUT WORKING IN THE LOVE INDUSTRY? I love meeting with my couples, learning what they have planned, and asking them just the right questions to determine what they want and need for their event. Some clients arrive super prepared with a plan, and others need guidance and knowledge. Helping couples navigate the tremendous amount of decisions while creating elements they ADORE for their happy day gives me all the feels. Having experienced so many weddings, I have a wealth of knowledge to share and am pleased to do so!
ANYTHING ELSE YOU'D LIKE TO SHARE? You're engaged! It's such an exciting time, but you're probably overwhelmed with the amount of information being thrown your way. Don't worry; you're not alone. I can help you with your creative needs and make the world of wedding planning a little less stressful.
XOXO, Lindsey
To contact LK Bridal Studio with questions about their services, visit their Vendor Profile HERE!