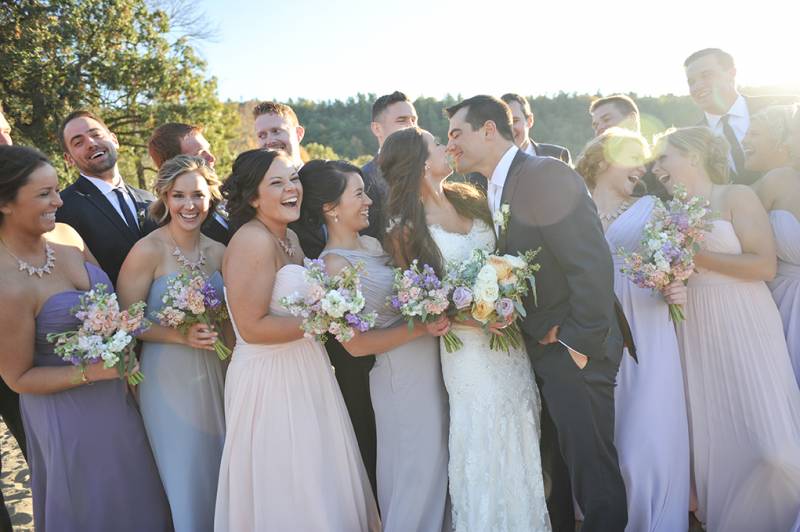 There are many ideas and things to consider when planning a wedding. Some things are long standing traditions you may want to continue depending on your style, mindset and budget, but here are a few things that are totally ok to skip on your wedding day that your guests won't even miss.
FAVORS
The tradition of wedding favors dates back to European aristocrats, who gave bonbonnieres to their wedding guests. A bonbonniere is a small trinket box made of crystal, porcelain, and/or precious stones which symbolize wealth and royalty. Although this has been a long standing tradition, guests don't really care about wedding favors. So, instead of wasting your money on monogrammed items with your date and names on it that you'll only end up with a ton of leftovers, you can provide some additional tasty food or beverages either during the cocktail hour or as a late night snack that your guests will love.
PAPER PROGRAMS
Paper programs are filled with all the great details listing your parents, officiant, wedding attendants and timeline but too often we either see them just thrown away right after or guests don't even take one. Instead, get creative with a beautiful sign to display the details, the options are endless from chalkboards, glass, plexi or wood signs that can tie in with your overall design and color palette.
GUEST BOOK
You don't have to do away with this all together, come up with a fun alternative. Are you world travelers? Have your guests write you a message on a globe or maybe you love wine and want your guests to fill wine bottles with messages. Or maybe you have a decorative piece you want your guests to sign to hang on a wall in your new home. You could also have a photo booth or Polaroid station. The options are endless!
HIS + HERS SPECIALTY DRINKS
Cocktail hour is our fave but guests really don't pay attention to the fancy name of his and hers drinks or what's in it. If it's complimentary and tasty, that's all that matters. So don't worry so much about coming up with creative his and hers drinks, instead, come up with one featured cocktail or a specialty bar or station. Old Fashioned station or Bourbon bar, anyone?
DOLLAR DANCE + BOUQUET/GARTER TOSS
The dollar or money dance was a custom that originated in Poland in the early 1900s in immigrant neighborhoods. While each culture and geographic location varies, many have mixed feelings, often deeming it tacky or incorrect to ask guests for money. Skipping this dance is totally ok and your guests won't even miss it.
The bouquet and garter toss have been a long standing tradition that has superstitious symbolism that bestows good fortune. In modern day, it's a way to get all of the single people together out on the dance floor. With many couples marrying later on in life, often times, couples only have a few single friends left, so depending on your guests and not to single out your single friends, you may want to do away with this tradition altogether.
Photography: Ann Gorgen Photography