The party of your lifetime, where do you begin? You'll want to have date options in mind
and consider your budget, style, and the size of the reception, to help you narrow down
the venue choices. From a rustic barn, an elegant tent, your favorite restaurant or winery to a shimmering lakefront or a glam ballroom, decide what ambience you desire on your wedding day! Here are some tips, timeline and questions to ask during your initial venue tours before deciding on the final space of your choice.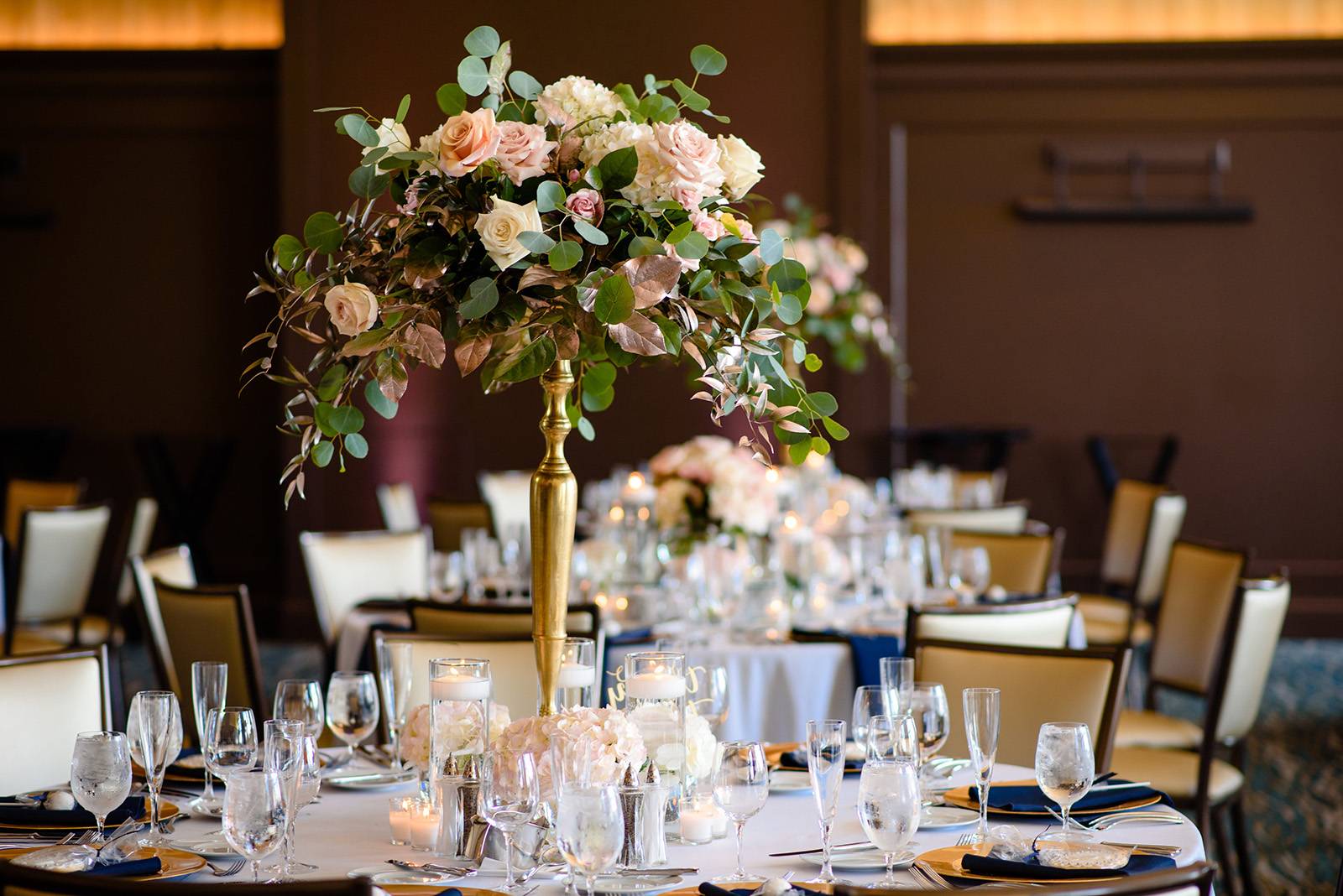 TIMING
12-18 MONTHS BEFORE: Tour & book your venue.

1 MONTH BEFORE: Have a final appointment with site coordinator to solidify final plans.

1 WEEK BEFORE: Contact site coordinator to verify final details and to give your final guarantee or number of guests attending. The final guarantee you will be responsible paying for when it comes to the food & beverage even if some guests do not show to your wedding.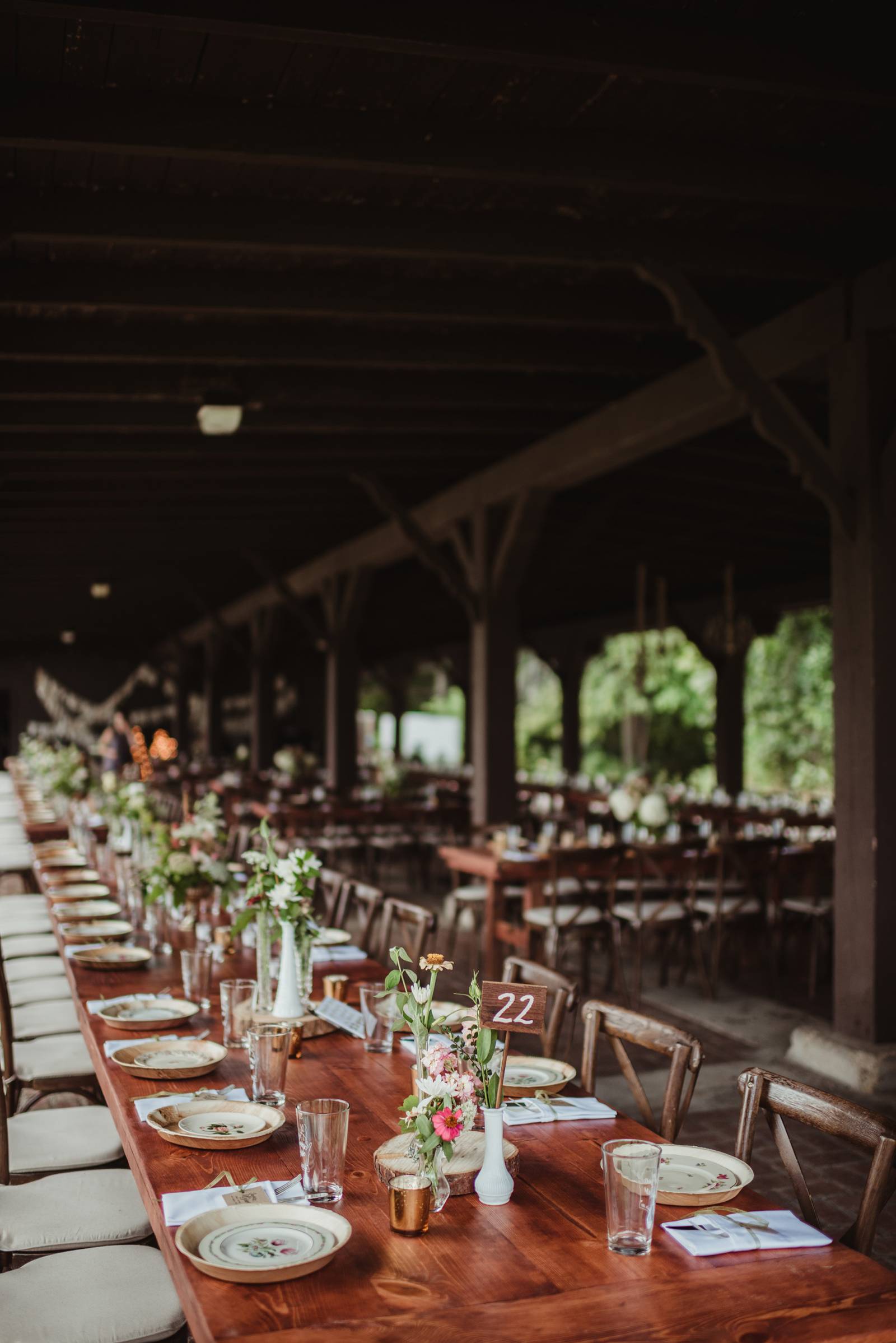 RECEPTION OPTIONS
For any of these options below, trust your reception fare to the venue or a professional caterer, as they will have the expertise to know how much food to prepare and will have the proper equipment. You don't want any added stress for the couple, friends or family members who may try to volunteer for this huge undertaking.
COCKTAILS & HORS D'OEUVRES: This can be elegant and trendy, but make sure not to schedule this around the dinner hour if this is all that you are serving. You don't want your guests to be hungry, so it's best to add this to the evening festivities before the main meal is served. This is a great opportunity to mingle with your guests, or this can keep guests busy while the couple is off taking photos. Consider signature cocktails to personalize your event.
PLATED: Guests are seated, typically at a designated table, and served a plated meal.Entrée options are provided within the invitation ensemble. Escort or place cards for each guest indicating a certain color or symbol for the meal they choose will need to be made and are often part of the table décor. This is the most formal reception choice and also the most time consuming for the couple as they will need to assign every guest to a designated table in addition to making out an escort or place card.
BUFFET: Guests can choose their own seats and make their way through a buffet line when their table is called. Compare options to decide what is best for your budget and the ambience of your event.

FAMILY-STYLE: Table arrangements can be designated in advance or seats can be chosen by guests upon their arrival. Food is placed on the table in large serving dishes for the guests to serve themselves.
INTERACTIVE FOOD STATIONS: Food stations are mini-buffets, with each offering something special, such as a chef-attended meat carving station, pasta or potato bar, or an ethnic or themed station. Think sushi, tacos + tequila, tapas + sangria. These are fun alternatives, cater to your tastes, and can offer a variety of options for the ultimate guest experience.

PICNIC OR OVER THE FIRE ROAST: For a casual wedding, consider picnic fare, a cook-out, or pig roast. If served outdoors, don't forget to consider ways to keep critters from enjoying your food as well.

FOOD CARTS & TRUCKS: Food carts and trucks can add an additional element to your event. You may consider sliders, grilled cheese, cheese curds, popcorn...just to name a
few. Just be sure to know what your venue will allow to come on site, and that there is space
available. You can provide a variety of options to make it a meal, or late-night snacks during
the dance.
WHAT TO KNOW AND ASK
• Know your vision for the reception; what type of venue, ideas & pictures.
• Know date options and if any other events are happening locally that may affect that choice.
• Know your approximate guest count.
• Have an approximate budget in mind. Be sure it is realistic, based on your venue choice, menu options, and guest count.
• Can you get a tour of the venue? Bring those who are part of the decision making.
• Capacity?
• Rental fee and what's included?
• Is there a charge for any extra services such as cake cutting, or alcohol service?
• Any restrictions, like outside catering, use of candles or other decorations, or what can and cannot be brought on premises?
• Do they offer any discounts for offseason or off-days?
• Is catering and bar service onsite or are outside vendors needed?
• What is wait staff attire?
• Are changing areas available or private place to freshen up?
• How many weddings do they schedule per day?
• Is heating, air conditioning or fans available for barn weddings or tented events?
• Do they have pictures of other receptions set up?
• What is your vision for table shapes, sizes, and set-ups?
• Do they provide the floor plan, so you can plan seating arrangements?
• What time can you set up and when do you need to tear down?
• Consider special seating for the couple, wedding party & their spouses, parents, and guests (Sweetheart table, head table, king's table, unique table patterns throughout)
• Do they have a suggested timeline? (Cocktails, dinner, toasts, dance)
• Is any transportation needed, especially for elderly or disabled, if there is a distance from ceremony area to the reception area.
• Are guest rooms on-site or nearby, and is a shuttle service available?
• Any expected remodels or renovations before the wedding?
• On-site coordinator present day of?
• Space and electrical outlets for musicians, lighting, or extra reception entertainment.
• Is there an in-house sound system or other AV services, microphone for speeches?
• Parking and handicap accessibility?
• Restrooms?
• Alternate options for outdoor weddings, in case of bad weather?
• Insect population if outdoors, and suggestions for control?
• Any rentals needed or outside sources, such as tables, chairs, linens, table settings, dance floor, lighting?