It's your special day so the look and style of your wedding attire is completely up to you. Stay traditional, or show your individual style and uniqueness. There are no boundaries in expressing your personalities through your wedding day fashions, whether a cohesive look throughout the wedding party, mix and match or textures and prints; decide what is right for the look and feel you desire. No matter what you decide, we highly encourage shopping with reputable Madison and surrounding area businesses to assure you get quality products and service, the right fit, and on-time for the big day!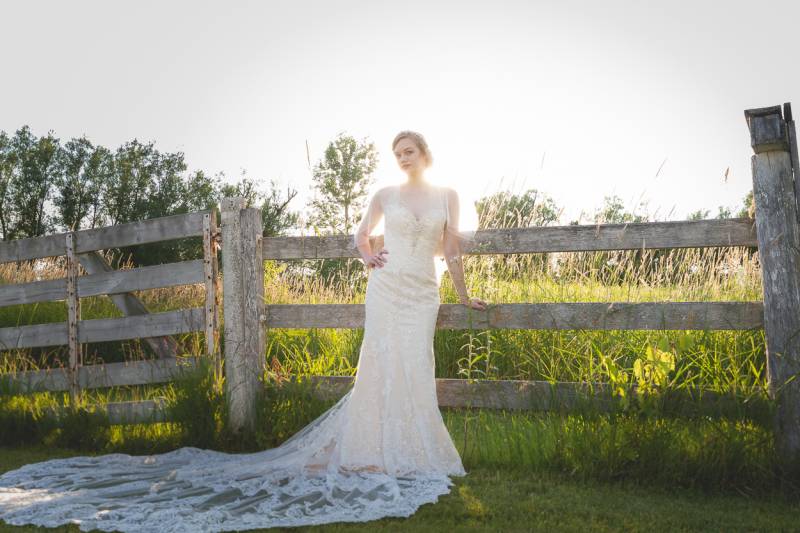 GOWN TIPS | Sometimes a gown may not look good on the rack, but will look stunning on you! So, have your own ideas in mind, but also be open to trust the advice of the bridal shop professionals as to what could look good on you! Here are some tips to consider:
STYLE CONSIDERATIONS
AMPLE WAIST: Consider an empire waistline.
SHORT WAIST: Consider a princess-style dress.
LONG WAIST: Consider a high waistline.
GENEROUS HIPS: A full, not poufy, skirt. Avoid adding anything to the skirt, like ruffles and bows.
PETITE BUST: Dress with jewel, bateau, Sabrina, or squared necklines. Accent what you do have with gowns that are pleated or ruffled across the bust. Opt for intricate detailing with beads or embroidery along the bustline. Remember that you will need a push-up bra, so steer clear of dresses that cannot be worn with the type of bra you need.
GENEROUS BUST: Dress with a simple bodice. Stay away from beads, embroidery, lace, and sequins. You have versatility in the type of bustline you wear. Square, strapless, scoop, sweetheart, V-shaped, Queen Anne, and offthe-shoulder all look good, but steer clear of high necklines such as jewel, bateau, portrait, and halter tops. Balance your proportions with an eye-catching skirt.
TALL: Dress with horizontal lines to break up your height, such as strapless dresses, sashed waistlines, and various-length skirting layers. Steer clear of long fluid lines, such as sheath style dresses. Halters are very flattering on tall people, especially if you have strong shoulders.
FULL ARMS: A little coverage. Pick a dress with three-quarter or full-length sleeves. Steer clear of capped sleeves and strapless dresses, which tend to accentuate the arms.
TIMING
AFTER ENGAGEMENT: Start shopping for wedding dress and bridesmaids dresses.
6-12 MONTHS BEFORE: Order dress, undergarments and accessories.
6-9 MONTHS BEFORE: Order bridesmaids dresses. Select and order mothers dresses.
3 MONTHS BEFORE: Begin alterations process for bride and bridesmaids.
8-12 WEEKS BEFORE: First fitting
6-10 WEEKS BEFORE: Fitting check up
2 WEEKS BEFORE: Final fitting
1-3 DAYS BEFORE: Pick up wedding gown, un-bag gown at home after pickup.
FORMALWEAR TIPS | Formalwear experts are great at pulling styles together if you just share your basic vision. They can help to find a look that matches your taste, as well as coordinate with other wedding day apparel. Here are some things to consider in your search for the right look:
Decide who is wearing a suit, tuxedo, or other special wedding attire; don't forget the ring bearer, special attendants, parents, or grandparents.
What other apparel do you need to coordinate with?
Decide if you want to rent or buy. There are benefits to both options; ask your formalwear specialist.
Decide on the colors and look: informal, semi-formal, formal, ultra-formal.
Don't forget accessories, undergarments, and shoes.
Designate someone to return rentals the next business day after the wedding.