Today, we're diving into pretty paper wedding details featuring some of Madison-area's TOP stationers. Following along in our journey of sharing 2022 wedding trends, we're bringing you stunning invitations and other day-of details from each of the 5 trending wedding color palettes, styles, and themes we've spotted for this year!
Invitations set the tone for your wedding, giving your guests the first impression of your wedding day. Stationers can help with design concepts, paper selection, printing techniques, wording, and suggestions for other coordinating elements. Ordering all pieces upfront can help save you money, so be sure to consider save the dates, programs, menus, place cards, signs, favors, personalized gifts, and thank you notes as well!
Scroll down for more tips, a timeline, and gorgeous inspiration for your special day!
WHAT TO KNOW
Date and times





Ceremony and reception addresses





Directions





Hotel accommodations





Meal choices, if applicable





Hosts (parents, couple, combination)





Template or a custom design?





Special graphics, custom artwork, or personalized wording, if desired





Ideas, mood board, color palette





Quantity needed (number of guests does not equal number of invitations, as couples and families count as one)





You will need two stamps, one for the invitation mailing and one for your RSVP card.





The invitation postage stamp rate is determined by envelope size, weight, and how bulky your invitation is. If your RSVP is mailed in an envelope, then standard postage is needed. If your RSVP is sent as a postcard within industry standards, you can purchase postcard postage at a low rate, with limited design choices.





Who will assemble and address the envelopes?





Are you interested in having your envelopes printed with addresses?





Are calligraphy services desired?





How will you keep track of RSVPs?
TIMING
9-12 MONTHS BEFORE: Meet with stationer to determine style, options, and request quote. Provide deposit and begin save the date design concept. Compile guest addresses.


8-11 MONTHS BEFORE: If your stationer is addressing envelopes, provide polished excel spreadsheet of guest names and addresses. Mail save the dates.


5-6 MONTHS BEFORE: Meet with stationer to confirm invitation style, verbiage, and desired pieces in invite suite. Check your guest list to make sure quantity needs have not changed. Provide deposit and begin invitation design concept.


3 MONTHS BEFORE: If stationer is addressing envelopes, provide updated polished excel spreadsheet of guest names + addresses. If you are addressing, begin handwriting addresses.


6-8 WEEKS BEFORE: Mail invitations about 6-8 weeks before wedding so guests have enough time to make travel arrangements and plan their schedules accordingly, particularly during a busy season. If planning a destination wedding, mailing should occur 10-12 weeks before to allow extra travel planning for guests.


6 WEEKS BEFORE: Provide deposit and order for programs, menus, escort cards, favors, and any other signage or day-of accessories.


2 WEEKS BEFORE: Provide excel spreadsheet to stationer of guest names, food choices, and table numbers for escort cards.


AFTER THE WEDDING: Send handwritten thank you cards in a timely manner, giving thanks to those who were special attendants, guests who traveled to celebrate your day, and acknowledge any gift received. It is also nice etiquette to send thank you notes to your vendors along with appropriate tips. We also encourage you to write reviews for your vendors and share your experience with them to help guide other couples during their planning process.
STATIONERY VIBES | BRIDGERTON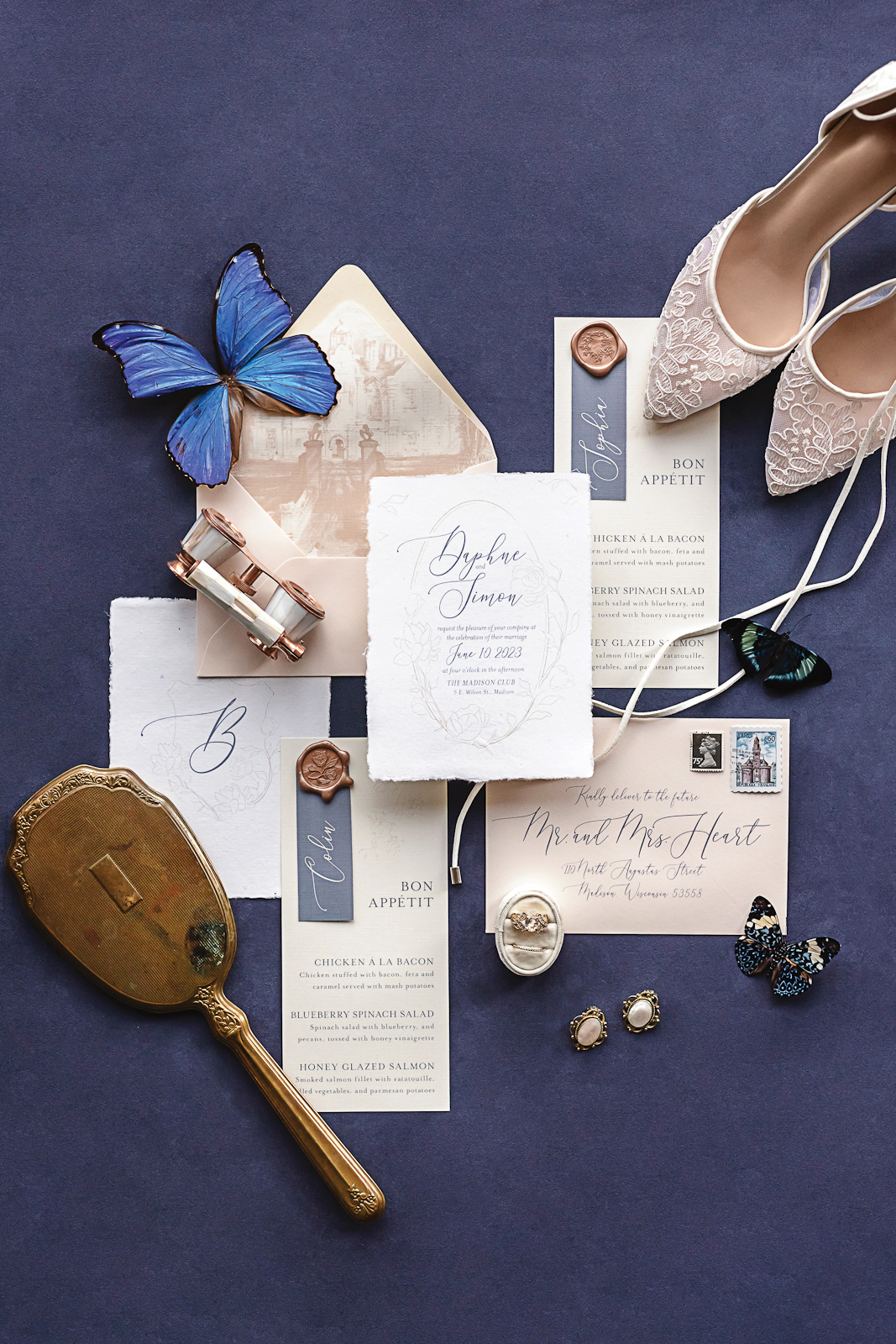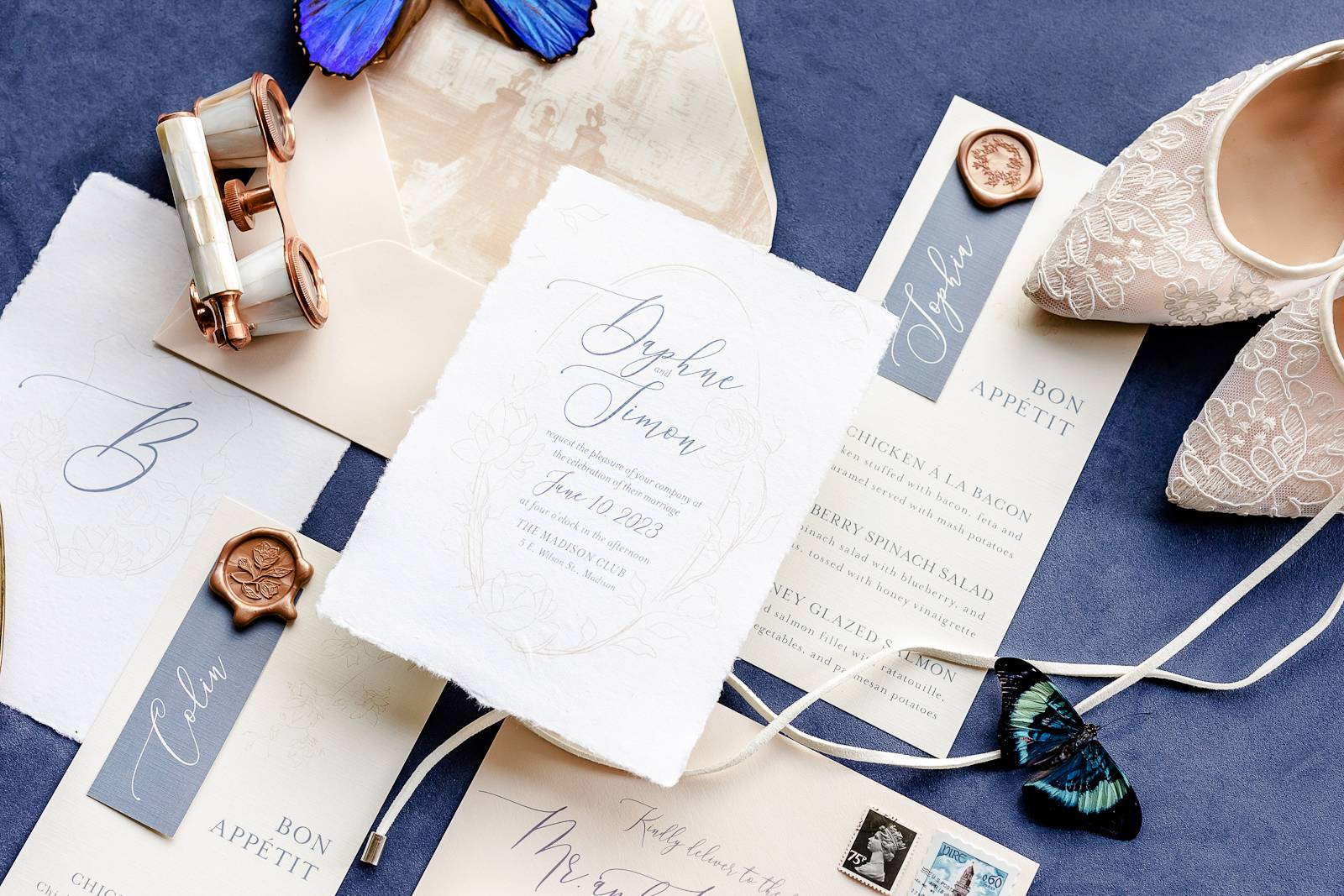 STATIONERY VIBE | RAW EARTHY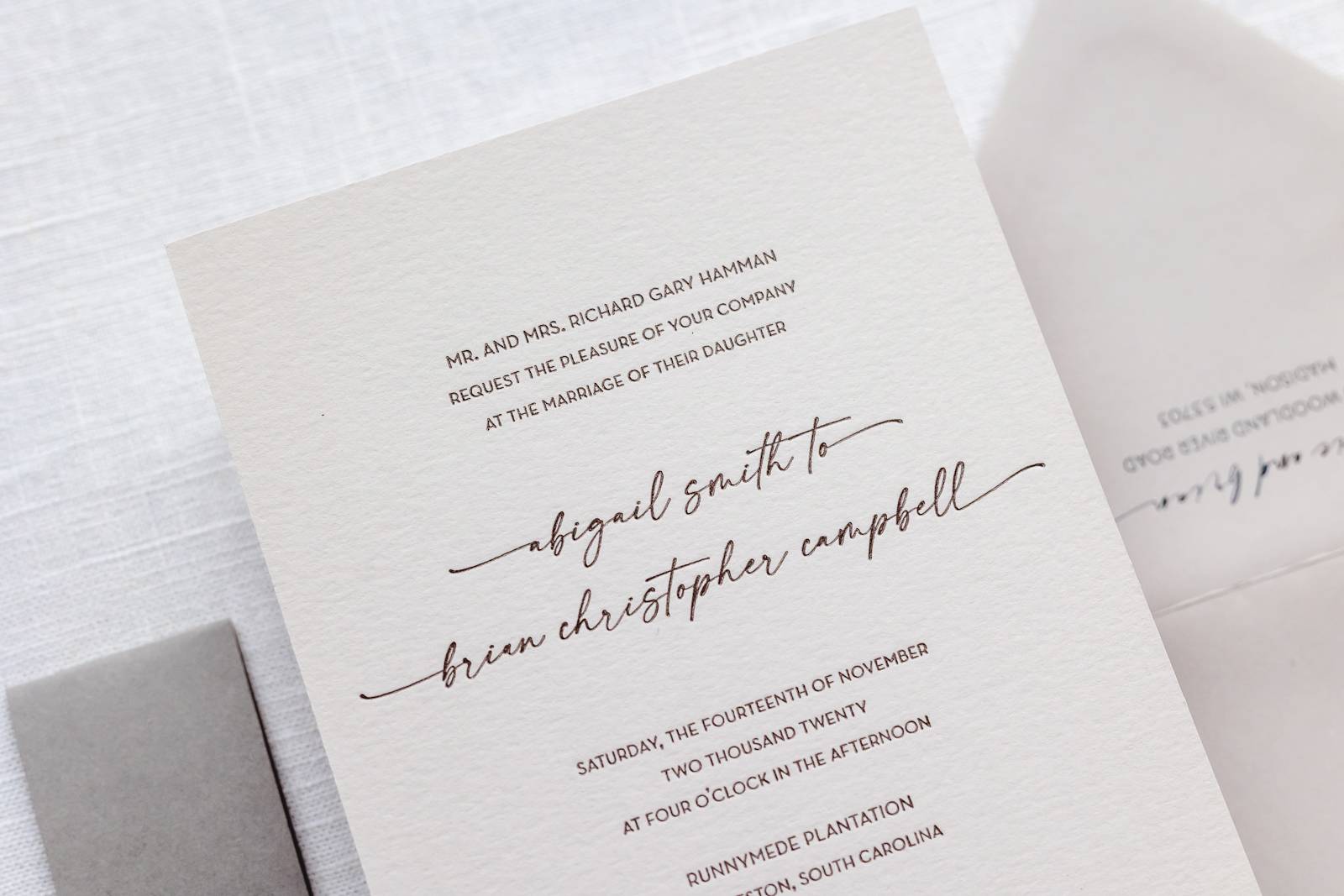 STATIONERY VIBE | NOSTALGIC RETRO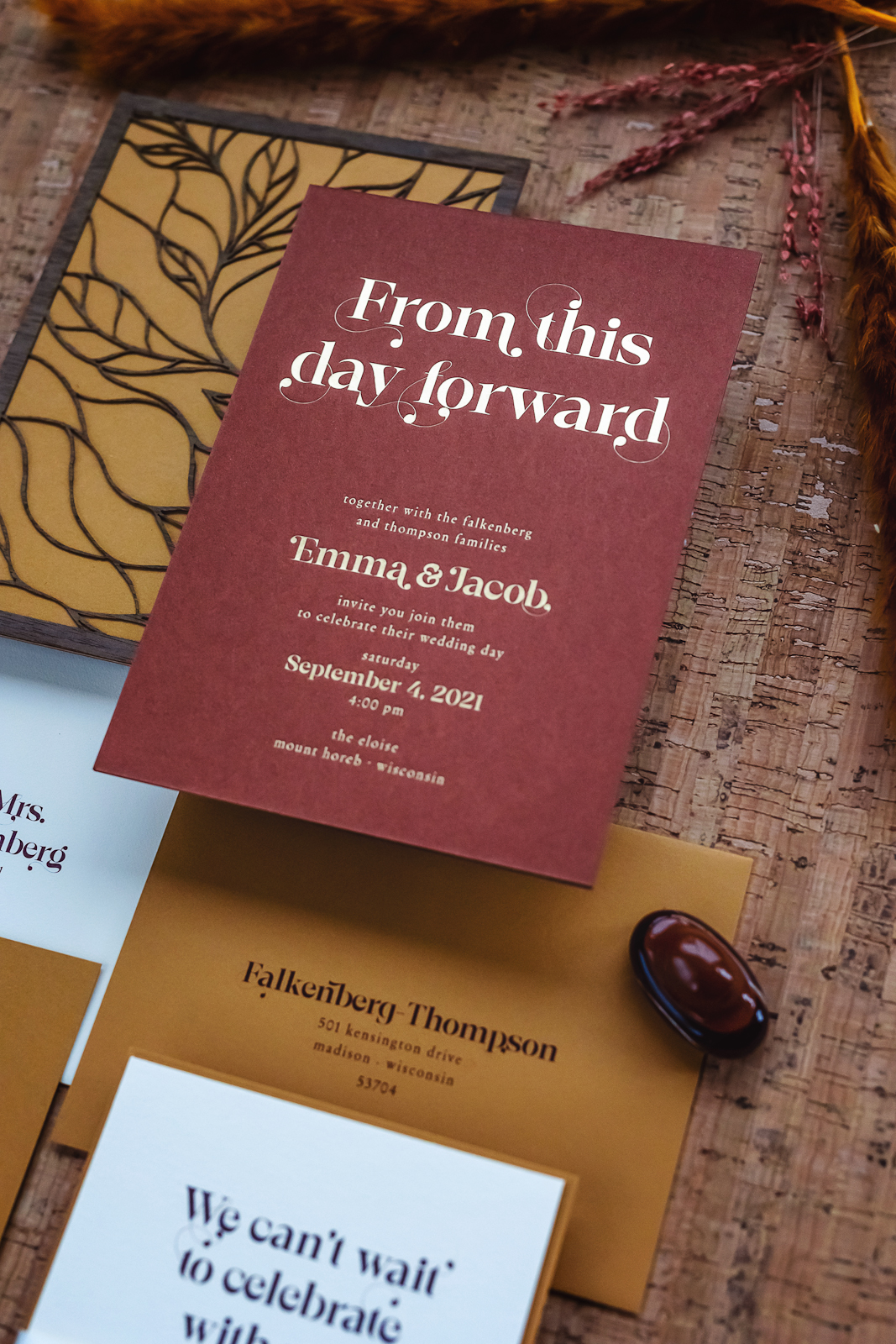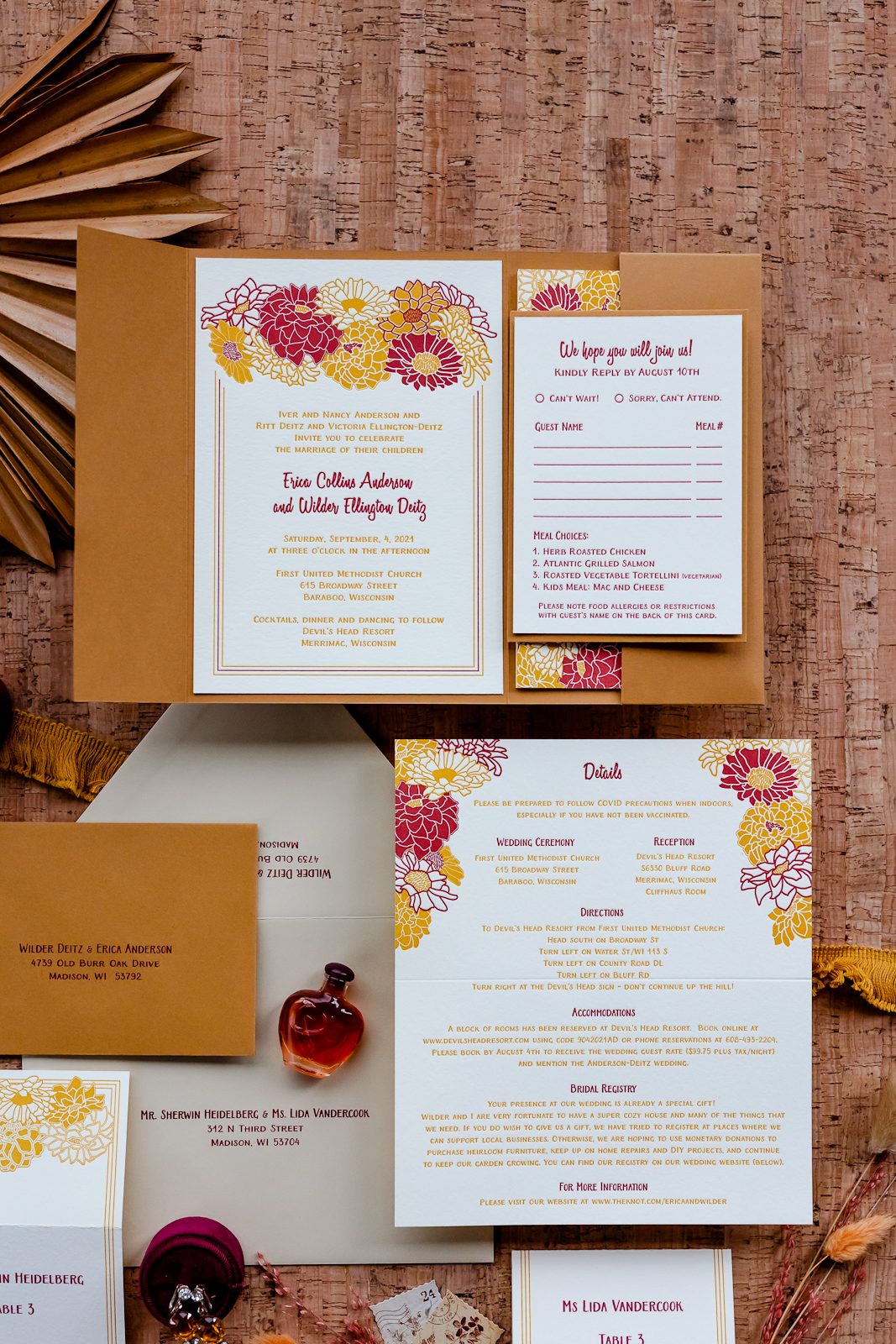 STATIONERY VIBE | MOODY WOODSY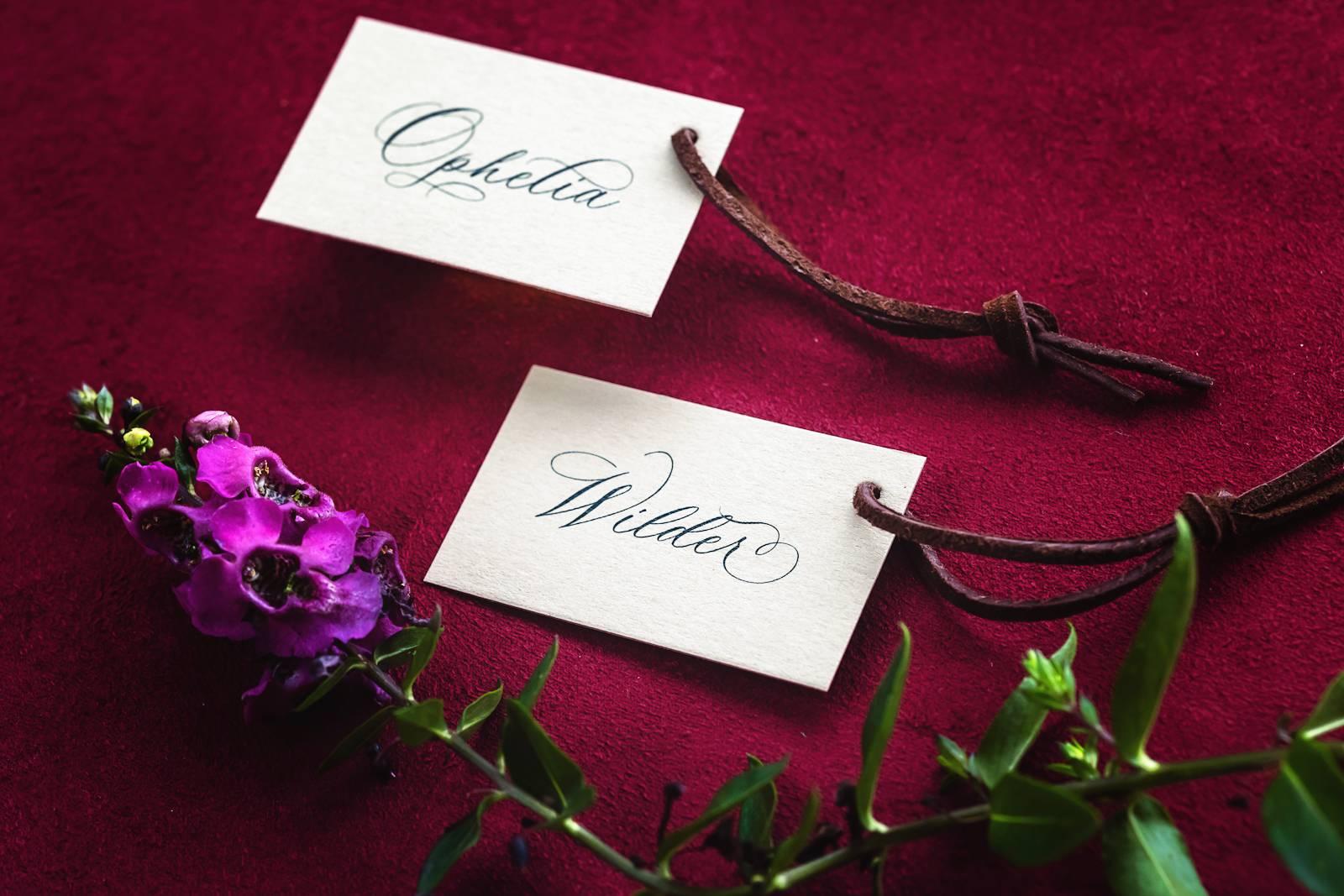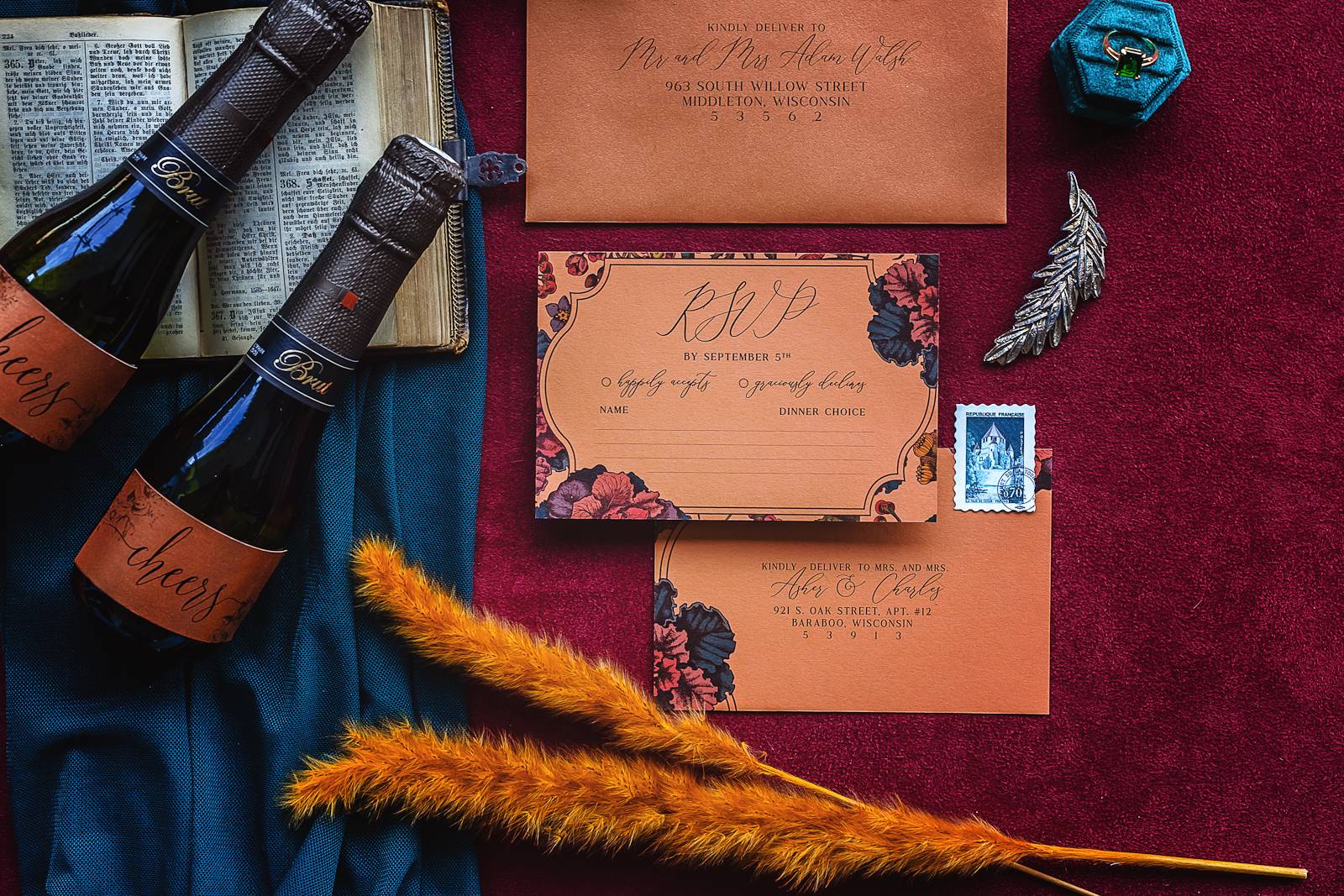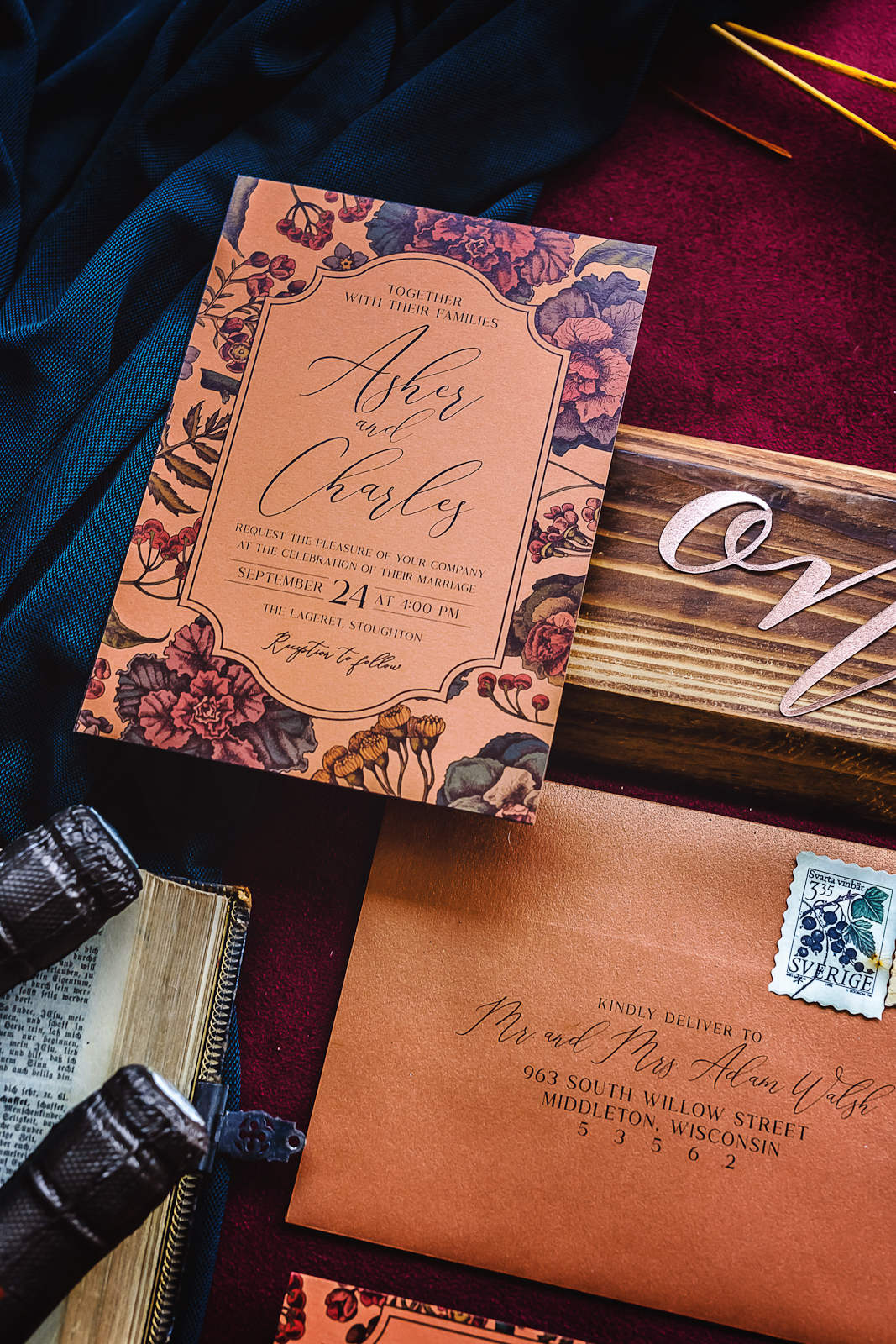 STATIONERY VIBE | MODERN VOGUE