It's the time of year to welcome the holiday season and all that it brings: gathering with friends and family, building a snowman, curling up by the fire, giving gifts, and, of course, enjoying all of the tasty flavors this time of year! Weddings and events during this season have a unique opportunity to create and serve delicious holiday drinks and treats to their guests. Today, we're providing you with 8 holiday-inspired, signature drinks for your reception or cocktail hour this cozy season!
White Christmas Mojito
Snow on the ground or not, you can still dream of a White Christmas with this holiday beverage. Enjoy this creamy, delicious drink with friends and family this chilly season.
1 cup lime juice
1/4 cup mint leaves, plus more for serving
1/4 cup sugar
1/2 cup white rum
1/4-1/2 cup coconut rum
1 cup canned coconut milk
sparkling water
pomegranate arils for serving
In a large pitcher, muddle the lime juice, sugar and mint leaves until the leaves have broken down. In a blender, combine the white rum, coconut rum, and coconut milk then pulse until smooth. Pour blended liquid over the mint/lime sugar mixture and stir to combine. Chill until ready to serve. To serve, divide ice among glasses and fill halfway with the mojito mix. Top with sparkling water, mint, and pomegranate.
Clausmopolitans
Packed with fruity, tart flavor, and dressed with class, the Clausmopolitan is the beverage to serve at your elegant holiday event.
lime wedge, for rim
white sanding sugar
1 cup vodka
1 1/2 cups cranberry juice
1/4 cup triple sec
1/4 cup fresh lime juice
1/2 cup fresh cranberries
Run a lime wedge around each glass then dip in sanding sugar. Fill a cocktail shaker with ice and add vodka, cranberry juice, triple sec, and lime juice. Shake until the cocktail shaker is cold. Divide drinks between rimmed glasses and add cranberries for garnish.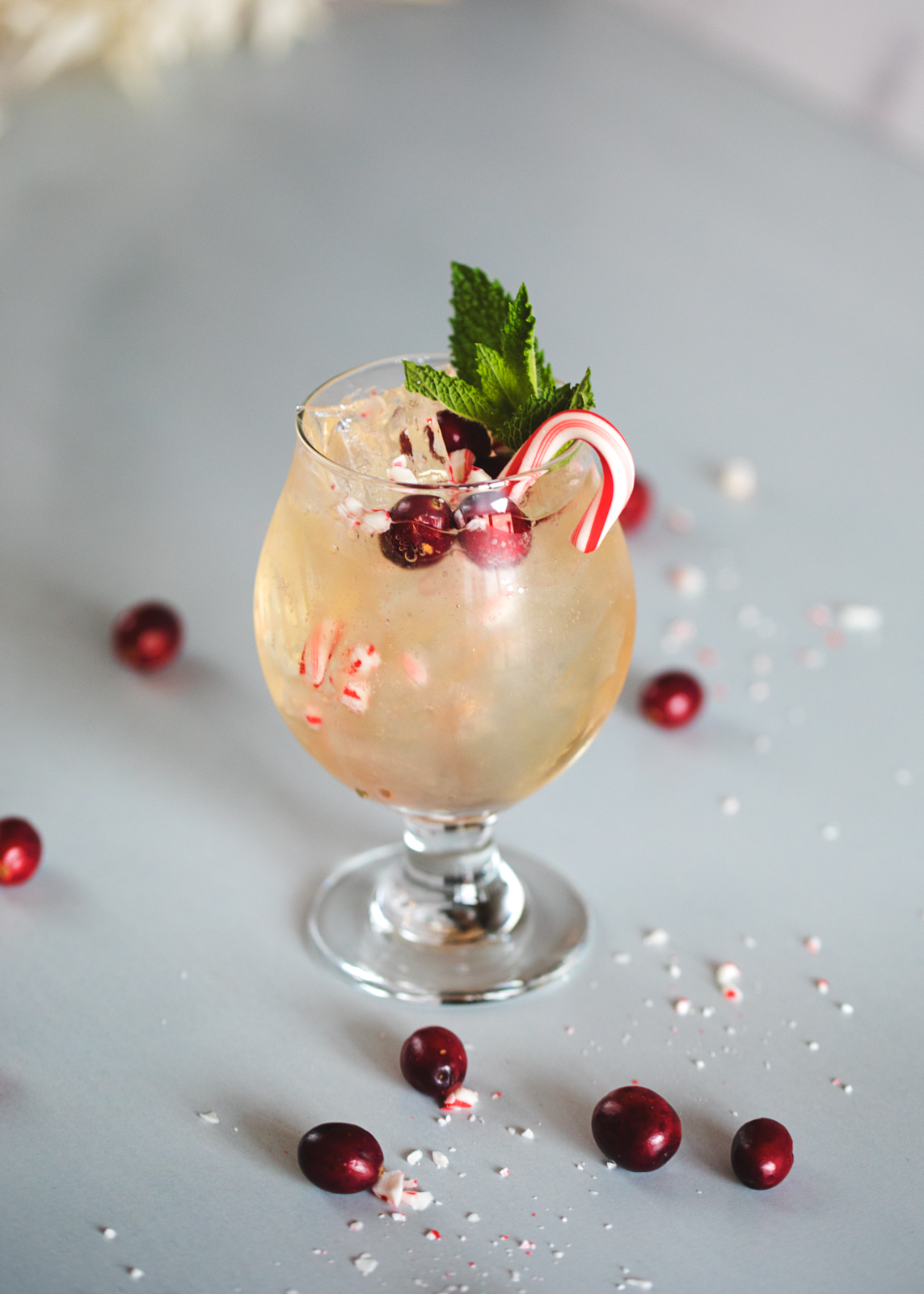 MIstletoe Mules
Perfect for the new bride and groom's kiss under the mistletoe, the Mistletoe Mule is a fun spin on a classic for your holiday reception!
2 oz. vodka
1 oz. fresh lime juice
1 (12-oz.) can ginger beer
1/4 cup pomegranate seeds
4 candy canes, 2 crushed, 2 whole
mint sprigs, for garnish
Fill two copper mugs with ice. Pour 1 oz. vodka and 1/2 oz. lime juice over ice in each mug. Pour ginger beer into each cup until mostly full. Sprinkle with pomegranate seeds, crushed candy cane, and garnish with a whole candy cane and mint sprig.
Dirty Snowmen
Bring the fun of building a snowman indoors with this decadent, chocolatey drink. Pair as a beverage or a dessert during your holiday event!
1/4 cup melted chocolate, for rim
1/2 cup chocolate shavings
1-pint vanilla ice cream
2 cups hot chocolate
1/2 cup Baileys
whipped cream, for serving
Pour melted chocolate and chocolate shavings into separate shallow dishes. Dip rims of two mugs in melted chocolate then immediately dip in chocolate shavings. Using a medium cookie scoop, add a few scoops of ice cream into each cup. Pour hot chocolate and Baileys on top. Top with whipped cream and sprinkle with extra chocolate shavings.
Cranberry Ombre Sparkler
Add some sparkle to your next dreamy holiday event with this crisp and refreshing drink.
1 cup fresh cranberries
1 cup sugar
1 cup water
4 sprigs fresh rosemary
1 bottle champagne
In a small saucepan, combine cranberries, sugar, and water. Bring to a boil on high heat and then reduce to a simmer and let cook for 12 ~ 15 minutes. The cranberries will become soft and bright in color, and a pinkish purple syrup will form. Remove from heat and drain the cranberries, keeping the syrup in a separate bowl. Set both aside and allow to cool. Once cranberries and simple syrup are cooled, spoon about 4 tablespoons of syrup into the bottom of each champagne flute. Top with champagne, garnish with fresh or cooked cranberries, and a sprig of rosemary.
Jingle Juice
Guaranteed to be a crowd favorite, Jingle Juice is all your holiday guests need to get out on the dance floor.
4 cups Cran-Apple Juice
2 (750-ml.) bottles red Moscato
1 (750-ml.) bottle Prosecco
1/2 cup vodka
2 cups frozen cranberries
1/3 cup mint leaves
1/2 cup granulated sugar, for rimming glasses
2 limes, sliced into rounds
Using a wedge of lime, wet rim of glasses. Dip in sugar until coated. Combine all ingredients in a punch bowl, stir together, and serve.
Peppermintinis
This classy and fun holiday beverage is sure to satisfy all of your winter flavor cravings. Creamy, sweet, and oh-so-delicious, the Peppermintini is sure to impress and provide that chocolate fix!
1/2 cup semisweet chocolate chips, melted
1/4 cup crushed candy canes
6 oz. white chocolate liqueur
4 oz. vodka
2 oz. peppermint schnapps
2 tbsp. heavy cream
small candy canes
Pour melted chocolate onto a shallow plate, along with the crushed candy canes on a separate plate. Dip rims of martini glasses first in chocolate, then in candy canes. Pour remaining chocolate into the bottom of glasses and swirl to coat the bottom of glasses with chocolate. Place glasses in freezer while you prepare the drink. Combine white chocolate liqueur, vodka, peppermint schnapps, and heavy cream in a cocktail shaker. Fill to the top with ice and shake until cold. Divide drink between 3 glasses and garnish with a candy cane.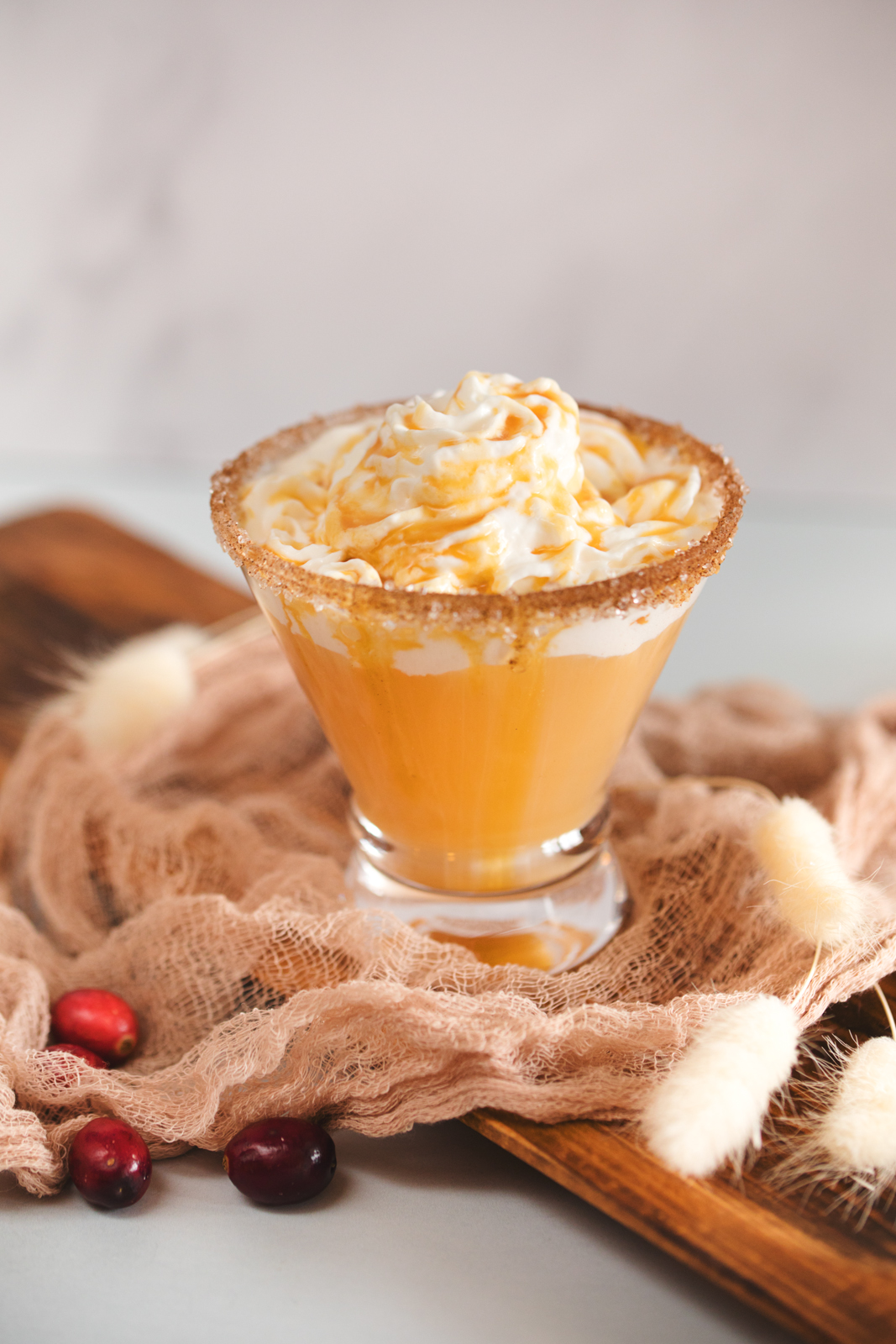 Gingerbread Eggnog
Spicy and sweet, the Gingerbread Eggnog is a delicious twist on a holiday classic, perfect for serving your guests at the end of the evening.
1 tbsp. cinnamon sugar
1 cup eggnog
1 cup vodka
1 cup Kahlúa
2 tbsp. molasses, plus more for drizzling
pinch ground ginger
whipped cream, for topping
Wet rims of four cocktail glasses and dip into cinnamon sugar. In a cocktail shaker filled with ice, and add eggnog, vodka, Kahlúa, molasses, ginger, then shake to combine. Pour into rimmed glasses and top with whipped cream and drizzle with molasses before serving.