Rev up the jukebox and fasten your seatbelts for a wedding elopement design that pays a timeless tribute to the iconic 1950s! This Wisconsin Dells celebration is a blast from the past, seamlessly fusing '50s flair, Vegas elopement extravagance, and vintage Valentine's Day charm with bright reds, playful pinks, and kitschy heart details.
Featuring Savannah Steiger Photography, Dells Bells Wedding Chapel, LK Bridal Studio, Melody Rose Designs, Beta Blue Beauty, Men's Wearhouse, Denny's Diner, Lily's Magical Treats, Craig's Cake Shop, Hoffland Films, and Celebrations Entertainment, get ready to swoon over all the details in this dreamy, vintage-inspired elopement.
With a classic diner, drive-in theater, and a timeless love story, this "summer night" was one to remember!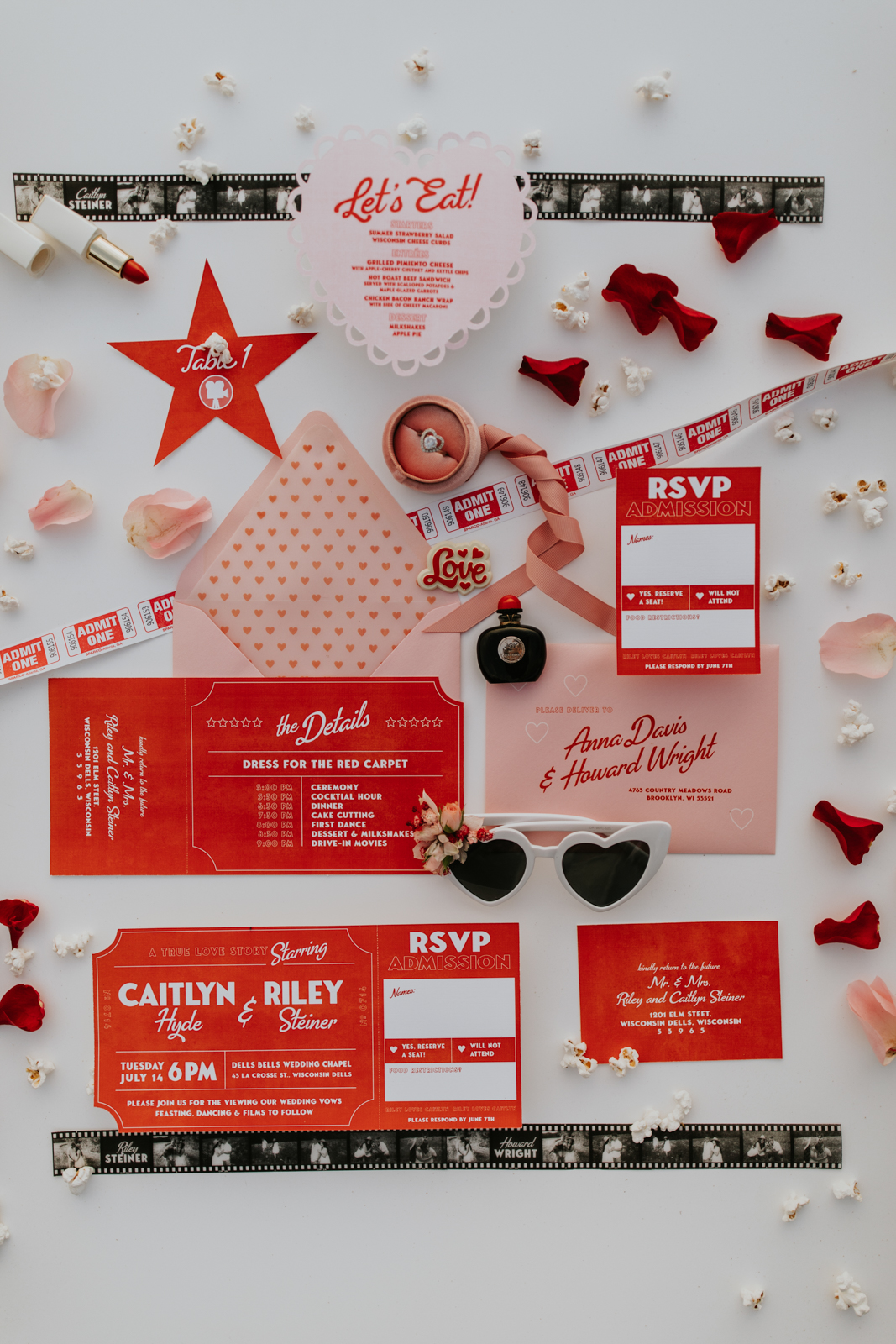 Old Hollywood films, classic diners, and vintage Valentine's Day cards inspired LK Bridal Studio's retro drive-in-themed stationery pieces. Their skilled team created a movie ticket invitation with a perforated ticket stub RSVP. The main slanted script font was reminiscent of romantic movie posters and unforgettable classics, while supporting fonts may have once lit up a theatre marquee!
A vivid, bold red was central to the stationary color palette, with various softer shades of pink uniting their supporting pieces, like a laser-cut heart dinner menu and envelopes lined with an adorable heart-patterned print. The final touch to top off this stunning suite? A vellum film-reel name card and napkin holder featuring black and white photographs of the nearly-wedded couple!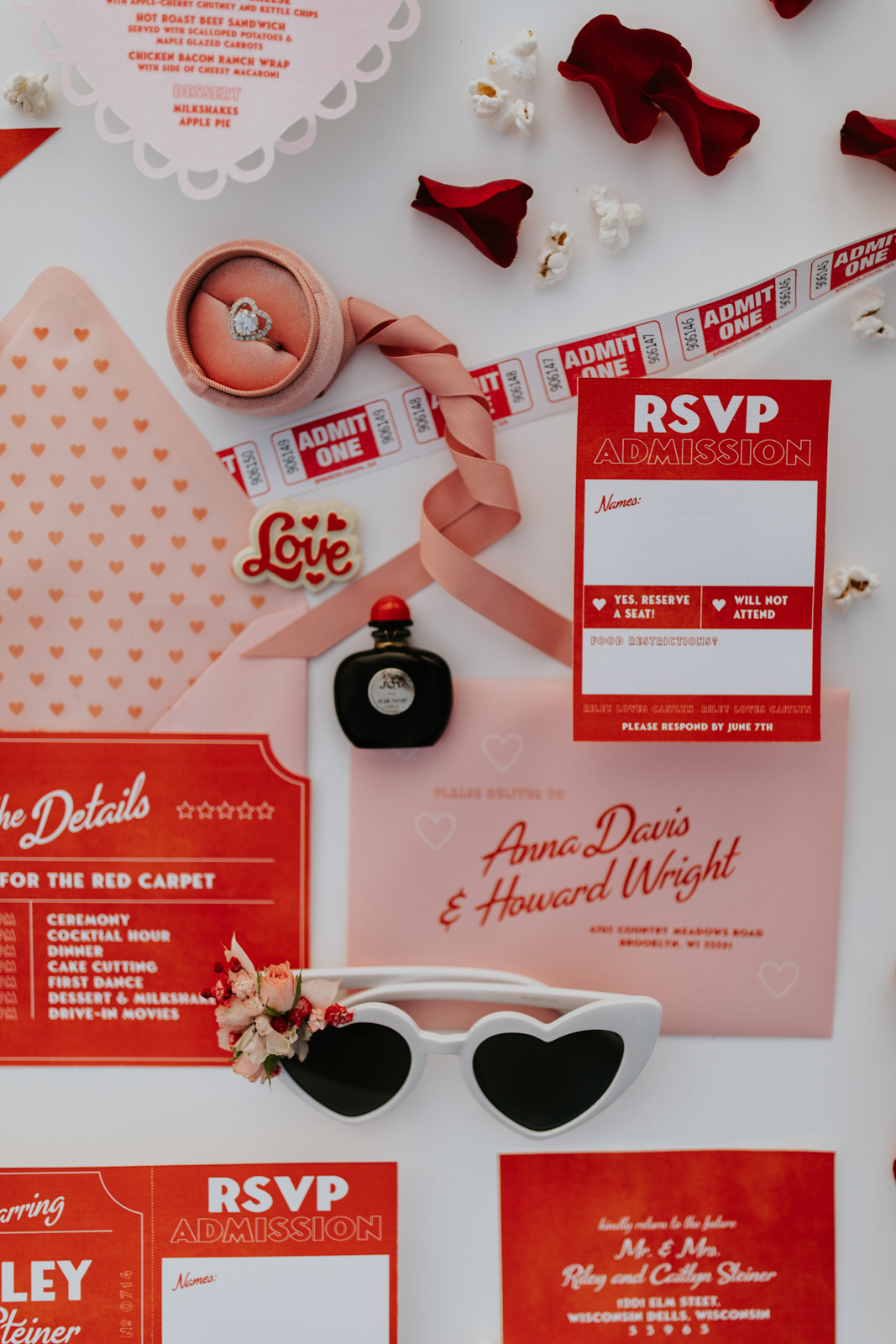 Bringing a carefree Vegas-style wedding experience to the Midwest since 2004, the Dells Bells Wedding Chapel was the ideal location for a retro-meets-modern elopement! An onsite officiant made tying the knot simple and easy, and their prime downtown Wisconsin Dells' location provided a fun and lighthearted atmosphere to celebrate. After saying, "I do," pull up a seat at any one or more of the local scene's friendly locations!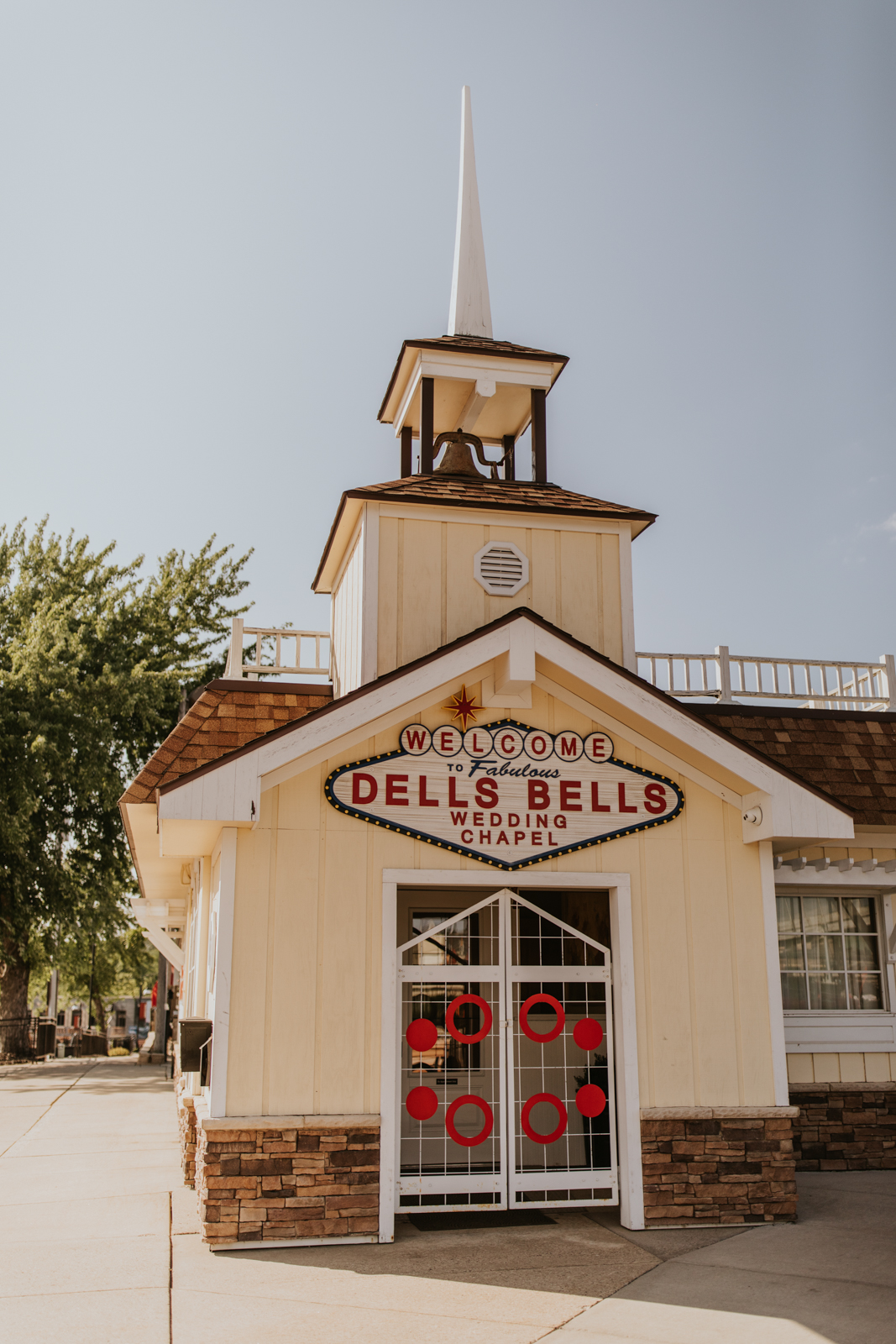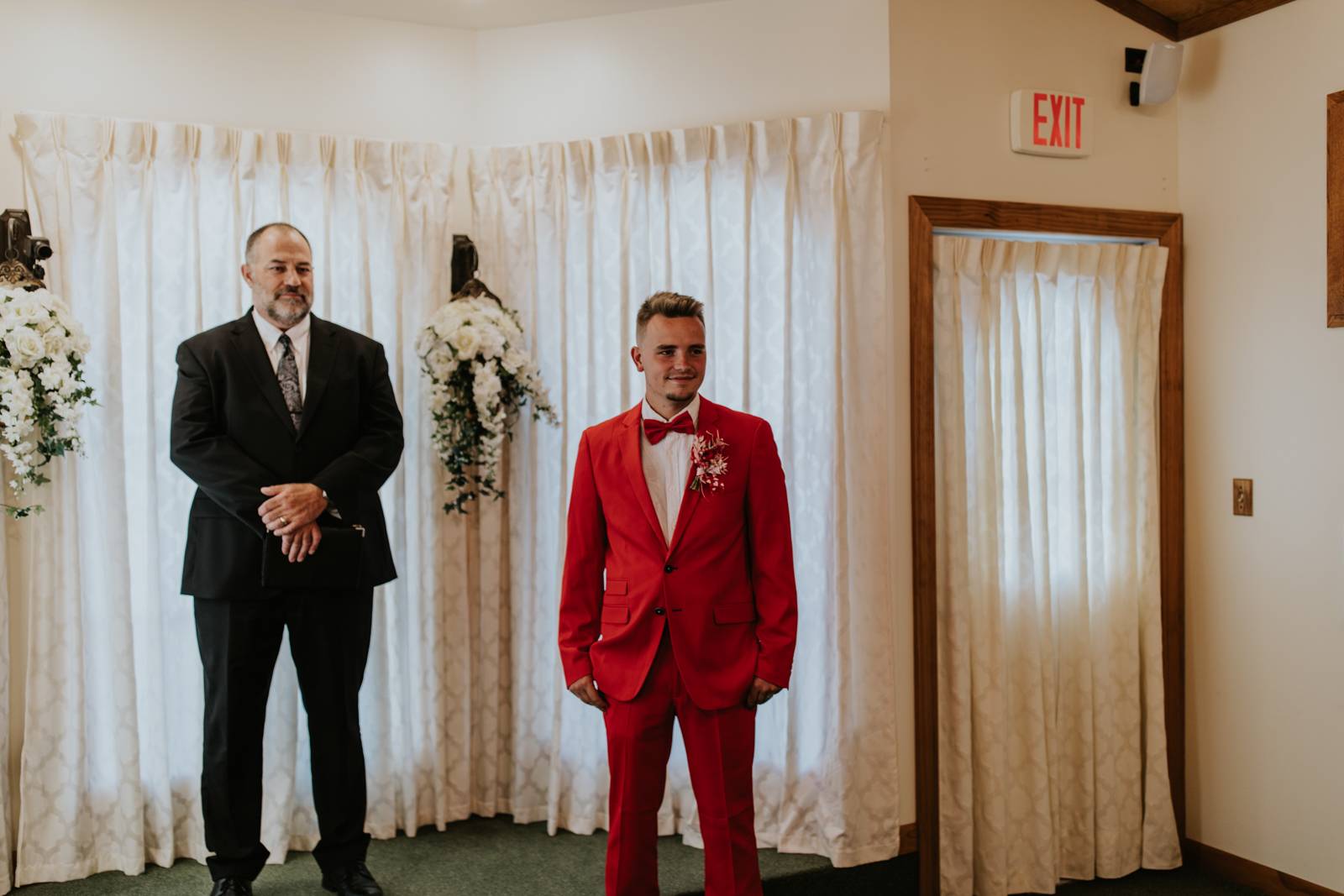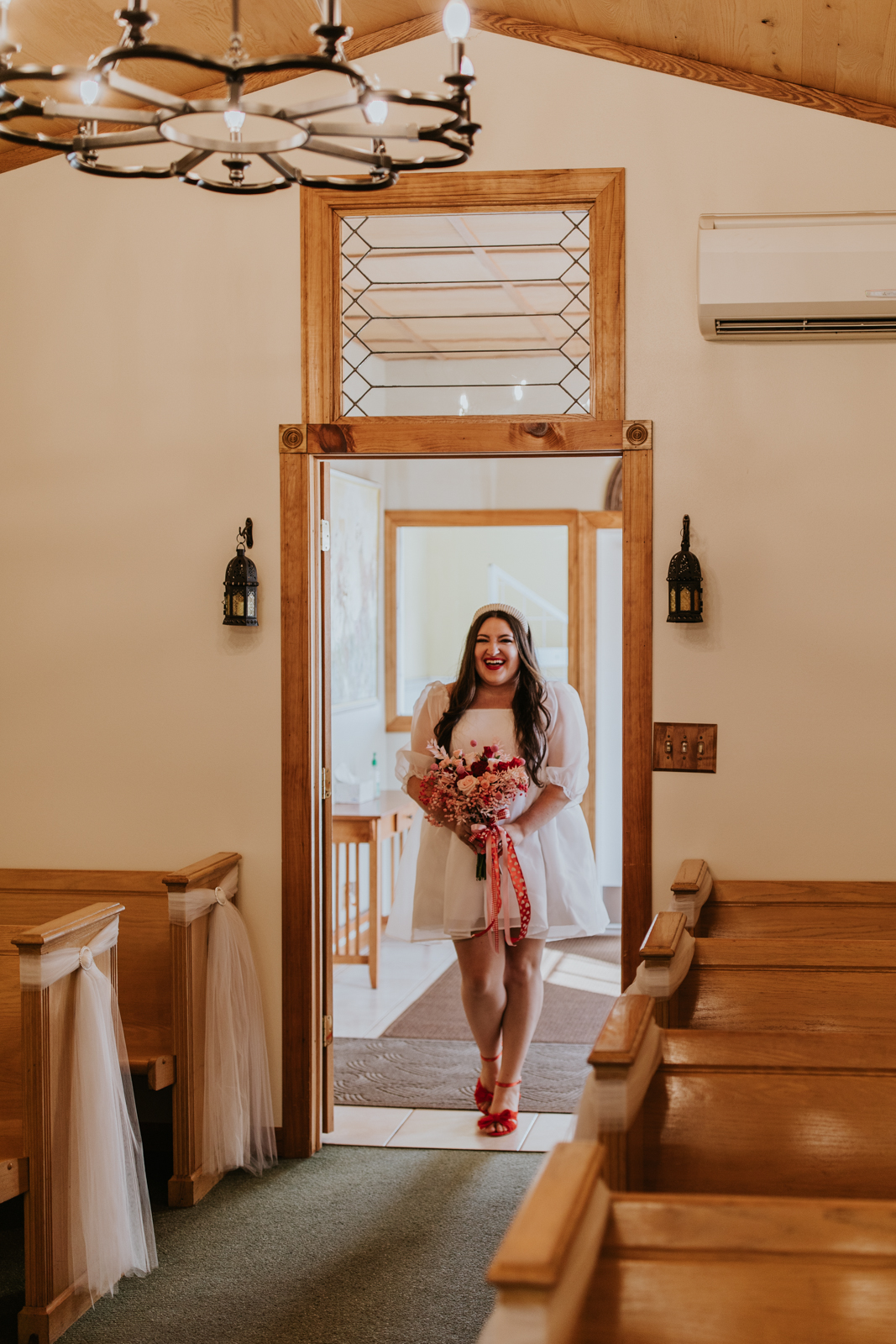 Beta Blue Beauty created a timeless yet modern look for our bride that perfectly captured the essence of two eras. Luscious curls were accessorized with a modernized pearl headband, and the bride's makeup balanced natural beauty and vintage glamour. With the pop of a bold red lip and some flirty false lashes, she walked down the aisle in retro-chic style!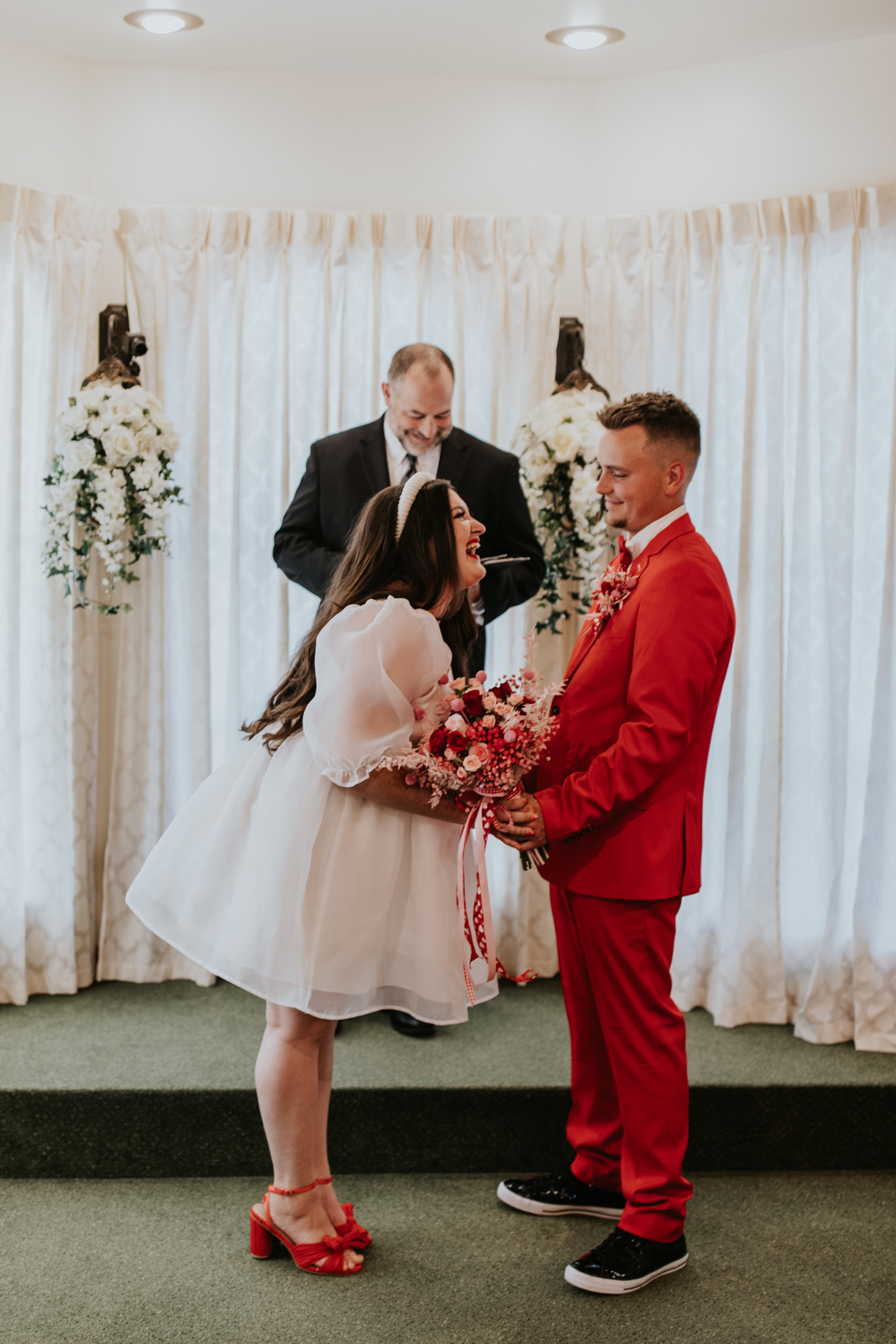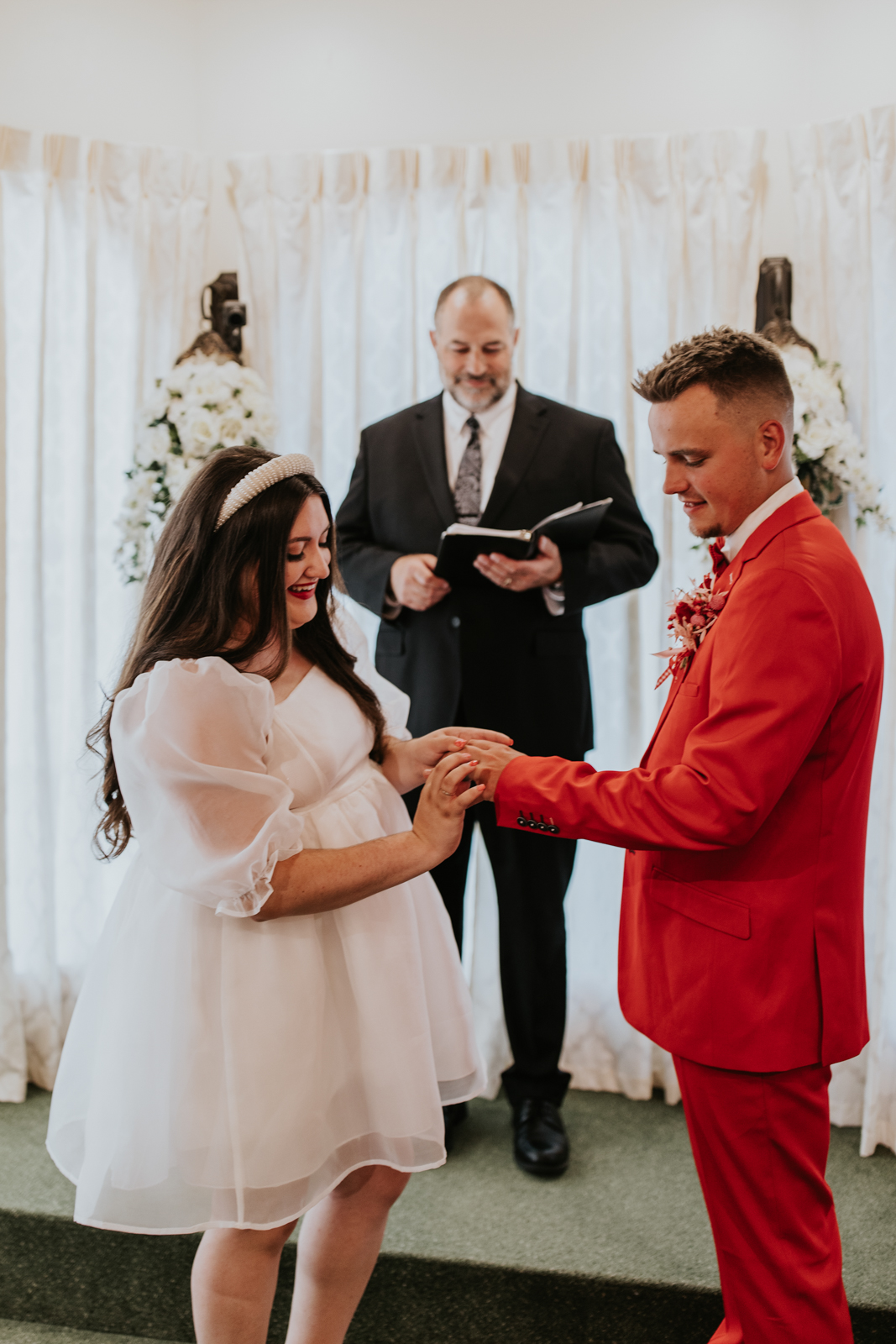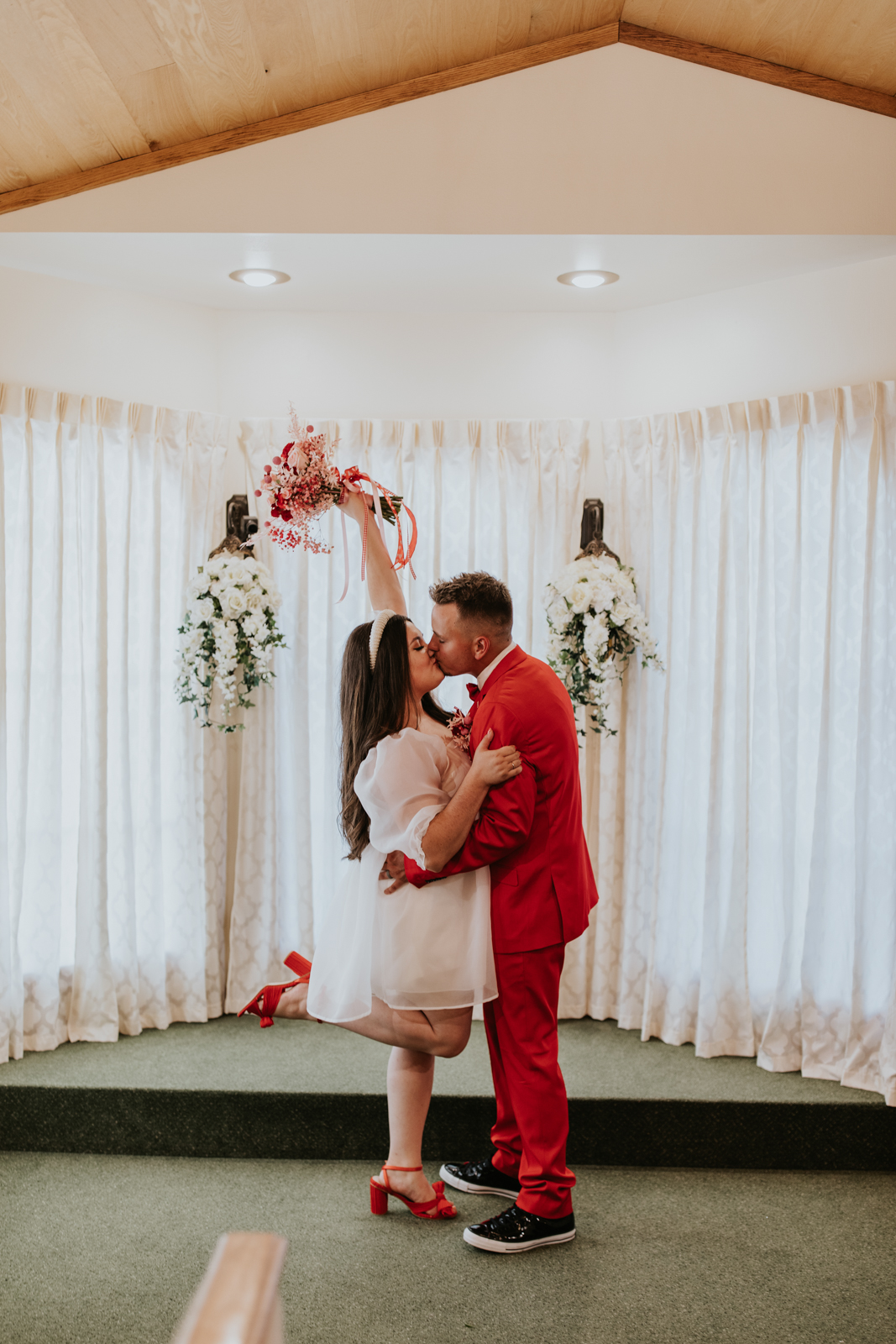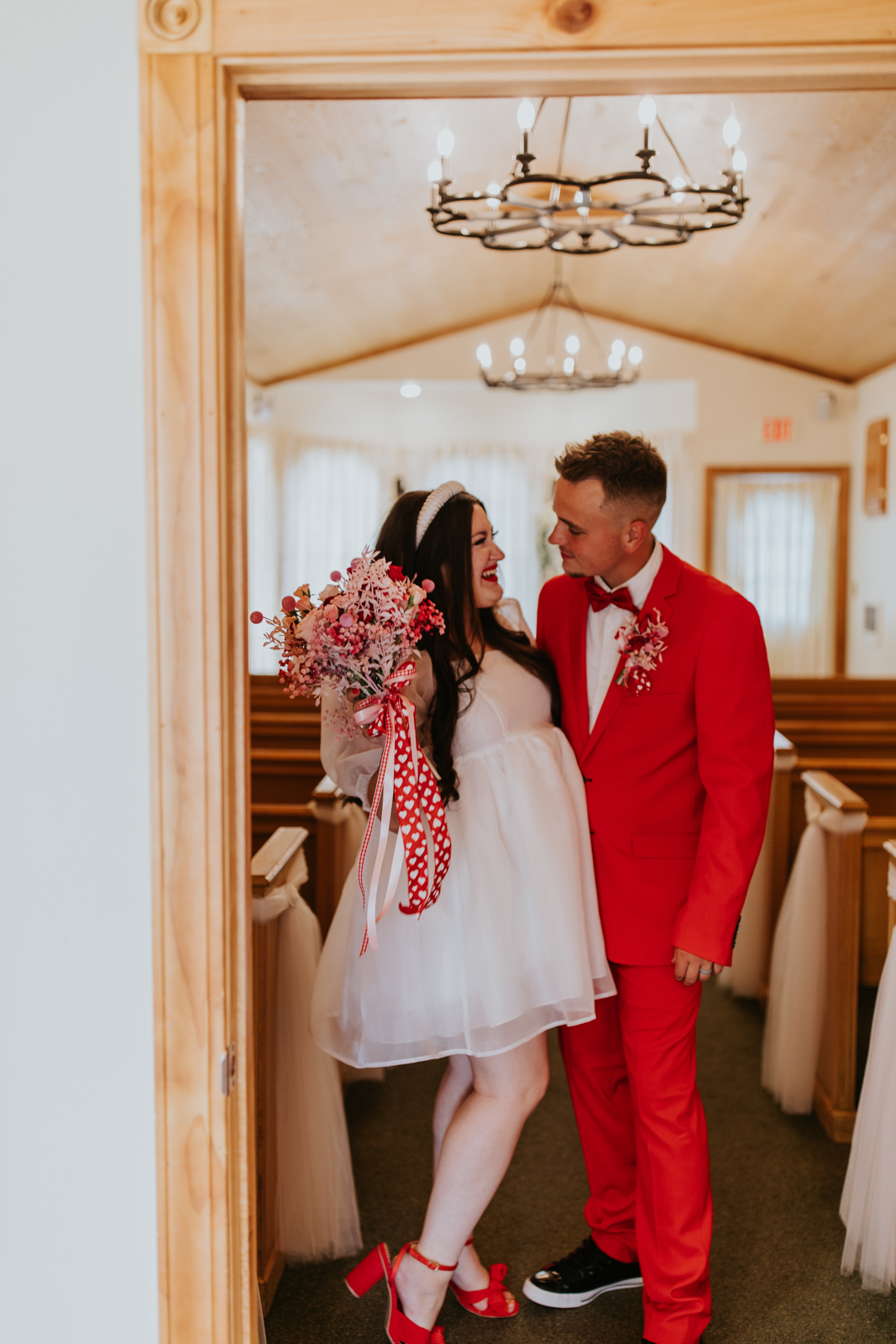 Our groom confidently rocked a vibrant red suit from Men's Wearhouse, paying homage to the classic 1950s style, but with a colorfully modern twist. His daring choice showcased a fusion of classic sophistication and Vegas-style vibrancy. Beside him, our bride channeled retro elegance with a short, contemporary-chic dress featuring playful puff sleeves. Her striking, pleated red heels were the perfect pop of color for her ensemble - a delightful coordination with her new spouse's vivid attire!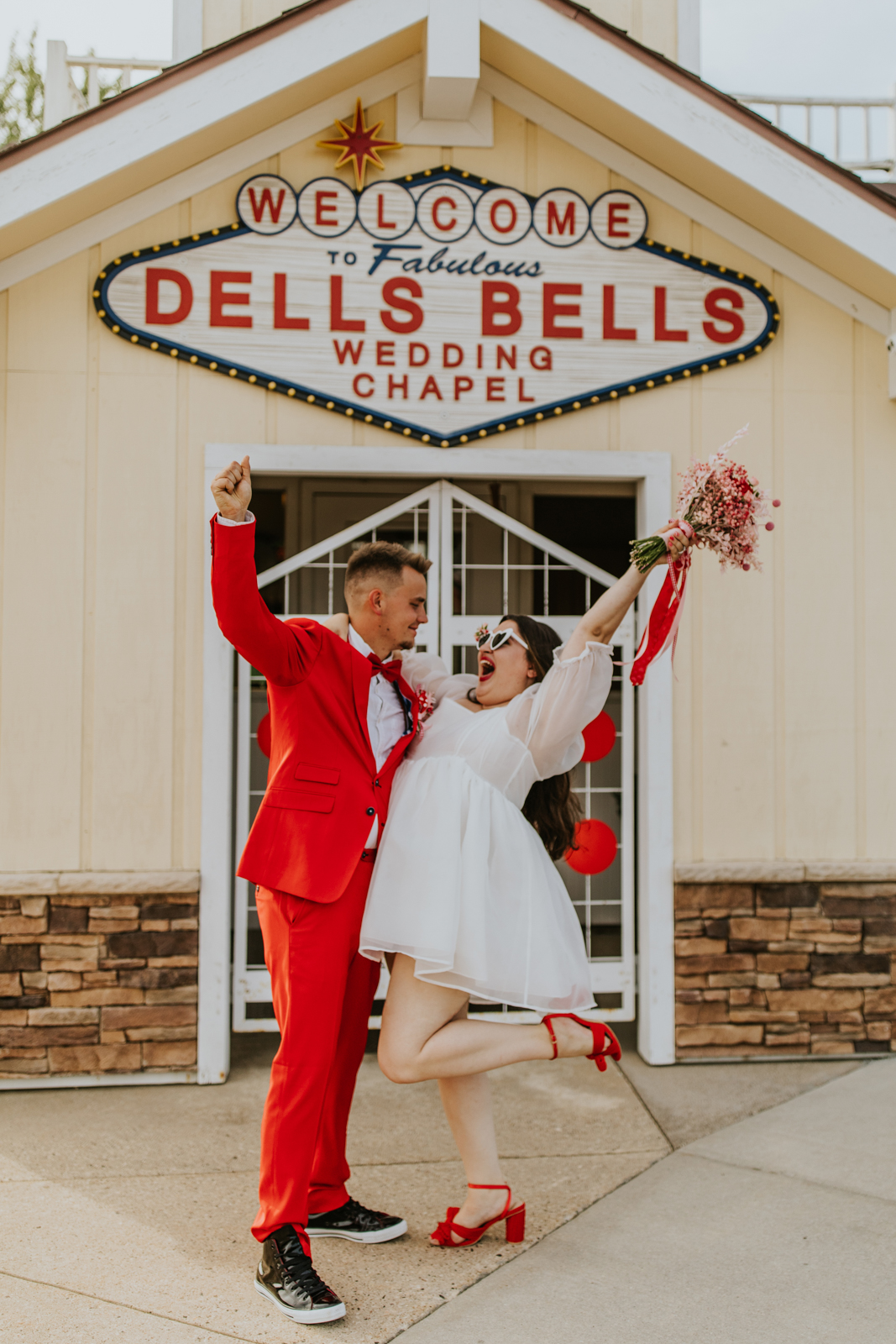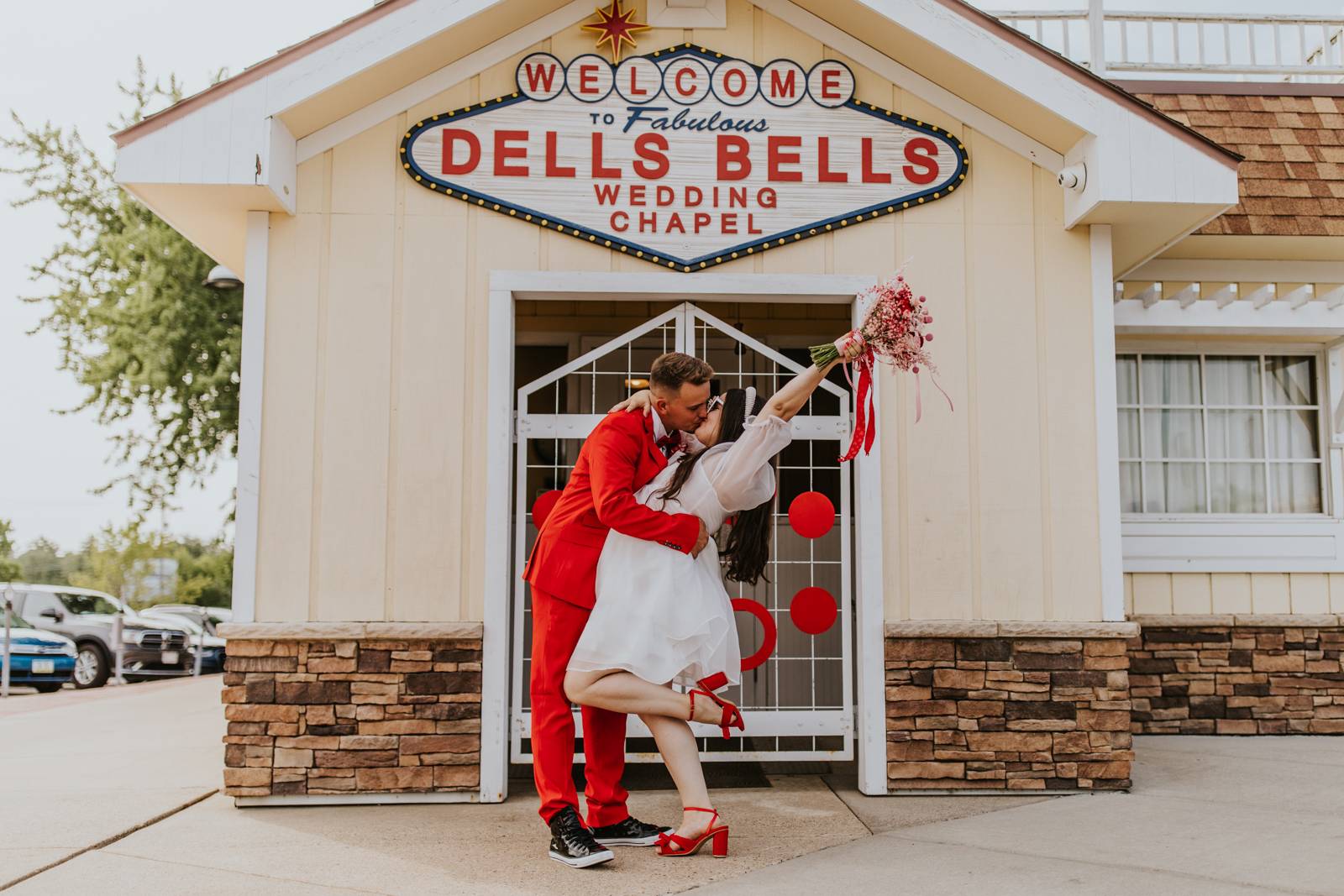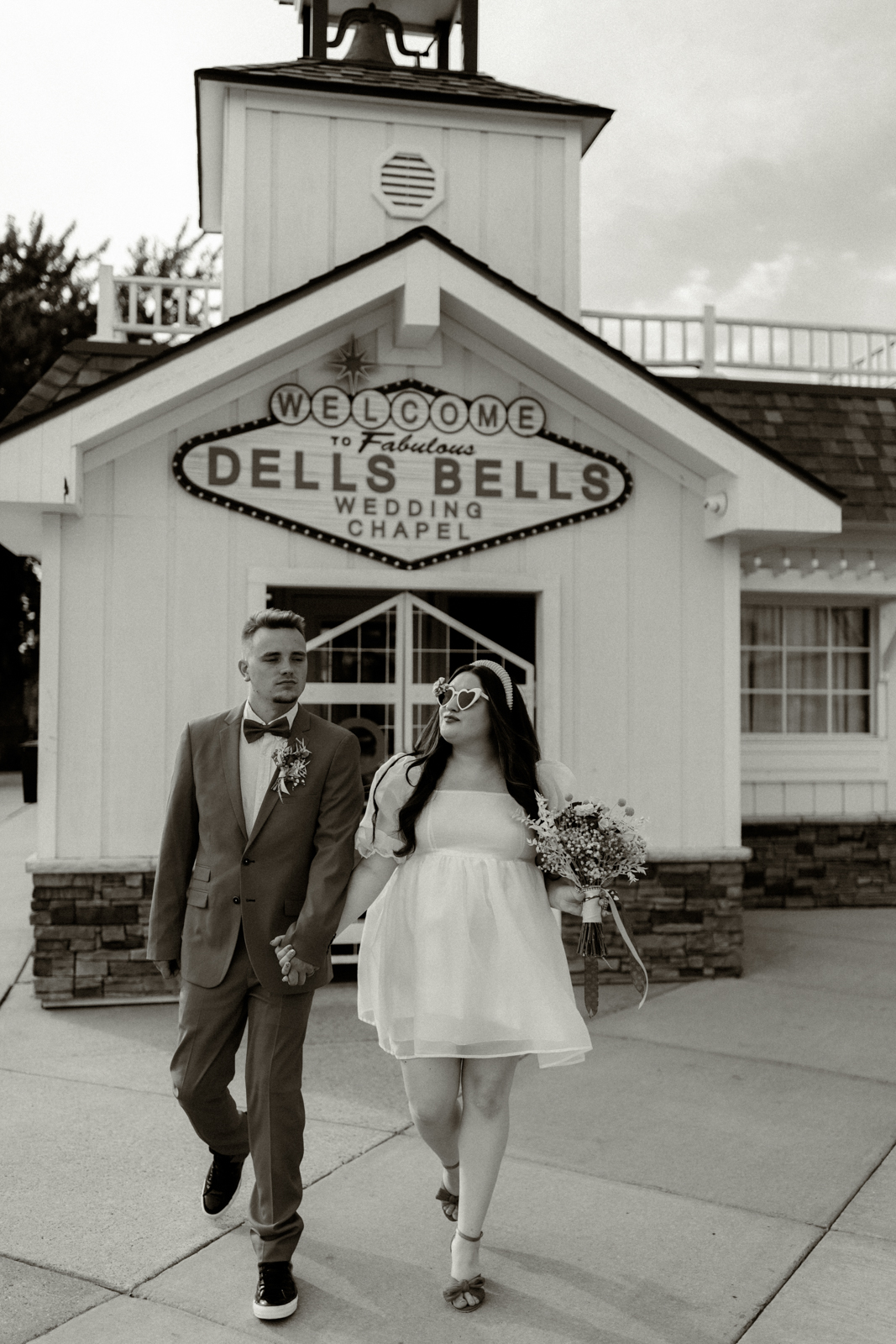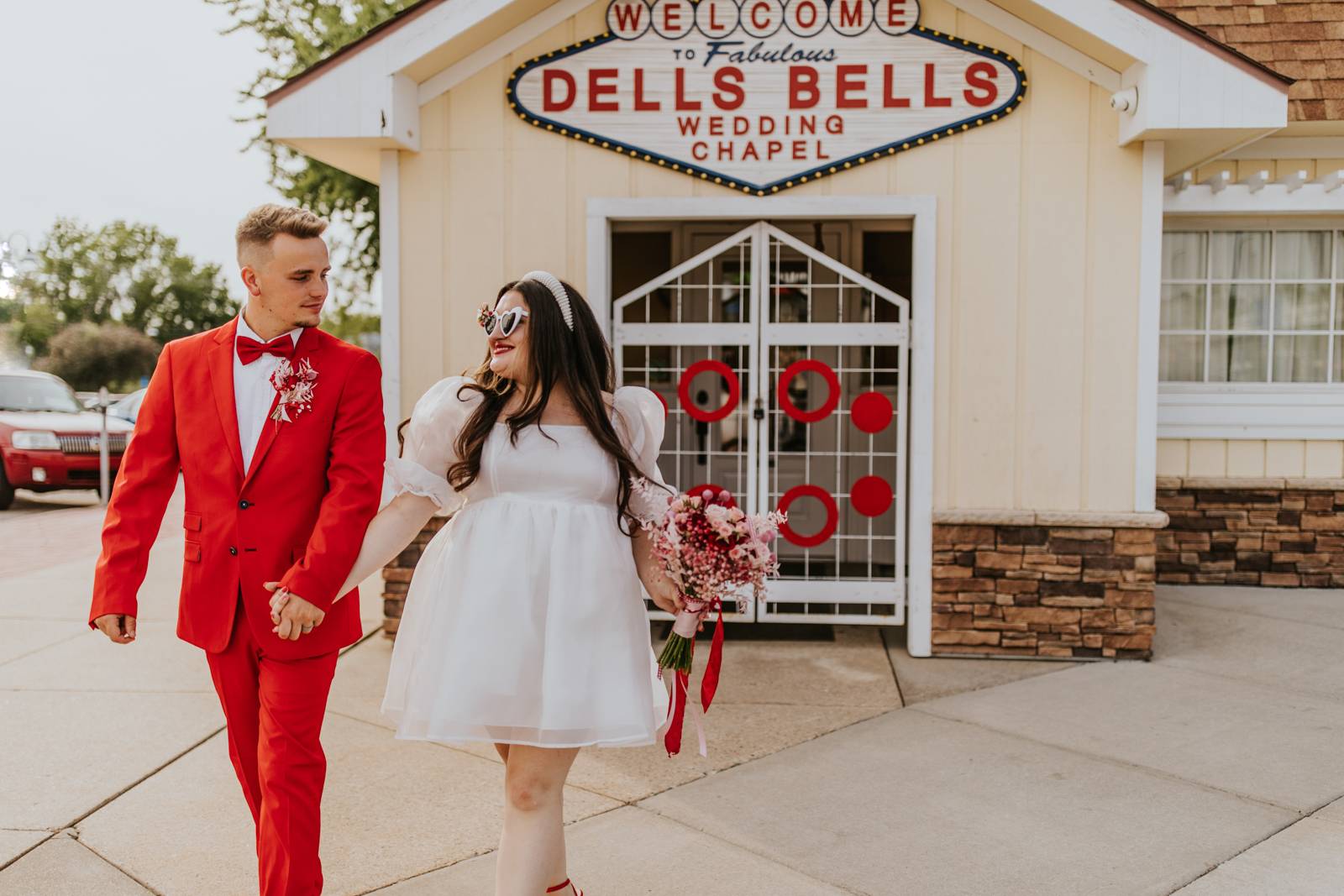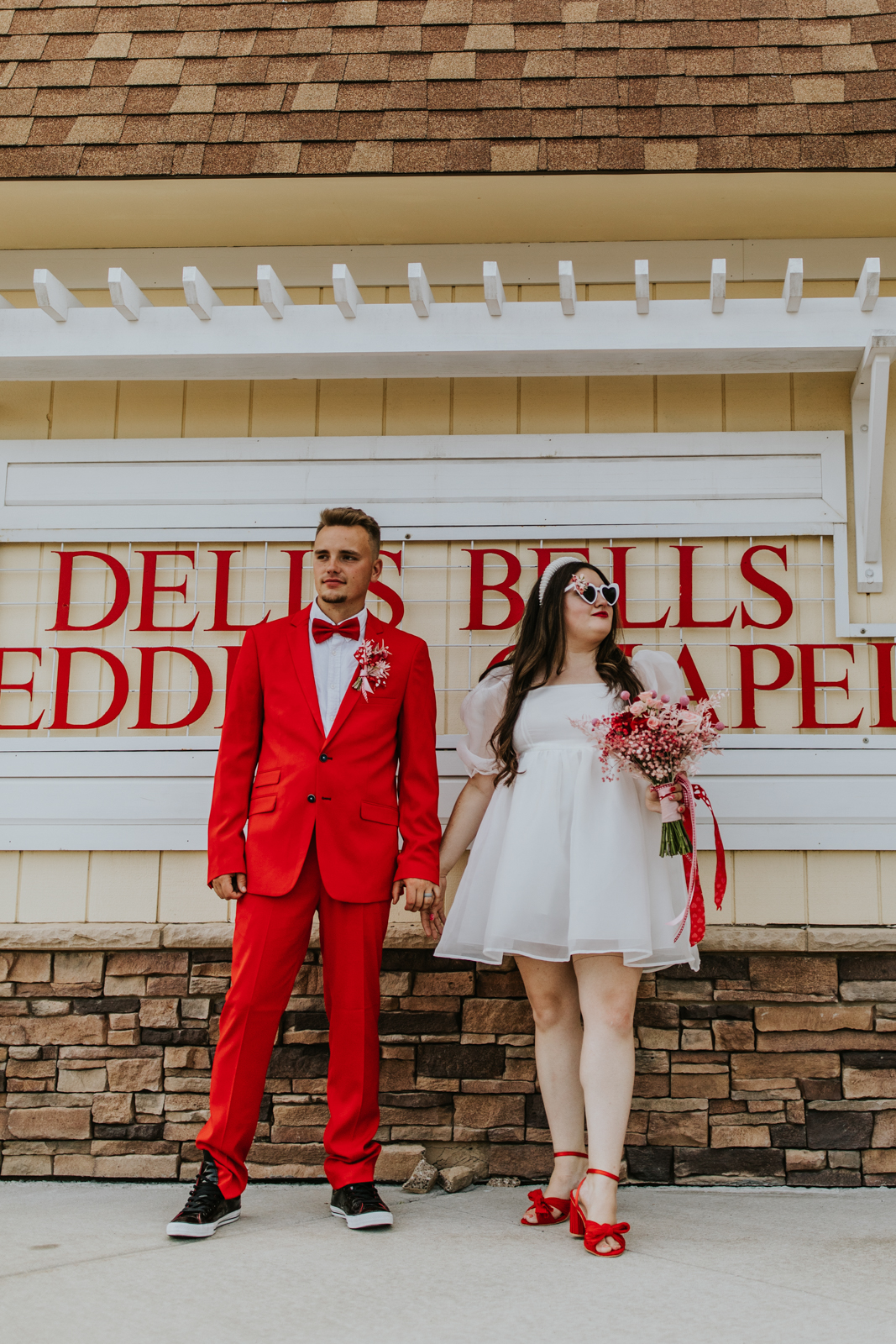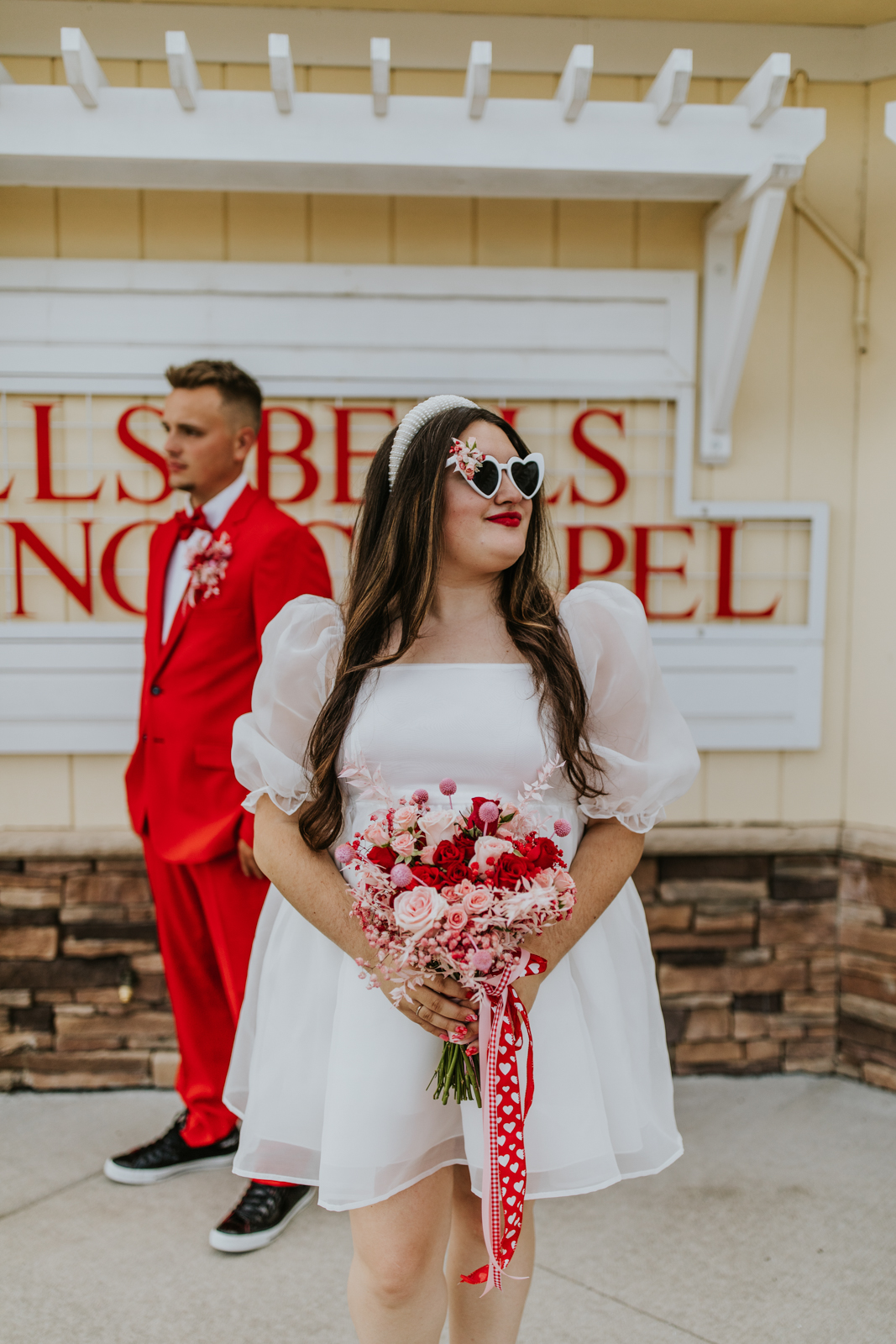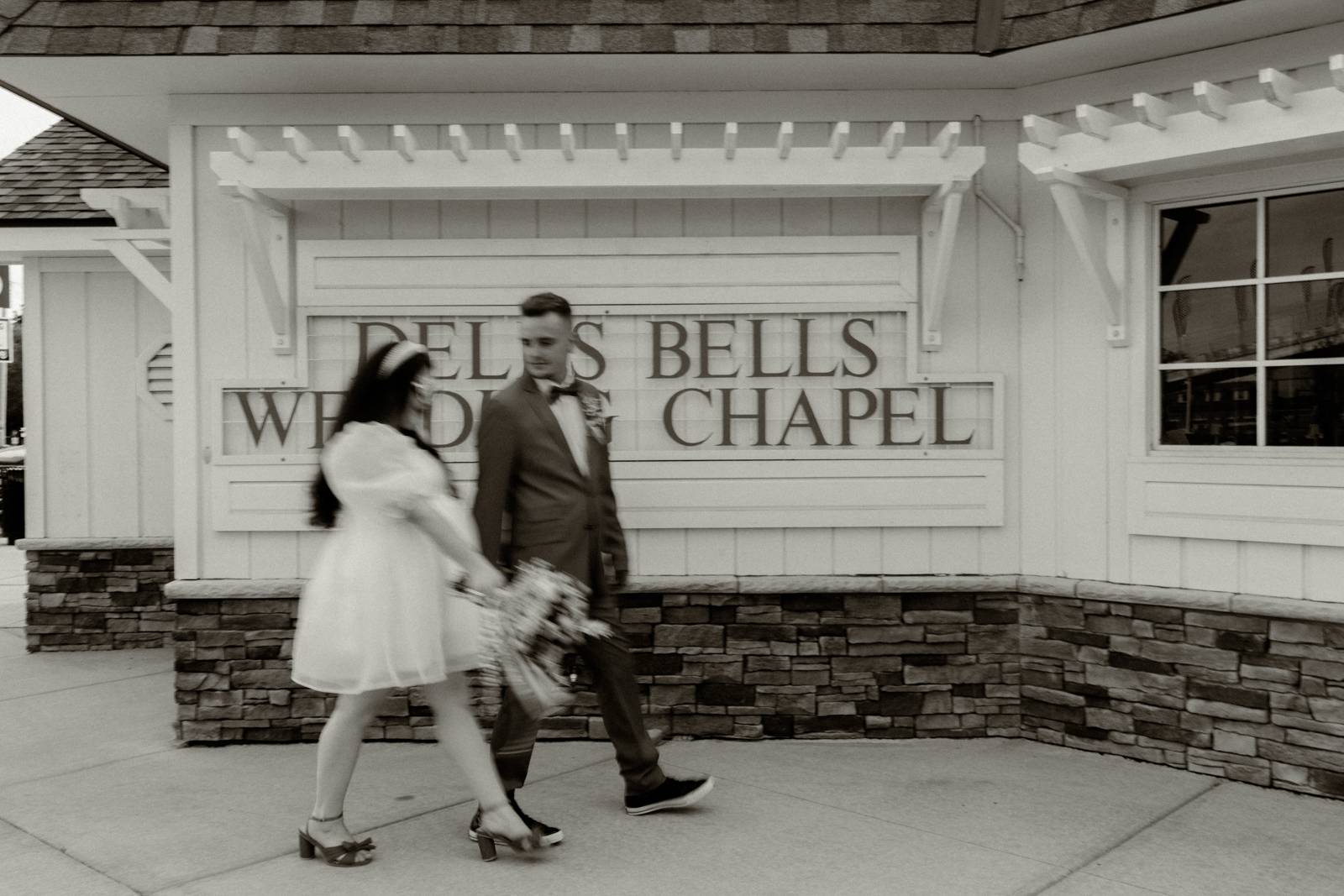 Savannah Steiger Photography captured this lively, retro-inspired celebration in her signature vibrant style. Embracing this day's nostalgic vibes, she used unique photography techniques to craft a film-inspired visual narrative! Using direct flash, motion blur, and more, she gave these images a timeless, vintage allure that expertly captured the day and highlighted all its exquisite details!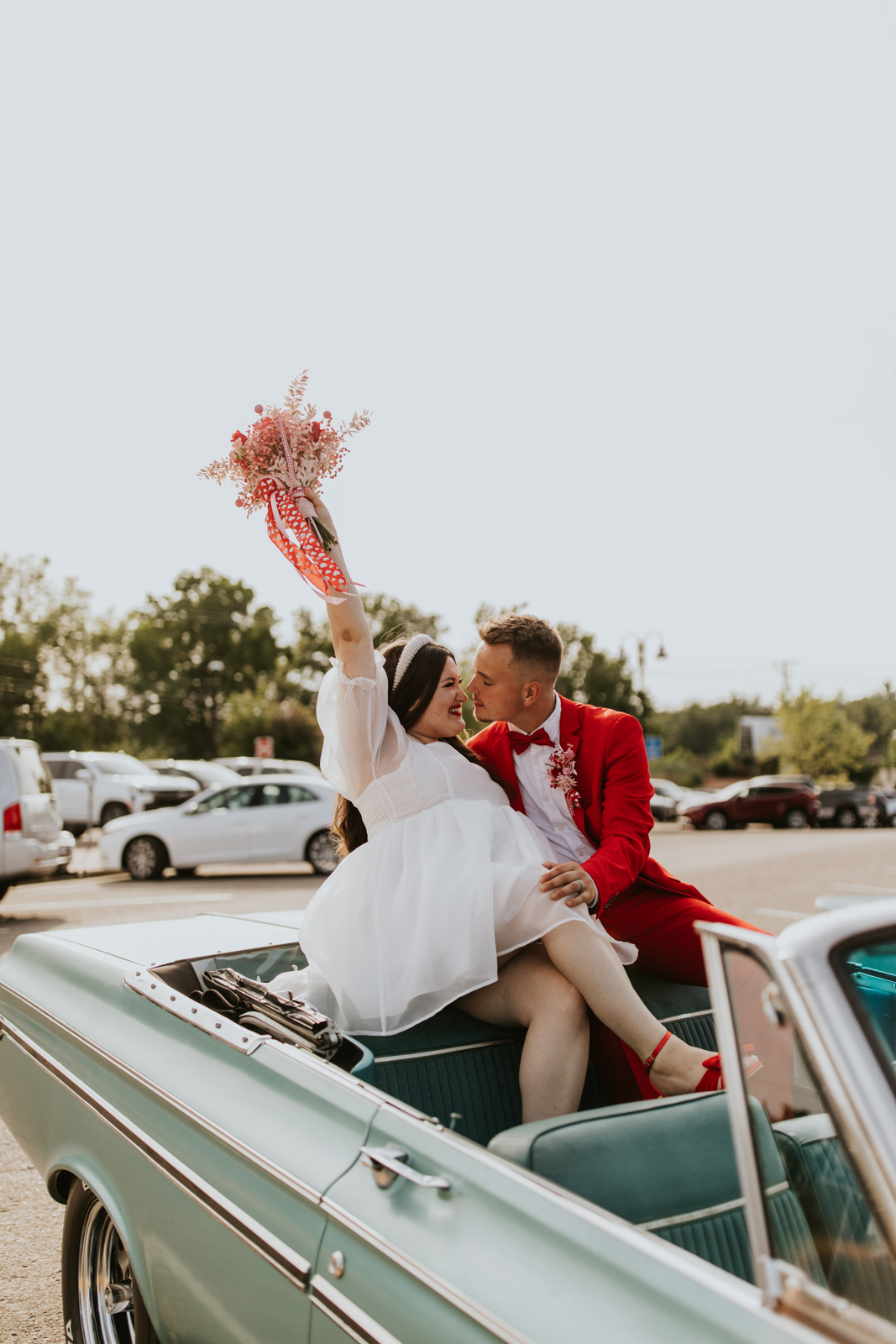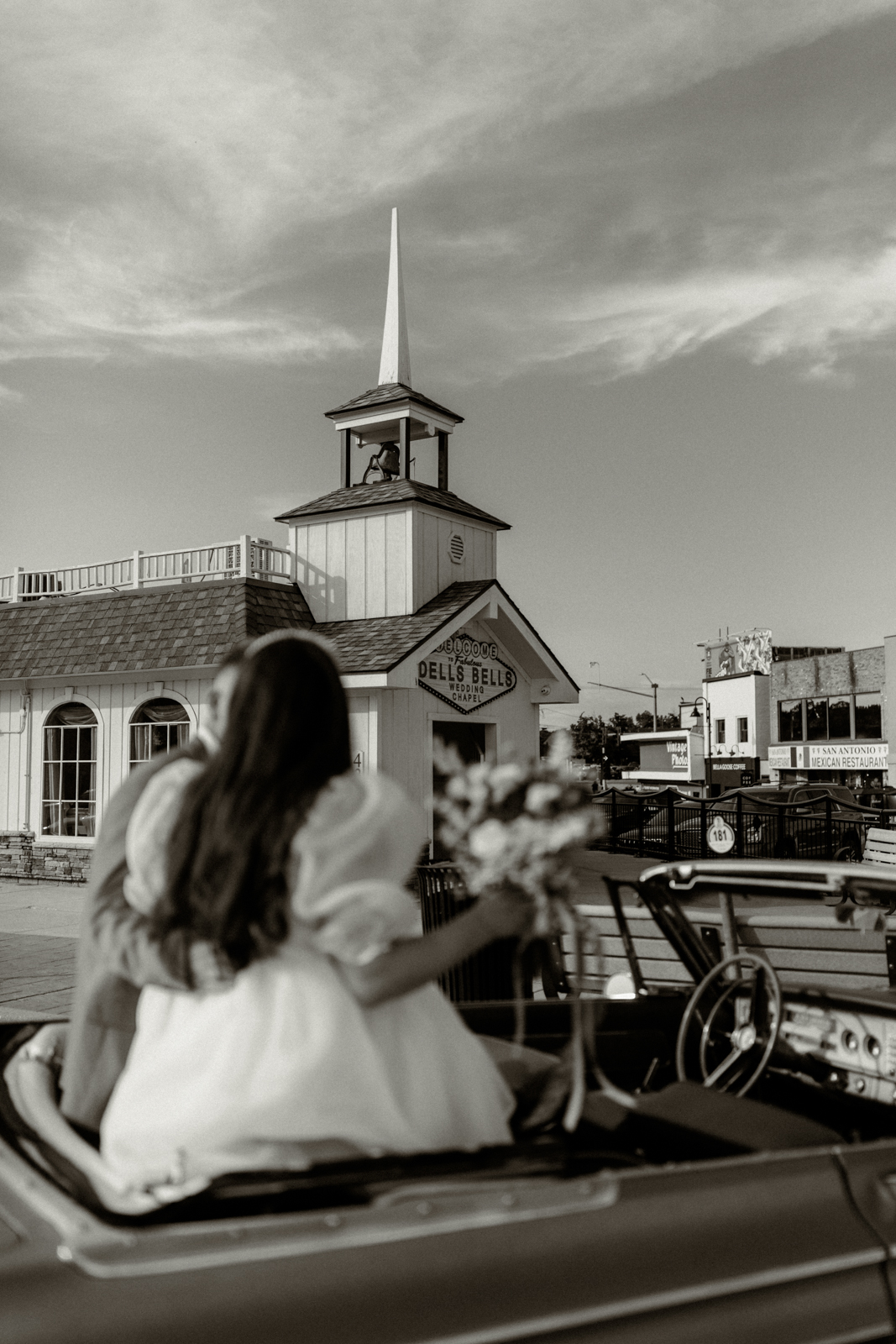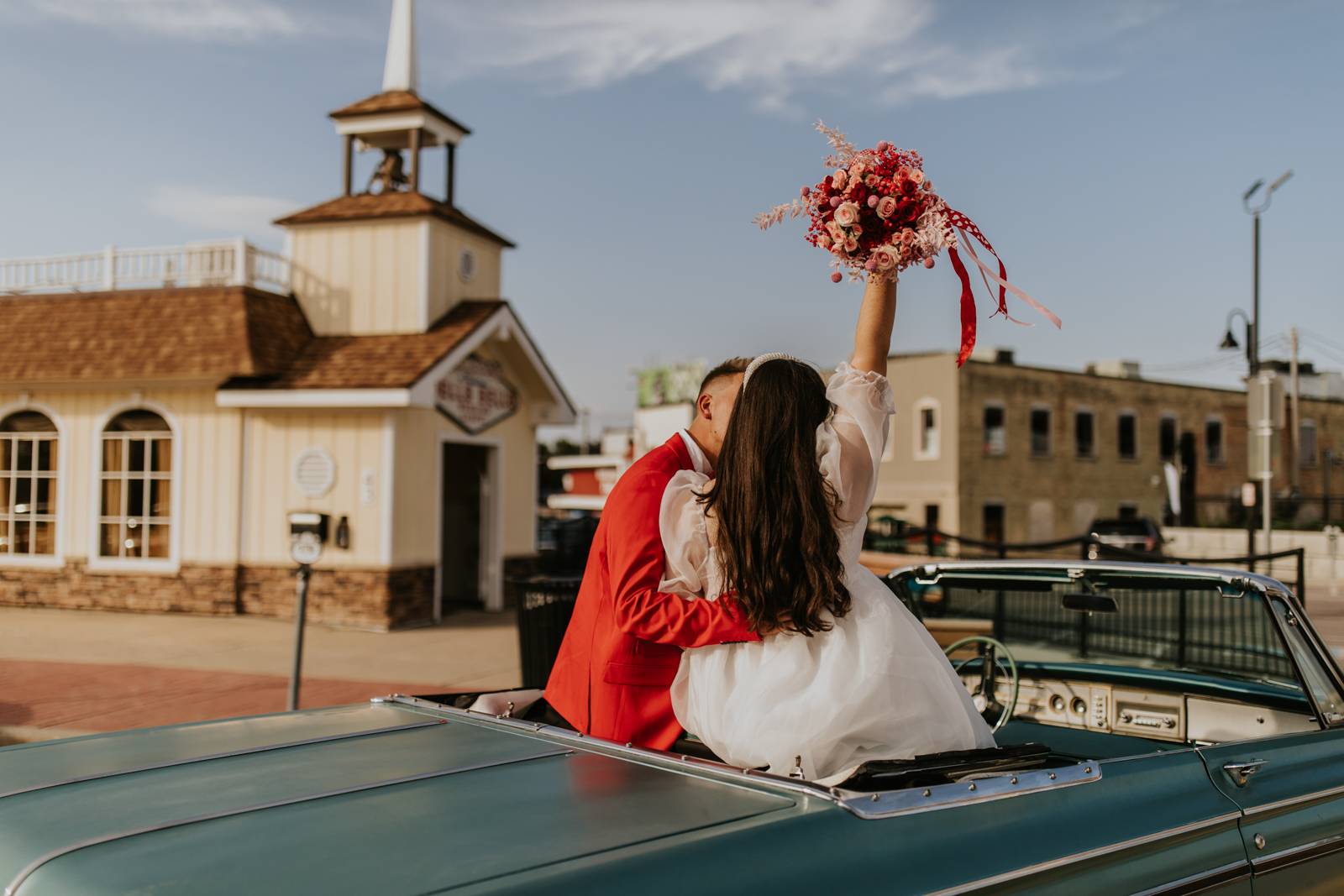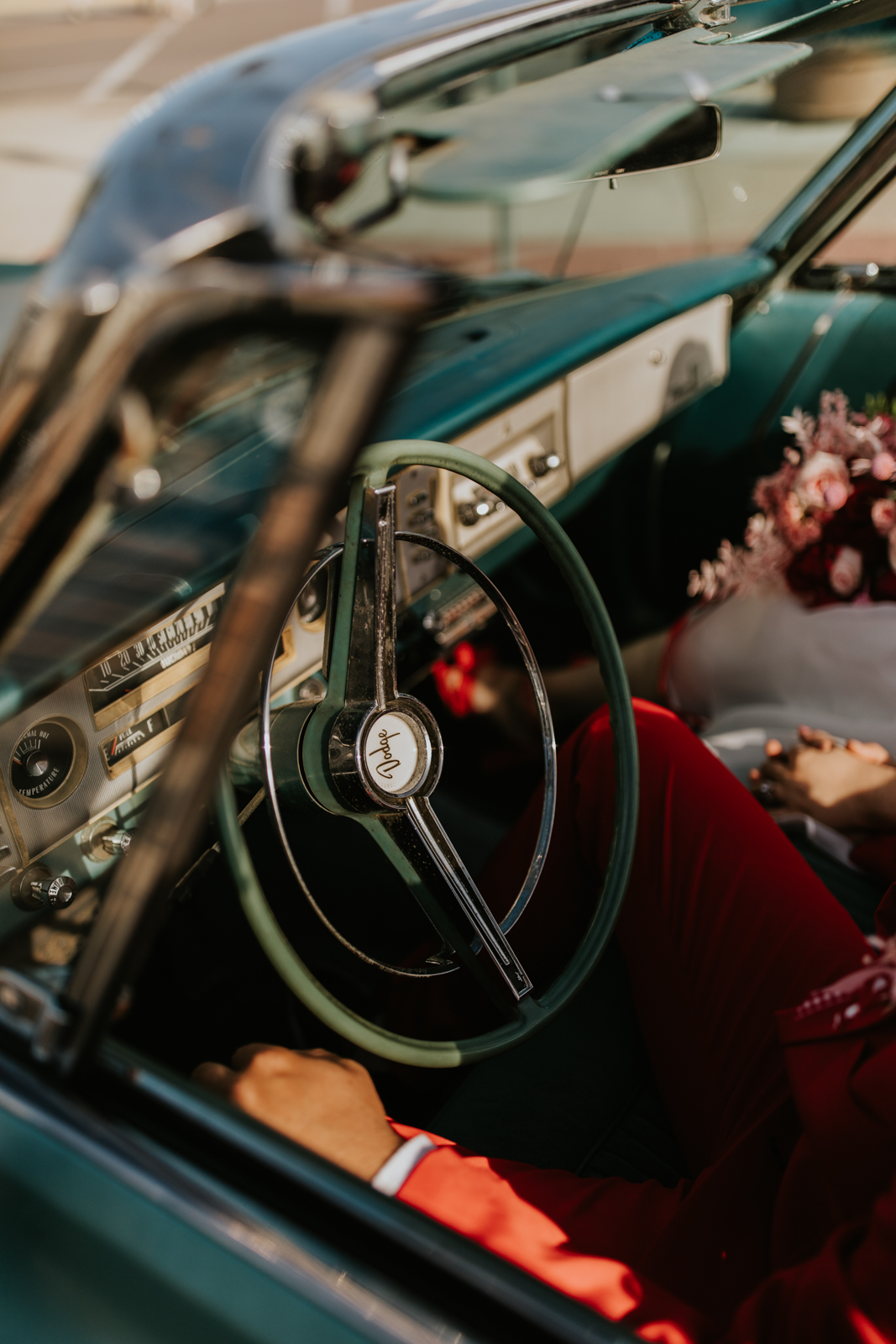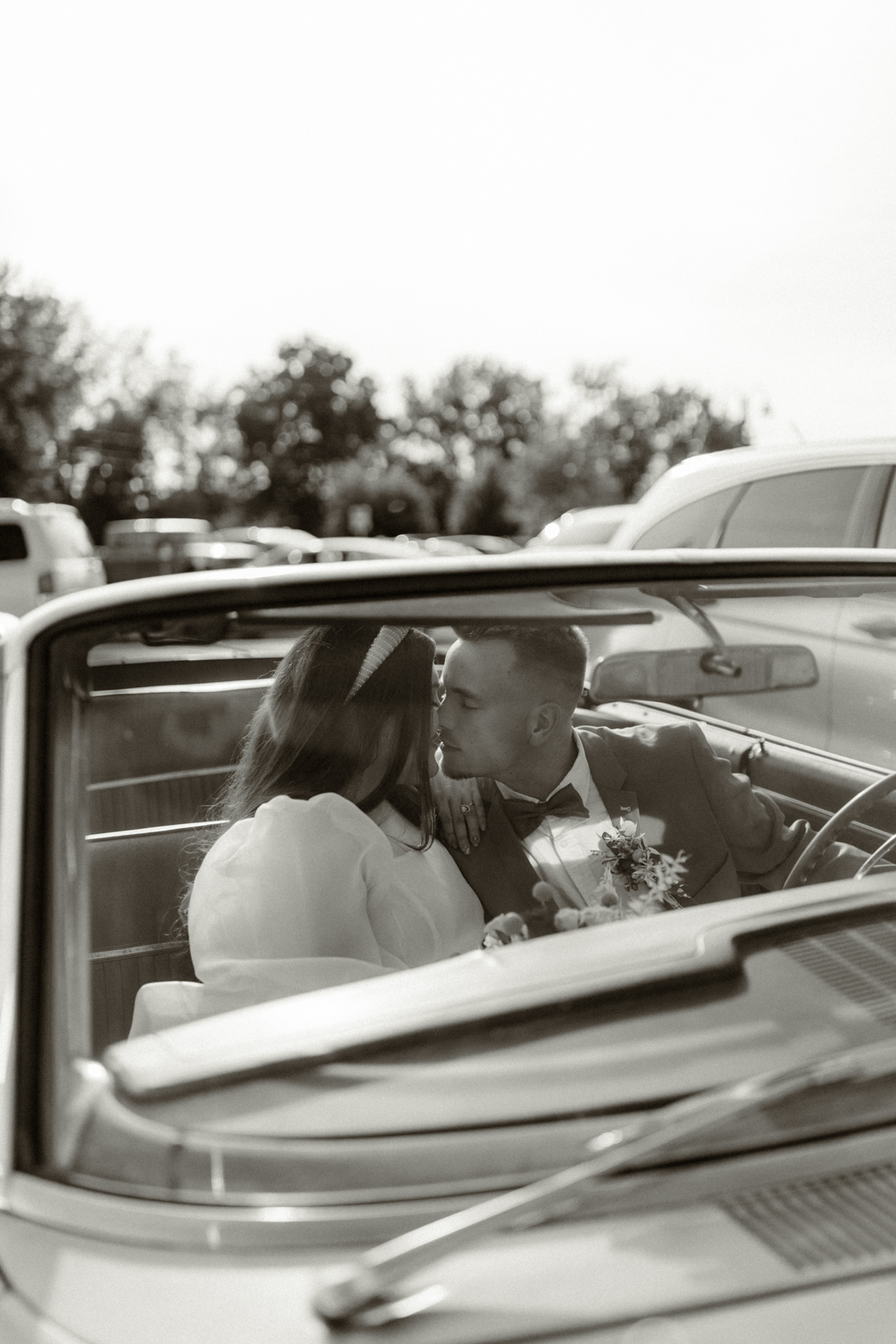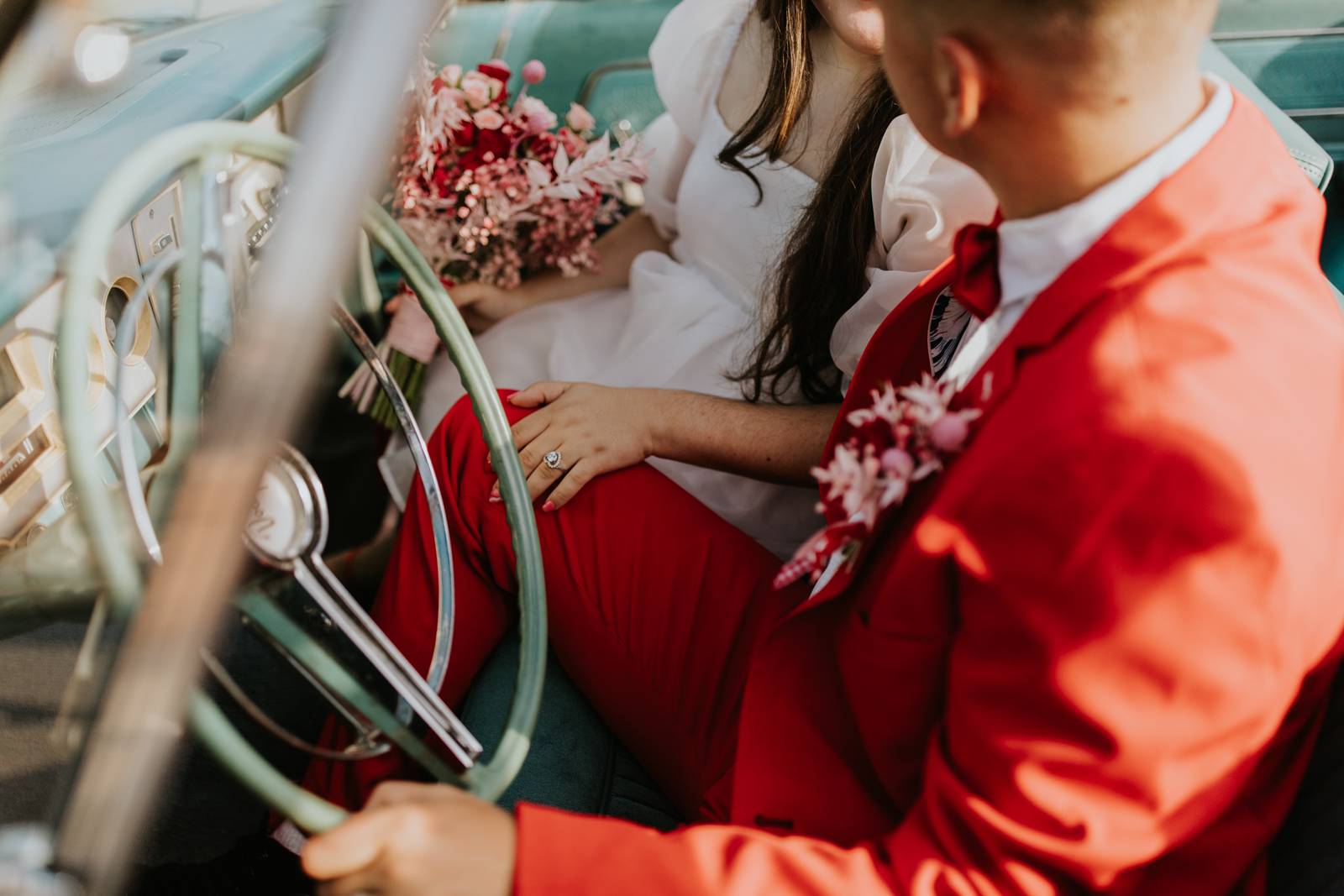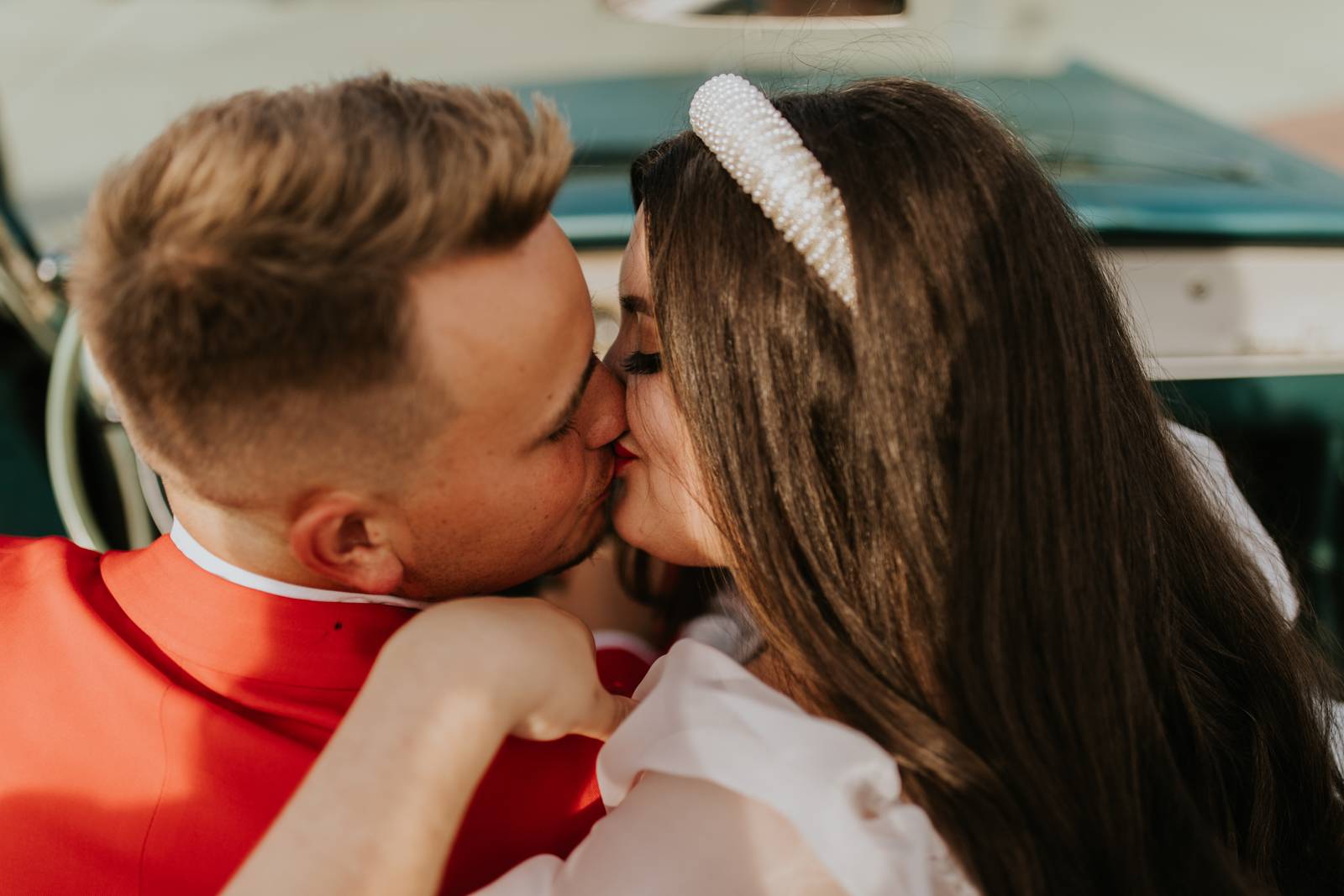 Melody Rose Designs has a knack for imaginative and distinctive floral arrangements, and the incorporation of colorful blooms into our couple's attire was no exception. In addition to a lively bouquet filled with vibrant red and soft, romantic pink roses, a playful floral accent on the bride's heart-shaped sunglasses was an unexpected twist to the bride's chic ensemble. With a matching boutonniere for the groom, the couple was poised to celebrate in style!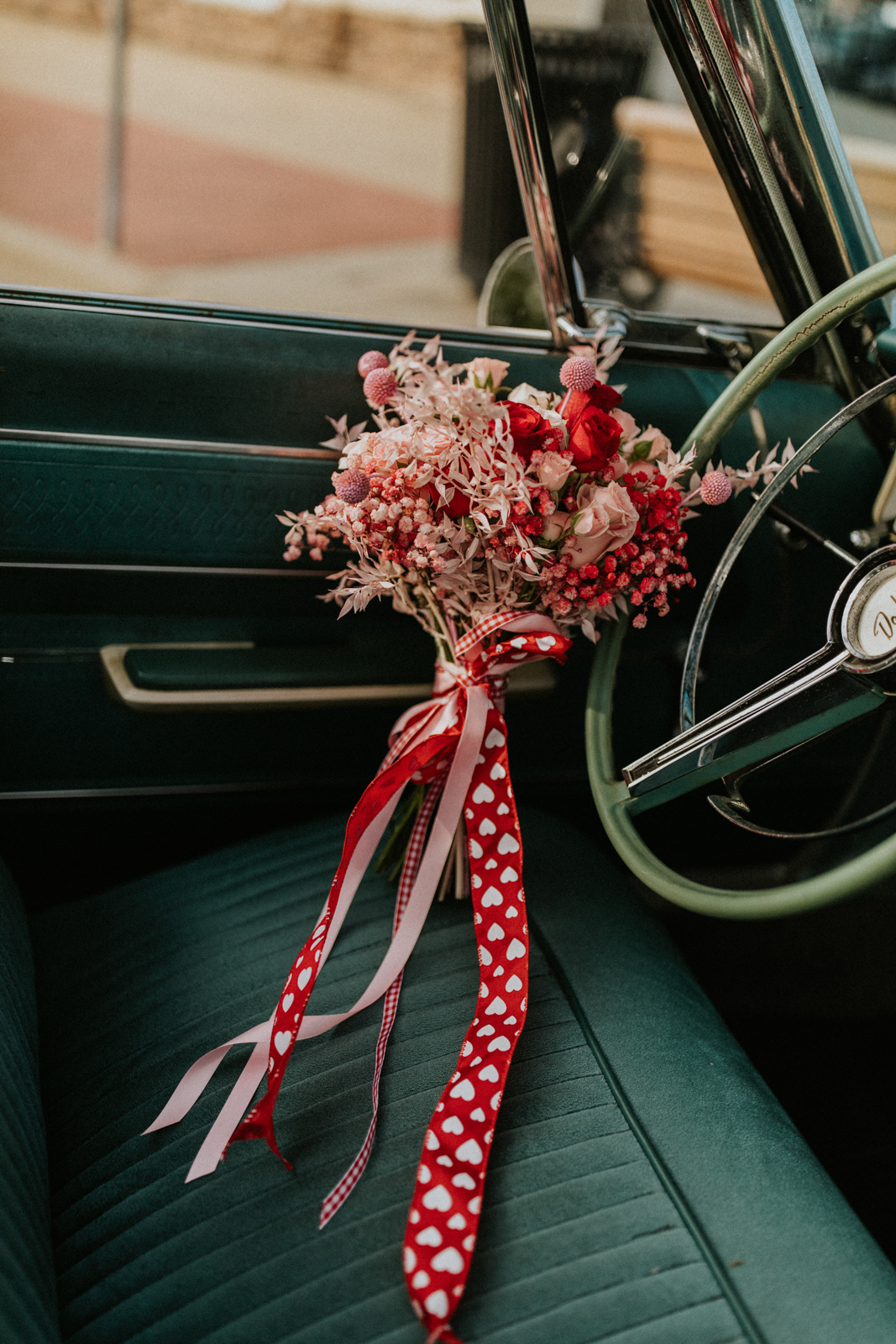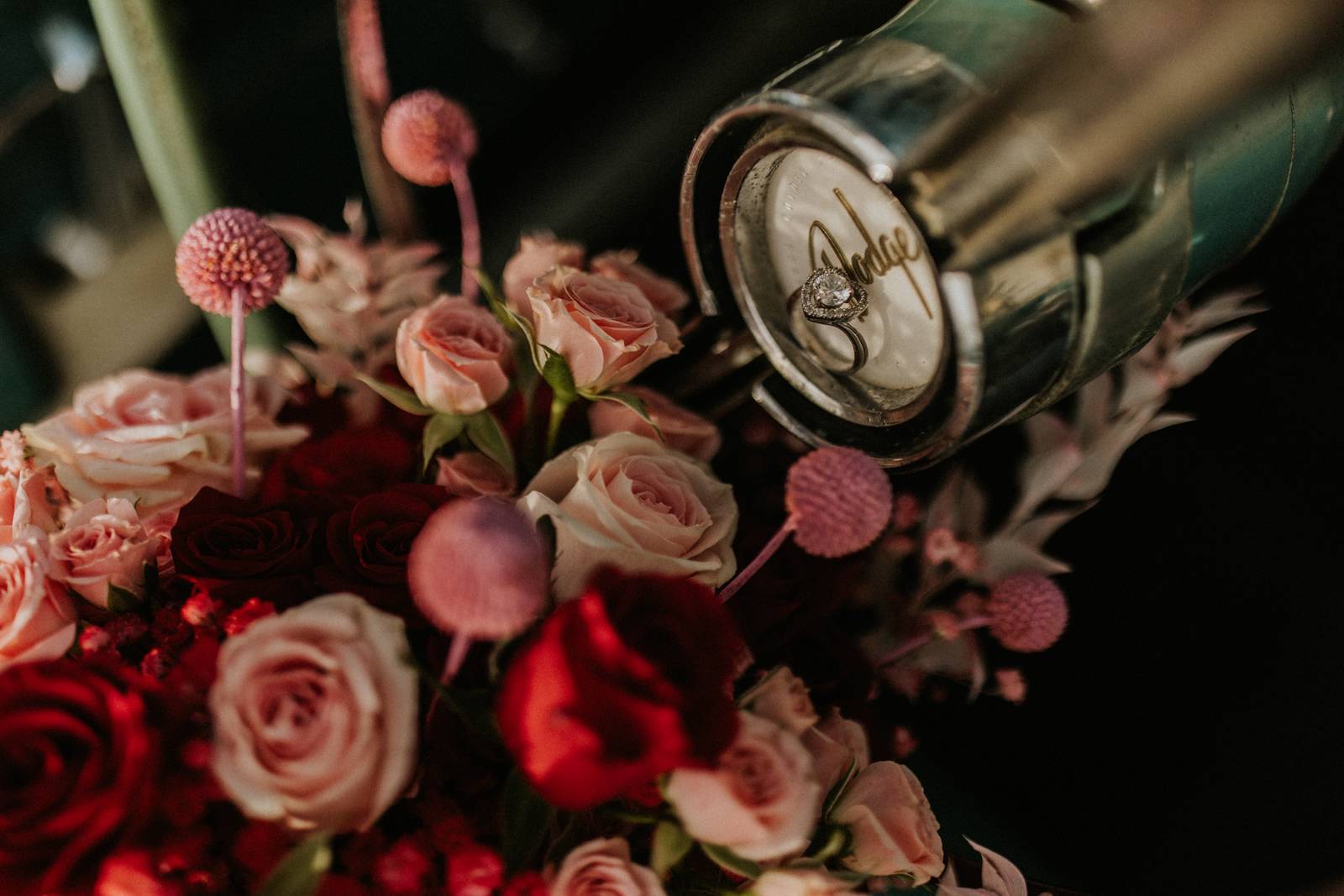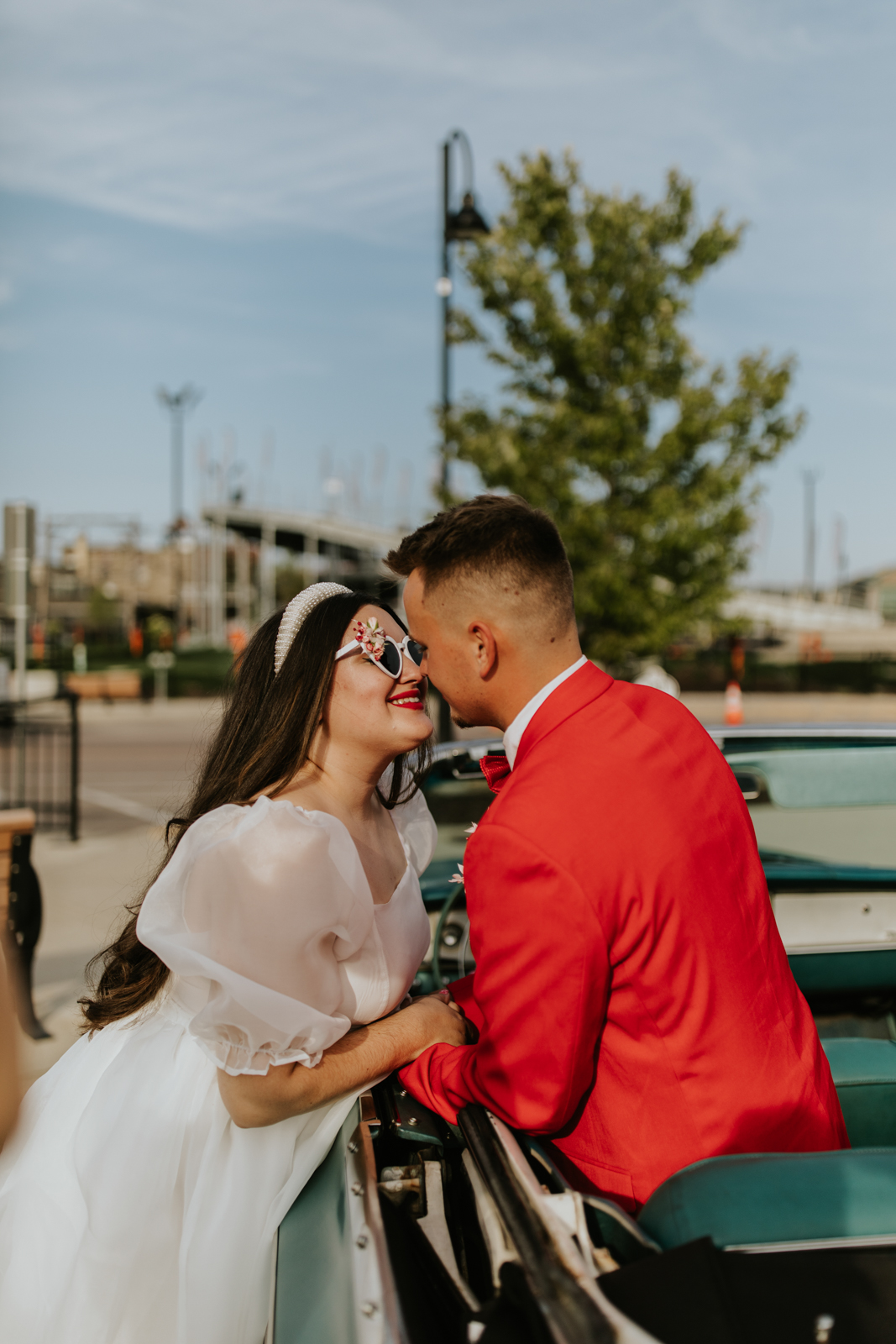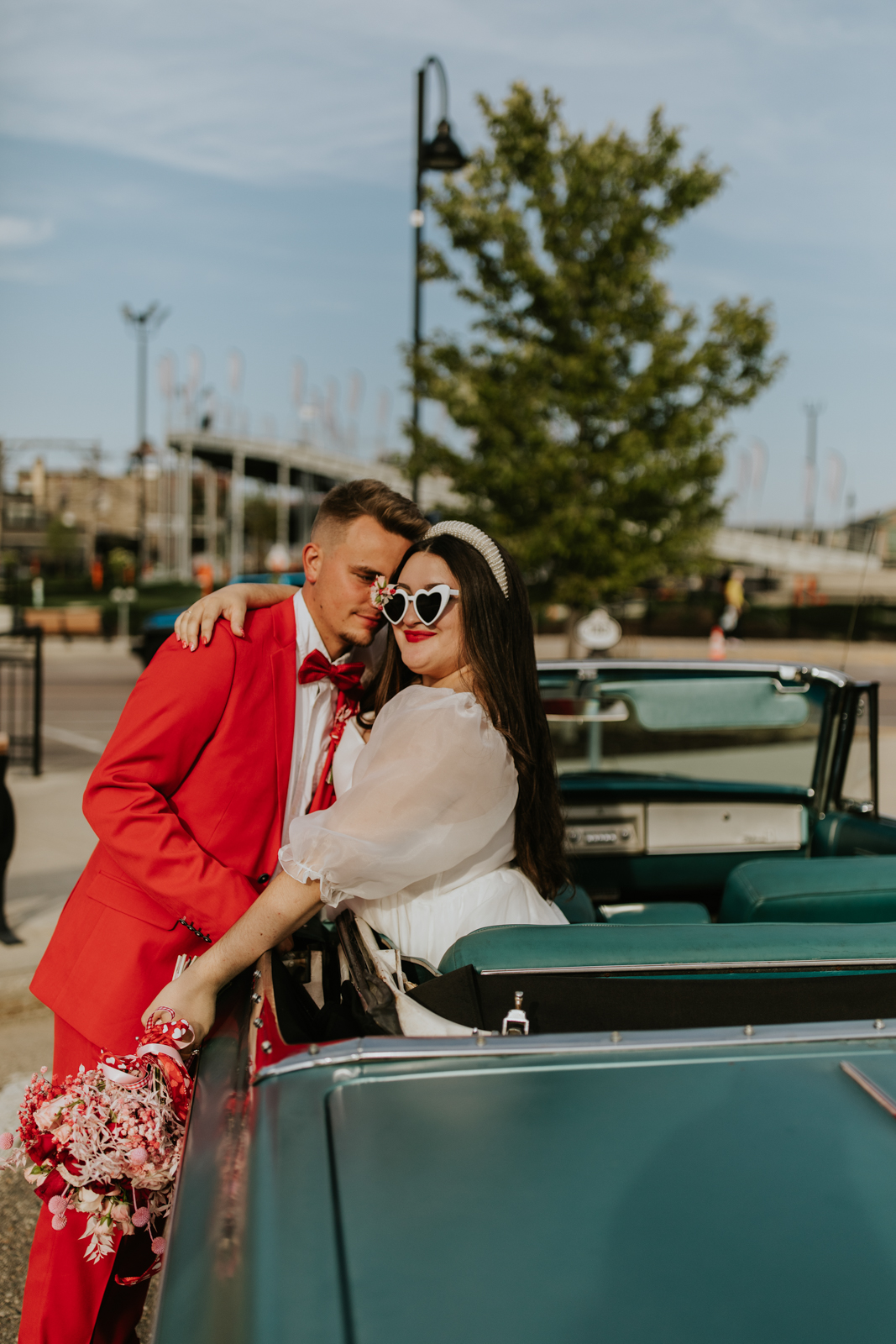 A cherished local establishment since 1980, Denny's Diner in Wisconsin Dells transports back to the timeless, nostalgic ambiance of the 1950s. There is truly no better place to share a celebratory milkshake with your love!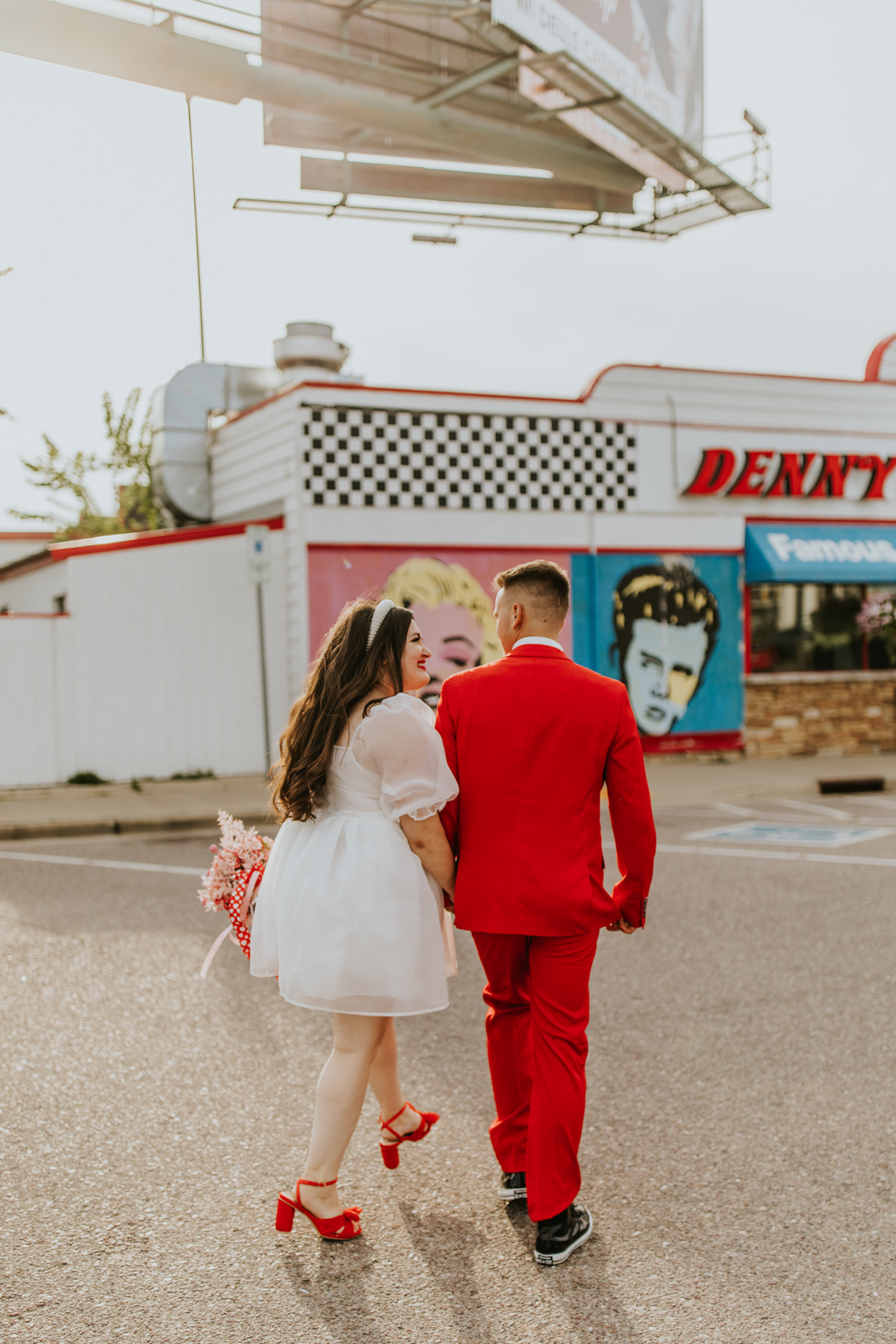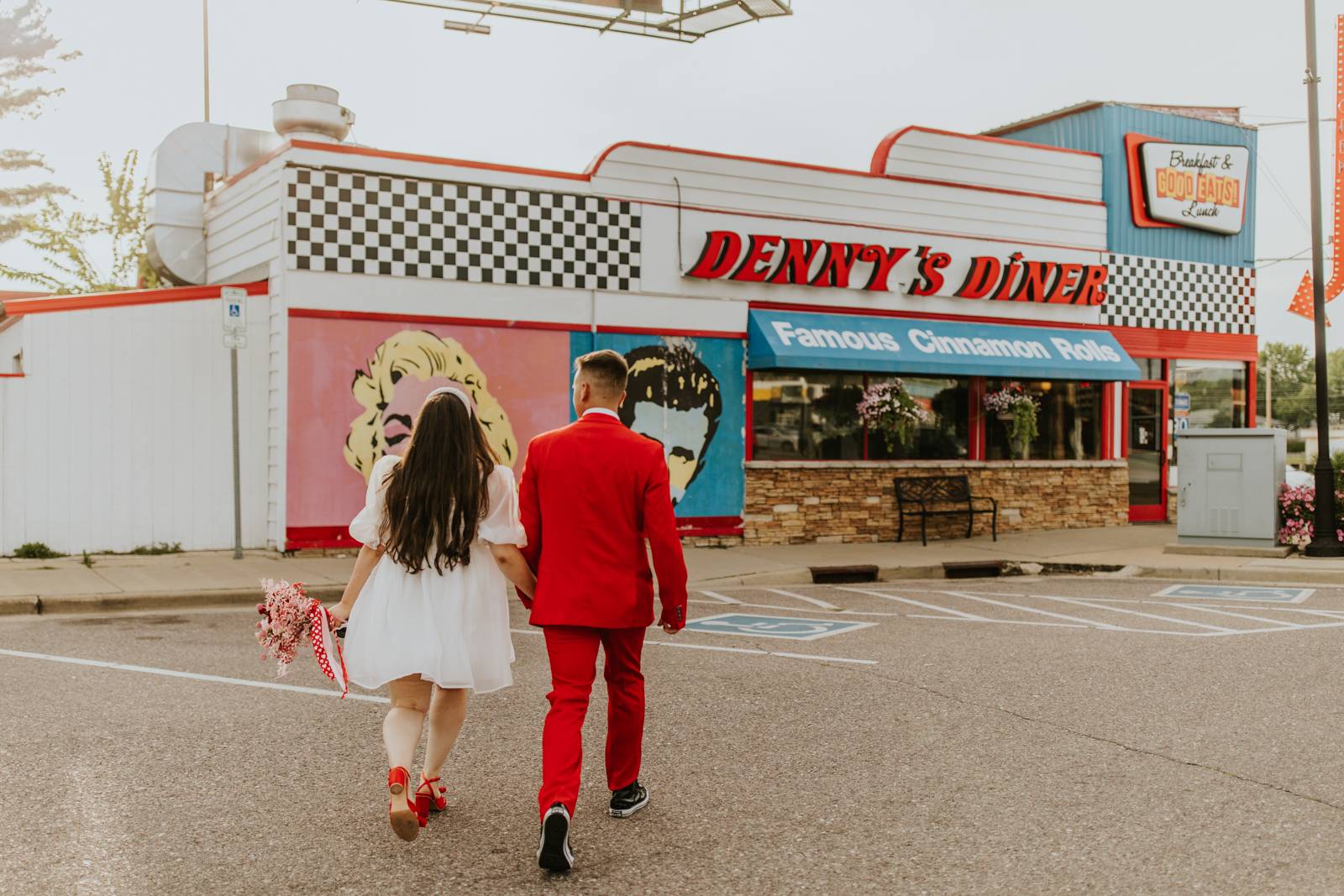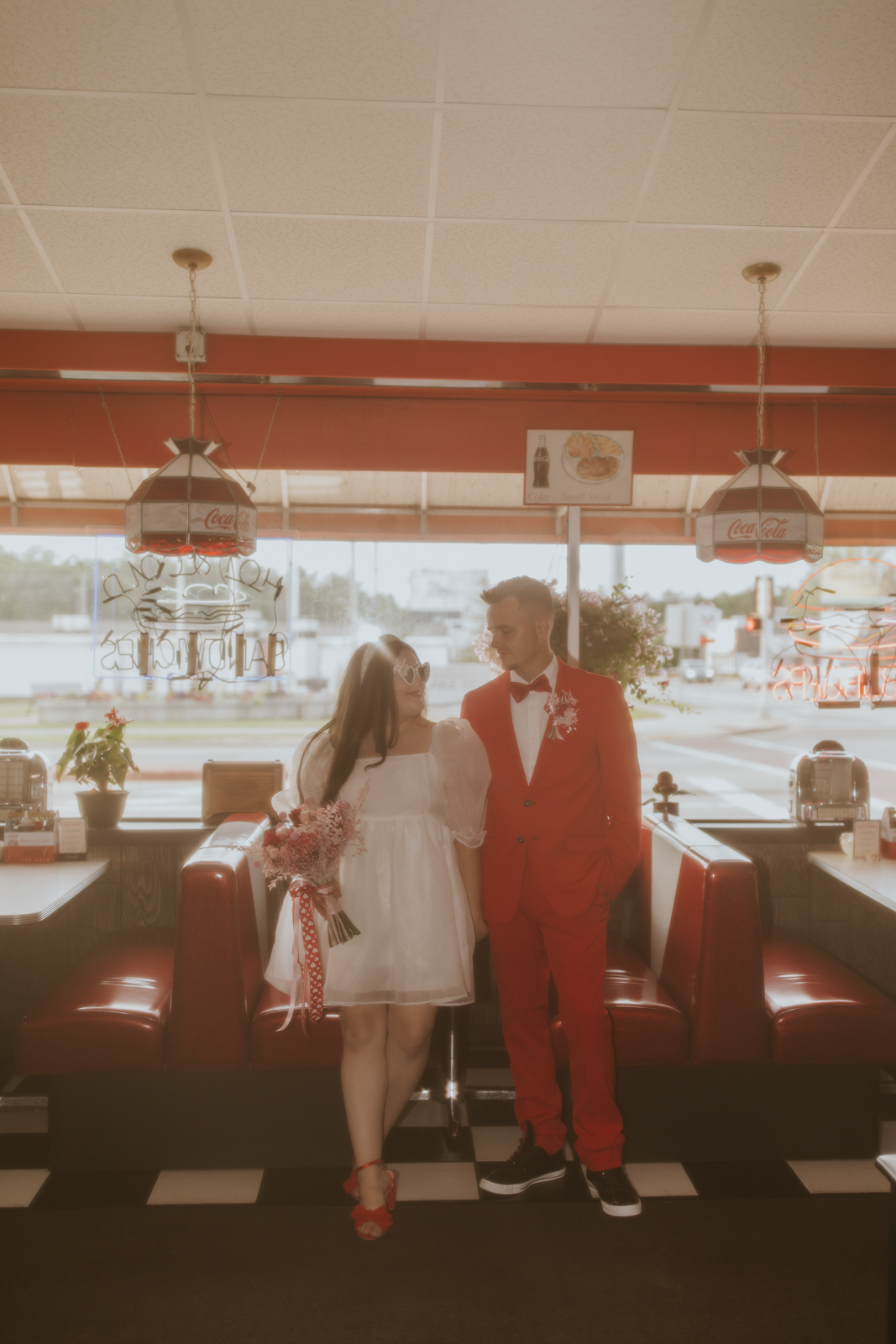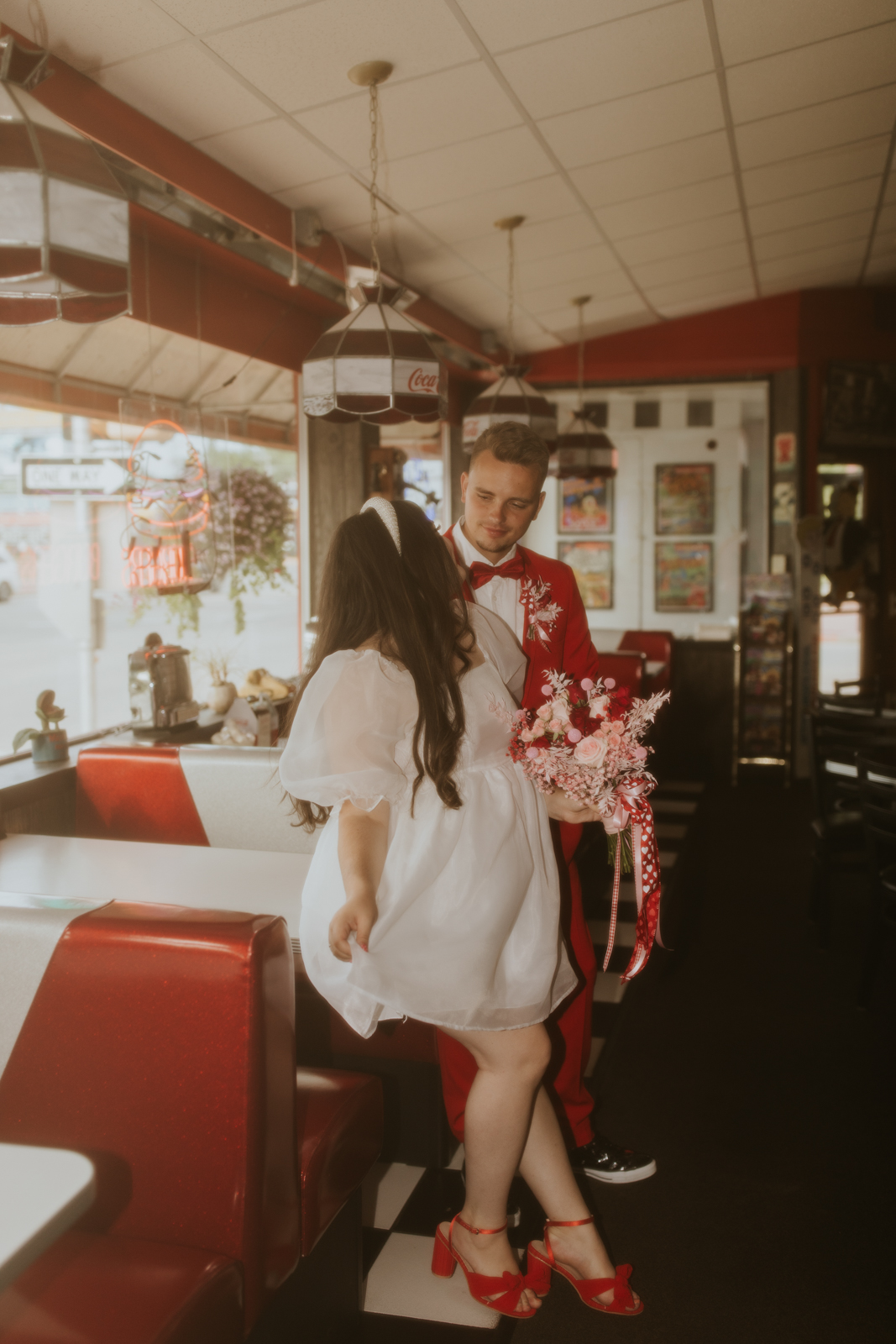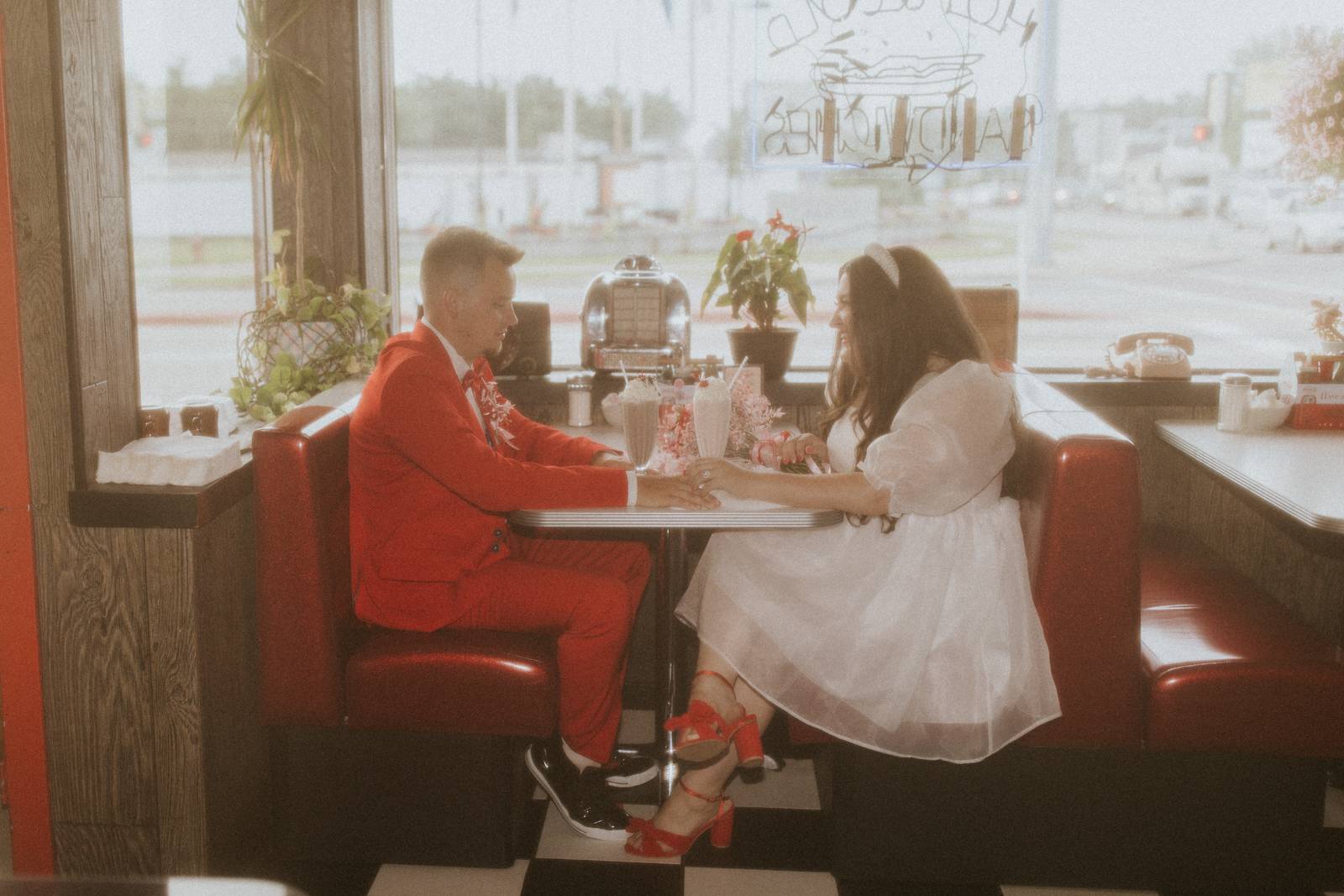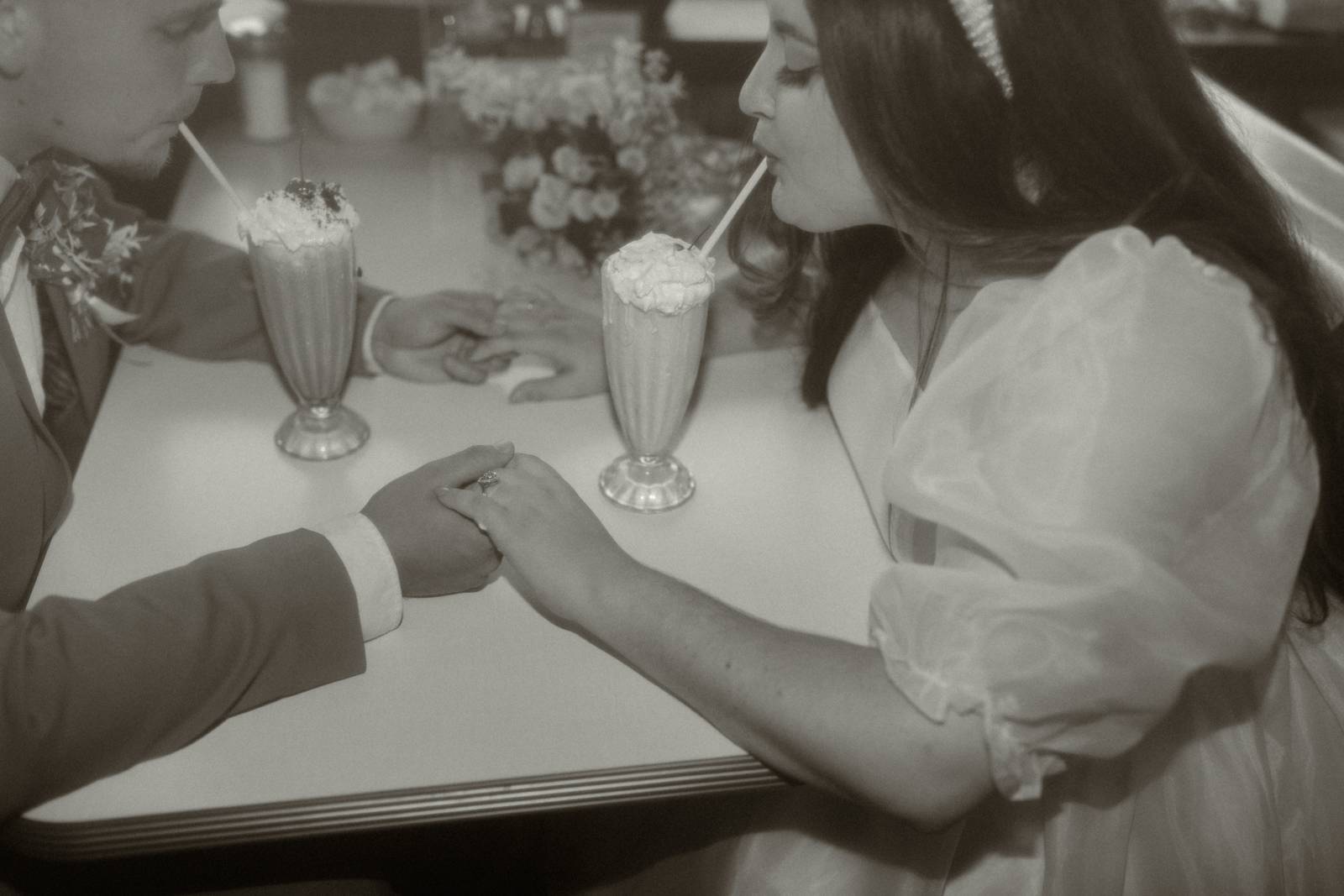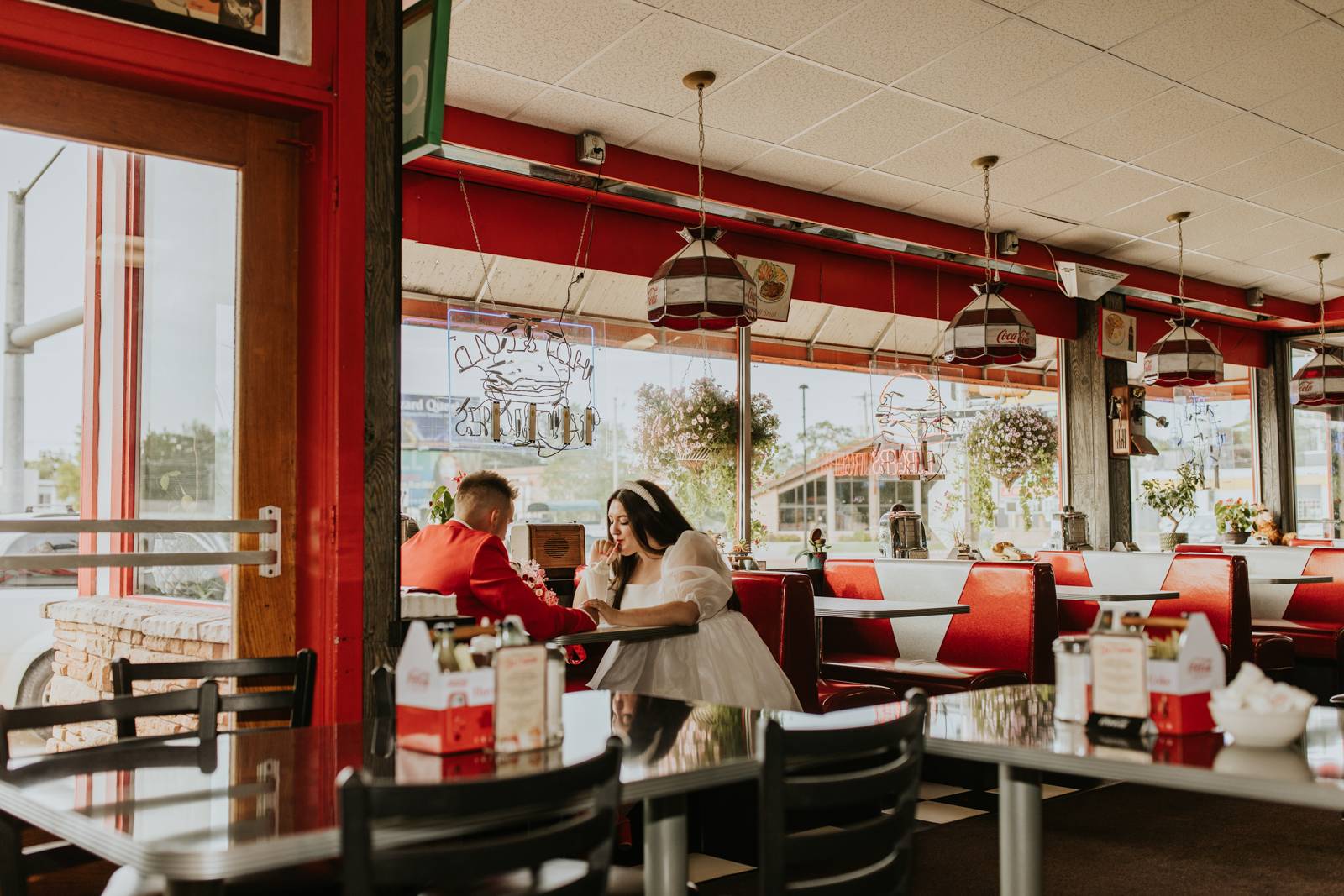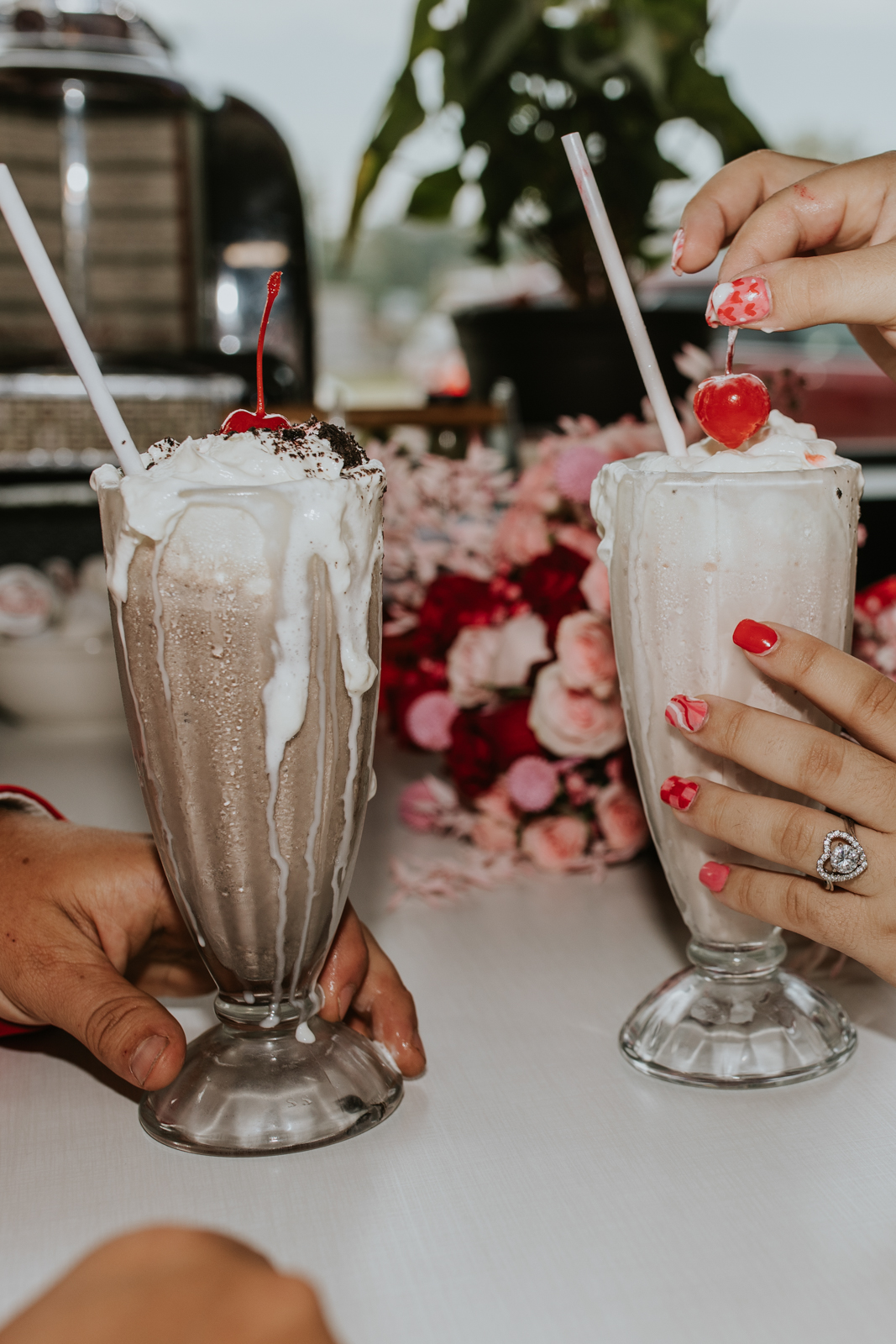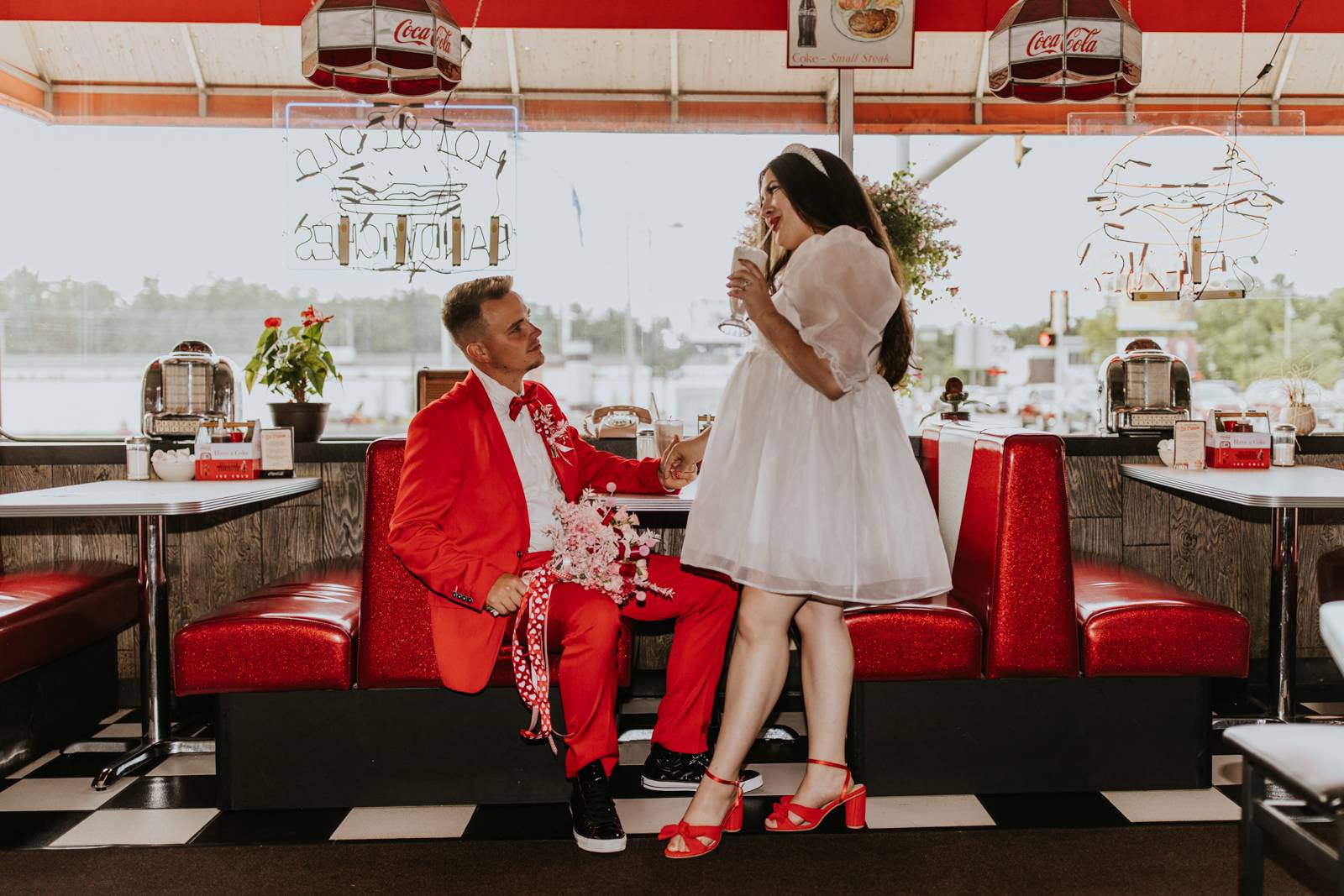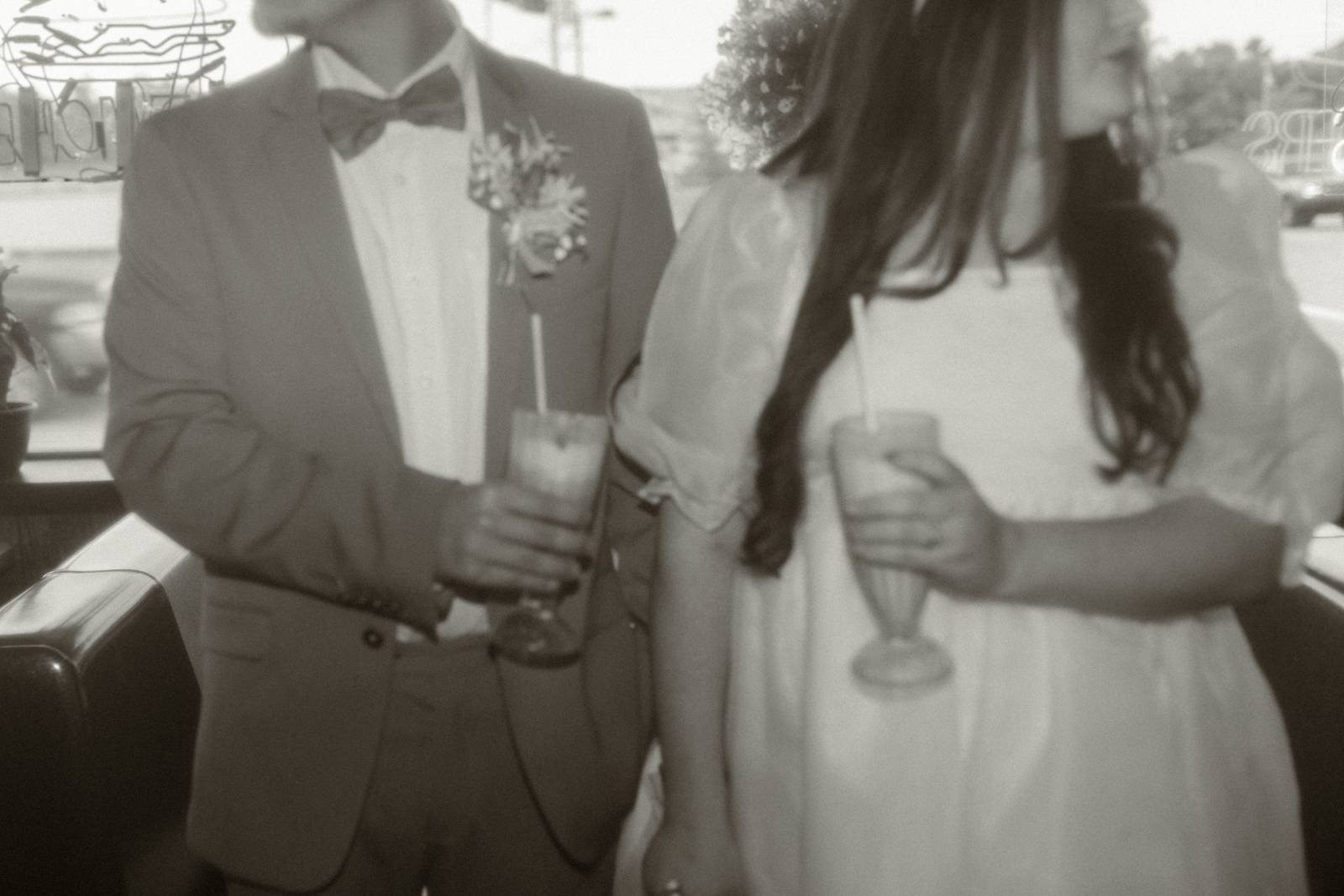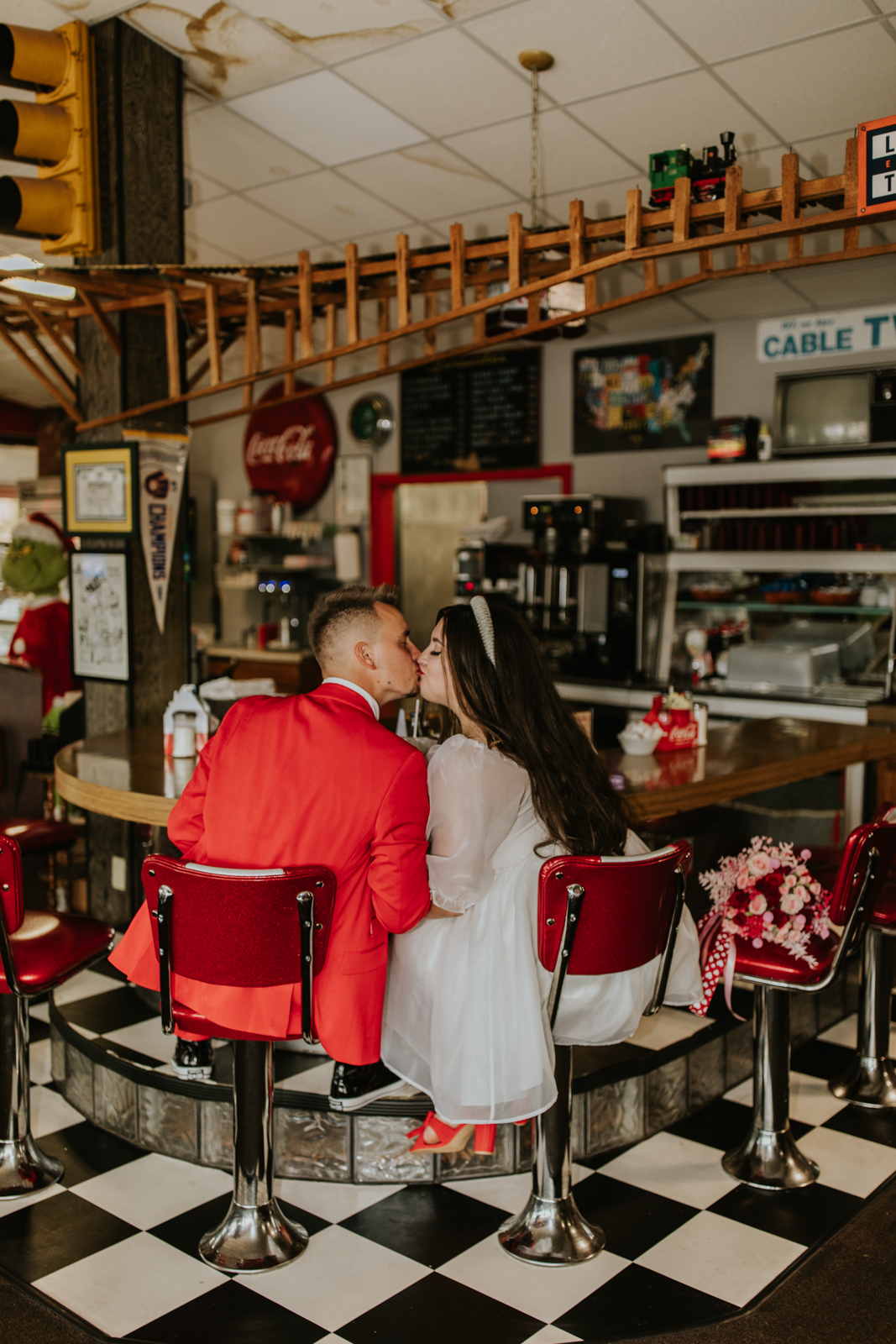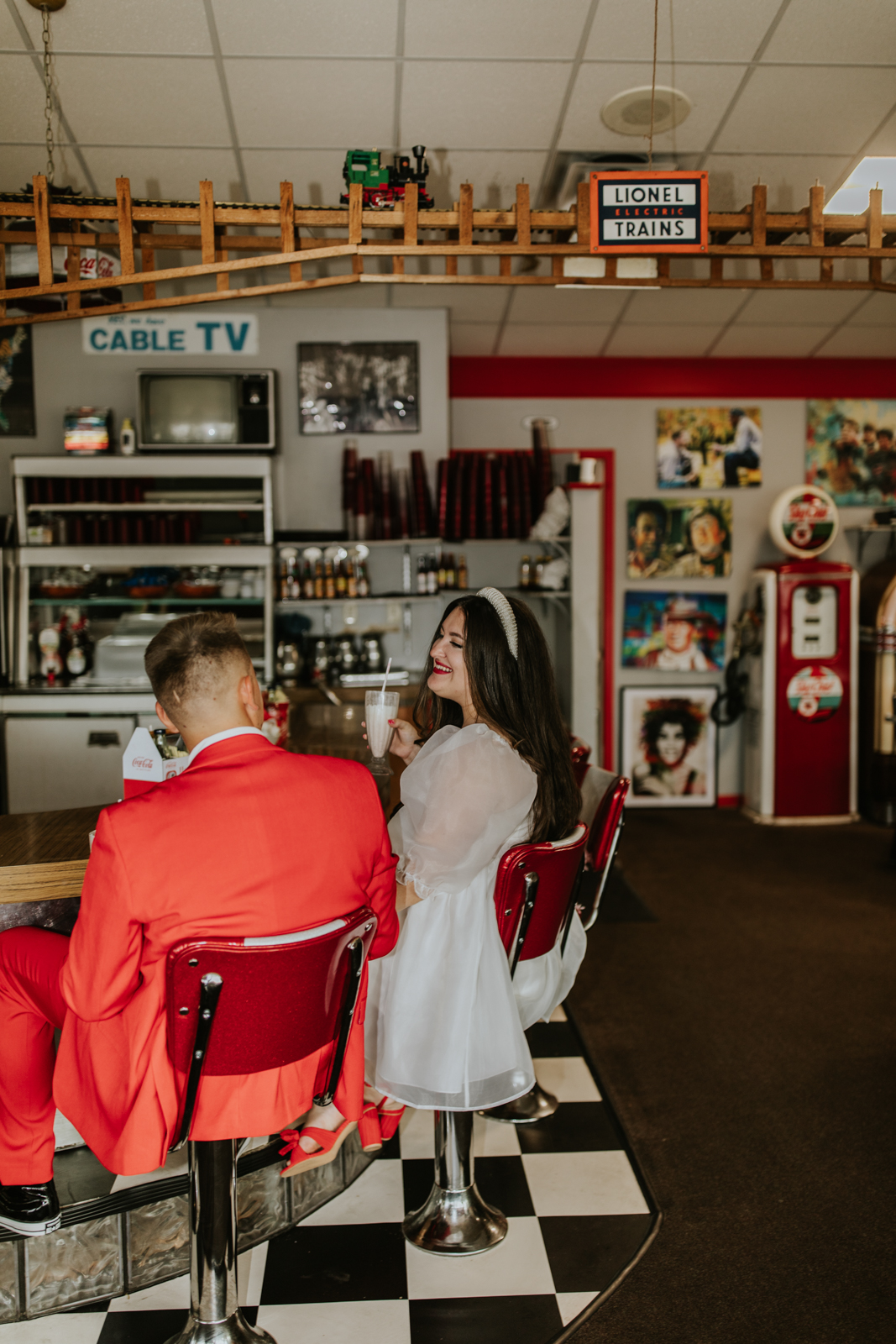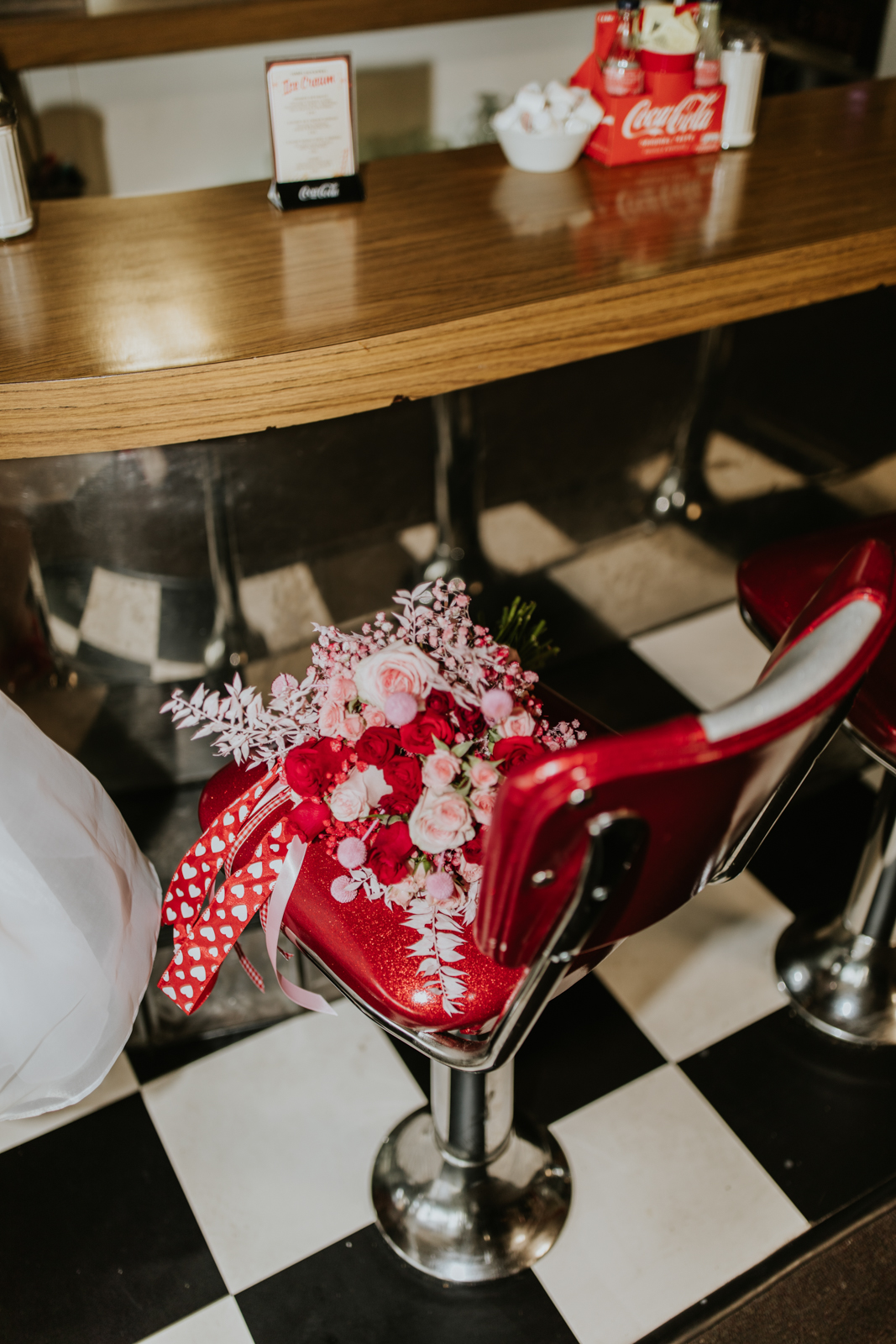 Every '50s-inspired elopement needs an afterparty! Melody Rose Designs provided the inspiration for the floral and rental decor, transforming this wedding reception into a captivating retro drive-in movie scene. With creative floral arrangements and an abundance of carefully curated rental items, this celebration was a cinematic experience filled with vintage allure and romance.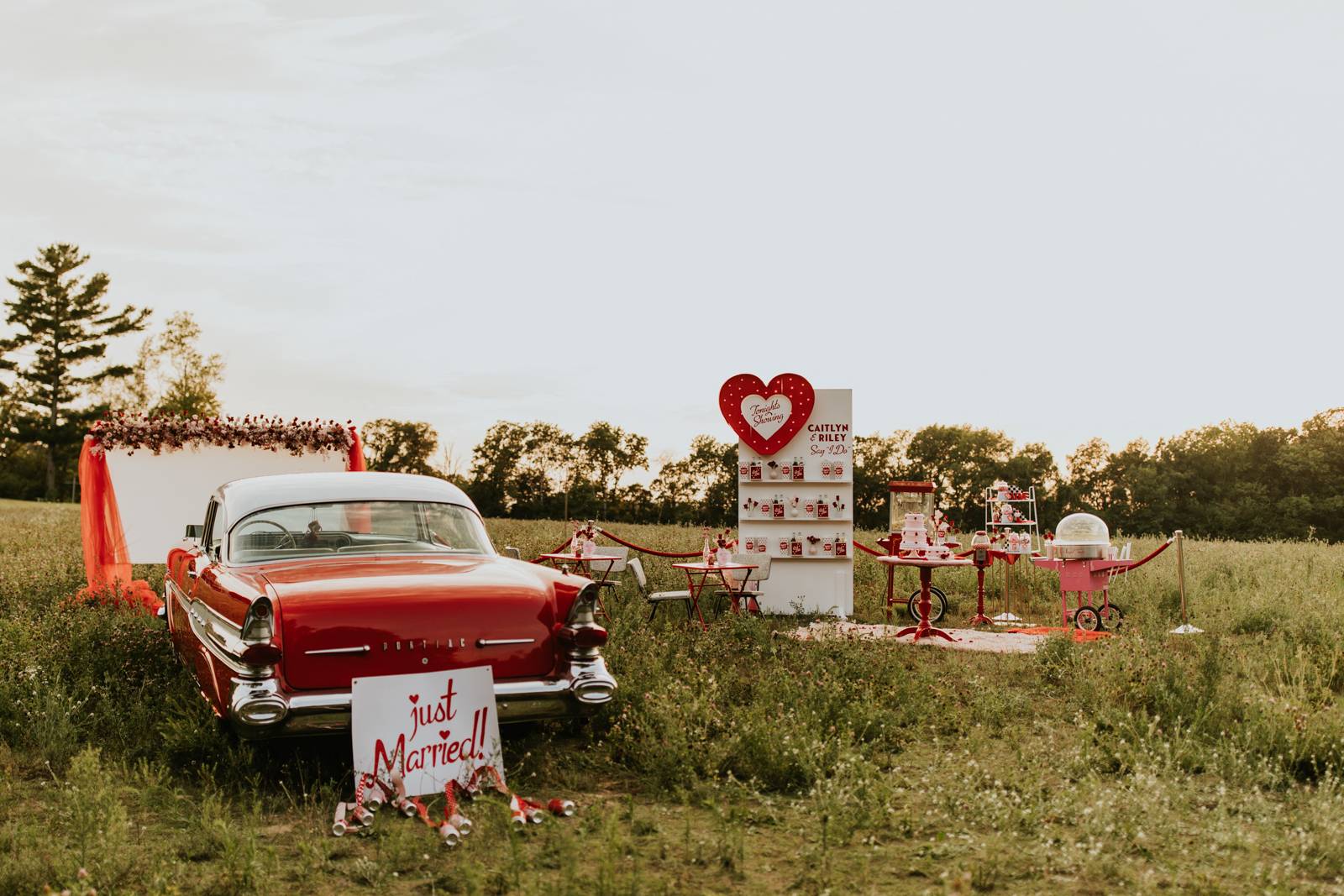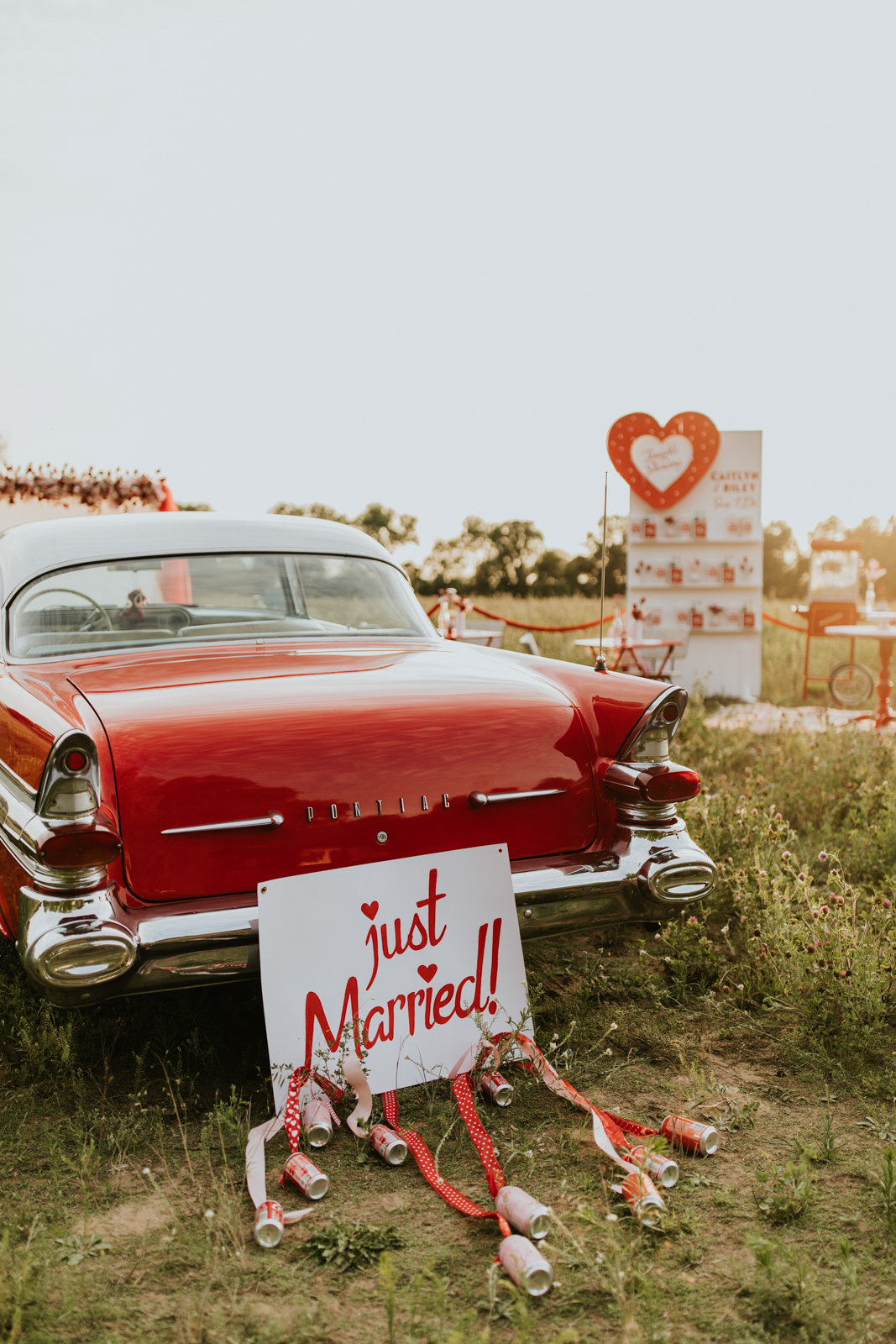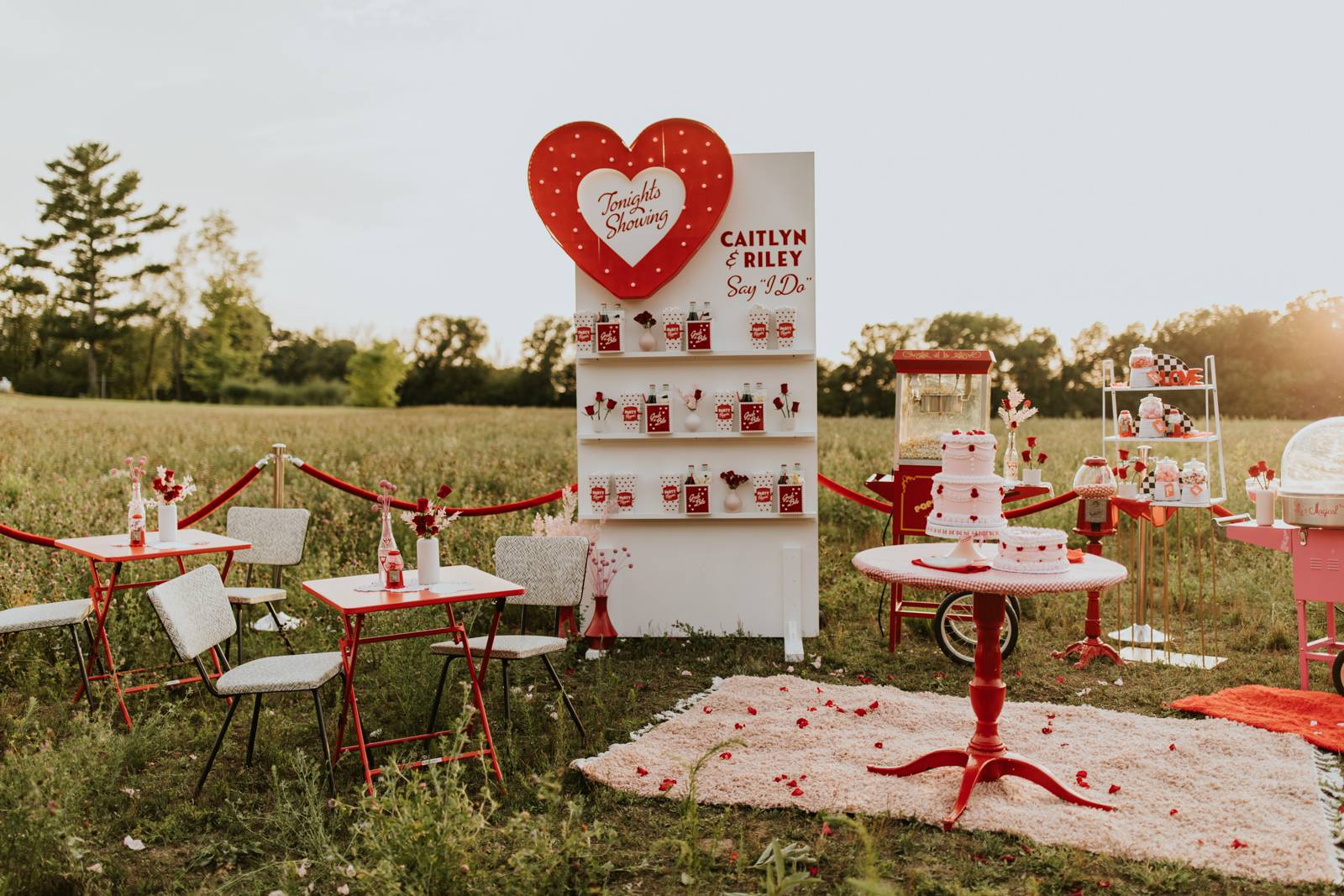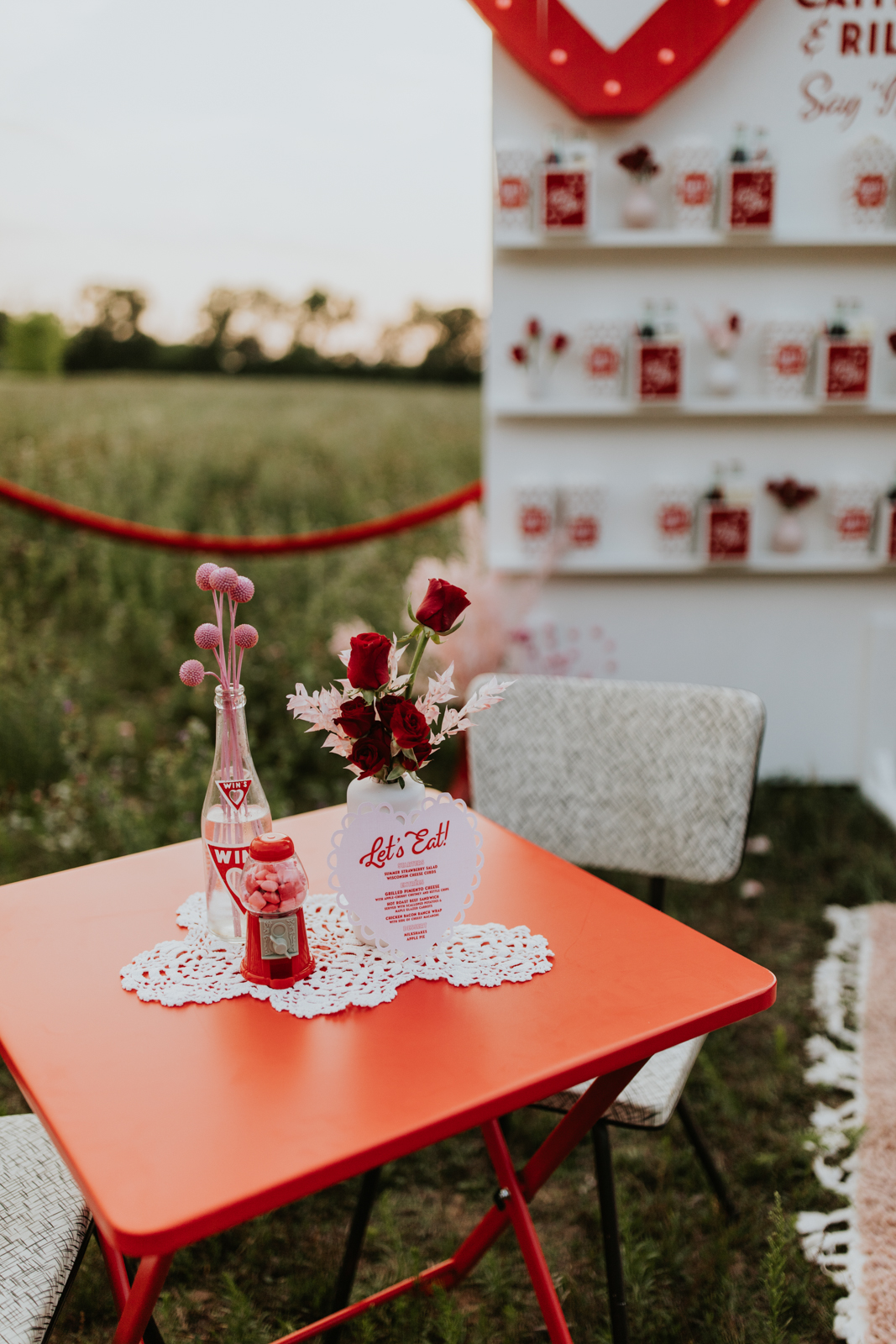 A drive-in experience isn't complete without snacks! LK Bridal Studio designed a snack wall displaying custom snack boxes for Coca-Cola, fries, and popcorn for guests to enjoy! A large red, lit-up heart adorned the top of the display, featuring the couple's names like the stars of a Hollywood film. From candy labels to a vintage welcome sign, vinyl decals, and so much more, LK Bridal Studio personalized this reception to perfection. Grab a bite, and let's get this party poppin'!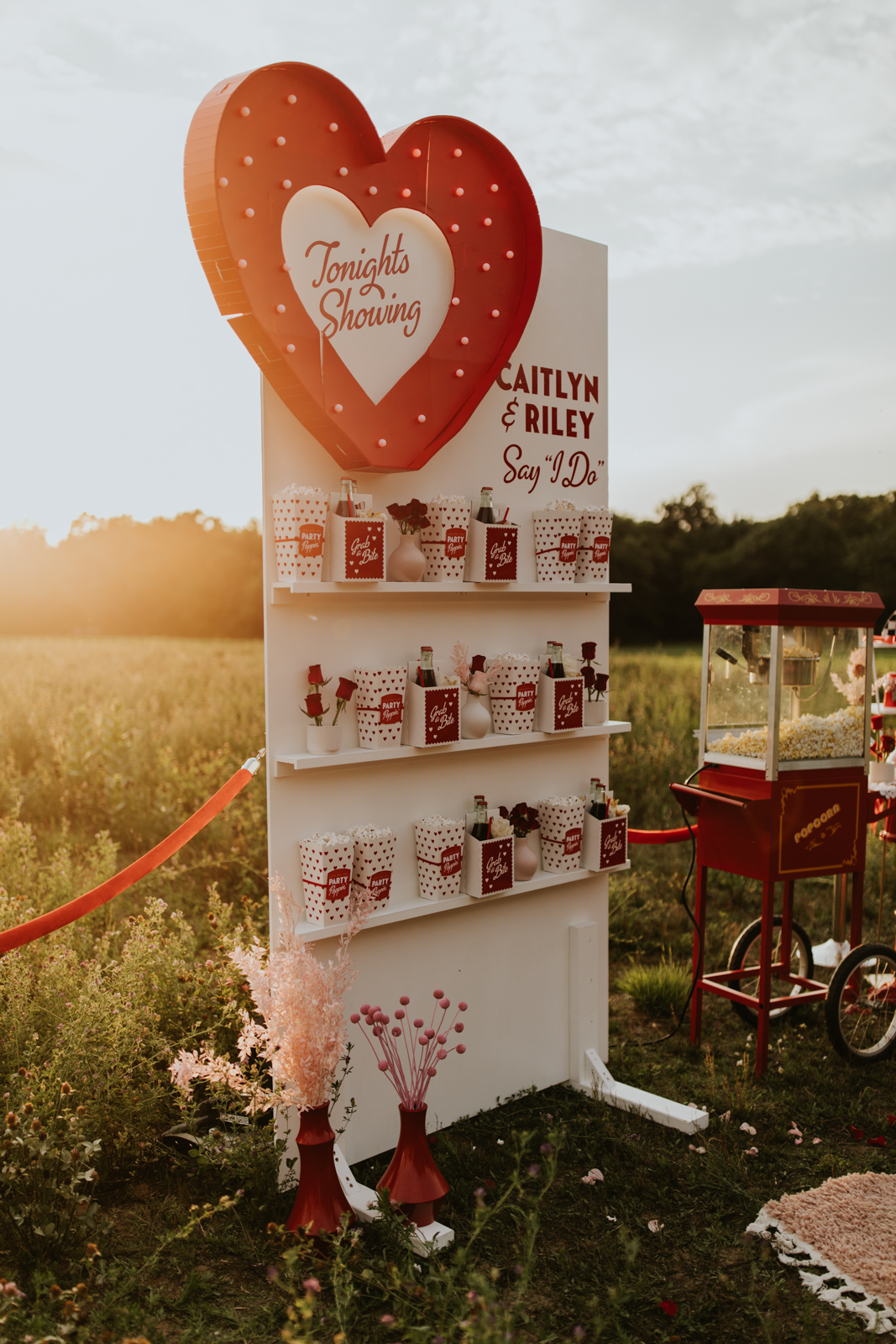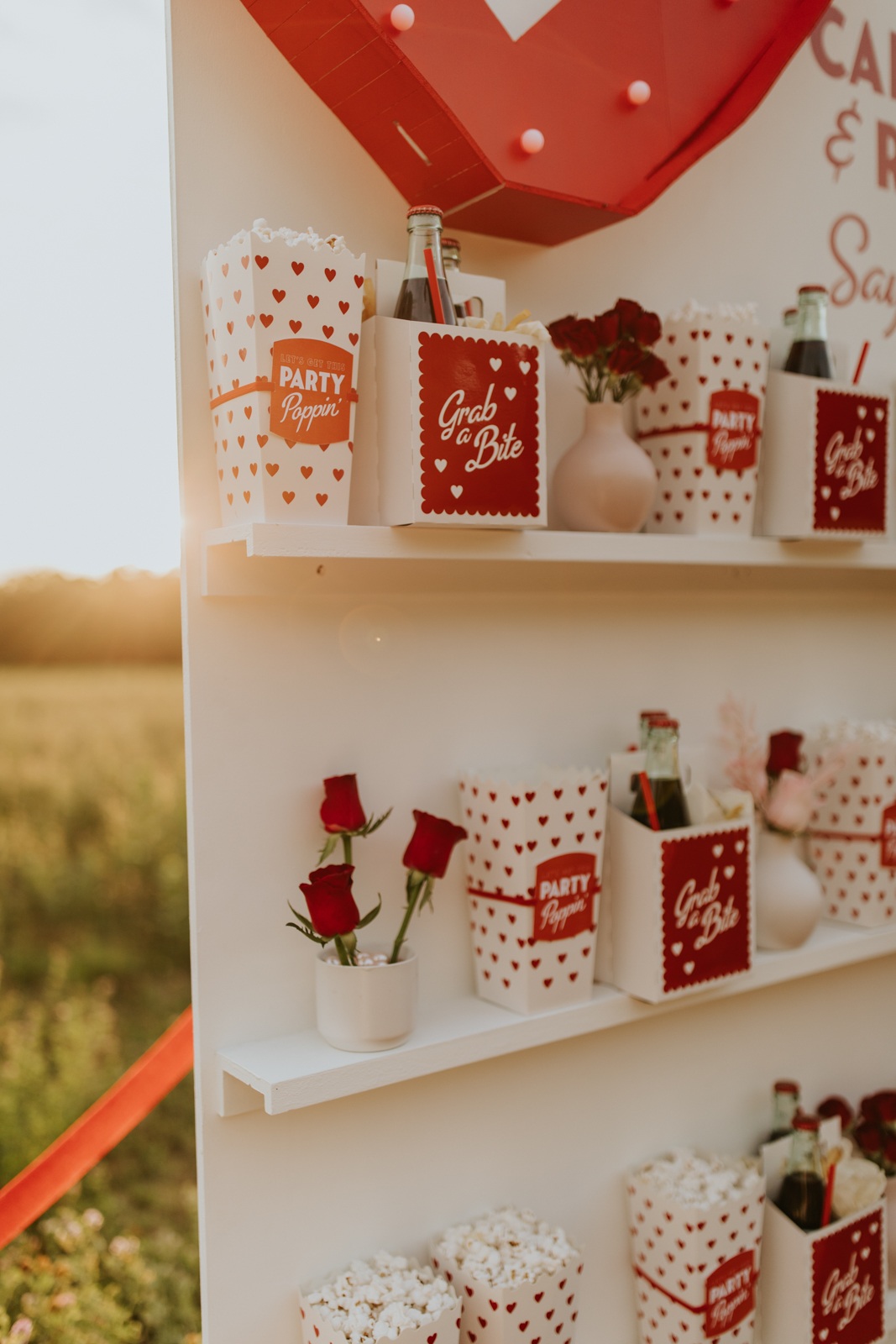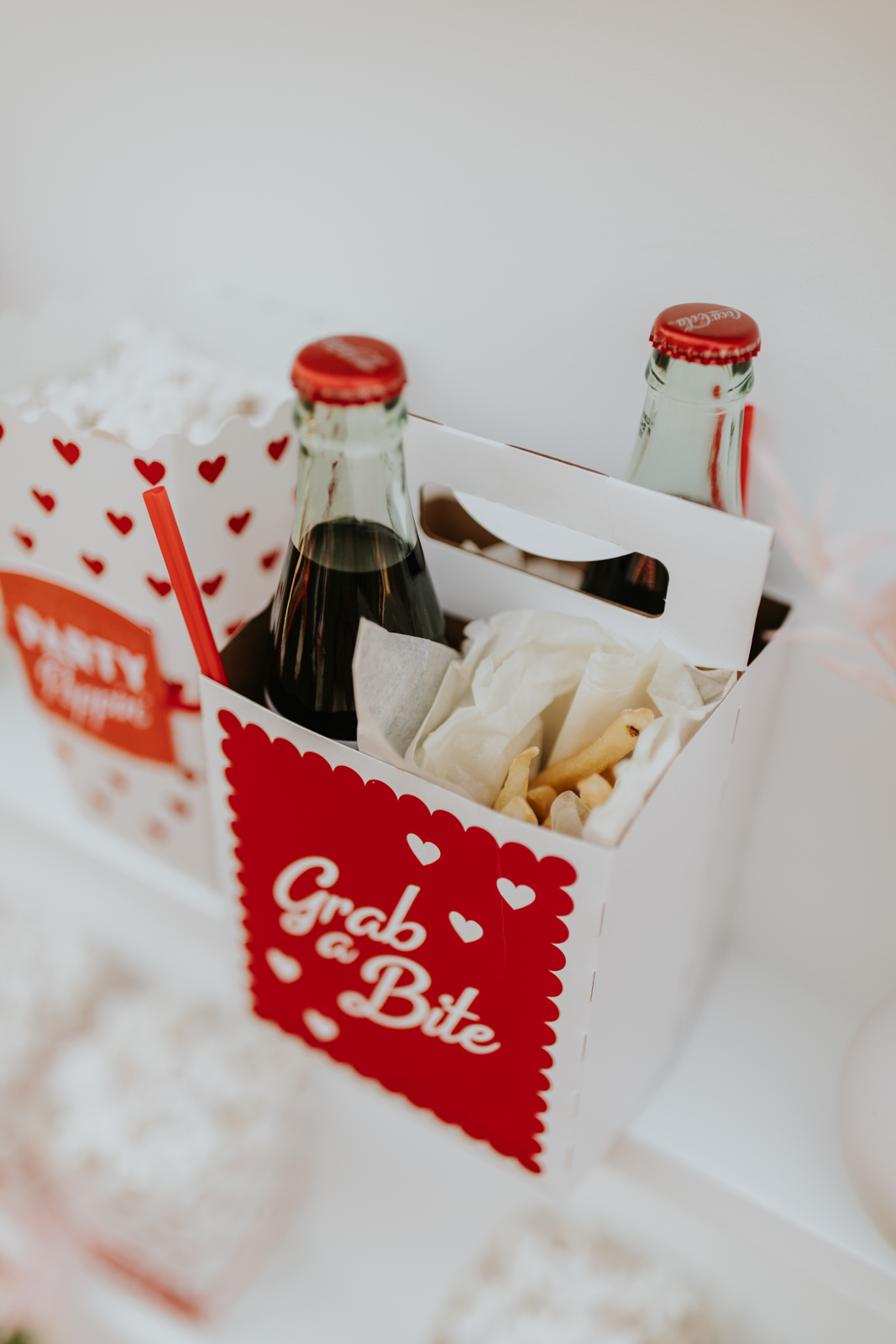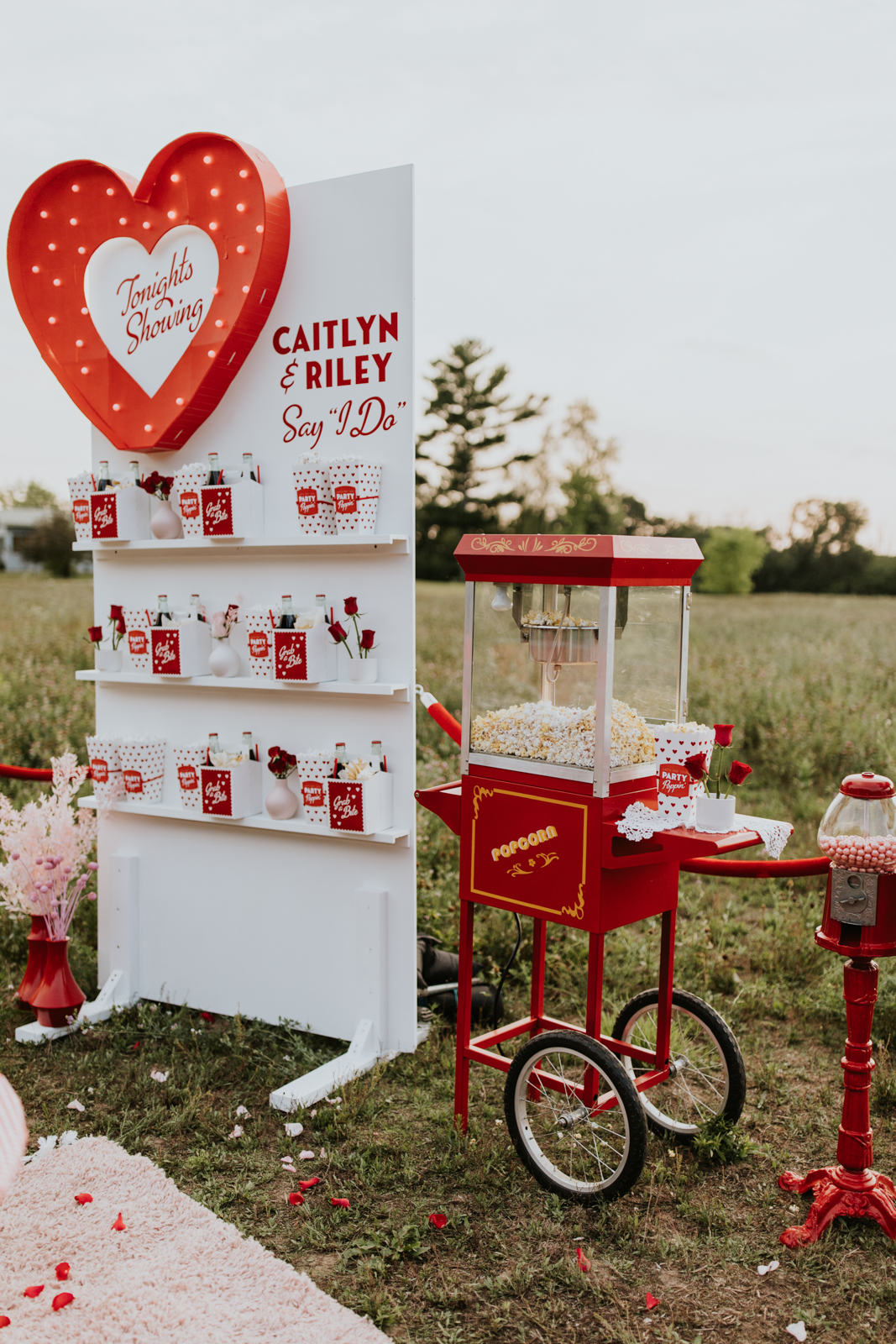 Few things evoke the nostalgia of a summer night like cotton candy, and Lily's Magical Treats elevated the celebration with their delectable organic cotton candy and freeze-dried candies, adding an extra layer of sweetness to the evening's festivities.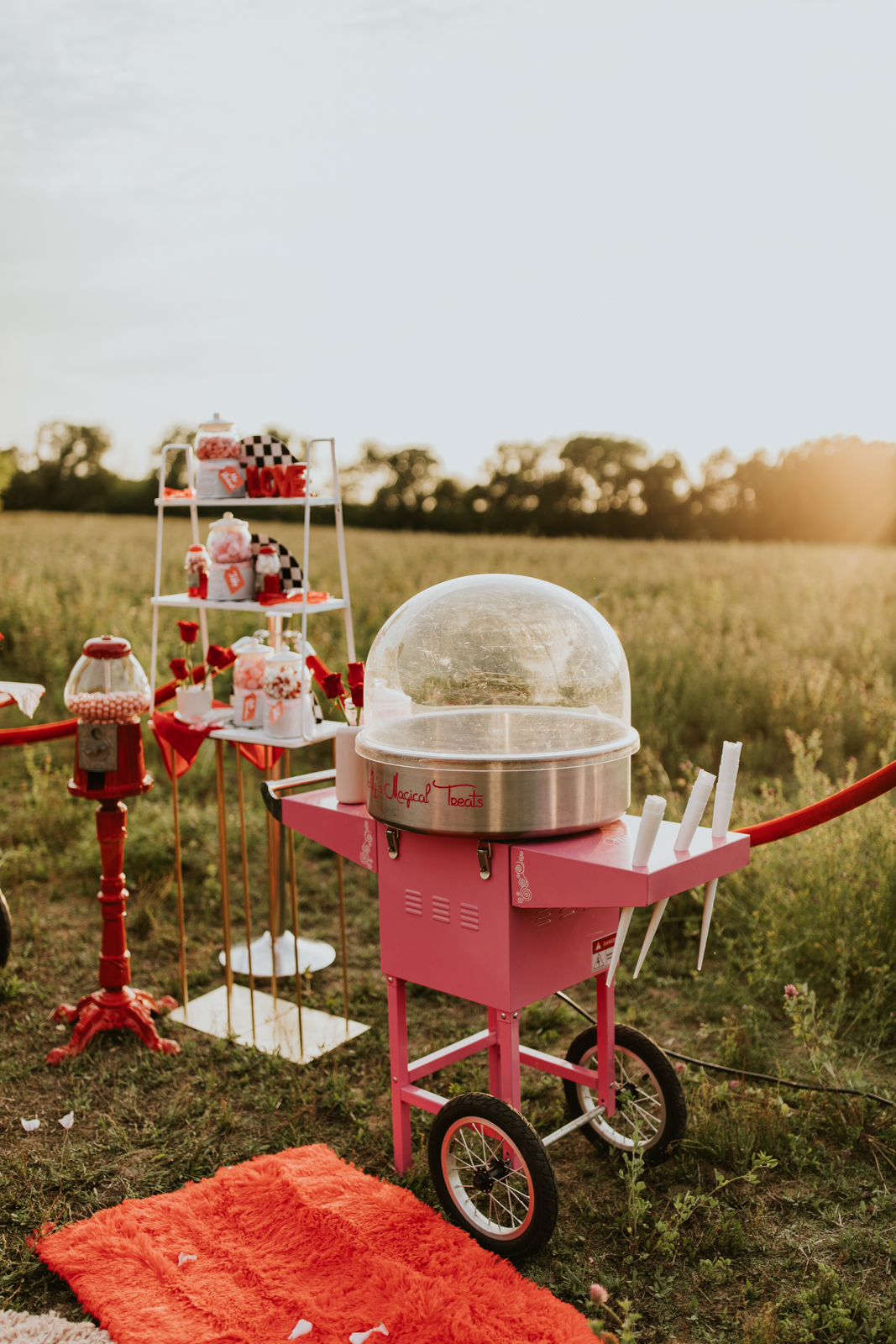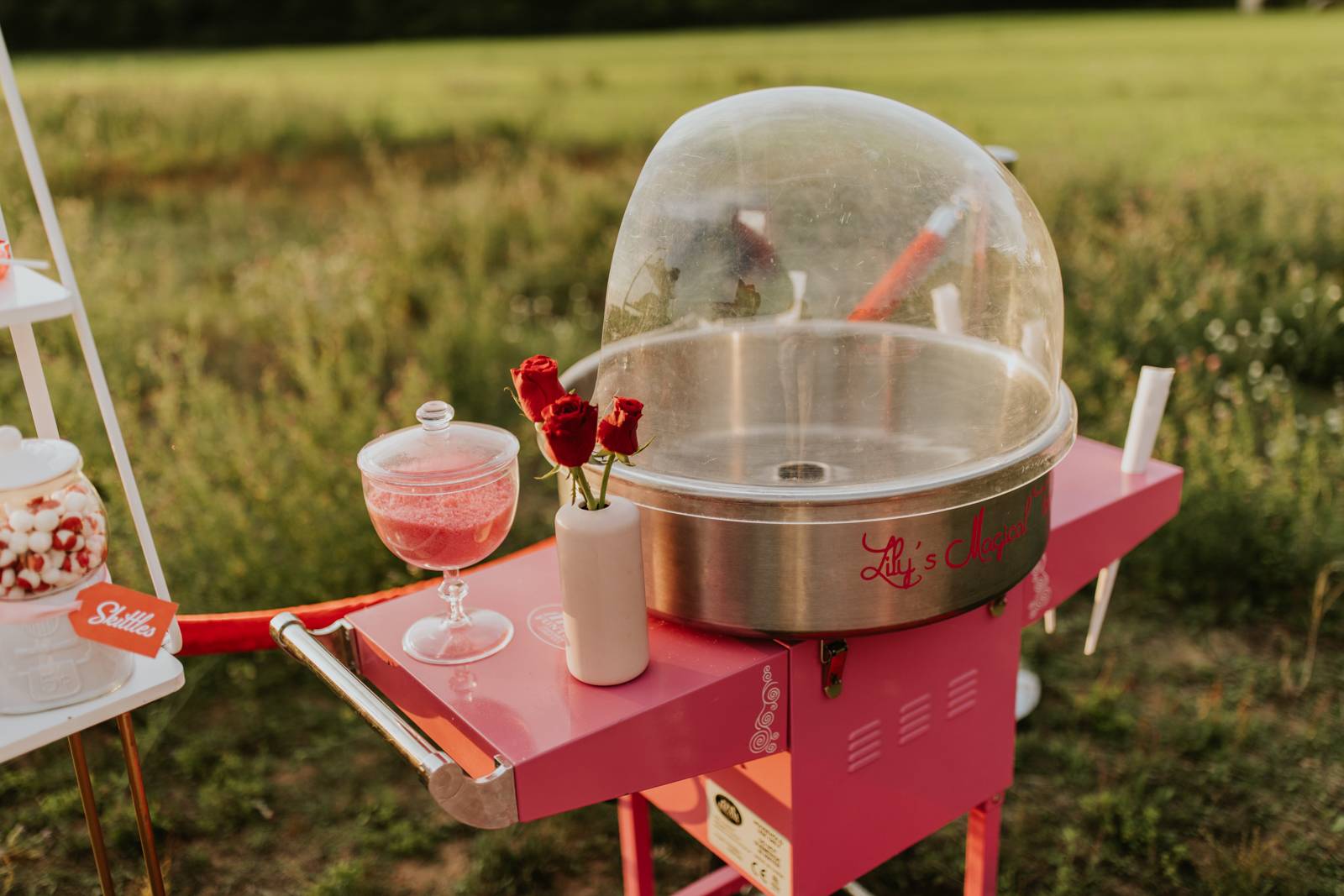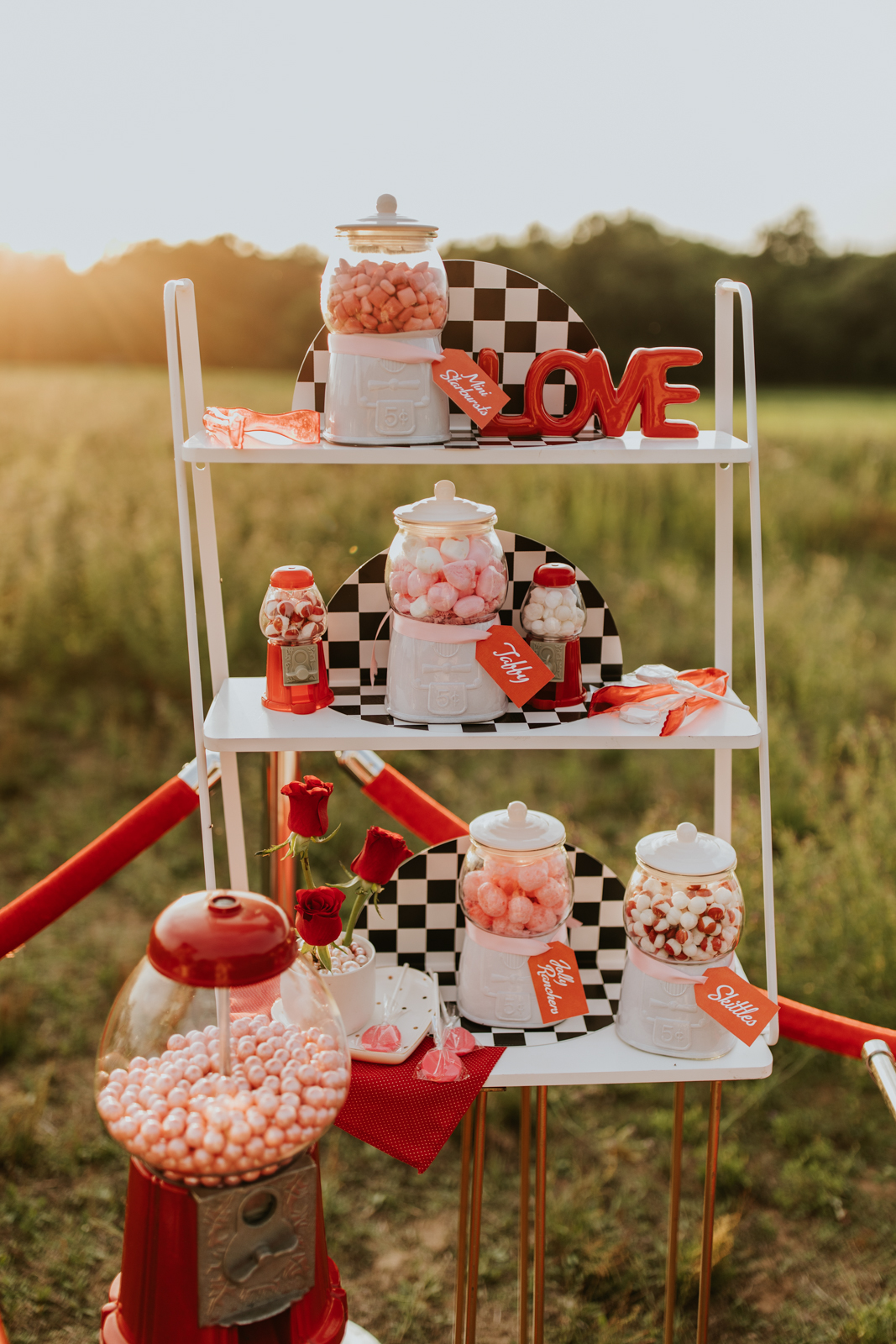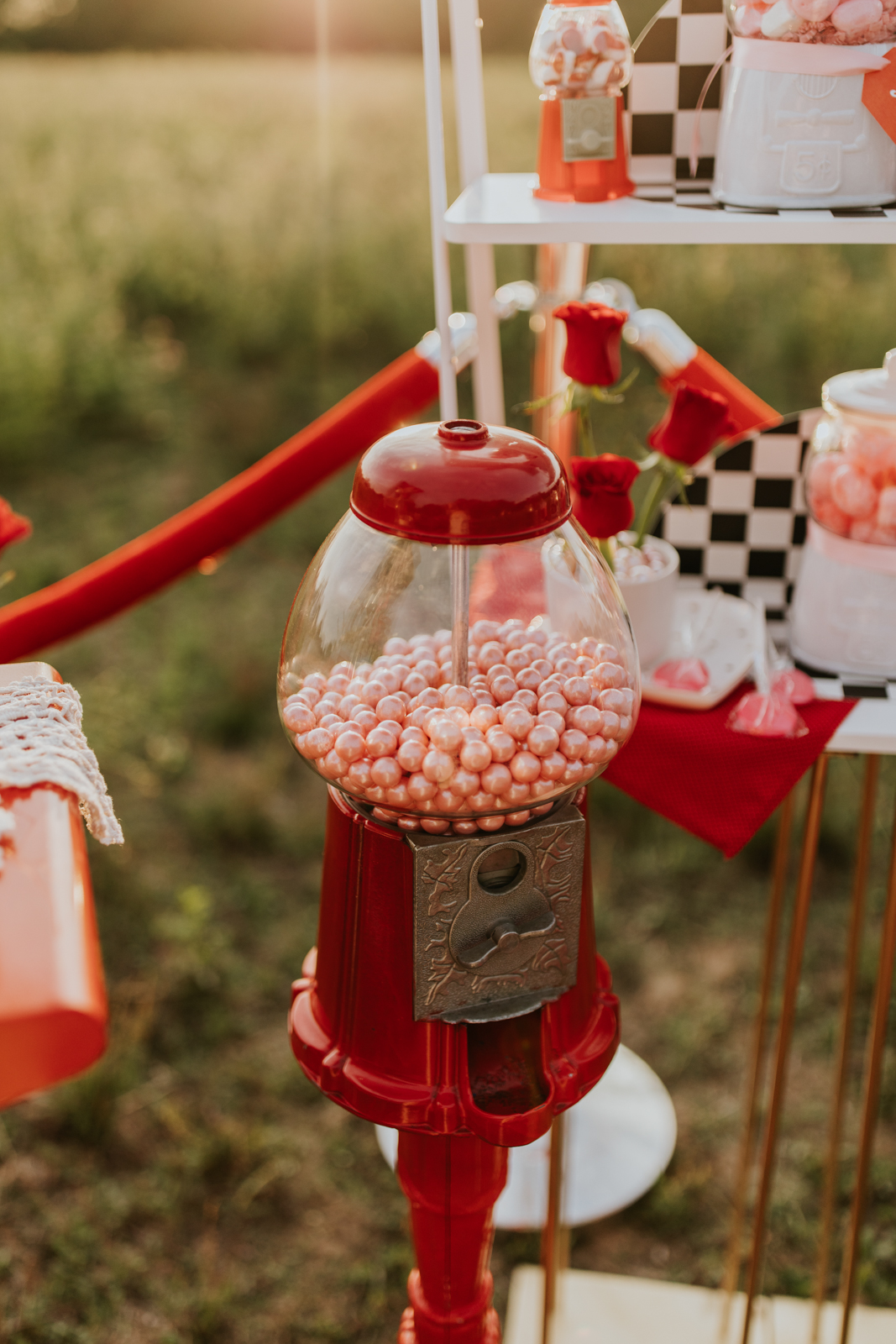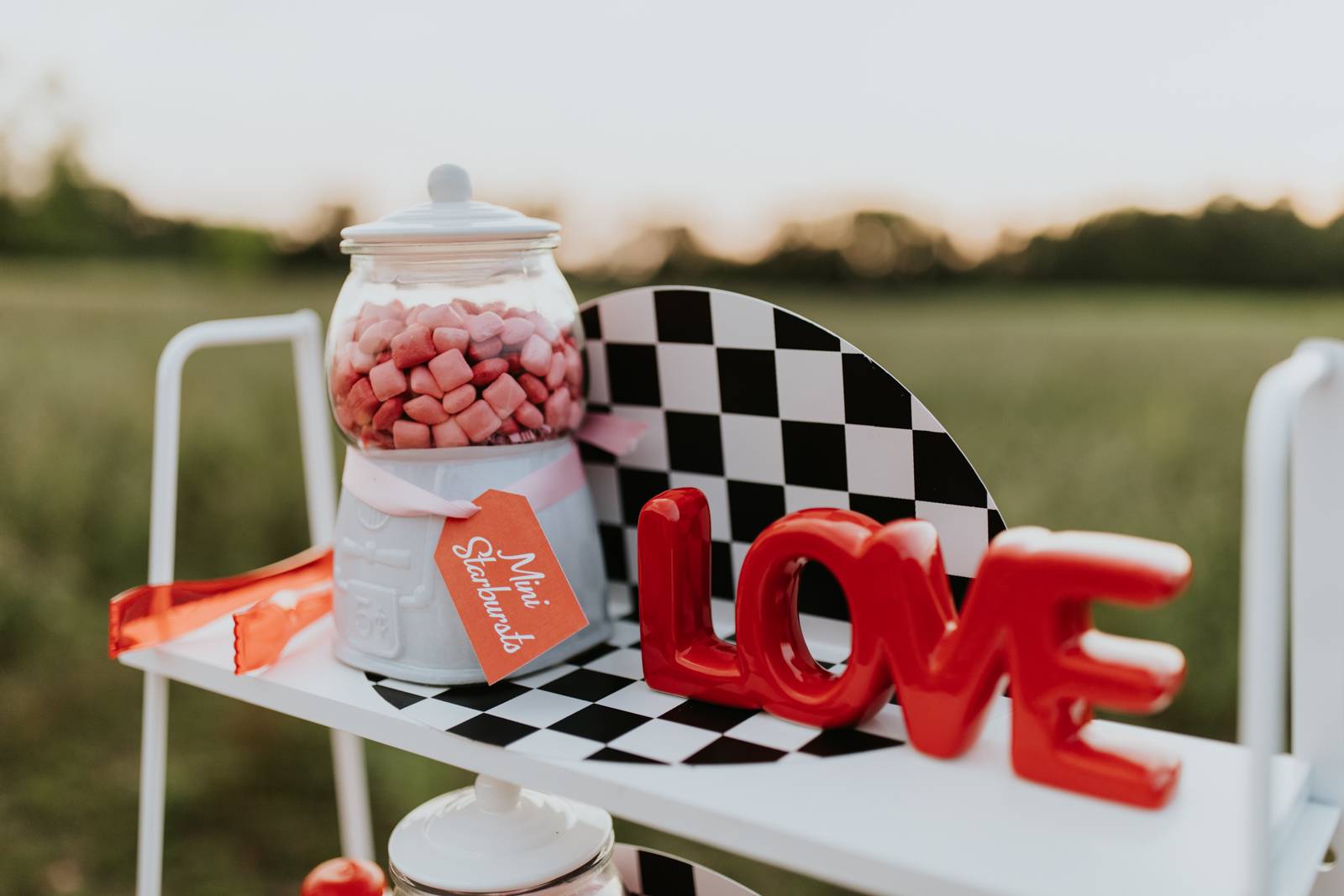 Kitchy vintage Lambeth cakes have made their comeback, and for good reason! Craig's Cake Shop brought the perfect touch of nostalgia to this retro-inspired wedding with these maximalist-style cakes showcasing over-the-top details like ruffles upon ruffles and the delightful touch of cherries on top! Craig's Cake Shop creates treats that are as memorable as they are mouthwatering, and these iconic cakes are no exception.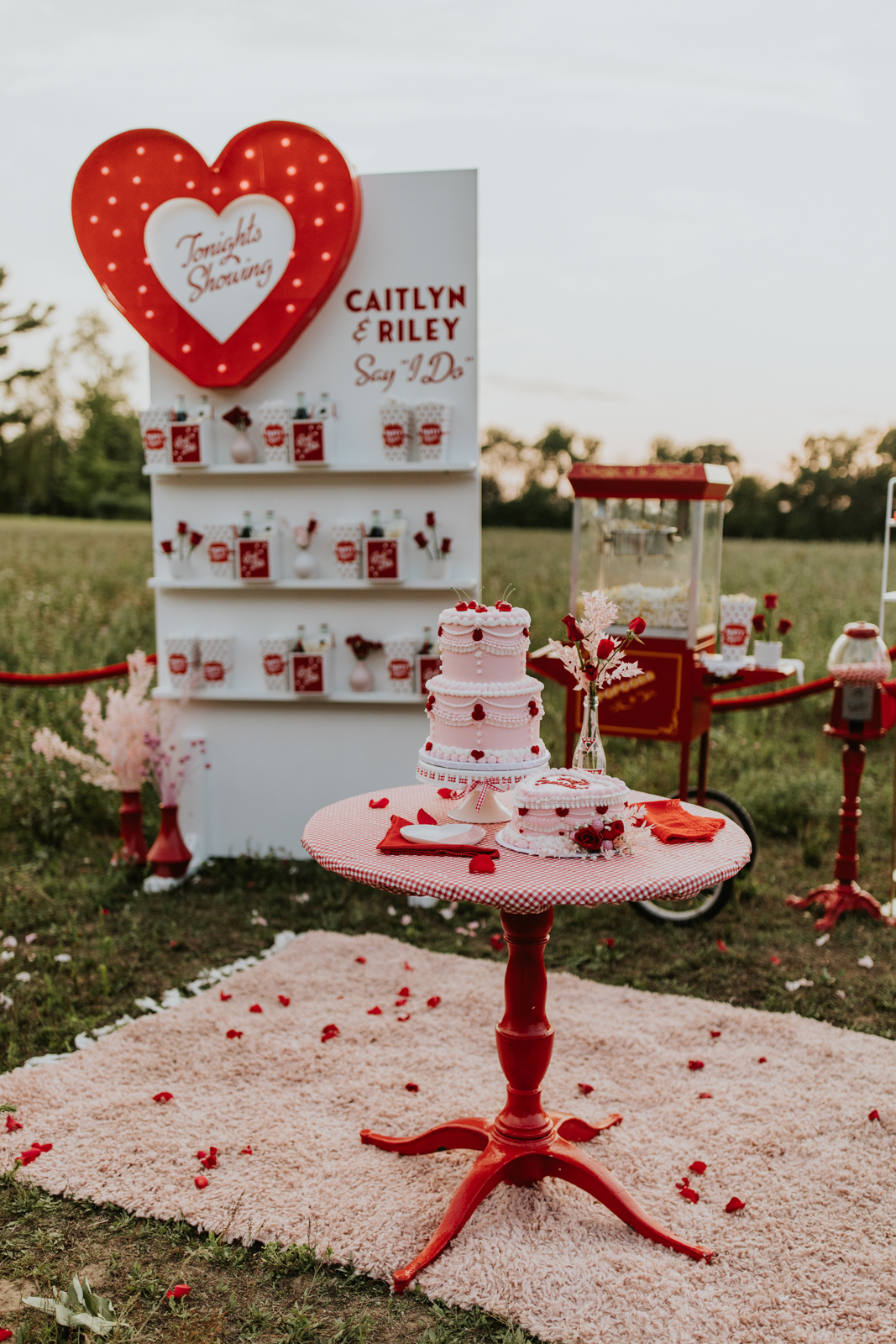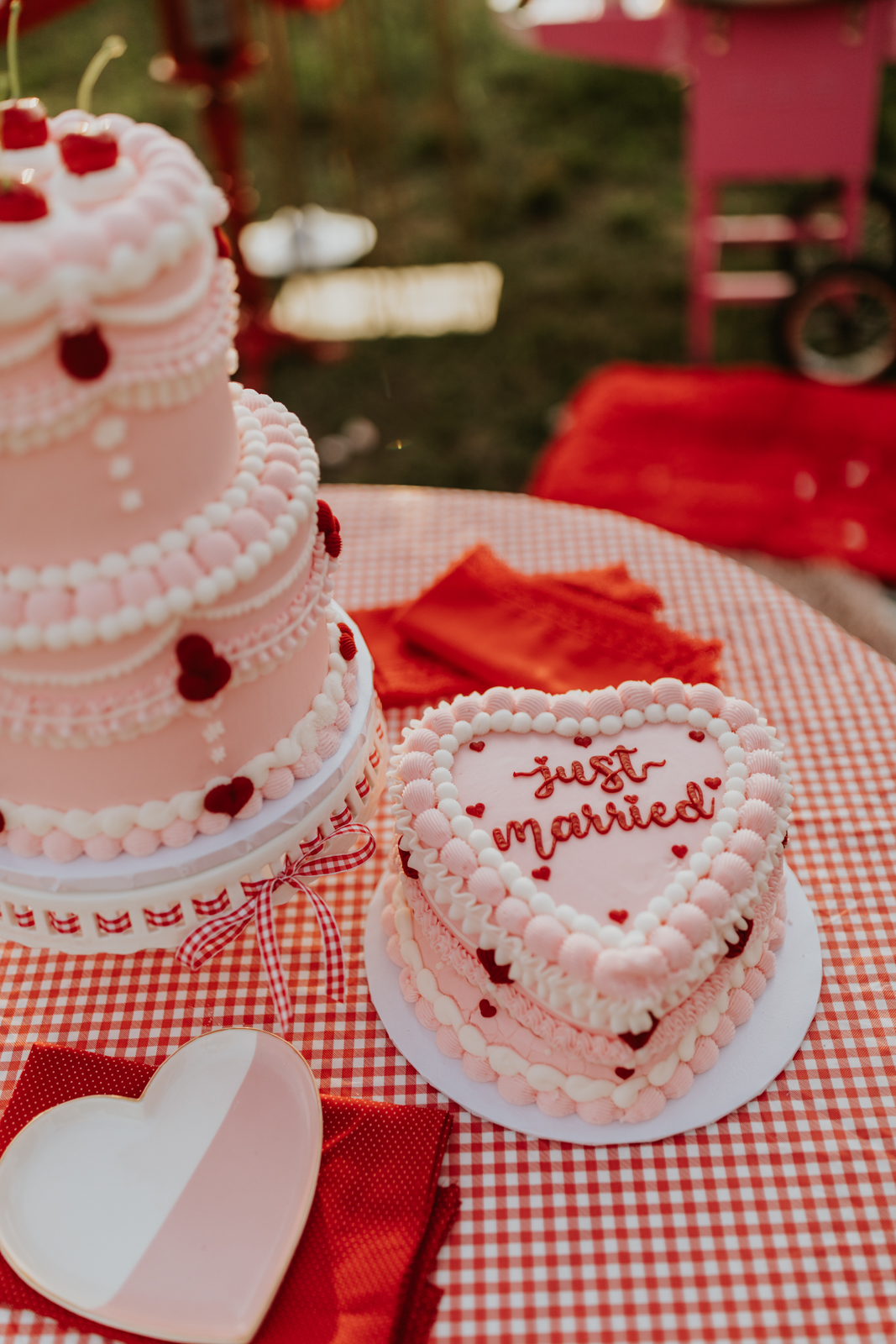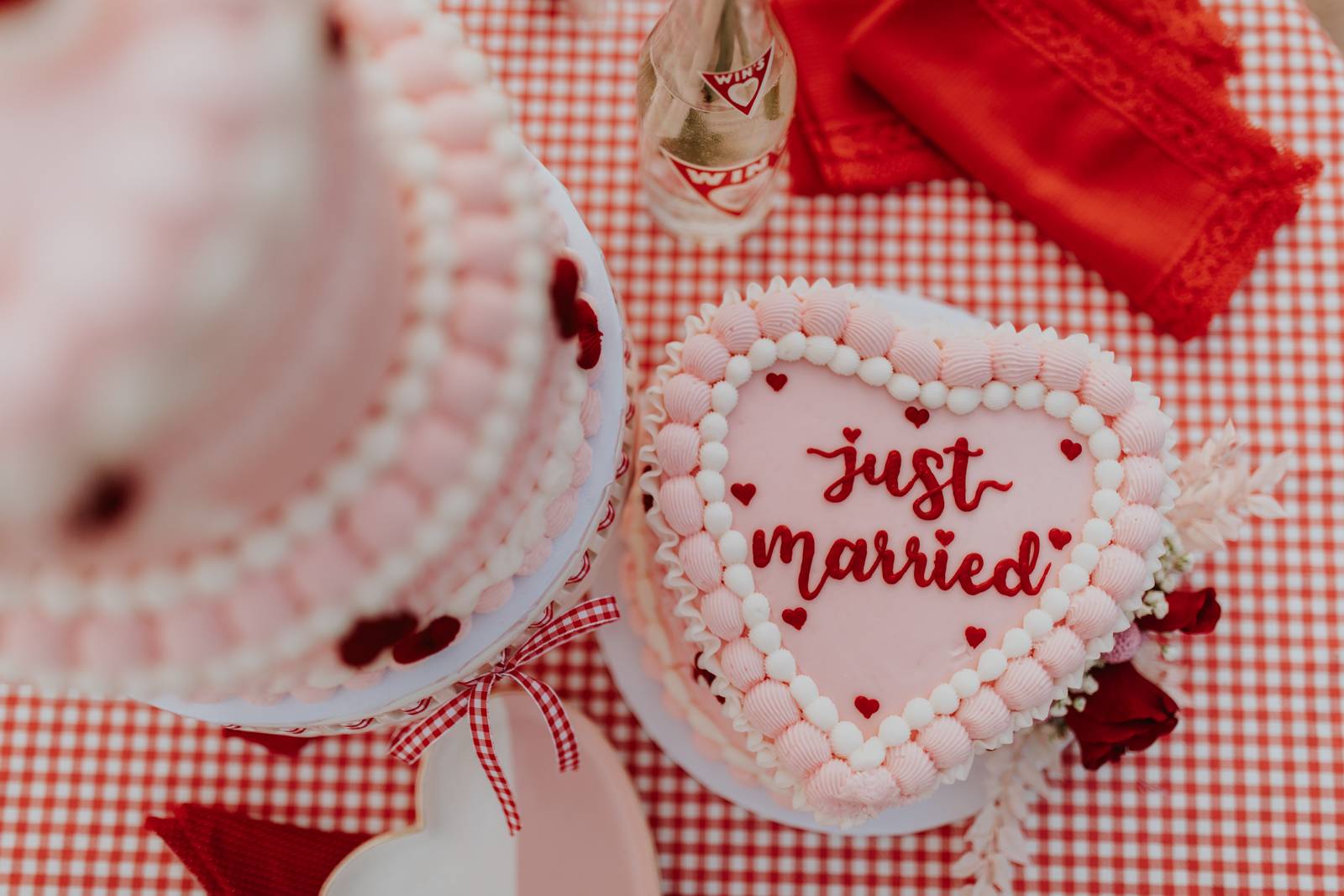 After a quick outfit change, this modern-day Danny and Sandy were ready to soak up all of this summer night's fun!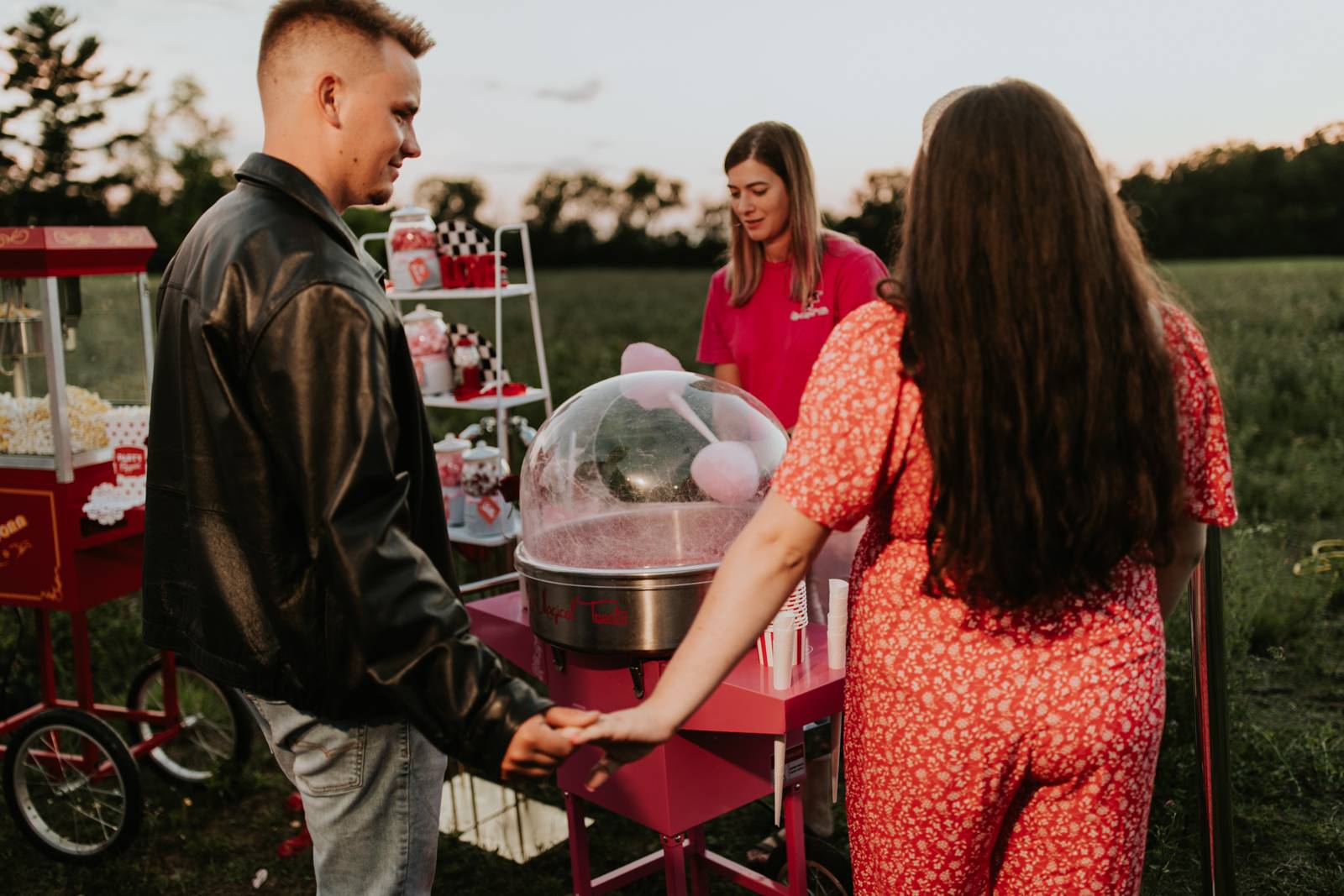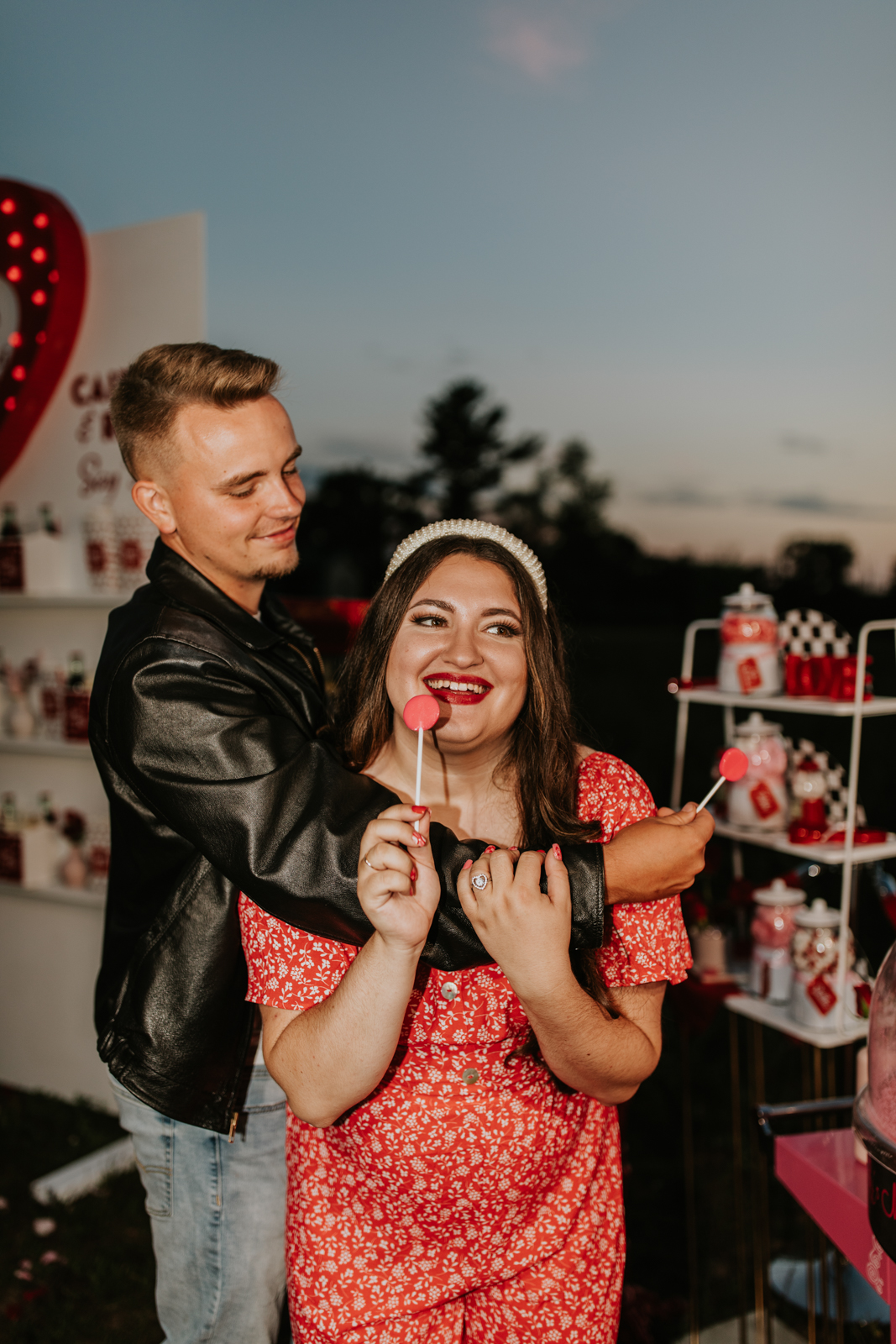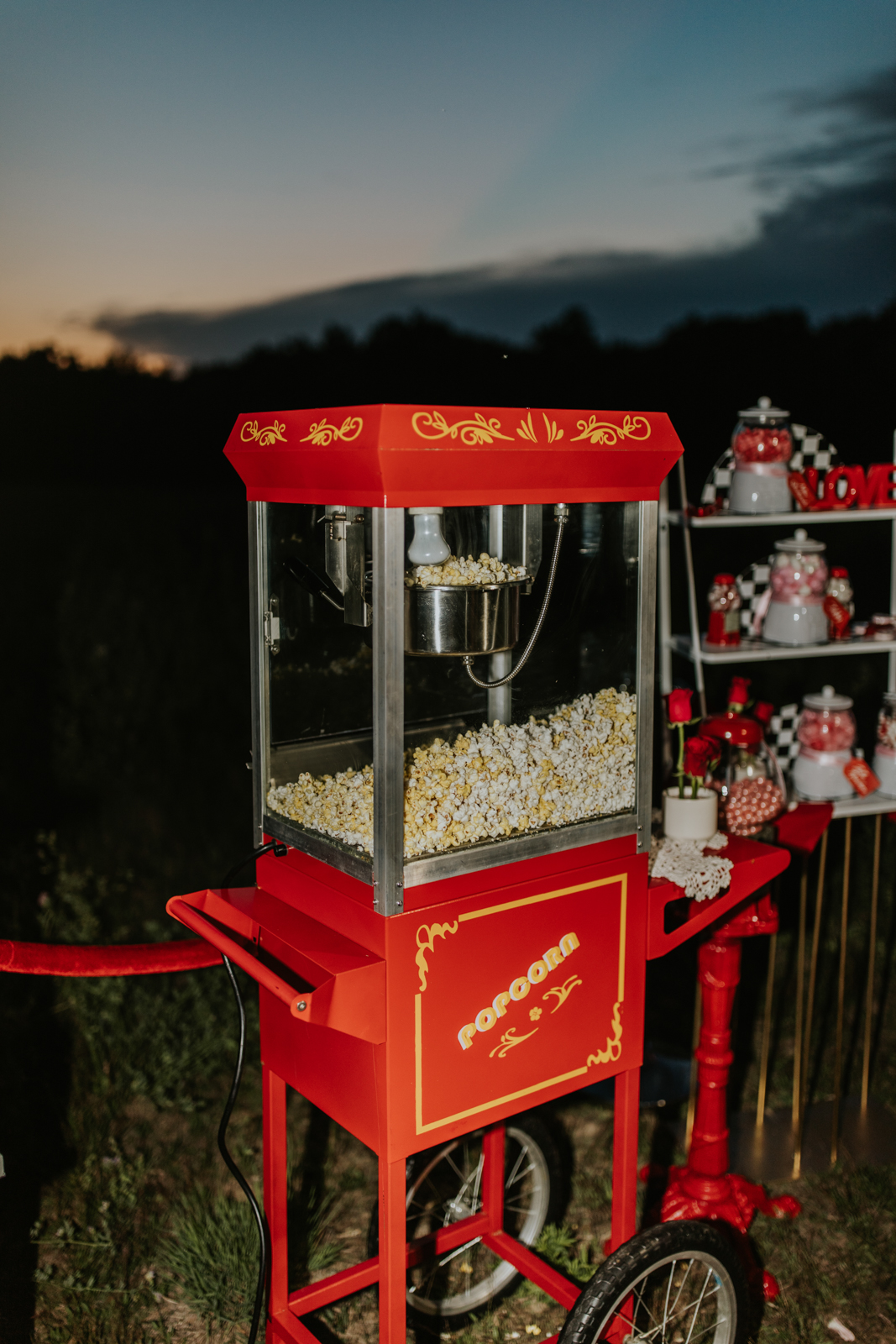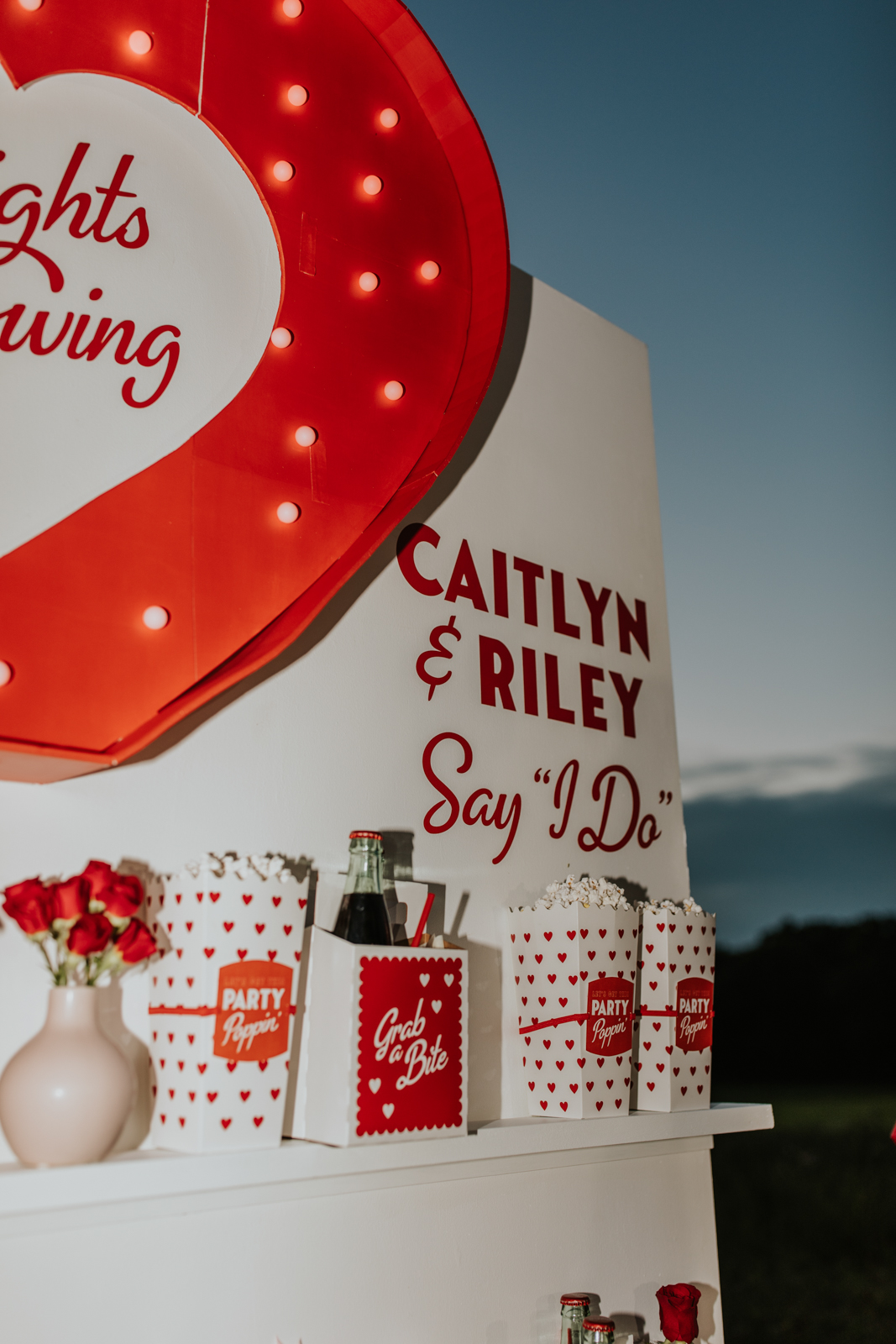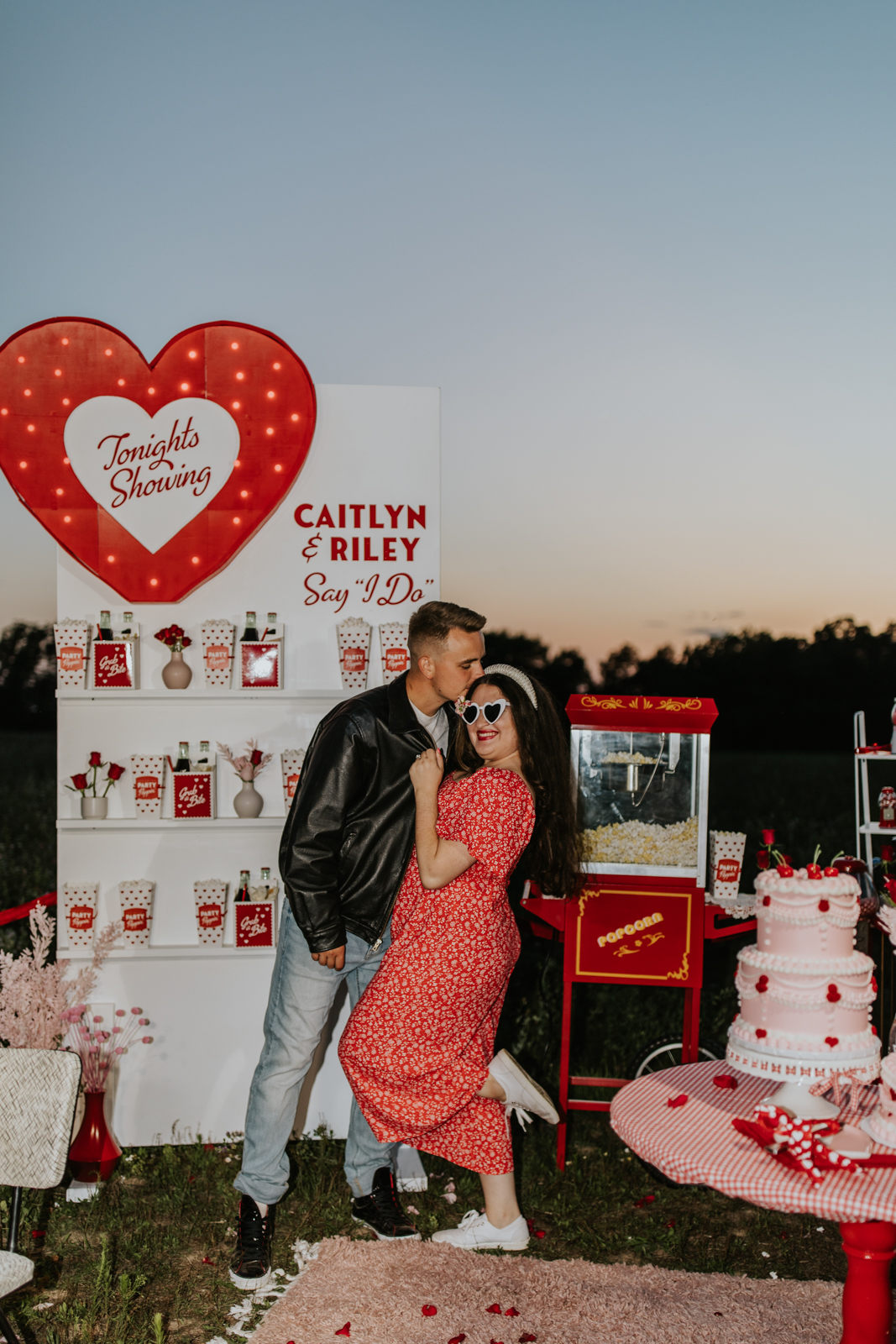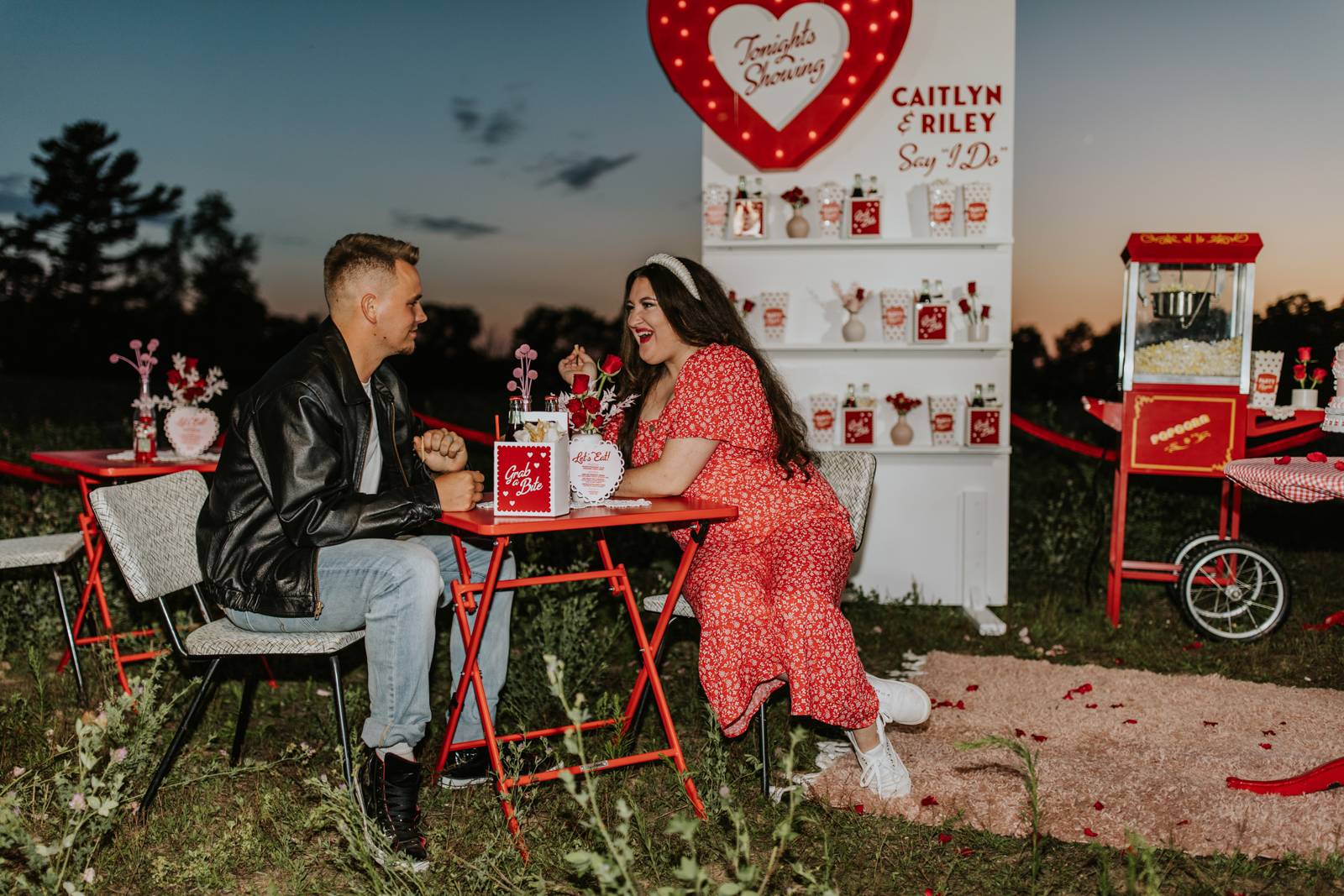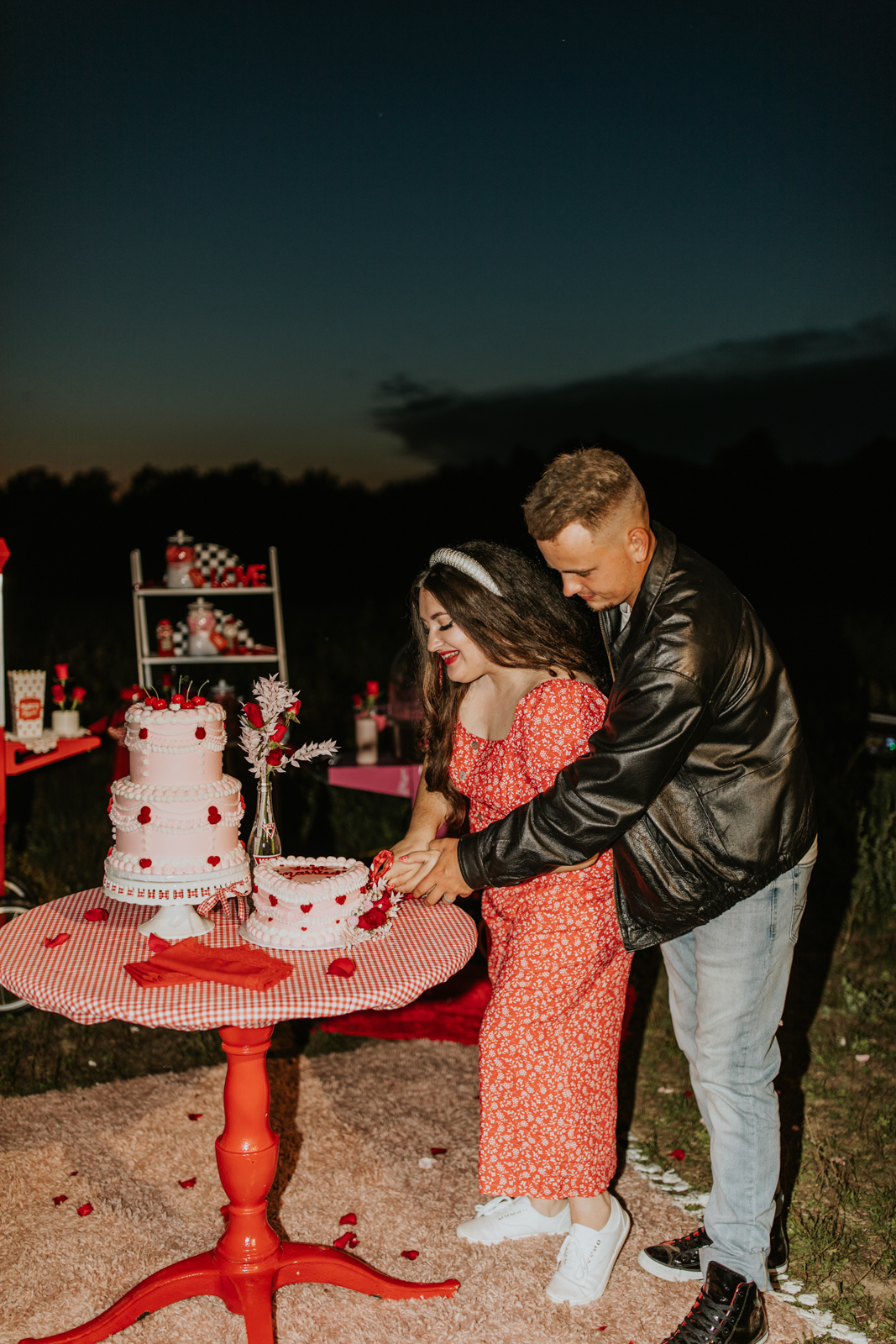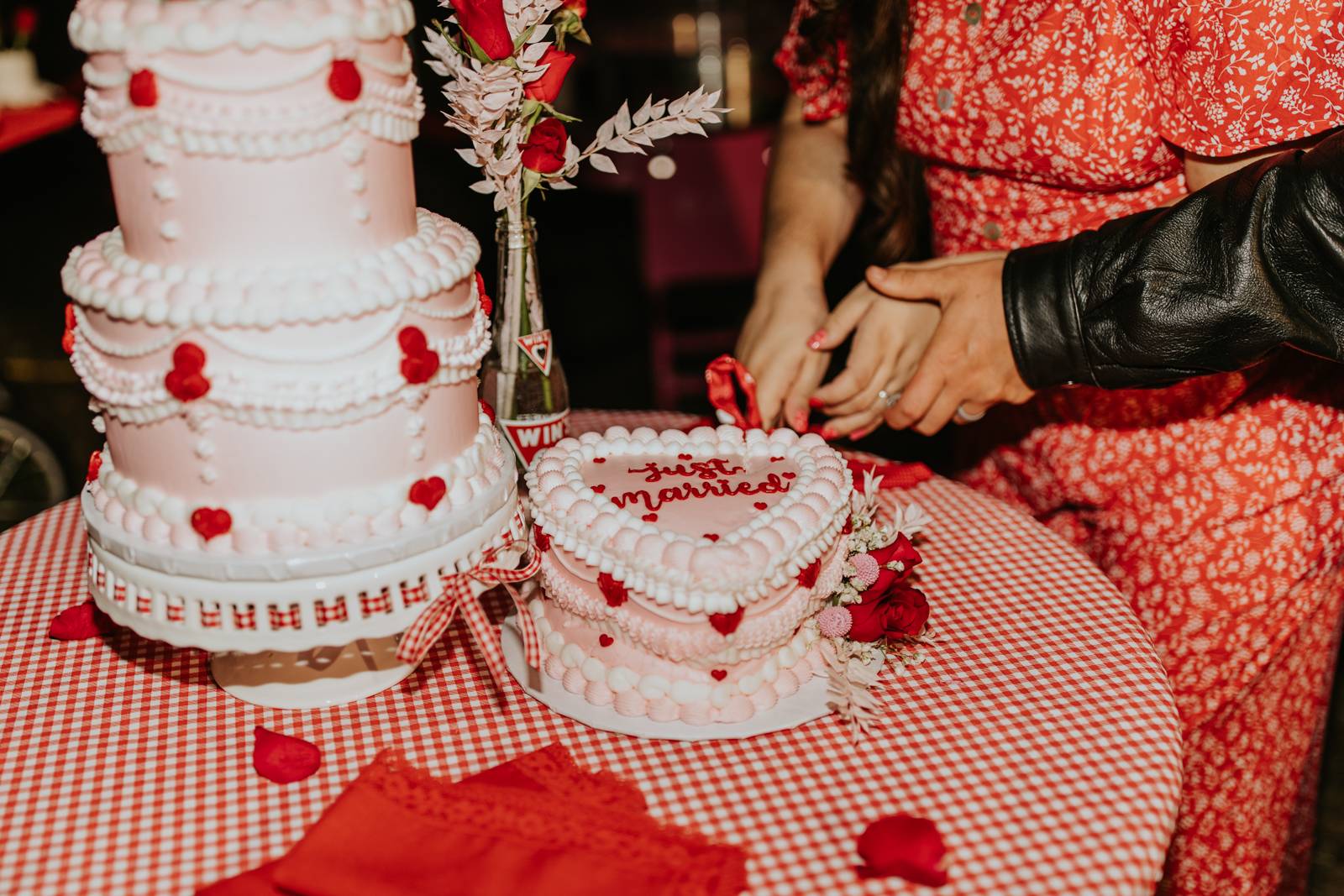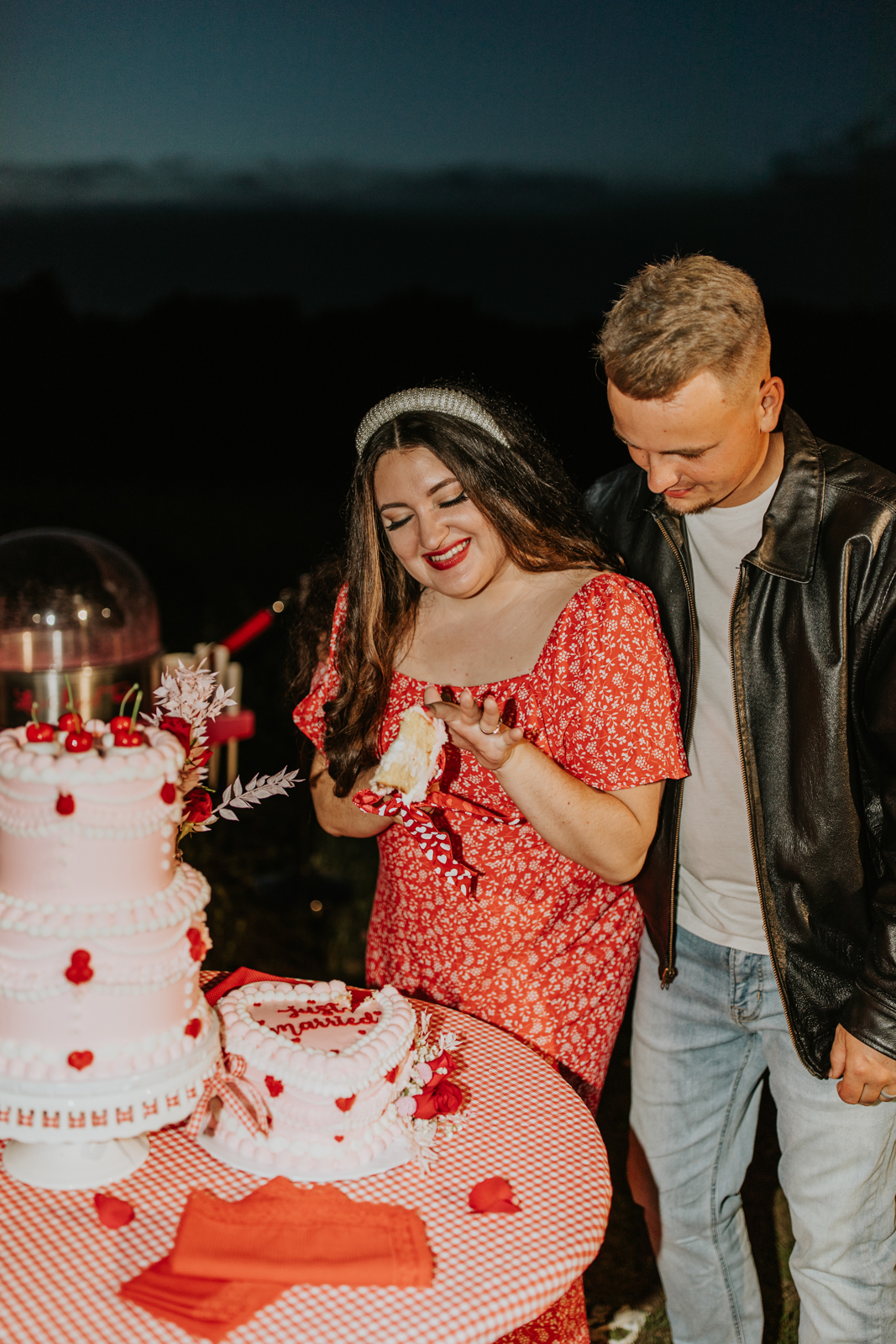 Tonight's feature film? None other than the timeless classic, "Grease!" Celebrations Entertainment set the stage with stanchion posts and plush velvet ropes, complete with top-notch projection equipment that transformed the outdoor location into a drive-up paradise. With "You're The One That I Want" serenading them, our couple danced the night away, capping off their perfect day with a touch of cinematic magic.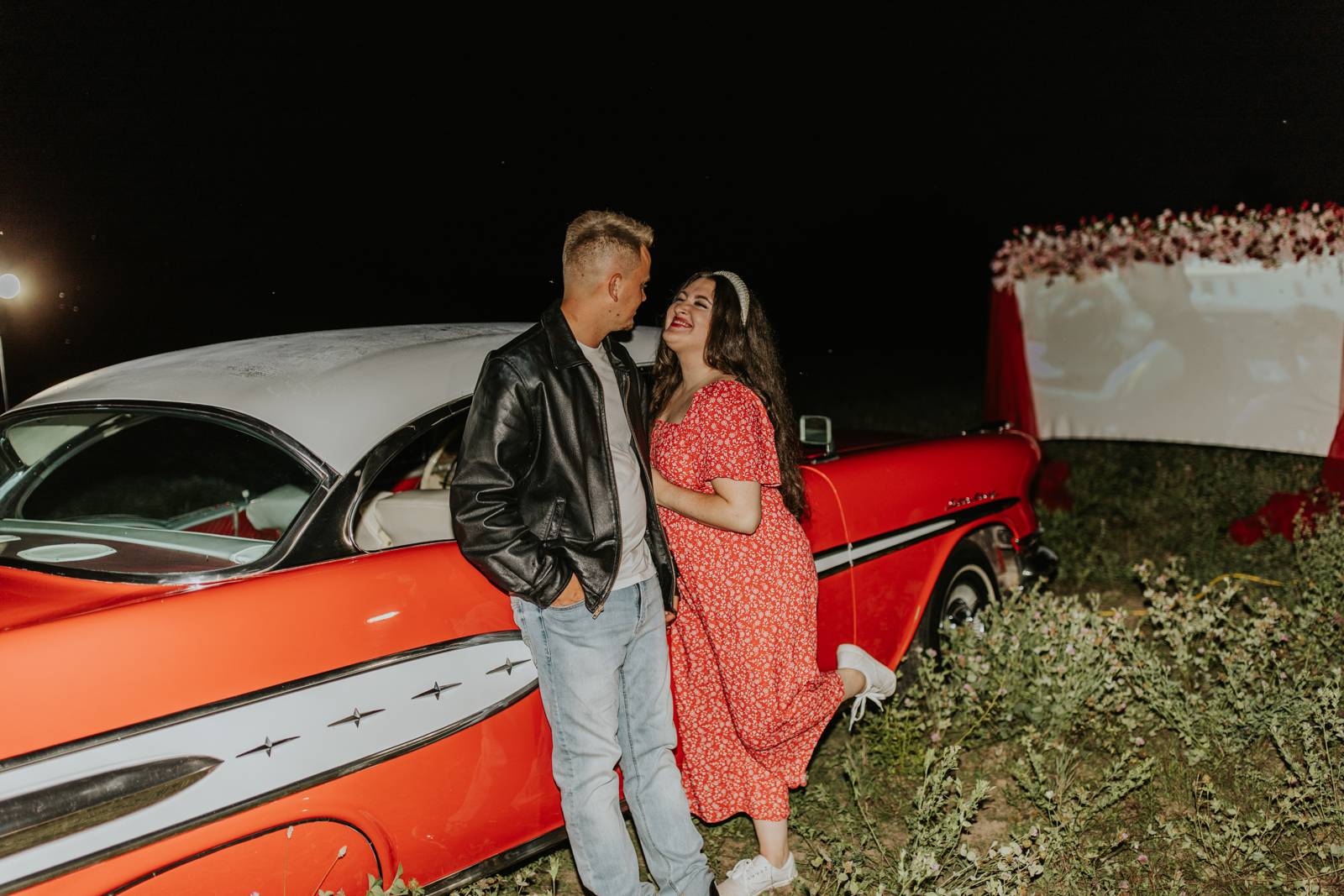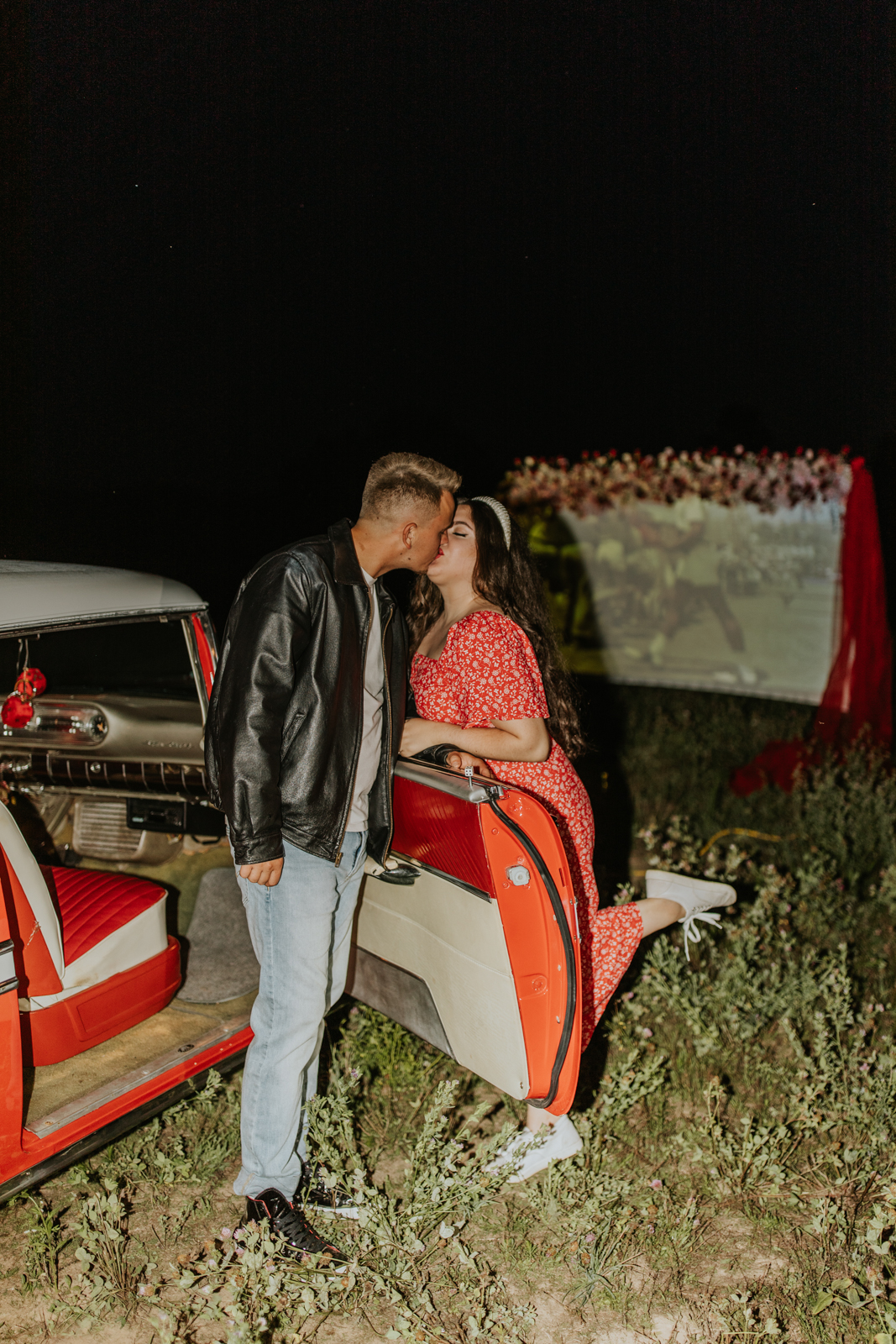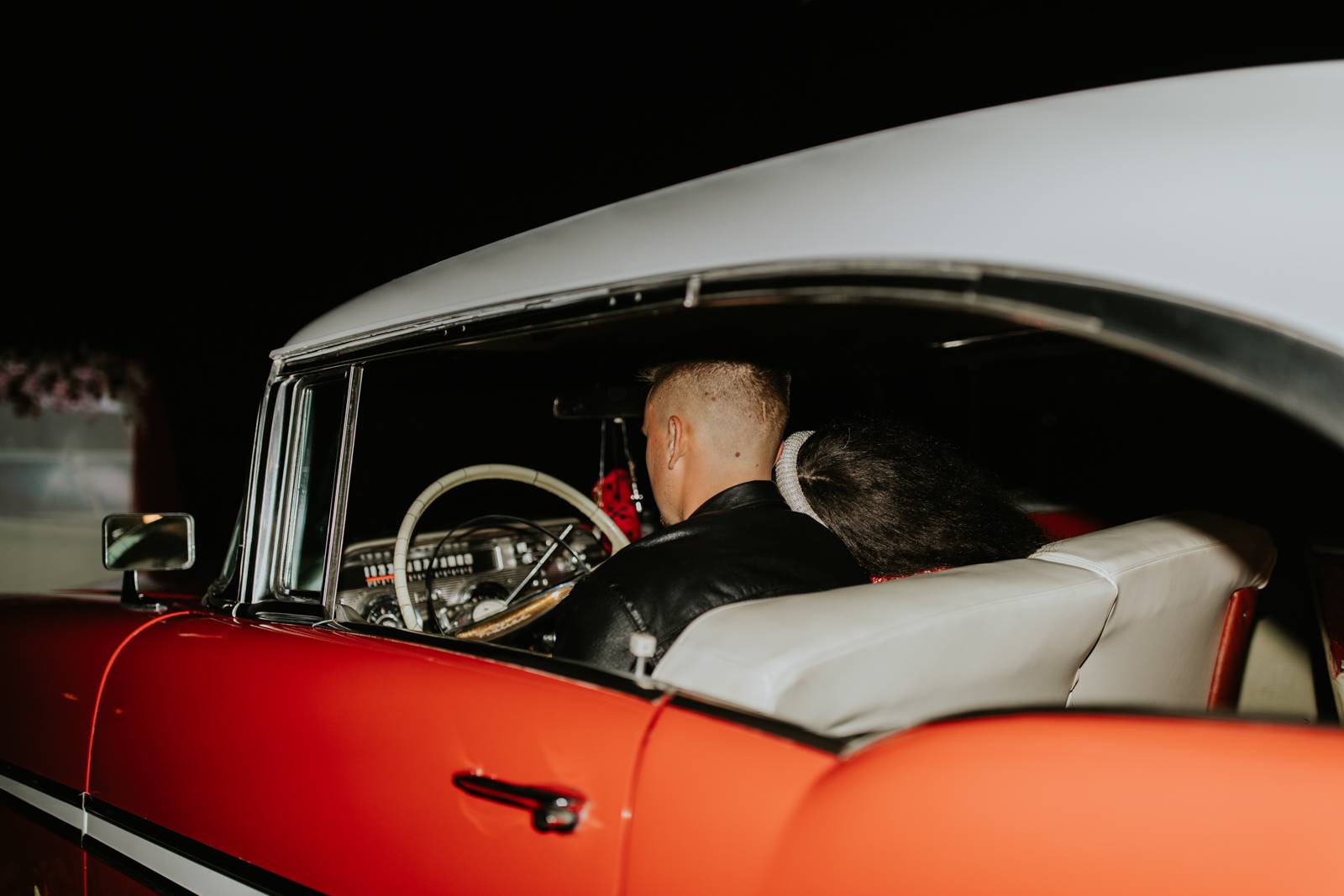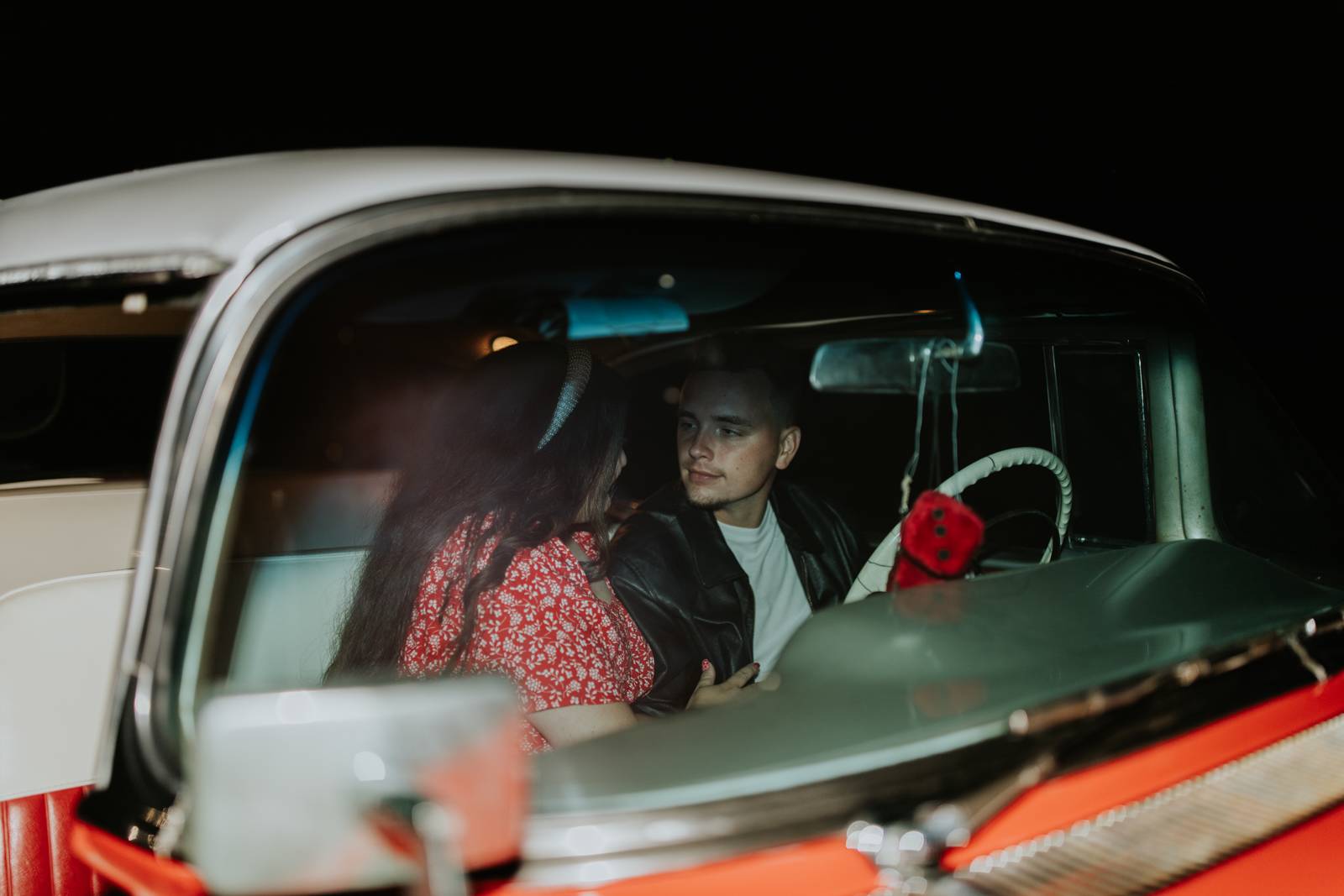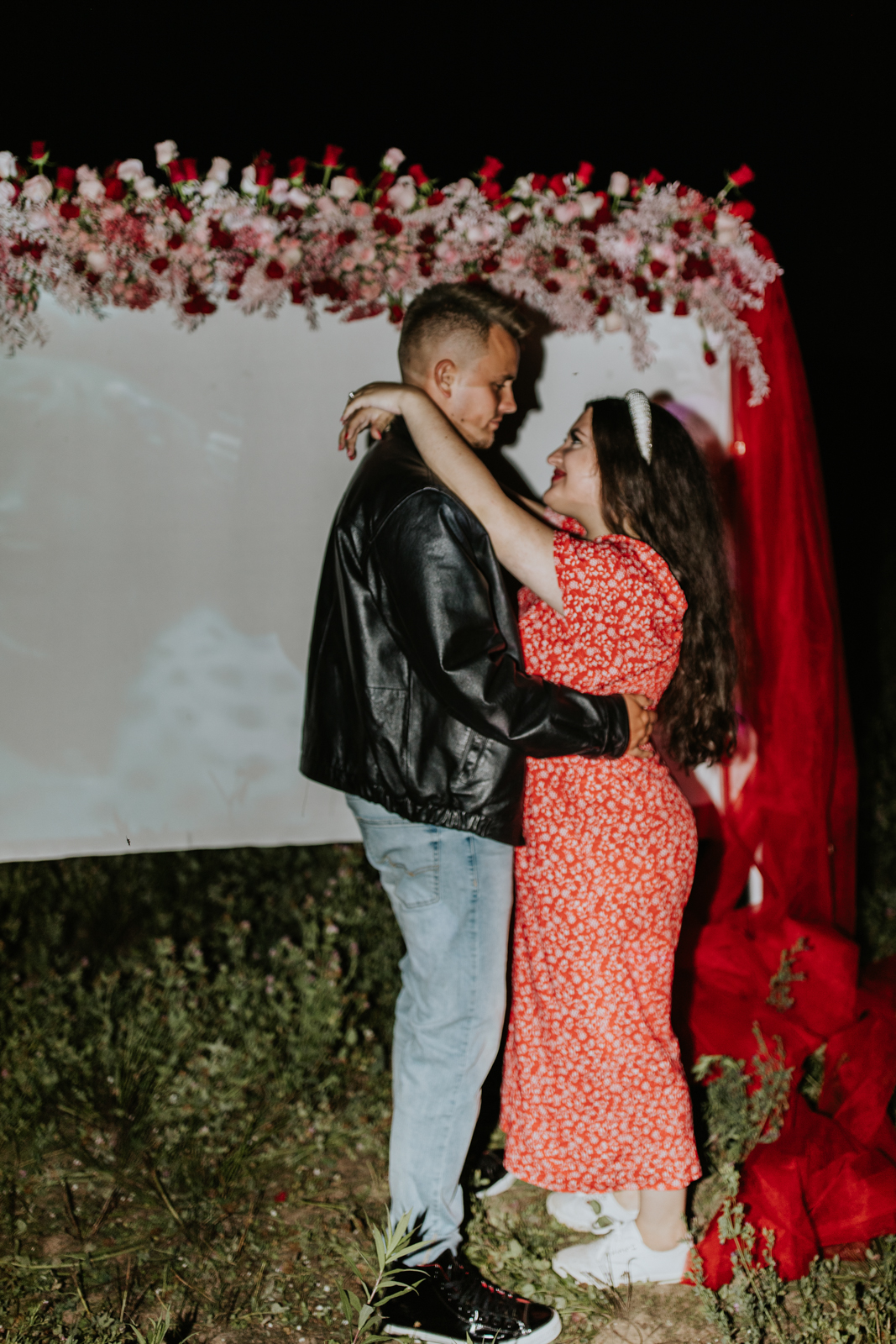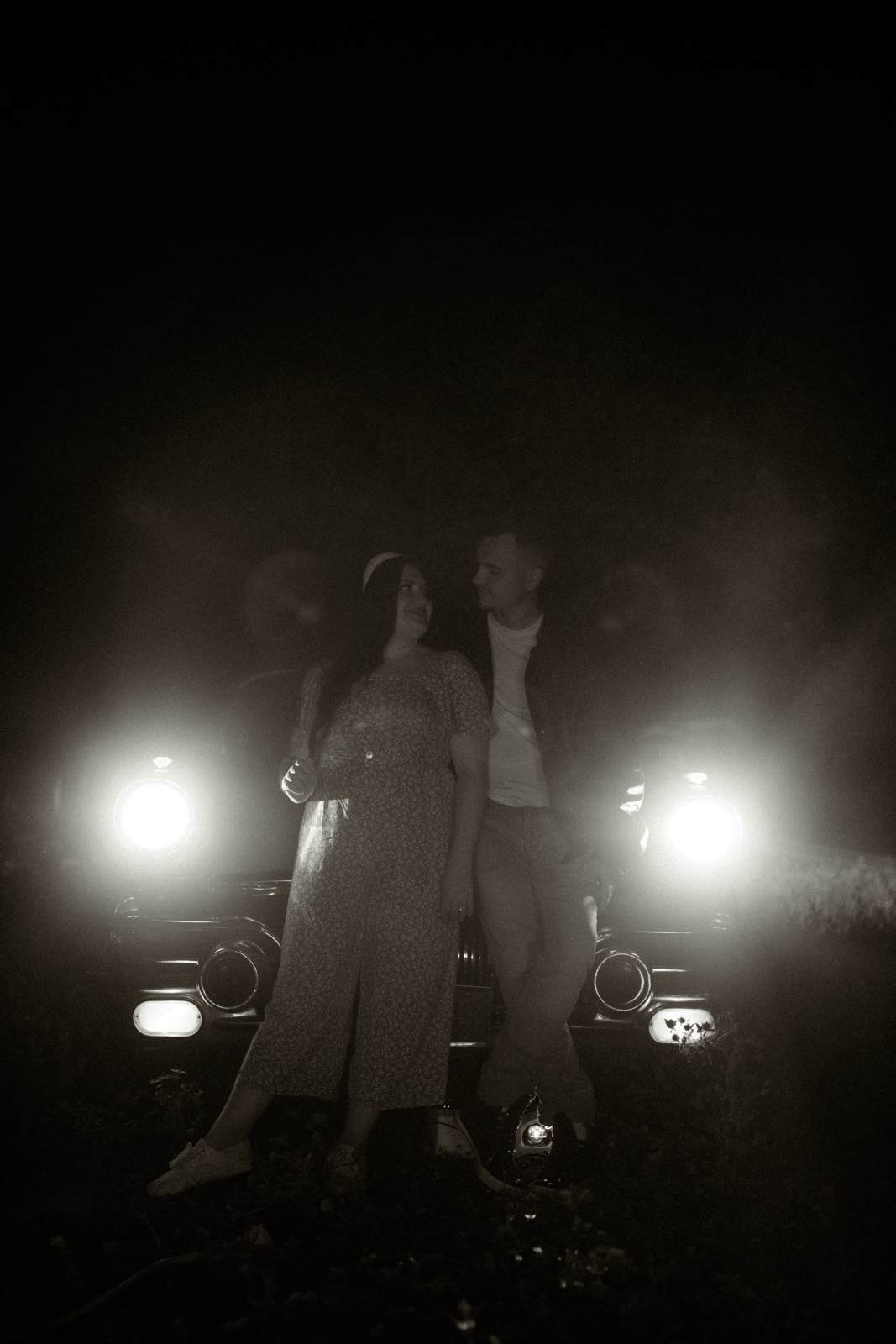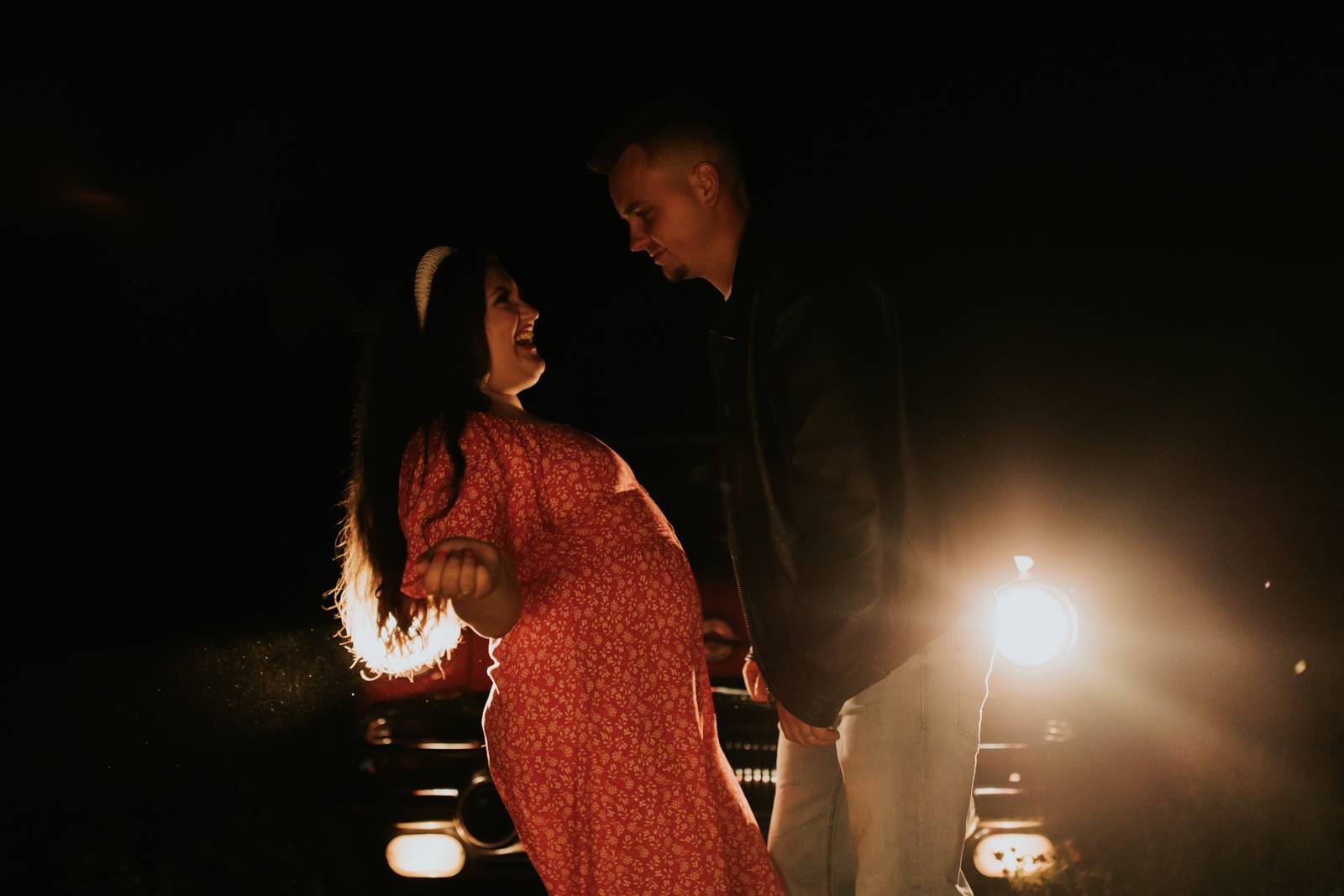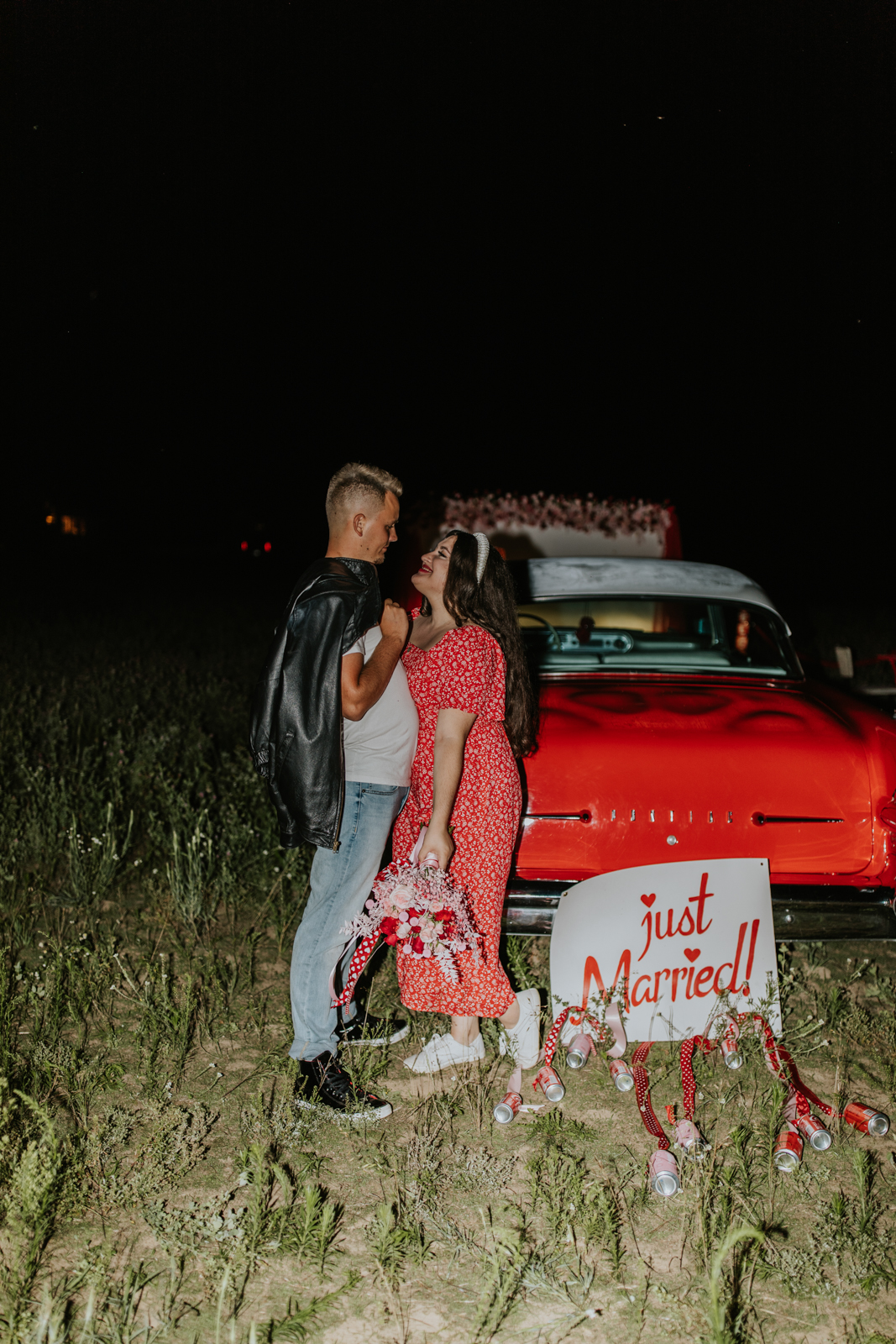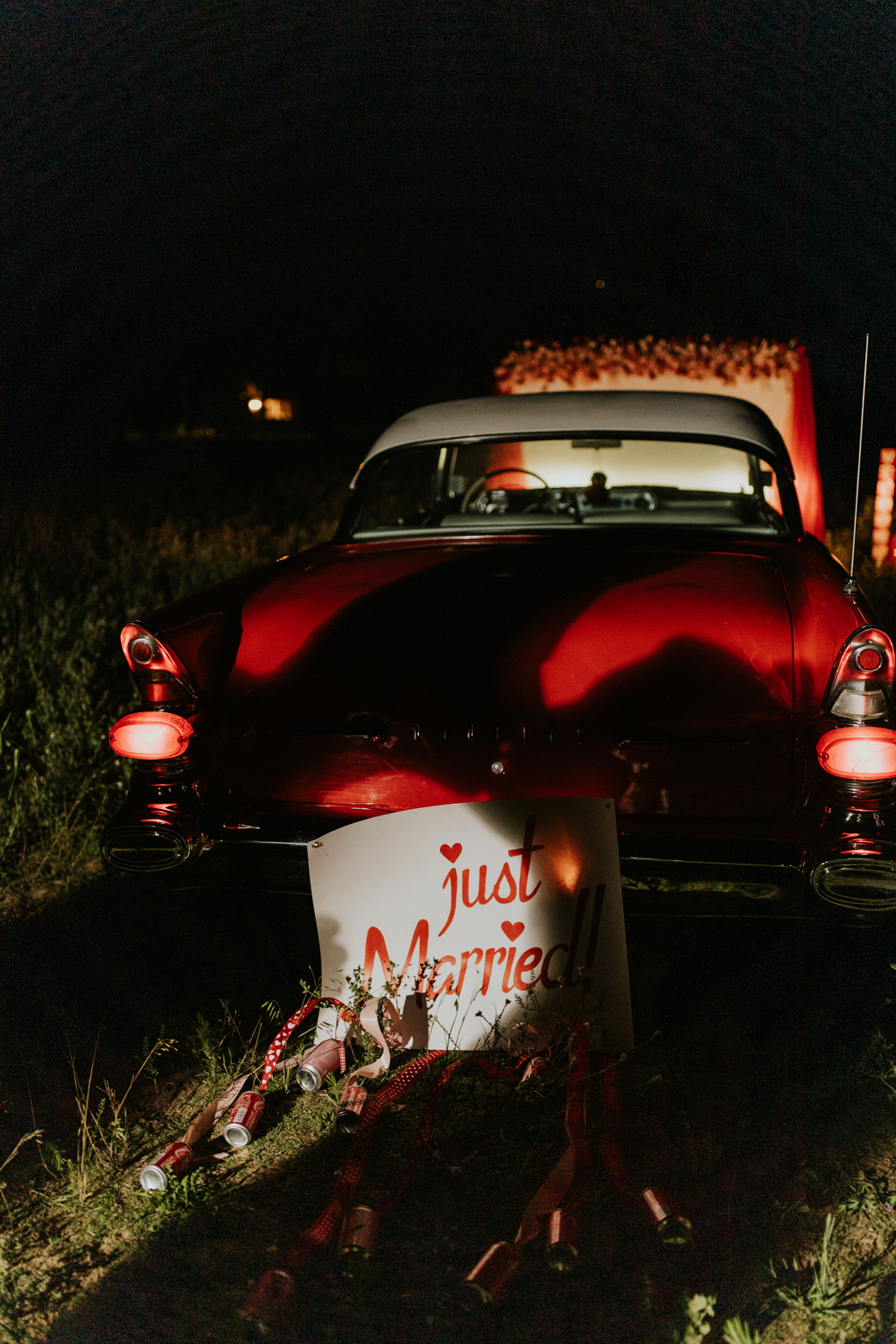 Connect with each of the talented participating wedding professionals by clicking on their names below. Happy wedding planning from the WedPlan team!