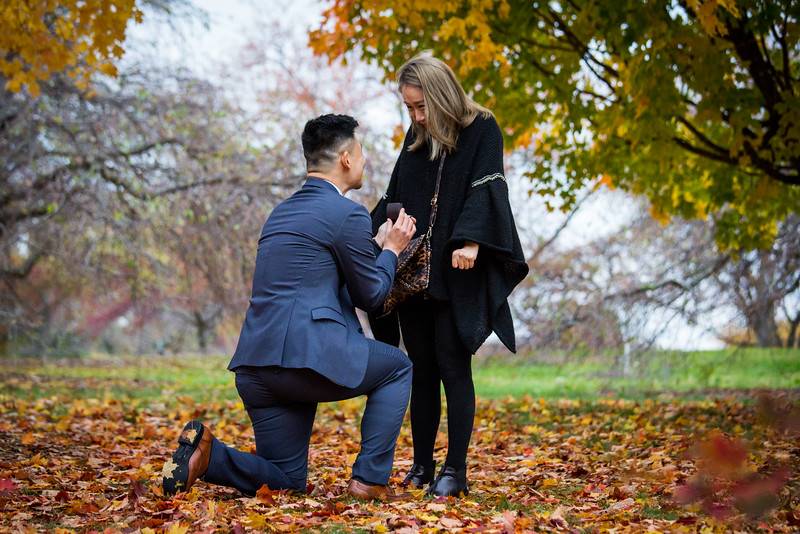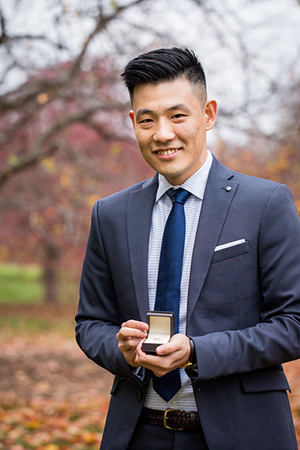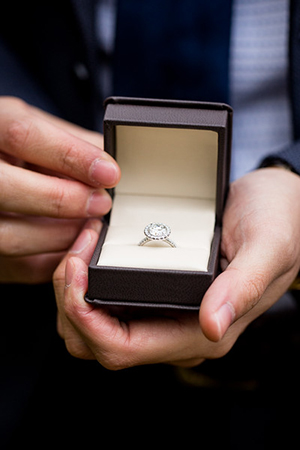 Jason and Tiffany met while students at UW Madison. After graduating, they moved to NYC to go to grad school. Tiffany planned a trip to come back to Madison to visit some friends and as soon as she booked her flight, Jason worked on getting things arranged with her friends for his surprise proposal.
She hopped on the plane. He hopped on a different flight right behind her. She arrived and hung out with friends on State Street, while Jason arrived at the UW Arboretum with his friends and met Sarah from Urban Anchor Photography, whom captured these stunning photos. Jason had a suit on and ring in his pocket, but was so nervous. He picked a tree to hide behind and another tree to hide his friends. The fall leaves were in full color, so Tiffany's friends told her they were taking her to the Arboretum to see the gorgeous fall beauty. Jason waited and waited, Tiffany and her friends ended up being an hour late, but finally made it. Tiffany came walking across an open area taking cell pics of the trees, looking all around. Her walk was so, so slow. Instead of waiting for her to get closer to the tree where Jason was hiding behind, he just couldn't wait any longer. Jason's friends started playing some music they had queued up on their phones and Jason came out from behind the tree walking straight towards Tiffany.
Jason took Tiffany's hand and walked her over to a tree, getting down on his knee and proposed to her. She cried and said yes, which is when all of Jason's friends came out of hiding and brought all of their phones out. They had been connected to FaceTime the whole time so that their family overseas had a chance to see the whole thing. They showed Tiffany and she was able to live chat with them and show off her new ring.
Congratulations, Jason + Tiffany!