Prepare to feast your eyes on the most stunning geode cake from Gigi's Cupcakes in today's beautiful Northern Wisconsin winter affair with earthy neutral and eggplant tones. Because any winter wedding is worth celebrating with its sheer beauty of the snow-covered glistening trees. From snowy wooded landscapes, rustic wood signs made by the bride herself, geode invitations, marble place cards, and geometric details, this is the perfect combination of modern-chic and rustic romance. Let this beautiful imagery from Copper Antler Photography inspire your very own Wisconsin wedding.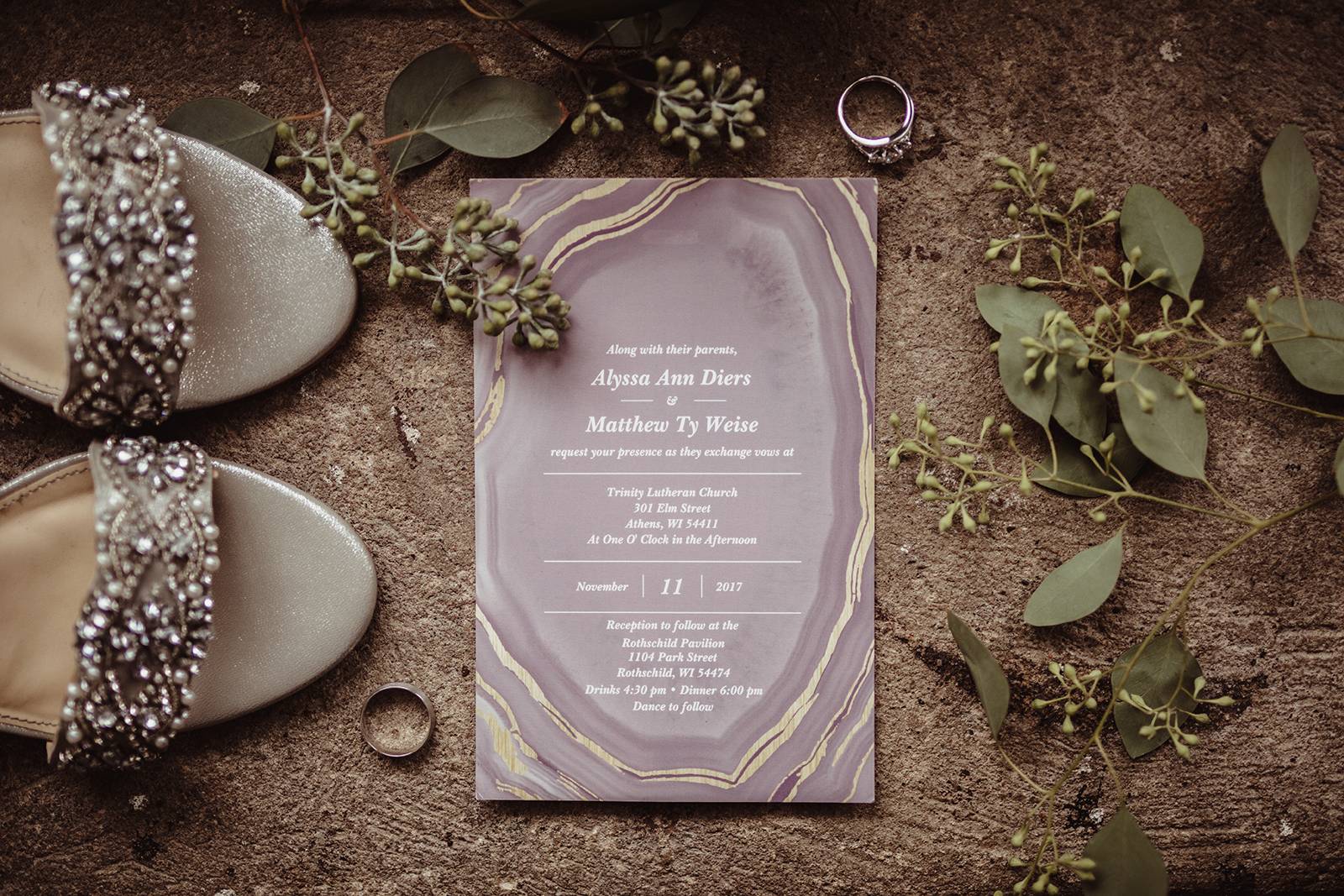 WEDDING DATE: 11-11-17

HOW DID YOU MEET? We met in high school. It all started during chemistry-SO cliché, I know, but it's true! Like every 16-year-old girl's favorite chick flick, the nerdy, quiet boy falls in love with the "popular," athletic class president. After a few months of ignoring the nerdy, quiet boy, and only communicating over text, the "popular," athletic class president decided to give him a chance. We started hanging out more, and then on February 4th, 2012 was when we made it official.
HOW DID YOU KNOW HE WAS "THE ONE?" I knew Matt was the one honestly within the first couple months of dating. I have never met a man so genuine, caring, and tender as him. Always putting me first, since the first day we started dating. Only dating a year before we went our separate ways for college, we decided we would see where life takes us. We agreed we would make it work as best as we could being in a long-distance relationship. Going to school for nursing, my life was consumed with stress, long hours in the library, and moods that were less than ideal at times. As Lee Brice would say, "I'm hard to love, oh I don't make it easy." That could not explain college better! Matt was ALWAYS my biggest supporter, my shoulder to cry on, my biggest cheerleader, my safe place, and someone that never gave up on me. And that is all I could have ever hoped for in a partner to share my life with. Matt has always been the one and will forever be my soulmate.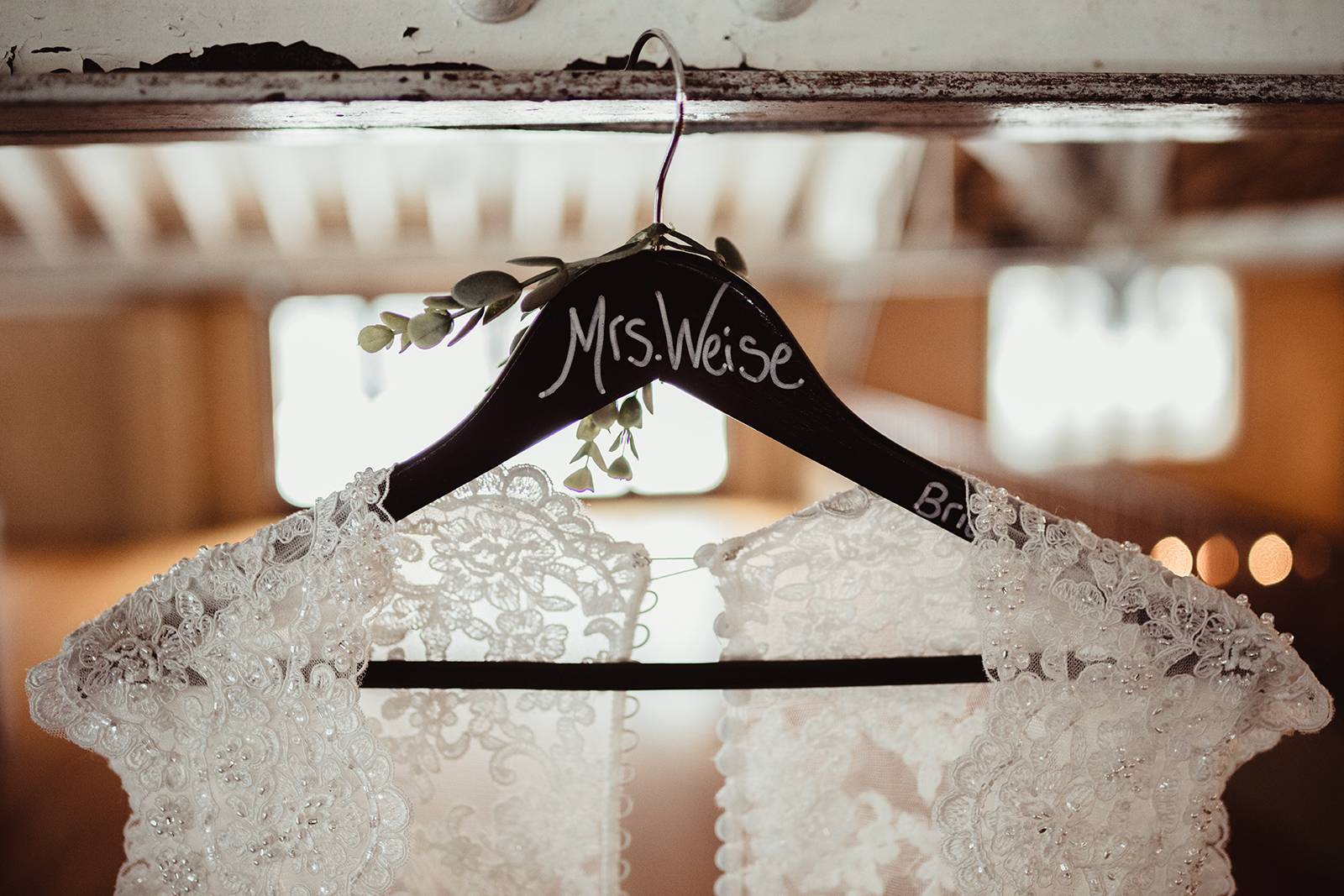 TELL US ABOUT YOUR PROPOSAL: Flashback to high school was the theme of our proposal. During high school, Matt and I were hanging out at his parent's house with a whole bunch of our friends. Being the smooth 16-year-old Matt was, he texted me to come and sit by him so we could cuddle. Then to get even more cheesy he went and got his drink of choice at that time, a grape juice box, proceeded to drink the juice box, and then threw the juice box over my shoulder to "make a move." Matt was thinking he was quite the man for being so clever. Where I was sitting there holding in a laugh and thinking to myself, "what the heck am I getting myself into!"

Fast forward four years later. I was moving back to college and I had 5 days off before school started. Matt came to visit for a long weekend and had planned an indoor picnic for us so we didn't have to cook while my type A personality was trying to organize and make sure everything was perfect before the next semester had started. I sat down on the ground with our indoor picnic all spread out to find a grape juice box. I picked the juice box up to find it was empty and then proceeded to tell Matt "Really? This is empty!" I got up to get something else to drink and Matt replied with "Alyssa, check again. I don't think it's empty." I sat back down confused to then find a hole cut out in the back of the grape juice box with a ring box tucked inside. The grape juice box made another appearance, but instead of me holding in a laugh and thinking to myself, "what the heck am I getting myself into," I was crying and beaming with happiness to know exactly what I was getting myself into. A lifelong time of cheesiness, happiness, and being able to spend my life with the most amazing man!
TELL US ABOUT FINDING YOUR DRESS: My mom and I went on a day that my plan was to just get an idea of what color I wanted and that was it. I had zero plans on buying a dress. The dress was the second dress I tried on and I was in love.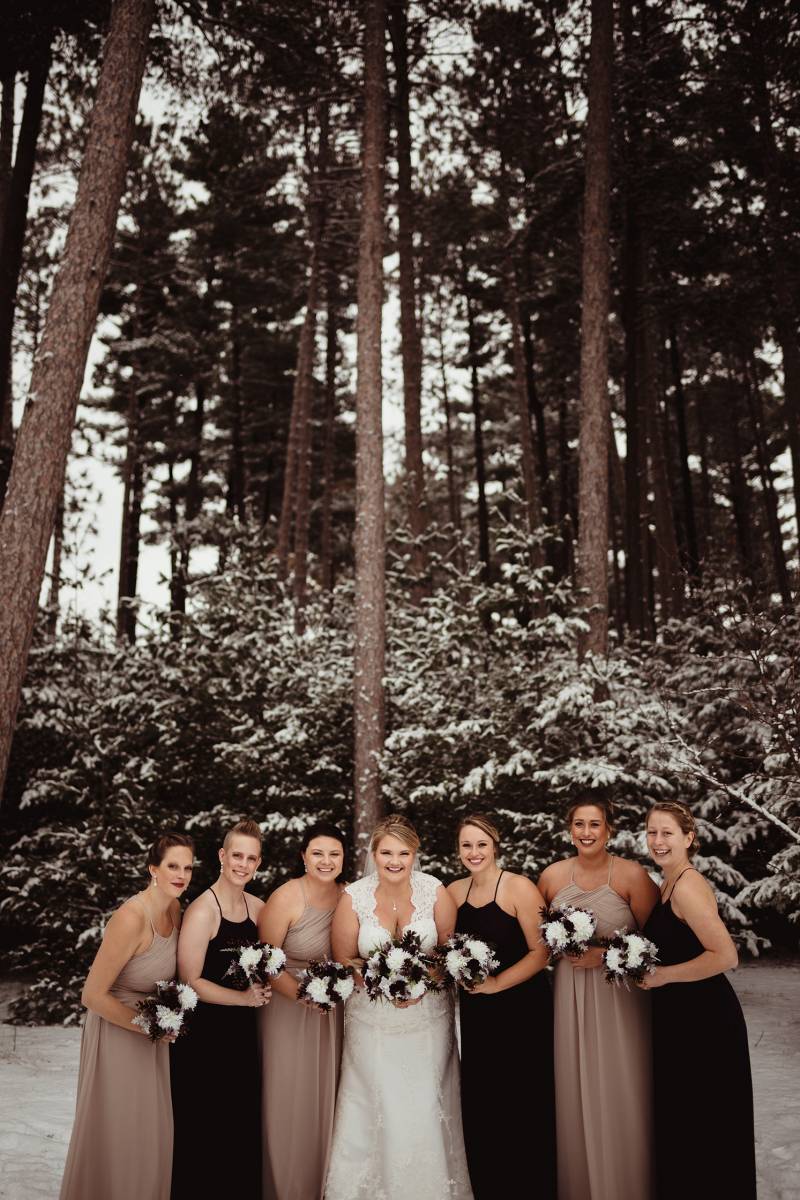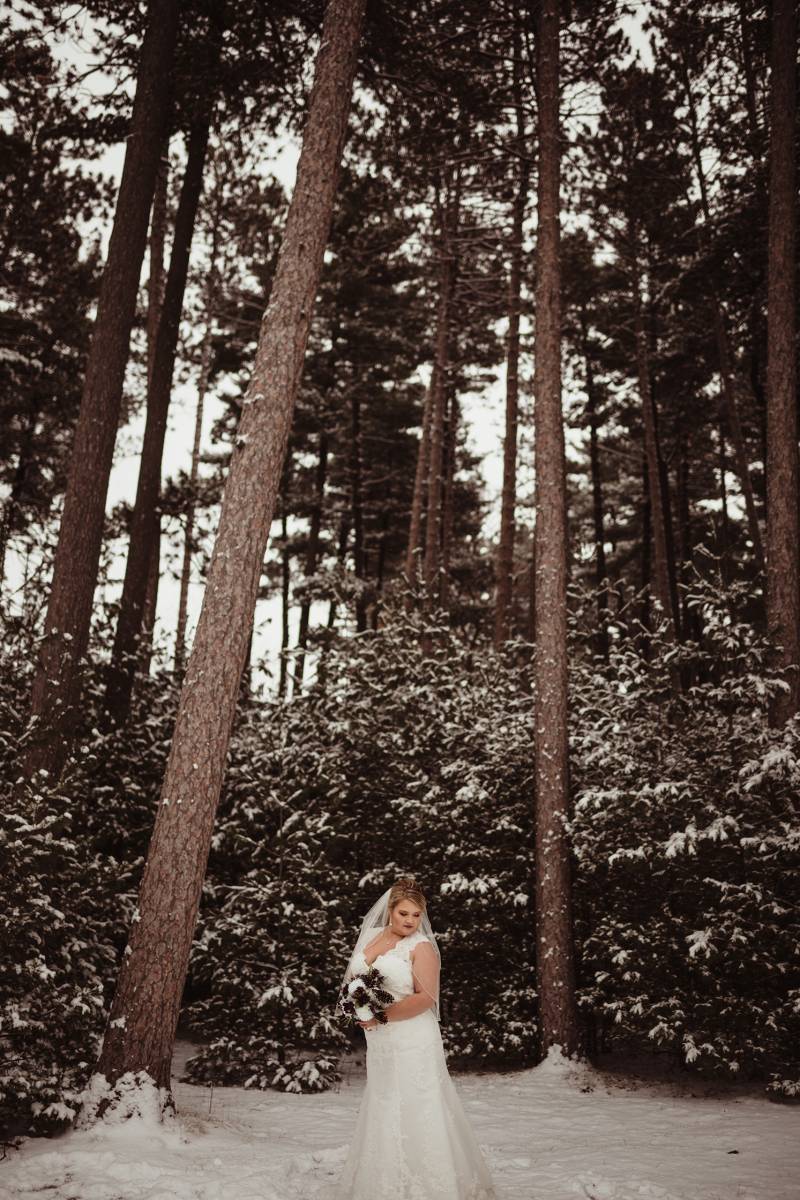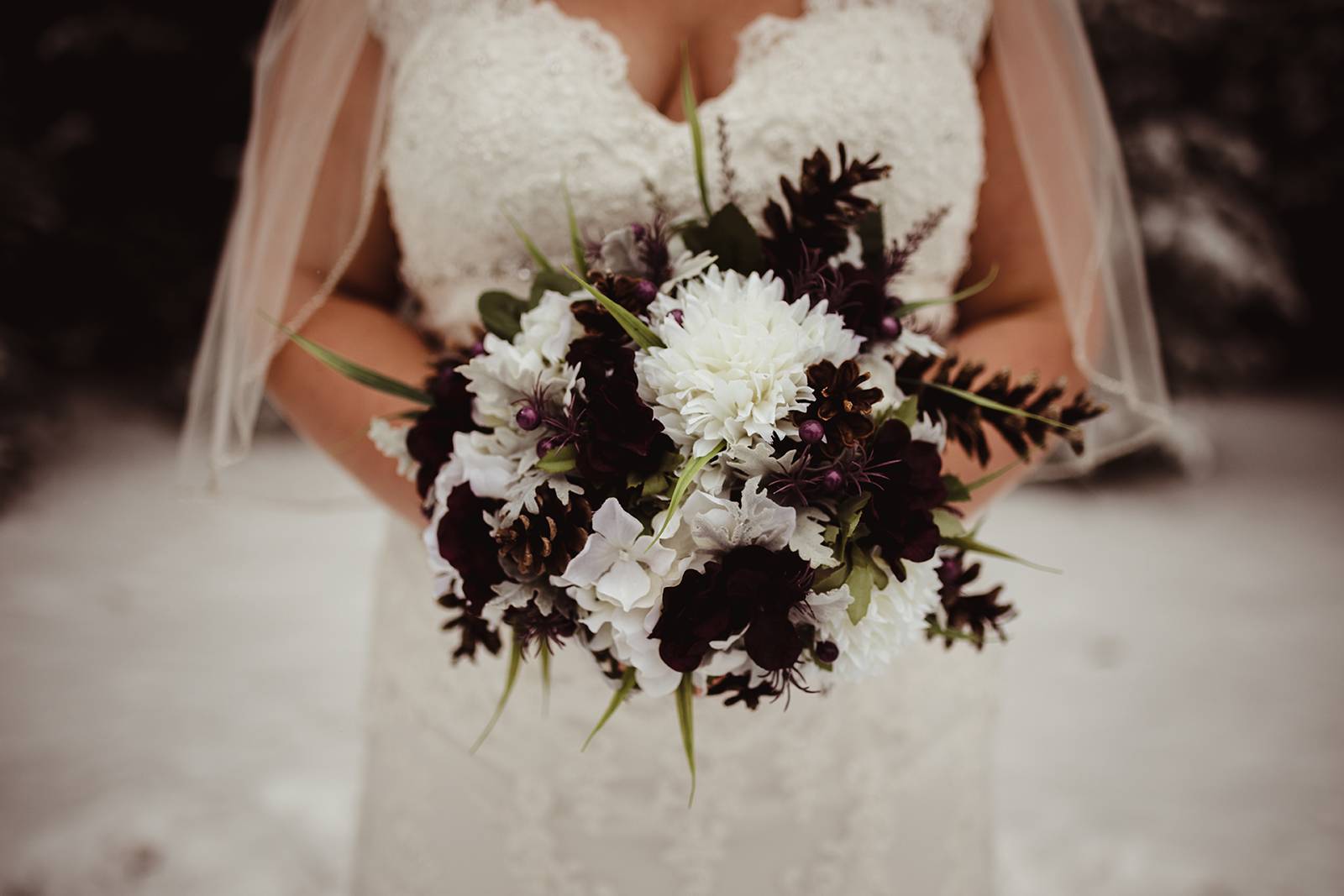 DESCRIBE YOUR FLOWERS: Our wedding flowers incorporated pine cones, dusty miller, eggplant-colored flowers, greenery and they were absolutely beautiful!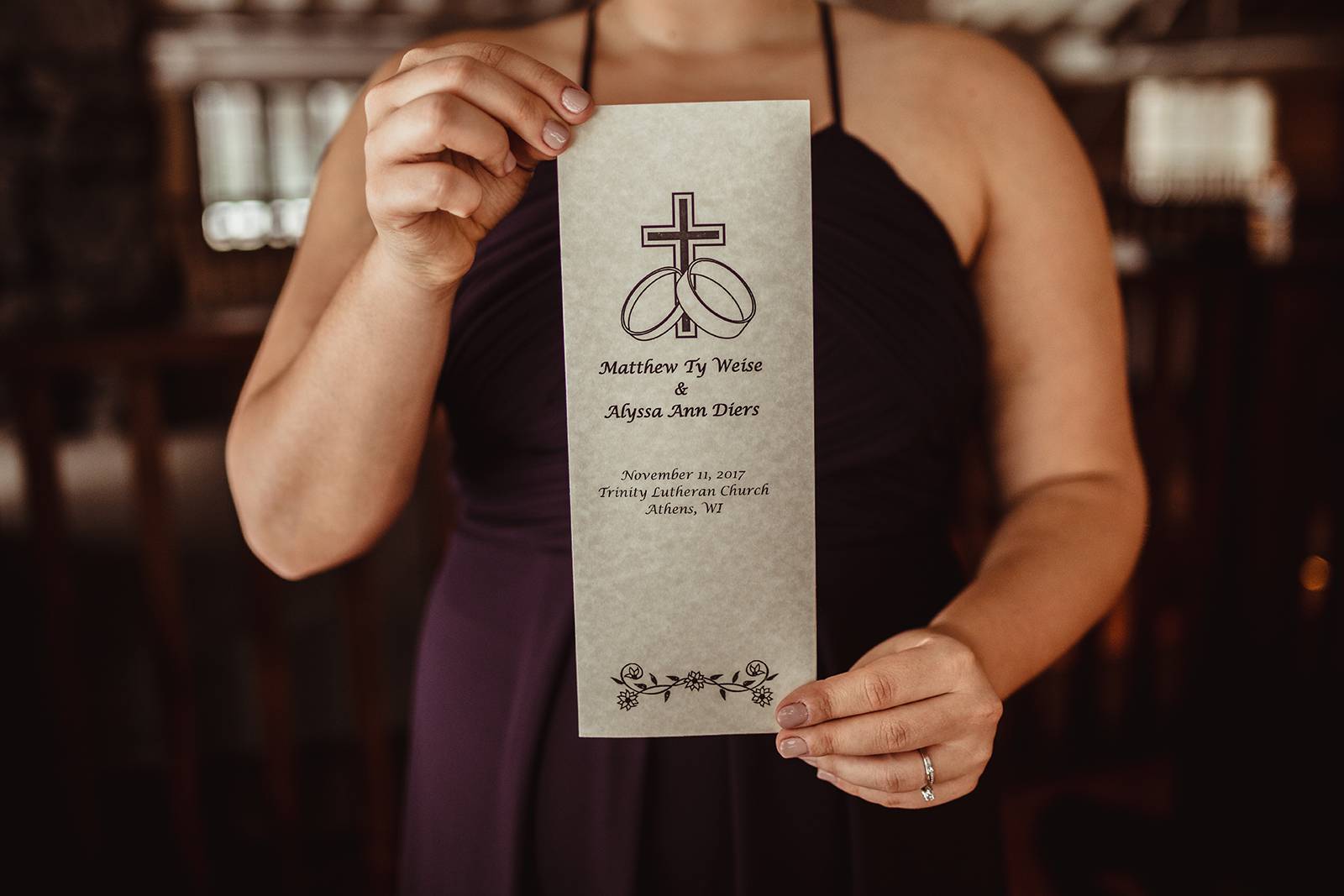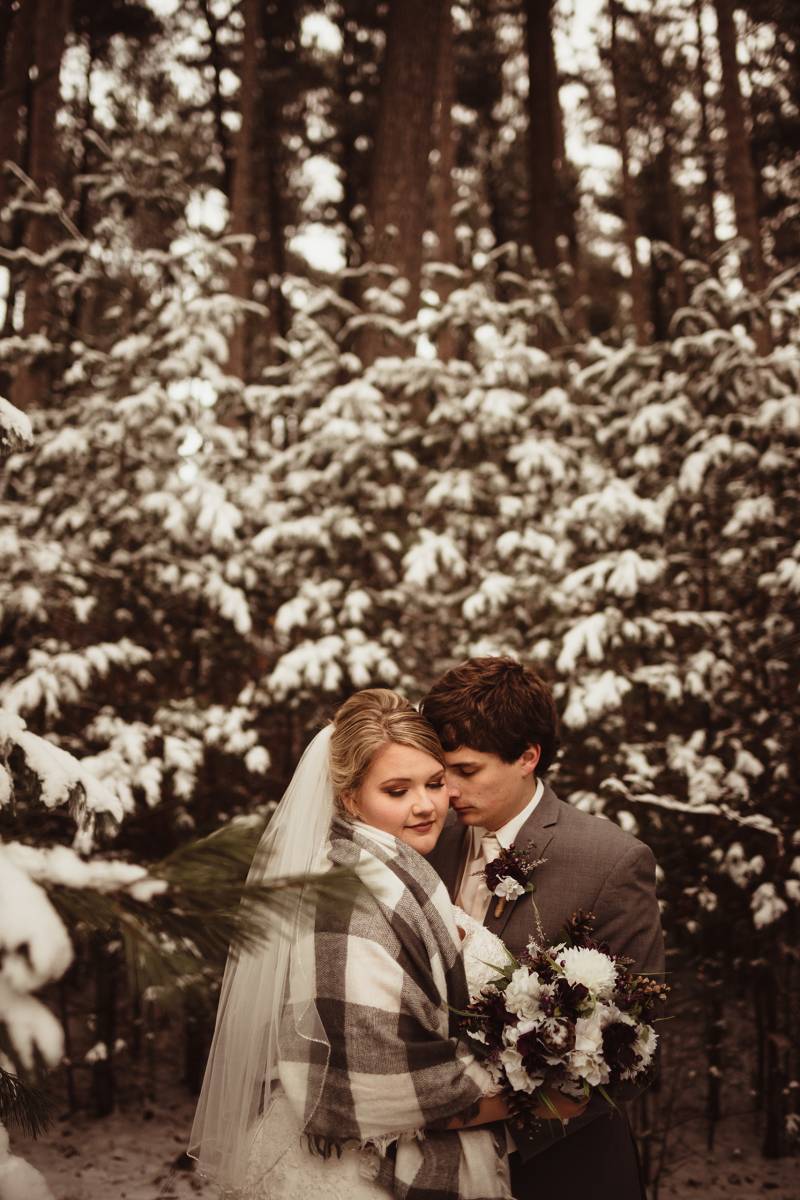 WHAT WAS YOUR FAVORITE MOMENT FROM YOUR WEDDING? Honestly, the whole day was so perfect. If I had to pick one moment, it would be right after Matt and I turned around after we kissed to seal the deal. We were hand in hand and we got to see all our favorite people there supporting us and celebrating our love. We have such an amazing support system and we are thankful for each and every one that helped us celebrate.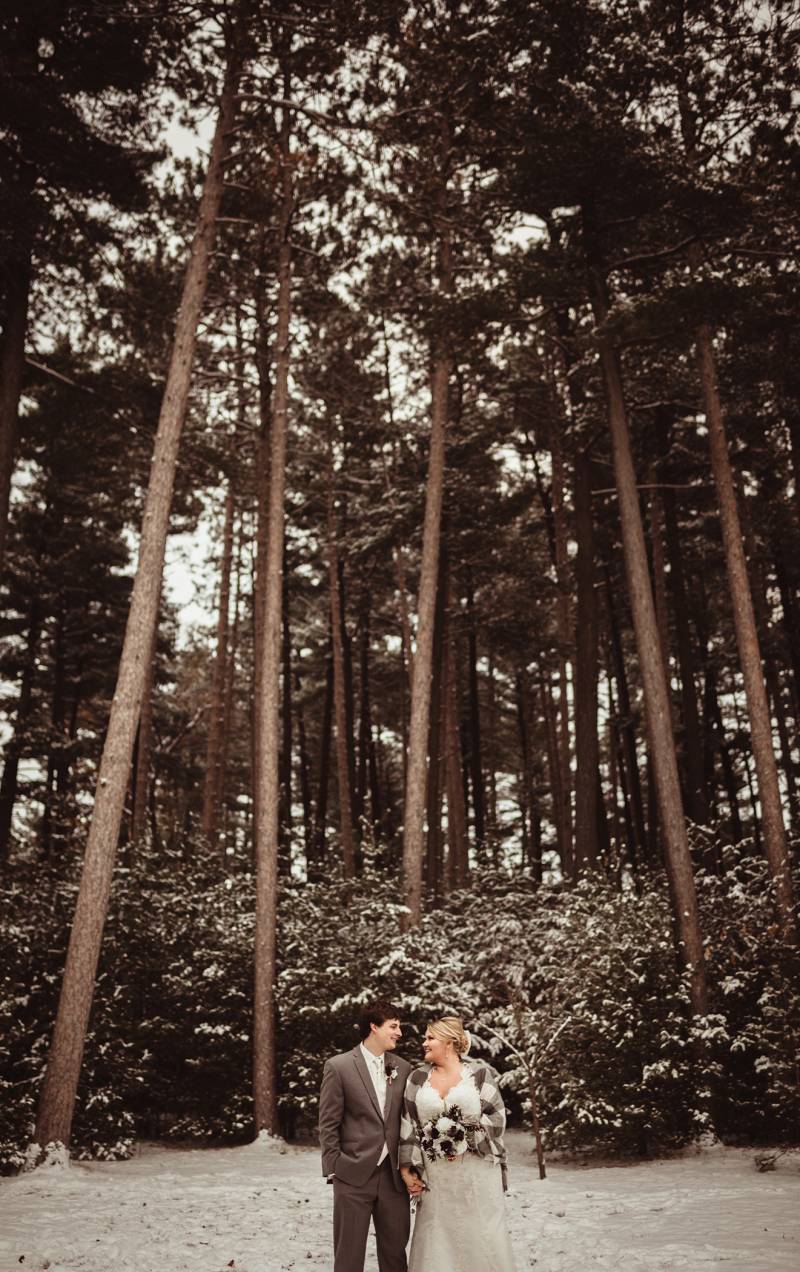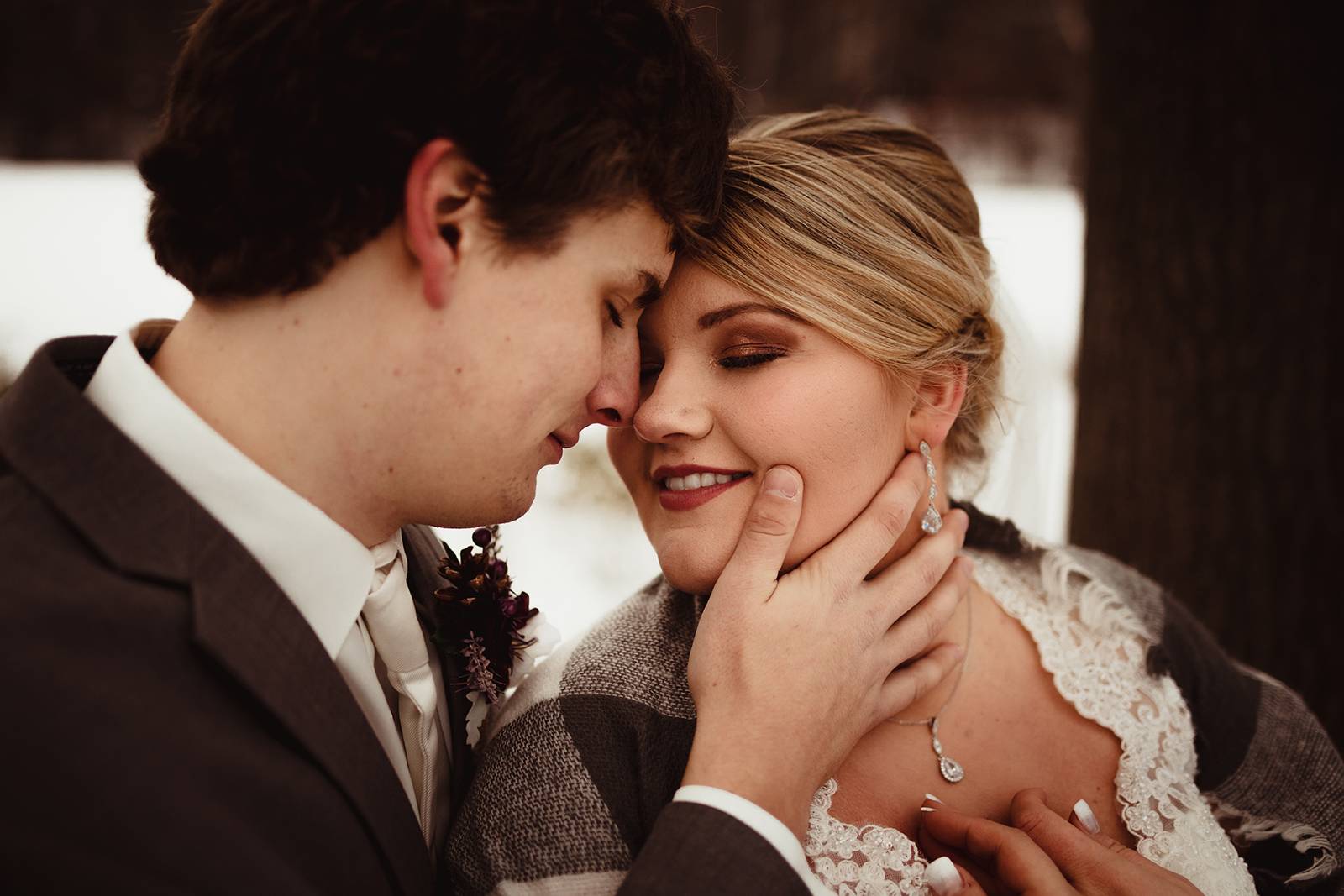 TELL US ABOUT YOUR HONEYMOON PLANS, IF ANY: The Monday after we got married, we flew out of Chicago to Punta Cana. With the inevitable stress that comes with planning a wedding, nothing was more needed than 80-degree weather, sunshine, the ocean, and my HUSBAND. This is one of the biggest suggestions I can make. If you are debating on waiting to take your honeymoon, I would say go right away. A wedding is stressful, and it is so nice to get away from people for awhile and just enjoy the married life bliss.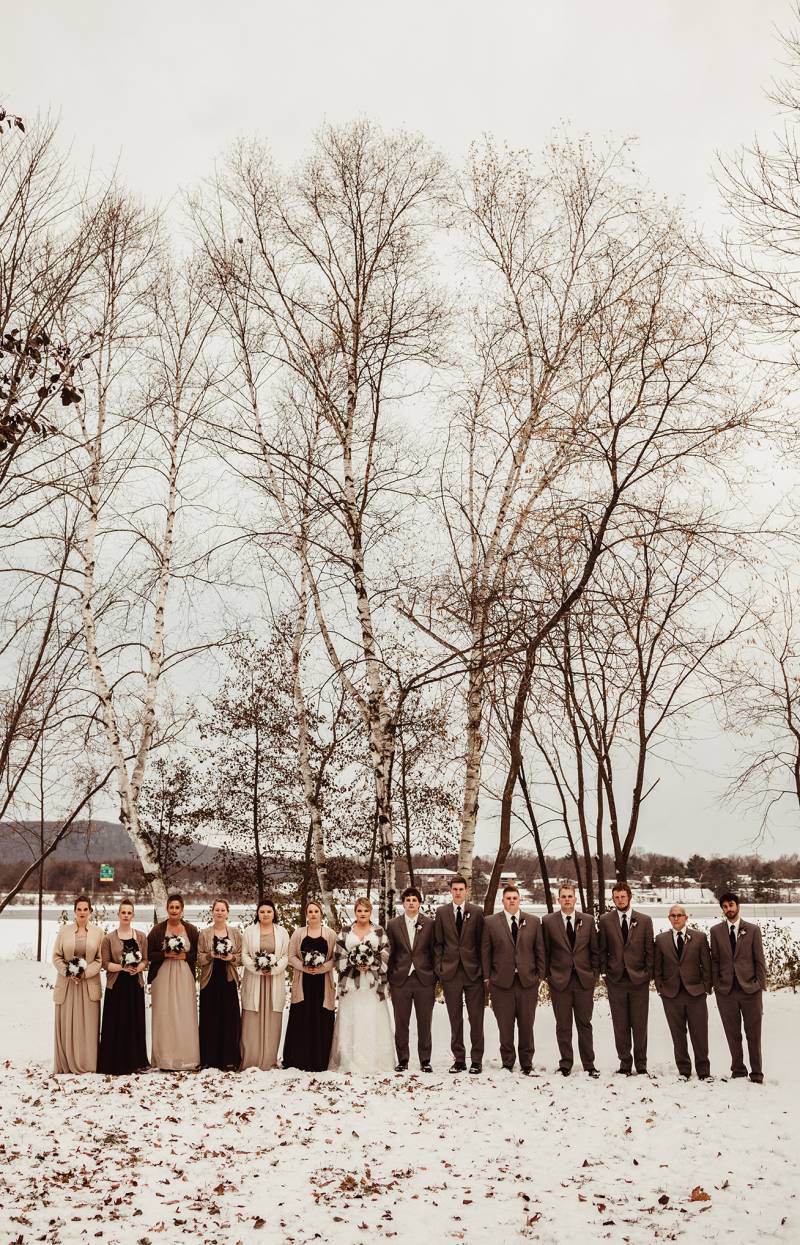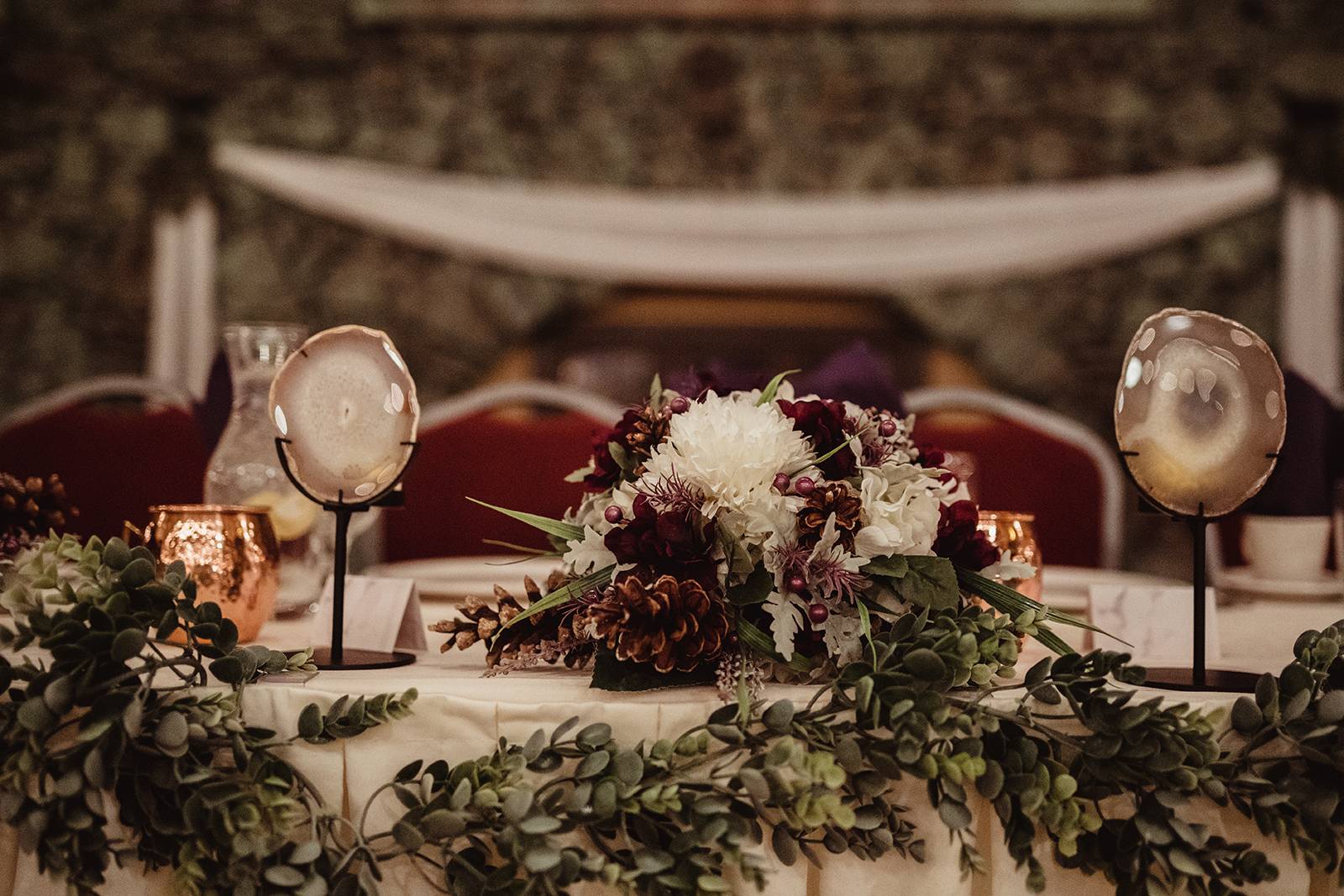 DID YOU USE ANY SPECIALTY CHAIRS, LINENS, GLASSWARE OR CHARGERS? Some special glassware that we used were Moscow Mule mugs for the head table. Those mugs hold a special place in our hearts because a Moscow Mule is one of our favorite drinks.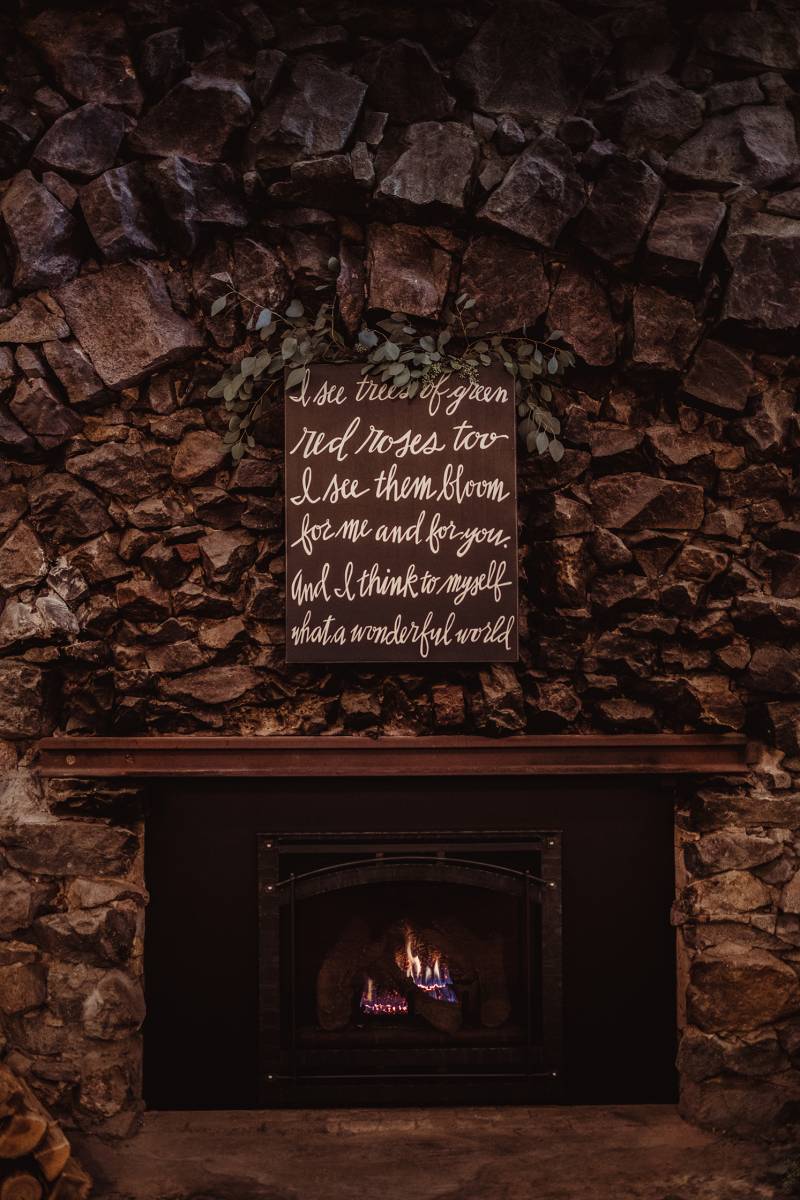 IS THERE ANY ADVICE YOU HAVE FOR OTHER COUPLES PLANNING THEIR WEDDING? One of the biggest pieces of advice I can give is, DO NOT STRESS THE SMALL STUFF, and keep in mind what your wedding is truly about. Your wedding is about marrying your best friend and starting a new exciting adventure together. Napkin colors, linen colors, what kind of glassware to choose, finding the perfect pair of earrings, what color of lipstick should you wear, which flowers should you choose, are all SO minor. During the wedding planning process, when I would be stressing about the little things or stressing about if he was going to love the dress I picked out, my now husband would always say to me "Alyssa, everything will be perfect. You could wear a garbage bag and I would think you're are the most beautiful thing on this planet. There is not a flower, decoration, linen, or dessert in this world that will matter in 10 years. What matters is we will be married in the end." Even though it is hard for me to admit at times, he is SO right. I promise you, anything you choose will be perfect because it is your day and it will be everything you have dreamed of and more. Keep the big picture in mind and enjoy the journey of wedding planning.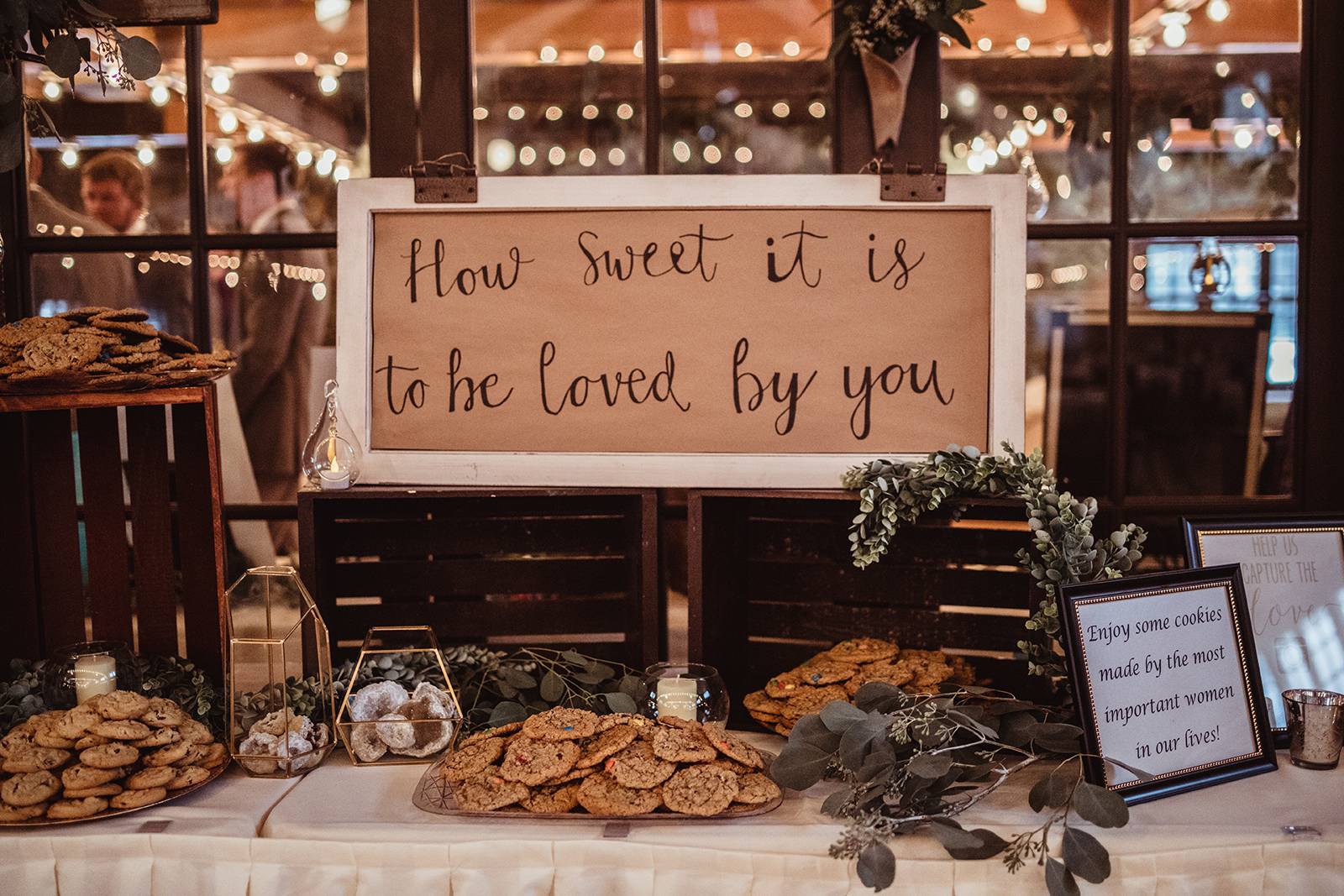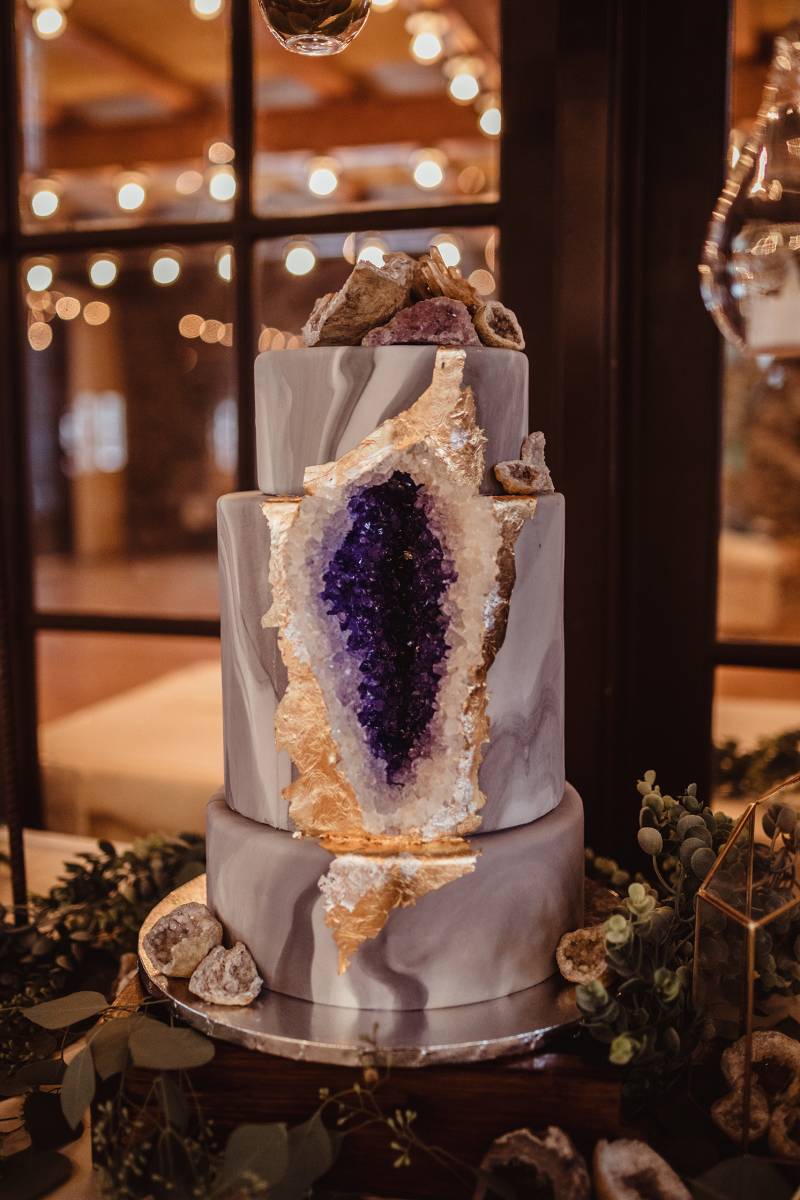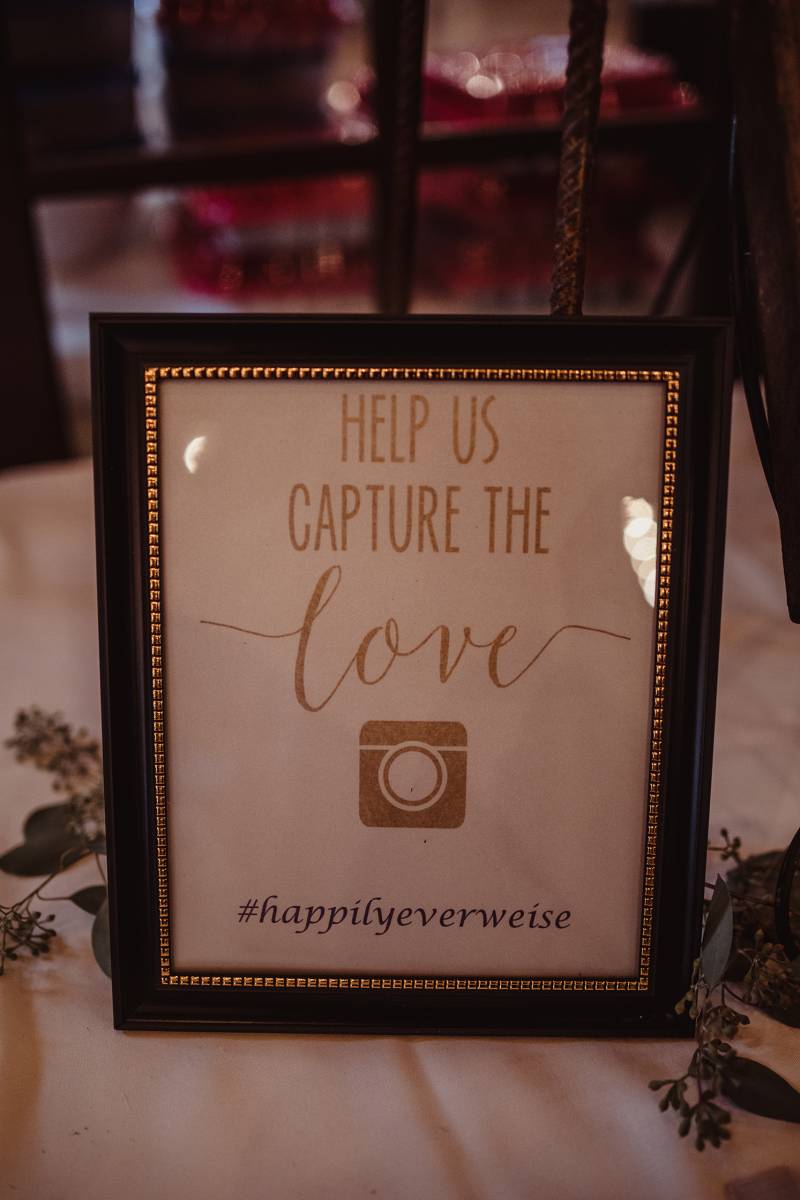 WERE THERE ANY PERSONAL TOUCHES OR DIY ELEMENTS? All the wine at the wedding was homemade, made by my father-in-law and all the old-fashioned mix was made by one of Matt's aunts. The drinks were definitely a hit at the wedding.
WHAT DOES LIFE LOOK LIKE AFTER THE WEDDING? Life after the wedding has been wonderful. Not much has changed, but that's a good thing, right? We are currently saving for our dream home. I have plans of going back to school to become a Nurse Practitioner. Then once school is finished, we will hopefully be fulfilling our dream of becoming parents. But right now, we are enjoying our time together as husband and wife!
ANY WEDDING REGRETS YOU'D DO DIFFERENTLY? Honestly, no! Everything was so beyond perfect. I felt as it was going to be inevitable that something would go wrong but it never did. And if there was something that went wrong, I never knew.