Planning their wedding in the middle of a pandemic taught Kristina and Myles at least two things for sure:
1. They're not in control.
2. It's the people you surround yourself with on your special day that really matters.
Their intimate ceremony in downtown Madison at the Wisconsin State Capitol was beautiful, blissful, and perfectly married both Kristina and Myles' styles, representing these two becoming one. Captured by Phoenix & Rose Photography Co. featuring daffodil*parker, Craig's Cake Shop, Arch Apothecary, Blue Plate Catering, Men's Wearhouse, Bella Bianca Bridal Couture, and AC Hotel Madison Downtown, soak in all of the romantic details from K + M's wedding day below!
WEDDING DATE: 9/18/2020
HOW DID YOU MEET? In early 2015 I moved from Chicago to Madison for a job. Myles and I shared a mutual friend who connected us so that Myles could introduce me to new people and places around Madison since I didn't know a soul in Wisconsin. After meeting at the downtown Great Dane one night for a beer, Myles and I really hit it off and realized we had a ton in common. A beer turned into dinner, and another beer, and the rest is history!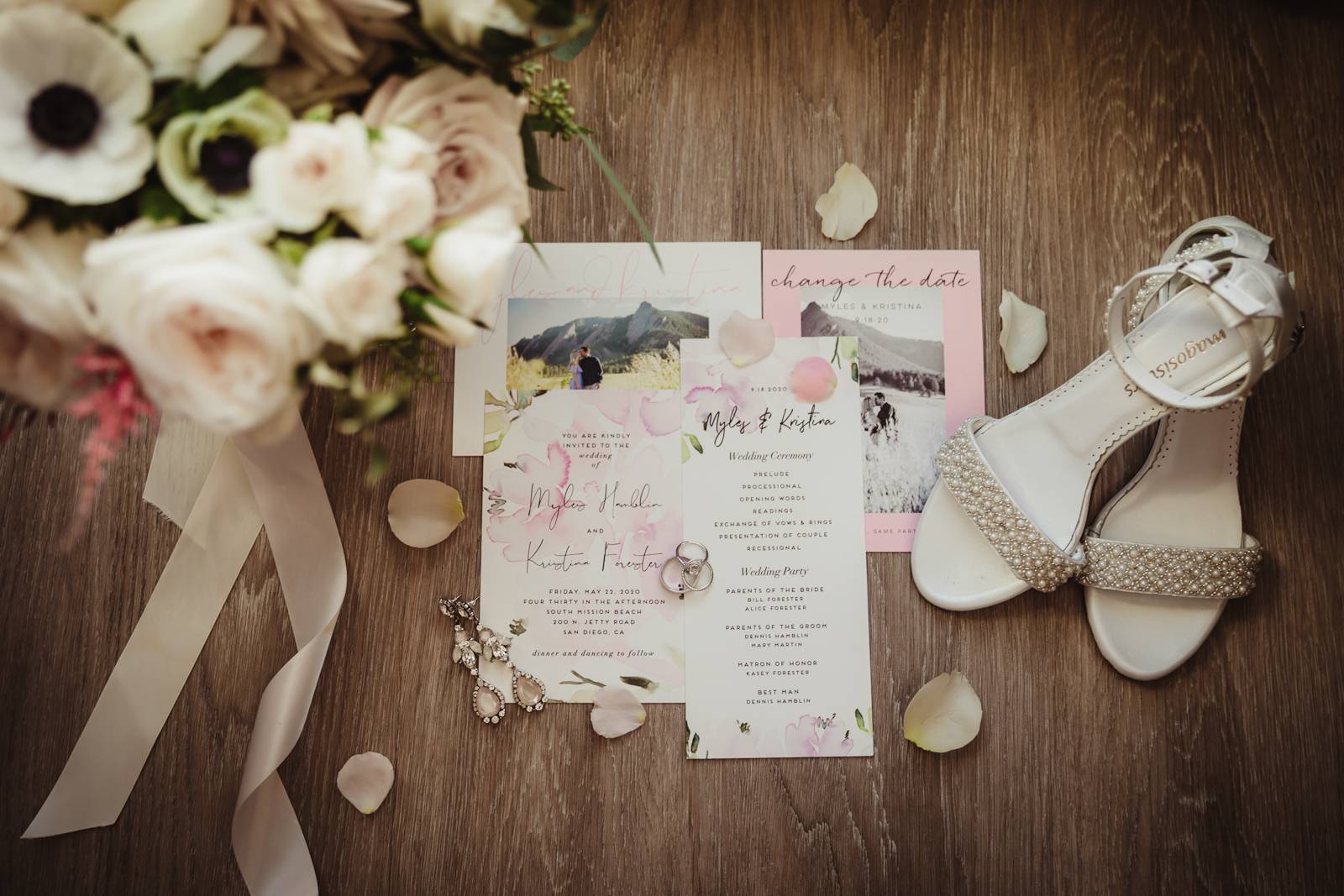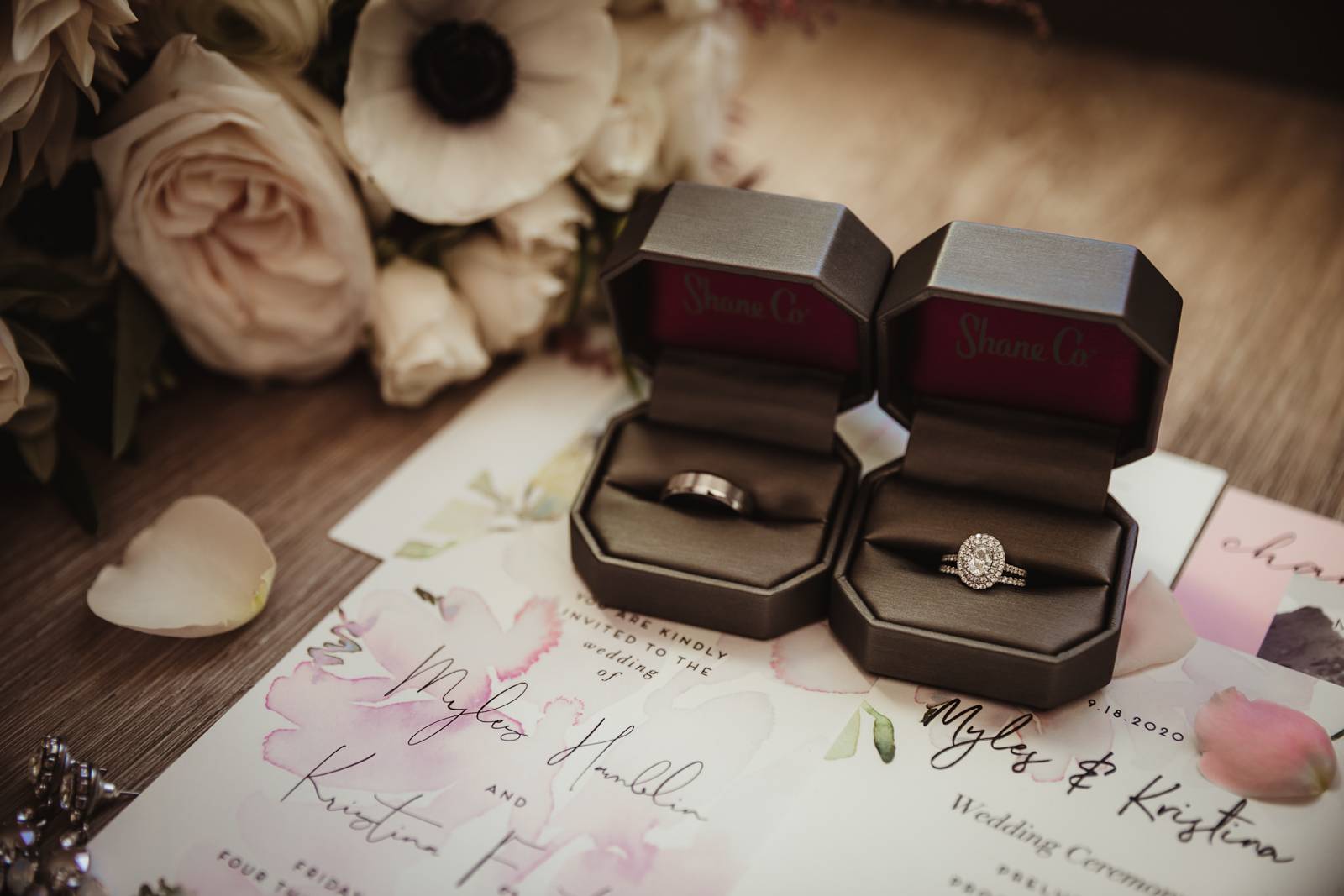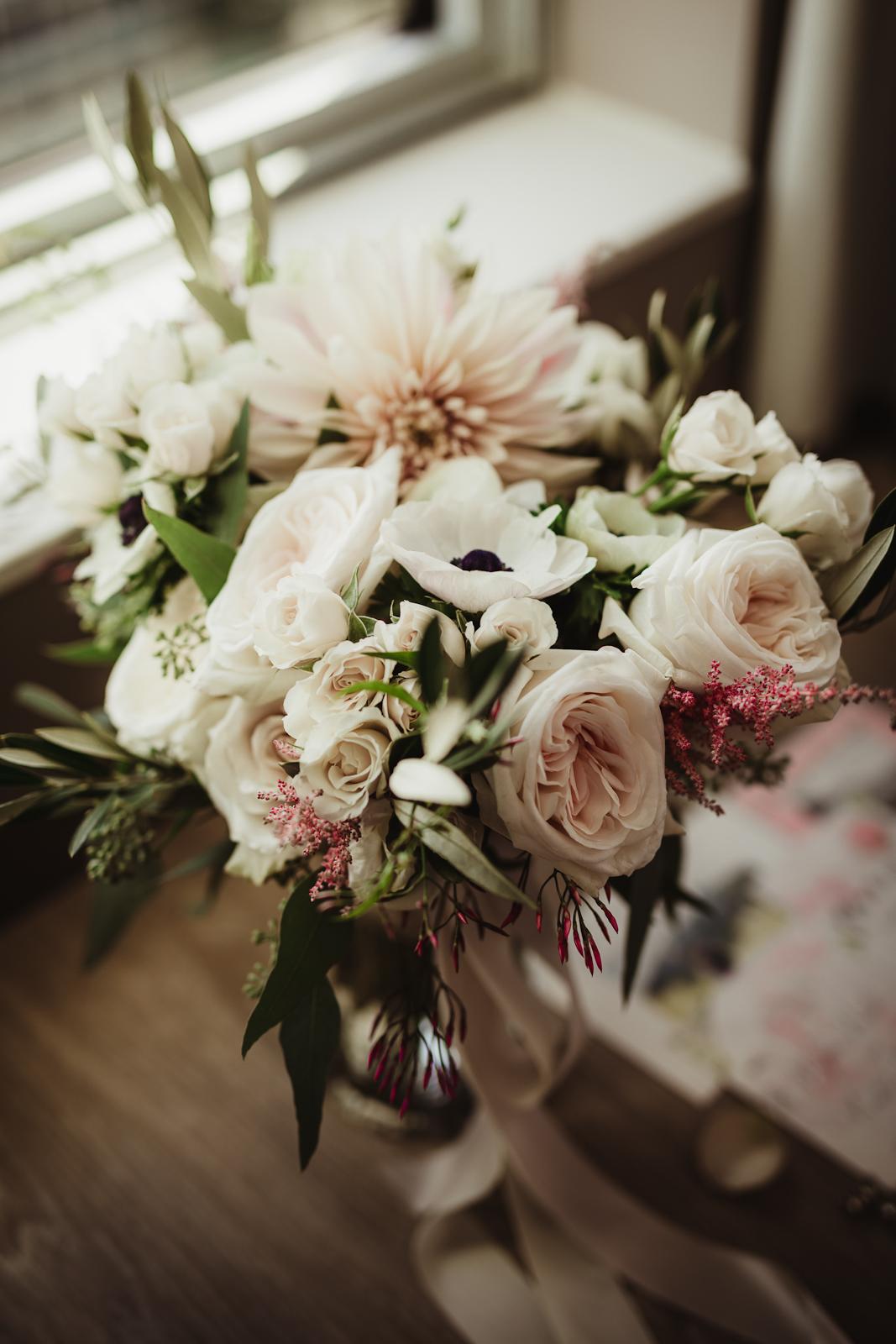 HOW DID YOU KNOW YOU HAD FOUND "THE ONE"? Because we could love each other throughout the peaks and valleys and talk about anything.
TELL US ABOUT YOUR PROPOSAL: Myles proposed on the beach in San Diego. We had always talked about having a beach wedding, and we loved vacationing in San Diego, so he decided to create that same experience when he proposed. It was a quiet part of the beach where not many people were, and he got down on one knee, told me how much he loved our life together, and asked me to be his partner in life forever.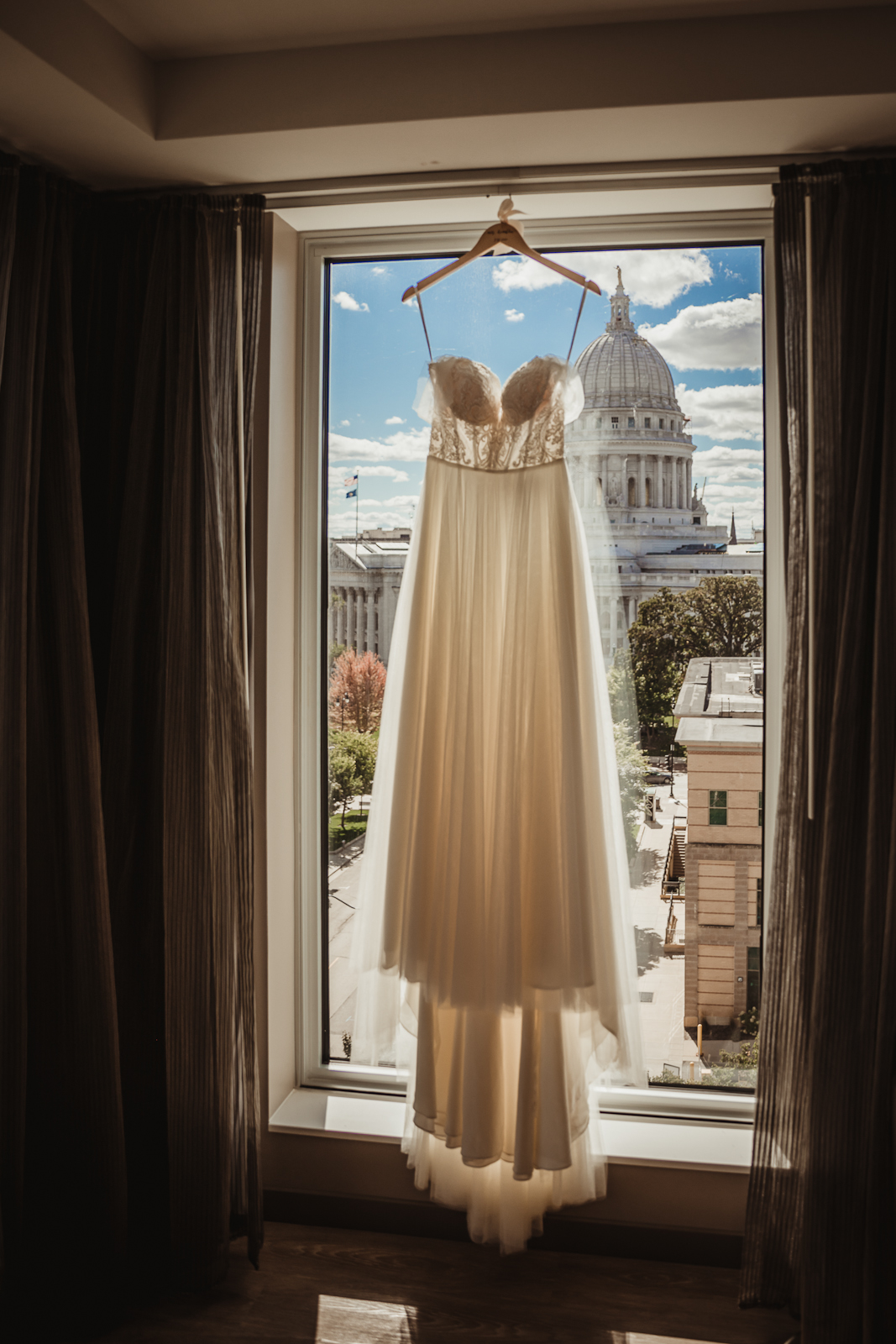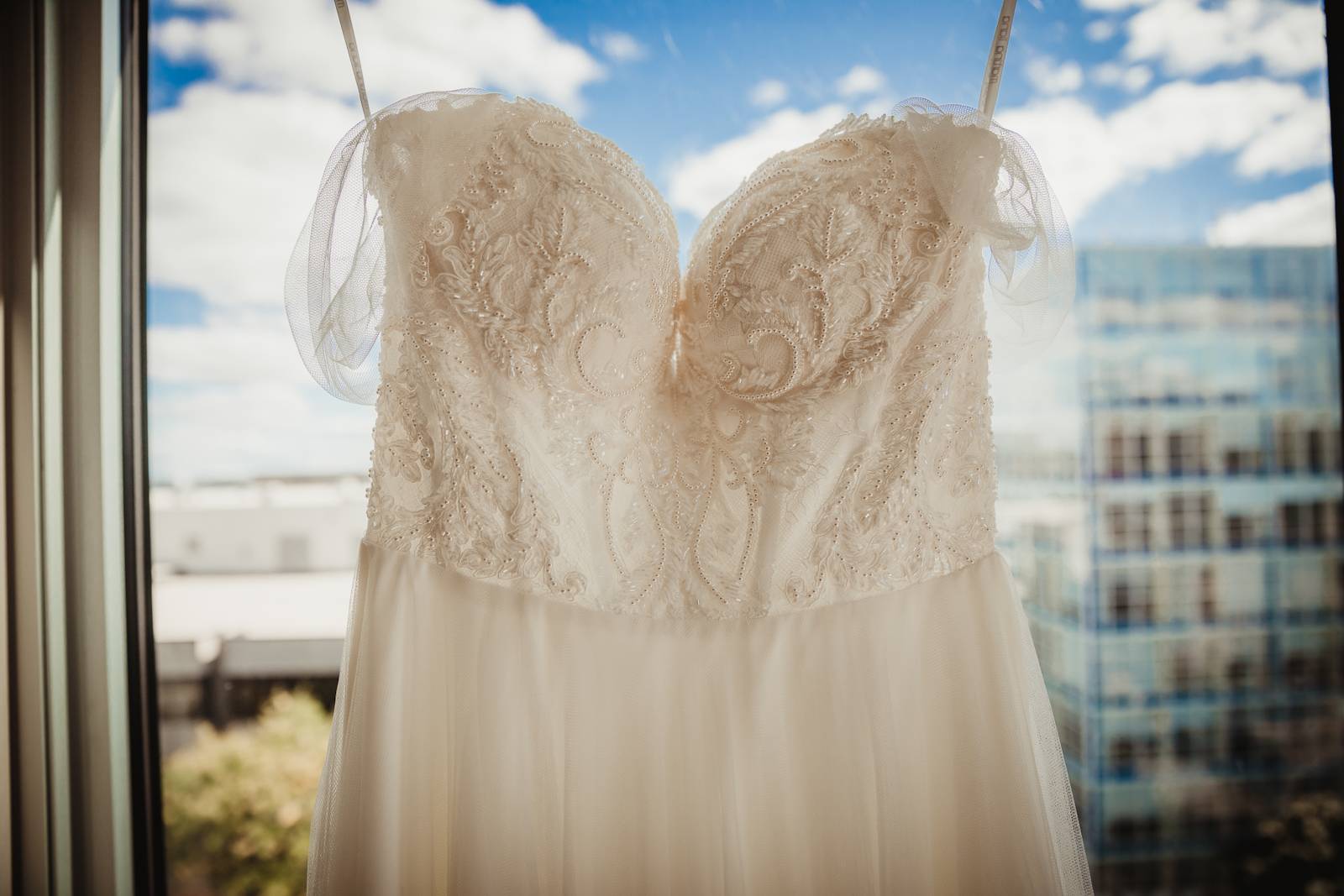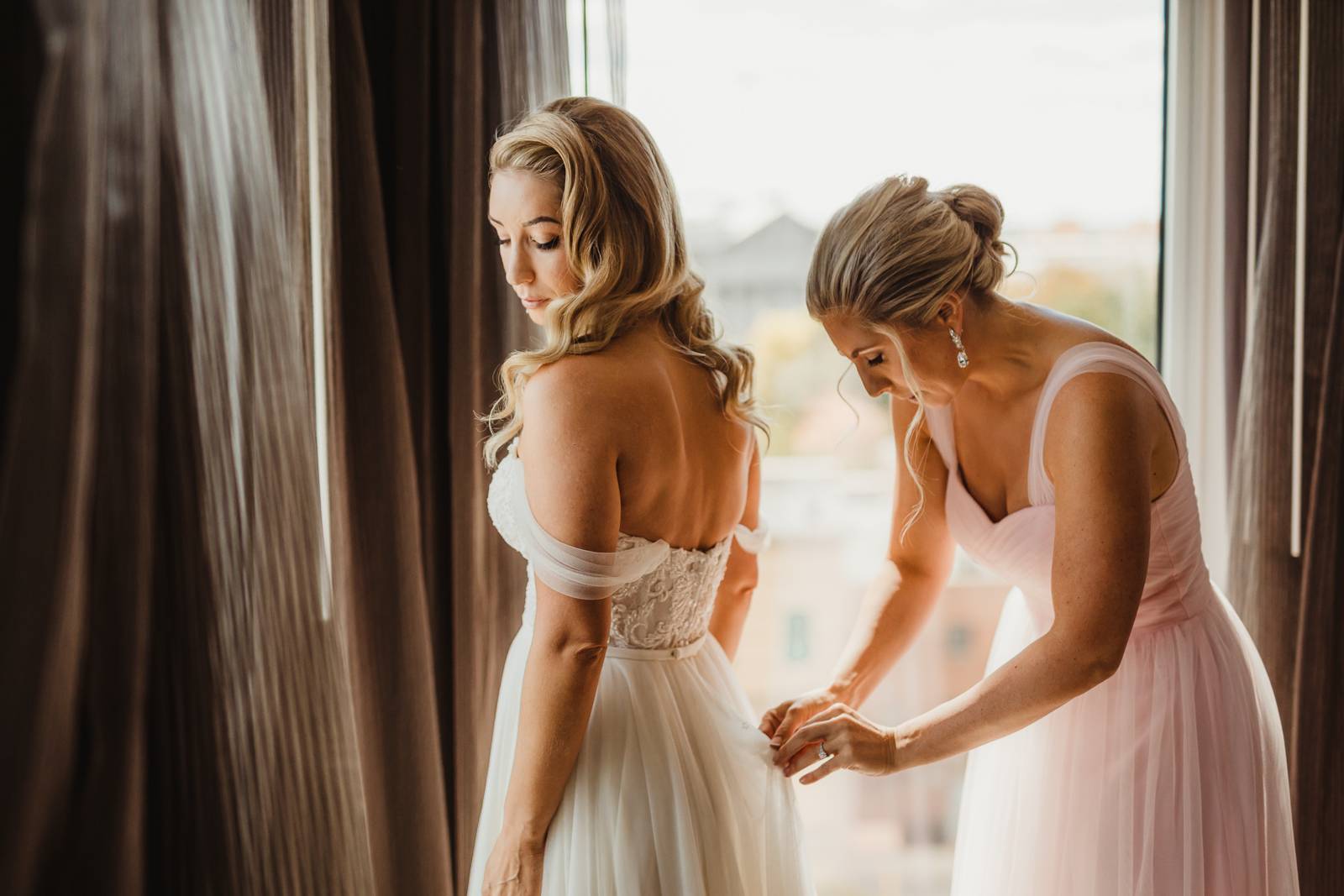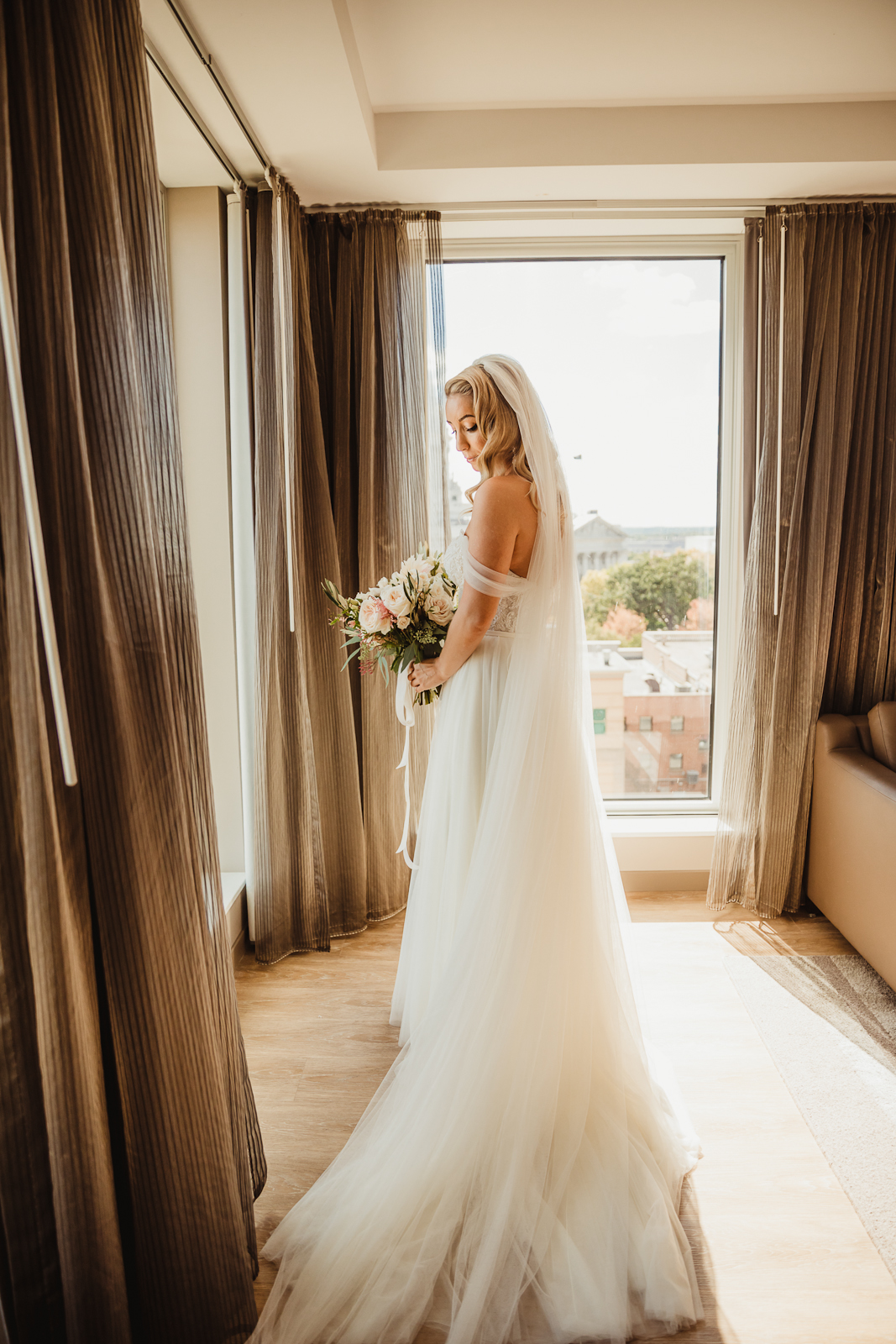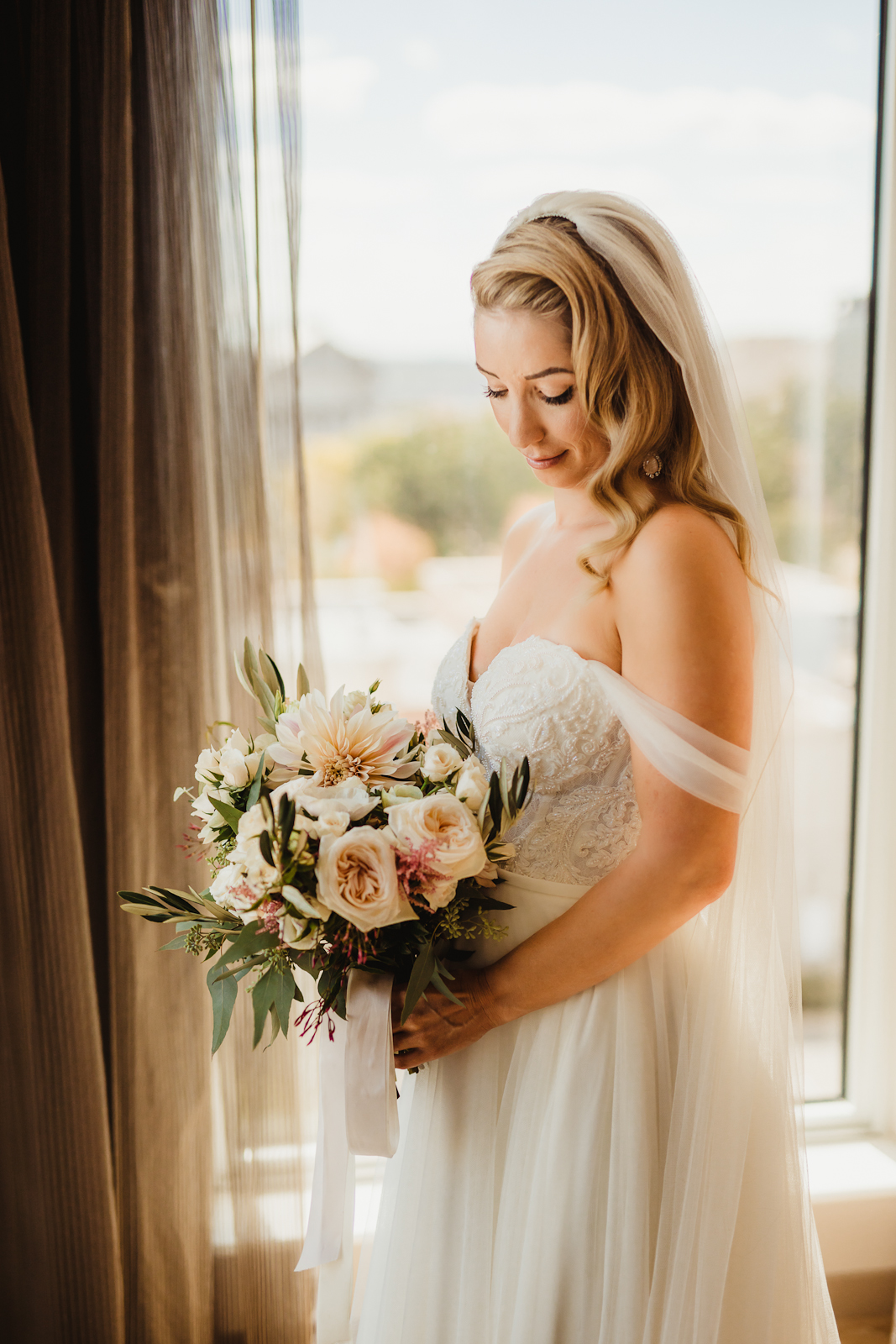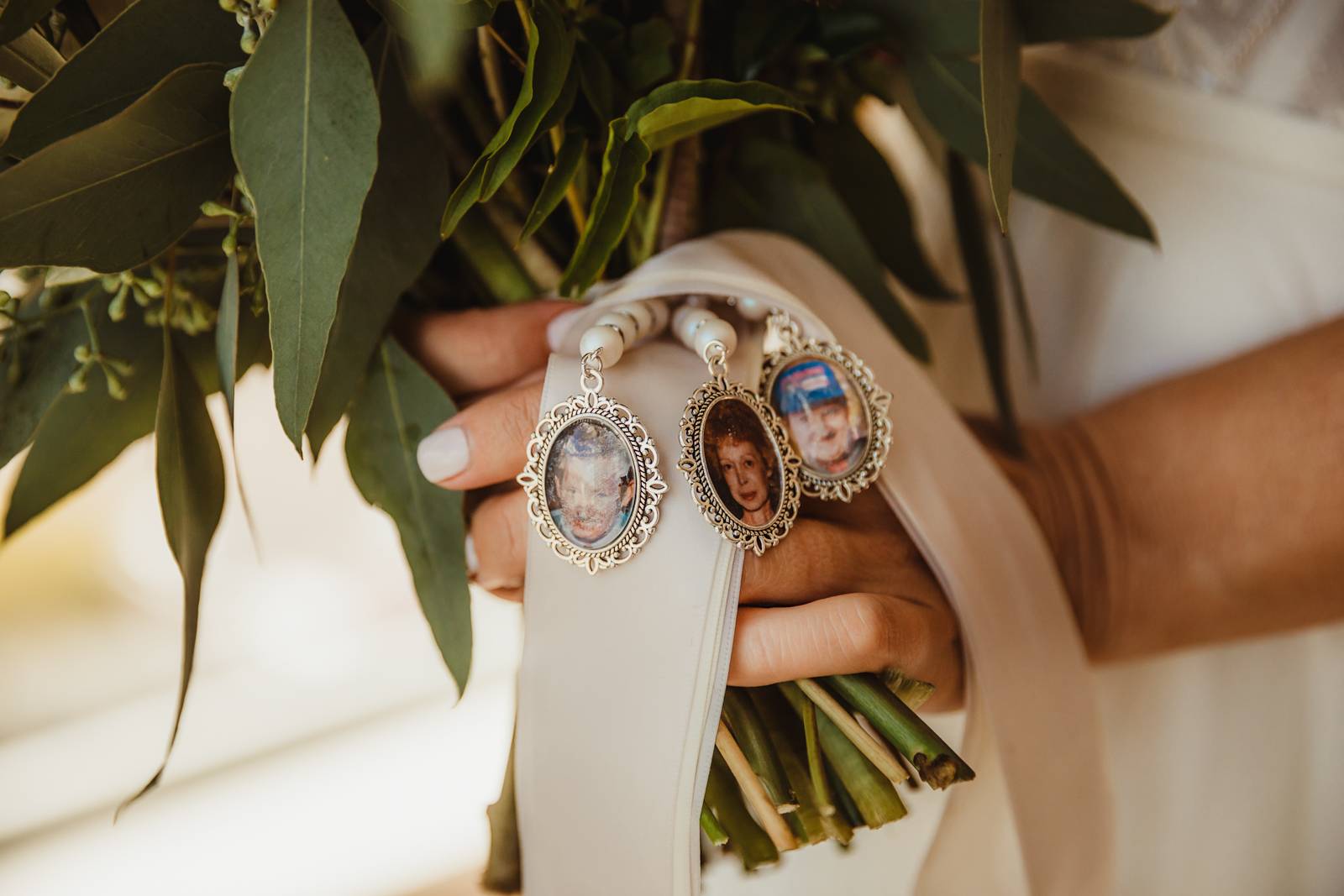 DESCRIBE YOUR WEDDING ATTIRE: Our wedding attire was true to our personalities - comfortable yet stylish, and my dress was flowy and romantic. Myles loves blue, so of course, he had to wear a blue suit, and I wanted to ensure my look was timeless, organic, and soft.
WERE THERE ANY PERSONAL TOUCHES OR DIY ELEMENTS? On my bridal bouquet, I had attached three charms for my grandparents, that are no longer with us, with their pictures. This was incredibly special to me to ensure they were there with me on our wedding day.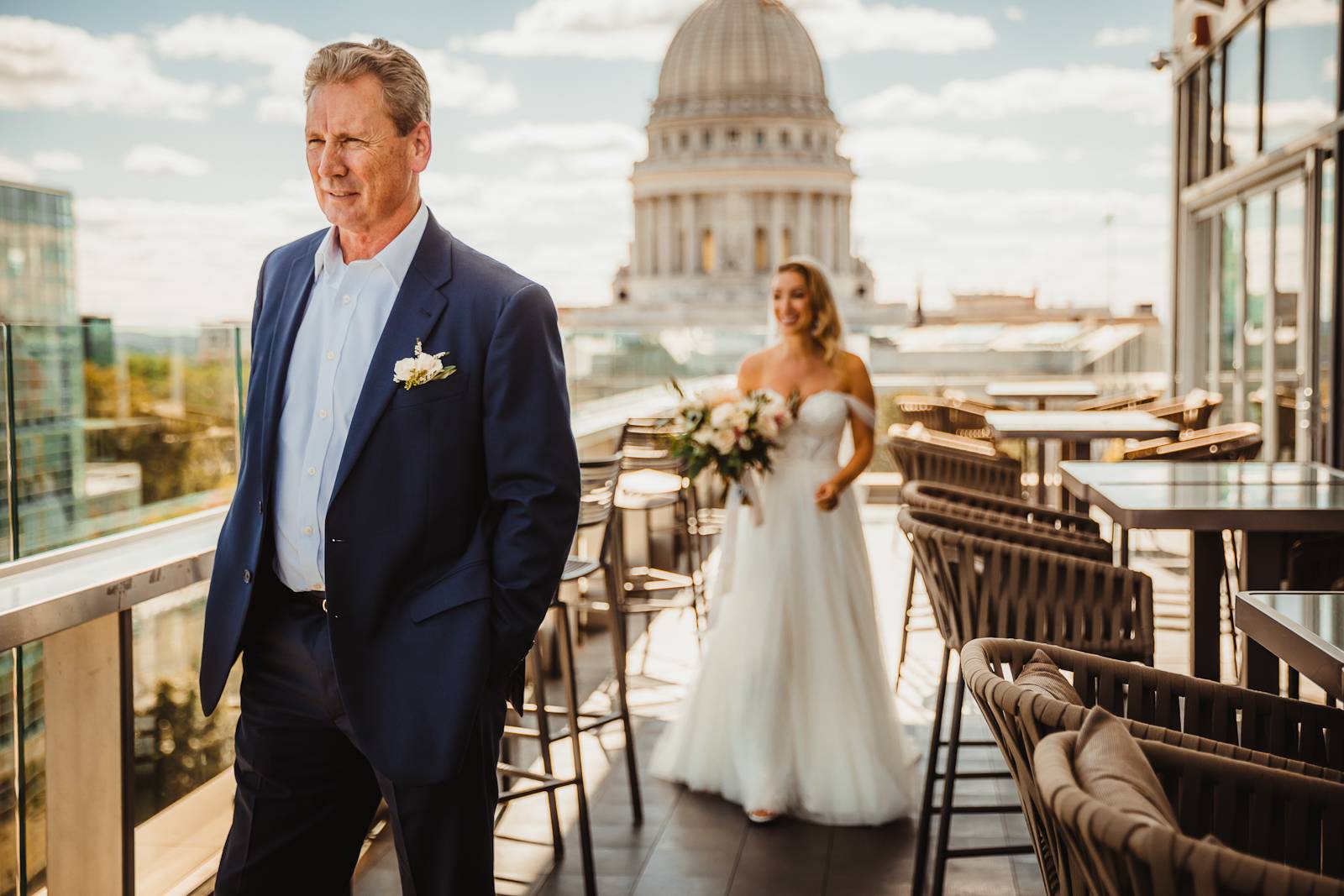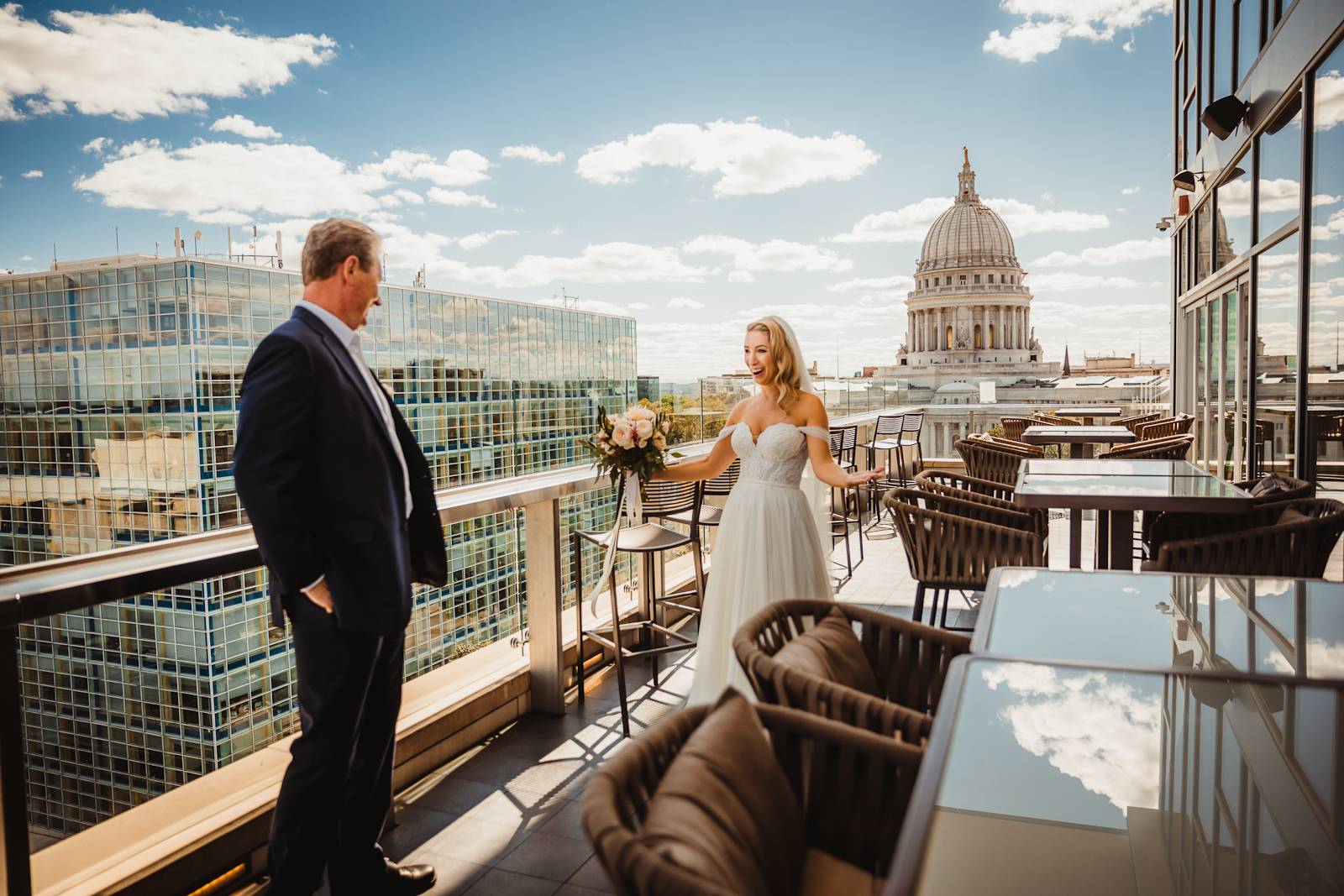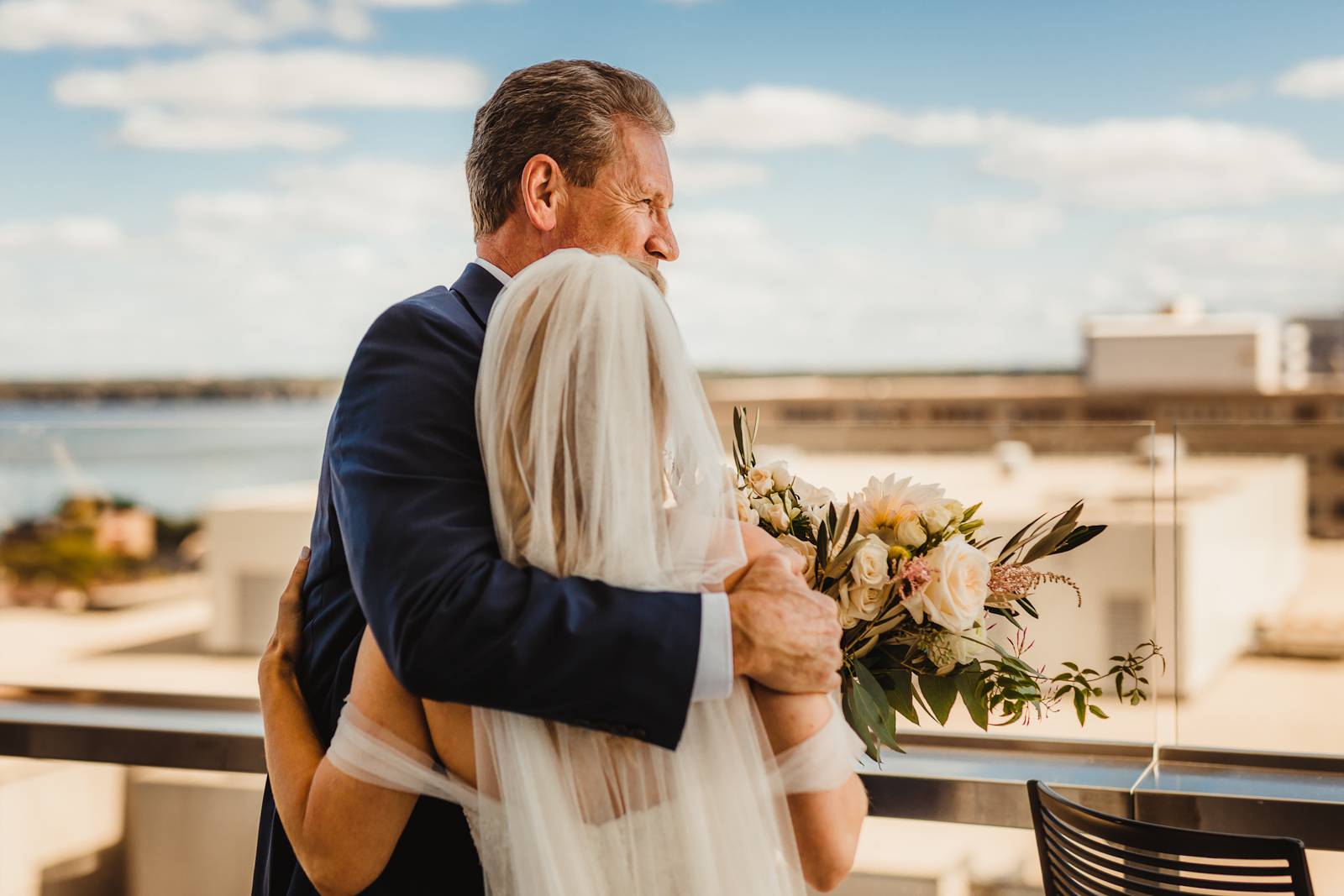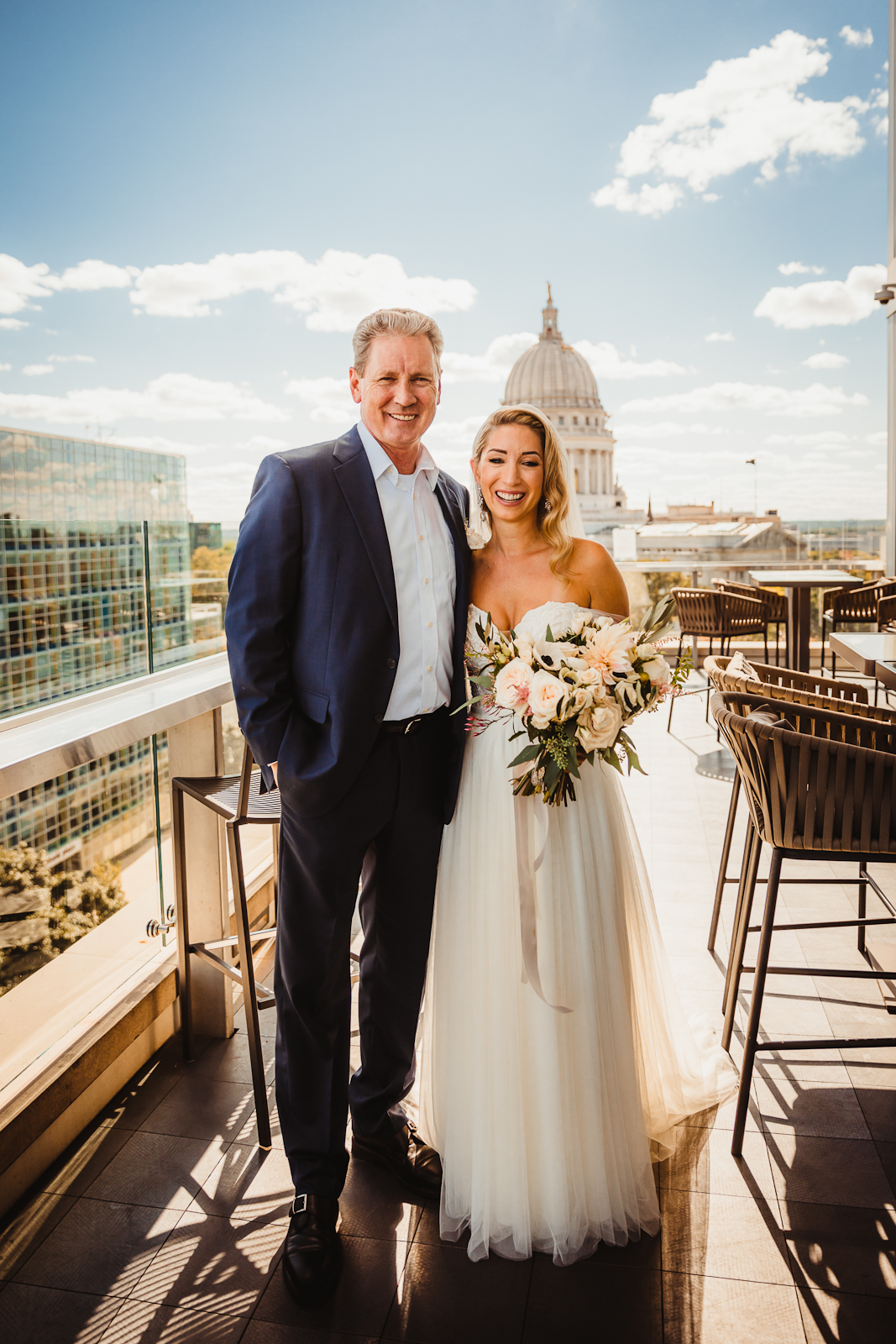 HOW WOULD YOU DESCRIBE YOUR WEDDING THEME/STYLE IN FIVE WORDS OR LESS? Romantic, blissful, modern
WHAT WAS YOUR WEDDING COLOR PALETTE? Blush pink, ivory, blue, and greenery accents.
DESCRIBE YOUR WEDDING FLOWERS: Lots of roses, large blooms with different textures, mainly light pink, white, and ivory, with pops of navy blue and organic greenery.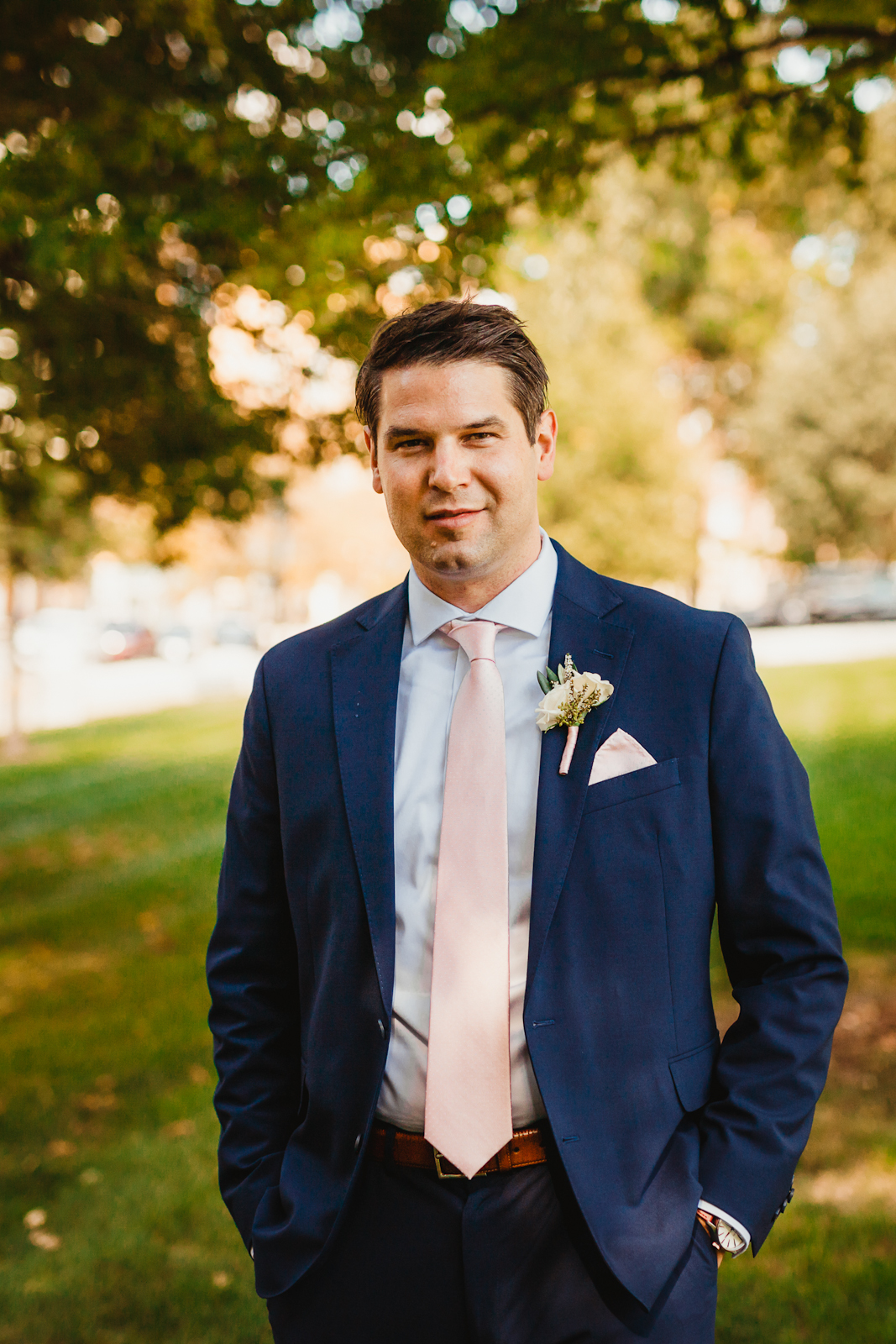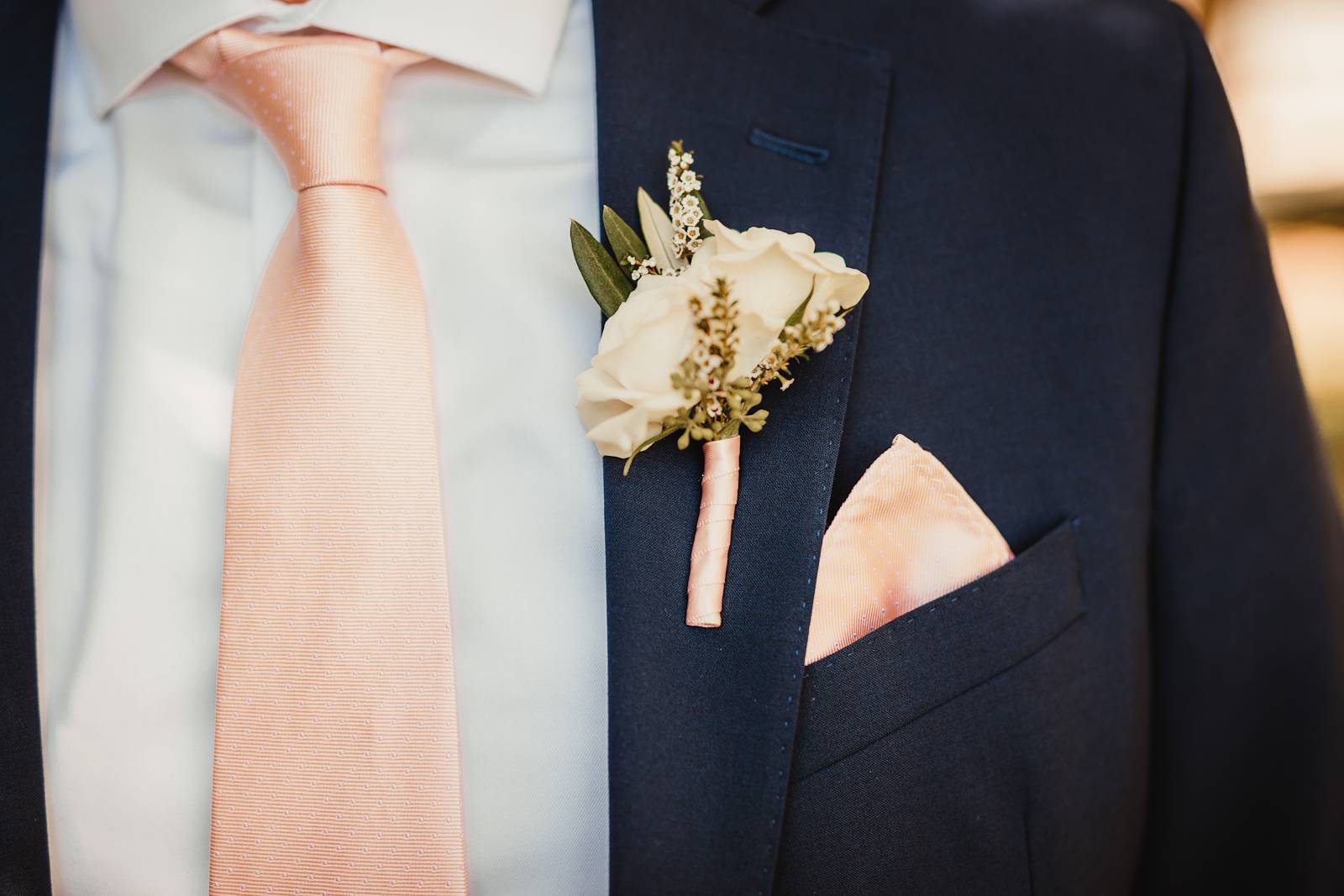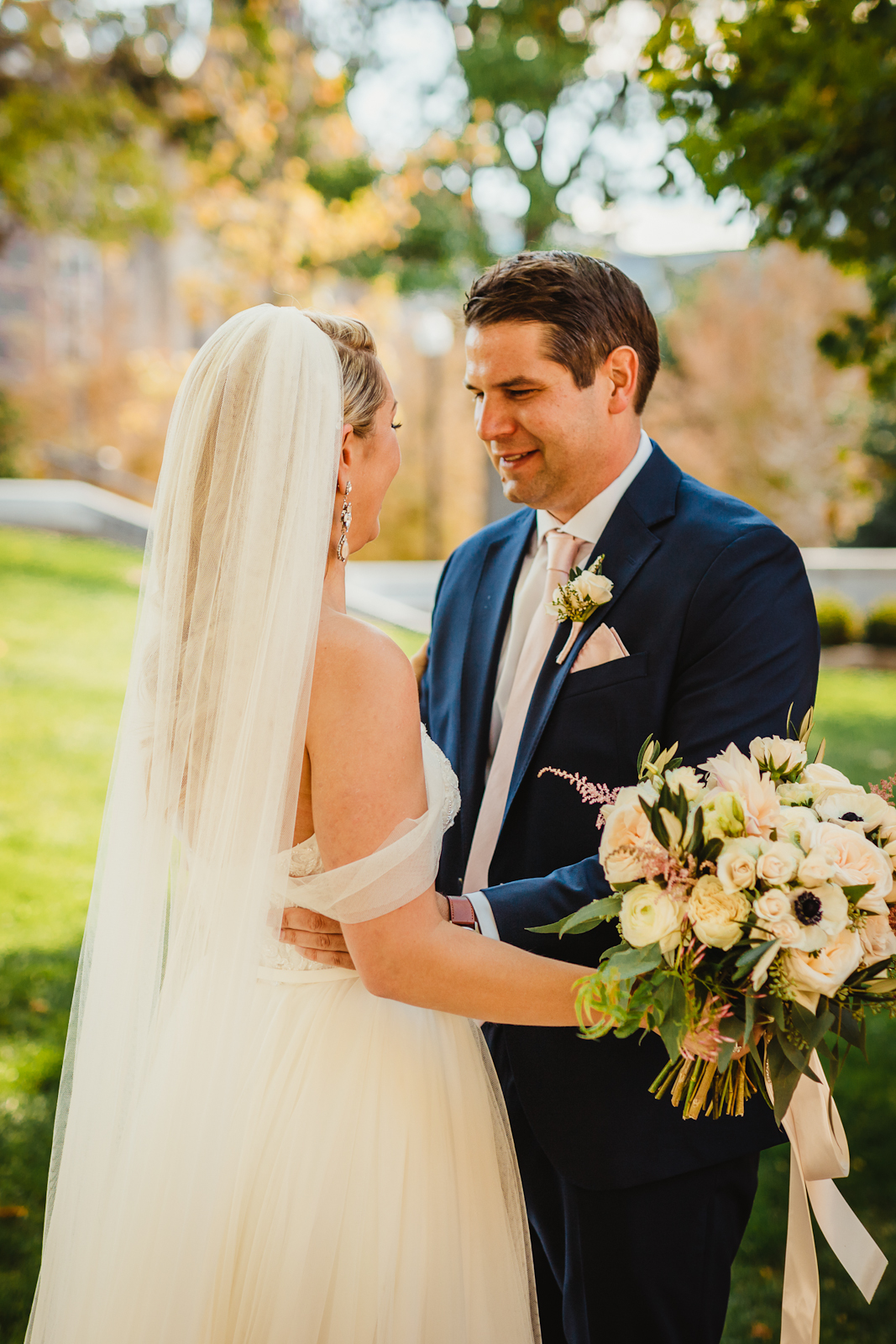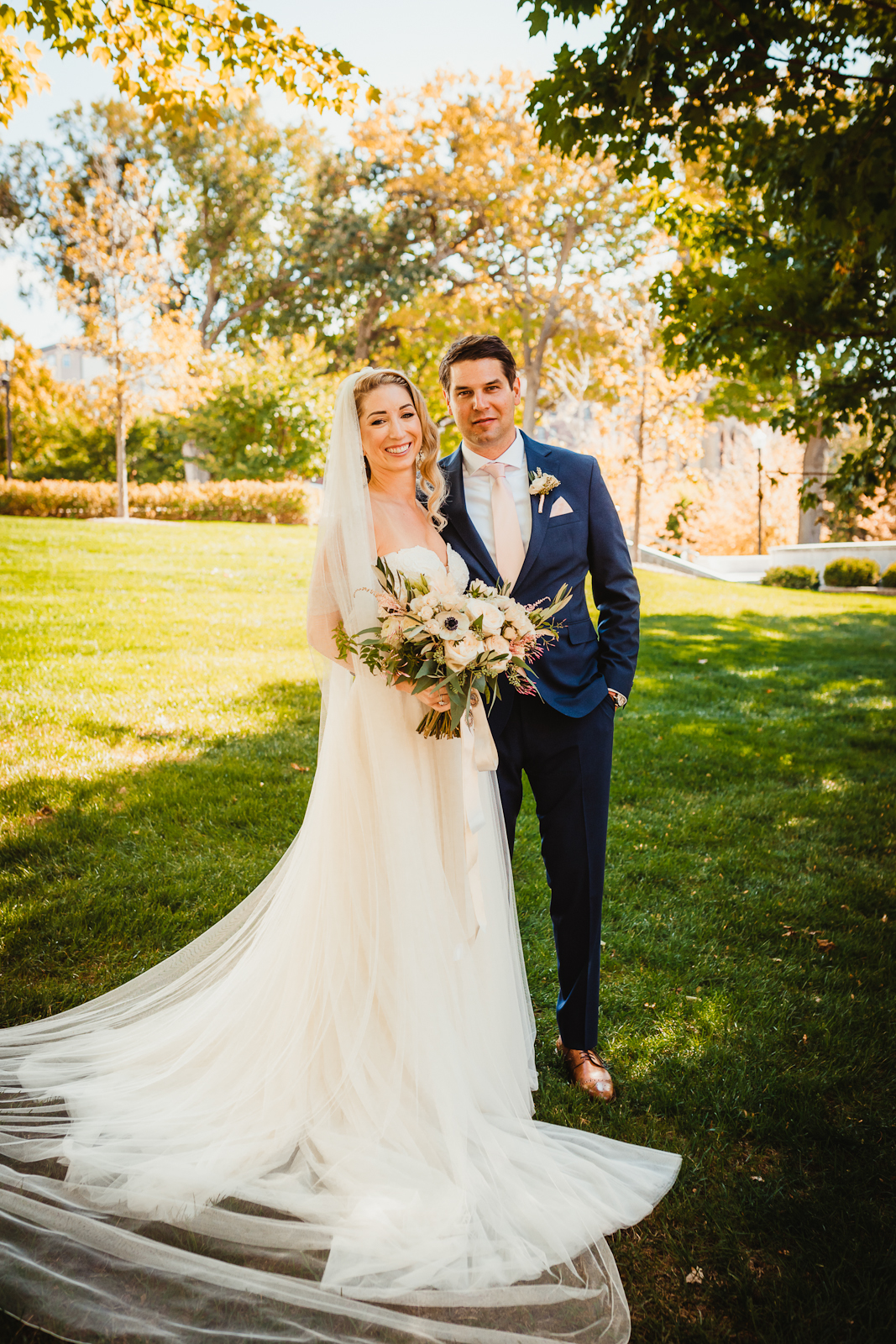 WHAT WAS YOUR INSPIRATION/DESIGN CONCEPT FOR YOUR OVERALL CEREMONY AND RECEPTION DECOR? I love pastel colors and wanted something very feminine, pretty, and romantic with the blush pinks, whites, and ivories, but Myles loves bold, dark colors, so we decided to include pops of navy blue. This married our styles perfectly yet still stayed true to who we were individually.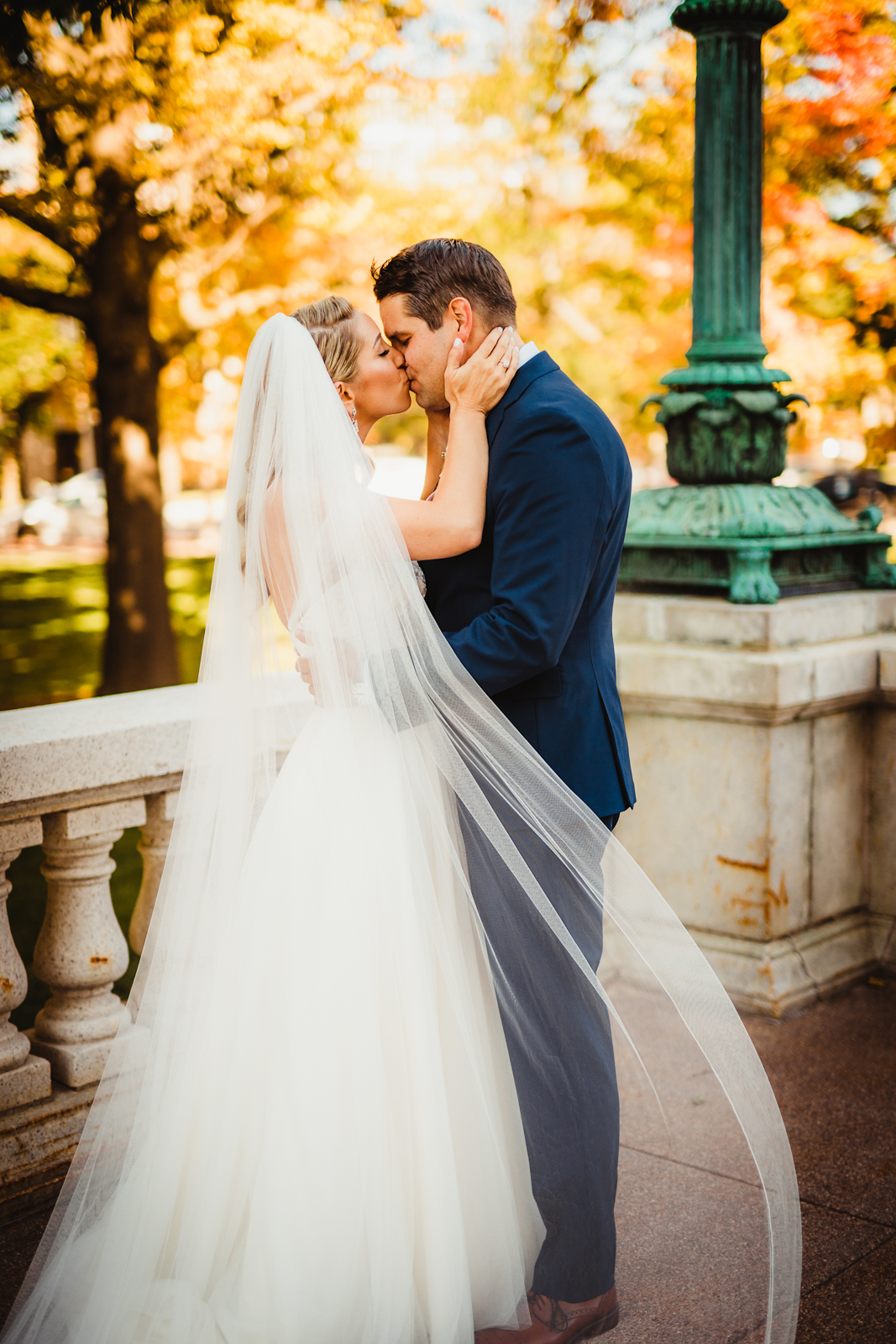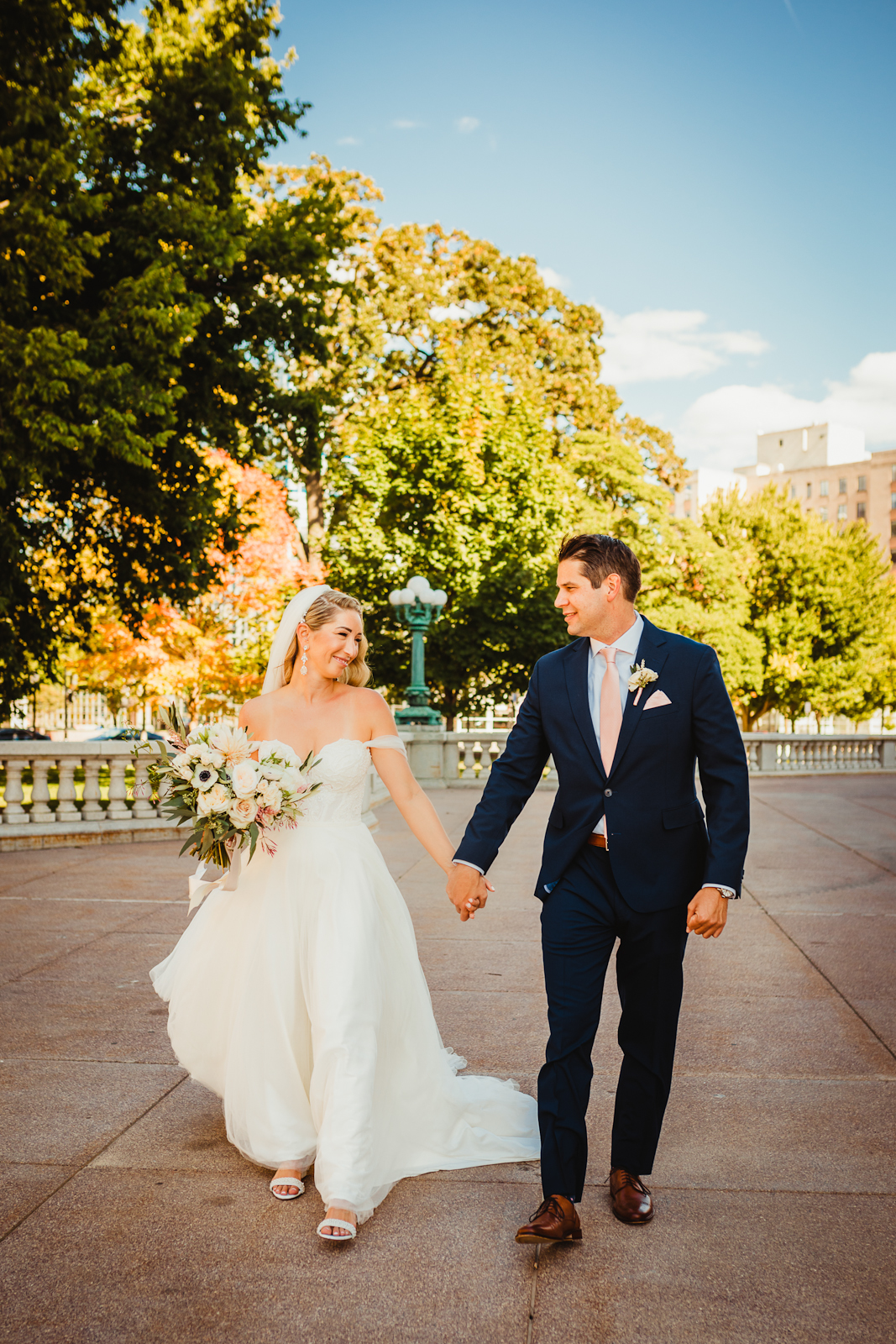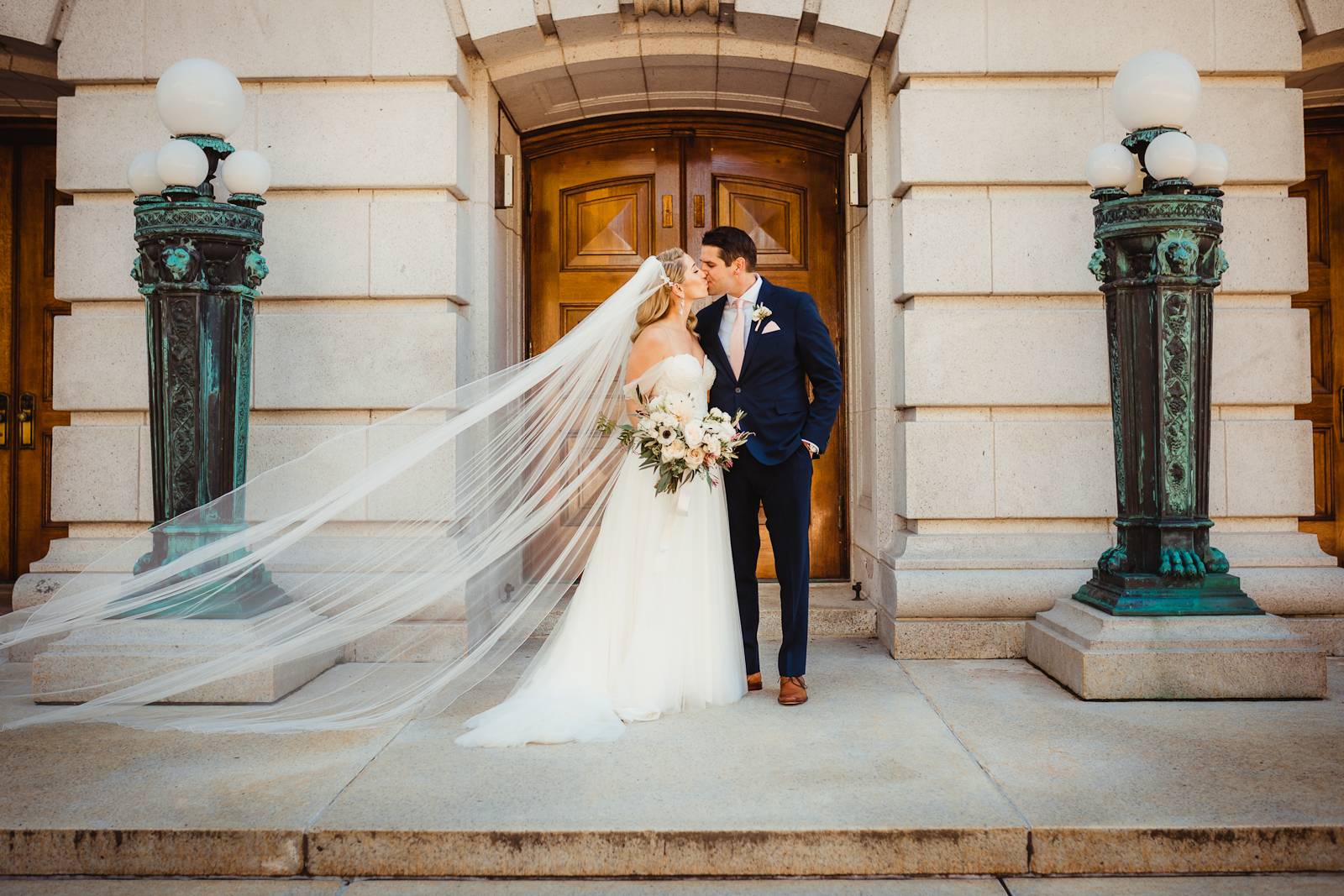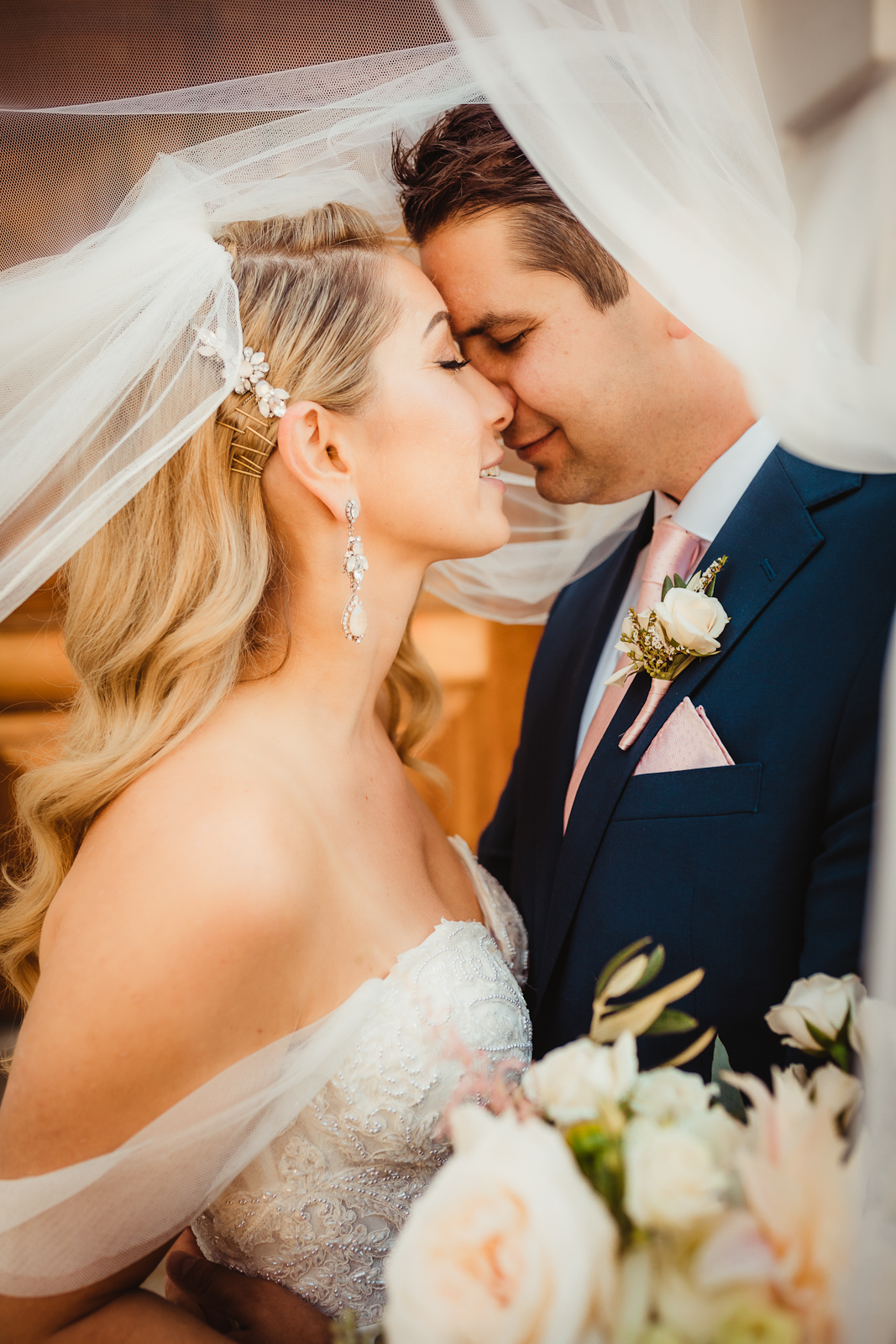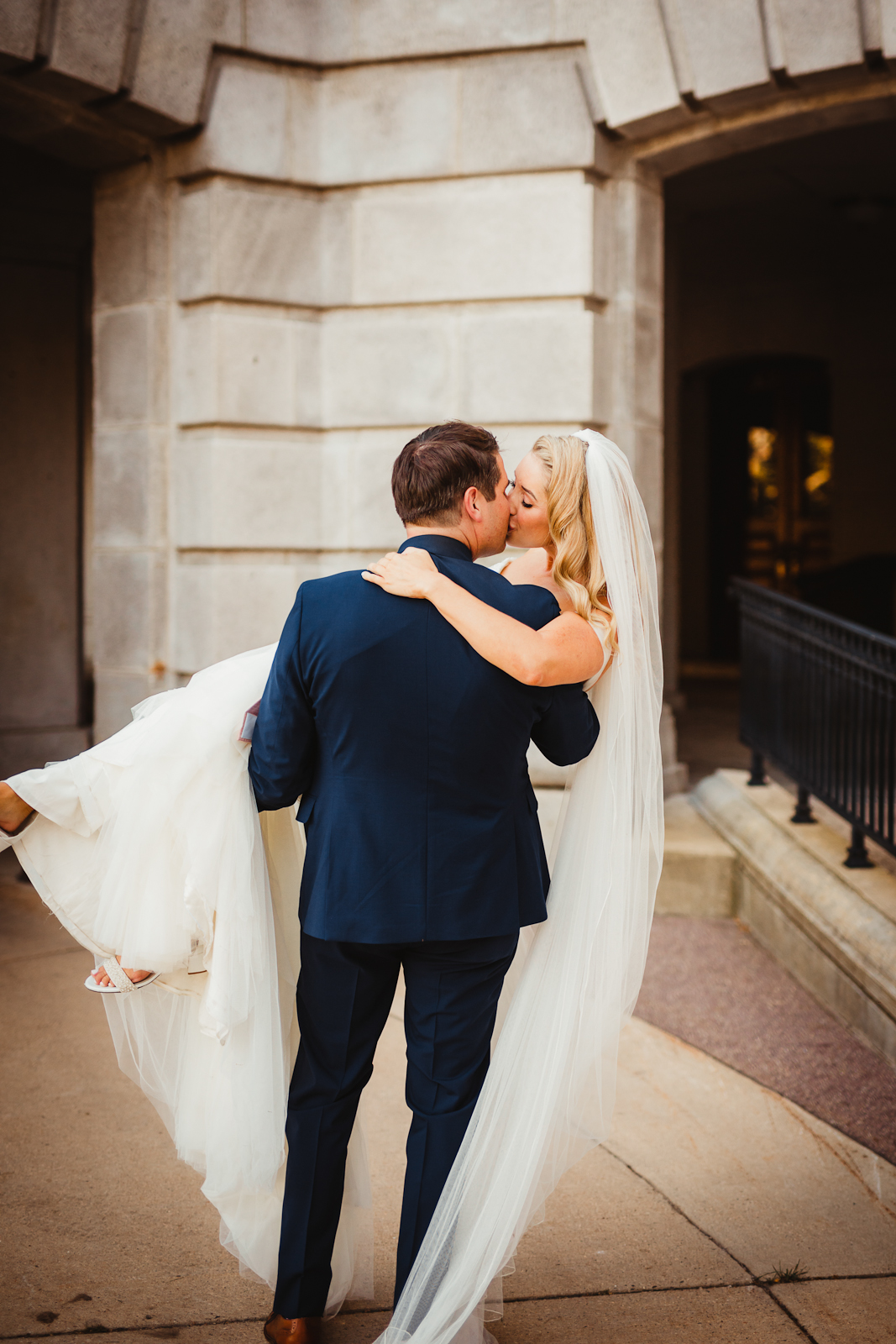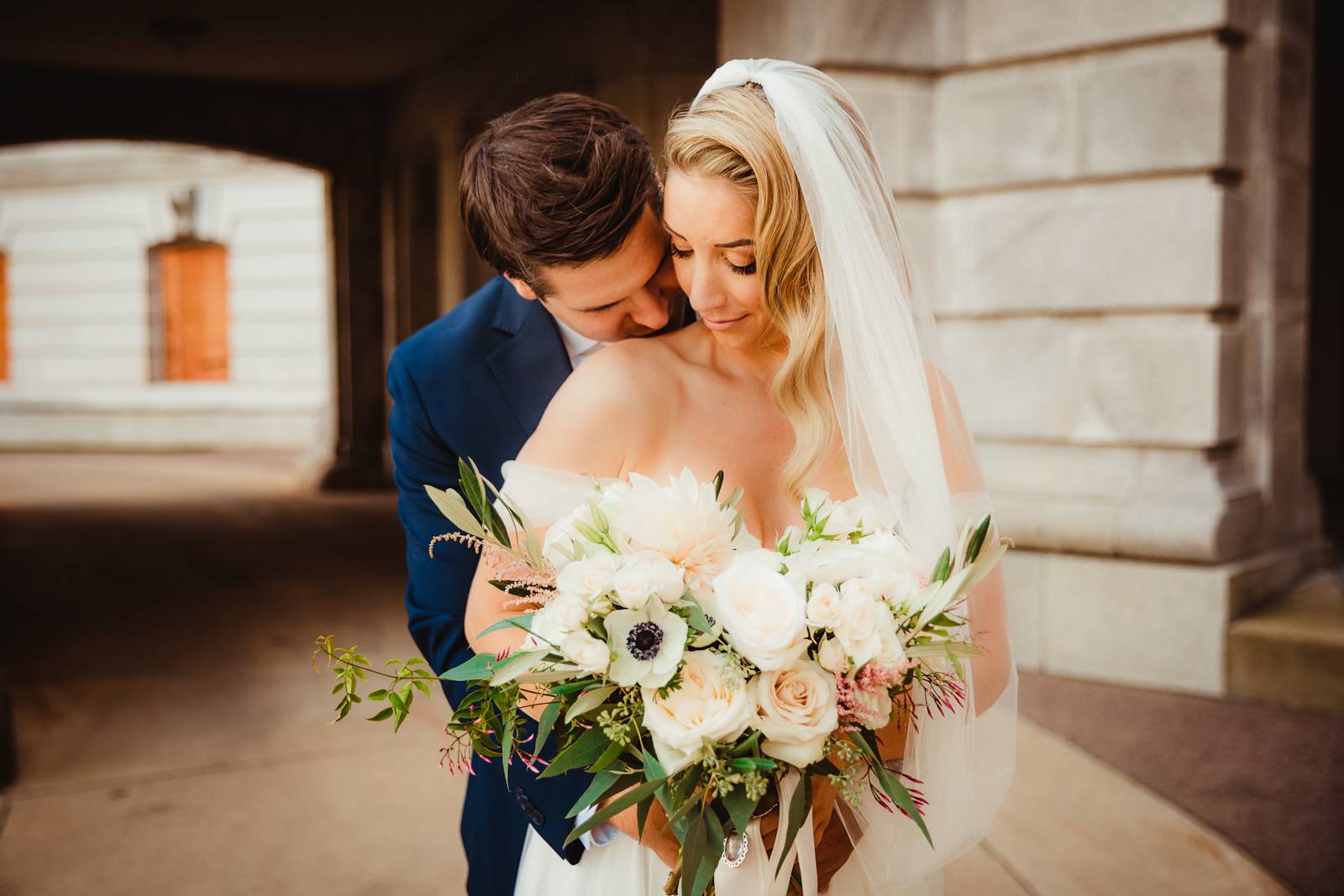 WHAT WAS YOUR FAVORITE MOMENT FROM YOUR WEDDING? My favorite moment was our first look, which we held on the Capitol lawn. I walked up behind him, tapped him on the shoulder, and he turned around with the biggest smile, and tears started streaming down his face. It was everything I wanted in that moment and so much more - a culmination of our entire 5.5 years together in that single moment.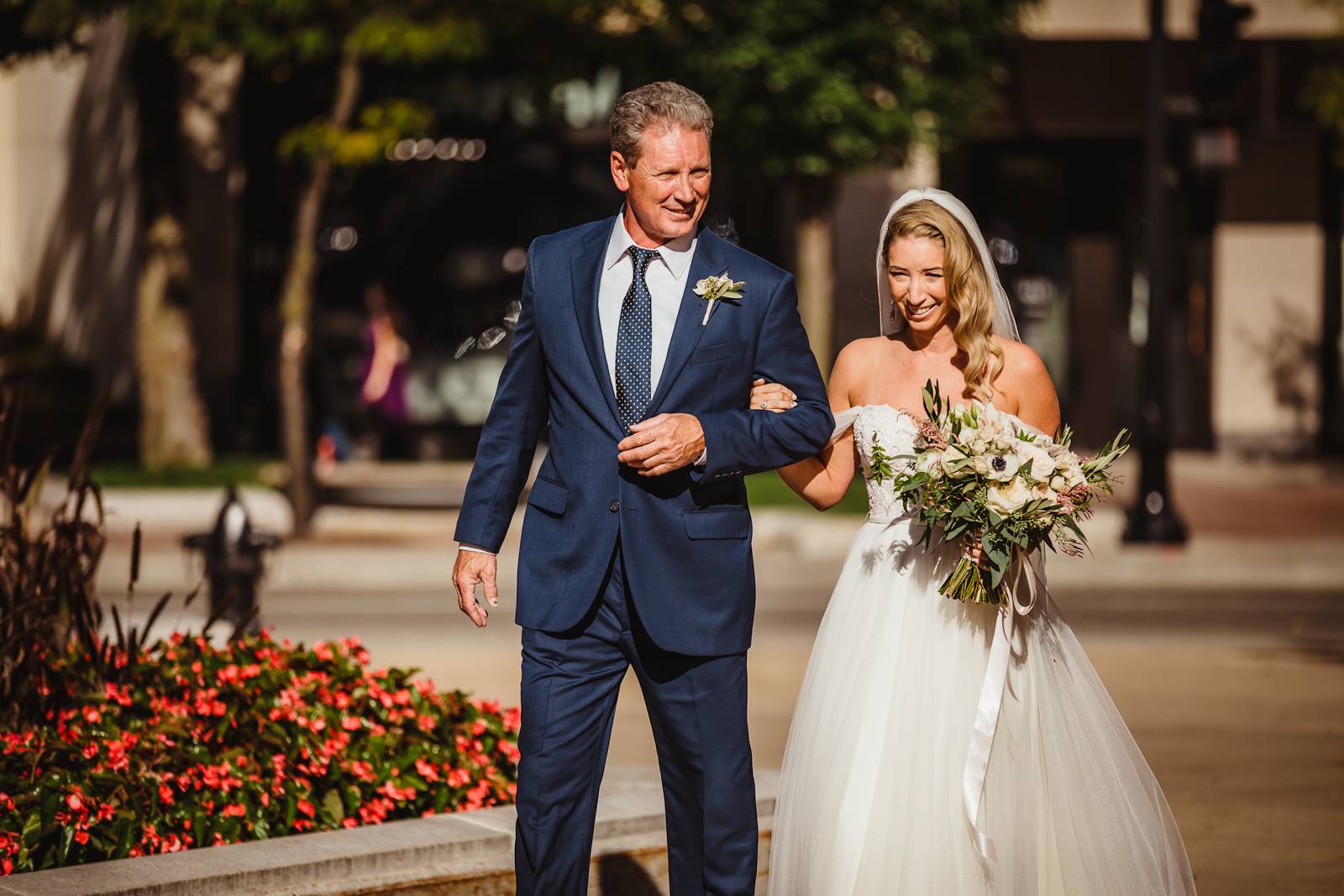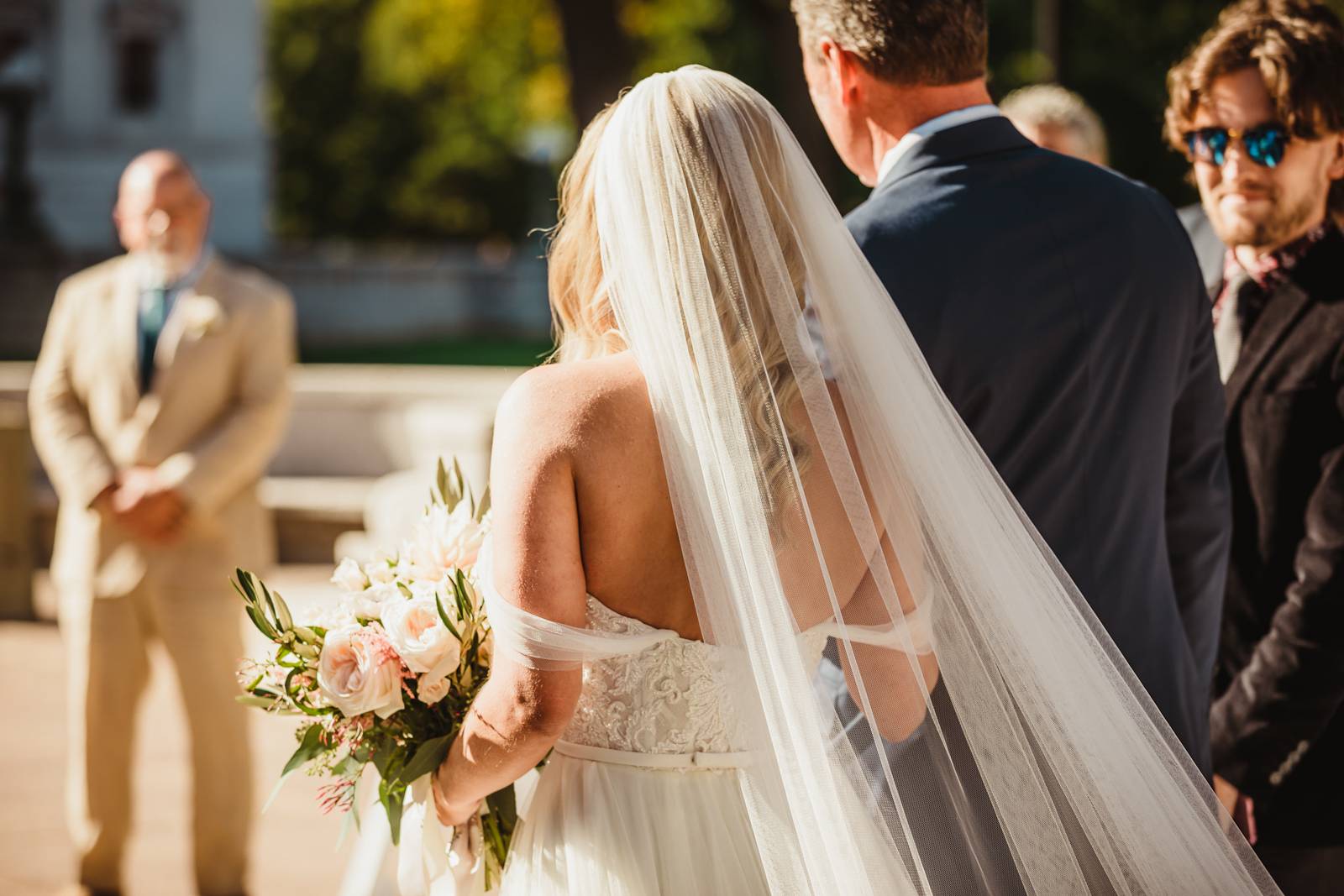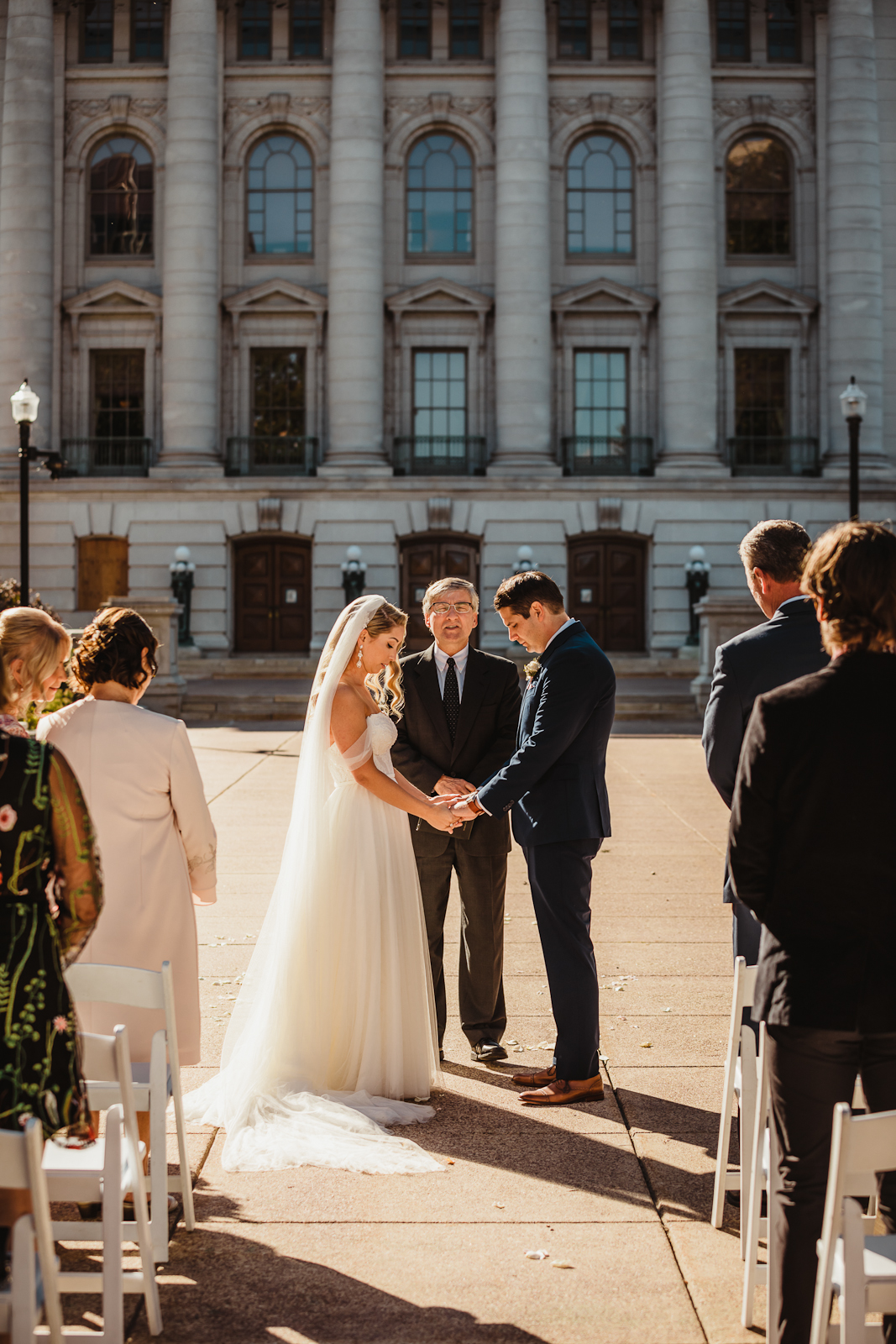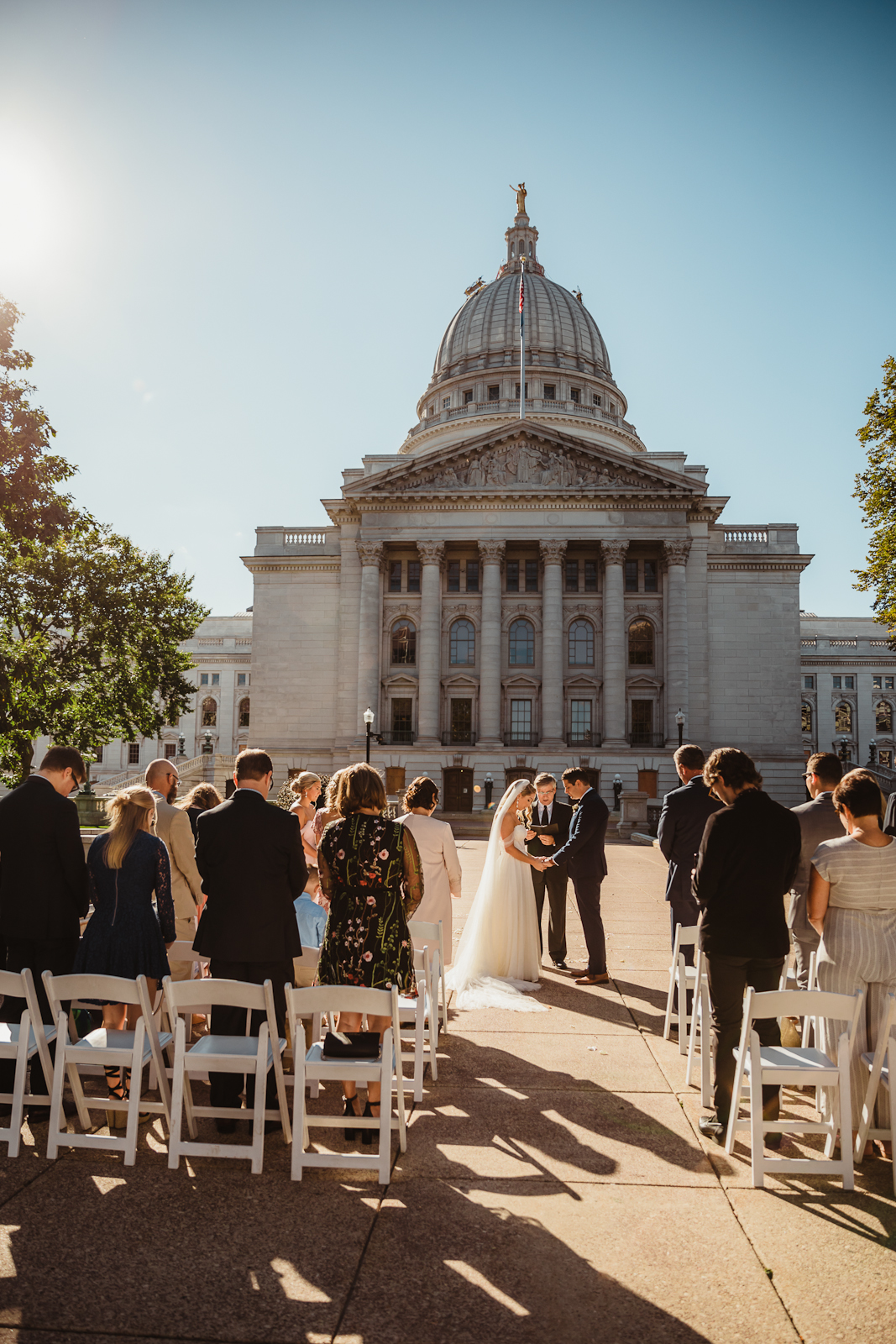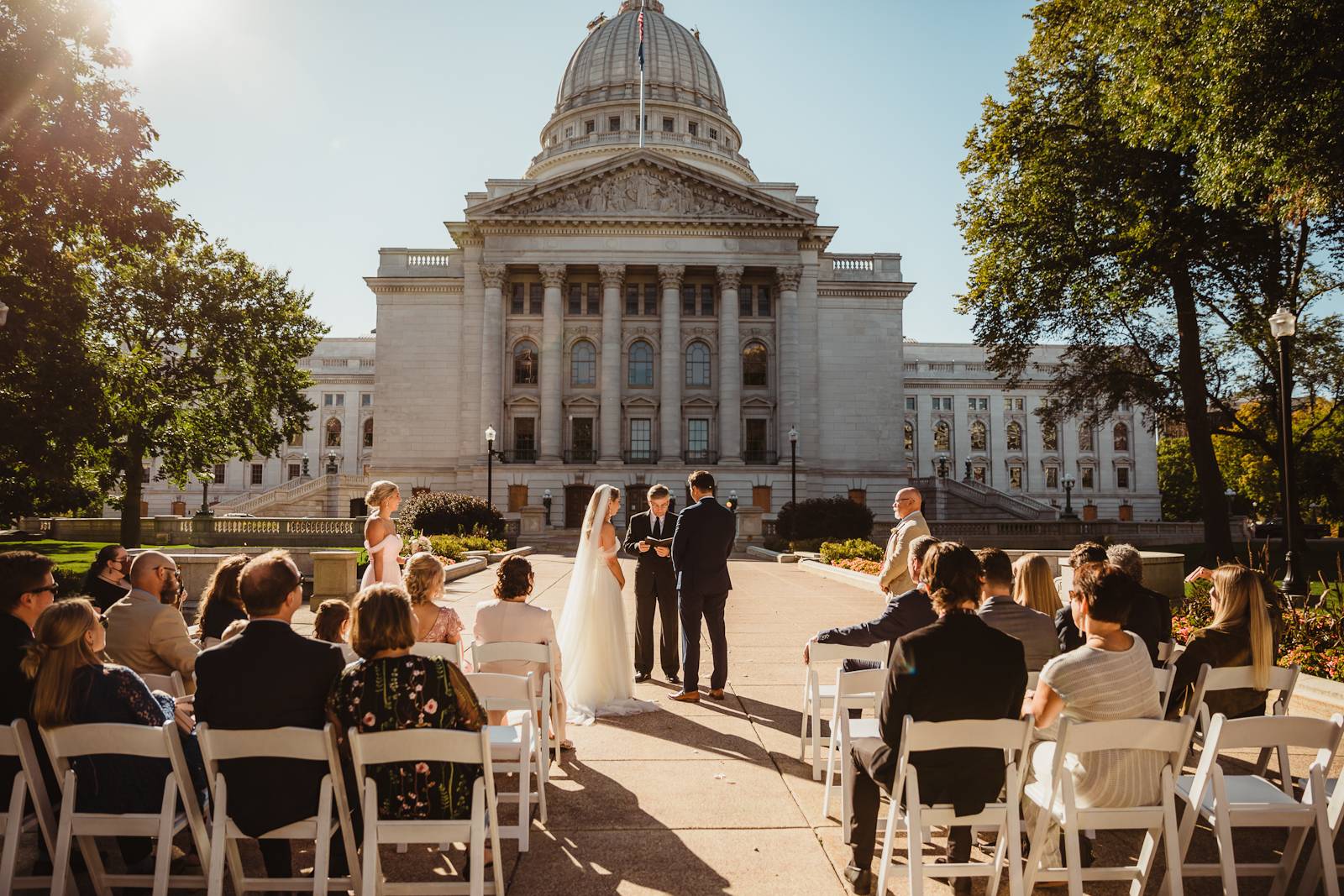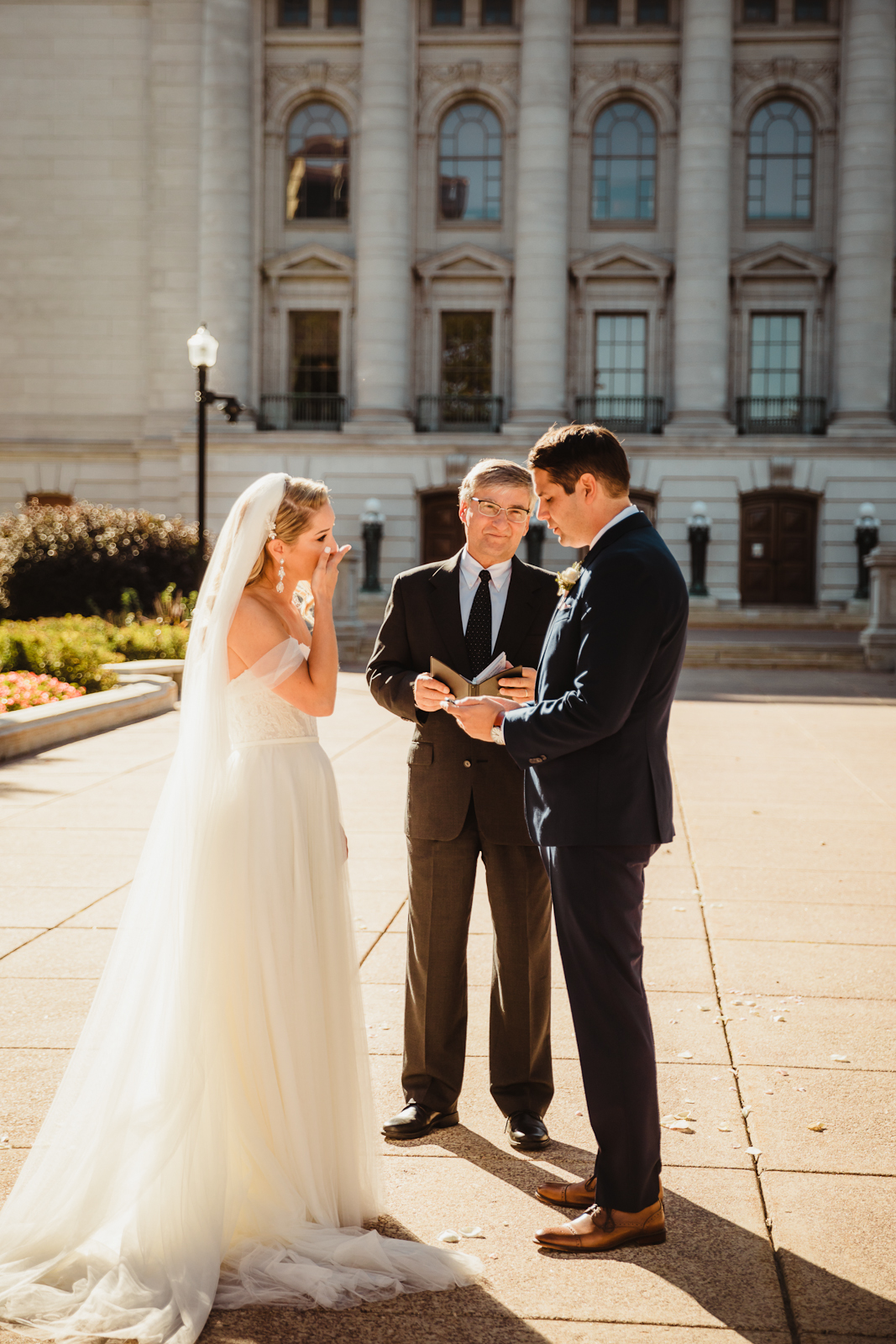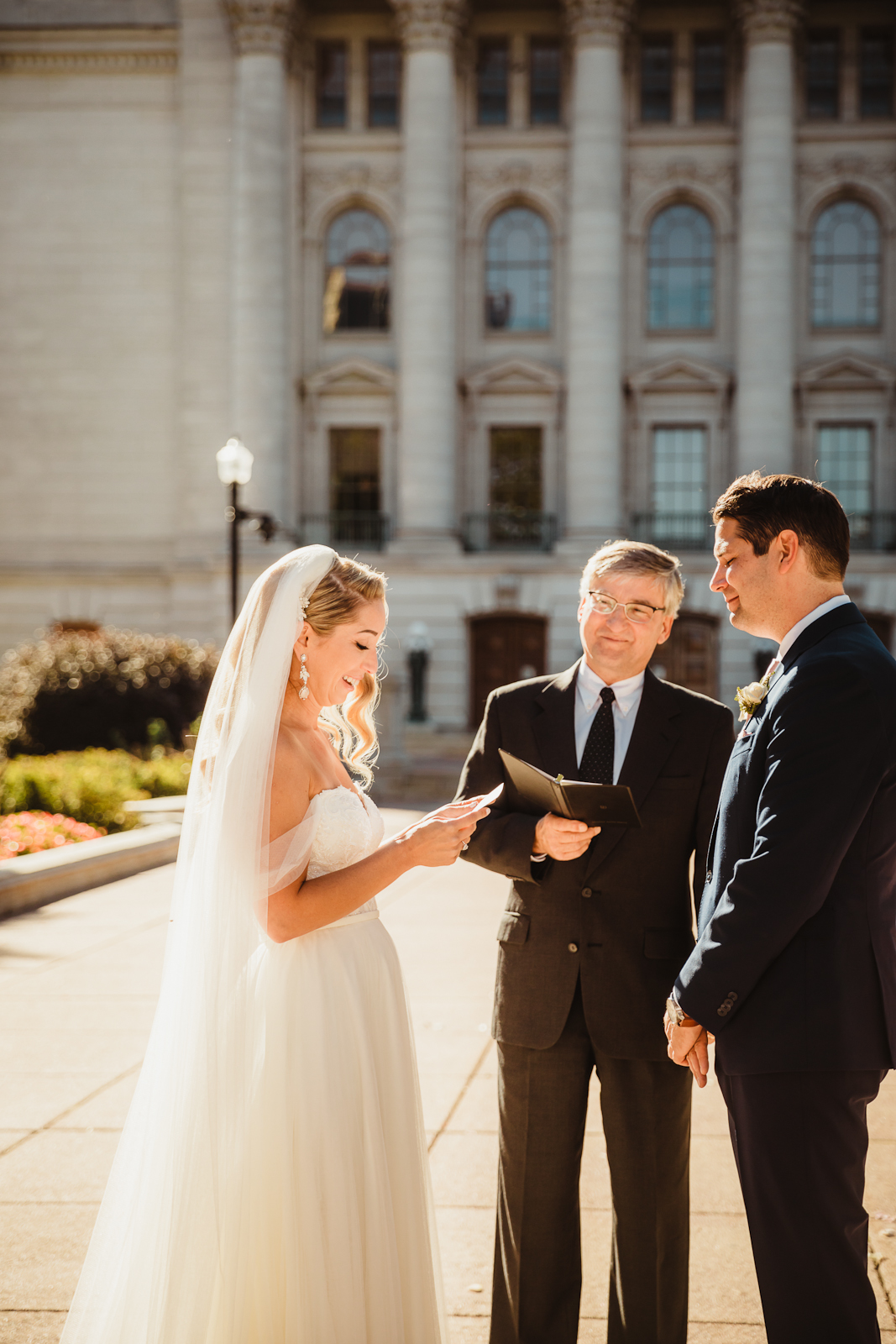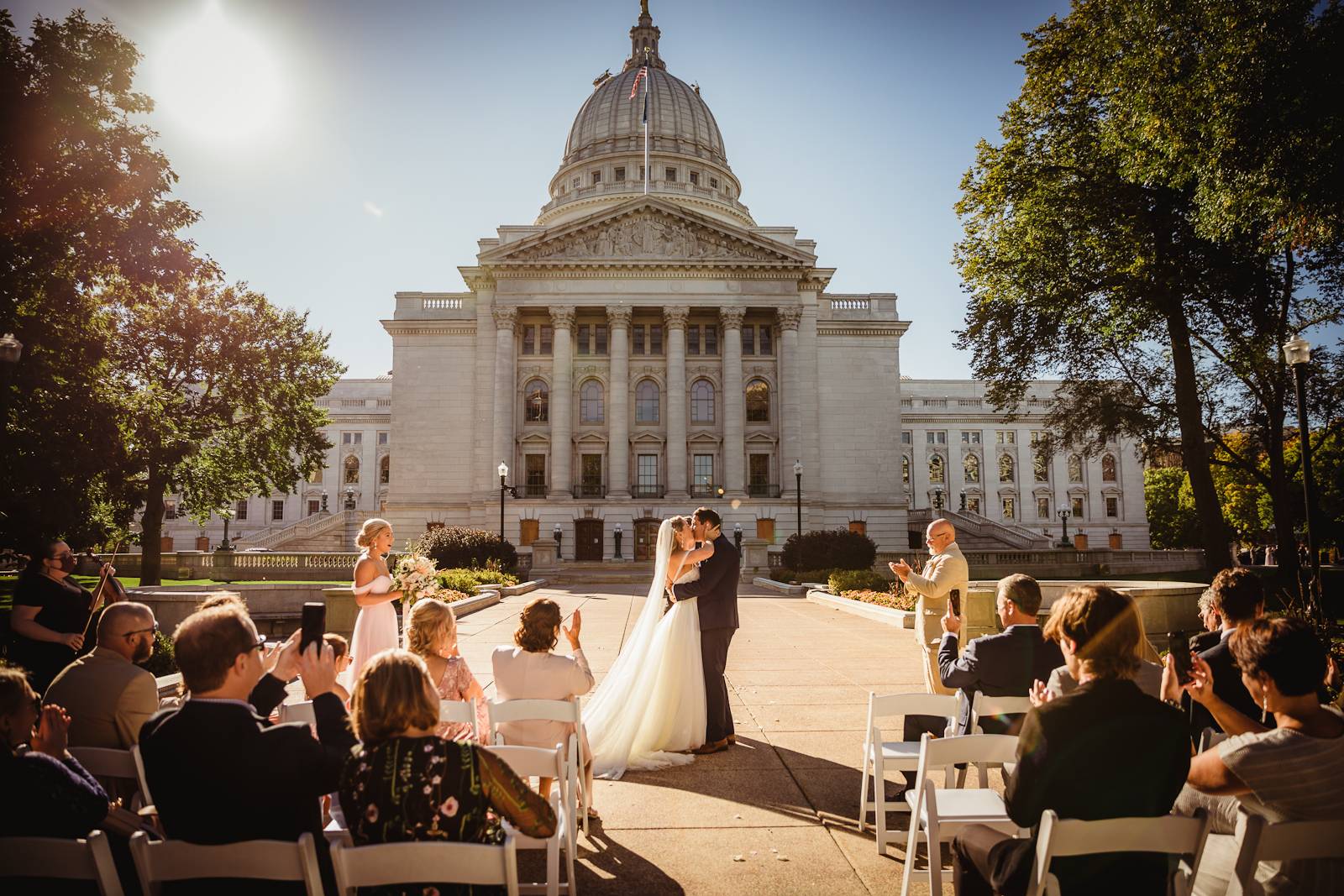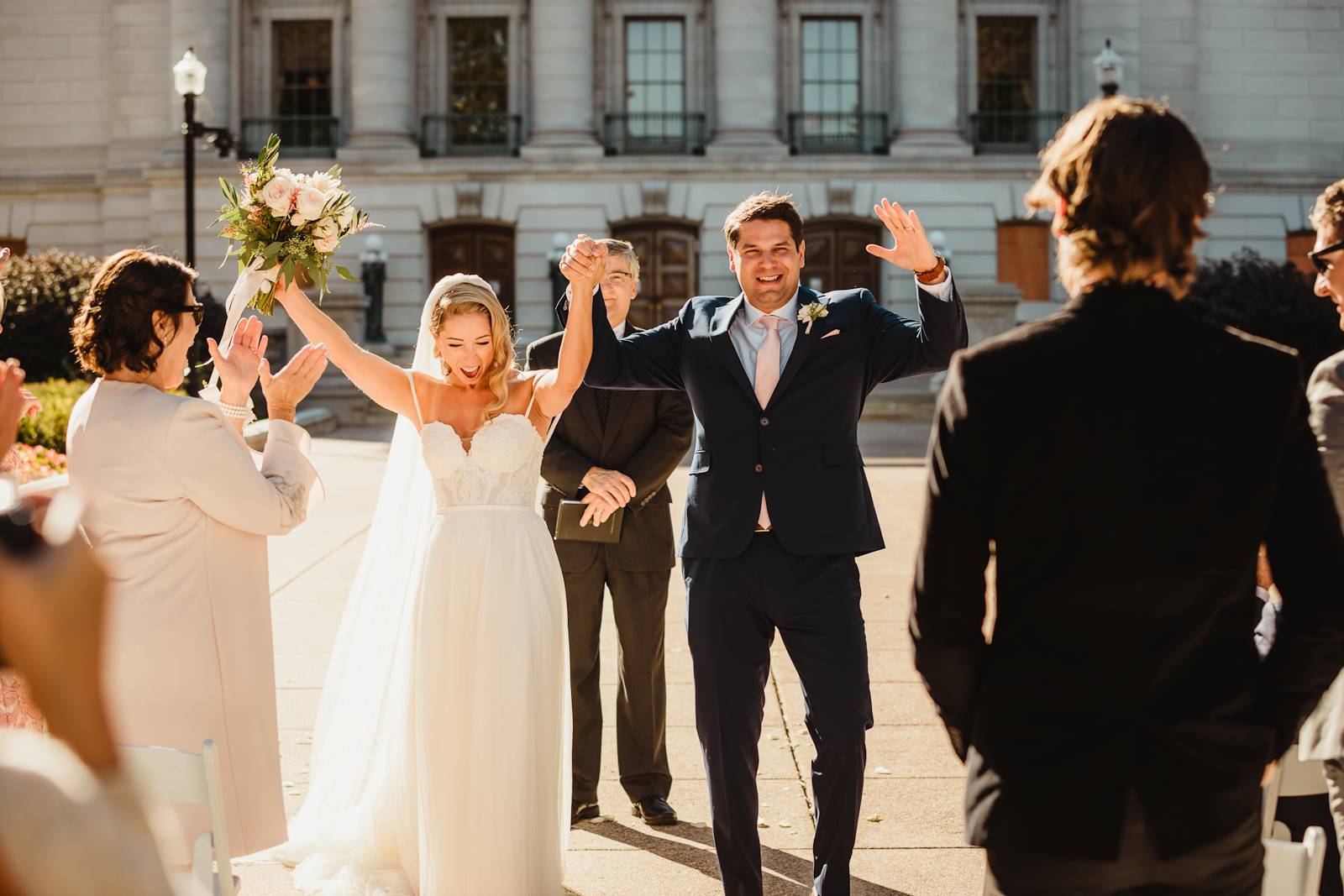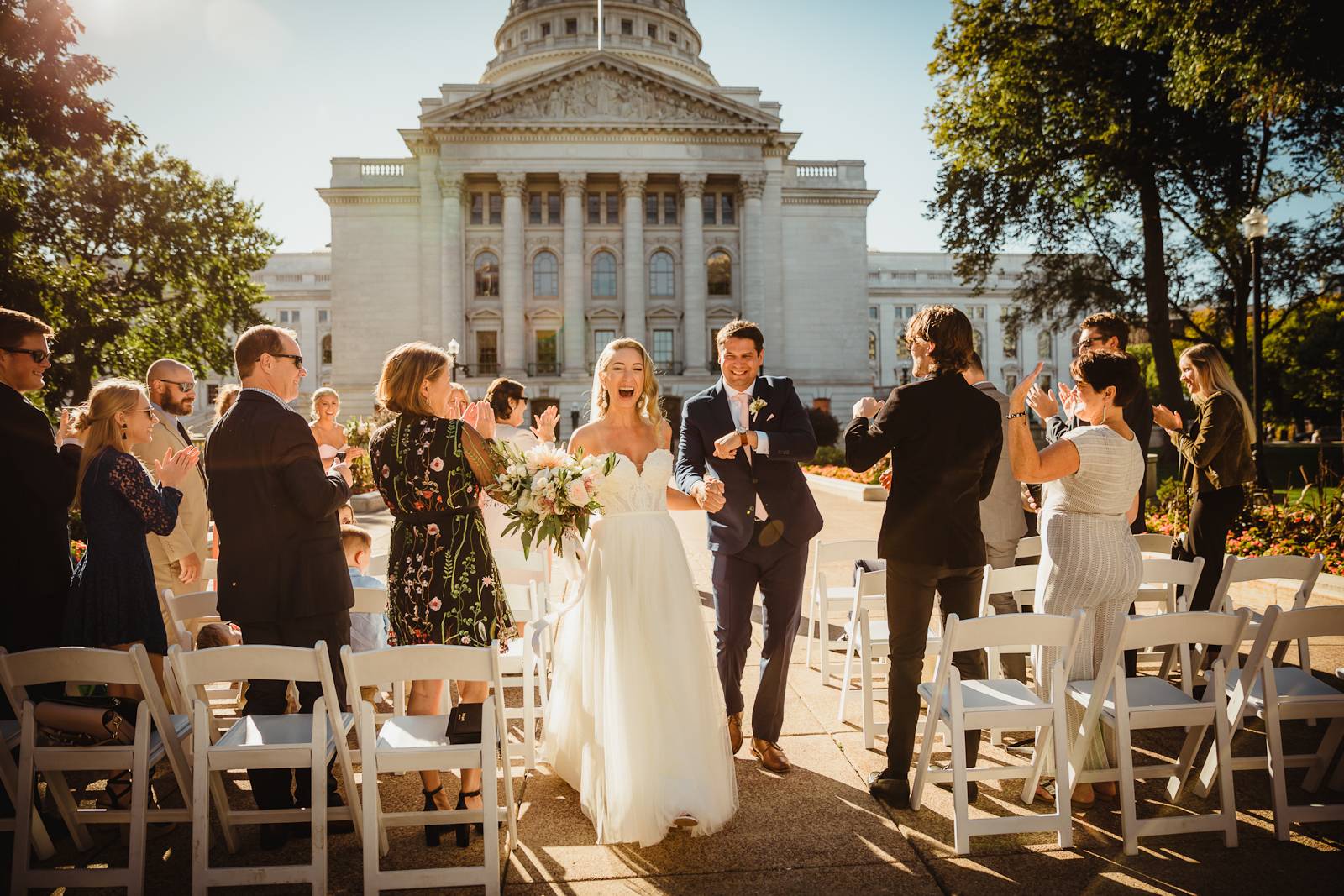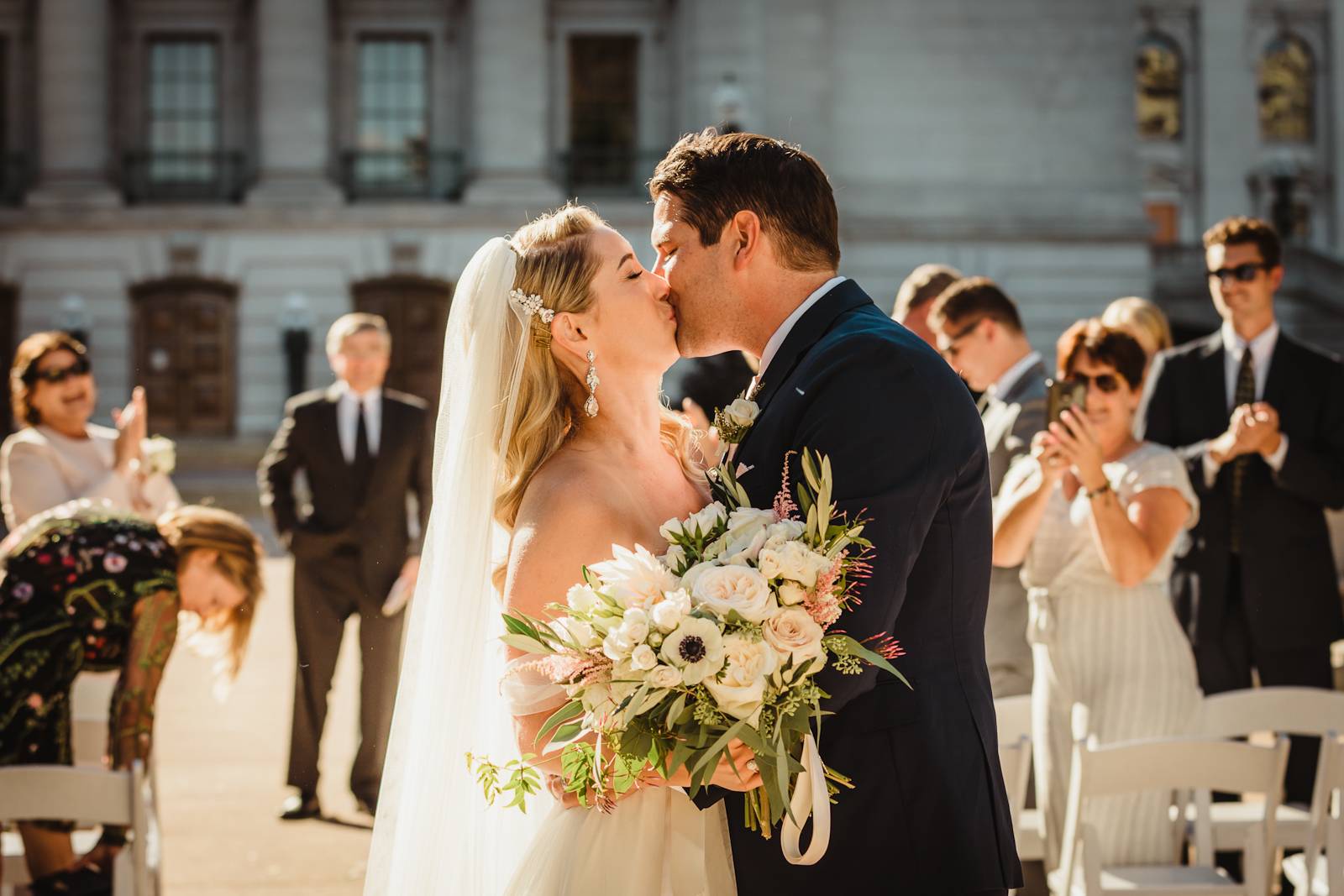 WHAT DOES LIFE LOOK LIKE AFTER THE WEDDING? Life looks pretty similar to before the wedding because we felt like we've been married since we moved in together five years ago. The biggest difference is now we added a new member to our family as we had a baby in December 2021!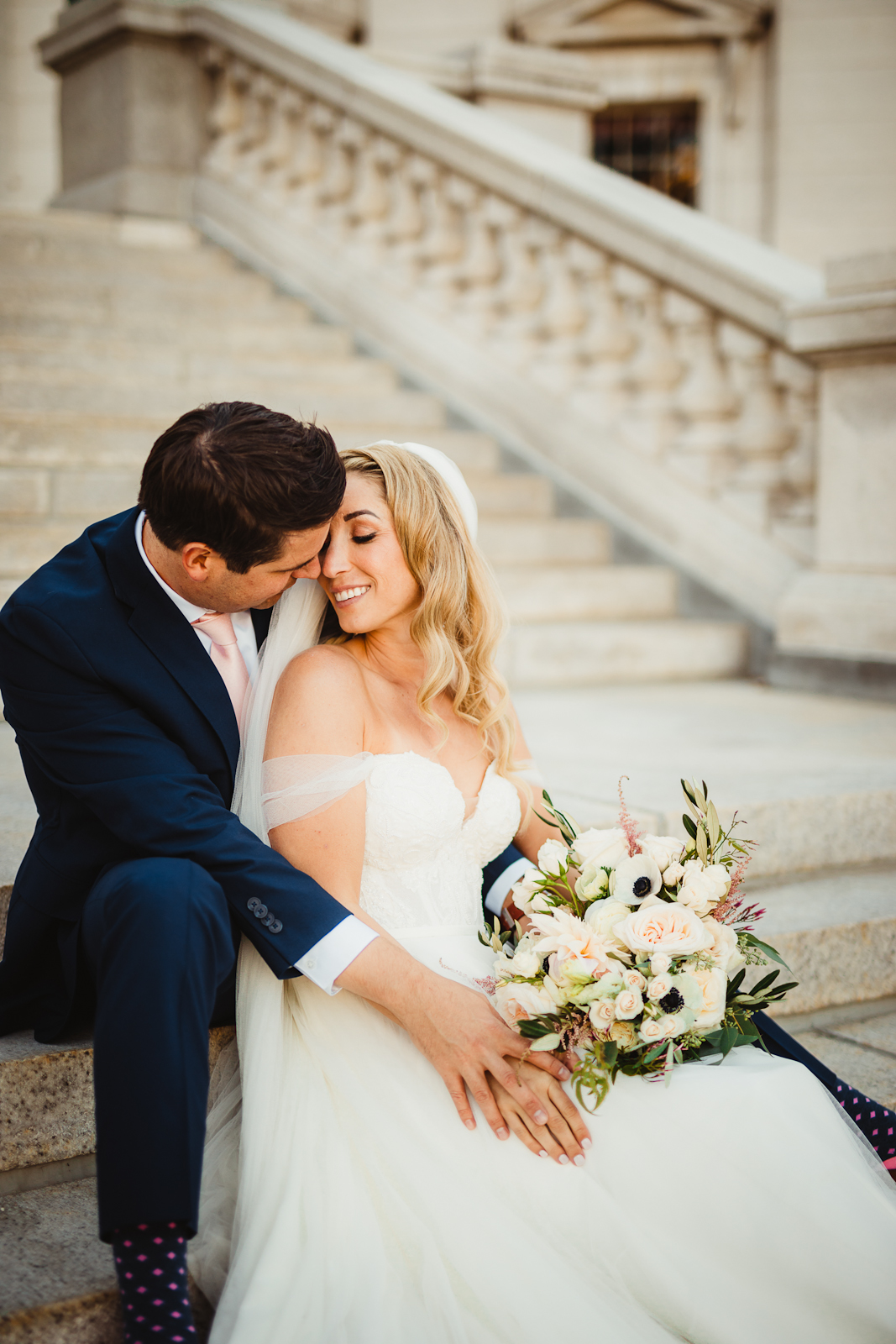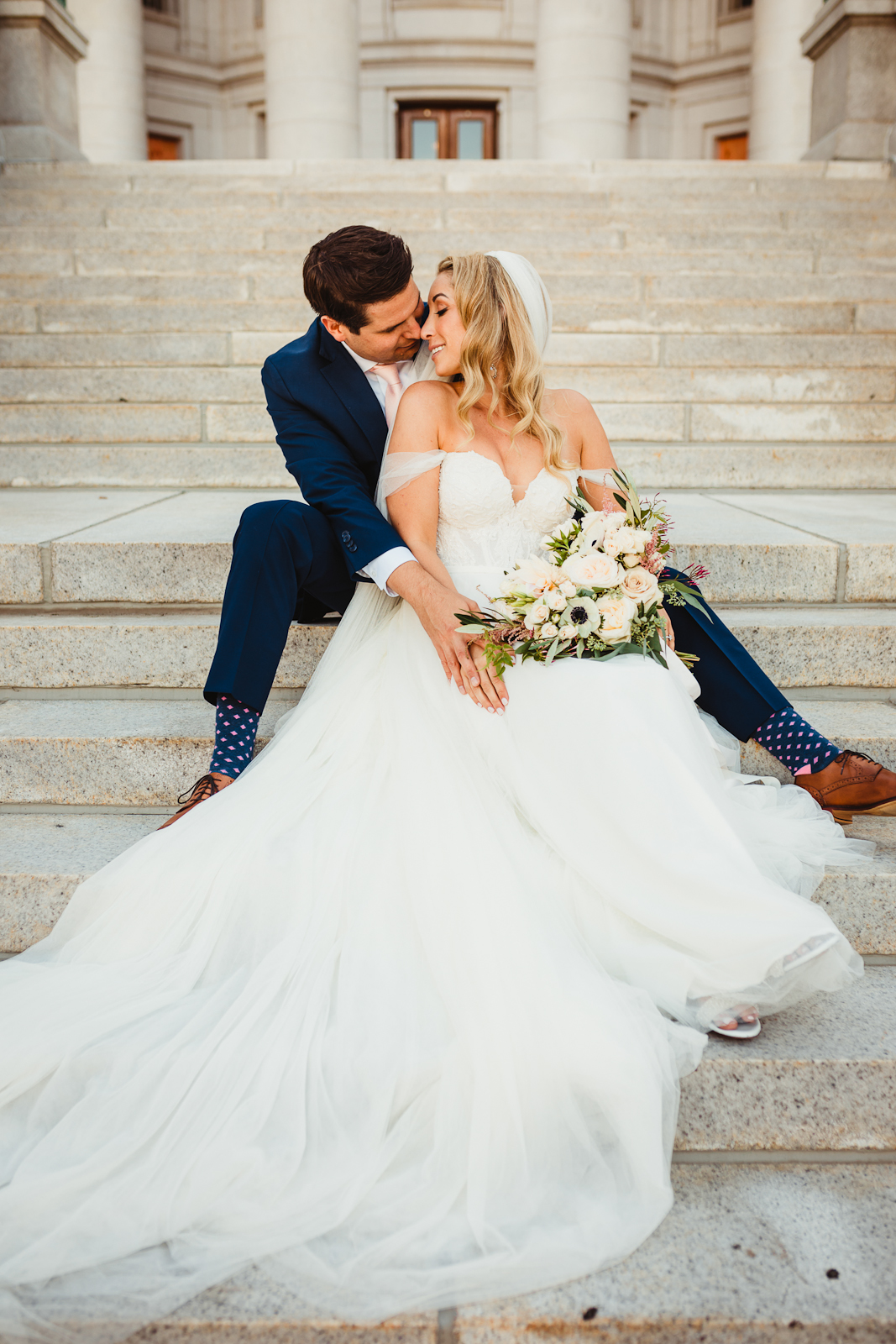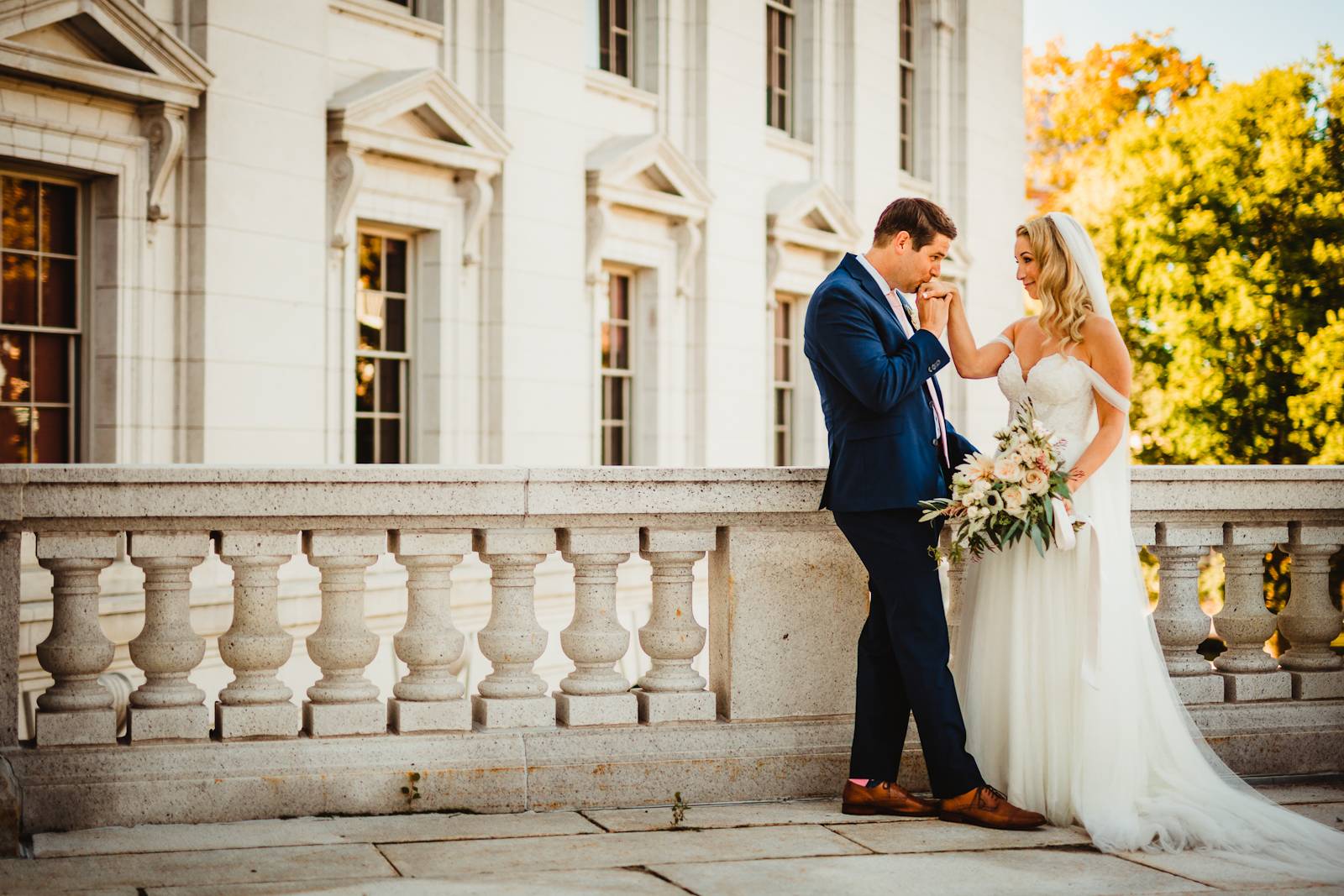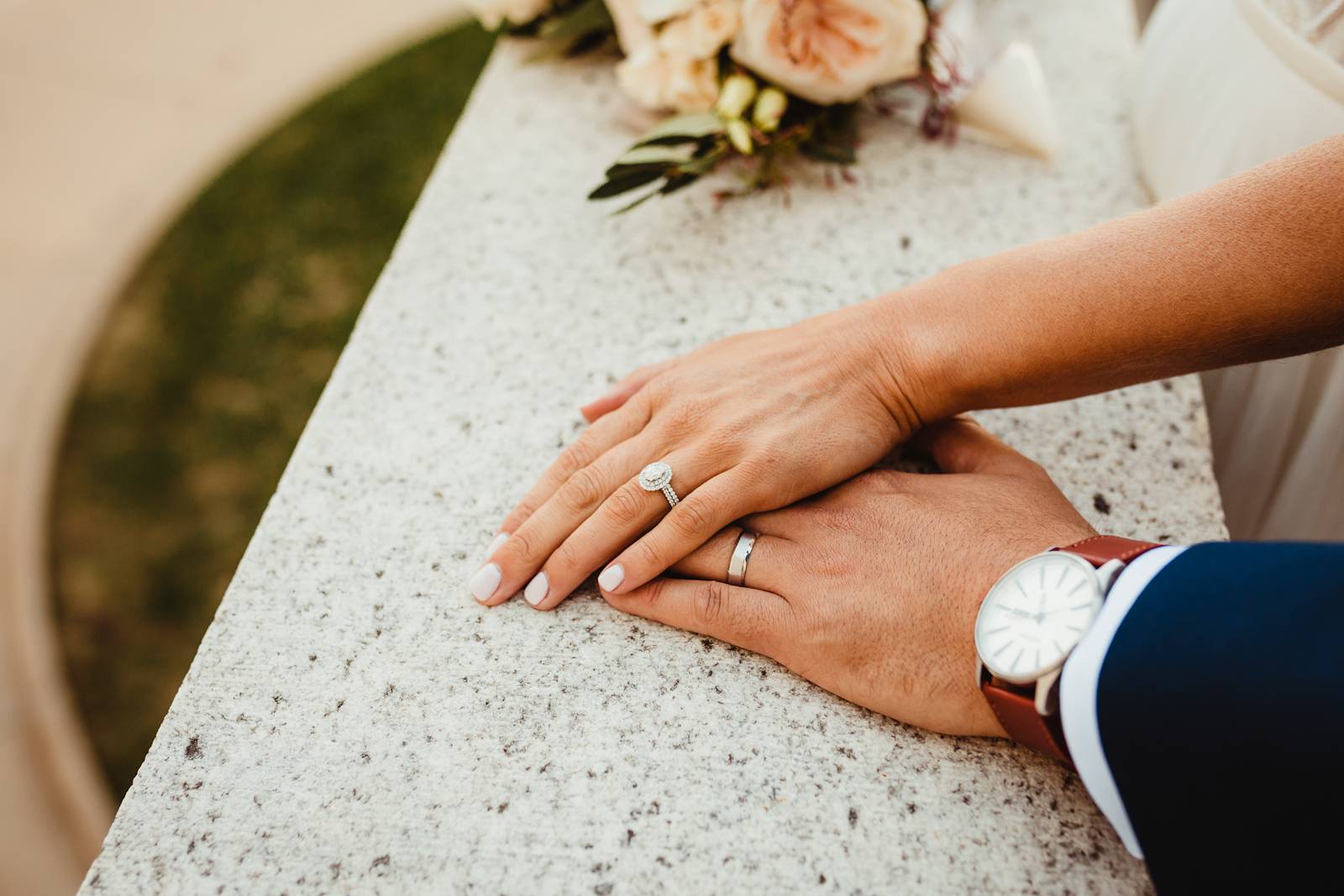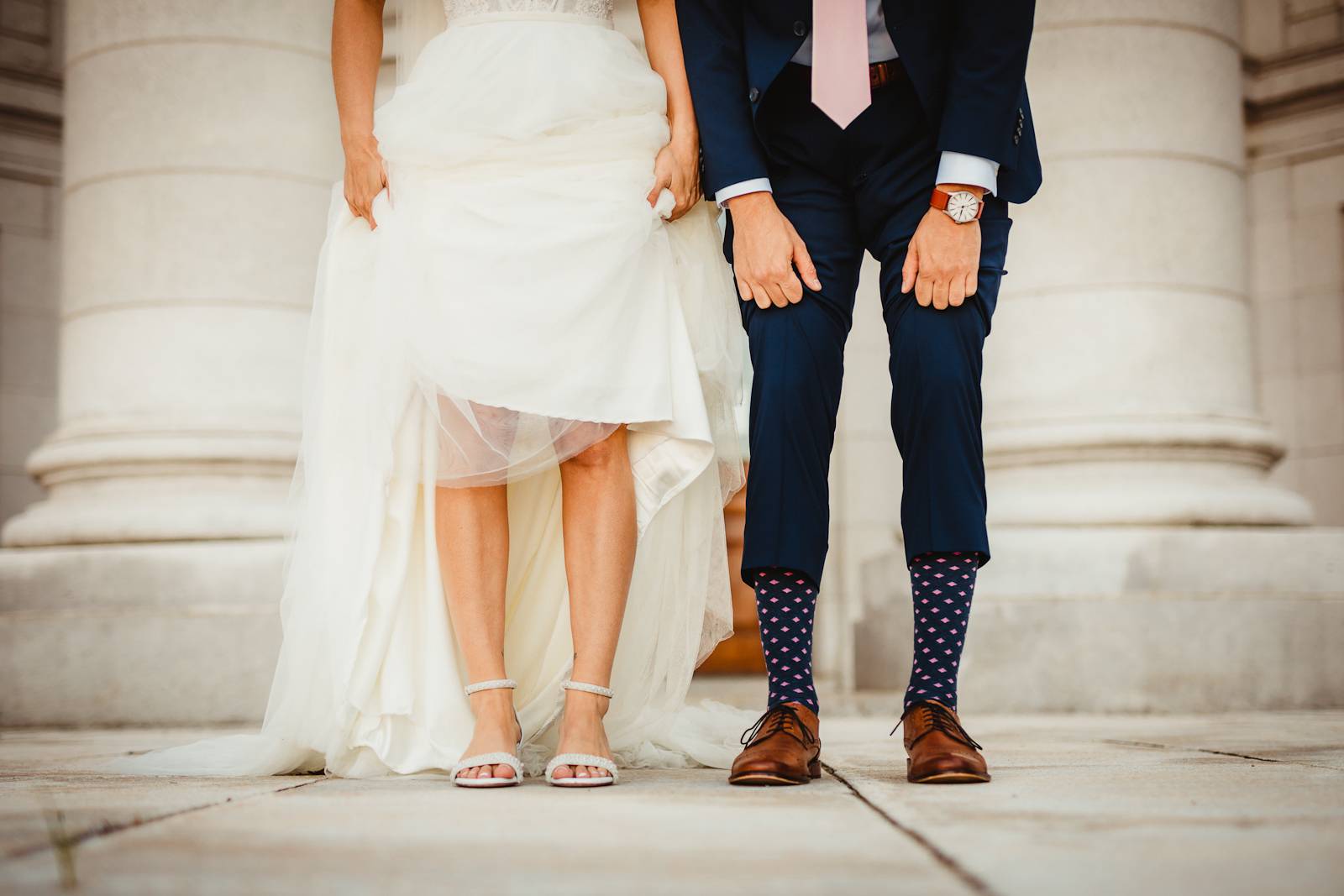 ANY WEDDING PLANNING REGRETS OR SOMETHING YOU WOULD DO DIFFERENTLY? Although it was out of our control, planning a wedding during a once-in-a-century pandemic is never fun. We had to reschedule our wedding two times due to COVID and didn't get to have our dream wedding in San Diego. Still, it taught us to focus on the important things about a wedding: the people you surround yourself with instead of all the extra stuff that doesn't really matter in the end.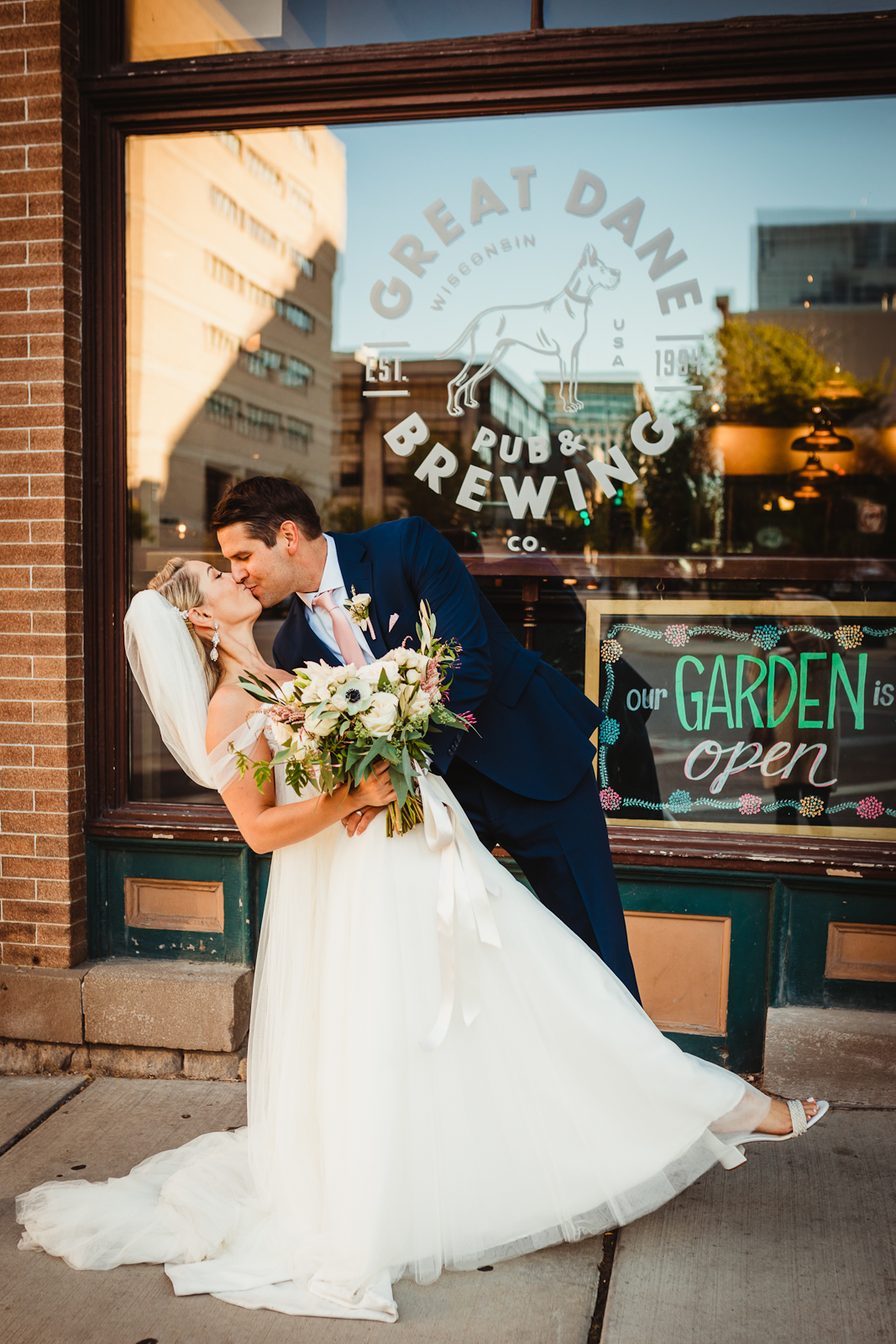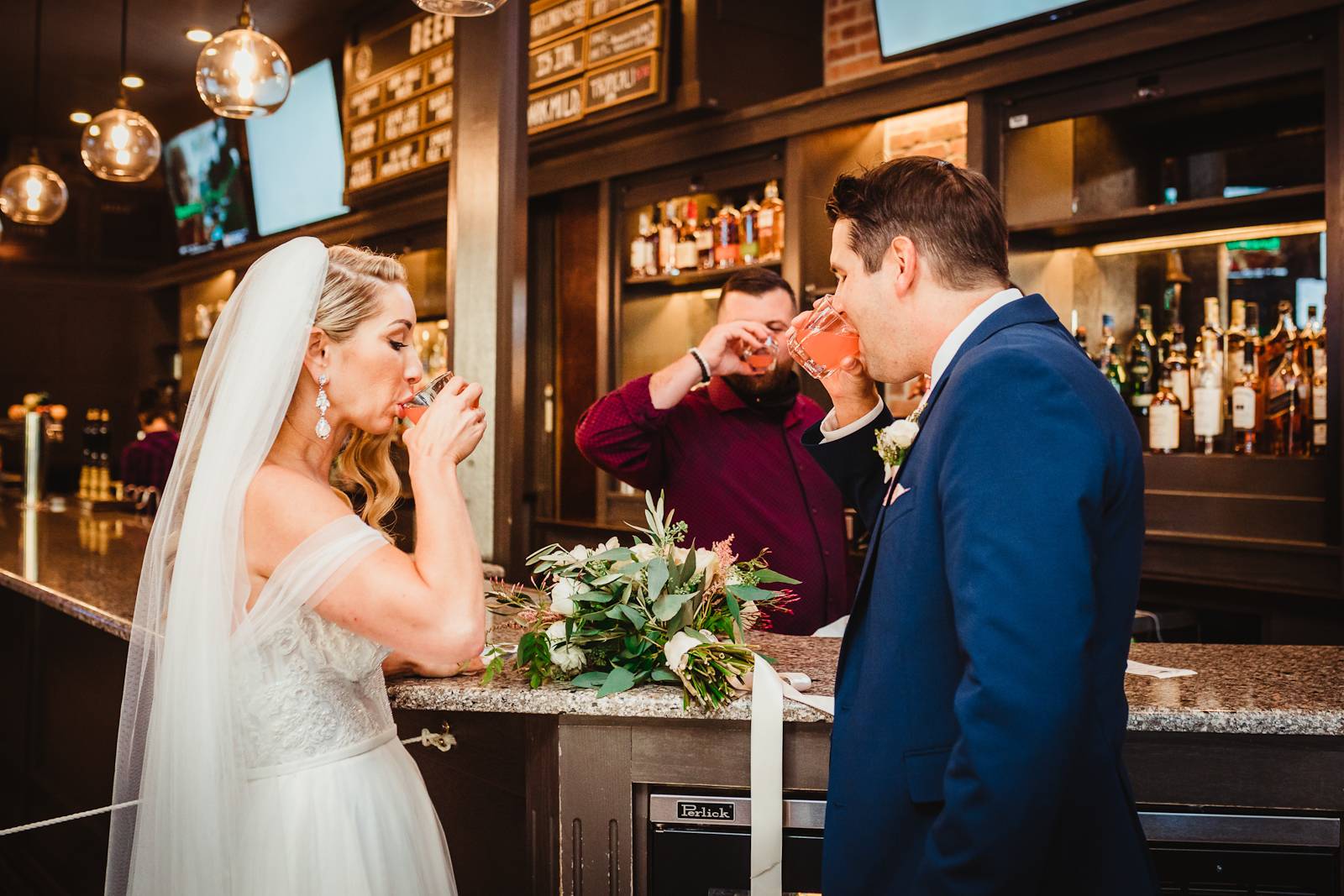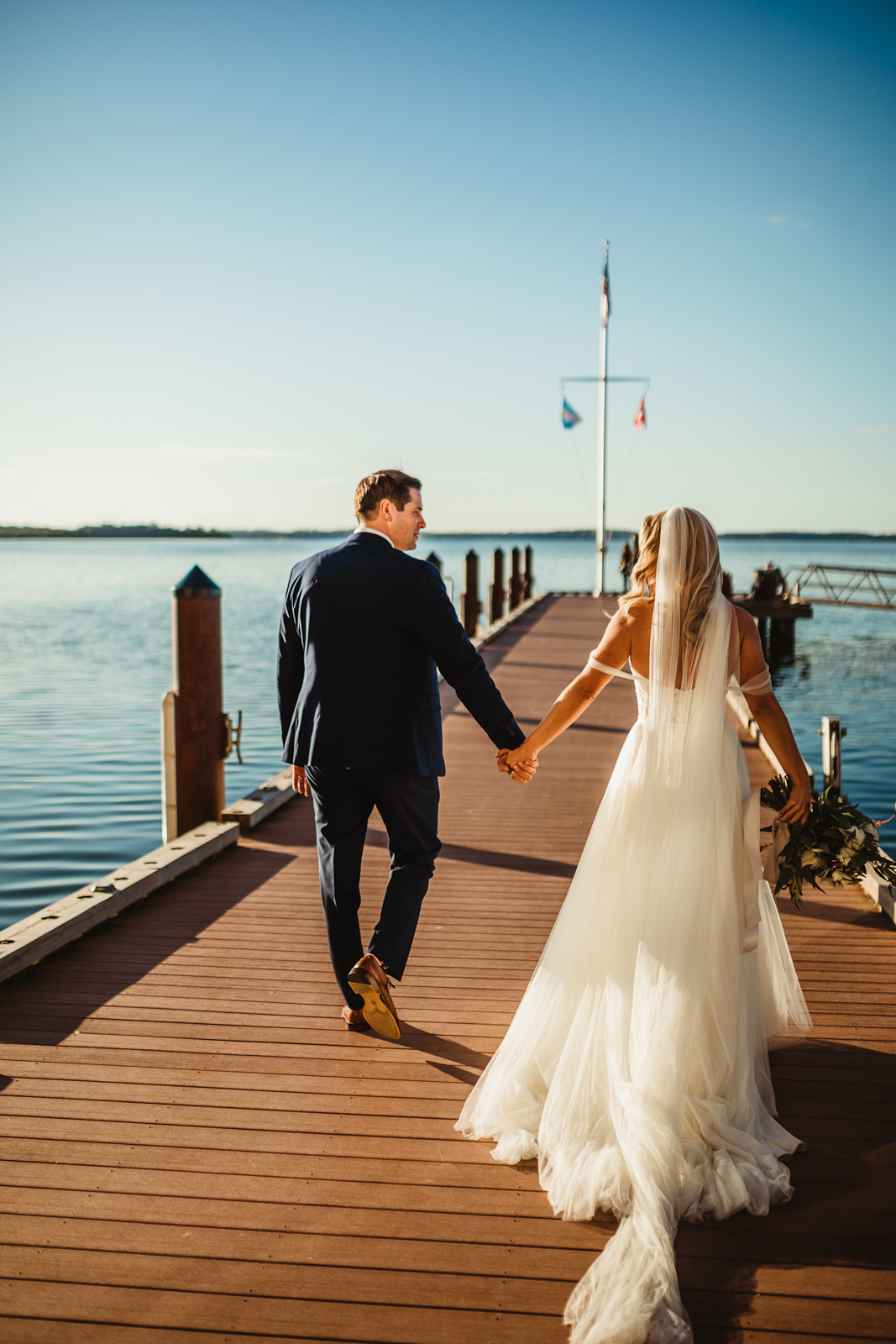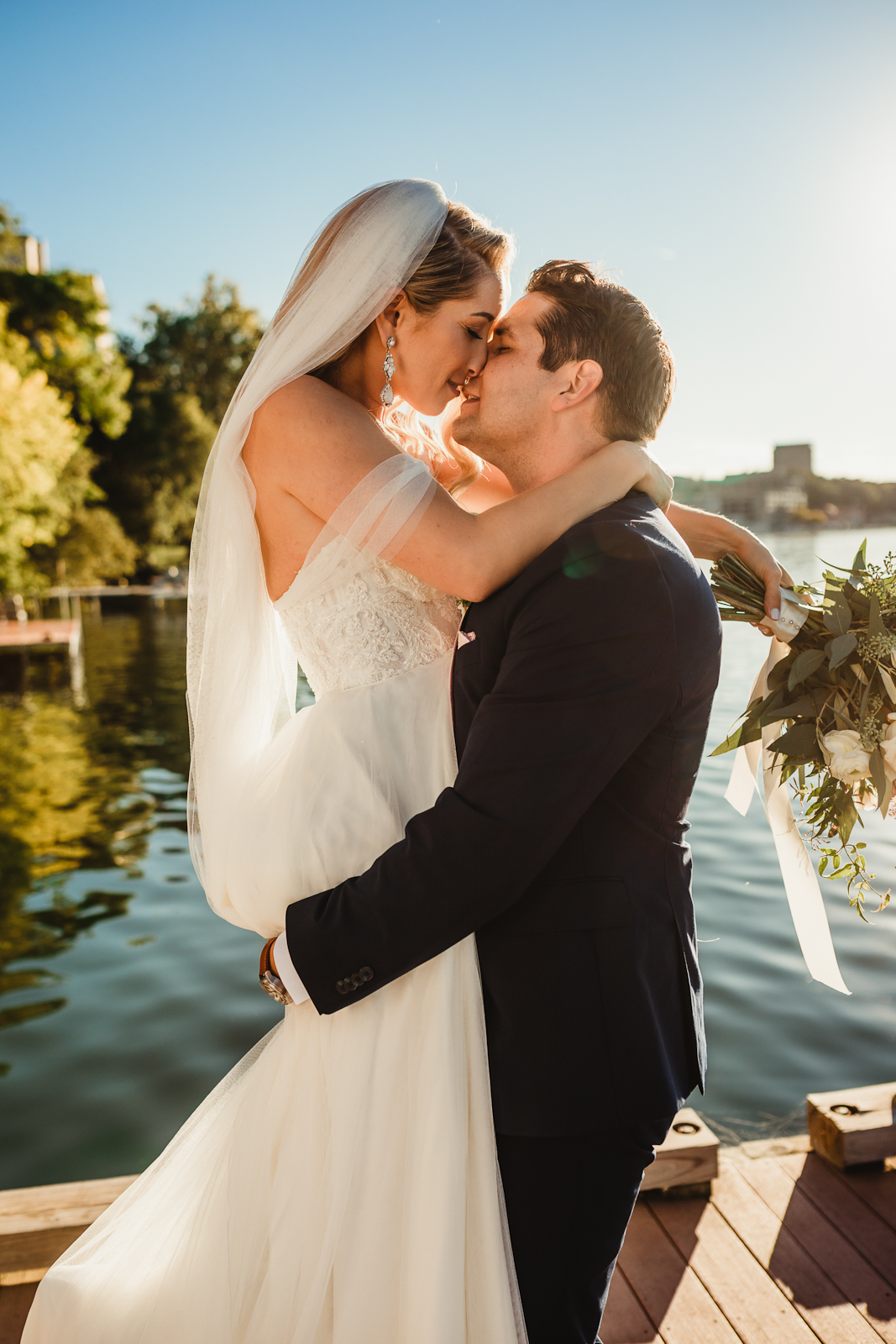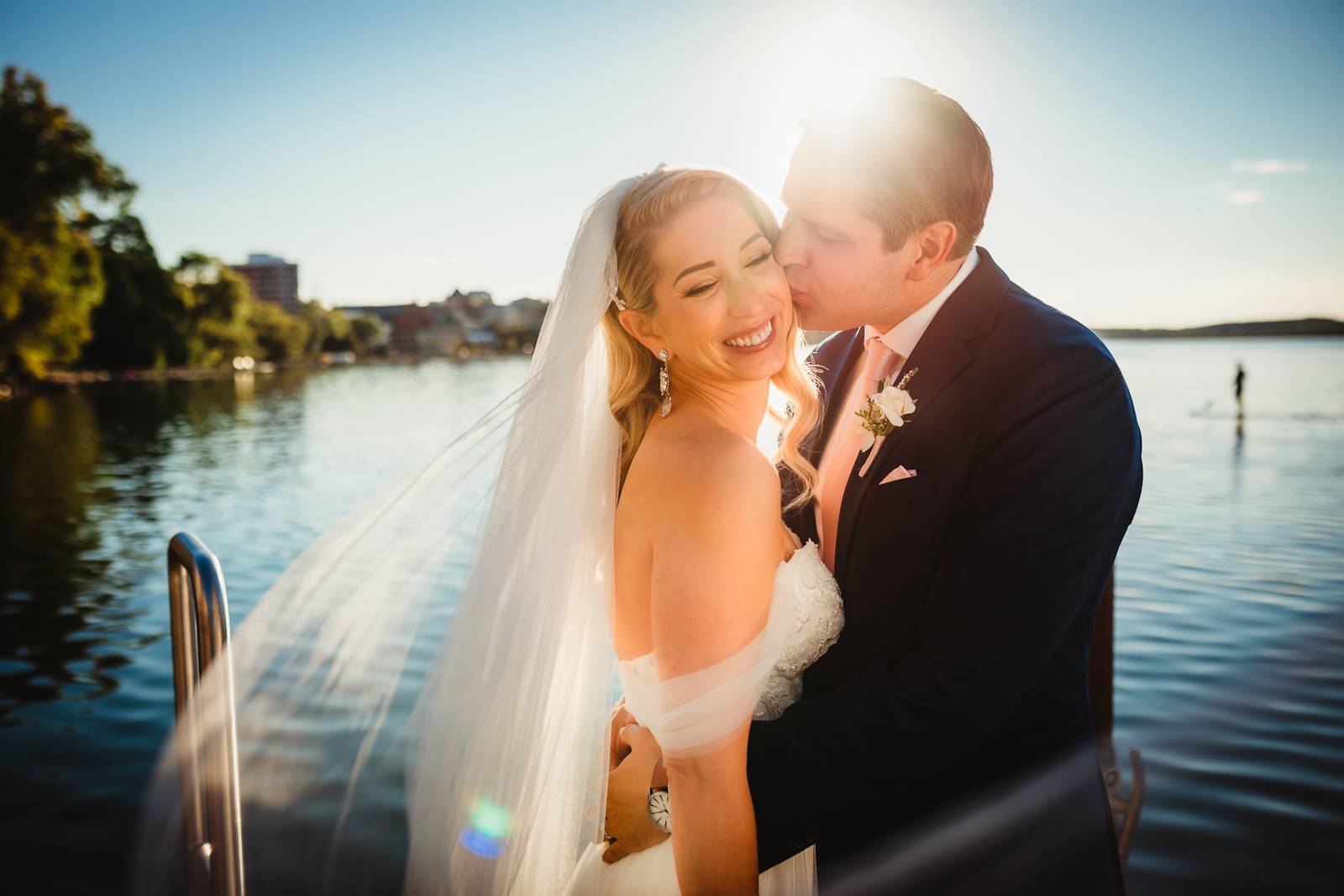 IS THERE ANY ADVICE YOU'D GIVE TO OTHER COUPLES PLANNING THEIR WEDDING? Communicate with one another, even if you disagree, agree on a budget, stick to it, and have fun! You only get married once - soak it all in, just enjoy the process, and don't stress. It's your day so do what makes sense for the both of you, not for everyone else!