Today, we reach out to everyone with a more somber message. We ask for your help to save the wedding industry of Dane County by signing this petition demanding that mass gathering restrictions for wedding and event venues due to the COVID-19 pandemic be similar to every other business in Dane County. Below is a message discussing Emergency Order #6 and its effects on Dane County couples and businesses.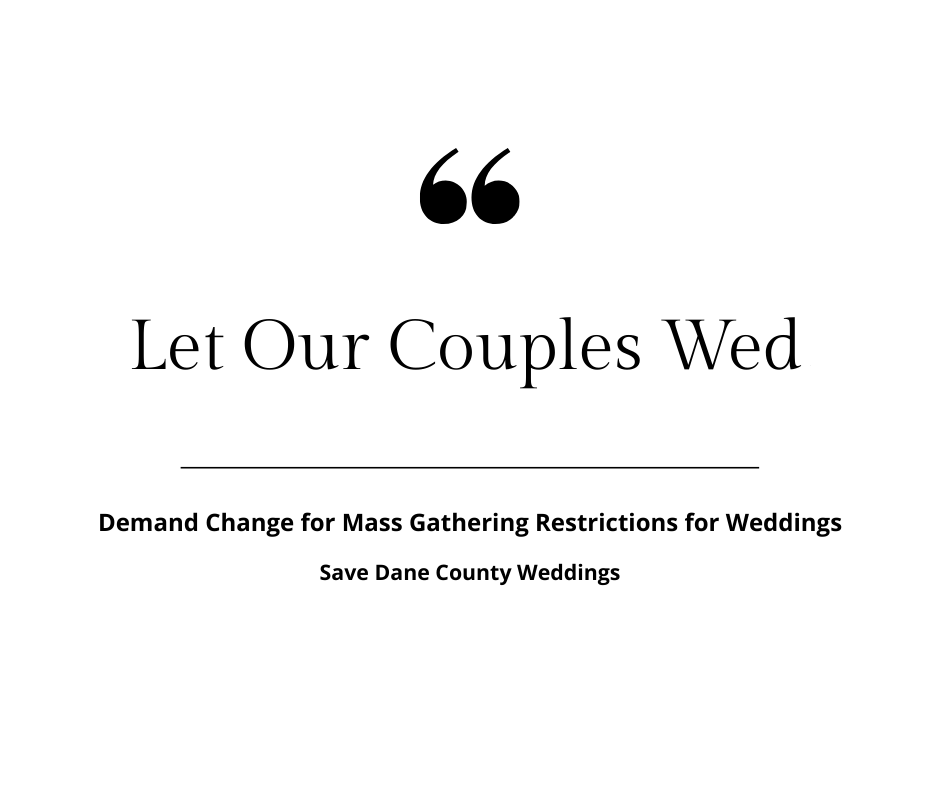 The current Madison and Dane County Public Health Order (Emergency Order #6) and Forward Dane Plan is threatening the livelihood of the local wedding industry and unfairly restricting gatherings for weddings that couples and their families have planned. These couples have spent thousands of dollars on their weddings and could lose thousands of dollars if this Emergency Order is not changed. The local small businesses that make up the wedding and event industry are at profound risk of closing due to the economic effects of weddings being canceled and postponed. Emergency Order #6 unlawfully restricts a couple's ability to choose how many guests they can have at their wedding. The current Emergency Order #6 forcefully regulates wedding businesses, like wedding and event venues, the right to choose to be open based on the same restrictions allowed at churches, restaurants, and bars. This separation begs the question if there is preferential treatment and raises concerns over equal protection.
Madison and Dane County Public Health Order
Dane County is currently under Phase Two in the Forward Dane Plan, which restricts mass gatherings for a wedding to a maximum of 50 people for an indoor wedding/reception and 100 for an outdoor wedding/reception (Public Health Madison & Dane County, 2020). The national average wedding size is roughly 150 guests, and many couples host weddings with less than 200 guests (Sims, M. & Hanlon, S., n.d.). Emergency Order #6 forcefully restricts a couple's ability to choose how many guests they can have at their wedding and requires couples to reduce their guest list by 60-80% (Public Health Madison & Dane County, 2020). These couples are being forced by Madison and Dane County Public Health to decide whether to cancel, reschedule, or host their dream wedding at a significantly smaller guest count. Other Wisconsin counties and even many states have considerably fewer restrictions (Centers for Disease Control & Prevention, 2020).
There are five counties surrounding Dane County (Iowa, Green, Columbia, Rock, and Jefferson) that do not have any restrictions on the size of a mass gathering or have limits based on a percentage of the venue occupancy (Columbia County Board of Supervisors, 2020; Green County Public Health, 2020; Iowa County Wisconsin Government, 2020; Jefferson County Health Department Rock County, 2020). Milwaukee, Suburban Milwaukee, Brown, and Waukesha Counties (which all have more positive COVID-19 cases than Dane County) have made "recommendations" and not "orders" for the size of mass gatherings, or have removed the restriction all together (Brown County Health & Human Services, 2020; City of Milwaukee Health Department, 2020; Waukesha County, 2020; Wauwatosa Public Health, 2020). More importantly, there are fourteen (14) states with more COVID-19 cases than the entire state of Wisconsin and have less stringent requirements on mass gatherings than Dane County (Centers for Disease Control & Prevention, 2020). For example, Ohio allows weddings up to 300 people (Shaw, 2020), Indiana is at 250 people (Fox59web, 2020), Nebraska is at 50% occupancy (up to 10,000 guests) (Nebraska Department of Health & Human Services, 2020) and Iowa no longer has a maximum for the number of guests at a wedding (Office of the Governor of Iowa, 2020). The city of Nashville has opened up wedding venues to 50% capacity this past Monday, June 22nd (Junewicz, 2020), and just recently, the state of North Carolina followed suit (Hyland, 2020).


Wisconsin Wedding and Event Venues
Wisconsin wedding and event venues are being unlawfully and unfairly restricted from conducting business based on the current Madison and Dane County Emergency Order #6 despite the ability to host mass gatherings safely under the same restrictions as other similar businesses (bars, restaurants, and churches). A majority of Wisconsin wedding and event venues have a maximum building occupancy greater than the maximum guest capacity that they will allow for a wedding. For example, one event venue has a maximum building occupancy of no less than 655 guests based on the overall square footage. However, they only allow for a maximum of 200-250 guests for a wedding. Even before the Dane County Emergency Order #6 was issued, they were operating at 30-40% of their maximum building occupancy solely for the comfort of their couples and their guests. They could comfortably accommodate and maintain social distancing practices with their maximum wedding occupancy of 200-250 guests if they were given the same 50% occupancy restrictions as churches, restaurants, and bars since they are already operating significantly below their maximum building occupancy.


Safety with Gatherings
The primary concern with the request to loosen the restrictions for mass gatherings for events like weddings is the safety of the couples, their guests, vendors, and venue staff. Additional precautions are already being taken by wedding and event venues. They add hand sanitizer stations, increased frequency of cleaning of high traffic areas, requiring face masks for all staff, etc. As previously discussed, wedding and event venues can safely limit capacity to 50% of their maximum occupancy and efficiently implement the same social distancing practices as other businesses (bars, churches, and restaurants) as required by the current Emergency Order # 6 and Forward Dane plan. Wedding and event venues often have larger spaces with higher ceilings and proper ventilation, including indoor and outdoor spaces, which makes social distancing much easier to implement.
An additional benefit of hosting a wedding is the ability to identify who was at the event. The contact tracing for weddings is extremely easy, accurate, and accessible. Every couple planning a wedding has a detailed guest list that includes contact information (email, mailing address, phone number). Guests gathering for a wedding know each other, know where they have been over the past eight (8) weeks, and can quickly get in contact with one another in the rare case that they start to experience symptoms related to COVID-19. This tracking is different from a restaurant, bar, or church where it is not possible to know every person that visited one of these businesses on a particular date. For every wedding, the couple and the venue have a list of every single guest, vendor, staff member, and their contact information.


Why Other Wedding Professionals and Industries Should Care
The local Dane County wedding industry comprises a majority of small businesses that rely on mass gatherings for their business's livelihood. The Dane County wedding industry is in a vice grip because of the Madison and Dane County Emergency Order #6. Couples are more likely to postpone, reschedule, or cancel their wedding in 2020 with the restrictions on mass gatherings. Some couples are even looking for venues outside of Dane County because of the looser mass gathering restrictions. Rightfully so, these couples deserve to celebrate their wedding day with all of their family and friends, especially when wedding venues could safely operate at a reduced capacity. This Emergency Order affects every small business and wedding professional in the area.
Cancellations are an obvious impact. Couples have spent years planning their dream wedding and have to deal with the heartbreak and financial loss of canceling their special day. It directly affects wedding planners, photographers, videographers, caterers, rentals, DJs, bakers, etc. who can no longer provide their wedding day services. If there is a significantly reduced guest count, that means less plated dinners for caterers, centerpieces/flower arrangements by the florist, chairs/tables for rental companies, and canceled hotel reservations. The cancellation of hotel reservations is just a small portion of the impact on local economies that rely on weddings to promote the tourism industry.
Gathering for weddings doesn't just impact the wedding industry. It affects the social and economic growth of the towns and cities that host them. Weddings bring in tourism dollars to restaurants, bars, hotels, gas stations, gift shops, etc. A wedding can attract 200 to 1,500 unique guests to the local community on any given weekend (depending on the number of weddings and guest count) (Bridal Editors, 2019). When you do a Google search, you can see that there is typically more than one wedding and event venue in a given town. During peak wedding season (May - October), a wedding venue could bring anywhere from 4,400 to 33,000 unique guests to a community (The Knot, n.d.). Multiply that by a couple of wedding venues, and the economic impact on these small communities is substantial. All of these guests coming to a wedding need a place to sleep, are looking to try out local food, grab a last-minute gift, fill up on gas on their way out of town, and grab a celebratory refreshment a local watering hole.
The wedding and event industry is dependent on mass gatherings (more than 50 or 100 guests as currently restricted). Without the ability to gather, we don't have a wedding and event industry. The Madison and Dane County Emergency Order #6 has jeopardized the continued success and operation of many weddings and small businesses that smaller communities and townships rely on to sustain and even improve the local economy. Despite Dane County providing preferential treatment to similar mass gatherings, gatherings for weddings has been overlooked and unlawfully restricted. Madison and Dane County Public Health can place reasonable and lawful restrictions on gatherings for weddings and help the suffering businesses in the wedding and event industry.


Our Request
As the wedding and event industry, all we ask is to be treated fairly and similarly to other businesses in Dane County. At a minimum, change the Emergency Order #6 for wedding and event venues to host mass gatherings based on a percentage of occupancy, which is in line with every other business in Dane County. Leave it up to the couples the freedom of choice to host their wedding and their guests' freedom of choice to attend instead of a mandated, unlawful Emergency Order #6.
Demand Public Health Madison and Dane County Change Emergency Order #6 to Adjust Gathering Restrictions for Weddings
REFERENCES:
Bridal Editors. (2019, January 2). This is what American weddings look like today: How much the average wedding costs are surprising. https://www.brides.com/gallery/american-wedding-study
Brown County Health & Human Services. (2020, May). Reopening Brown County: Recommendations from public health. https://www.browncountywi.gov/i/f/files/HHS-Public-Health/Reopening%20Brown%20County%20Final%202.pdf
Centers for Disease Control & Prevention. (2020, June 24). Coronavirus Disease 2019 Covid-19.: Cases in the U.S. https://www.cdc.gov/coronavirus/2019-ncov/cases-updates/cases-in-us.html
City of Milwaukee Health Department. (2020, June 19). The city of Milwaukee is still in phase 3 of its COVID-19 orders. https://city.milwaukee.gov/ImageLibrary/MKE-Health1/COVID-19/MMFSReleasePh3Update6.19.20.pdf
Columbia County Board of Supervisors. (2020, May 14). News release. https://www.co.columbia.wi.us/columbiacounty/portals/0/News%20Release%20COVID19%20051420.pdf
Fox59Web. (2020, June 10). Gov. Holcomb announces 'Stage 4' of reopening to begin Friday. https://fox59.com/news/coronavirus/gov-holcomb-state-leaders-to-give-update-on-coronavirus/
Green County Public Health. (2020, May 18). Green County encourages healthy best practices as emergency orders lifted. https://secureservercdn.net/198.71.233.214/3e2.121.myftpupload.com/wp-content/uploads/2020/05/05-18-20-Press-Release.pdf
Hyland, M. (2020, June 23). NC lawmakers OK bill to reopen places such as fairs, amusement parks, wedding venues. https://www.cbs17.com/community/health/coronavirus/nc-lawmakers-ok-bill-to-reopen-places-such-as-fairs-amusement-parks-wedding-venues/
Iowa County Wisconsin Government. (2020, June 17). Mass gathering guidance. https://www.iowacounty.org/MassGatheringGuidance
Jefferson County Health Department. (2020, June 8). Blueprint for reopening Jefferson County. https://www.jeffersoncountywi.gov/Health/COVID-19/Blueprint%20for%20Reopening%20Jefferson%20County%20Update%2006%2008%202020.pdf
Junewicz, J. (2020, June 21). Nashville businesses weigh the pros, cons of reopening for phase three. https://fox17.com/news/local/nashville-businesses-weigh-pros-cons-of-reopening-for-phase-three
Office of the Governor of Iowa. (2020, June 16) Gov. Reynolds signs new proclamation continuing the State Public Health Emergency Declaration. https://governor.iowa.gov/press-release/gov-reynolds-signs-new-proclamation-continuing-the-state-public-health-emergency-5
Nebraska Department of Health & Human Services. (2020, June 16). Outline of changes to upcoming DHMs phase III. http://dhhs.ne.gov/Documents/COVID-19-Outline-of-Changes-to-Upcoming-DHMs-Phase-III.pdf
Public Health Madison & Dane County. (2020, June 2). Forward Dane: Phased reopening plan for Dane County during the COVID-19 Pandemic. https://www.publichealthmdc.com/documents/Forward_Dane.pdf
Public Health Madison & Dane County. (2020, June 25). Order of public health Madison & Dane County. https://publichealthmdc.com/documents/2020-06-25_Order_6.pdf
Rock County. (2020, June 10). Rock County reopening phased plan. https://www.co.rock.wi.us/images/web_documents/departments/health/Reopening_Phased_Plan_revised_6-10-2020.pdf
Shaw, M. (2020, June 1). Weddings, receptions to resume in Ohio with a limit of 300 guests. https://www.news5cleveland.com/news/continuing-coverage/coronavirus/local-coronavirus-news/weddings-receptions-to-resume-in-ohio-with-limit-of-300-guests
Sims, M. & Hanlon, S. (n.d.). This is the average wedding guest list size in the U.S.: How does yours stack up?. https://www.theknot.com/content/average-wedding-guest-list-size
The Knot. (n.d.). Everything you need to know about getting married in Wisconsin. https://www.theknot.com/content/wisconsin-wedding-planning-tips#:~:text=It's%20All%20About%20Timing,38%20percent%20in%20the%20fall
Waukesha County. (2020, May 14). Waukesha County issues guidelines to help businesses safely reopen during the COVID-19 Pandemic. https://www.waukeshacounty.gov/news/waukesha-guidelines-for-reopening/
Wauwatosa Public Health. (2020, May 15). Phased reopening guidance for suburban Milwaukee County. https://www.wauwatosa.net/home/showdocument?id=2759