Set amongst the beautiful countryside right outside of Madison, a beautifully designed wedding with the prettiest shade of slate blue, and white peonies from Hy-Vee sure put a modern twist on this rustic wedding at Fields Reserve. Pair that with Jacob and Danielle saying, "I do" in the most charming ceremony barn beneath a sparkling chandelier with Madison wedding photographer, Ann Gorgen Photography behind the lens, and you've got a stunning wedding affair.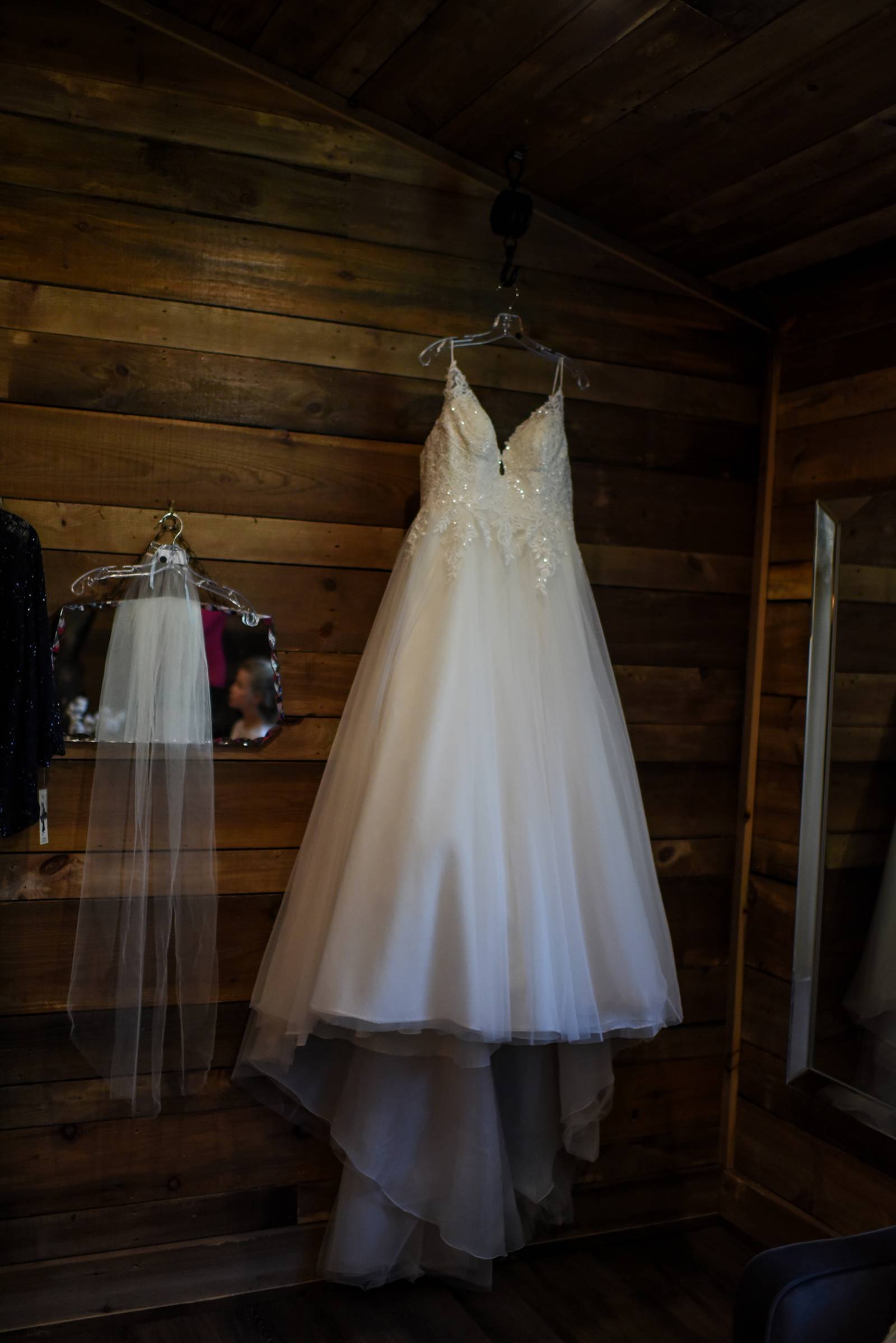 WEDDING DATE: May 5, 2018

HOW DID YOU MEET? On an online dating app in 2015.
HOW DID YOU KNOW HE/SHE WAS "THE ONE"? For both of us, it was "just knowing." We enjoyed doing things together, hated being apart, and were always talking about what the future holds.
TELL US ABOUT THE PROPOSAL: Jacob says, "Every year we go on a vacation to Danielle's family's house in Estero, Florida from Christmas Day to New Year's Day. A couple months before the vacation, I broke my ankle and had to have surgery. Even while being in a soft cast, I still came on the trip. We had planned a beach day at Bearfoot Beach and I knew it was where I was going to propose. While on the beach, I told Danielle I wanted to go for a walk, (on crutches) down the beach and she agreed to join me. While we were on the walk, family members wrote "Danielle, Will You Marry Me" in the sand. On the way back from the walk, Danielle got called to the water while I went around to the back of the message. I got into position, I called for Danielle to come by me. As she walked up to me, I told her to look down, so she could read the message. She asked me, "Jacob, what are you doing?" I asked her once again to marry me and this time she said, "yes!"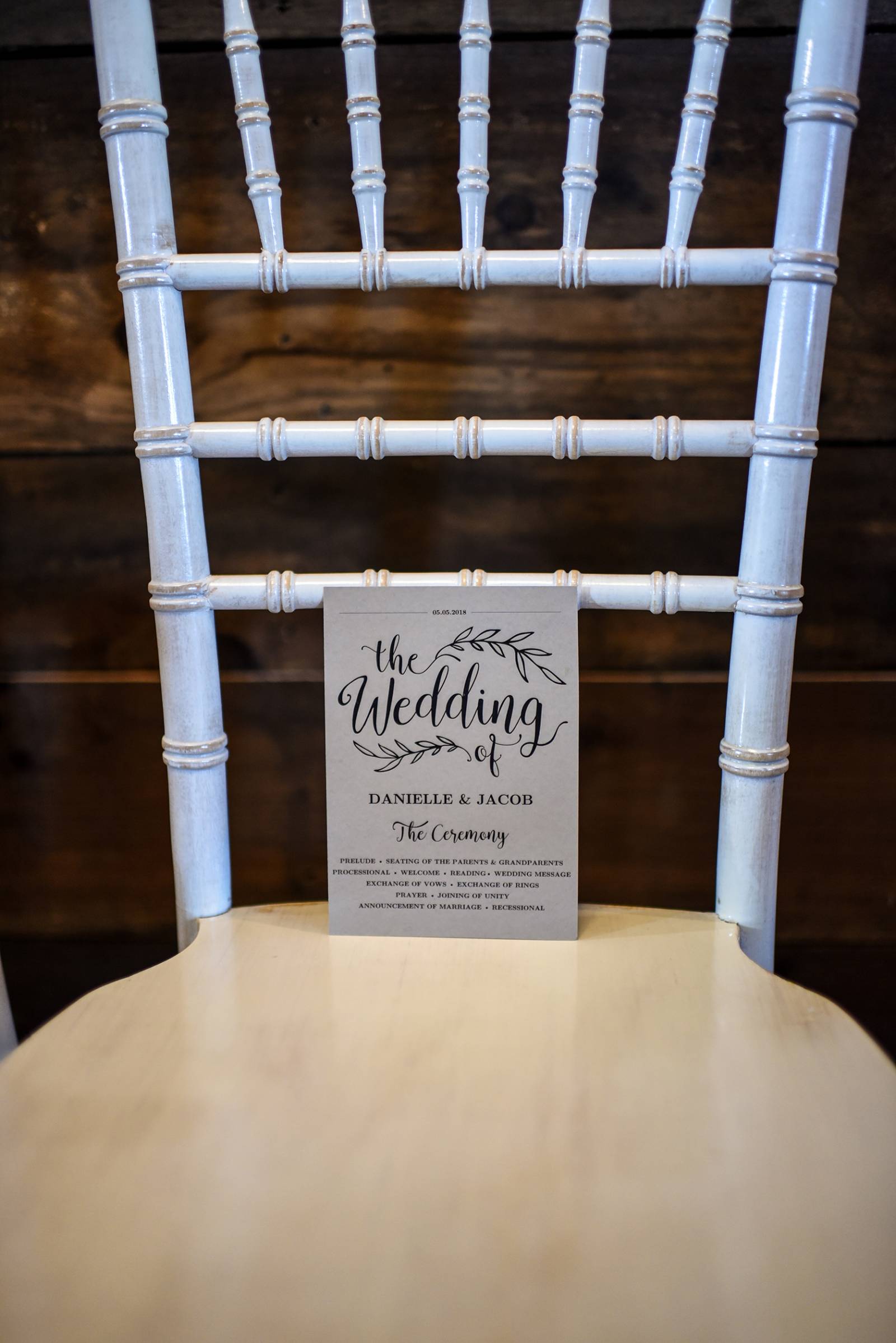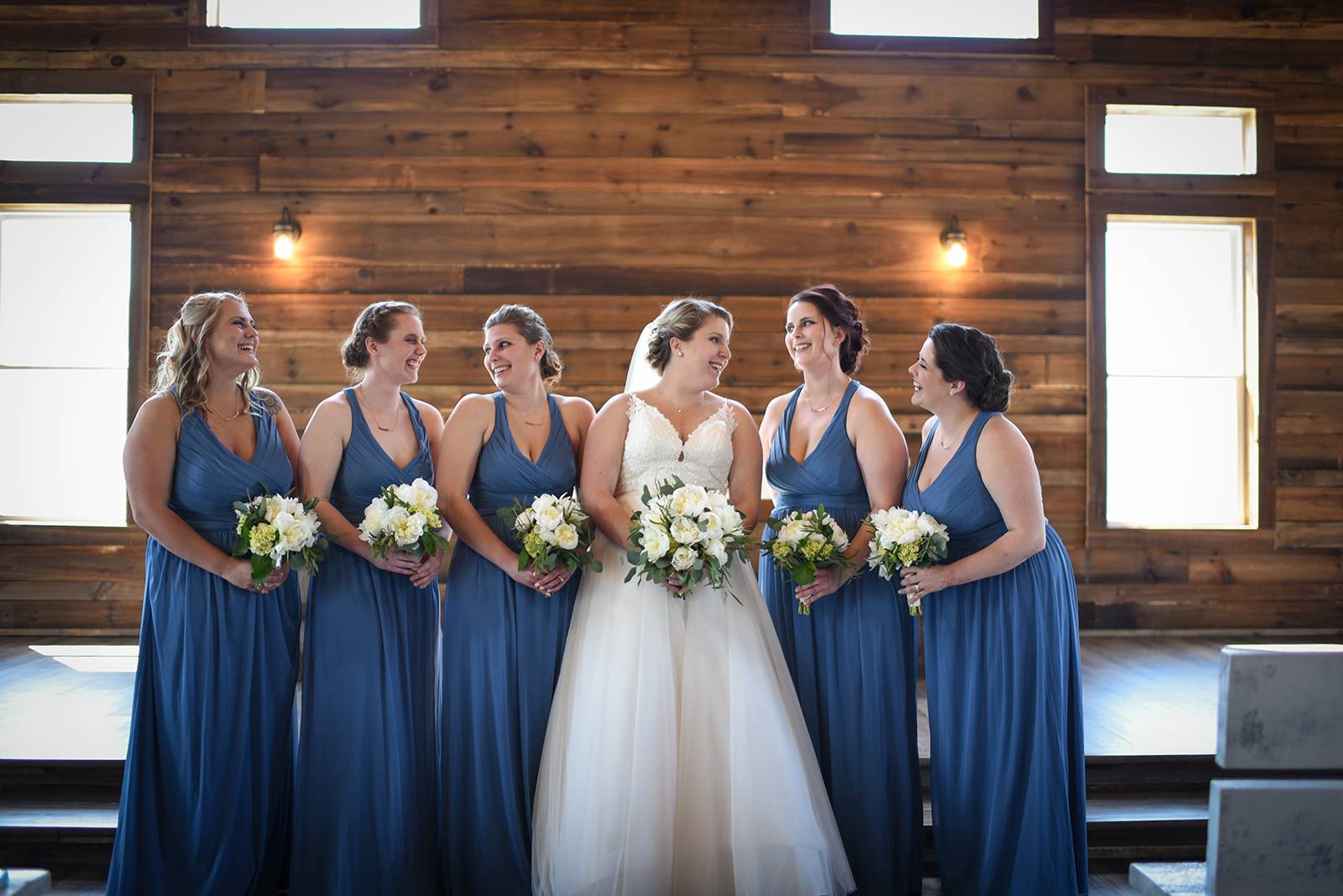 TELL US ABOUT FINDING YOUR DRESS: My mom, Jake's mom, and myself went to Vera's in Janesville. I didn't know what style I liked yet and wanted to try a variety. Once I had a style in mind, I got all the girls together; bridesmaids, moms, and my grandma. We made a day of it trying on dresses at Brandi's Bridal Galleria, then lunch in New Glarus. While at the store, I was in dressing room number 6, which happens to be Jake's softball number. I had tried on a few that were my "favorites." I decided to try on just one more. This dress was so comfortable on, and once I walked out, everyone (including myself) had tears in their eyes. I knew this dress was "the one" and it just happened to be the 6th dress I tried on that day!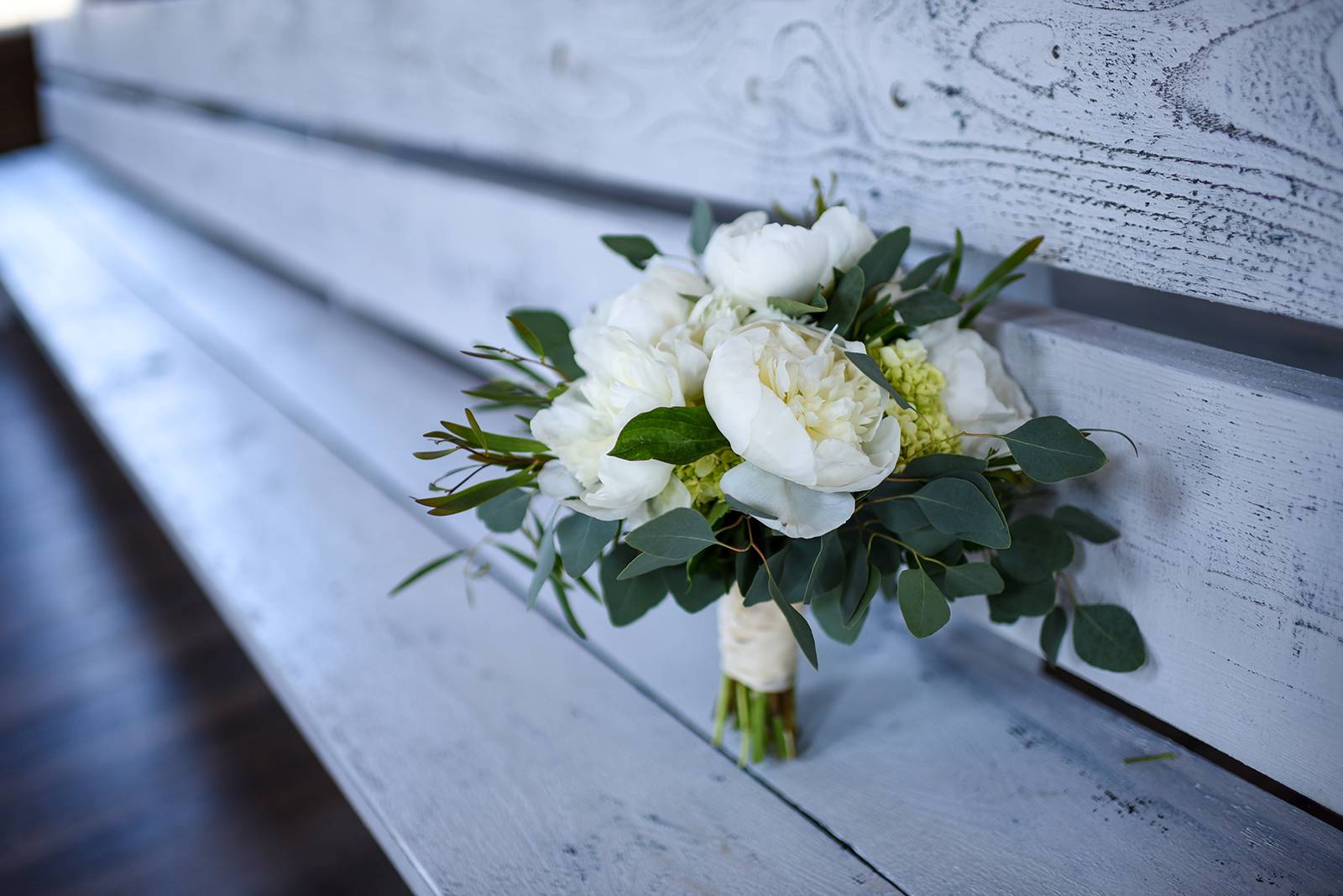 DESCRIBE YOUR WEDDING FLOWERS: All bouquets were white peonies with greens added. Aisle flowers were tin buckets with baby's-breath. Centerpieces were three different sized mason jars with white peonies.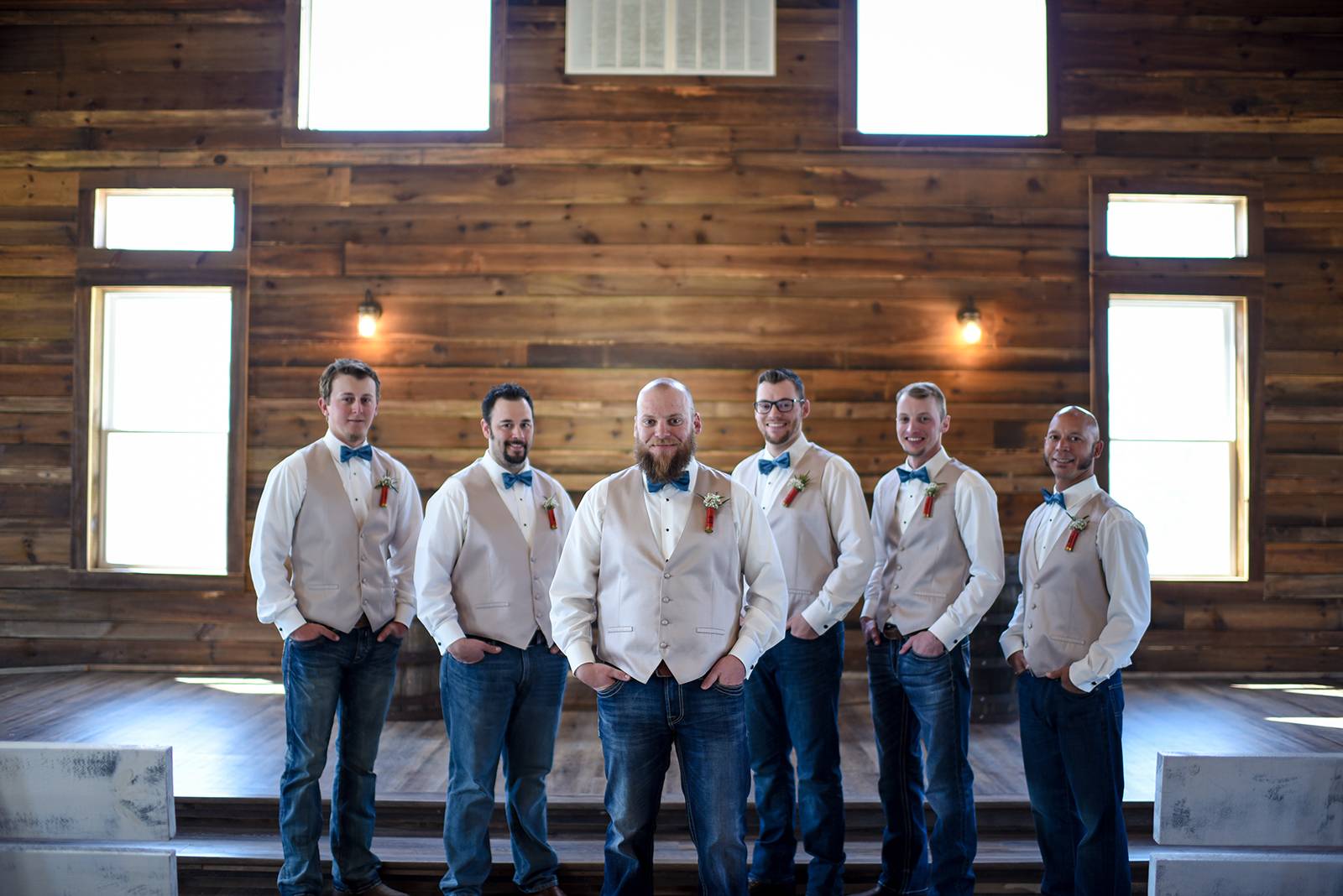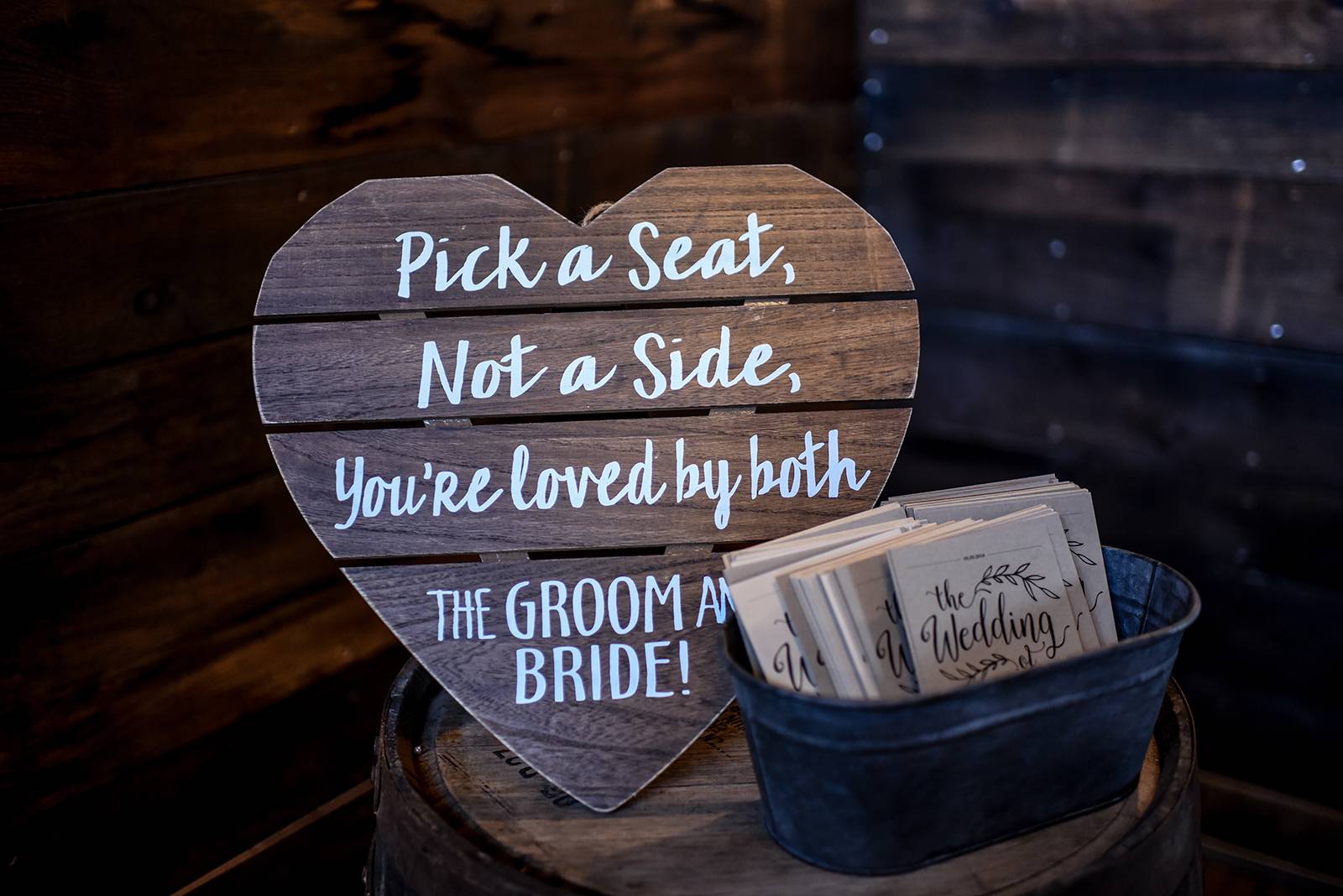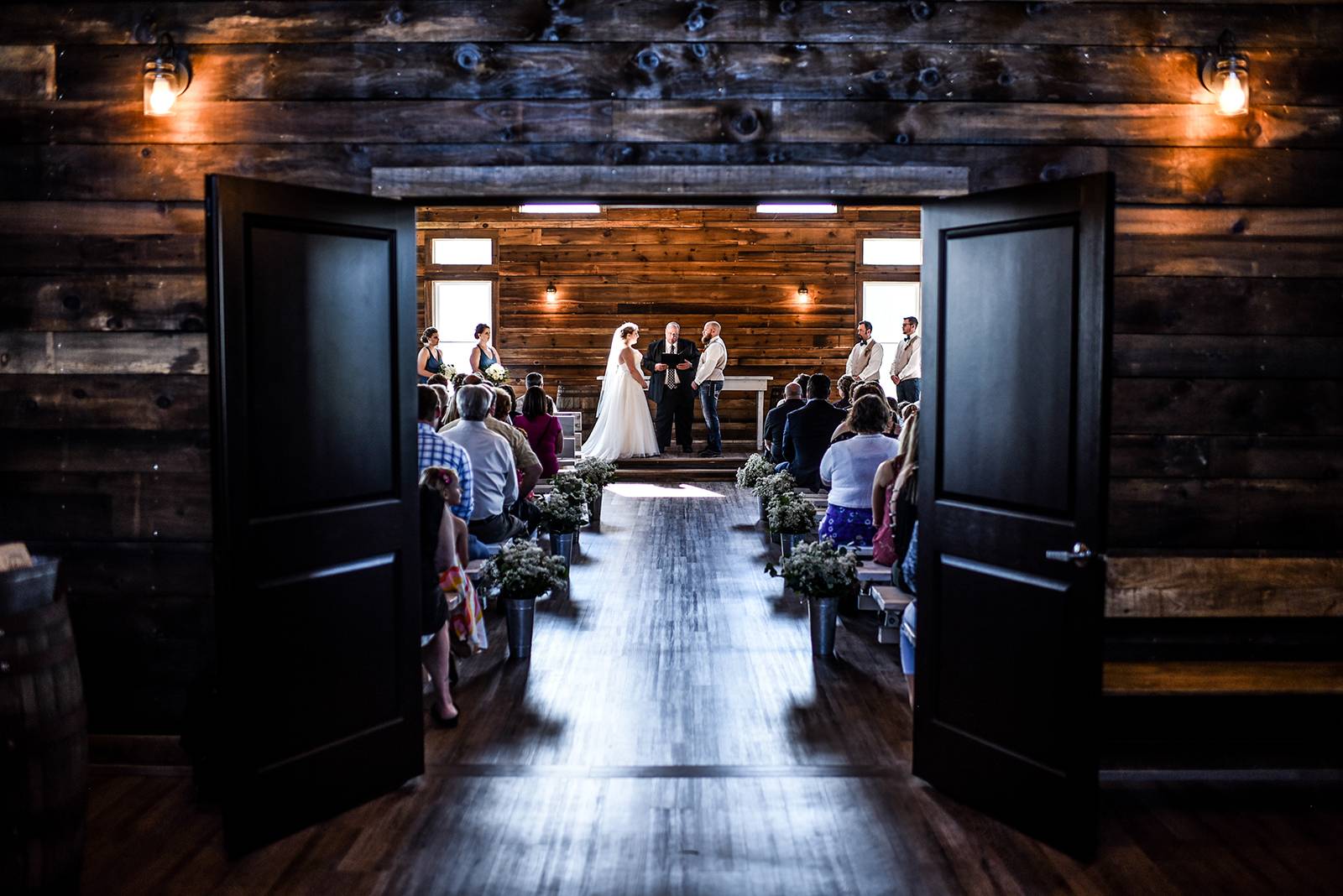 WHAT WAS YOUR FAVORITE MOMENT FROM YOUR WEDDING?
Danielle: My favorite memory from the wedding was walking back down the aisle as husband and wife to the song, "Shut Up and Dance with Me." While dating, that was the song we would belt out in the car every time it came on the radio.
Jake: Instead of clinking glasses for Danielle and I to kiss, we had a donation jar. Guests were asked to make a donation for us to kiss. We then donated the money to the American Family Children's Hospital. A close family friend came up to me and gave me a $100 bill and told me it was a donation from my grandpa in heaven.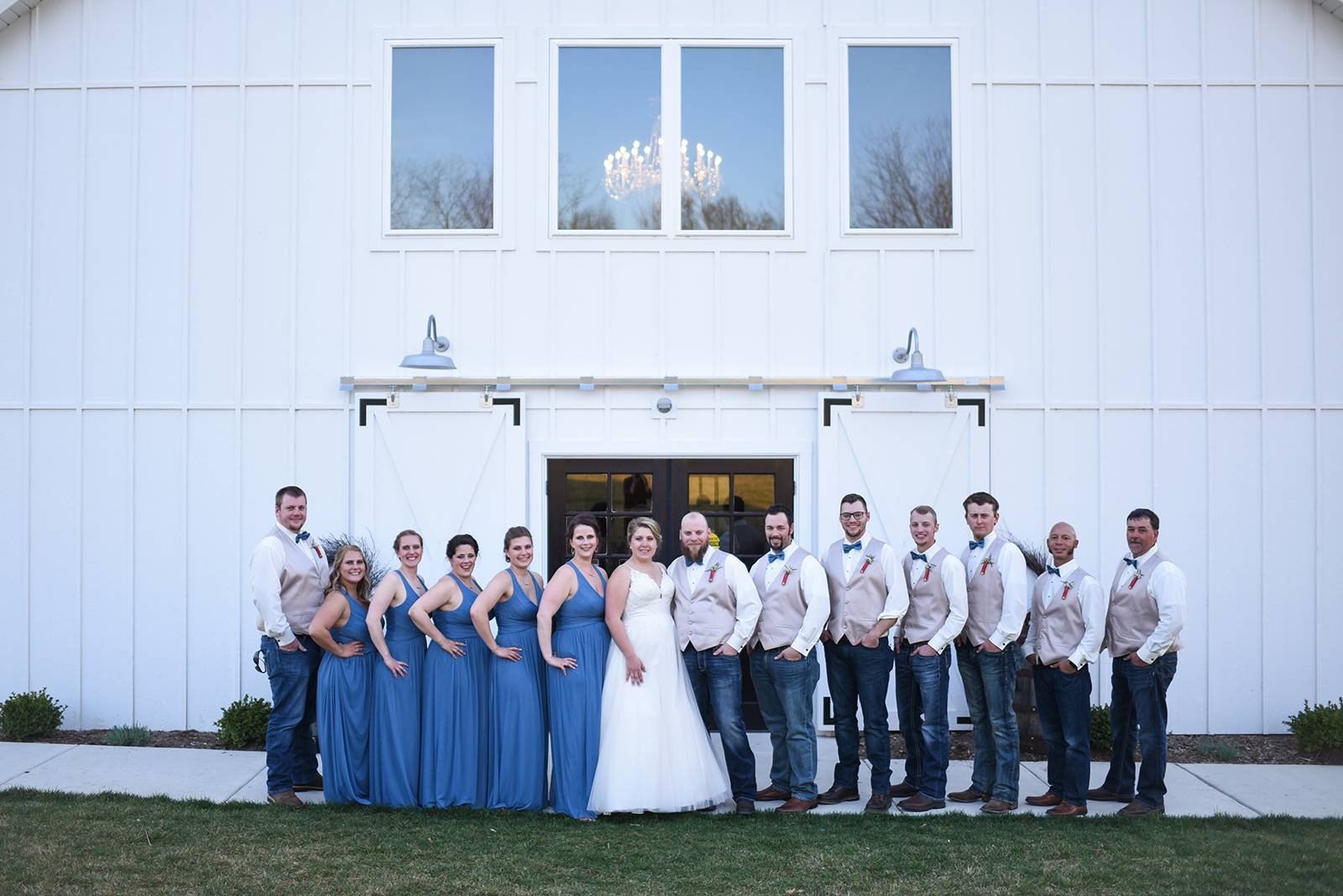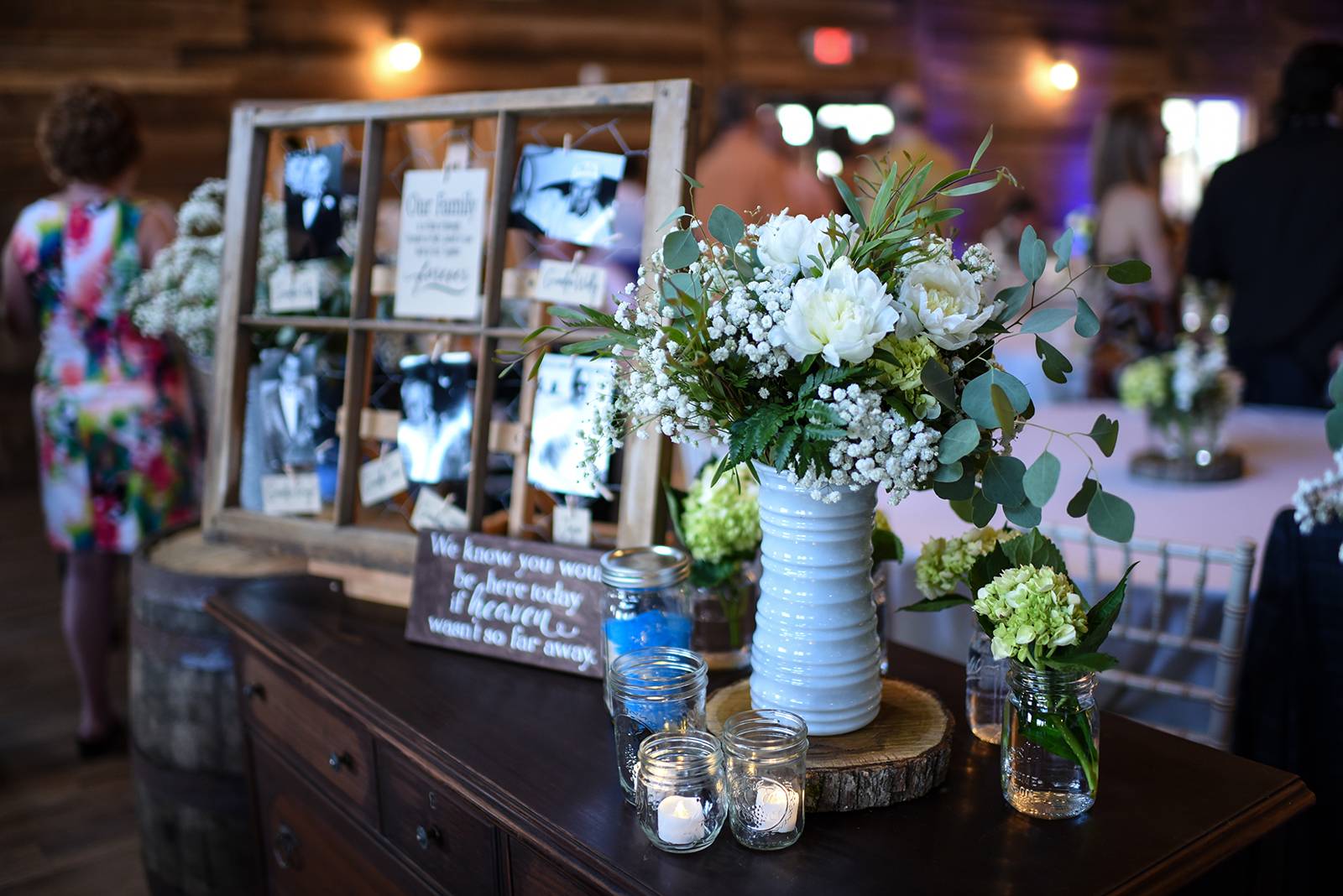 WERE THERE ANY PERSONAL TOUCHES OR DIY ELEMENTS? Jake's dad made our guest book. It was a set of corn hole toss boards for the guests to sign. He also made the salsa for our chips and salsa midnight snack.
We had a cake to cut but we both don't like cake; our favorite dessert is apple pie. Our guests got to enjoy dutch apple pies as a dessert.
Our centerpieces consisted of a wooden disk topped with three mason jars and flowers. The wooden disks were cut from a tree that had fallen on Jake's hunting land. The mason jars are from Danielle's grandparents.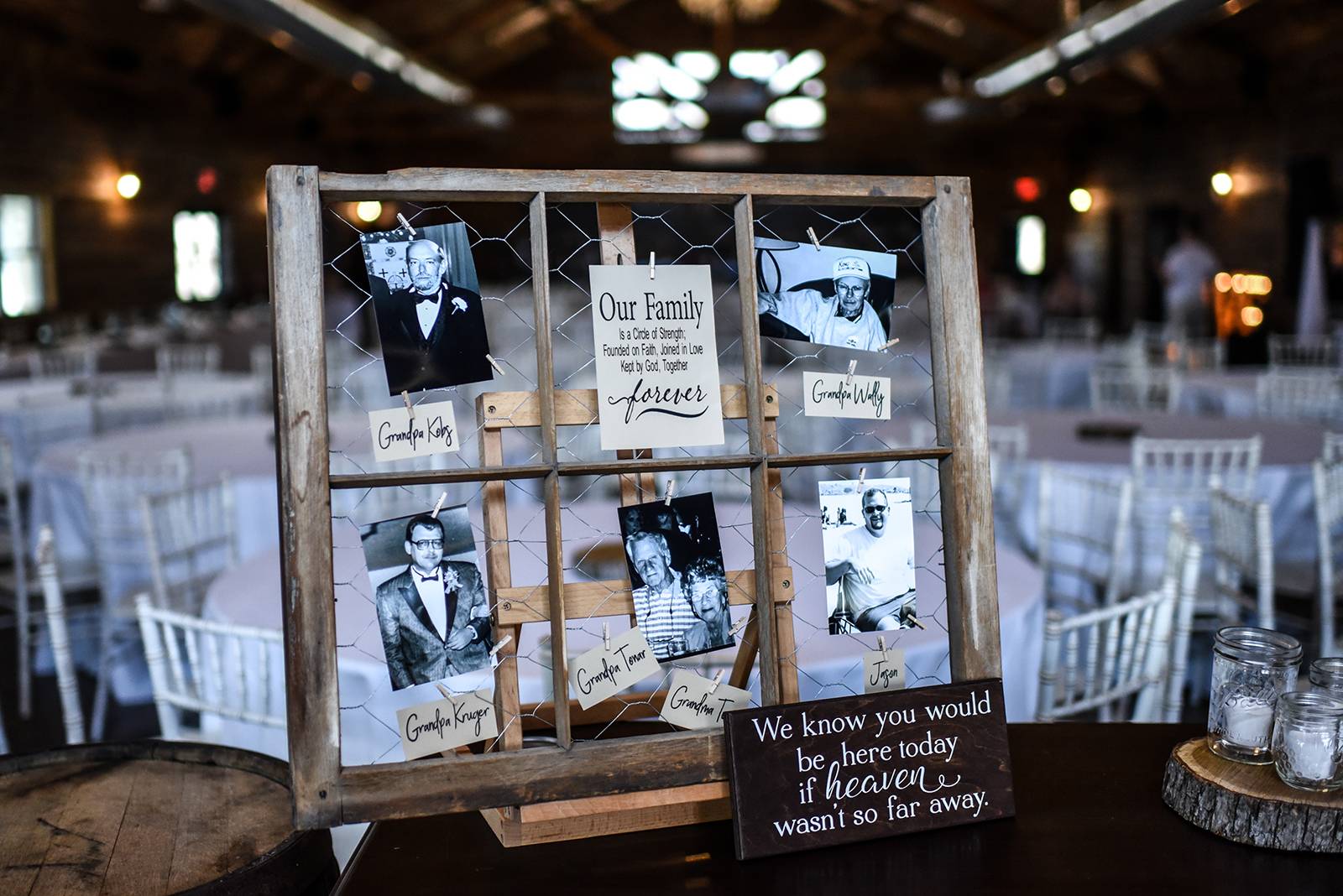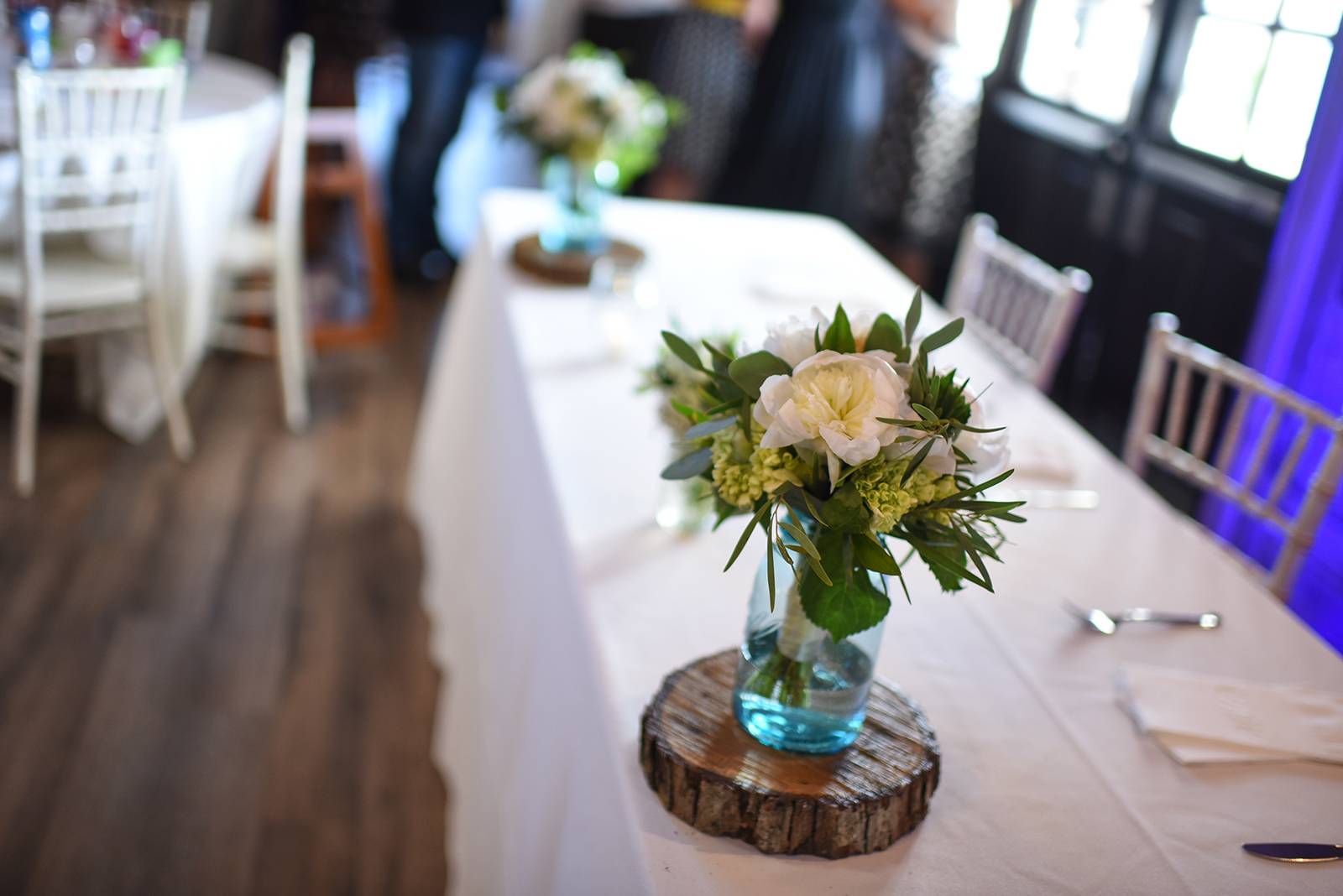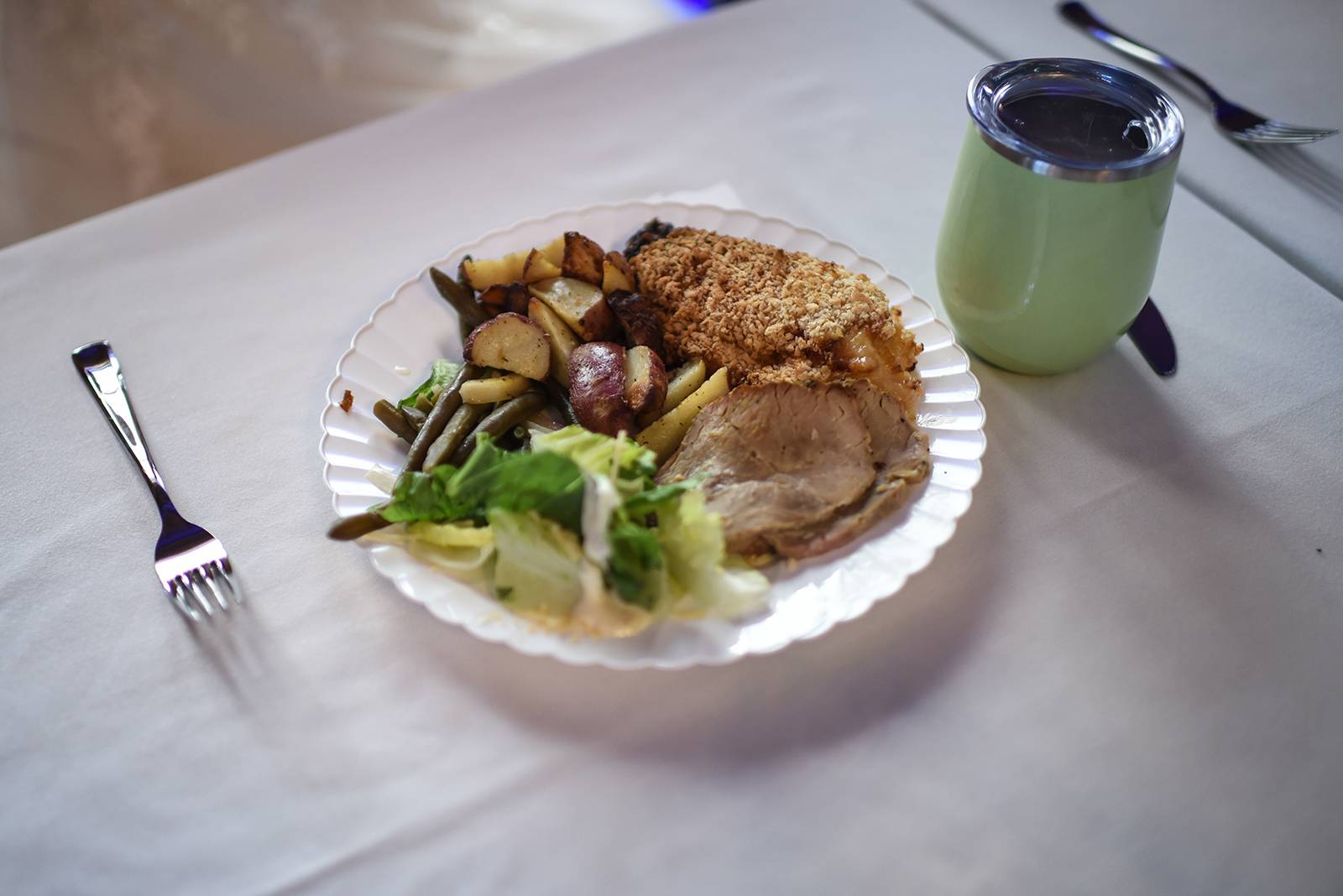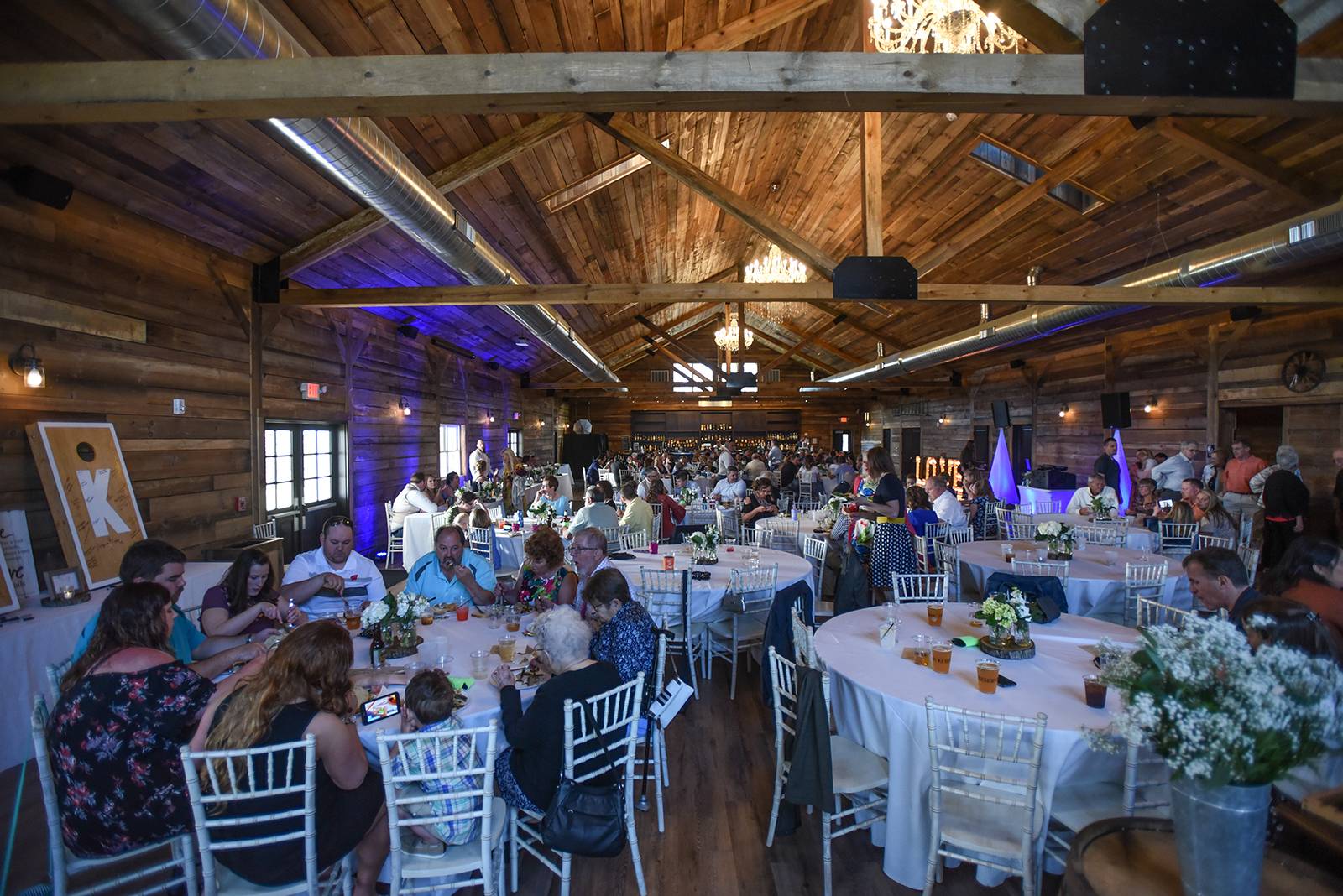 TELL US ABOUT YOUR HONEYMOON PLANS: We went on our honeymoon right away for a week to Door County.
WHAT DOES LIFE LOOK LIKE AFTER THE WEDDING? Our life after the wedding is both of us continuing to work in the Madison area, looking for a house with land outside of the city, and starting a family soon.
IS THERE ANY ADVICE YOU'D GIVE TO OTHERS PLANNING THEIR WEDDING? Take a month or two to enjoy your engagement. Before you do any planning, set a date. When it comes to booking vendors, having a specific date in mind makes it easier to know if that vendor is available. Try and have the biggest vendors booked early in your engagement as you can so when it comes closer to the date, all that needs to be done are the little details.
ANY WEDDING PLANNING REGRETS YOU'D DO DIFFERENTLY? If we were able to plan our wedding again, we would have our black lab, Beau, be our ring bearer.