Defining your personal style can feel overwhelming when you're planning a wedding. To help conquer this feeling, we are sharing advice from ANiU Salon Artist, Winona Repp, about creating a look that pairs with your wedding day style.
For the three looks featured below, Laura of Premiere Couture selected dresses in three different styles; Classic, Boho, and Glamour. Laura, Rosemary and their team of bridal consultants at Premiere Couture are experts at guiding you in selecting a gown that truly reflects how you wish to feel on your wedding day. ANiU Salon Artists Winona and Meghan helped create three distinct beauty looks to pair with each gown.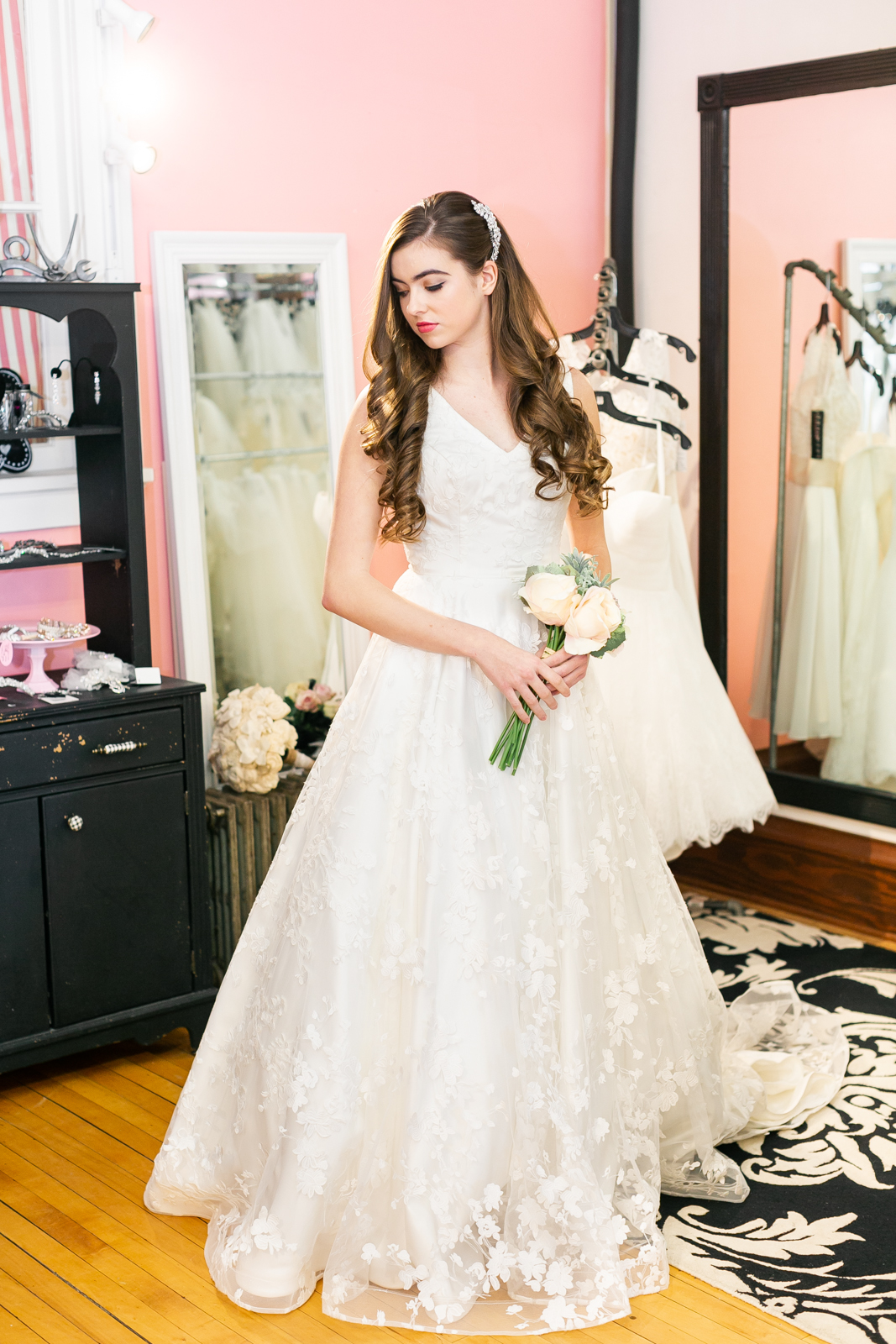 Look One: Classic
This dress is timeless and understated. Its strong silhouette and delicate lace create a beautiful canvas for a variety of beautiful looks. We chose to show off Ella's long dark hair with classic curls pinned off her face with a statement hair accessory. A simple half-up or all-up style would work here as well, but simplicity is key to match the style of the dress. Be sure to consider weather conditions, venue, and timeline when considering how much of your hair will need to be pinned back. Even the best set curls will fall eventually and a long day with rain or humidity will really affect the wearability of this look.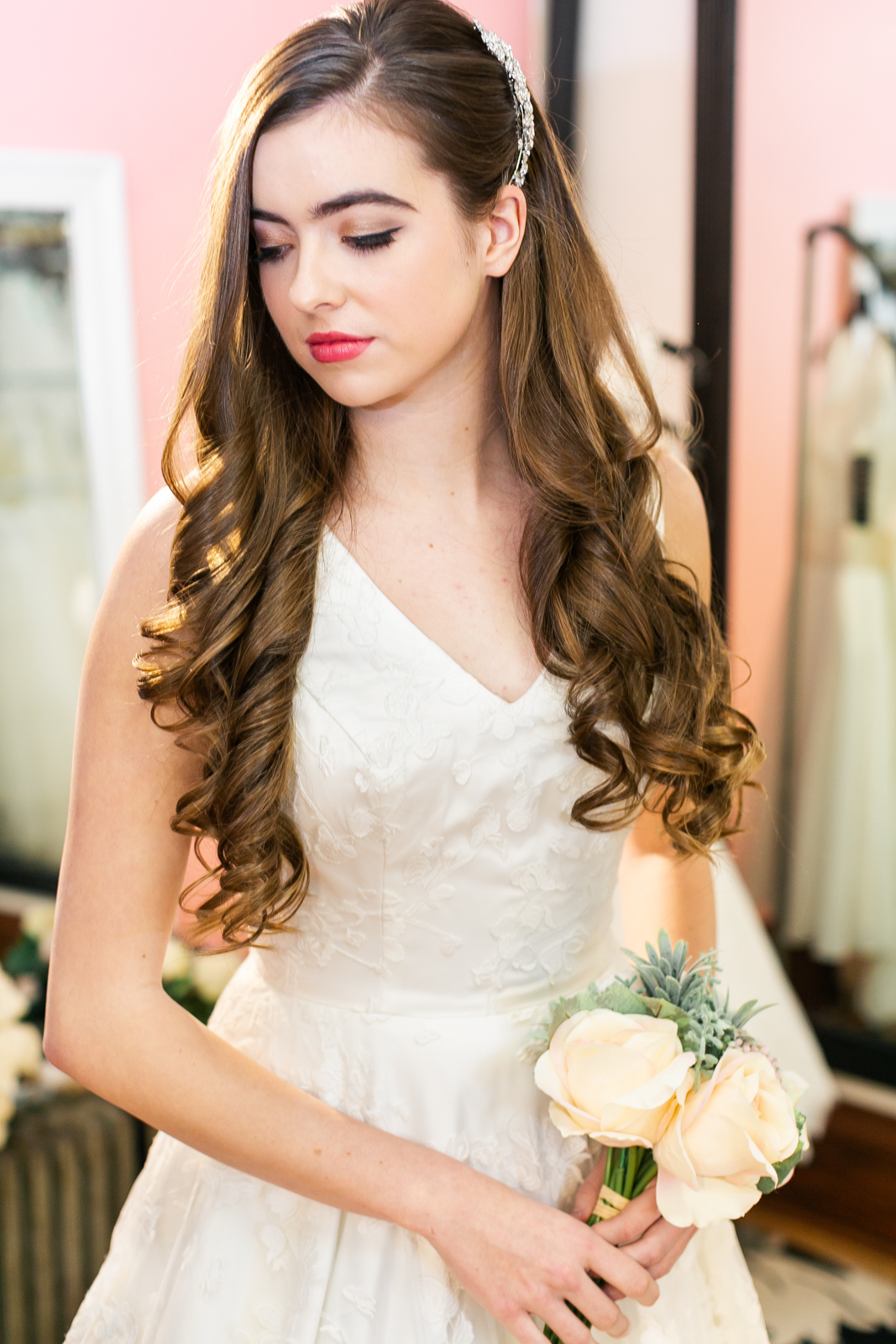 Trial Tip: Bring hair accessories and clip-in extensions to your hair trial to see how they work in your hair. Extensions can add length and fullness when needed to achieve this style but consult with your Hair Artist before the trial to determine what's best.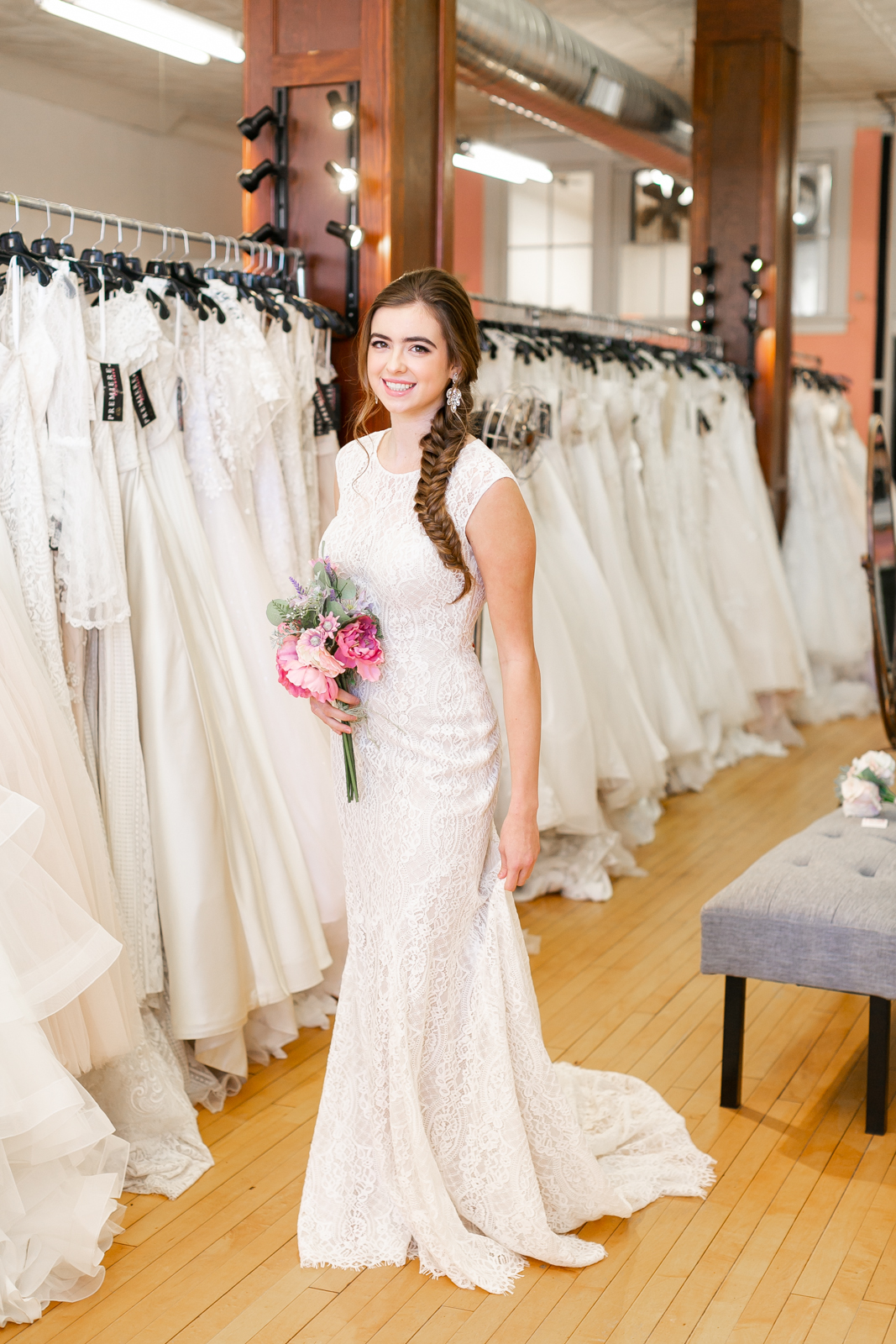 Look Two: Boho
This lace-covered form-fitting dress is unique and perfect for a modern boho bride. For a whimsical wedding where small details shine, this uncomplicated look flatters the effortlessness of Ella's natural beauty. A loosely pulled-back look or half braid would also work well with this dress. Remember, less is more! Delicate flowers or hair jewelry can add a touch of whimsy without making the look too fussy. Extensions can be used to add fullness to a braid when necessary.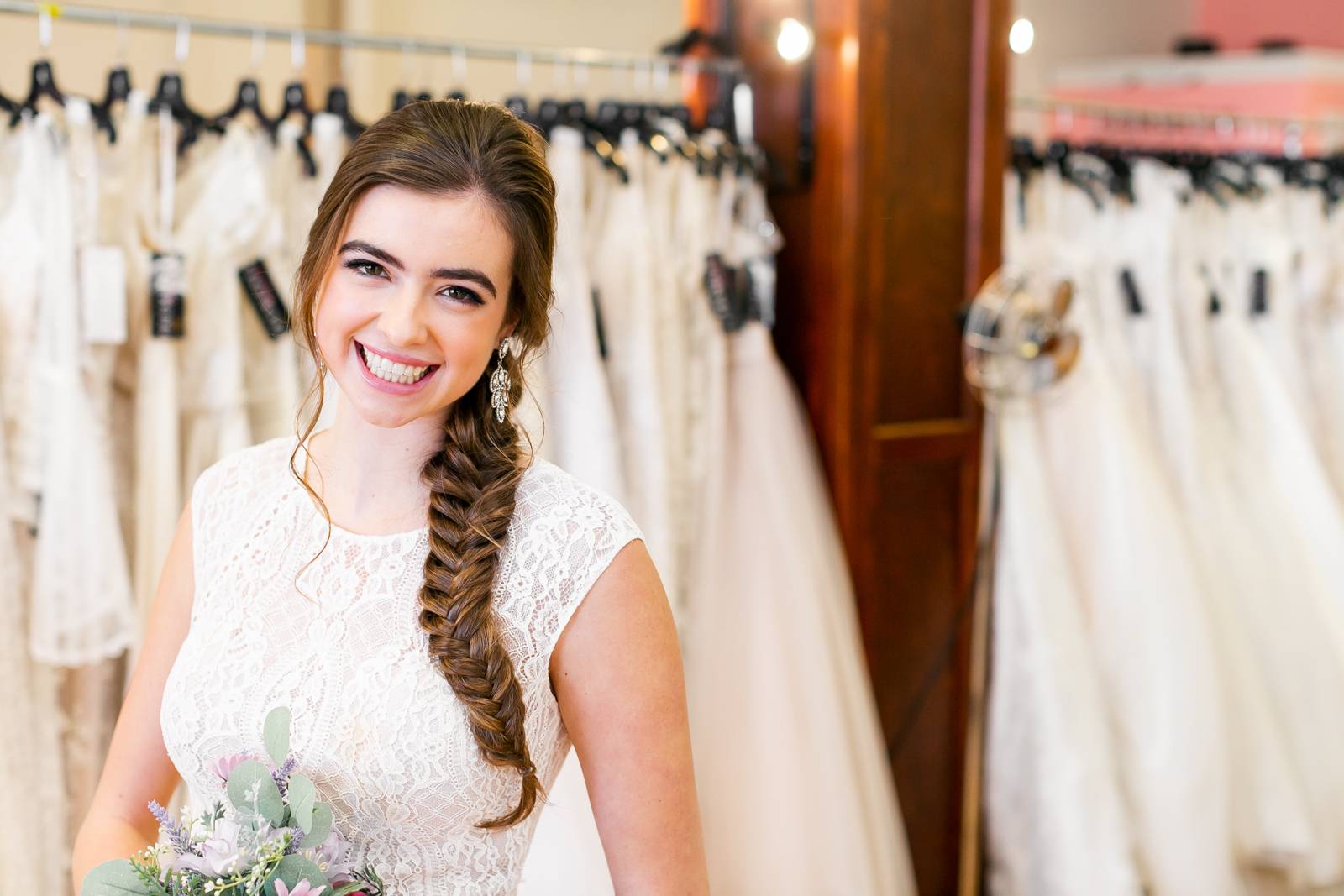 Trial Tip: When you have a firm idea of your wedding theme but feel unsure about hair or makeup, bring photos of your dress, venue, or day-of inspiration. Showing a Pinterest board or pictures of your wedding theme will communicate so much to your Hair and Makeup Artist.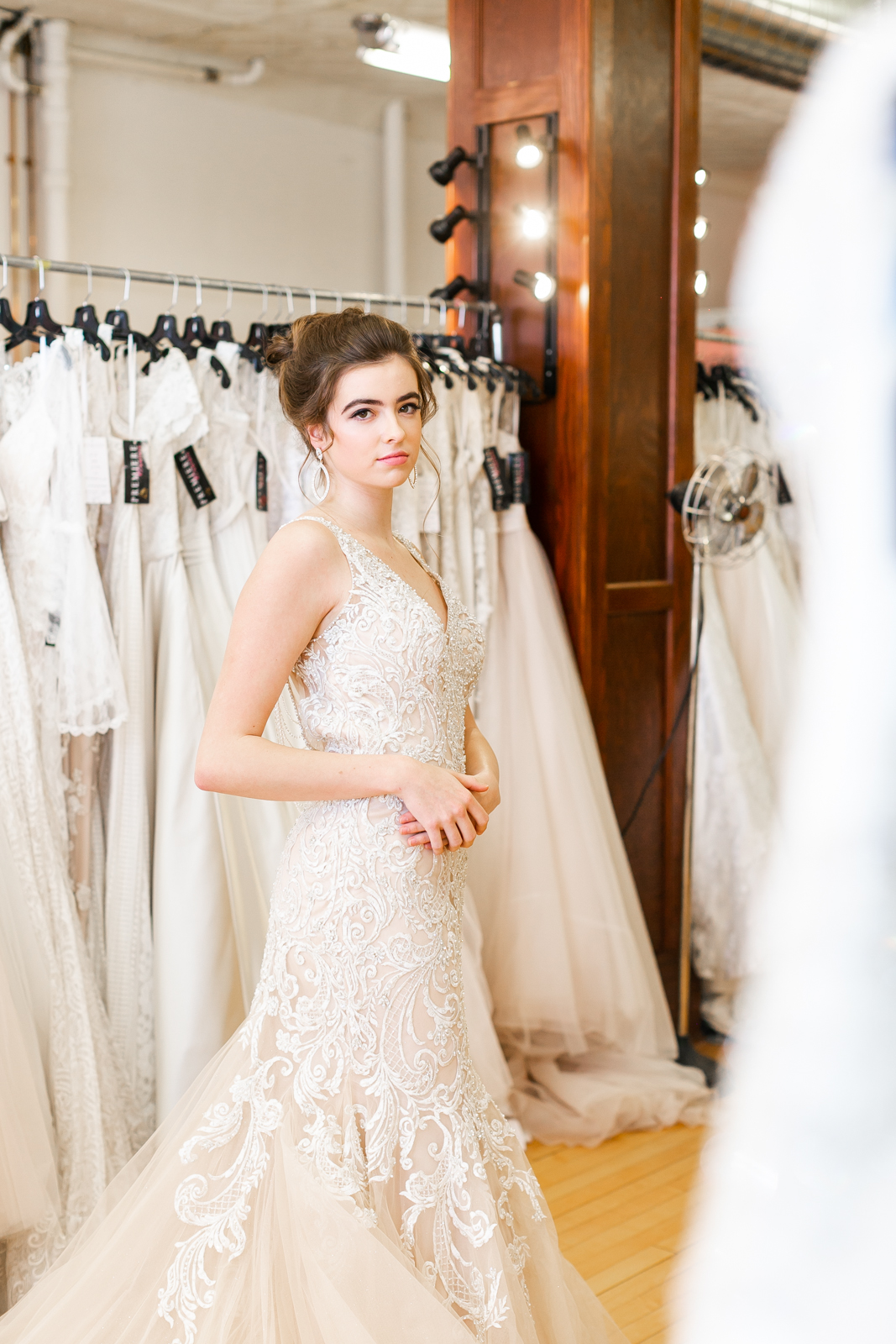 Look Three: Glamour
This beautifully-detailed beaded dress is a show-stopper. For this look, we swept all of Ella's hair up to show off the back of the dress for a dramatic silhouette. Hair accessories and makeup can be used to enhance the dramatic look or understate a softer beauty in the finished look. When you want to really show off your dress, pinning all your hair up is an easy way to do that! Strategically adding volume or leaving pieces down can change the shape and offer softness where needed to keep the style from becoming severe.
Trial Tip: Schedule your reveal or final dress fitting the same day as your trial if possible and take pictures from every angle to see how the finished look photographs. Remember, this is just a trial, so there is time to make changes before the big day! If you don't like something, speak up! You deserve to look exactly how you envision yourself on your big day!