Full of rich burgundies, pinks, and navy, this elegant Wisconsin barn wedding is pure perfection! Abbots Lane Photographycaptured this beautiful imagery below filled with the sweetest proposal story, and stunning locally grown blooms deep in color, including wine dahlias, lisianthus, and pretty roses accented with seeded eucalyptus.
WEDDING DATE: 08/06/2016

HOW DID YOU MEET? Funny story! We actually met at a small get together. He asked me to be his beer pong partner and after that, we clicked. He asked me out shortly after that night and we never looked back since.
HOW DID YOU KNOW HE WAS "THE ONE?" To love a person, you must love them all. How I knew he was the one for me was him accepting my cultural background from the beginning. Caleb loved everything about my culture and always strived to learn more. He learned basic Hmong language just so he can speak it with my mom and that meant the world to me. He has such a big heart and always wanted to be included with everything. Prior to the big wedding, we had a traditional Hmong wedding. Caleb insisted that we do a Hmong wedding because those are the roots that built me. That melted my heart. I remember when we would talk so much about life and our future and he would tell me not to forget where I come from and my language. I can truly say I am blessed with someone who loves me, my family, and continues to love my culture every day.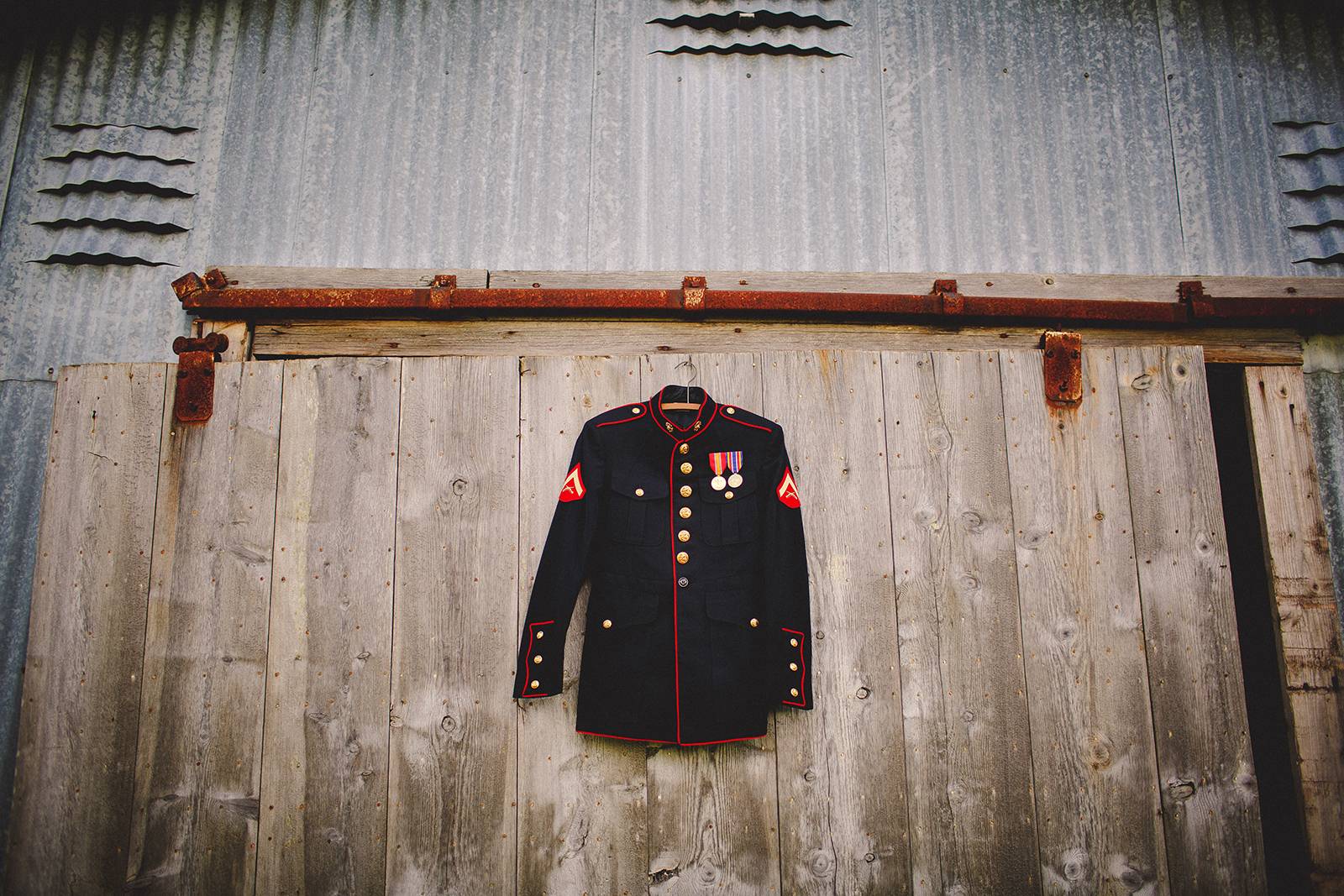 TELL US ABOUT YOUR PROPOSAL: On October 3, 2014, Caleb was taking me out to eat dinner that night for our monthly anniversary. He told me specifically to get ready and he would be over to pick me up at 5:30 pm. As the time came, he was not over yet. I remember calling him and he made an excuse of still having to get ready. Two hours later, he picks me up and tells me that he wanted to try out this restaurant by Cedar Creek Cinema and so we drove there.
He parked in a parking lot with no cars and pointed to a building. Then he tells me to take off my jacket and I did not want to because it had to be the coldest day in October. It was so funny because I made a joke about if he was proposing and his face went numb but I didn't think anything of it. As I got out of the car, he tells me to follow him down a path because he wanted to go for a walk as we are "early for reservations" and so we continued down the path. I remember telling him I did not want to go because there were lights hanging and that someone could be there. He demanded we go check it out so we walked to this open barn house on top of a small bridge. That is when I saw all the pretty lights hanging down and all of our pictures lined up in the barn. So many candles lit up. I was so shocked and I remember all these beautiful rose petals on the ground in a row and then shaped into a circle at the end which was where I stood. I was looking at our pictures on the side and when I turned around, Caleb was on one knee with a beautiful ring. All I can remember him saying was "Sheng, you make me the happiest man alive..." as he was tearing up and then I went blank and started crying. Caleb's best friend and a surprise photographer jumped out and congratulated us. It was honestly such an amazing moment in my life and I couldn't thank everyone enough for helping.
TELL US ABOUT YOUR DRESS: I tried on well over 15 dresses. Finally found the perfect one. It was a beautiful Allure white lace mermaid style with a long lace train. Just what I wanted.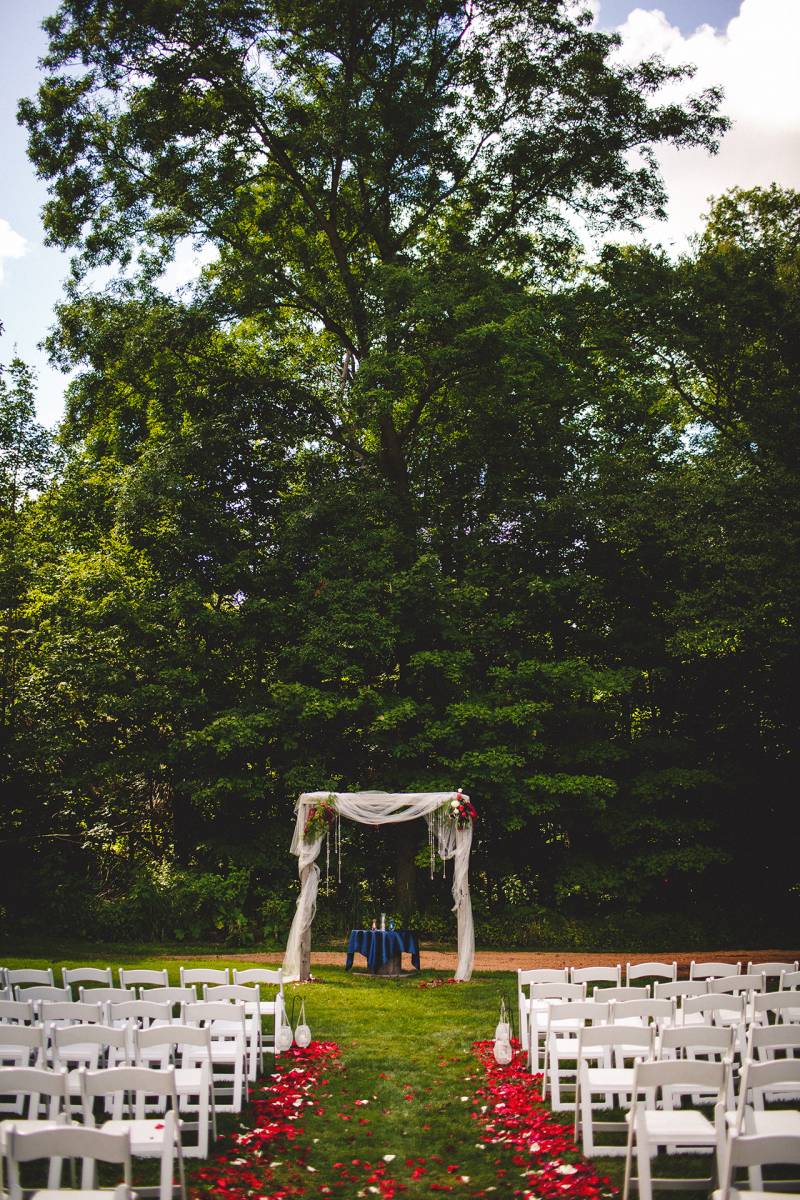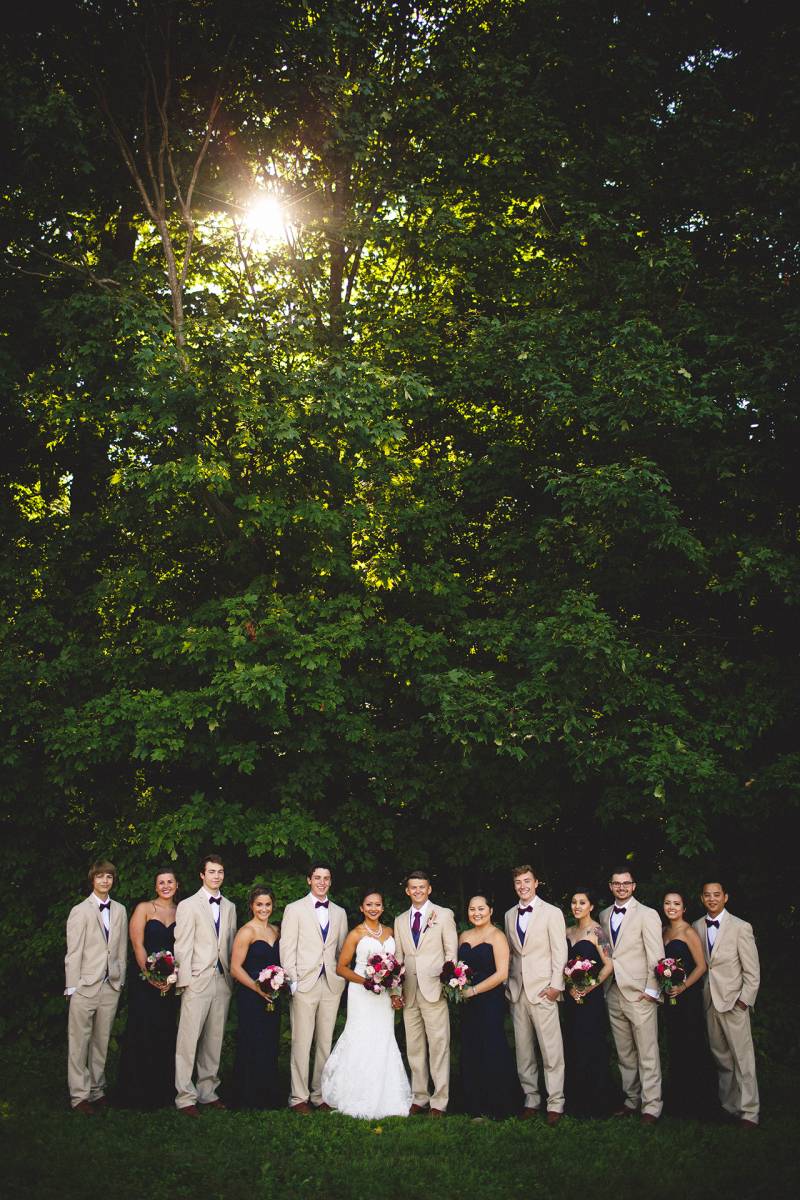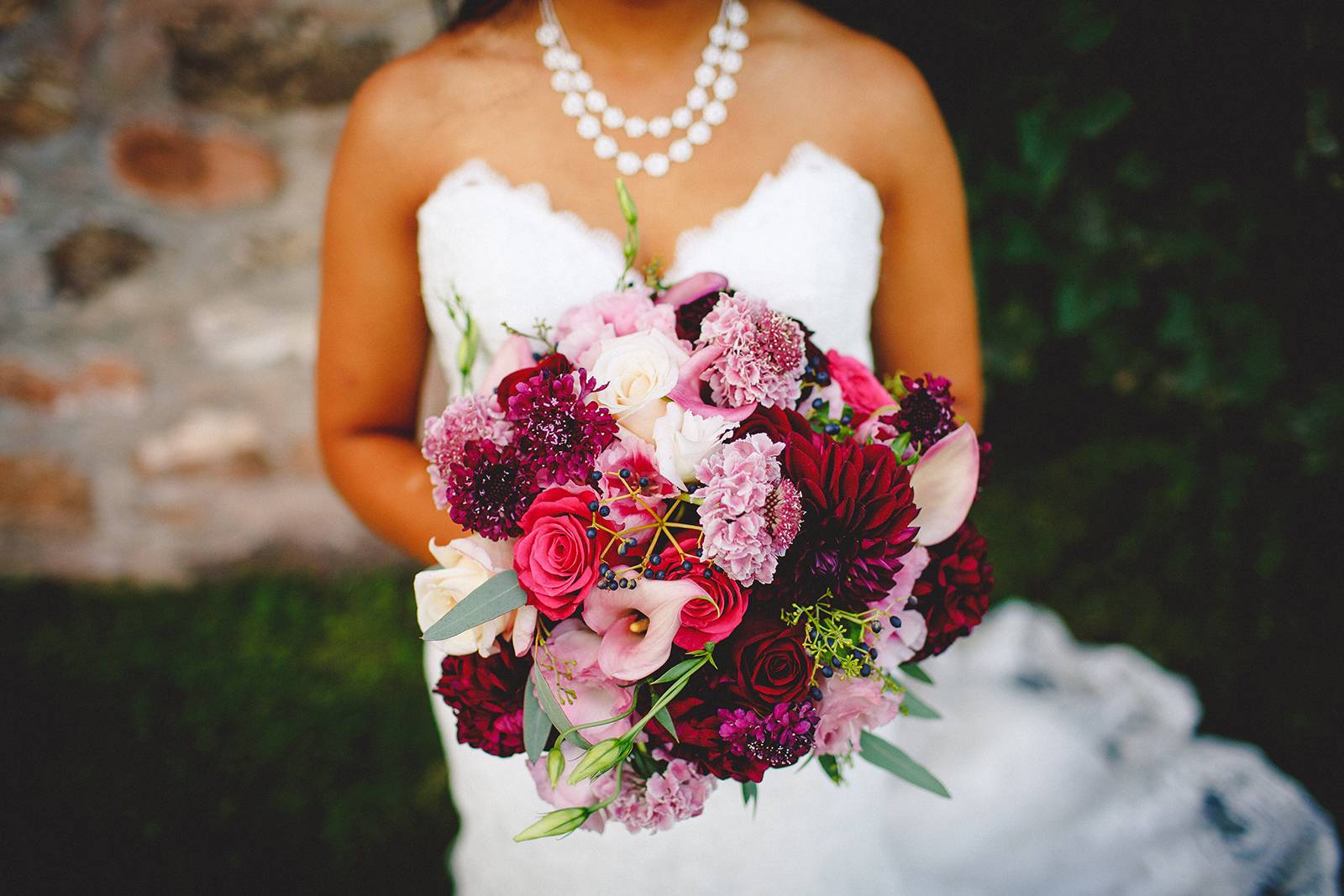 DESCRIBE YOUR WEDDING FLOWERS: I left it up to my florist. I picked out the colors and told her some ideas but wanted a surprise. She surprised me with beautiful flowers on the wedding day. The flowers are locally grown wine dahlias, pink lisianthus, "Anna" and "Cherry O" roses, privet berries, wine scabiosa, candy scabiosa and seeded eucalyptus.
WERE THERE ANY PERSONAL TOUCHES OR DIY ELEMENTS? We had a lot of cute rustic signs that my bridesmaids wrote. We had different sizes of logs cut up and stacked with candles and rose petals which was super cute! I had a wooden ladder with beautiful flowers and beads hanging behind the wedding party table. The flower girl's baskets were made of burlap, lace, and bows.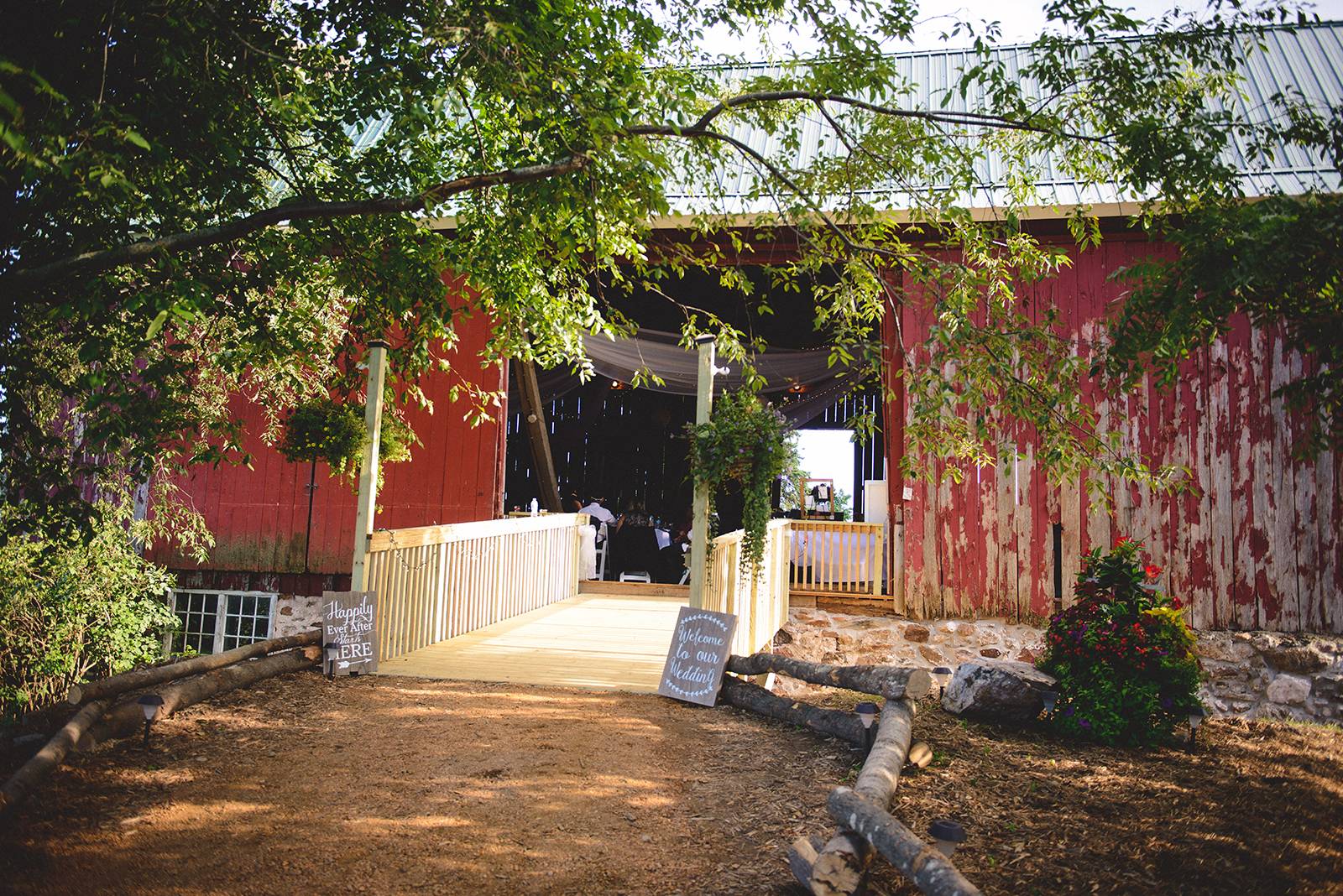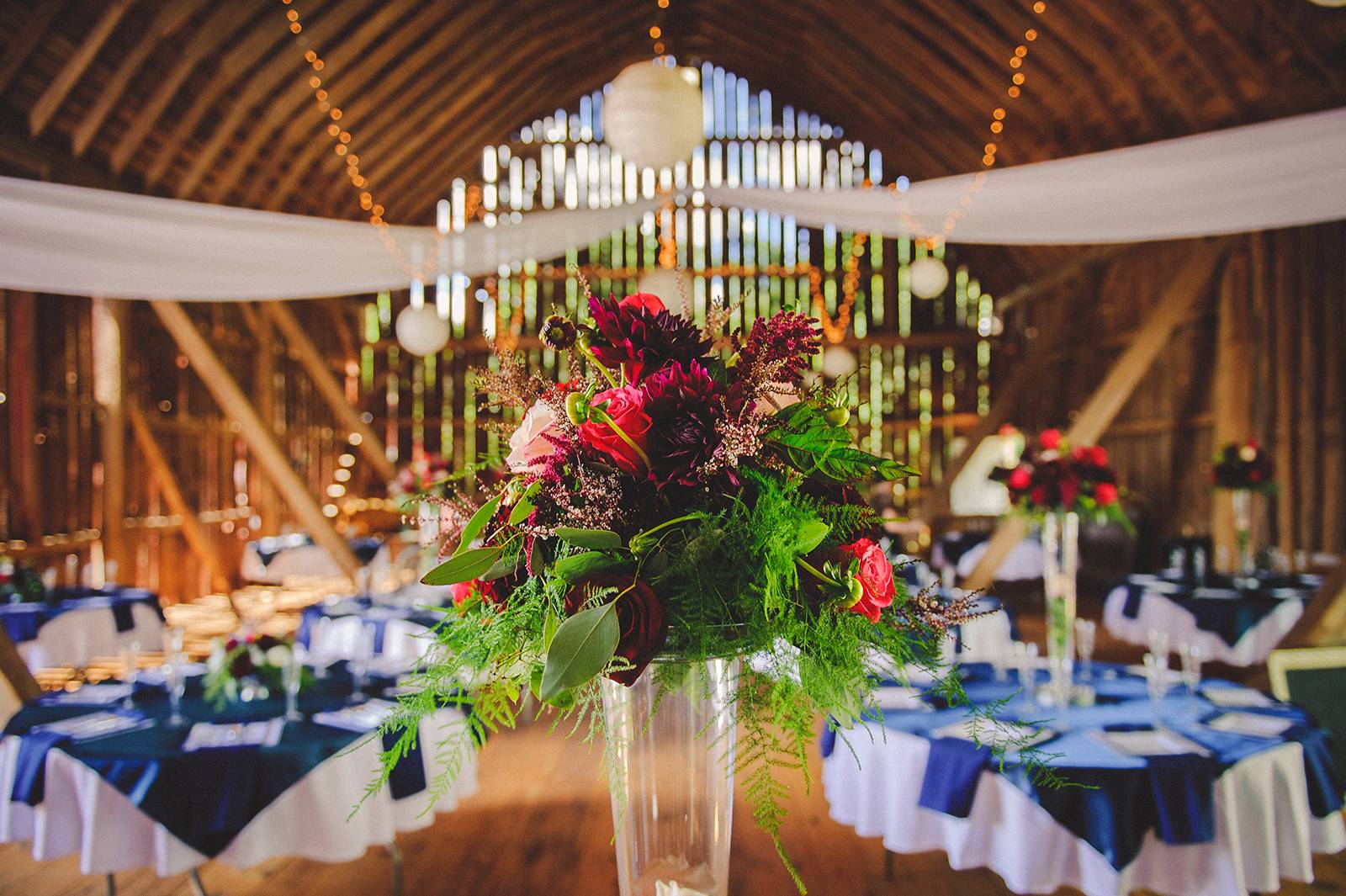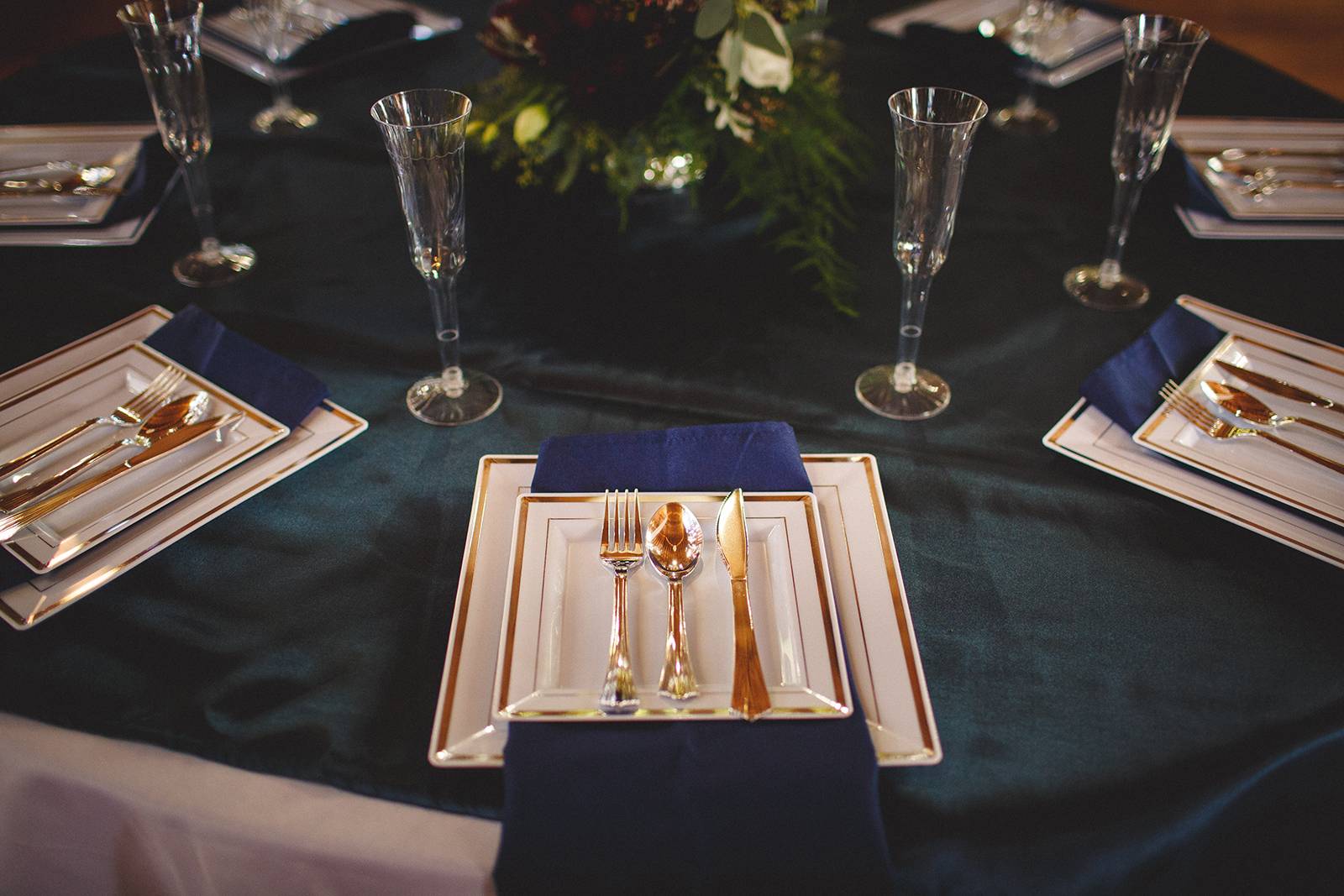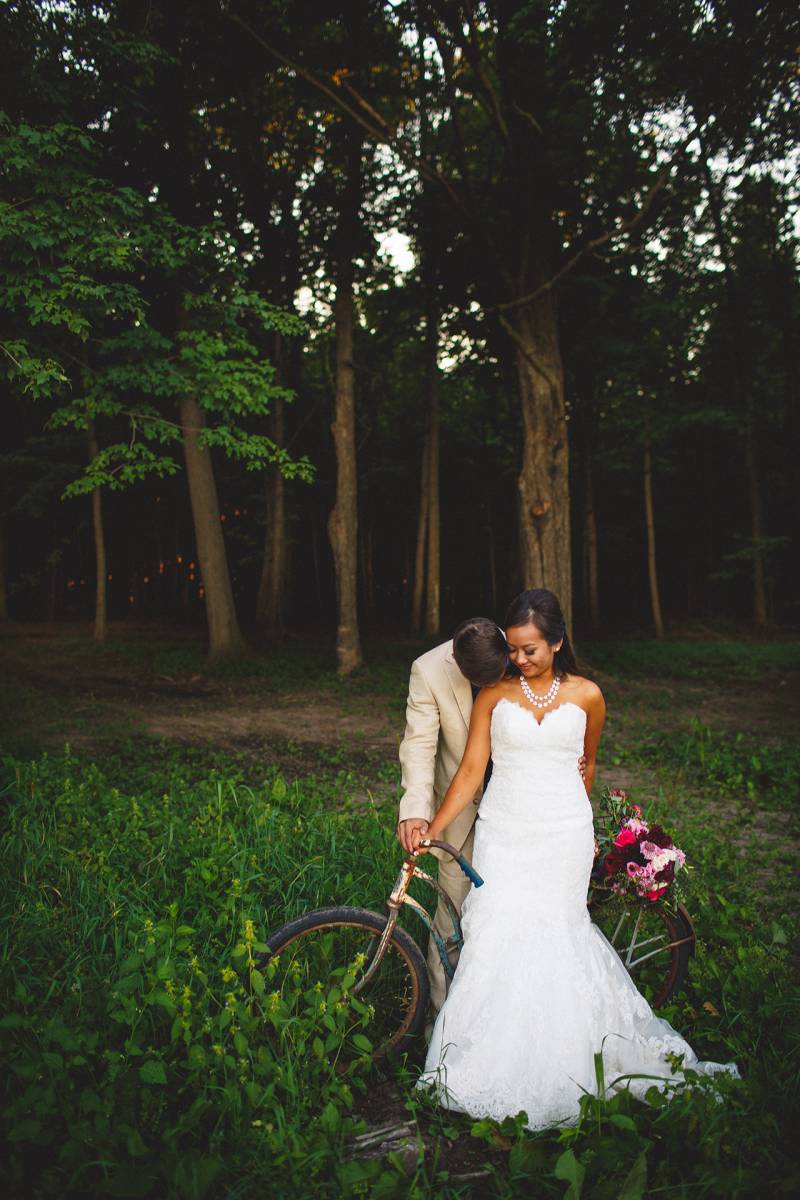 WHAT WAS YOUR FAVORITE MOMENT FROM YOUR WEDDING? I loved every second of the wedding. One of my favorite moments was when Caleb sang me two songs towards the end of the night. I have never heard him sang and definitely not heard him sing in public. It was so amazing and I was in awe the whole time. It went by way too quick and I wish I could relive it.