Rustic romance and simple glamour filled this breathtaking commitment of true love between Robyn and Ben. East Elm Photography captured their day full of special touches that truly reflect who they are as one. Choosing the stunning Lageret as their backdrop, the couple decorated with select floral pieces by Flora by Jamae and flashy marquee letters from EZPZ Marquee. Guests raved about a beautiful meal, and the bride and groom danced their first dance to a song written by the groom. Robyn shares her dress shopping experience at Vera's House of Bridals, and more down below!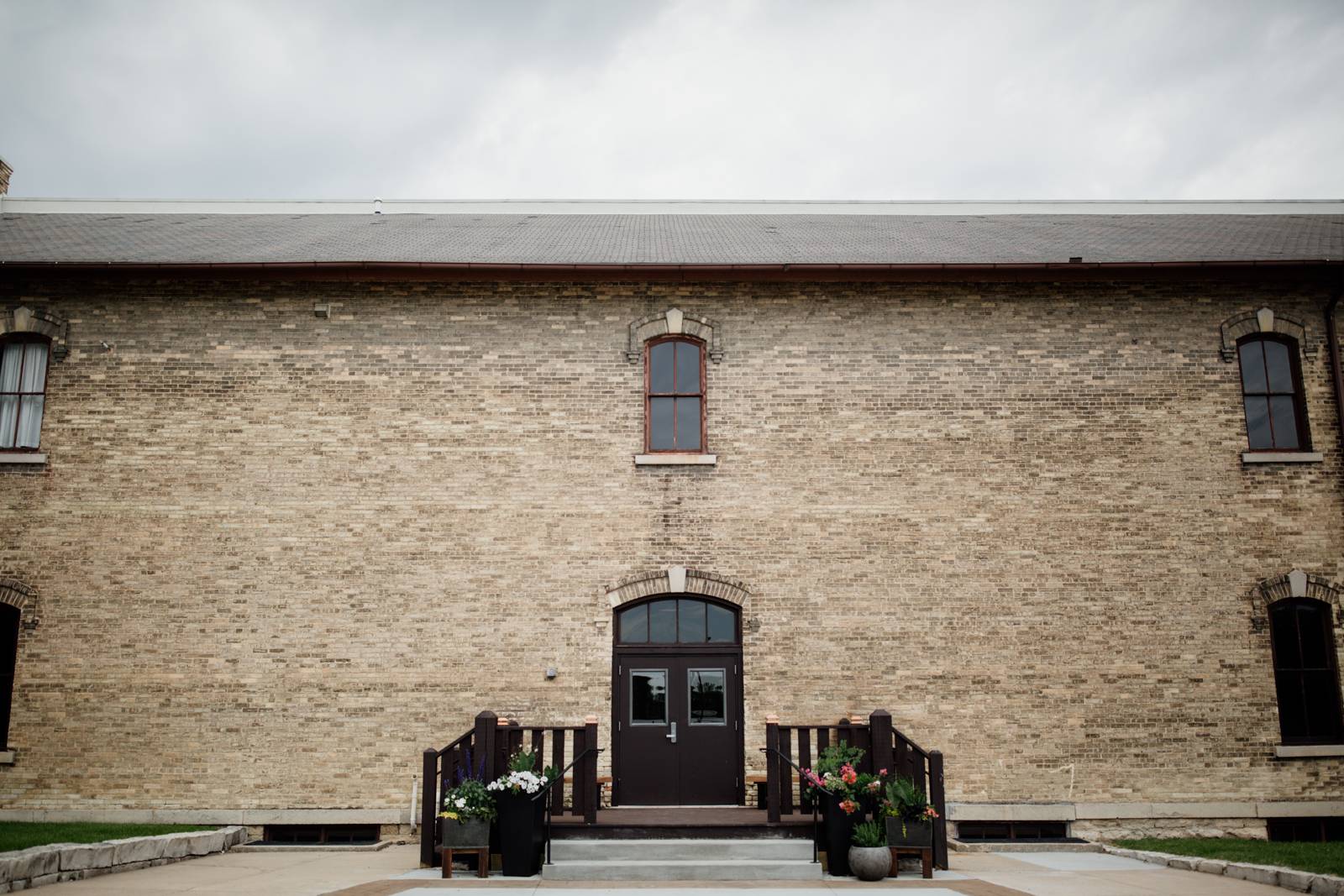 WEDDING DATE: 06/14/2019

HOW DID YOU MEET? We met through mutual friends in Madison.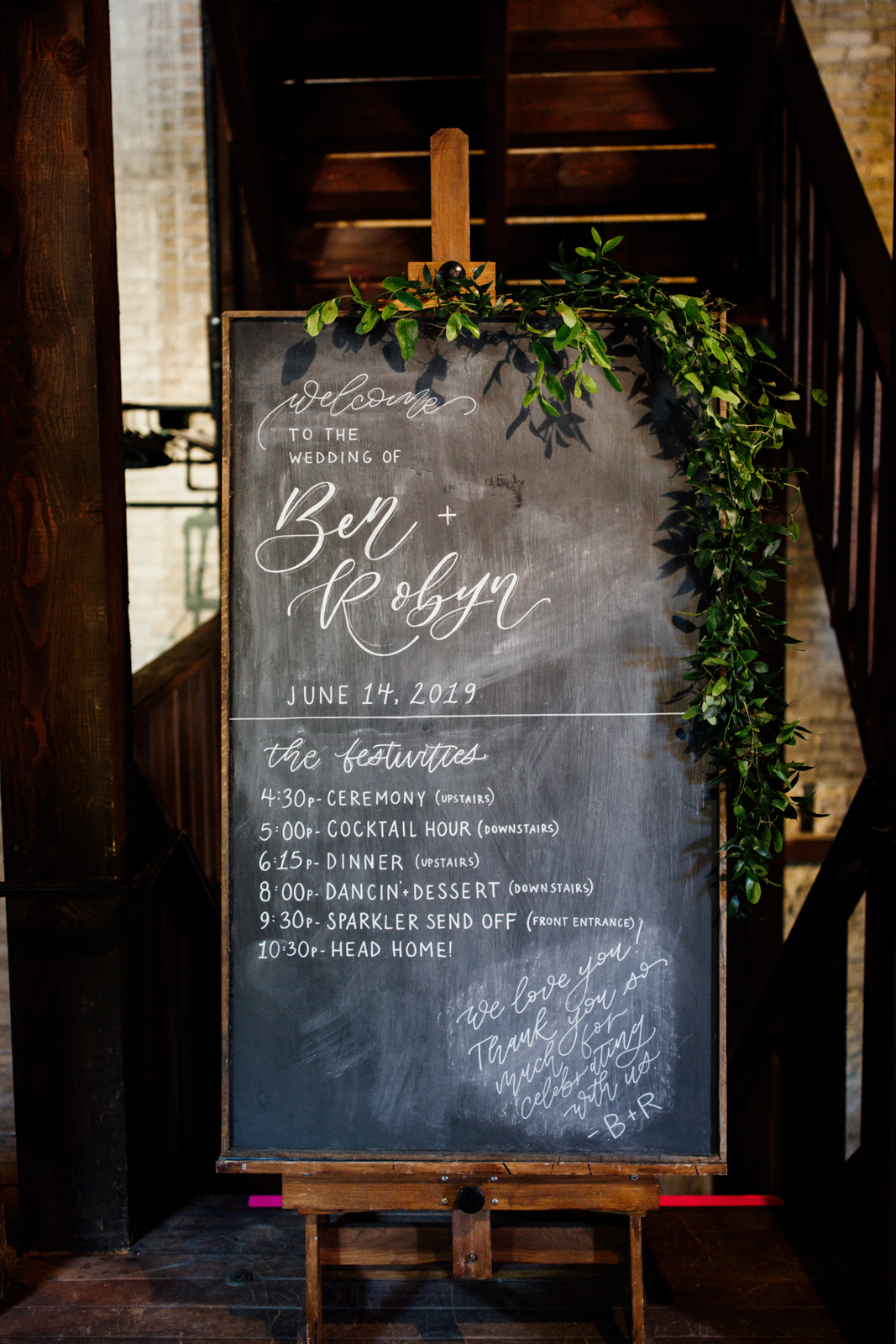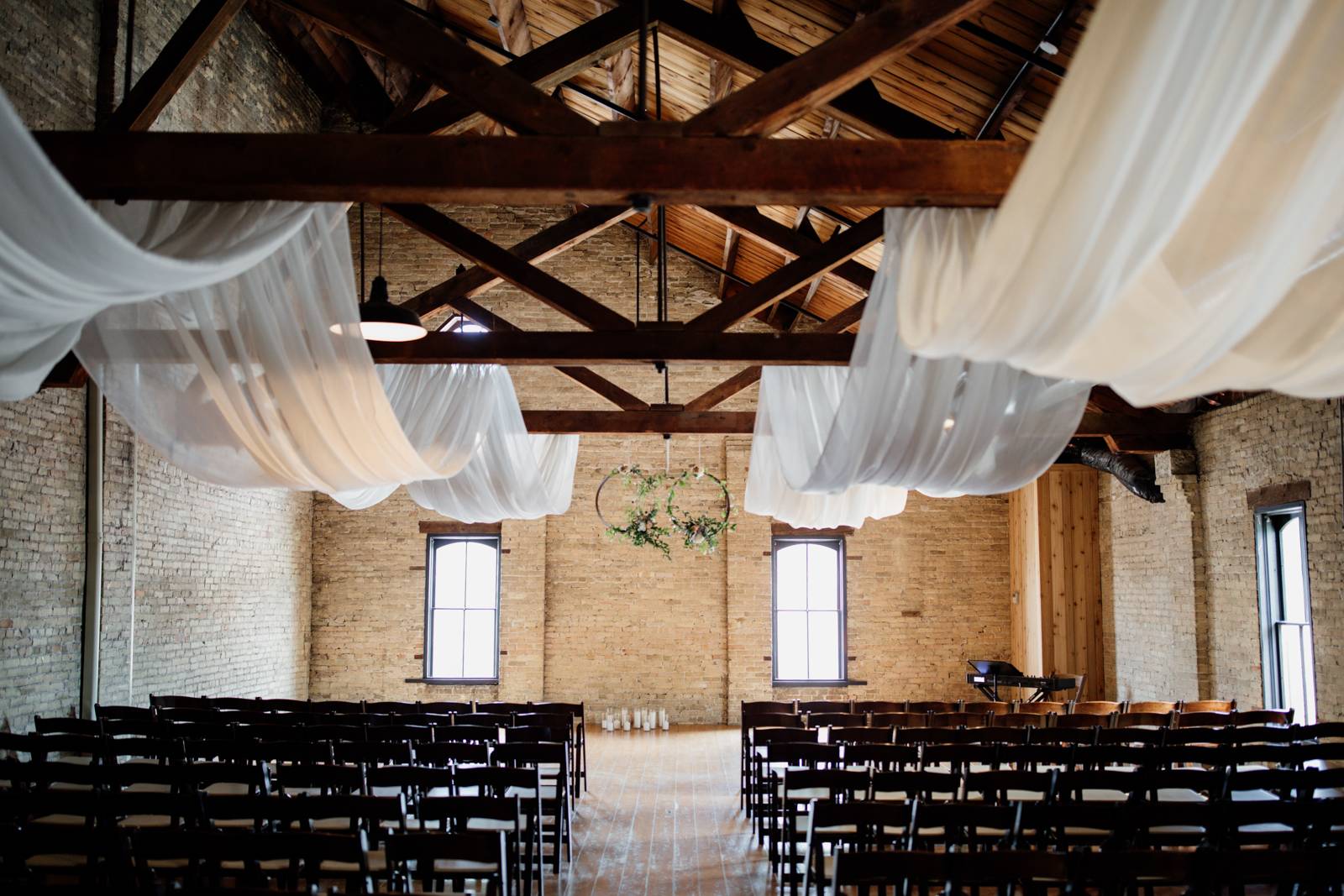 HOW DID YOU KNOW YOU HAD FOUND "THE ONE"? As we continued dating, pursuing each other patiently and consistently, we saw qualities in one another that were qualities we both wanted in life long partners. We gradually fell more in love as we went through life together for a year or so. We both have different times we 'knew' the other was 'THE ONE,' but we both would say that it wasn't at all a Disney moment, where the clouds parted, and Aladdin came down through the sky to pick us up on the magic carpet. We slowly and confidently pursued one another with grace and persistence. For us, we are proudly Christian, and that applies to how we dated one another. We both were deeply interested in honoring God in how we loved and pursued one another. Our relationship was way more than a facebook post and some dates - we knew that we wanted to be together because we both wanted to raise a family with Jesus as the foundation! It's simple but vital and powerful for both of us.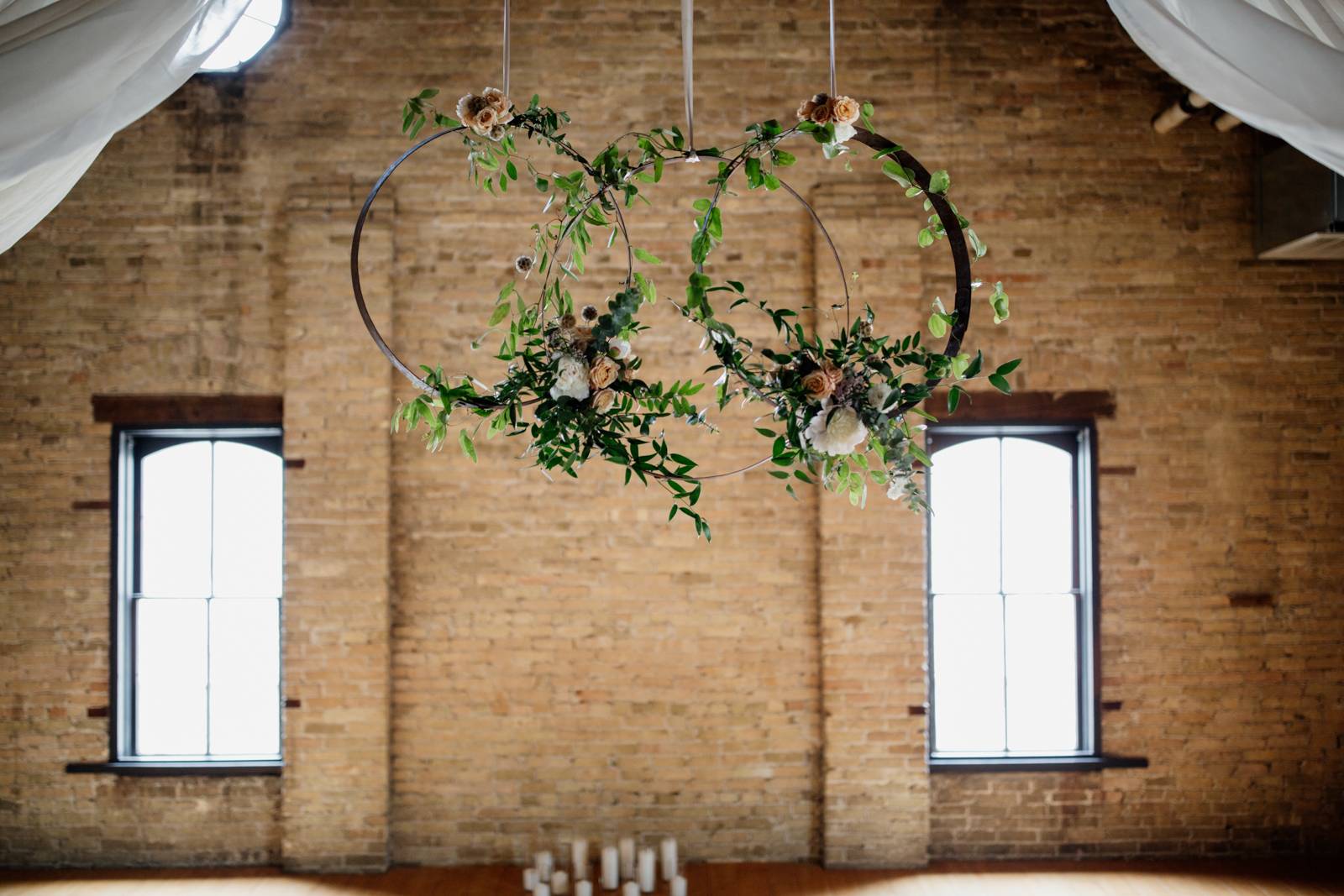 TELL US ABOUT YOUR PROPOSAL: I took the day off of work and planned for the two of us to go hiking at Devil's Lake (one of our favorite things to do). After we finished our hike, Ben took me over by the shore and got his guitar. He played a song he wrote a while back about our first date, only this time there were a few extra verses. At the end of the song, he asked me to marry him, and I said yes!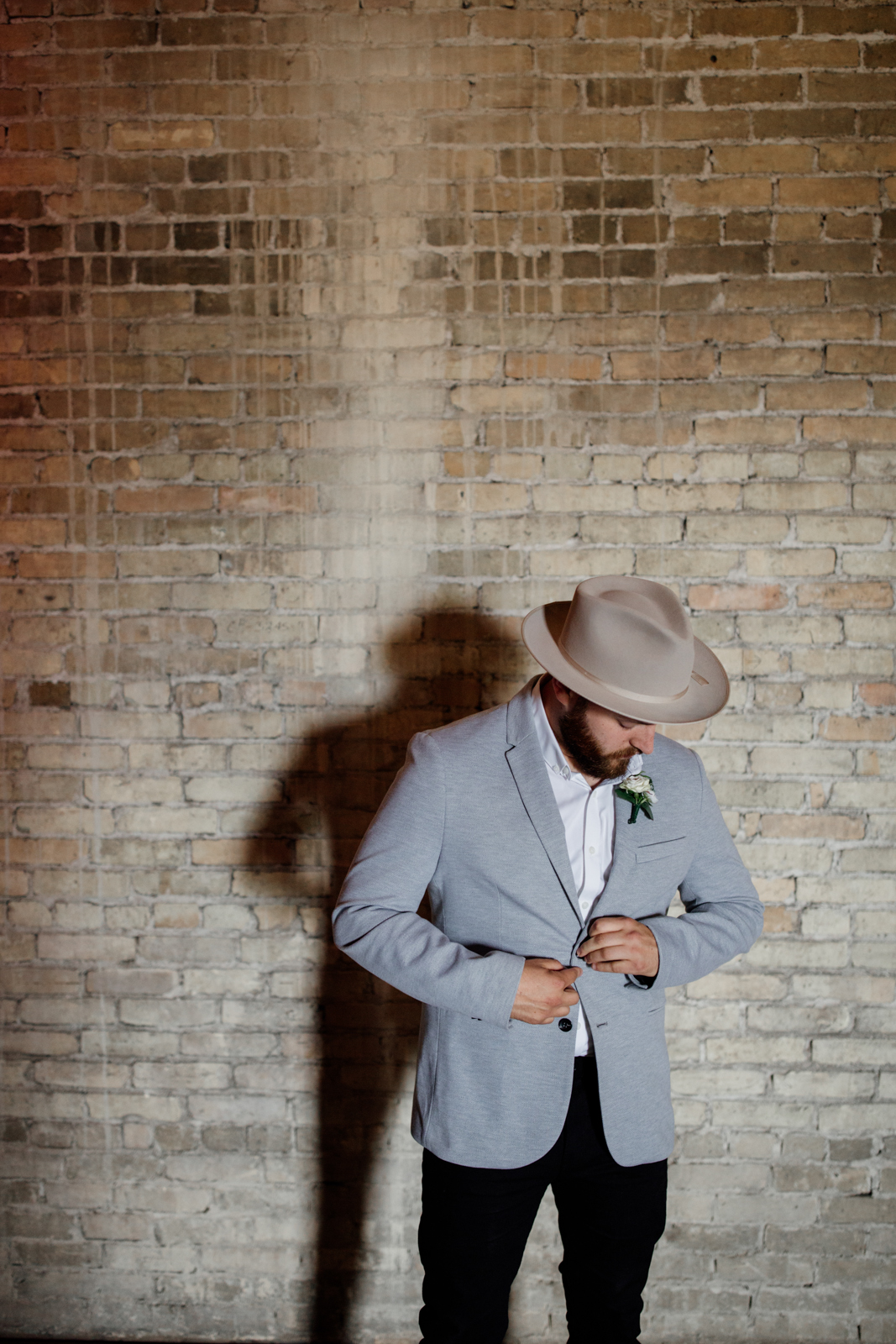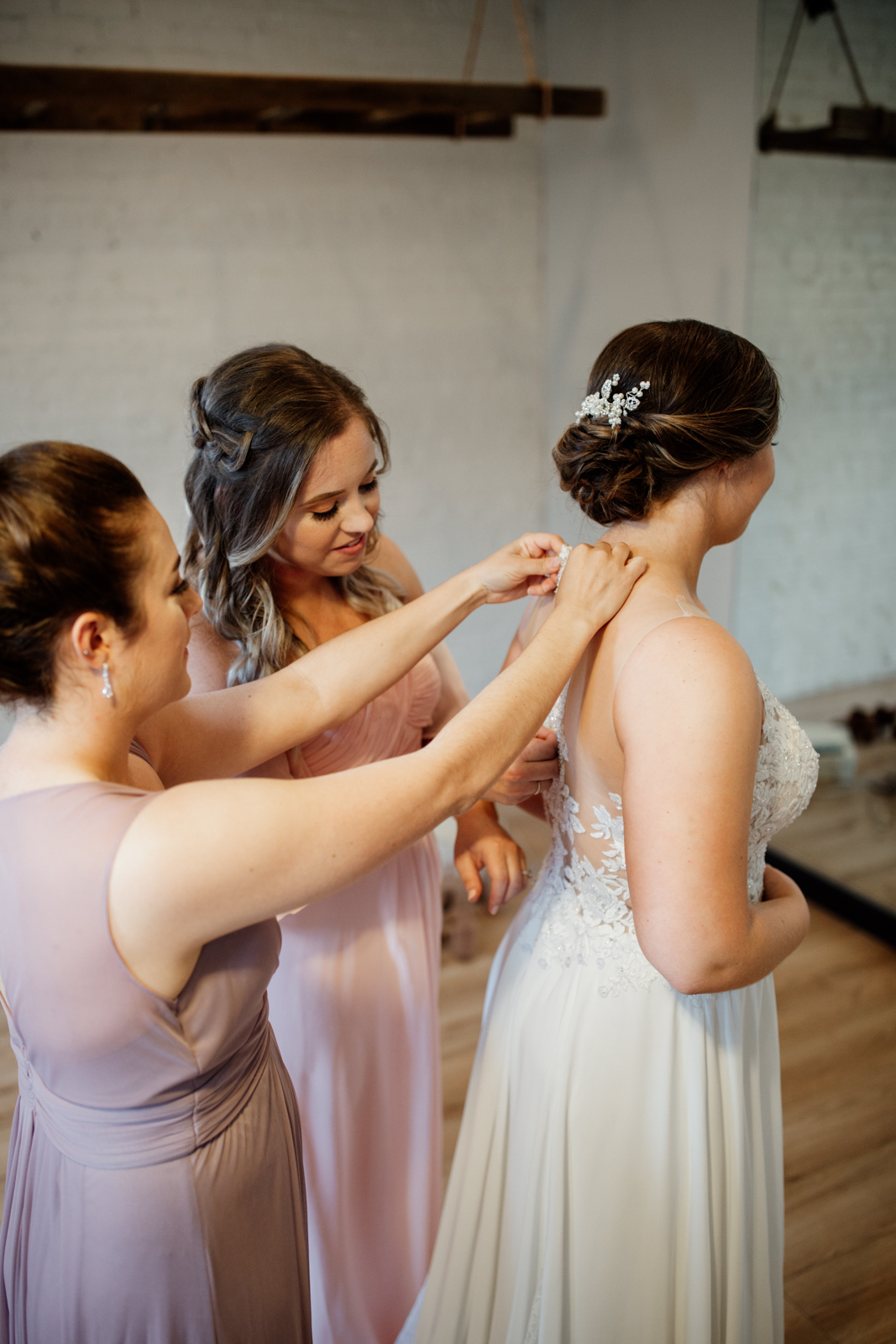 TELL US ABOUT FINDING YOUR DRESS: I went with my MOH to a small bridal boutique in Milwaukee first. That trip was helpful even though I didn't find a dress because I got to try on the different silhouettes. I walked away from that shop knowing a way better idea of what I was looking for. A few weeks later, I went to Vera's Bridals with my MOH and my mom. I told them I was looking for an A-line dress with lace and beading elements; with their massive inventory, we found a winner in no time. I felt stunning and confident in my dress- that's how I knew it was the one. I could not stop smiling when I put it on.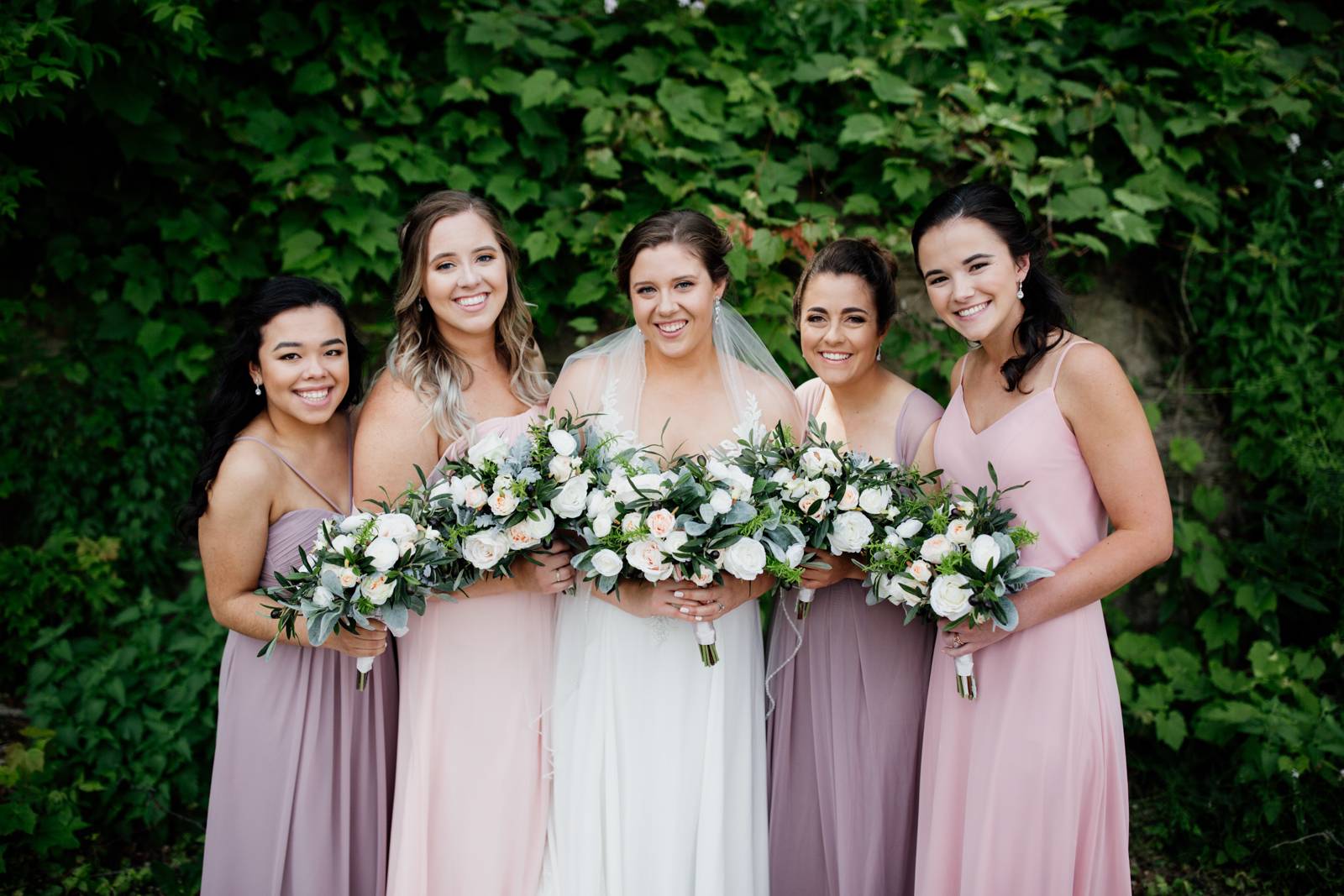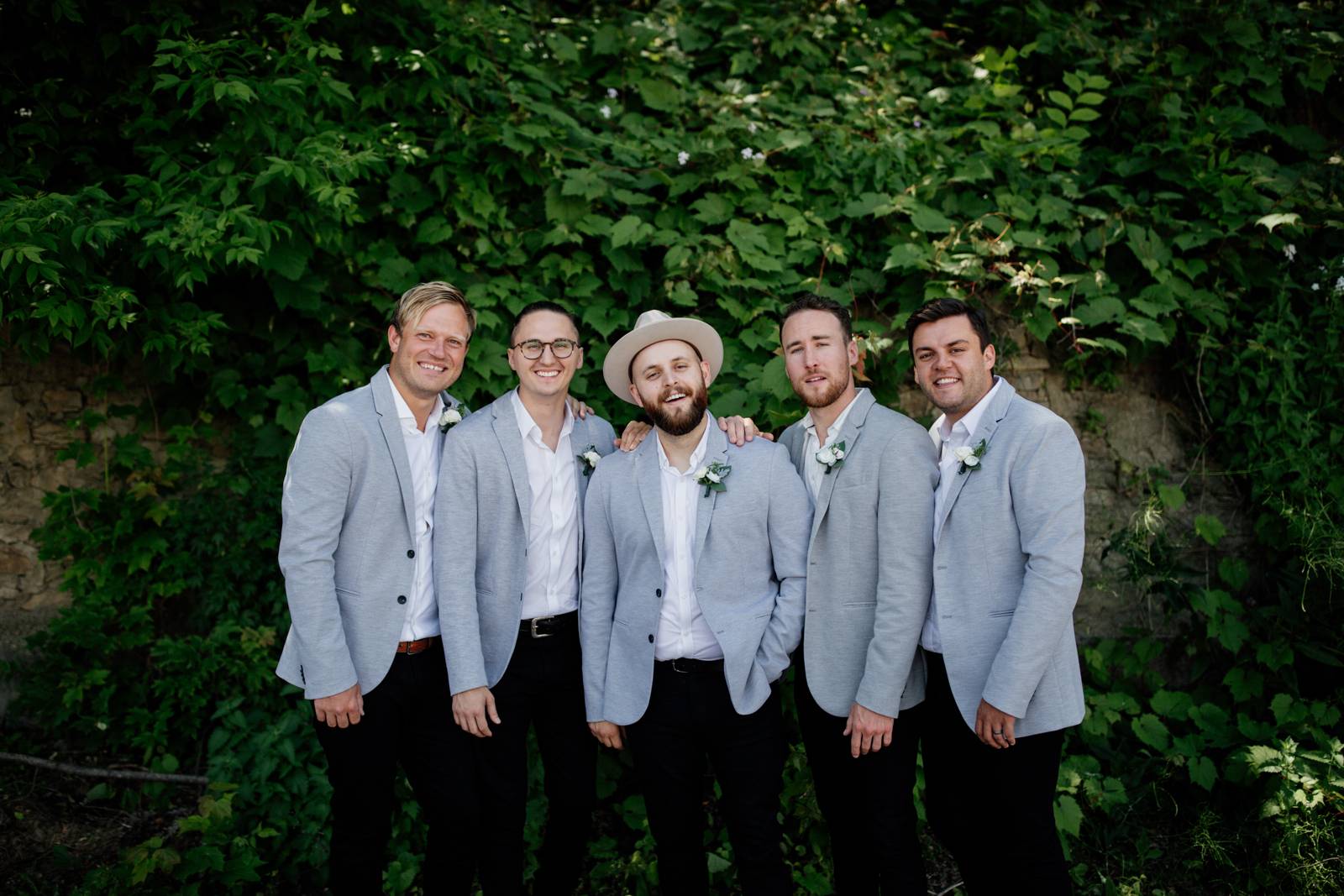 WERE THERE ANY PERSONAL TOUCHES OR DIY ELEMENTS? We DIY'd the table numbers and the succulent boxes that were sprinkled around the venue. Ben designed the menu cards and ceremony programs. For our first dance, the groomsmen played the song Ben wrote to me when he proposed. We had the lyrics to the song on the back of our menu cards so our guests could read along during the first dance. We also had all of our favorite board games out during cocktail hour and reception for people to play if they wanted to take a break from the dance floor.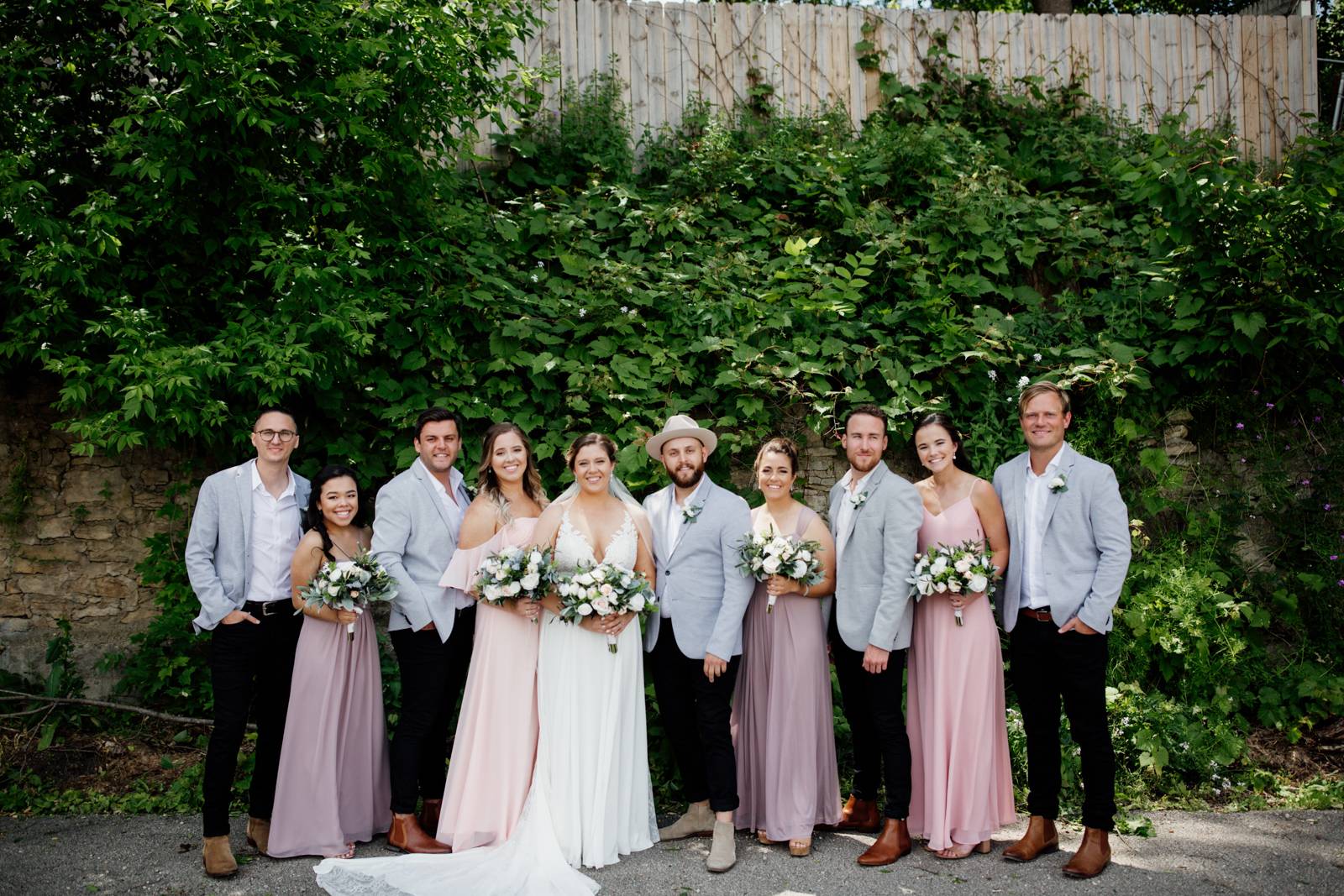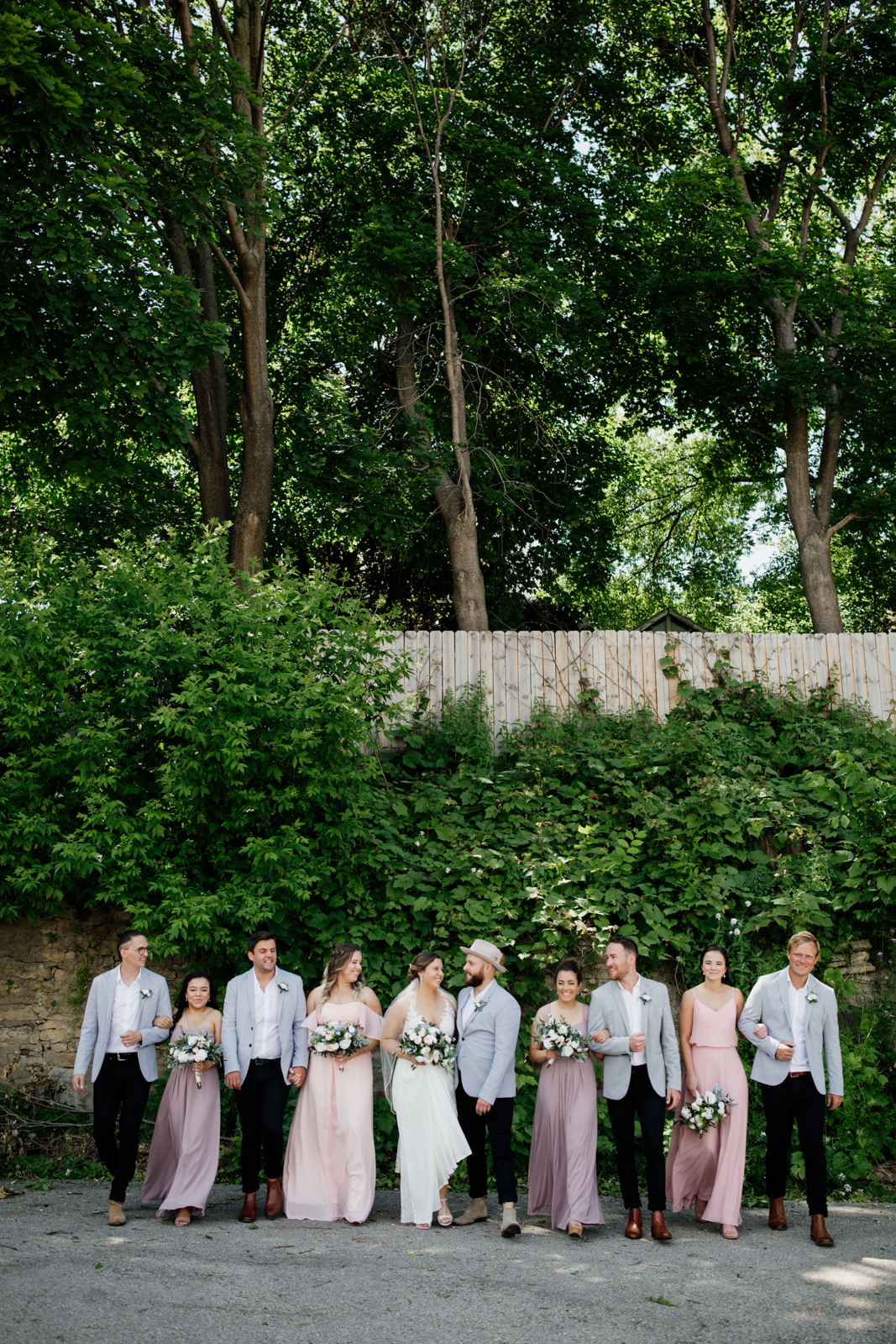 WHAT WAS YOUR WEDDING COLOR PALETTE? Gray, blush, green, and white.

DESCRIBE YOUR WEDDING FLOWERS: Lots of greenery, whites, and a touch of blush.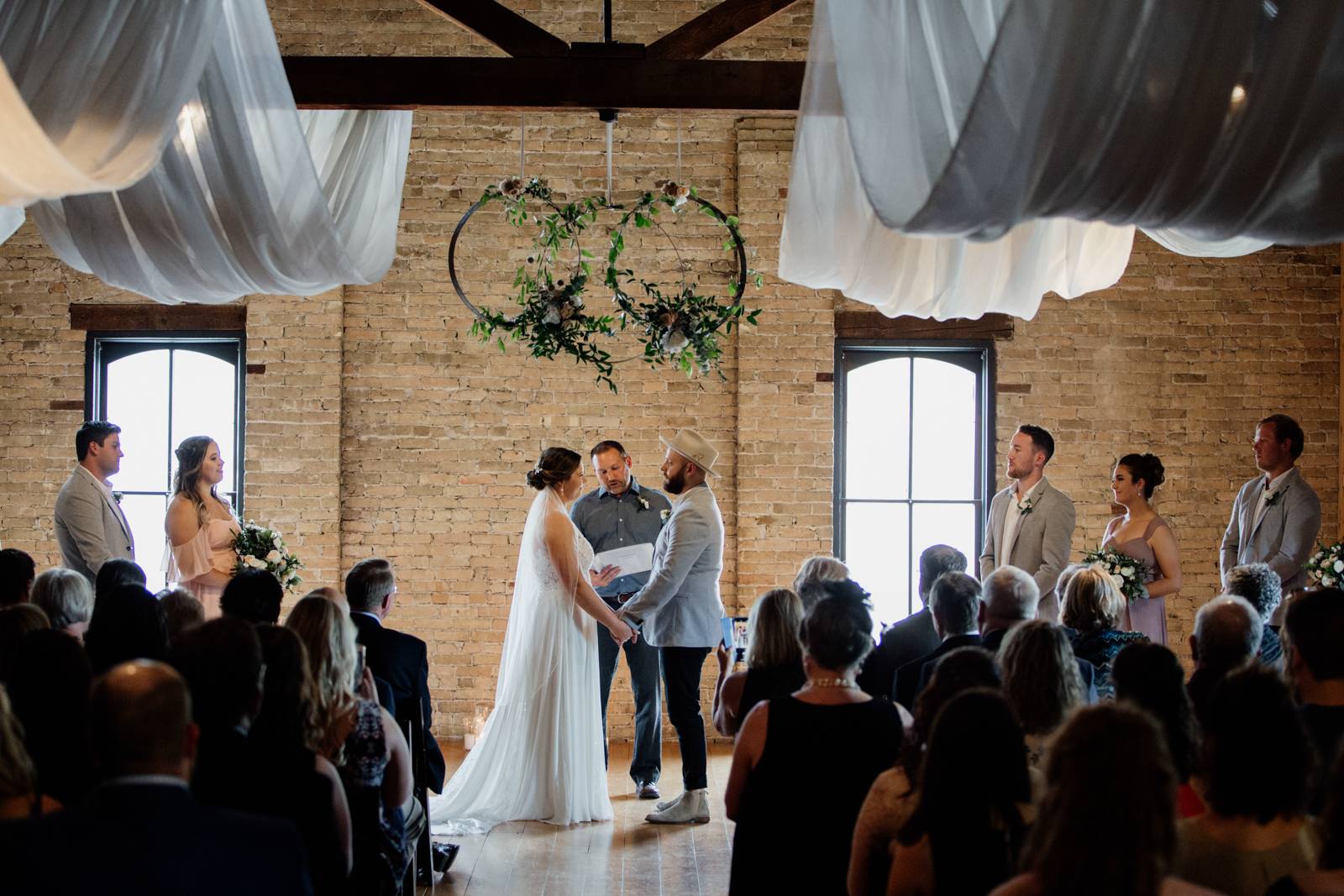 WHAT WAS YOUR INSPIRATION/DESIGN CONCEPT FOR YOUR OVERALL CEREMONY AND RECEPTION DECOR? We wanted to let the venue speak for itself. Upon visiting the Lageret, it immediately felt like our style. When it came to decor, we wanted to complement the venue well with lots of greenery, cool lighting, and some soft romantic touches to play against all the brick and exposed wood.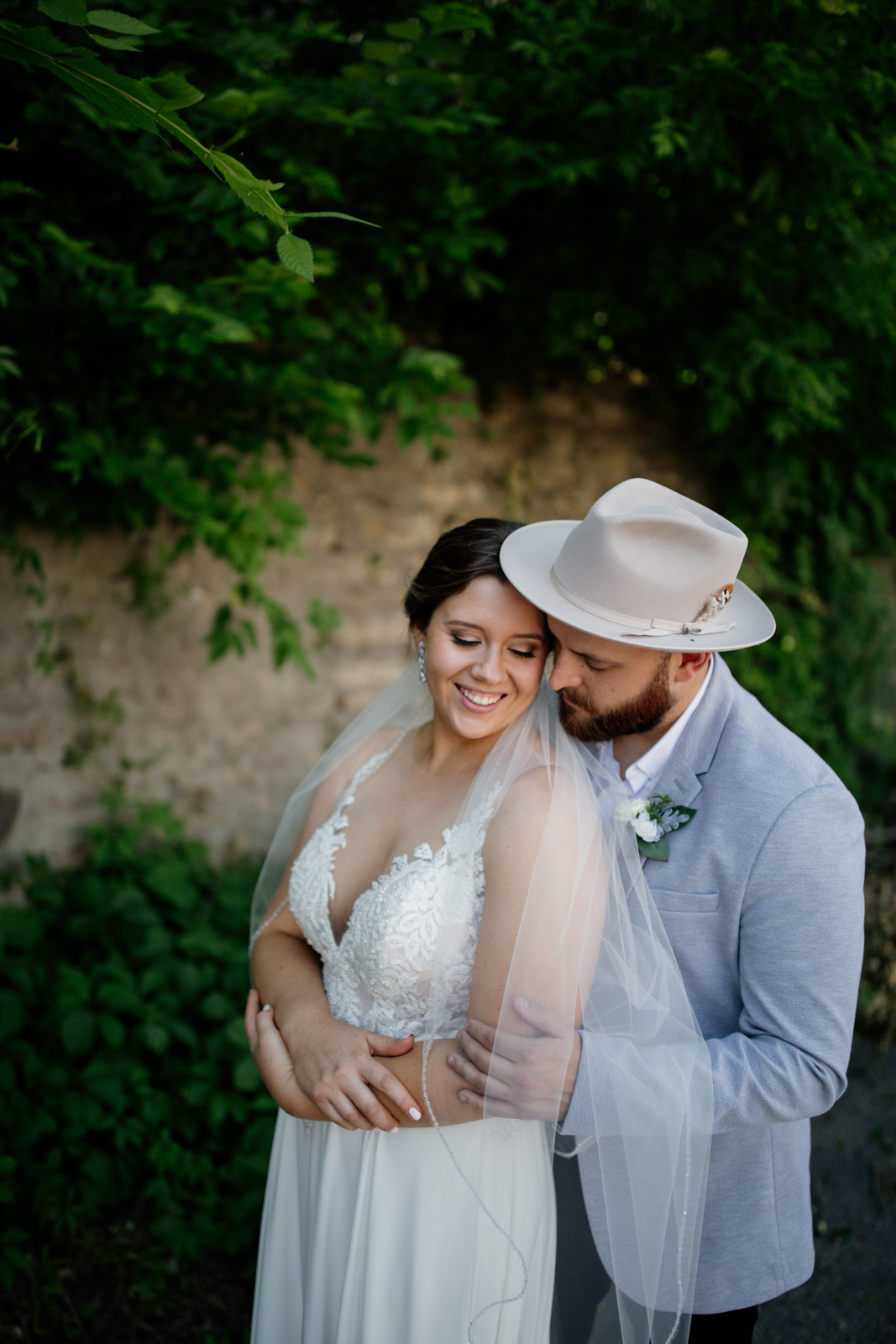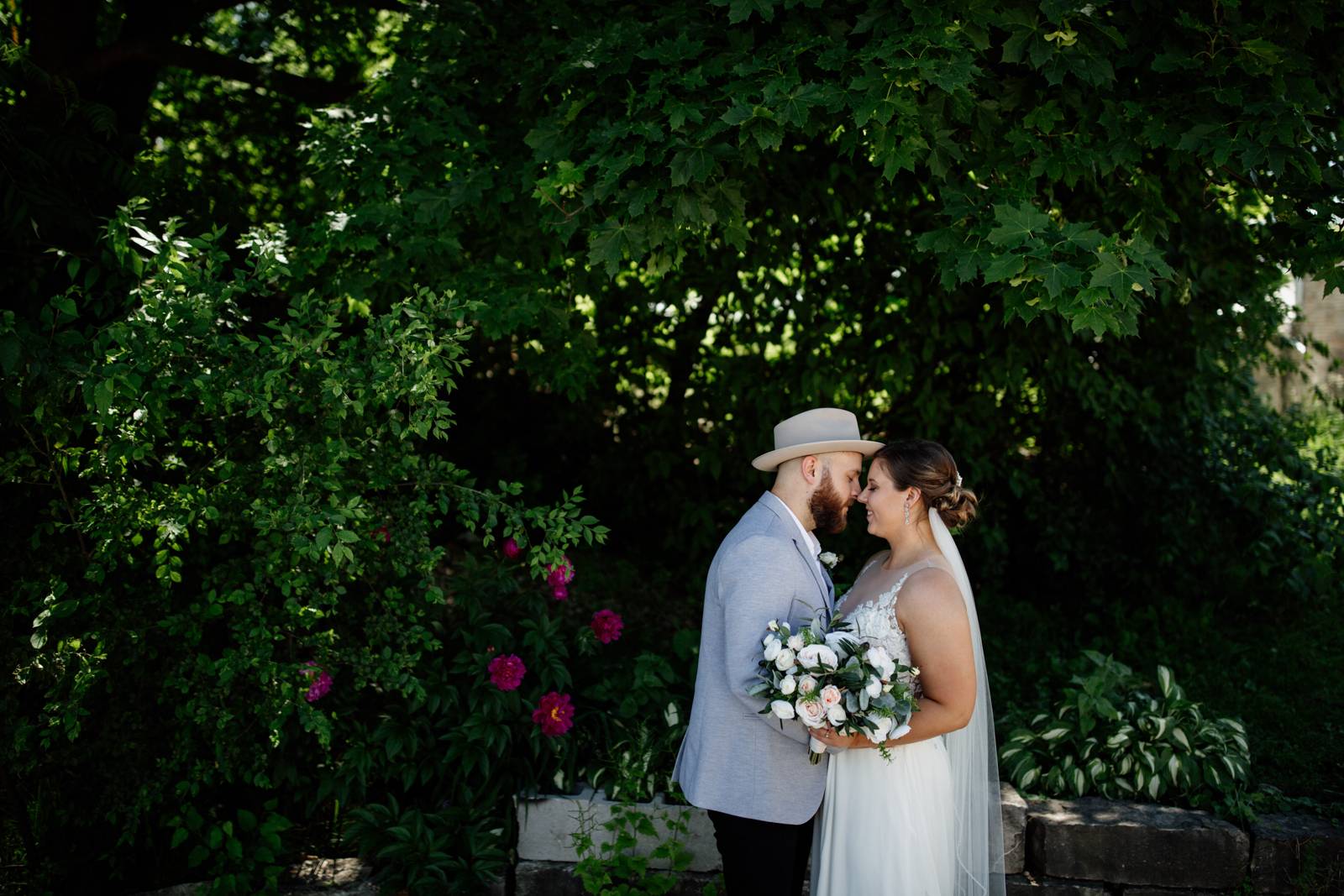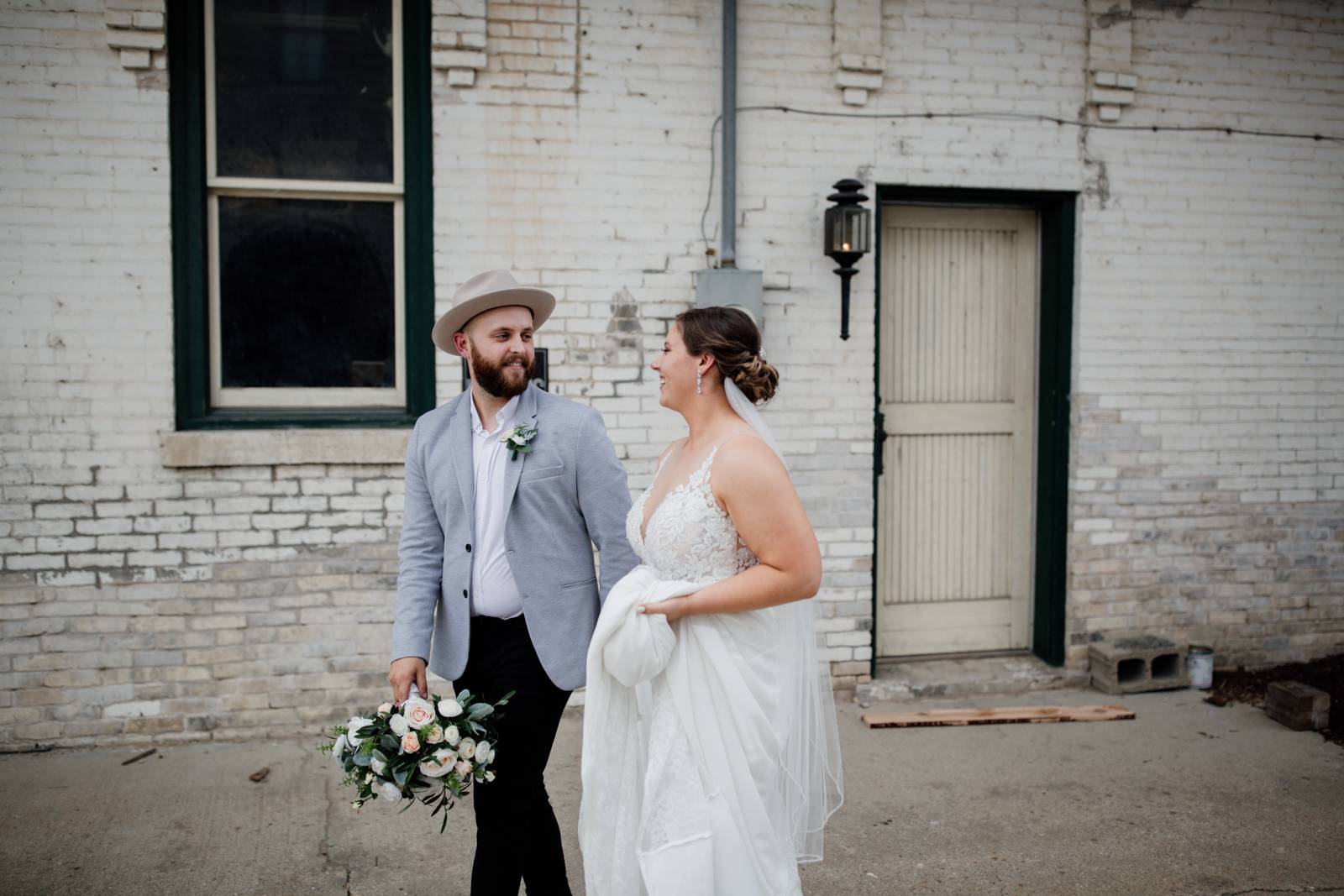 TELL US ABOUT THE FOOD, DESSERT, AND ANY SPECIALTY BEVERAGES ON THE MENU: We had a cocktail hour with cheese, fruit, and bacon-wrapped goodies. For dinner, we had chicken, steak, green beans, and the best mashed potatoes we had ever eaten before. Blue Plate did such an excellent job; people kept talking about how tasty the food was. For dessert, ice cream was a no brainer. We love ice cream more than cake and thought having an ice cream truck would be a fun reception component that is true to who we are and what we love. It was a hit!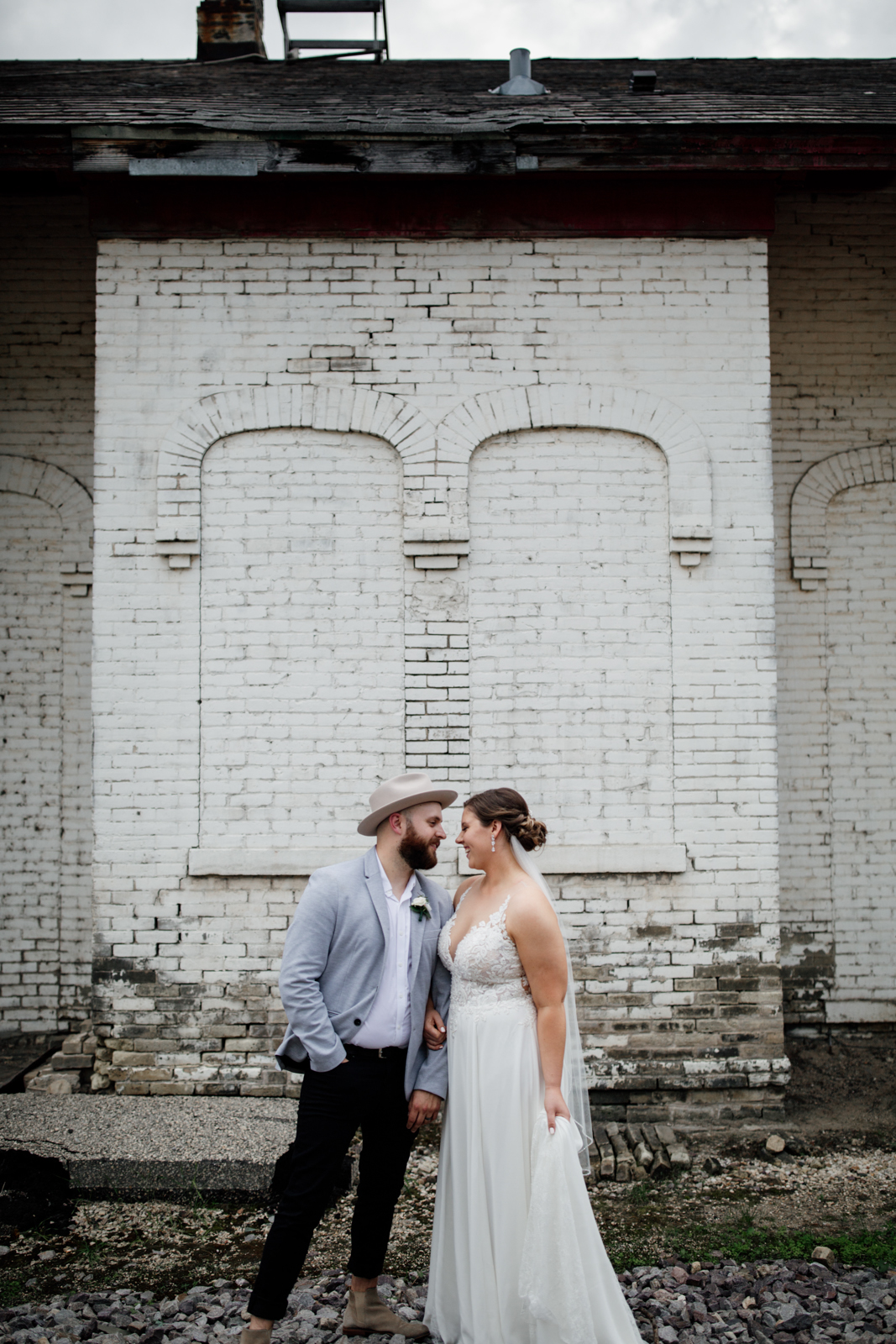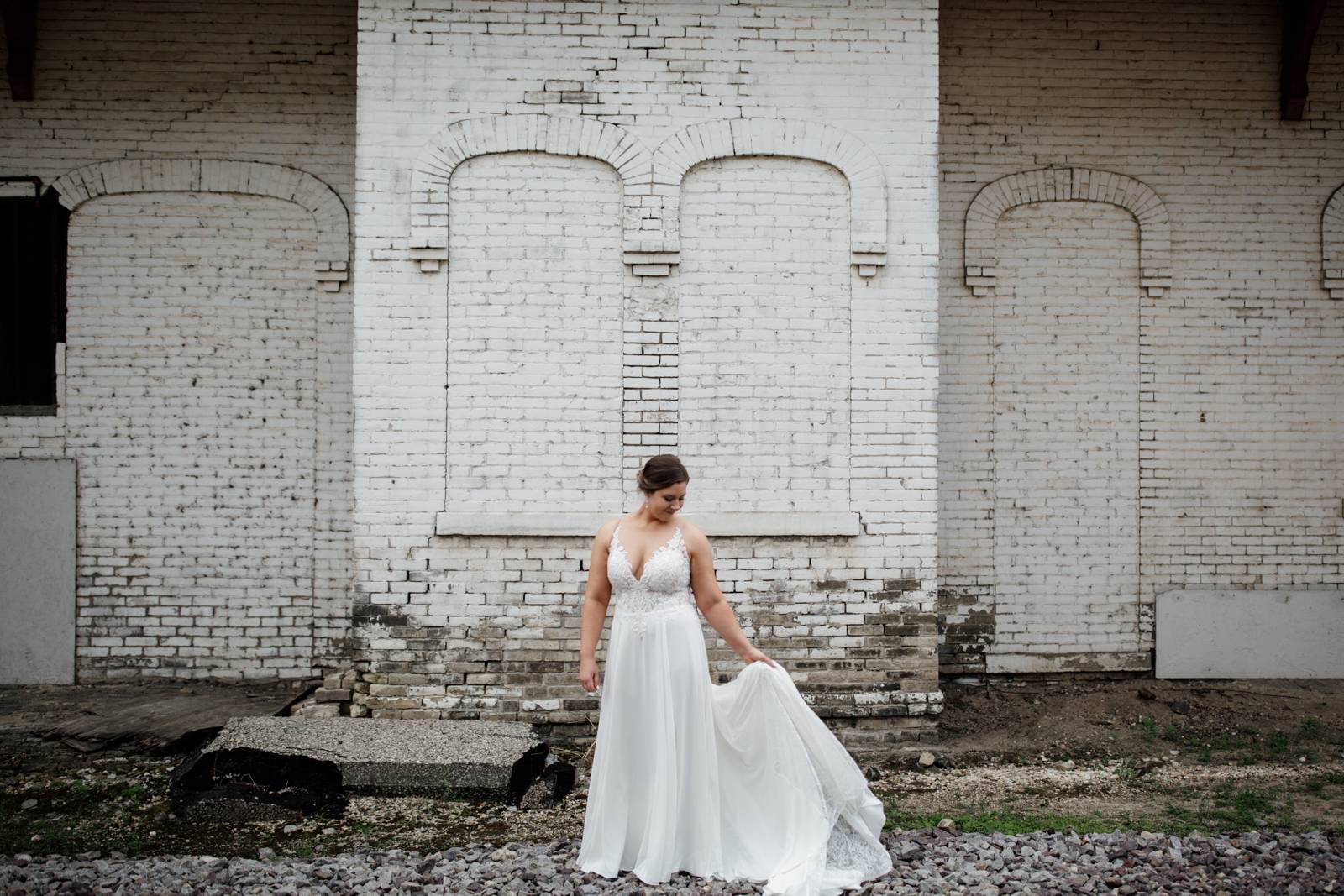 WHAT WAS YOUR FAVORITE MOMENT FROM YOUR WEDDING? Could we say all of it?! The ceremony was very special and something we will never forget experiencing alongside all our loved ones. Our first dance was a highlight of the wedding as well. It was so meaningful to have the groomsmen play the song Ben wrote for me live for the first dance. A moment we will never forget!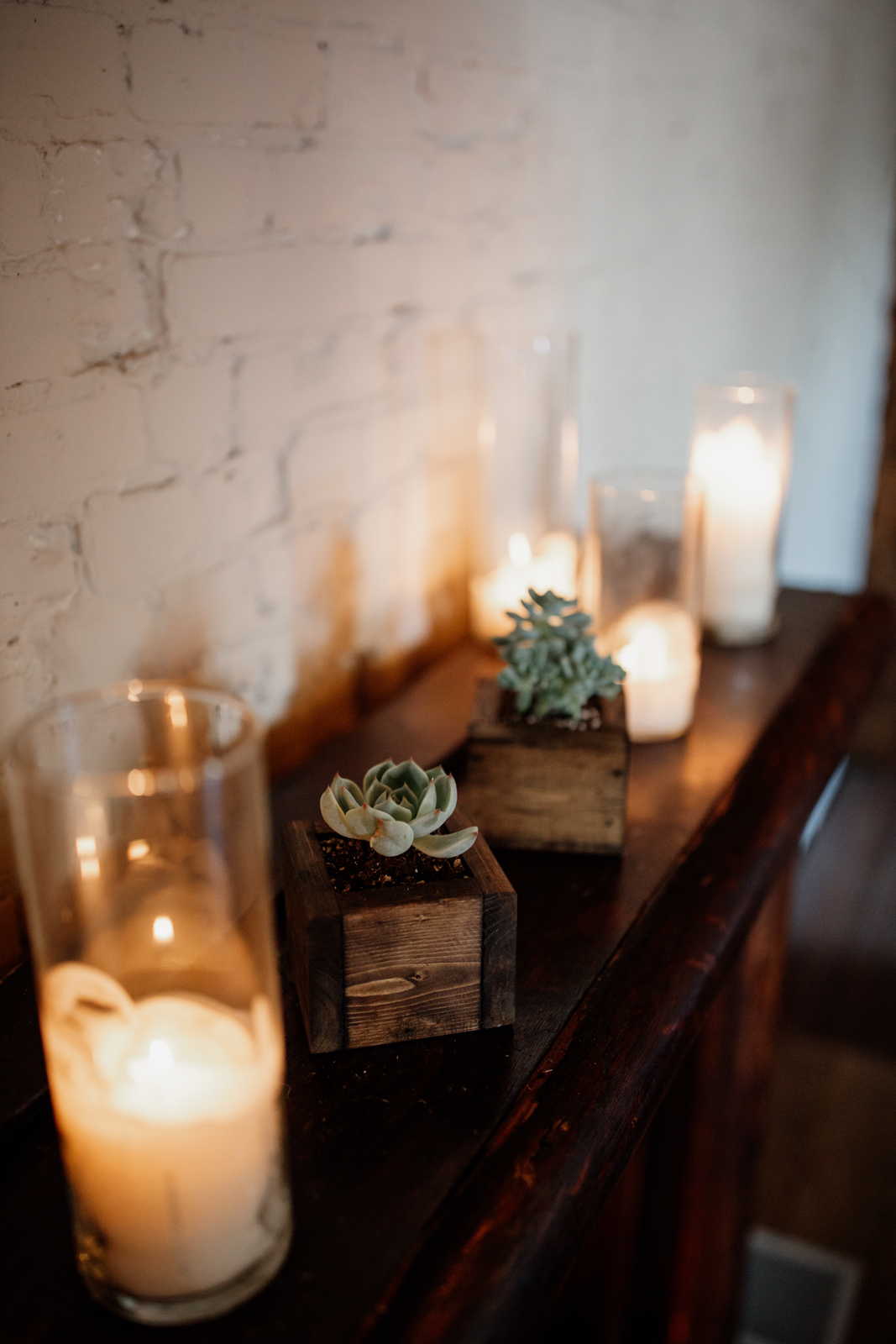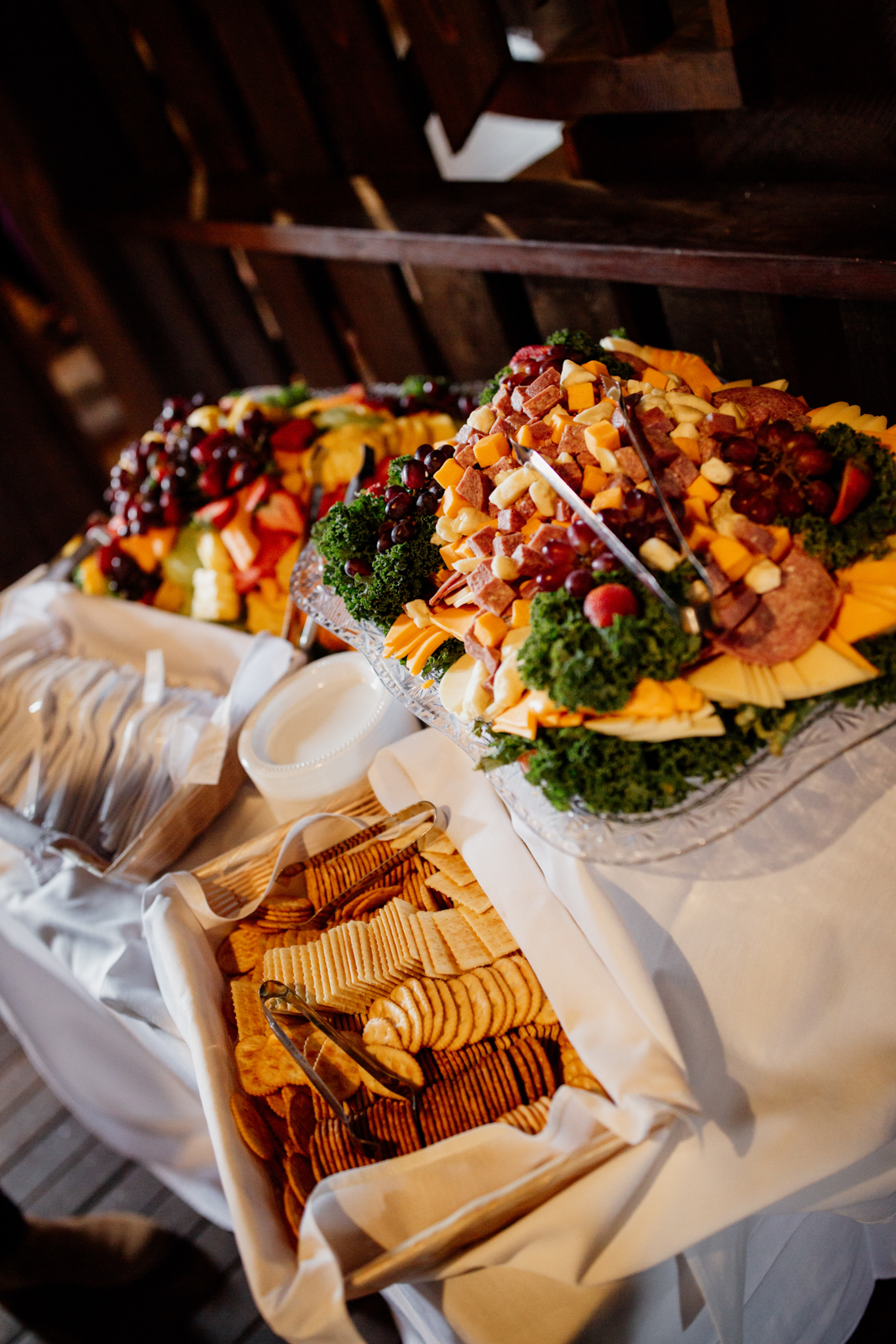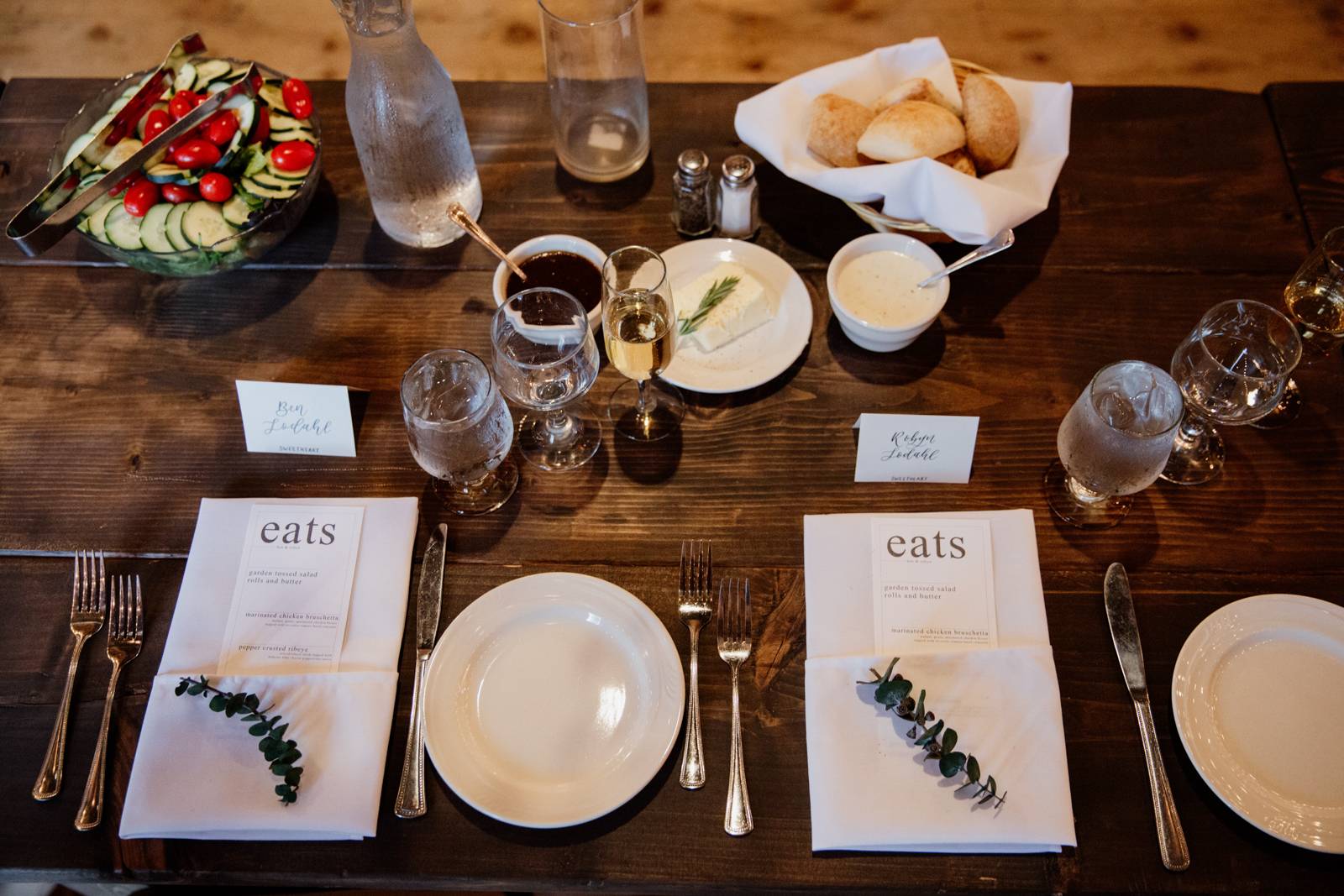 TELL US ABOUT YOUR HONEYMOON PLANS: We honeymooned in British Columbia, and it was beautiful. Each day we hiked, explored local attractions, and ate the best seafood ever! One of the Air BnBs we stayed at throughout the week was on an alpaca farm overlooking the ocean. Unexpectedly, the mornings feeding the alpacas was one of the highlights of our trip.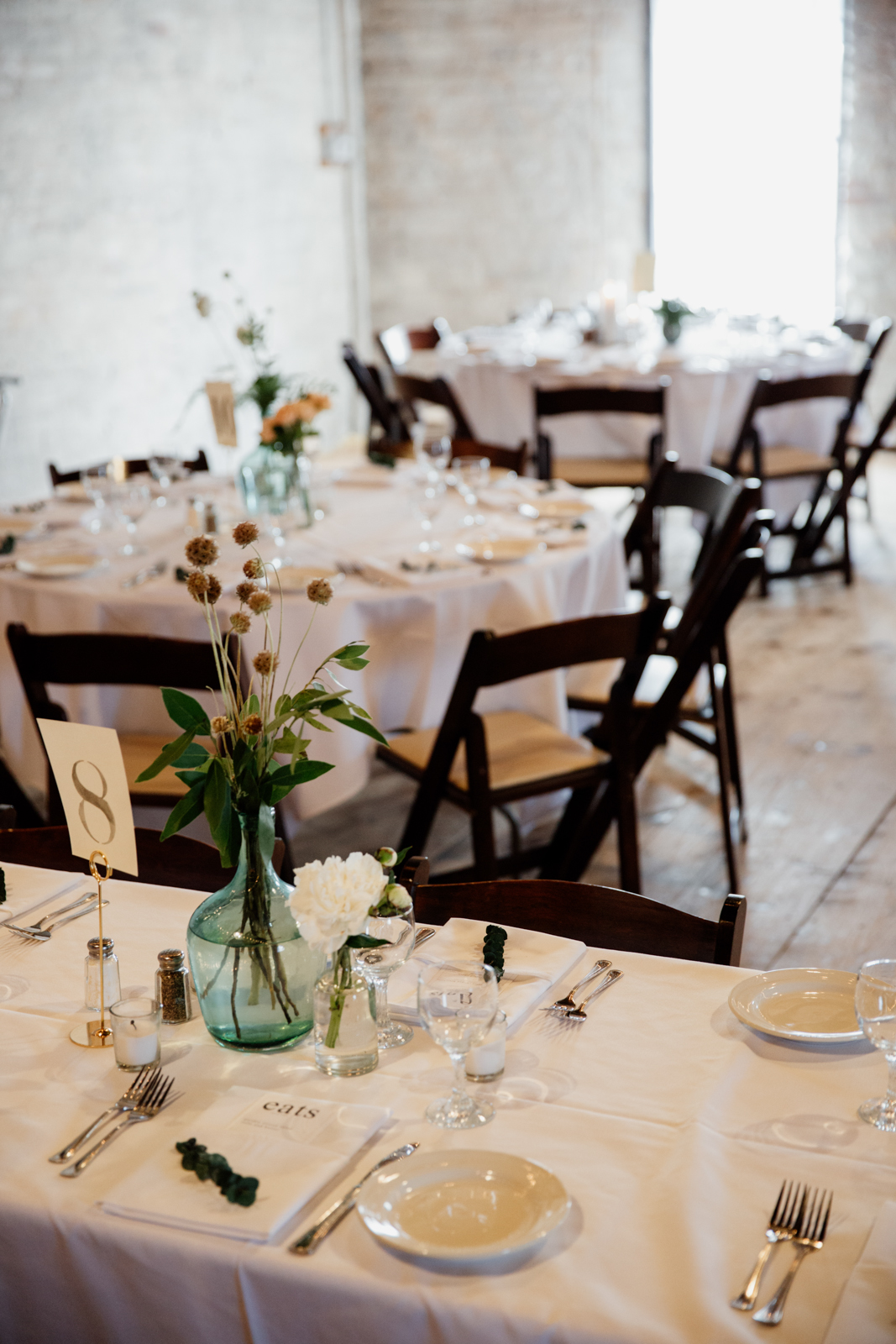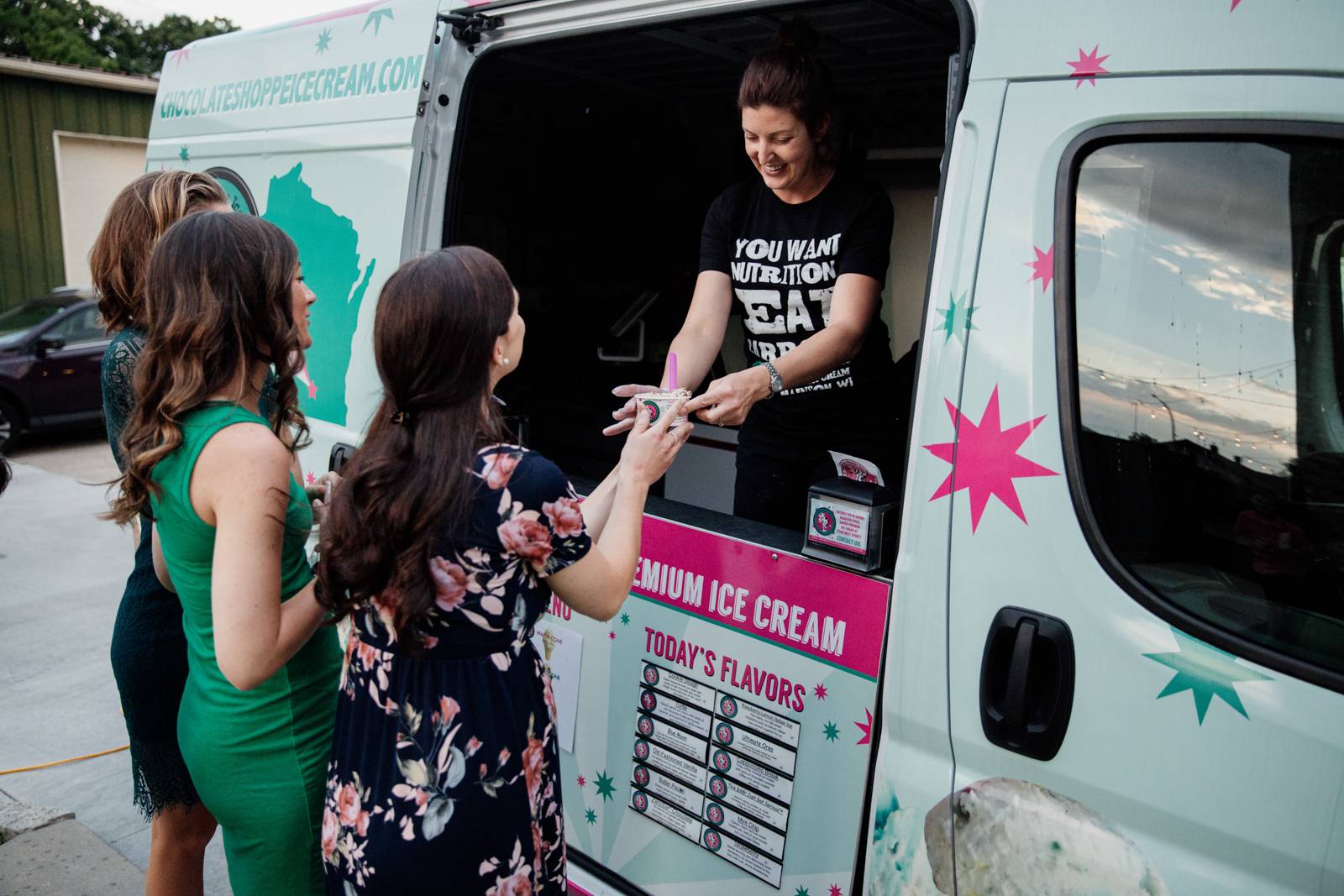 WHAT DOES LIFE LOOK LIKE AFTER THE WEDDING? We found ourselves unsure what to do NOT thinking or talking about the wedding. Our honeymoon was a great break away from all of that. We got to reminisce, but we naturally didn't talk too much about the ins and outs of the day. We have a lot of friends and family that like sharing and celebrating with us, which is fantastic! Life after the wedding has been a beautiful process for us learning how to live this life together as teammates. That boils down to who does different chores in the house and runs certain errands, to how we encourage and support one another through different challenges we face daily and seasonally. You truly dive into someone else's life!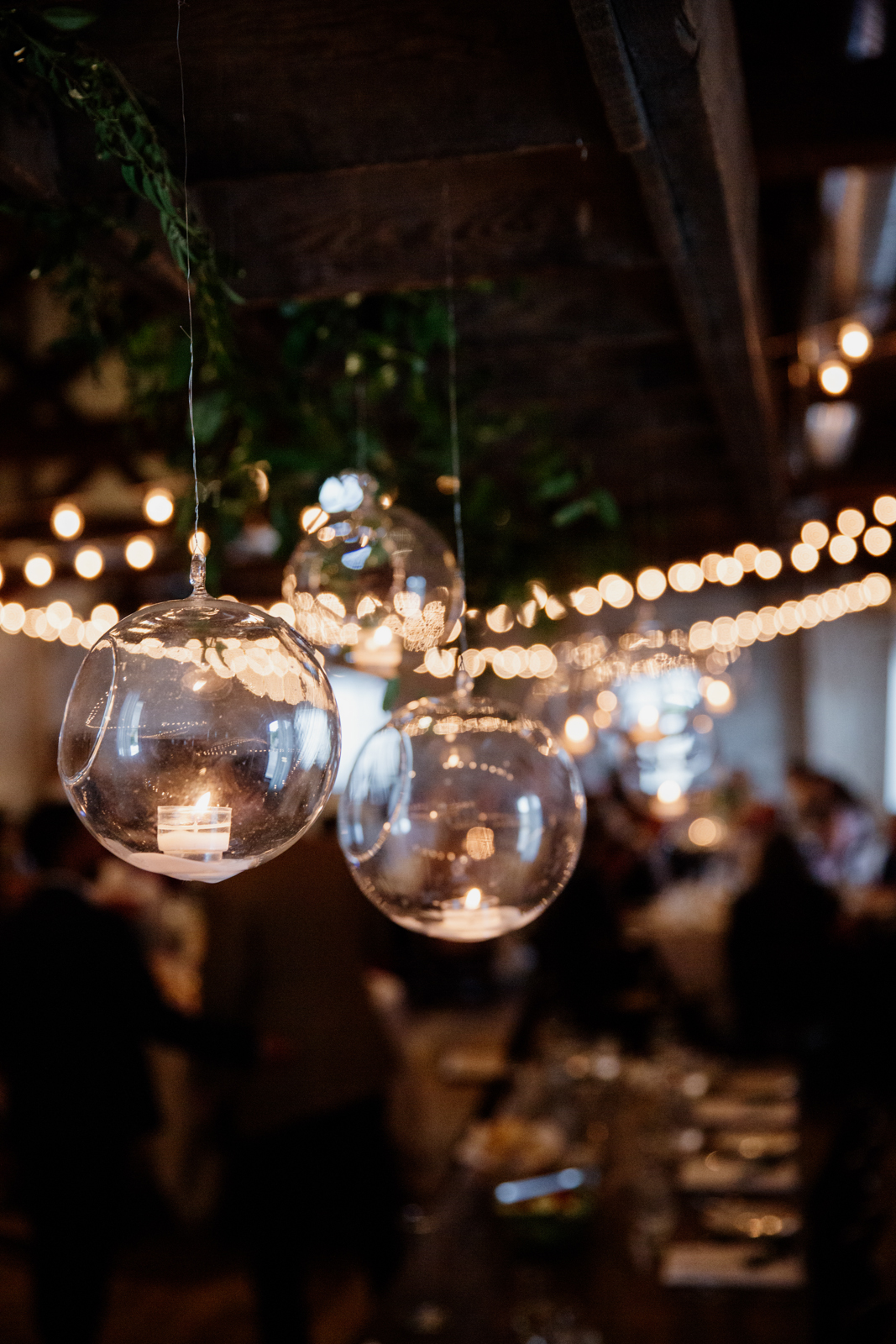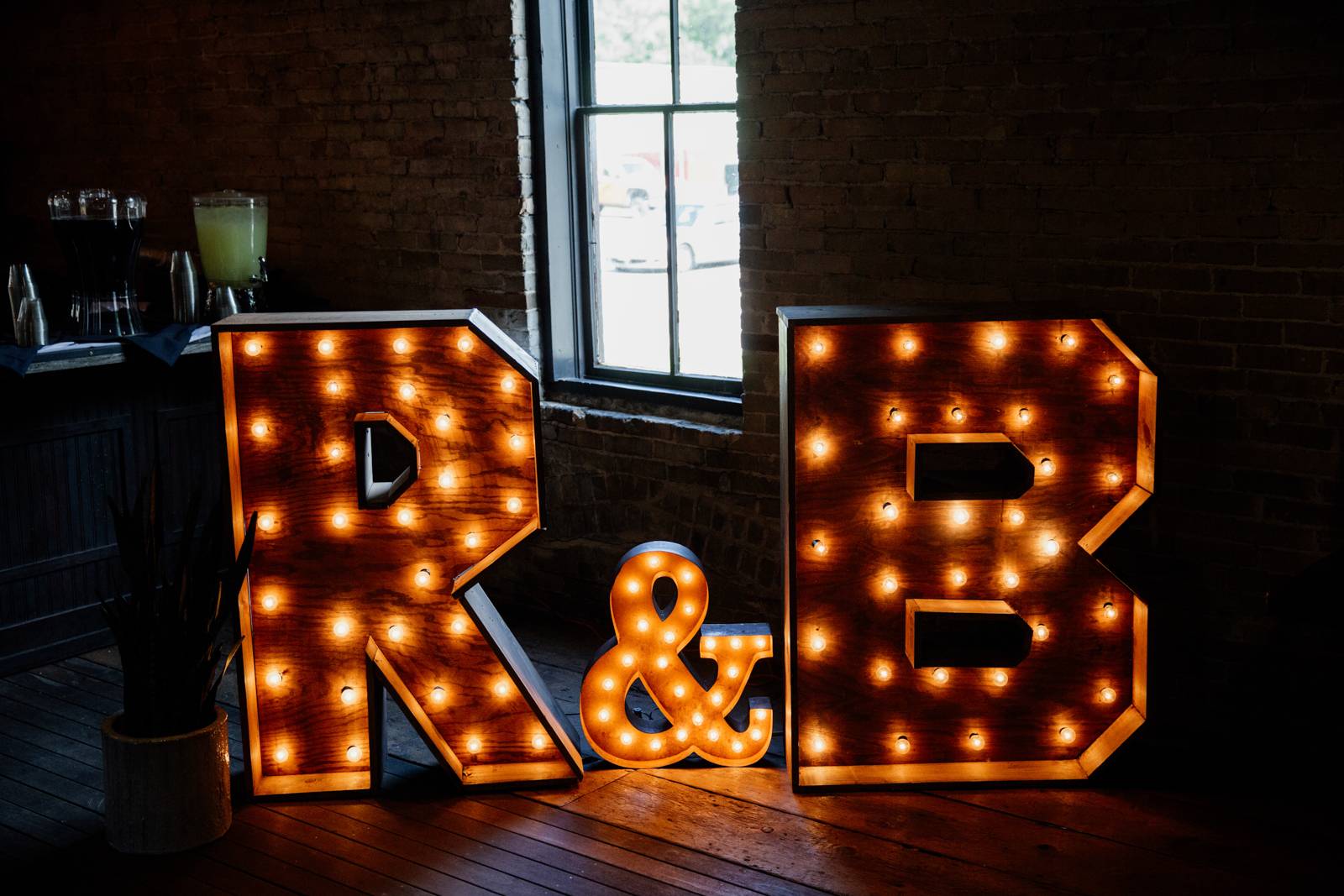 ANY WEDDING PLANNING REGRETS OR SOMETHING YOU WOULD DO DIFFERENTLY? Not really, no! The ONLY thing we would encourage you to consider is to ask your guests to NOT have their cell phones out and in use during the ceremony. We found it to be somewhat distracting to see so many cell phones come up during special moments throughout the service. We appreciated the gesture, but we would encourage couples to have that conversation in their planning!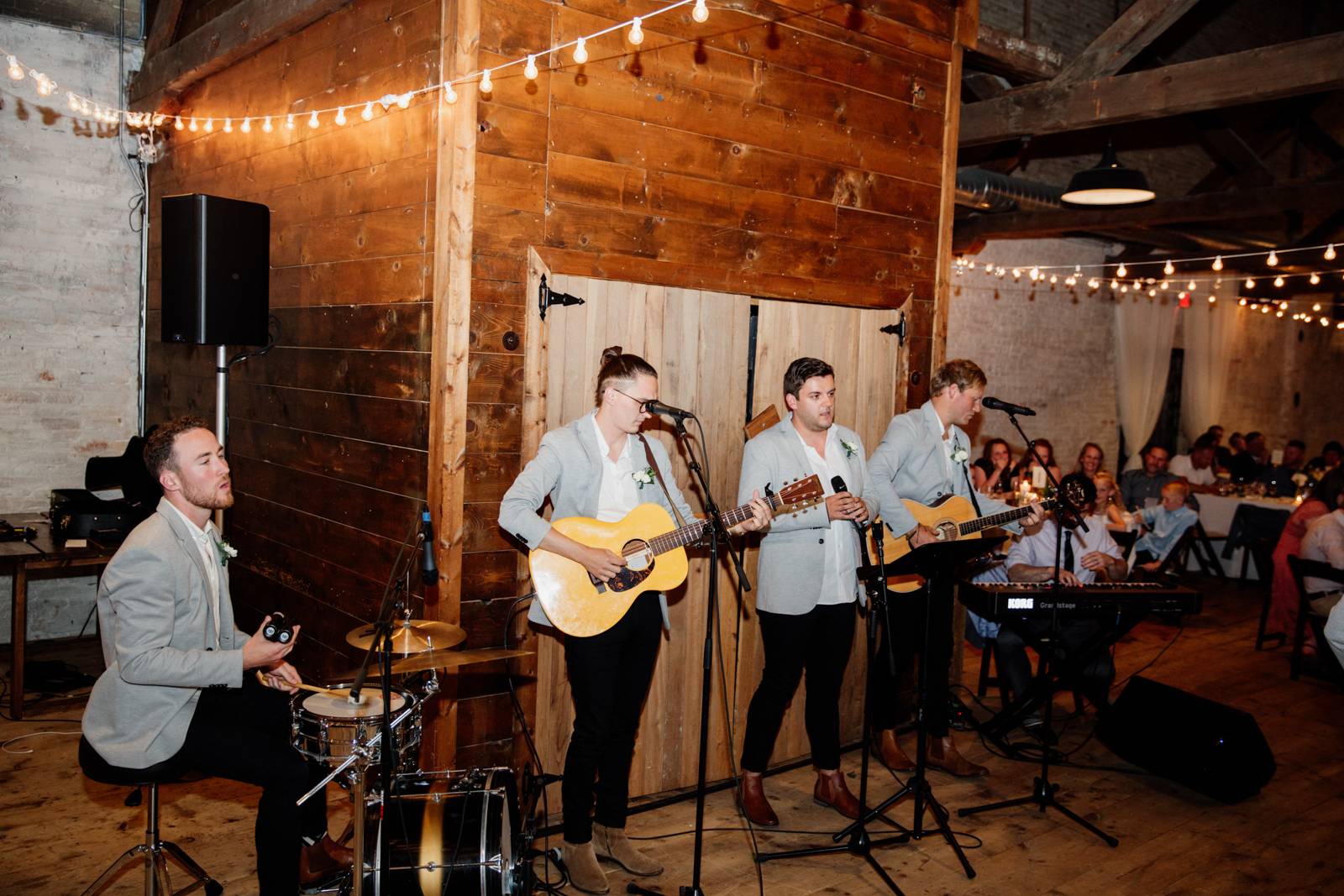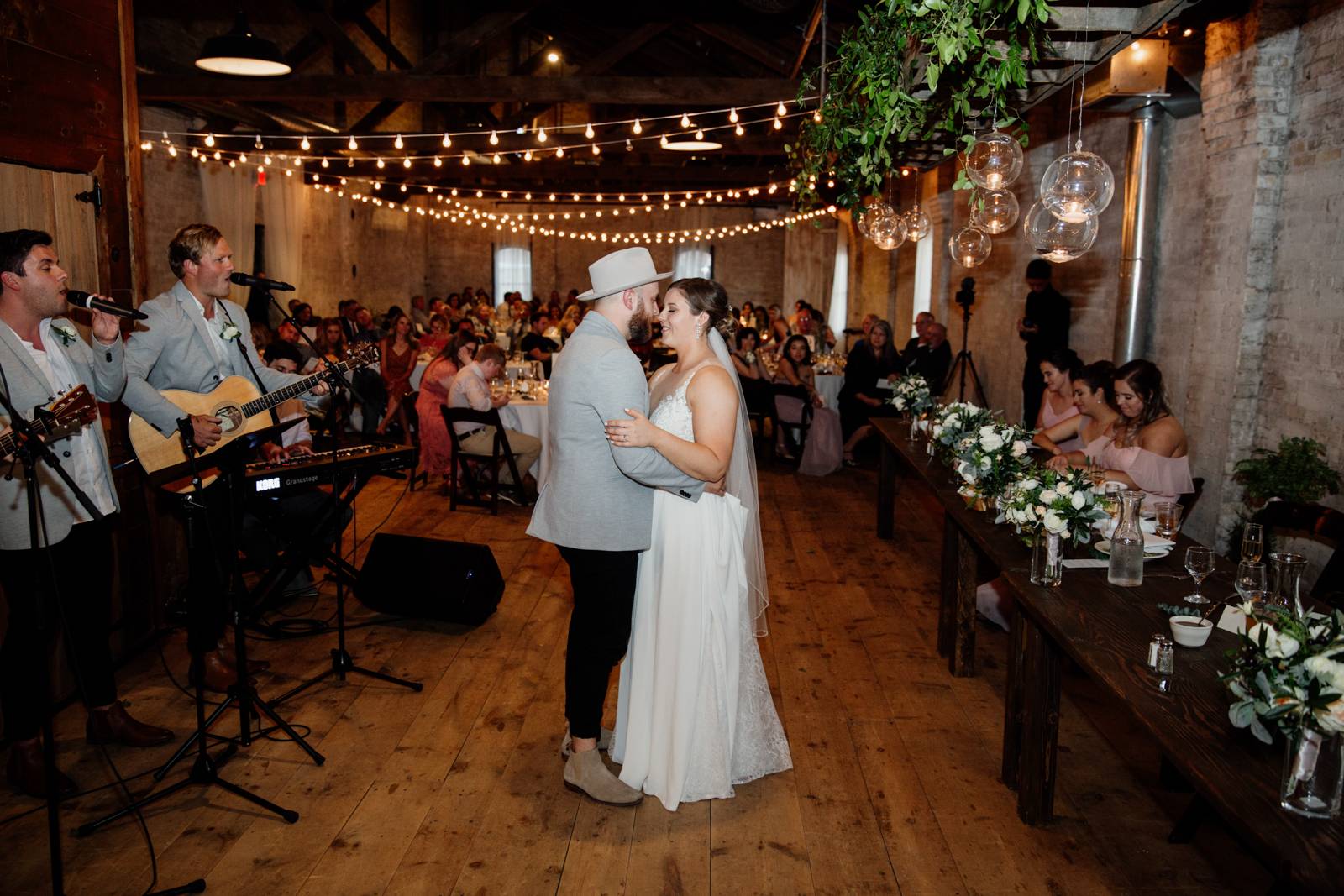 IS THERE ANY ADVICE YOU'D GIVE TO OTHER COUPLES PLANNING THEIR WEDDING? We found that people would give us a 'heads up,' that the day will go by 'very fast,' and to take in every moment that we can. This was tricky because there is not anything you can do logistically to make it NOT go fast. But, being able to be ready for it to go by quickly is helpful and to be aware of not letting little things bother you, and to be deeply present in all you're doing.