A whimsical garden fairytale affair inspires us today in this romantic Real Wedding. Dana and Lance share their journey to forever from their meeting, a proposal on the beach, to the day they said I do. With heartfelt DIY touches and gorgeous floral, this event inspires every magical wedding daydream. A dress the bride couldn't forget, and a classic grey tux, from Men's Warehouse, compliments this couple who are smitten with each other! Read more about their romantic affair down below!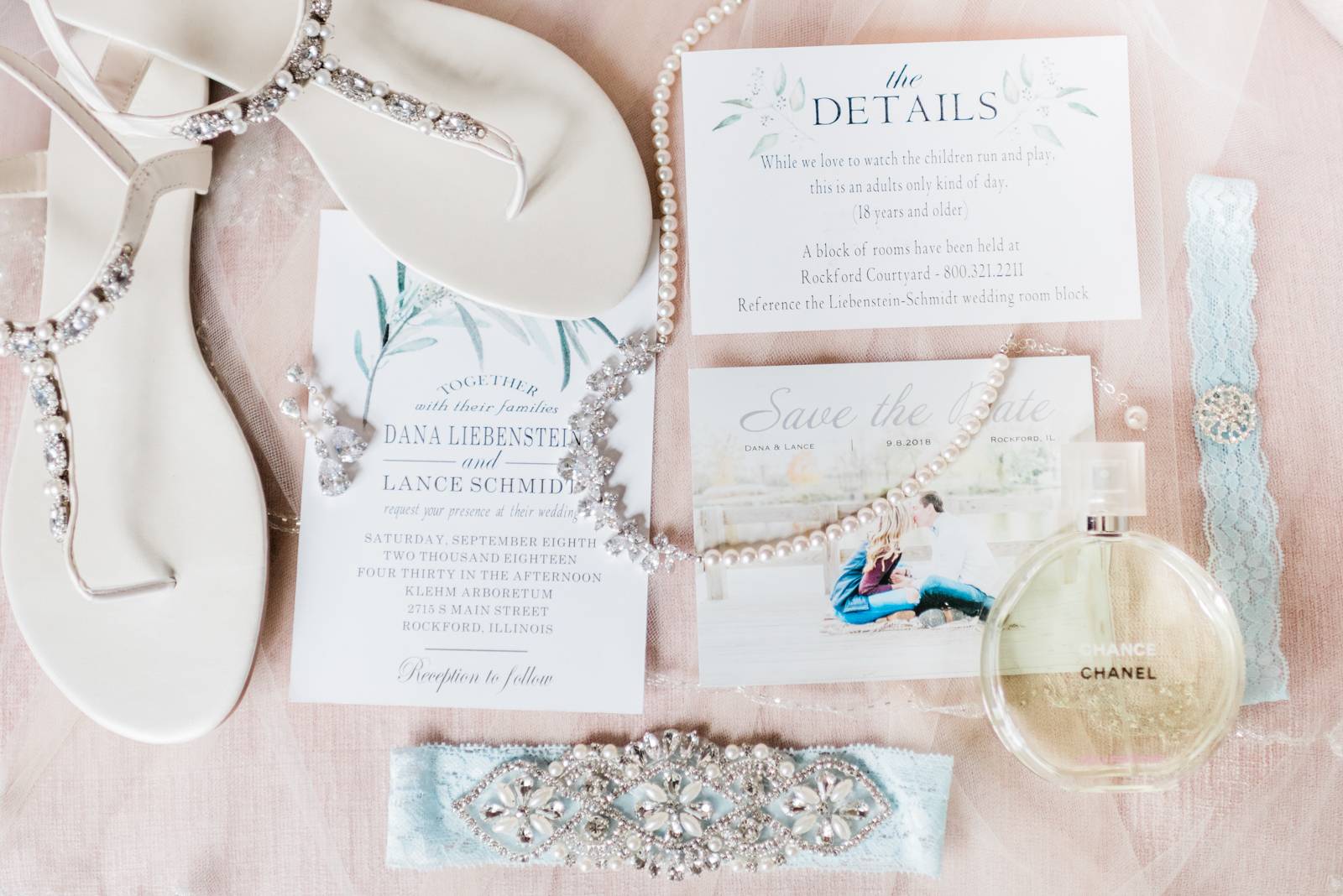 WEDDING DATE: 9/8/2018

HOW DID YOU MEET? It all started when we both swiped right. Never in a million years did I think that an app like Tinder would lead me to meet my husband. However, despite all odds, it did, and I am thankful every day for that silly app.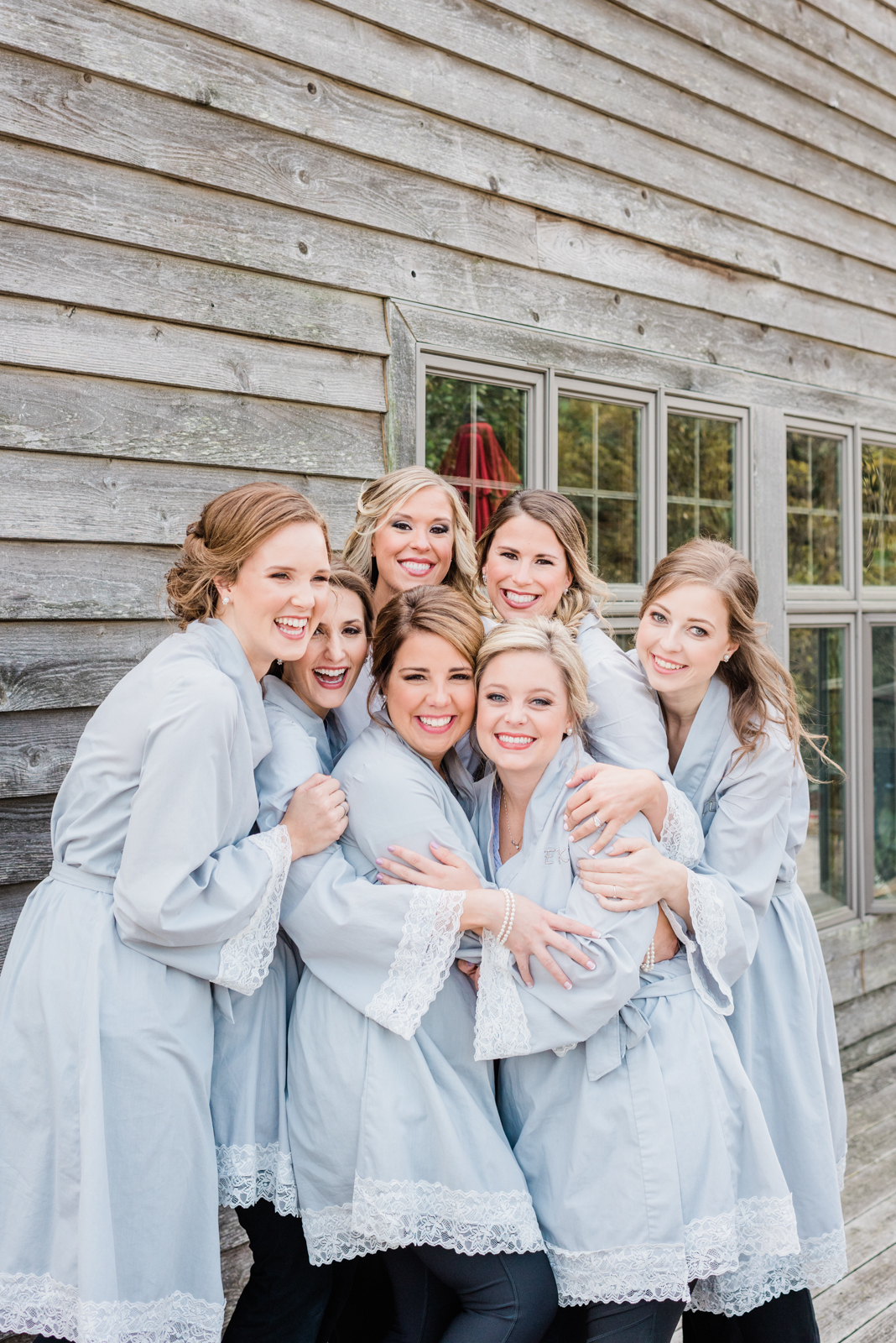 HOW DID YOU KNOW YOU'D FOUND "THE ONE"? In all honesty, there wasn't just one moment that made me realize that Lance was "the one." There were so many different moments that occurred, which made my love for him grow stronger and helped me know that he was the one I wanted to spend my life with. He truly makes me a better person, and I couldn't picture life without him, nor do I want to.
TELL US ABOUT YOUR PROPOSAL: Since I had never been to an ocean, Lance and I decided to take a vacation to Riviera Maya. We both were longing for some sunshine and warm weather. Little did I know that he had more planned than just sipping drinks by the ocean and soaking up some sun on the beach. The days leading up to the proposal (we left on a Saturday, and he proposed on that following Wednesday), Lance seemed tense/stressed which I found odd since we were in paradise. I also found it strange that he refused to leave his backpack with our other luggage while we waited for our room to be ready and that later on when I went to grab a pair of sweatpants out of his suitcase, he suddenly jumped up to grab them for me. Unbeknownst to me, the ring was in his backpack, and he had a tank top in his suitcase that said, "I said YES!" I also thought that it was strange that he was adamant about booking/paying extra for a romantic dinner on the beach since we were staying at an all-inclusive resort which meant that we had endless amounts of food at our fingertips.

Wednesday rolled around, and we were getting dolled up for our fancy 4-course dinner on the beach. A golf cart picked us up, and we arrived at our destination. Lance insistently started getting upset once he saw that two other couples were also going to have a romantic dinner right beside us even though he had been assured that it would be just us. Our romantic dinner was supposed to be by the ocean but had been set up on a hill, upsetting Lance further. I had no idea why he was upset; I was just excited to see a bottle of wine and rose petals on our table. For anyone that knows Lance, he is a reserved/go with the flow kind of guy so when he stopped the waiter from pouring our water and insisted that we get our table moved down next to the ocean I was very shocked. However, the waiter was more than accommodating and carried our table (with plates/serving ware, rose petals, and a bottle of wine included) down a staircase and set it up right beside the ocean. We were finally alone at last, and Lance started to seem relaxed finally - until that first drop of rain fell on our heads. Luckily, there were adorable little gazebos right next to where our current table location, and yet again, we found ourselves moving our table. Lance couldn't seem to catch a break. Eventually, our delicious 4-course meal was served and enjoyed.

Right before dessert, Lance started playing "our song" and asked me if I would like to dance on the beach during the sunset. Luckily, the rain had subsided by this time, but once again, I found it very strange that he wanted to dance since he hates dancing. However, after all the struggle of moving and re-moving our table, I decided to go with it. As we were dancing, he kept expressing how much he loved me in my ear and how he wanted to spend a lifetime with me. Then he got down on one knee, pulled out the ring, and asked me to marry him. That was the first time in my life that I have ever cried from pure happiness. The following morning, he gave me a card and the tank top that had the words "I said YES!" on it. A few of my friends that ended up being bridesmaids made it for me to wear.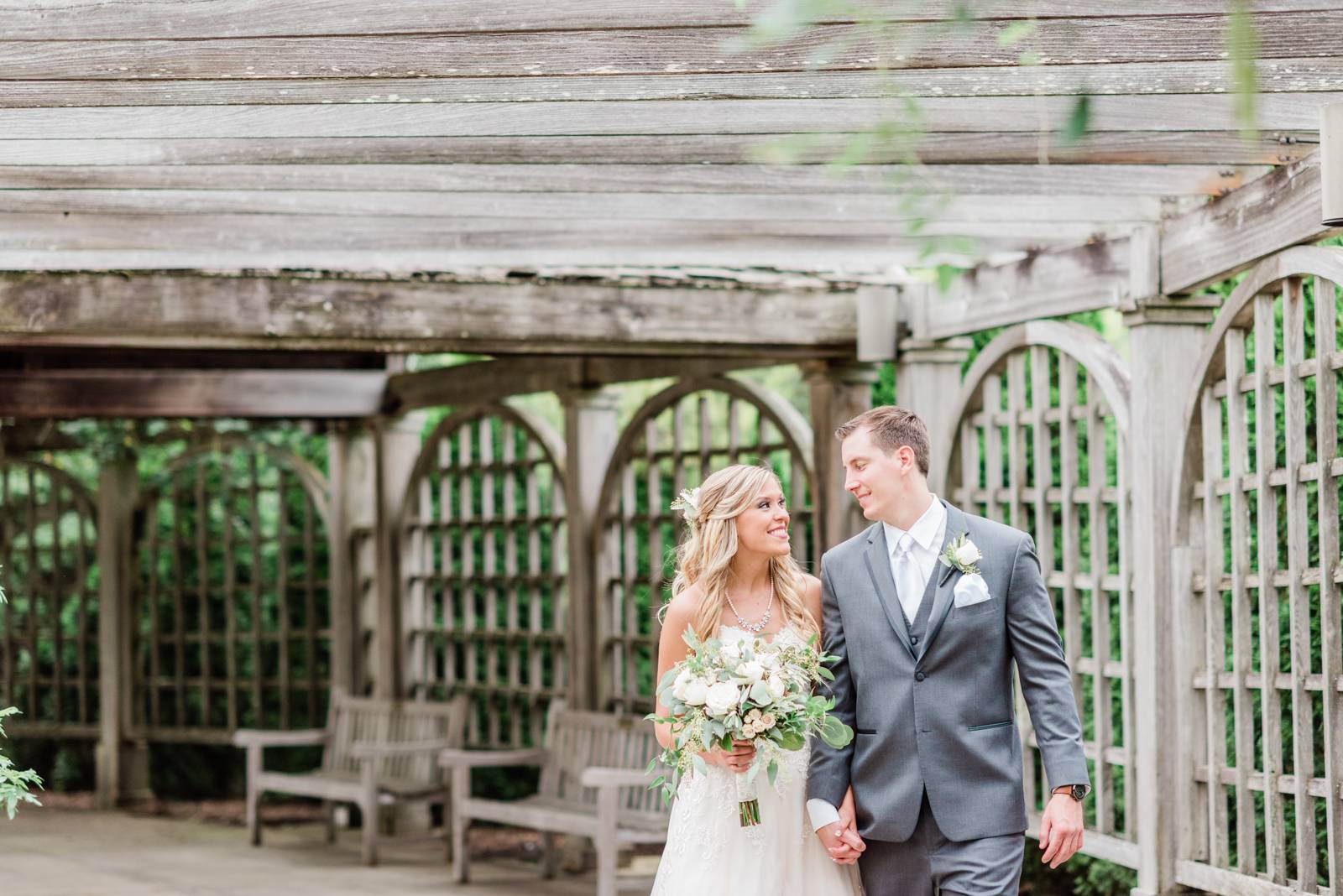 TELL US ABOUT FINDING YOUR DRESS: I had always dreamed about going to a quant unique dress store with my closest friends and family to try on dresses. However, when my mom's birthday rolled around, she shared that the only thing she wanted for her birthday was to go dress shopping with me, there was no way I could say no. I found myself at David's Bridal, which was the closest dress store located by the restaurant we were going to for her birthday lunch afterward. I had no plans on taking this shopping trip seriously. I mainly was going to delight my mom and getting an idea of styles that I liked. However, the third dress I tried on had me speechless. I honestly was quite surprised, and my demeanor started to change. I suddenly didn't want to take this dress off, and I couldn't stop smiling. My mom and sisters insisted that that was the one. However, I was still hesitant because the scenario wasn't what I pictured in my head. Therefore, I planned another dress shopping trip to a boutique in Wisconsin, but nothing compared to the dress at David's Bridal. A week later, I invited all my bridesmaids, mom, and sisters to David's Bridal to try on that dress again. Most of my bridesmaids instantly started tearing up when they saw me in my dress, and that confirmed that this was the one. Right after I said yes to the dress, one of my bridesmaids pulled out a letter that Lance had written to me for this special moment. That was probably the best moment during the whole wedding planning experience for me. Then we celebrated with a surprise sparkling cider toast that was planned by my bridesmaids.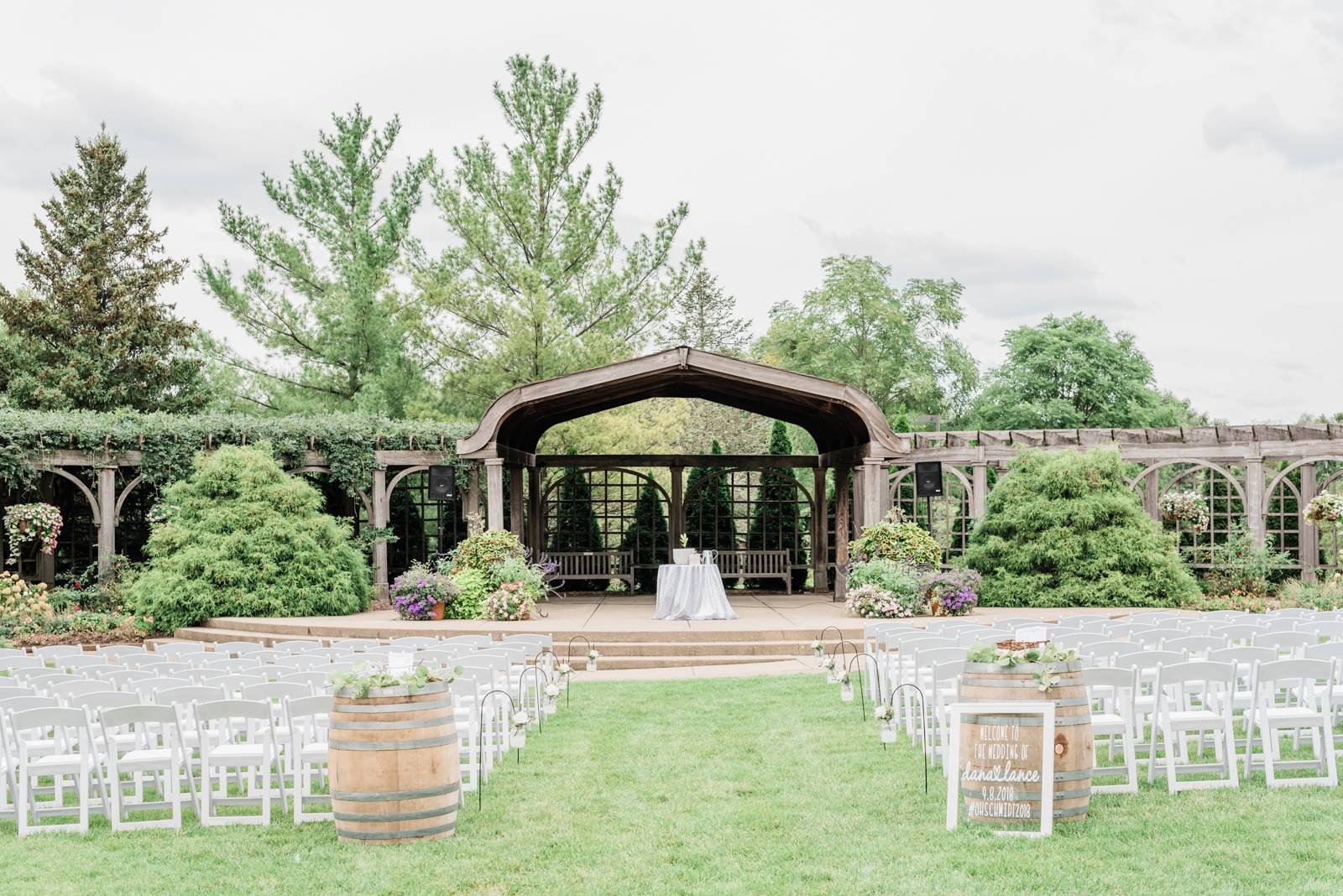 WERE THERE ANY PERSONAL TOUCHES OR DIY ELEMENTS? Almost every detail that I had was homemade via a Cricut Machine. Lance handmade the wooden arrow directional signs, and I created the descriptions for them. A bridesmaid and I made the table numbers, programs, the labels on the jars for the favors, the welcome window sign, the favors sign, the welcome sign to the reception, seating arrangement lists, etc. Also, a friend of my mine made our bag sets. My mother-in-law made the robes for getting ready and made the bags for the bag set. I also had a friend's dad cut the wood slices for the favor display.

My favorite personal touch, however, was the little blue heart that I had sewn inside the chest part of my dress embroidered with the word Dad. This little blue heart was from the fabric of one of my dad's favorite shirts. My dad passed away in 2013, and I wanted him with me on my wedding day.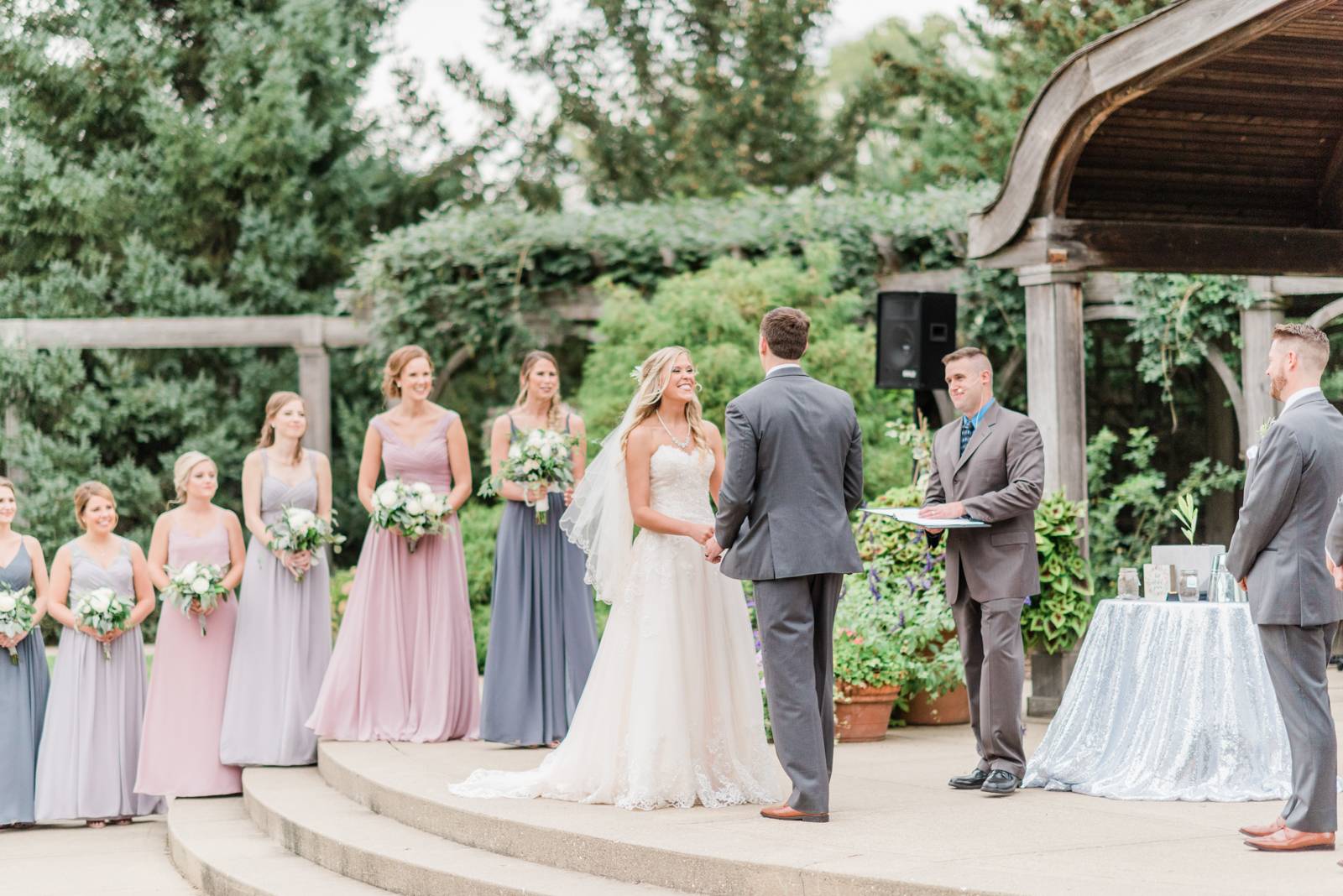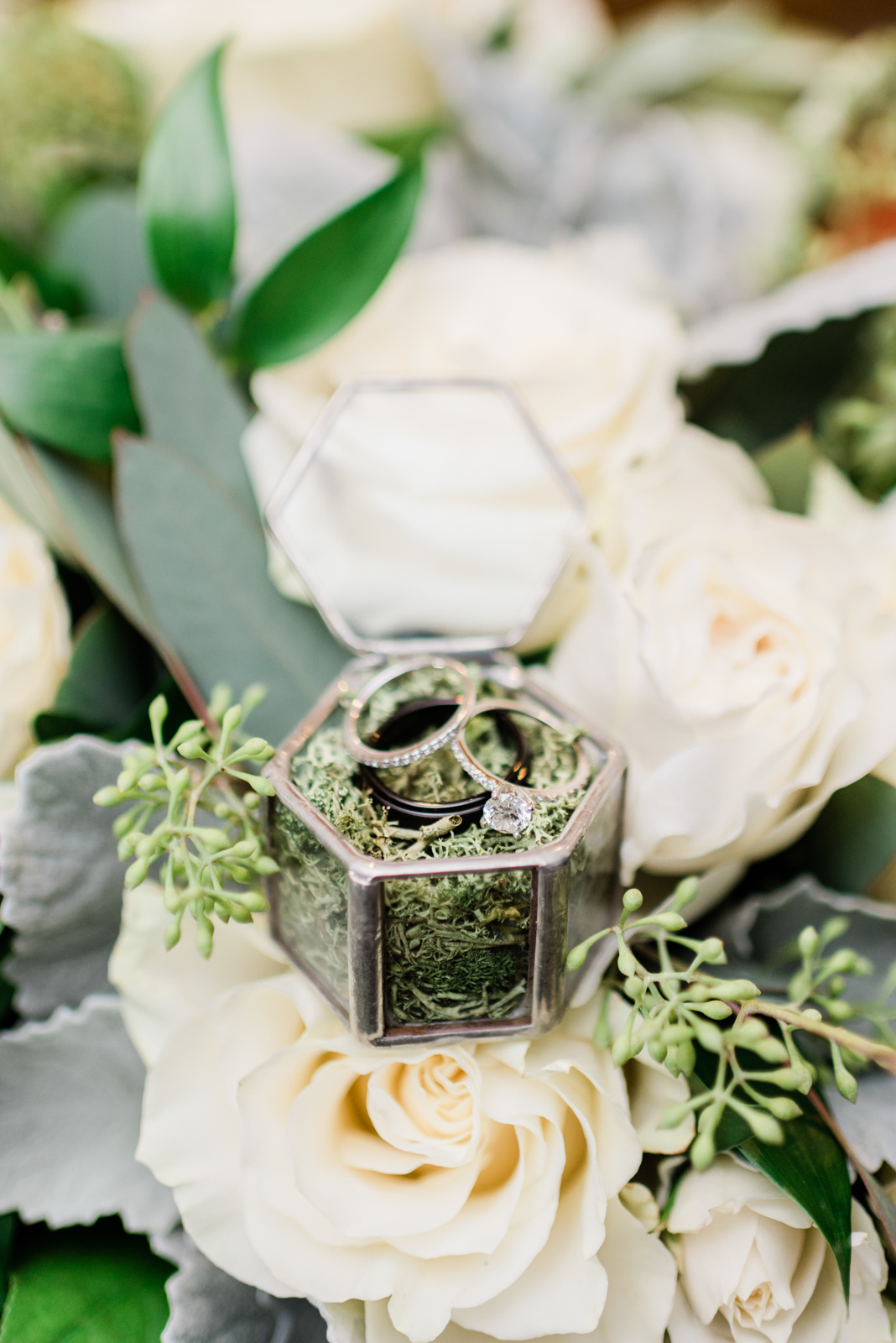 DESCRIBE YOUR WEDDING FLOWERS: Dusty Miller, Eucalyptus, Garden Roses, and traditional roses.

DID YOU USE ANY SPECIALTY CHAIRS, LINENS, CHARGERS, GLASSWARE OR DINNERWARE? My venue didn't offer linens, so I had to find my own. I knew I wanted lighter gray floor length tablecloths and pops of sparkle which went on the unity table and the sweetheart table.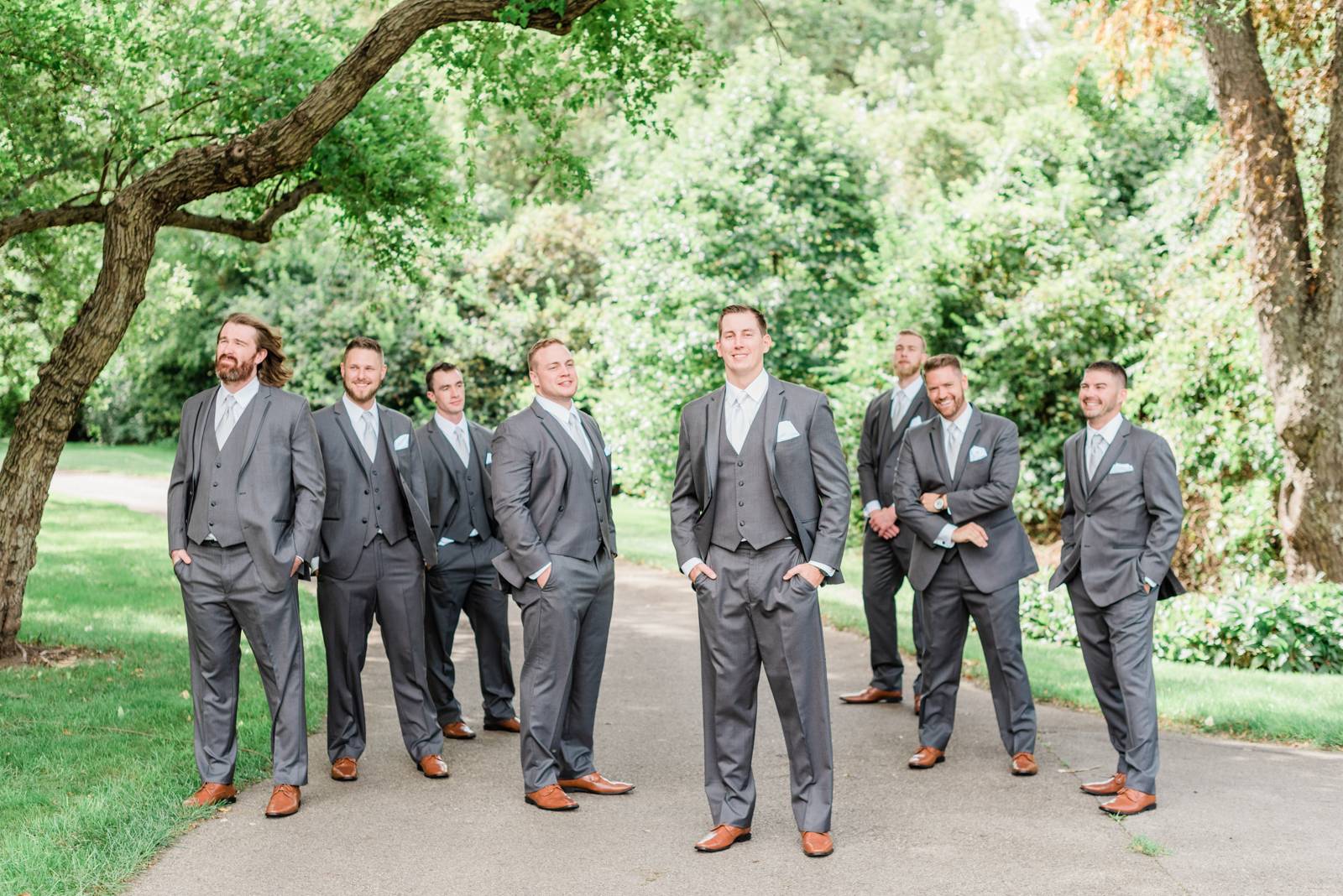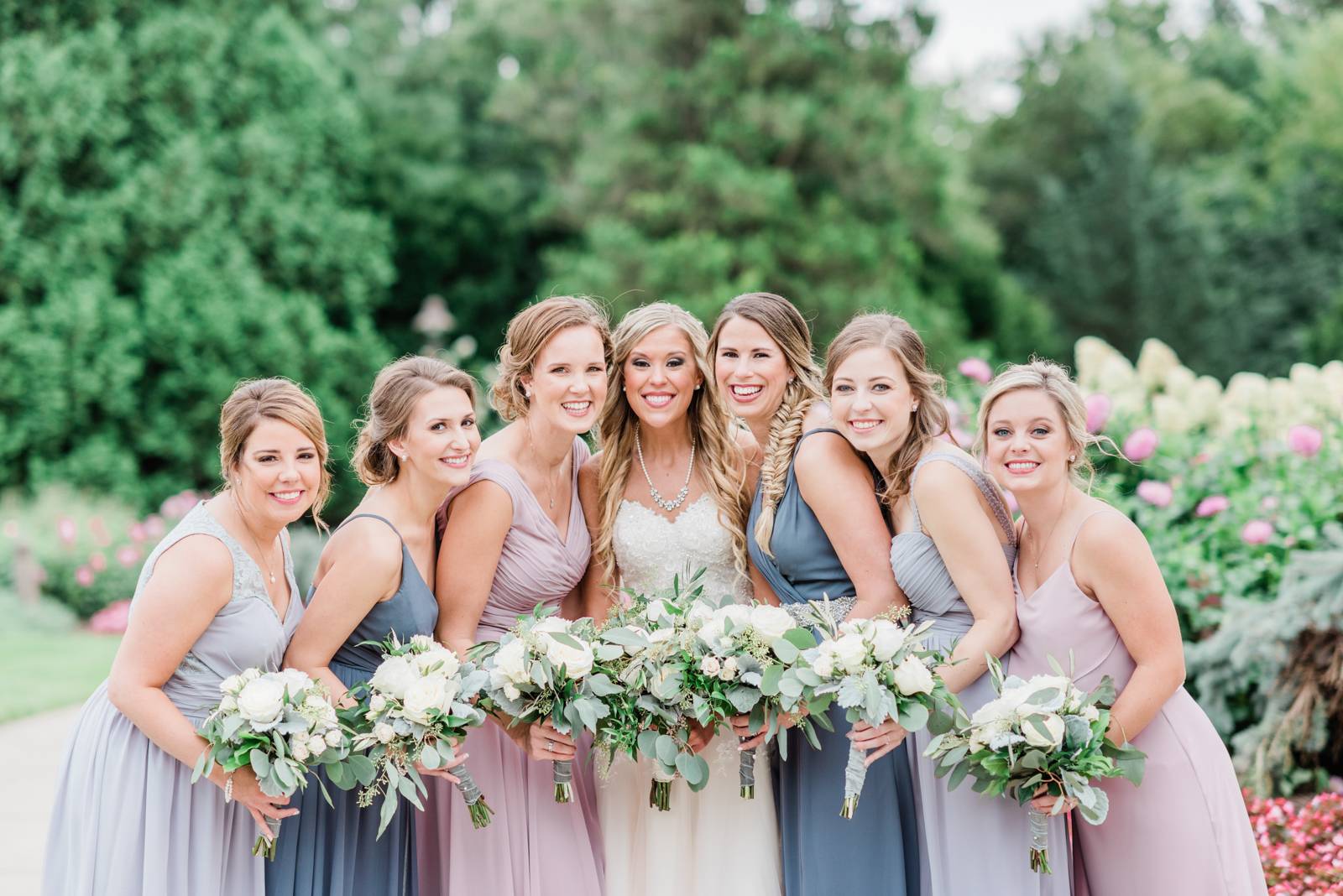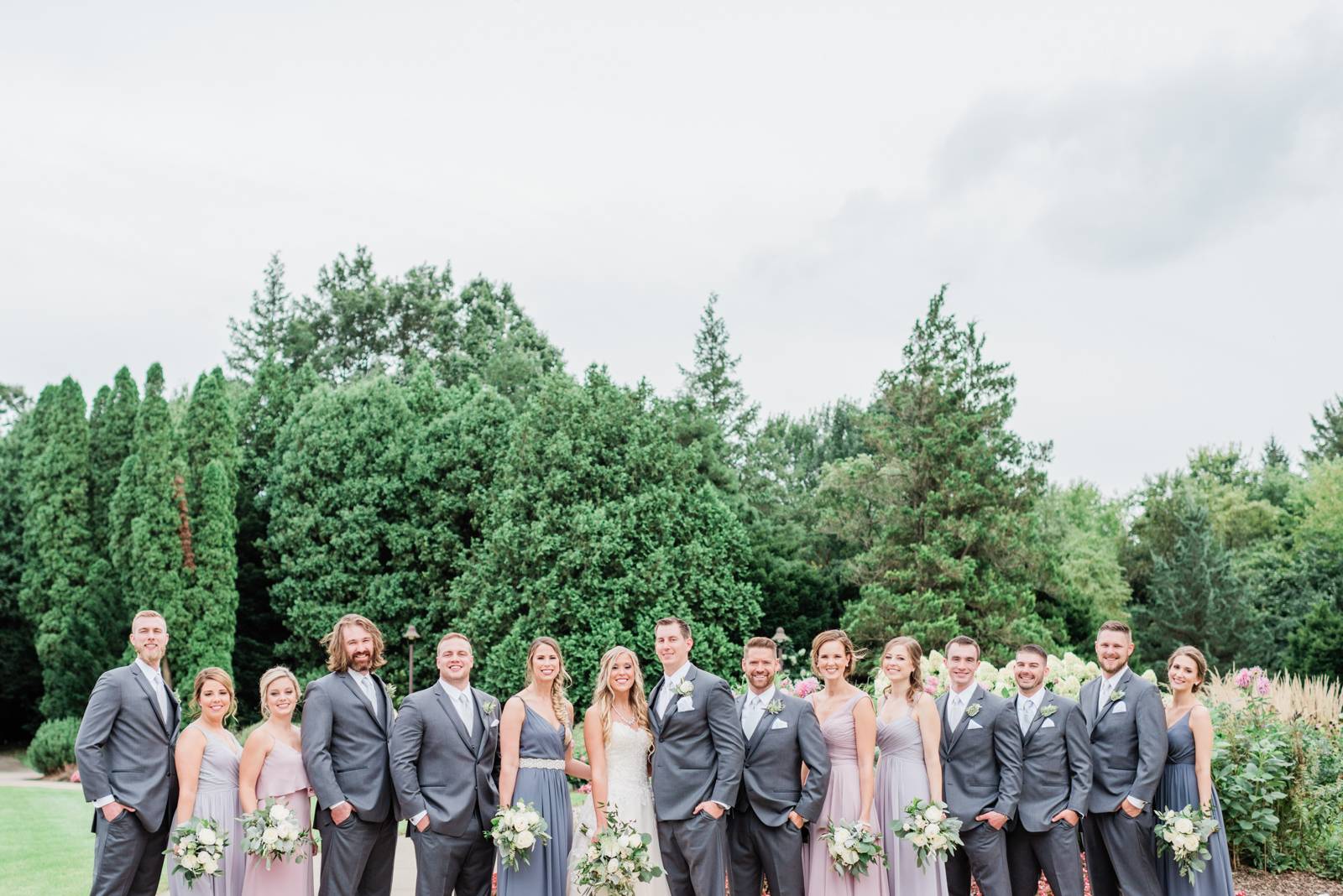 TELL US ABOUT THE FOOD, DESSERT, AND SPECIALTY BEVERAGES ON THE MENU: Green Fire did a fantastic job catering our wedding. We had Swedish meatballs and Spanakopita for appetizers. For dinner, we served sirloin steak, Italian herb-crusted chicken, au gratin potatoes, Seasonal vegetables, and Alfredo covered Cavatappi pasta with vegetables. Then we had super delicious cupcakes for dessert from Sugar Jones. The flavors were churro (highly recommended - this was also the flavor of our wedding cake), carrot cake, and chocolate.
WHAT WAS YOUR FAVORITE MOMENT FROM YOUR WEDDING? Our first look which is ironic because both Lance and I had been firmly against first looks. The reason it was my favorite moment is that we got to see each other for the first time without hundreds of other people watching us. It helped remove a lot of our nerves, and we got to spend that special intimate moment just between us. Often it feels like weddings are more about pleasing the guests, but in this one moment, it was just us spending this special day together. I will never forget that moment.

Additional Moment - After the ceremony, Lance and I went to take some "Just Married" pictures. We hopped on a golf cart and headed out to the more wooded area of Klehm to capture some breathtaking photos. Well, the mosquitos had other intentions. I am not kidding, within just a minute of standing in the wooded area, we were covered head to toe in mosquitos. Although we had been dropped off in the golf cart, we didn't have it to use to flee the scene. So we had to run back to the reception site swatting millions of bloodthirsty insects along the way. Never did I think I would have to partake in cardio on my wedding day. This moment will forever be referred to as "the mosquito apocalypse." The photographers had to pull mosquitoes out of my veil. Although I had my heart set on wooded wedding photos, I honestly don't regret this moment. It's funny how unplanned/unwanted events can turn into the ones that make the most lasting memories and best laughs.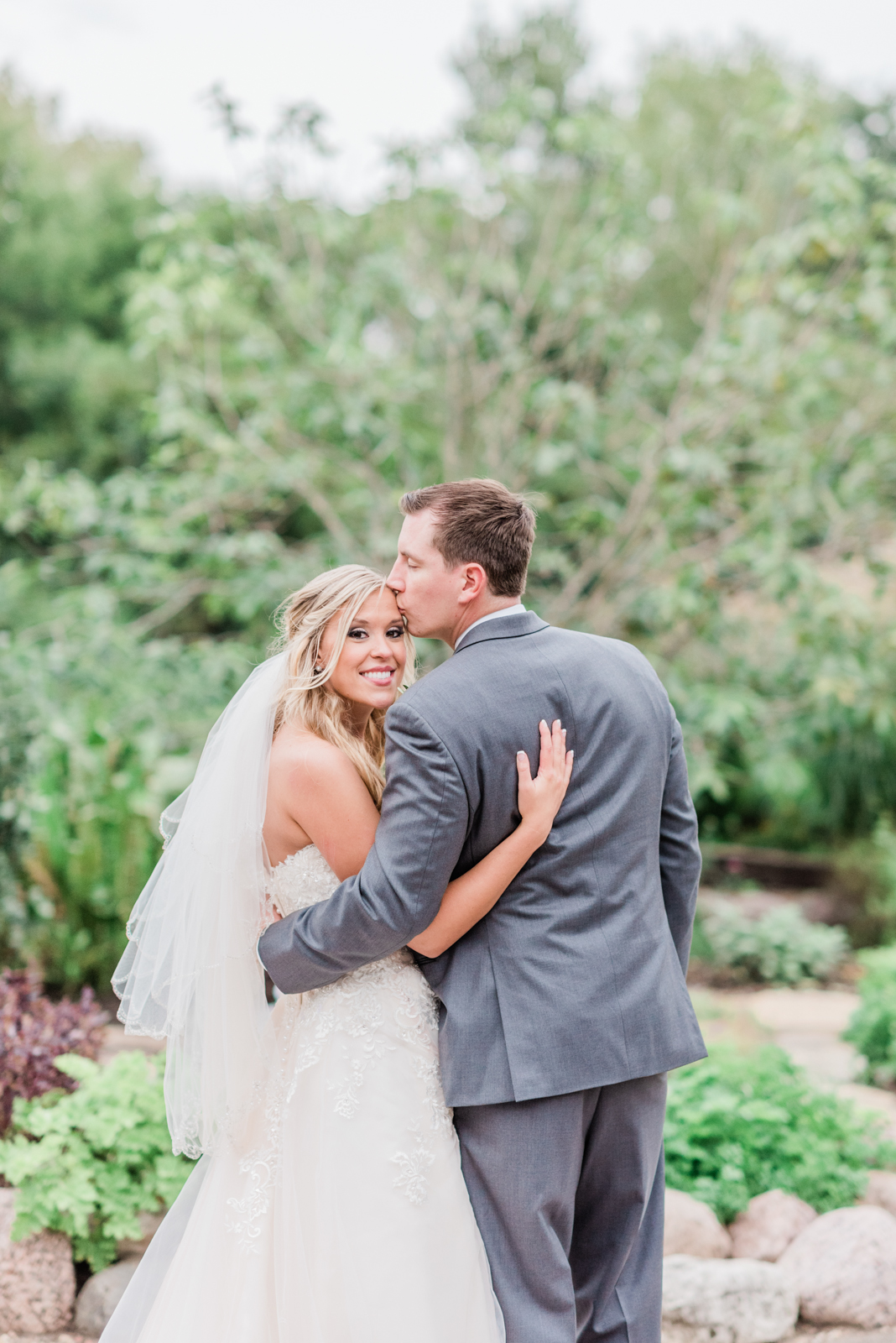 TELL US ABOUT YOUR HONEYMOON PLANS: We spent a week in Maui, Hawaii. We left the Monday following the wedding. We went to a luau, snorkeled at the Molokini Crater, braved the Road to Hana, ate at countless delicious restaurants, tried some local beer, saw endless amounts of rainbows and so much more.

WHAT DOES LIFE LOOK LIKE AFTER THE WEDDING? Hopefully, traveling the world and enjoying our happily ever after.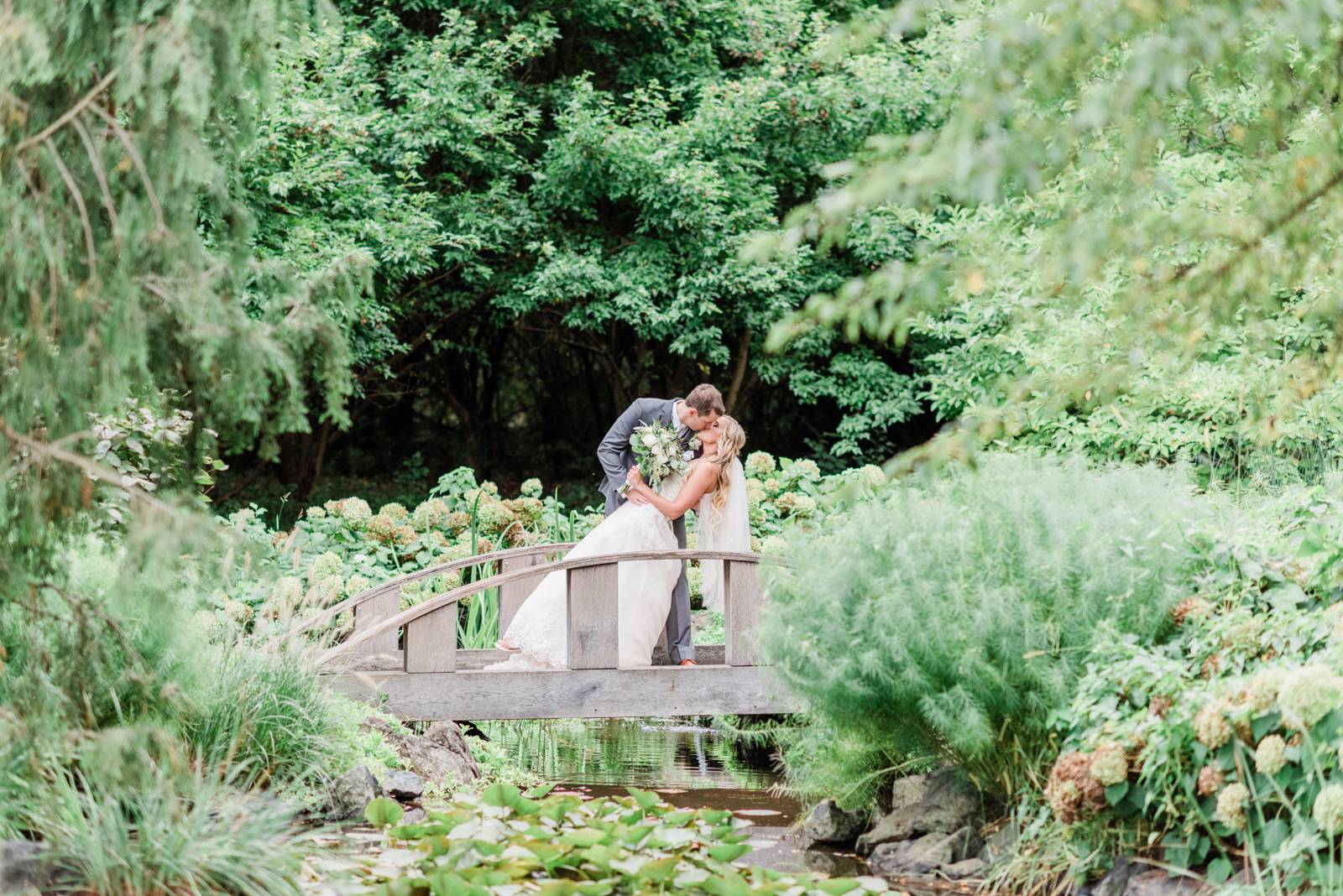 ANY WEDDING PLANNING REGRETS YOU'D DO DIFFERENTLY? Not really, besides the fact that I wish I could take back some of the hours I spent stressing about things that seem so meniscal now.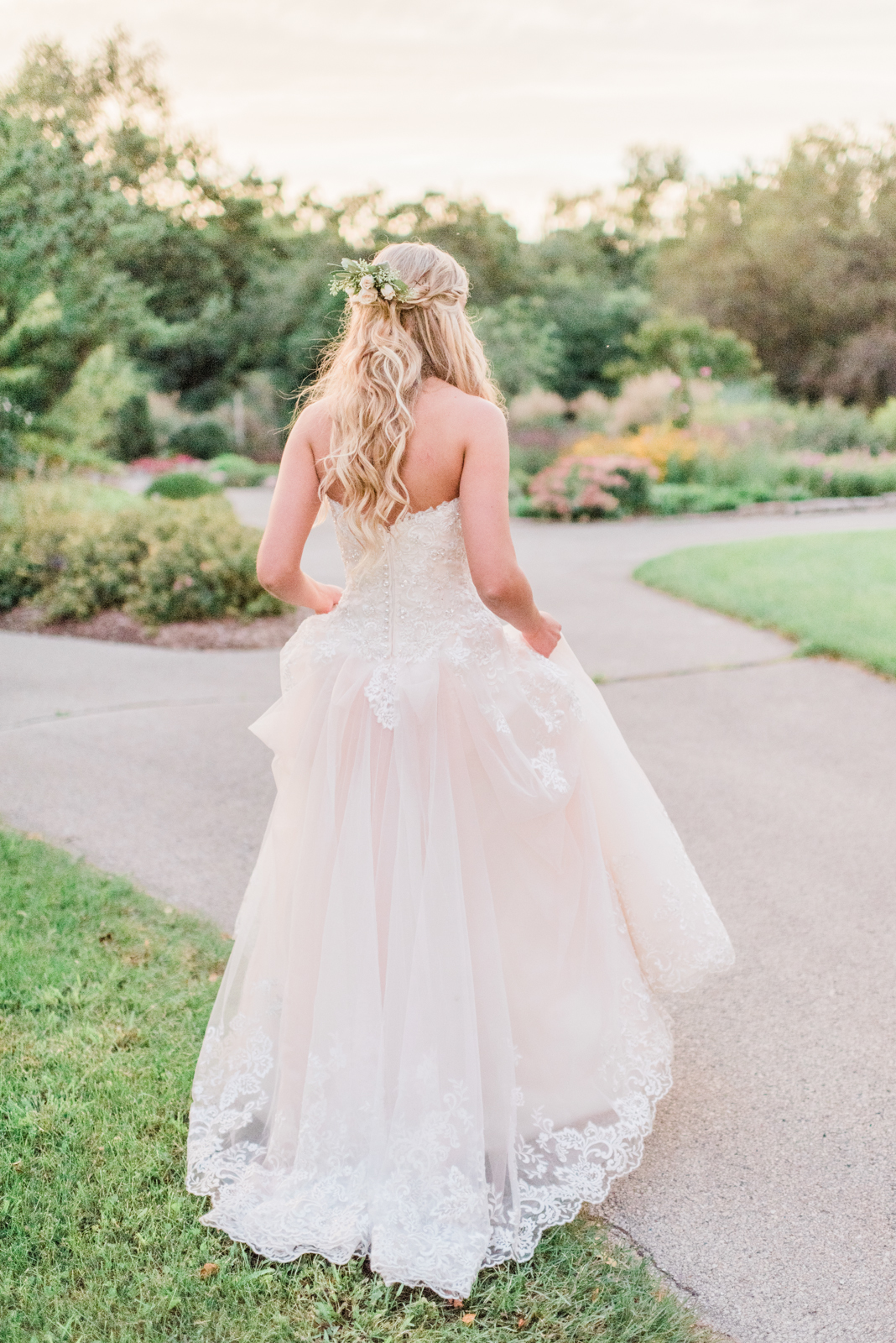 IS THERE ANY ADVICE YOU'D GIVE TO OTHER COUPLES PLANNING THEIR WEDDING? Try not to stress about the little details. For someone indecisive like me, it may seem like the end of the world trying to make decisions on everything. However, in the end, the ONLY thing that truly matters is the person standing at the end of the aisle. Also, try as hard as you can to soak in every moment of your wedding day. Take a few moments were you and your husband or wife step away from everything and soak it all in. Trust me, the day FLIES.