Traditional rustic meets vintage glamour in this breathtaking wedding filled with special touches, simple, yet stated floral, and a timeless Wisconsin love story. Copper Antler Photography captured Ashley and Jesse's nuptials at The Fields Reserve, showcasing a navy, burgundy and gold palette, a mini dessert bar, a delicious buffet by Hy-Vee Cakes, Catering & Floral, and a candy display to cure everyone's sweet tooth! Alongside a stunning bride, the bridesmaids wore unique burgundy dresses from Brandi's Bridal Galleria, Etc. while the groom looked dapper in a classic suit from Nedrebo's Formalwear. Read more about Ashley's favorite moment down below!
WEDDING DATE: 09/01/2018

HOW DID YOU MEET? We met at Cummins Emission Solutions in Mineral Point, WI while putting on a company cookout.
HOW DID YOU KNOW YOU'D FOUND "THE ONE"?
Ashley: I'm not sure there was one thing that made me really know that he was the one. It was everything about him and how well we got along. Jesse is the one man I know that I could be steaming mad at, and somehow, he still makes me laugh and smile.

Jesse: I knew Ashley was the one when I realized she was my best friend, the one I always wanted to share everything with immediately, and I knew I couldn't live without her.
TELL US ABOUT YOUR PROPOSAL: When Jesse and I first met, we always used to take my dog Harley to the County Pond. Shortly after we started talking, Jesse also got a dog named Duke. It became second nature for us to go out there and let both dogs run around and burn some energy. It was the week of Duke's birthday, and we planned all week to take him to the County Pond to let him run that Friday after work. Well, Friday came, and it was one of the first beautiful spring days we had. I, of course, didn't want to go to the County Pond anymore because I wanted to take our son (Brantley) to the park. I angrily agreed we would go to the County Pond for a short time and then come in and go right to the park. While we were walking on the trail, I had Brantley in a carrier on my chest. Next thing I knew Brantley spit up down my leg. I whipped it off with some long grass and said I was ready to go. As we walked back to the truck, Jesse was behind me. He said, "Hey Ash, look at this!" As I turned around, I thought there was going to be something dead or gross on the ground only to turn around and have him down on one knee!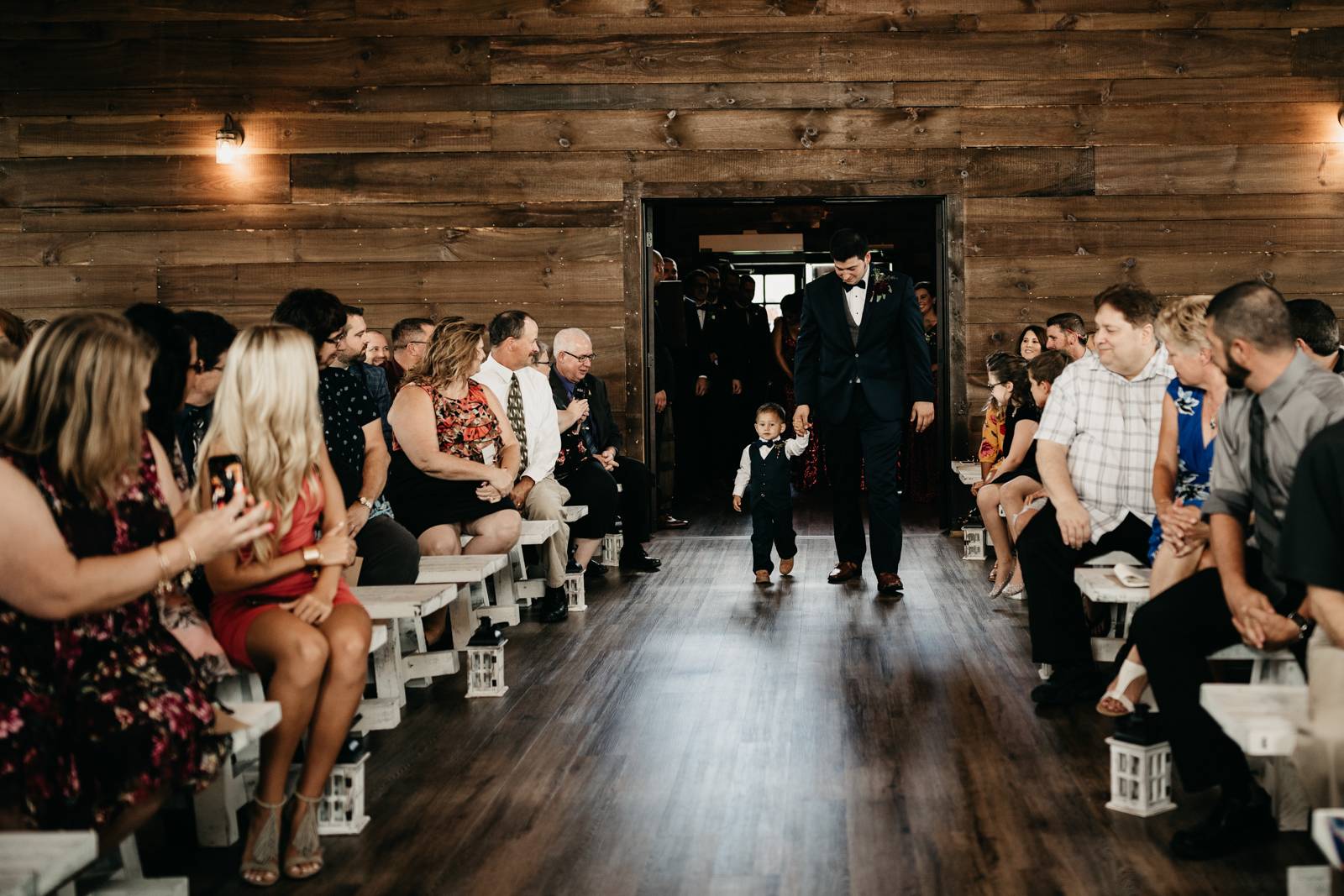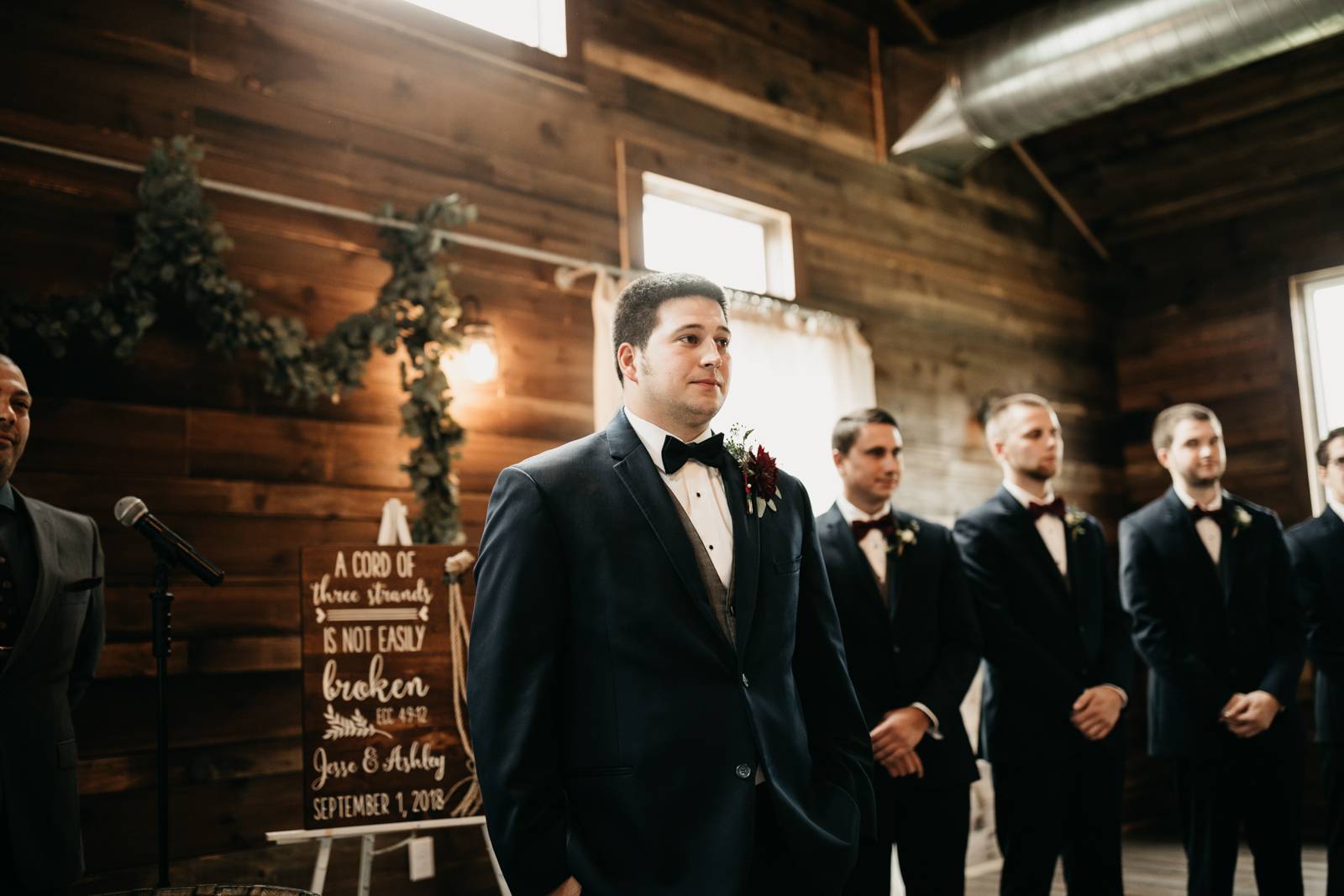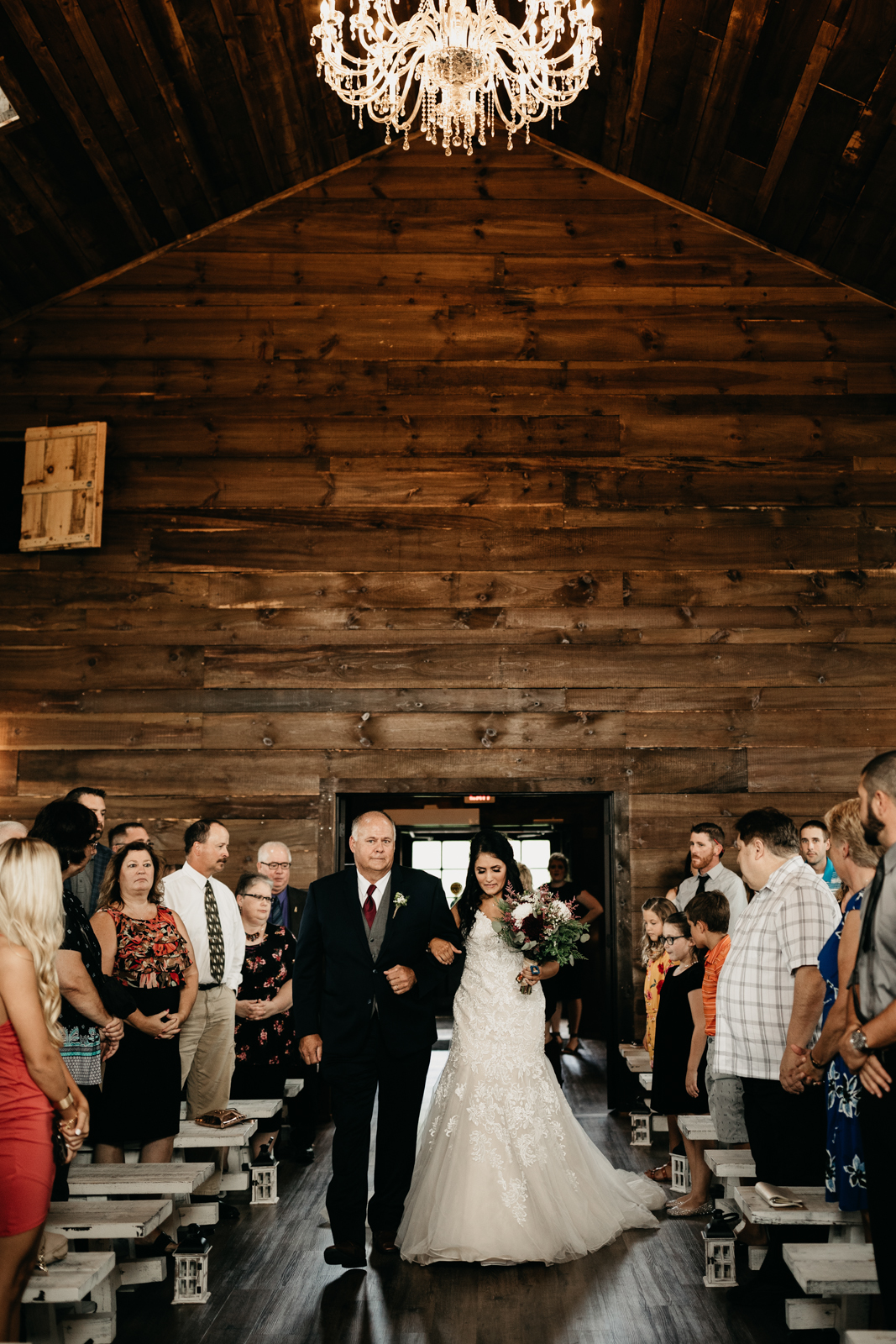 TELL US ABOUT FINDING YOUR DRESS: When I went looking for my dress I went to Julie's Bridal in Monroe, Wisconsin with my mother, two sisters, and two best friends. I pulled a bunch of dresses, and she asked which one I wanted to try on first. I knew I wanted something that would match the style of my venue but also compliment me. Julie's was very conscious of my insecurities with my body due to having a child and the first dress they put me in helped melt all the uncertainties away immediately. It was love at first sight, and I ended up trying one more dress on and then going back to the first dress.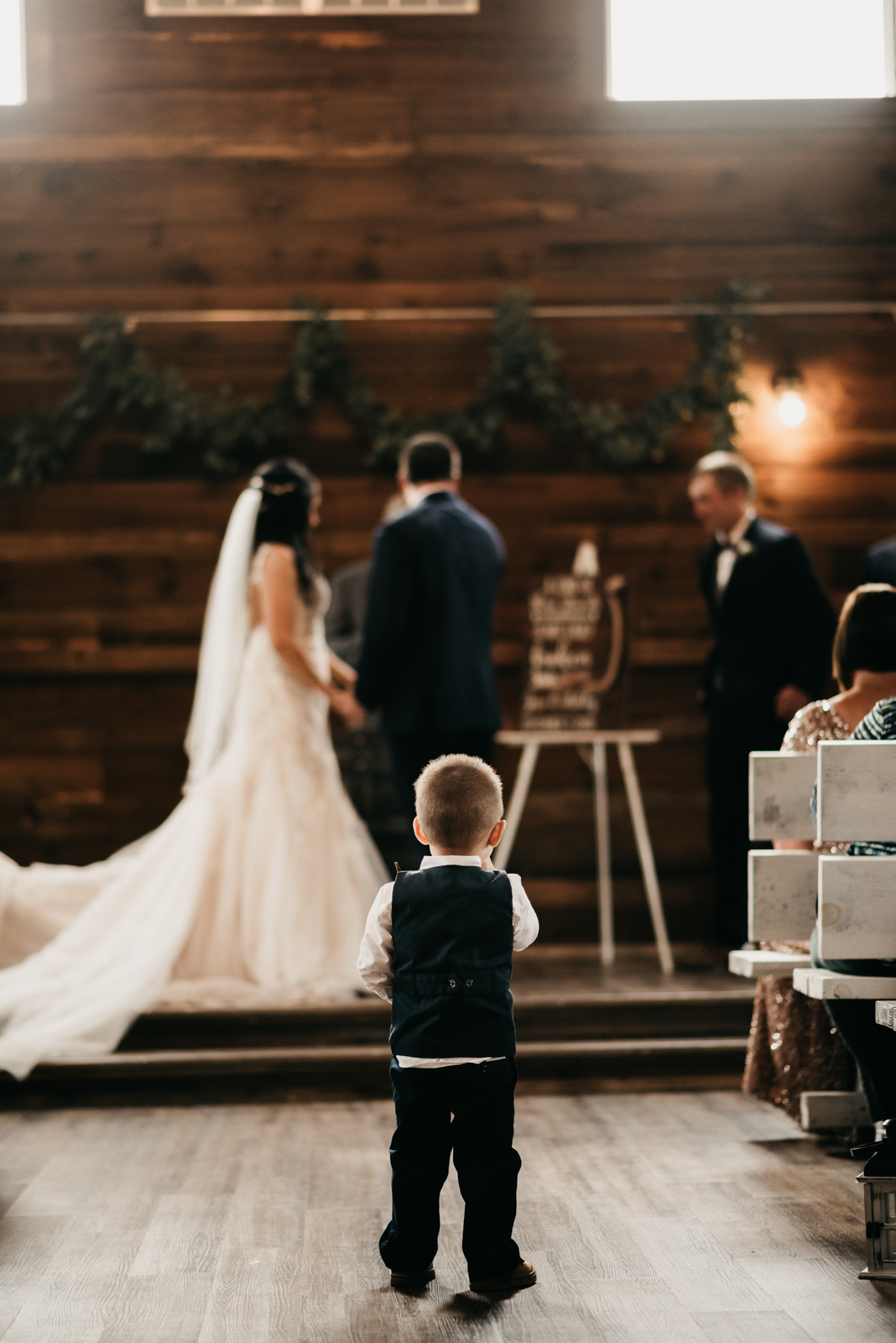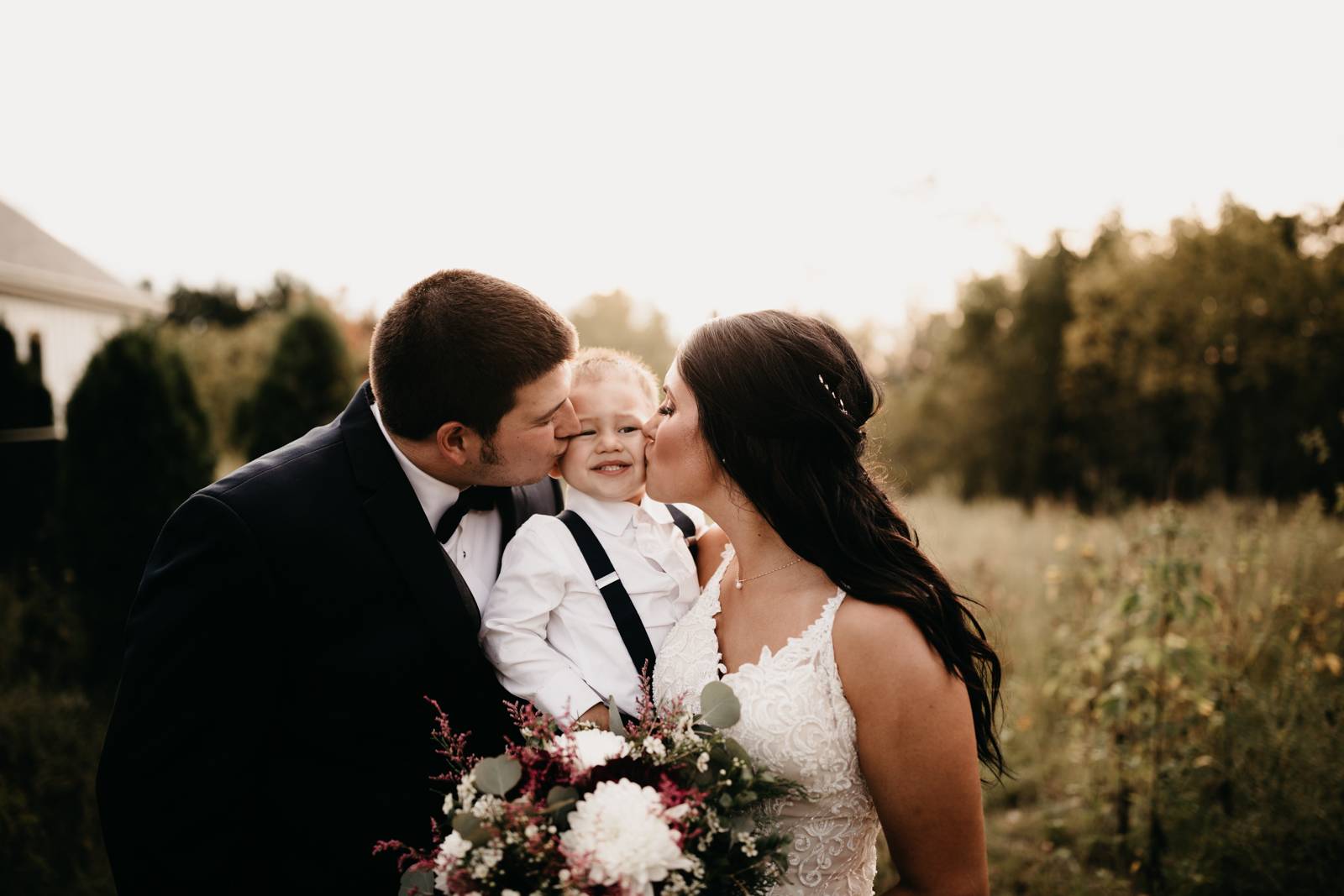 WERE THERE ANY PERSONAL TOUCHES OR DIY ELEMENTS? When I was younger, my family went on vacation and had opened oysters for pearls. We then had those pearls made into earrings and a necklace, and that was the jewelry I wore on my wedding day. There were also antlers on every table for my husband as he is a big hunter/outdoorsmen.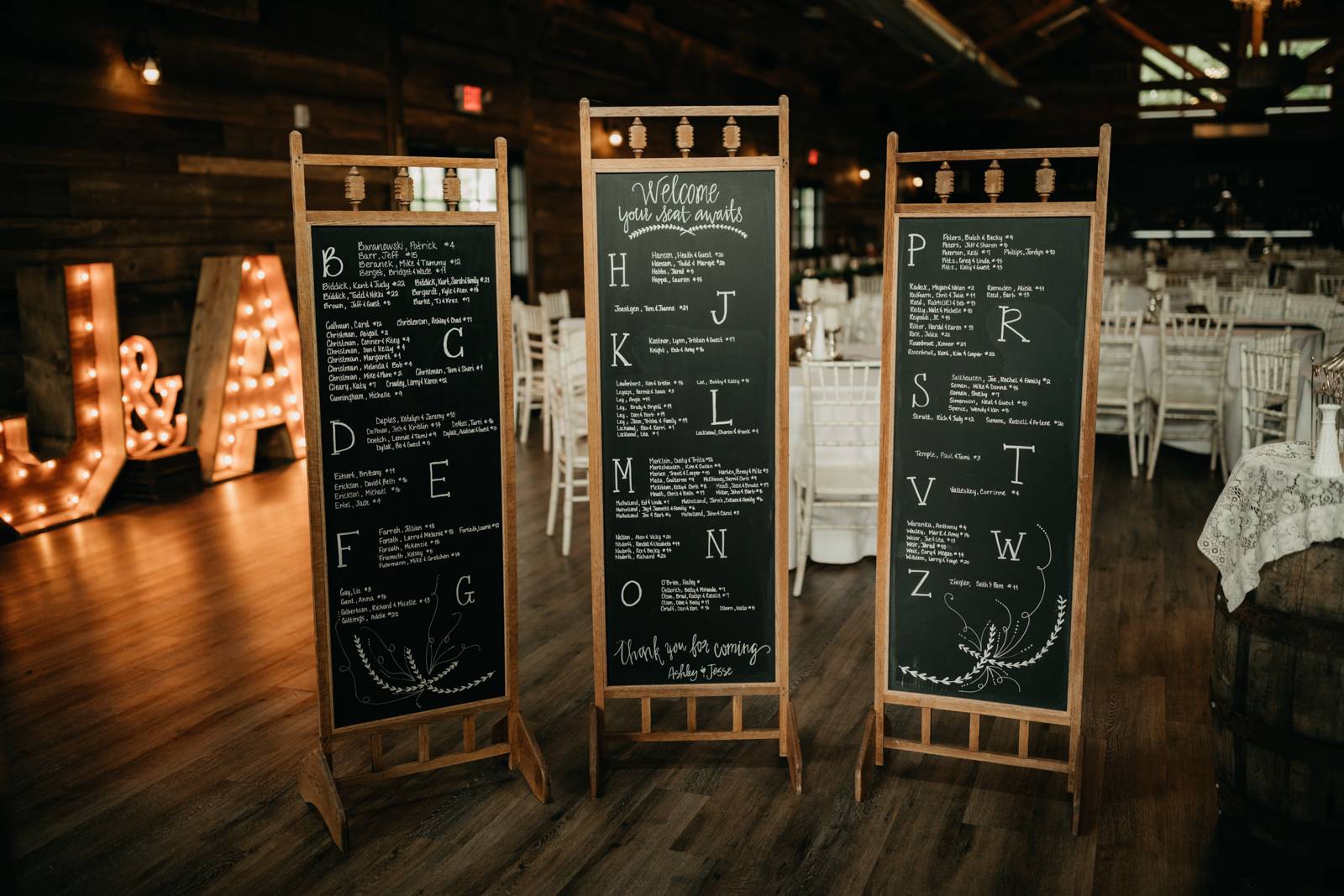 WHAT WAS YOUR WEDDING COLOR PALETTE? Navy Blue, Burgundy & Gold

DESCRIBE YOUR WEDDING FLOWERS: Simple with lots of greenery and pops of white and burgundy flowers.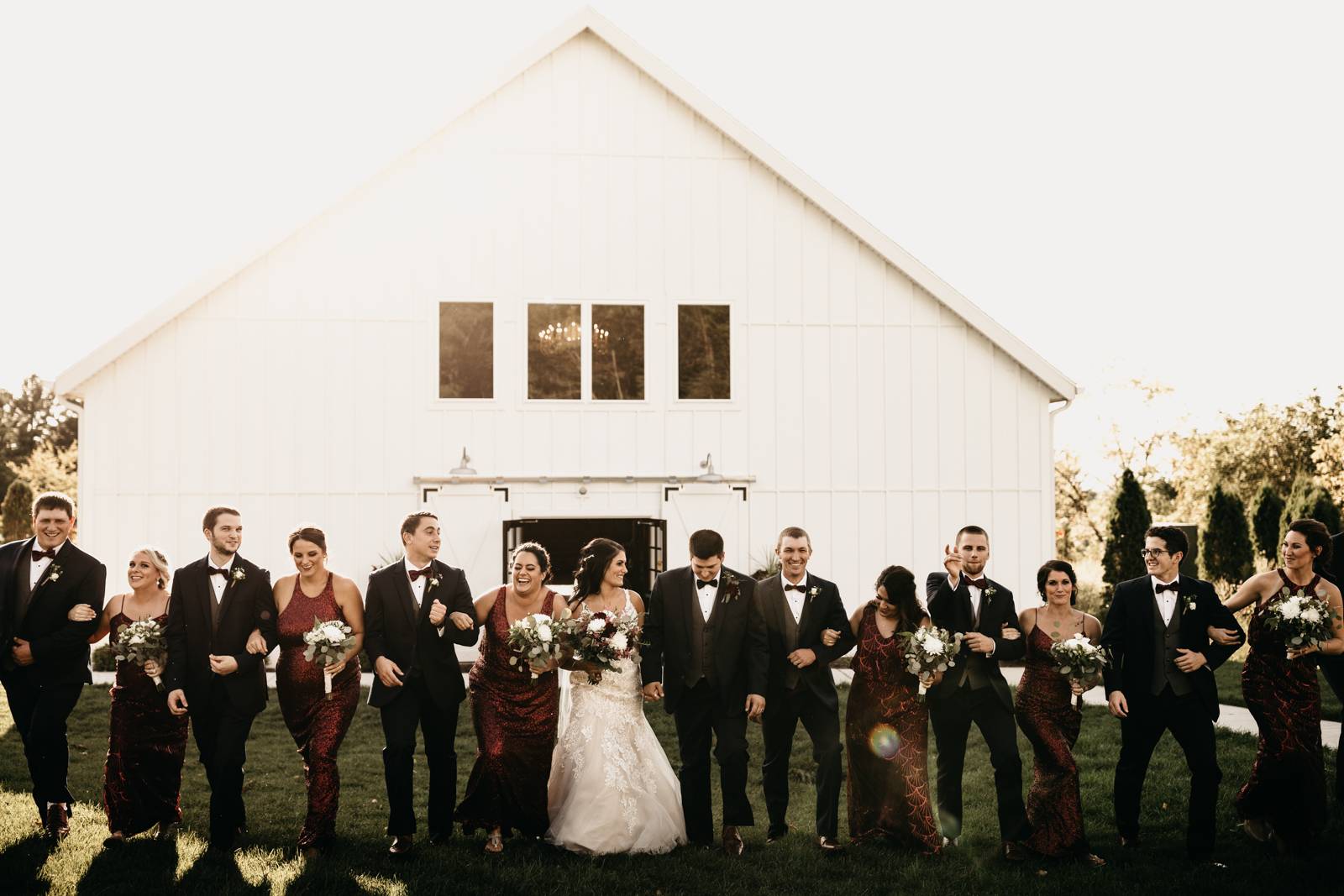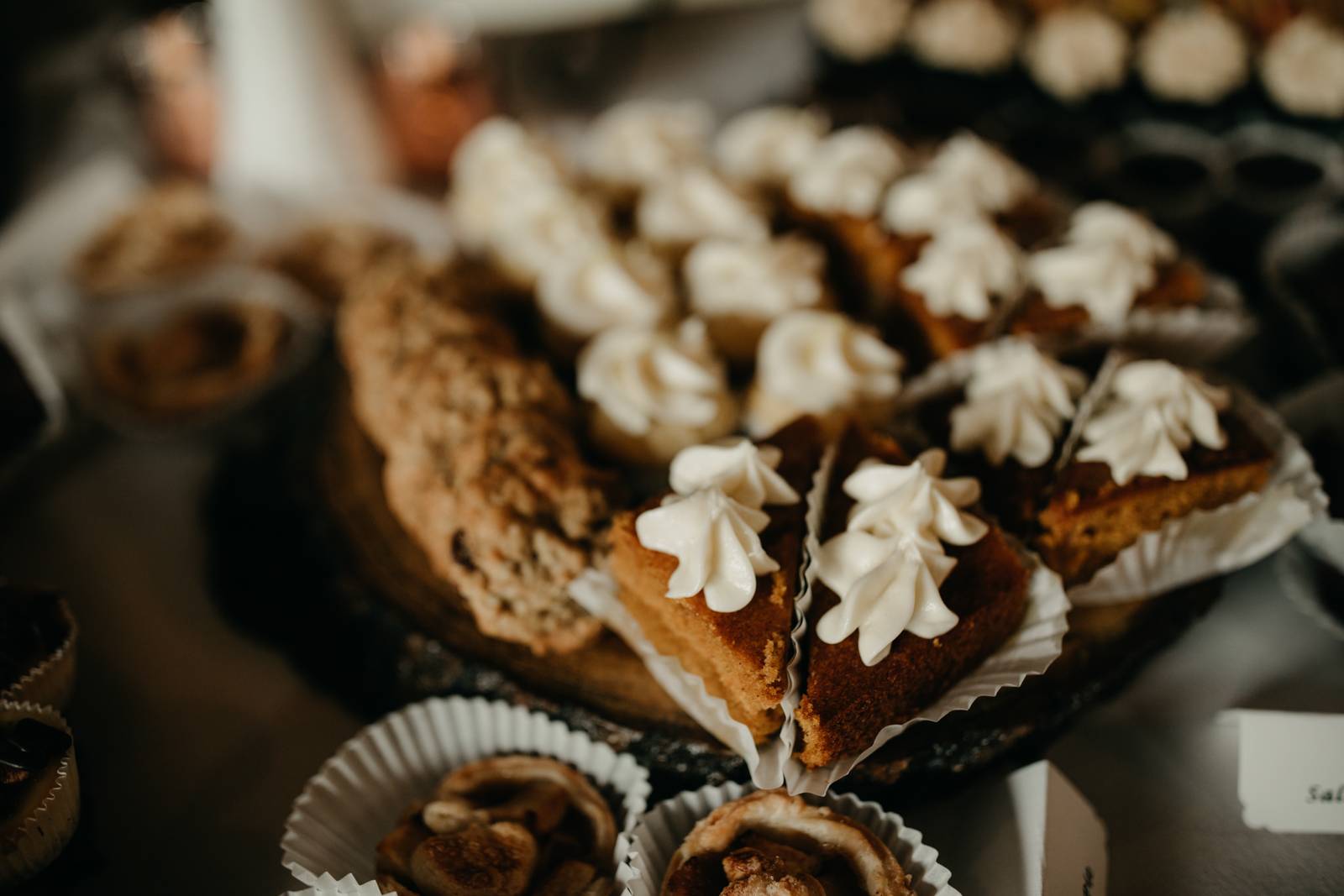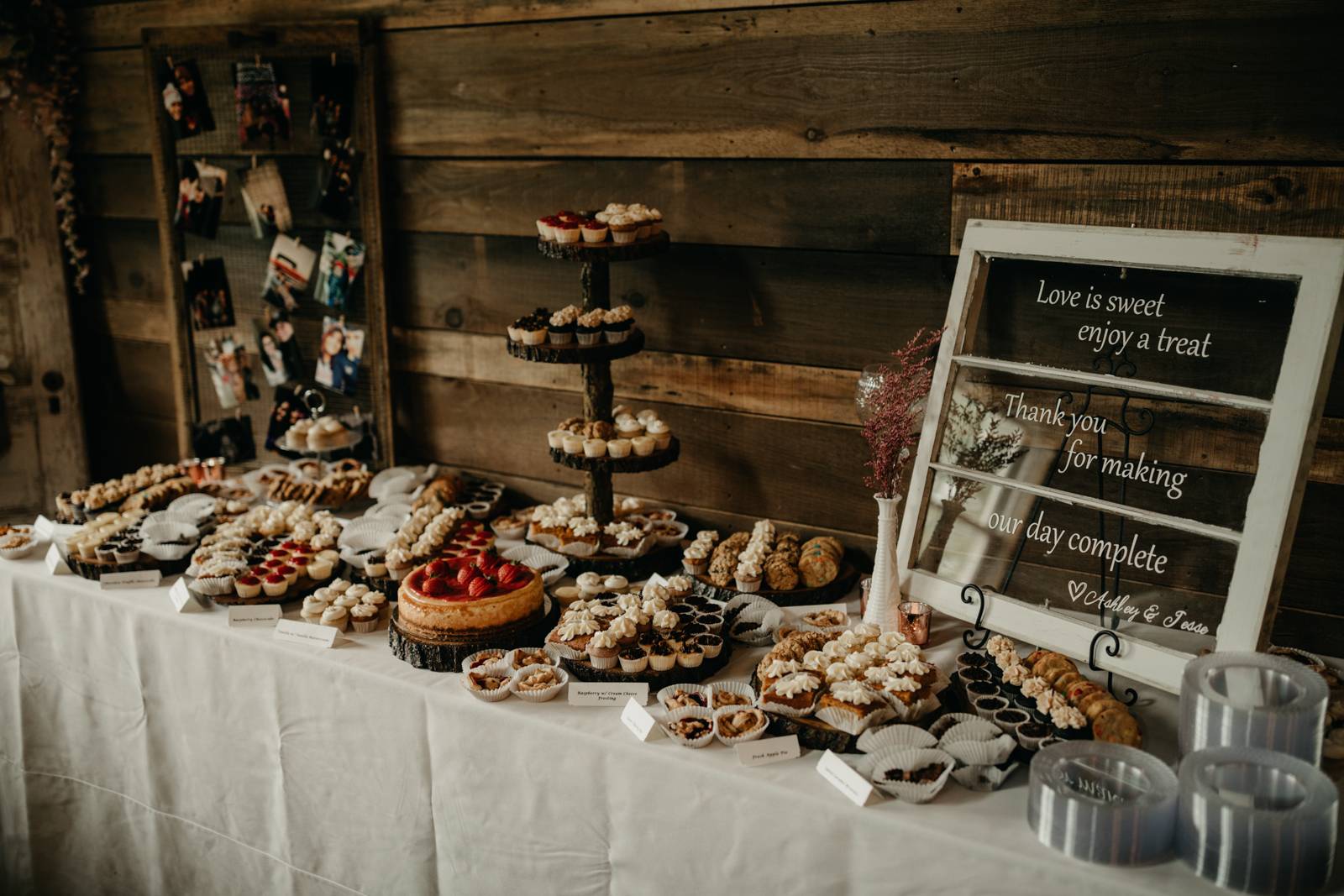 WHAT WAS YOUR INSPIRATION/DESIGN CONCEPT FOR YOUR OVERALL CEREMONY AND RECEPTION DECOR? My inspiration for the ceremony and reception was my style and pieces that I had picked from other weddings I had seen and also my husband's style mixed in.

DID YOU USE ANY SPECIALTY CHAIRS, LINENS, CHARGERS, GLASSWARE OR DINNERWARE? No specialty pieces, just what the venue offered. We did use plates and silverware from our family friends that lend to any brides interested in our community.
TELL US ABOUT THE FOOD, DESSERT, AND ANY SPECIALTY BEVERAGES ON THE MENU: The food was a simple buffet from Hyvee with chicken, beef, mashed potatoes, and veggies. For the dessert, we did an entire dessert bar with all different "mini" stuff -- from cookies to pies to brownies, pumpkin bars, and cheesecakes. We also had a candy bar because my husband and I both have huge sweet tooth's.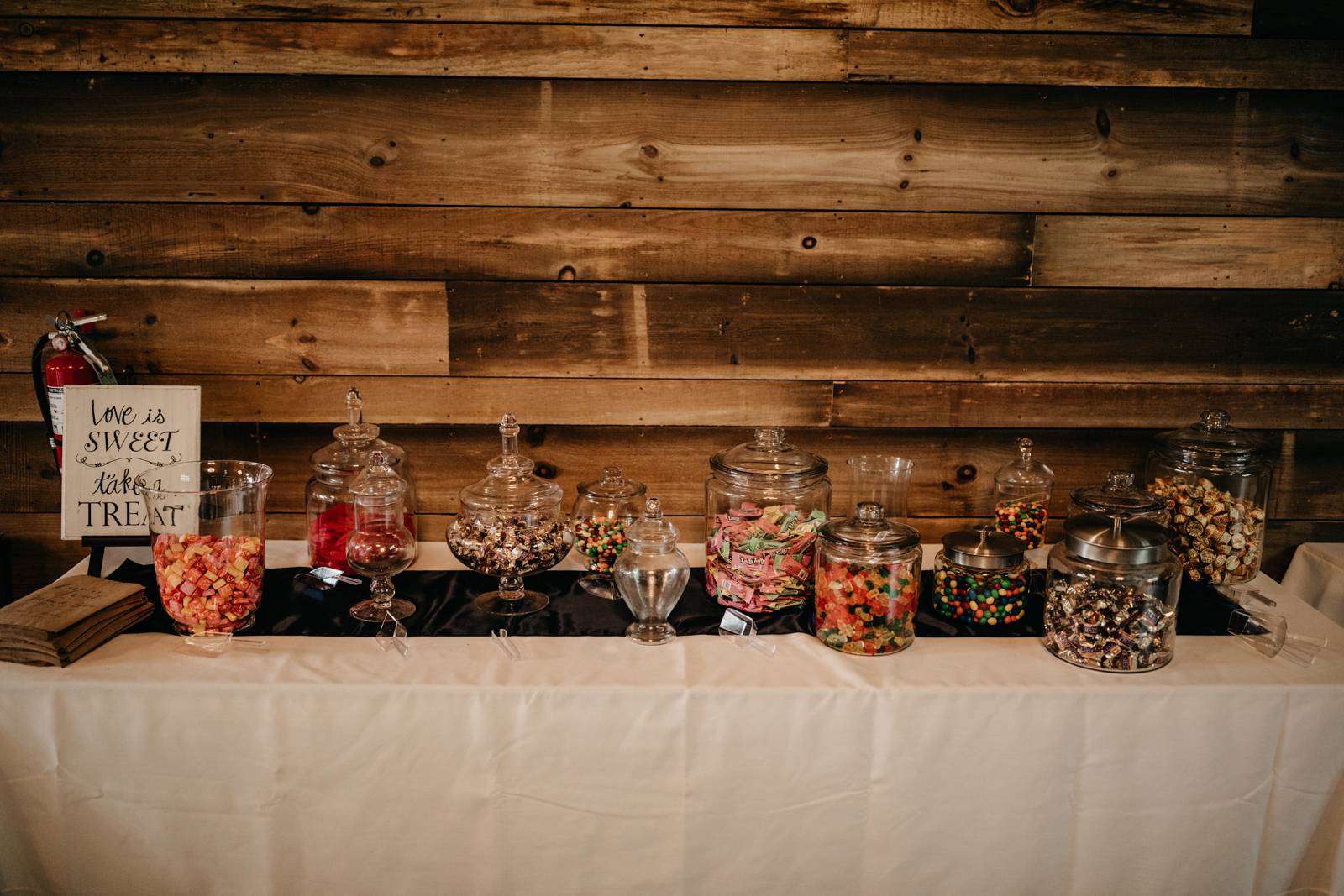 WHAT WAS YOUR FAVORITE MOMENT FROM YOUR WEDDING? The entire day was honestly my favorite, but the other stand out moment would have to be having the time away with just us when our photographer took our sunset pictures. It was a perfect break to take a breather and focus on us and have our son enjoy a moment with just us and not everyone else around.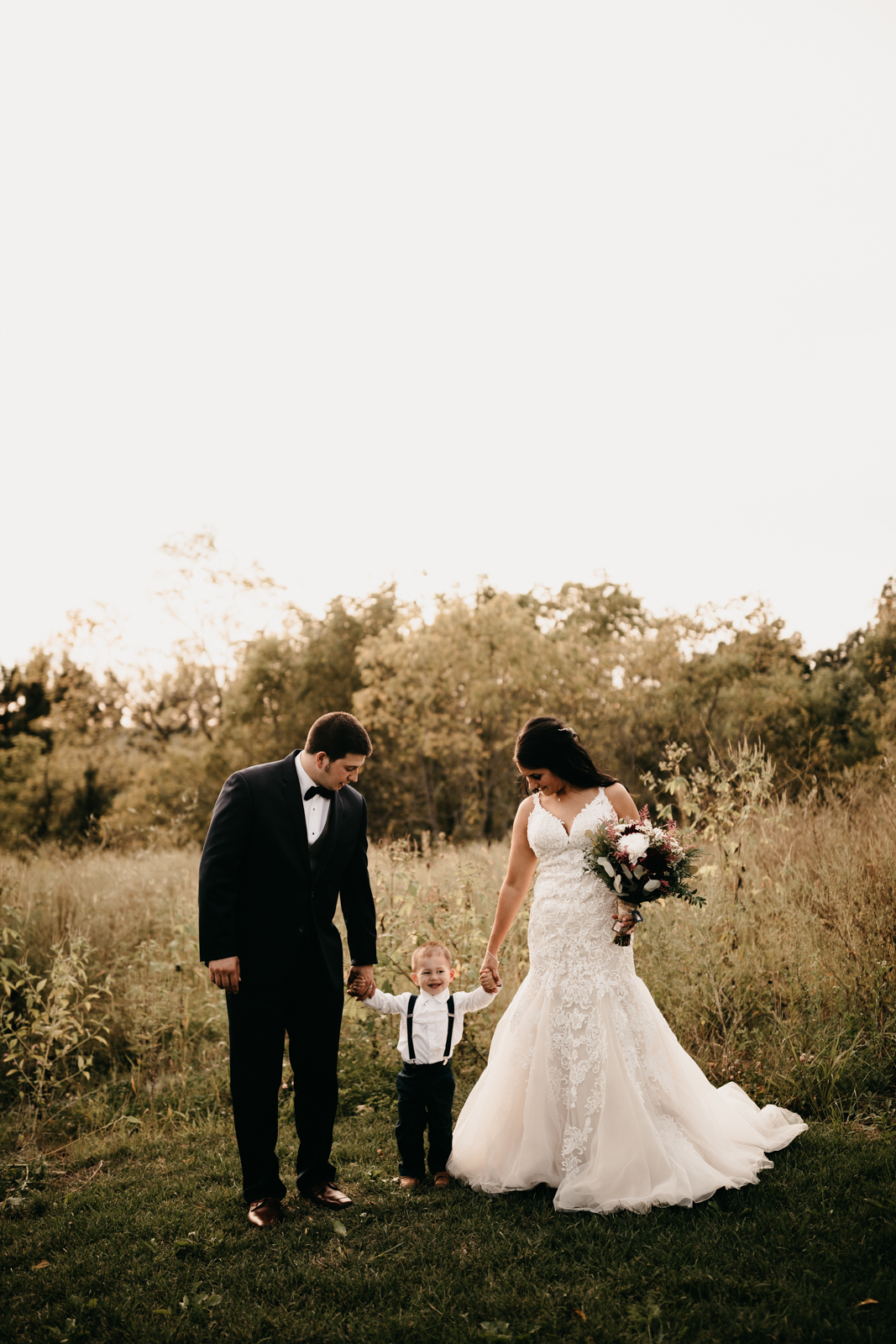 TELL US ABOUT YOUR HONEYMOON PLANS: We did not have any honeymoon plans immediately, we actually plan to take a weekend away sometime this year.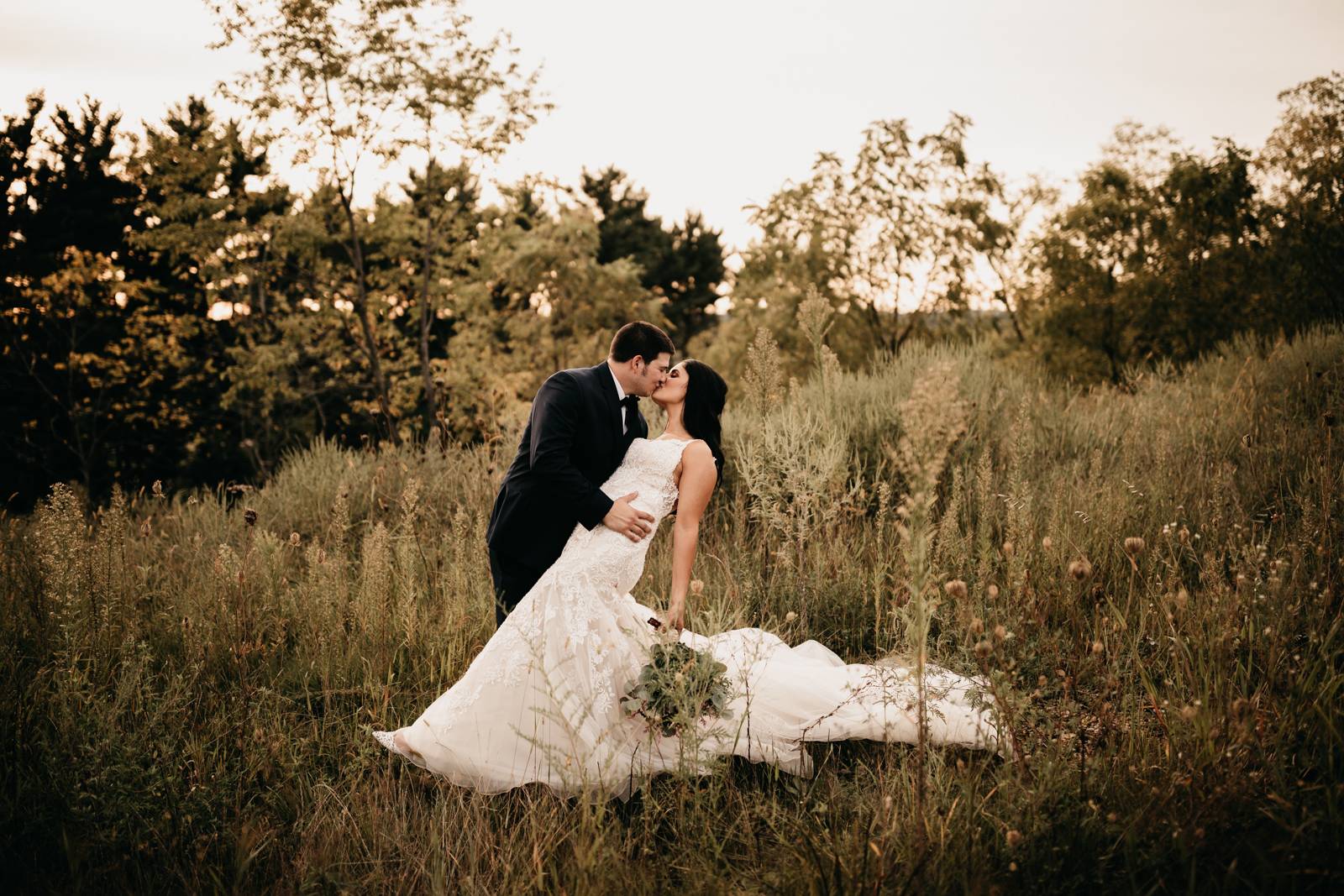 WHAT DOES LIFE LOOK LIKE AFTER THE WEDDING? Life looks about the same. We already have a 2-year-old son, so besides mom's last name now matching the boys, nothing will change. We will continue to be blessed with what we have and help each other grow and conquer any dreams we may still have.

ANY WEDDING PLANNING REGRETS YOU'D DO DIFFERENTLY? Not a thing. Everything went perfectly!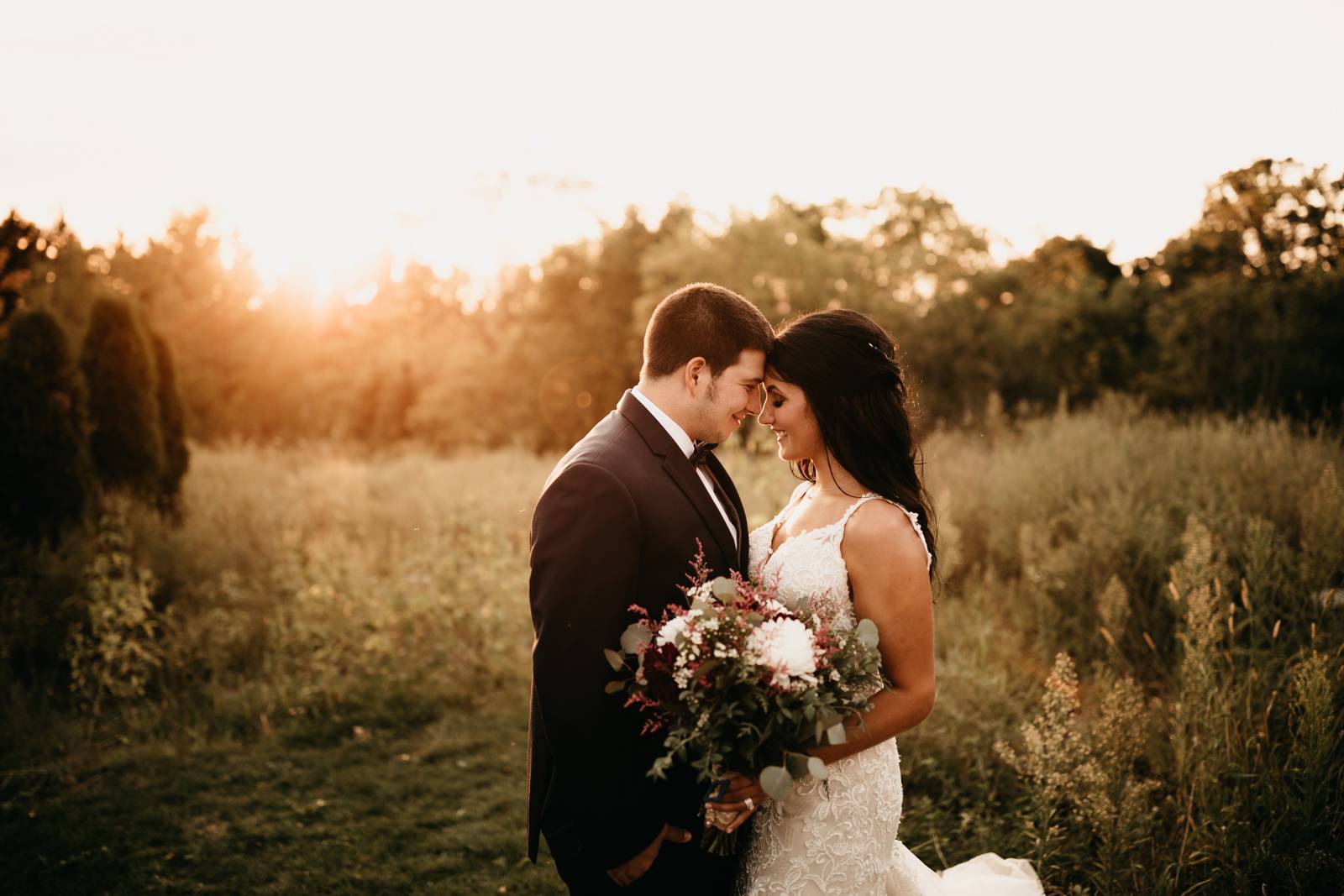 IS THERE ANY ADVICE YOU'D GIVE TO OTHER COUPLES PLANNING THEIR WEDDING? Focus on the details that mean the most to you most and don't stress about the things you can't control. No one will know if something doesn't go the way it should have except you. Take three different times throughout the day to connect and just take everything in. The day really will fly by, and those three moments will end up being big memories.
Find more Madison real weddings here.