Modern and minimal yet soft and organic, Bre and Grffin's wedding fete' at the beautiful Madison area wedding venue, The Lageret in Stoughton, was the perfect balance between these two styles. Organic-fresh florals of tulips and greenery designed in the hands of Flora Designs by Jamae, rentals from Event Essentials, A La Crate & EZPZ Marquee along with stunning acrylic calligraphy signs. They capped off the celebration with dinner at an epic sweetheart table lined with ghost chairs for a look that took the whole day to another level. Katie Ricard captured the design goodness and it's all waiting right here.
WEDDING DATE: 09/02/17

HOW DID YOU MEET? We met while I was in my last year of nursing school and Griff was finishing law school at a neighborhood bar in Indianapolis that served dollar drafts on Monday nights! Well, at least that's what we would tell people because we actually met on match.com before online dating was really a thing :). We were embarrassed about it at the time because it seemed like nobody our age was online dating, but today everyone meets on apps!
HOW DID YOU KNOW HE WAS "THE ONE"? We met when we were just kids practically, so we would date off and on and do long distance unsuccessfully for a few years. Finally, we both made it to Chicago at about the same time and started dating again. Griff had a job opportunity open up in Austin and wanted me to tag along. When he said he couldn't imagine moving without me, I knew we had both grown up enough to get serious about our future together.
TELL US ABOUT YOUR PROPOSAL: Griff had moved to Austin while I was finishing up a semester in grad school back in Chicago and he was coming up to visit for a weekend in December. He flew back a day early to surprise me. I was working nights at the time and he was waiting outside my door with my favorite coffee while I proceeded to hit snooze for over an hour (so tired). I knew immediately what was up and I remember thinking about how my nails were in horrendous condition as I had planned to get them done that day. We went to a yoga class together (one of our favorite things to do together!) and he proposed afterward when we were back at our apartment. We went out to dinner to celebrate and had some of our closest friends waiting there to surprise us!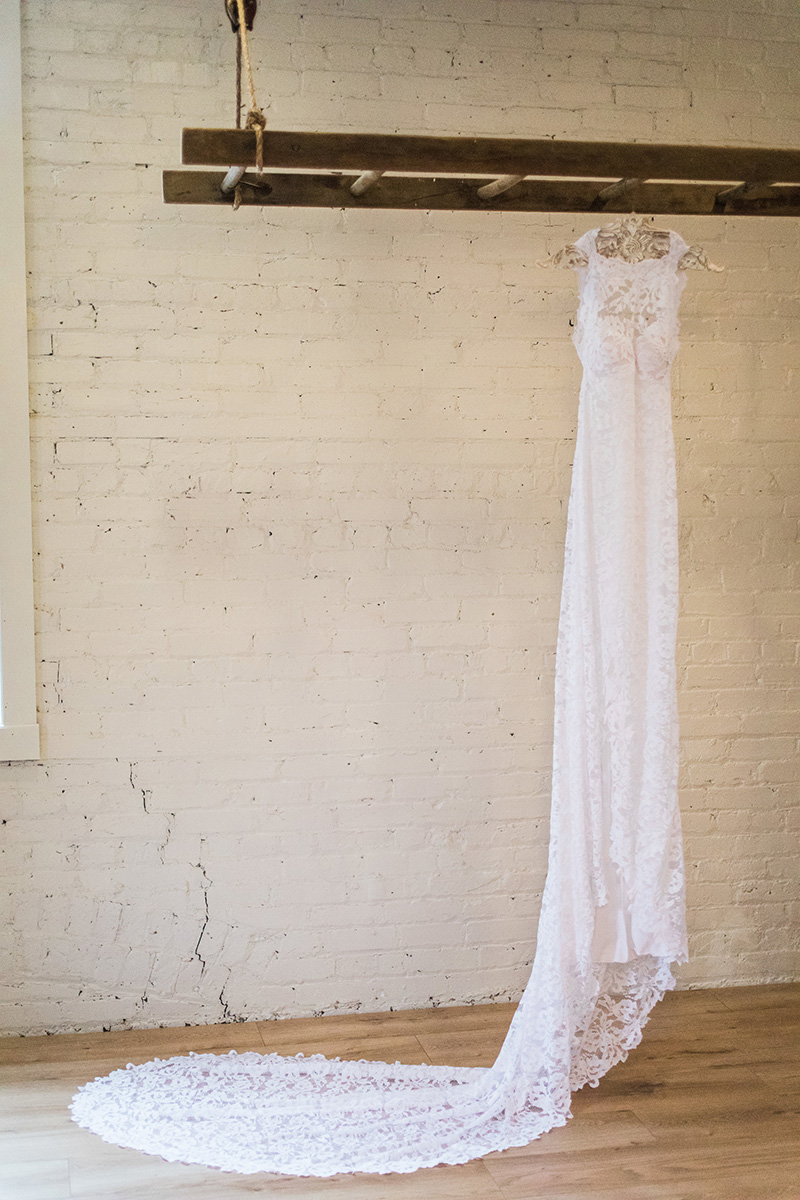 TELL US ABOUT FINDING YOUR DRESS: Oh, this is kind of boring, but I found the designer Grace Loves Lace on Instagram and read great reviews and just kind of went for it. I love the boho glam lace look they have, so I sent in my measurements and got my dress like 6 weeks before the big day, but it worked out perfectly and fit like a glove!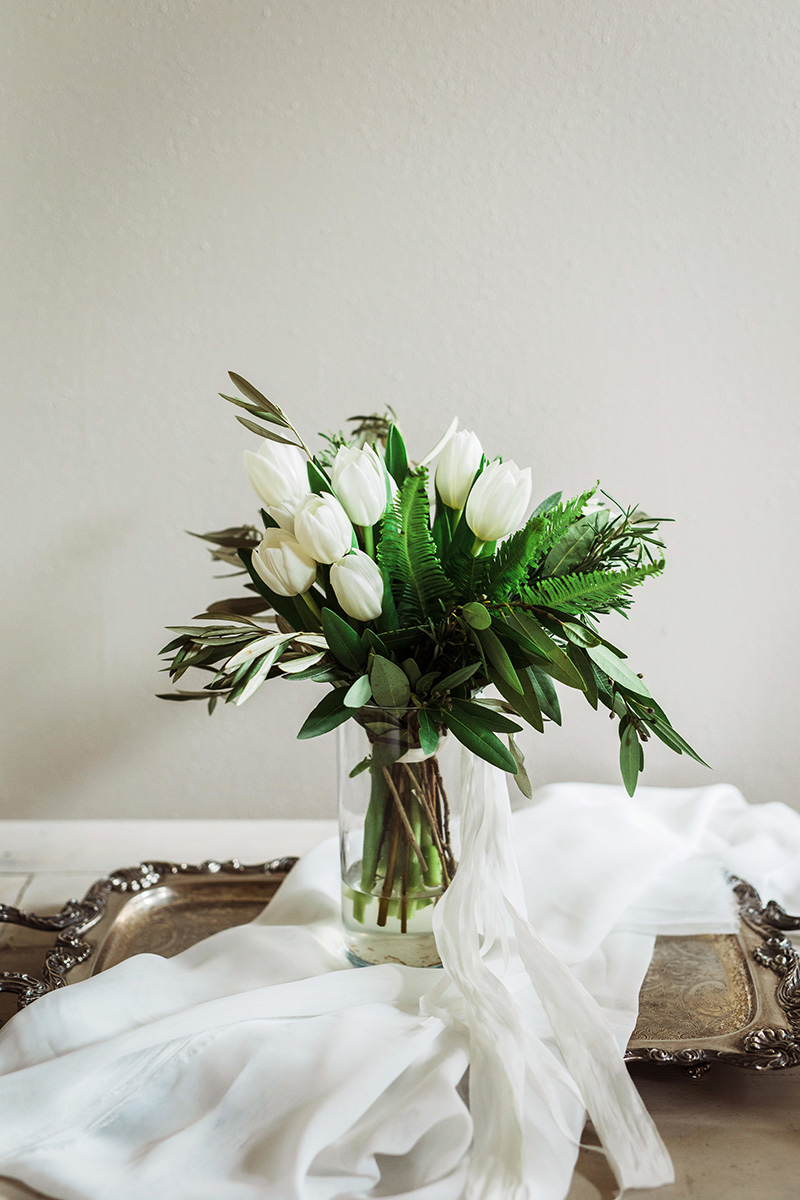 DESCRIBE YOUR WEDDING FLOWERS: I had a bouquet of white tulips to honor my grandmother who passed; she immigrated here from Holland and tulips are my favorite flower. They were really simple and minimalist. All of our other flowers were really just greenery, it was so beautiful with all of the white and the brick of The Lageret.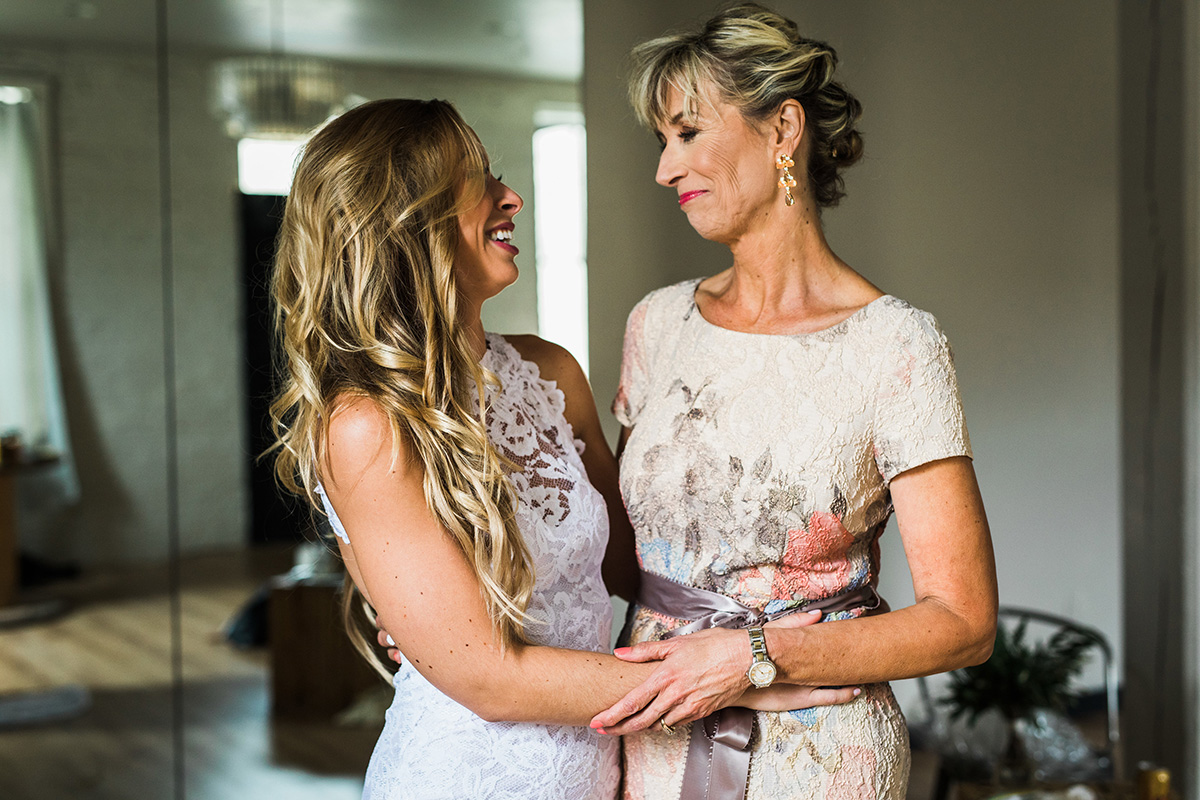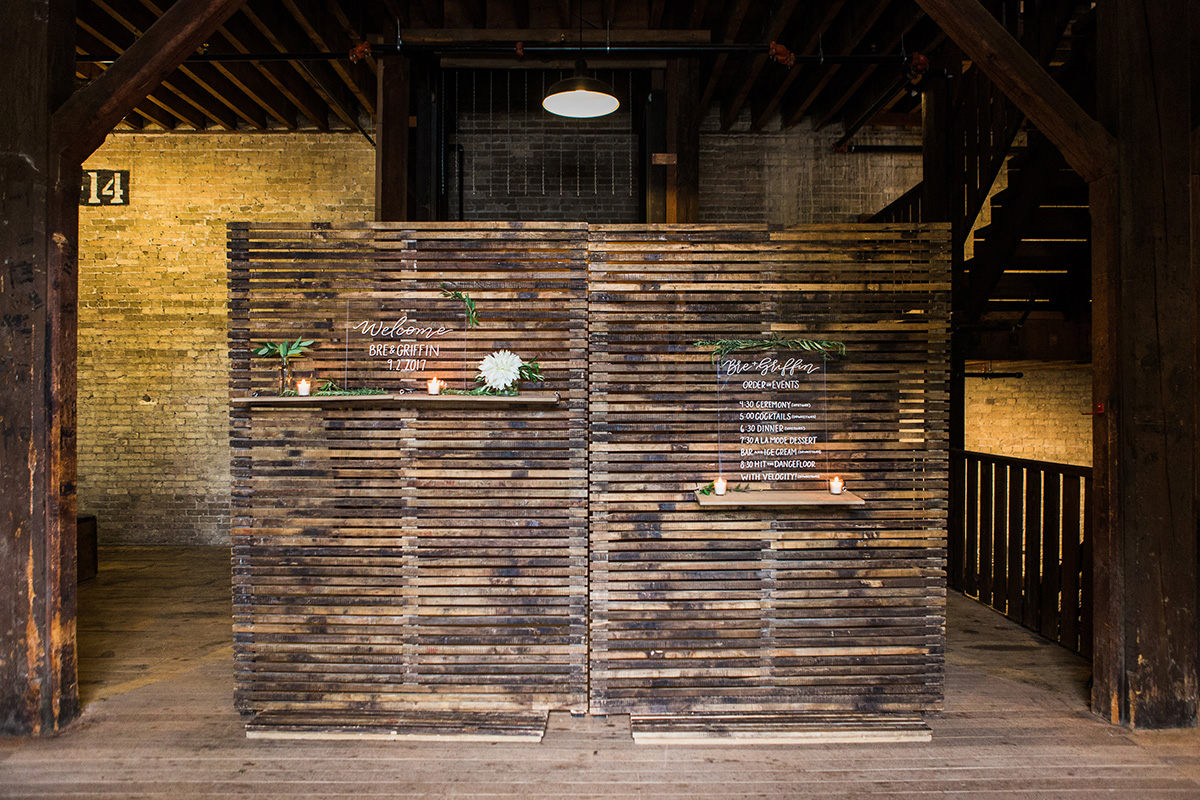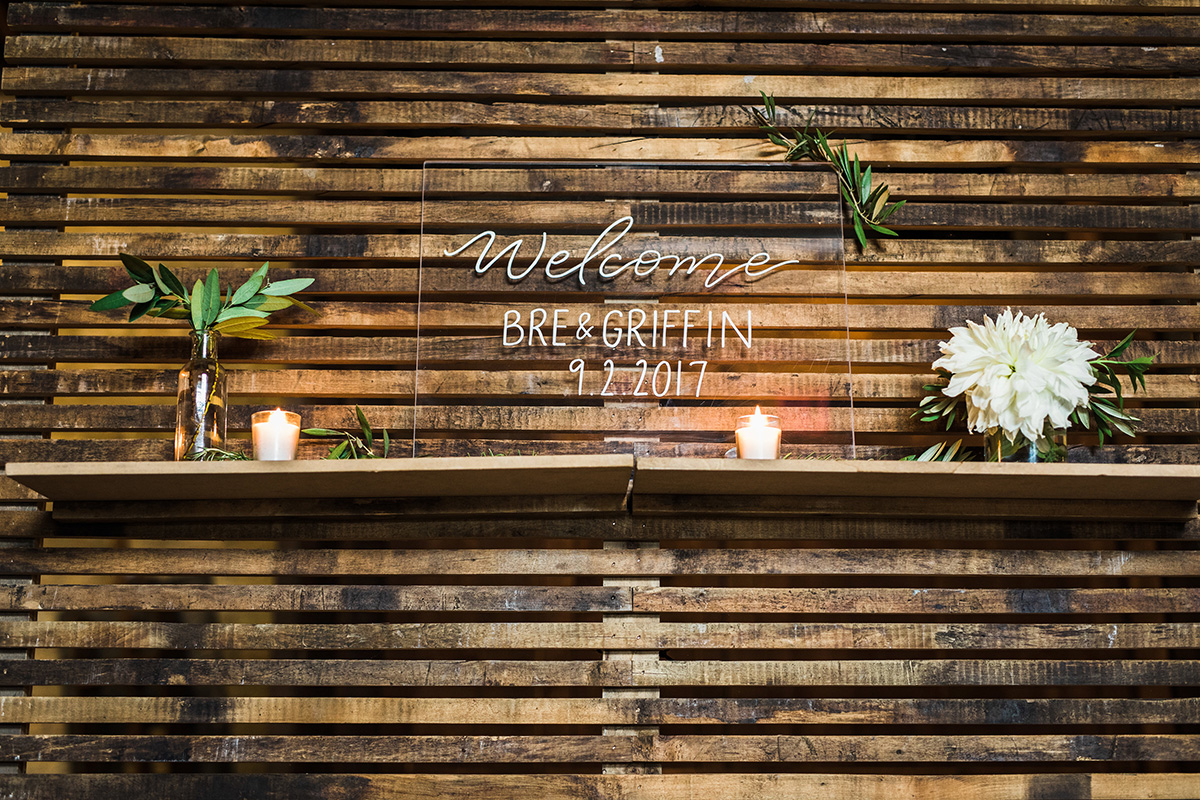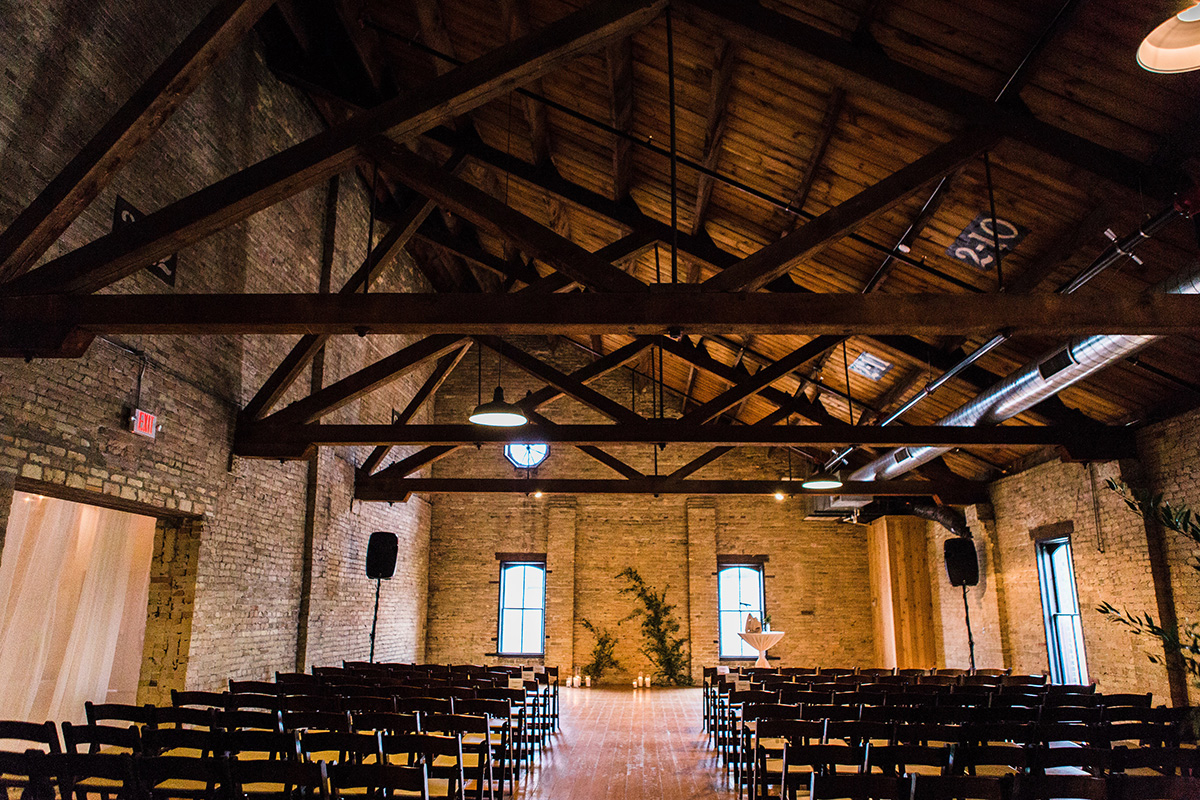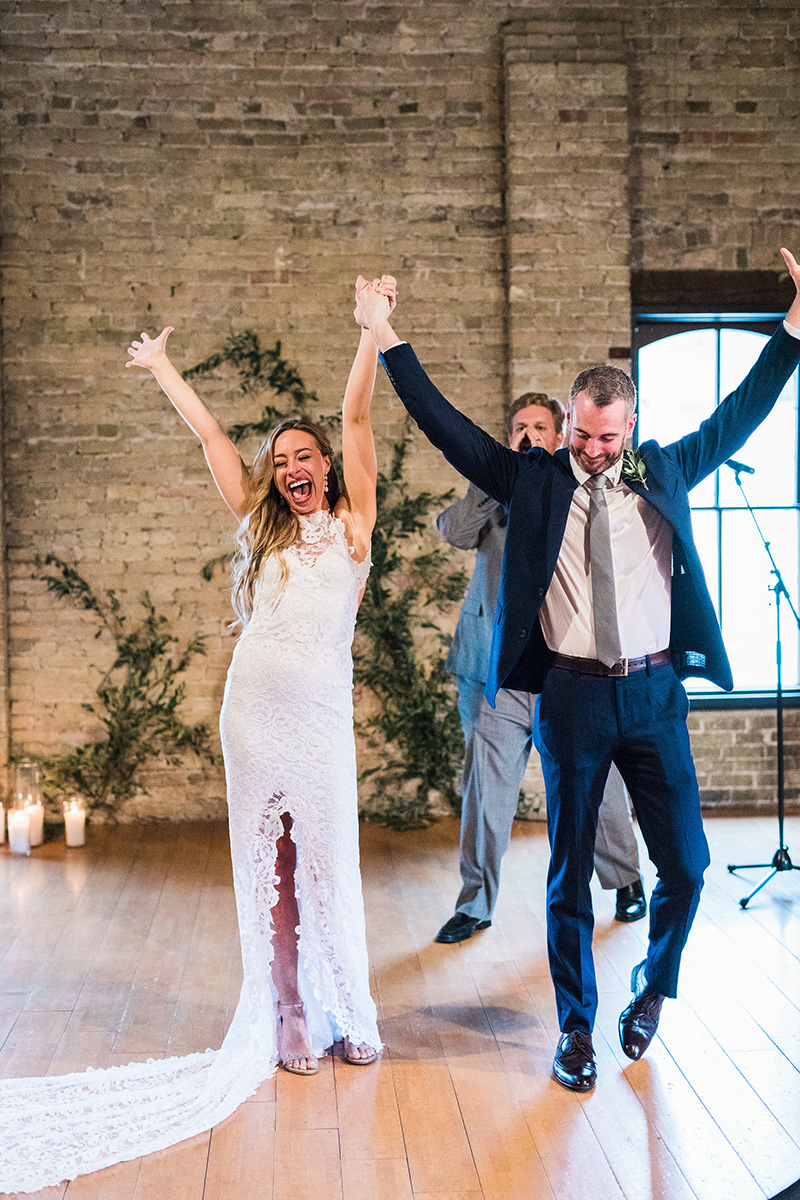 WHAT WAS YOUR FAVORITE MOMENT FROM YOUR WEDDING? Hard to pick just one so I will narrow it down to two:
Walking down the aisle and seeing Griff's face for the first time that day. He looked so handsome!
Adam, our good friend, and officiant, who surprised us with his special message and used crafting the perfect gin & tonic as a metaphor for marriage.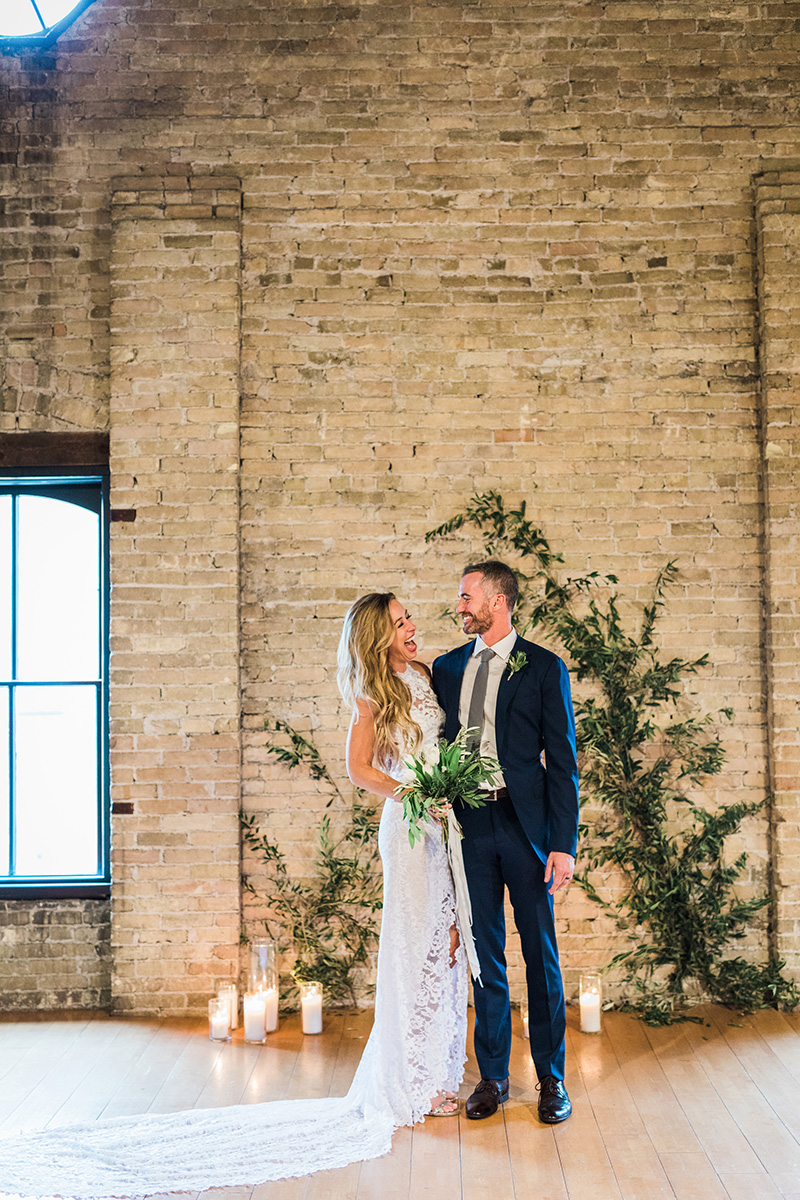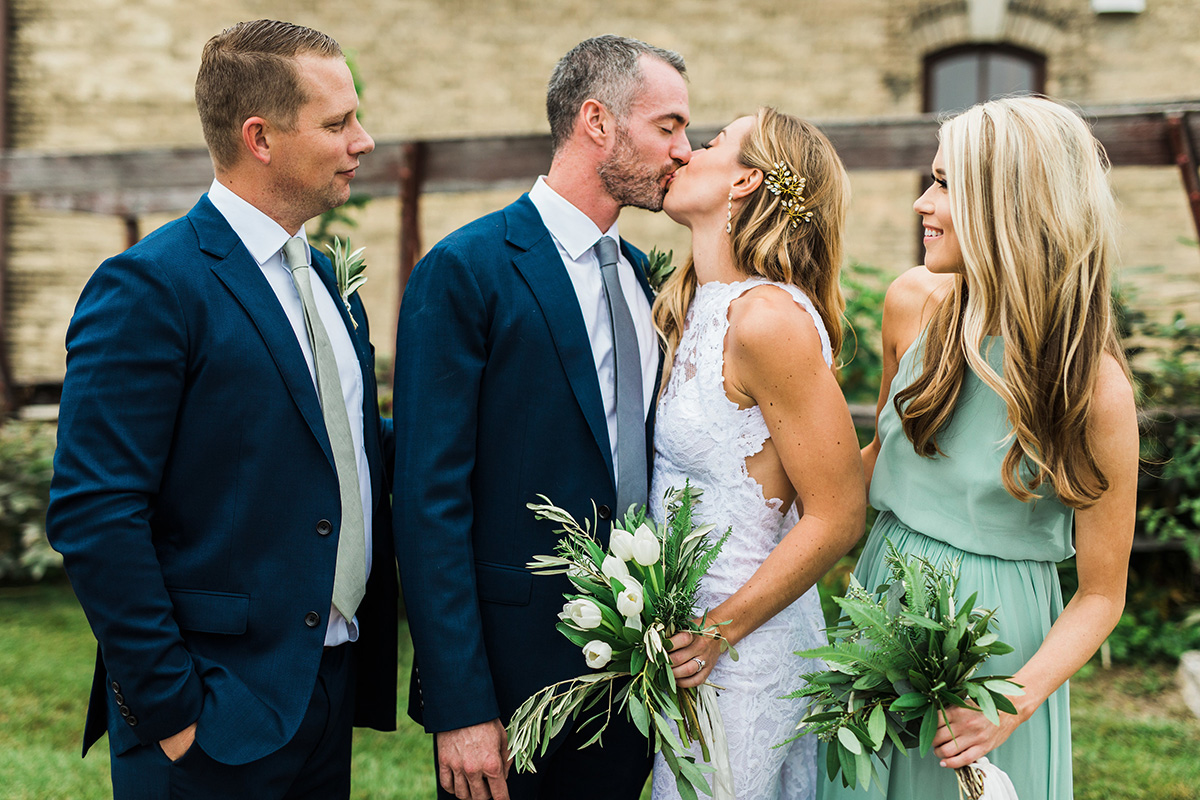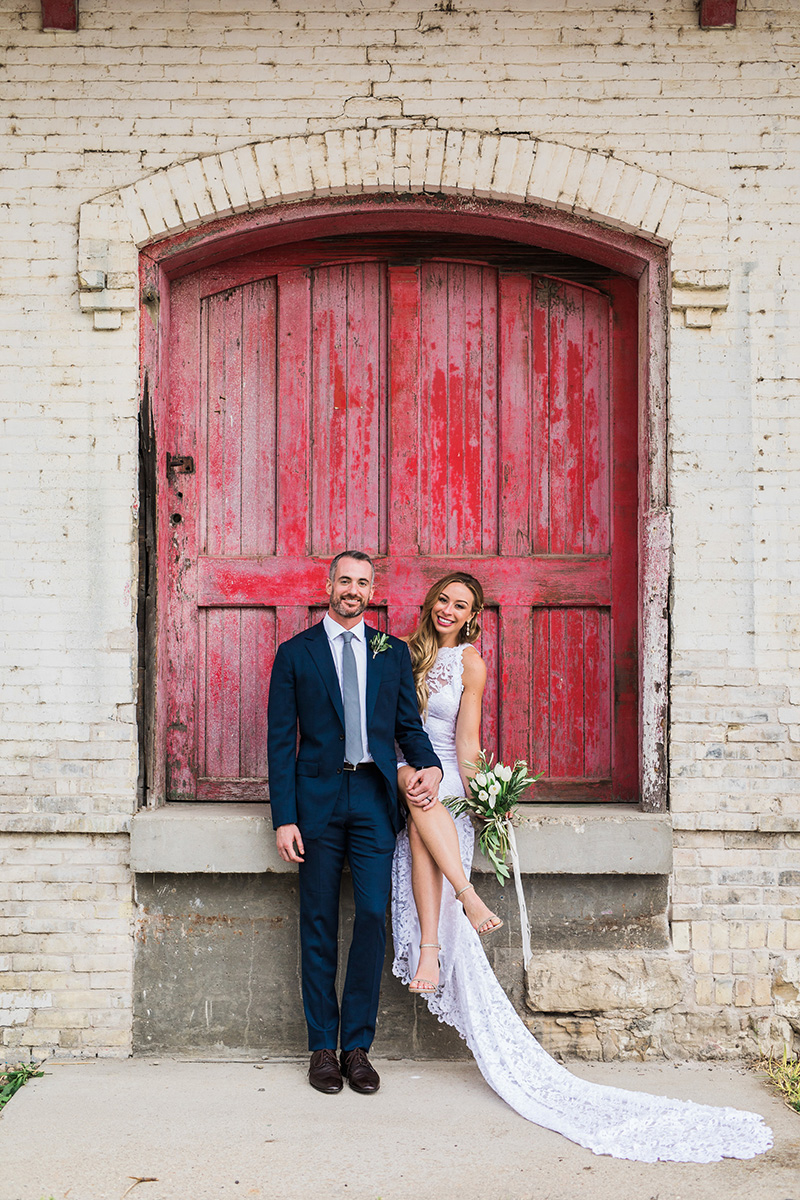 TELL US ABOUT YOUR HONEYMOON: We just got back from spending 2 weeks in Greece. It was the vacation of a lifetime! We put it off for a while since we both had to take so much time off for the wedding, and it was totally worth the wait. We went with two of our very good friends who got married about the same time last year and we all had the best time! If you haven't been, you NEED to go. It is so beautiful, romantic, and the food and people are incredible!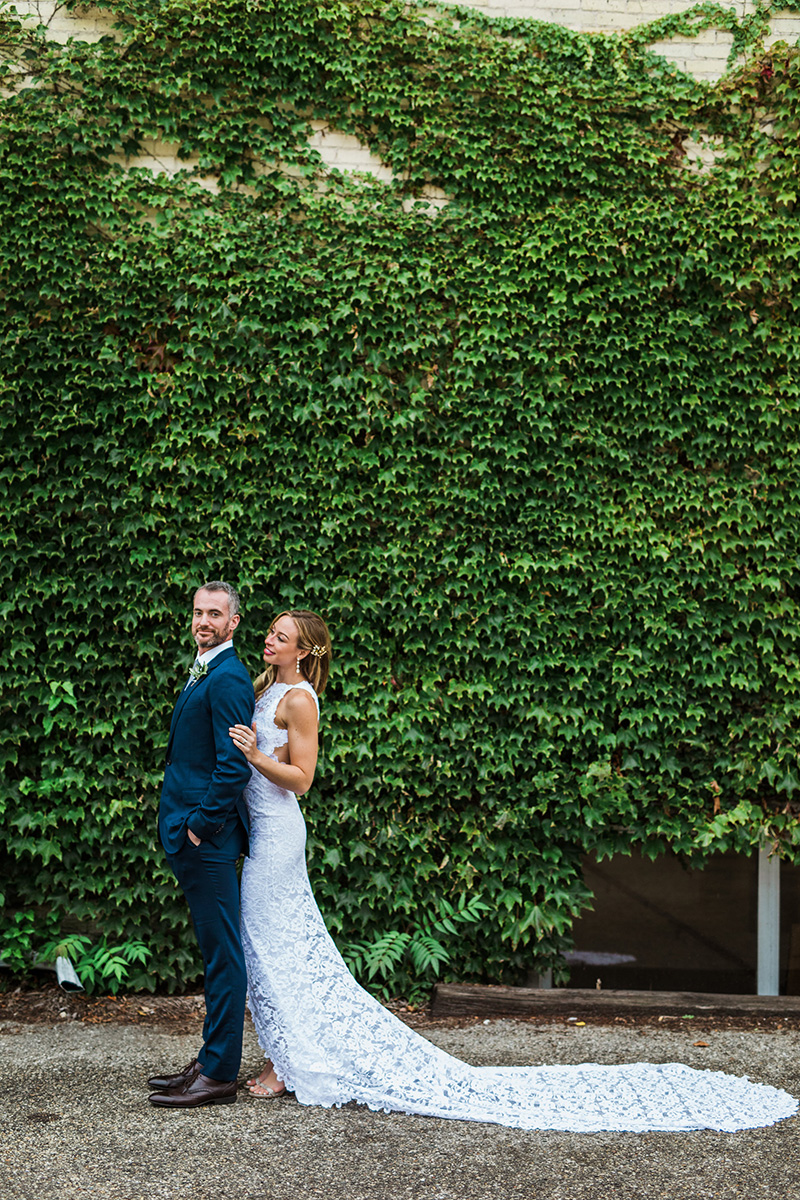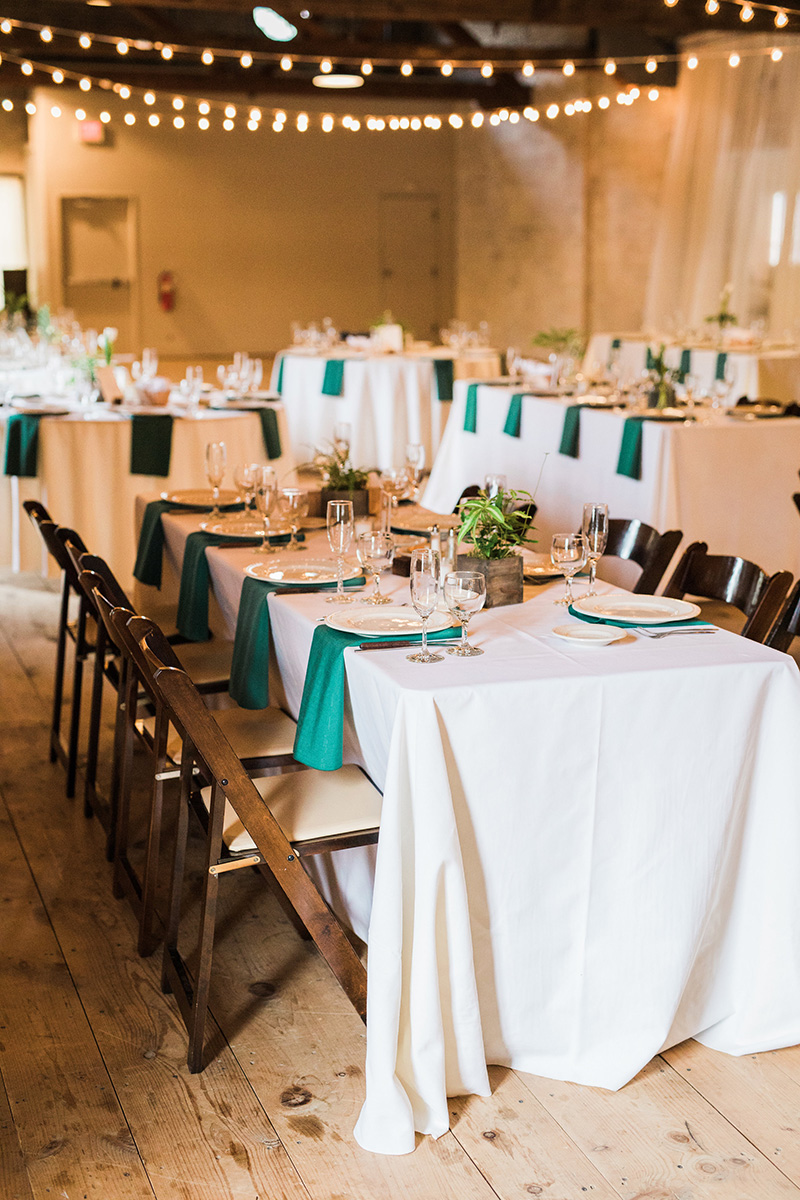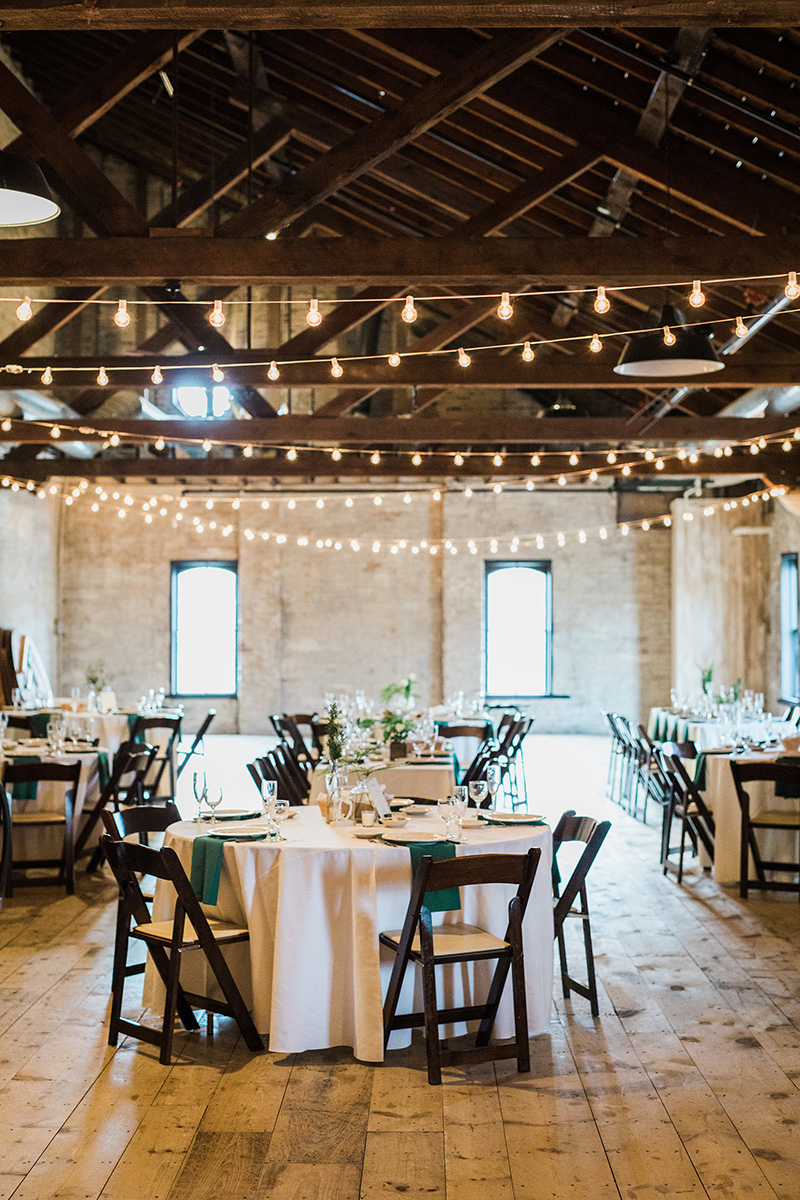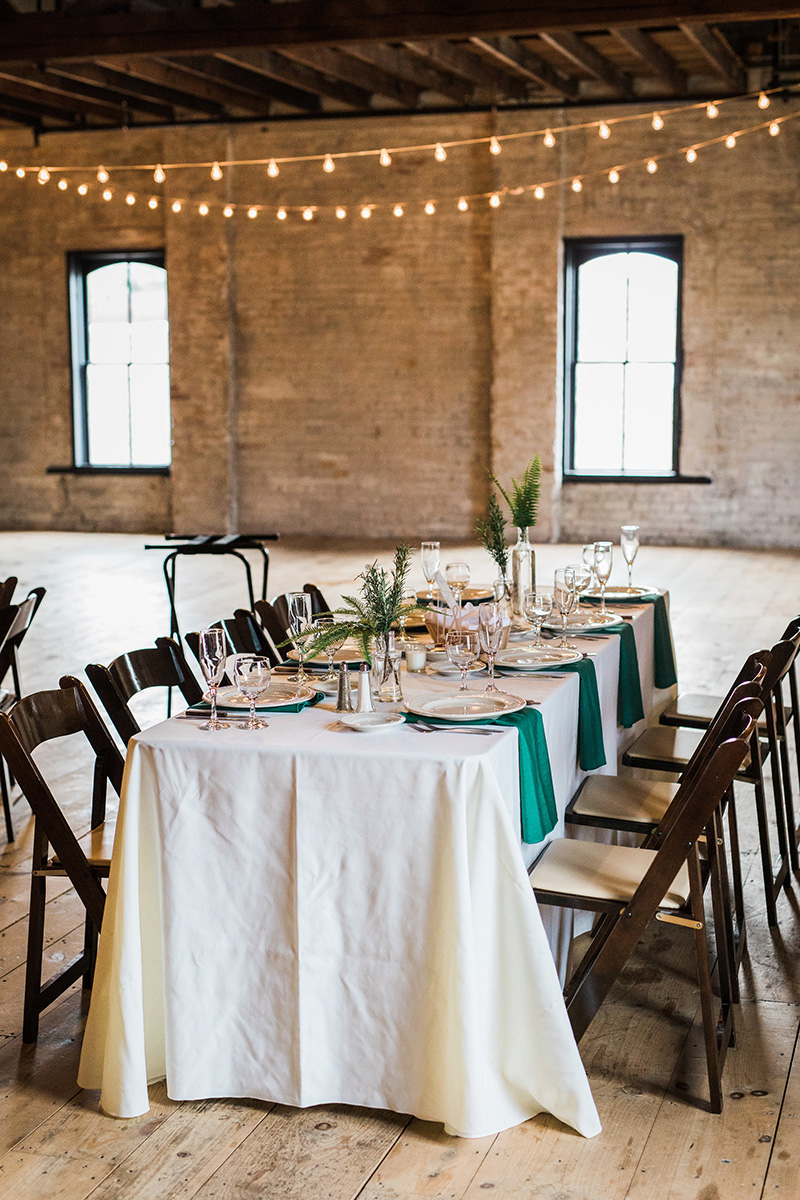 DID YOU USE ANY SPECIALTY CHAIRS, TABLES, LINENS OR DINNERWARE? We used ghost chairs at our sweetheart table, lounge pieces throughout the venue for our guests to sit at, ivory linens with hunter green napkins for guest tables and a hunter green linen with oatmeal napkins for our sweetheart table. We also used rattan chargers at our sweetheart table.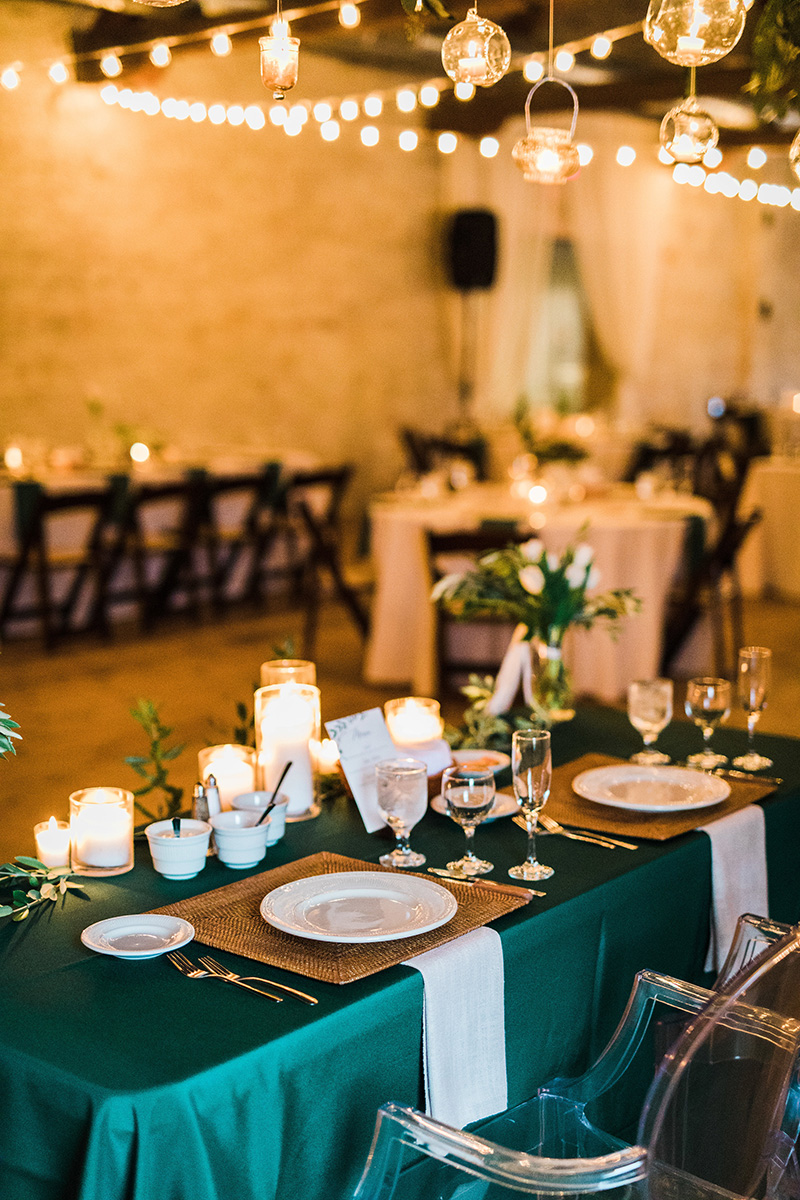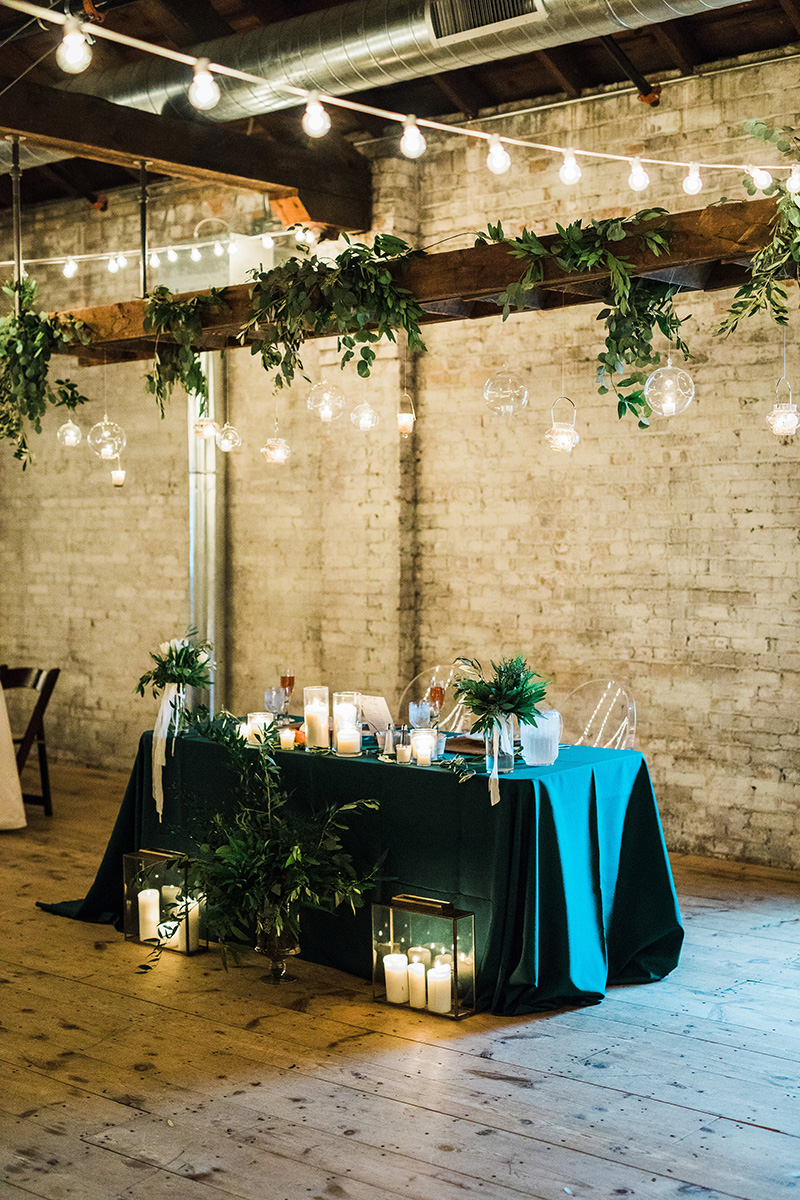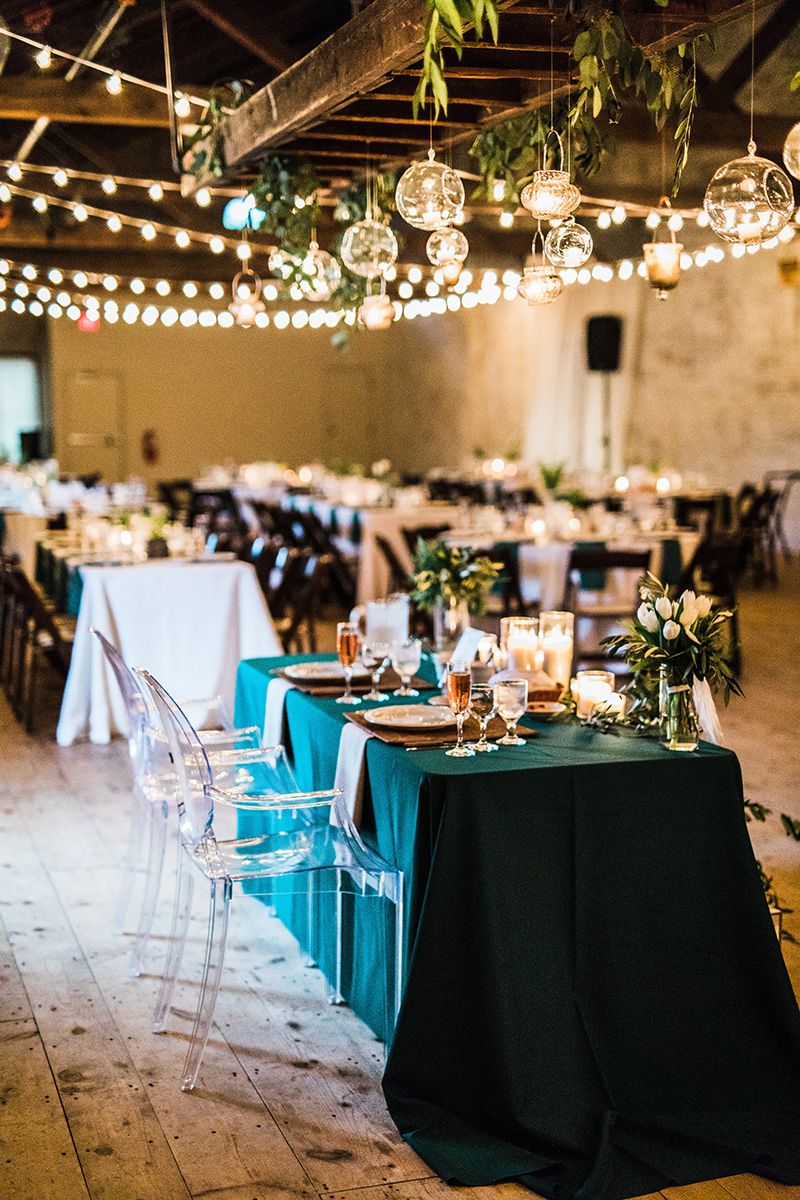 WERE THERE ANY PERSONAL TOUCHES OR DIY ELEMENTS? There were a few: we had an ice cream truck for dessert instead of cake because we both have an ice cream problem. We also are pretty into hip hop so our bridal procession walked down the aisle to a string version of Kanye's "All of the lights". All of our music during cocktail hour was acoustic hip hop covers, it was really fun to put that playlist together.
WHAT DOES LIFE LOOK LIKE AFTER THE WEDDING? Honestly, not much different than before the wedding, we each just have a little more bling.
IS THERE ANY ADVICE YOU'D GIVE TO OTHERS PLANNING THEIR WEDDING? Don't get caught up in trying to please everyone else because ultimately, the day is about you & your betrothed and your happiness is what is important!
ARE THERE ANY WEDDING PANNING REGRETS YOU'D DO DIFFERENTLY? Not a thing!