We LOVE a good backyard wedding... there's just something so intimate and romantic about exchanging vows in such a personal place. Set against a woodland estate, Maddy and Dan chose to tie the knot at the groom's parent's home right in DeForest. Filled with lots of pretty DIY details, pink-infused florals, rentals from Madison event rentals, Event Essentials, and a feast from Heritage Catering, see the gallery below from Zelora Images Photography.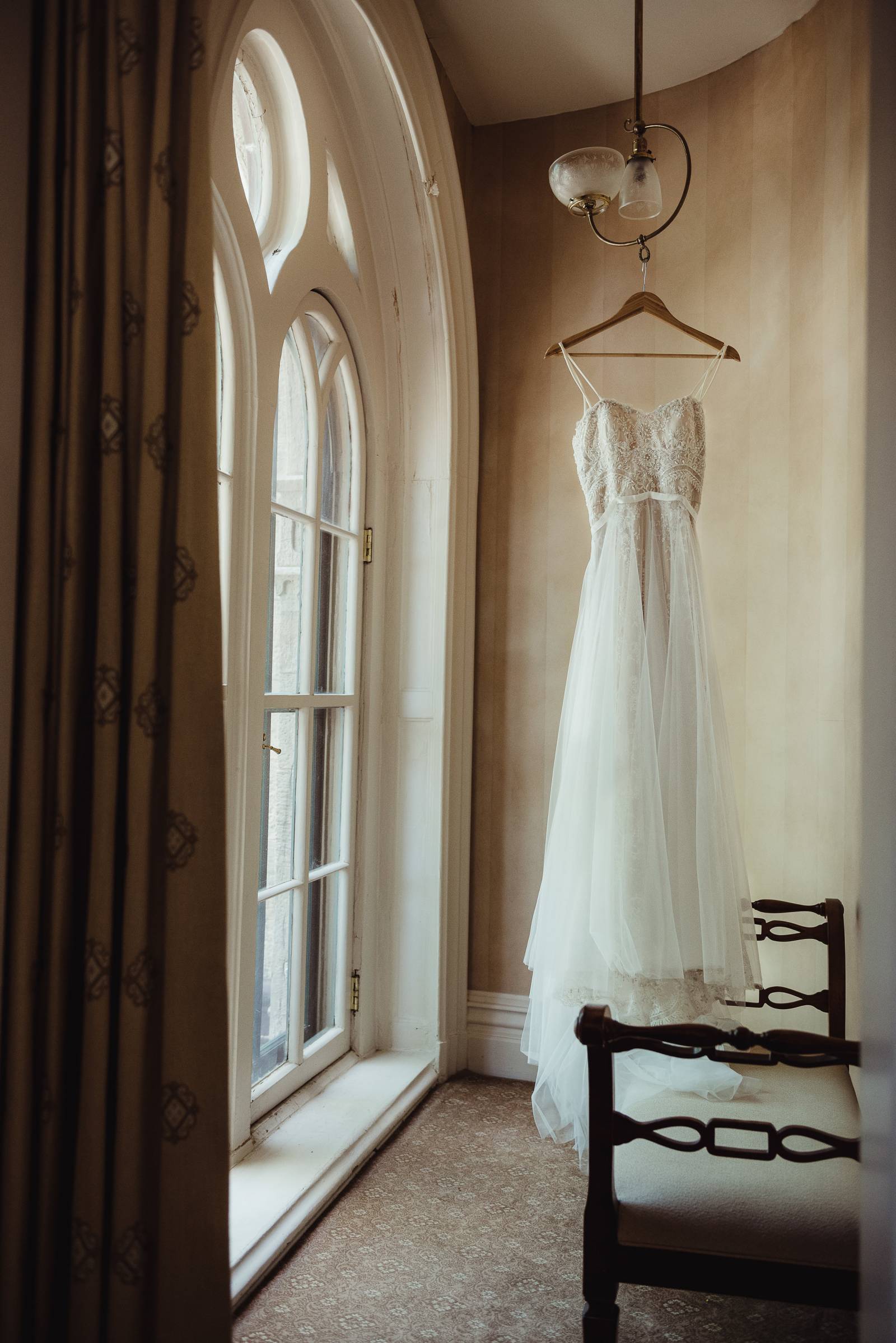 WEDDING DATE: 06/23/18
HOW DID YOU MEET? We worked in the same department at our first jobs out of college and a friend who worked there and also used to work with Dan, introduced us.
HOW DID YOU KNOW HE/SHE WAS "THE ONE"?
Maddy: I just knew. I always had random characteristics in mind when I pictured what my ideal partner would be like but I never expected to find someone who had all of those characteristics. I had a feeling that Dan was the one the first time I talked to him because I thought he was funny and he seemed really genuine. The more I learned about him, the more I realized he was exactly who I had always been looking for.
Dan: I just knew. I had been single for a while and wasn't really sure what I was looking for. The first time I saw Maddy, I immediately turned to my friend and said I was going to date her. My friend laughed but I knew that I had to meet her. Once we started talking, I realized that Maddy was exactly who I had been waiting for. I liked making jokes so that she would laugh because I truly cared about her happiness and that was what made me realize that she was the one.
TELL US ABOUT YOUR PROPOSAL: We were in Door County for an impromptu weekend hiking trip. The morning of the proposal, as we were packing our things to check out of the hotel, I (Maddy) reached for the toothpaste in Dan's bathroom bag. Dan quickly snatched the bag away from me and said he would get it. The way he grabbed it from me made me really uncomfortable because it was so abrupt. I immediately started overthinking the situation without even considering that there might have been a ring in the bag.
Dan then suggested that we should go for a short walk to an old church to check out the architecture (this is somewhat out of character for him). The church was supposed to be half a mile away but after about an hour and a half of walking, we realized we were going the wrong direction. Throughout the whole walk, I was quiet and anxious about what might be in the bag. He kept asking what was wrong and why I was so quiet but I wouldn't tell him what was on my mind because I didn't want to ruin the day. We gave up on finding the church and drove to the Eagle Overlook at the park to go on a hike. Since I was so anxious and kind of angry at this point, we ate a silent and awkward lunch at the car. After we finished eating, Dan suggested that we should go take a look at the lake in the overlook because it was a beautiful view. I agreed and followed him over to it. As we were looking out at the sunny lake, he said, "I know you think I was hiding something in my bag earlier." I said yes and asked what it was and then he reached into his pocket, got down on one knee and said "I don't want to hide it anymore" and asked me to marry him. I immediately felt terrible for being so difficult all day but he said that it actually helped him because I was so focused on my stress that I didn't notice him trying to decide when to ask me.
TELL US ABOUT FINDING YOUR DRESS: I went to a sample sale with my mom, sister and Dan's mom in downtown Chicago at BHLDN. I waited in line on the sidewalk with Dan's mom from about 7 AM to 11 AM when the sale opened and we were only the fifth group in line. It's a good thing we were because when they unlocked the doors, it was like a movie. All the women were pushing us as we were running up the stairs to the showroom and my mom and another mom blocked the stairway so that we would have a head start. There were 3 racks with only 100 dresses for about 125 brides and, thankfully, I was the first one up the stairs in my size. My sister and I grabbed as many dresses that looked like good options in the ~5 seconds we had before the rest of the mob made it up the stairs. My sister was about 7 months pregnant at the time so as soon as the rest of the people made it up the stairs, we rushed to one of the five fitting rooms. I was so overwhelmed by the situation that everyone had to pick the dress for me. I wasn't sure it was exactly right because it had lace that went all the way up to my neck. I brought it to the seamstress that my sister used for her wedding and she completely remade the straps and back of the dress. It turned out perfectly!
DESCRIBE YOUR WEDDING FLOWERS: We bought a variety of bulk ferns and some bulk in-season flowers such as bright pink peonies, burgundy ranunculus, white anemones, pink astilbe, and pink and white campanulas. Maddy's sister made both of the bouquets and all of the corsages and boutonnieres. Dan's sister and a few family friends helped put the rest of the flowers in gold-painted wine bottles and then the day of the wedding, they spread the wine bottles and greens down the centers of each of the tables.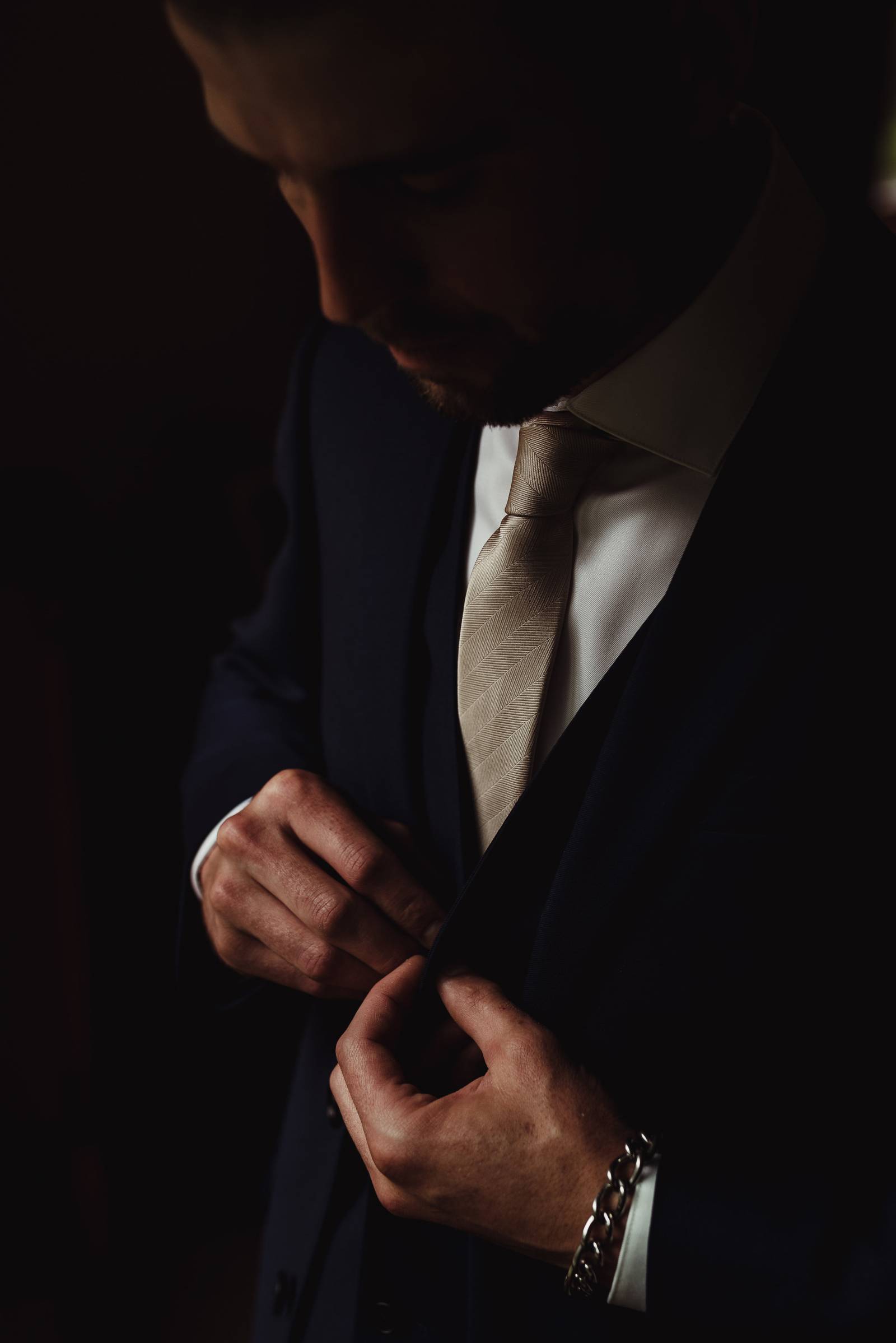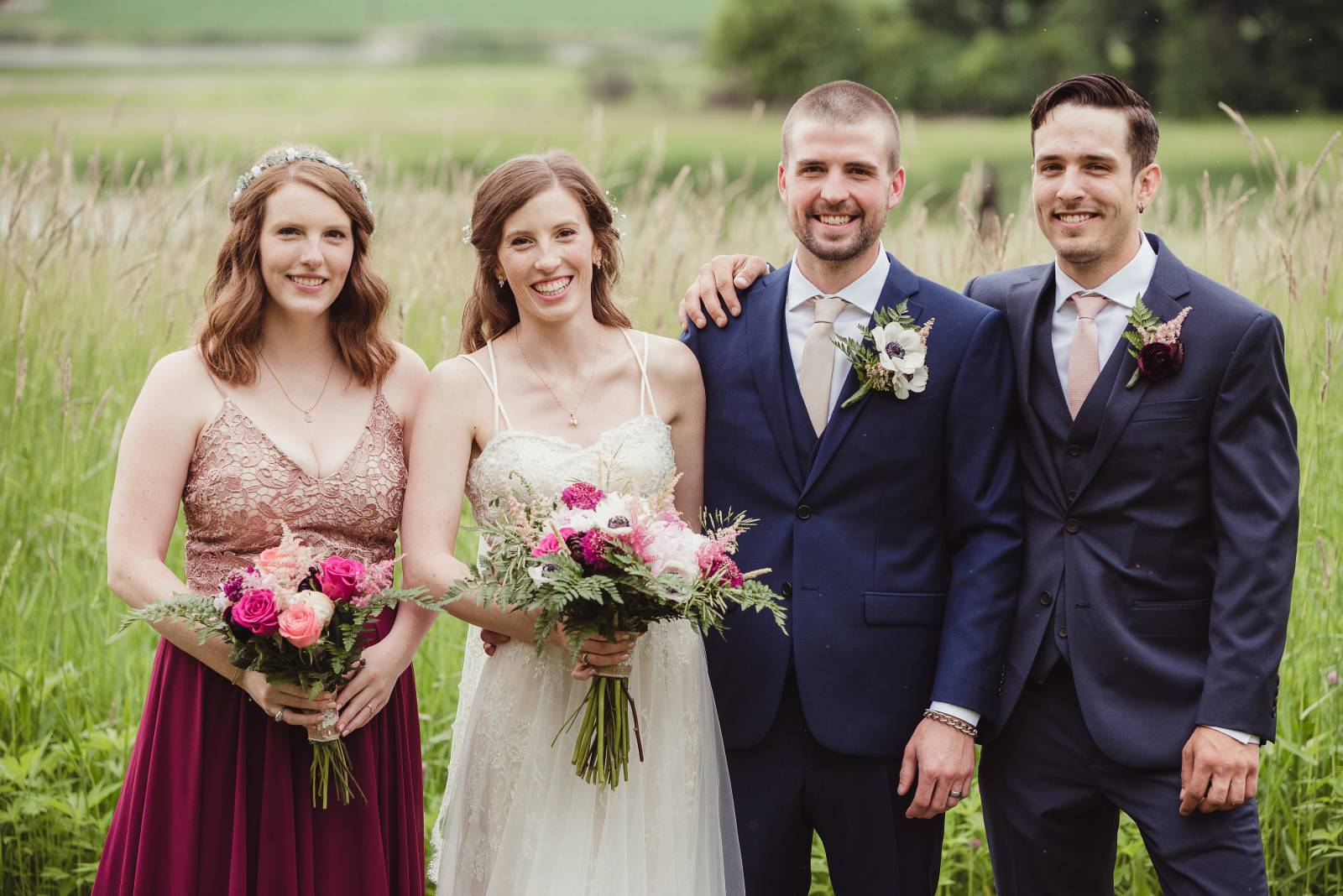 WHAT WAS YOUR WEDDING COLOR PALETTE? Lots of greenery with shades of pink ranging from blush to fuchsia and burgundy.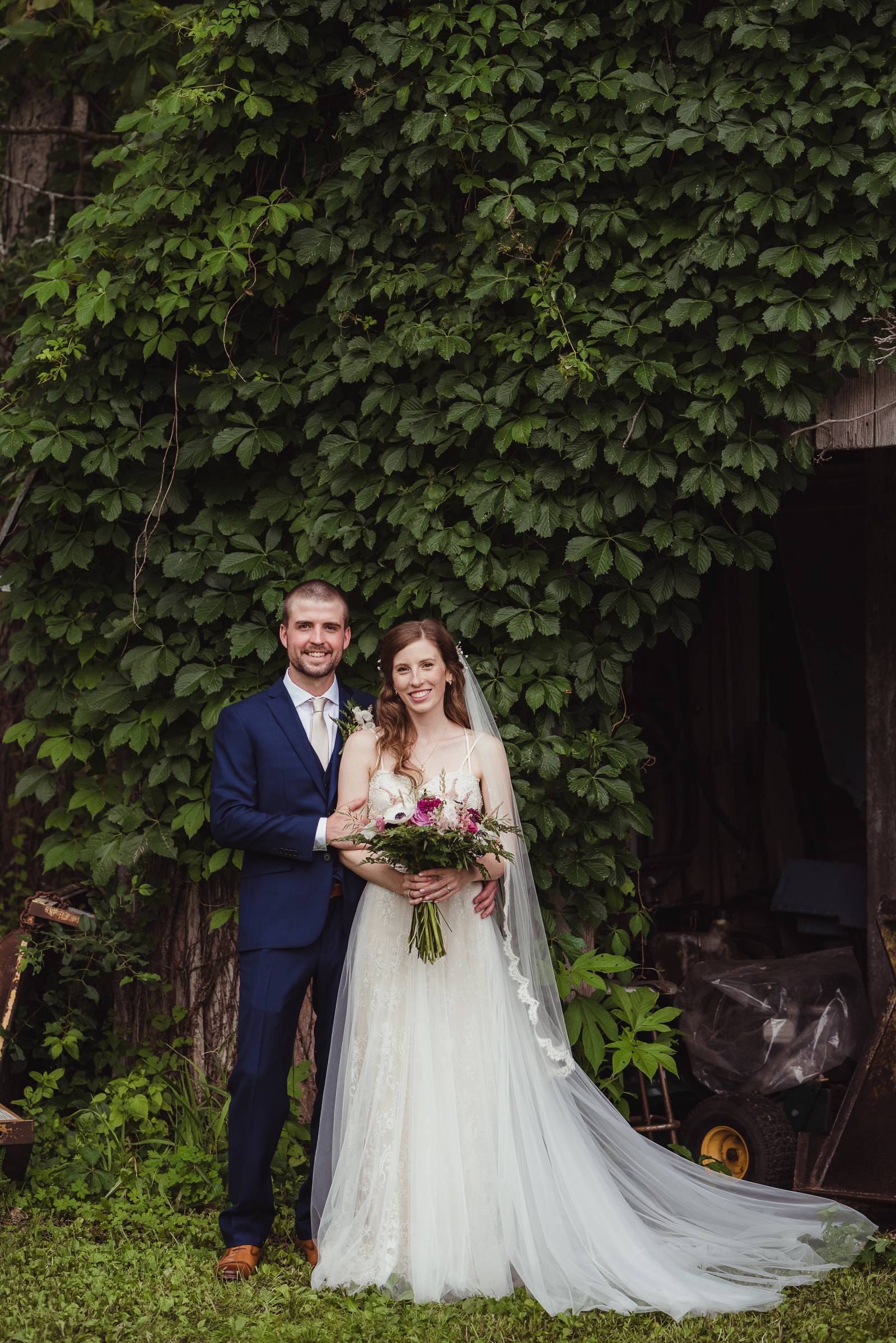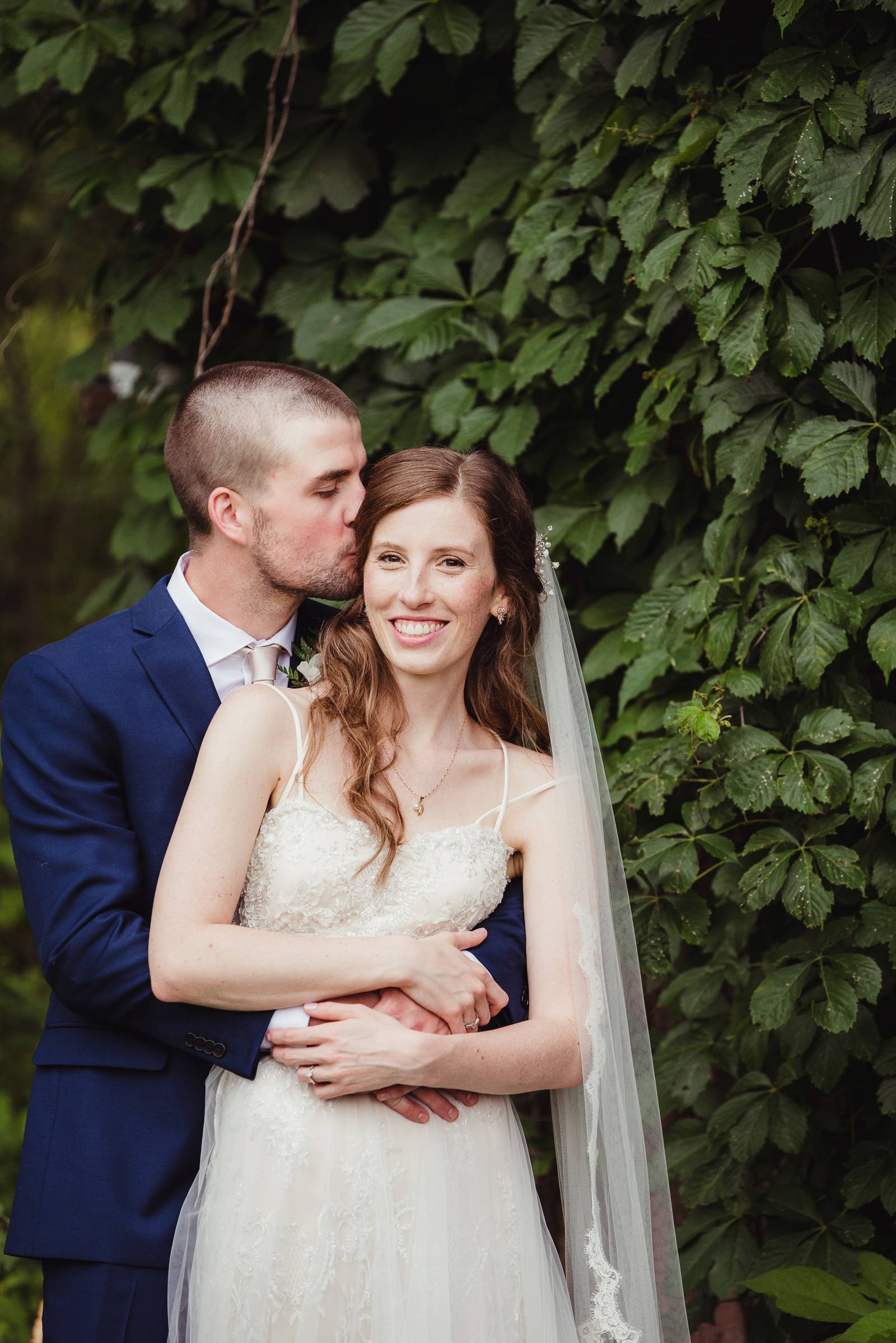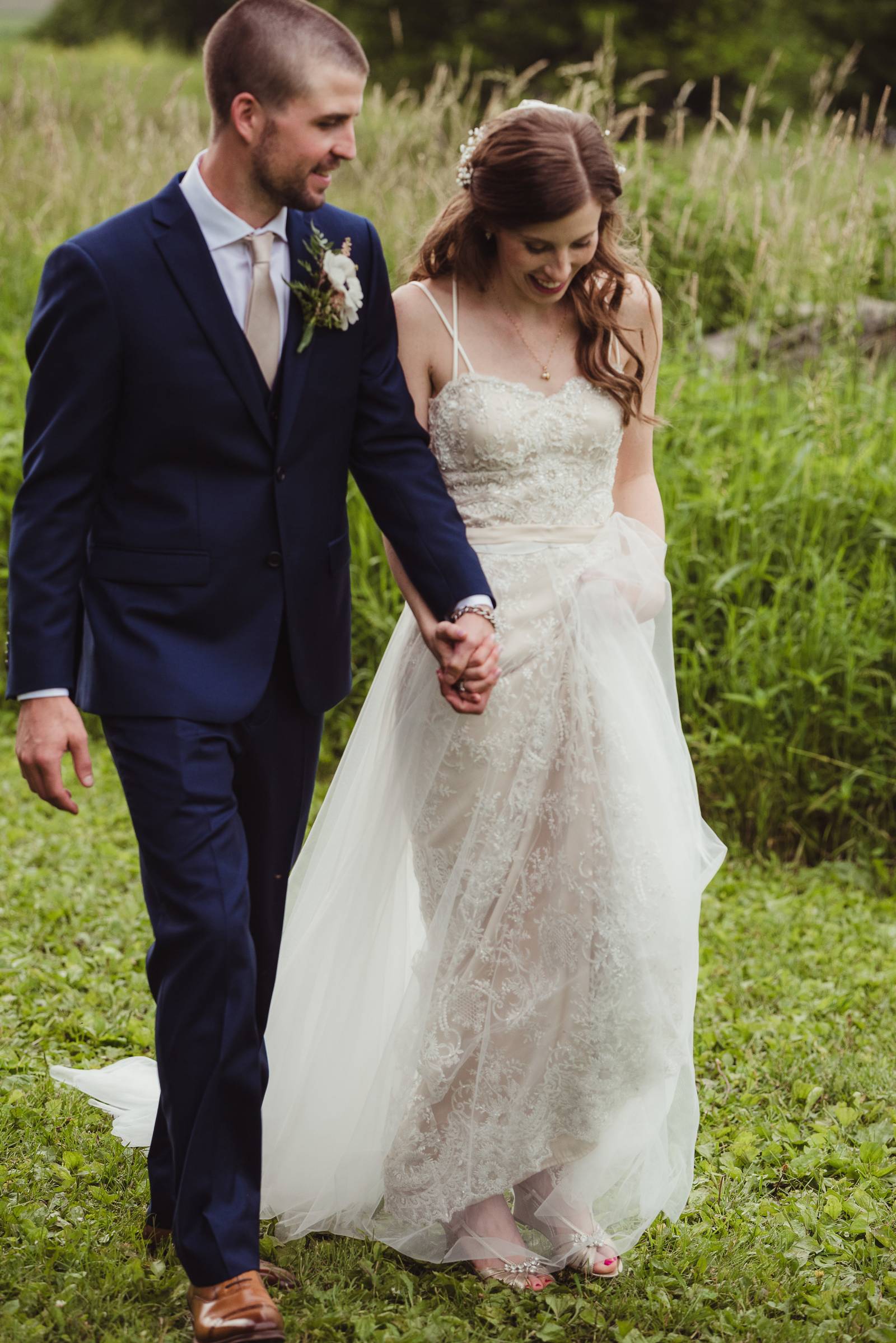 WHAT WAS YOUR FAVORITE MOMENT FROM YOUR WEDDING? Right after the ceremony was over, we walked back down the aisle and had a few minutes to ourselves in the woods so that we could just be together and enjoy the moment without anybody else around.
WERE THERE ANY PERSONAL OR DIY ELEMENTS? Most of the wedding was DIY. Maddy removed the labels from about 150 wine and beer bottles and painted them gold with Dan to use as vases. Maddy made all of the chandeliers using hula-hoops, string lights, and fake greenery. Dan and his parents did most of the work to clear the ceremony site in the woods which was previously just part of the forest. They laid mulch all the way out to the site to avoid mud, cut all of the logs for the benches and pie stands. Maddy's sister and her helpers arranged all of the flowers and made the flower arrangements. Maddy's mom made the wedding cake. Family and a couple close family friends made all of the pies for the pie bar we had. Family and friends put up all of the decorations in the tent during the days leading up to the wedding. Dan built the dance floor in the tent using pallets that our friends brought for us. Dan cut little logs to be made into table numbers and Maddy painted the numbers on the logs using stencils. We made a wreath that hung on the tree during the ceremony using a grapevine we found in the woods and family friends hung a few flowers in it to bring a pop of color. Maddy's cousin Michelle acted as the day of coordinator and did an amazing job keeping everything on track so that we didn't have to worry about the little details.
DID YOU USE ANY SPECIALTY CHAIRS, TABLES, LINENS OR GLASSWARE? We rented walnut Chiavari chairs from Event Essentials.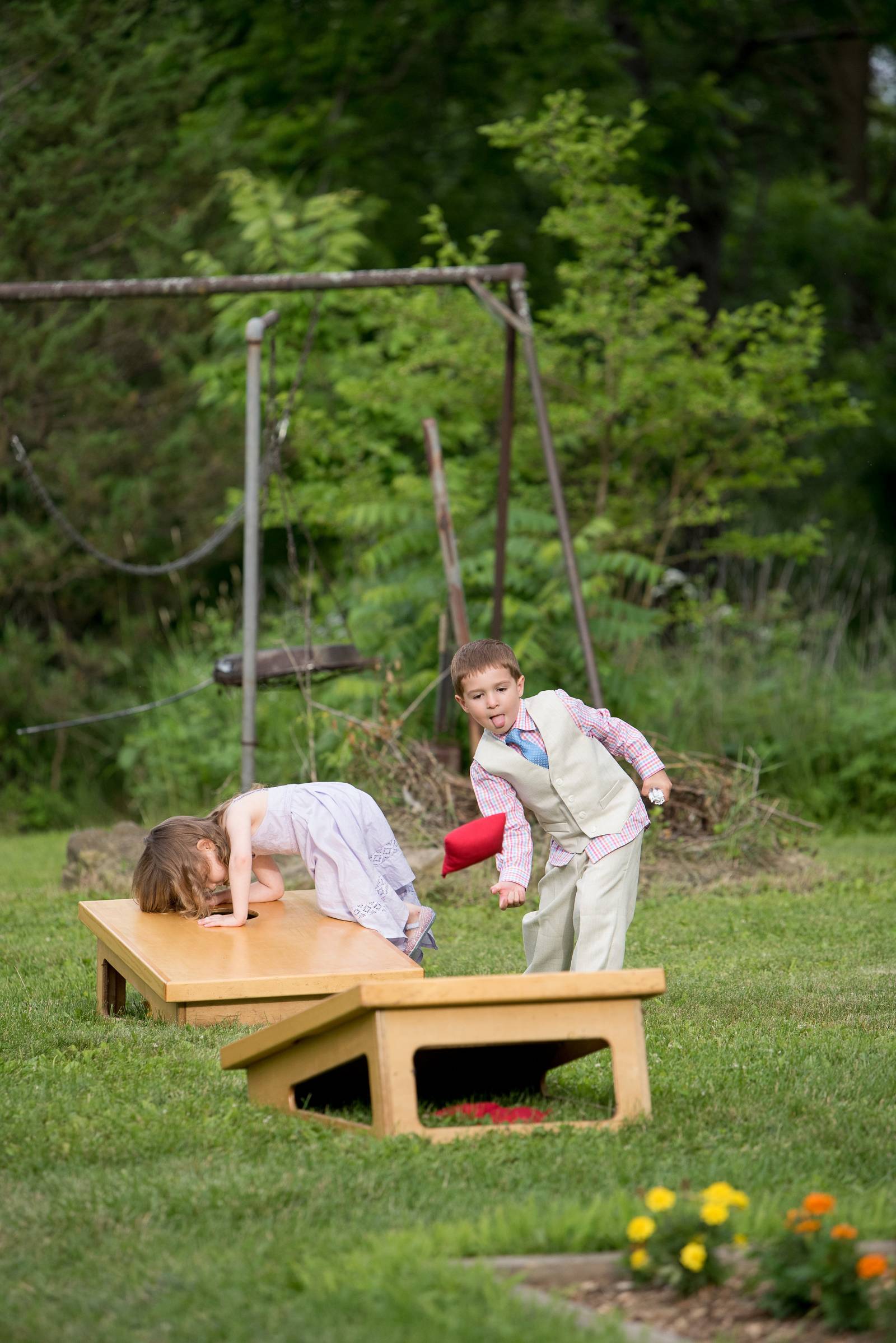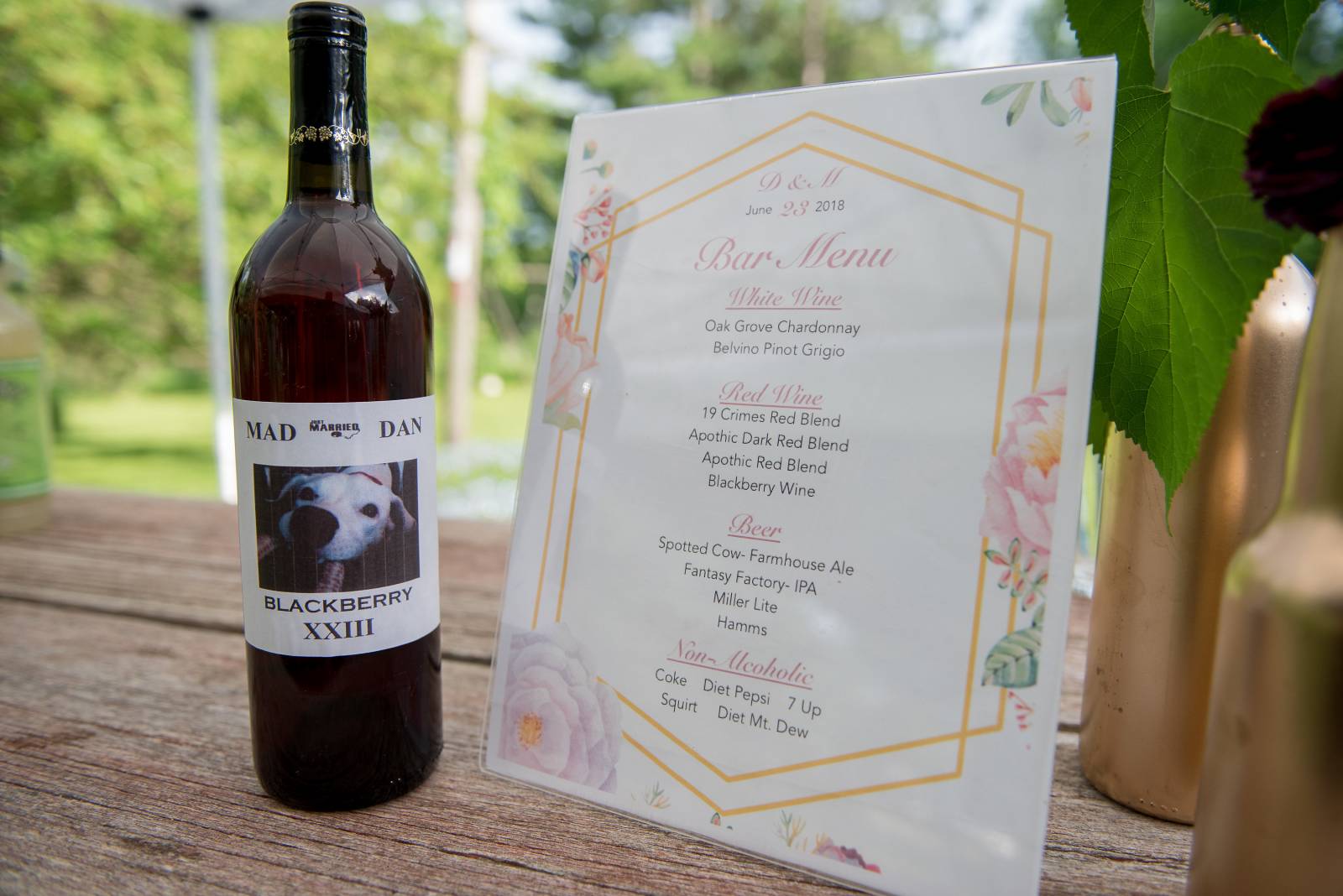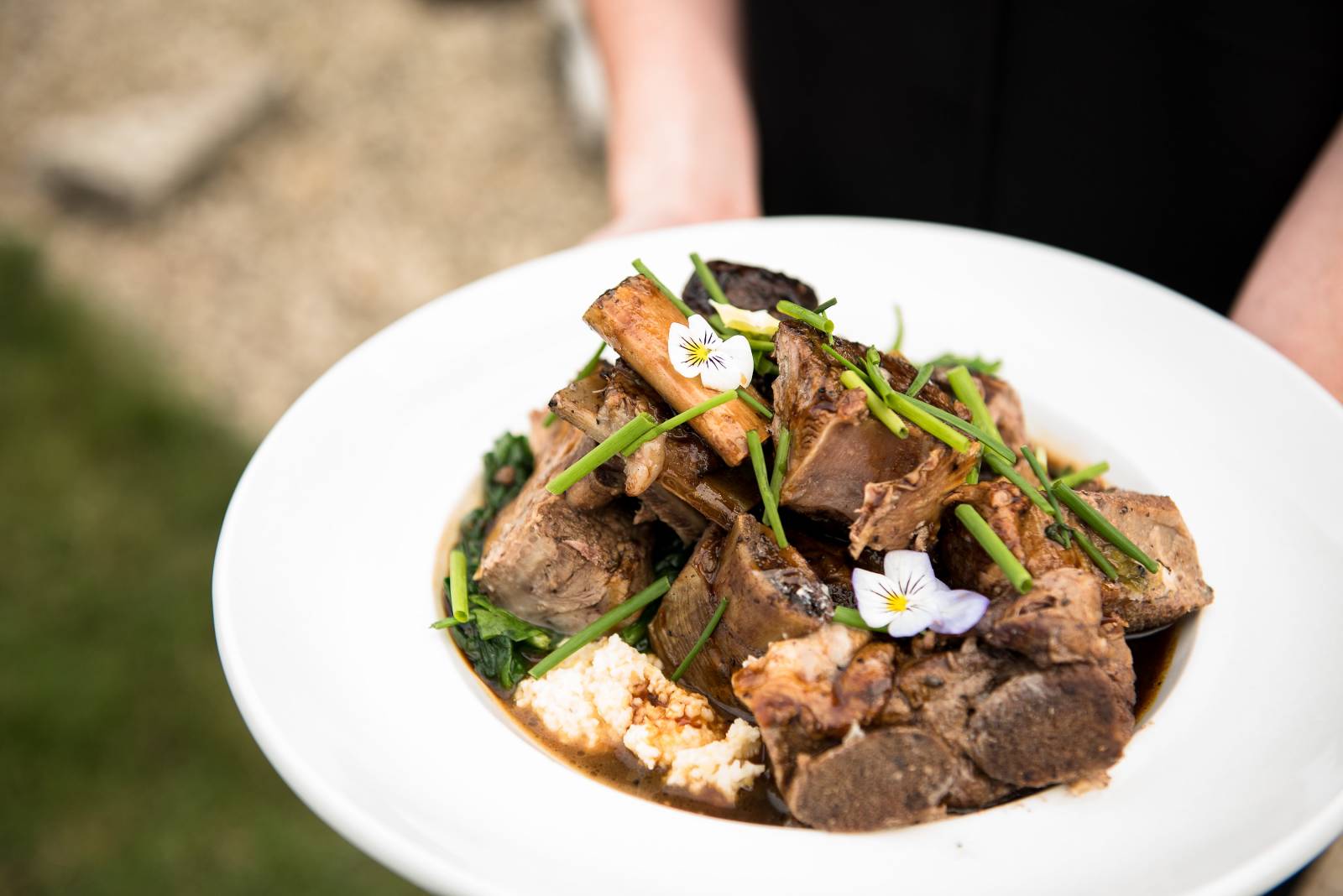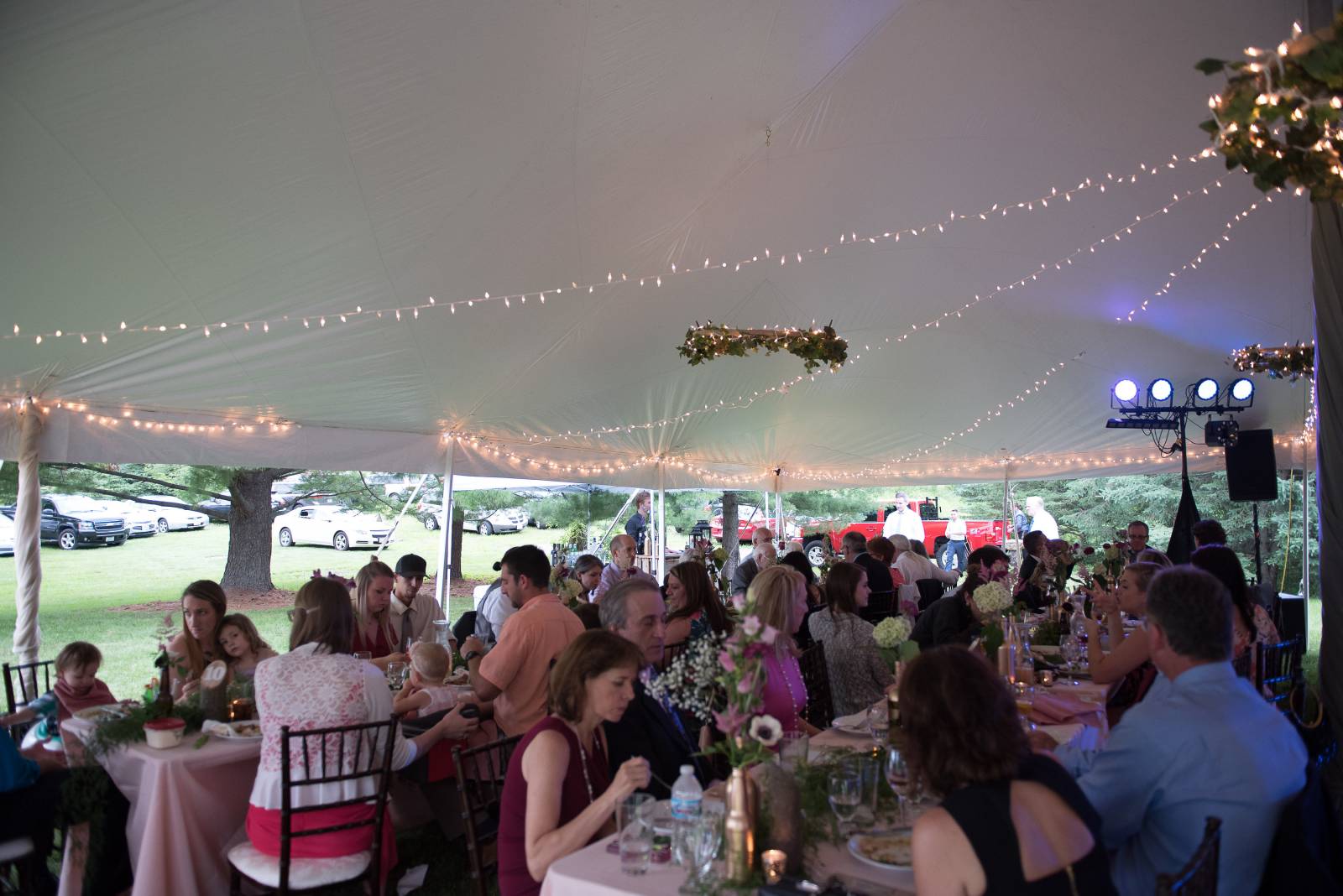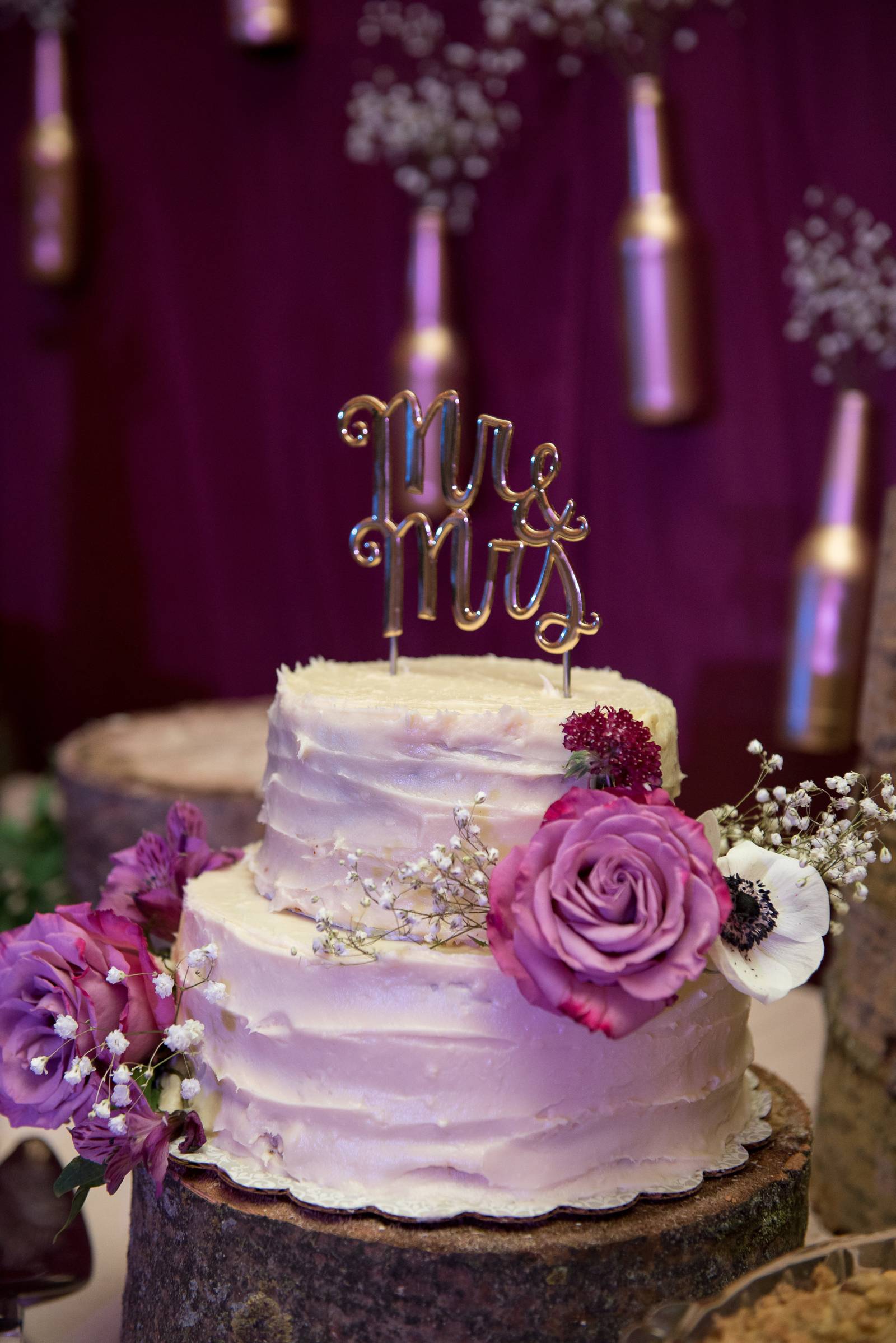 TELL US ABOUT YOUR HONEYMOON PLANS: We did a mini honeymoon in Seattle immediately after the wedding for a week but we're currently planning the real honeymoon to New Zealand in February. We're going to drive from the north island to the south island in roughly two weeks and do as much hiking and exploring as we can. We're really excited since neither of us has been there before.
WHAT DOES LIFE LOOK LIKE AFTER THE WEDDING? It's a lot more relaxing than life before the wedding. We feel closer than we were before and we're more in tune with each other. Life is great!
IS THERE ANY ADVICE YOU'D GIVE TO OTHERS PLANNING THEIR WEDDING? Start early if you can and be patient with each other. If you're going to do a heavily DIY wedding, try to share the load of responsibilities and work together to get as many projects done ahead of time as possible.
ANY WEDDING PLANNING REGRETS YOU'D DO DIFFERENTLY? We waited a little too long to start some of the DIY projects and that made it pretty stressful to get everything finished in time for the wedding.