A dreamy day, a gorgeous venue, and sweet DIY touches, all created a romantic affair for Brittany and Eric in our featured Real Wedding. Ann Gorgen Photography captured sweet and heartfelt moments at the Bridle Barn & Gardens, from small details to breathtaking shots of the bride in a glamorous gown with florals that were exactly what the bride dreamed of from Simply Glamorous Designs at Oregon Floral. Event Essentials created a classic and inviting look with white chairs and traditional round tables, while guests enjoyed a delicious BBQ, special campfire treats, and transportation from Badger Bus. Read about Brittany's best tips for planning your big day down below!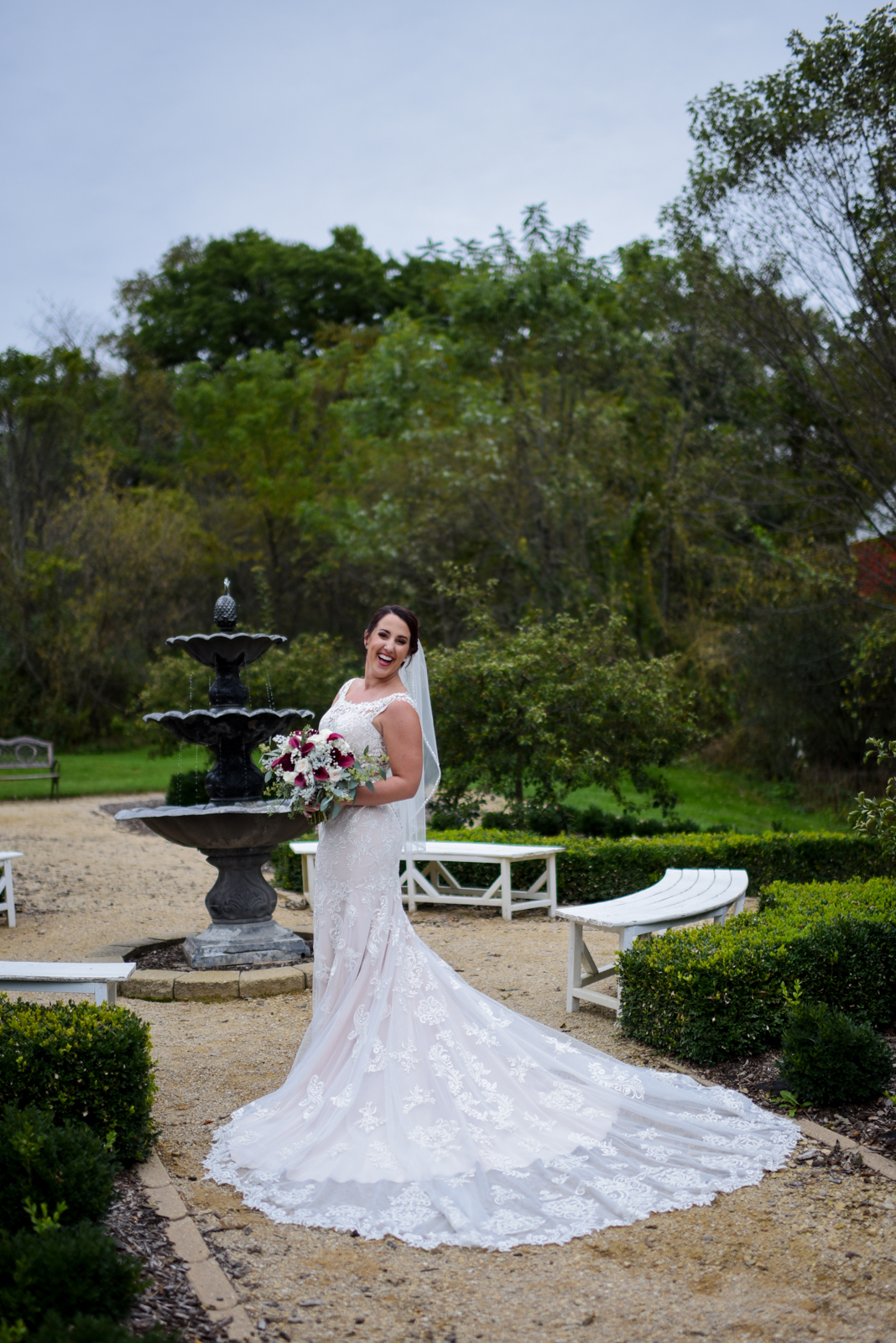 WEDDING DATE: 09/29/2018

HOW DID YOU MEET? We met in college. I moved into the same dorm and floor as Eric halfway through his freshman year.
HOW DID YOU KNOW YOU HAD FOUND THE ONE? I knew Eric was one that I could never live without. His personality was one that I always wanted to be around, and his passion and excitement for life are undeniable. Also, his truthfulness and faithfulness are displayed more than his words but also through actions.
TELL US ABOUT YOUR PROPOSAL: My father insisted our family walk down the beach in Mexico before dinner one night to get pictures as a group. I remember specifically my dad telling the family to turn in one direction and pose. It was after the third goofy picture that I started dragging my feet in the sand and turned the other direction. As I glanced down the beach, I noticed someone walking towards me. At first, I didn't think much of this, but after a second glance, I noticed it was Eric. The smile on his face stretched from ear to ear, and I screamed with excitement while running towards him into his arms. After an ugly sob of excitement and questioning all my family who knew about this, Eric calmly told me to focus on him and what he was about to say. Of course, I cannot remember a thing he said except for "will you marry me?" while he was down on one knee with the most gorgeous ring in front of my eyes. I was absolutely shocked! Of course, I said "yes!!!" (Well actually first I said "finally" but then came the "yes.") I never saw it coming. My dad and Eric had made big plans for this family vacation, and after that night a new chapter in our lives began.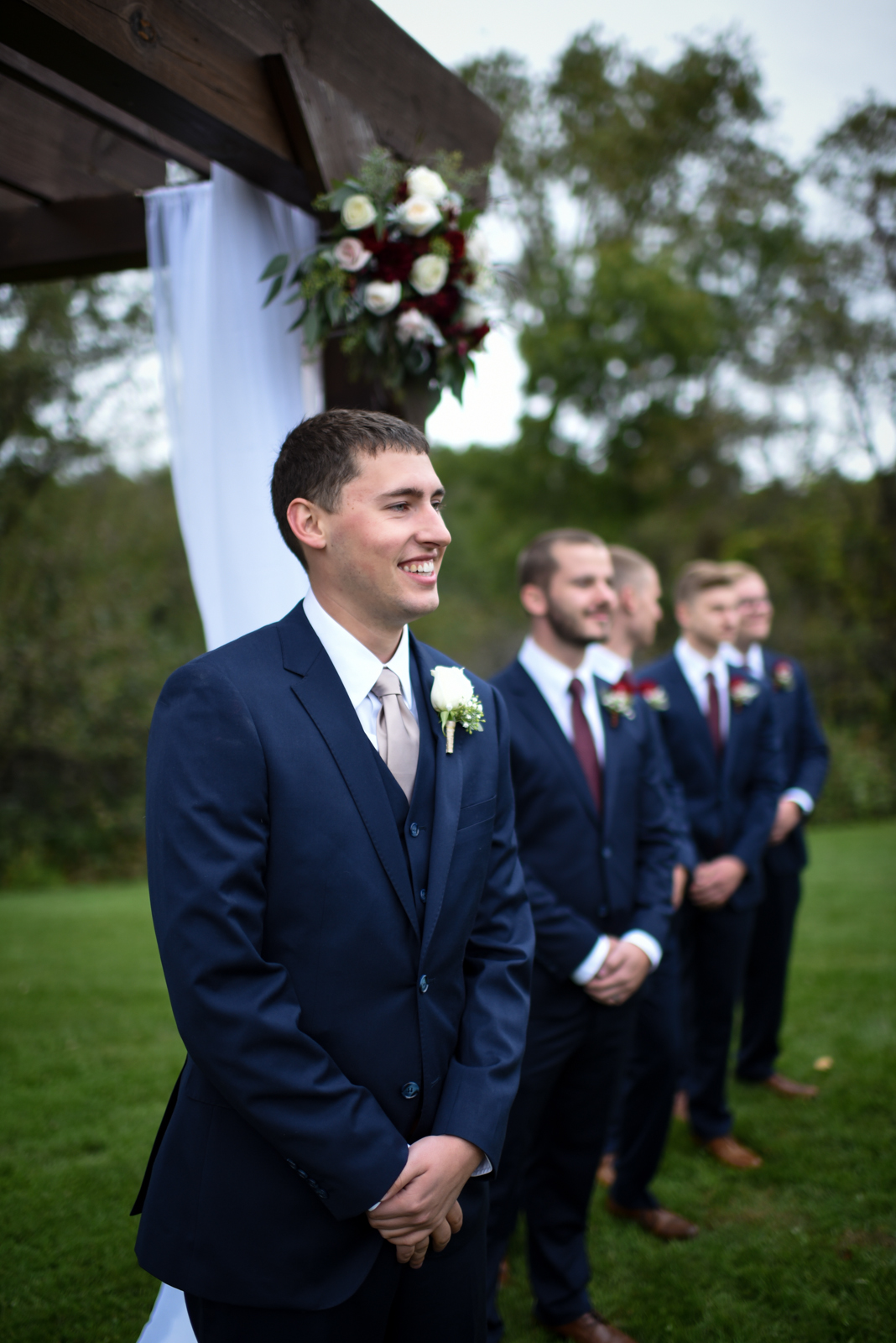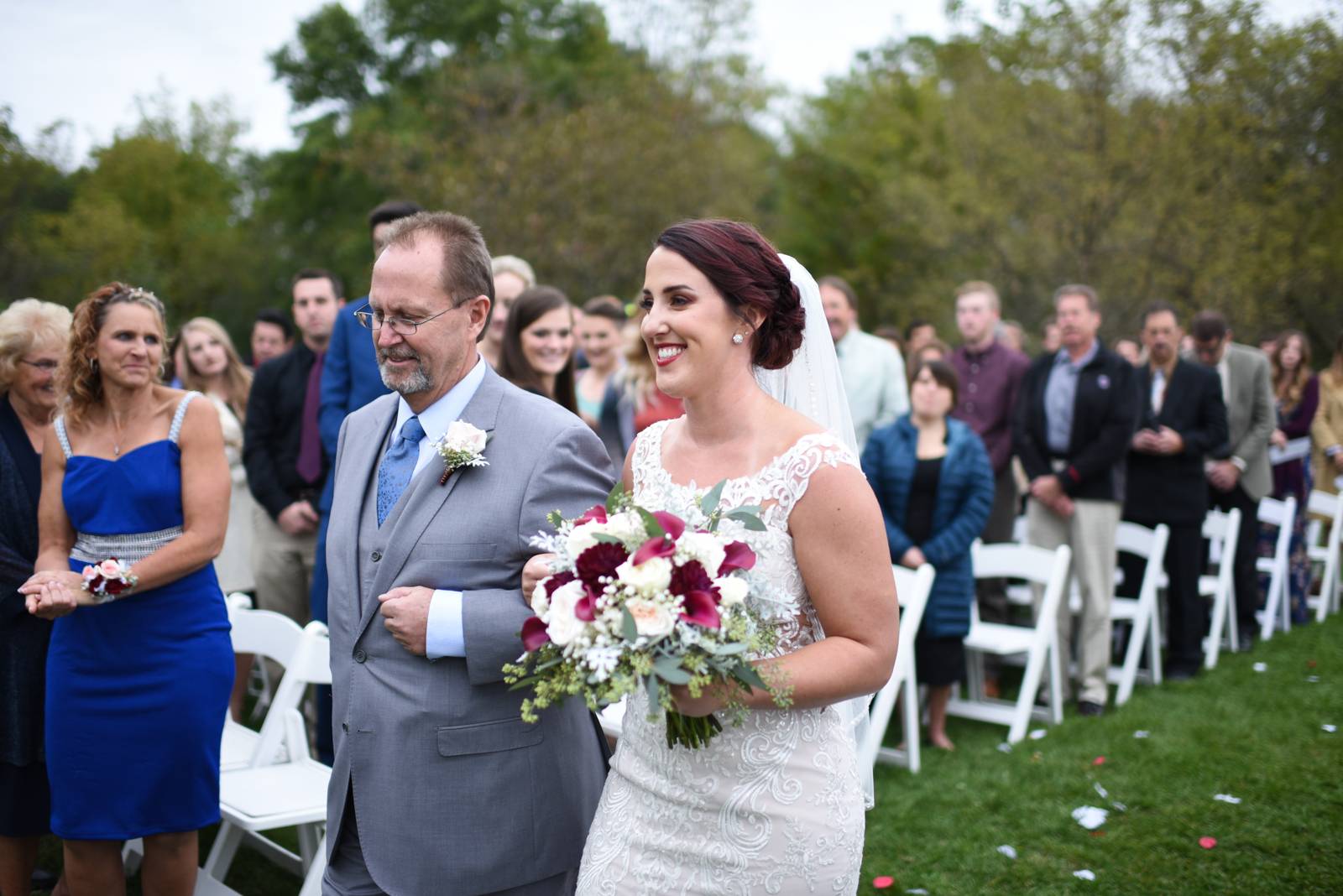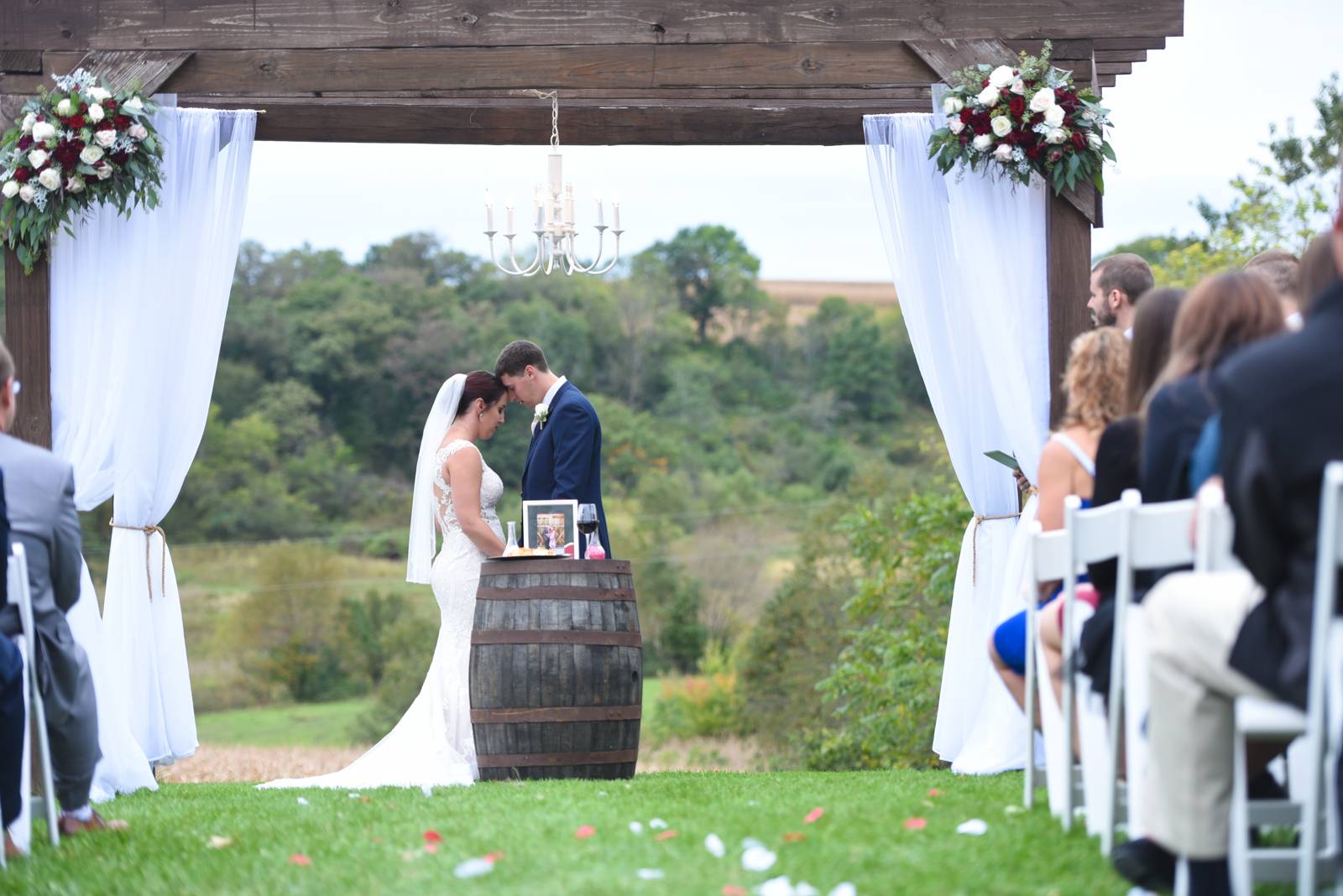 TELL US ABOUT YOUR FINDING YOUR DRESS: I didn't really know exactly what I was looking for but after trying a few on I knew the shape I wanted. It wasn't until I put it on that I knew it was the one. The reactions of those who were with me were ones they could not hide. I was unsure at first if it was for me. We made some adjustments to the undertone color, and I was so anxious for it to come in so I could actually try on my wedding dress. The day I tried it on in the right color, I fell in love with it.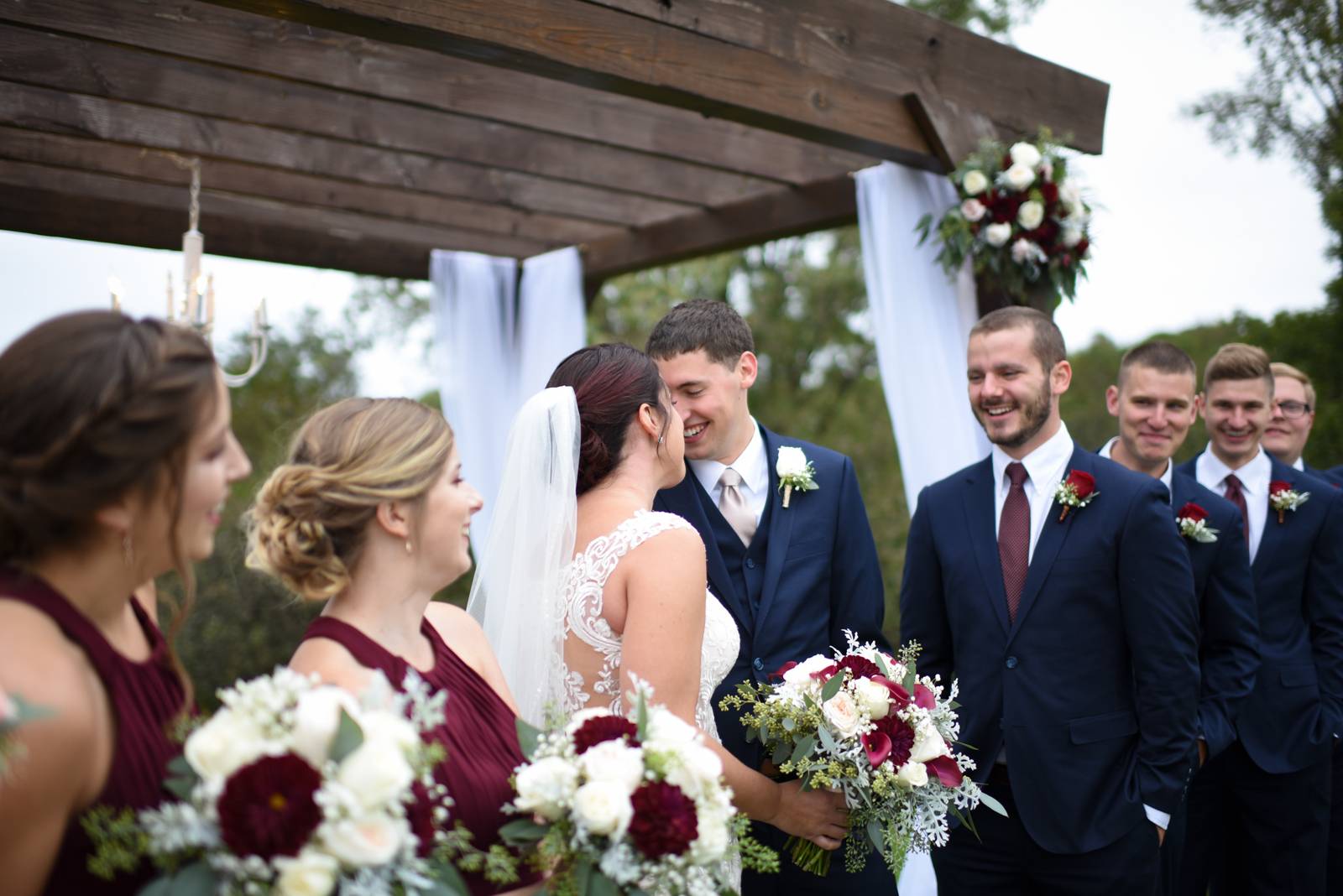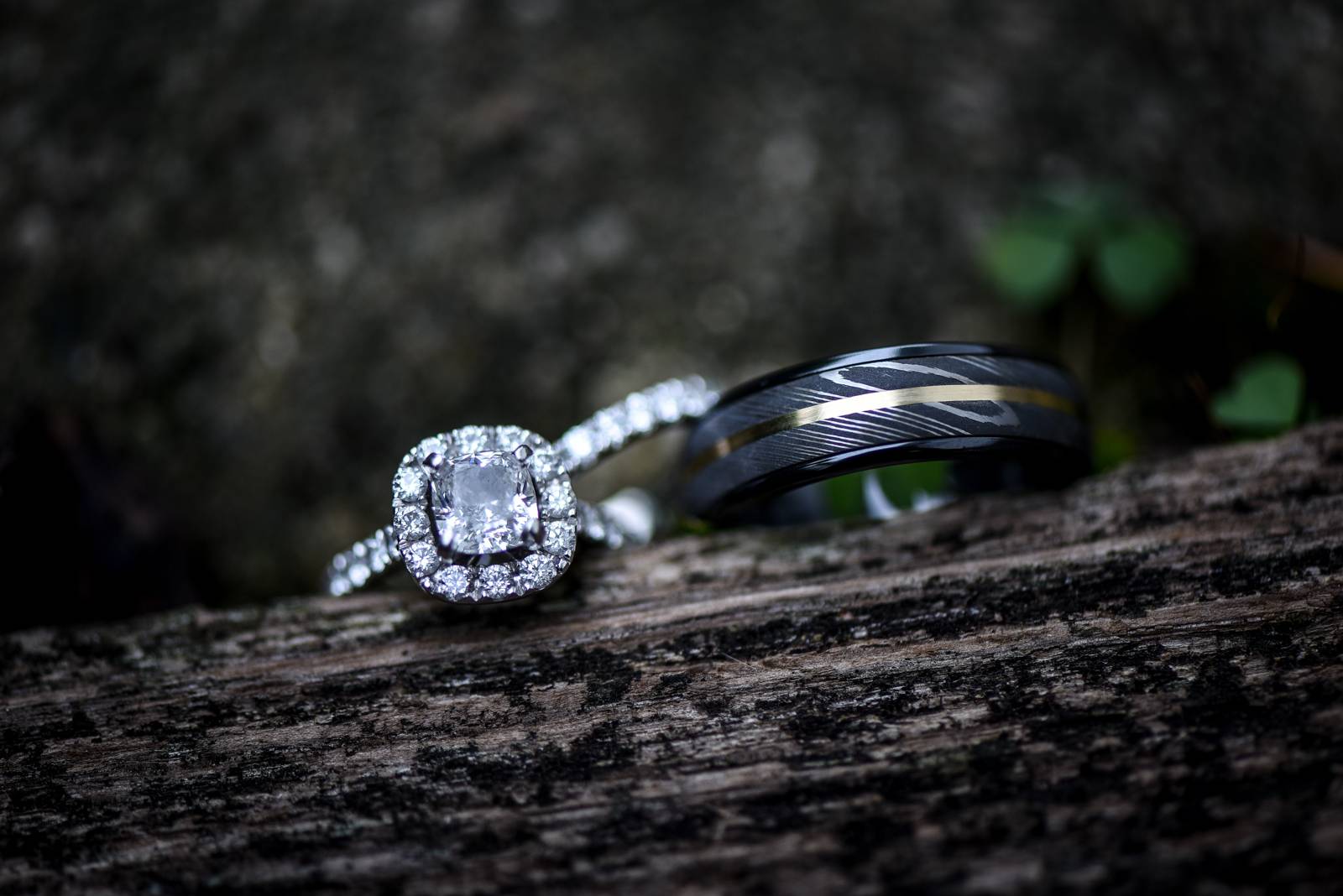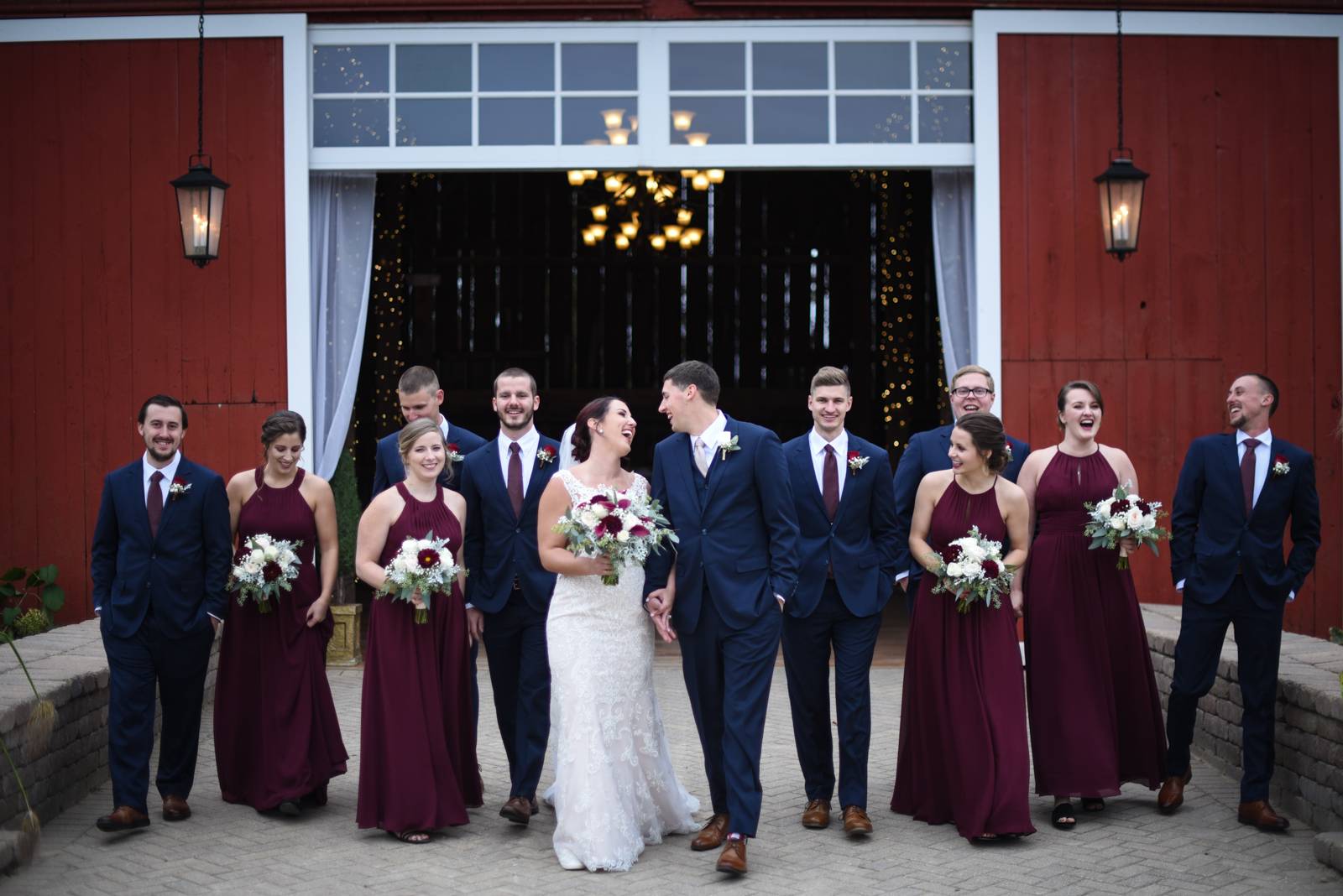 WERE THERE ANY PERSONAL TOUCHES OR DIY ELEMENTS: My future aunt-in-law gave me a pin to stick on my bouquet that was an angel to remind me of my grandma. All the mason jar vases for centerpieces with glitter were all DIY, as well as our party favors, which were plastic cups that guests drank out of during the evening. Our table number holders were also a personal touch. Both Eric and I love wine, and when we moved to Kentucky, our interest grew even more. The wine bottles that were poured from at the reception had photo labels of the couple. Our cake topper was two Wisconsin Union chairs that symbolized where we met. Our cake knife was the knife Eric's grandparents used for their wedding, and all of his aunts and uncles also used.
WHAT WAS YOUR WEDDING COLOR PALETTE: Burgundy, Navy, & Gold

DESCRIBE YOUR WEDDING FLOWERS: Dreamy, Sarah, my florist did an excellent job on the flowers. Flowers were something very special to me, and so Sarah made my vision come true.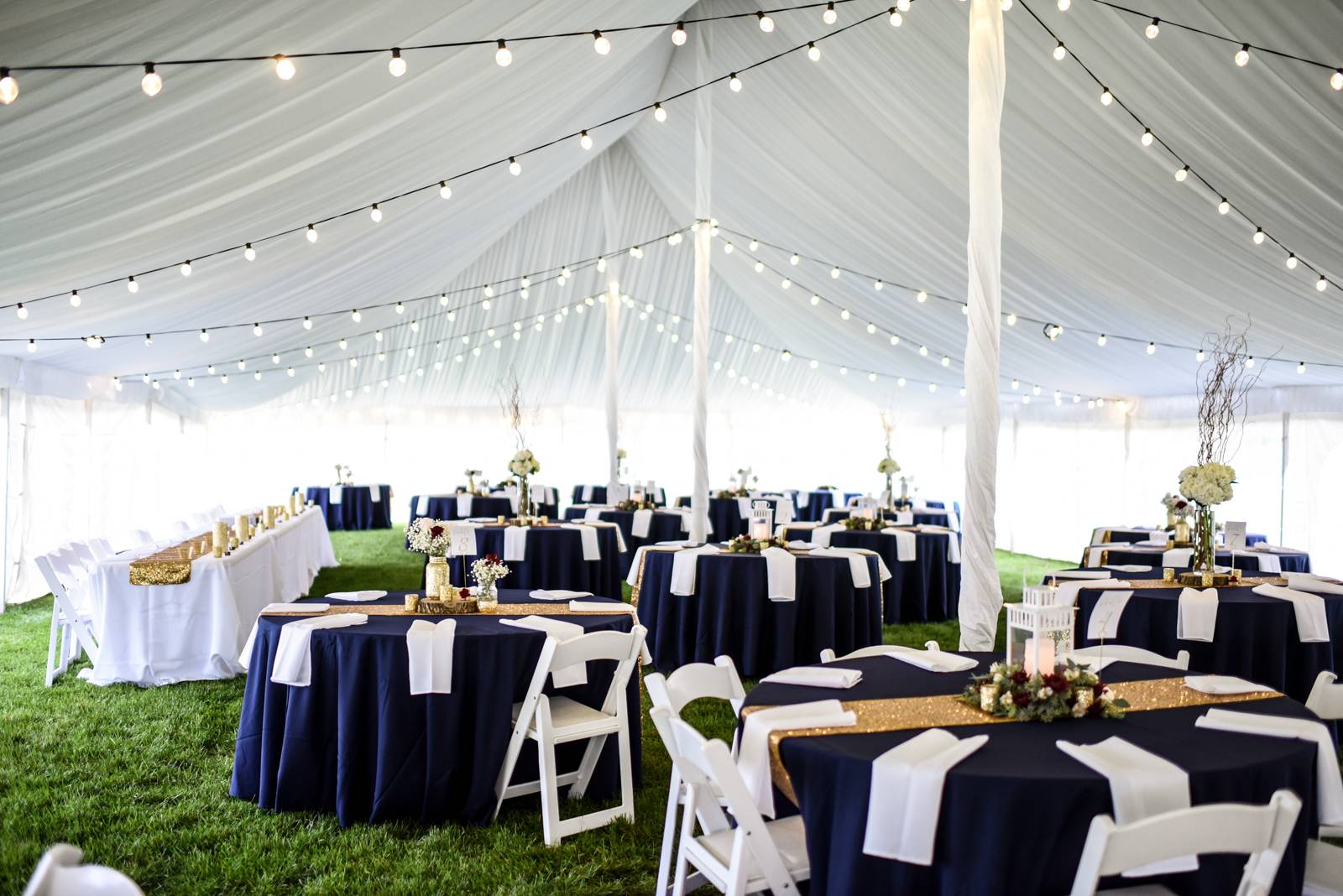 WHAT WAS YOUR INSPIRATION/DESIGN CONCEPT FOR YOUR OVERALL CEREMONY AND RECEPTION DÉCOR: I wanted something that was not over the top but rather personal. I wanted our guests to see our love for one another more than anything else. The day was about us, and that is what I based the décor/design on.

DID YOU USE ANY SPECIALTY CHAIRS, LINENS, CHARGERS, GLASSWARE OR DINNERWARE? Nope. We got our linens off a discount online party store and rented tables and chairs through Event Essentials. We ate on paper plates with plastic silverware. It was a barbeque buffet.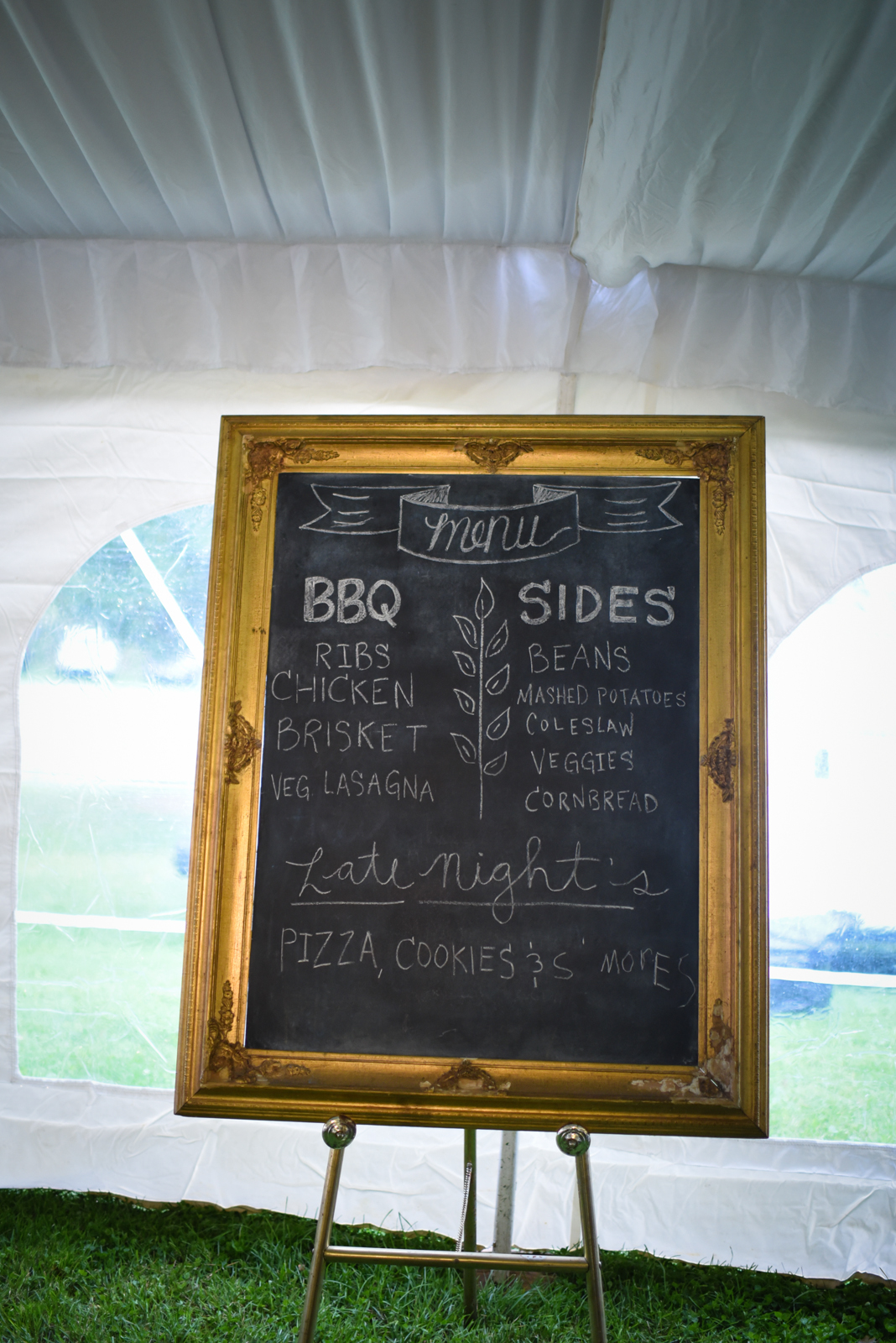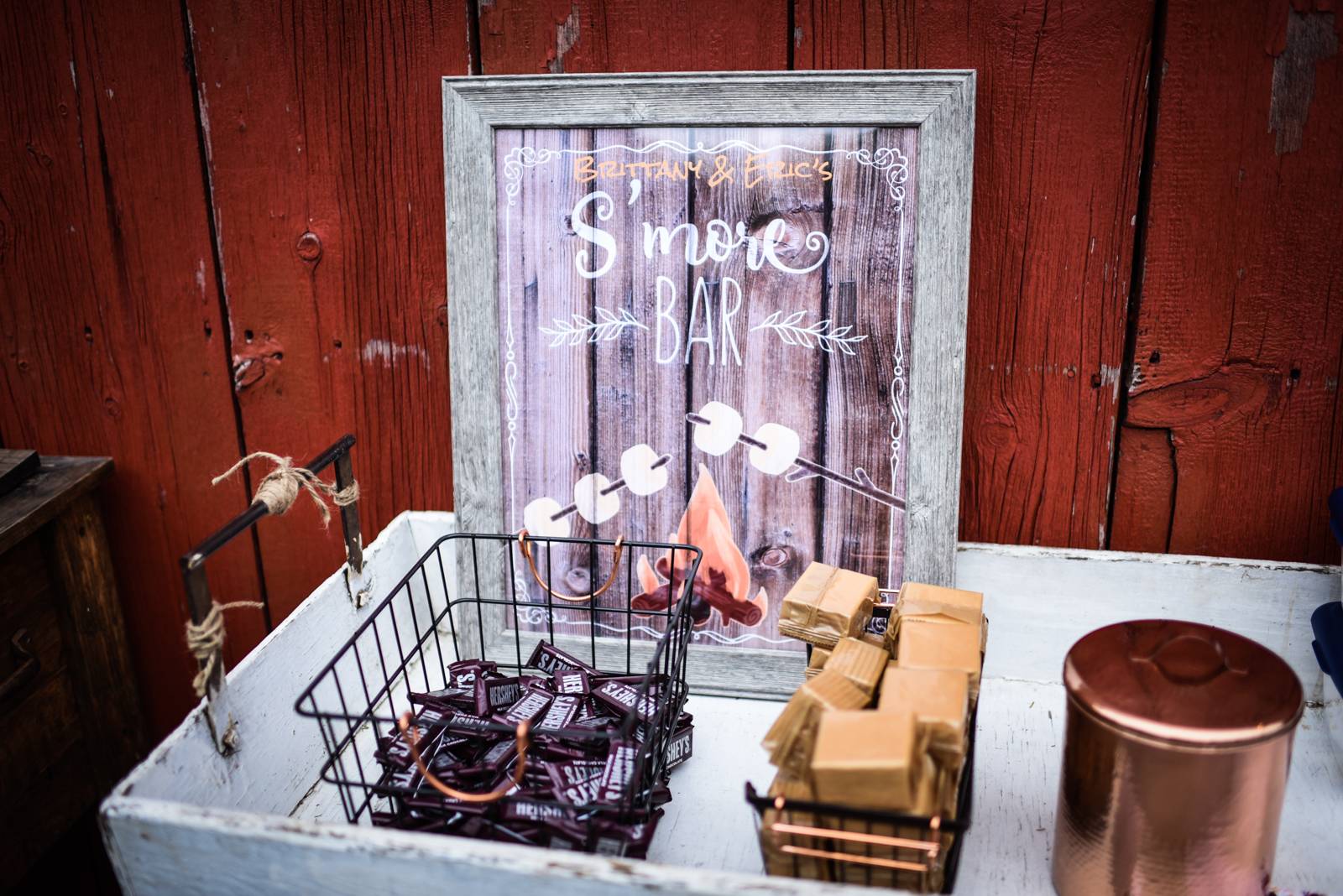 WHAT WAS YOUR FAVORITE MOMENT FROM YOUR WEDDING: Truly I think the moment Eric and I stopped and prayed during the ceremony. We stepped away from everyone and took a moment to thank God for all he has given us and people he has put in our lives.
ANY WEDDING PLANNING REGRETS OR SOMETHING YOU WOULD DO DIFFERENTLY: Honestly I really do not have any regrets. I think my attitude about not letting all the emotions get to me during the planning and taking my time really helped me through the process. Our wedding was exactly what we wanted and envisioned.

IS THERE ANY ADVICE YOU WOULD GIVE TO OTHER COUPLES PLANNING THEIR WEDDING: We planned our wedding out of state. So those that are getting married in a different state, it is possible to have a dream wedding even though the majority of the vendors and contact with people are over the phone. Also, I would say to take your time. Our engagement was over a year long, and honestly, it was perfect because we never felt rushed in the planning process.
TELL US ABOUT YOUR HONEYMOON PLANS: We took a road trip Ashville, NC. We spent a day checking out the Biltmore Estate and got to go horseback riding on the estate. We spent the rest of the week touring the city, visiting local breweries, and hanging out at a small cabin in the woods that we were staying at.

WHAT DOES LIKE LOOK LIKE AFTER THE WEDDING: We just bought a house and are happily enjoying the many day-to-day adventures of life.