BobbiJo and David's wedding celebrations were anything but typical. They exchanged their vows in a sincere ceremony surrounded by their closest family and friends at the end of fall. Then celebrated their union with a joyous summer fete with both events beautifully captured by LK Bridal Studio. Read about their genuine love story, learn what was vital to them for their wedding, and enjoy their gorgeous photos below!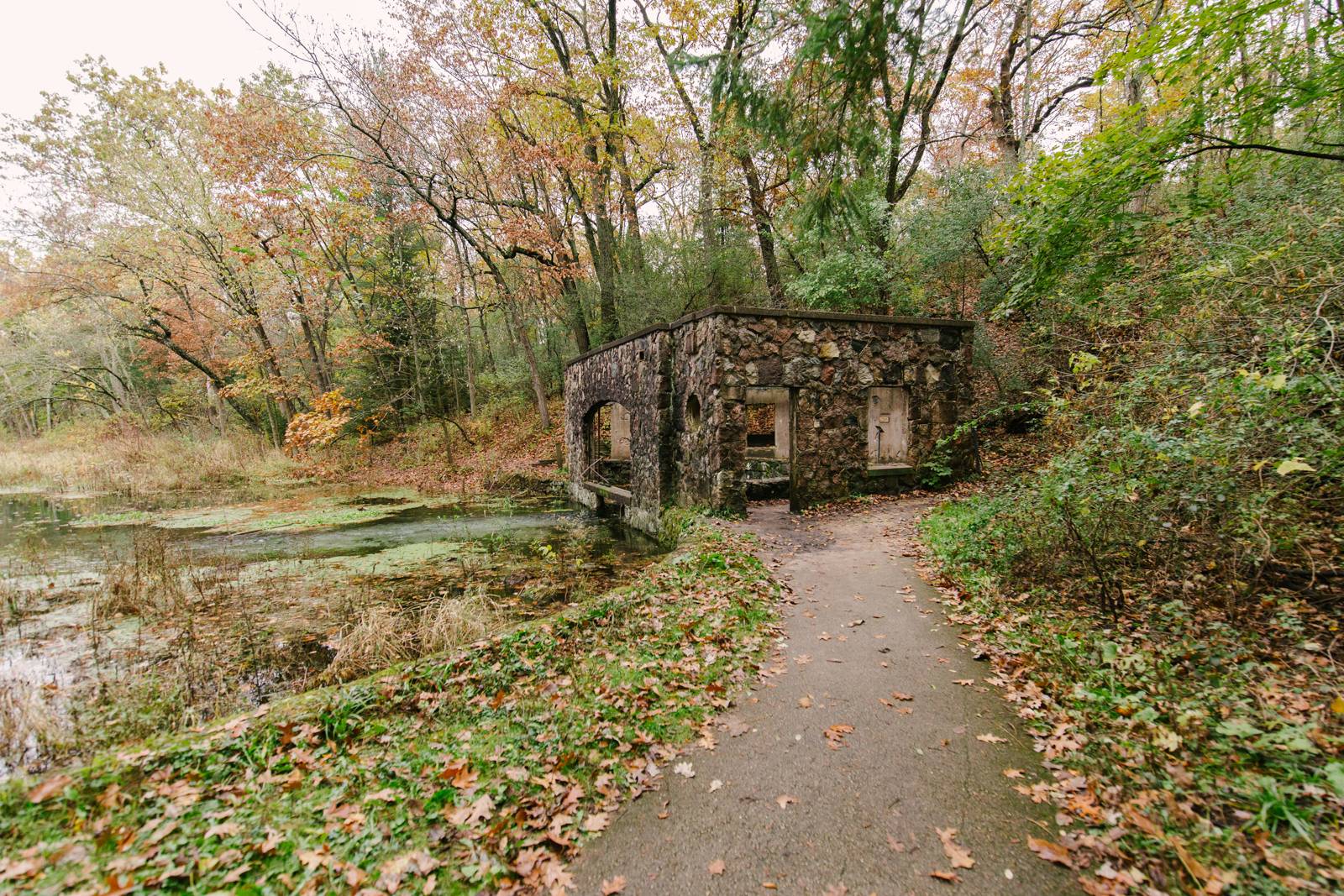 Wedding Date: 11/05/17
Reception Date: 07/14/18

HOW DID YOU MEET? David and I meet while online dating through Christian Mingle.
HOW DID YOU KNOW YOU HAD FOUND "THE ONE"? We were a couple of months into our dating relationship when we were hugging one day, and David pulled up his shirt to his rib cage to bear his belly, then he did the same to me. I was surprised and slightly insecure because of my stretch-marked filled momma belly, plus I didn't know what he was doing, but he pulled me into a hug, so our stomachs were skin on skin. He sighed, and I sighed, it was wonderful to have that simple skin to skin contact. I was blown away by the simplicity of that intimate act. I fell head over heels at that moment, and I knew I wanted to share my life with this thoughtful, sweet man who found so many ways to show me his love.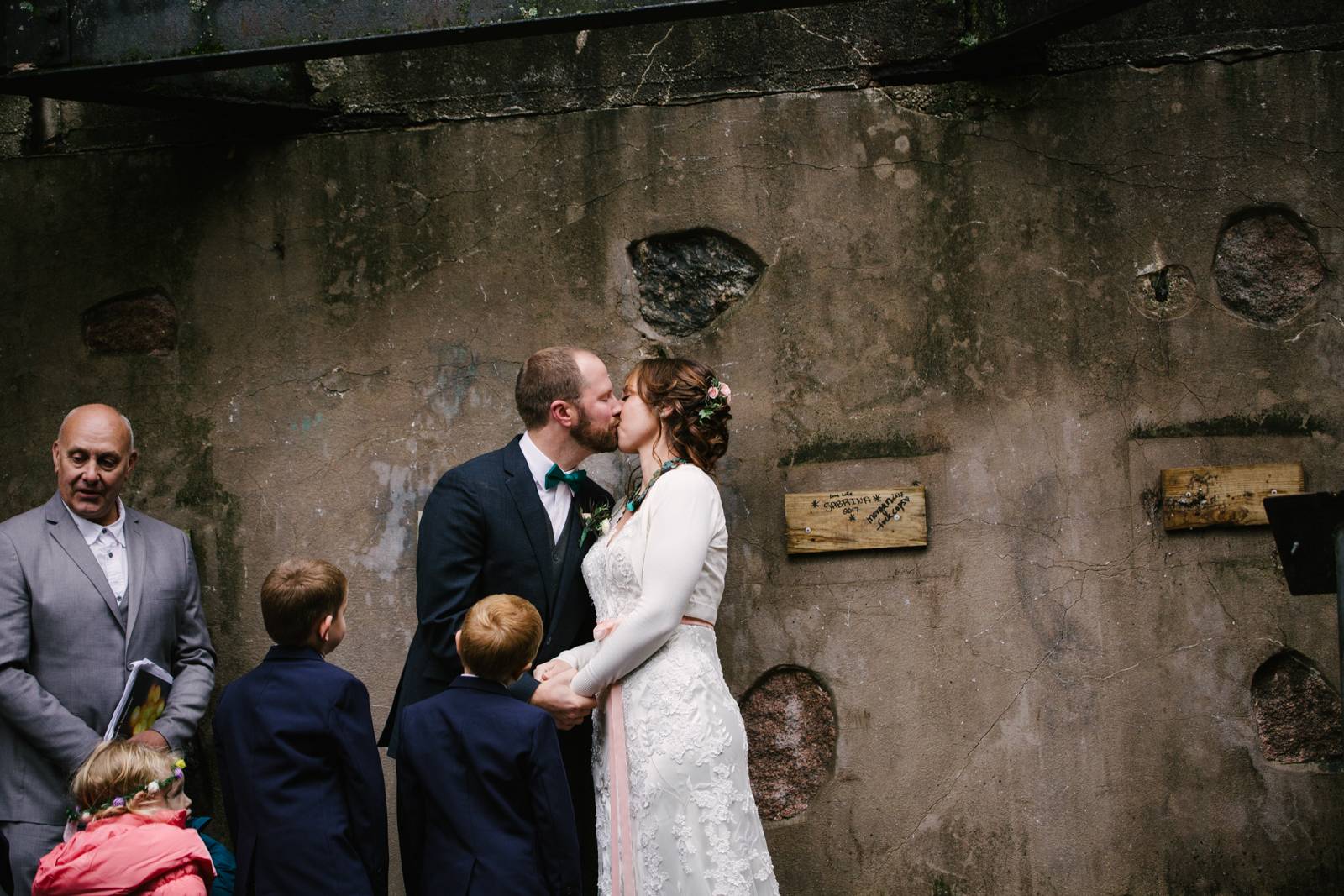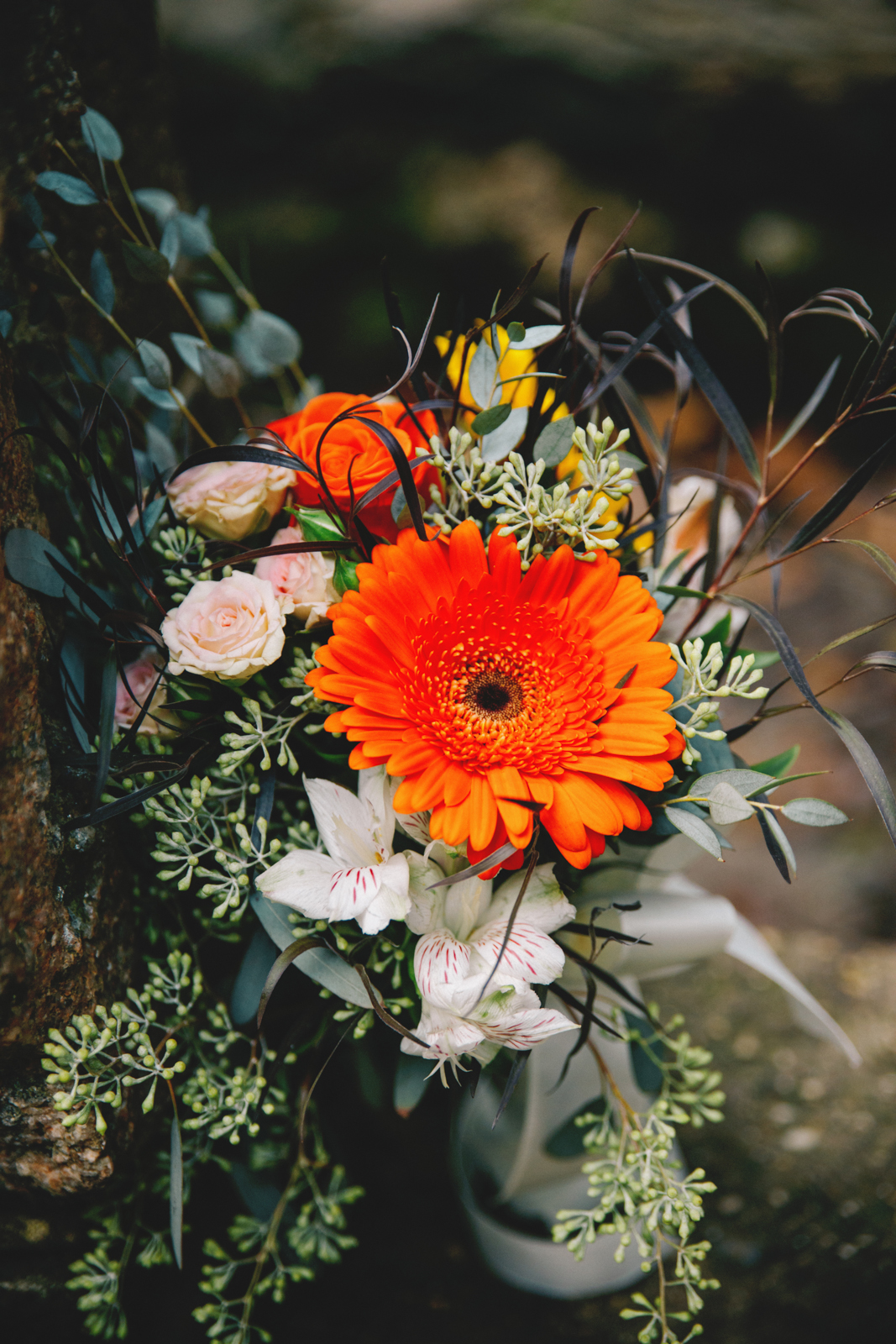 TELL US ABOUT YOUR PROPOSAL: David took us to a secret destination (it turned out to be Chicago) for a kid-free weekend. It was absolutely a downpour all weekend with flash flooding, and I came down with a cold. Hardly any of David's plans worked out, but we had a great time visiting Chinatown, eating at a variety of restaurants only found in Chicago, visiting Shed's Aquarium, and the Natural History Museum. The proposal he had planned completely fell apart as he had expected to do it outdoors in a park. David surprised me at the Natural History Museum of Chicago, I was sitting on a bench waiting for David to check our coats. He returned and surprised me by going down to my level on bent knee and proposing with a ring in hand.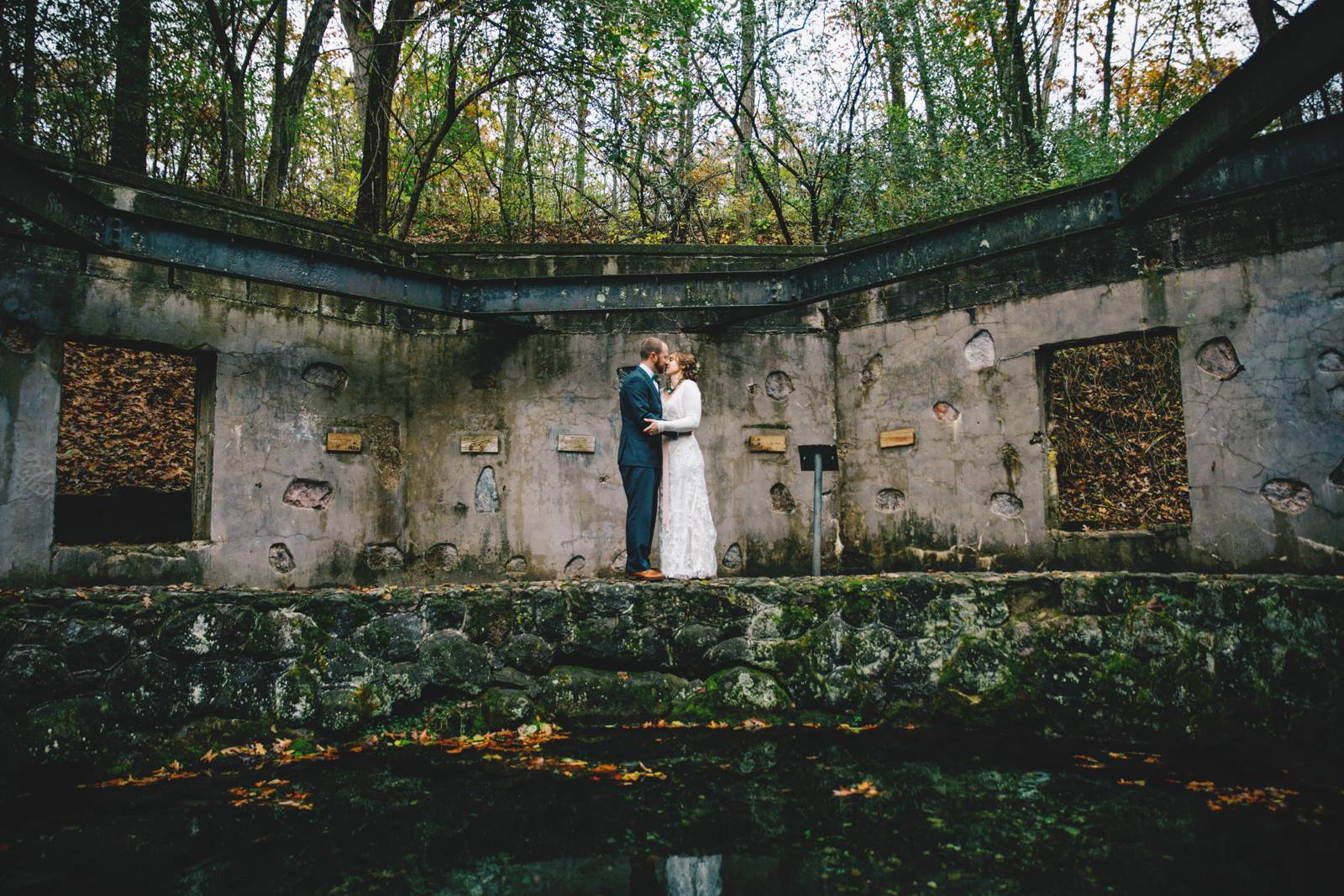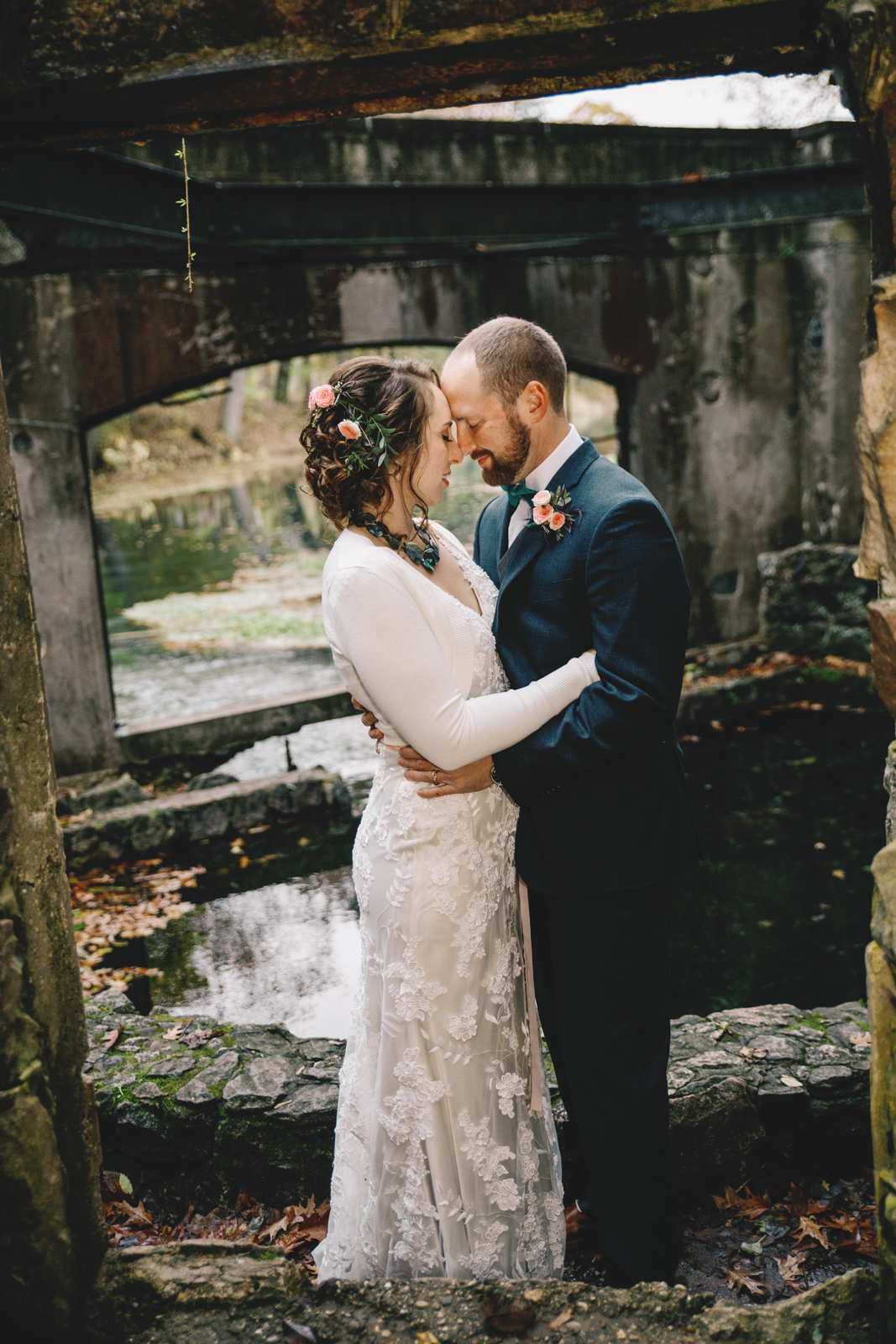 TELL US ABOUT FINDING YOUR DRESS: Months before he proposed I knew David was the man for me and that we were headed for marriage. I started dress shopping knowing we would want a fast engagement and that wedding gowns take awhile to make. I went dress shopping with my mom to the dress shop where she had found the dress that she wore 38 years before when she married my dad. It was a great day for me because when I got married the first time, I didn't get to go dress shopping with her at all because I lived states away at that time. That day I found two dresses I liked, plus one I LOVED that was really beyond my budget. The sales lady worked very hard to sell it to me, and while it was just what I wanted, the exact color I wanted was not available in the next 9 months. It was hard to walk away, but I choose not to buy it that day. I left the store and looked through additional stores, but didn't find anything like I wanted. I then went online to see if I could find the dress I loved there, I found it on Facebook in my exact size and the exact color I wanted. It had been worn by a bride who was my same height, so the hem was right on, and the train was bustled. It was a 3-hour drive away, I went the next Saturday to pick it up from her with my mother, future mother-in-law, and future sister-in-law. I hit it off with the bride I bought it from, we are still in contact with each other through Facebook. We actually have a lot we share in common, for example, our birthdays, our wedding plans (her's past, mine future). When I asked her why she'd decided to sell her dress, she said, "it's just too beautiful to leave in the closet." I'm so glad I bought my dress used rather than new. I am also planning to sell the dress, it was my plan from the moment I heard her say that.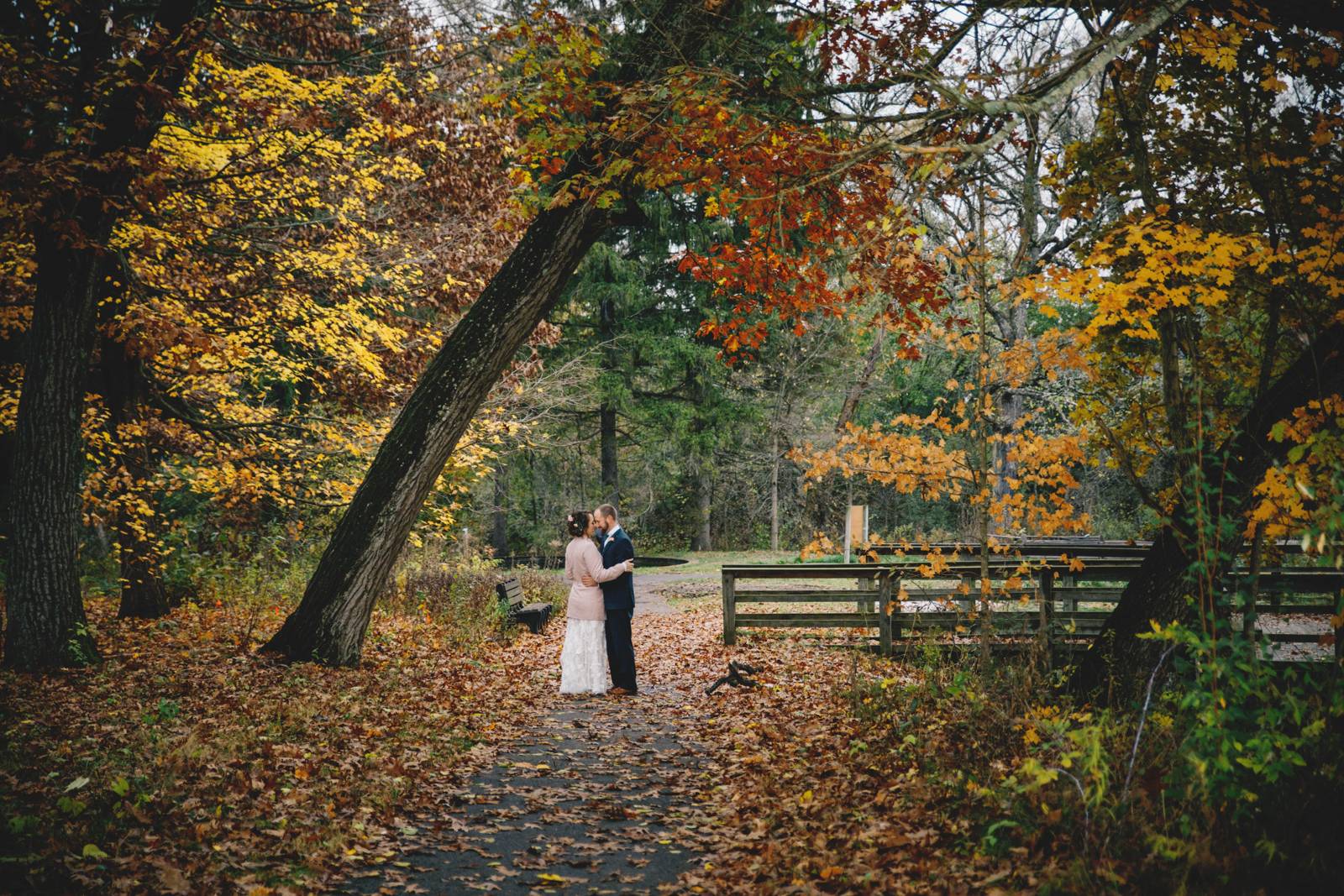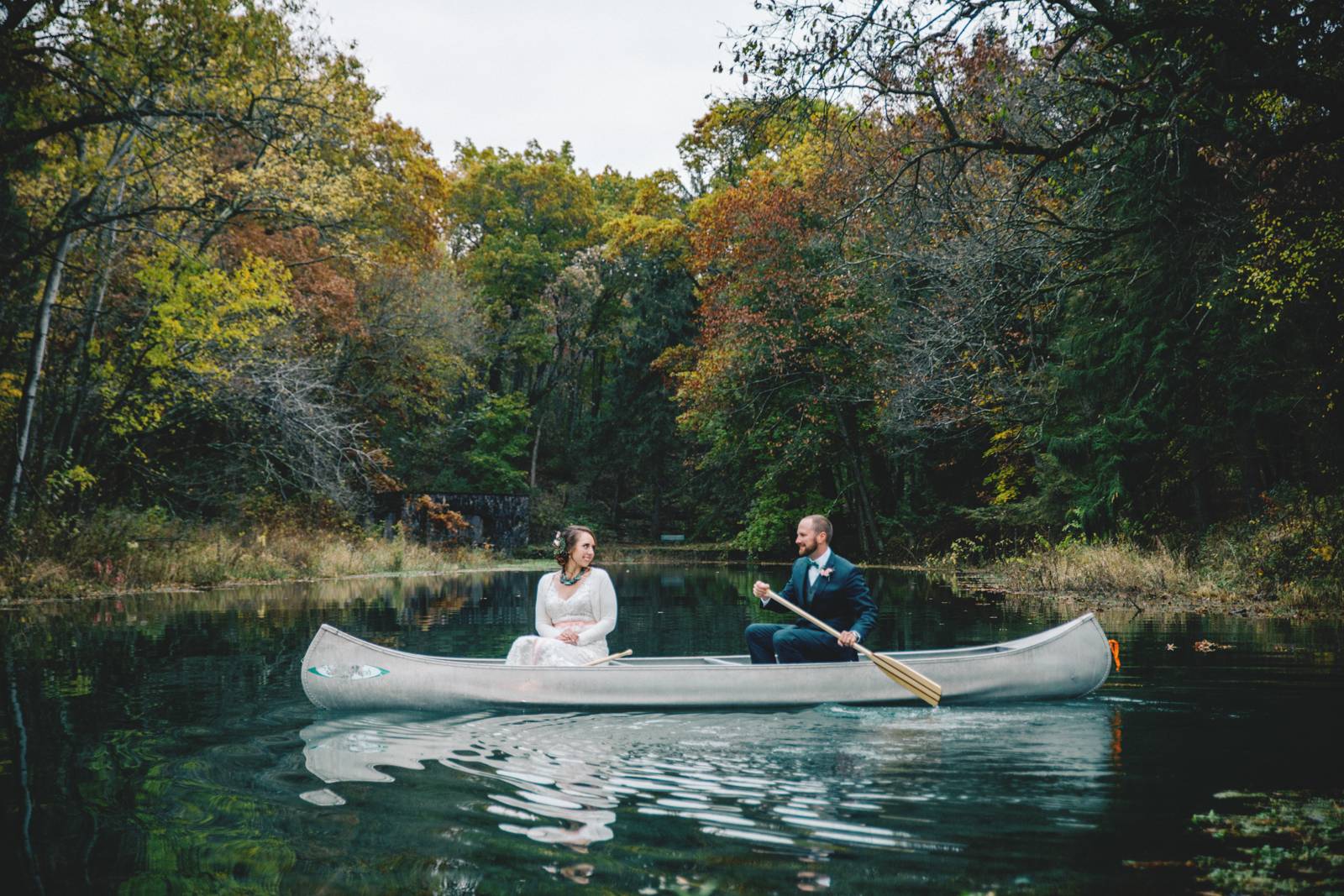 WHAT WAS YOUR WEDDING COLOR PALETTE? Navy, teal, and rosy pink.
DESCRIBE YOUR WEDDING FLOWERS: We had two separate events to celebrate our wedding. Our small and intimate wedding ceremony was in November. My hair flowers and David's corsage were matching mini pink roses with eucalyptus, and my bouquet had those flowers plus others chosen by my 3 sons with David's help the day before the ceremony. I didn't know what my bouquet would look like, but that wasn't important to me. My favorite flowers in the world are flowers picked from my yard by my boys, they were 4, 6, and 8 when we married. In July, we celebrated our marriage with our big backyard bash at the same location as my parent's wedding ceremony, 39 years ago to the day. We got buckets of flowers that were arranged by the aunts the morning of. Our tree planting was the main event that day, we planted an oak tree on our property with the help of everyone invited, even some who couldn't make it. In our invitations, we included a bag asking them to bring a bag of dirt from their home or favorite place to symbolize how we grow because of those we have in our lives. It was a short and sweet tree planting, but extremely meaningful. We will take a picture with that tree every year to track our growth as a family. We got dirt from gardens, friends homes, and the location where we were married. One neighbor and his wife even drove in with his tractor bucket full of dirt.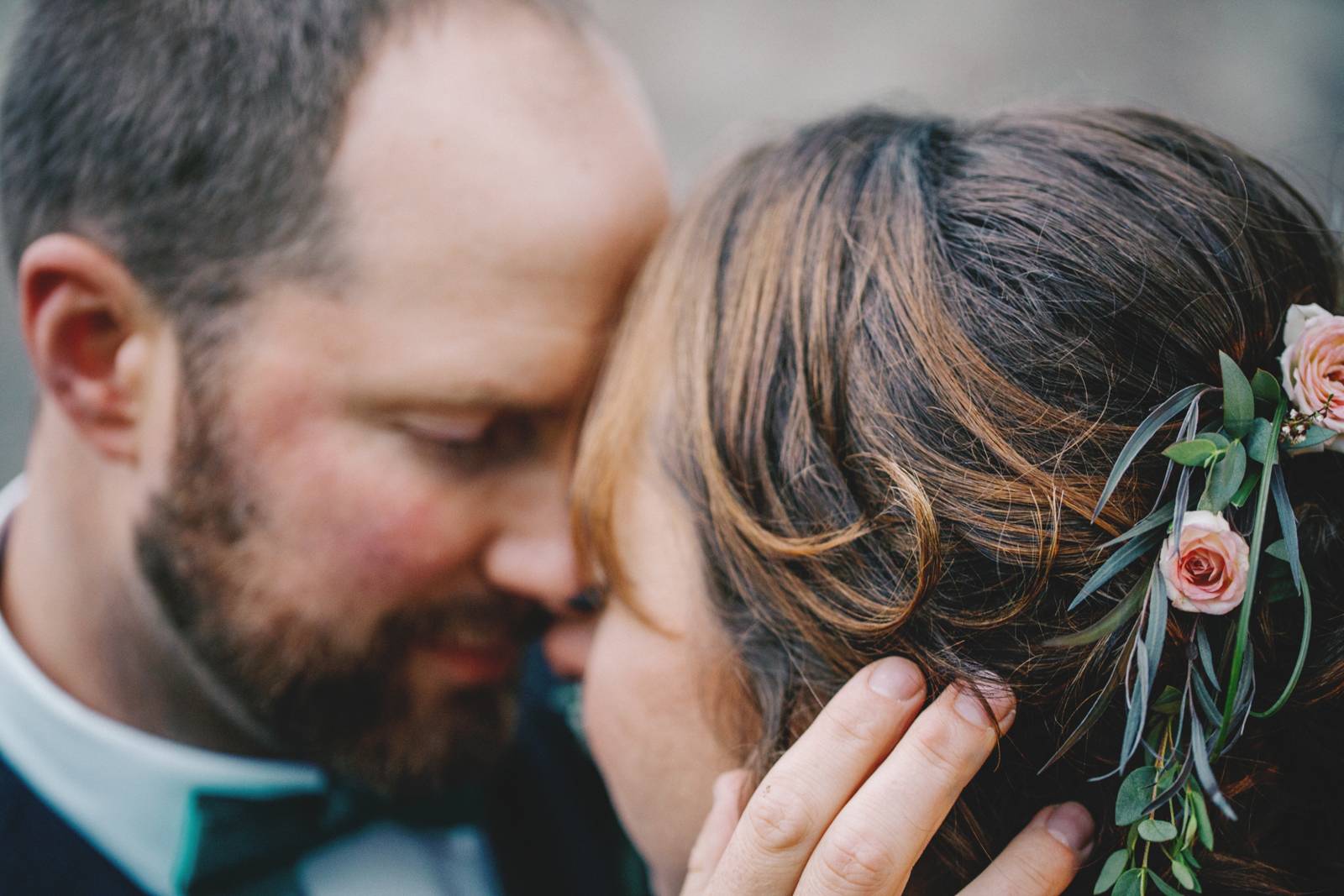 WERE THERE ANY PERSONAL TOUCHES OR DIY ELEMENTS? Ha, too many to count!

David's ring was designed and made by the same craftsman who made my dad's wedding ring 38 years prior. David's is a custom design with three colors of gold, each color is made to look like a single vine, then all three vines are twisted together. The effect is beautiful and rugged with deep religious meaning to both David and I. My ring is a lovely ring with three colors of gold from Kay Jewelers, it is intricate and stunning.
TELL US ABOUT THE FOOD, DESSERT, AND ANY SPECIALTY BEVERAGES ON THE MENU: The hit of the July party was the all-day slushy machine (with a variety of booze on the side for the adults.) Everybody loved the cool and refreshing treat. We served a variety of delicious food throughout the day. It was catered by Bauman's Catering, the best of which was the pig roast, high-quality crowd-pleasing food!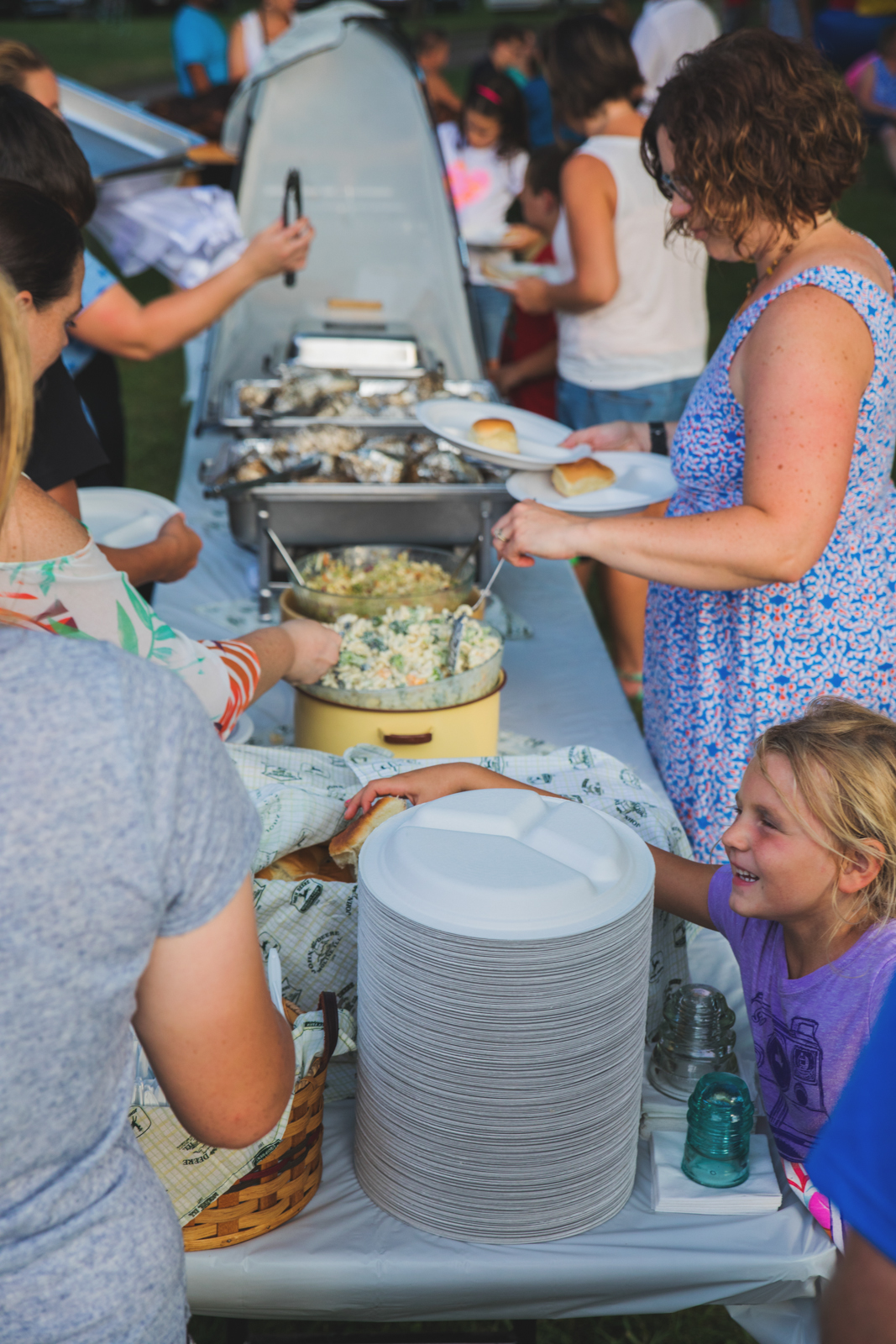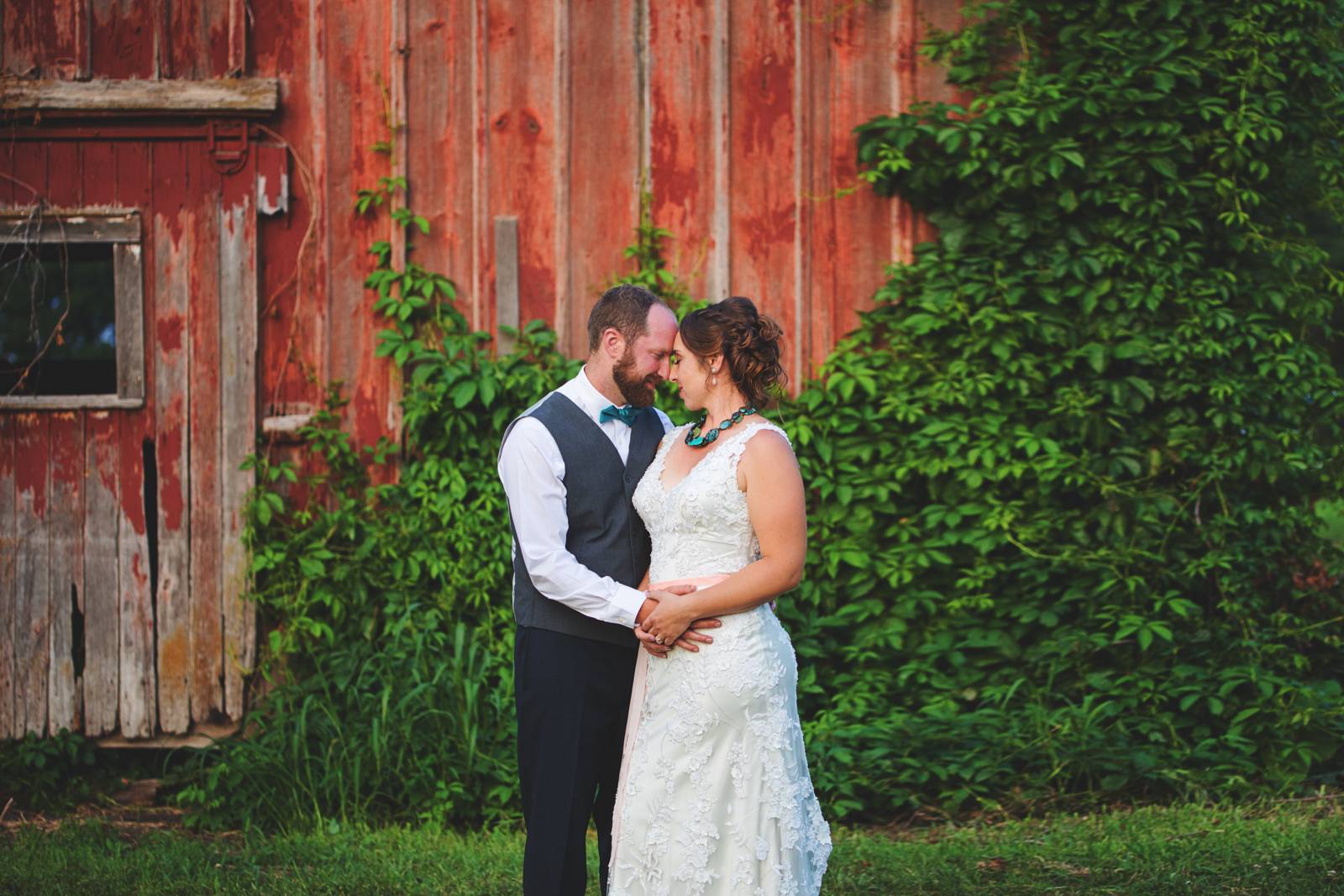 WHAT WAS YOUR FAVORITE MOMENT FROM YOUR WEDDING? The intimate wedding ceremony we had in November was incredible. I didn't feel any pressure or nerves. I was able to enjoy every moment, being completely in love with David, and exchanging our vows to each other.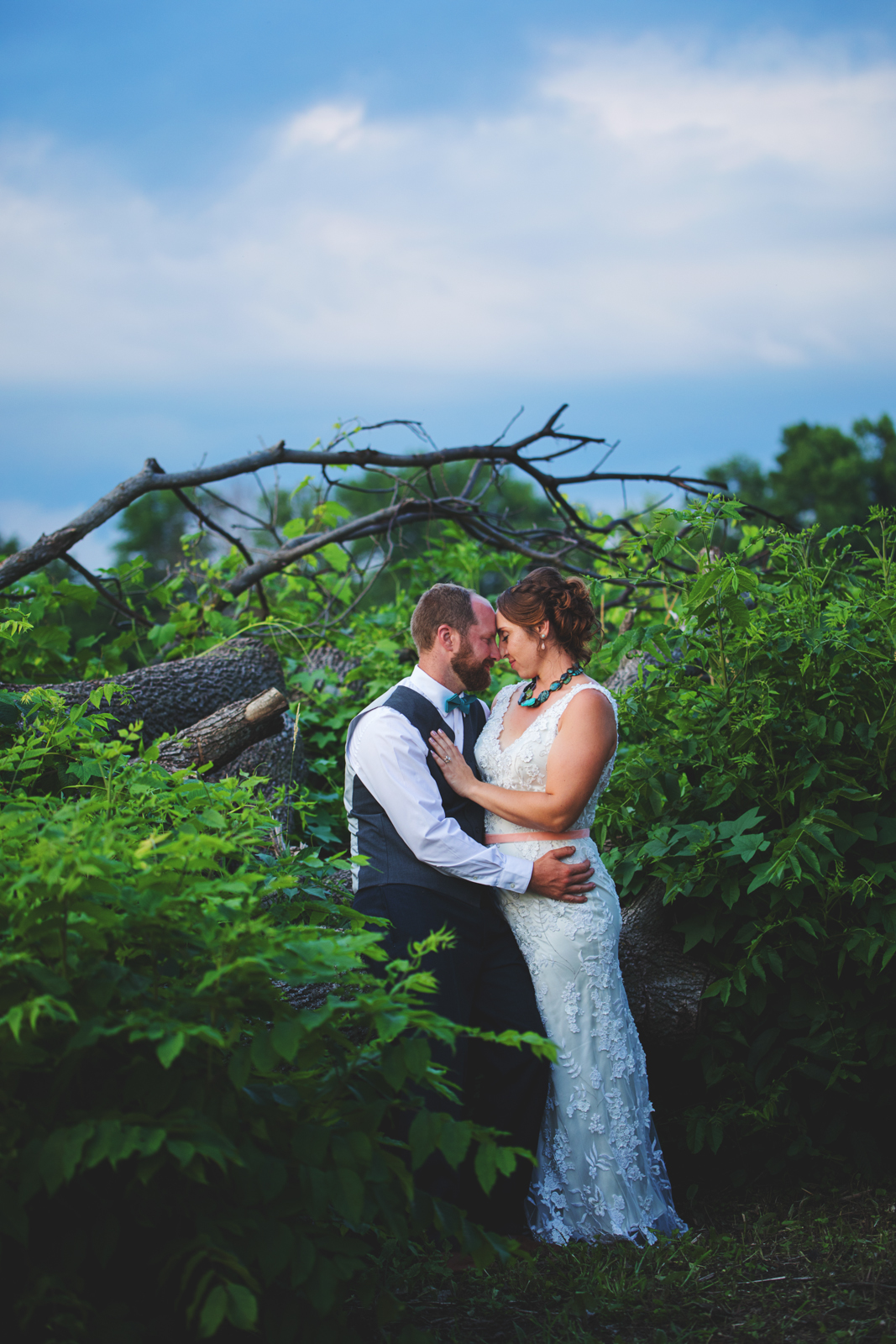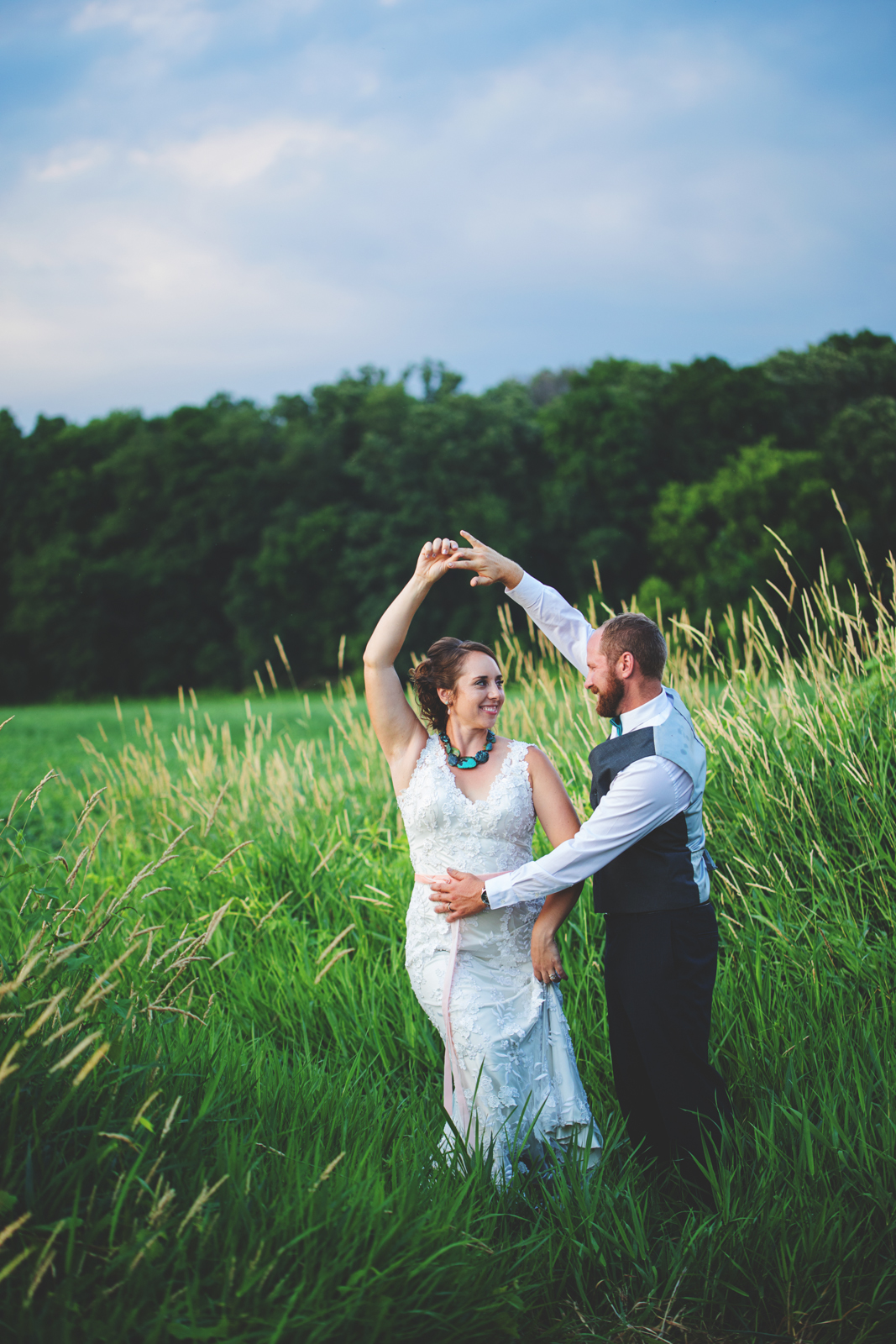 TELL US ABOUT YOUR HONEYMOON PLANS: In March (between the ceremony in November and the party in July) we went to Hawaii. It was exceptional!

WHAT DOES LIFE LOOK LIKE AFTER THE WEDDING? David has jumped into life with 3 sons like he was made for it, we now have a baby on the way due in August, and my 86 year-old Grandmother now lives with us, and I am her full-time caregiver.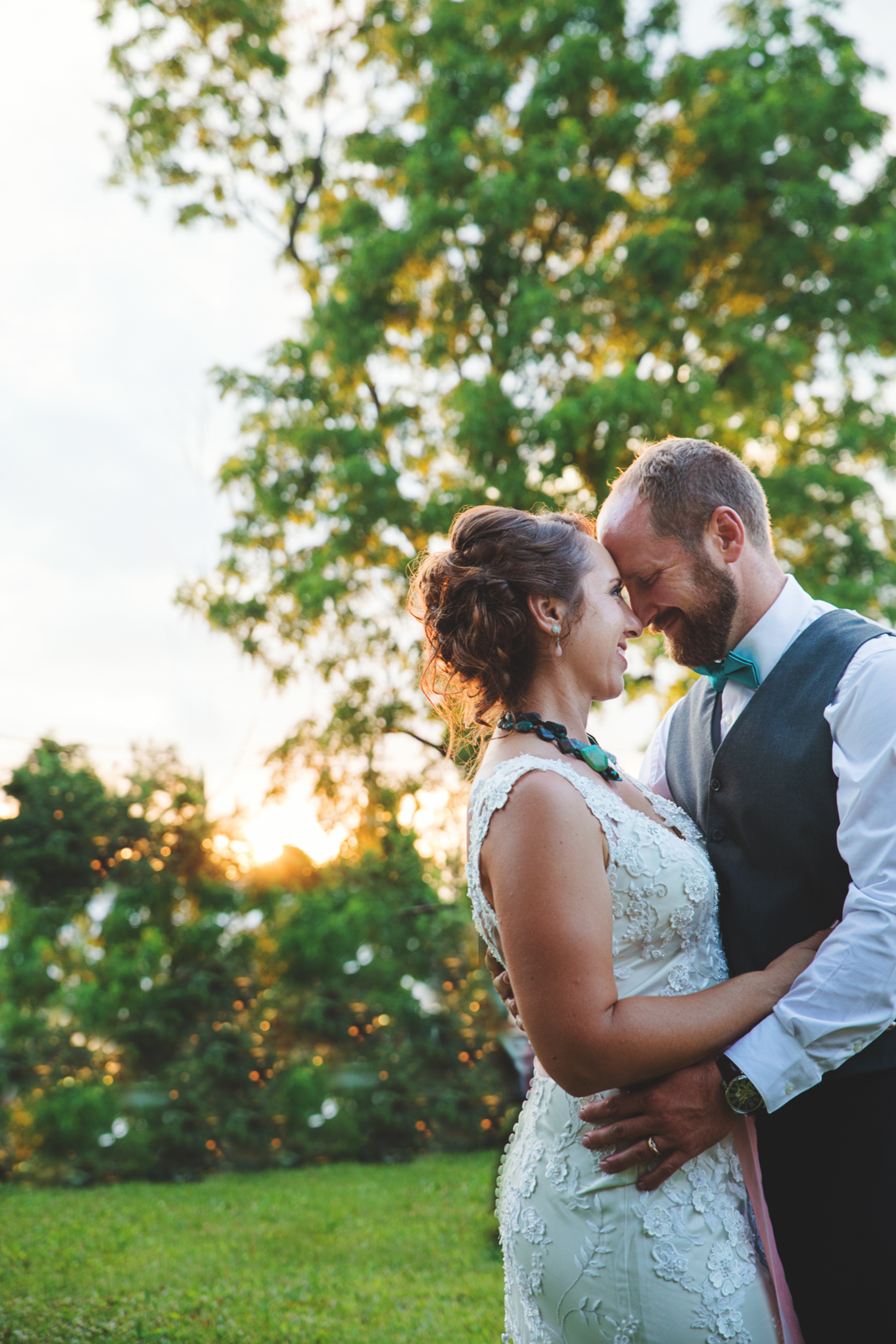 IS THERE ANY ADVICE YOU'D GIVE TO OTHER COUPLES PLANNING THEIR WEDDING? Do what you would enjoy, for example, we love being outside, and we live for our kids, so we put a priority on the bouncy house, yard games, slushy machine, boat in pictures, and carefree attitude. We didn't worry about linens, the dishes we ate off of, or the formality that is often expected at a wedding party. We enjoyed what we had, that is also why we had two parties. It was our compromise for my desire to have a small intimate ceremony, and David's wish to have a big party.
ANY WEDDING PLANNING REGRETS OR SOMETHING YOU WOULD DO DIFFERENTLY? I'd hire a wedding planner. I meant to, but I didn't prioritize it because I never found one that fit everything I was looking for. I wish I would've looked harder.

I've spent a lot of time at bridal fairs/shows working as a vendor for my parents catering business. And I have spent a lot of weekends catering weddings, so I have seen the behind the scenes and the meaningful moments and also the big plans that just didn't work out. I went into this knowing what I did and didn't want to spend my energy and budget on. I wanted to have fun. I wanted the people we invited to feel welcome. I knew some of the typical wedding traditions just didn't matter in our big picture (for us it was the formal stuff). I knew I had the man I'd been dreaming of, so I wanted the best photos and delicious food, all other details were negotiable.