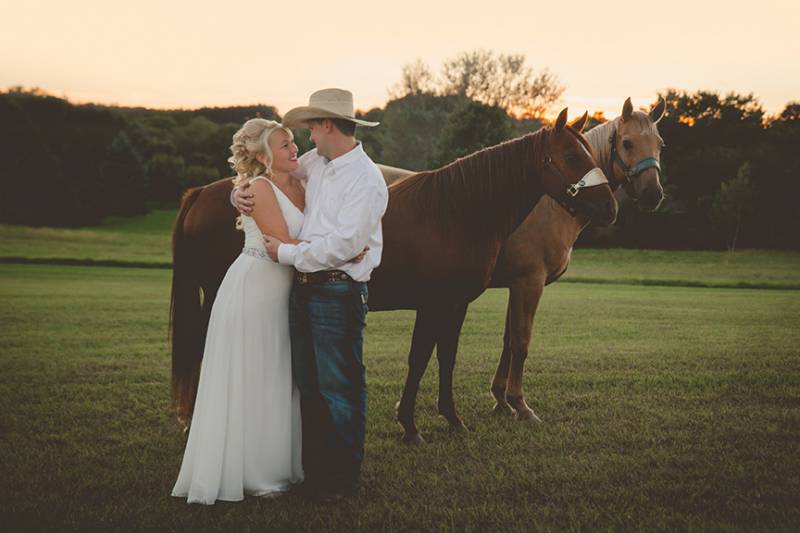 You sure don't need to live in Wyoming or Montana to have a beautiful country western wedding. All you need are a great pair of cowboy boots, a cowboy hat, horseshoes and two of the most beautiful horses ever. When Morgan and Terrence's original venue fell through only TWO days before their wedding because it got washed out by heavy rainfalls, they luckily found this alternative location at the RACA Ice Rink in Reedsburg. Which I have to admit, some things just work out as they should because this was the most stunning backdrop with rich greenery and wooded trees.
WEDDING DATE: 09/10/16

HOW DID YOU AND YOUR HUSBAND MEET? We were both on vacation at Cross Country Trail Rides in Eminence, MO with our families and met at a dance one evening. Long story short my older sister expected me to tell this gentleman with a Missouri accent, "Heck No," when he asked me to dance. Something inside me said to say yes to his dance offer and it was all over from there.
HOW DID YOU KNOW HE WAS "THE ONE"? He was from Missouri and I'm a born and raised Wisconsin girl. When we were both driving 6.5 hours one way for a year just to see each other we knew every mile was worth it.
TELL US ABOUT YOUR PROPOSAL: My husband would really "love" me telling this story. He is not so much a romantic but is very humorous. He makes up songs and sings them to me. Most are funny and some are sweet. One of those songs is, "I've got something in my pocket for you." Now mind you this could be lint, a piece of gum, something he found, etc. So him singing a song was not out of the ordinary but he did tell me to hurry home that day because he had my present set up as it was my birthday. I really thought I had him figured out this time and thought I was getting a bow for hunting. Well, I didn't see it when I got home and he was standing in the kitchen. That's when the, "I've got something in my pocket for you," song started. He told me to choose a hand and I picked one and apparently it was the right one because my humorous husband pulled out a box with a ring with his voice shaking. I think it was the only time I've heard his voice shake. He said "Well, I'd sure like it if you would be my wife. Will you marry me?" (It was the same Mo accent I heard the night I said yes to the dance offer.) I have to say it was my favorite time he ever sang that song. Side note: Turns out he had bought the ring months previous and had been hiding it in the house.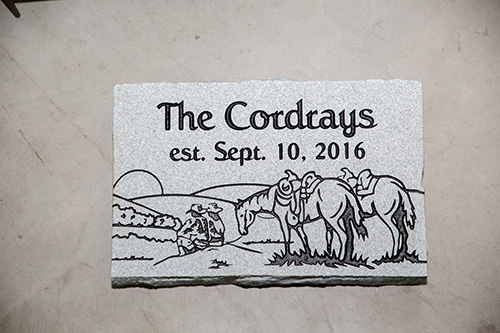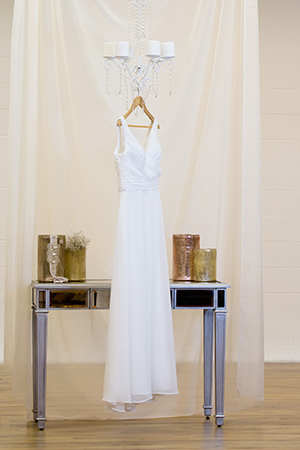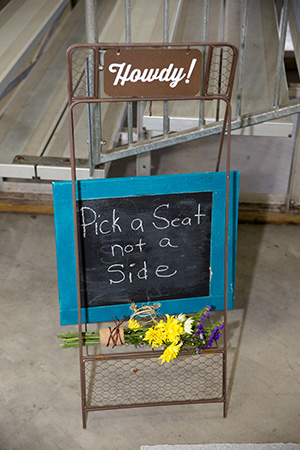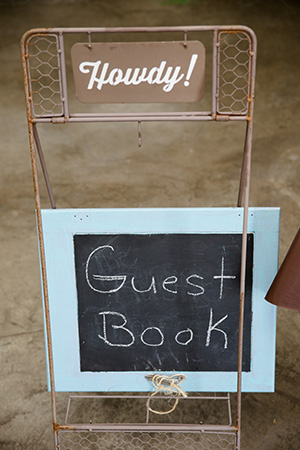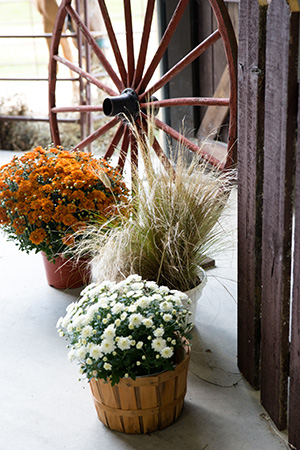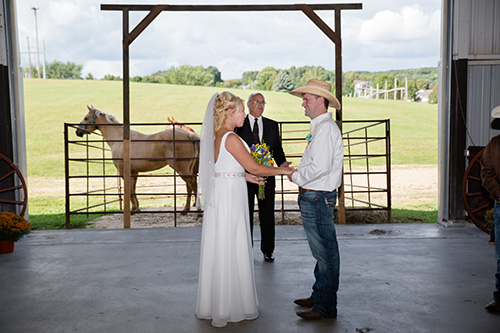 TELL US ABOUT YOUR DRESS: I'm the biggest tom boy, no-frills girl. So I wanted a dress that was simple and beautiful but showed the real me. When we went to look at dresses I didn't want price to determine my choice as I thought I could always get something similar. Turns out my choice was very inexpensive and was very "me". It was a Modern Maid brand. It was a simple dress in Ivory with an embellished belt and some tear drop earrings that my step mother picked out complete with my Lucchese white crocodile square toe cowboy boots was perfect. I was comfortable but felt gorgeous all day and night.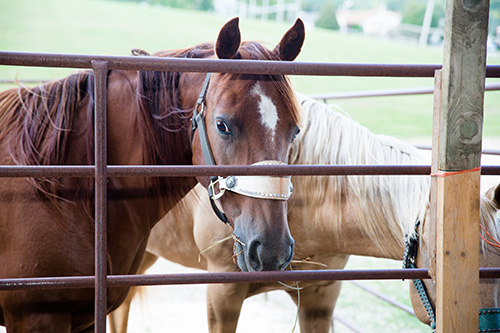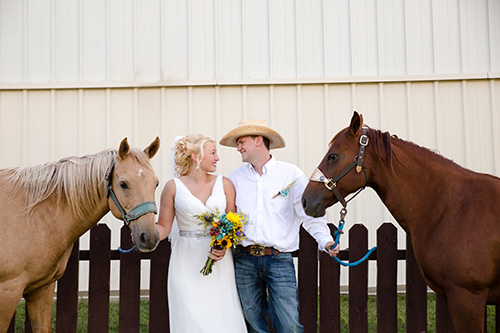 DESCRIBE YOUR WEDDING FLOWERS: Our flowers were very special as my step mom's sister did every arrangement and bouquet. It was a country array of flowers that were not over done but smelled wonderful. We also had wheat boutonnieres with a touch of teal to tie the groomsmen's and groom's shirts in. My step mom also bought mums to be set up around our ceremony for an extra touch of color with our western décor.
WERE THERE ANY PERSONAL TOUCHES OR DIY ELEMENTS? Our wedding had so many of these elements as we are a young couple on a budget but these touches truly made it special. My dad really brought out his creative side with building things for our wedding with his good friend Vic Whalen. They built a huge chalkboard sign with antlers for our watering hole sign. They built a saddle rack that my grandpa's saddle was on for our card box. They built picket board fencing for décor and an archway that went over my horses. We used some of my ropes from rodeo competition as decorations also. My step mom added her western touch of talent to our venue and we really couldn't have asked for better after the wash out of our venue two days prior. There was so much thought and love behind each aspect of our wedding.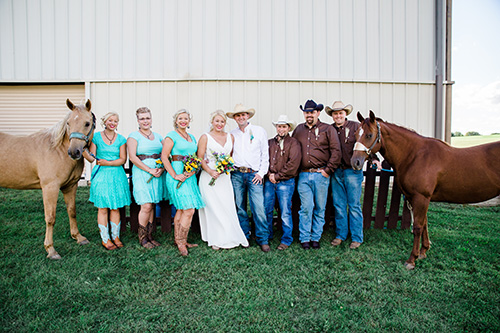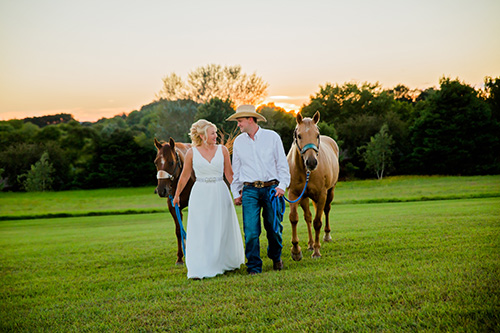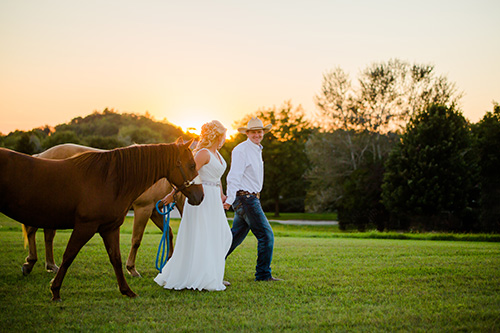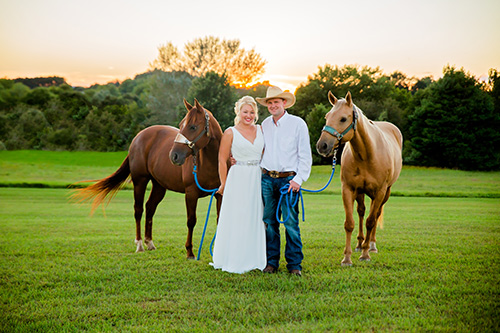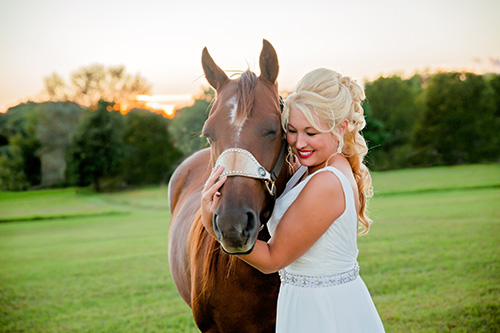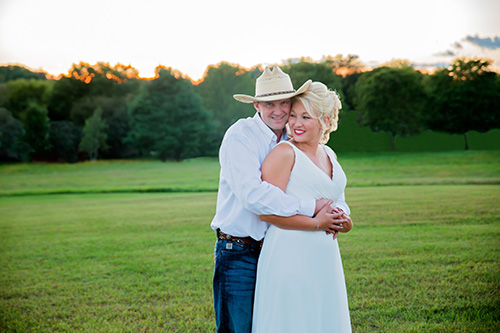 WHAT WAS YOUR FAVORITE MOMENT FROM YOUR WEDDING? Honestly, I think my favorite part of our wedding was our private shoot with Lindsey from LK Bridal Studio. It gave time for my husband and I to just breathe and be with each other for a minute. The day goes so incredibly fast that before you know it, it's over. During this time we were able to laugh and smile without interruptions and the elegant way that Lindsey captured those moments will last our lifetime.