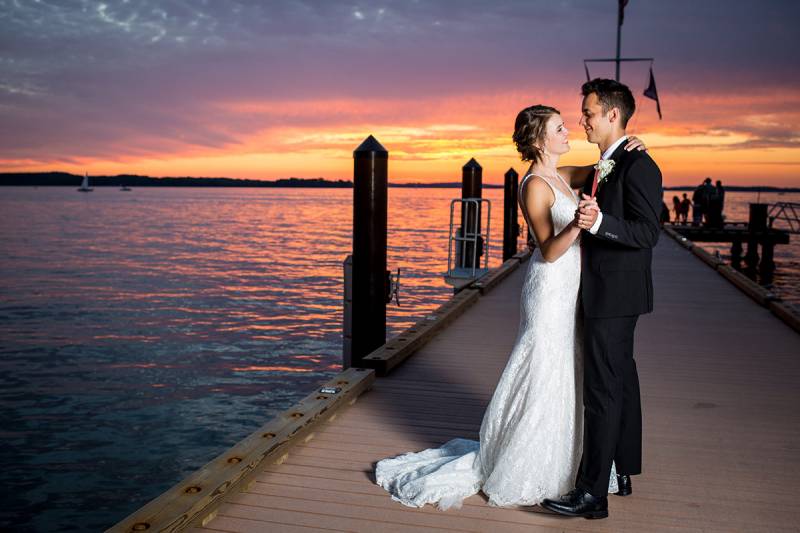 The romantic details of this elegant Edgewater wedding in the heart of downtown Madison are quite magical. We are completely captivated by the romantic color palette inspired by the evening sunset along the beautiful waters of Lake Mendota filled with corals, whites, golds and natural greens. Florist, Gene's Beaver Floral used all white peonies for Stephanie's elegant bouquet among other pretty blooms and lush greens throughout the entire reception space. There were accents of gold including gold table numbers on acrylic, custom signage, candles and a perfect s'more bar for a late night snack. Brandon and Sarah included an extra special and loving touch for their favors, having each guest write the name of one out of three of their favorite charities that they would donate to on their behalf. LOVE THIS!
WEDDING DATE: 06/18/16

HOW DID YOU AND YOUR HUSBAND MEET? We met in the spring of our freshman year at Trinity International University. My friends and I thought a group of guys were cute, so when one of our mutual friends mentioned the guys were playing a pick of game of basketball so we decided to head to the gym and join in. My skills didn't exactly wow him, but my smile did. Afterward, we found more and more reasons to spend time together.
HOW DID YOU KNOW HE WAS "THE ONE"? I had the feeling that everyone talks about--it's terrifying and wonderful. I told him we couldn't "officially" date until after he passed a few "tests". The last test was meeting my parents and after he asked me to go to a special dinner. I remember waiting for him to come pick me up and I was so nervous. I knew that once we started dating that would be it. He was the one. I had felt like I had known him my whole life. It was exciting, but frightening to somehow know that this was "the one" before we were even together. I couldn't stop smiling that day.
TELL US ABOUT YOUR PROPOSAL: We had discussed marriage plenty of times and already had our date picked out, but he was insisted on surprising me. His grandmother had died earlier that year and he had told me he wanted to use some of the money she left for him to pay for the ring--as a sentiment of her in our marriage, but the inheritance was tied up in legal issues. I knew all of this and our date wasn't for another year and half, so I wasn't thinking we'd be getting engaged for a few months. However, every girl wants to be proposed to so the night before I went out for dinner with my parents (who happened to be visiting-ironic) and complained to my mom that I wanted it to happen soon. She told me to be patient and not too worry because the summertime would be a beautiful time to get engaged. The next day was Brandon and I's anniversary. He had told me for weeks he had a special day planned. So that day, he took me on a scavenger hunt of our relationship. I was given clues to important moments in our relationship and we spent the whole day traveling around to special places: where we first kissed, our first date, where he knew he loved me, where he knew he wanted to marry me, etc. At the end of the day, we were standing on a bridge in Naperville in the freezing cold. He stopped and said, "Okay, last one. What happened here?" I turned around confused. I knew we had walked here a lot, but couldn't think of anything. I turned back to look at him and admit defeat and he was down on one knee. I don't remember what I said, but I know it was the happiest and most serene moment of our relationship. No one was around. The moment was and will always be entirely ours. (Obviously, I said yes!)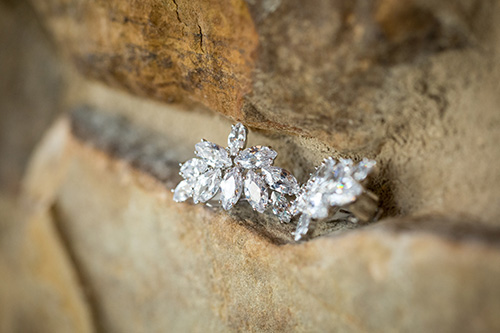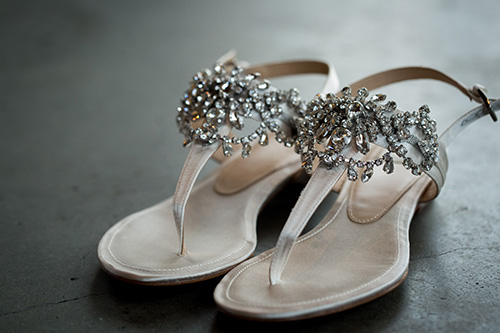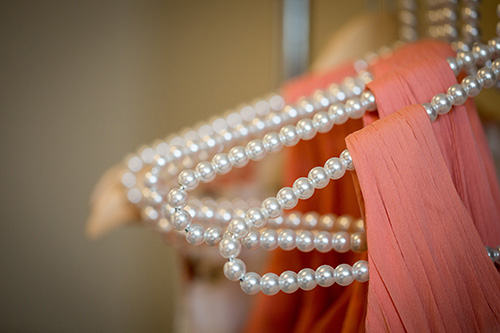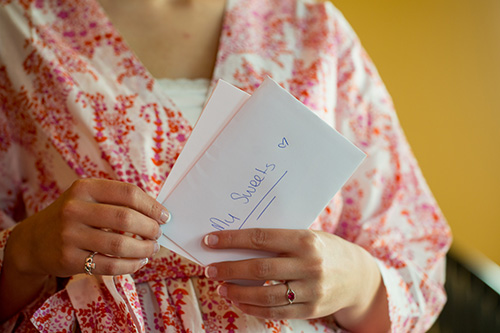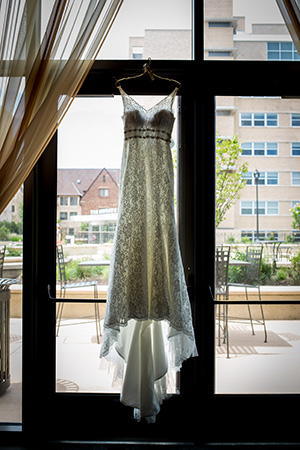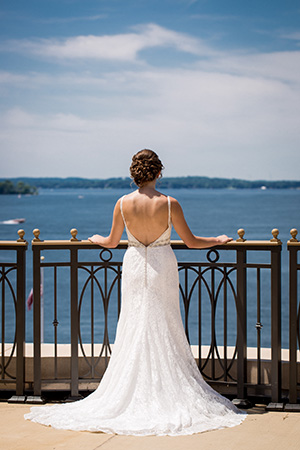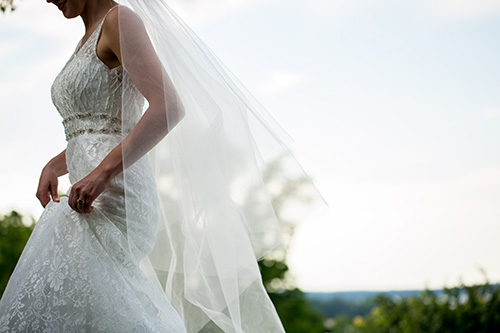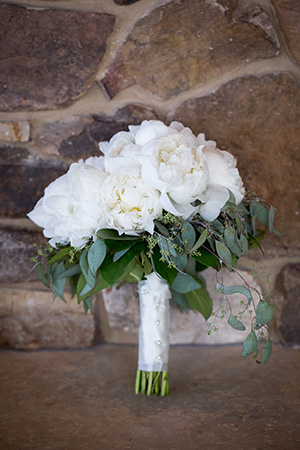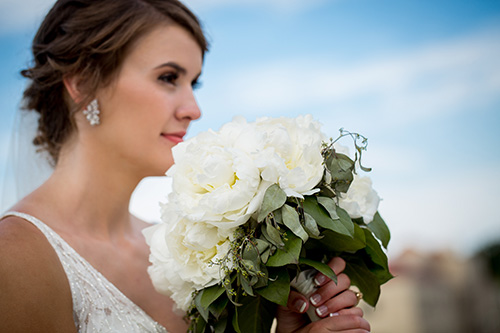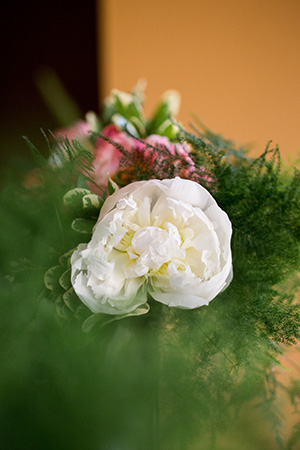 TELL US ABOUT YOUR DRESS: I bought my dress at an adorable bridal boutique called Stori Anne Co. in Stoughton, Wisconsin. Two adorable best friends run it together and they're so personal and great at their job! The dress is fully lace, with beading on the top. It has a V-neck, low back and a beautiful, long train. It was slightly fitted, but I was still able to dance my ass off--a priority for me. It was the perfect combination of elegant and sexy.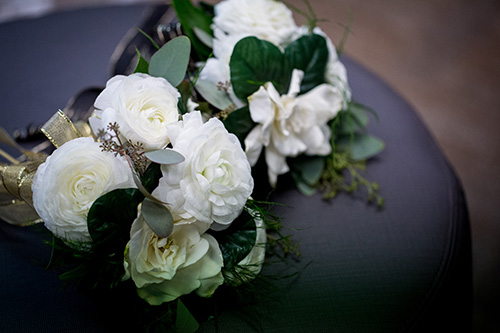 DESCRIBE YOUR WEDDING FLOWERS: My bouquet was entirely white peonies-my favorite flower. My bridesmaid bouquets and the centerpieces were all shades of coral, white, and green. I wanted them to be natural and full. Flowers are my favorite décor so we had flowers everywhere: every table, cascading down the staircase, and on our cake. After the wedding, they were taken to our local nursing home and it was great to know that the community was filled with joy because of the Callahan wedding.
WERE THERE ANY PERSONAL TOUCHES OR DIY ELEMENTS? We incorporated a lot of personal touches throughout our wedding. We had art displayed of beautiful quotes and pictures of us-all created by my good friends. Our guest book was a map of our guests' favorite places that they want us to visit--creating us a fun bucket list of adventures. Our signature drinks were fun and whimsical and both our first favorite alcoholic beverages: mine was peach Bellini (even the brand I had in Italy) and Brandon's was a piña colada. On the table, we had cootie-catchers with fun little facts about Brandon and I with the details of our favor in the center. Our favor was to give back. We selected three of our favorite charities (Operation Homefront, Cancer Research Institute, and the Abide Family Center) and allowed people to write their names in for the charity they wanted us to donate to on their behalf. Another personal touch was the champagne we had for our wedding. Champagne is my favorite drink and when I visited Champagne, France I bought a bottle of champagne to keep for my wedding day. It was a wonderful keepsake to toast with.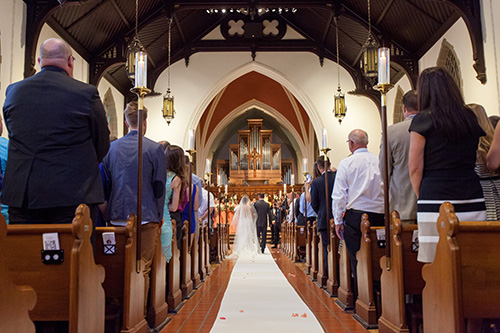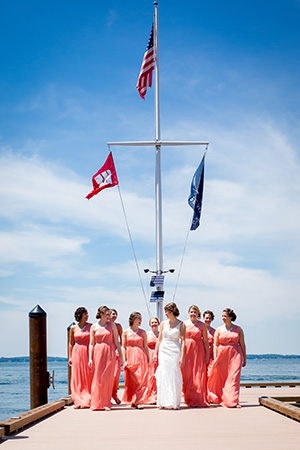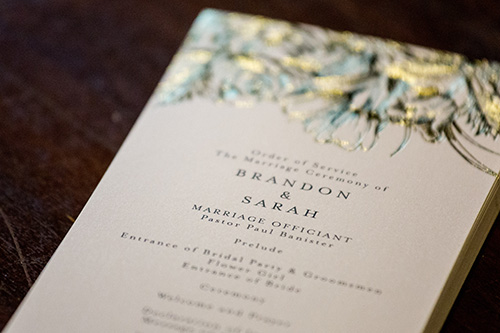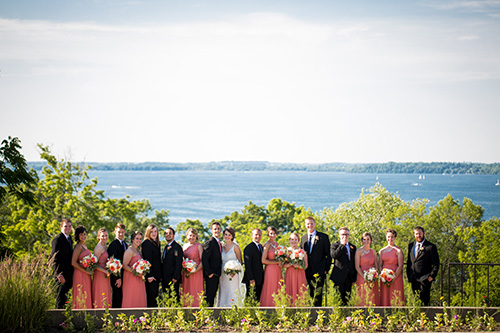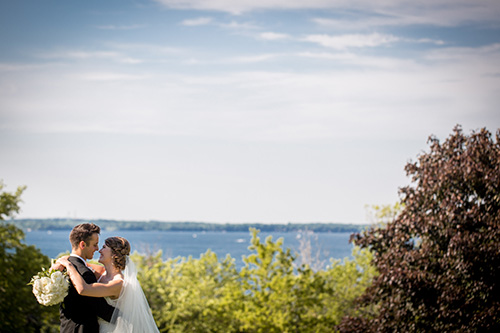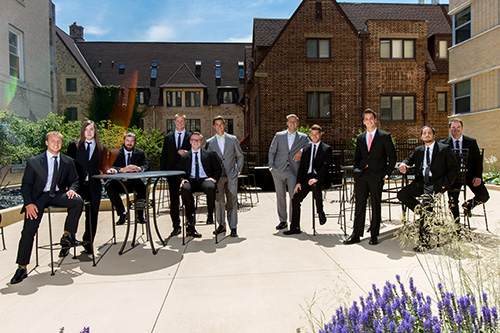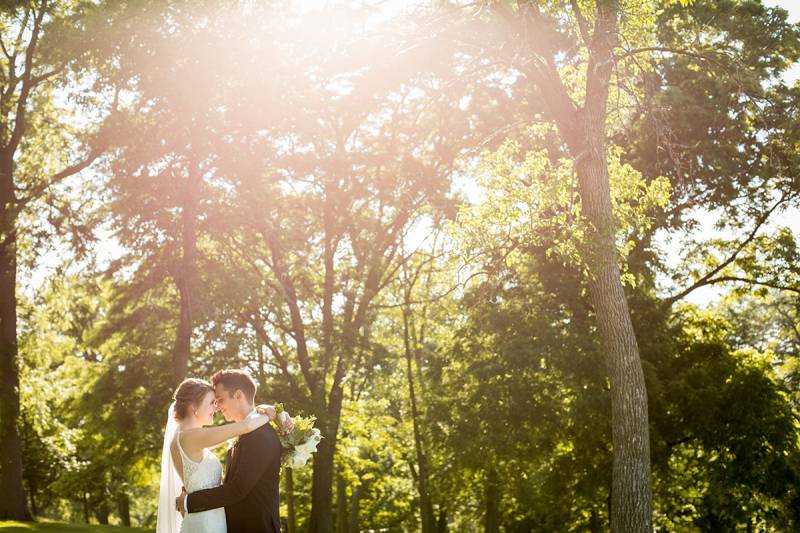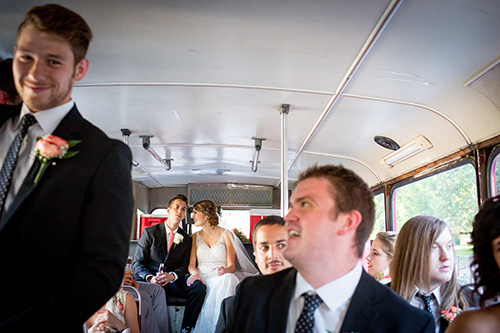 WHAT WAS YOUR FAVORITE MOMENT FROM YOUR WEDDING? Walking down the aisle. Even though I was insanely nervous and I hated the crowds of people, to this day, any time I hear, "Can't Help Falling In Love," I can still envision my man at the end of the aisle with the most amazing look in his eyes. A lot of the day was fun and whirled by, but that moment will be the one I remember forever.
DID YOU USE ANY SPECIALTY CHAIRS, LINENS, CHARGERS, GLASSWARE OR DINNERWARE? I loved the chairs, tables, linens, and place settings provided by the Edgewater so I kept their products. My placemats were purchased though. I saw glittery gold placemats on a Pinterest wedding, but didn't think we could afford 300 placemats; however, at Michael's I realized that scrapbook paper looks just like it! So, we ordered a lot of scrapbook paper and used that as our placemats. They turned out amazing!