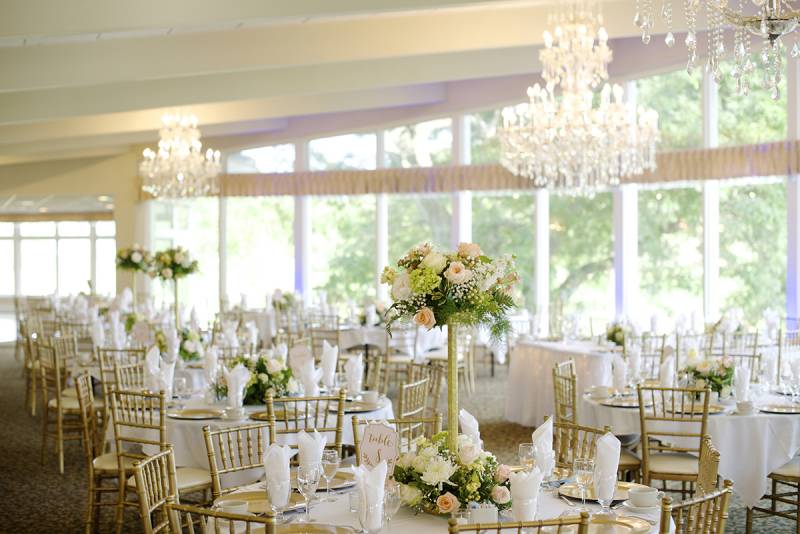 The prettiest of weddings by Creative Look Studios was held at the gorgeous Lake Windsor Country Club. Starting with a vision of beautiful pastels with lush greenery, florist Hope from Dutch Designs created romantic bouquets and a combination of high and low centerpieces in blush pink, peach and ivory. The blooms included garden roses, hydrangeas, ranunculus, various greens and berries. And featuring a wedding dress with a lace cap sleeve and champagne satin skirt, it's the perfect timeless classic wedding beauty.
WEDDING DATE: 9/16/2016

HOW DID YOU AND YOUR HUSBAND MEET? We live in a small town. Even so, Corey and I did not know each other. One of my girlfriends knew Corey as a customer in her store. She and another friend were out and they attempted to persuade me to meet him. I was not dating at the time and kindly declined. Luckily, for me, and without my knowledge, one of the girls reached out to Corey on Facebook. I received a message from him asking if my friend was playing a joke on him. I was mortified. I messaged back an apology for my friend's mischievous behavior. Corey and I then messaged each other throughout the weekend. That Sunday, we were having a very nice conversation into the early morning hours, when Corey asked if we could meet. Even though it was three in the morning, I said yes. We met in the parking lot of a local store and went for a walk. We walked and talked until the sun came up and he had to leave for work. I felt as though I had been struck by lightning. I was smitten.
HOW DID YOU KNOW HE WAS "THE ONE"? Corey was a real gentleman from the moment we met. He demonstrates little gestures every day that show how much he loves me. He makes sure I do not step in puddles or slip on the ice, he opens the car door for me every time, and he offers his arm when we are walking together. He also shows me he cares in bigger ways. He listens to me, asks me questions about my day, and is genuinely interested in my opinions. He is kind and sentimental as well as rugged and handsome. He is my best friend. I love spending time with him no matter if we are traveling to a new destination or sitting on the couch watching a ridiculous television show. He is the one for me.
TELL US ABOUT YOUR PROPOSAL: Corey created a reenactment of the first time we met each other for that fateful walk. He woke me up at 3:45 in the morning and asked me to go for a walk. It was a bitterly cold and dark March night but I did not hesitate to say yes to a walk with Corey. It did not occur to me that he was up to anything, I simply thought he could not sleep. So we bundled up, grabbed a flashlight, and went for a walk. We strolled the same route we had walked the night we met. We reached a wooded spot that was especially romantic. Corey handed me the flashlight to hold so he could tie his shoe in the dark. He kneeled down as I held the light on him. Suddenly, he was looking up at me with the most beautiful sparkling ring in his hand.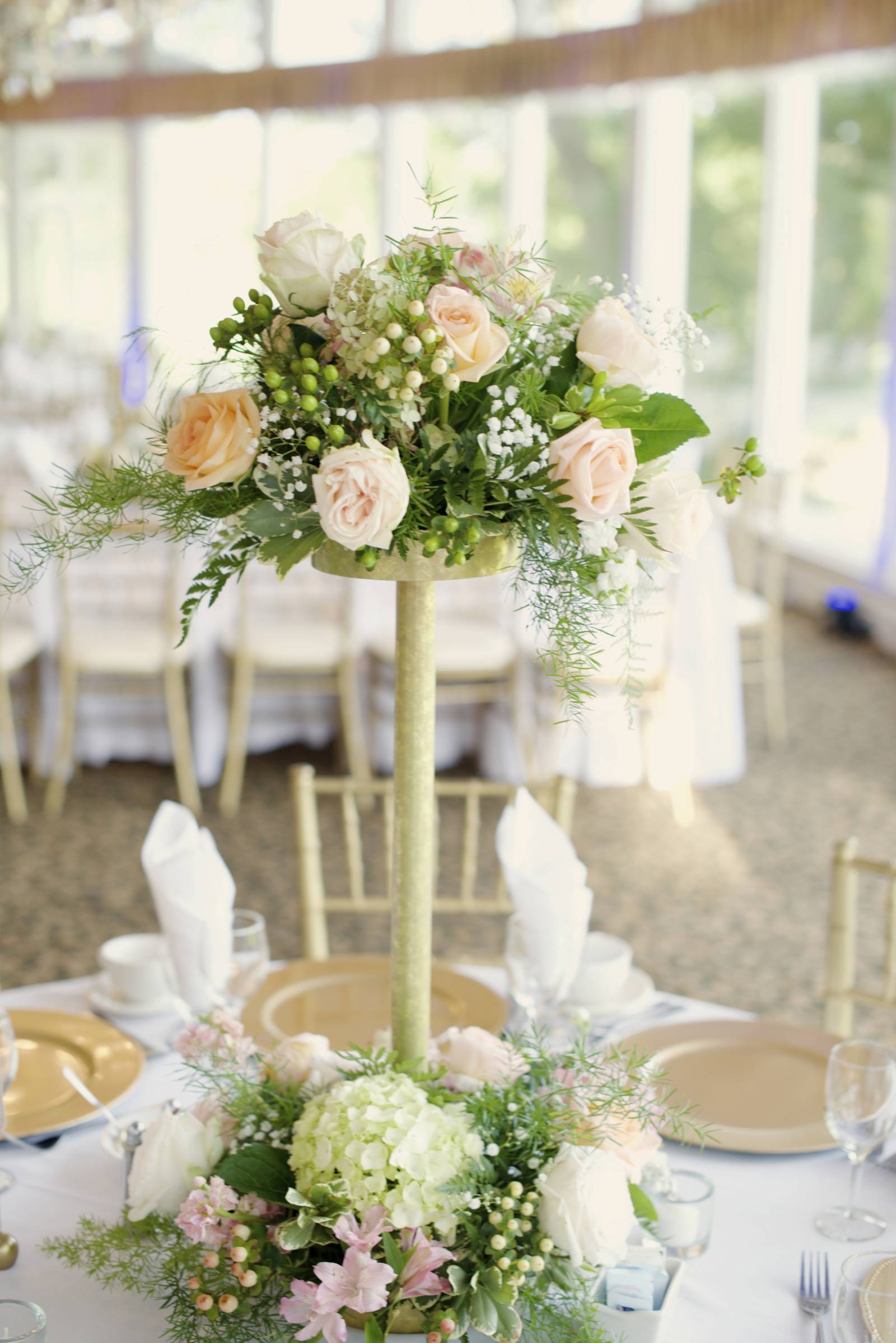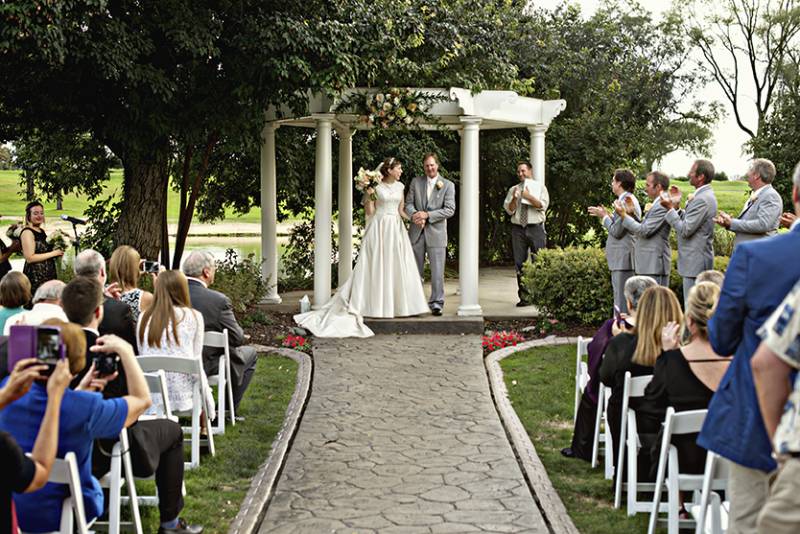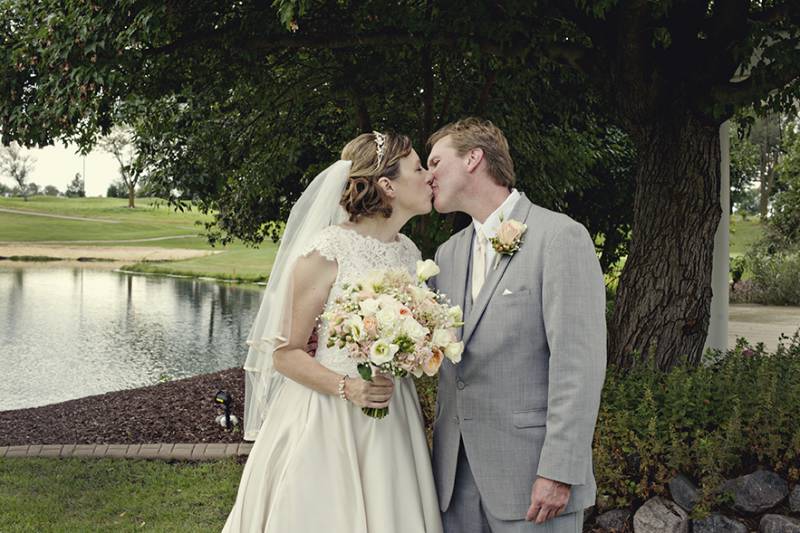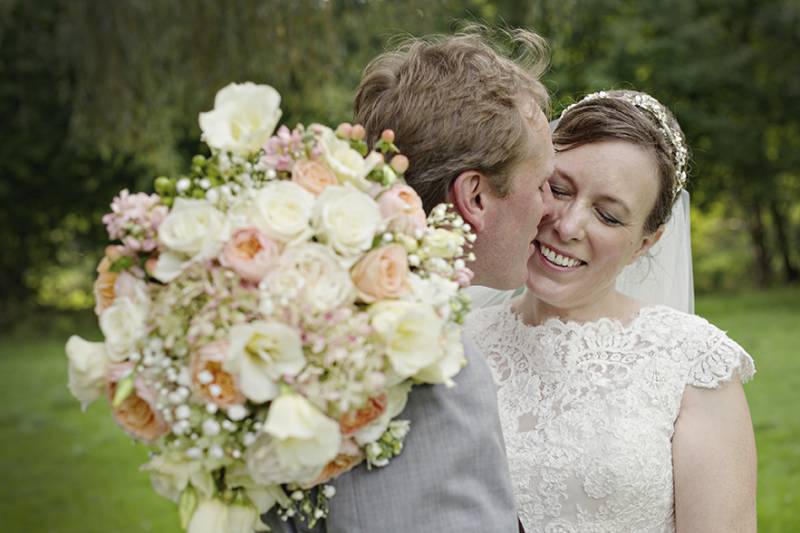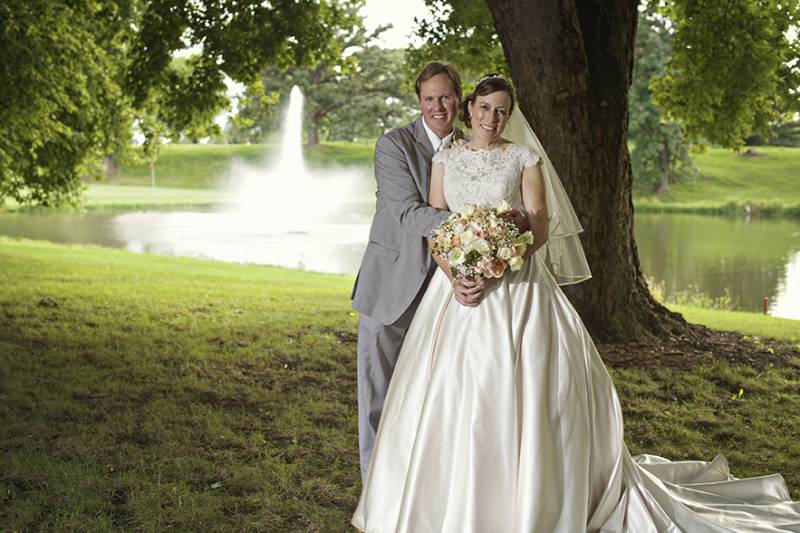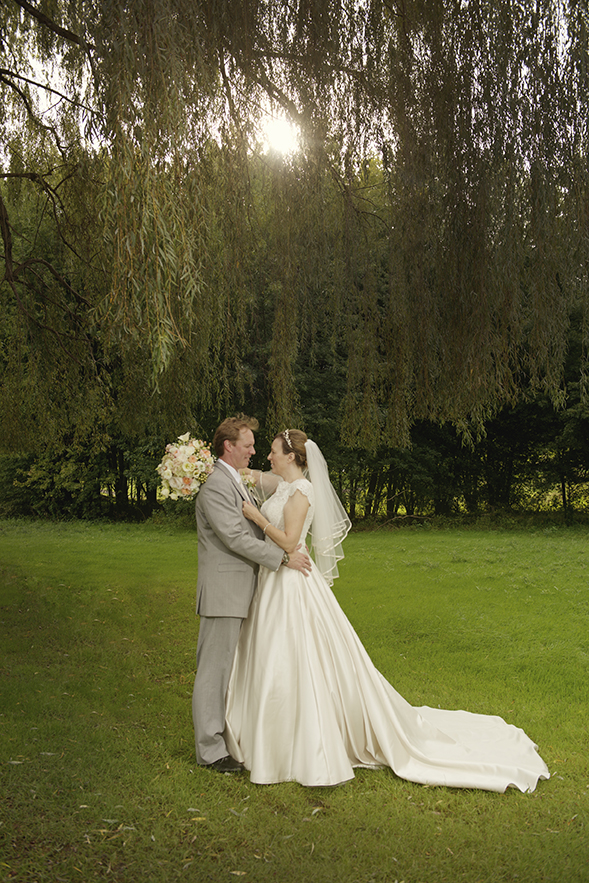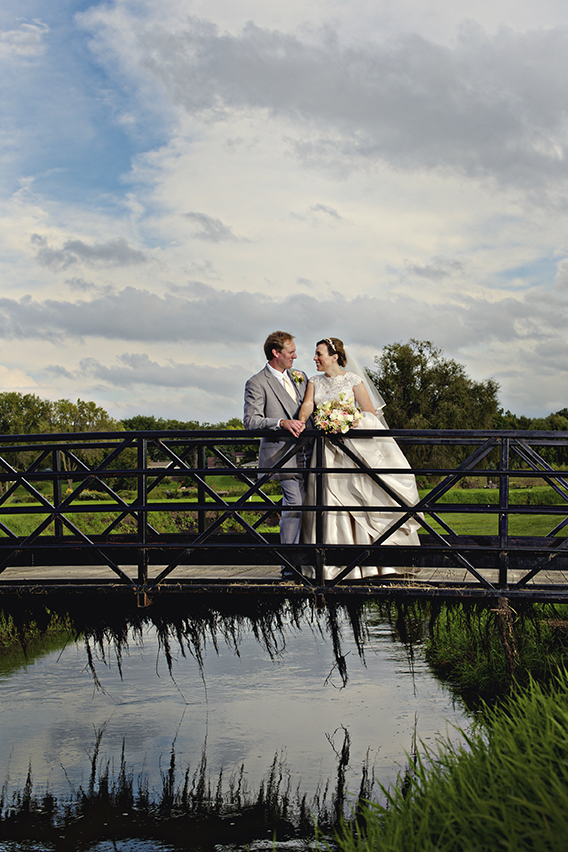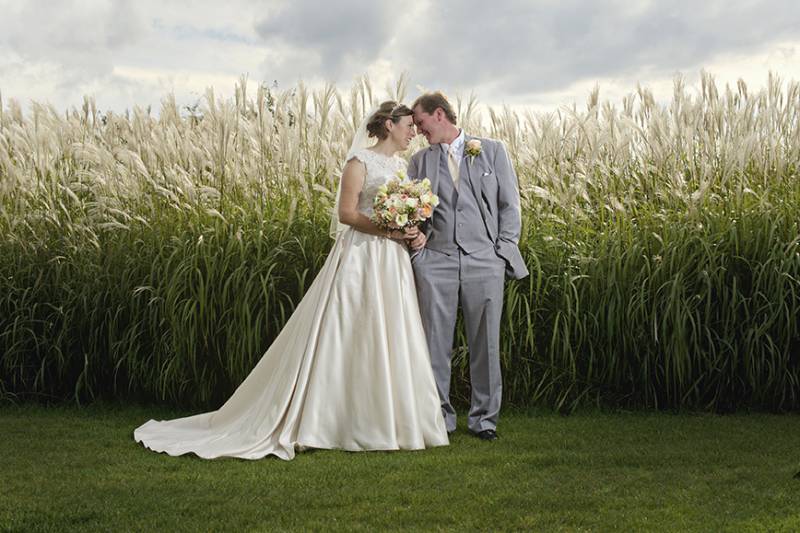 TELL US ABOUT YOUR DRESS: I tend to like retro style and I wanted a classic dress. I did not want anything too trendy. I did not want to wear a dress that would look dated years from now. I like simple style and not a lot of bling. My dress had a lace cap sleeve and bodice with a full satin A-line skirt in a champagne color. Oh, and it had pockets in the skirt too. I just loved it.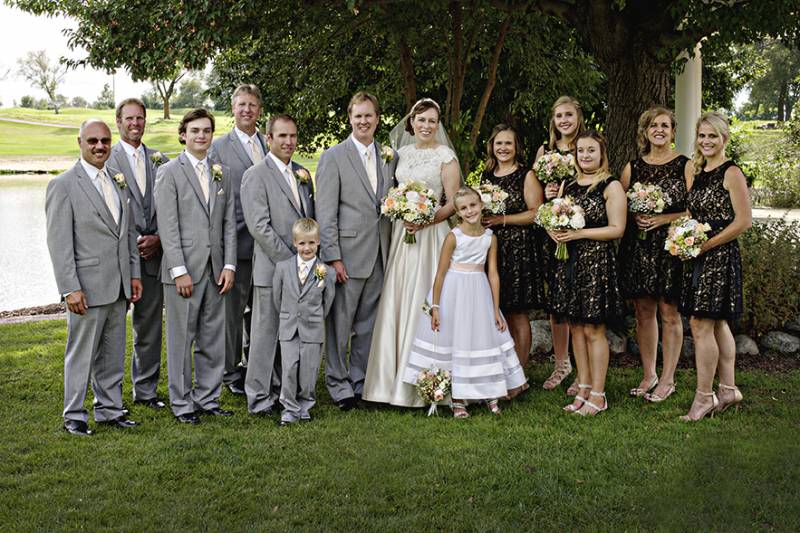 DESCRIBE YOUR WEDDING FLOWERS: My advice is do not skimp on the flowers! I cannot begin to tell you how many compliments we received on our flowers. Honestly, the flowers made our wedding seem like a fairytale. Hope, owner of Dutch Designs in Lake Mills was the designer. We simply told her the colors that we wanted and let her do the rest. We had requested blush colors. We also requested some high centerpieces to fill the large space of the dining room at the Lake Windsor Country Club. The flowers were blush, pink, peach and ivory in color. There were garden roses, hydrangeas, ranunculus, various greens and berries. There were large centerpieces for the tables on gold high-rise stands with flowers surrounding the base on some tables. There were low bowl arrangements on the remaining tables. The florist also made a large floral piece that hung over the pergola where the ceremony was held. After the ceremony, it was used as the centerpiece for the head table. She also made a pomander ball for the flower girl to hang on her wrist. The cake was also adorned with real flowers and surrounded by a garland of greenery.
WERE THERE ANY PERSONAL TOUCHES OR DIY ELEMENTS? Yes, we created our own wedding programs, place cards, and wedding invites. We created a memorial table for loved ones that had passed by hanging framed black and white photos from ribbon on some rustic old window panes that I had. Corey wrote and recited personal vows to his step son and daughter during the ceremony. My son's band played some songs during the reception. We asked our close friends to pick their own readings and surprise us with them during the ceremony.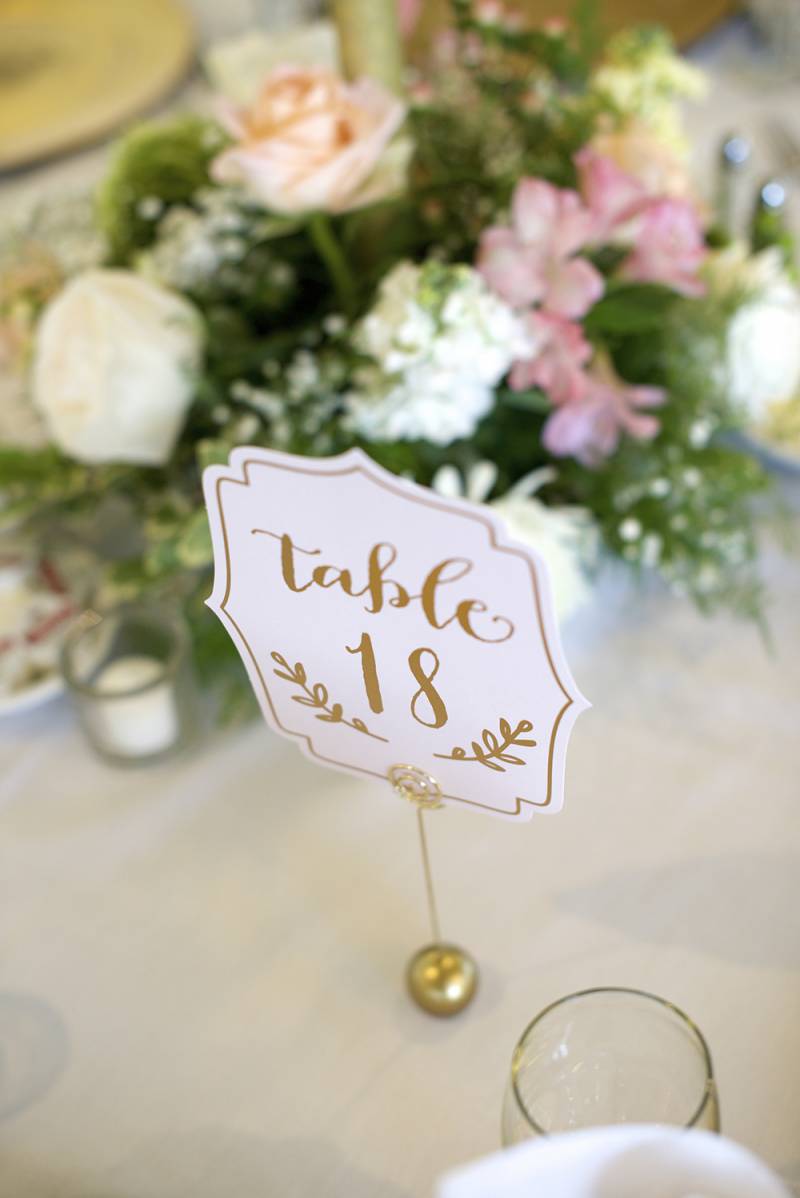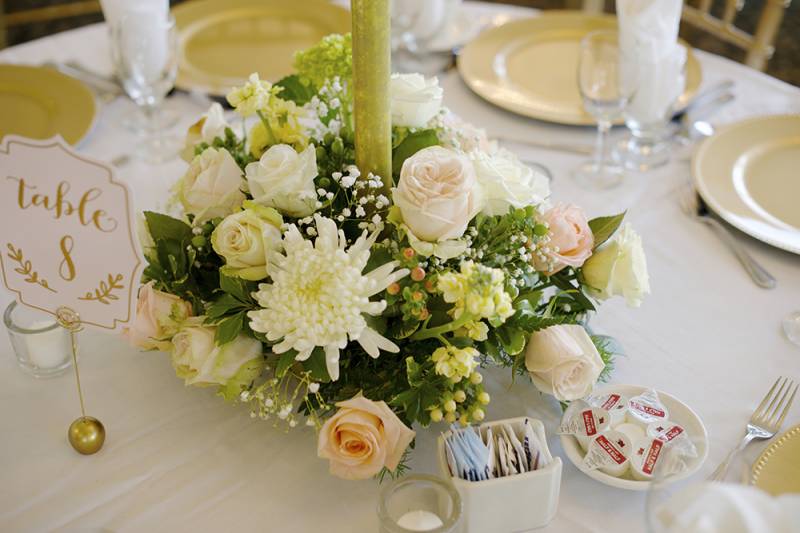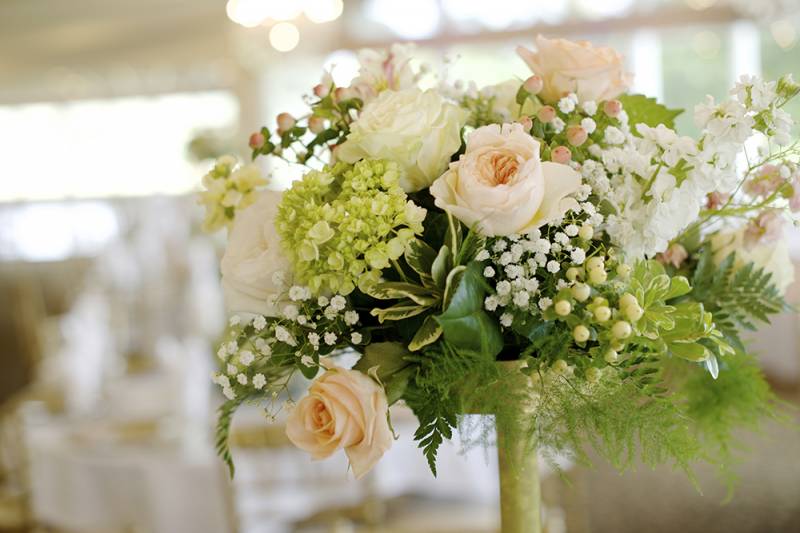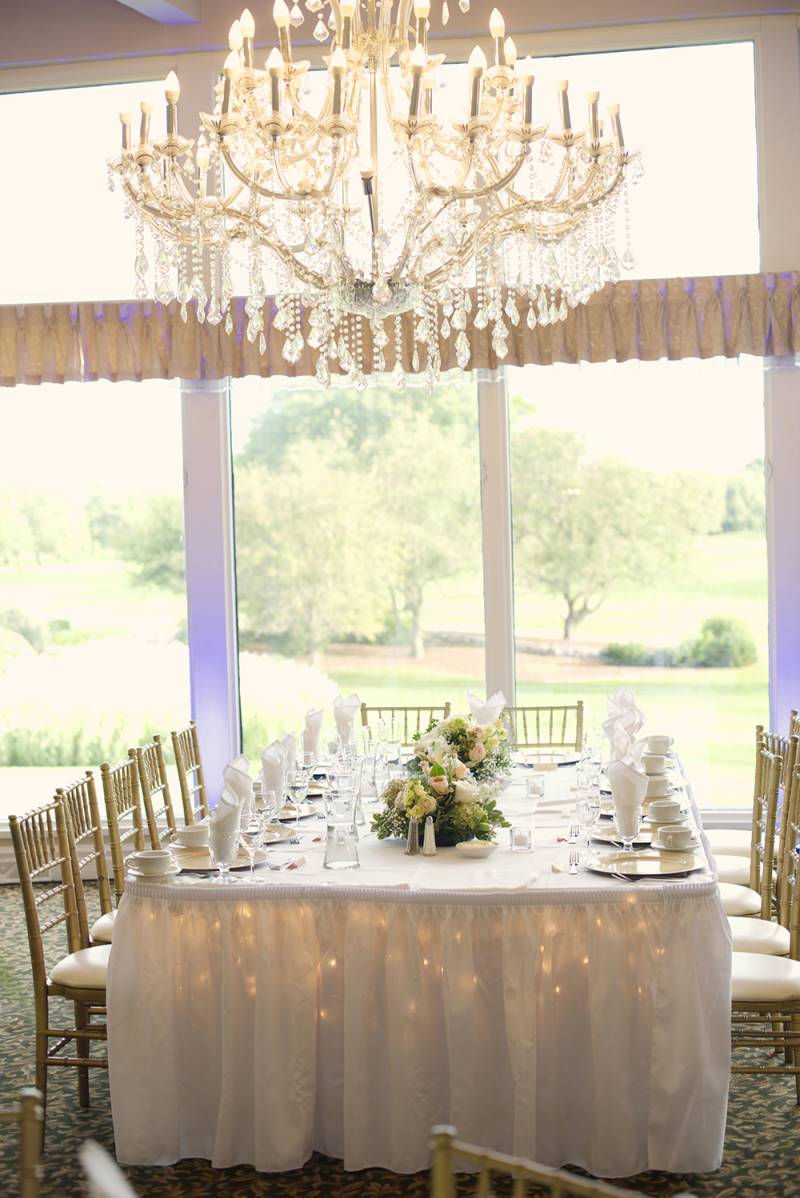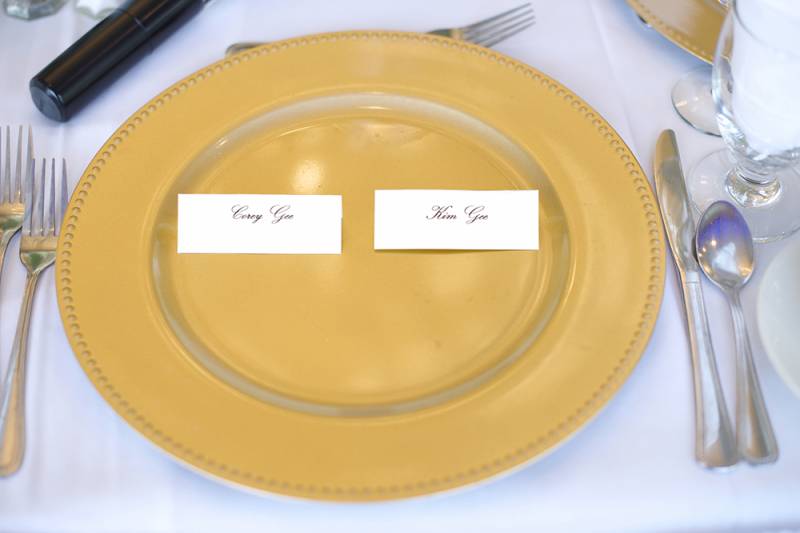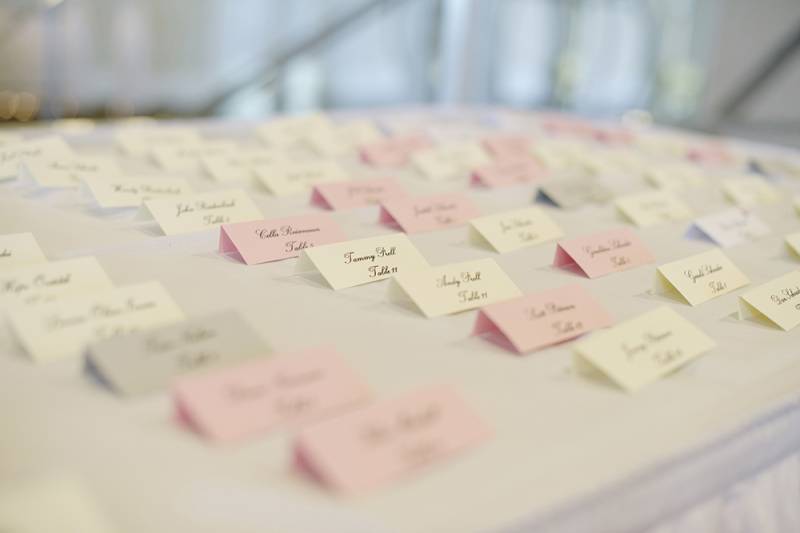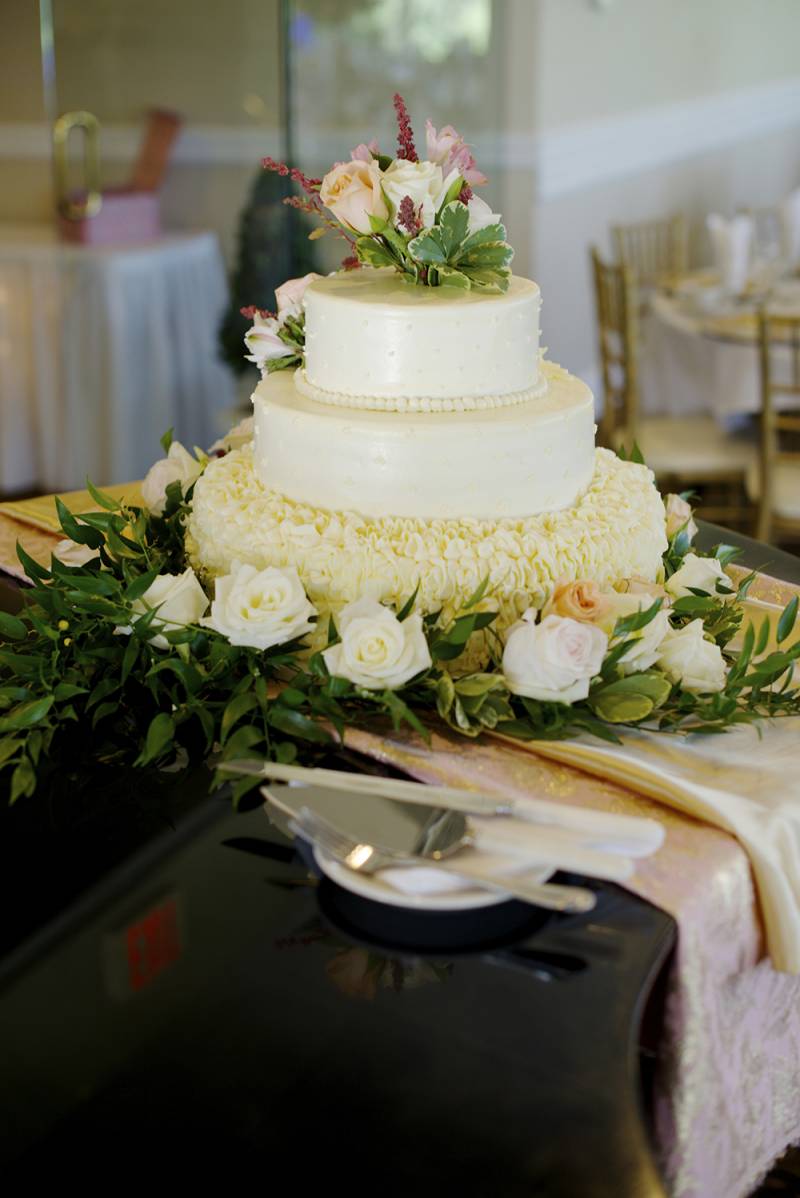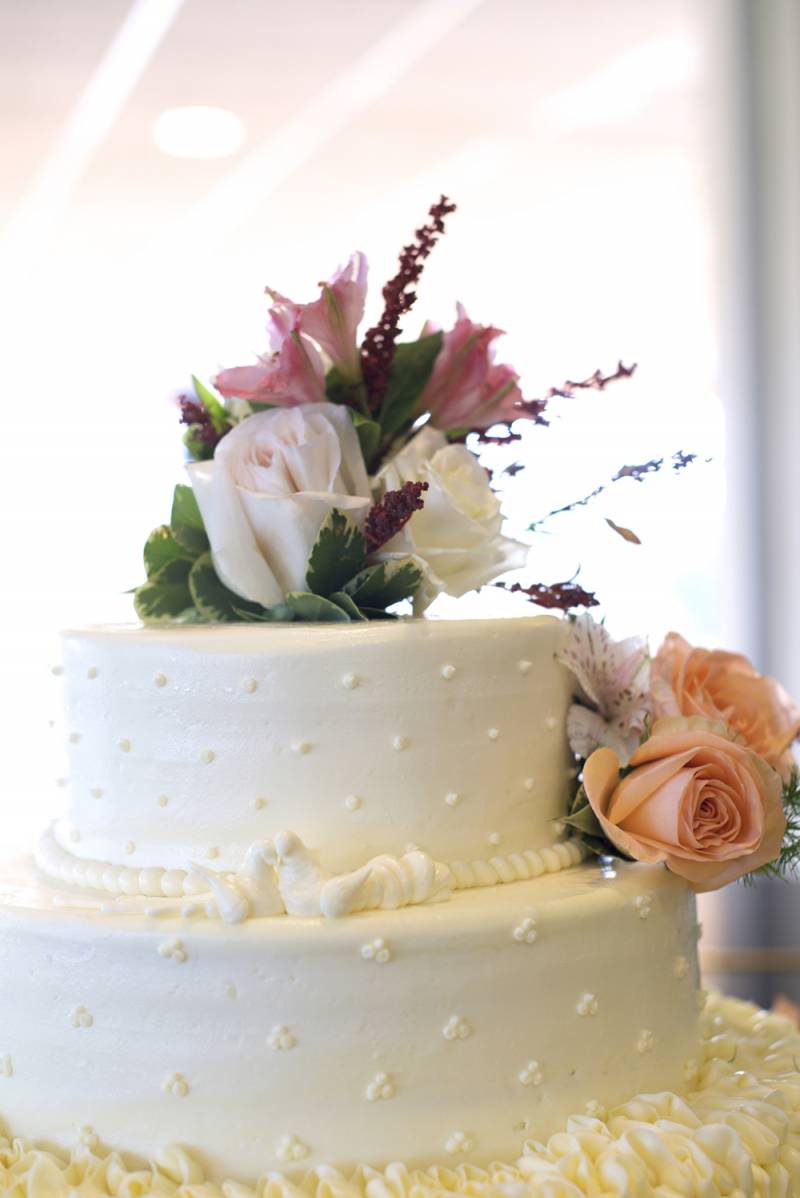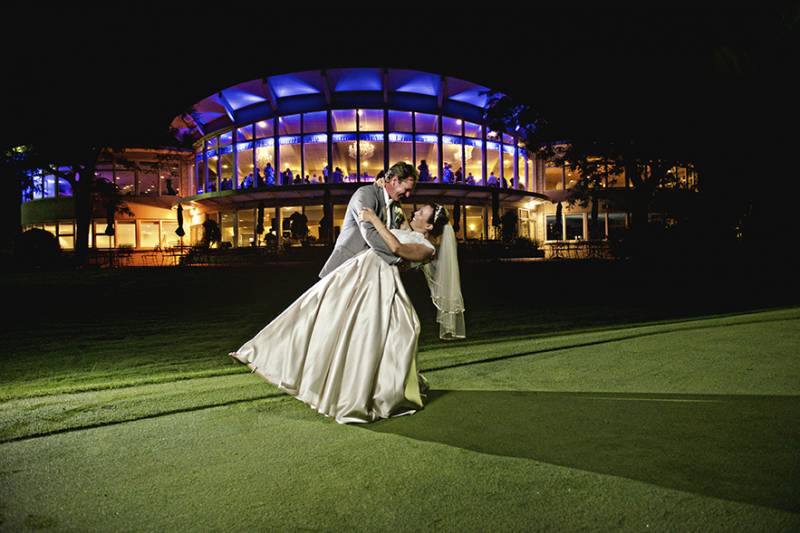 WHAT WAS YOUR FAVORITE MOMENT FROM YOUR WEDDING? Walking down the aisle with my father.
DID YOU USE ANY SPECIALTY CHAIRS, LINENS, CHARGERS, GLASSWARE OR DINNERWARE? We requested gold chargers and we kept the linens classic white.