Ali and Jake's earthy, boho, family farm wedding was one for the books! This nature-loving couple celebrated their big day surrounded by stunning views, sentimental touches, free-spirited style, and their closest loved ones. With photography, paper goods, and signage by LK Bridal Studio, enjoy each earthy, celestial, and eclectic detail this real Wisconsin wedding brings below!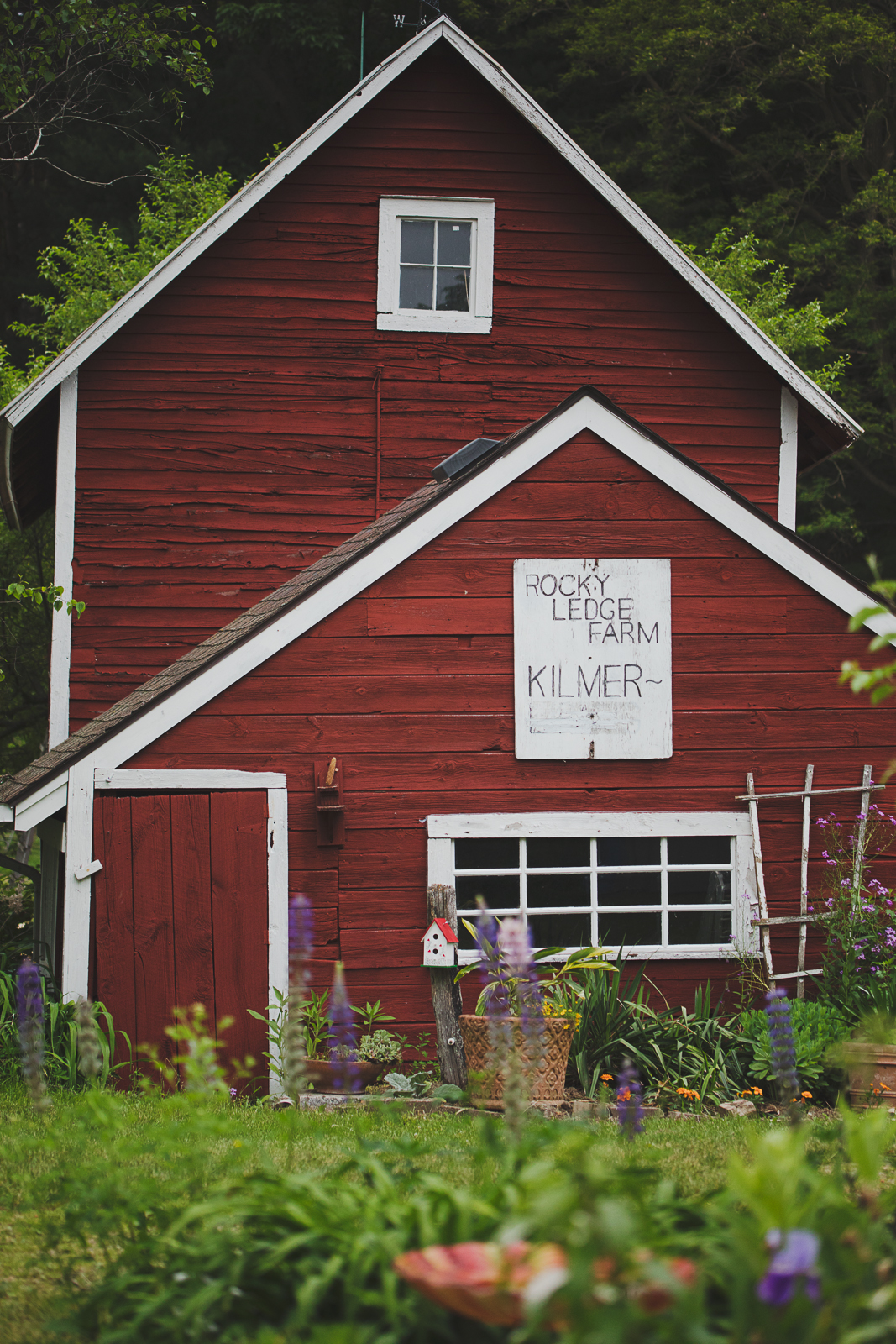 WEDDING DATE: 06/15/19
HOW DID YOU MEET? I am a massage therapist with my own office. Jake hurt his back at his mechanic job and had seen a massage therapist in another town. When he called to make his follow-up appointment, the therapist was going to be unavailable, so they referred him to me. As soon as I met him, I knew he was meant to be in my life!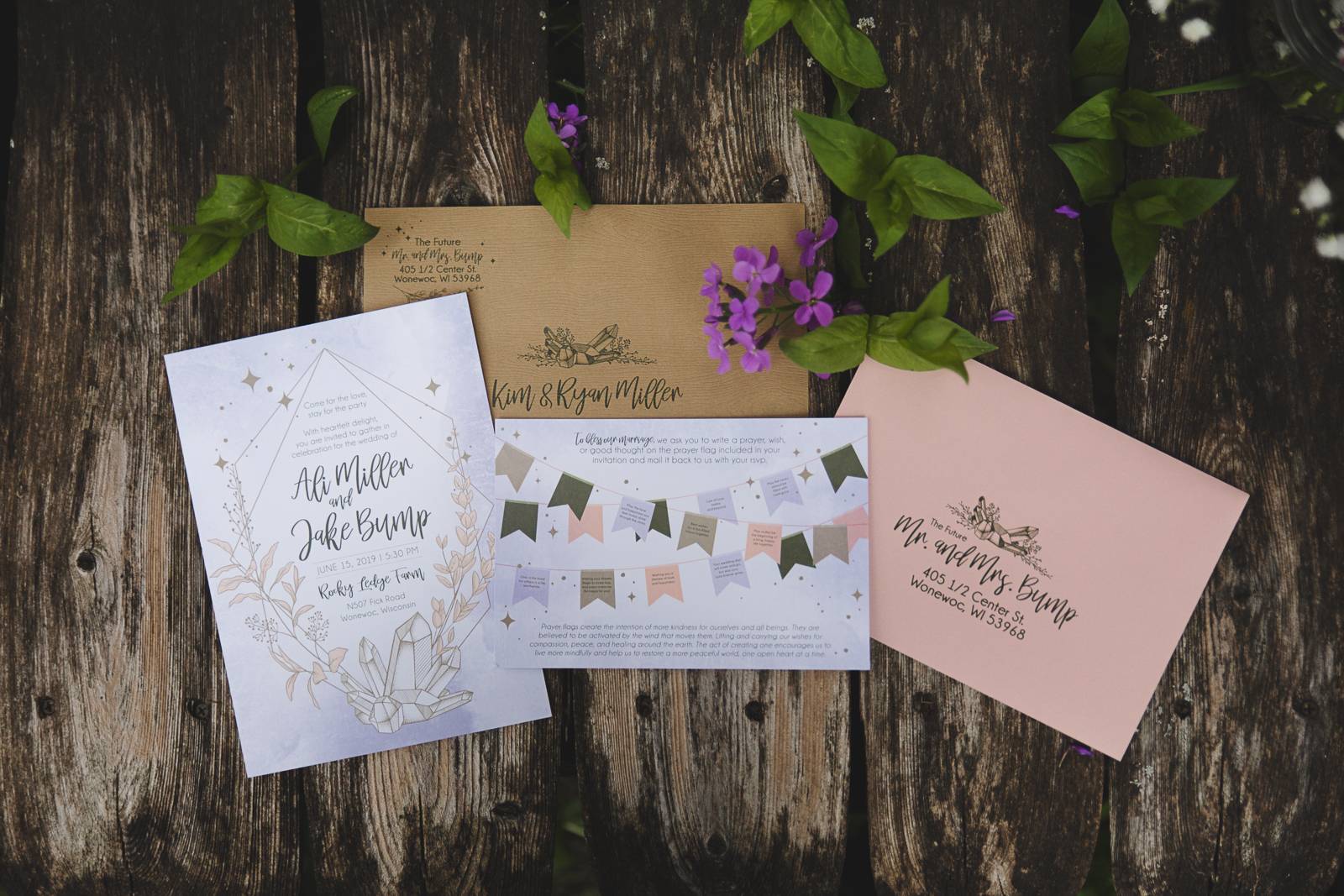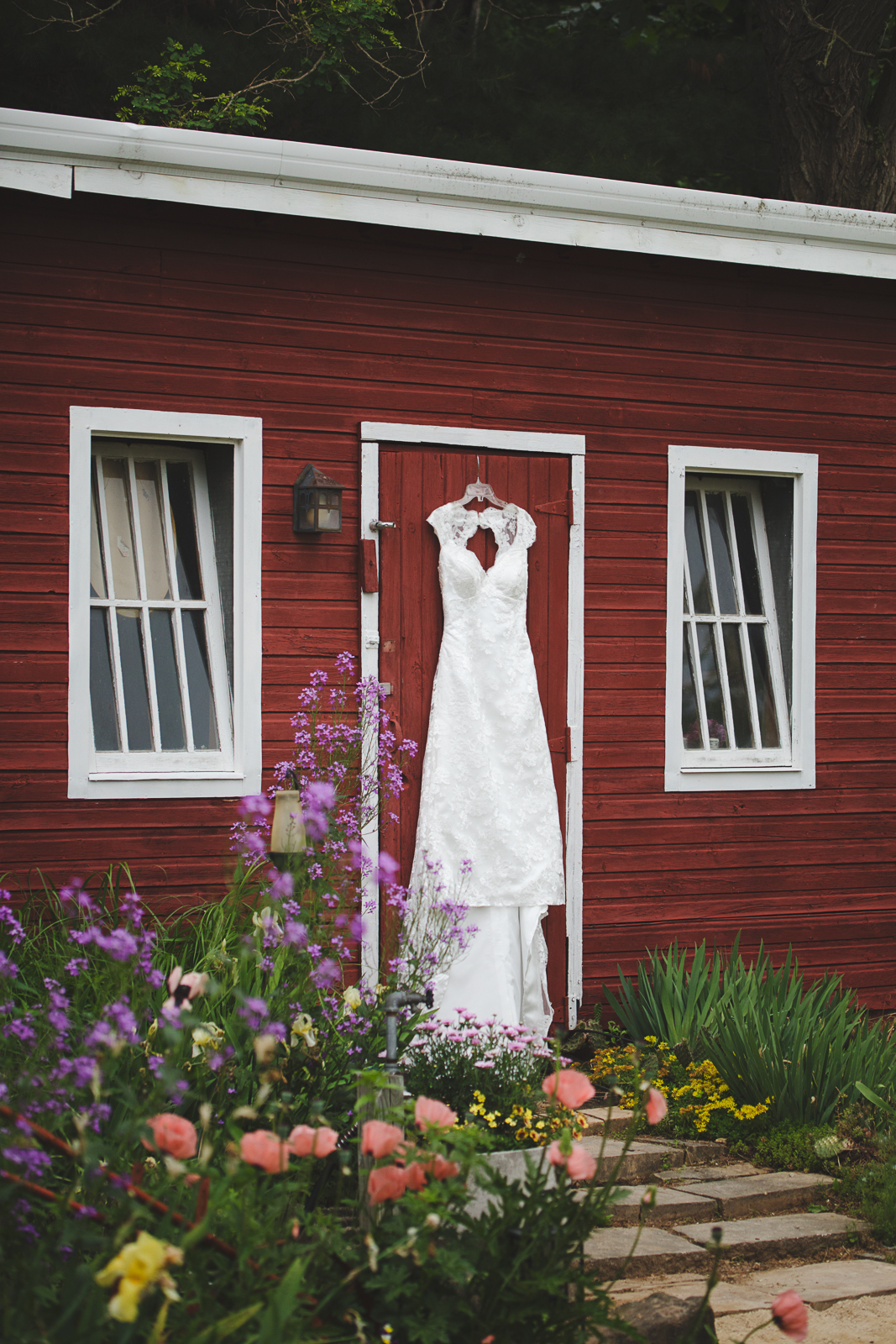 HOW DID YOU KNOW YOU HAD FOUND "THE ONE"? There was a moment when Jake and I were talking that I wondered if this person was real; we had so much in common, and our conversation was comfortable, effortless, and smooth. When I say that, I mean we could talk about anything. I don't really do small talk, so we talked about religion and aliens and astrology and numerology, we talked about our sons and our lives, and, in such a short amount of time, I felt like I knew him. I spoke to a friend after meeting him, and I told her, "I think I just met the man I'm going to spend the rest of my life with." We were just friends for a few months talking about all our life obstacles and bouncing numerous songs back and forth. Sharing a love for music, the outdoors, talking about God, and our thoughts about why we are here in this lifetime created a deep and meaningful bond between us. I knew he was the one and could not imagine my life without him in it.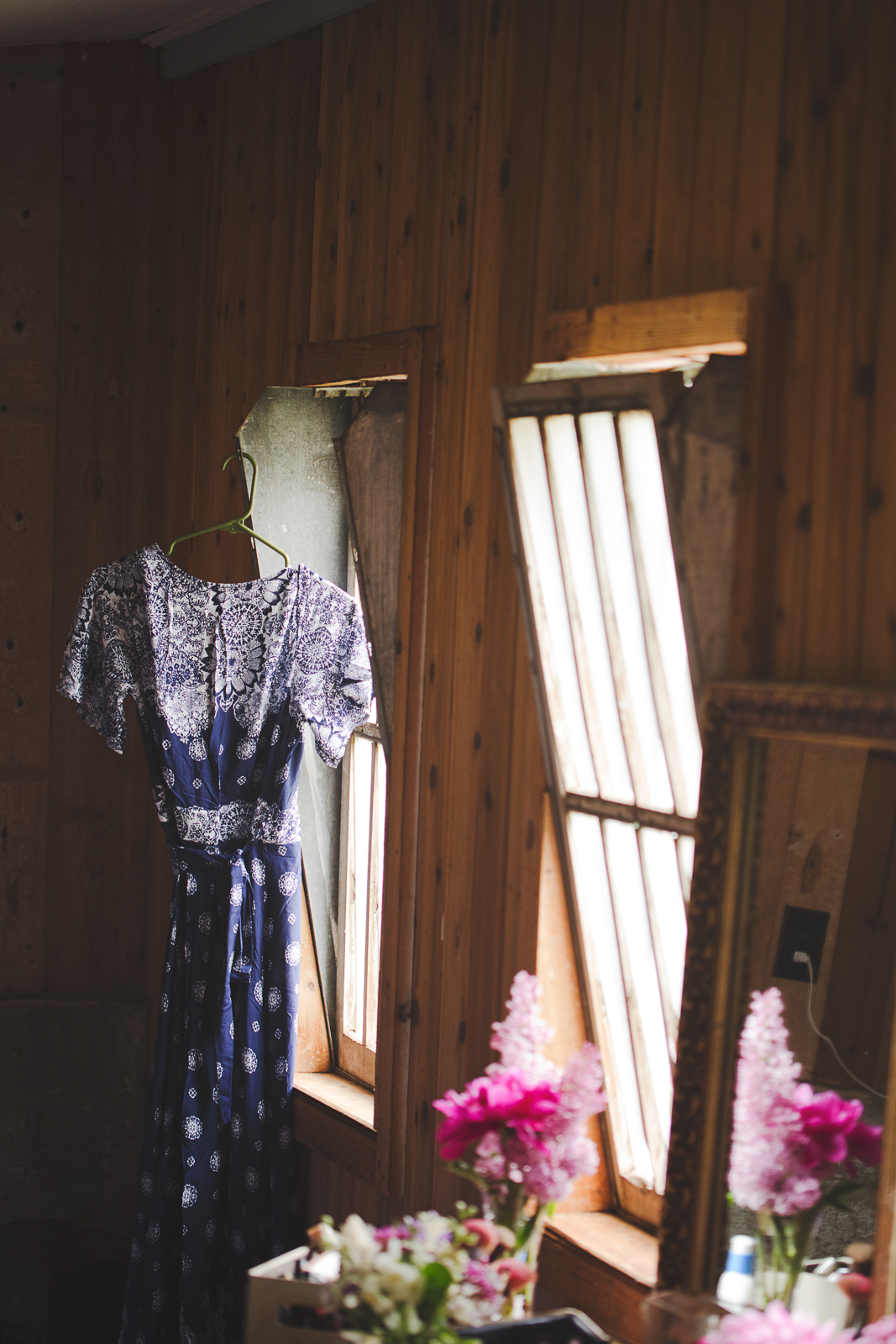 TELL US ABOUT YOUR PROPOSAL: We had been talking rings and marriage after we survived the crazy flood in south-central Wisconsin that summer. We both thought if we could get through a week of moving all of our belongings out of one house, being "homeless" for a few days, then moving into another home AND still wanted nothing more than to be together -- we should just get married. It was not long after this that his parents came down for a weekend and, unbeknownst to me, Jake's mom gave him one of her rings.
After much persistence, Jake convinced me to go hiking at my uncle's farm, something that we loved to do but had set aside in the upheaval. My uncle's farm is near Wonewoc, on the rise of a bluff called Third Castle, along the Baraboo River. As we hiked up the trail, I started at my customary meandering pace, taking photos of nature and the views. Jake, however, was on a mission to get us to the top where the breathtaking views of the bluff were. With much urging, he hustled me up the ridge much quicker than usual. Once I reached the top, I just stood there, taking in the rolling scenery and letting myself de-stress, not paying attention to what Jake was doing. After a few moments, he called out, "Hey Miller, would you just pay attention for a minute?" I turned and found he was down on one knee, ring in hand. It was perfect, and I said YES! Jake slid the ring on my finger and, excitedly, I took the ring immediately off so I could really look at it.
In my daze, when I put it back on, I placed it on the wrong hand! So, in all our newly engaged selfies, I have my ring on my right hand, something for us to laugh about for many years to come! Following our hike back down, we went for a romantic dinner at Kelly's Woodfire Bistro in Wonewoc. It was a perfect night!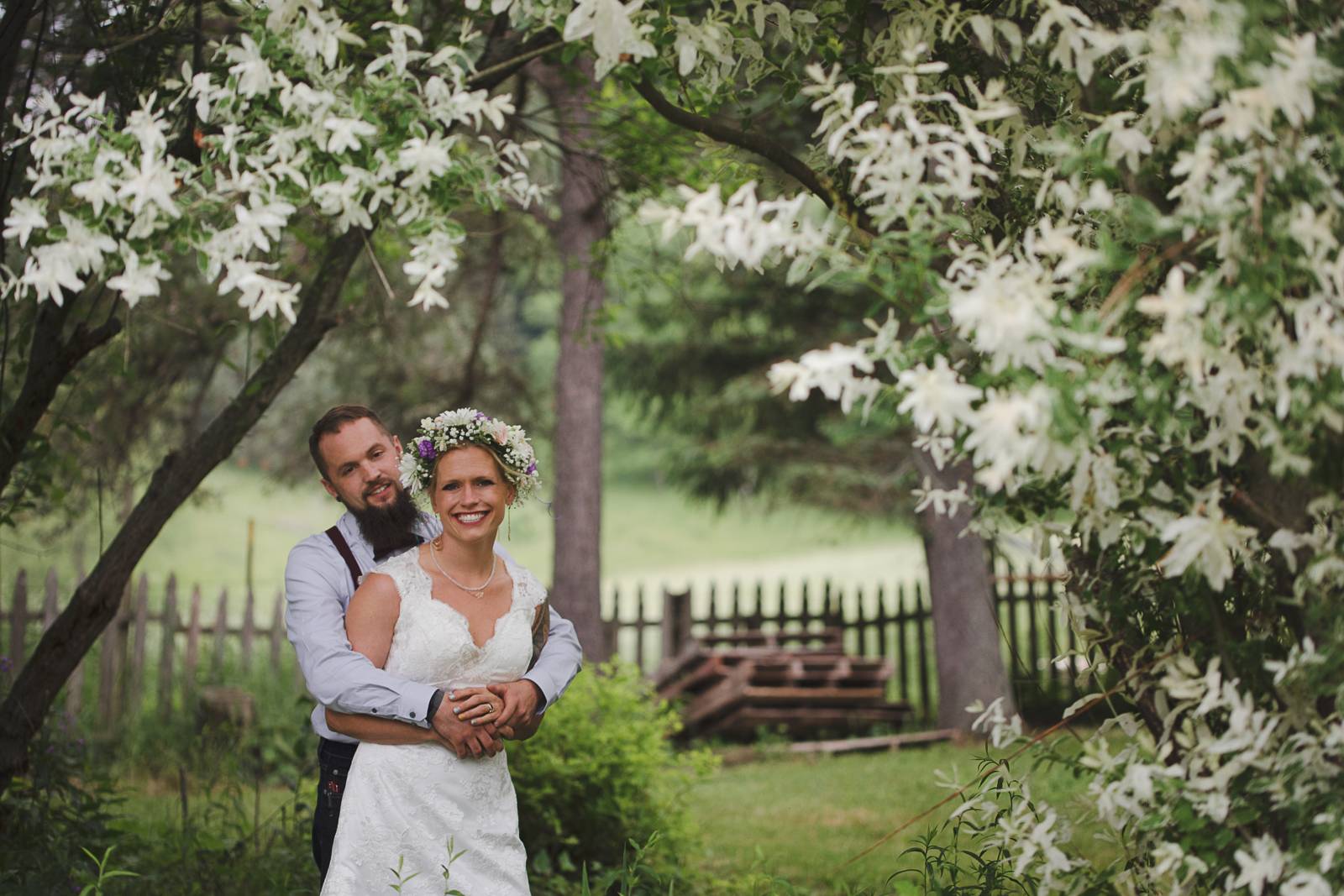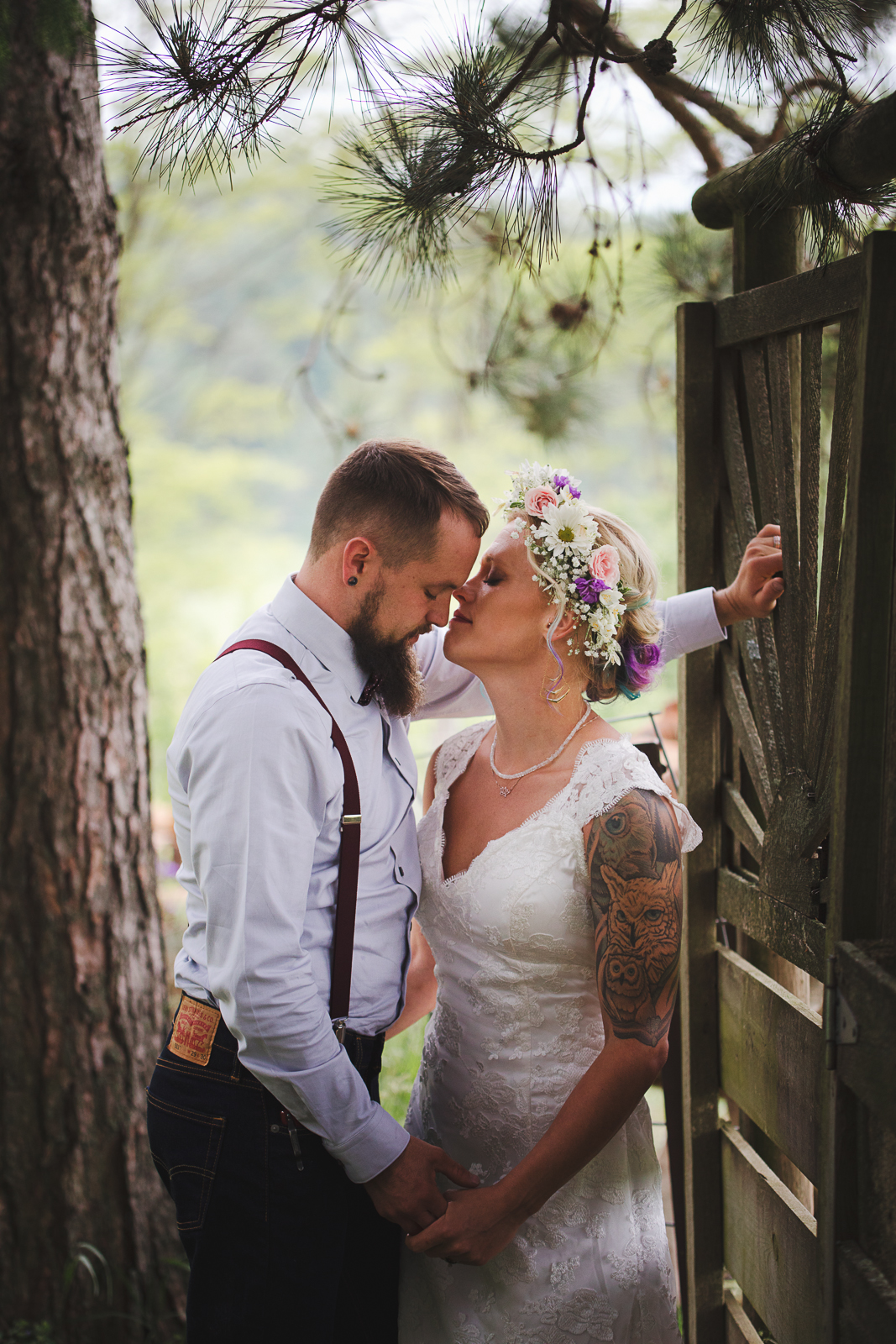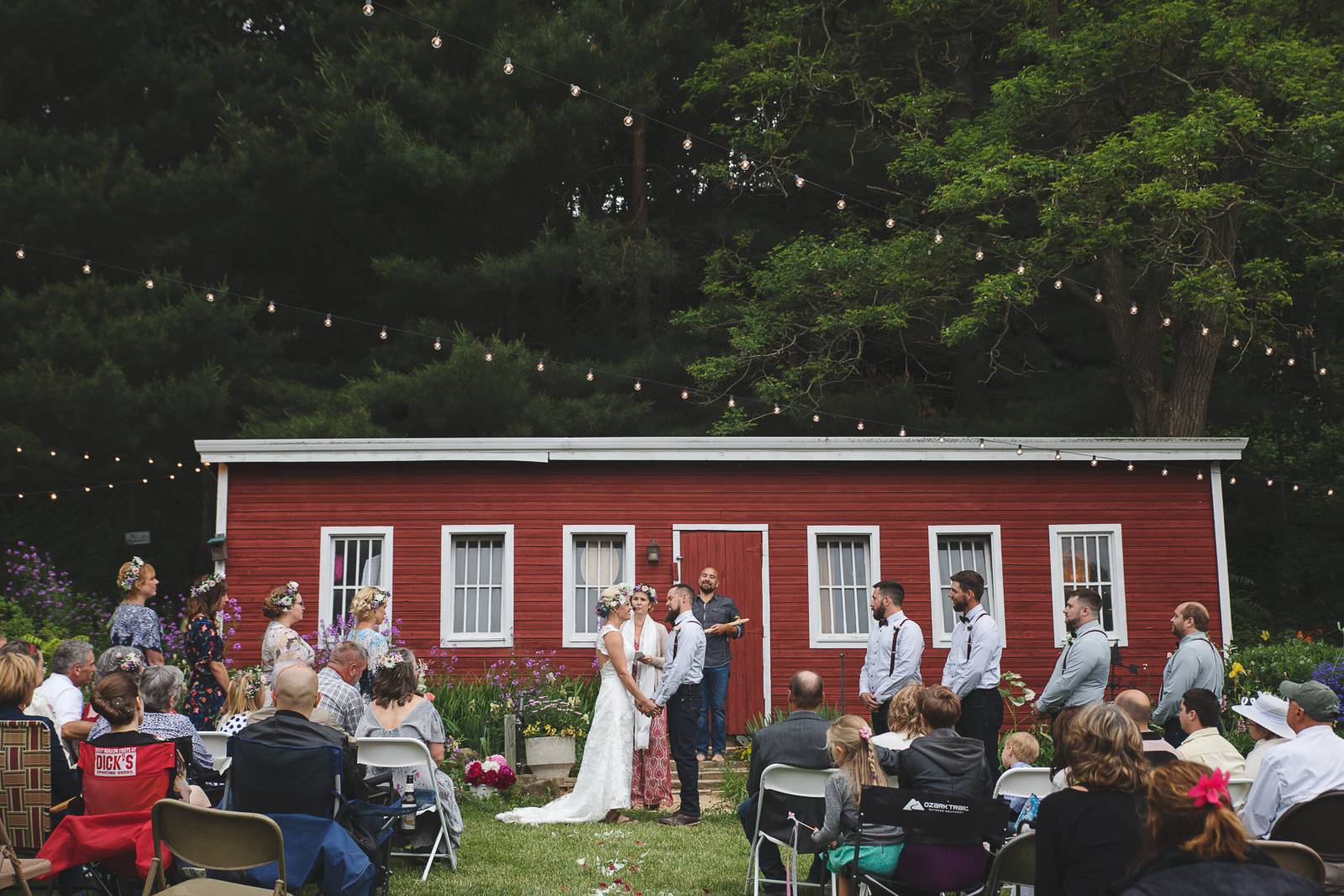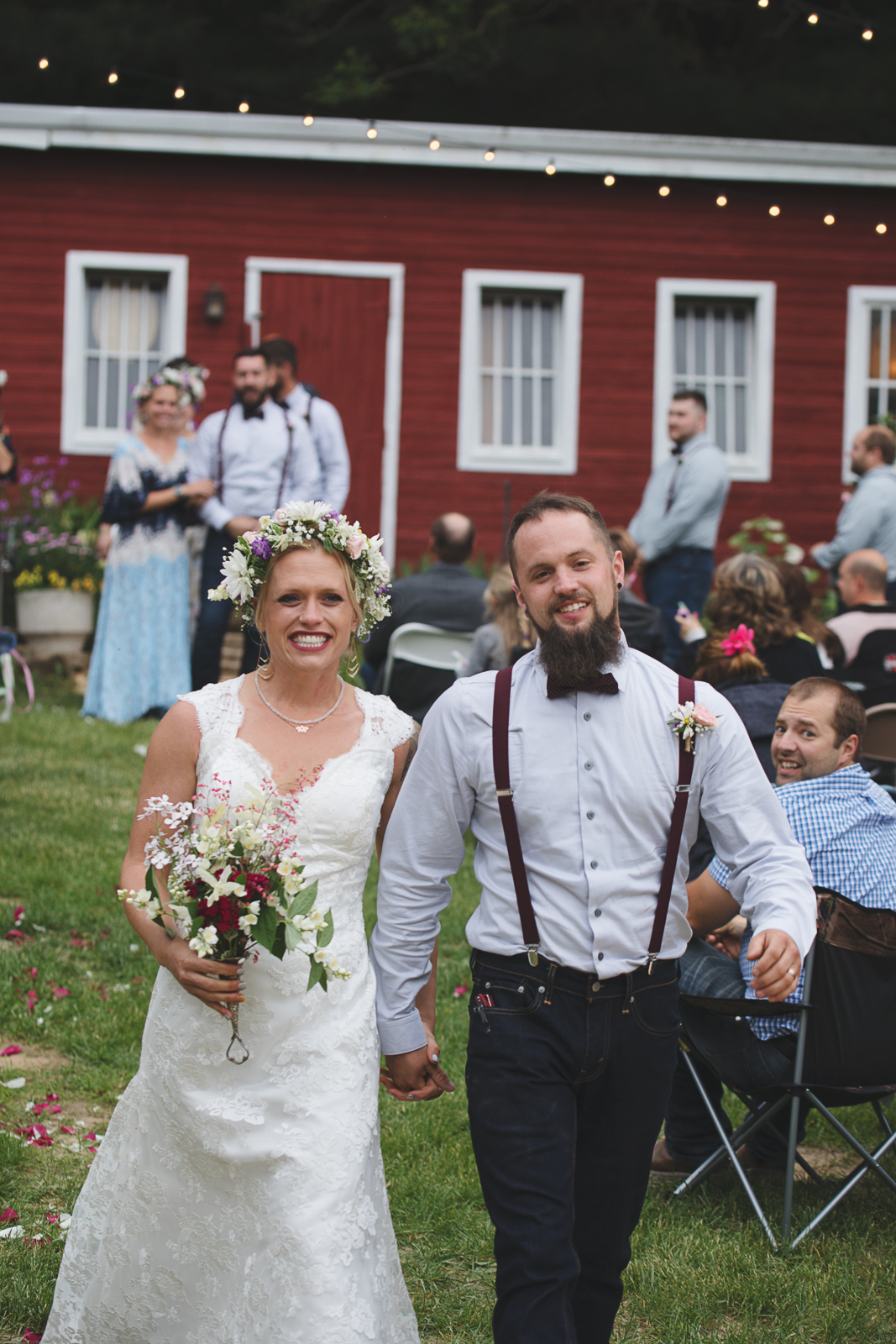 TELL US ABOUT FINDING YOUR BRIDAL GOWN, SUIT/TUX OR OTHER WEDDING DAY ATTIRE: We wanted to keep it simple. I'm a big second-hand shopper, so spending thousands of dollars just seemed silly to me. I found my dress on Buy Sell Trade, and Jake and his groomsmen wore jeans and a dress shirt. My bridesmaids had on simple wrap dresses from Amazon. Neither of us wanted our friends to have to spend a ton of money to be apart of our big day!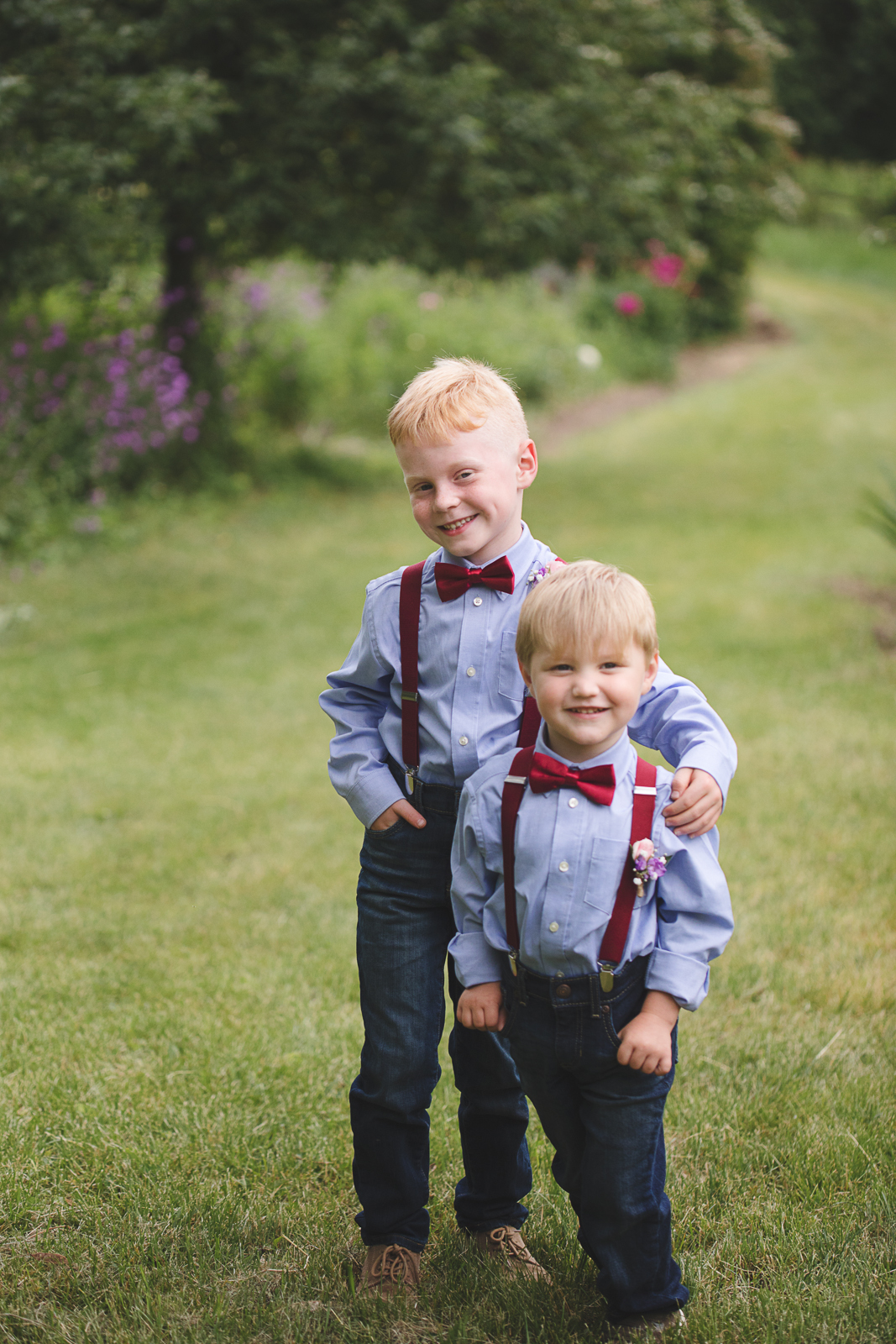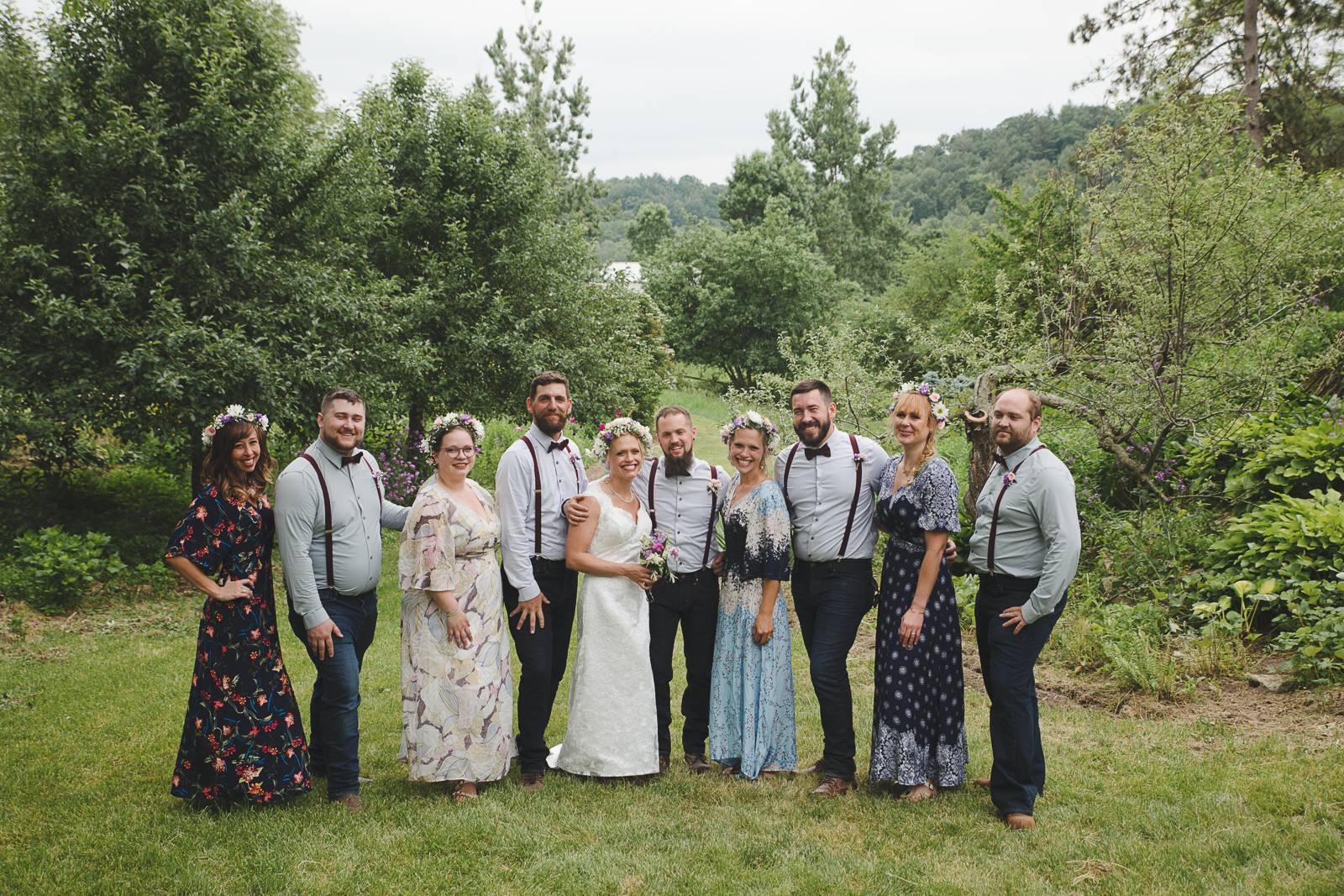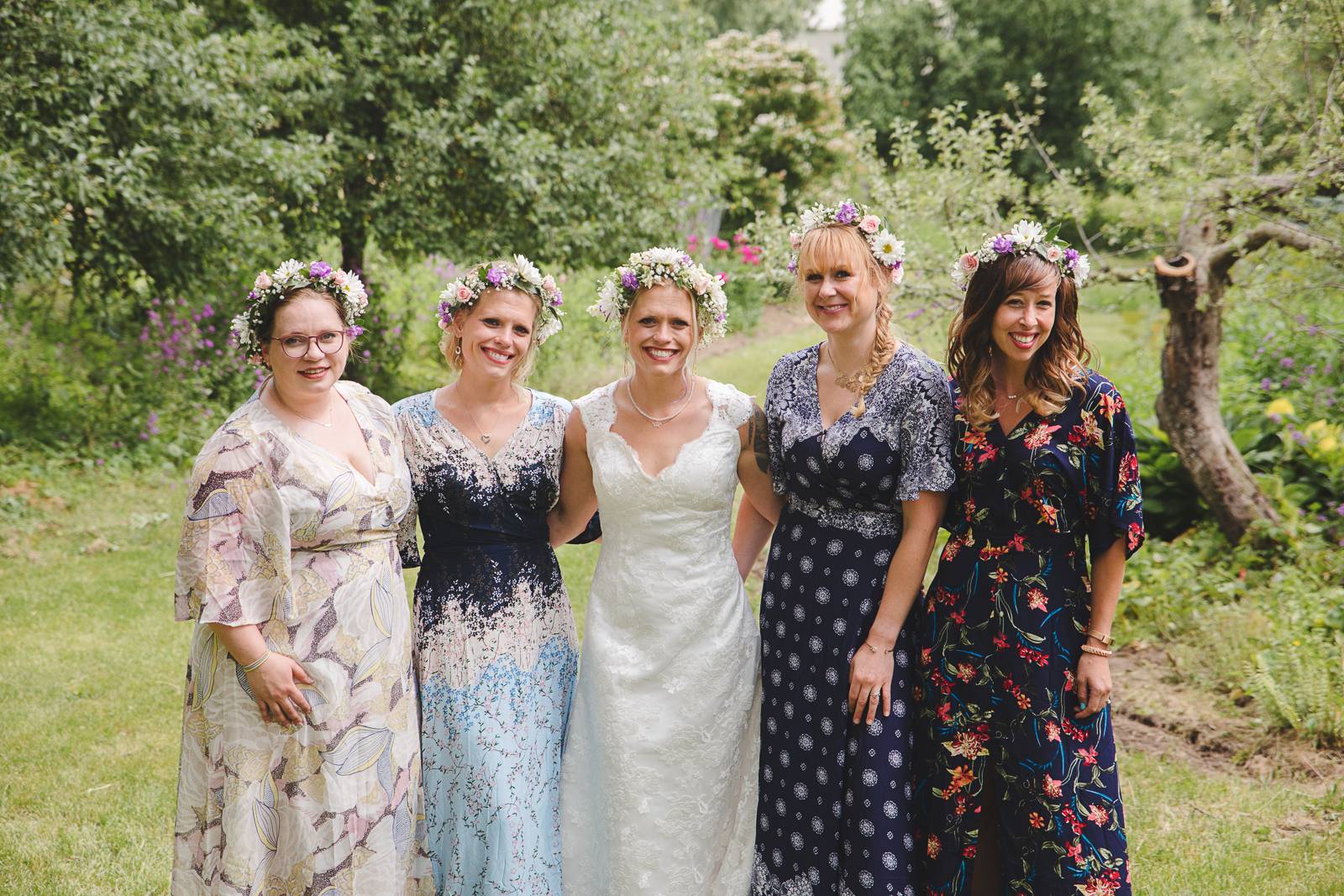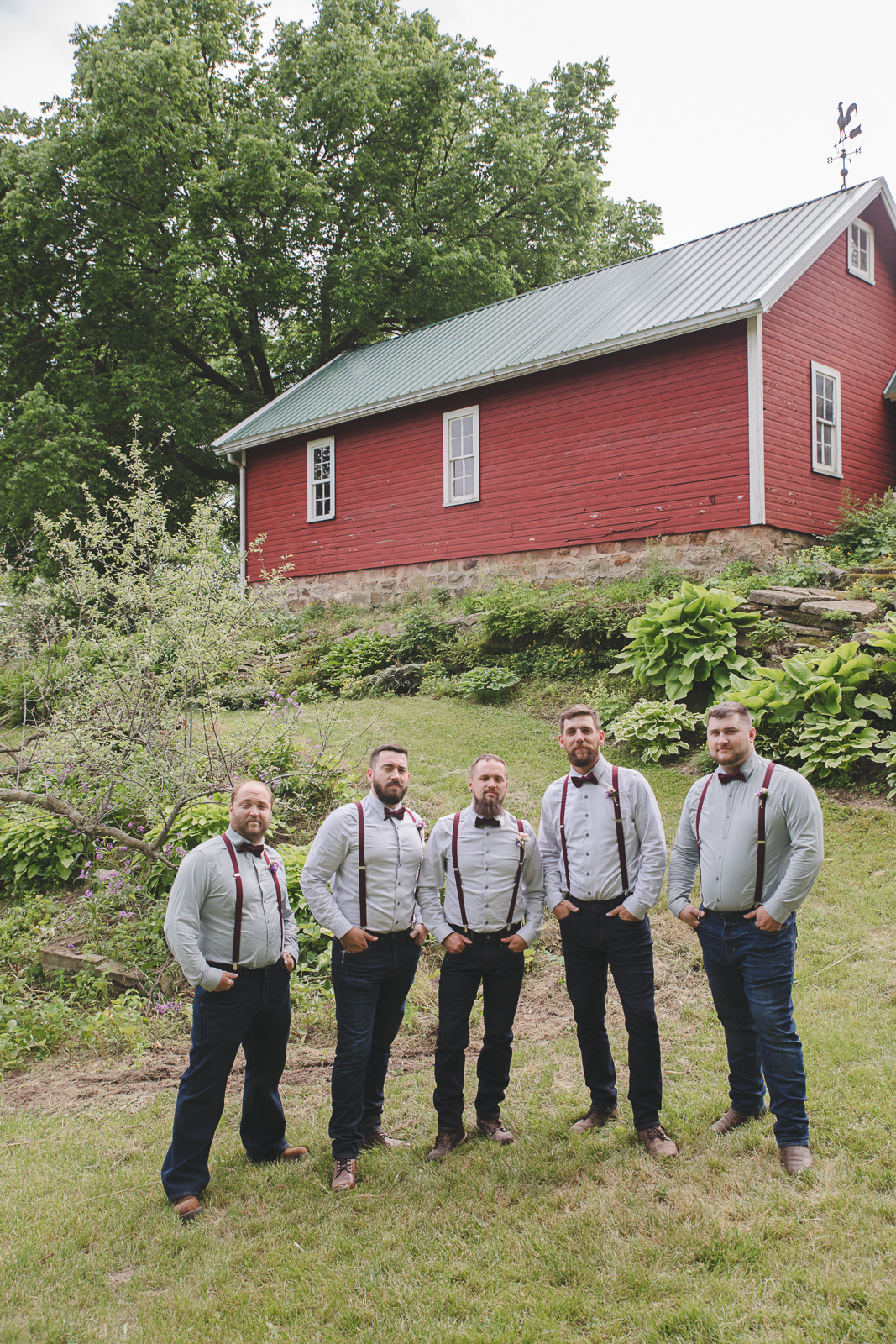 WERE THERE ANY PERSONAL TOUCHES OR DIY ELEMENTS? Oh yes! We decided to have the wedding at my uncle's farm, where Jake proposed and was the location of your engagement session. It is a beautiful little hobby farm and formerly belonged to my Great Aunt Evy. The barn has a small dance floor that my uncle made for his bi-yearly barn dances. We did so much work and cleaning in it to make it perfect for our big day! After we accomplished all that work together, never getting upset working as a team, I knew Jake, and I could do anything. It will be something we will remember forever.
One detail I was very excited about is a special request we mailed out in our invitations. We sent a Prayer Flag (colored cloth), asking guests to write a small pray or well-wish for us. The Prayer Flags were sewn together hung over our reception area int he barn. My thought was that as the wind moves across the flags, they will carry all the prayers out into the universe on the day of our wedding. This way, even the guests who cannot physically join us for our marriage will be present. It also resonates perfectly with the earthy, boho style our wedding had. It's all about the love!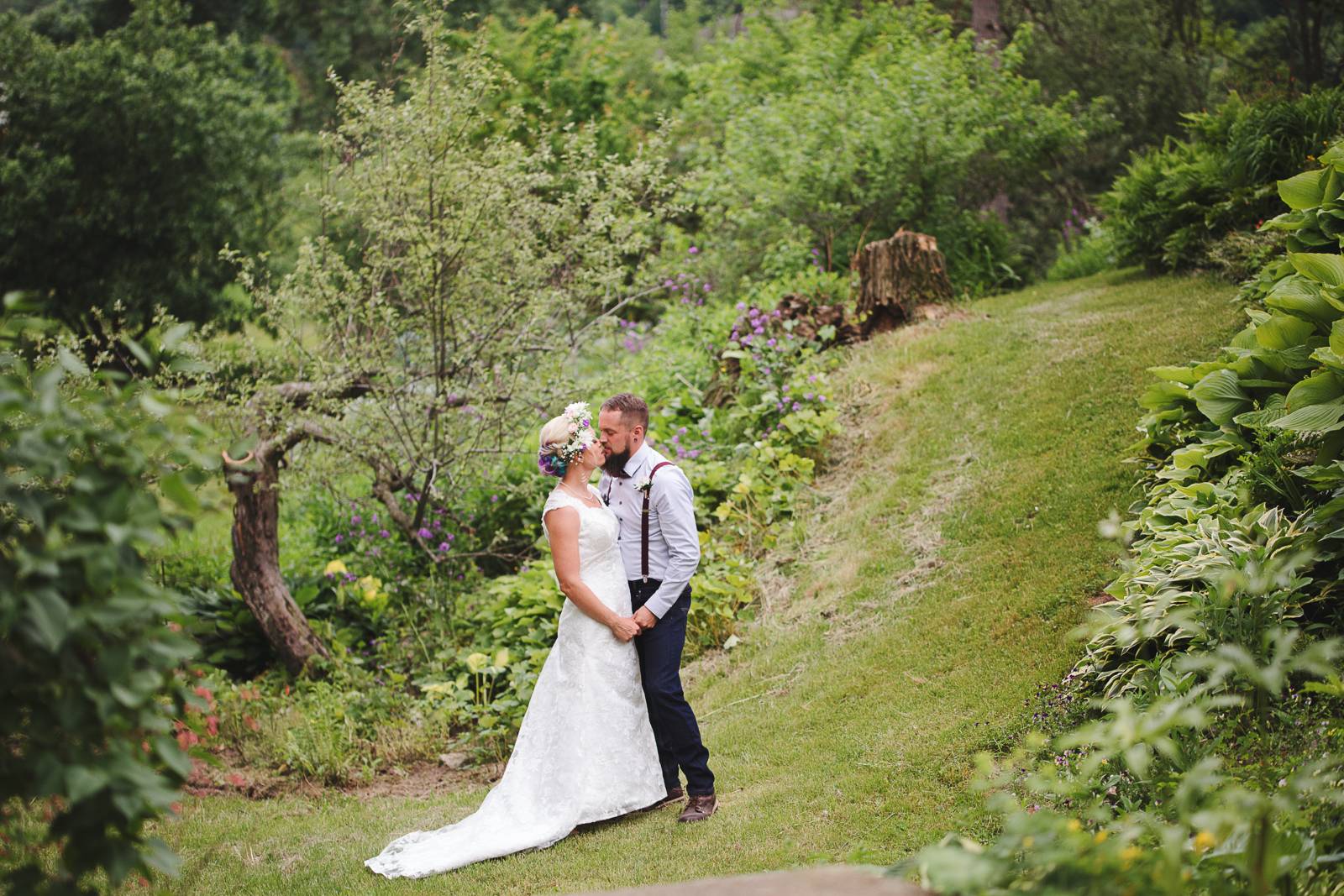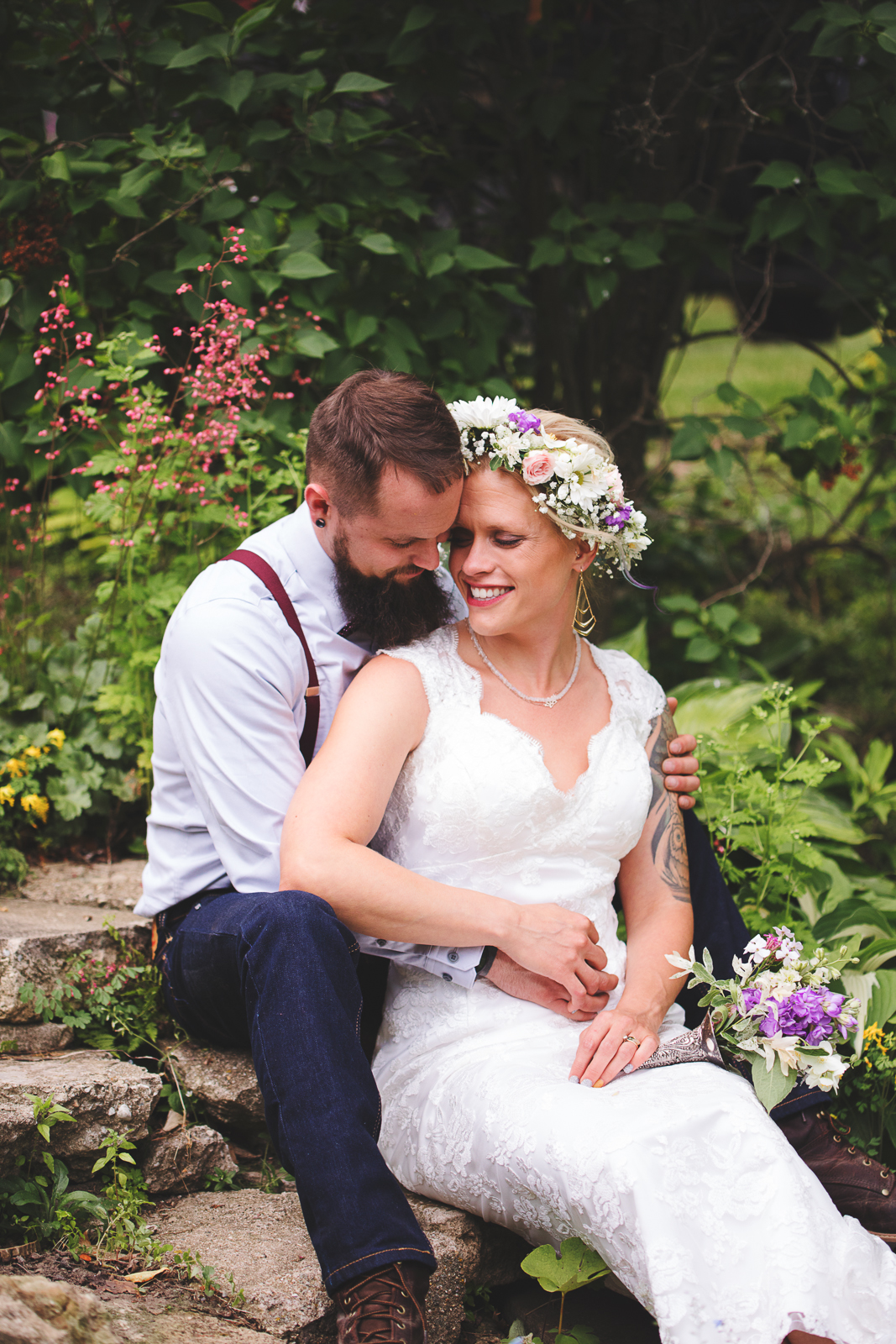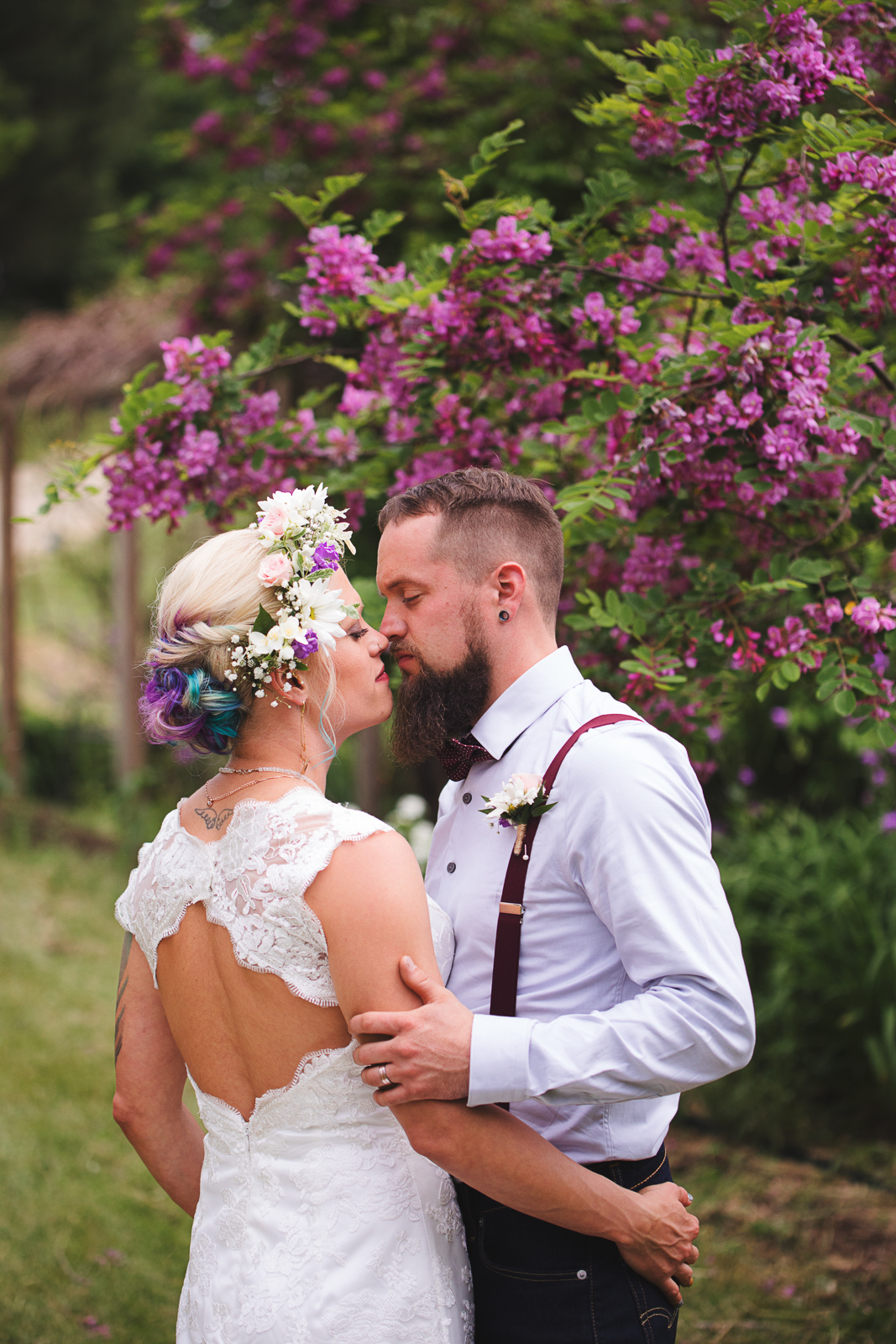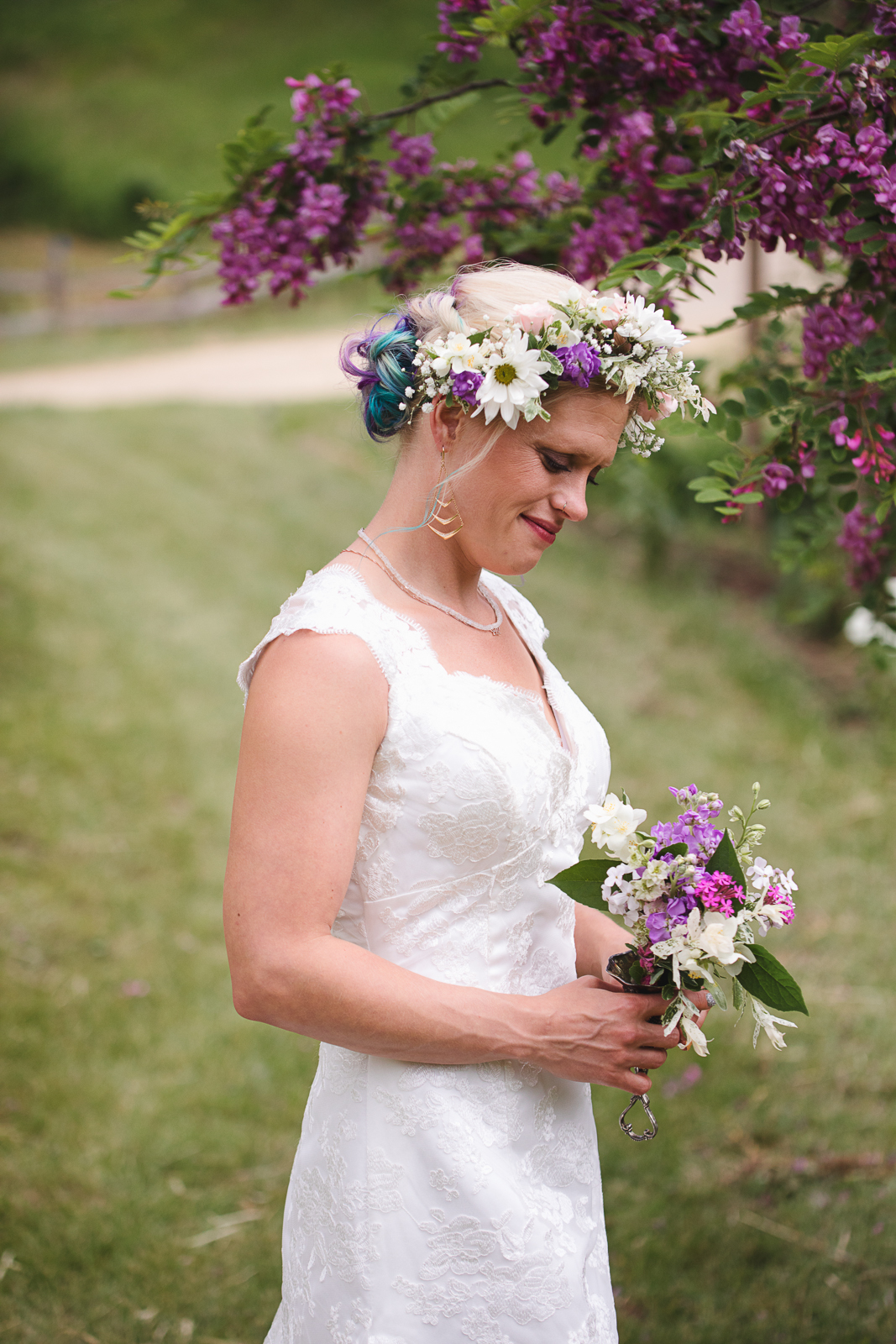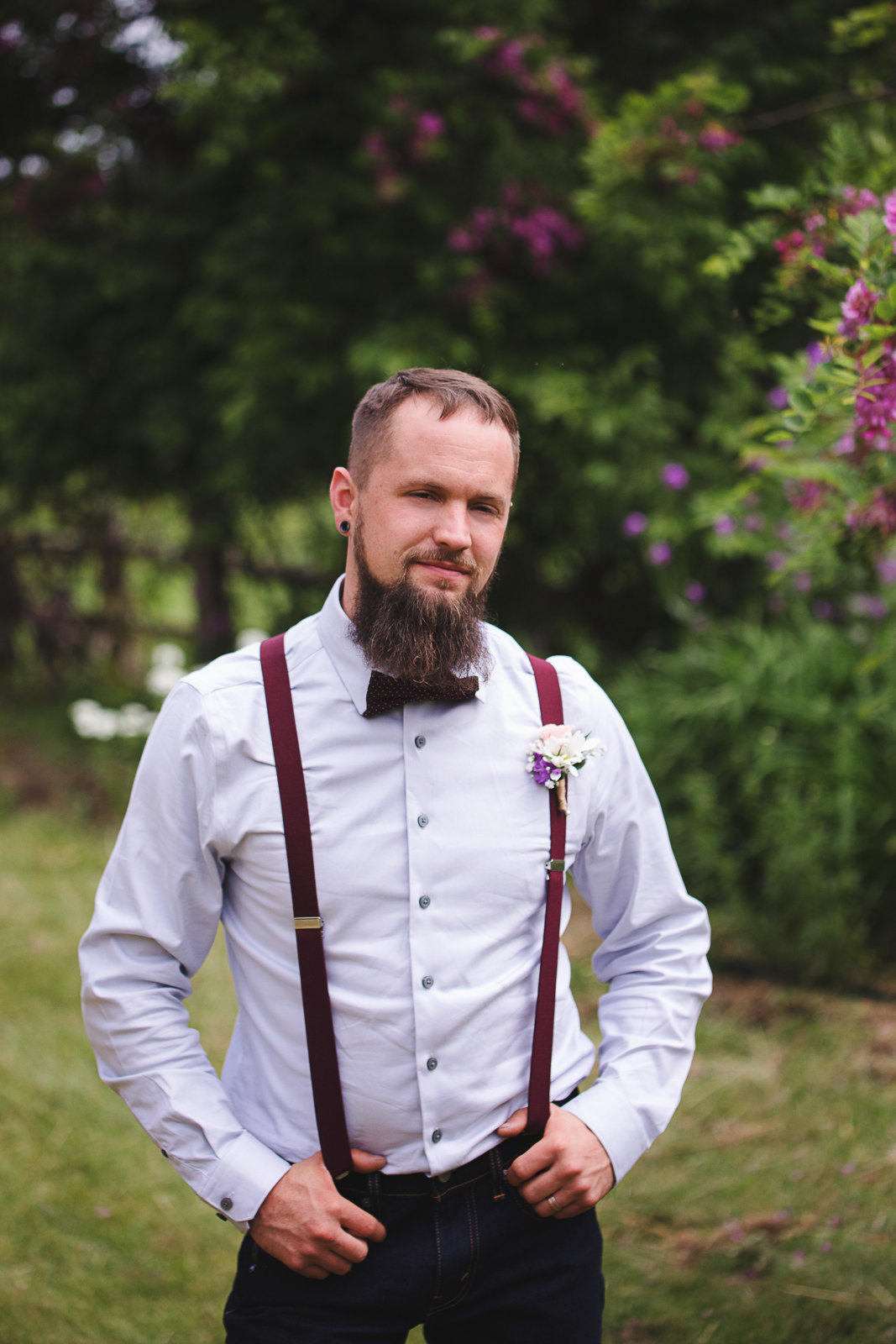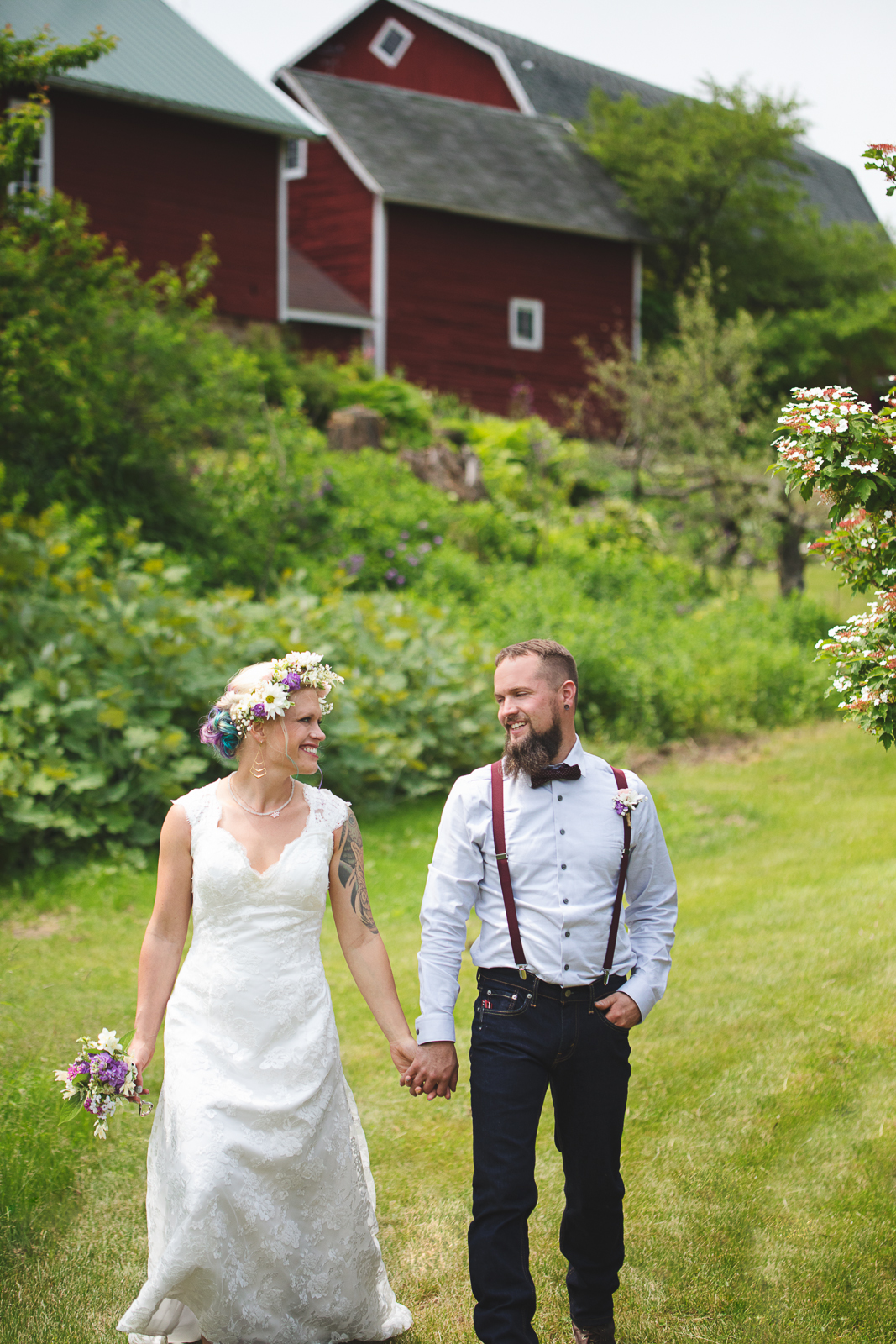 HOW WOULD YOU DESCRIBE YOUR WEDDING THEME/STYLE IN FIVE WORDS OR LESS? Boho, eclectic, country, barn dance.
WHAT WAS YOUR WEDDING COLOR PALETTE? Pale blues, pinks, purples, and greens.
DESCRIBE YOUR WEDDING FLOWERS: My uncle is a master gardener, so we actually picked all our flowers from his gardens! All of us girls had flower crowns, which was a beautiful floral touch as well.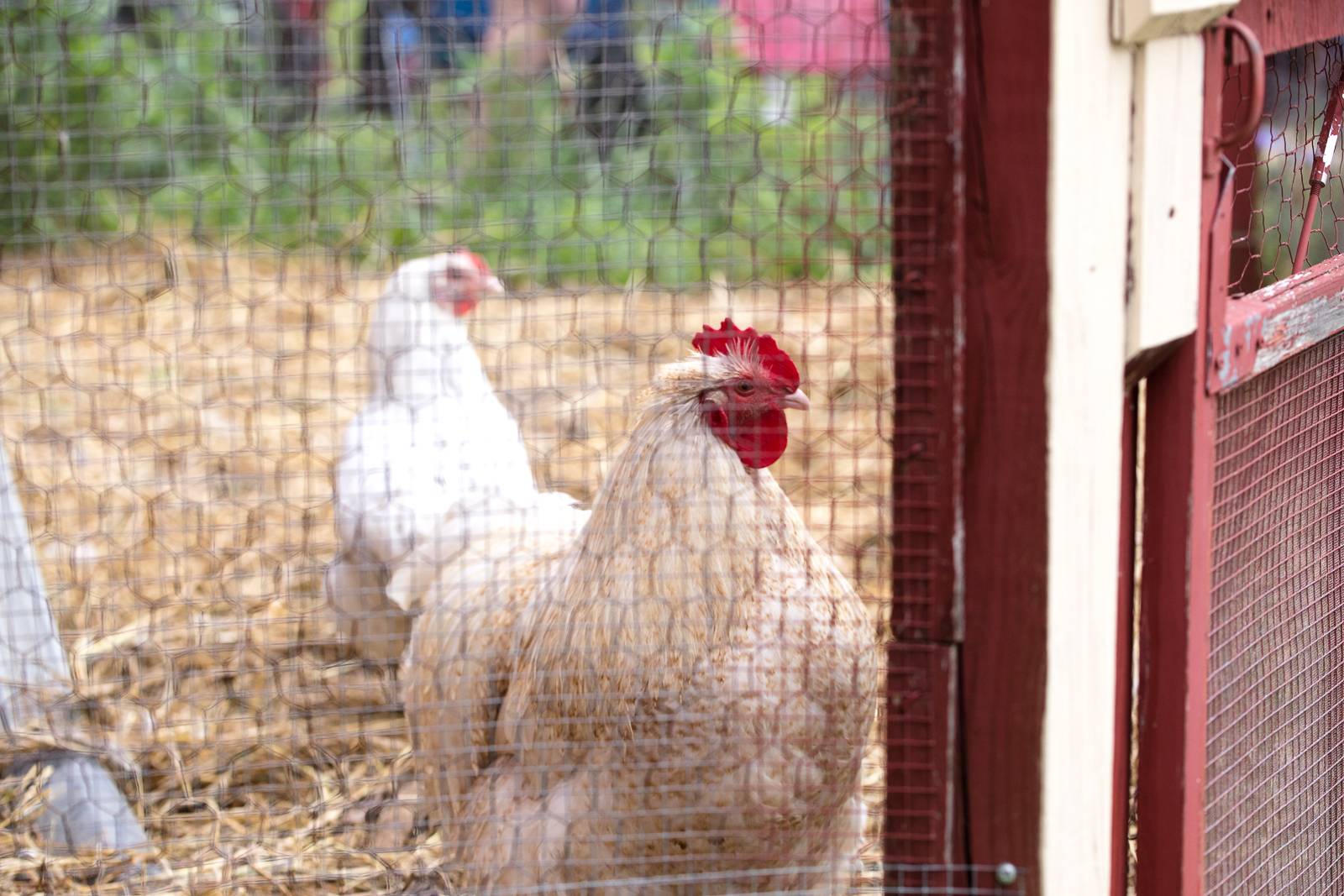 WHAT WAS YOUR INSPIRATION/DESIGN CONCEPT FOR YOUR OVERALL CEREMONY AND RECEPTION DECOR? Simple. Most of the decor consisted of things I already owned, such as mason jars, crystals, and twinkle lights. All the table cloths we used I found at second-hand stores!
TELL US ABOUT THE FOOD, DESSERT, AND ANY SPECIALTY BEVERAGES ON THE MENU: Our food was buffet style with grilled chicken, potato salad, pasta salad, and a green salad. Very simple, but so tasty! We also enjoyed having donuts instead of cake. We had BYOB, so most of our friends and family brought their drinks of choice! Something important to me was to make sure we didn't throw away a ton of garbage on our big day, so all of our plates and silverware were biodegradable!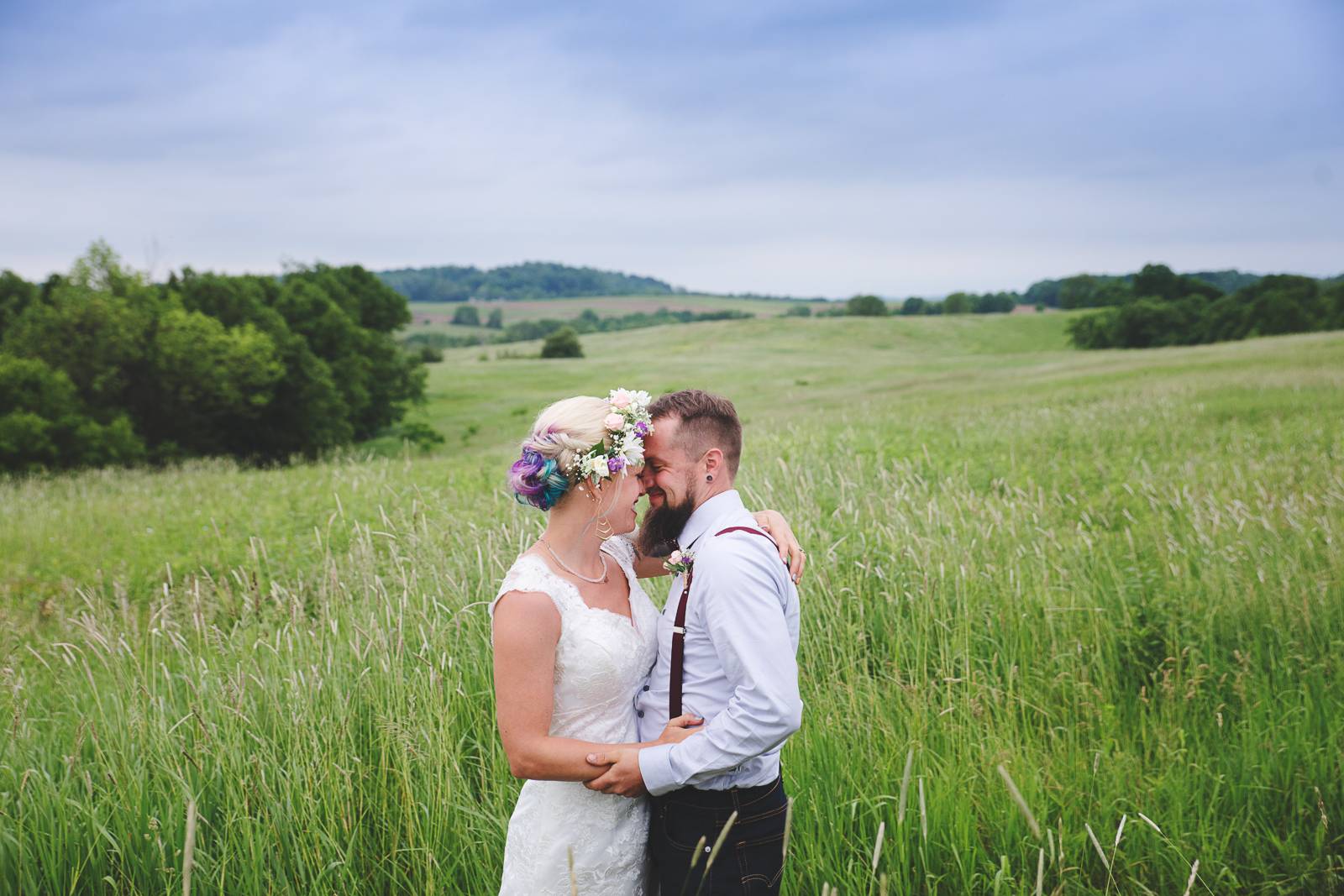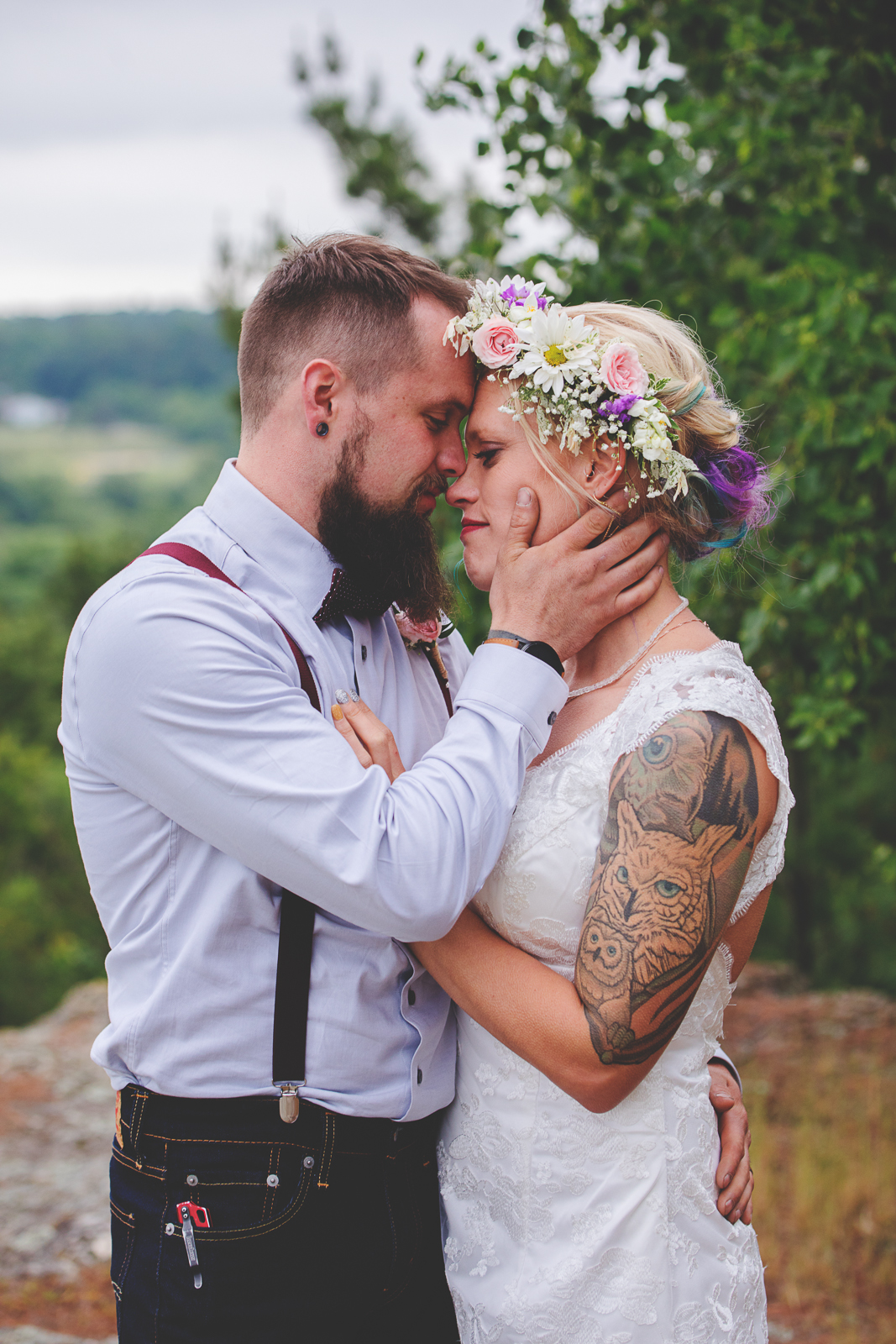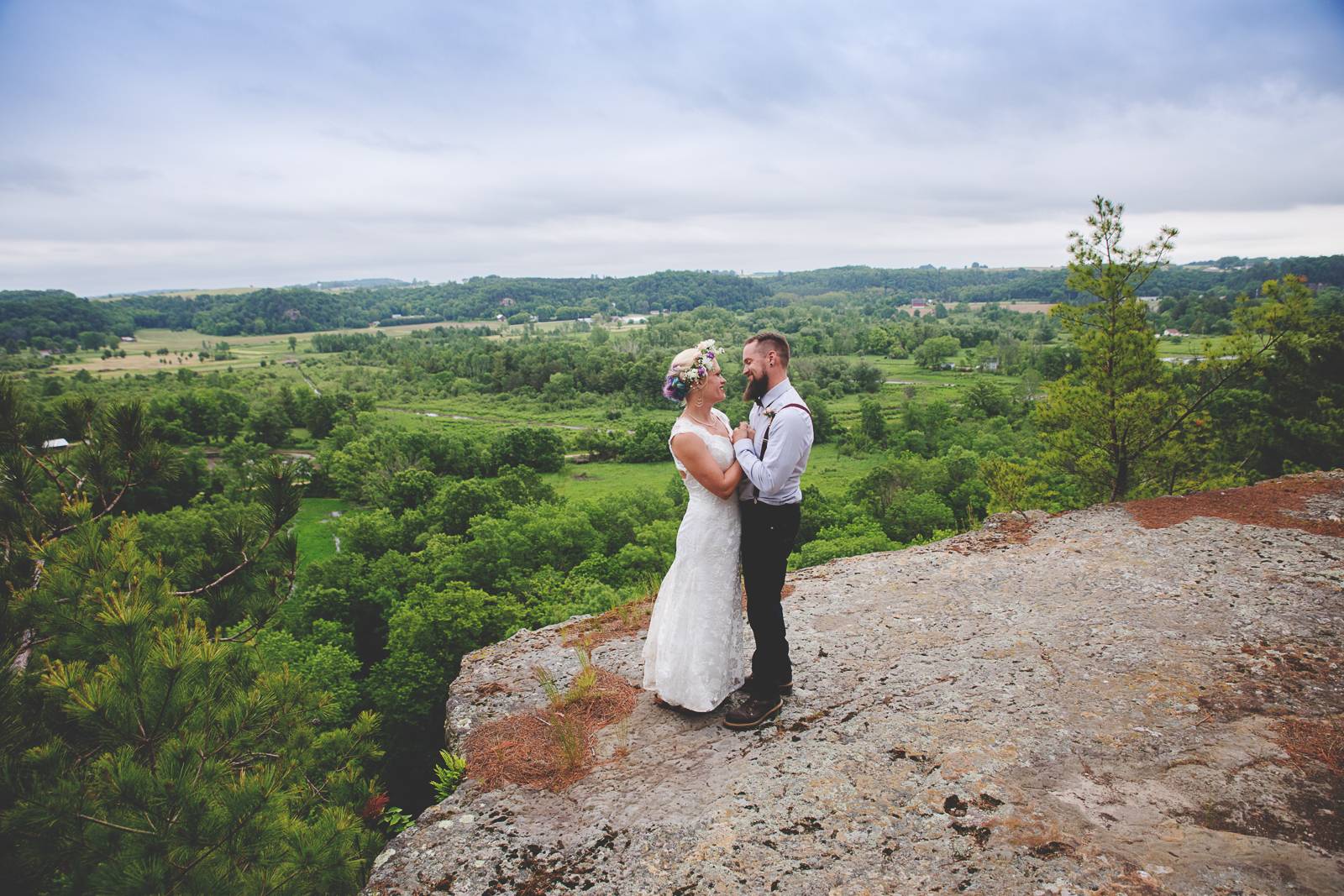 WHAT WAS YOUR FAVORITE MOMENT FROM YOUR WEDDING? All of it! The music and dancing was a lot of fun, and going home that night knowing I was Mrs. Bump was pretty amazing.
TELL US ABOUT YOUR HONEYMOON PLANS: We bought a house a week before our wedding, so our honeymoon was getting to have our own home!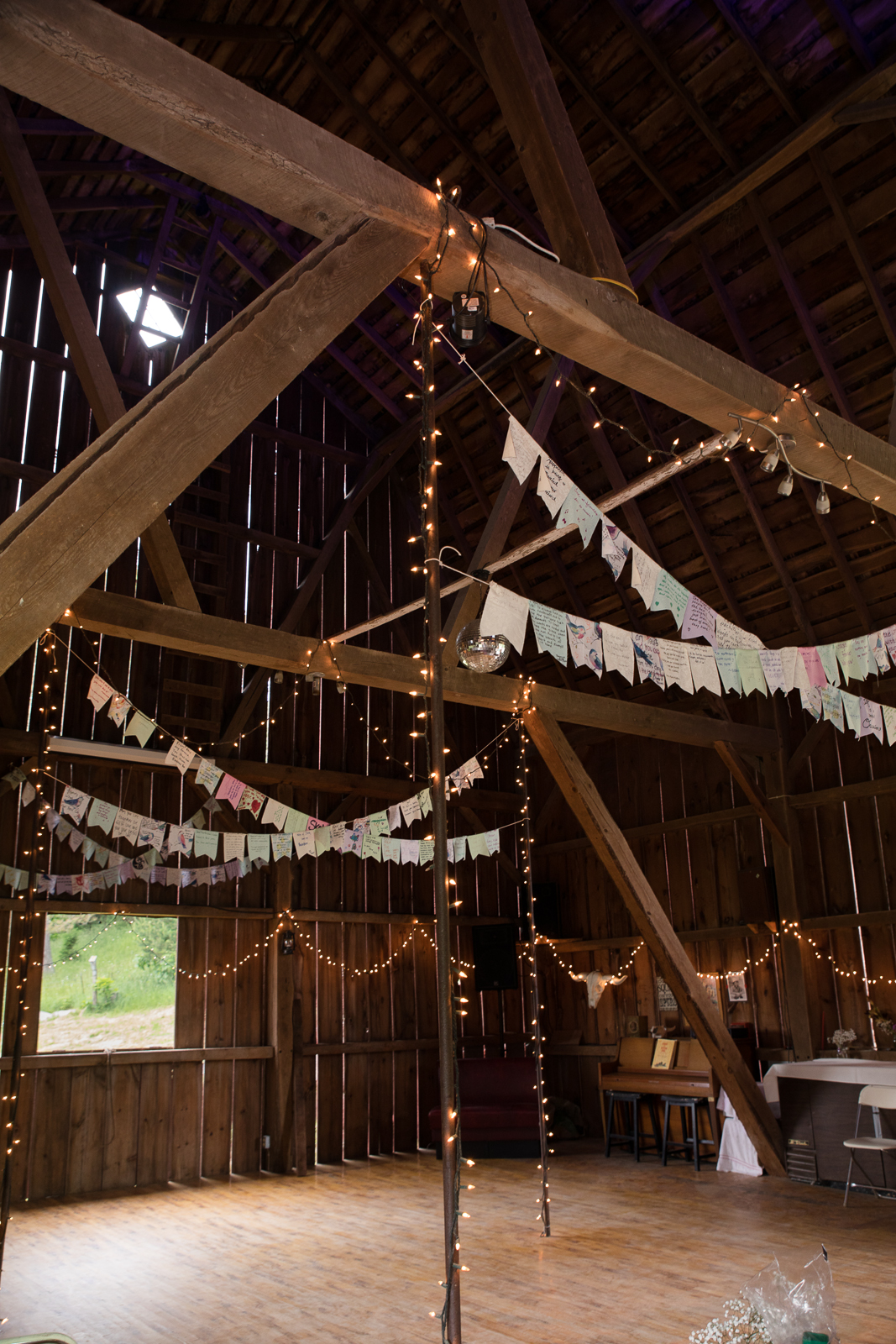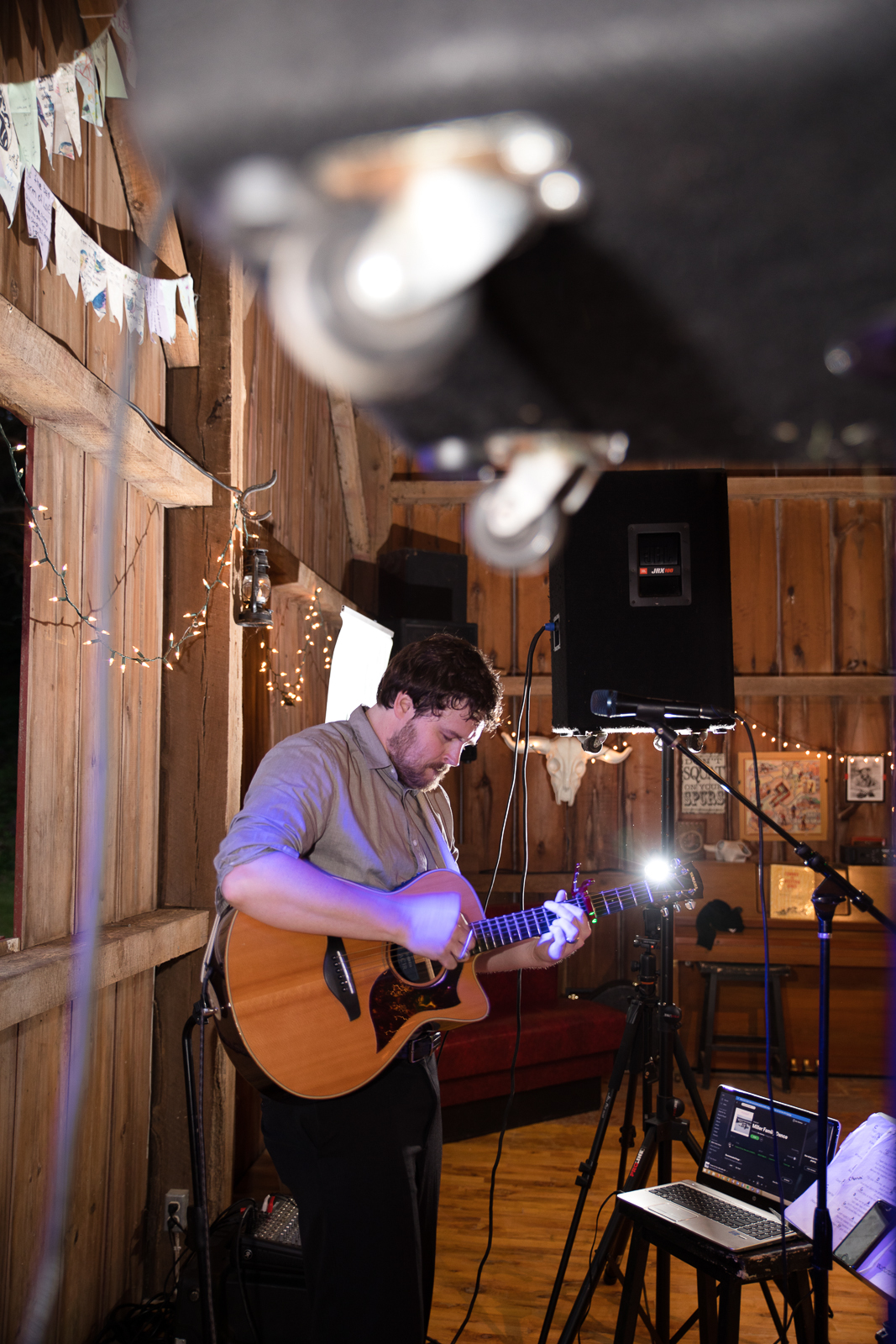 WHAT DOES LIFE LOOK LIKE AFTER THE WEDDING? We got pregnant in July, so life now has a little less sleep and a whole lot more love in it! We had our baby boy Mathias April 7th, 2020. In a years' time, we also got two dogs, so we are definitely busy and so very happy!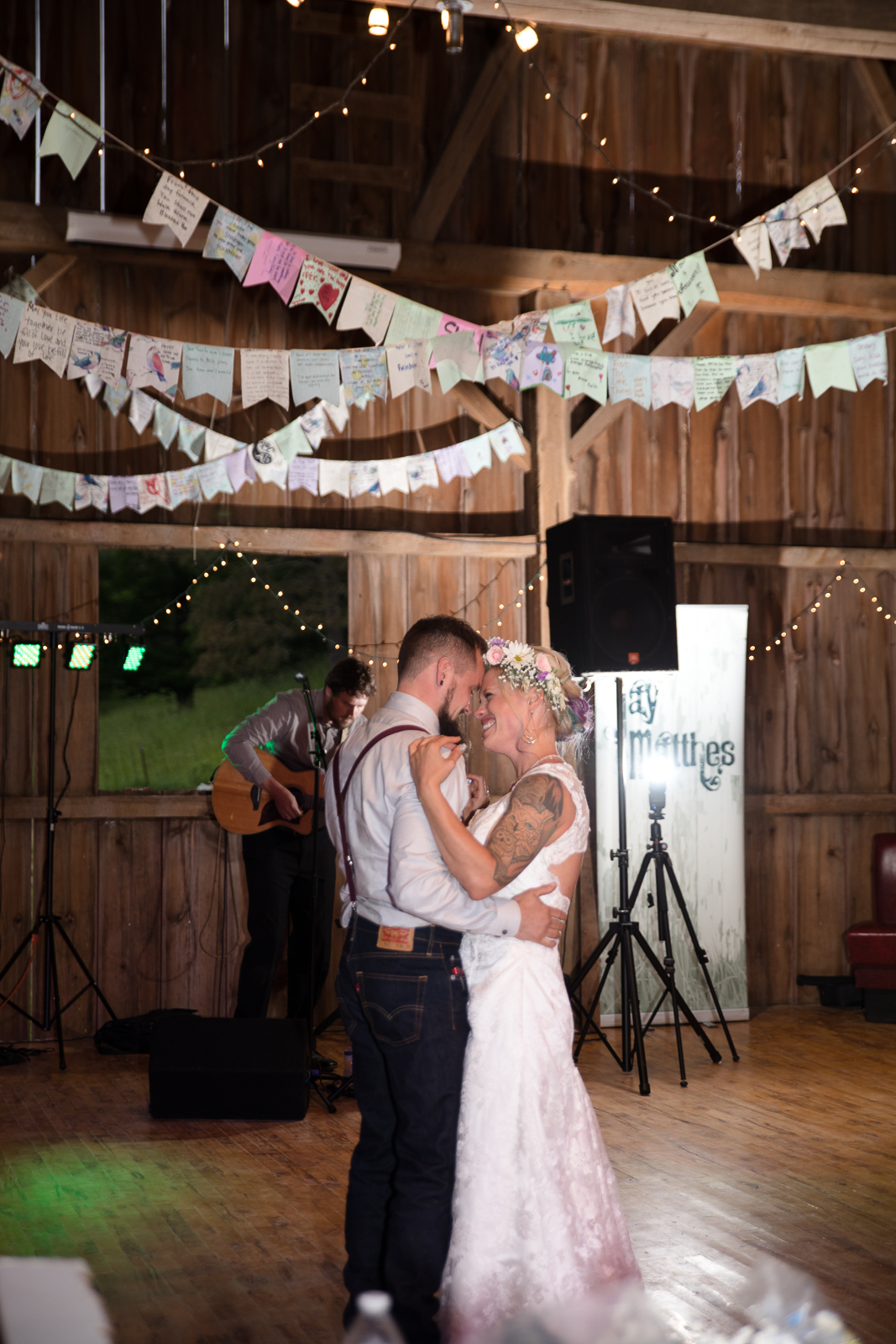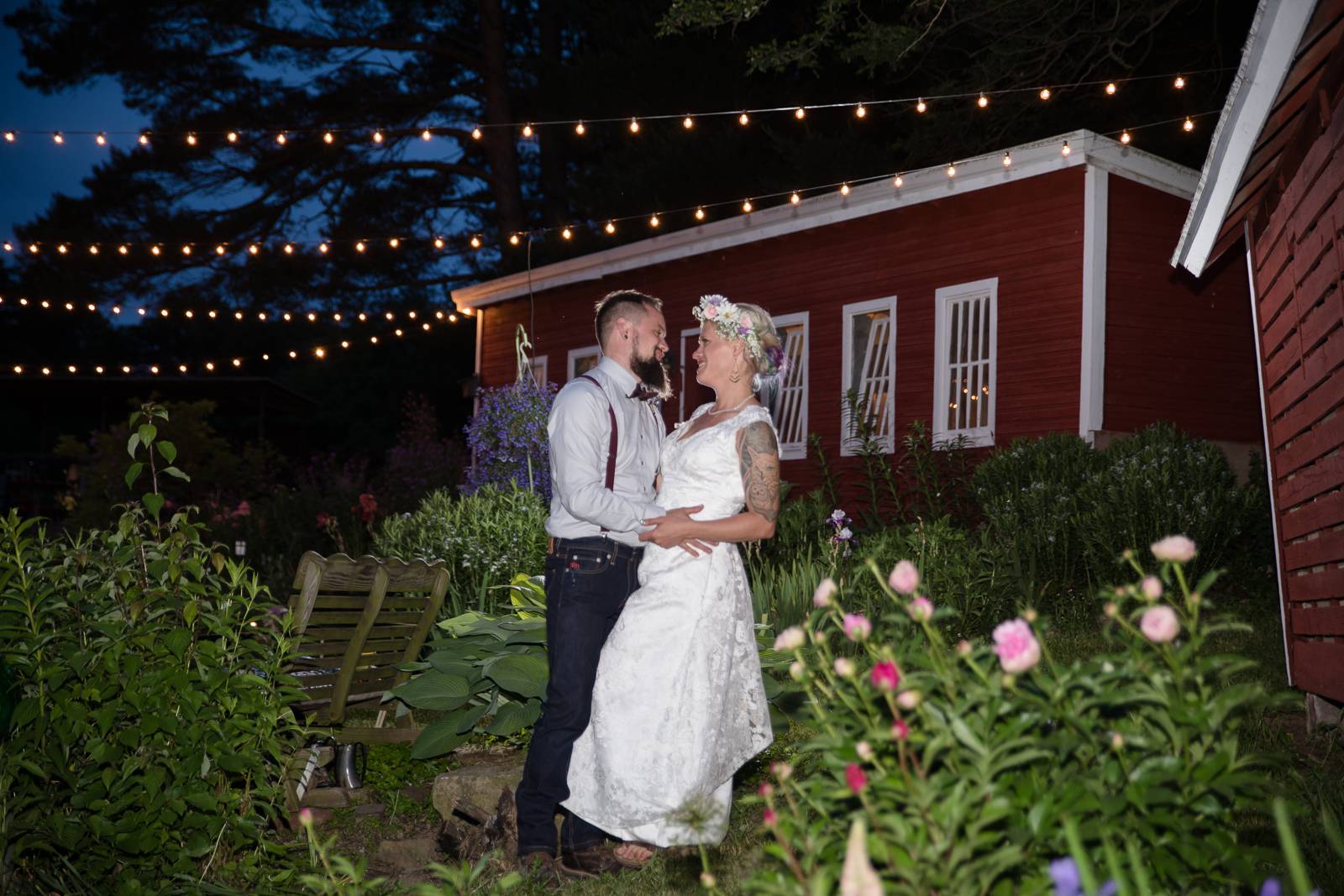 ANY WEDDING PLANNING REGRETS OR SOMETHING YOU WOULD DO DIFFERENTLY? No! It went wonderfully. I wish I would not have stressed over some things. It was a waste of energy.
IS THERE ANY ADVICE YOU'D GIVE TO OTHER COUPLES PLANNING THEIR WEDDING? Don't sweat the small stuff; in the end, you will still be married!