Elegance and class filled this week's real wedding as Cassidy and Bret share their big day celebrated at the Golden Mast Inn. Filled with deep emerald jewel tones, and personal decor elements, this snowy, real winter wedding was stunning in every detail. Read more about Cassidy and Bret's love story and special day down below!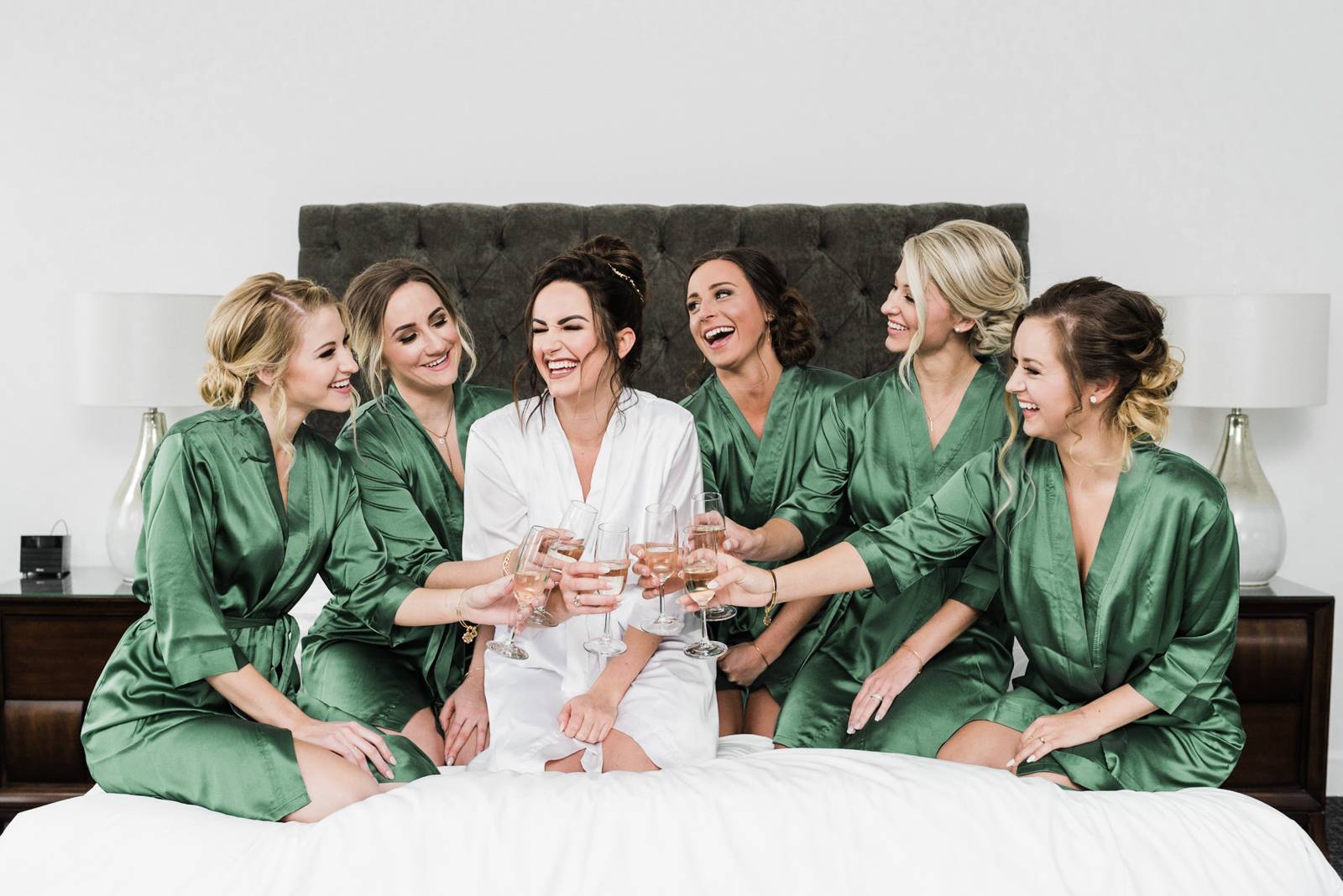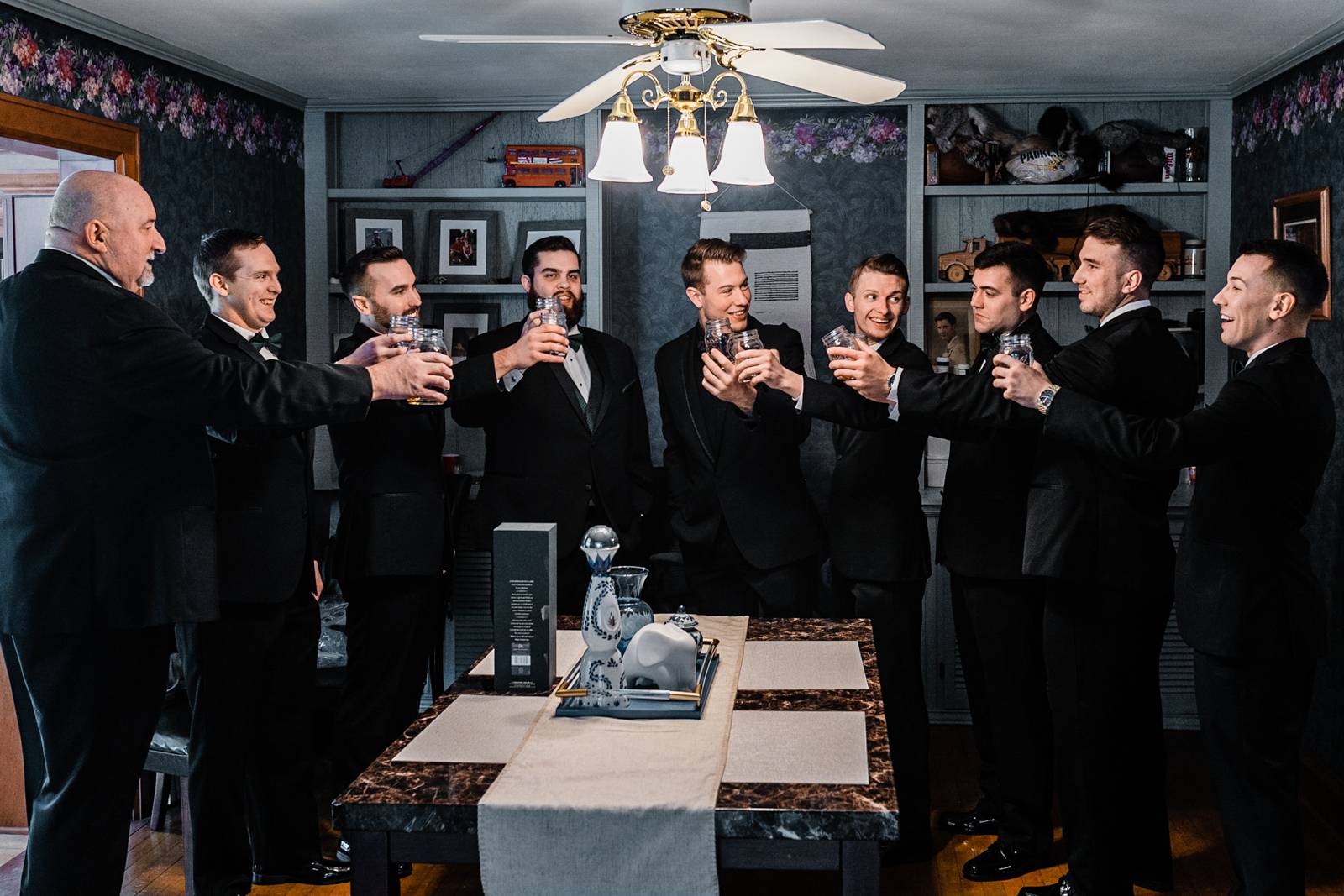 HOW DID YOU MEET? We met in college and were briefly friends before I was diagnosed with a brain aneurysm and needed brain surgery in January 2015. My recovery was the basis of what formed an incredible friendship and a slow-forming dating relationship. We've been together ever since. College was a struggle for myself as I had spent most of it recovering from my surgery and battling epilepsy challenges. Brett was my rock throughout the entire process.
TELL US ABOUT YOUR PROPOSAL: When I graduated in December 2017, not only was I a first-generation college student, but it was a major milestone for me as it took me nearly 6.5 years to complete my undergrad degree. Brett also decided my graduation date was a great time to propose. We had planned to take a short trip to Las Vegas to celebrate, and we were leaving on a red-eye flight later that day. My family and his parents were both present, and he had planned this beautiful trip to one of my favorite landmarks in Milwaukee - The Pabst Mansion - to kill some time between the morning graduation ceremony and our celebratory lunch reservation. They decorate for Christmas every year, and it's always one of my favorite exhibits. He proposed at the top of the staircase overlooking the beautiful foyer - I'll never forget it.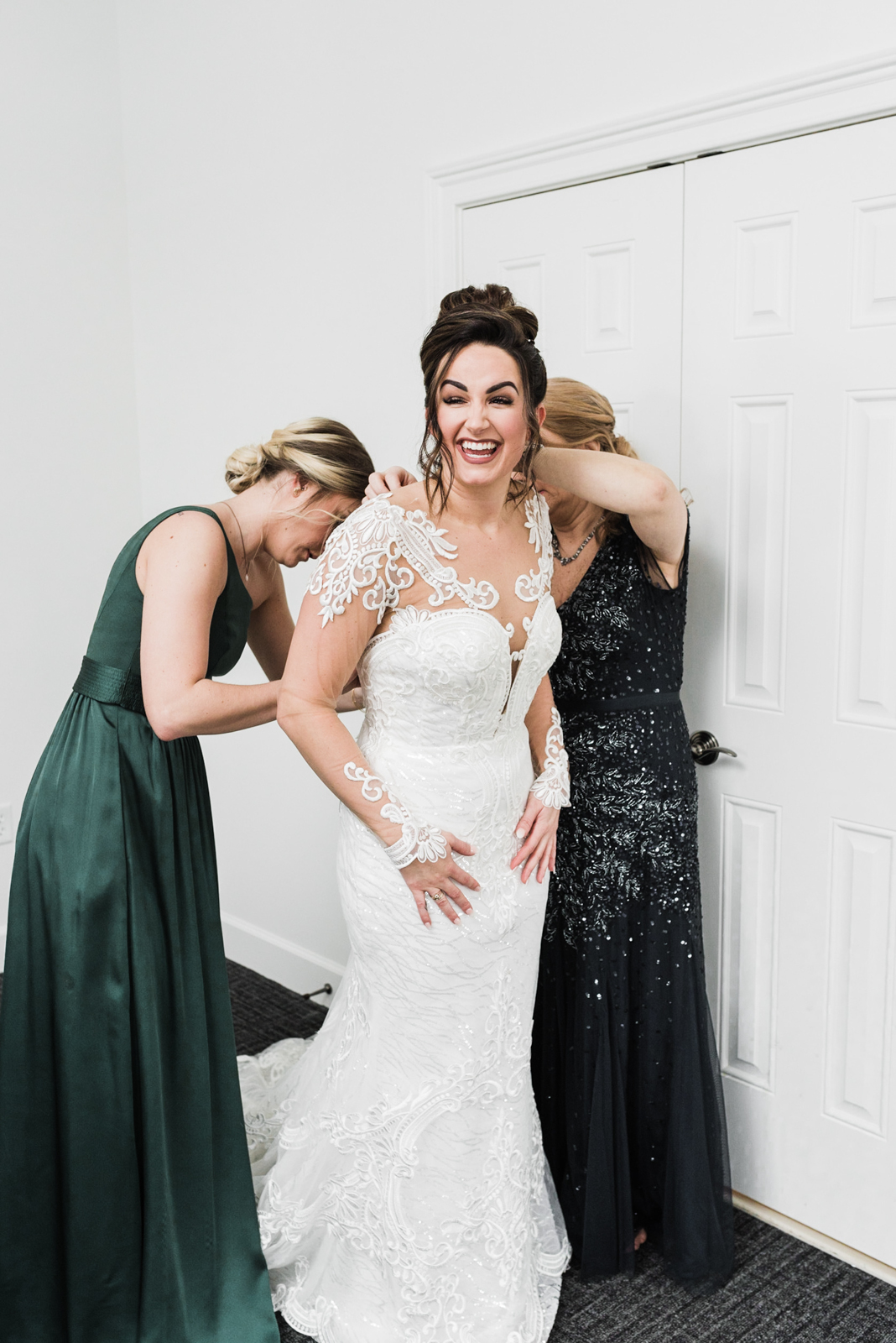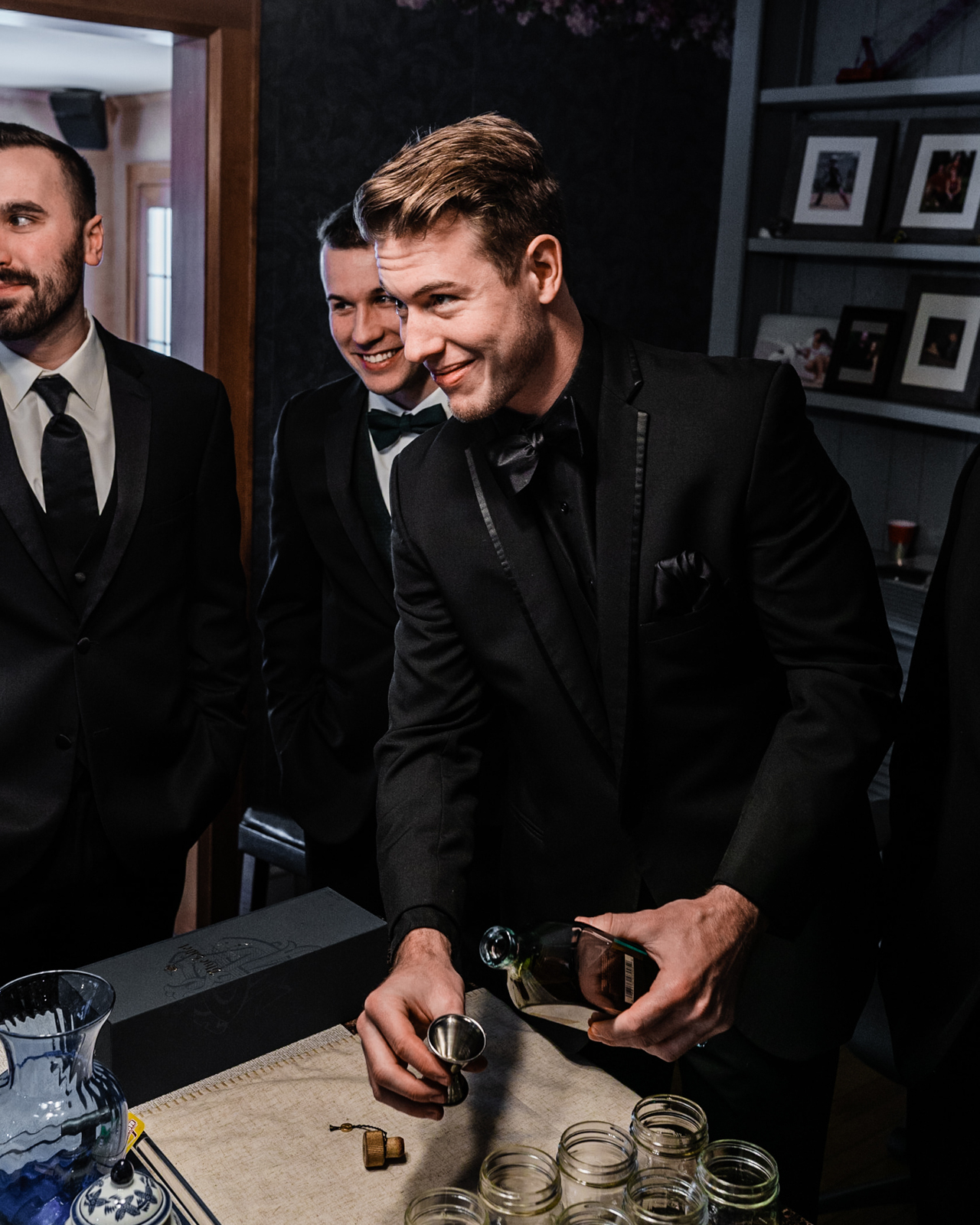 TELL US ABOUT FINDING YOUR DRESS AND THE GROOM'S ATTIRE: My wedding dress was originally purchased as a sleeveless/strapless dress. I knew I wanted long, lace sleeves, and a silhouette back for my dress, so I found a seamstress who worked with me for almost 8 months to help the rest of the dress come to life. She absolutely nailed it. Brett's tuxedo was all black - from the undershirt to the bowtie while the groomsmen had white button-ups and green vests to match the bridesmaids. The all-black was stunning on him and added this hint of boldness while keeping intact with our theme. All of our jewelry was gold to follow suit and complement my stunning engagement ring that Brett had designed, and we wanted them to be stand out pieces. The rest of my jewelry was subtle and timeless. We really wanted to enhance the elegance. We've always loved to dress up, go out, and feel our best, and we incorporated this into our wedding day.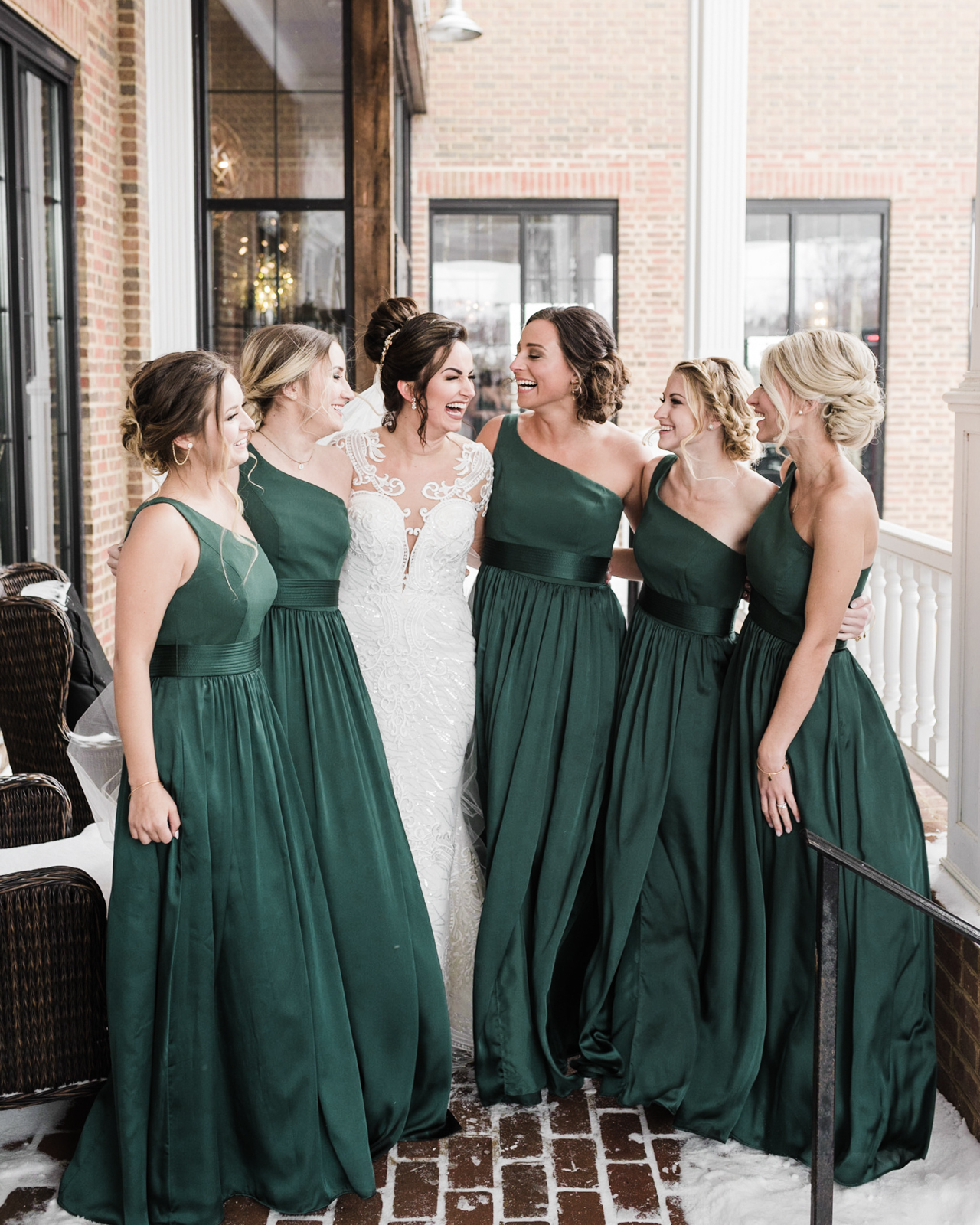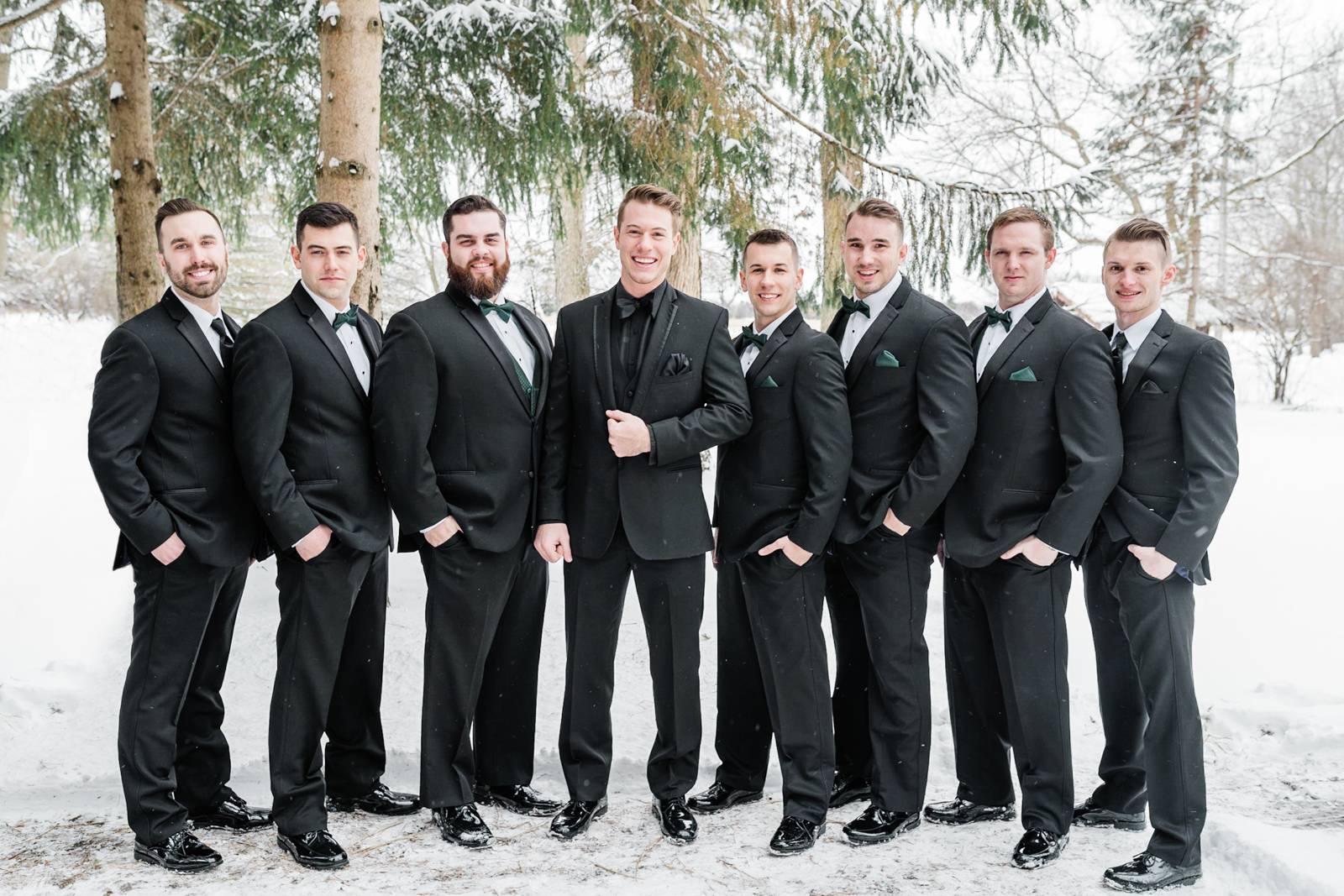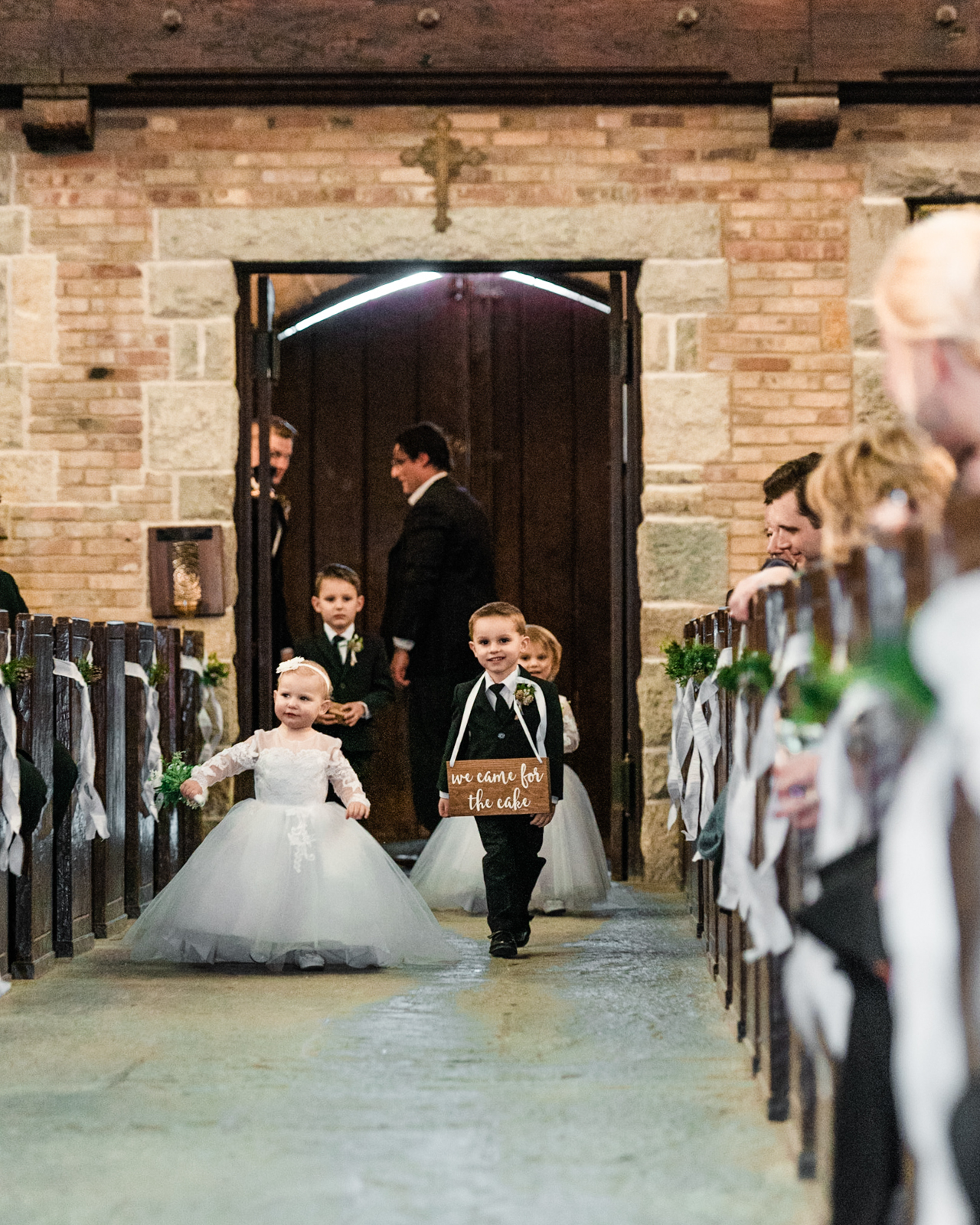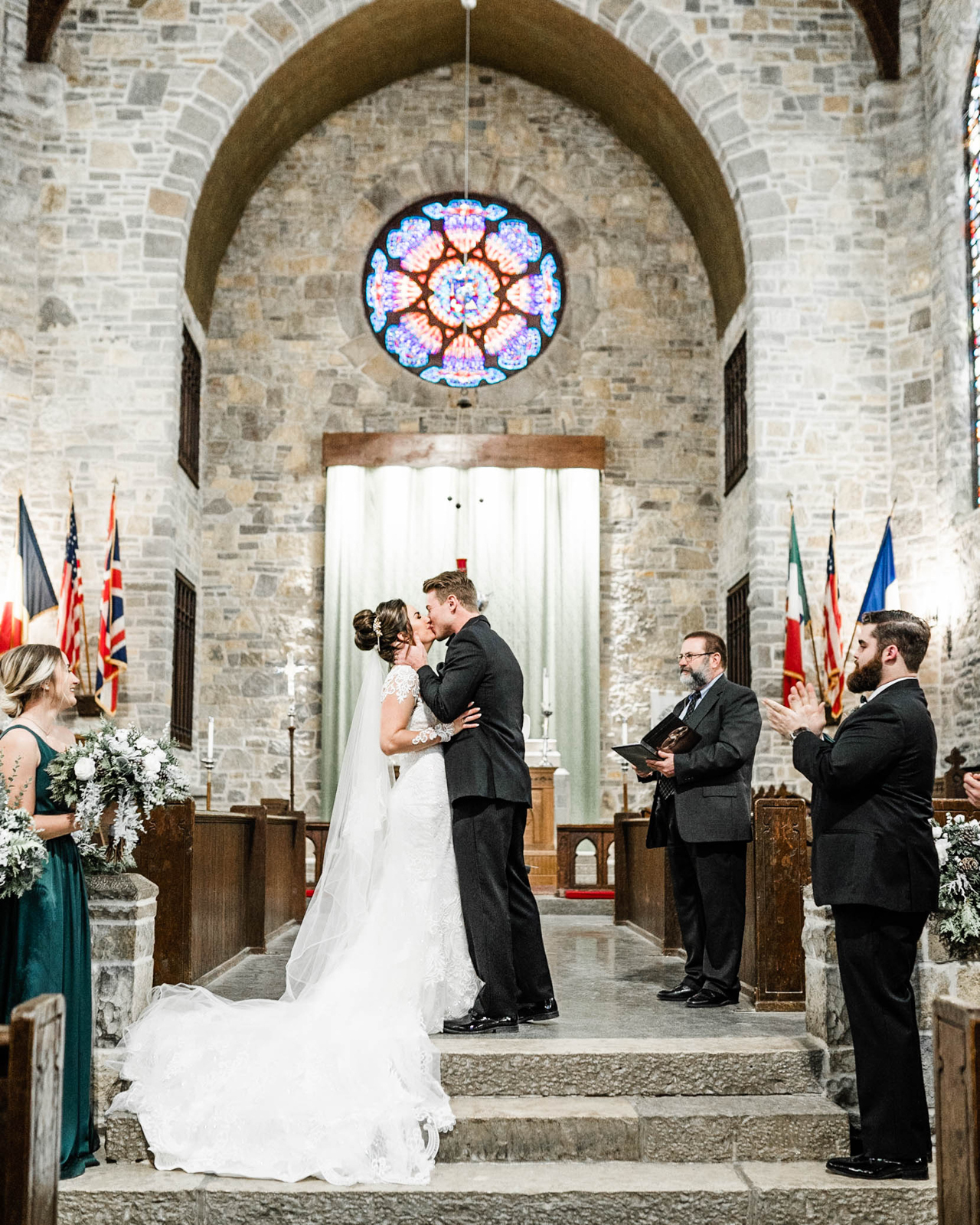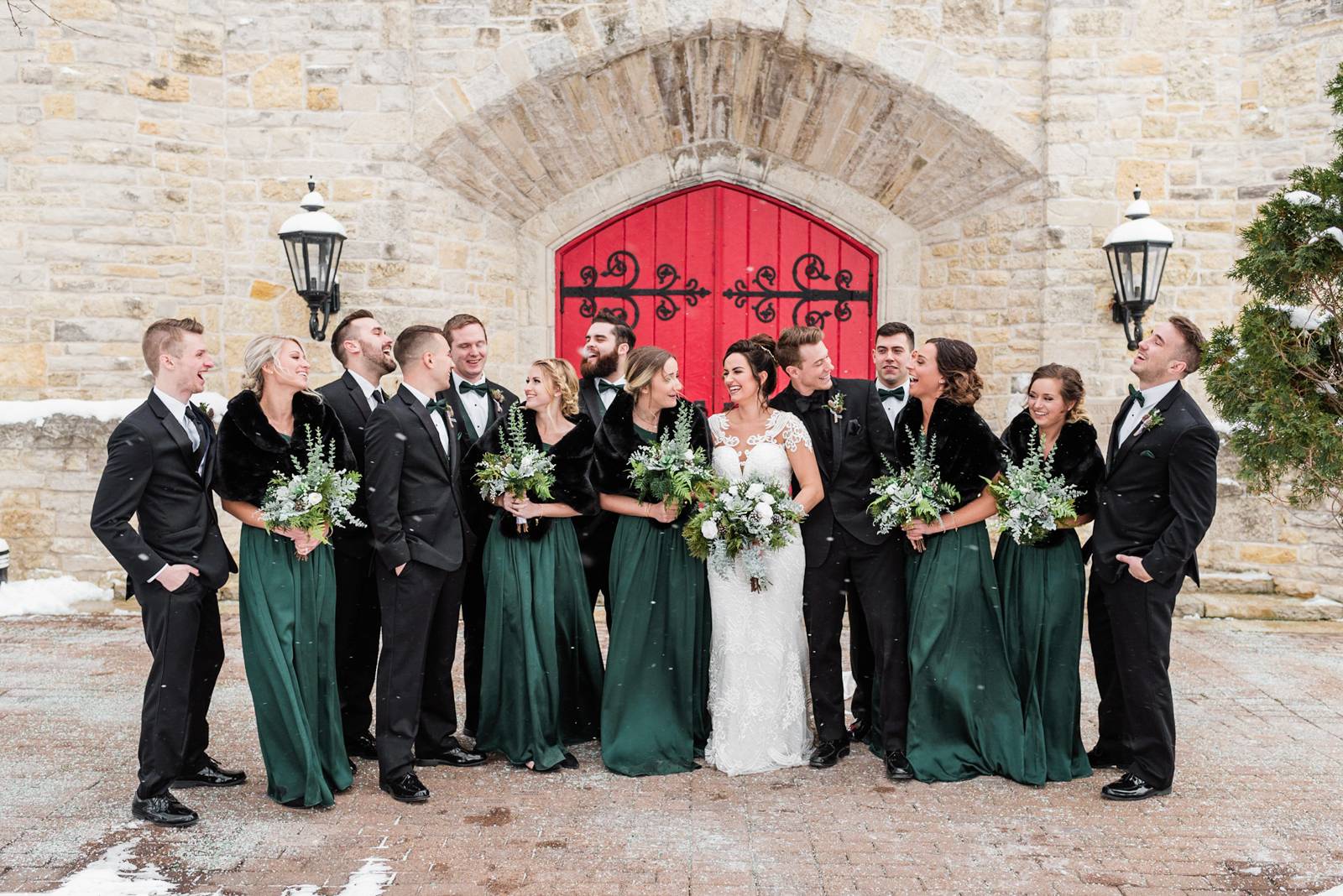 WHAT WAS YOUR WEDDING INSPIRATION AND COLOR PALETTE? Our inspiration came from our love of the winter, snowboarding, and an elegant-rustic vibe. We loved deep jewel tones - emerald/green and gold, which were the staples to our color scheme. We wanted our guests to enjoy an elegant event that gave them the chance to wear formal gowns and suits or whatever they felt their best in!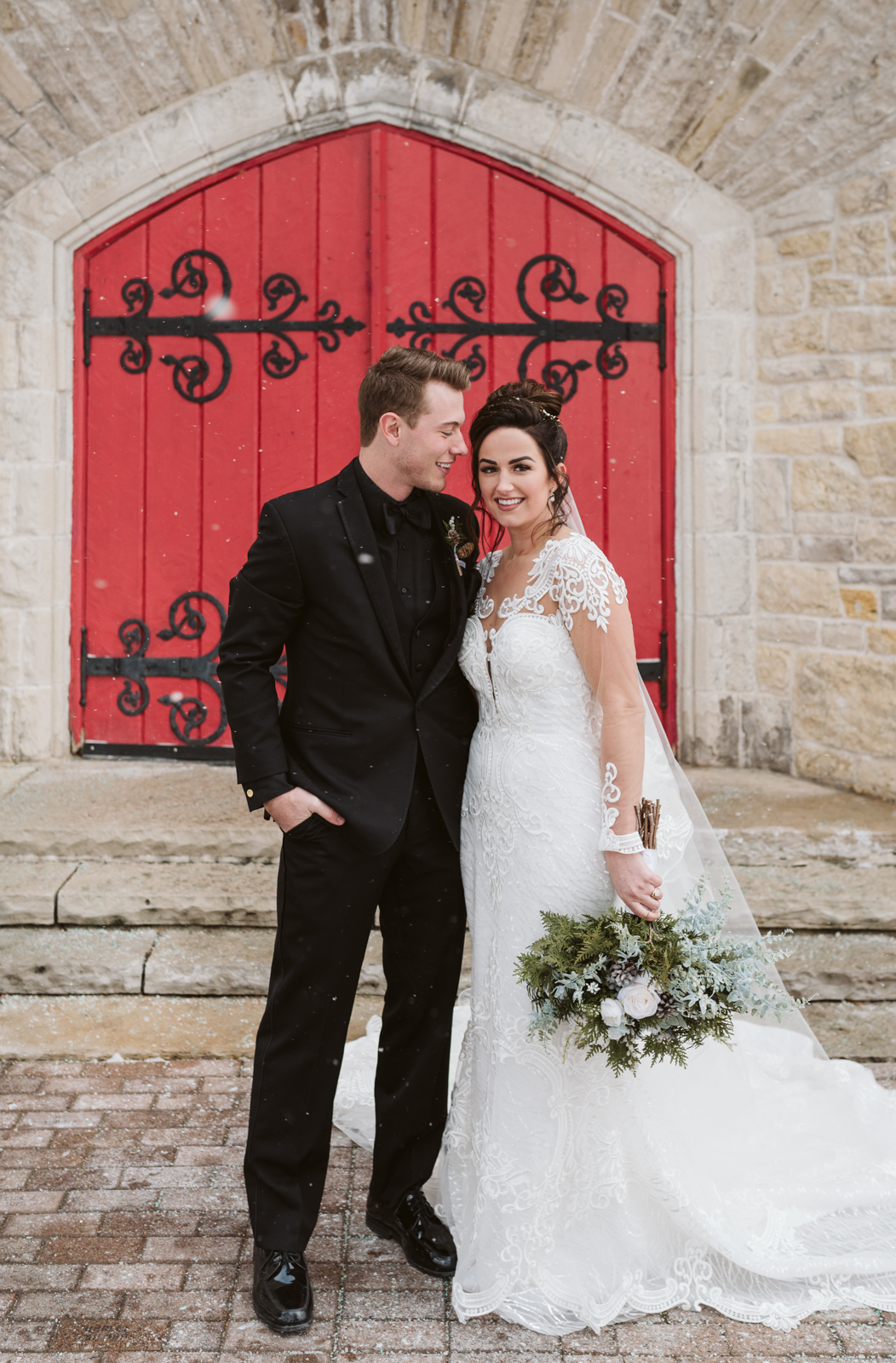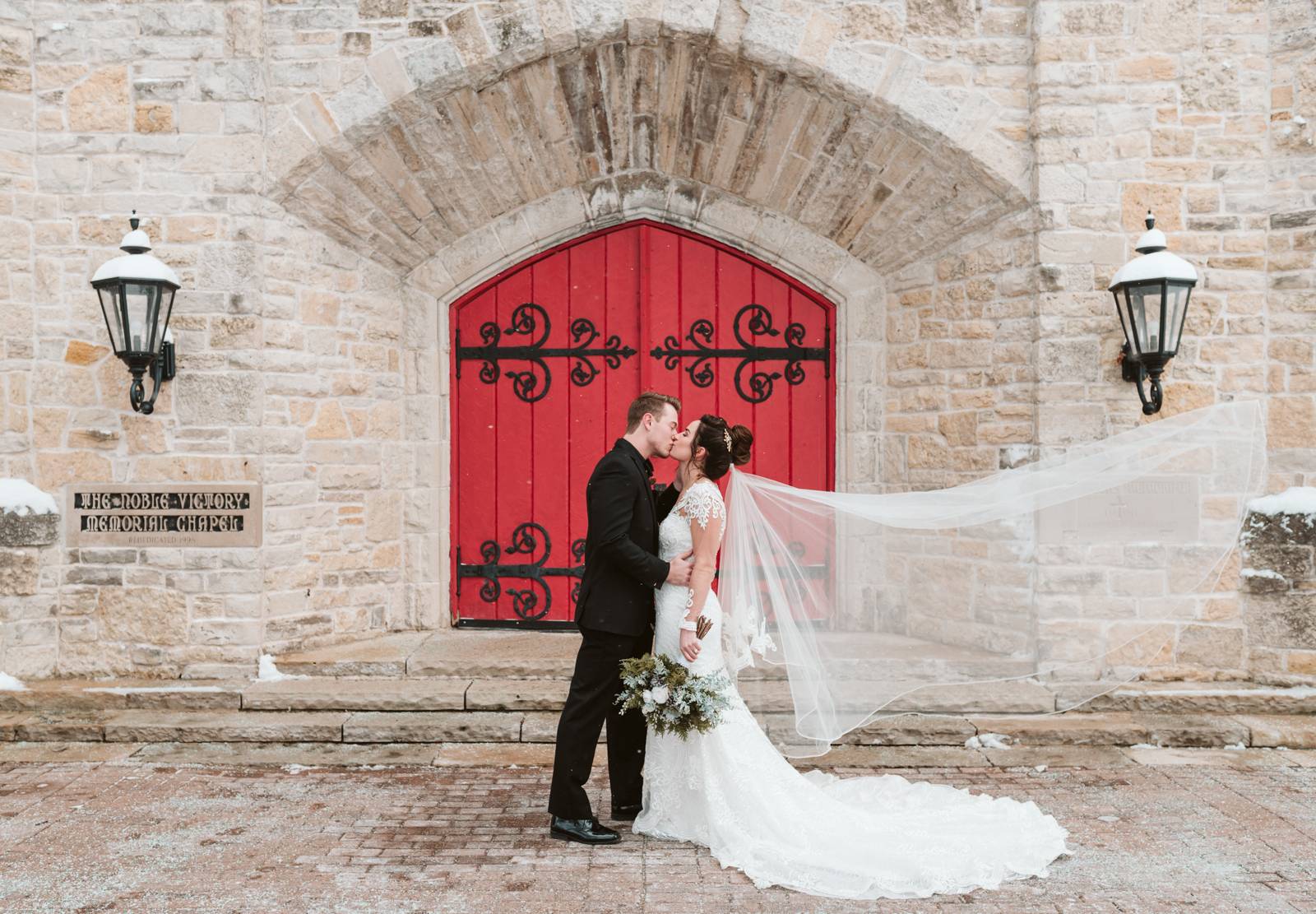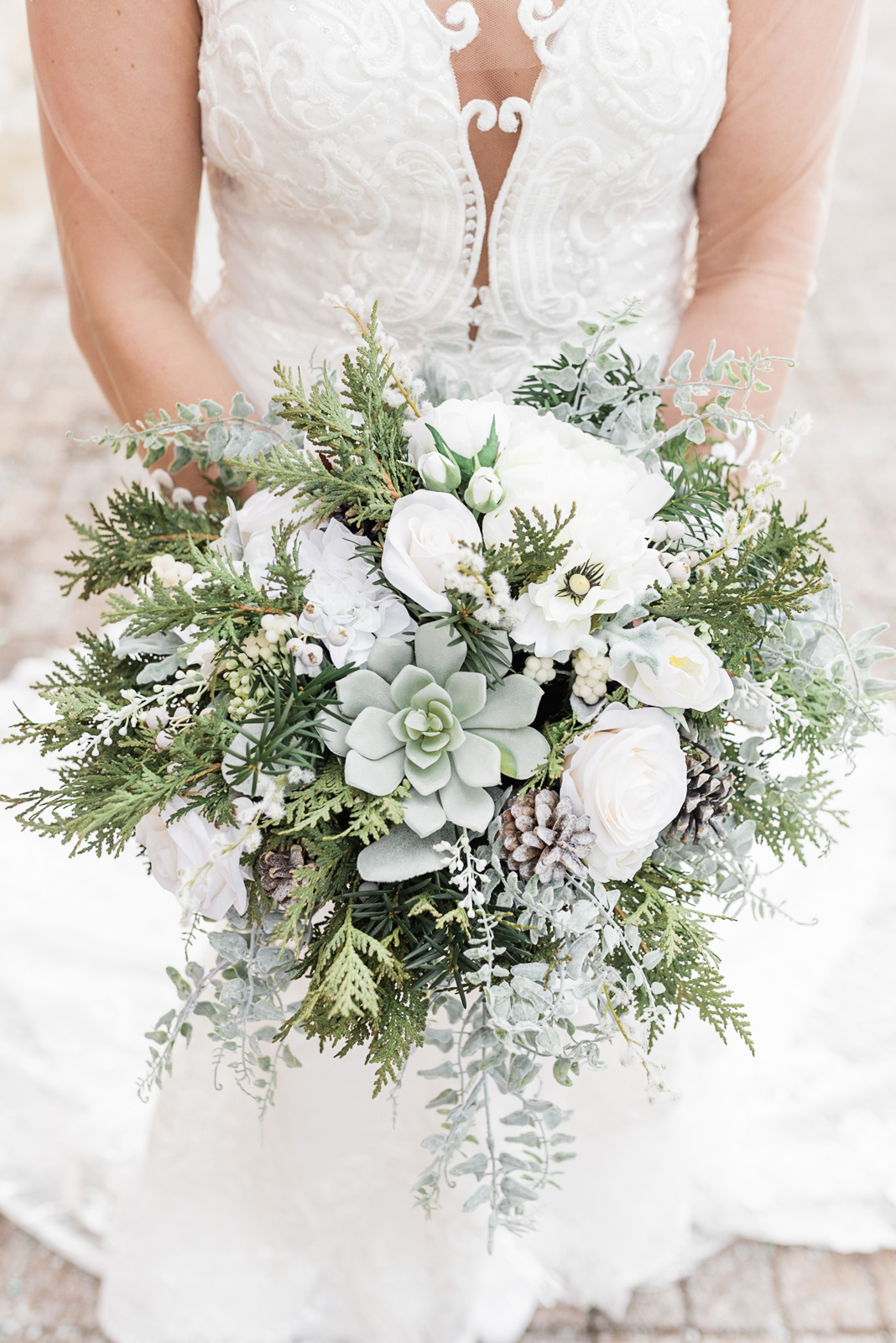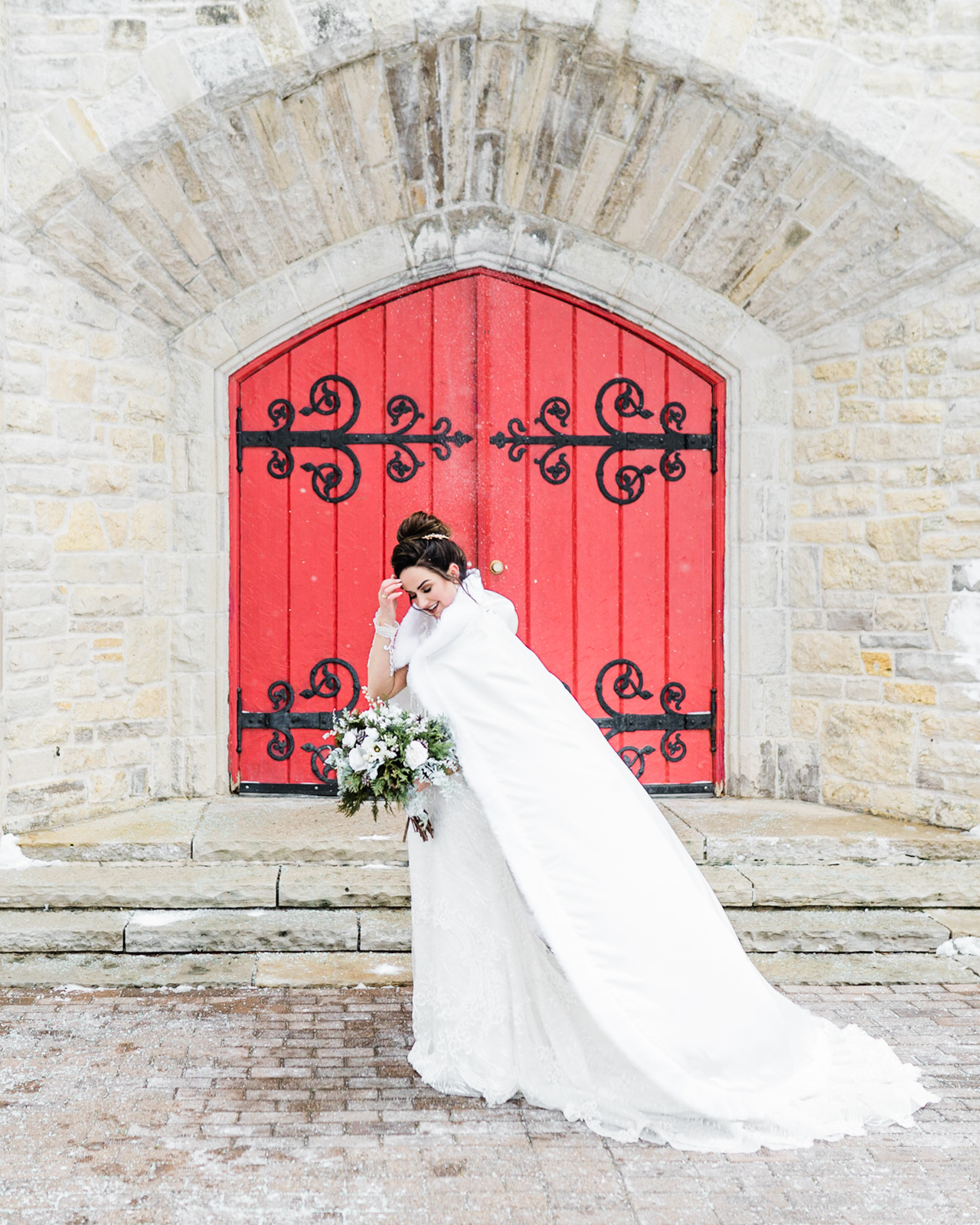 DESCRIBE YOUR WEDDING FLOWERS: I LOVE floral, but I also trusted our incredible florist to bring my ideas to life. I just told her a rough theme we were going for, and I knew we wanted a lot of greenery, roughage, and pinecones, and she made that all happen. The pinecones were spray painted to give them a frosted look, which really helped tie together our winter wedding theme.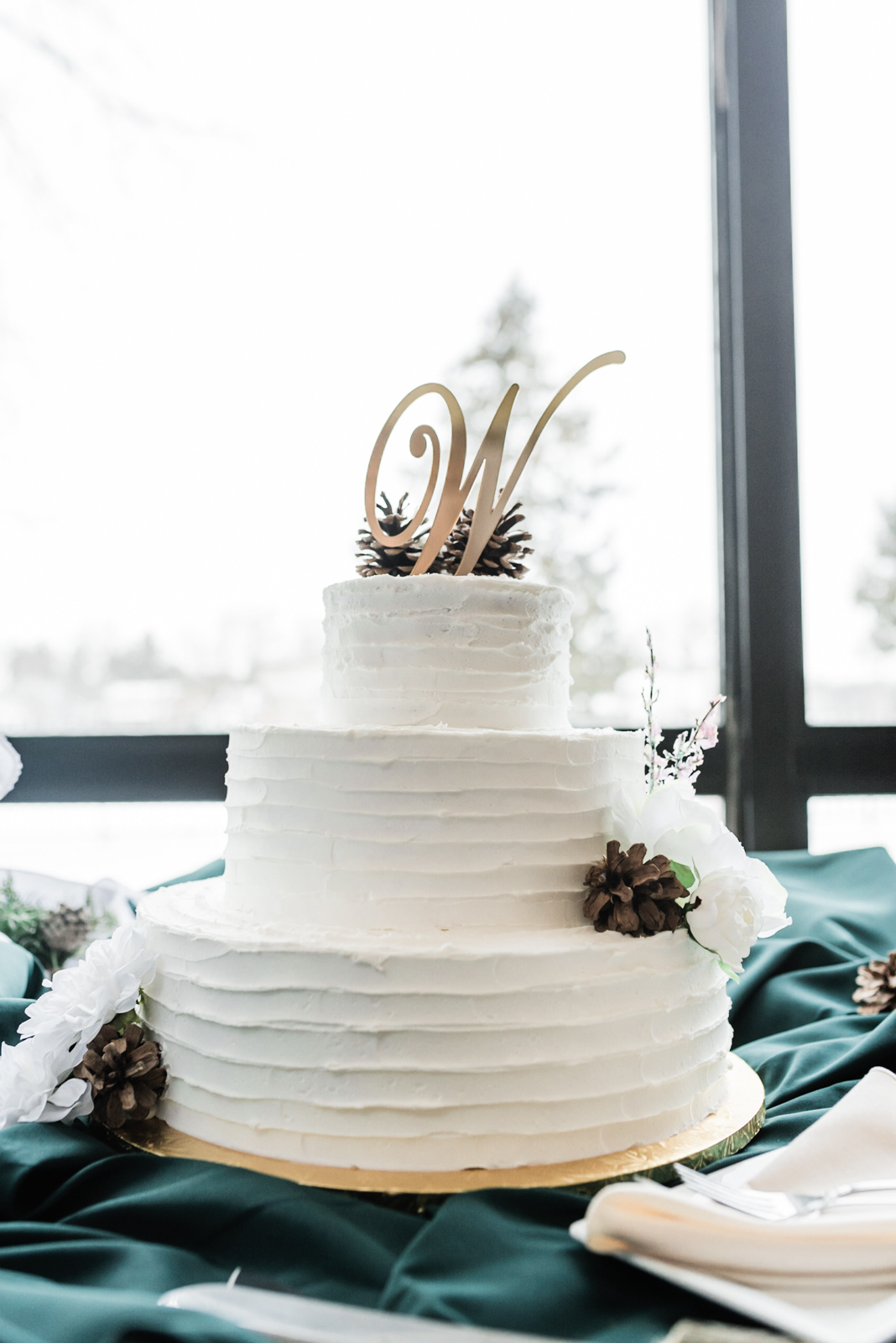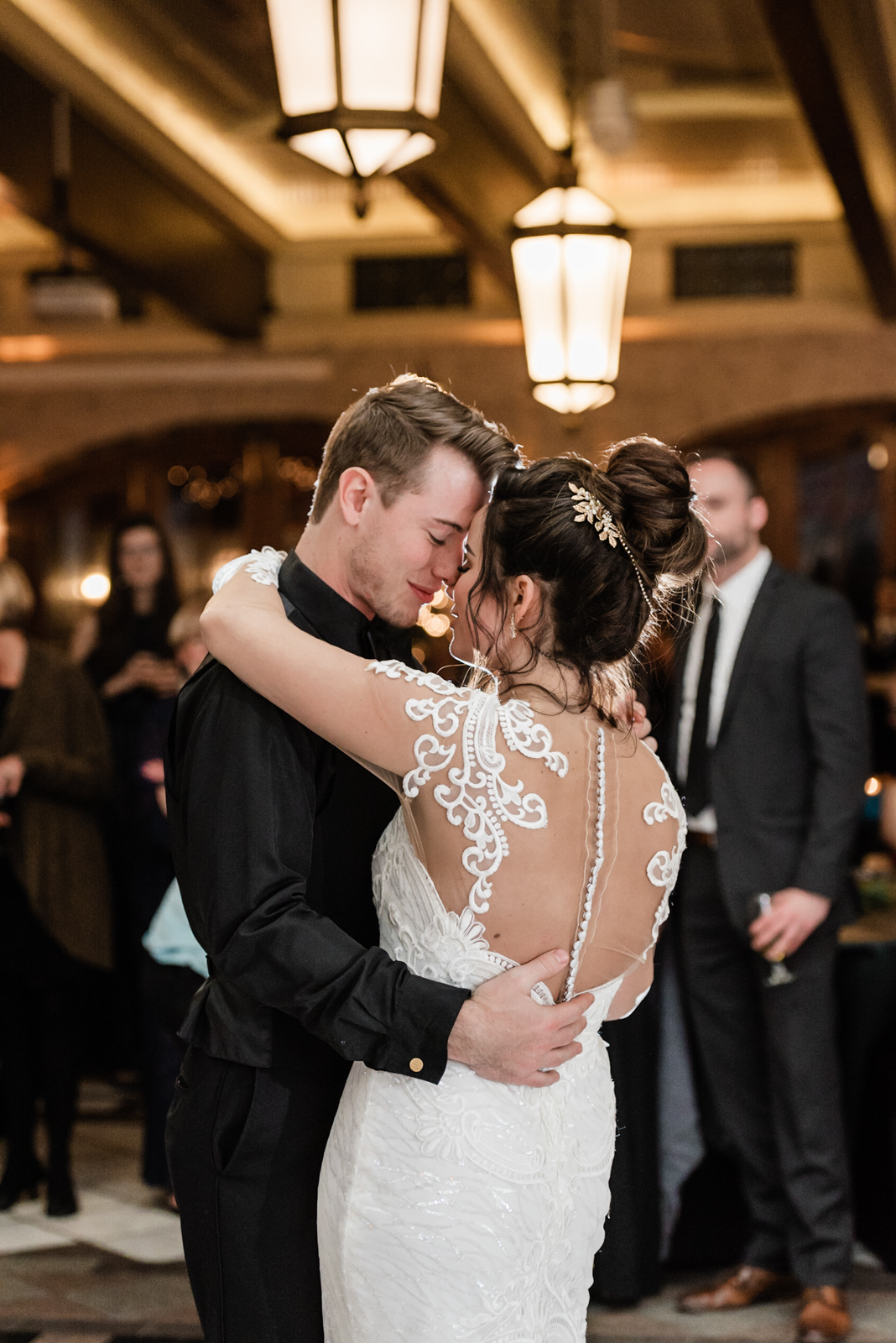 WHAT WAS YOUR FAVORITE MOMENT FROM YOUR WEDDING? We chose not to do a first look - we wanted every ounce of pent up emotion and excitement to be expressed during that first glance as I walked down the aisle. That was by far the most anticipated moment of our day. Our reactions when we saw each other as the church doors opened were unexplainable and unforgettable. Another amazing part of the wedding day was how much time we actually got to spend together. Everyone always says that you really don't get much time alone, but there was a moment later in the evening where we snuck off to a quiet/dark outdoor portion of our reception venue and just sat and watched our guests dance and enjoy themselves. It was like looking at our big day from an outside perspective. The stillness, quiet, and those 10 minutes alone were so important and wonderful to us.
WERE THERE ANY PERSONAL TOUCHES OR DIY ELEMENTS? So much of our decor was DIY - our guest book was an old tree trunk for our guests to sign. Brett's mother wood-burned our initials and wedding date into the center, which made it extra special. All of the place cards and logs to hold them were also DIY. It allowed us to bond over the process but also to save some money along the way! There's nothing a spray paint can of antique gold can't spruce up!
IS THERE ANY ADVICE YOU'D GIVE TO OTHER COUPLES PLANNING THEIR WEDDING? Enjoy every step of the process; it goes by so fast. We really enjoyed wedding planning (for the most part, hiccups always happen!), but it's something we tried hard to do together and embrace. Your most important vendor will be your photographer - choose one you REALLY love since photography is the only part of your day you get to walk away with.