Settle in, loves, because this Wisconsin garden party wedding involves the dreamiest ceremony on a hill in the woods on family land in Lodi. Add in Event Essential's tent planning expertise along with beautiful hanging floral hoops from family whiskey barrels straight from Kentucky, to wood harvest tables handcrafted by the groom and you've got one picture-perfect affair. Ashley and Drew opted for a neutral color palette of creams, whites, and greenery and invited Wisconsin wedding photographer, East Elm Photography along to capture every stunning moment.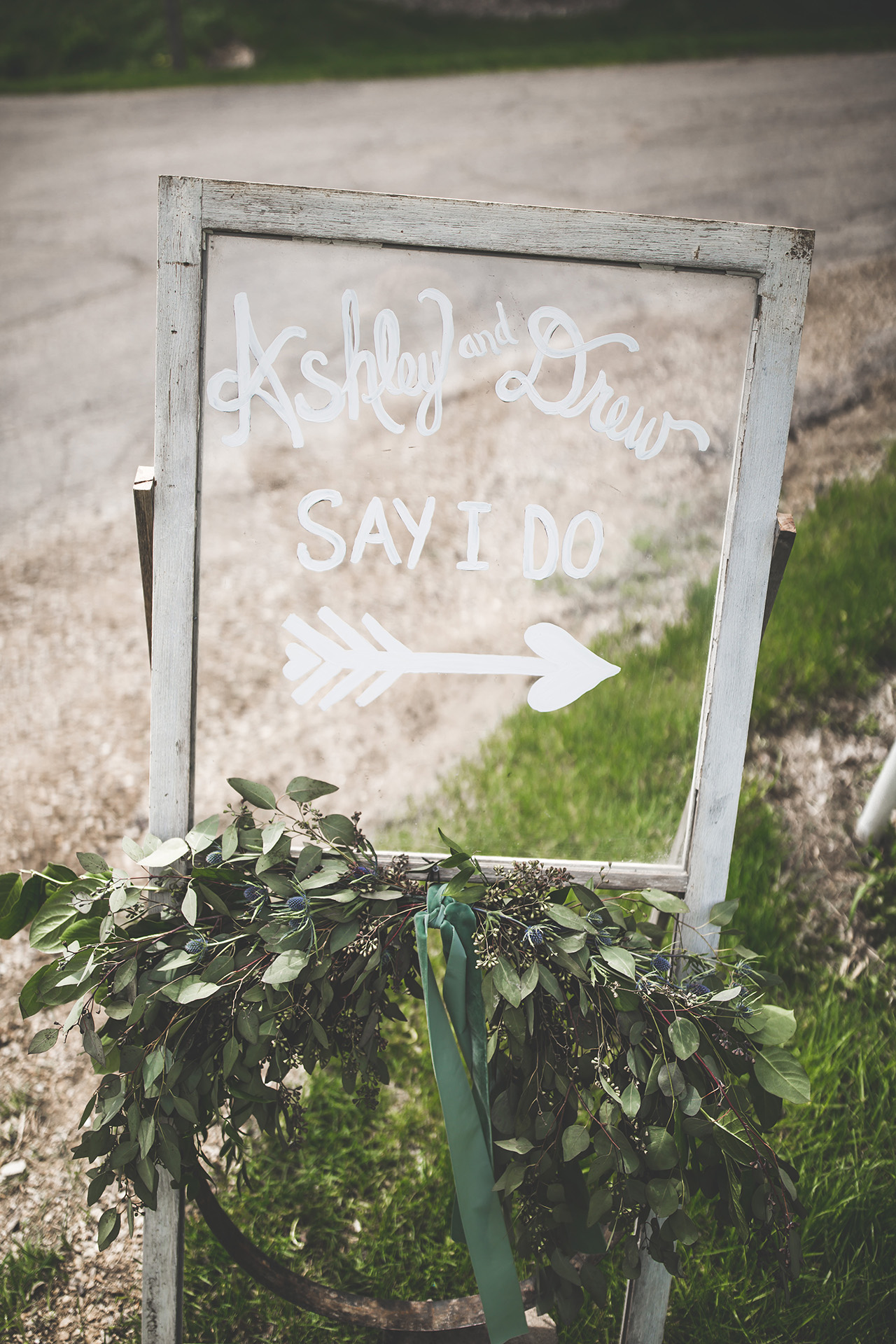 WEDDING DATE: 05/19/18

HOW DID YOU MEET? This is one of our favorite stories. We met, by chance, at a mutual friend's party on New Year's Eve. I was living in Chicago at the time and had just flown in from visiting my family. My other plans had fallen through, and at the last minute I called our friend, Baylee, basically invited myself to Madison and drove straight there. Drew and I met when I offered to tie his tie while we were all getting ready to go out. We chatted, we danced, we even shared a bottle of champagne in the back of a taxi. After being out all night, we ended up staying up and talking until eight in the morning - only stopping because Drew had to go to work. And so the adventure began.

HOW DID YOU KNOW HE/SHE WAS "THE ONE?" There really wasn't one moment for either of us. We kind of fell into place, piece by piece, until one day everything just fit together perfectly.

TELL US ABOUT YOUR PROPOSAL: It wasn't a particularly special night, but the weather was calm and there was a thin veil of snow on the ground. Drew suggested a walk up to the old quarry where we're planning on building a house. We were standing at the top, looking out across the hills and talking about who knows what. He said something sweet and I replied, "I love you." He looked at me and asked, "Do you love me enough to marry me?" Then dropped to his knee and I said yes. I dropped down to my knees too and we sat there laughing in the snow until our toes were too cold and were so, so happy with ourselves.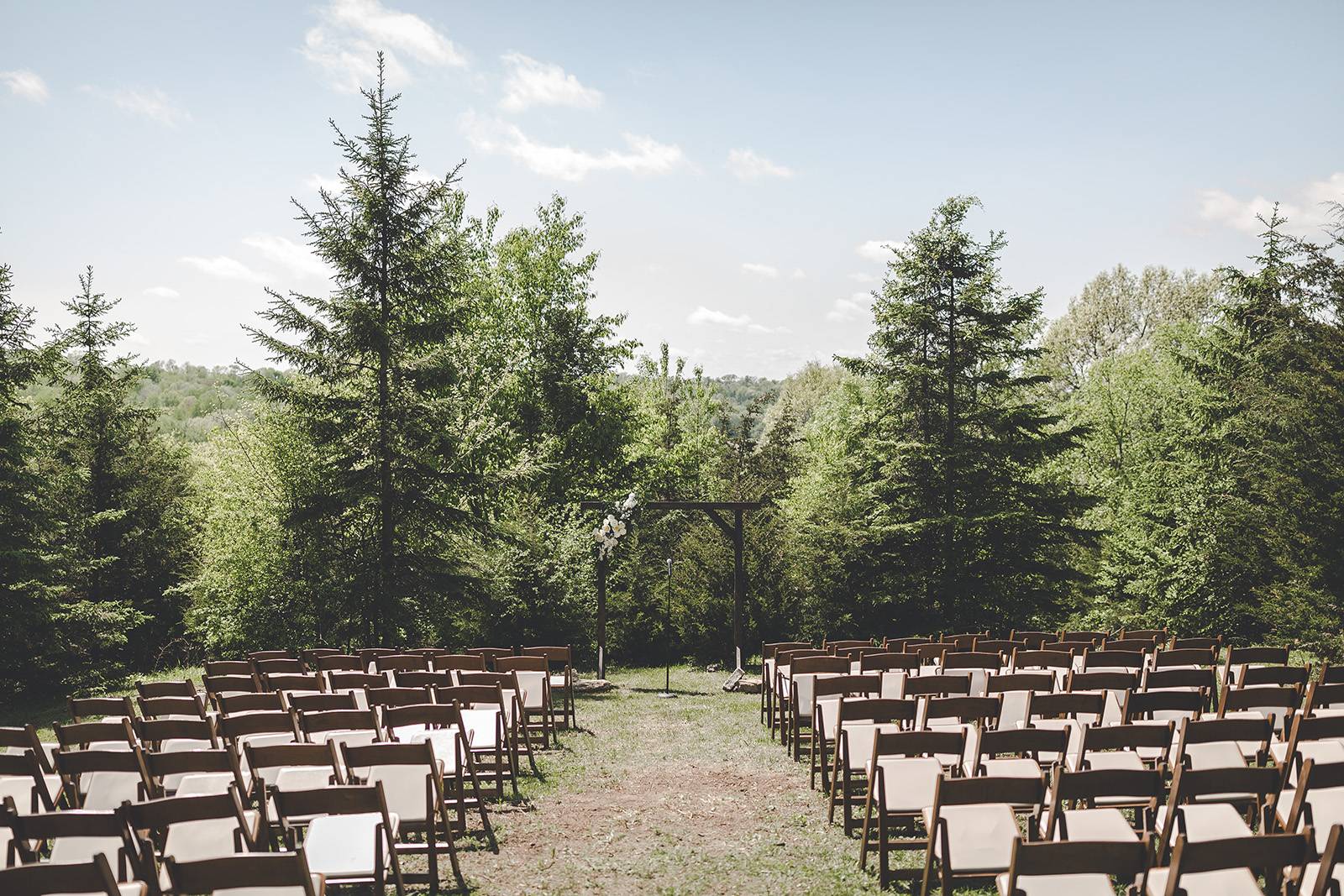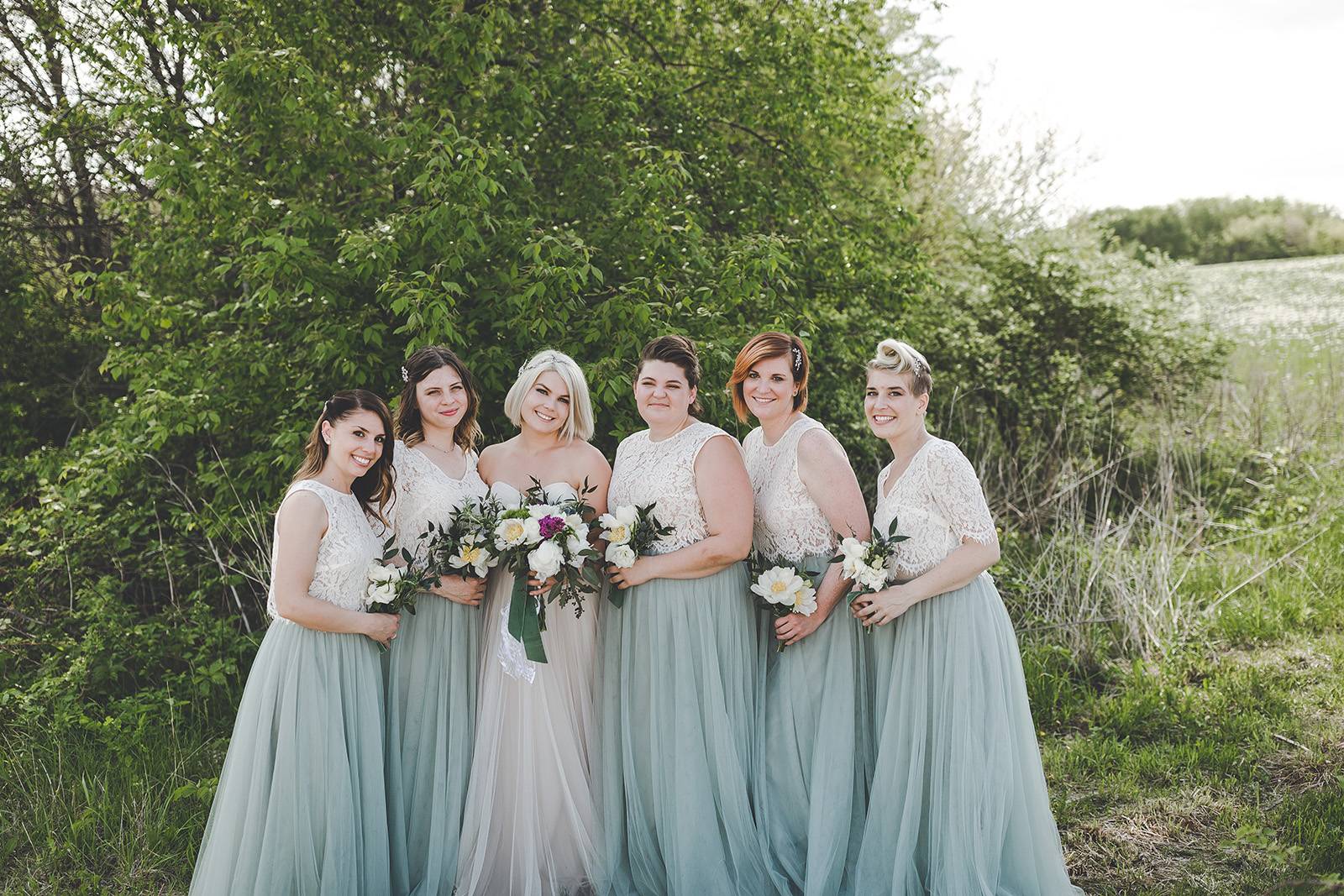 DESCRIBE YOUR WEDDING FLOWERS: White peonies and roses, with eucalyptus, rosemary and various greens. On the day before the wedding, our florist saw the lilac bushes and was inspired to incorporate a little taste of home into our arrangements - it was the perfect touch.
TELL US ABOUT FINDING YOUR DRESS: Three of the bridesmaids were able to come, everyone meeting down in Chicago at BHLDN. My mom and sister were even able to join us via Skype! We had the first appointment of the day and the shop was beautiful. It only took three dresses to find the one. It was simple and unfussy with a unique undertone of pale mauve and taupe. Once I stepped out, wearing the dress and headpiece, everyone knew it was "the one."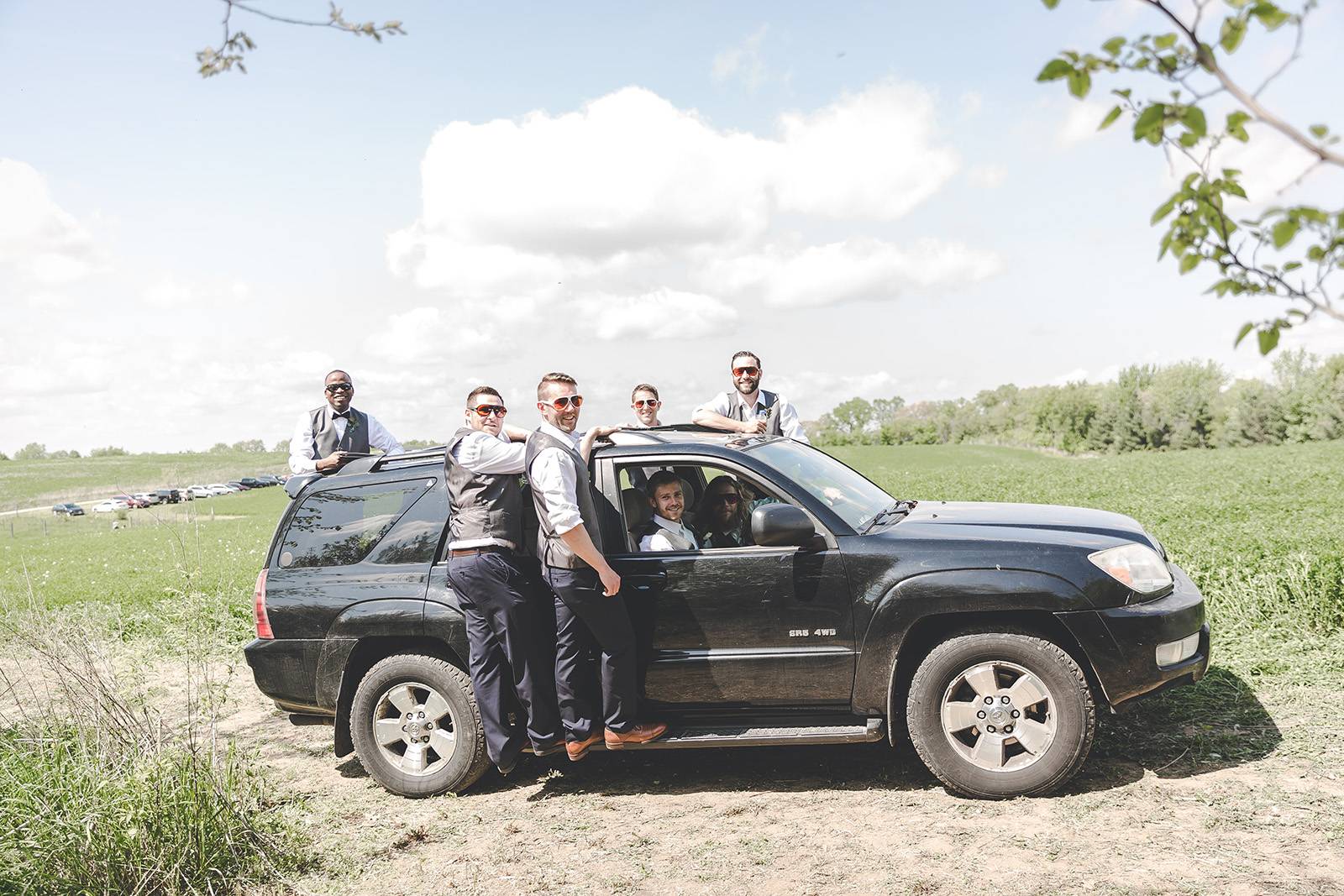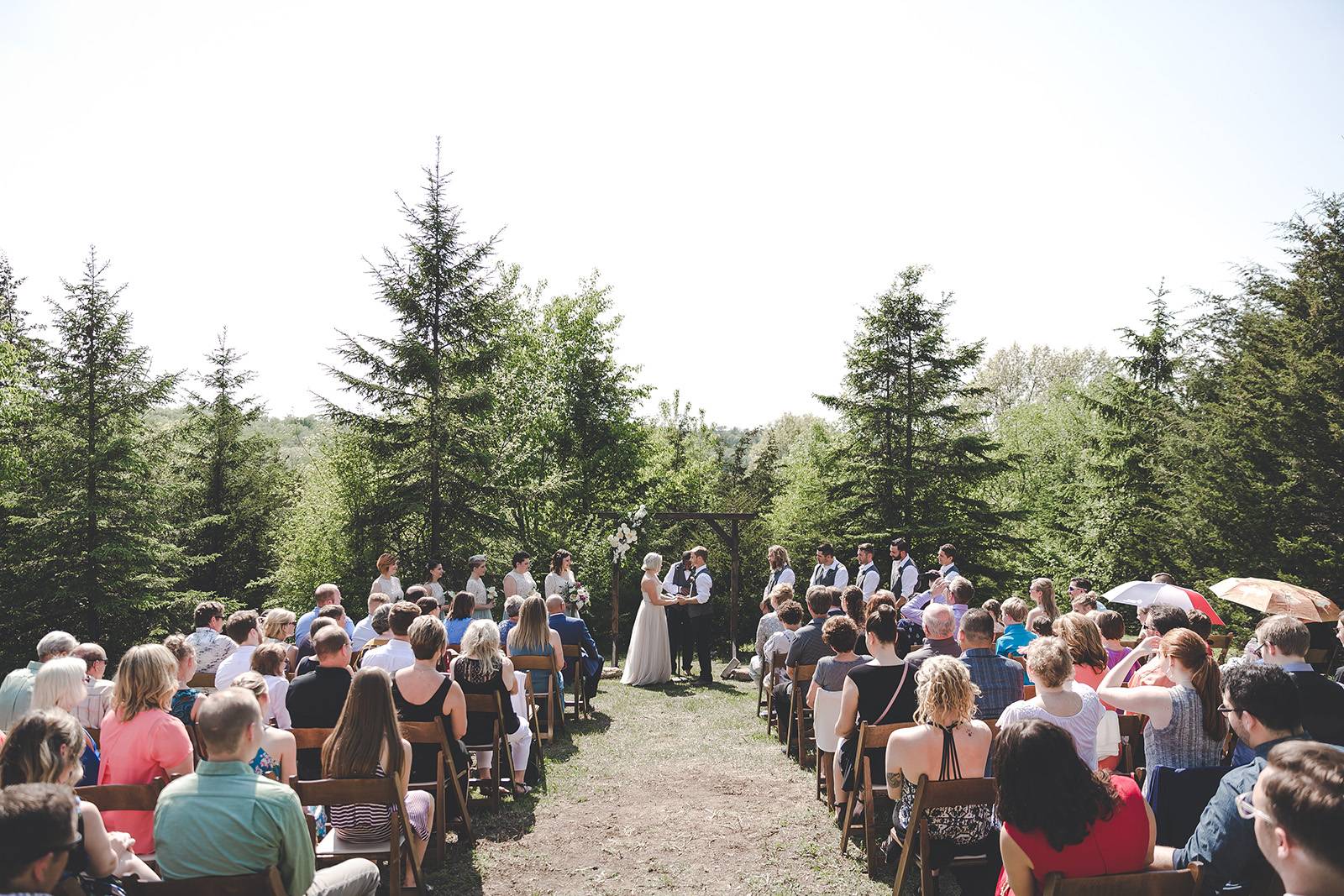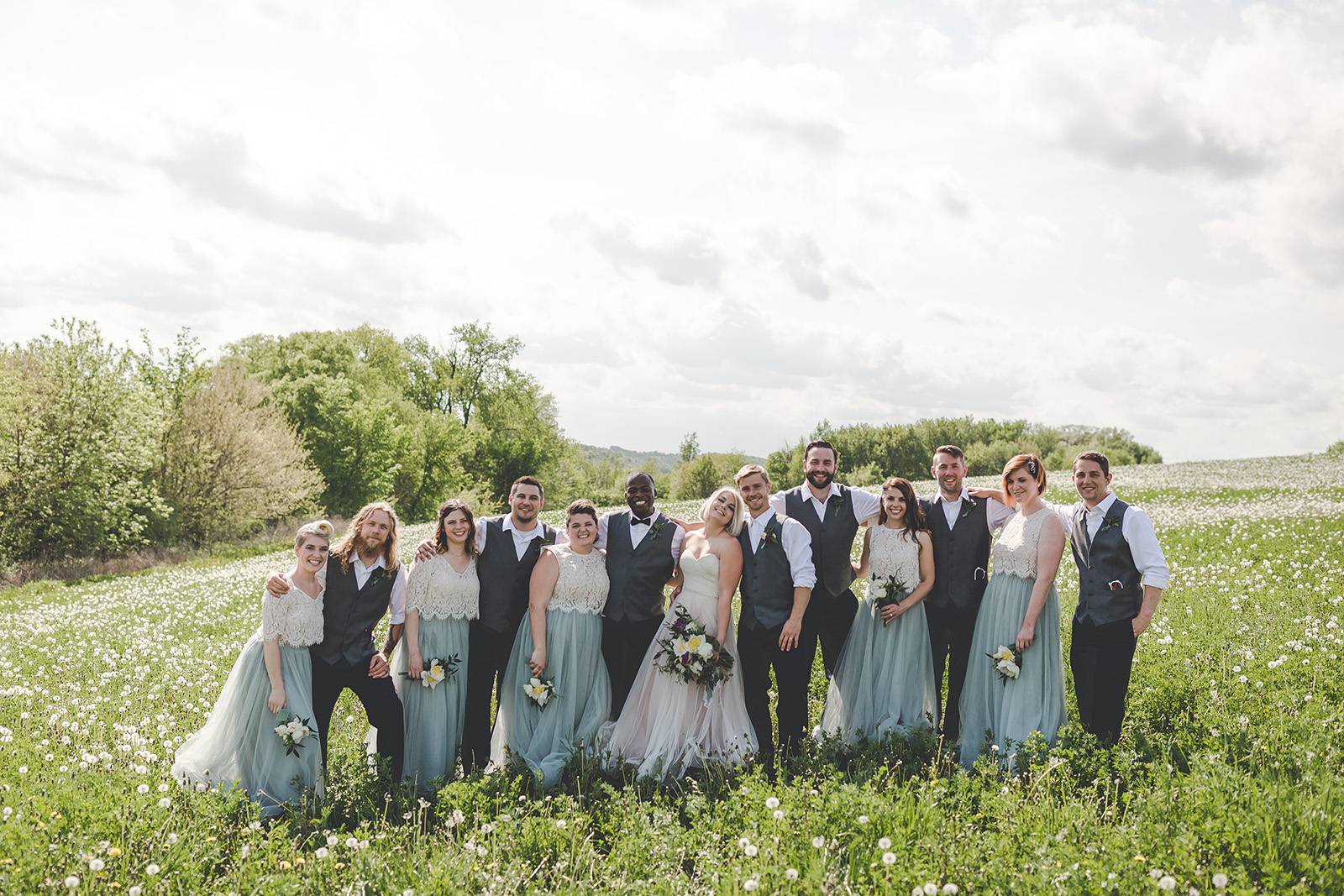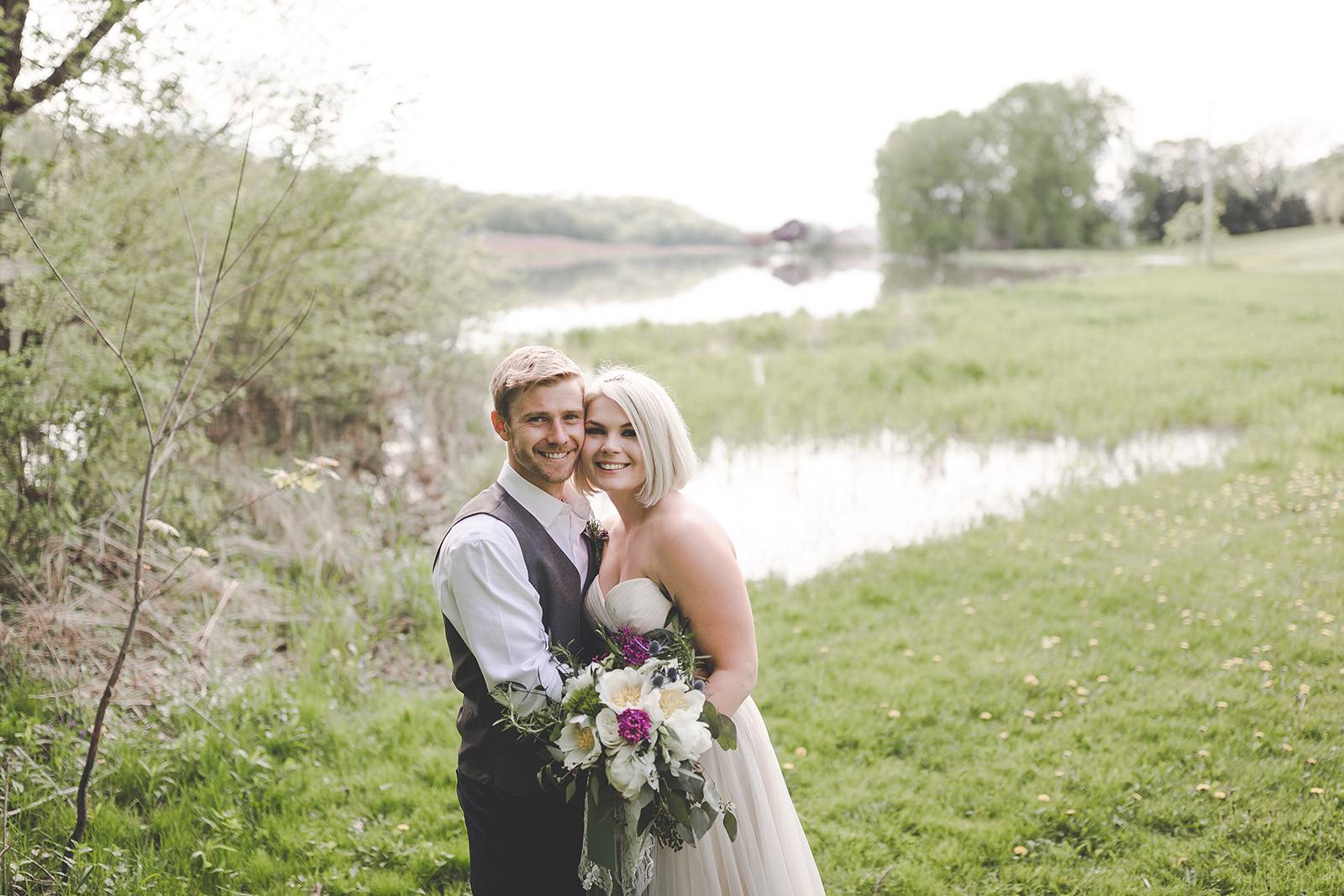 DID YOU USE ANY SPECIALTY TABLES, CHAIRS, LINENS OR GLASSWARE? The glassware was a mix of found/collected crystal and avocado green stemware. These also served as our gift for guests to take.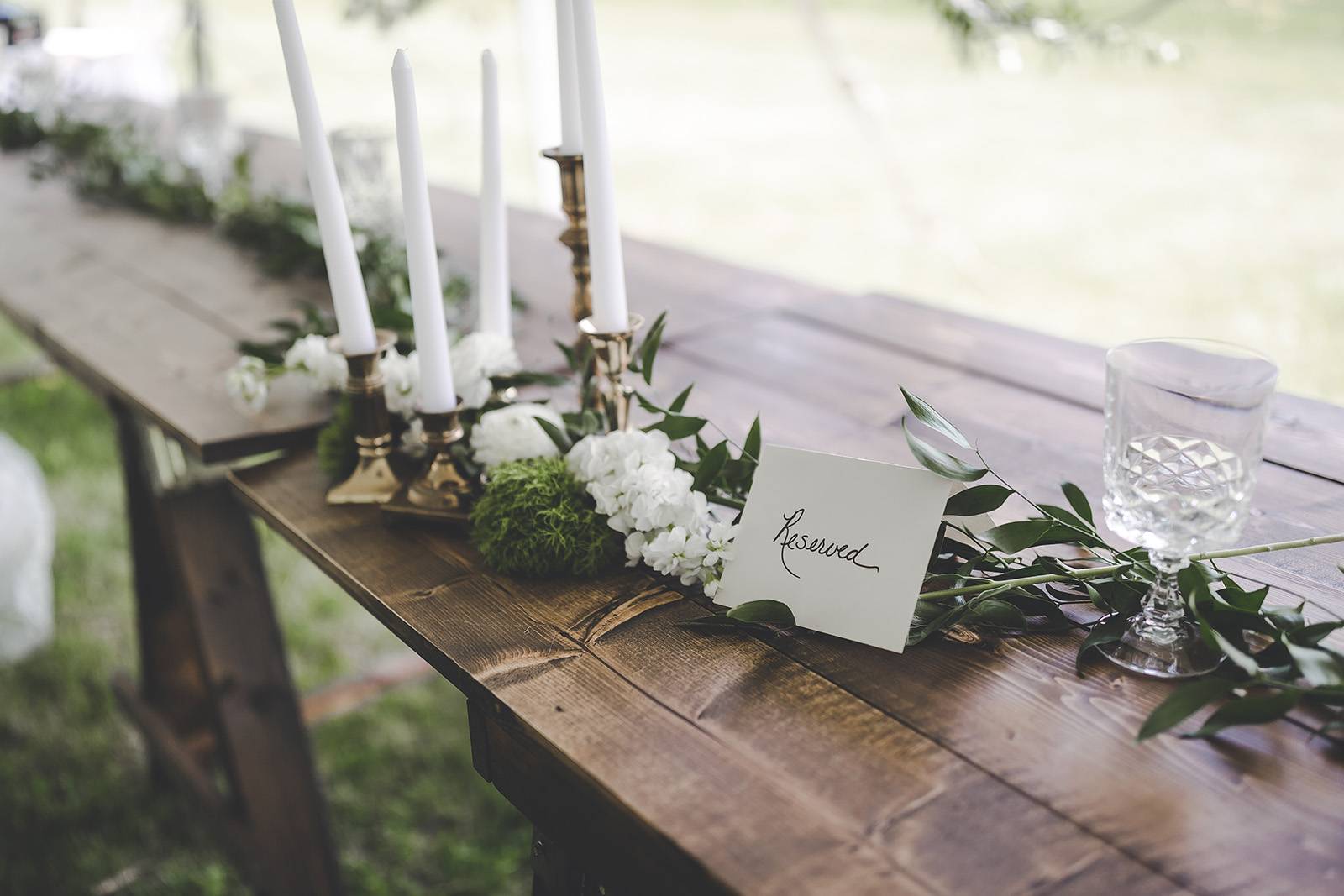 WERE THERE ANY PERSONAL TOUCHES OR DIY ELEMENTS? Drew, the groom, built our head table as well as the altar and dance floor. The glassware and candlesticks were all vintage pieces we found. Another special element was the hoops for our floral arrangements. They were bourbon barrel hoops that were brought up by family in Lexington. All of the signs we made from vintage windows and mirrors.

We were lucky to have our friend, LP as our officiant. He performed the ceremony wonderfully and it was especially meaningful for us to be able to be married by someone we care about. One of our favorite personal touches was the guestbook. Instead of a traditional guestbook, we had everyone take polaroids - and encouraged guests to have fun with it. We laughed and smiled way too much going through all of the pictures the next day!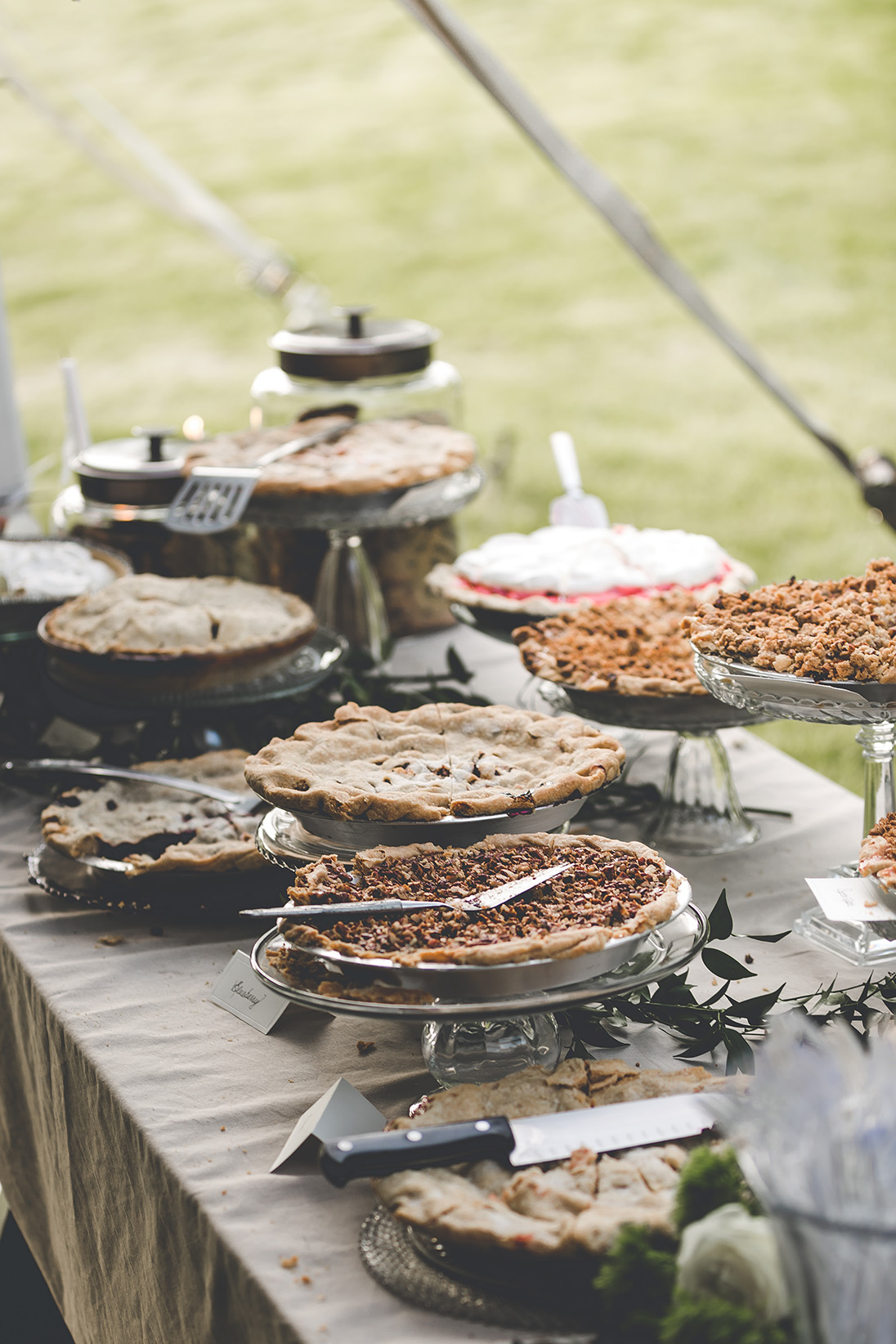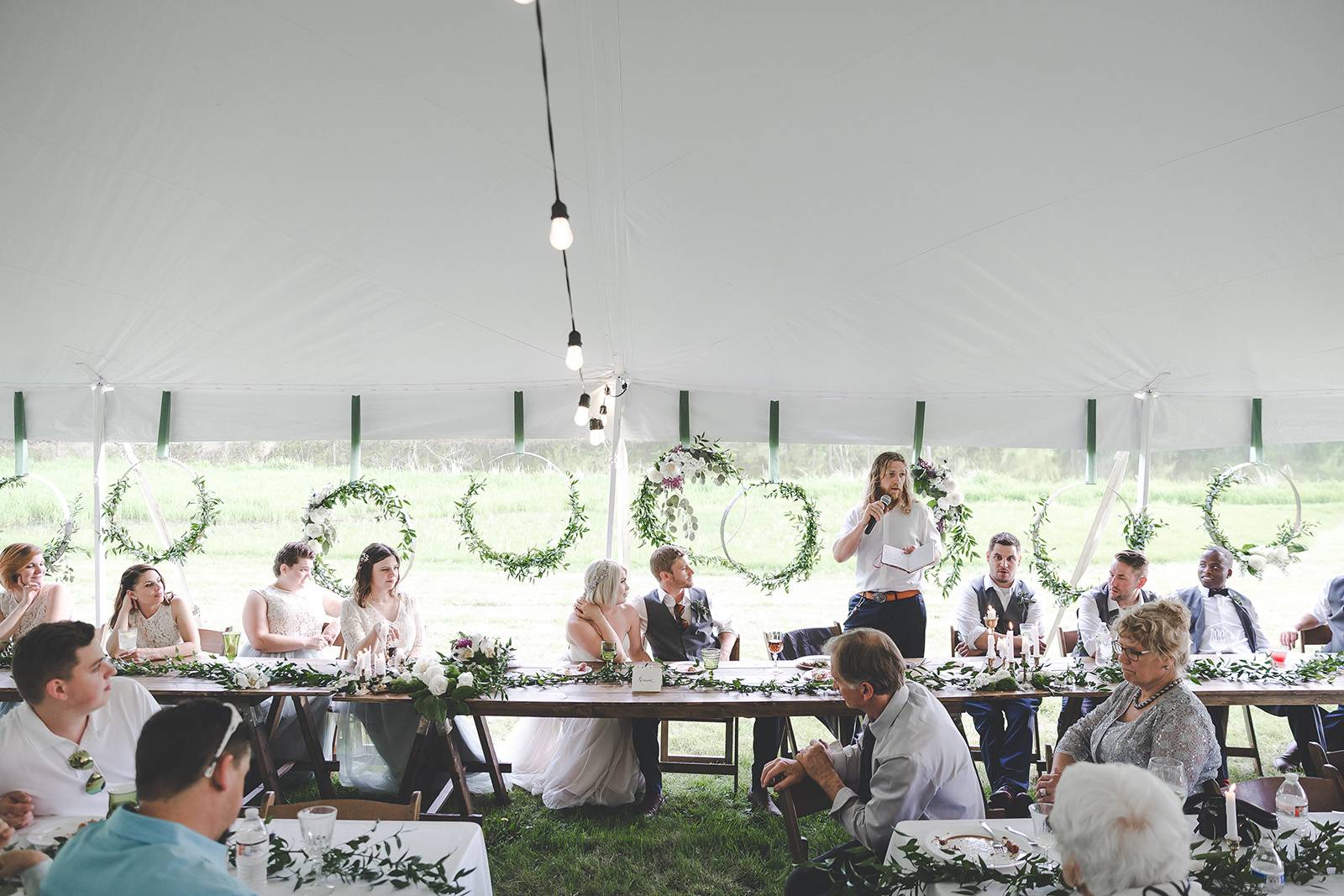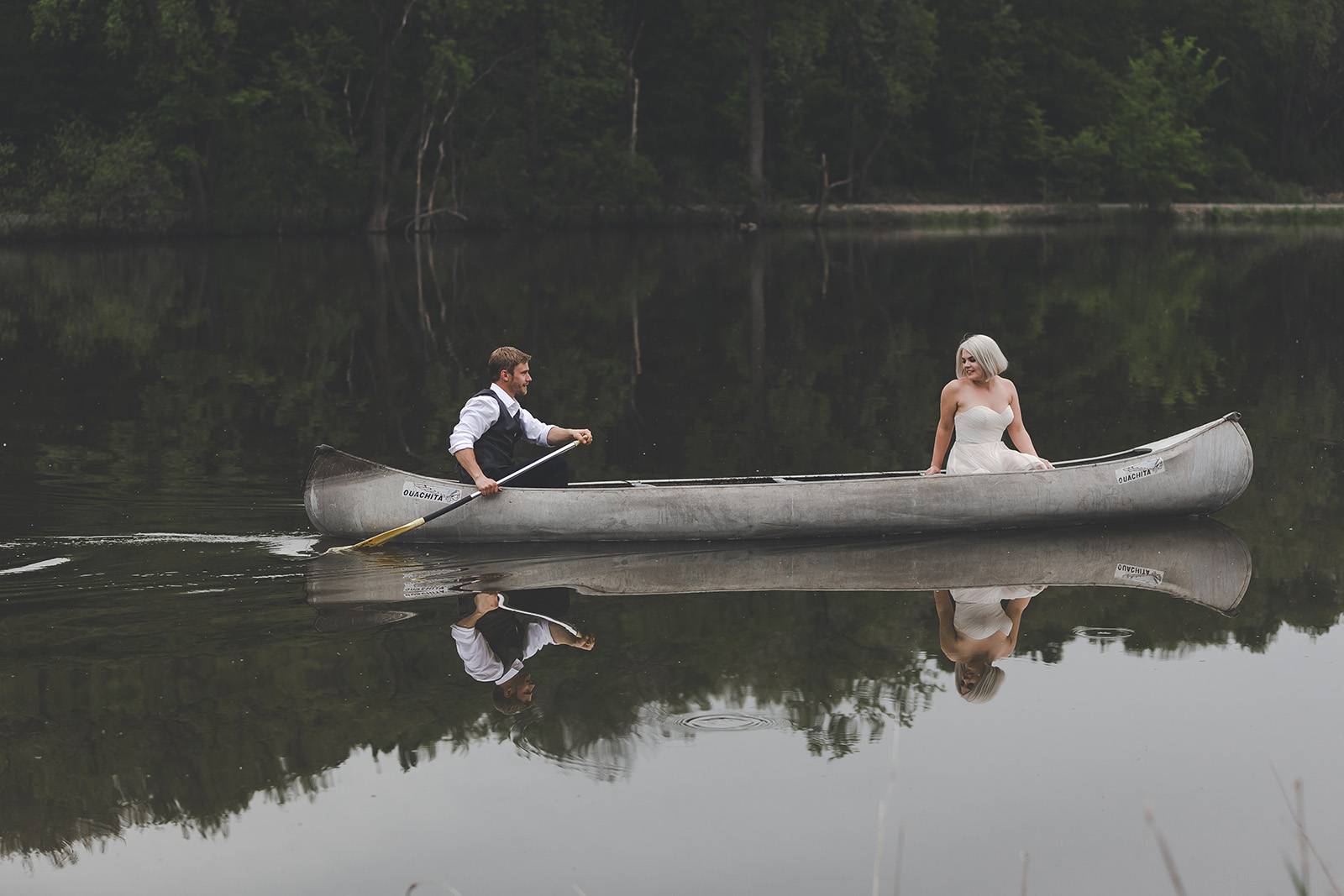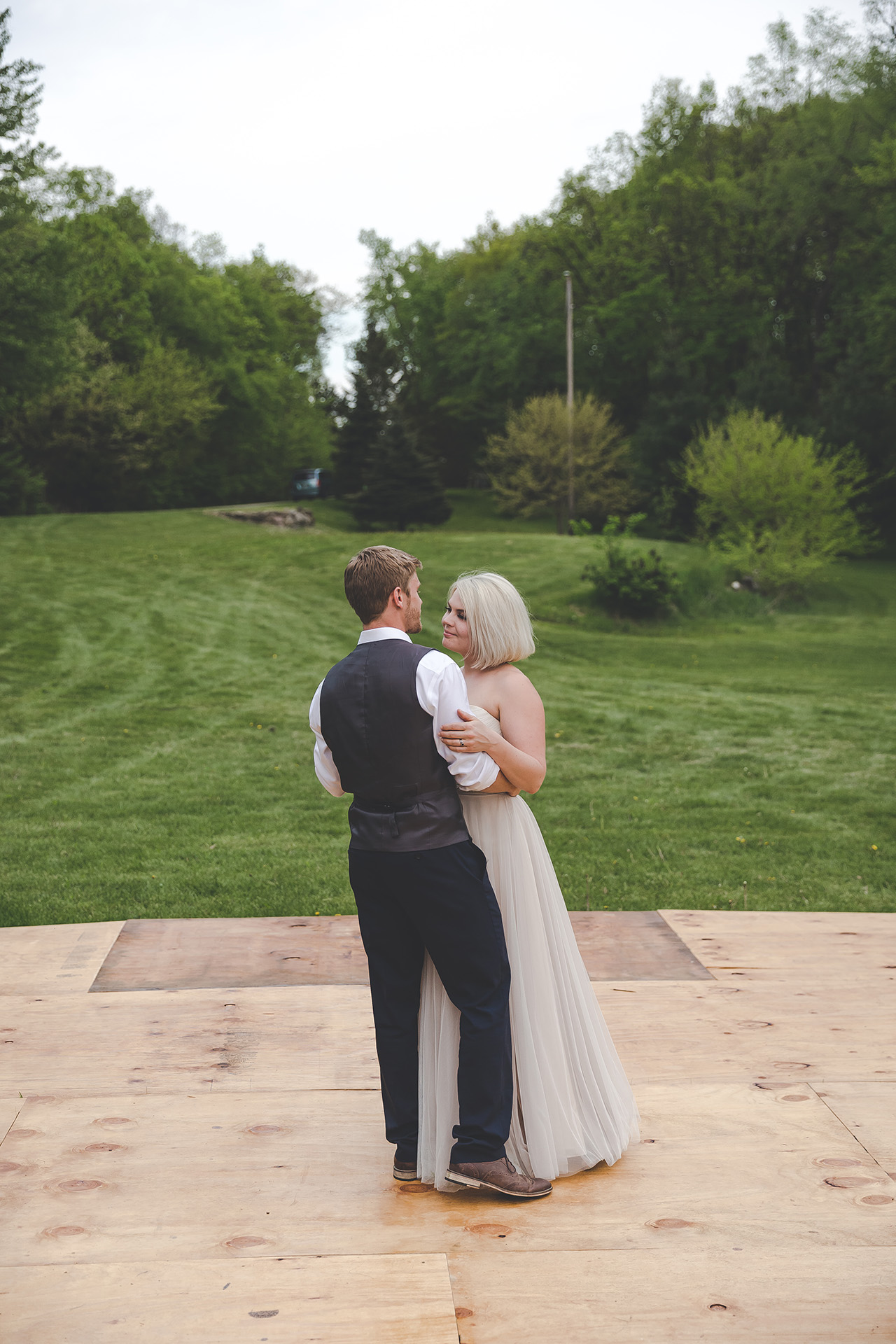 WHAT WAS YOUR FAVORITE MOMENT FROM YOUR WEDDING? There were many wonderful moments, but our favorite had to be when everyone was out on the dance floor. Seeing our friends and family all together having a genuinely great time was the best part of the day.
TELL US ABOUT YOUR HONEYMOON PLANS: We took a long weekend and ran away to Door County. No reservations or plans. It was an adventure! We're looking at taking a backpacking trip out West this winter for our "official" honeymoon, but nothing will replace those first few days together.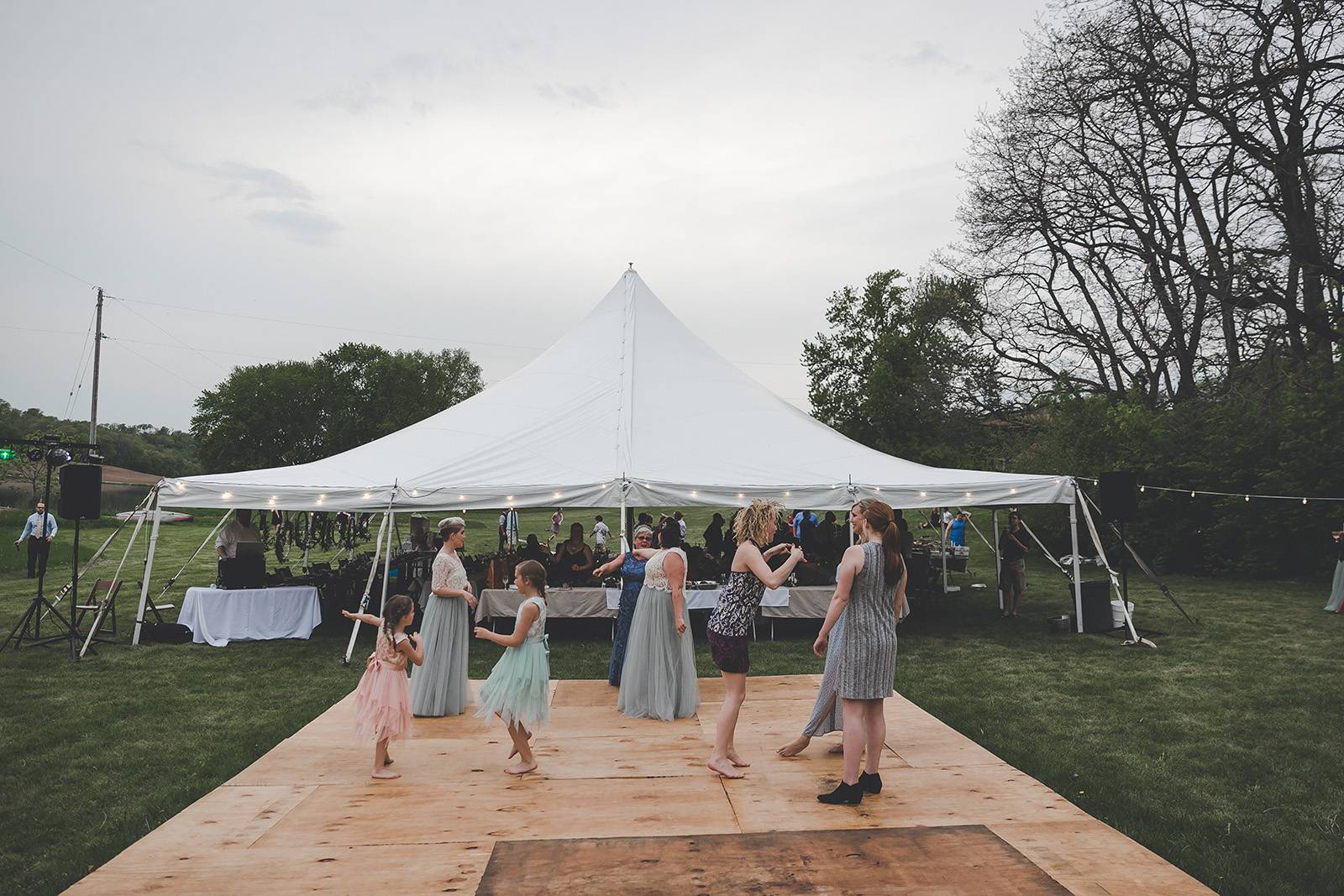 WHAT DOES LIFE LOOK LIKE AFTER THE WEDDING? Awesome. We're currently looking for a house to call our own and getting ready for the next adventure. Nothing has really changed, but it feels more intimate and special to us.

IS THERE ANY ADVICE YOU'D GIVE TO OTHERS PLANNING THEIR WEDDING? Plan vigorously for the first month, gather your inspiration, and then step away for a month (even two) before making any big decisions. You realize what really matters to you that way versus getting caught up in the trend of the moment. We ended up peeling back and discovering what resonated with us.