Filled with bright botanicals and elegant Gatsby flare, today's real wedding held at Lake Windsor Country Club was a true 1920's wedding celebration for Rebecca and Jeffrey. Captured by Azena Photography, we invite you to gather all the inspiration from this couple's big day featuring tasty treats from Gigi's Cupcakes, stunning scenery, personalized rings, and a whole lot of love.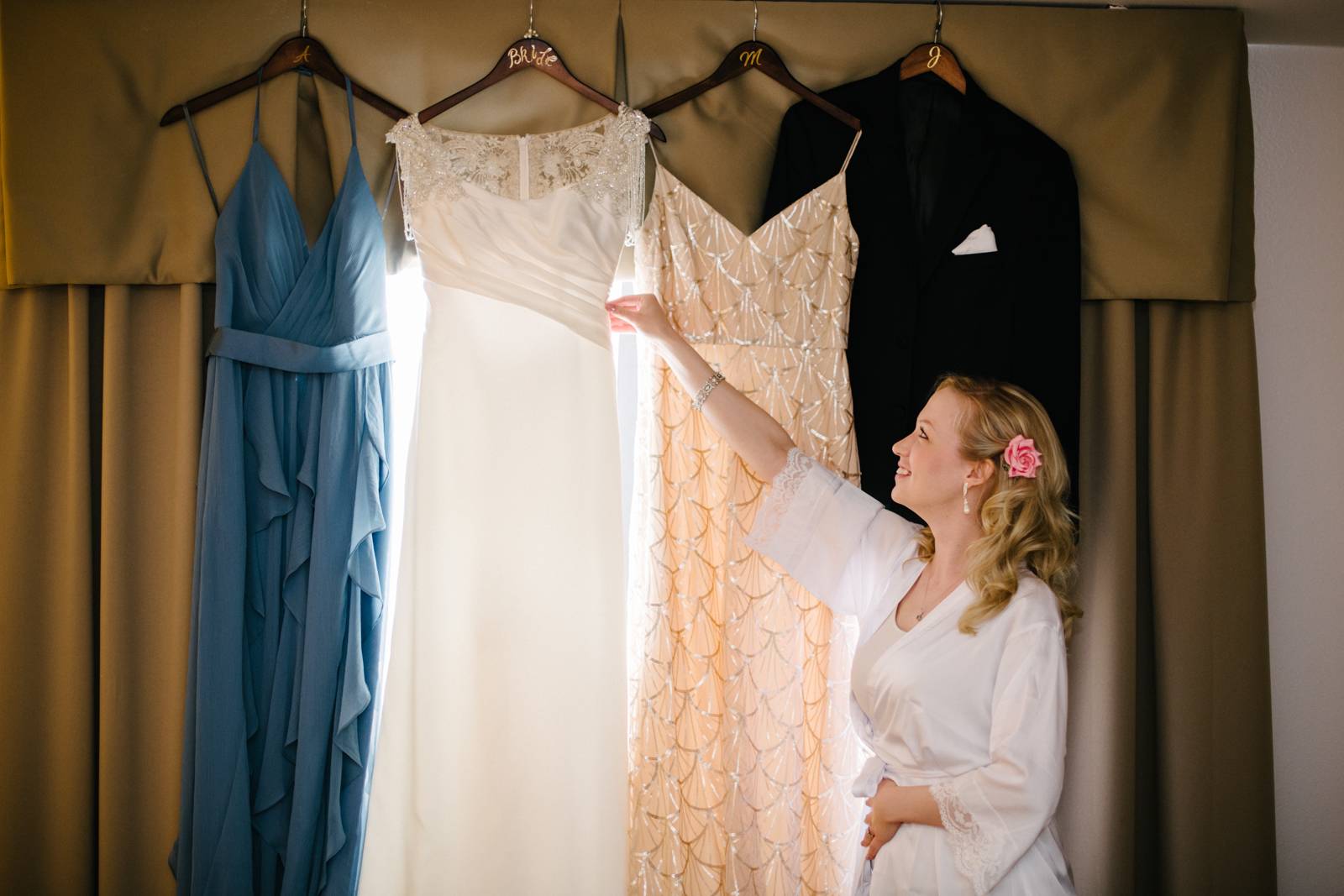 Name of Couple: Rebecca and Jeffrey
Wedding Date: 8/9/2019
HOW DID YOU KNOW YOU FOUND "THE ONE"? I am a cynic by nature and just assume that men in my life probably won't stick around for too long. I would always sit myself down and picture what my life would be like without whatever guy I was seeing at that time, and when I did that with Jeffrey, I couldn't picture it. I couldn't see my life without him, and I had never had that happen before. He was always the first person I thought of when I had something to share, when I found something funny, or when something happened that was interesting. Jeffrey was always the first person I wanted to tell. He's my best friend now and when we first were getting to know each other. Everything with him was just better and still is.
Jeffrey says, "when nothing else in the world mattered more than to see her happy, and I mean anything. For instance, I didn't mind before we dated that she was dating while we were friends because I knew she would eventually find her happiness in me."
TELL US ABOUT YOUR PROPOSAL: Jeffrey woke me up around midnight on August 9th, saying that he needed to go to Kwik trip for a slushy, and I had to go with him. Even though I thought he was insane, I obliged and came with him. Jeffrey went into the store alone and came out with a bag of goodies but no slushy. When I brought that up, he just sort of shrugged and said he forgot, which is true, he has completely forgotten what he told me he needed in the past. He then began to drive around town and pointed out different places we had been, and he got really sentimental, which is a rarity for him. He passed our first apartment and just got very lovey. When we pulled up to our current apartment, handed me the mail key, and told me that I should check the mail.
Now I have to add, I hadn't been allowed to check the mail for a few weeks because he had ordered my engagement ring and wedding ring from a man in Dublin, Ireland, who makes all his jewelry by hand with his own designs, so I knew that much. However, I didn't know when it would come or when Jeffrey would propose. I took the mail key apprehensively and opened it to find the little black box inside, and when I turned around, he was on one knee. It was perfect, and I can't imagine a more beautiful moment. Just an added bit of awesome is that Jeffrey unknowingly proposed to me on the same day that we had met five years before that day.
TELL US ABOUT FINDING YOUR DRESS: I picked out a dress on impulse. It was a giant, sparkly, gorgeous Cinderella dress - a purchase I immediately regretted and then about three months before the wedding. I was trying on dresses to try and convince myself that the first one was the one, and I found the perfect, Casablanca dress that embodied the Gatsby look that I wanted so badly. It was PERFECT, and I didn't have it in my budget for a new dress even though it was clearance and off the rack. I told Jeffrey about it, and he agreed it wasn't in the budget.
A few days before my birthday on Mother's Day, my mom said she wanted to go to that dress store and look for a MOB dress. Jeffrey came as well, and my mom had him walk out so I could try the dress on again. It still felt like the one, so after putting it back on the hanger, I felt even more depressed about it. But then as we were leaving, having not found a MOB dress. The woman who had been helping us stopped me at the door, and my mom told me that I forgot something. The woman working there held up the dress in a beige dress bag with a giant smile on her face. Jeffery had called the store and paid for it over the phone as a birthday gift to me. I immediately burst into tears; he is an amazing man.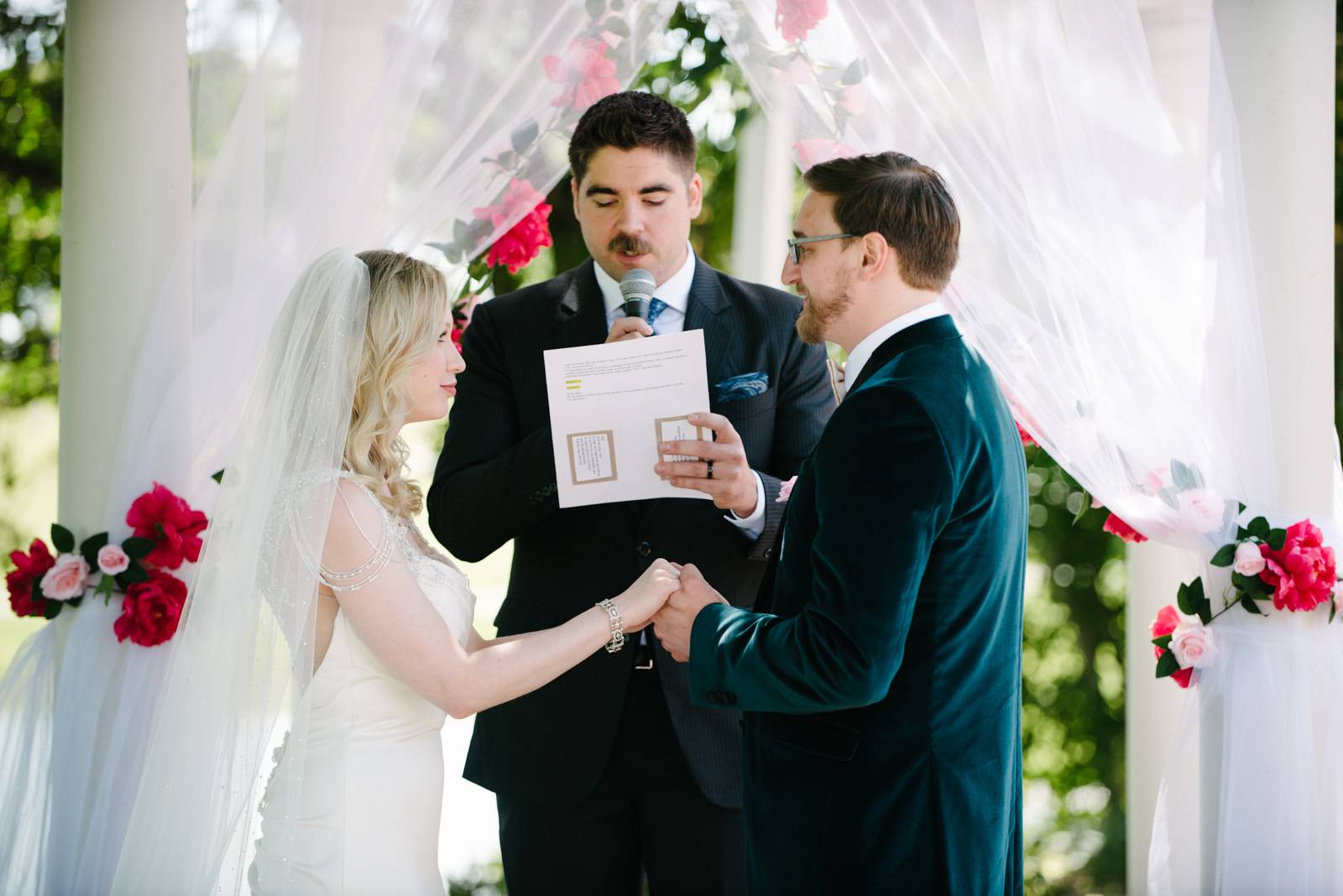 WERE THERE ANY PERSONAL TOUCHES OR DIY ELEMENTS? Personally, I feel like DIY ends up costing you more in the end than just buying the product; however, we did include personalized elements to our day. I wrote the vows for our officiant (a close friend of Jeffrey) and added a Gaelic wedding vow to them. Both my ring and wedding band were both made by a man who owns a tiny shop in Dublin, Ireland. Jeffrey had the man carve two tiny swans on the inside, which still blows my mind.
I had Jeffrey's ring custom made here at Jim Kryshak Jewelers. There are Norwegian designs on one side, Jeff's heritage, and two swans on the front, which is our sort of couple animal, and in the middle of them is an emerald which coordinates with my wedding band which is a mix of emeralds and diamonds. On the inside, I had them put "August 9th The Beginning of Everything." It is part of a quote by F. Scott Fitzgerald and the date we both met as well as when he proposed. Jeffrey also wore a custom made emerald green velvet jacket on the big day.
HOW WOULD YOU DESCRIBE YOUR WEDDING THEME/STYLE IN FIVE WORDS OR LESS? Gatsby Botanical
WHAT WAS YOUR COLOR PALETTE? Fuchsia, blush, steel blue, gold, and hints of emerald.
DESCRIBE YOUR WEDDING FLOWERS: We used faux florals - some were fuchsia, some blush, as well as a mix. Peonies with some white flowers mixed in for a few of the tables were our flower combination.
WHAT WAS YOUR INSPIRATION/DESIGN CONCEPT FOR YOUR OVERALL CEREMONY AND RECEPTION DECOR? My obsession with The Great Gatsby By. F. Scott Fitzgerald, as well as the 1920's as a whole.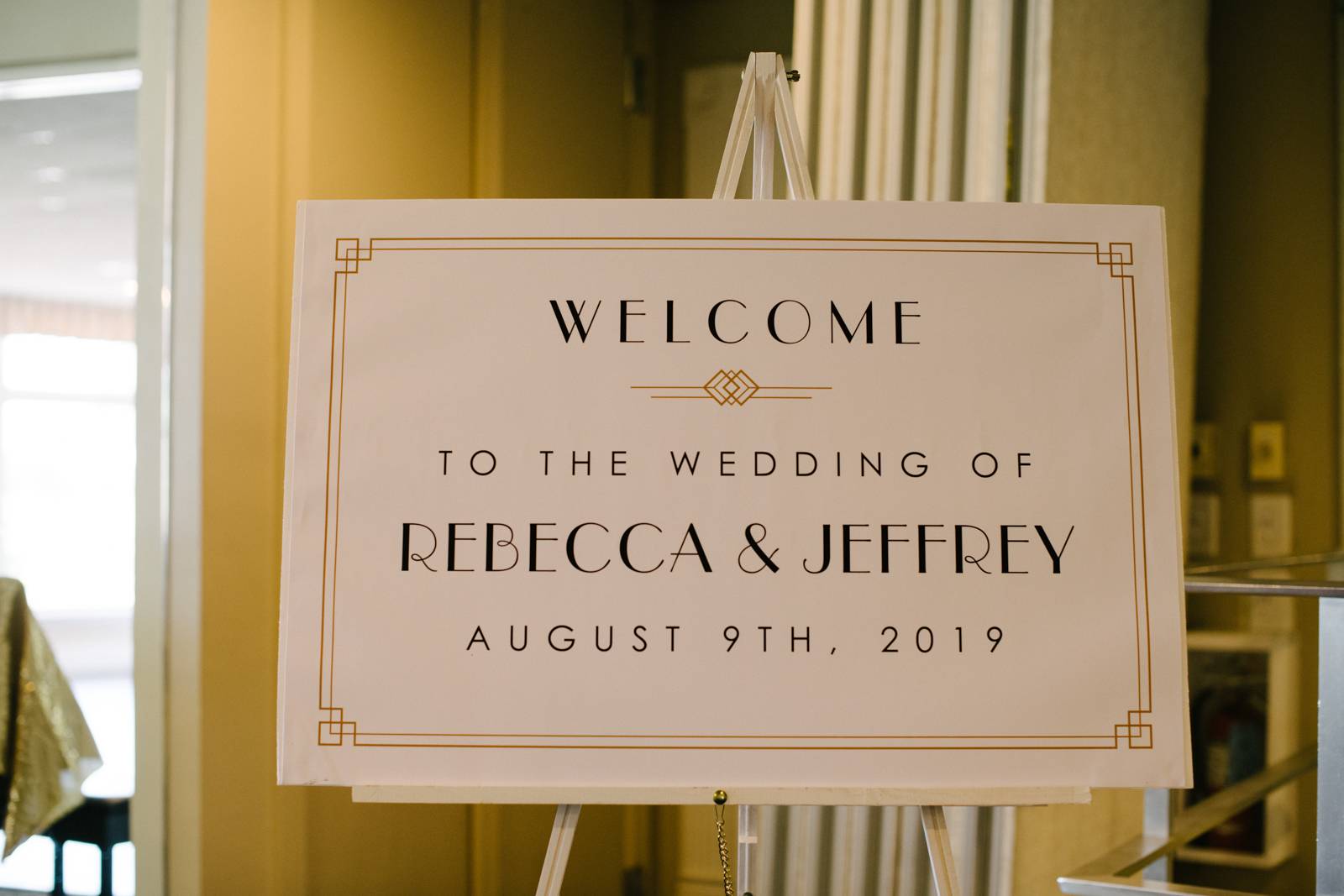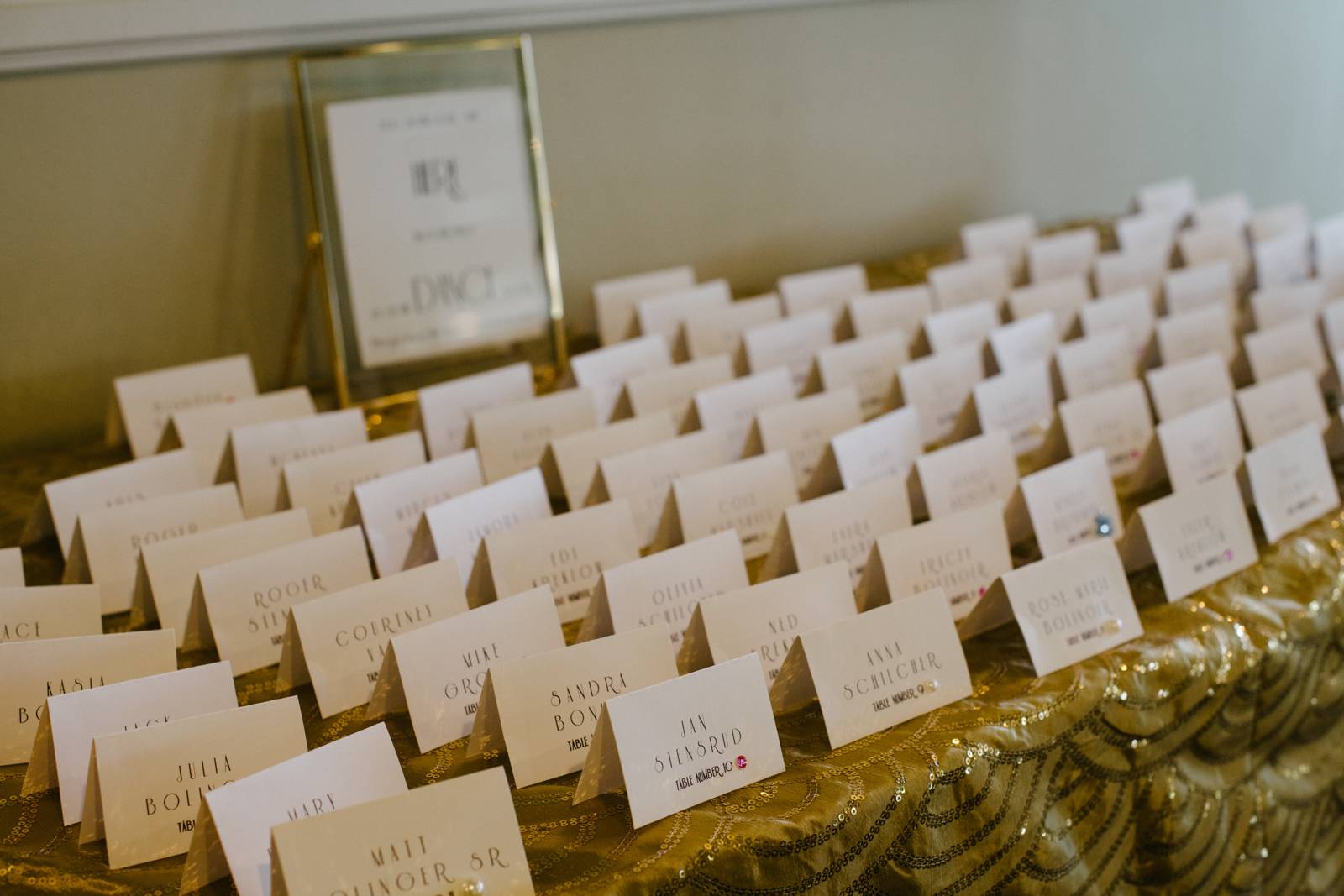 DID YOU USE ANY SPECIAL CHAIRS, LINENS, CHARGERS, GLASSWARE, OR DINNERWARE? We used gold chargers for under the plates, and Jeffrey and I both had special matching champagne flutes with an art deco script Mrs. and Mr. on them!
TELL US ABOUT THE FOOD, DESSERT, AND ANY SPECIALTY BEVERAGES ON THE MENU: For dessert, we did cupcakes instead of cake for our guests, which were delicious and amazing from Gigi's in Madison. We had one small cake for the two of us to cut that was lemon flavored with cream cheese frosting like some of the cupcakes. The others were white chocolate with raspberry filling. Champagne was our main must-have beverage!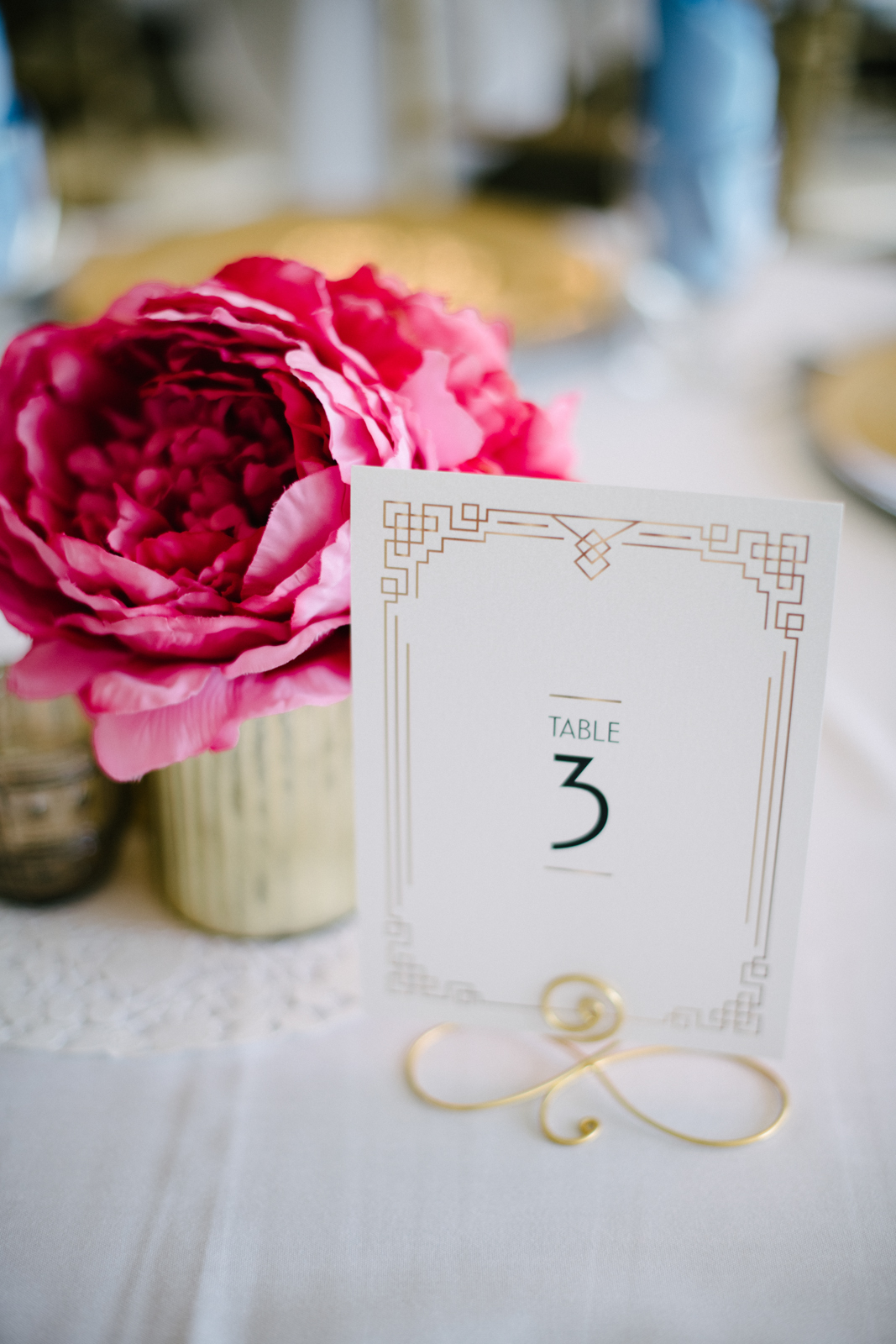 WHAT WAS YOUR FAVORITE PART FROM YOUR WEDDING? Marrying the man of my dreams and partying like Gatsby with the people we love the most. Jeffrey says that it was "seeing her eyes light up in the room being surrounded by those who love us, and being madly in love with the woman of my dreams."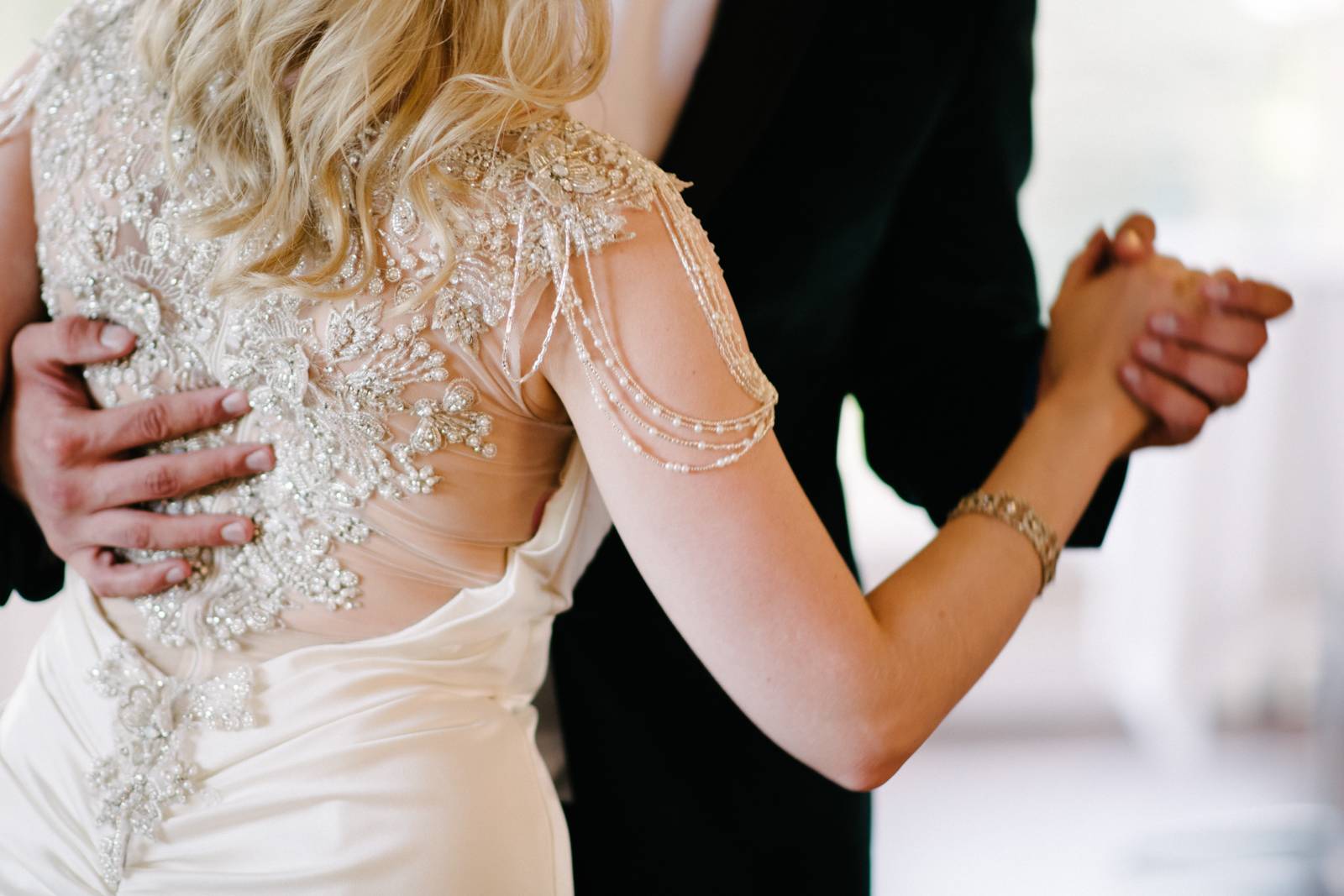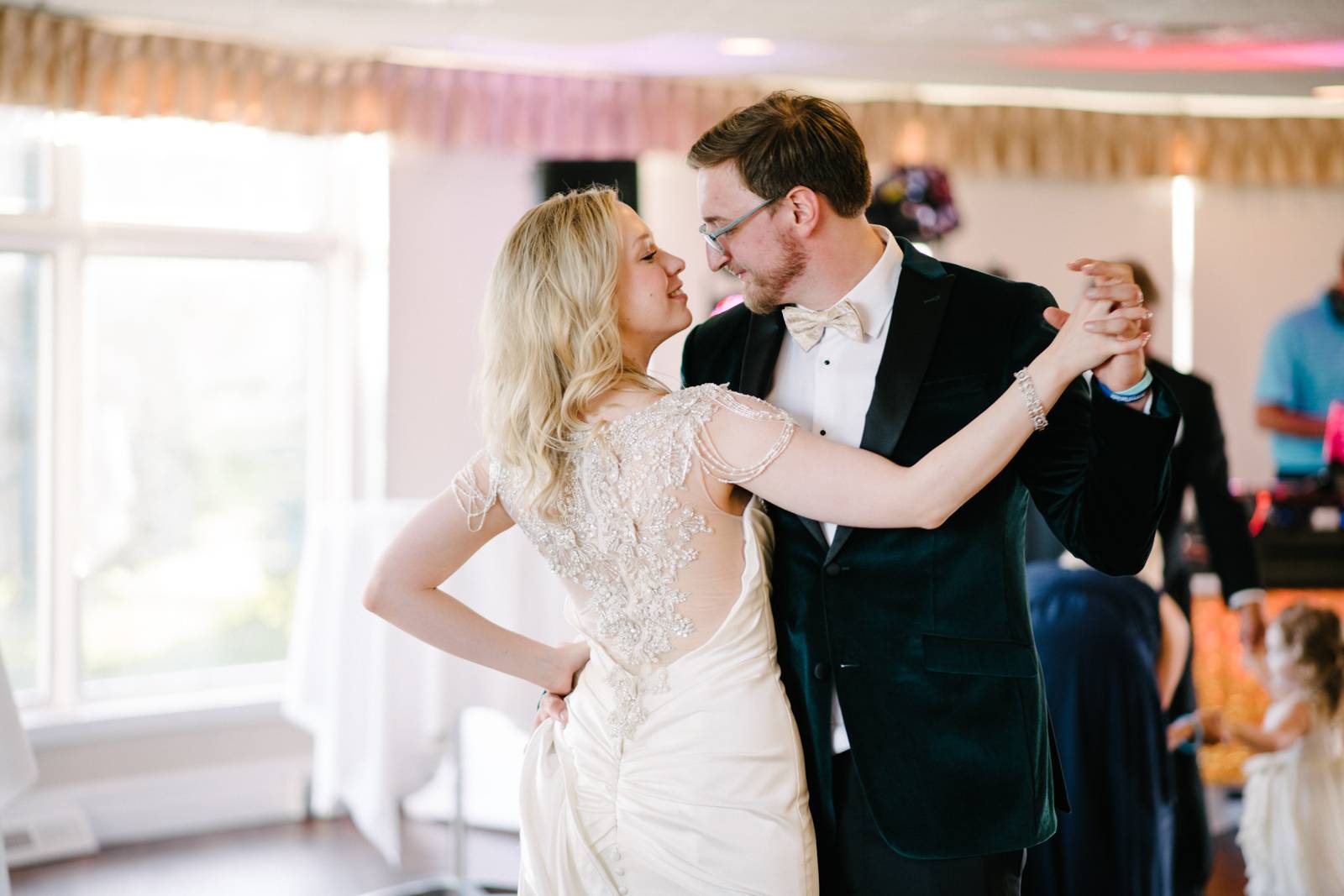 TELL US ABOUT YOUR HONEYMOON PLANS: We haven't gone yet, but we have a couple of different ideas ranging from Spain to Italy, to Scotland!
WHAT DOES LIFE LOOK LIKE AFTER THE WEDDING? Better than I imagined. Everyone said they didn't feel different after they got married, but I did. There was a new bond between us, and it seemed to strengthen us. Jeffrey says, "life looks great, waking up every morning with the woman I love next to me and knowing I get to spend every night with her. It's the greatest thing I could ask for."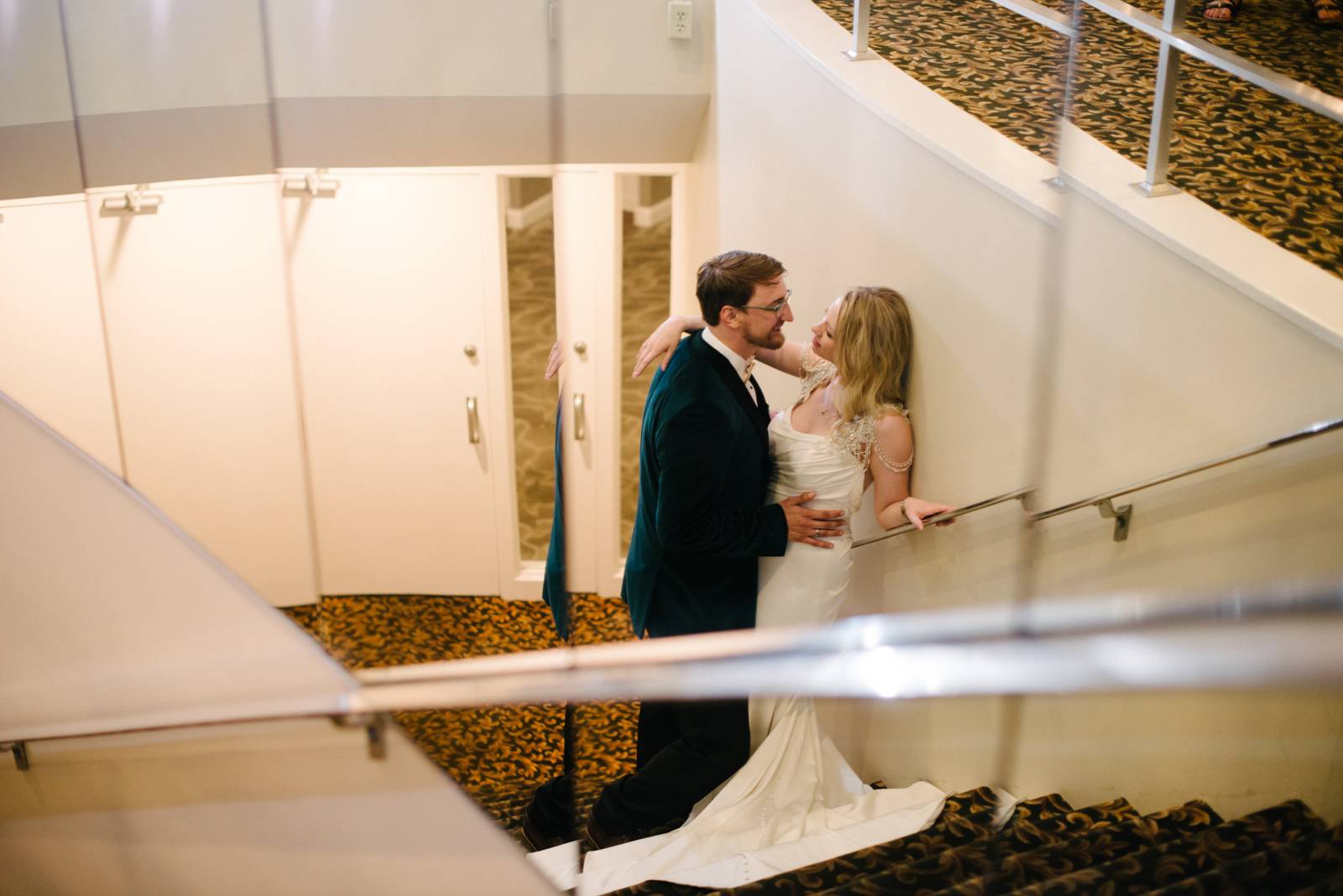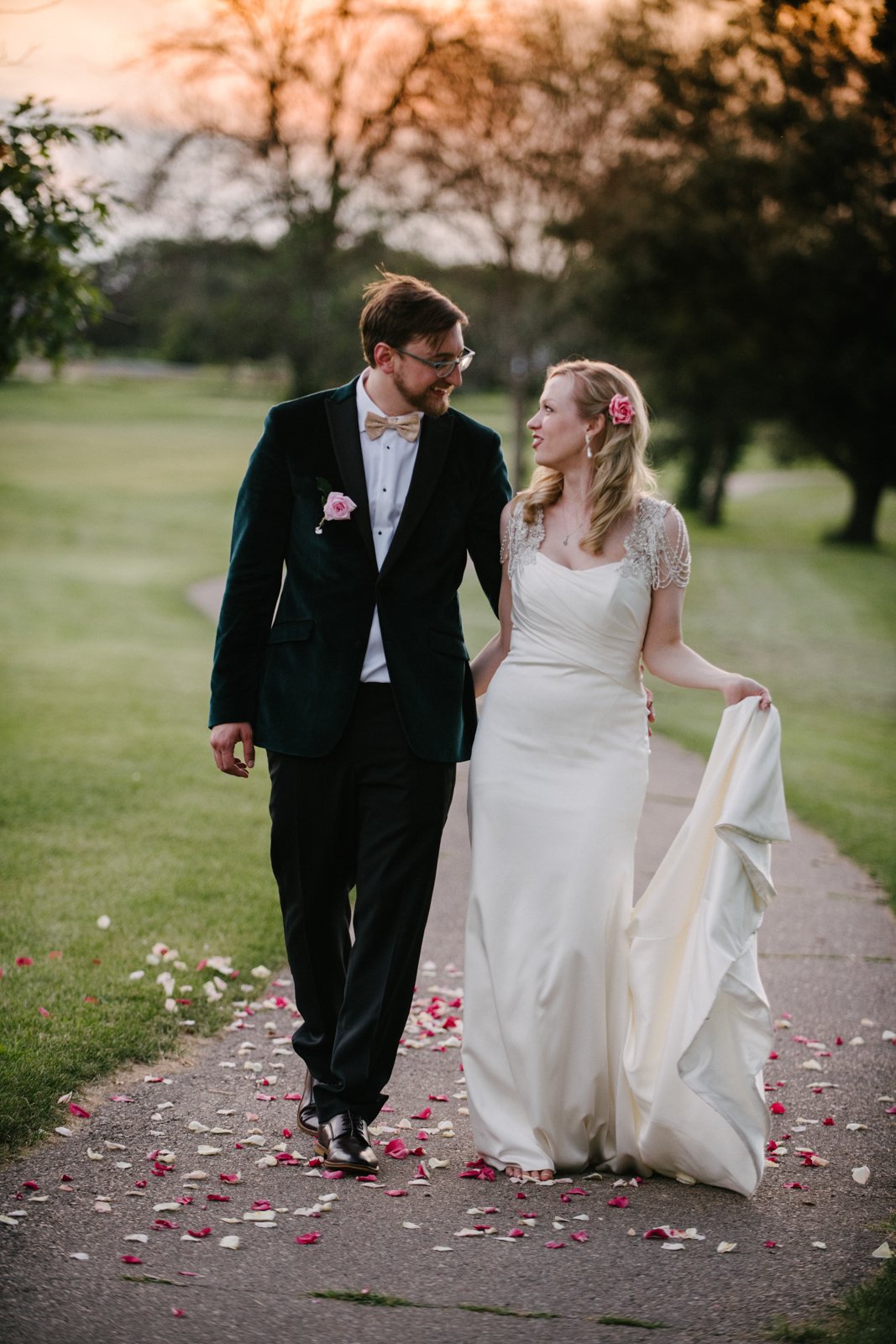 ANY WEDDING PLANNING REGRETS OR SOMETHING YOU WOULD DO DIFFERENTLY? Aside from a few decoration flaws that I wouldn't have done a little differently, it was everything that I wanted. Jeffrey says, "I wouldn't change a dang thing!!! I got my girl and getting to see her smile at every decision, whether if it was the one we ended up with or not, was nothing short of amazing."