Avery and Chad's romantic, natural, countryside wedding day was nothing short of a light and airy fairytale. Their celebration was held at Vintage Fields at Farmin' Betty's, the perfect blend of natural, rustic, and hometown feeling for these high school sweethearts. Filled with soft, earthy details, gorgeous scenery, and a whole lot of love, enjoy this real, summer Wisconsin wedding day below.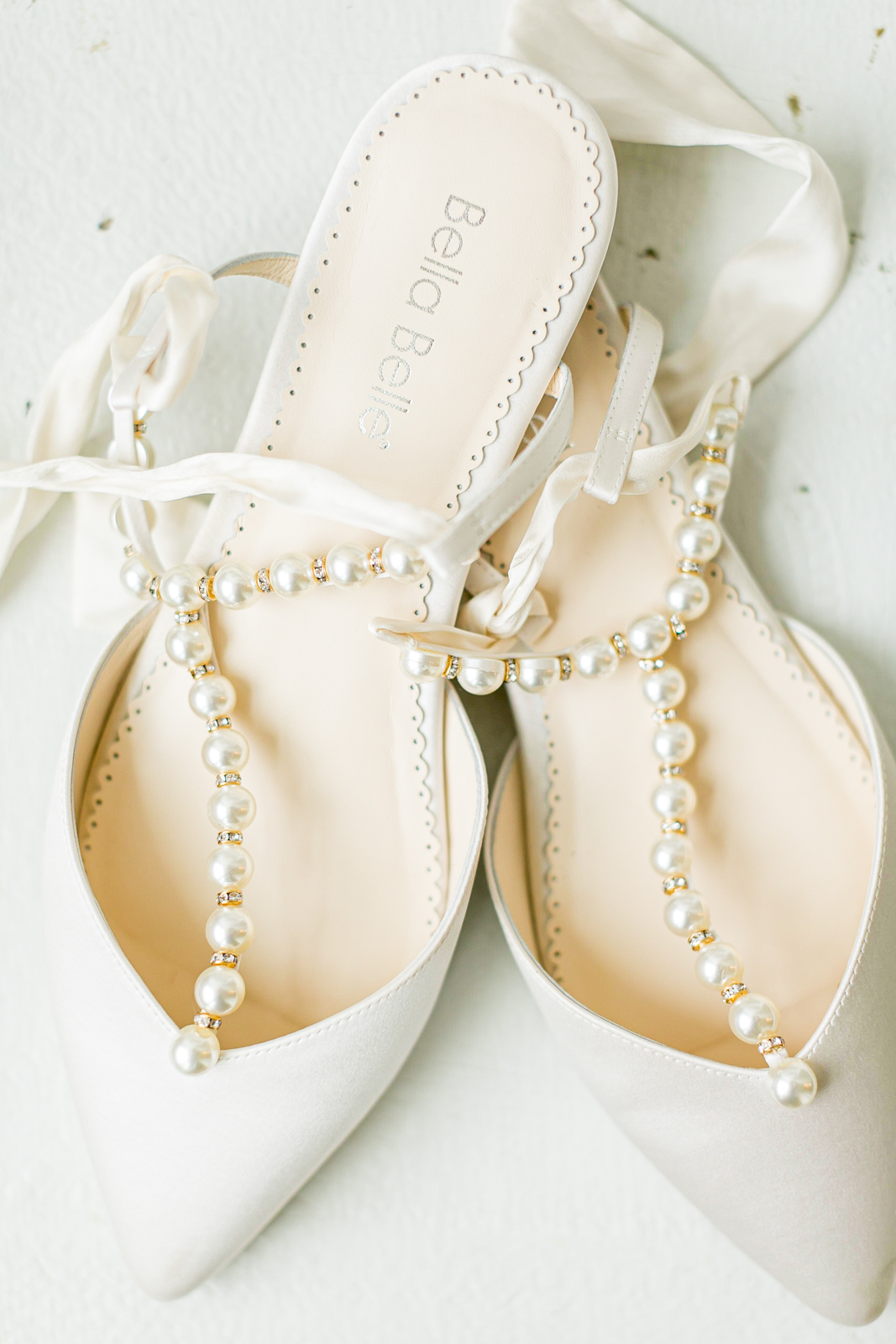 NAME OF COUPLE: Avery & Chad
WEDDING DATE: 06/29/2019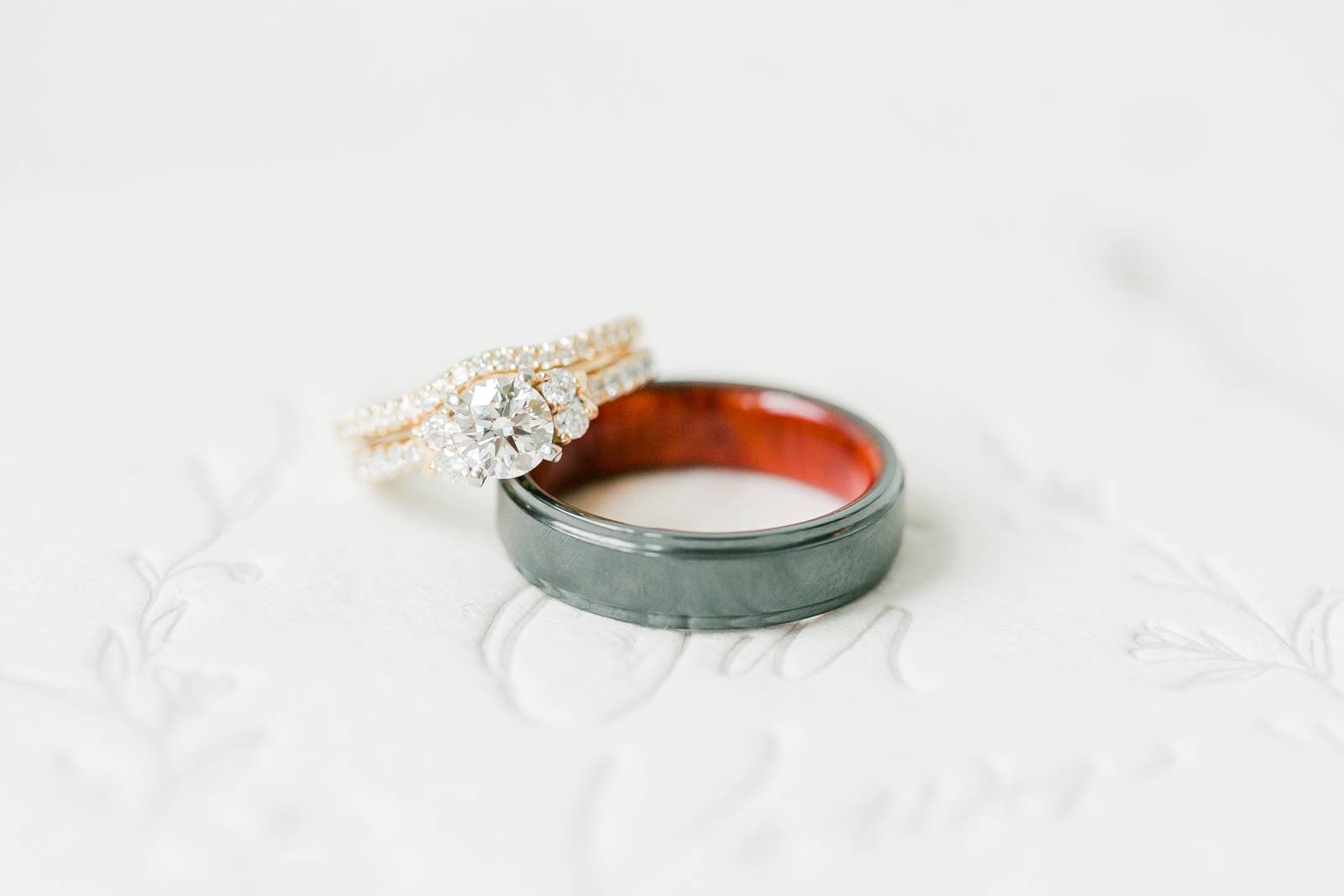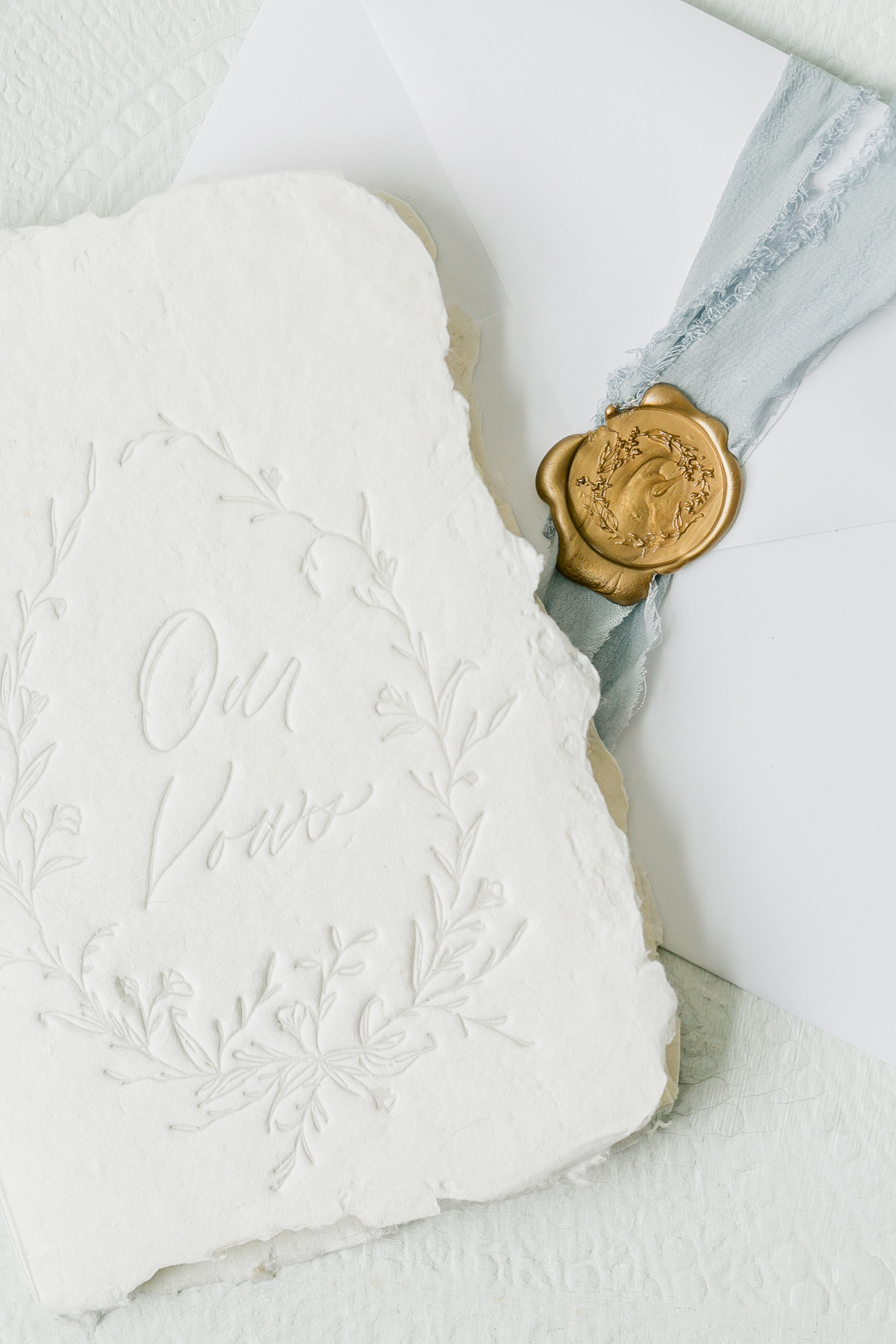 HOW DID YOU MEET? Chad and I are high school sweethearts. We were close friends all throughout high school, having our first kiss in Hawaii on New Year's Eve. The rest is history after that. Chad's mom called it out our freshman year, saying that we should be together. Who knew a mother's intuition was so accurate?!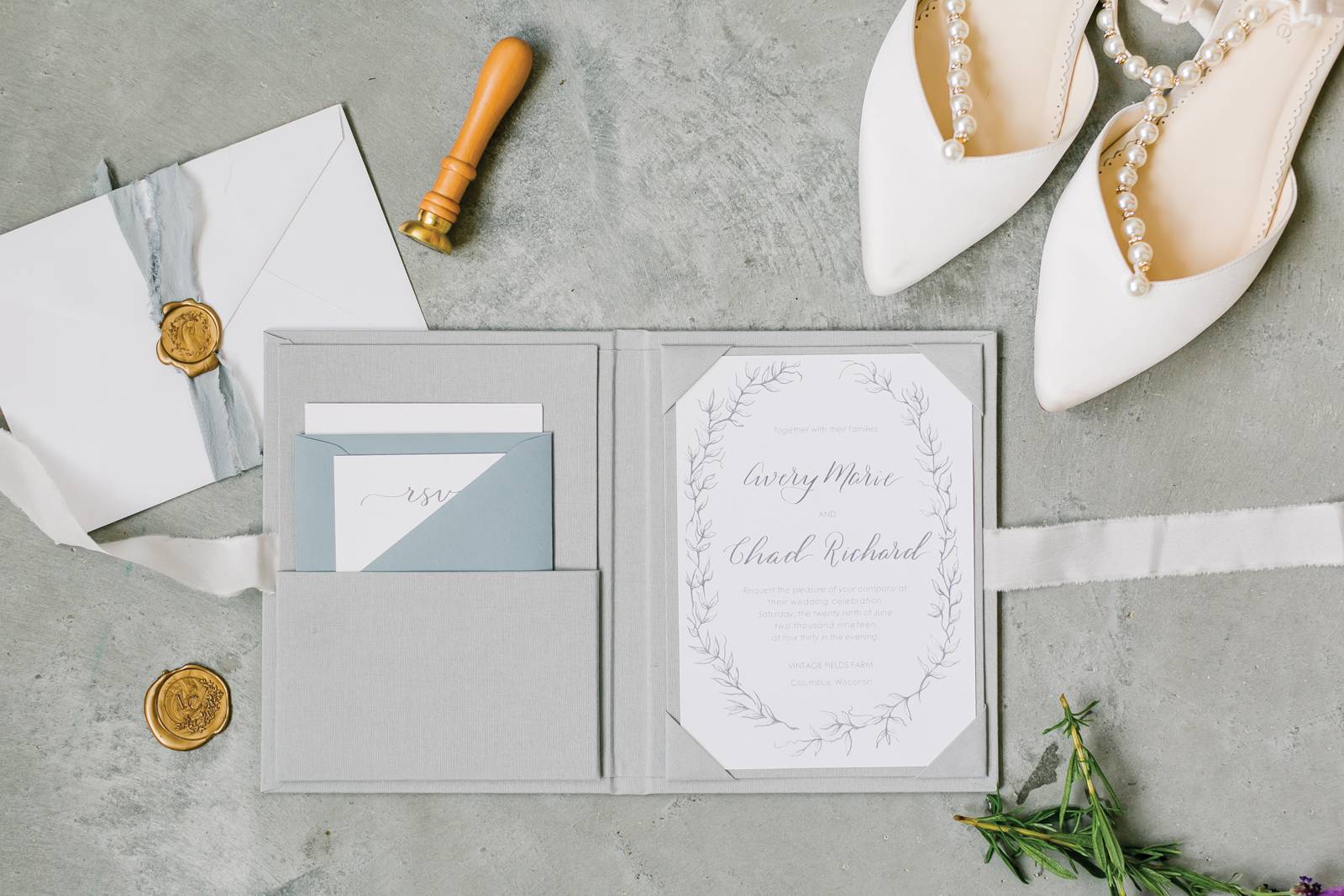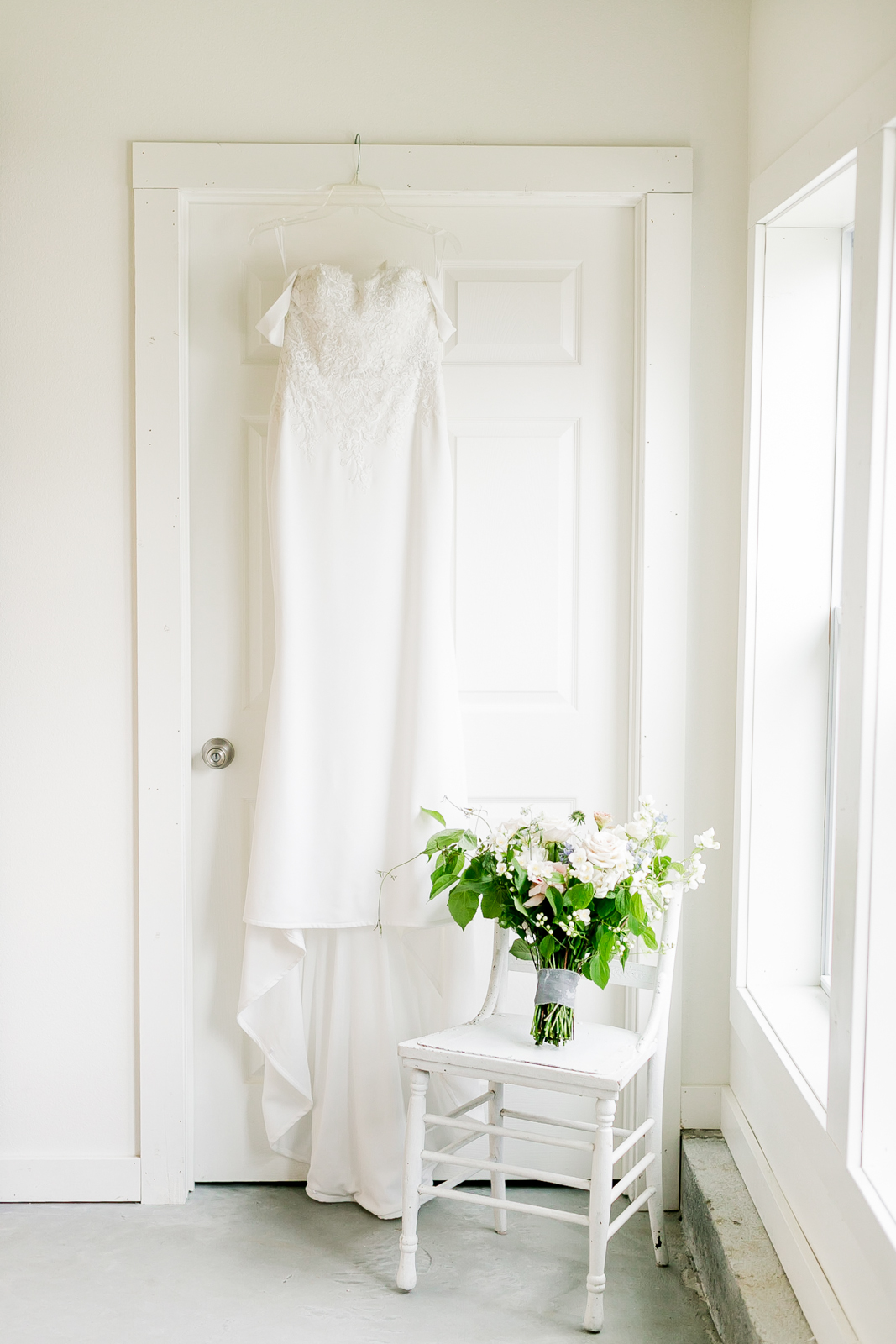 HOW DID YOU KNOW YOU HAD FOUND "THE ONE"? We loved to go on adventures together, traveling a lot. Our first national park trip to the Redwoods was our first backpacking trip together. It was quite an experience, camping and hiking in the rain together among the huge giants of the Redwoods. After we survived that trip together, we knew our relationship could last through anything.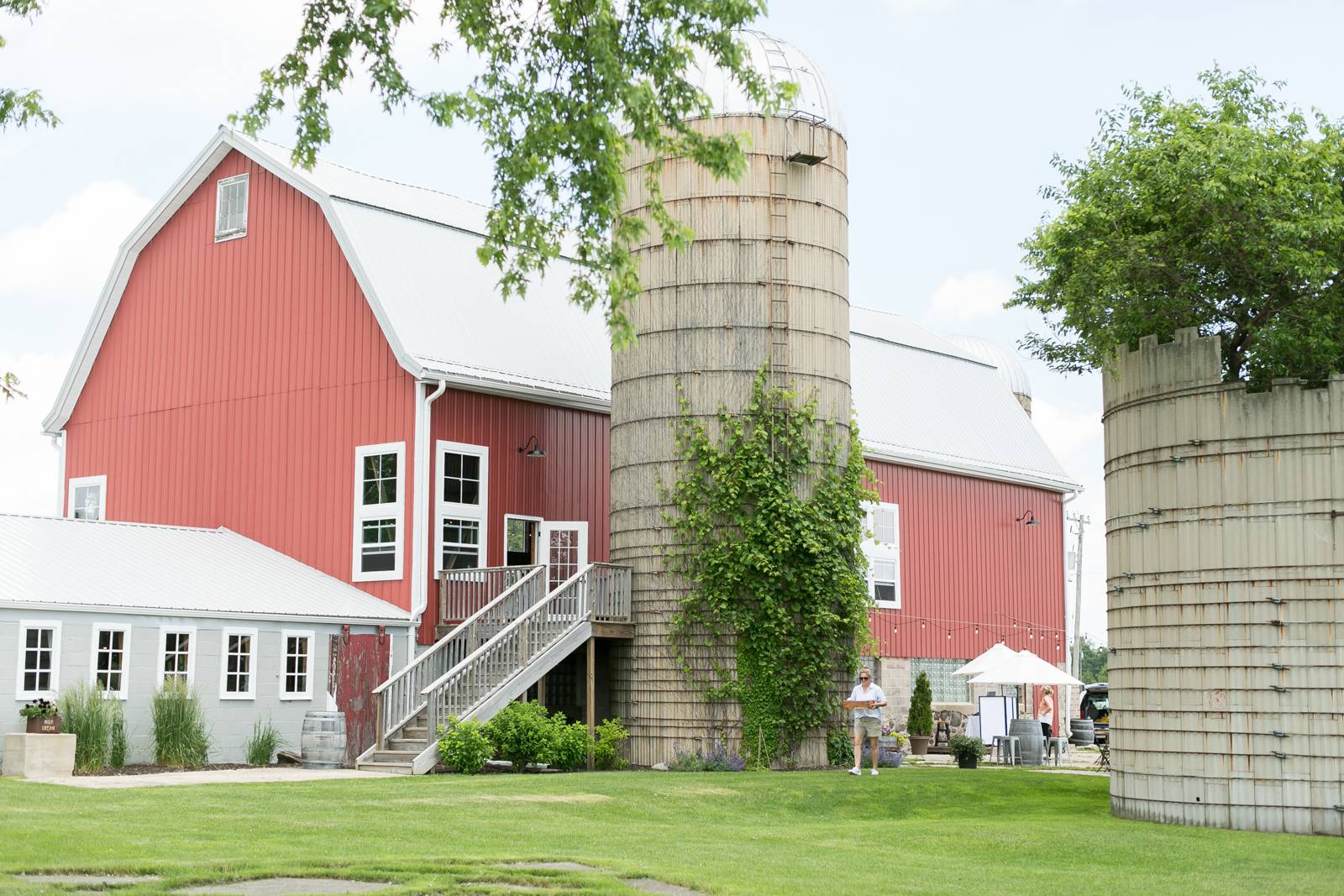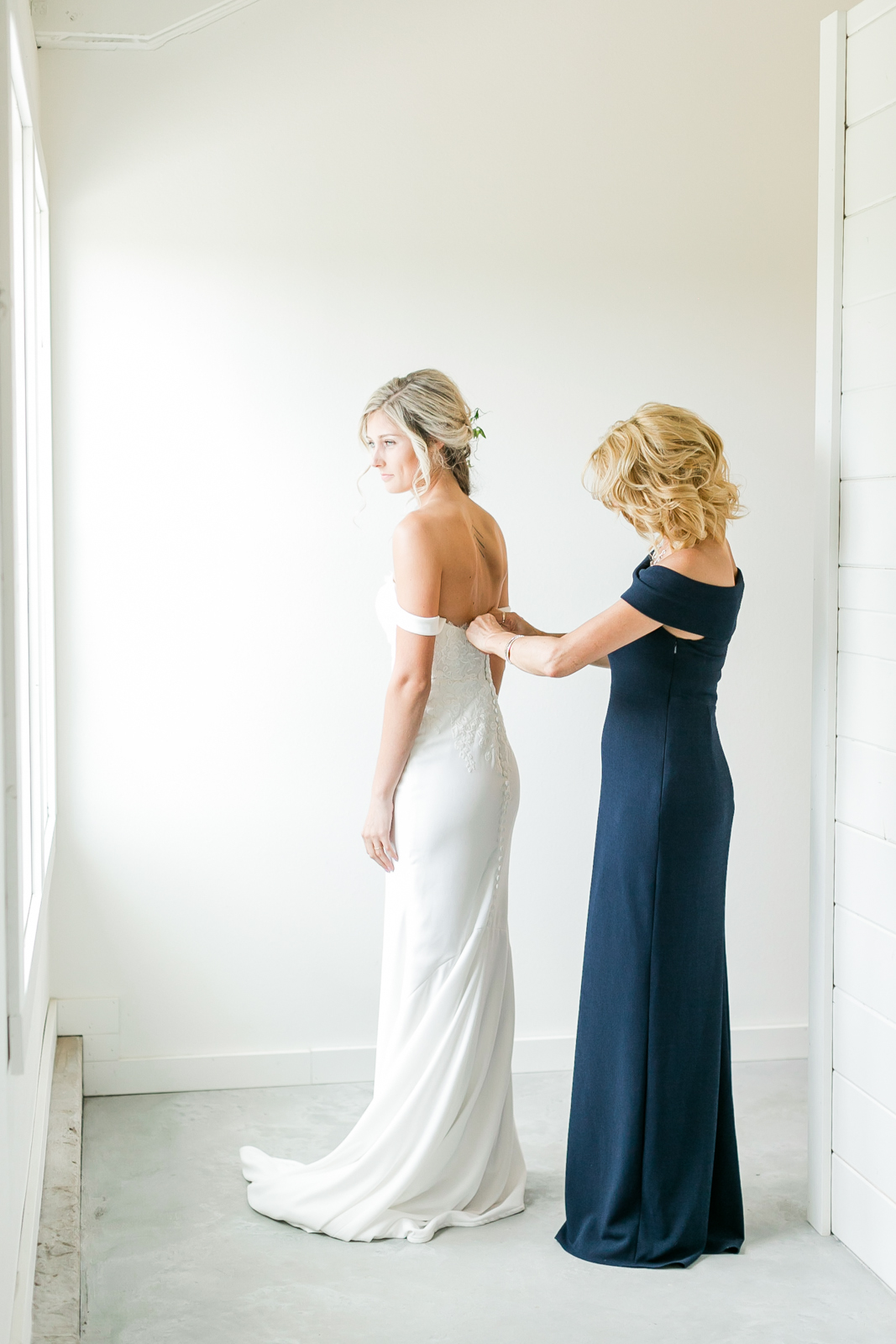 TELL US ABOUT YOUR PROPOSAL: On another traveling trip, we made the trek to the Upper Peninsula of Michigan. The plan was to spend two days on Mackinac Island and then hike the Pictured Rock National Lakeshore. After biking around and exploring Mackinac Island, we biked to the top of the island, overlooking the lake and quaint city below. That's where Chad popped the question. I was so captivated by the view that when I finally realized Chad wasn't by my side, I turned to find him patiently waiting on one knee beside me.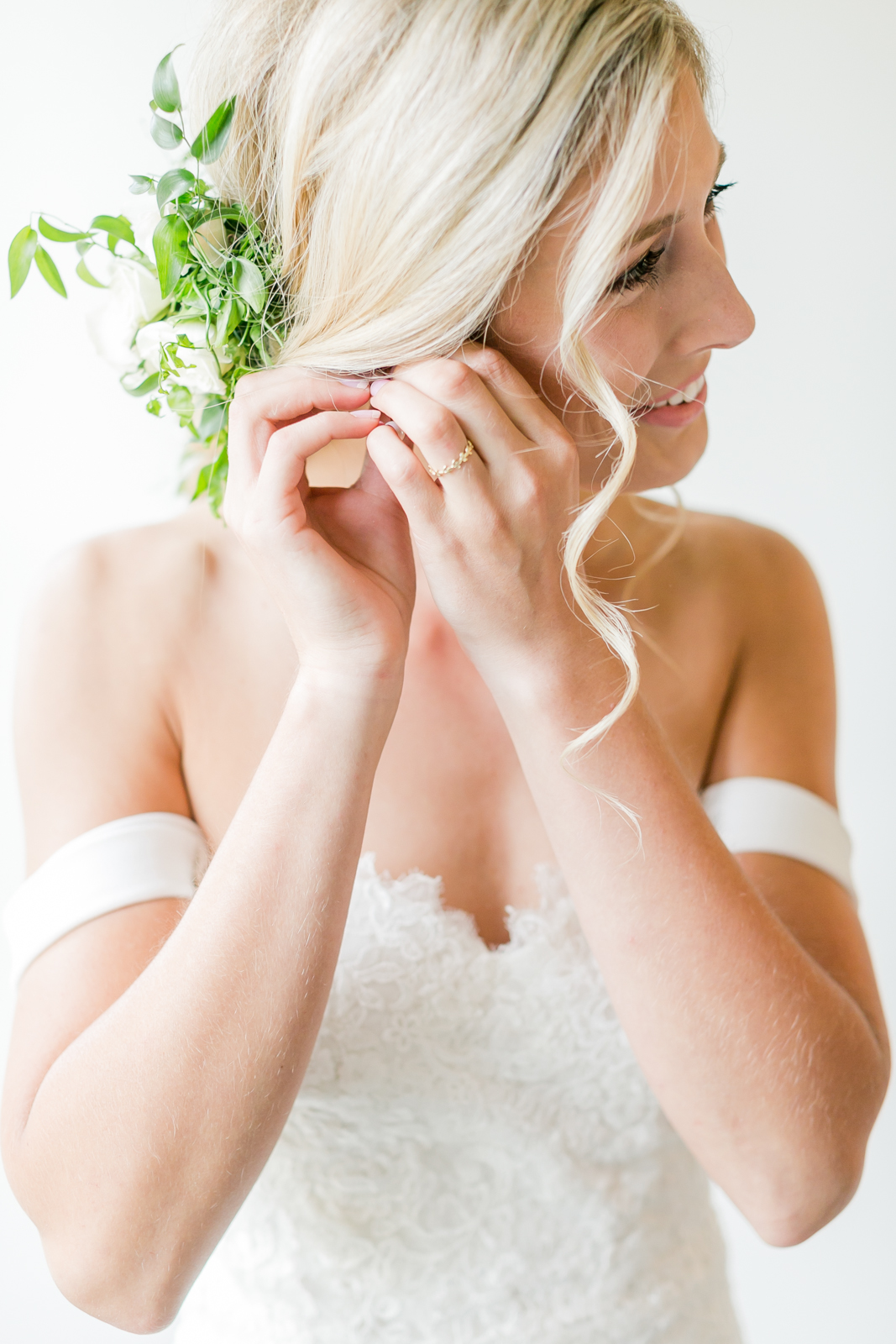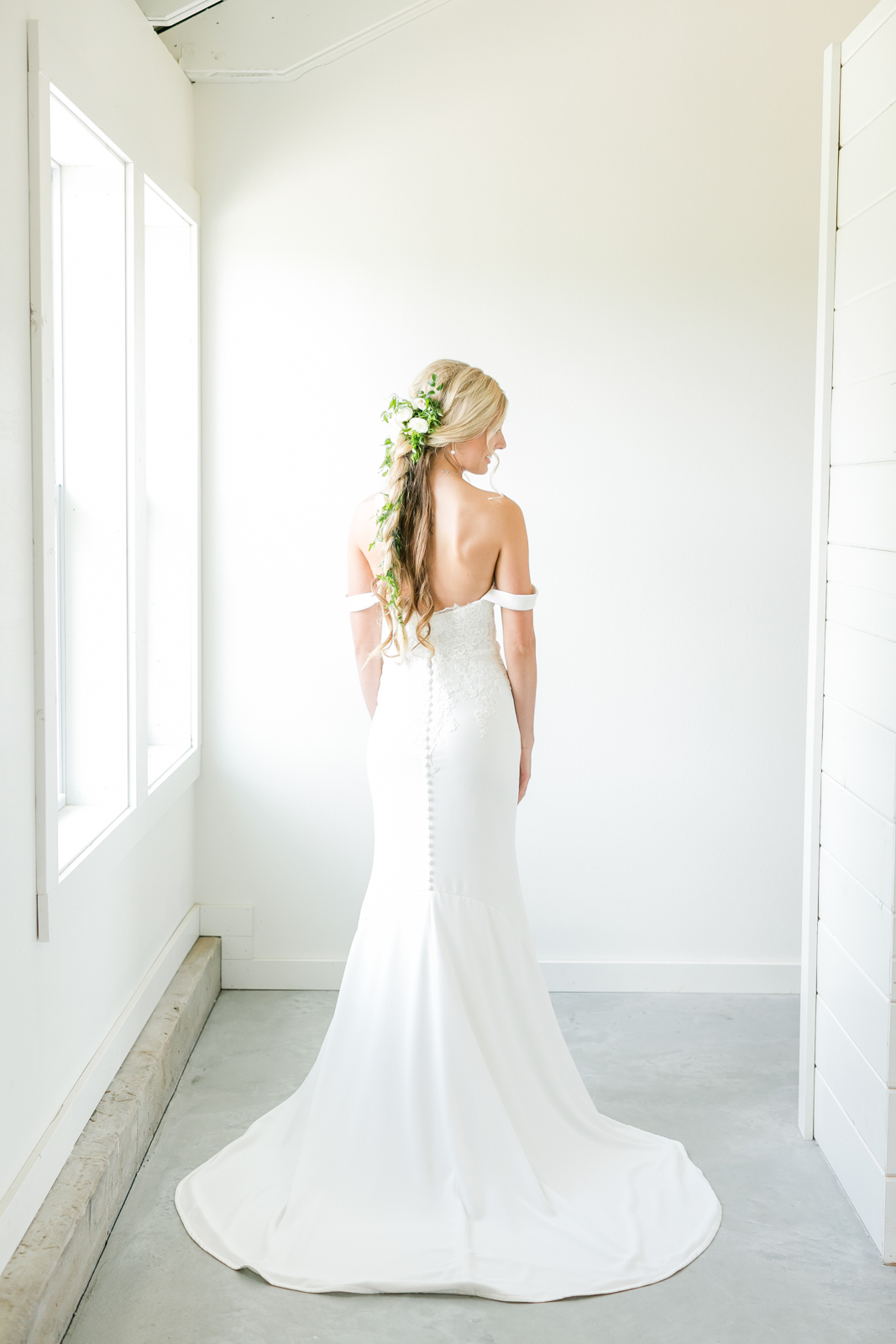 TELL US ABOUT FINDING YOUR DRESS: I fell in love with Miss Ruby's Boutique before I even knew I would find my dress there. The boutique itself was beautiful and so inviting. I went in knowing I wanted something more form-fitting, with a balance of both floral lace and smooth fabric. I knew I found my dress when I slipped it on, and then again after my mom fell head-over-heels for the cute buttons on the back.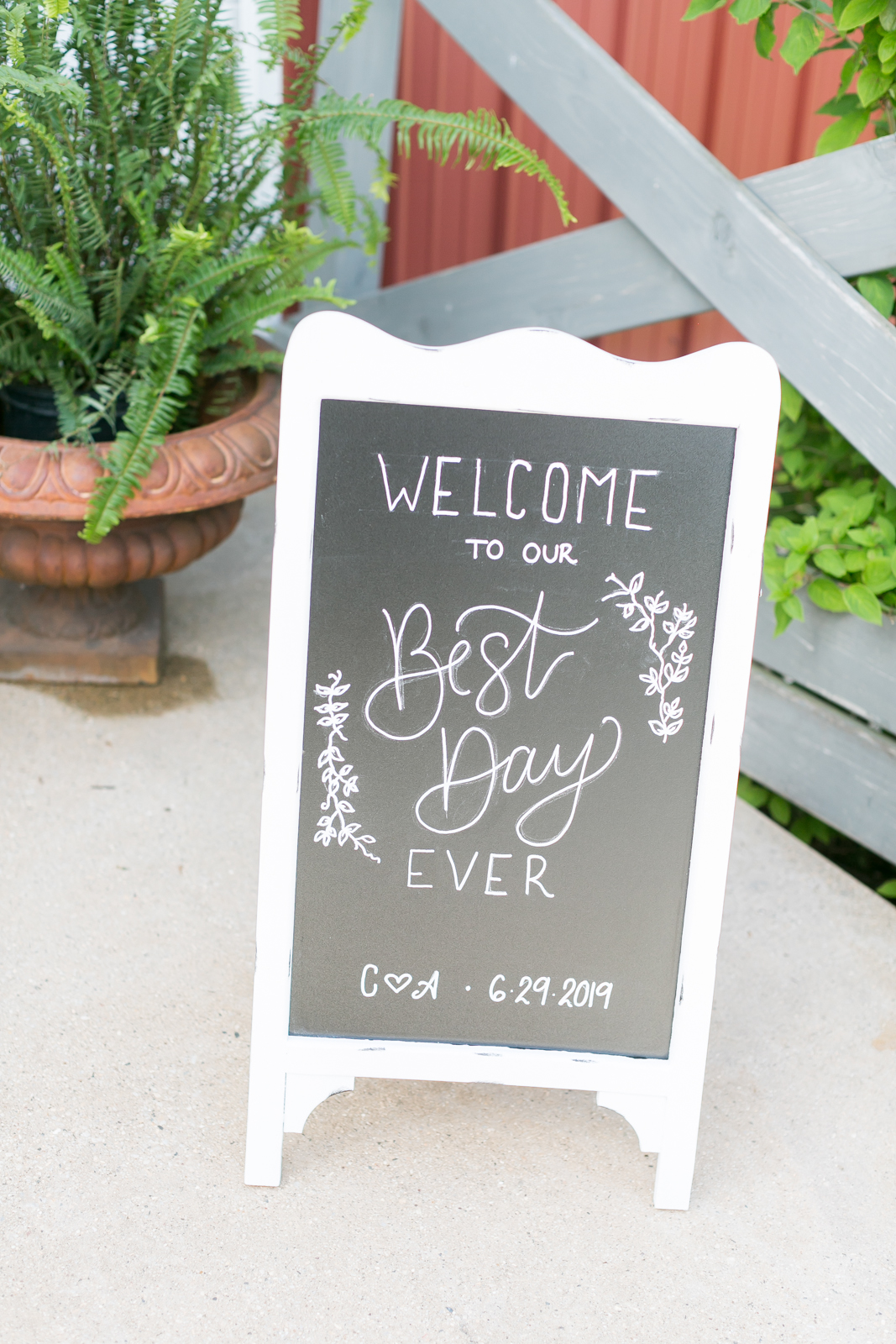 WERE THERE ANY PERSONAL TOUCHES OR DIY ELEMENTS? My grandma and I worked together to create my wedding invitations, she did the illustrations, and I added my calligraphy. I wanted something unique and more heartfelt than just a regular printed invite. So I designed and printed them all myself and now have a beautiful piece of art that I cherish. I also wore my great grandma's pearl necklace, which she wore on her wedding day. It is a family heirloom my mother passed down to me after she passed.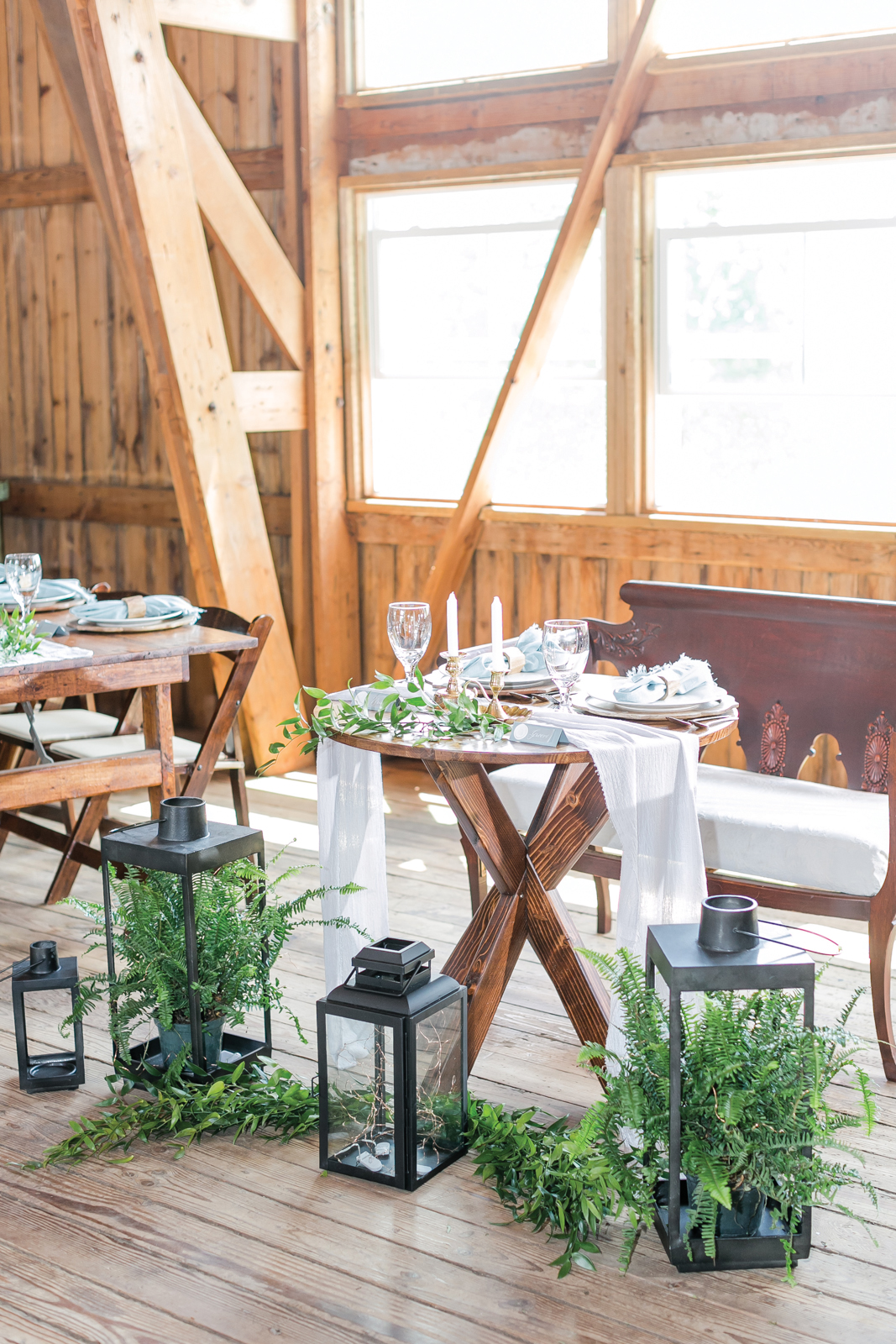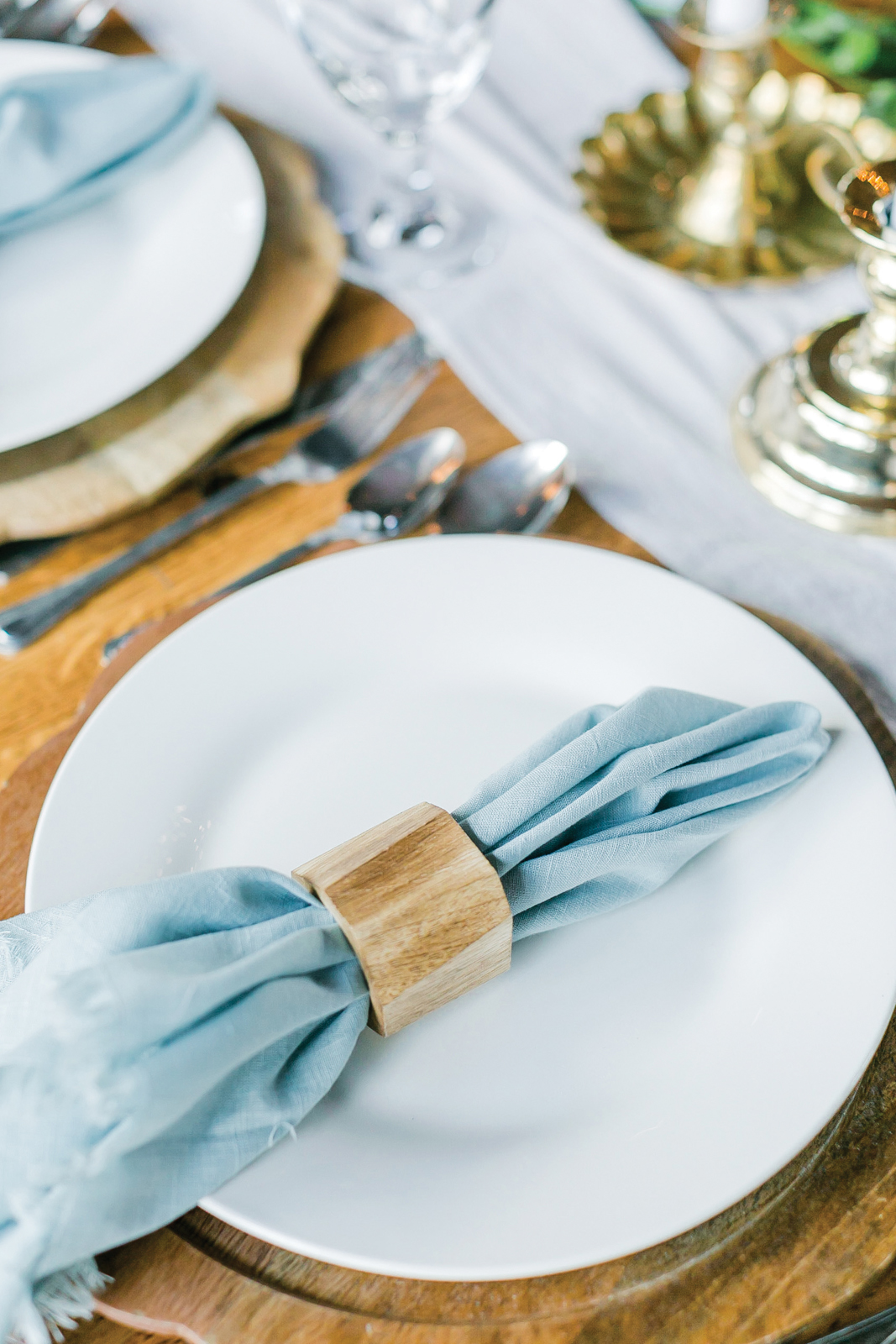 HOW WOULD YOU DESCRIBE YOUR WEDDING THEME/STYLE IN FIVE WORDS OR LESS? Romantic Natural Countryside
WHAT WAS YOUR WEDDING COLOR PALETTE? Ivory, Blush, Mauve, Dusty Blue, and Taupe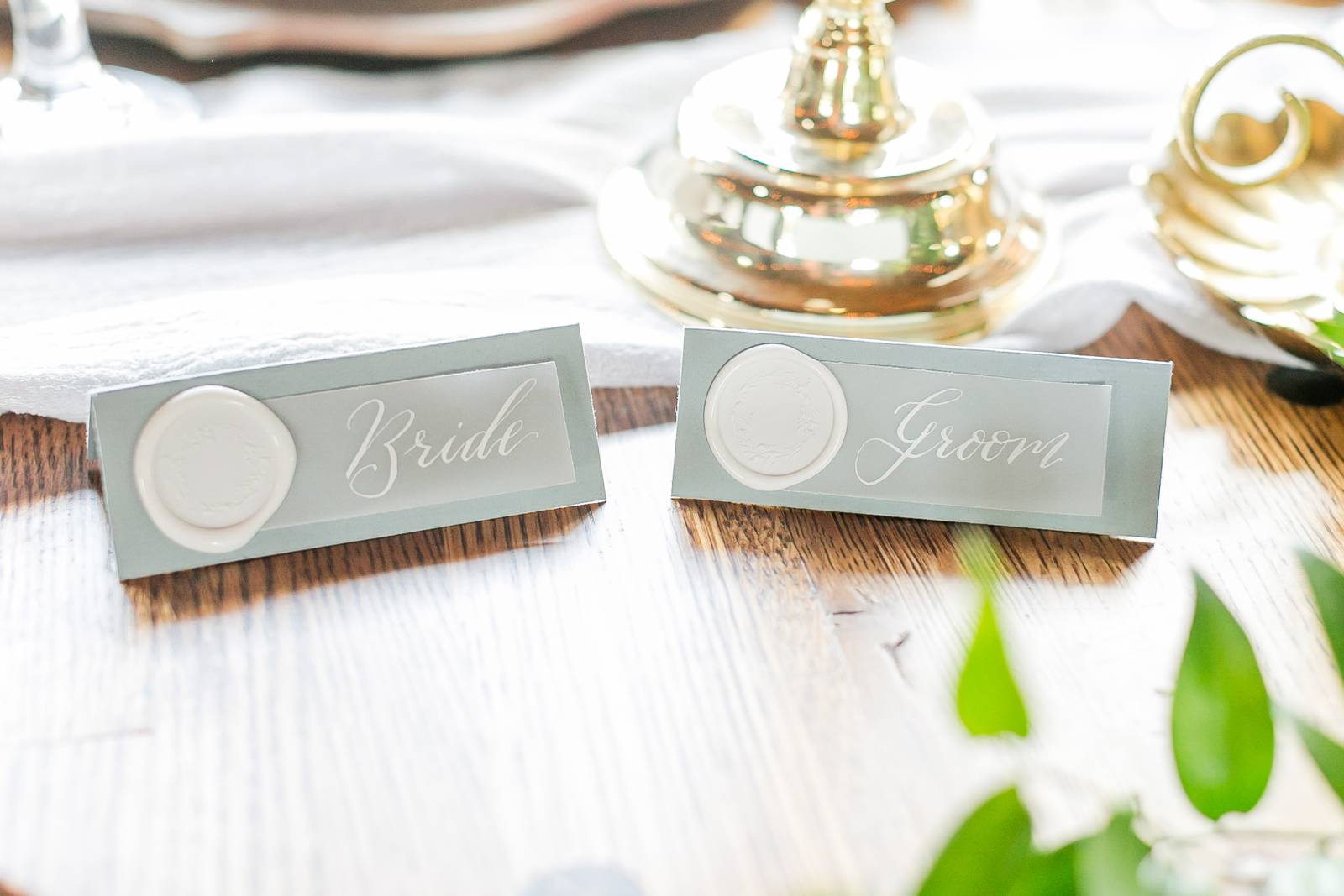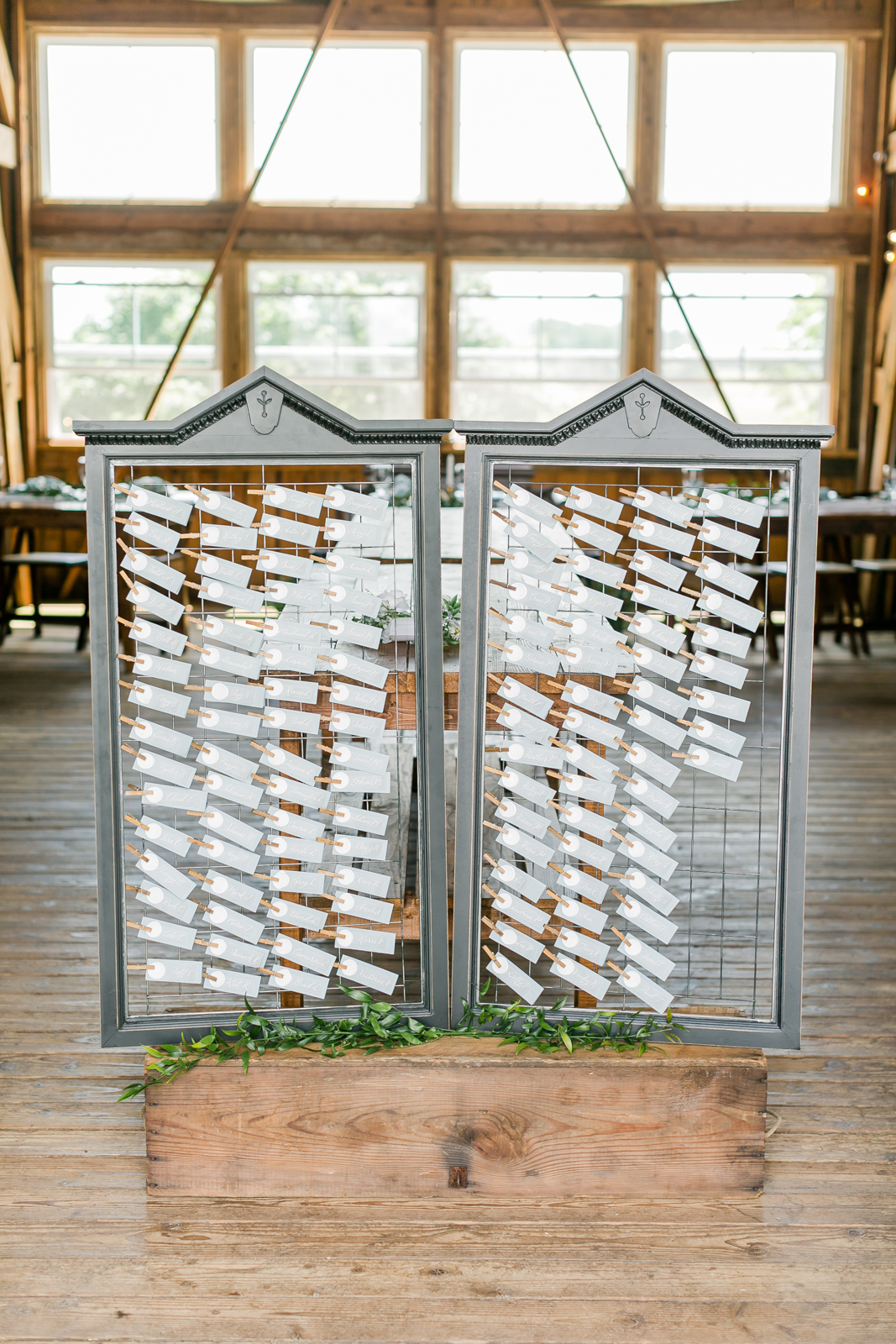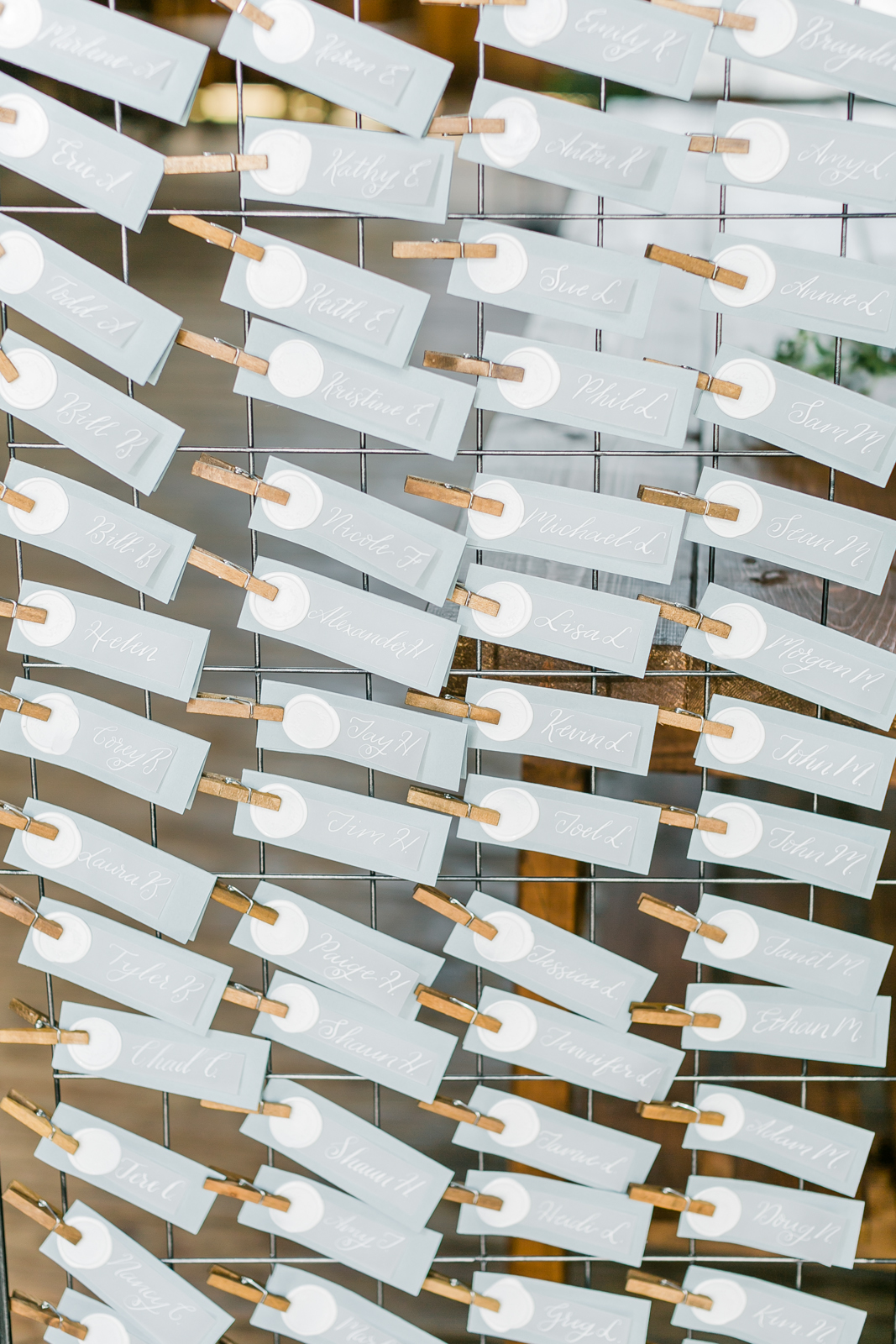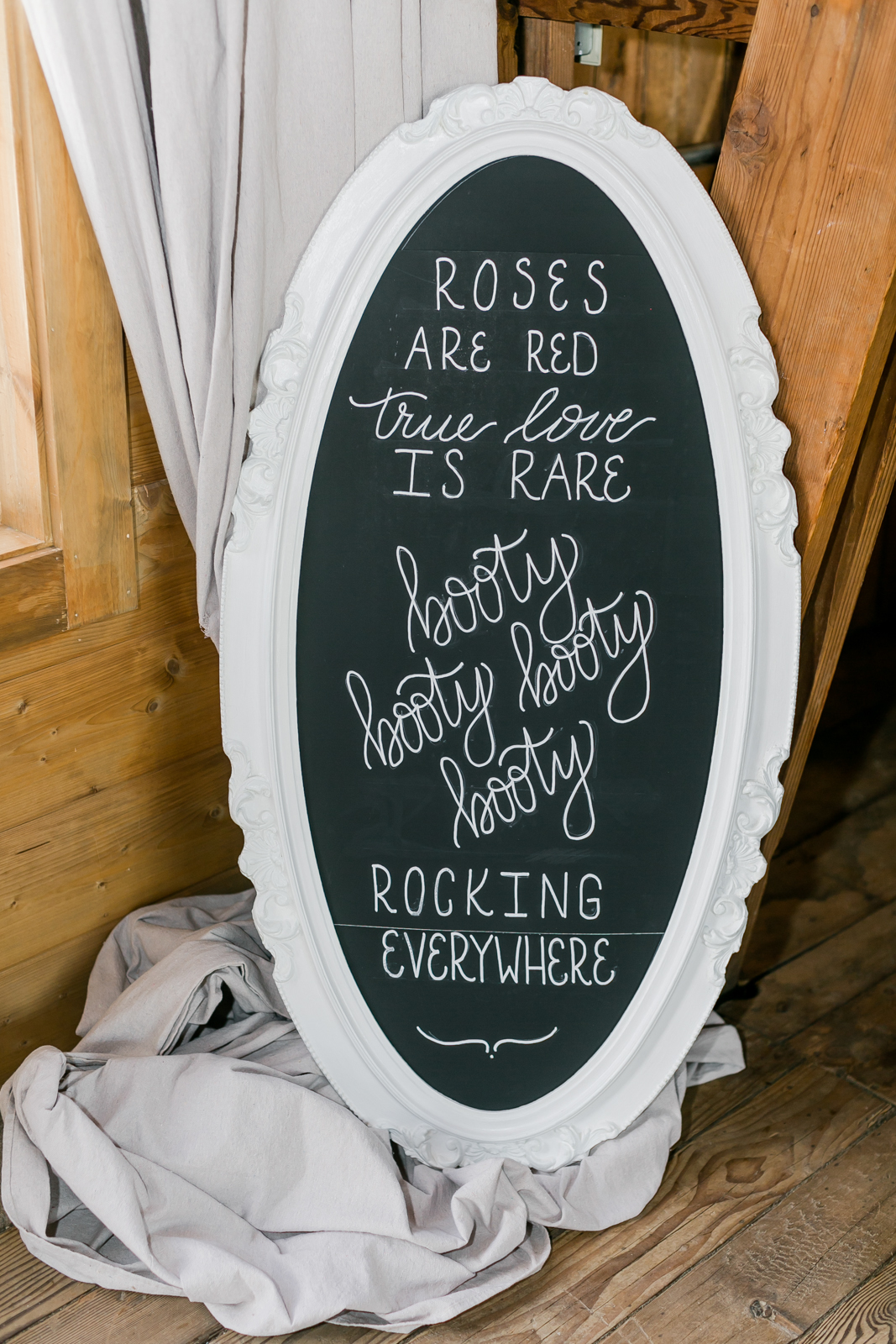 WHAT WAS YOUR INSPIRATION/DESIGN CONCEPT FOR YOUR OVERALL CEREMONY AND RECEPTION DECOR? We wanted to find the perfect blend of rustic and natural, that could handle my passion for floral. We kept the ceremony very simple, married under two 100-year-old oak trees that created the perfect natural arch, and wood benches provided seating during the ceremony. I fell in love with the trees the moment I saw them, and they now serve as a model for our marriage.
The barn at Vintage Fields was our perfect blend of rustic and natural. It had the familiar feeling of home and our small hometown where we grew up. For decoration inspiration, I based everything around my bouquet. Being a horticulturist, floral was my top priority. I kept the color scheme the same throughout all our decorations, letting natural wood elements fall into place whenever possible.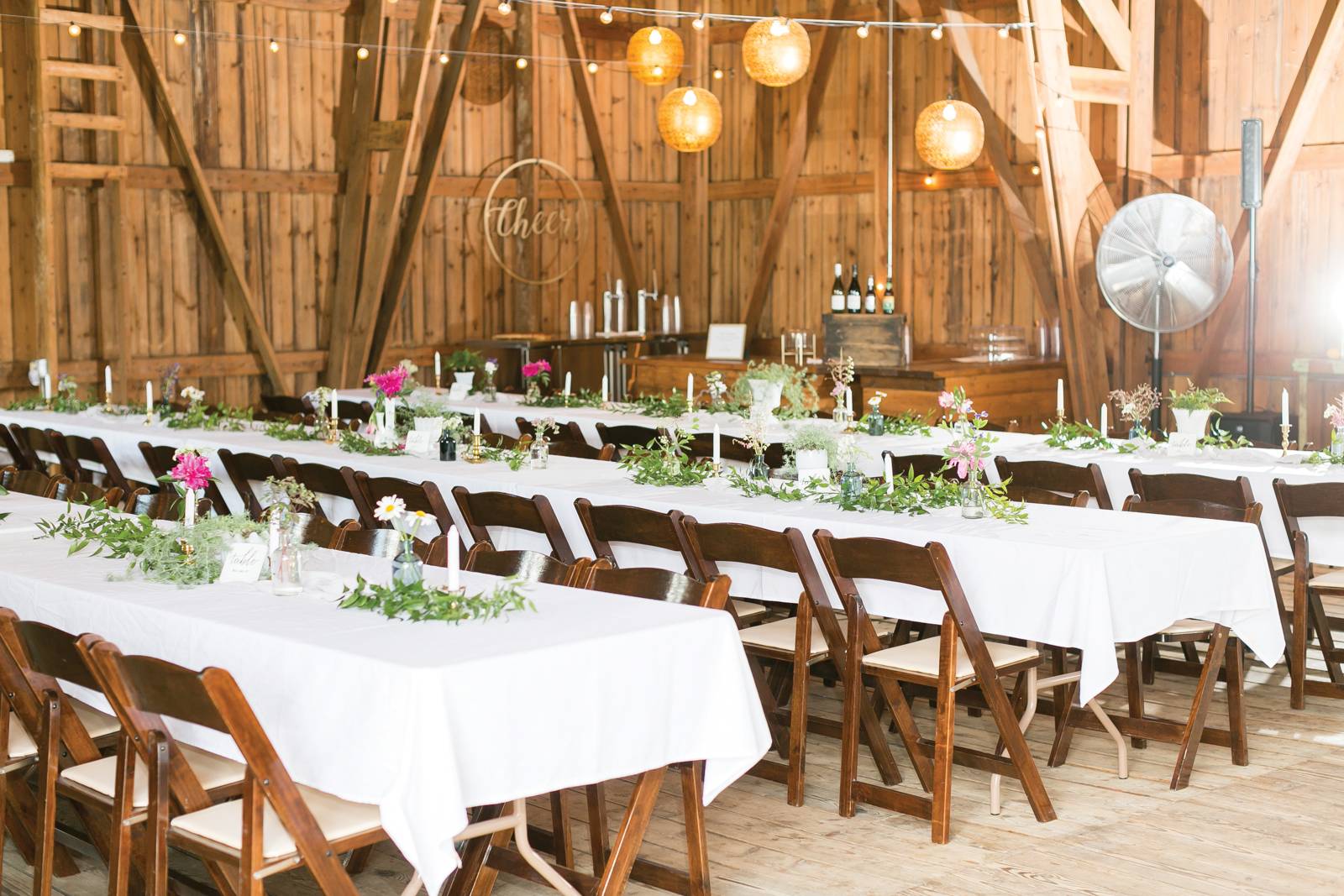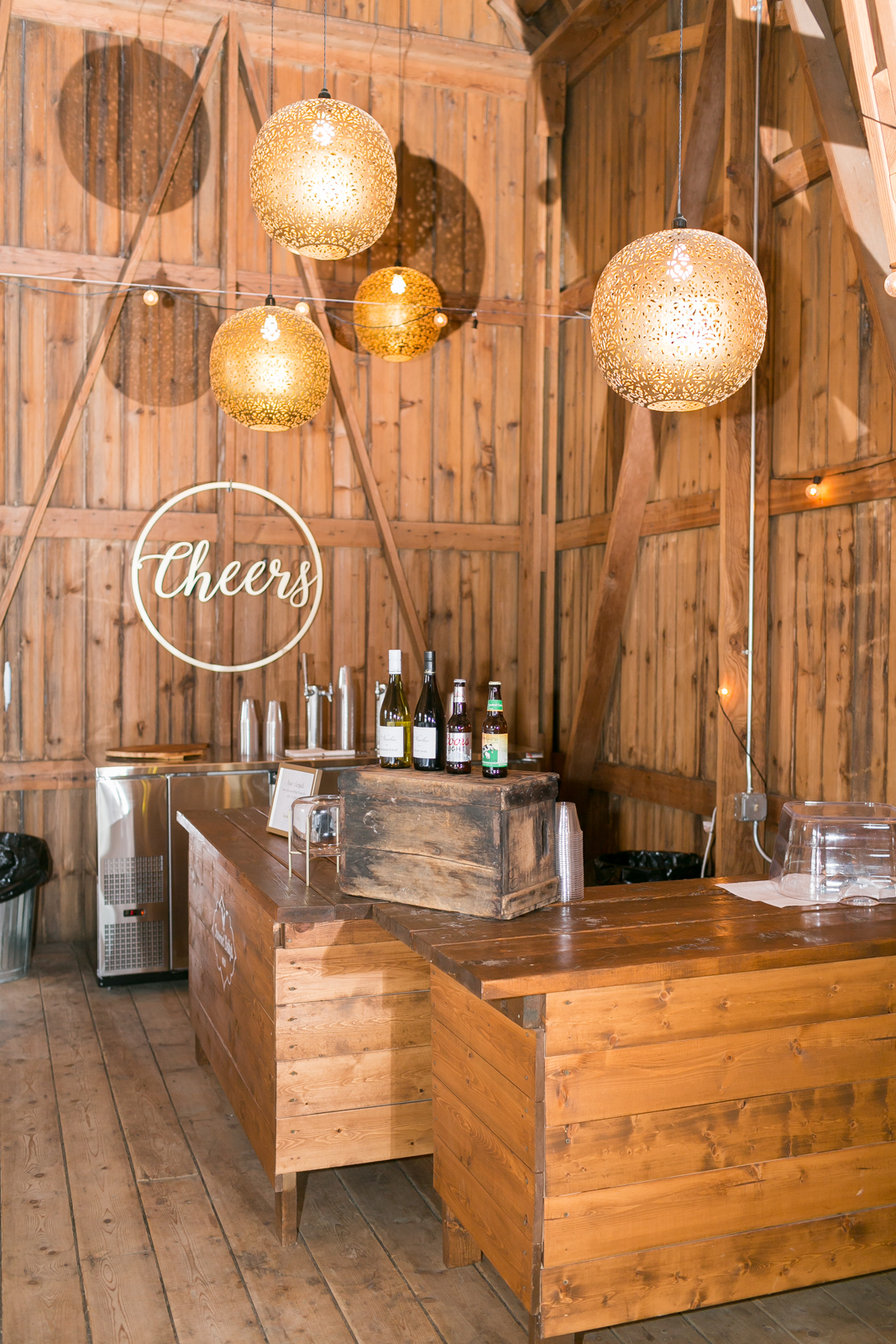 DID YOU USE ANY SPECIALTY CHAIRS, LINENS, CHARGERS, GLASSWARE OR DINNERWARE? Instead of sitting on a long banquet table with our bridal party, Chad and I sat at our own sweetheart table. This table and its decorations were beautifully pulled together by a sweetheart settee that we rented from Velvet Rental. It was so comfortable and allowed us to snuggle in close together during supper.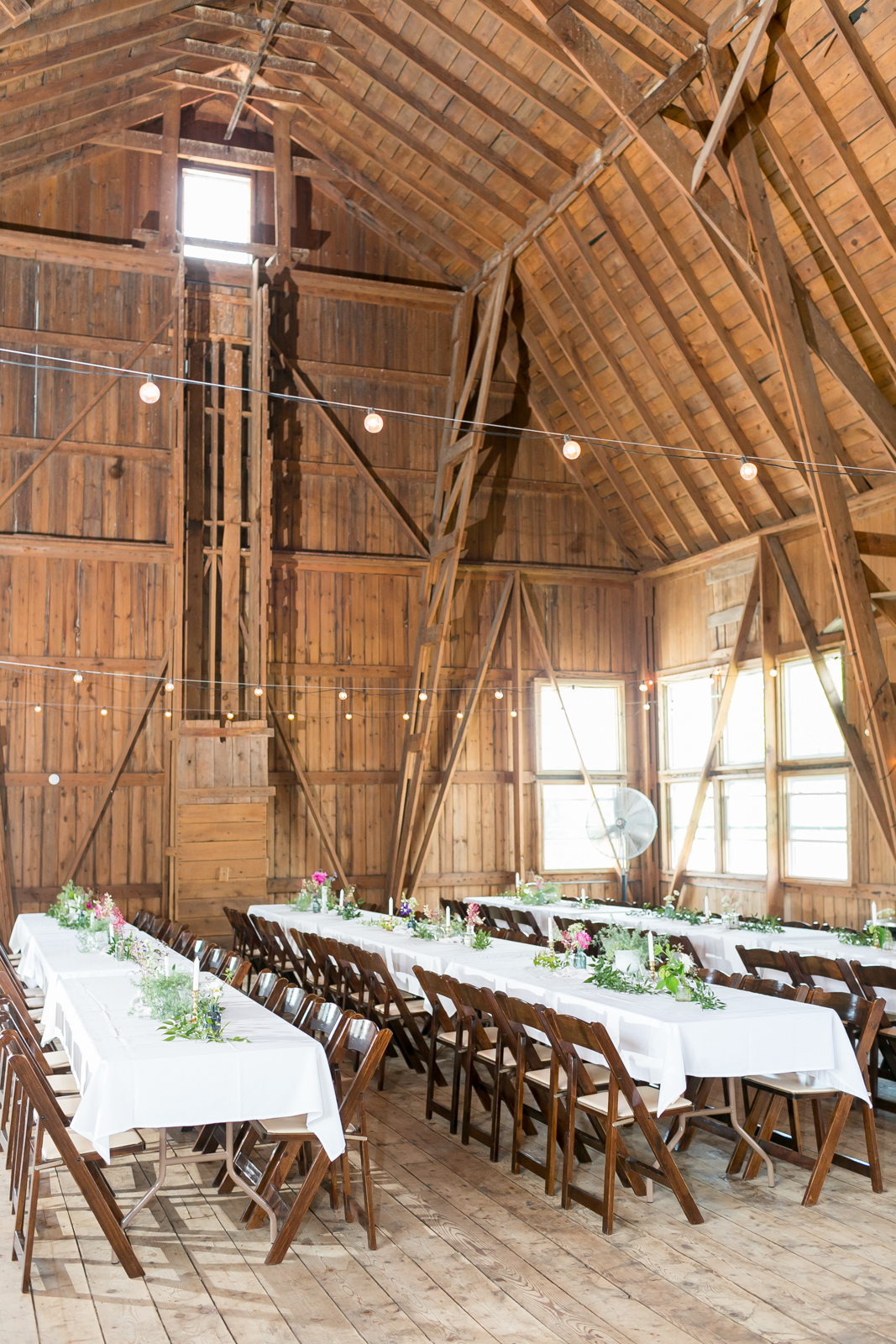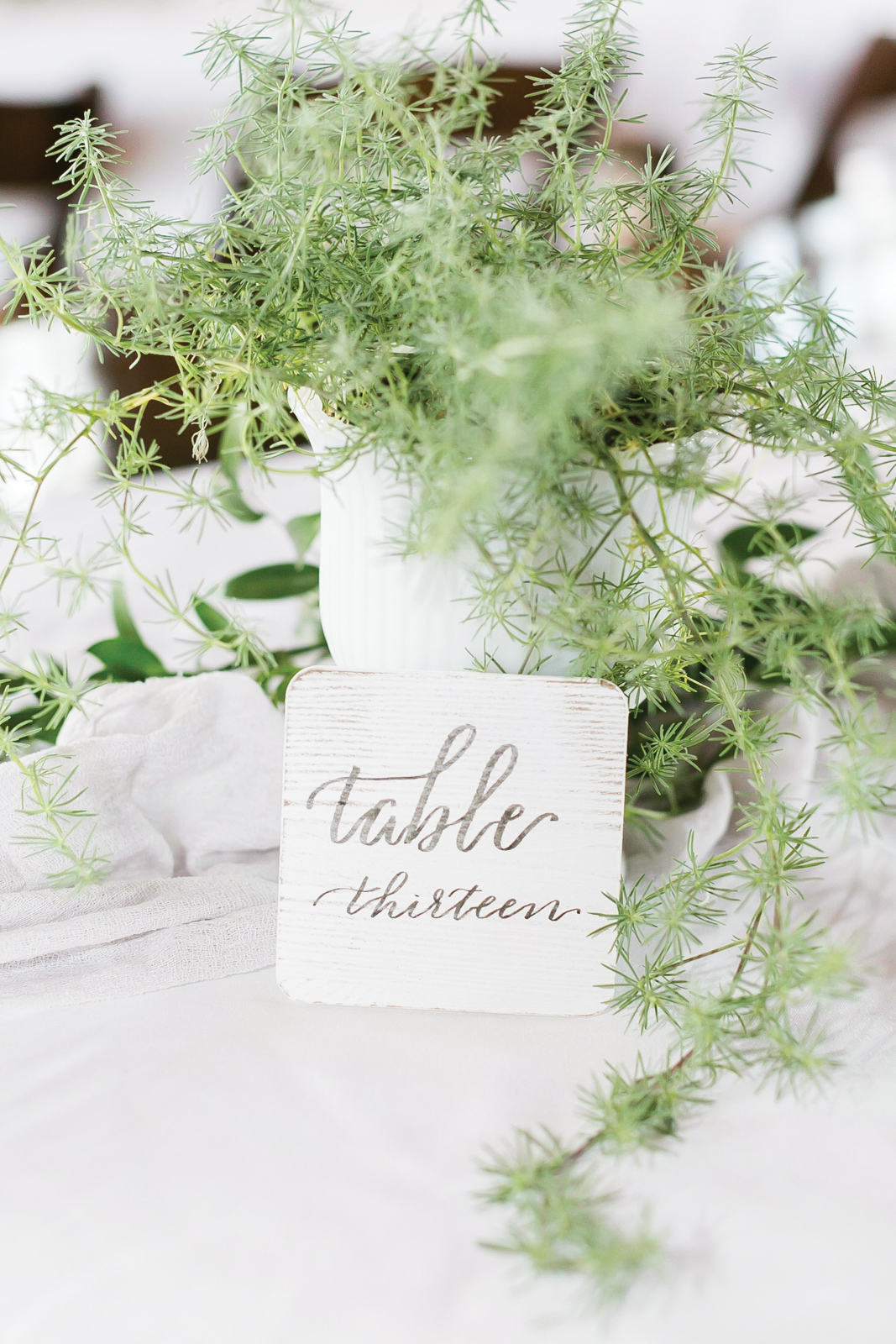 DESCRIBE YOUR WEDDING FLOWERS: A beautiful loose floral bouquet, with wispy blooms of mock orange, lisianthus, and delphinium surrounding the most beautiful sweet-smelling ivory/blush garden roses. A delicate long dusty blue ribbon wrapped and finished off the bouquet perfectly. Attached to the bouquet was my "something blue," a blue pearl paired with a pendant with our wedding date engraved on it; my mother gave me this.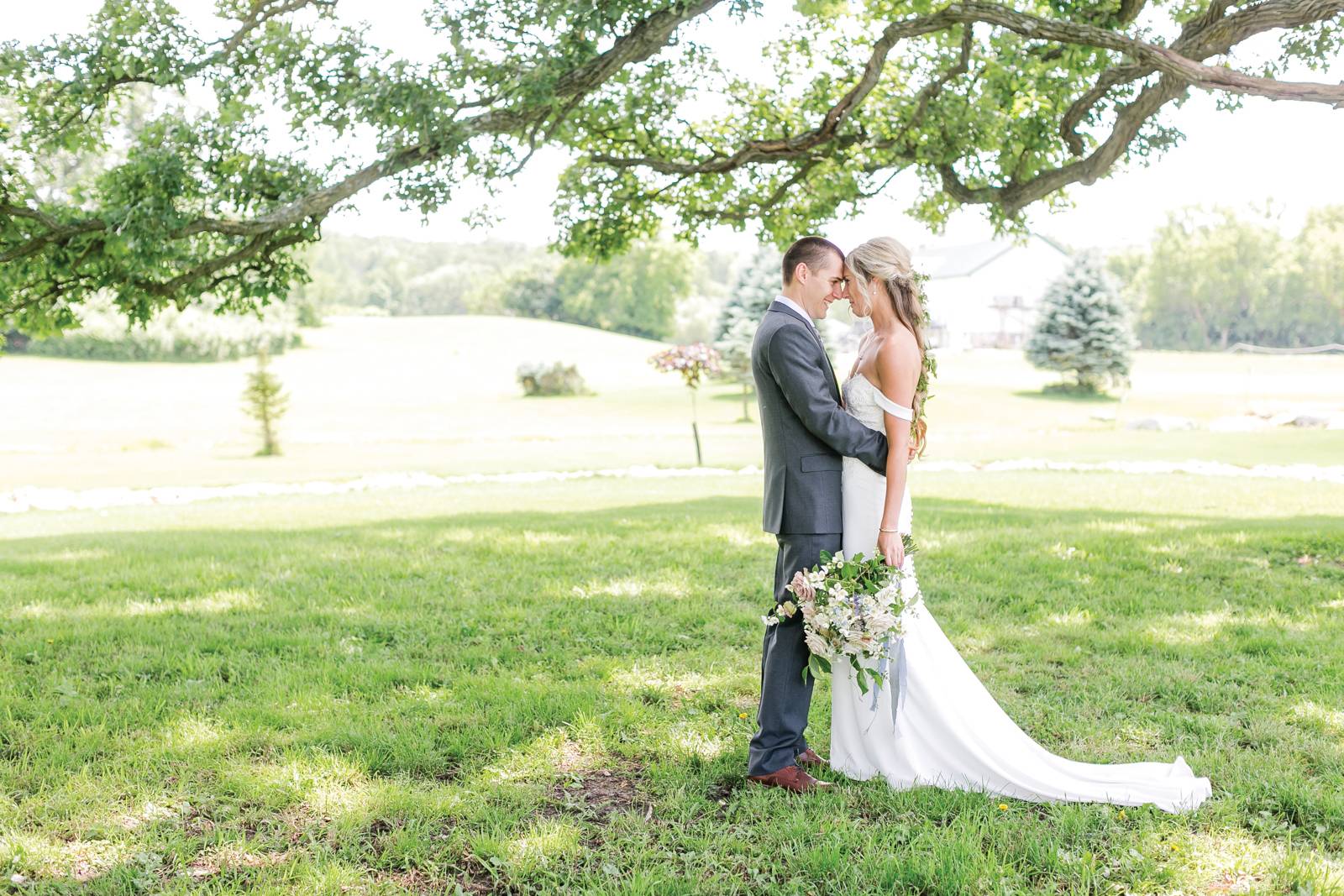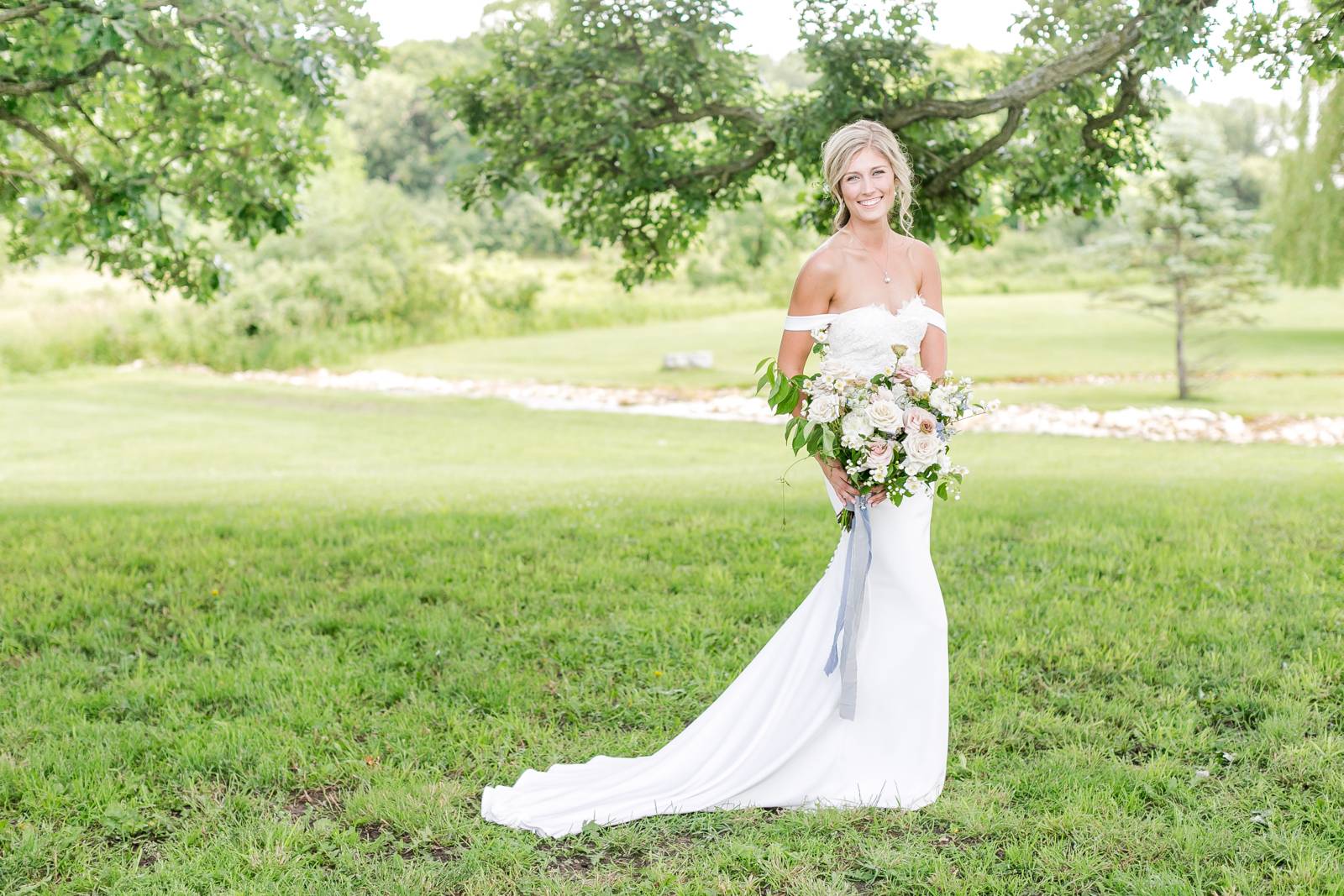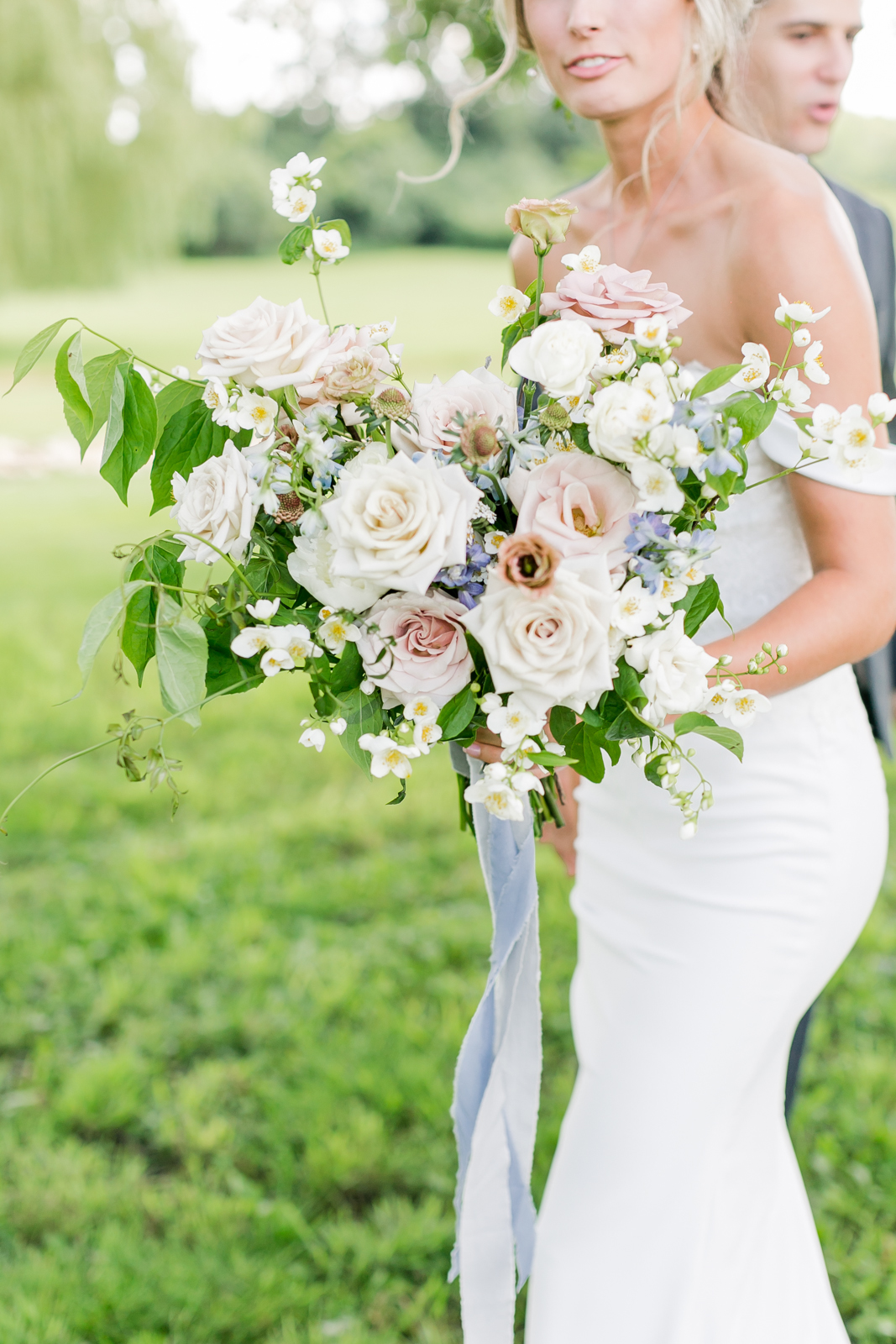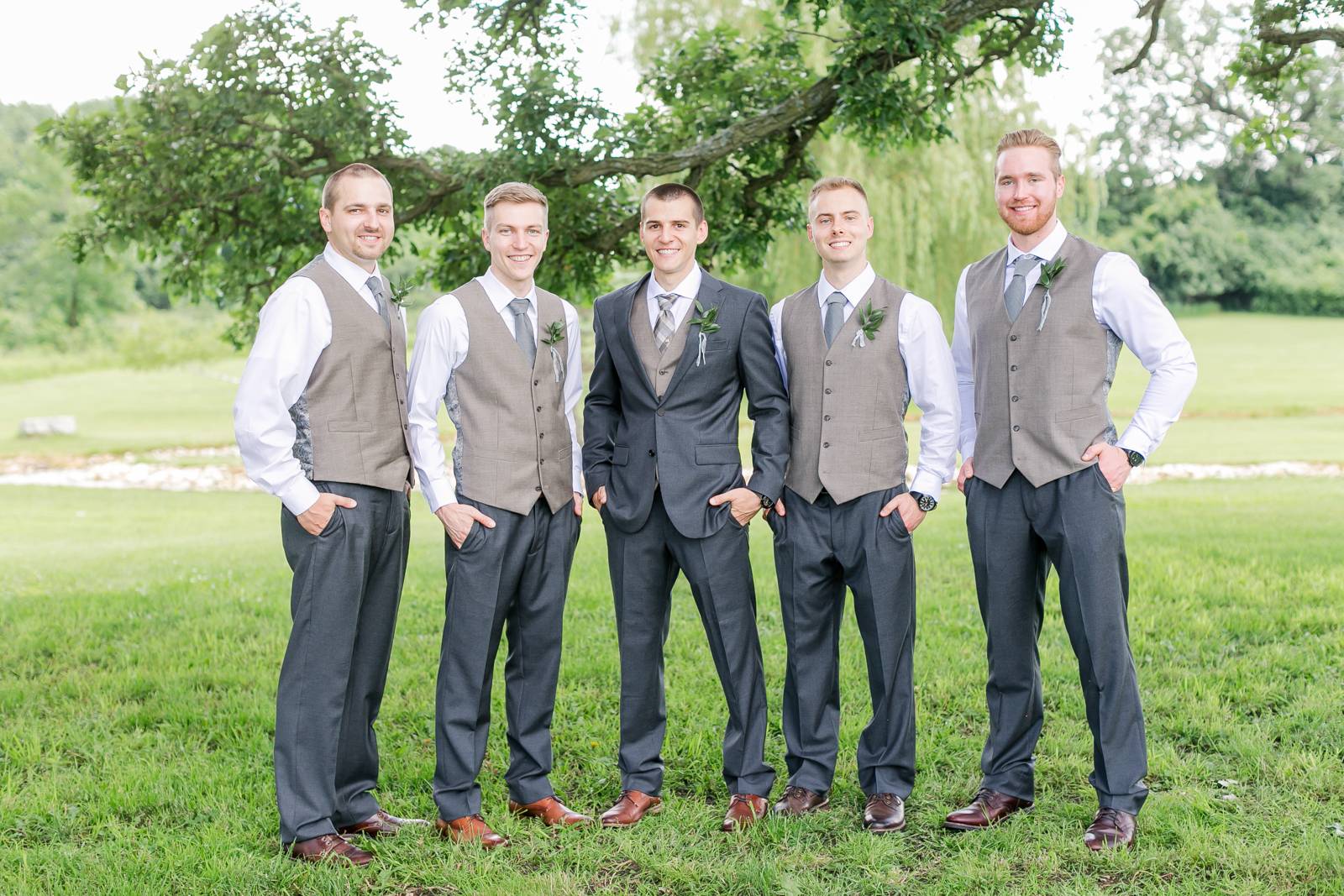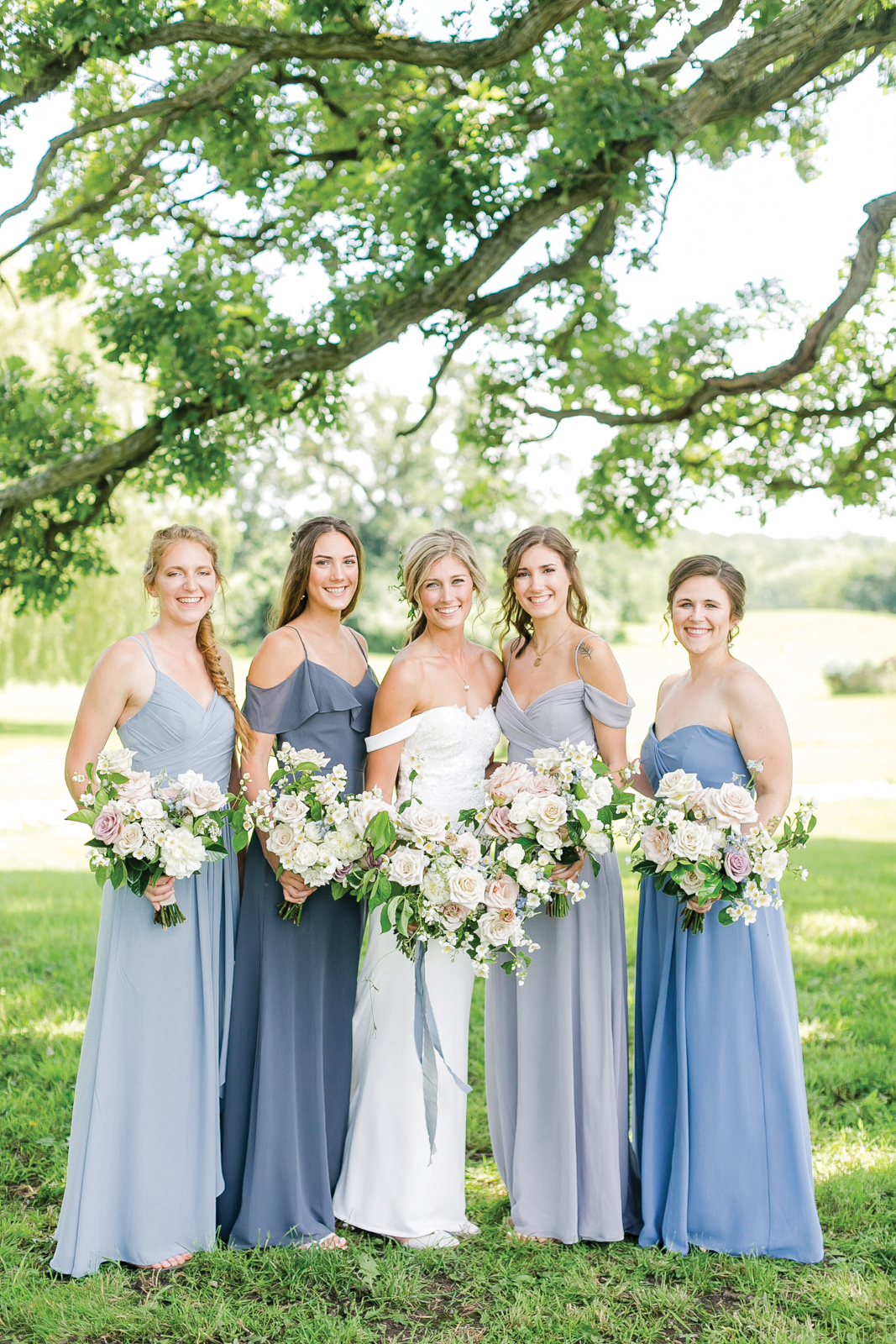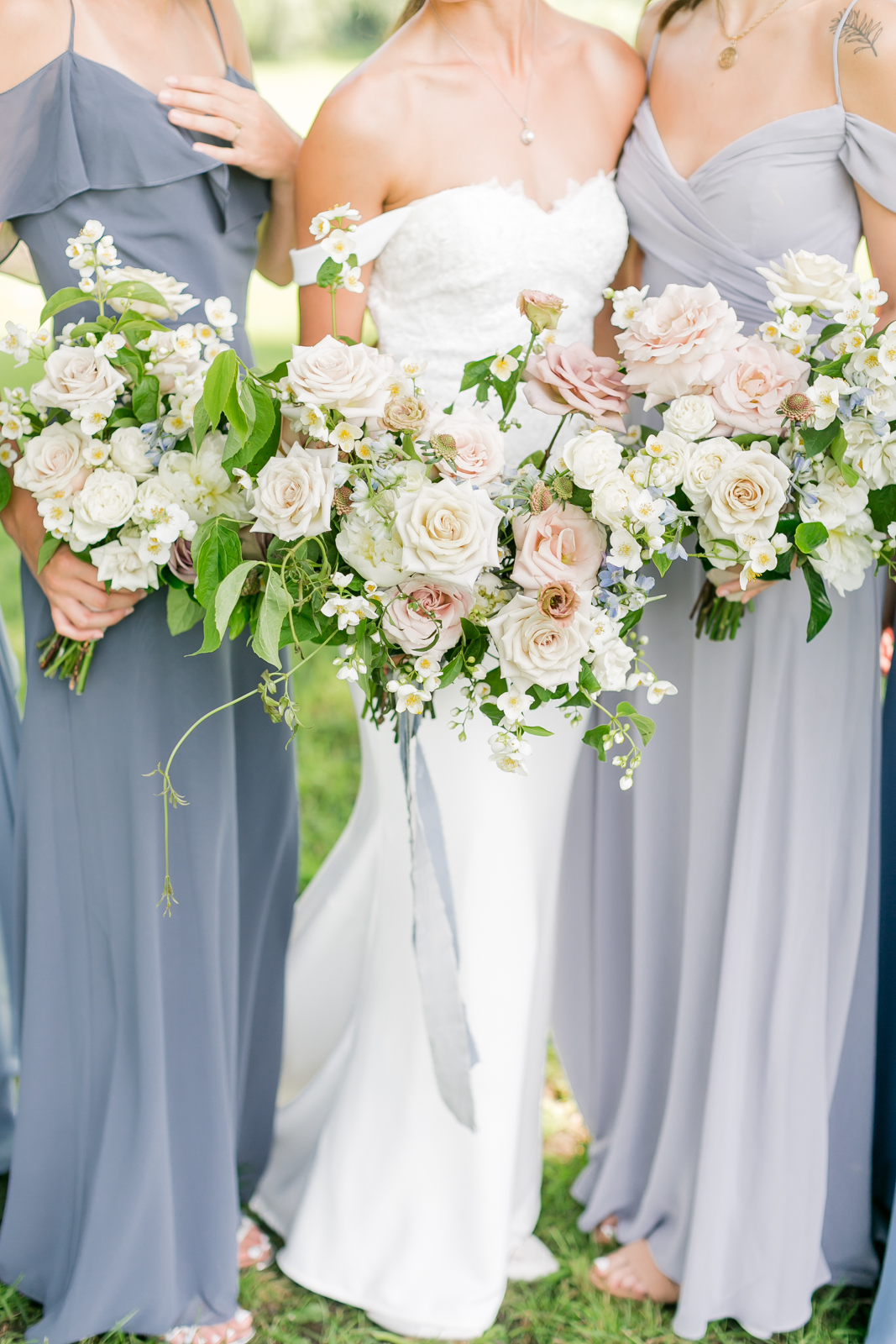 TELL US ABOUT THE FOOD, DESSERT, AND ANY SPECIALTY BEVERAGES ON THE MENU: Our catered supper from Hy-Vee was mouth-wateringly delicious. Salmon and bone-in chicken with all the sides reminded us of a home-cooked family meal, served buffet style.
Our cute cutting cake was ordered from Bloom Bake Shop. We went with a more interesting cake flavor - black tea and fig with buttercream frosting. The cake was semi-naked and topped with a halo of rosemary. It looked simple, natural, fit our scheme perfectly, and tasted so good!
Our signature cocktail served through Vintage Fields was 'About Thyme,' a fruity summer cocktail of pink lemonade and vodka, infused with sprigs of thyme. After dating for six years, it was about time Chad proposed.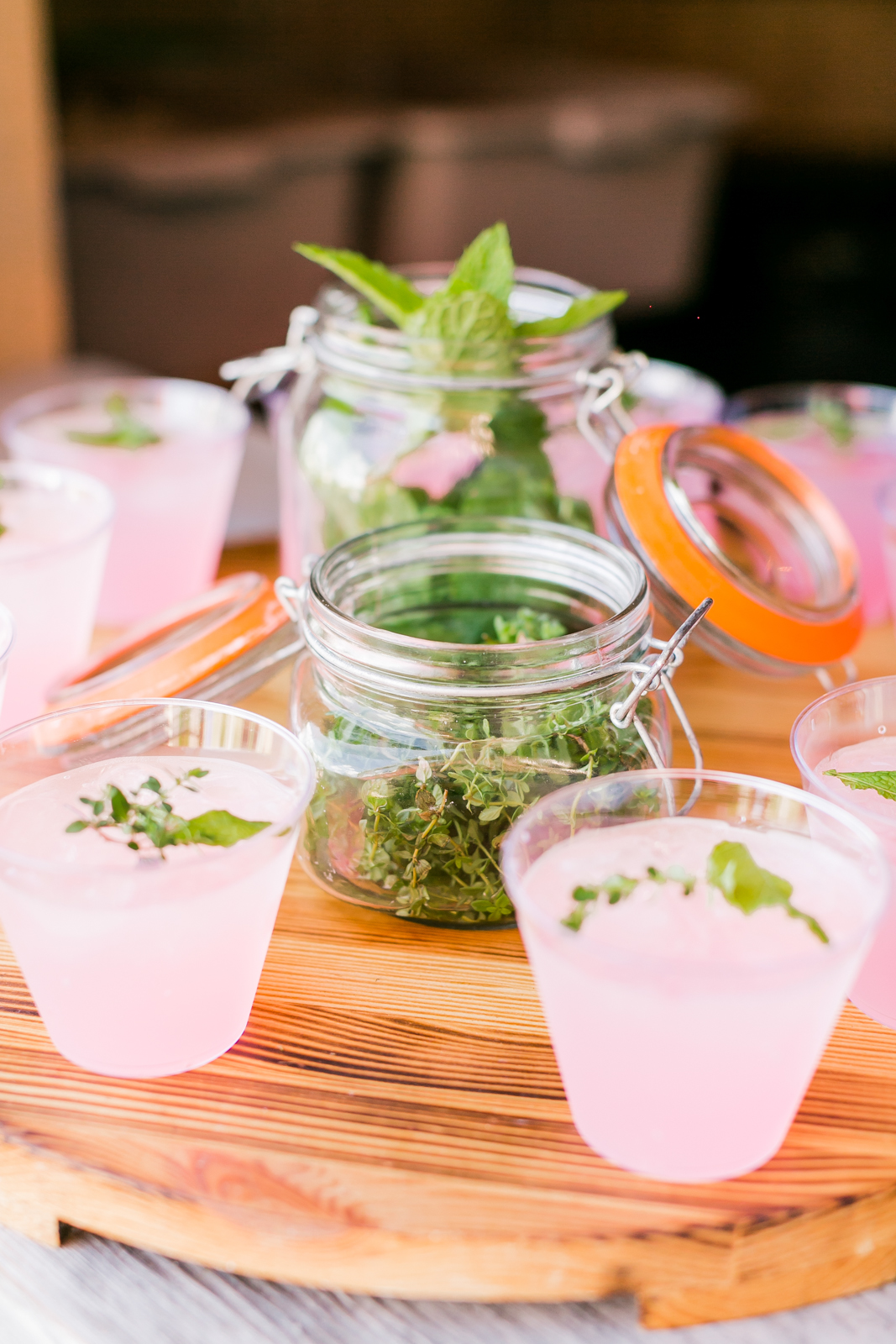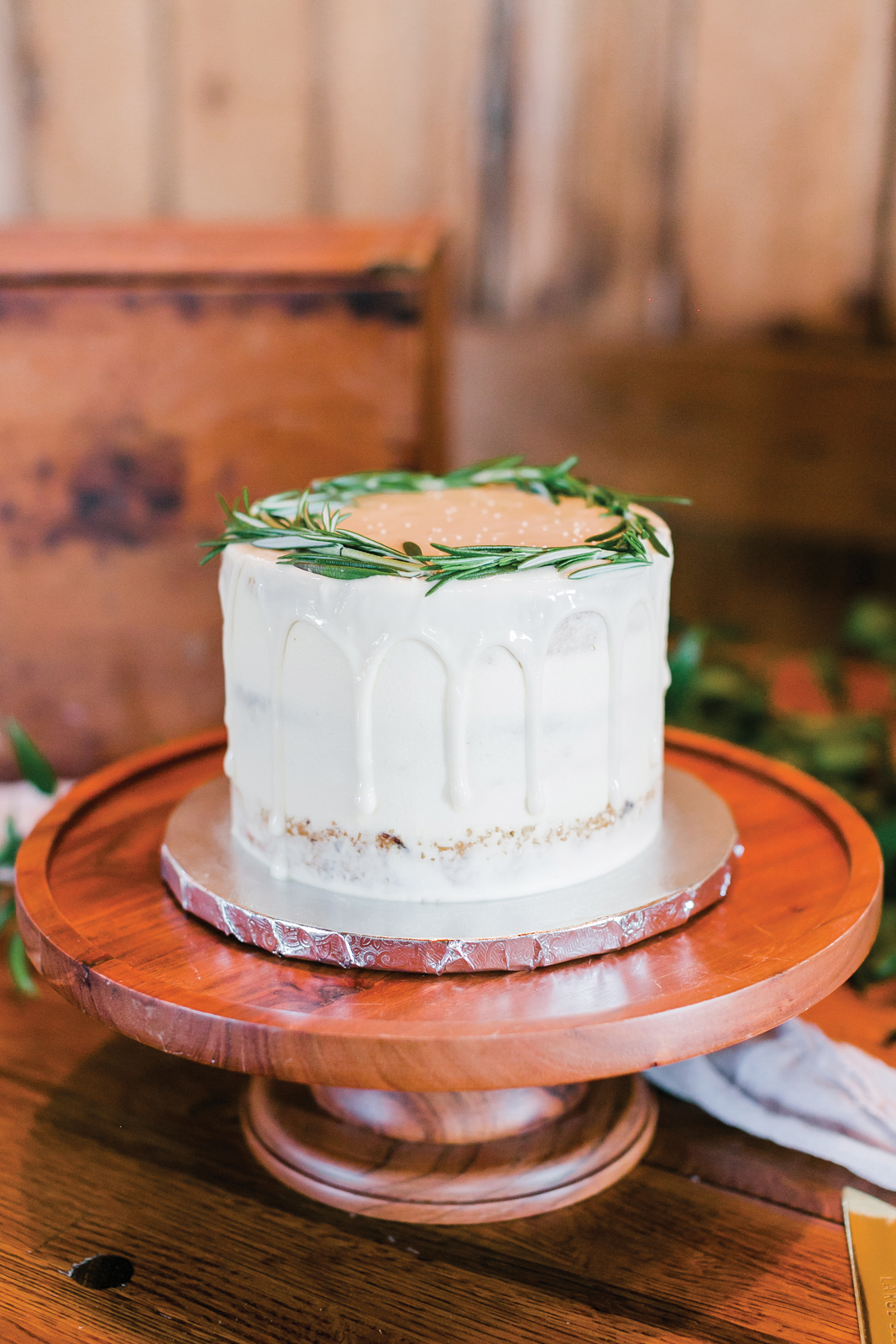 WHAT WAS YOUR FAVORITE MOMENT FROM YOUR WEDDING? My favorite moment from our wedding was after our first dance. The DJ called out all the married couples to get onto the dance floor, Chad and I watched from the side, drunk-in-love after finishing our first dance. We just stood, embracing, and watched as our family danced together, wondering to ourselves how we ever got so lucky to be surrounded by such a loving family.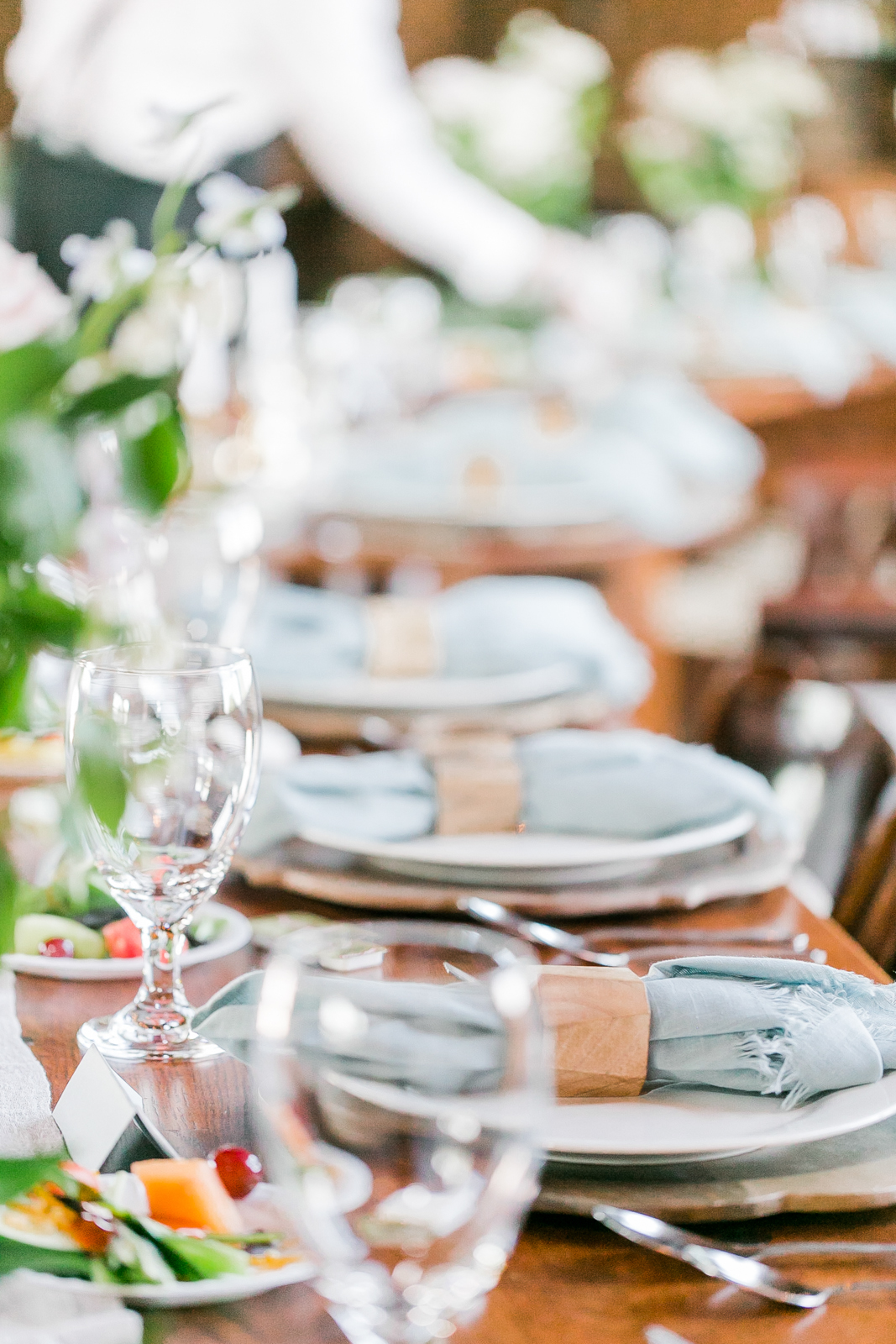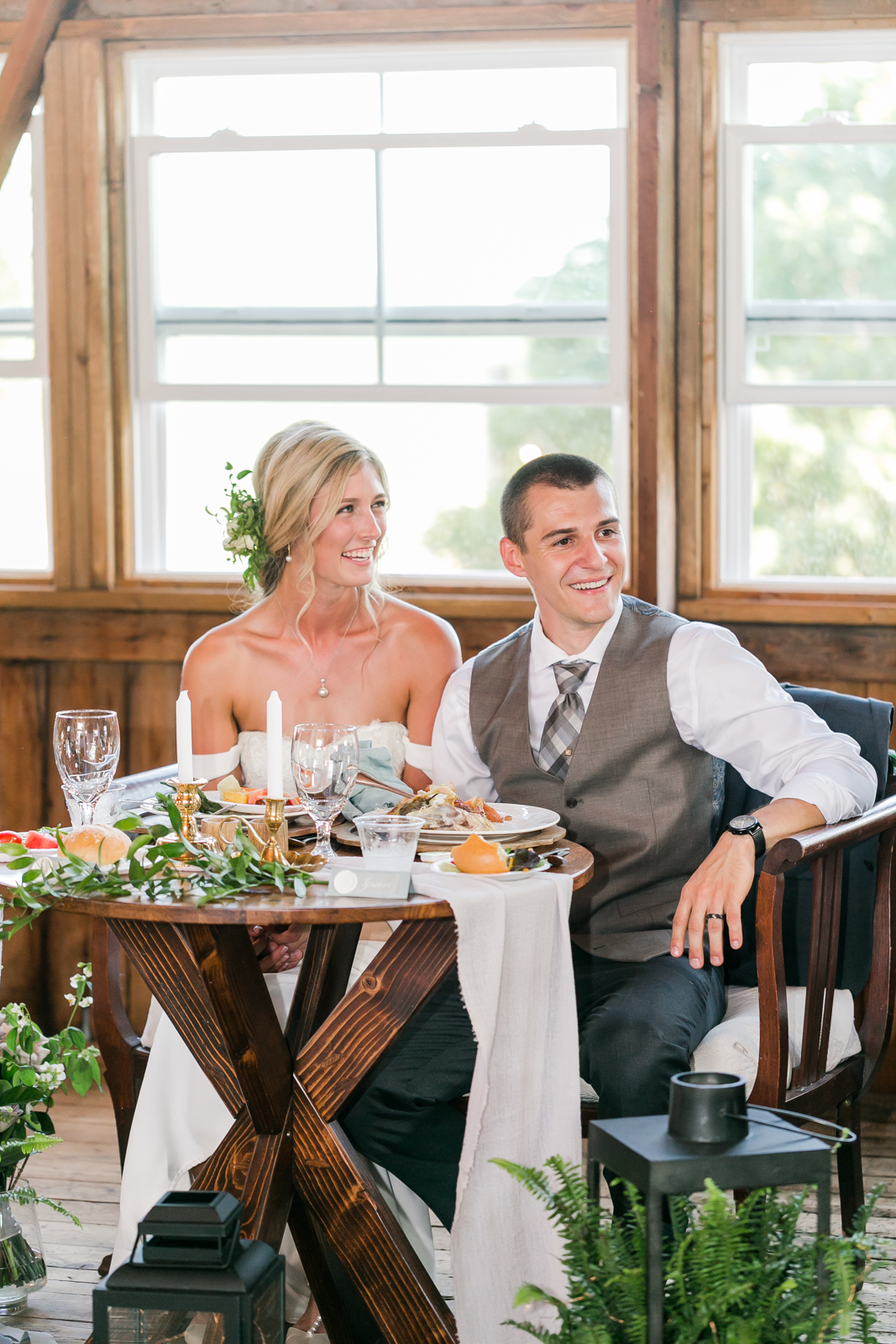 TELL US ABOUT YOUR HONEYMOON PLANS: Our honeymoon turned out to be another adventure, traveling to Nashville and Gatlinburg, Tennessee. We arrived in Nashville to celebrate the Fourth of July. After spending several nights on Broadway, immersed in country music, we went to Gatlingburg to hike the Great Smokey Mountains. We stayed in a cute, tiny log cabin and then spent four days on the Appalachian Trail, hiking the ridge top of the Smokeys. The views were breathtaking and well worth the hike.
WHAT DOES LIFE LOOK LIKE AFTER THE WEDDING? Life after the wedding has been great. We recently got a golden retriever puppy named Scout. She is quite the handful and is keeping our lives chaotic and exciting. We can't wait to take her on her first hiking adventure soon!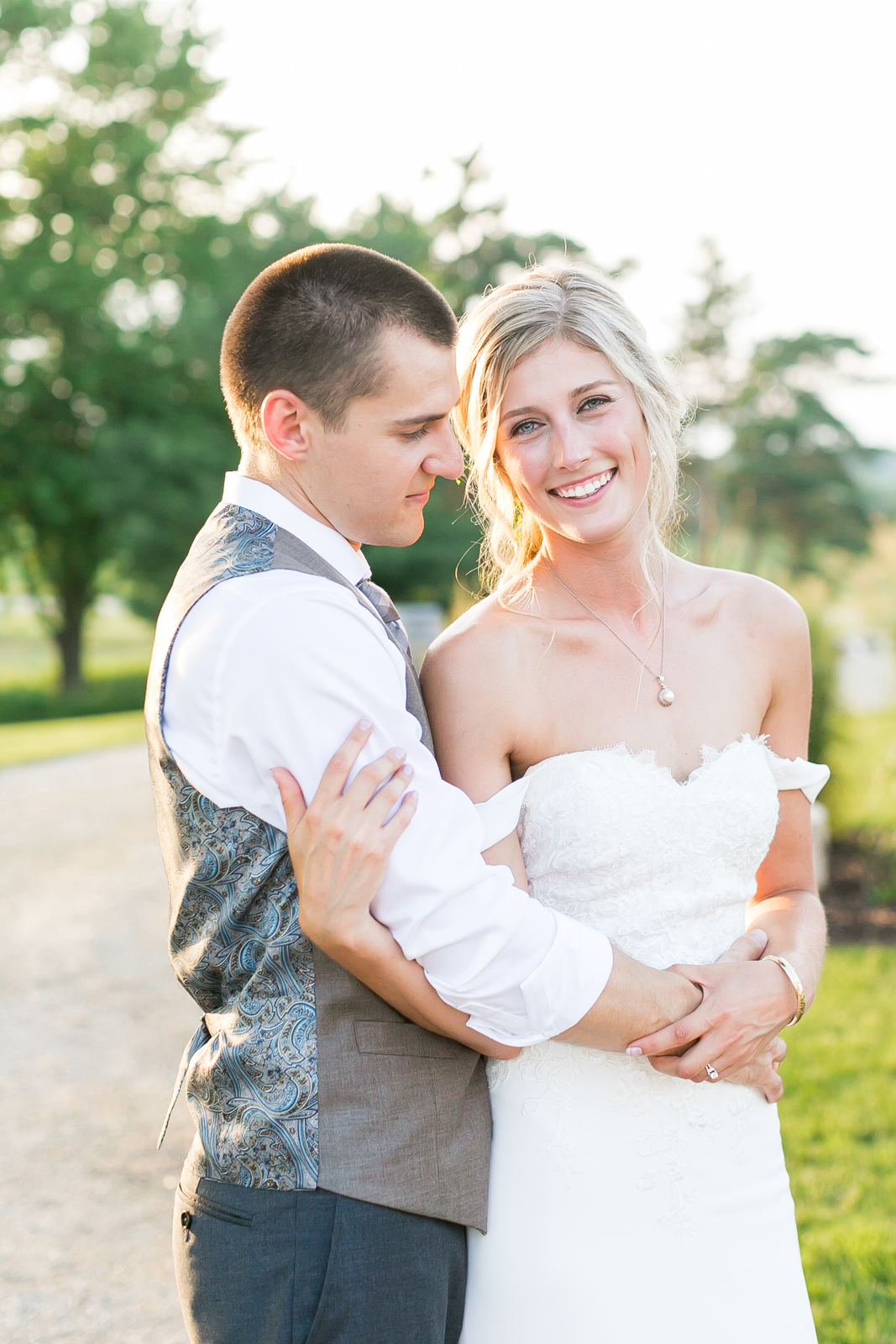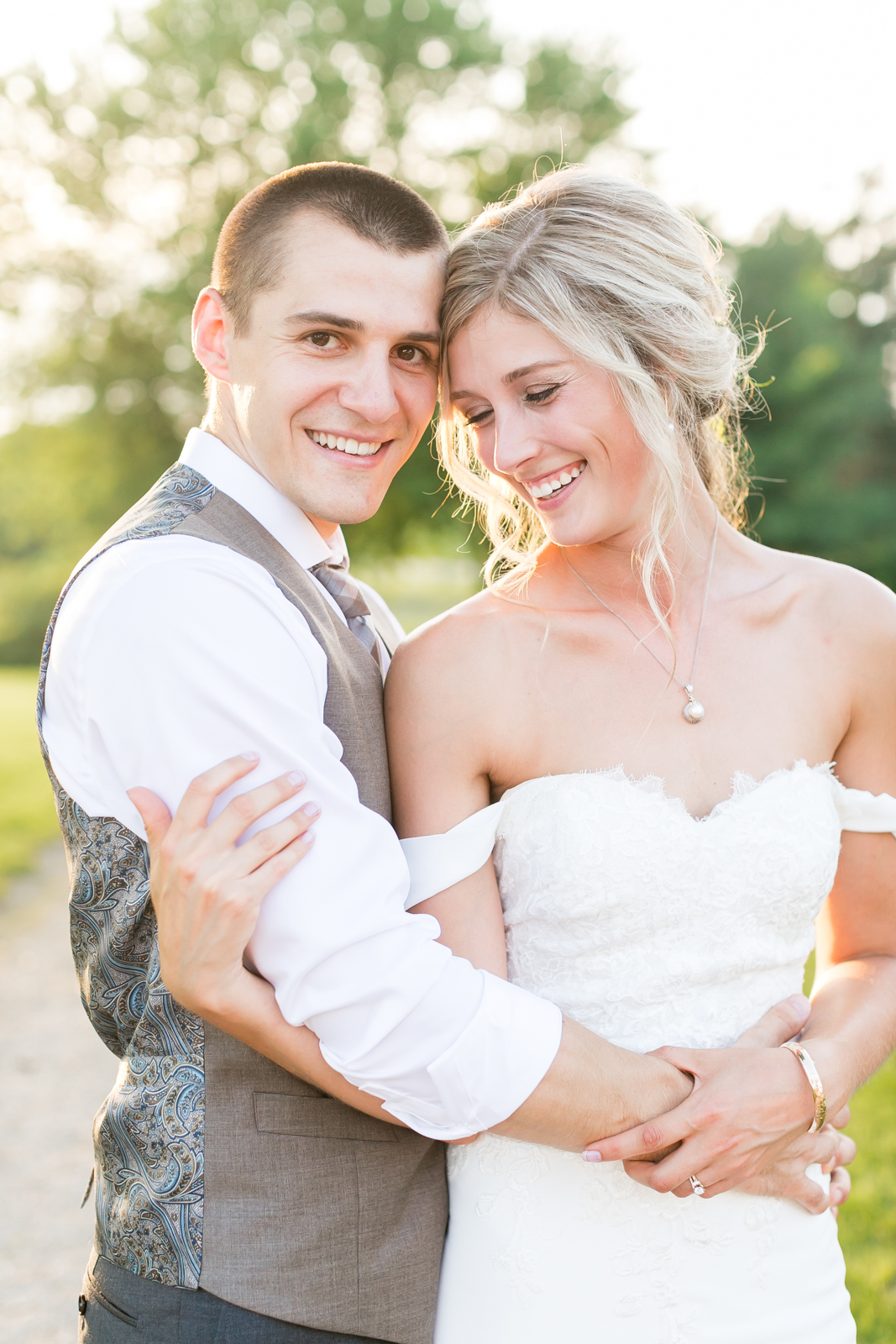 ANY WEDDING PLANNING REGRETS OR SOMETHING YOU WOULD DO DIFFERENTLY? Honestly, no. We had a wonderful time, and there were few if any hiccups along the way that would make us wish we would have done anything differently. The only room for change would have been more money in the budget for more flowers, haha. I could always use more flowers.
IS THERE ANY ADVICE YOU'D GIVE TO OTHER COUPLES PLANNING THEIR WEDDING? I would suggest to any bride to not be afraid to ask for help! As I planned everything, I tried to do it all myself, which came to be a little stressful at times once we were on the final countdown towards the wedding. So ask family members for help, most likely they will be thrilled to help and be a part of your big day!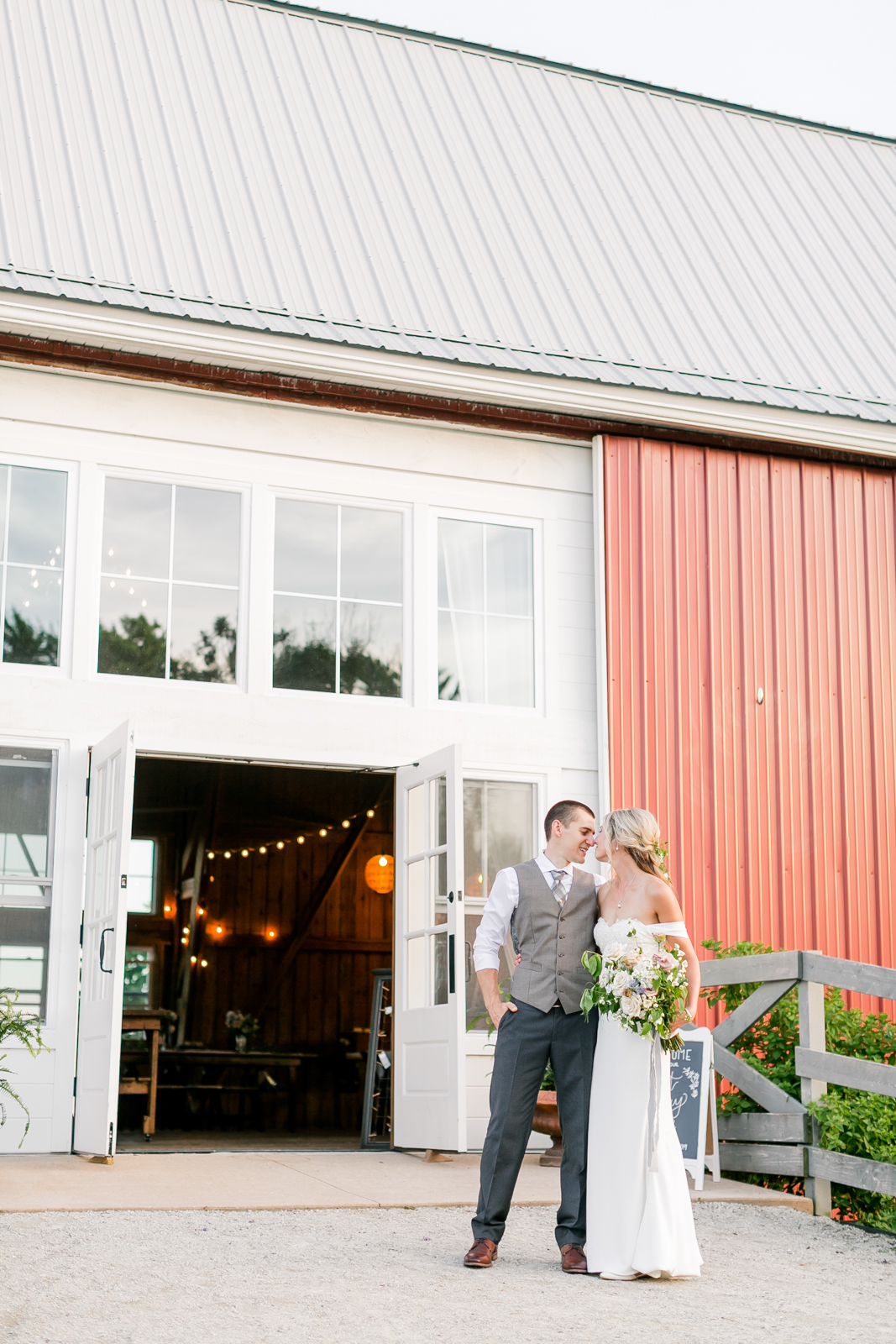 For more real Wisconsin wedding inspiration, enjoy visiting our other BLOG FEATURES.