We're coming to you this Christmas Eve with the party of the year: Fotini and Gunnar's wedding day! Captured by Tara Draper Photography, their celebration of love was a glamorous, extravagant, and magical day planned by Fiorella Neira of Signature Events and one you do not want to miss - trust us! Held at the elegant Kalahari Convention Center in the Wisconsin Dells, soak in every stunning detail from Fotini and Gunnar's day down below!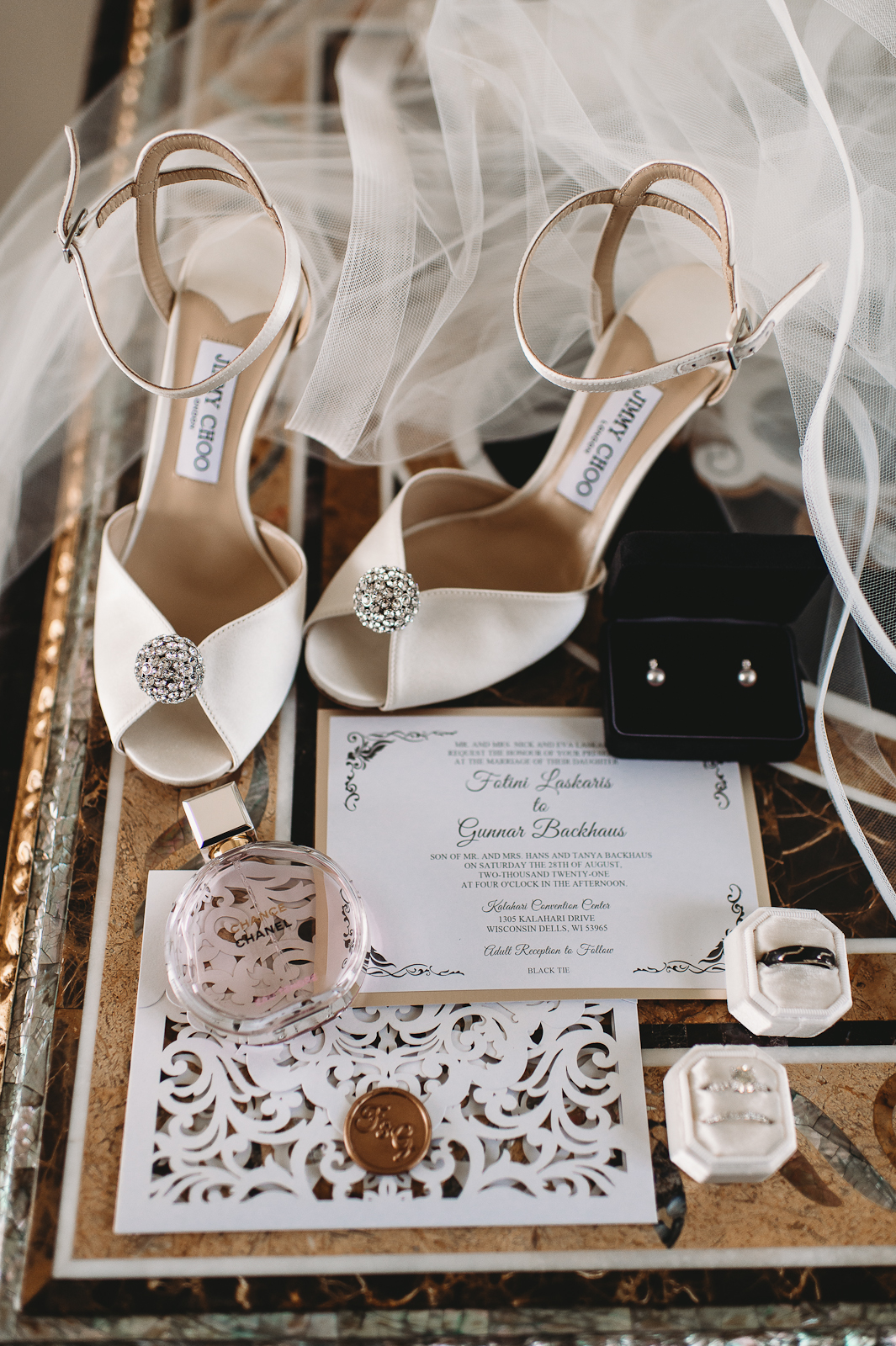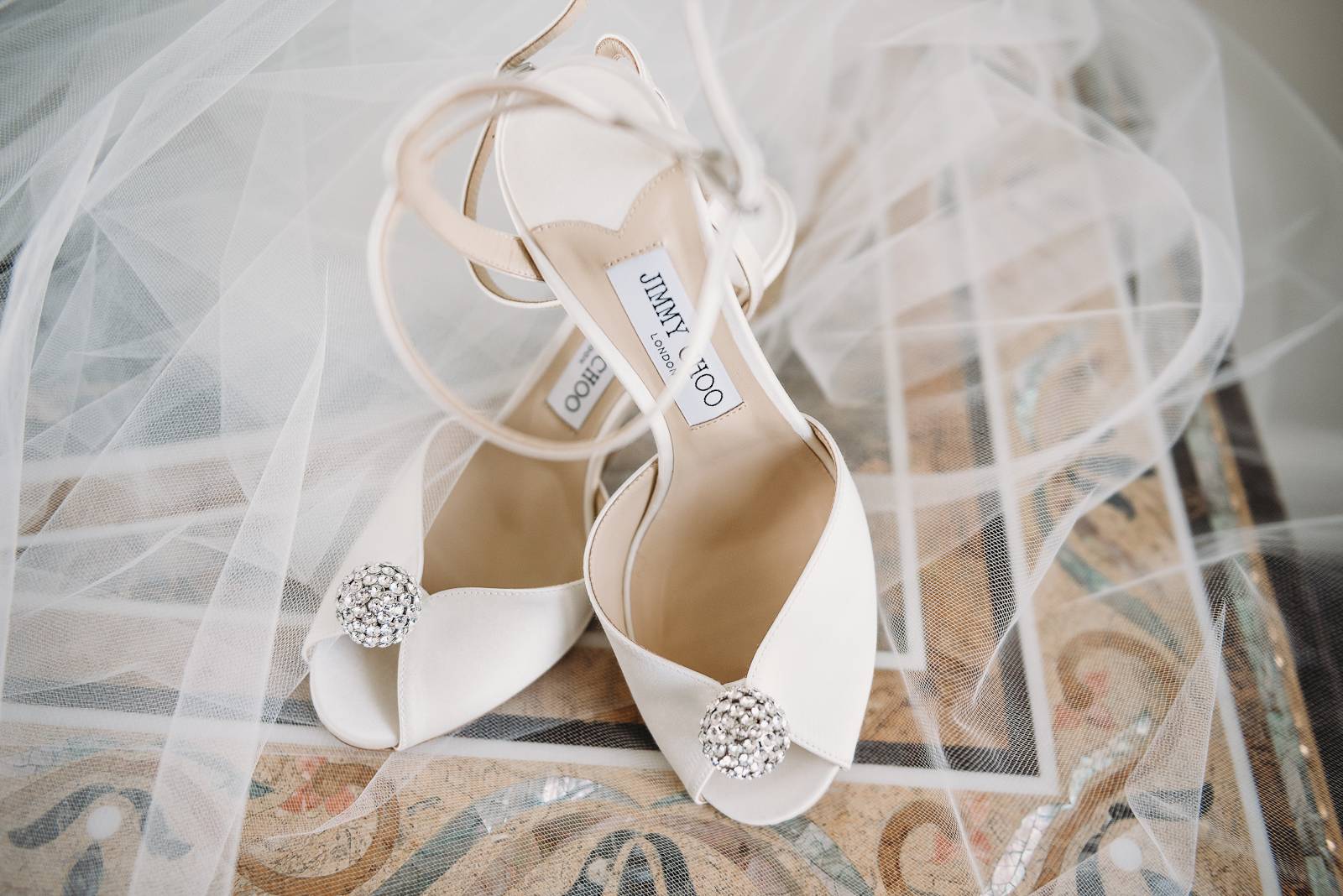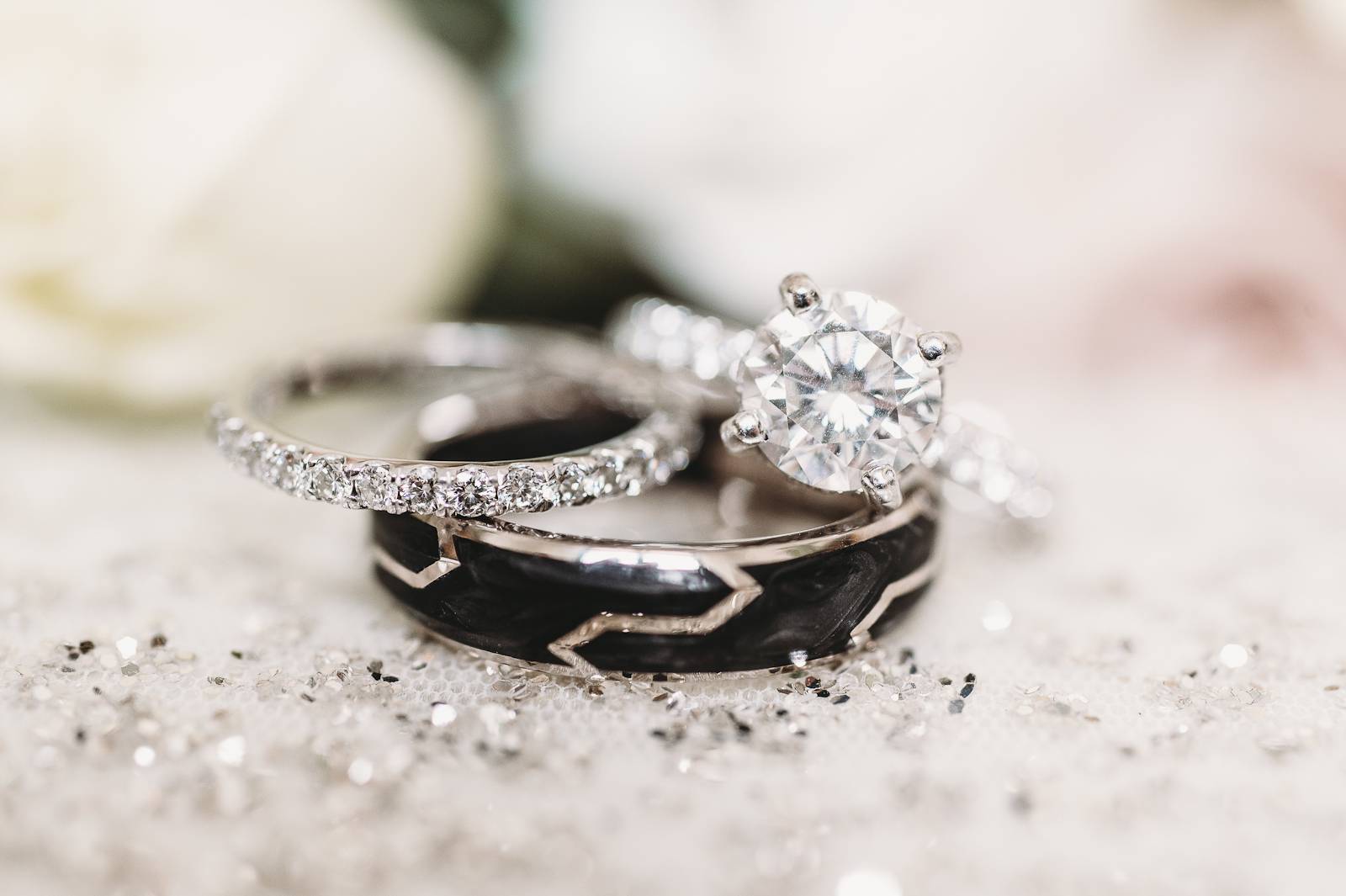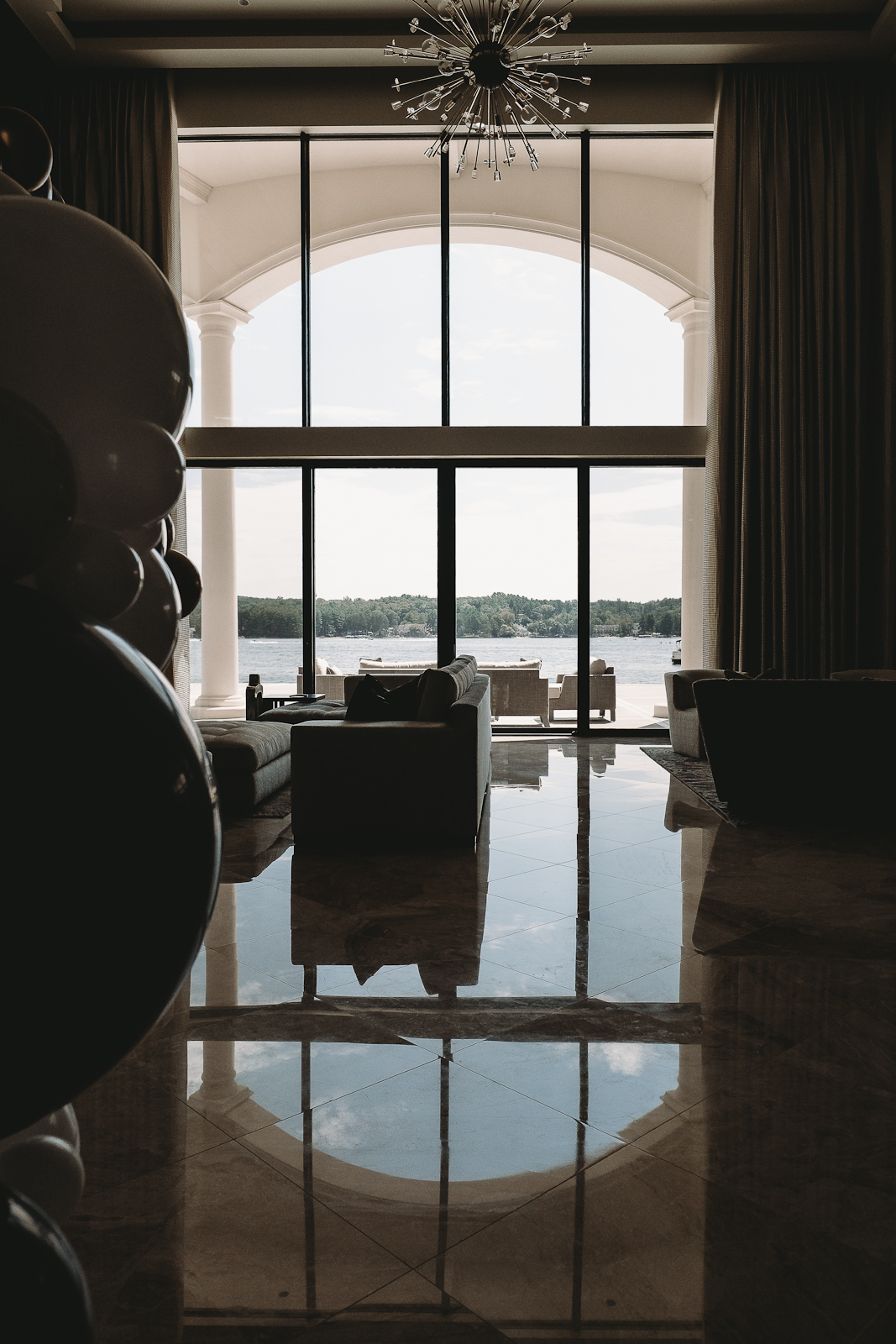 WEDDING DATE: 8/28/21
HOW DID YOU MEET? Gunnar and I grew up in the same small town and went to High School together in the Wisconsin Dells. He was a year ahead of me, so we knew of each other but never interacted or talked until four years after High School! We officially "met" at The Reef Nightclub in the VIP area upstairs. I had no intention of talking to him, I actually wanted to say hi to one of my old high school friends, but I ended up talking to Gunnar instead! *Side Note* - If you know me at all, I never go out to nightclubs, so the chances of us meeting like this are crazy. The day after, I went to my friend whose family owns B-lux (where Gunnar served at the time), and she told me when his next shift was, so I came in to have dinner that night (but really to check him out). After that night, he asked me to dinner, and everything after that is history!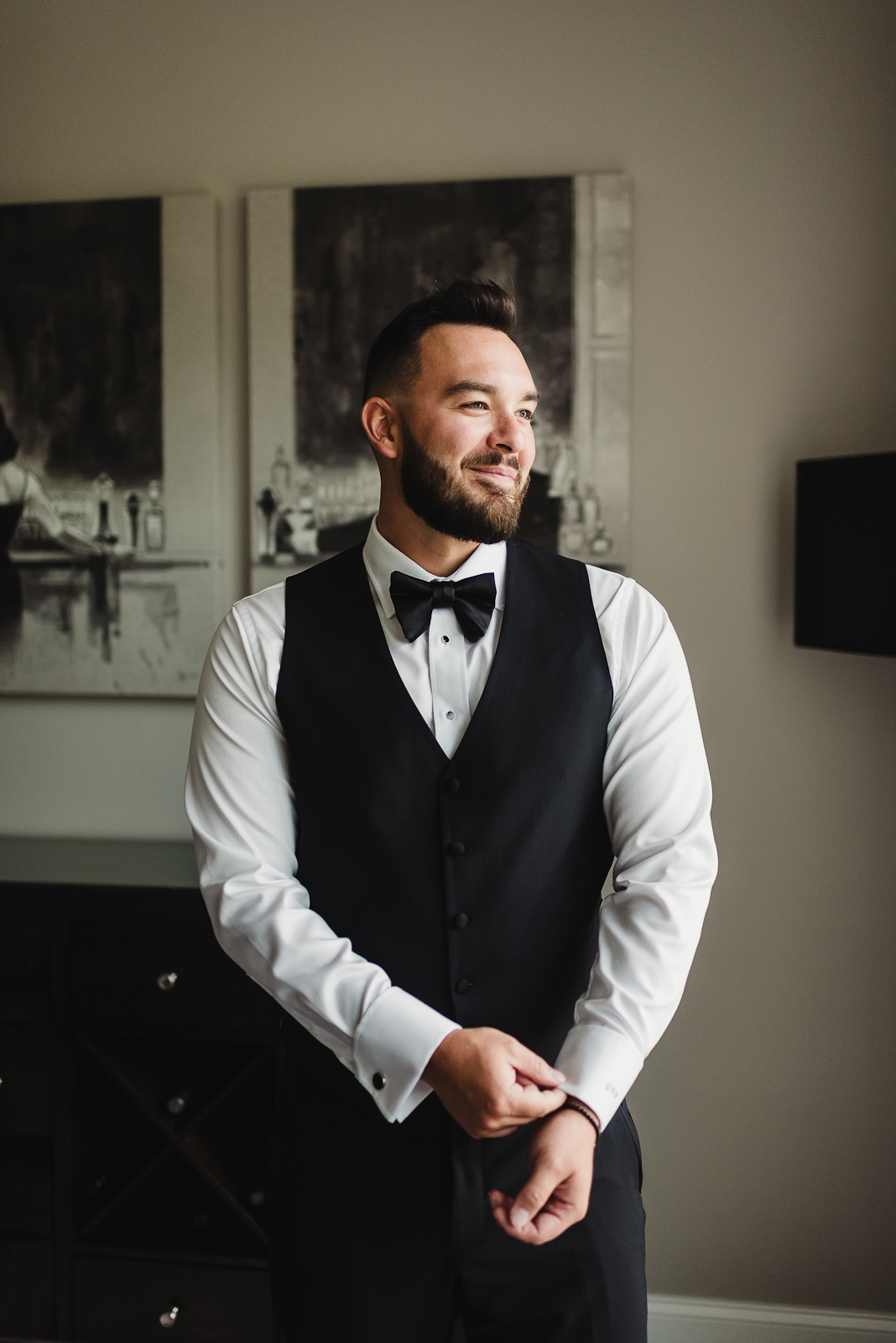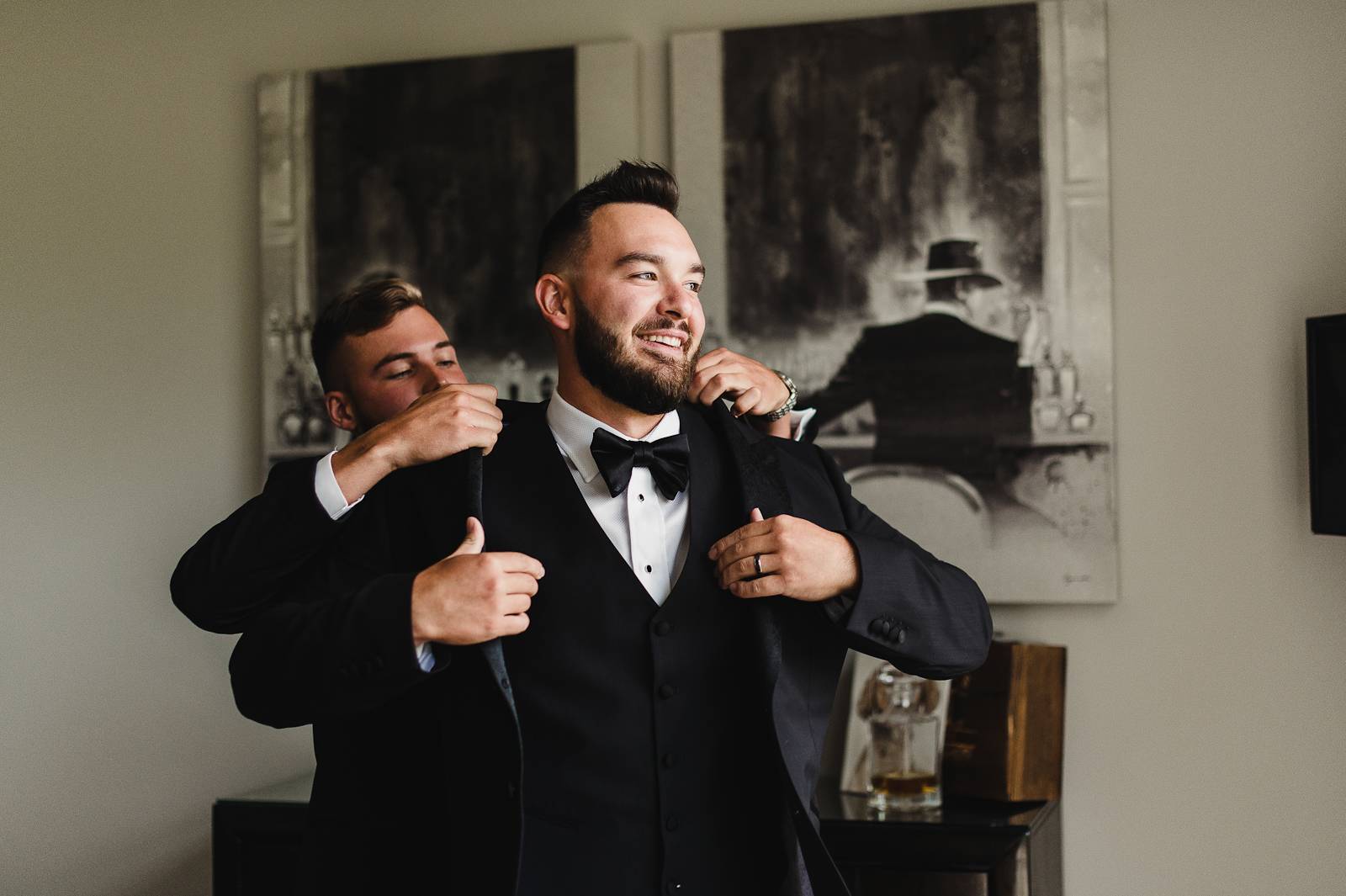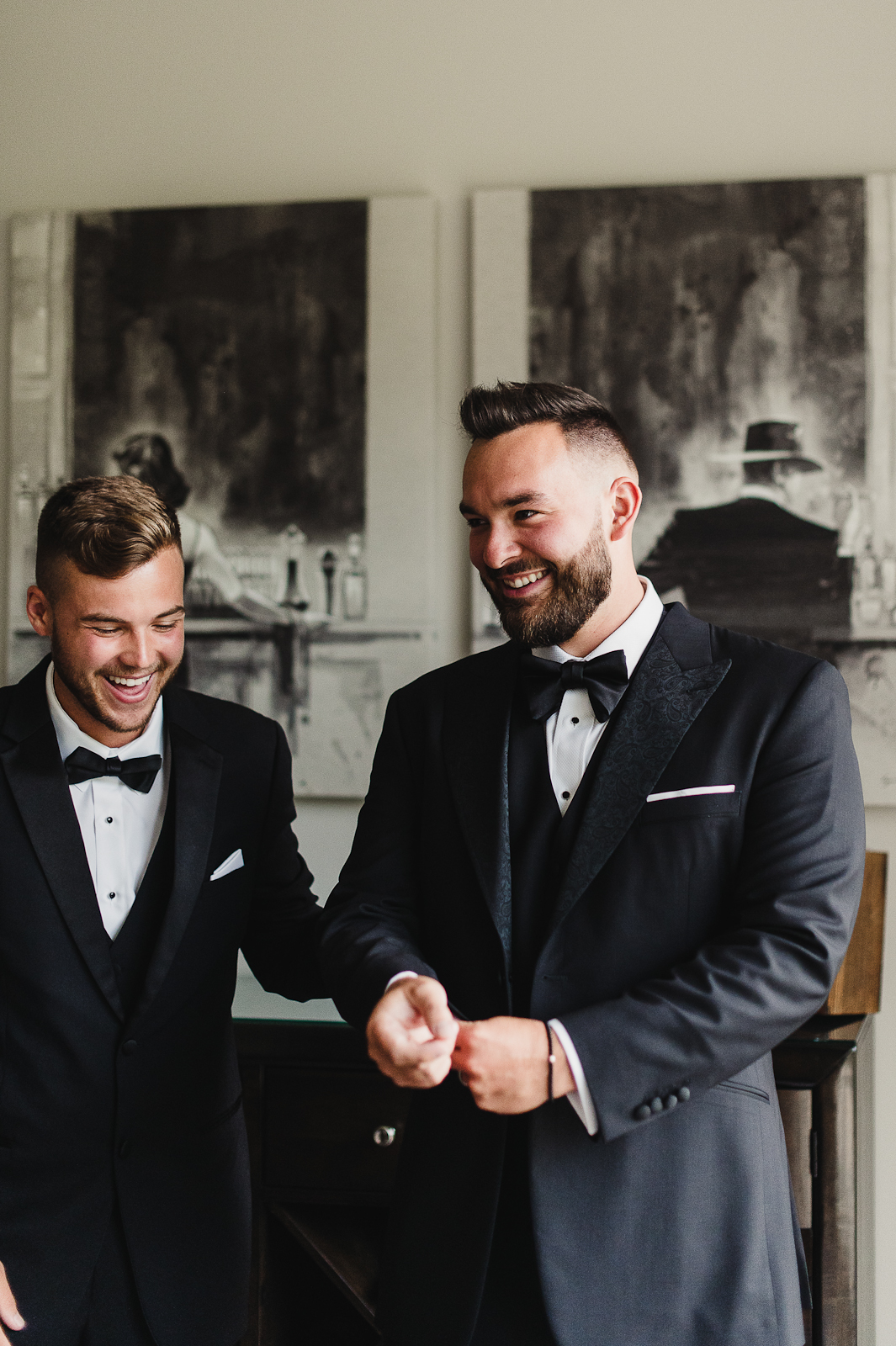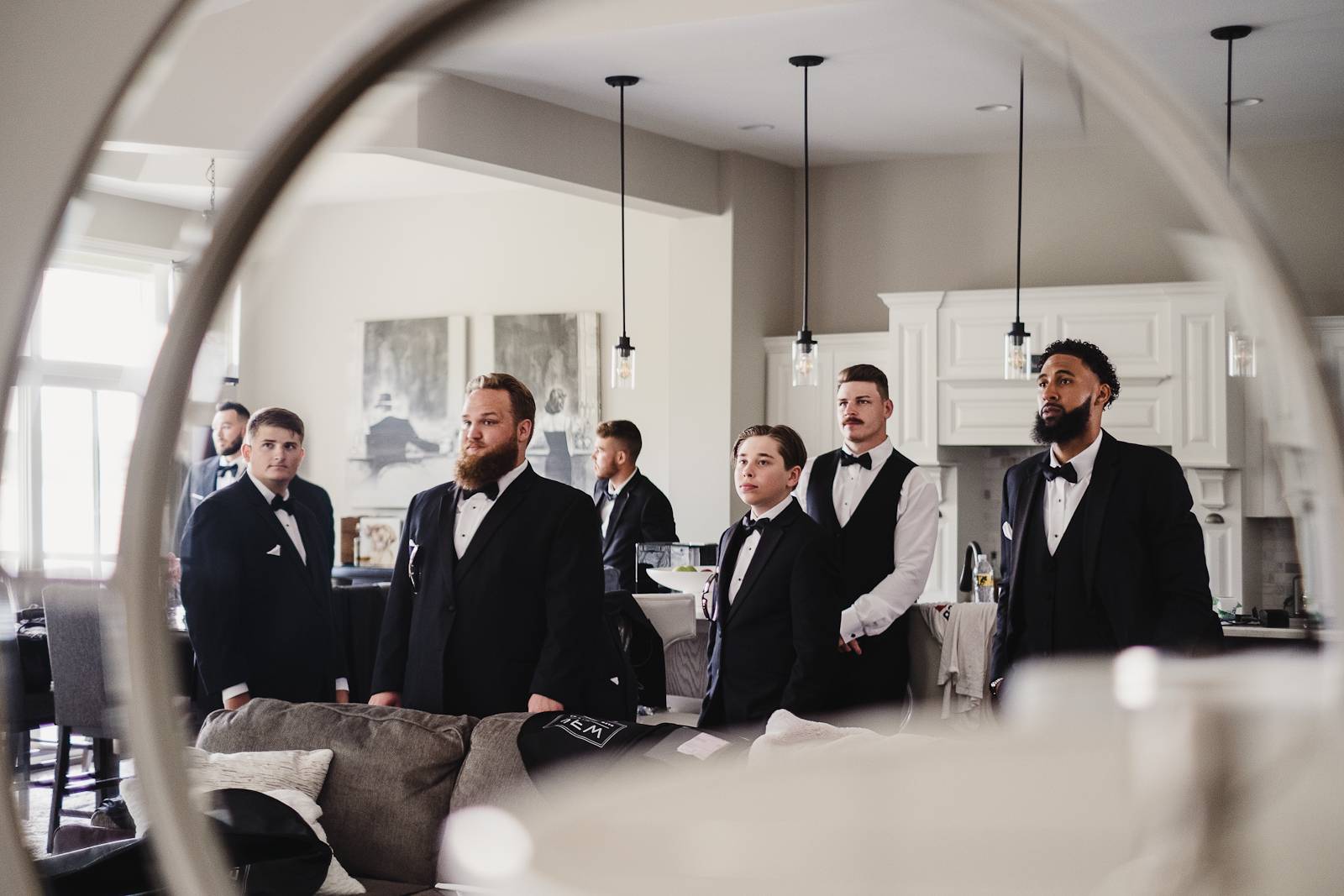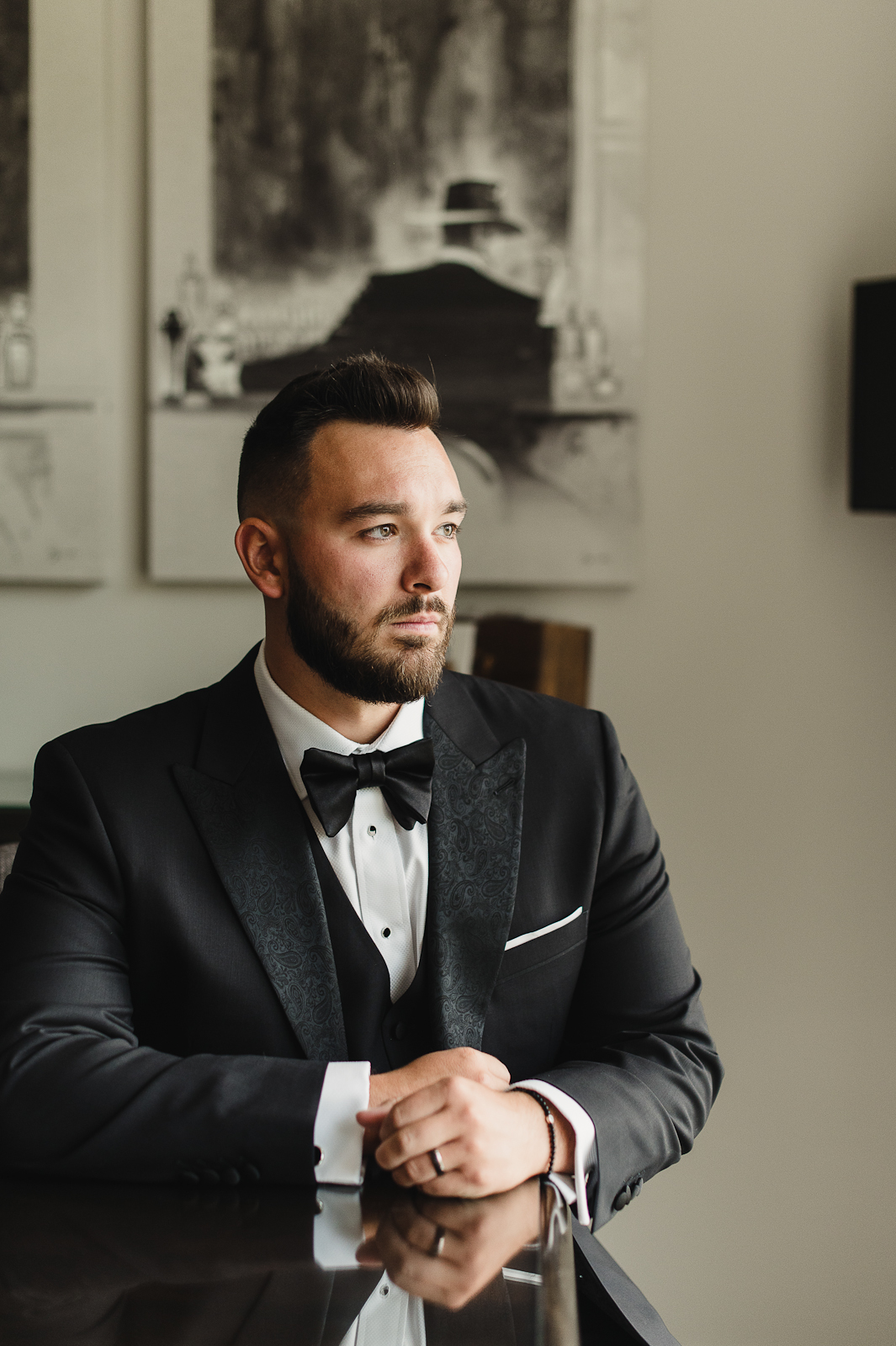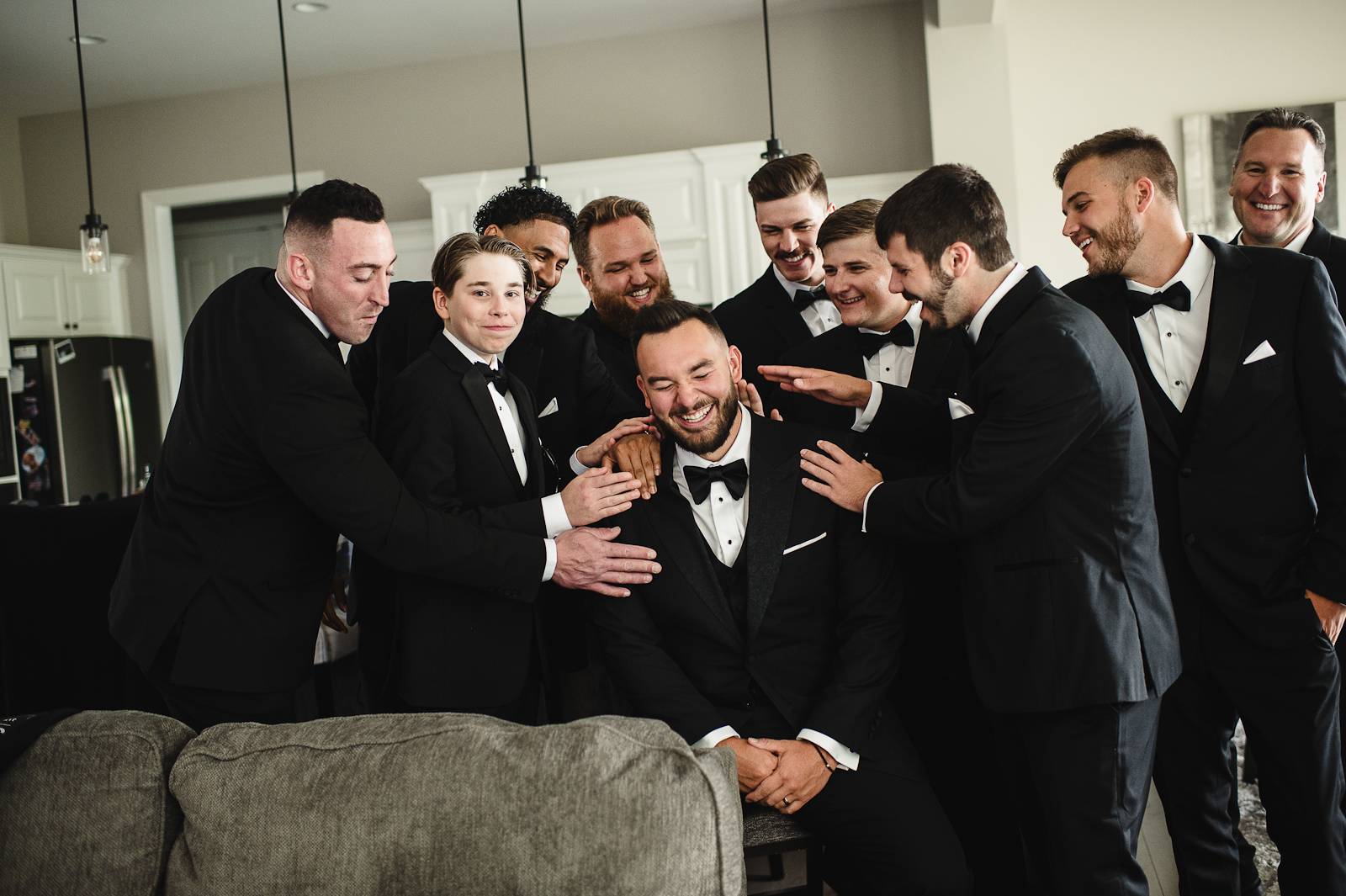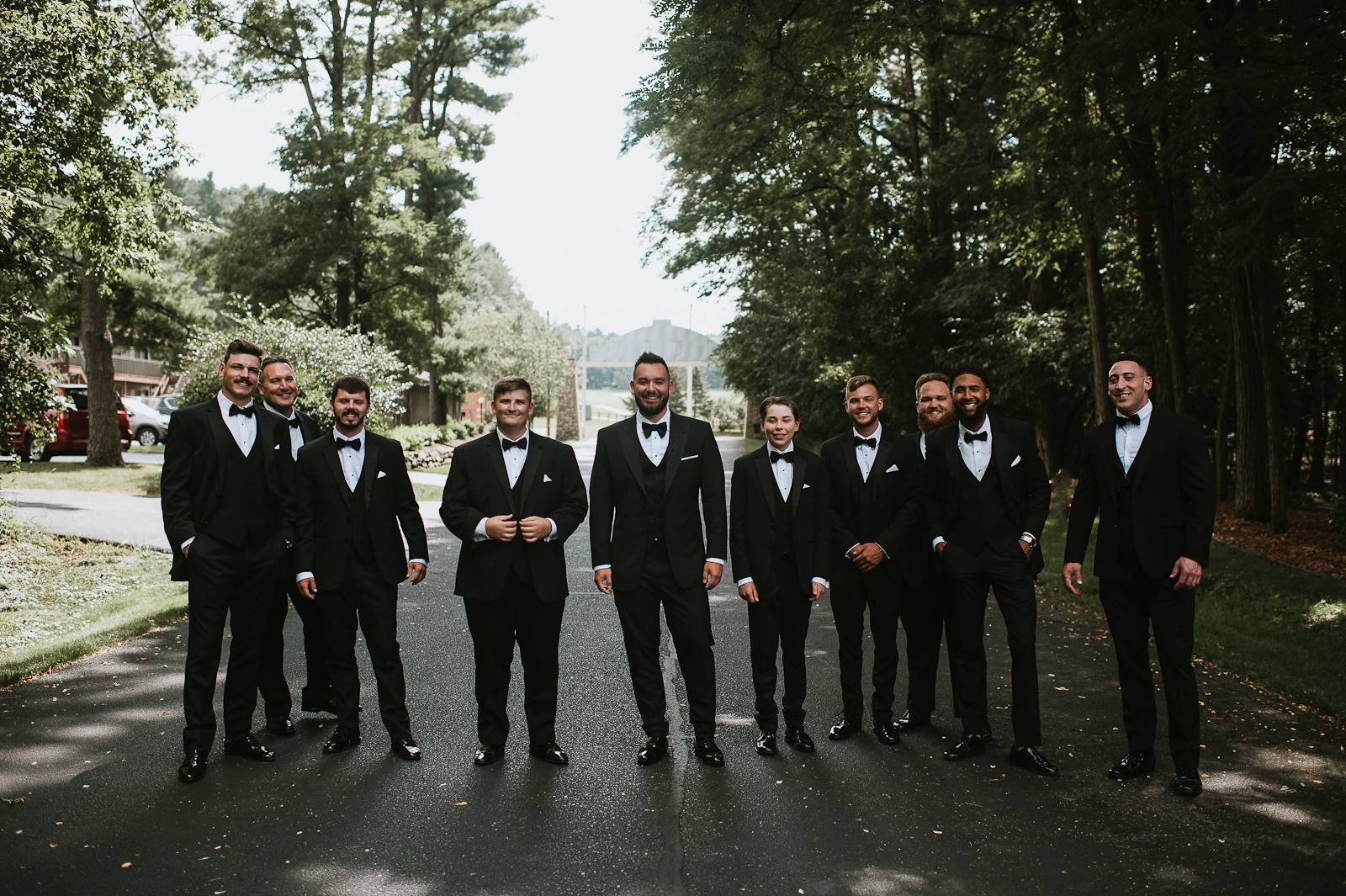 HOW DID YOU KNOW YOU HAD FOUND "THE ONE"? I am the type of person who likes things a certain way and is very particular at all times. We lived with each other for about a year and a half before he proposed, so I knew he was the one when he accepted and supported me for all my quirks and expectations in life. He also started working for my family's business about six months into dating. His great work ethic and dedication also showed me he was the one for me.
TELL US ABOUT YOUR PROPOSAL: Gunnar and I were hosting Christmas Eve at our house, and he only wanted our close family there at the beginning of the evening. Once everyone arrived and started to settle in and mingle, Gunnar really wanted me to open his gift in front of everyone, but I kept pushing it off. I found this really odd since I don't like opening gifts in front of everyone. After a half-hour of him acting super strange and multiple attempts of him trying to get me to open his gift, I finally did. I started opening it on our couch off to the side then he moved it to our kitchen counter for everyone to see. I continued opening the gift skeptically. Finally, when I got through all the wrapping, there was a picture frame inside that read, "Will you marry me?" I started tearing up and turned around, and Gunnar was on his knee and proposed to me! I had no idea! It was so sweet and brave he did it in front of both of our families! It was a moment we will never forget.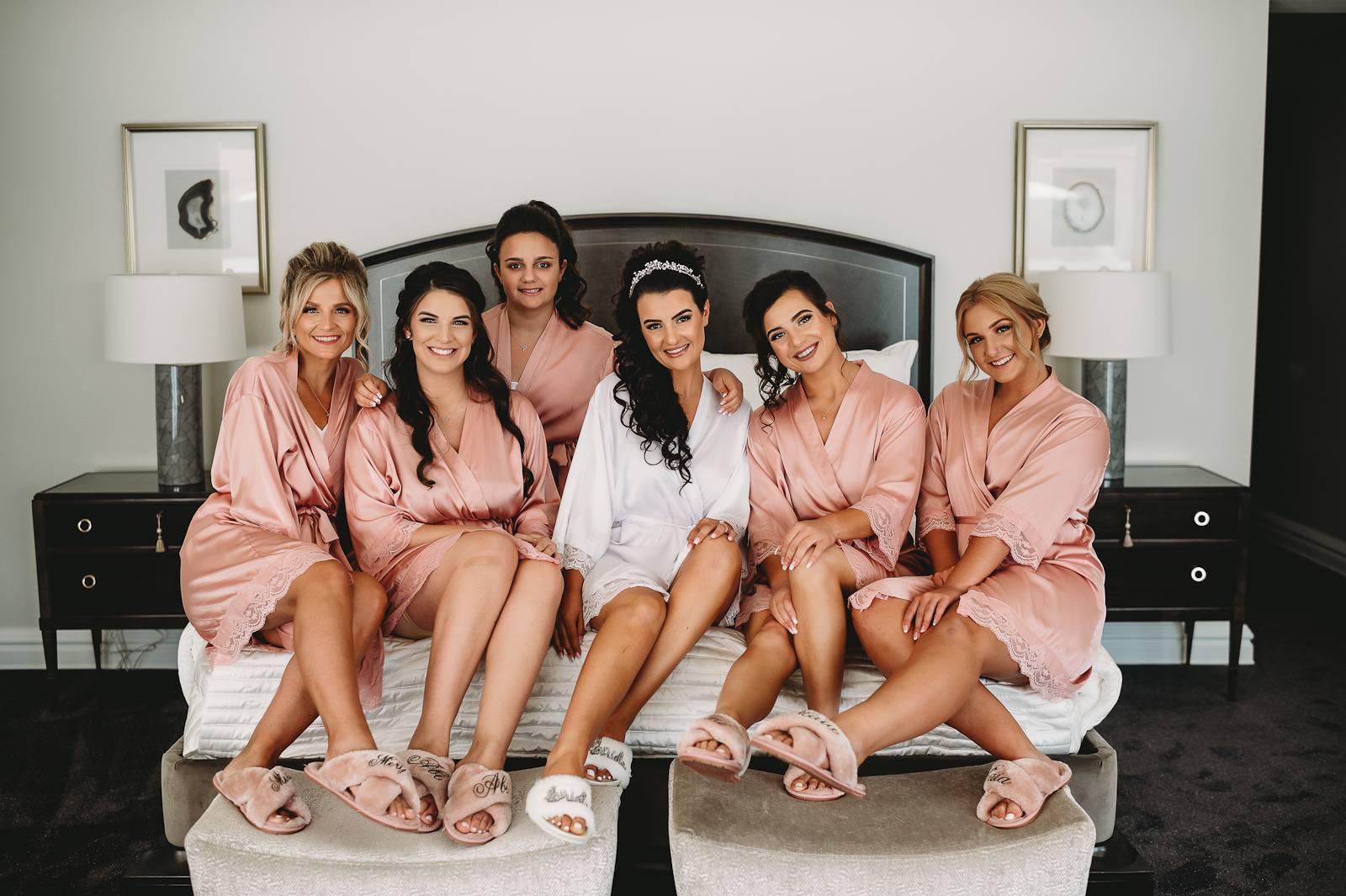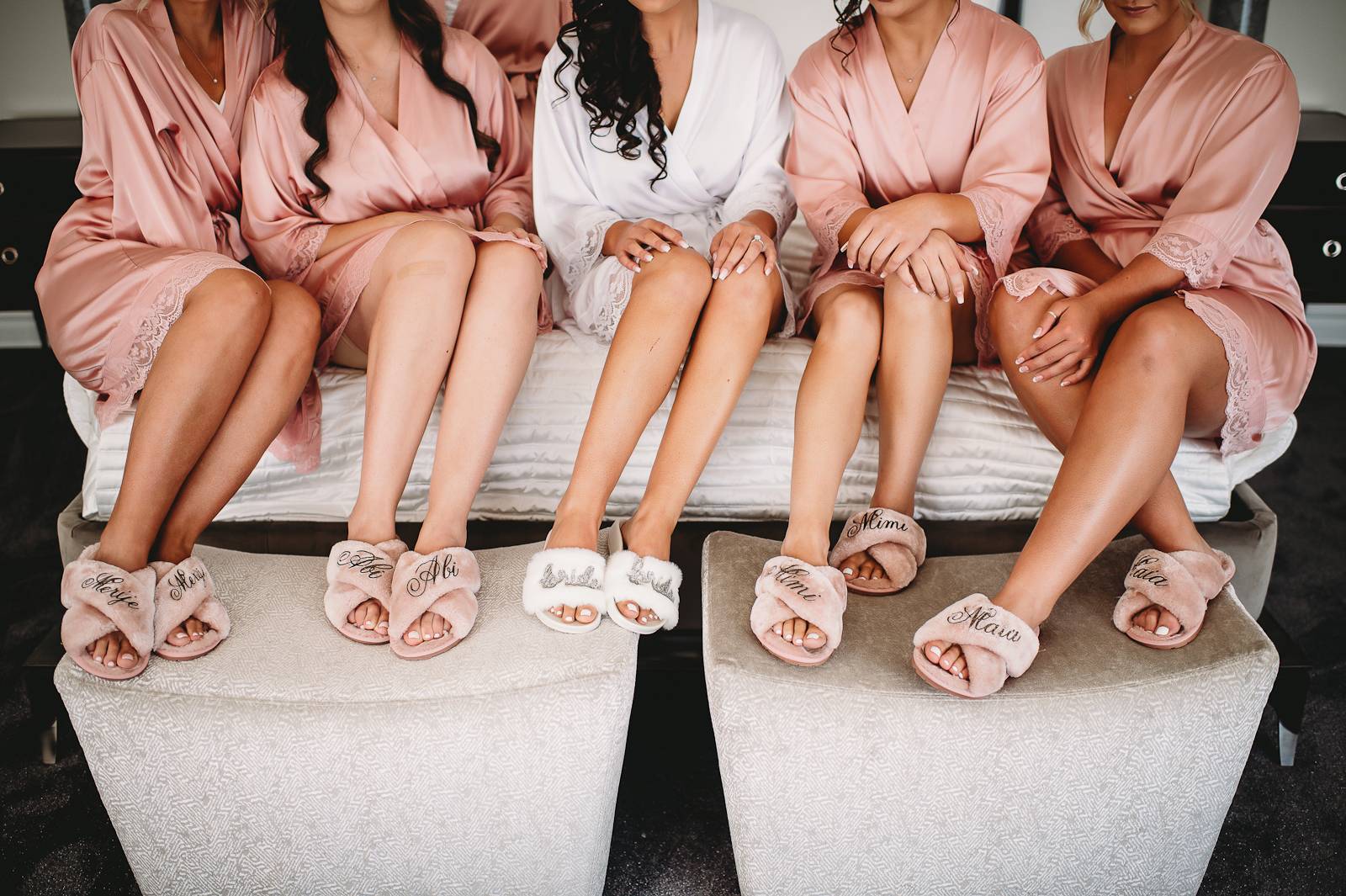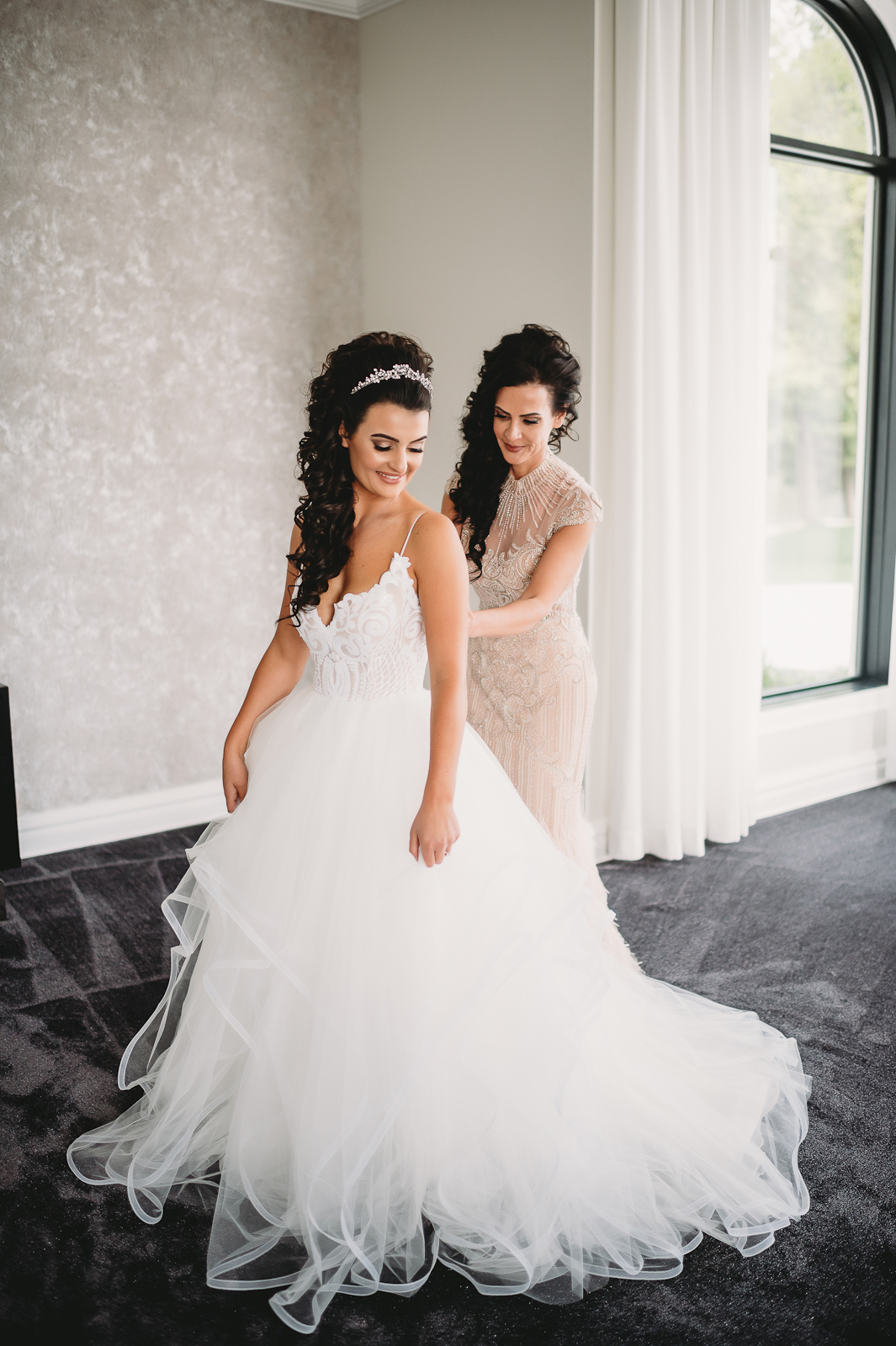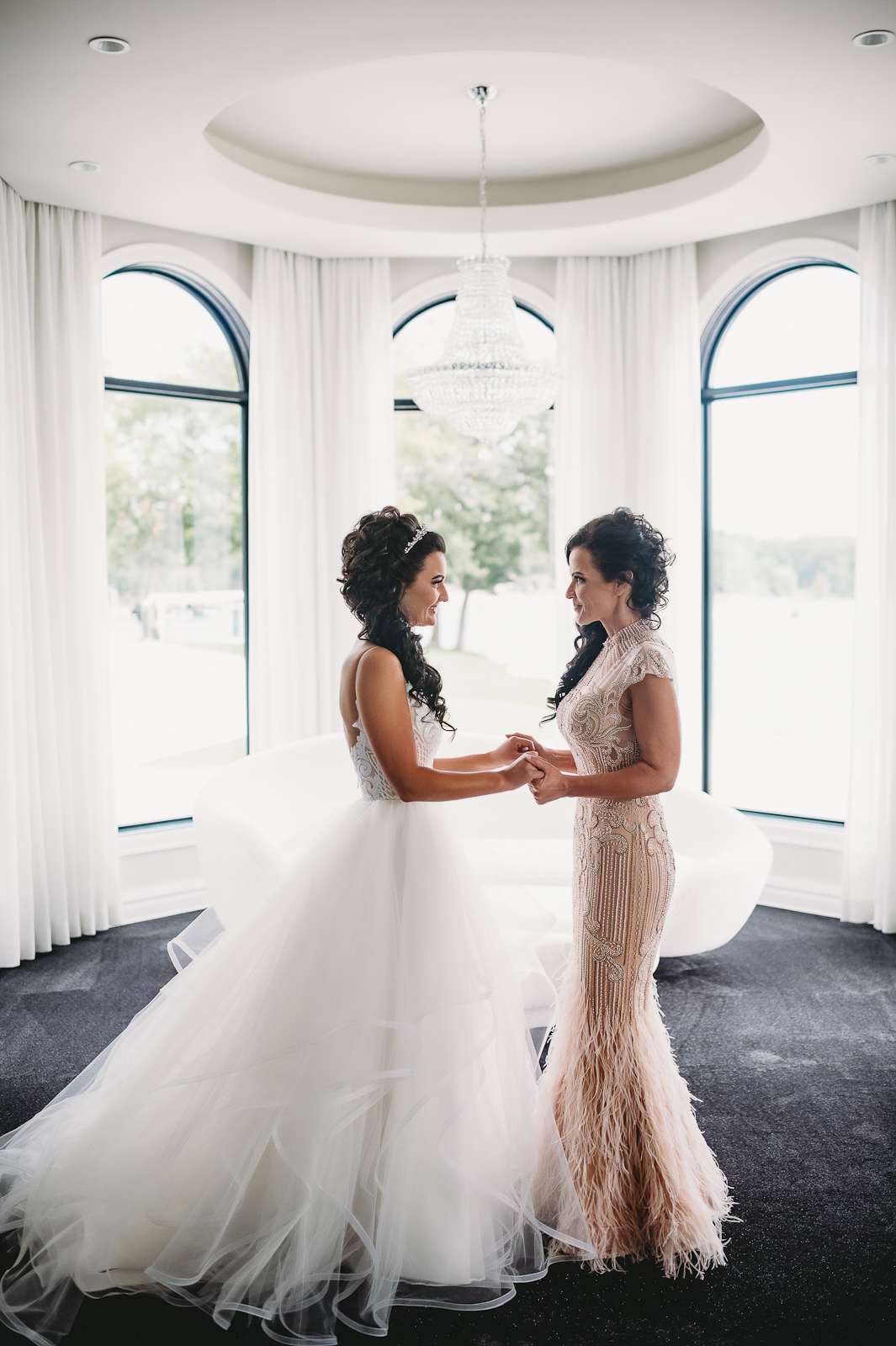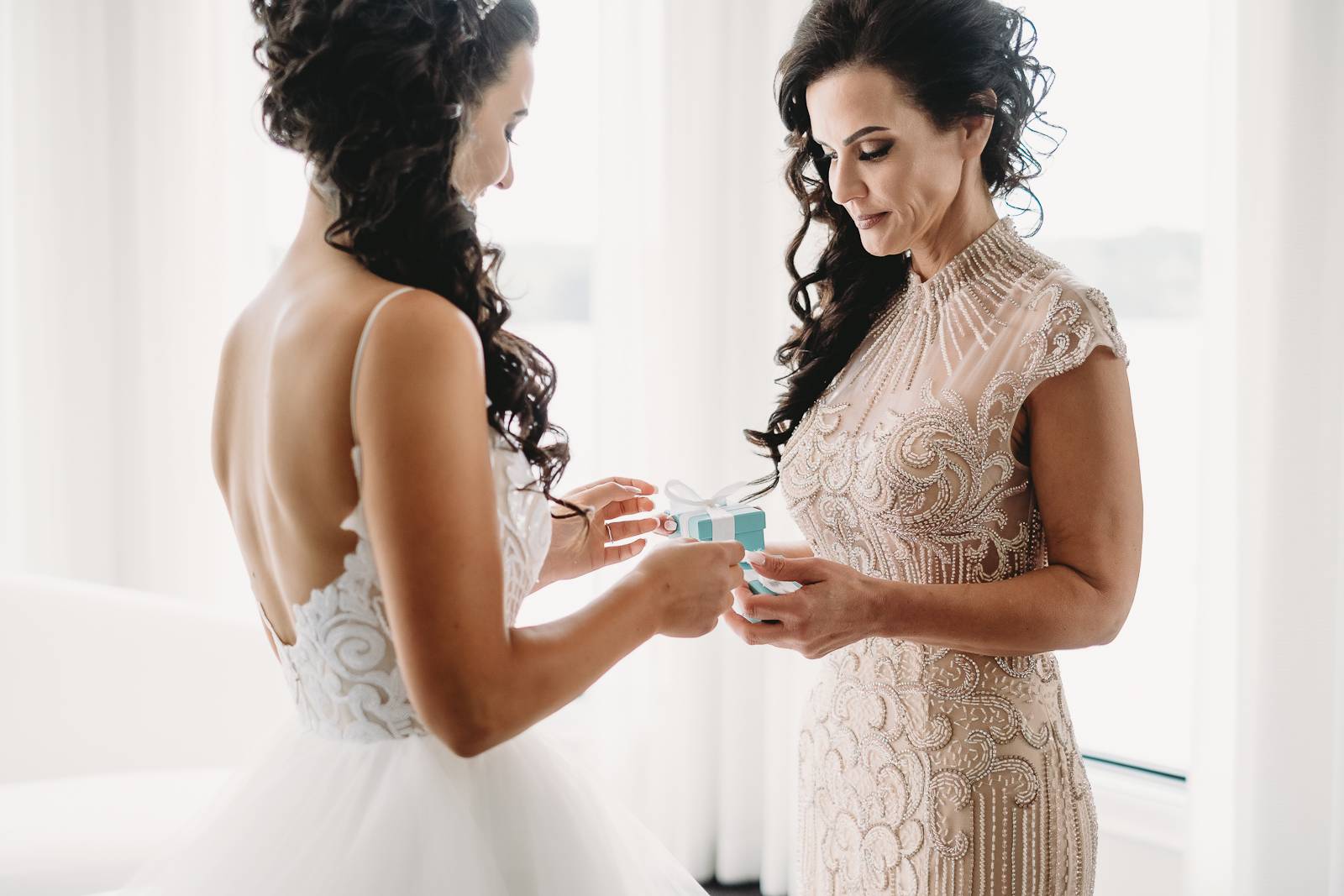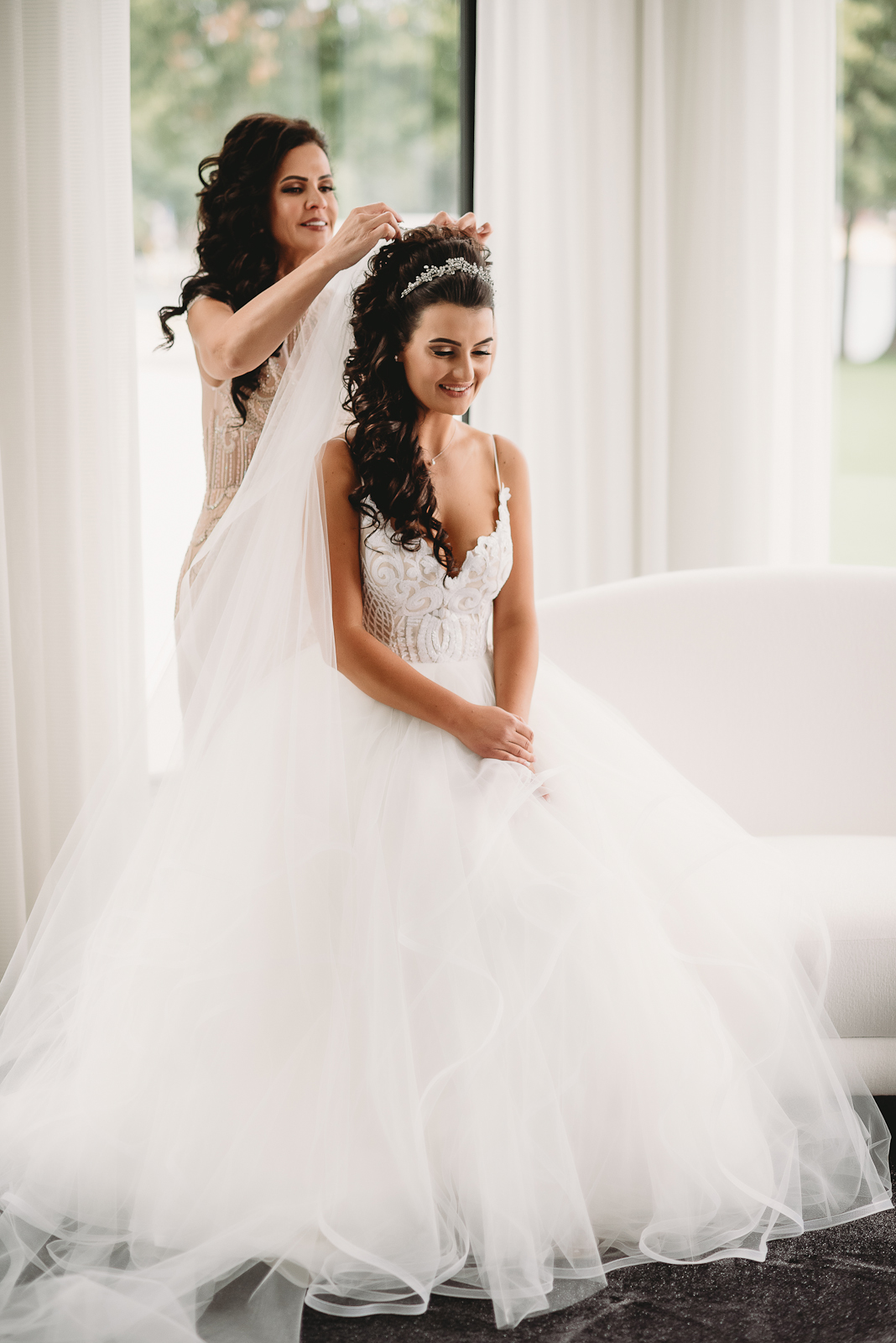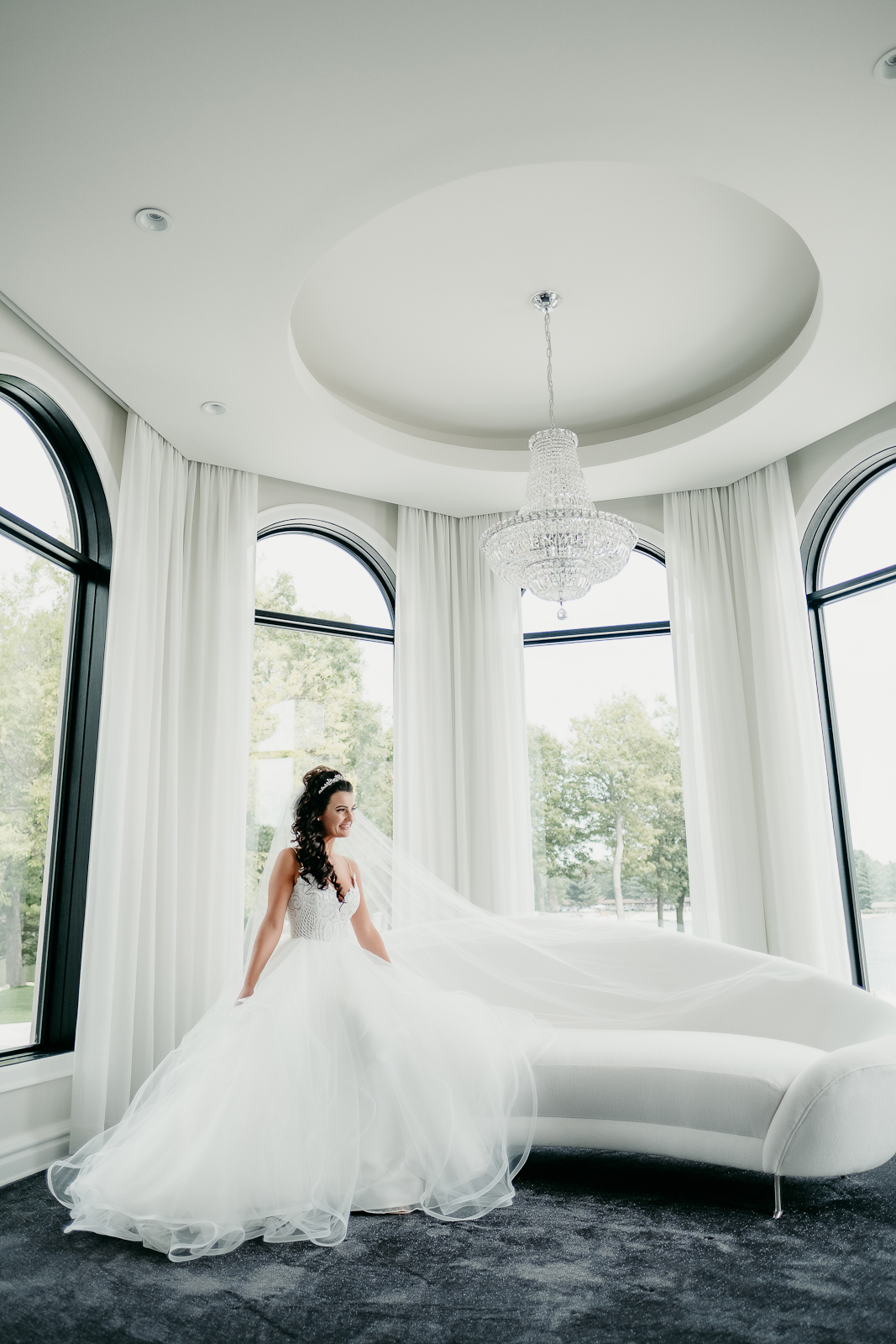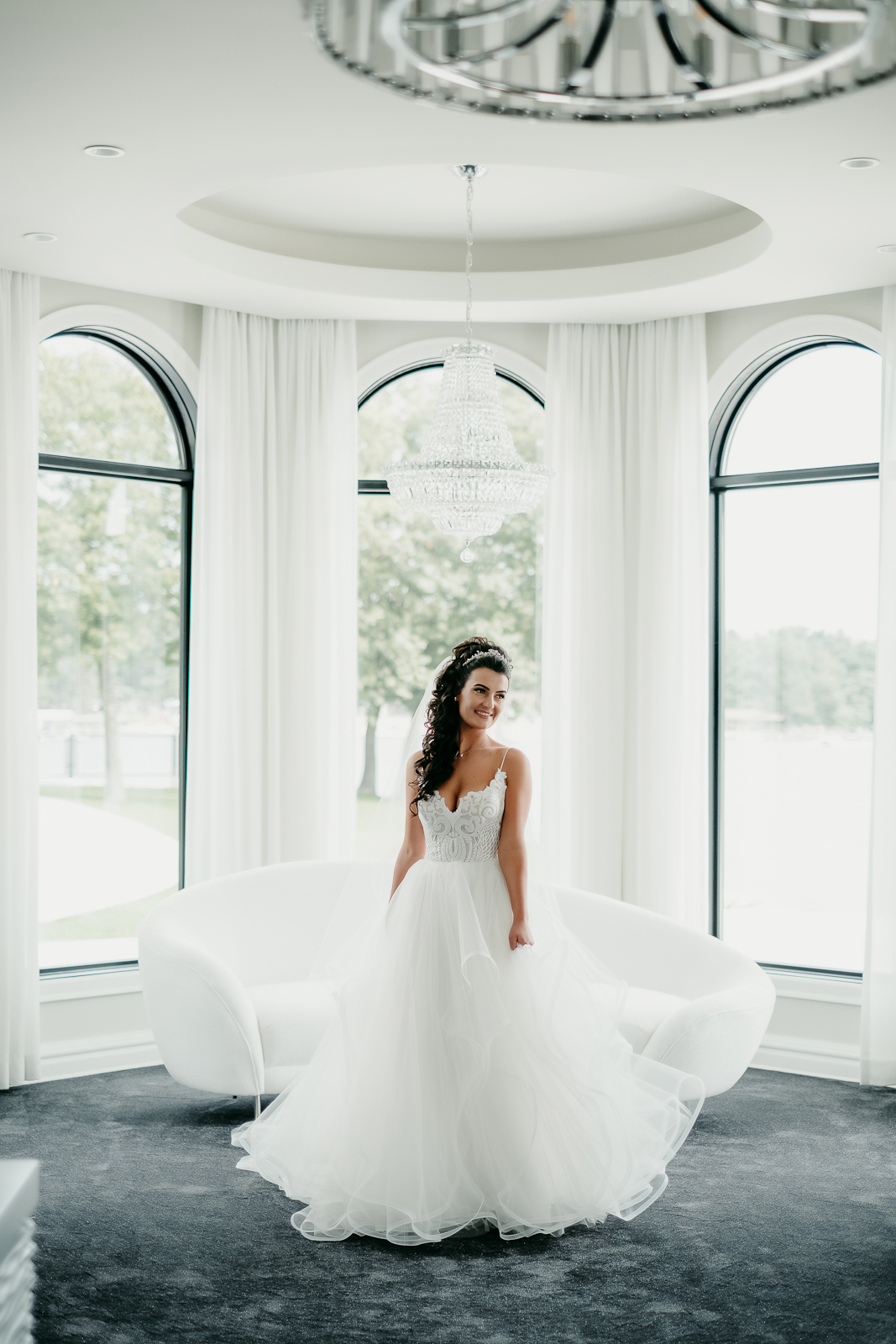 TELL US ABOUT FINDING YOUR DRESS: Comfort is my #1 concern when it comes to shopping, and it drives my mom CRAZY - I need to be able to eat, dance, walk and move in comfort! I had a certain fit in mind, but when I tried it on, it didn't look right at all. The dress I ended up falling in love with was the complete opposite of what I thought. My mom, sister, and I went to two places in Milwaukee - starting at White Dress Bridal and ending there to make my final decision. Having my mom there was so important to me - her eye for fashion and dressing people is amazing! She's also brutally honest, which helps a ton! I had three dresses for our big day; first, my princess wedding dress, second, a tight silver Herve Leger dress for our first dance, which was the hustle, and third, a beautiful white gown. My feet are also extremely sensitive, so it took me trying at least 20 pairs of shoes to find the right fit! I ended up having three shoes that night but only wore 2. Side note: I'm typically not this high maintenance, but what better day to be 'extra' than your wedding day?!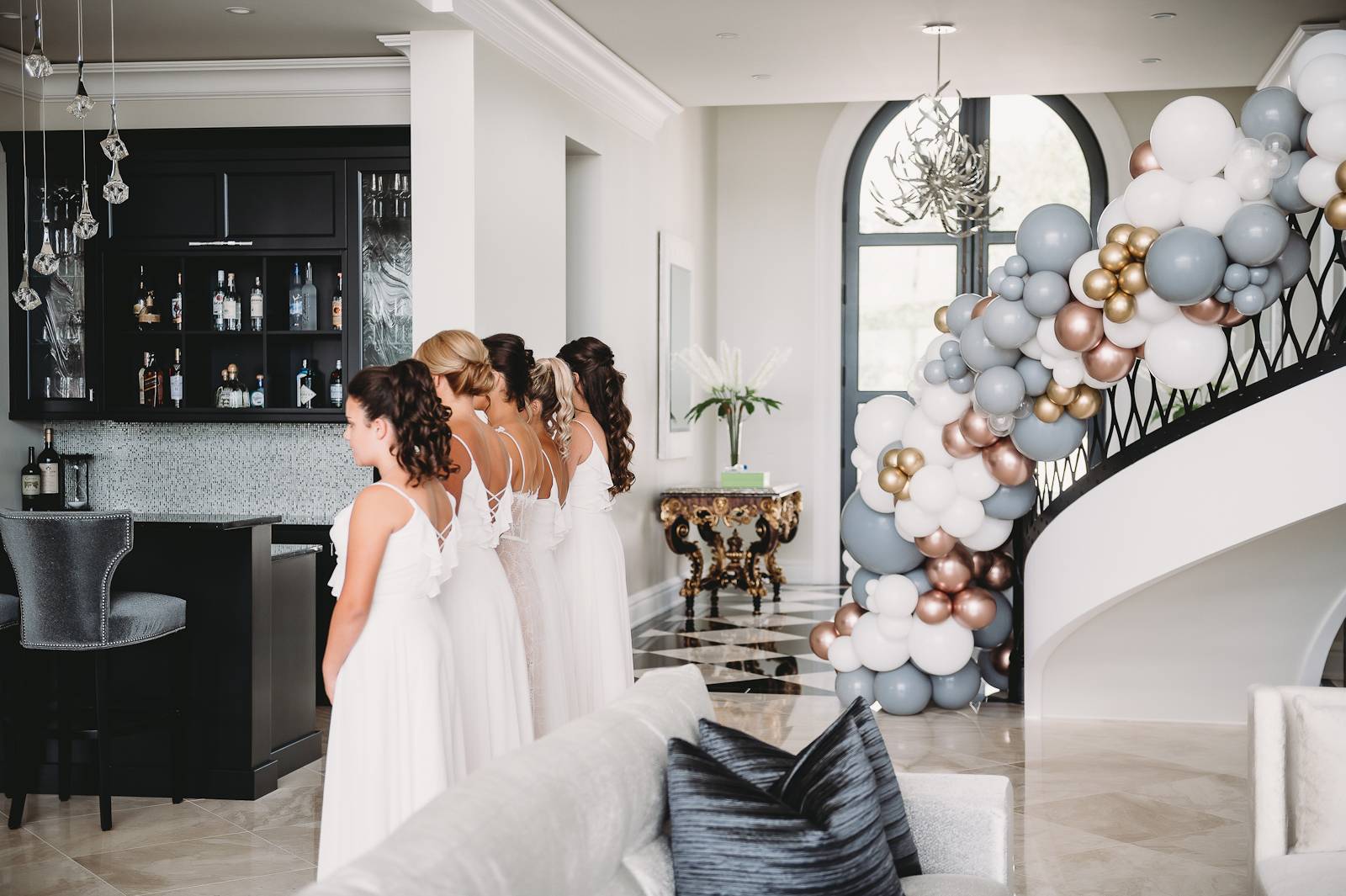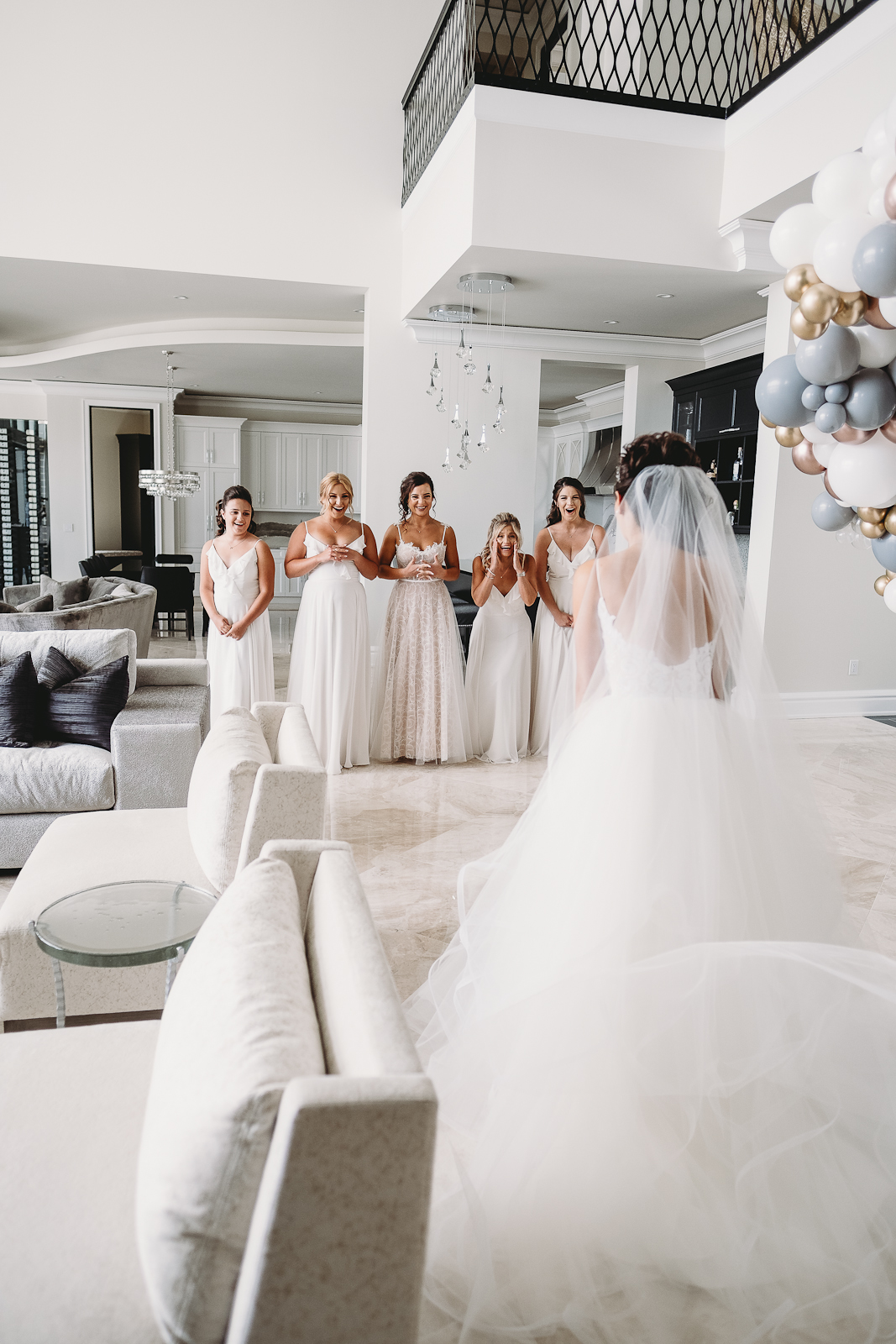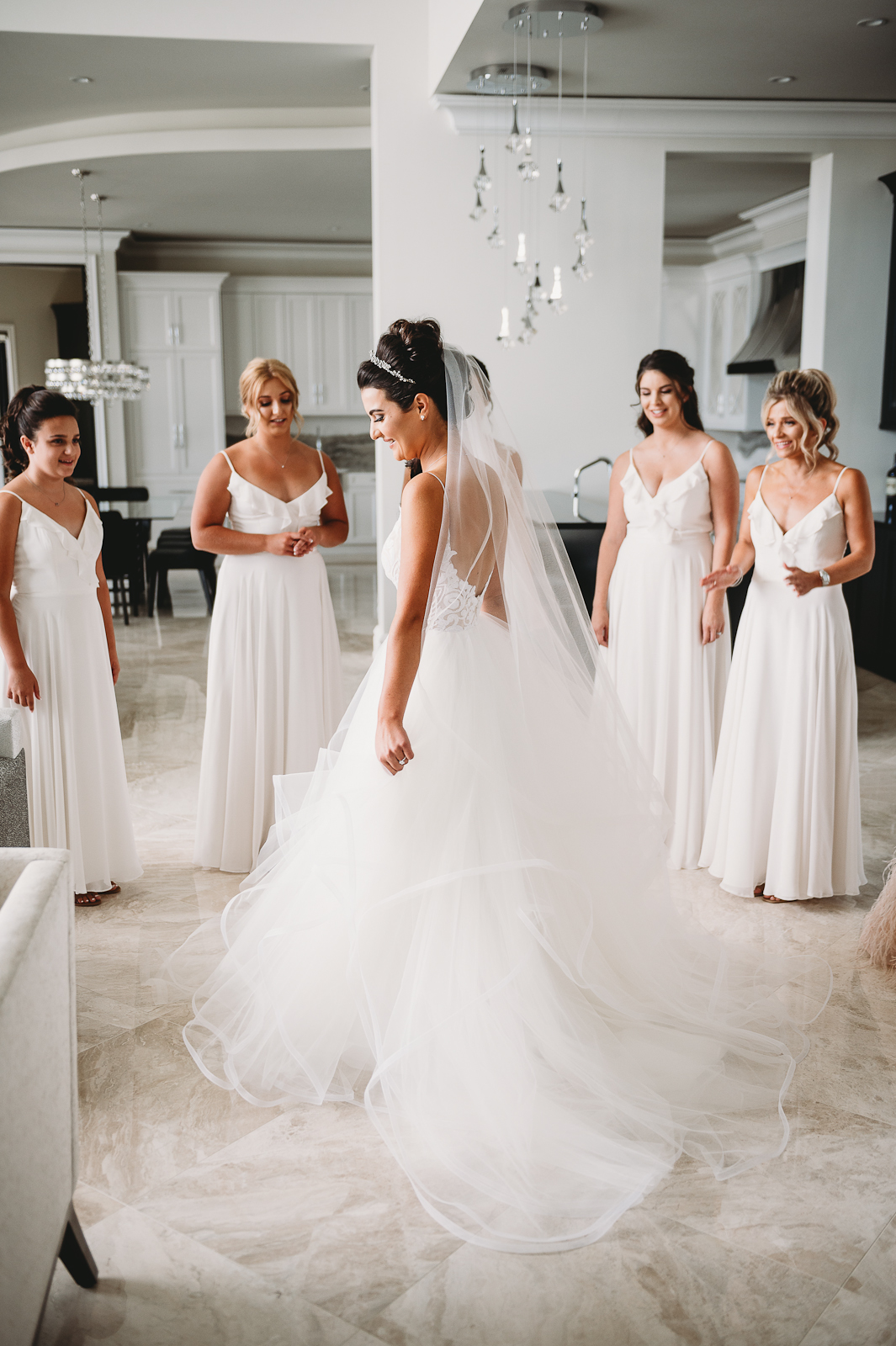 WERE THERE ANY PERSONAL TOUCHES OR DIY ELEMENTS? For sure!! My family owns Mt. Olympus Water & Theme park Resort, so we got really creative with our theming/sign shop. My mom had our dance floor personalized in vinyl, we made the arches at the altar, and our seating display was also printed. These are just a couple of things we made in-house. She also reached out to one of her retail vendors to make custom flip-flops! Gunnar and I also have a Vizsla named Achilles, so of course, we had his face on our cocktail napkins and cookies!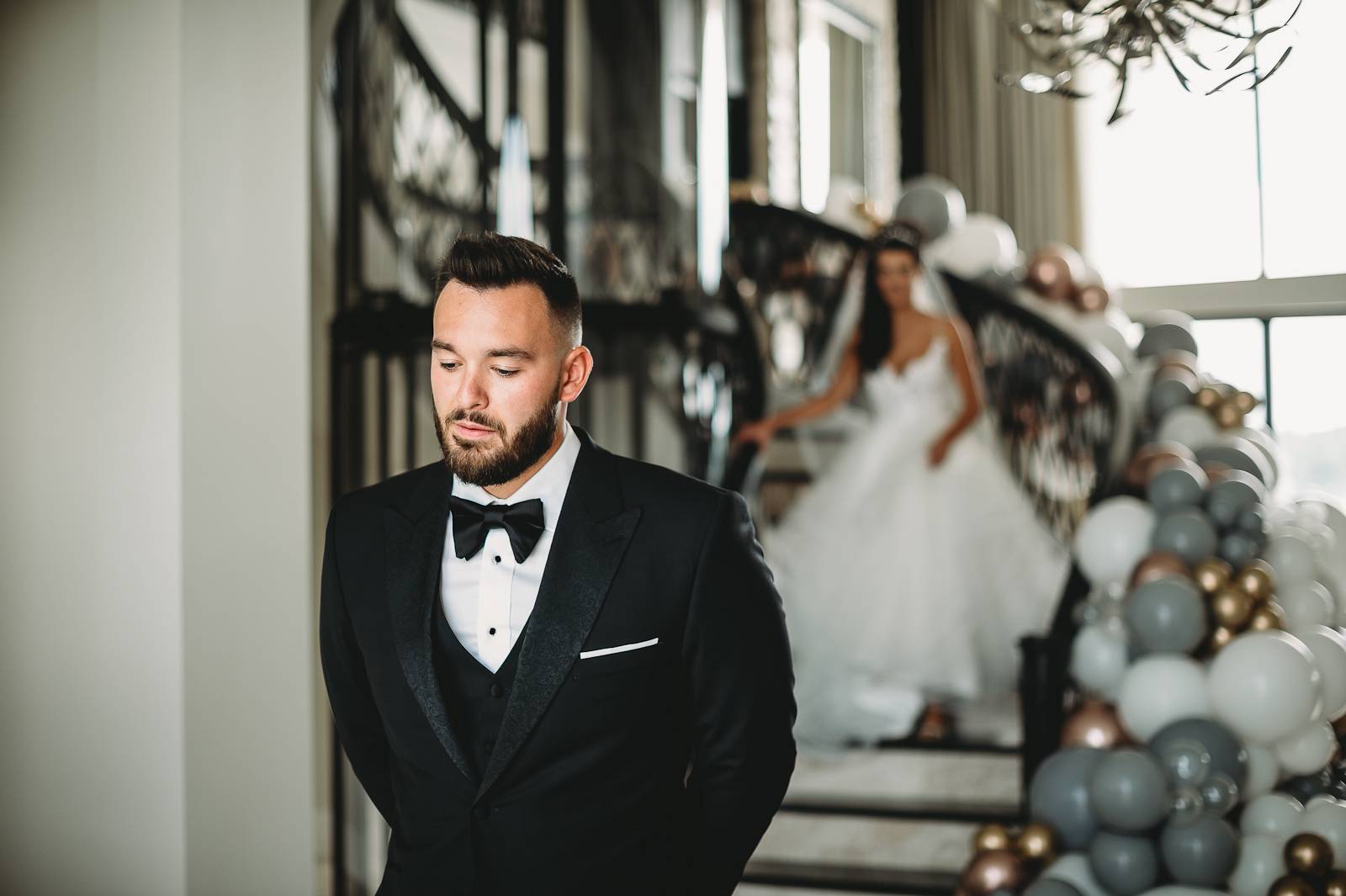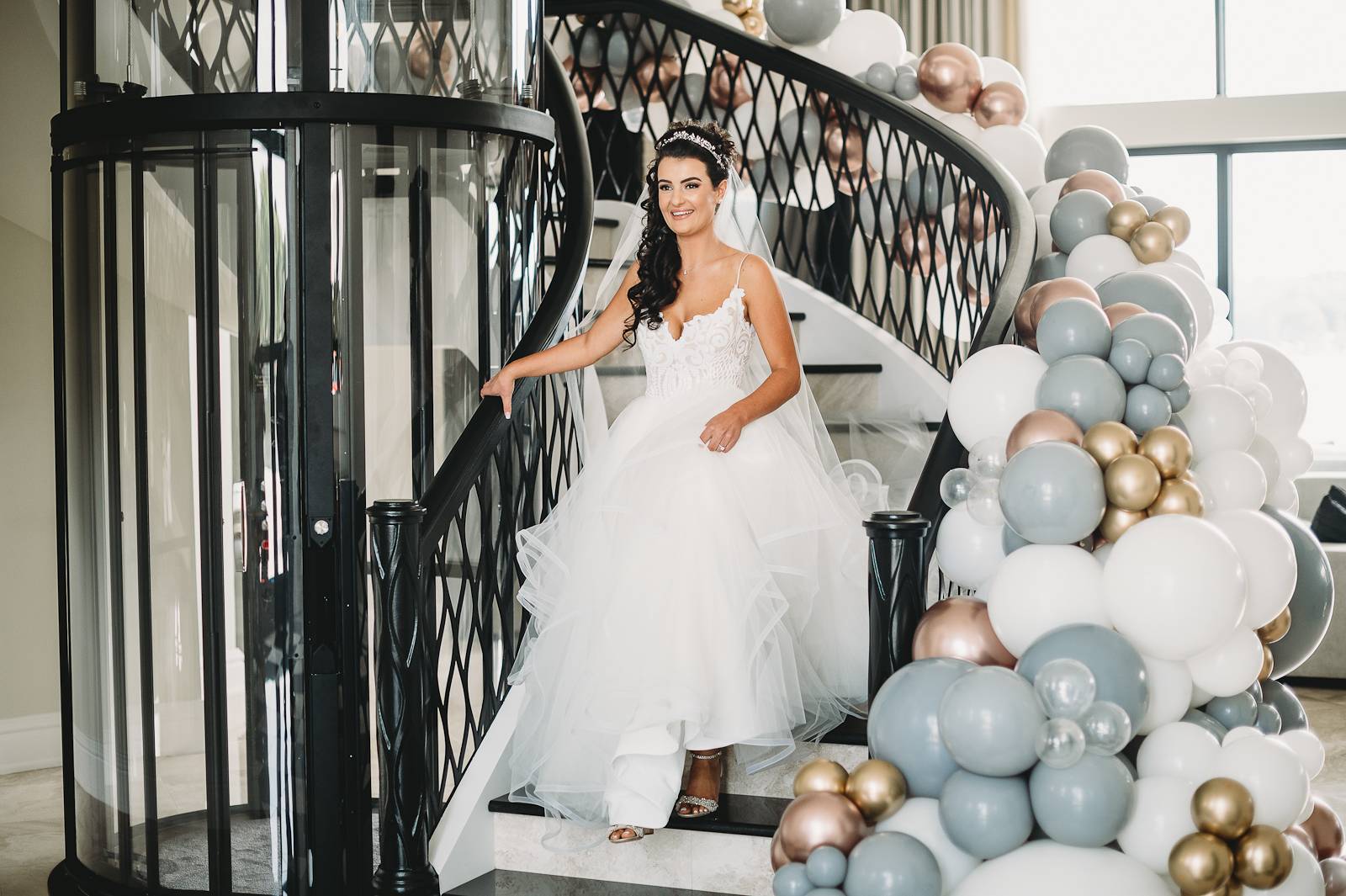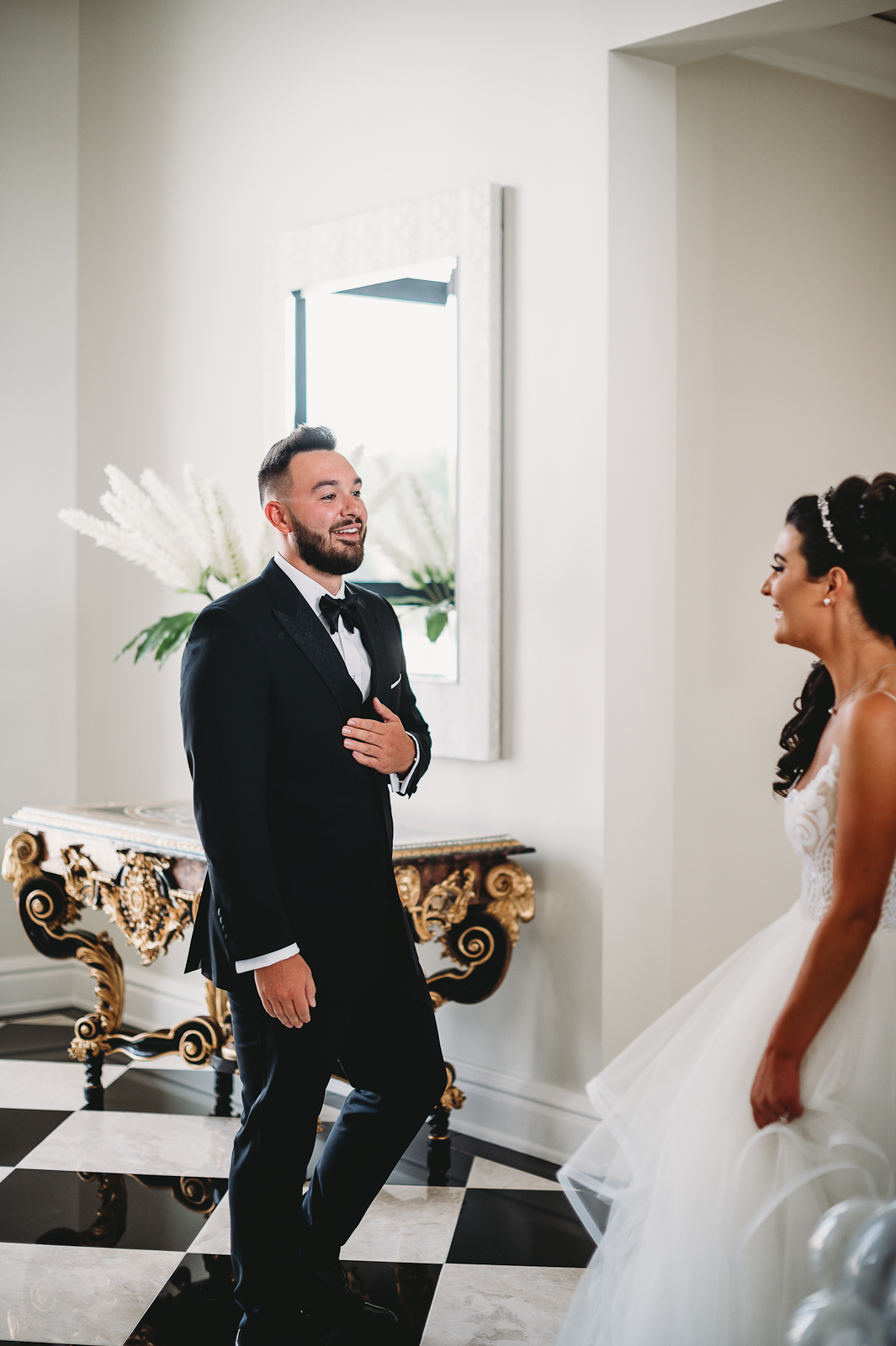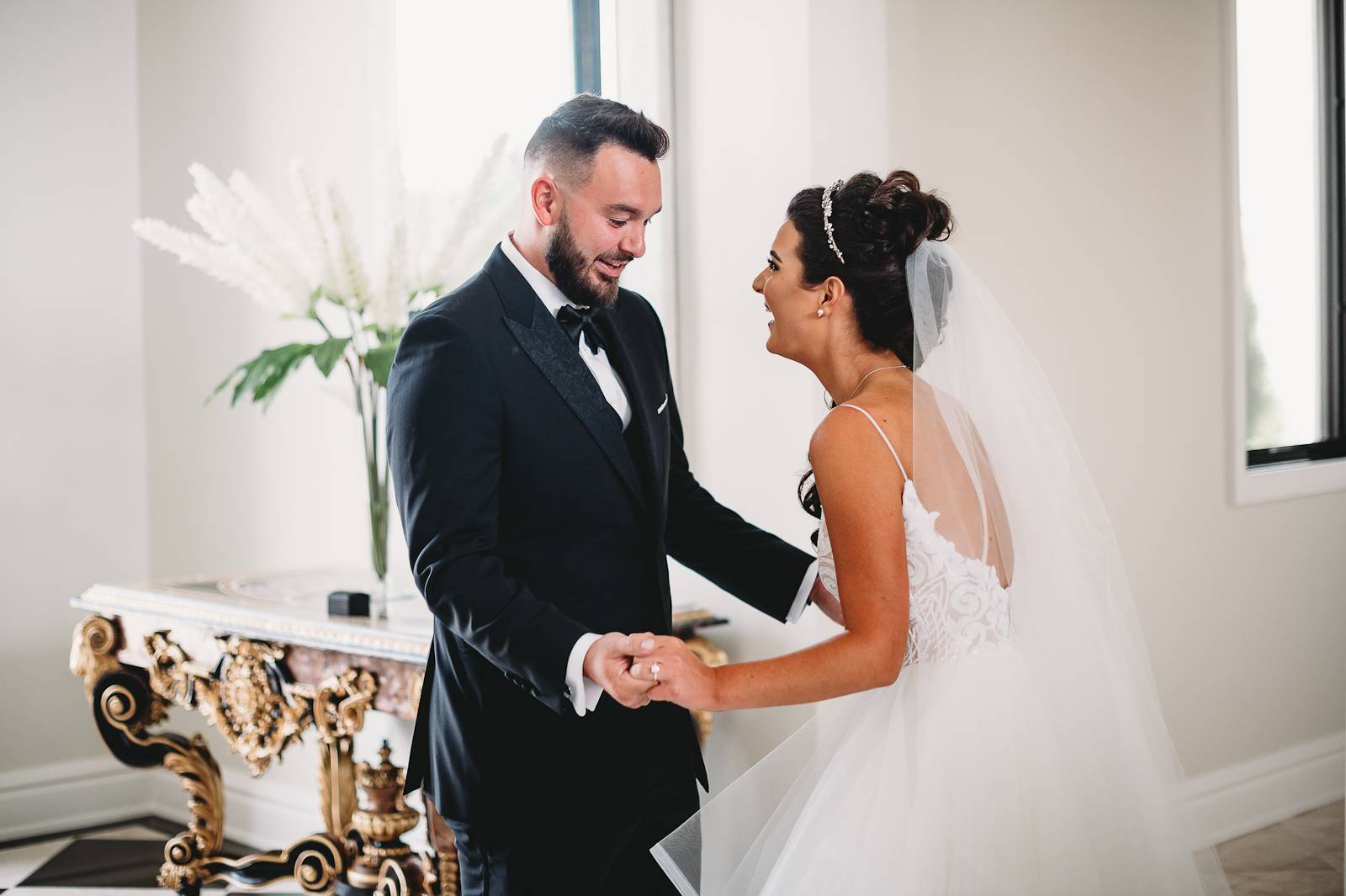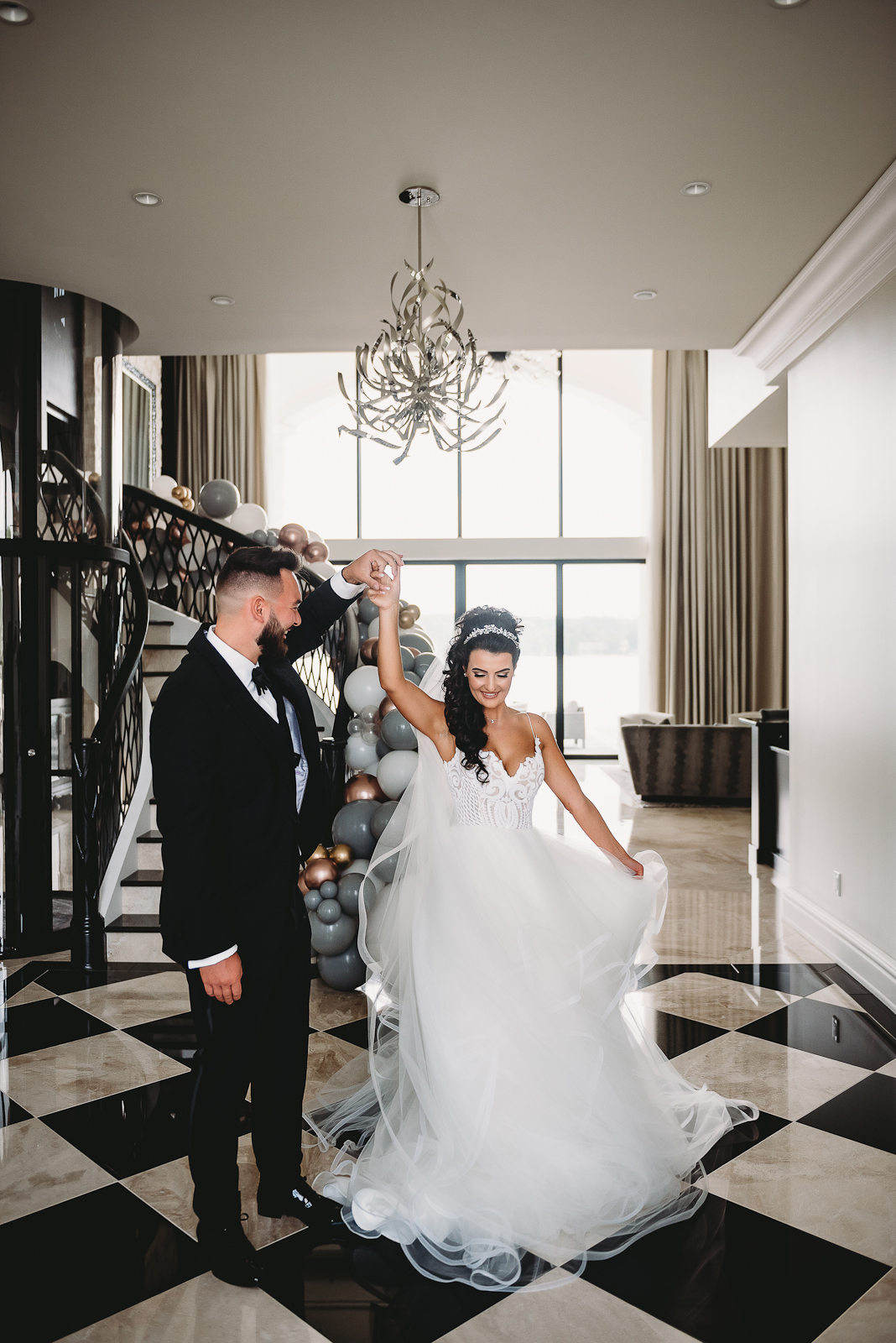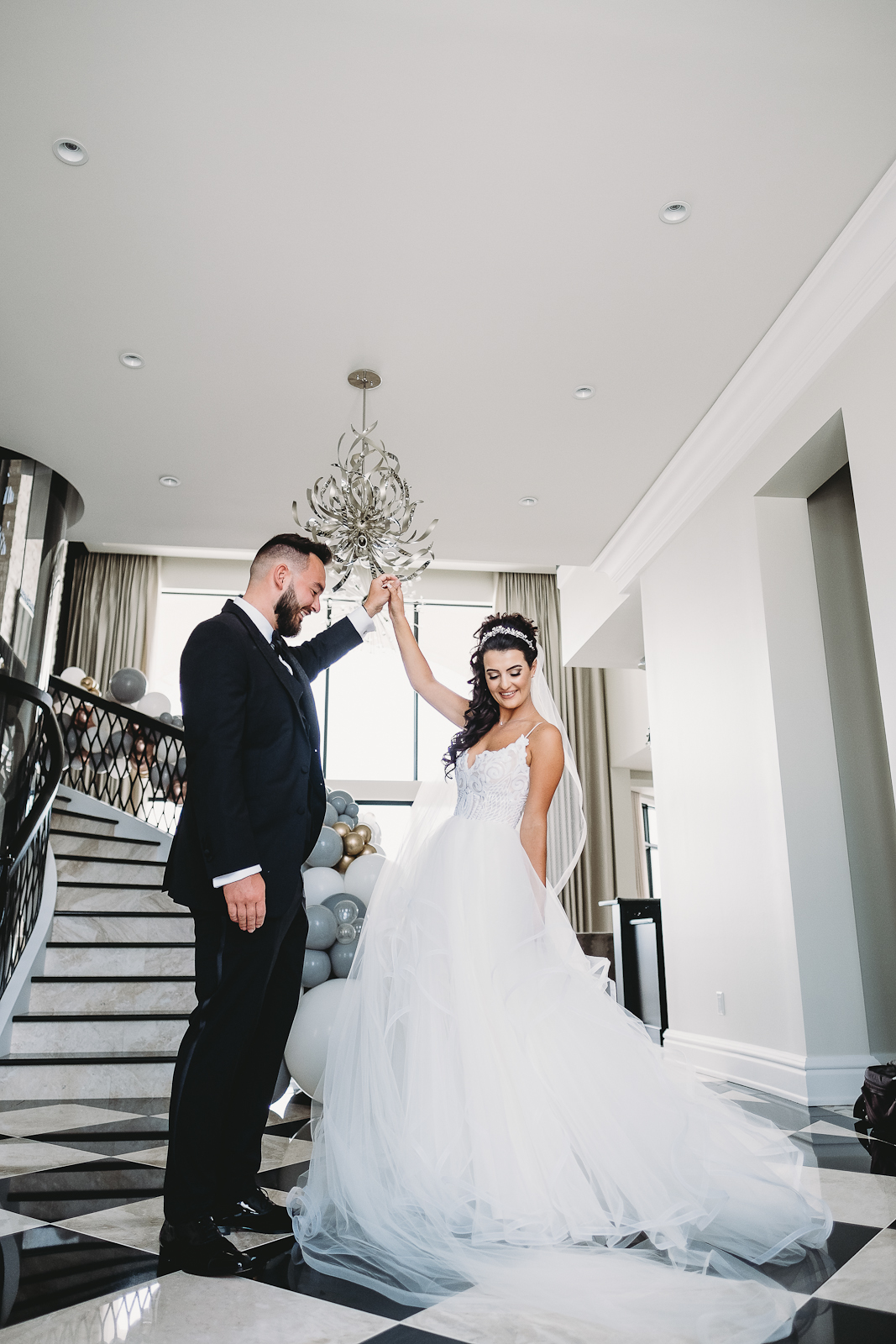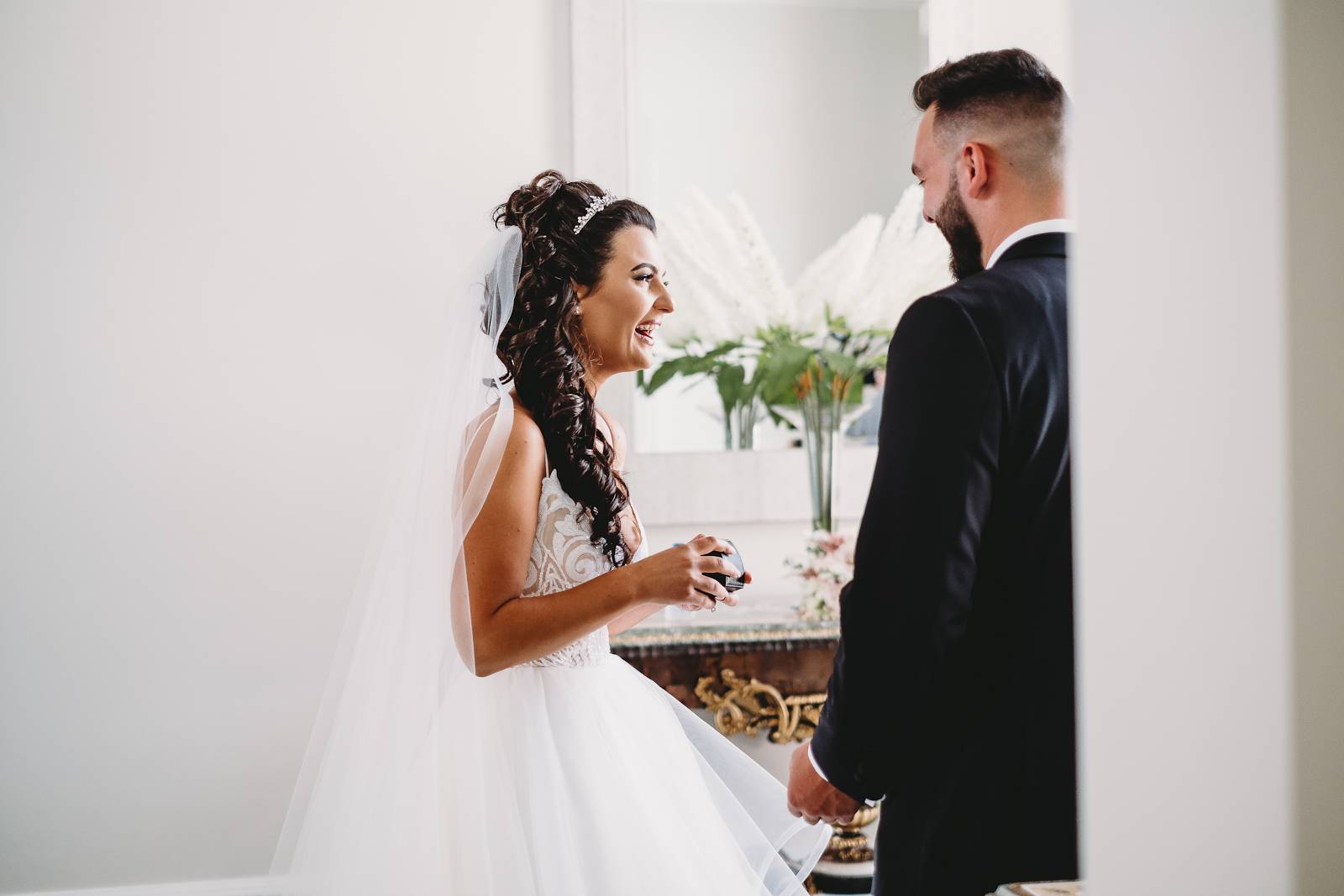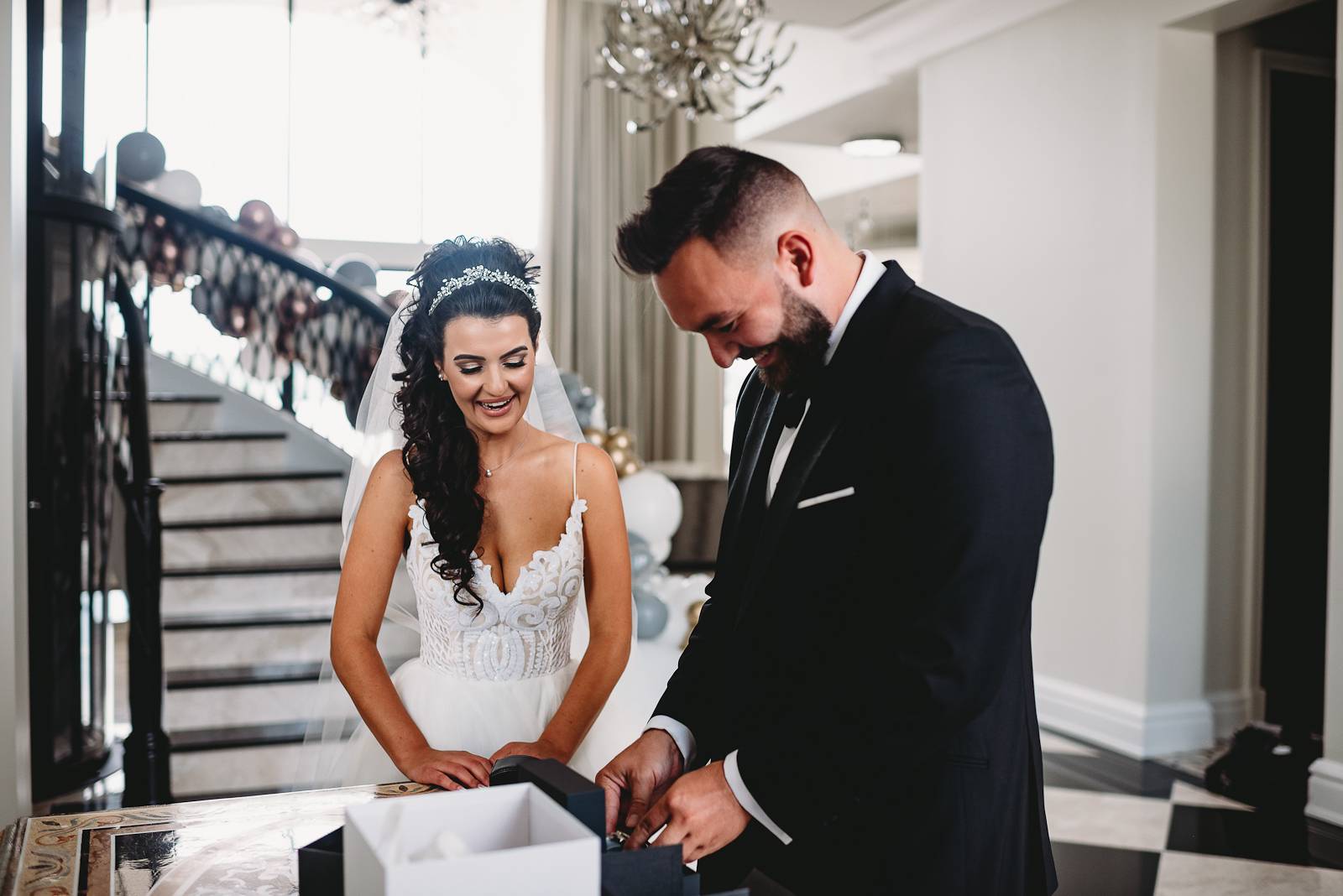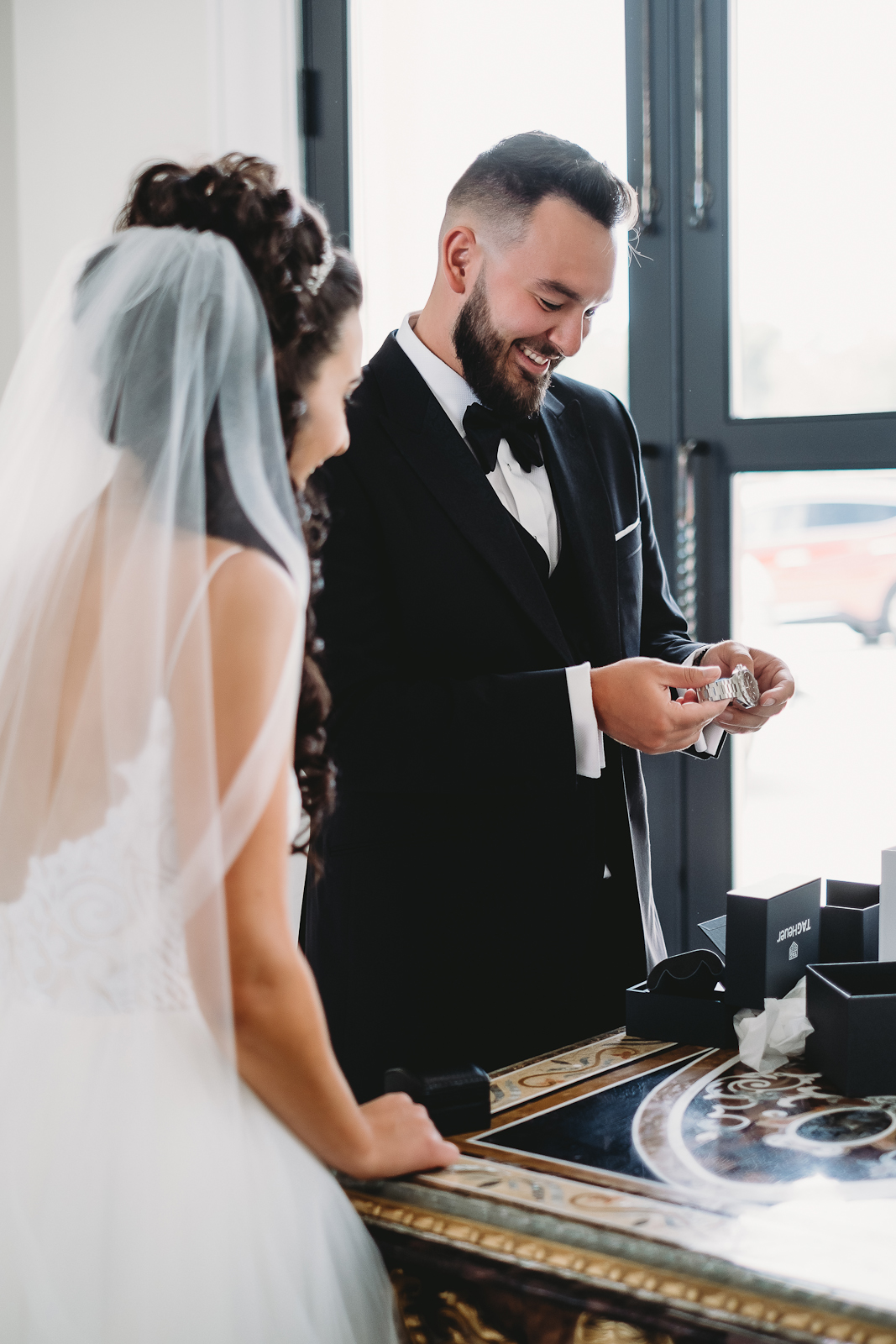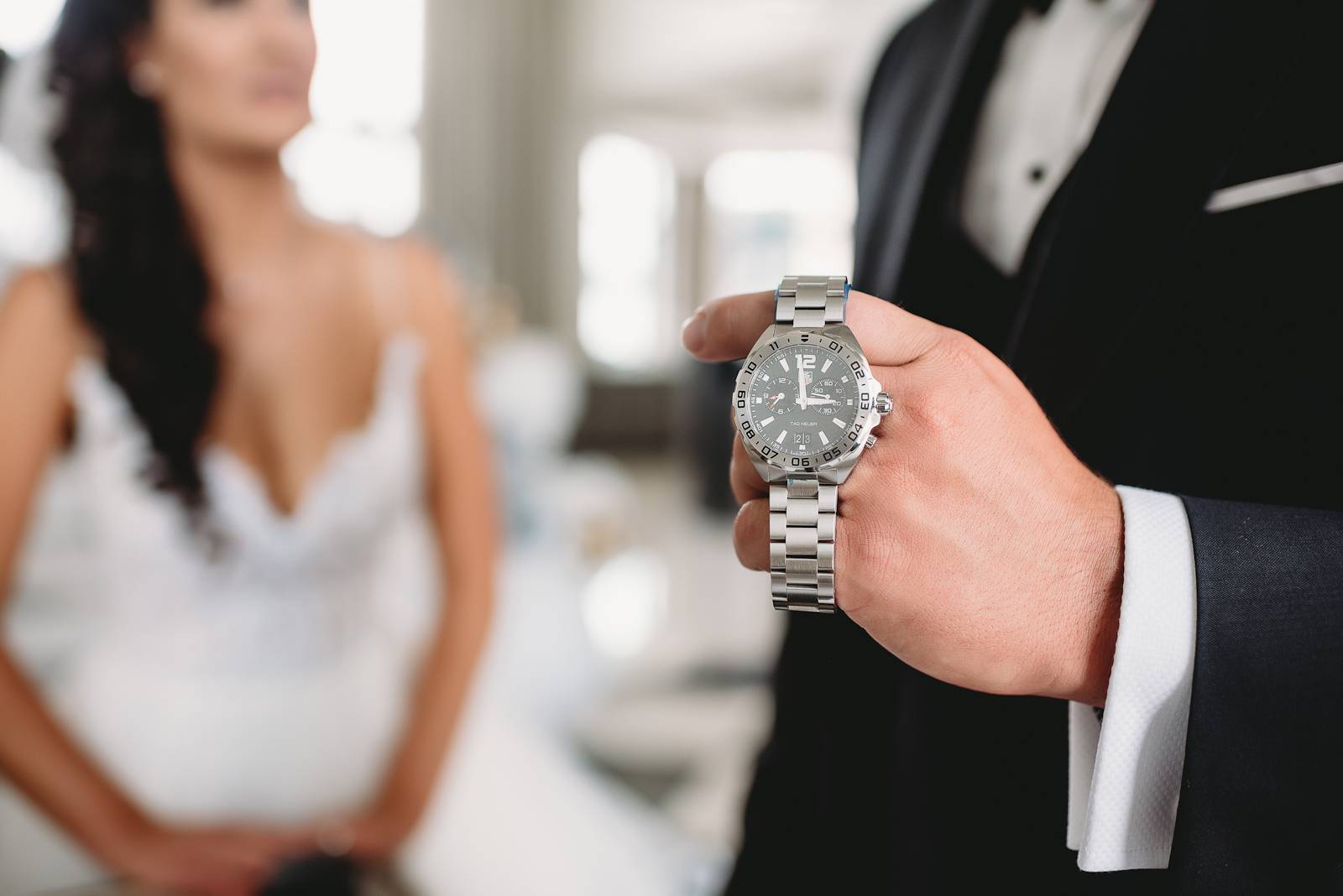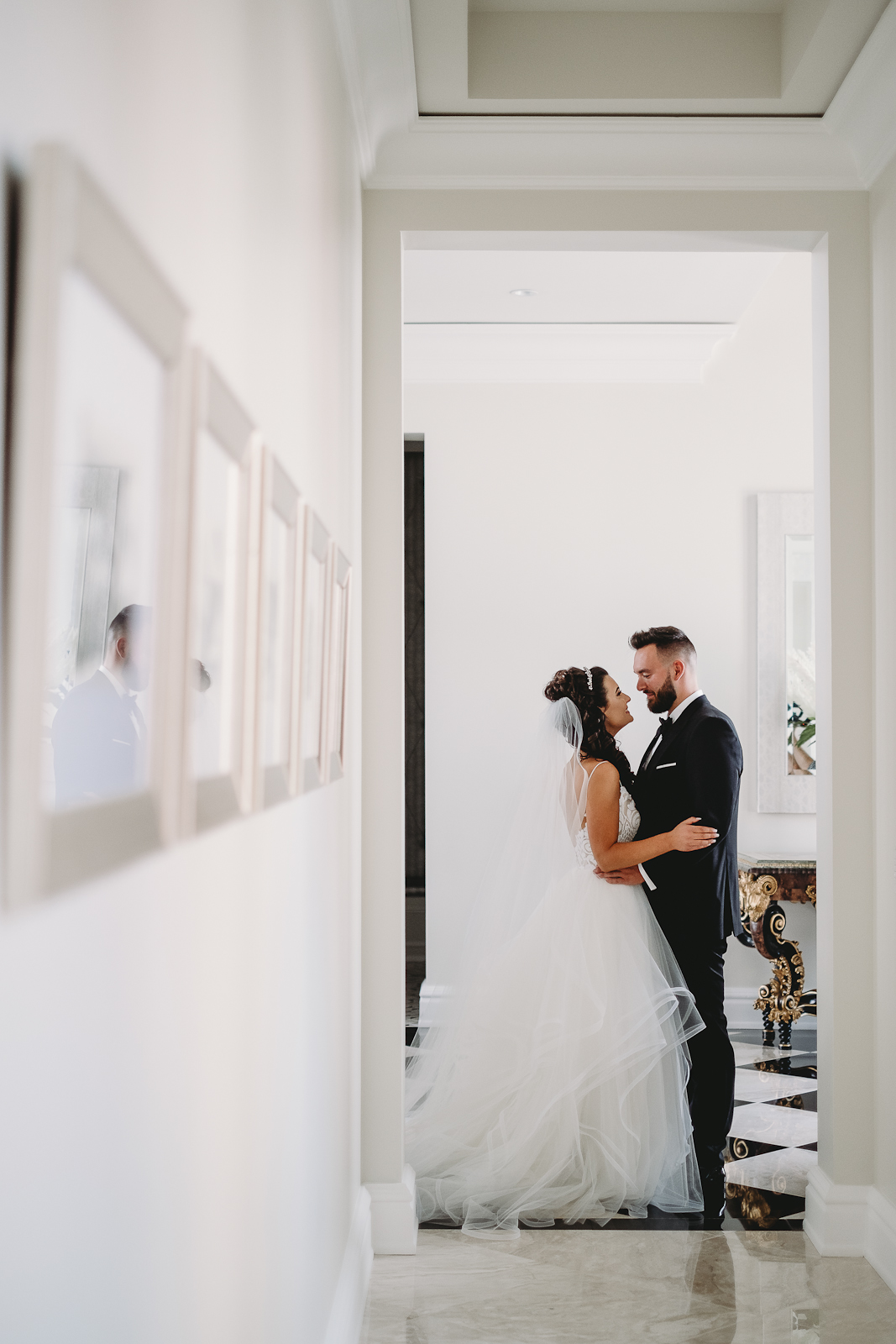 HOW WOULD YOU DESCRIBE YOUR WEDDING THEME/STYLE IN FIVE WORDS OR LESS? Fairytale / Dreamy / Magical / Surreal / Extravagant
WHAT WAS YOUR WEDDING COLOR PALETTE? Gold, Blush, Soft Pinks, White
DESCRIBE YOUR WEDDING FLOWERS: Blanca rose, large white roses, white football mums, white astilbe, white stock, white majolica spray rose, white snap dragon, white lisianthus, celestial spray rose, quicksand rose, blush spray rose, and pink astilbe. For greenery, we had Italian ruscus, silver dollar, salal, and filler greenery.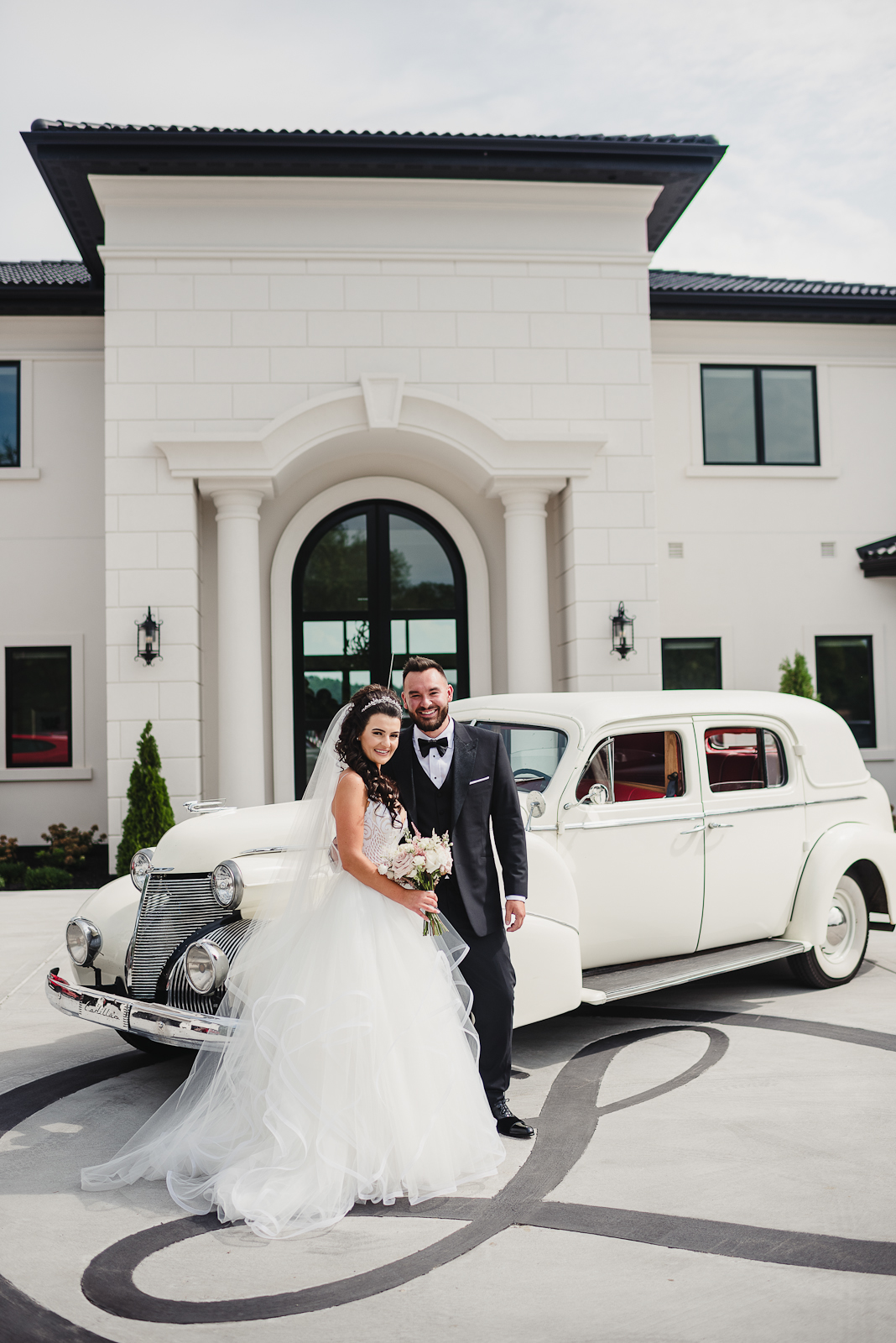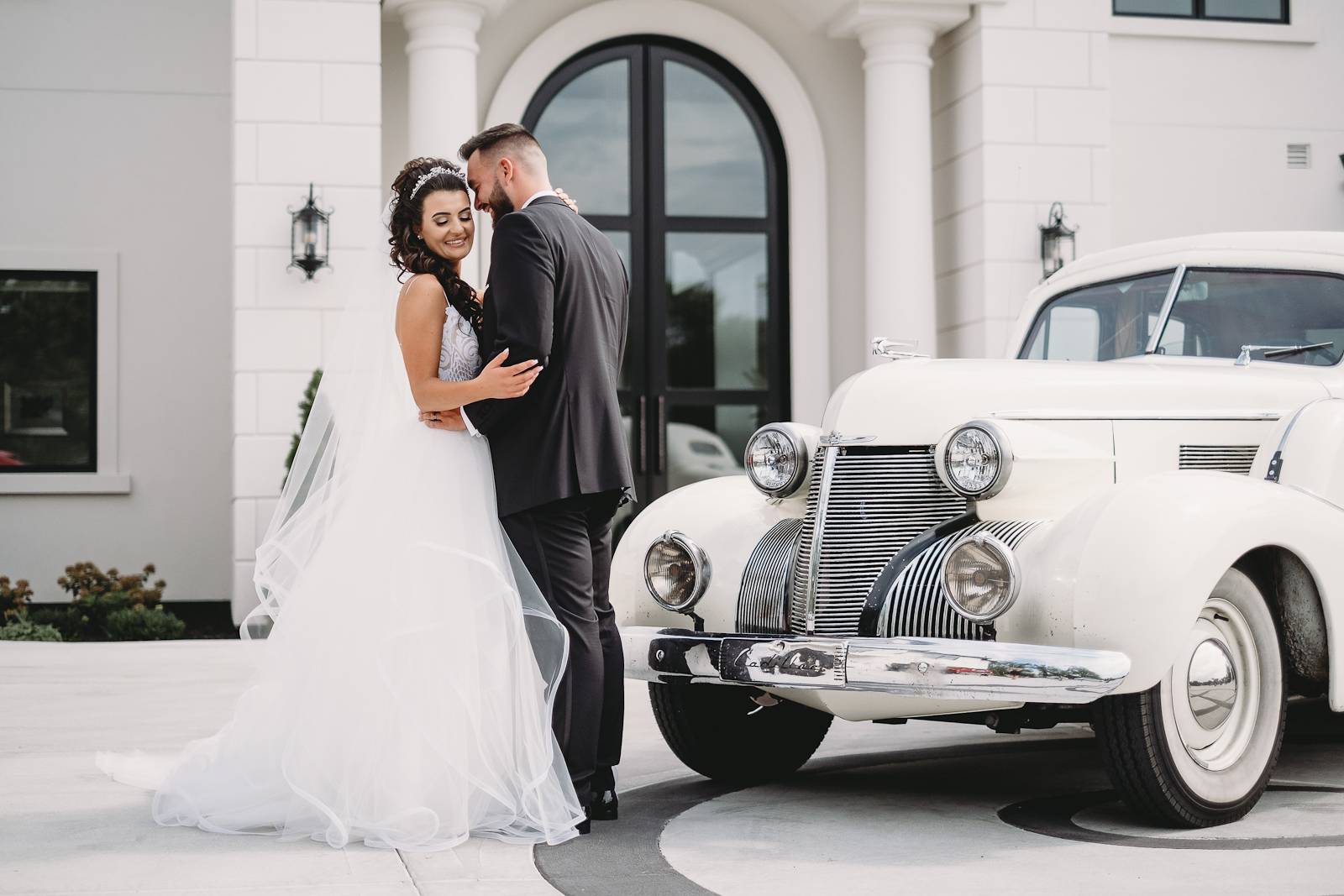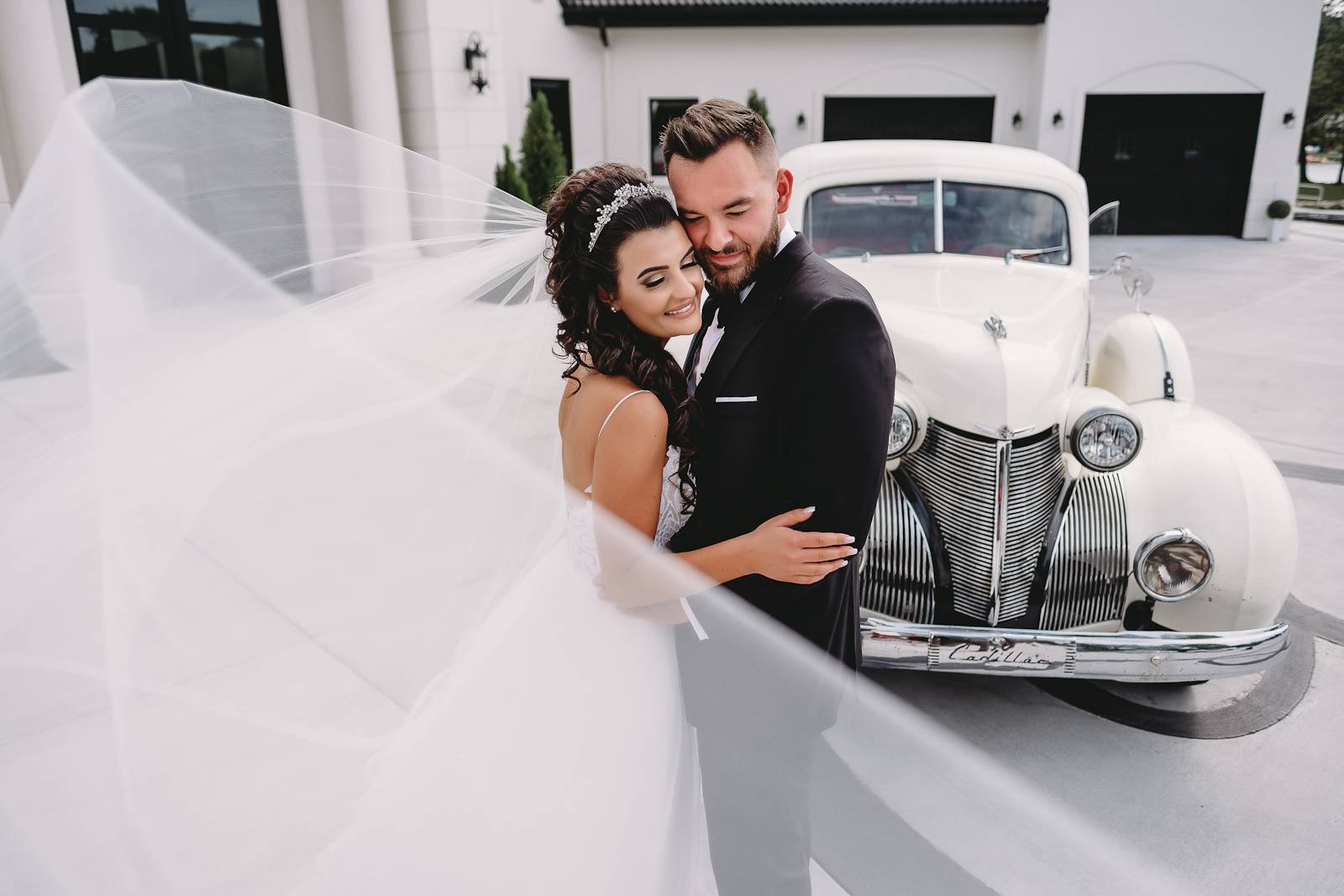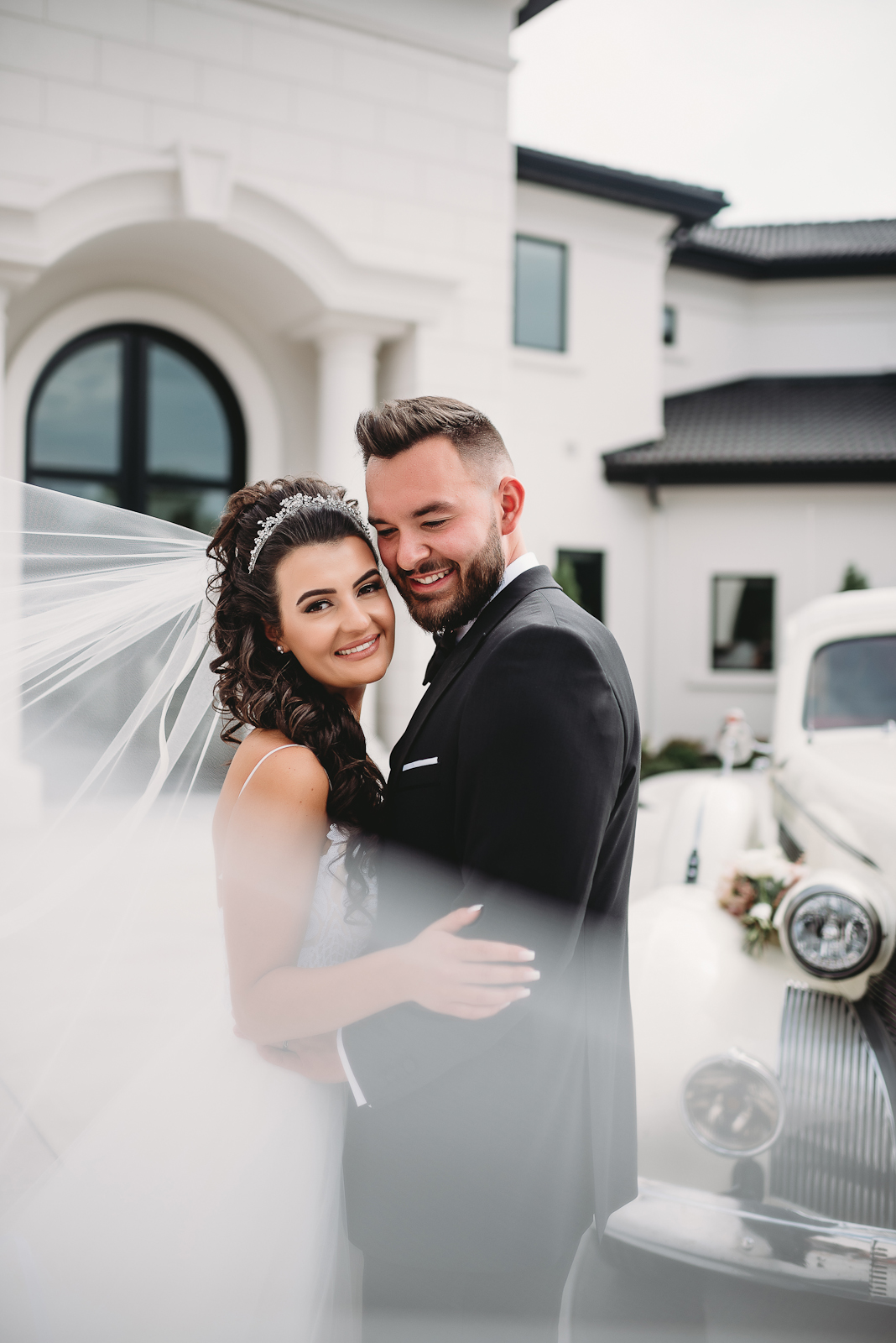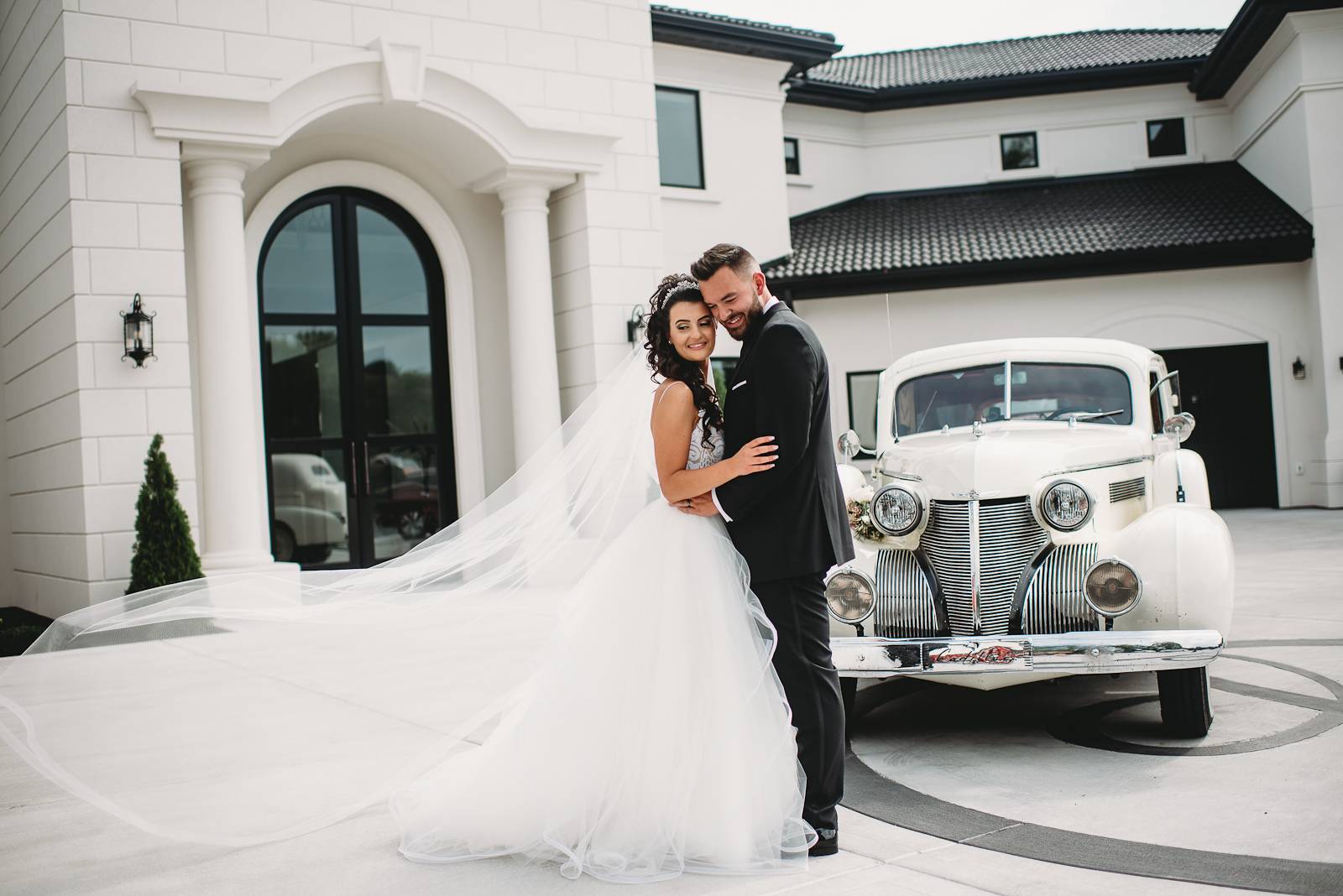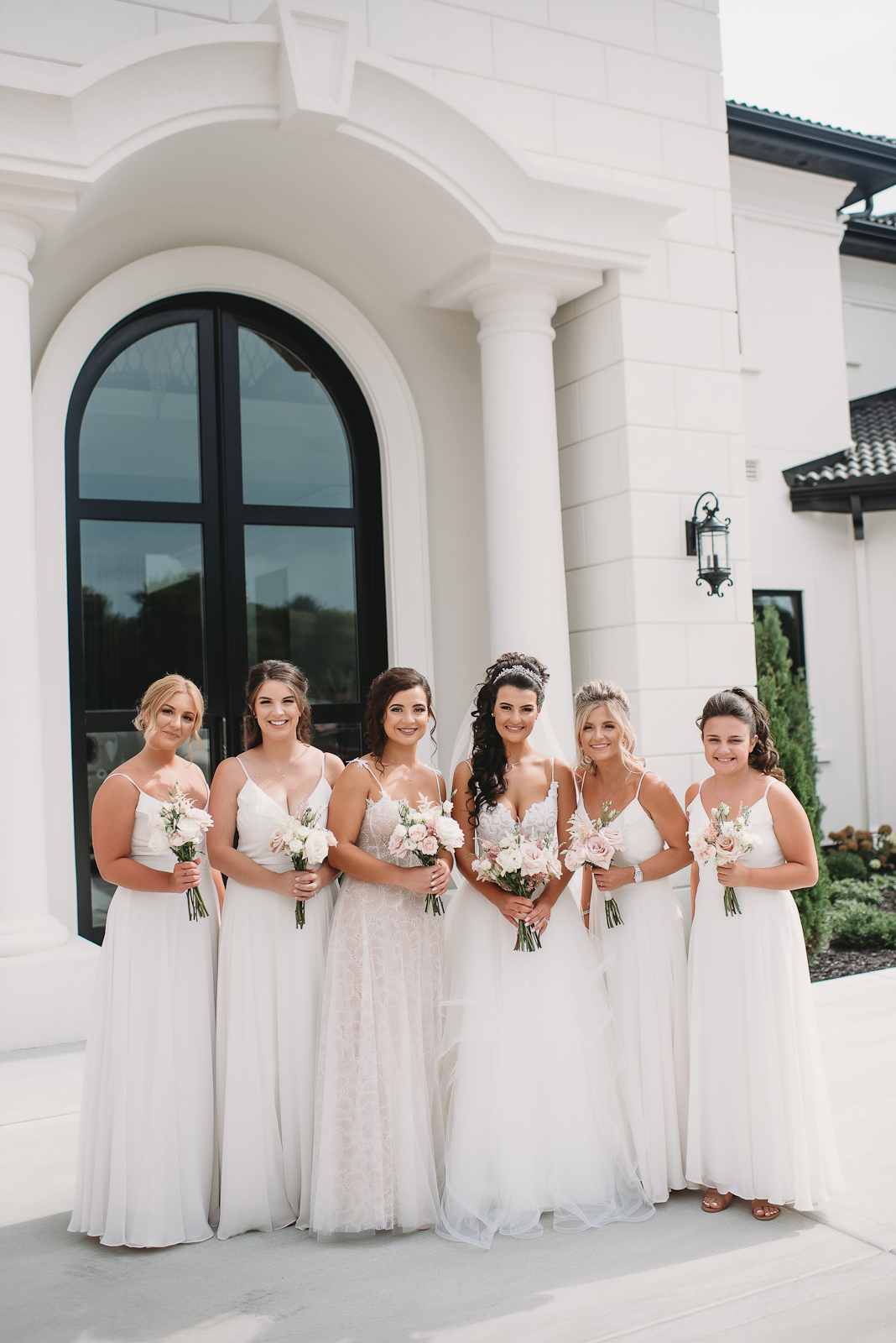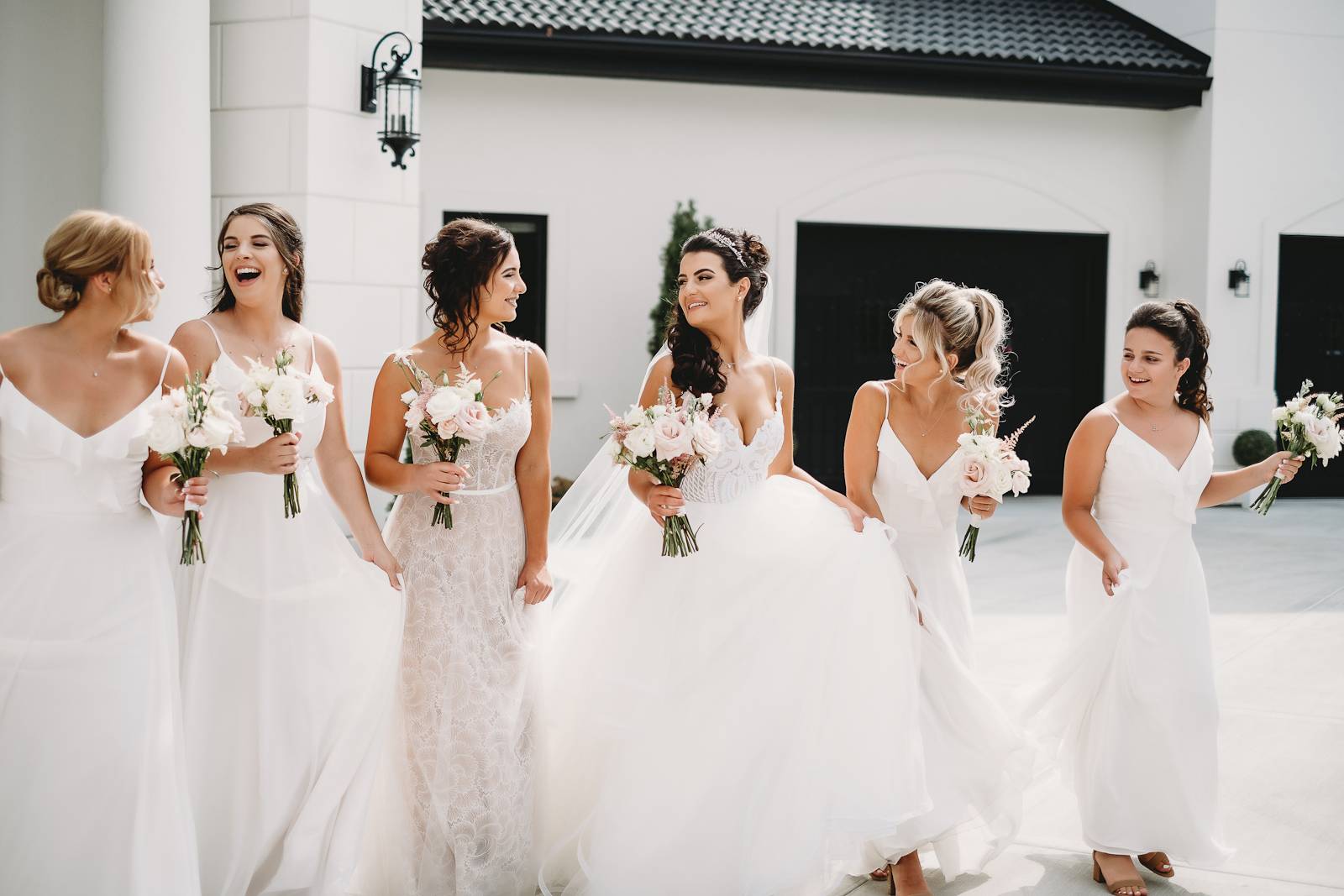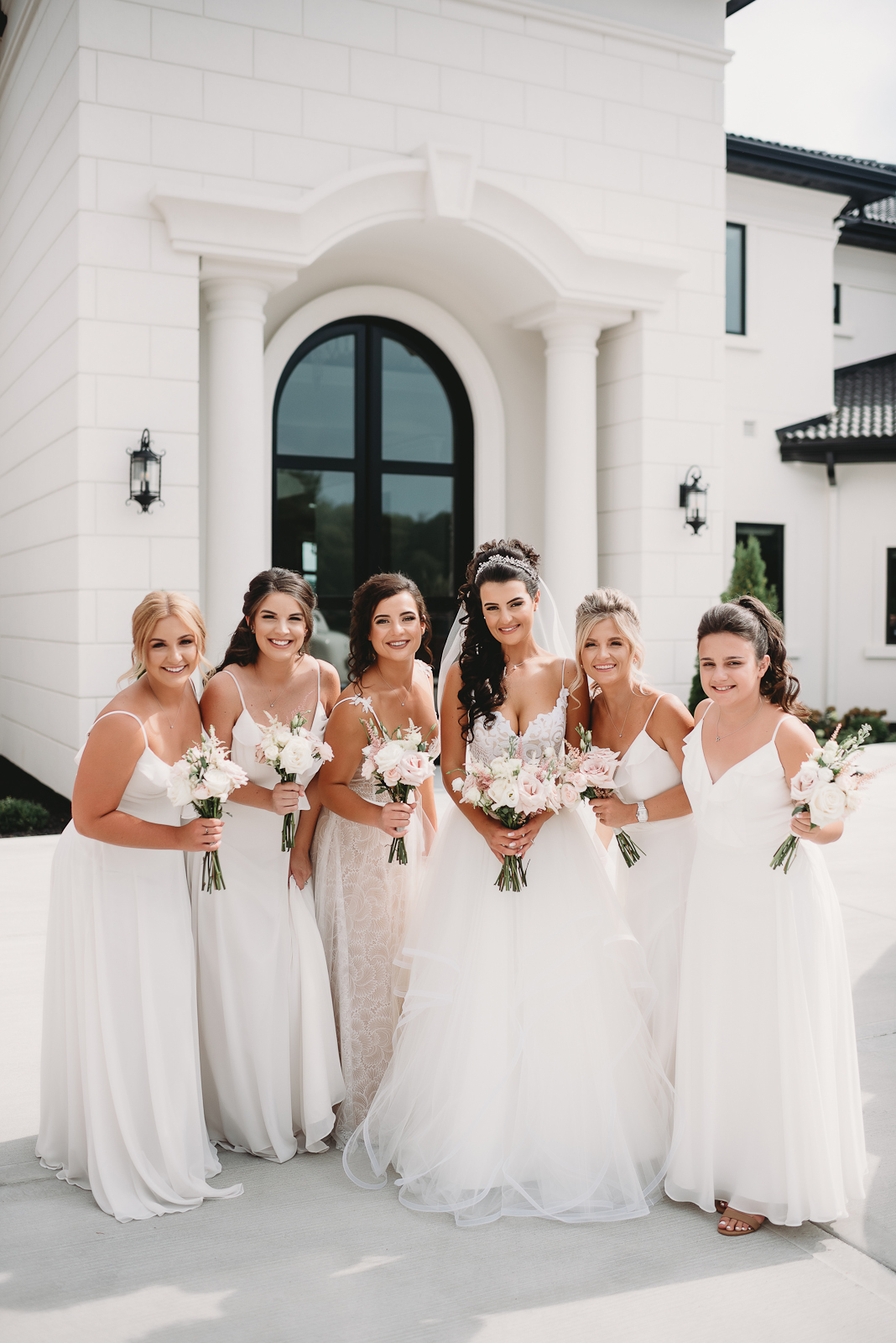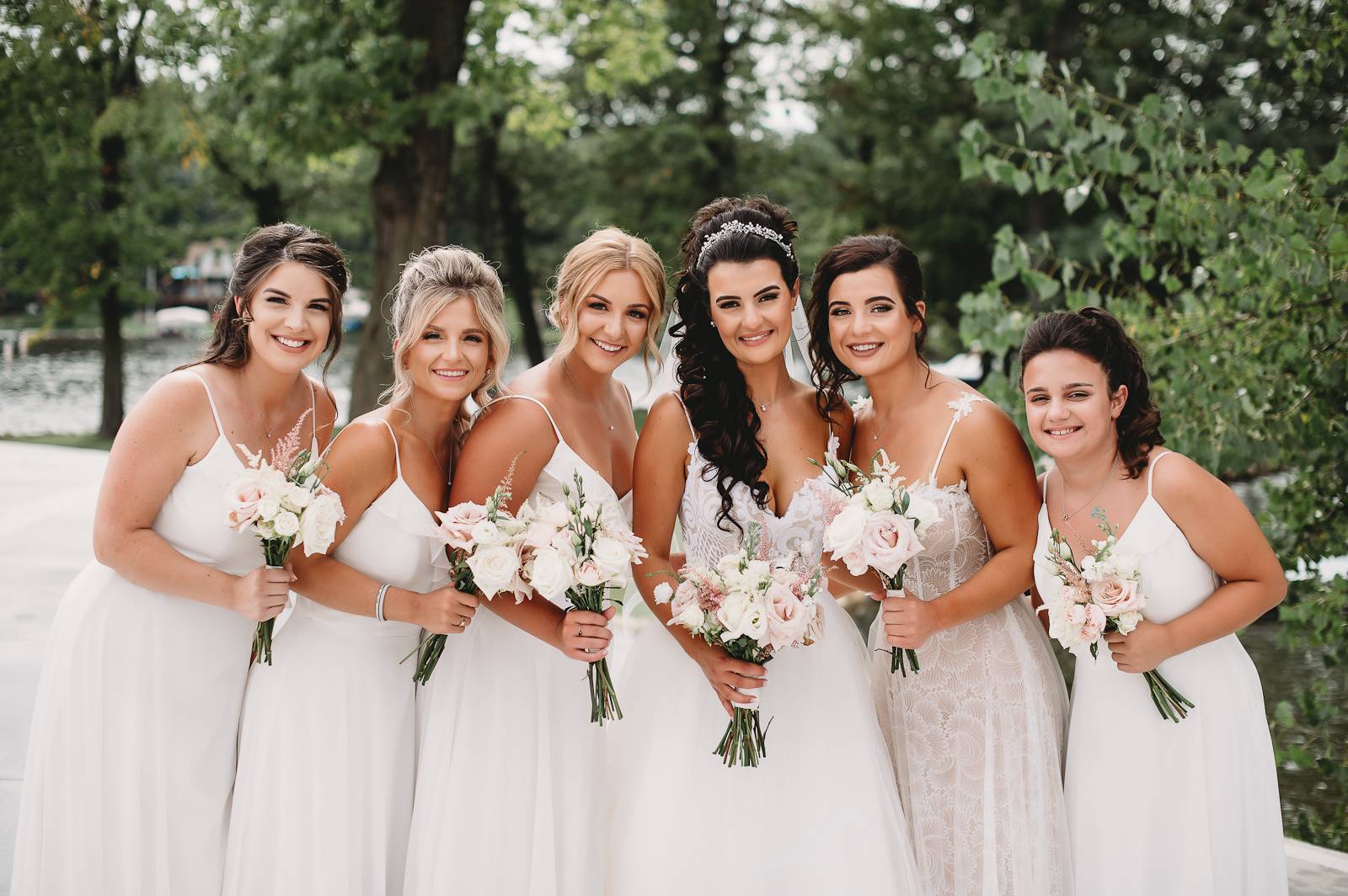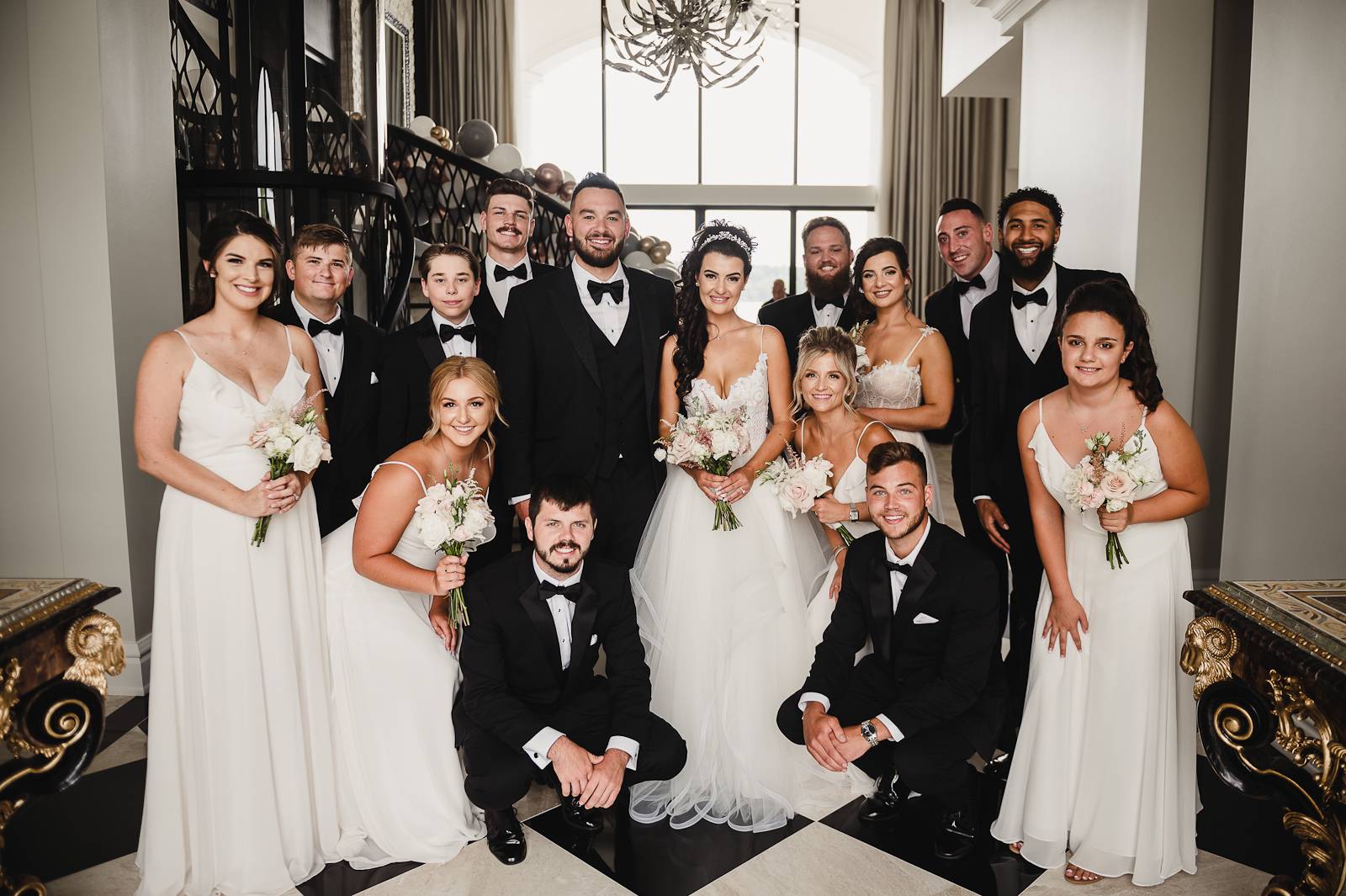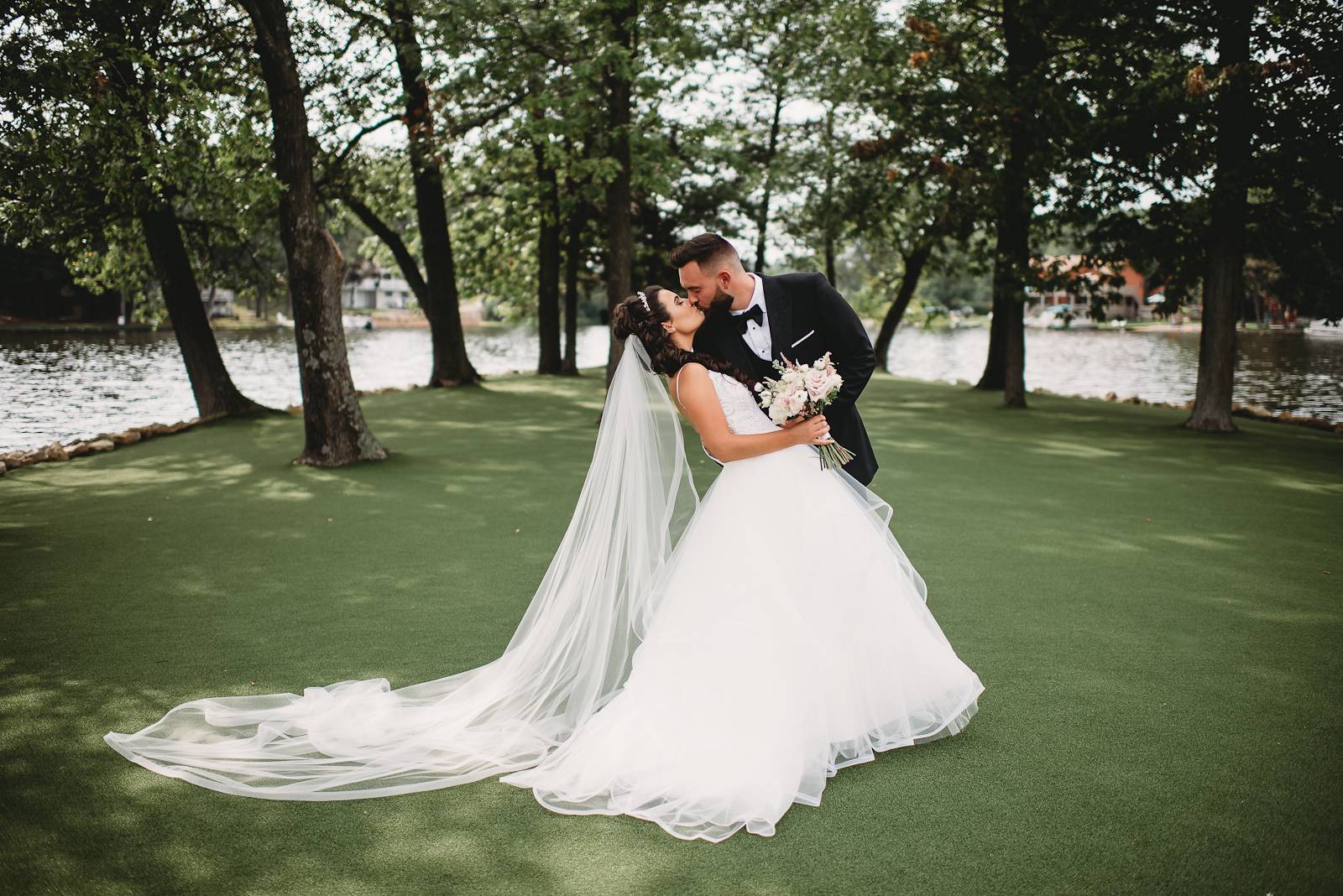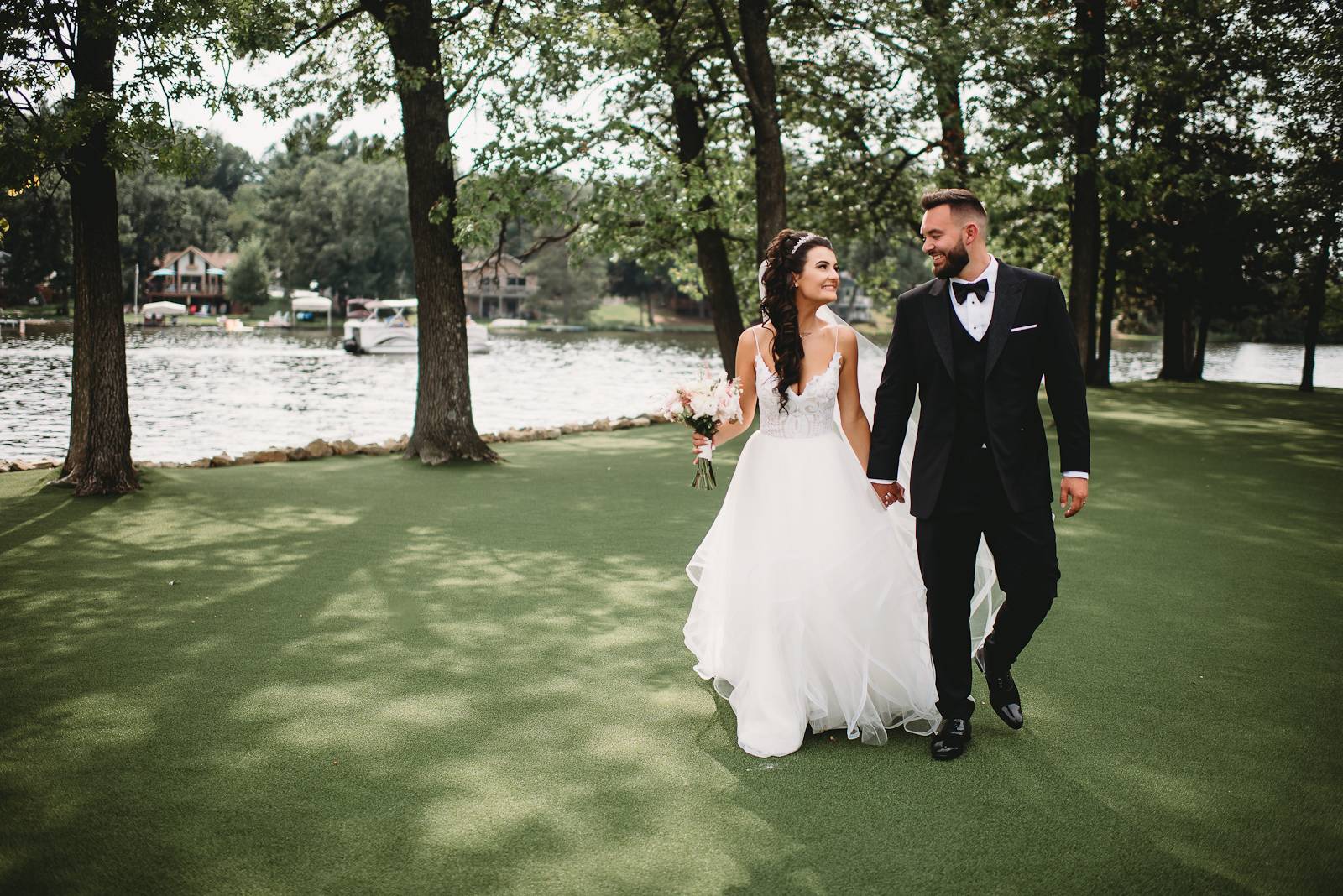 WHAT WAS YOUR INSPIRATION/DESIGN CONCEPT FOR YOUR OVERALL CEREMONY AND RECEPTION DECOR? My mom, Eva Laskaris, deserves a MASSIVE shout-out for our wedding! Gunnar and I told her some ideas we had, and she took them and created a MAGICAL wedding for us. She designed the whole thing, and we couldn't be more grateful. She had so many ideas on transforming the area we had to make it look like a fairytale.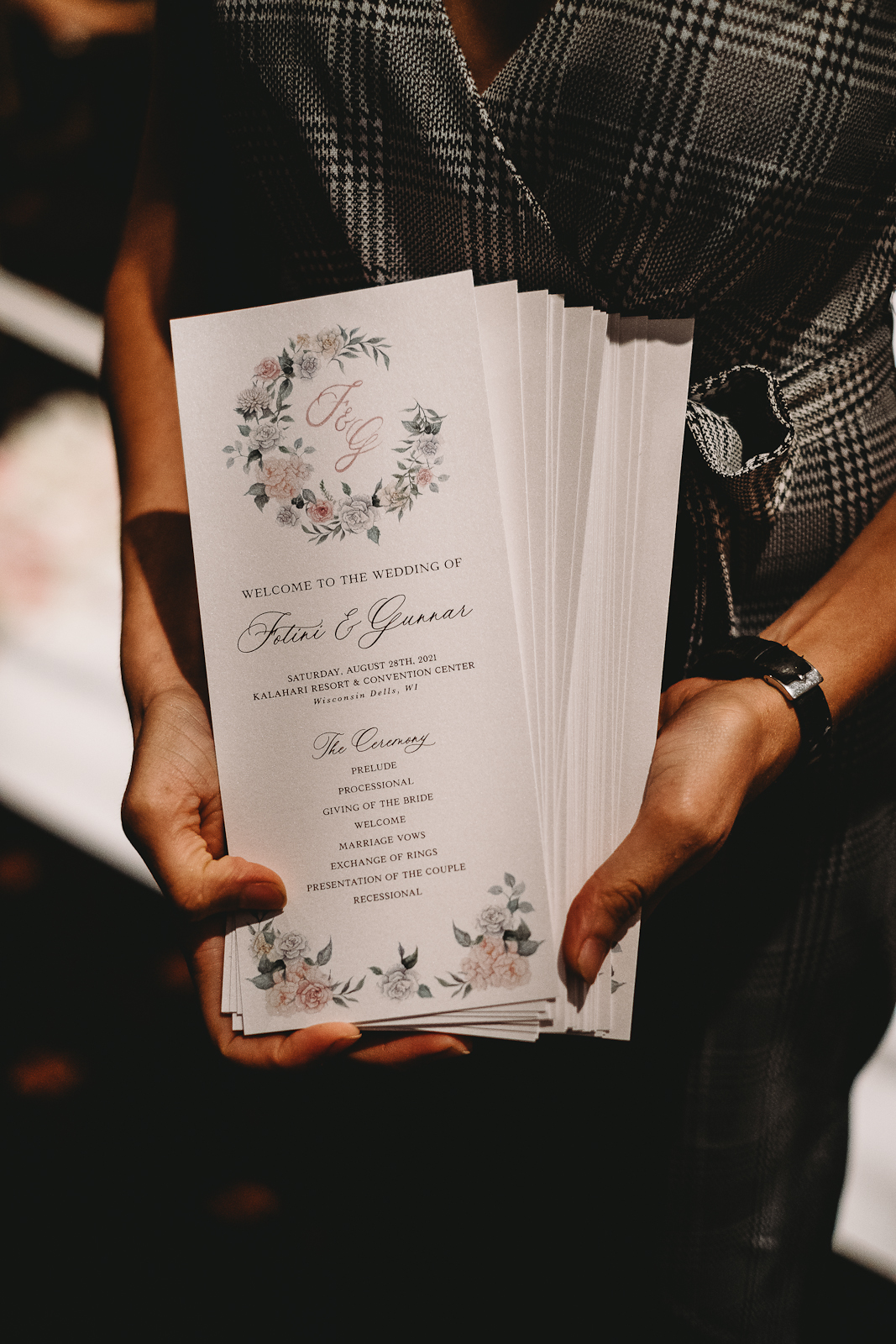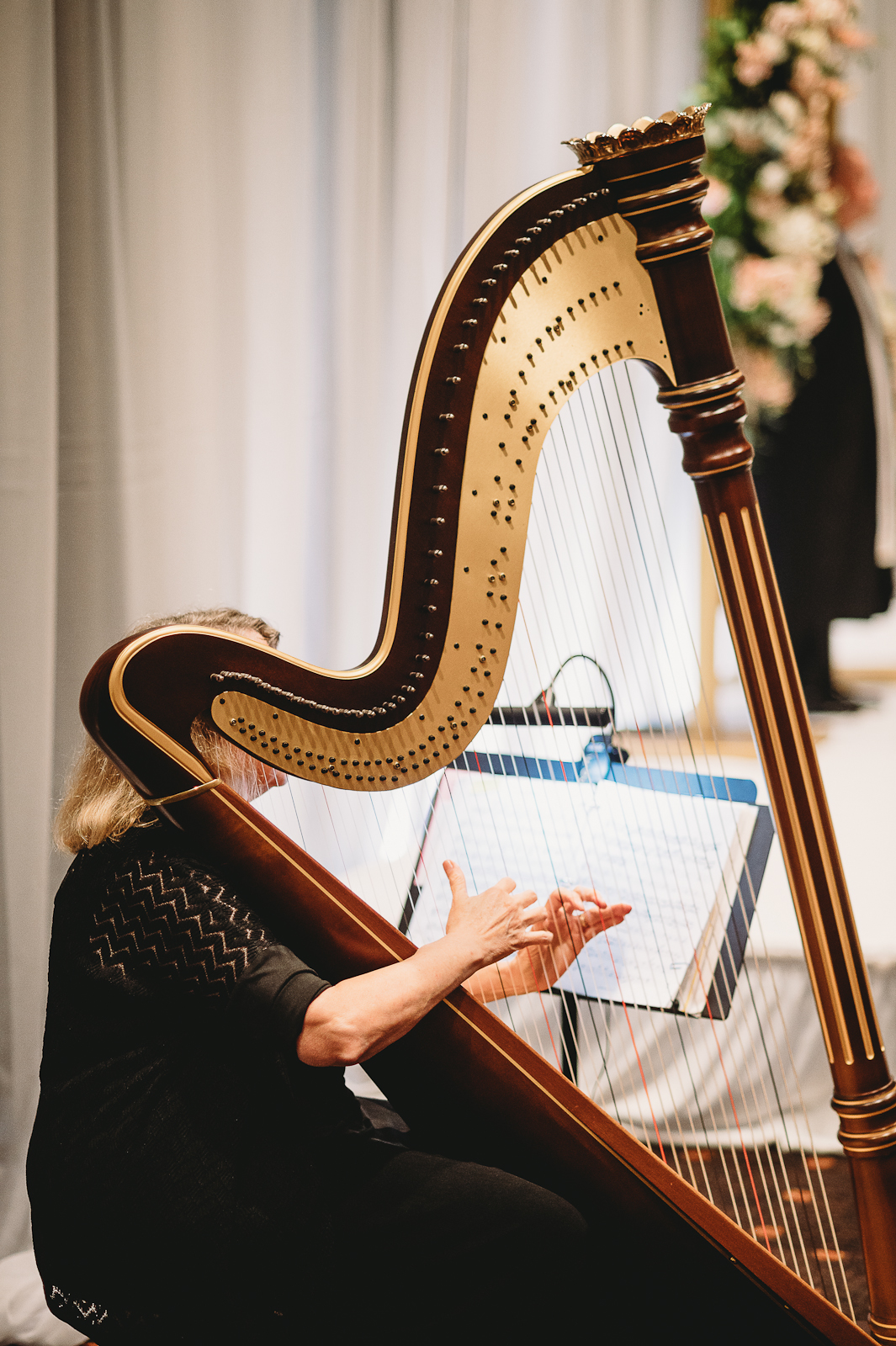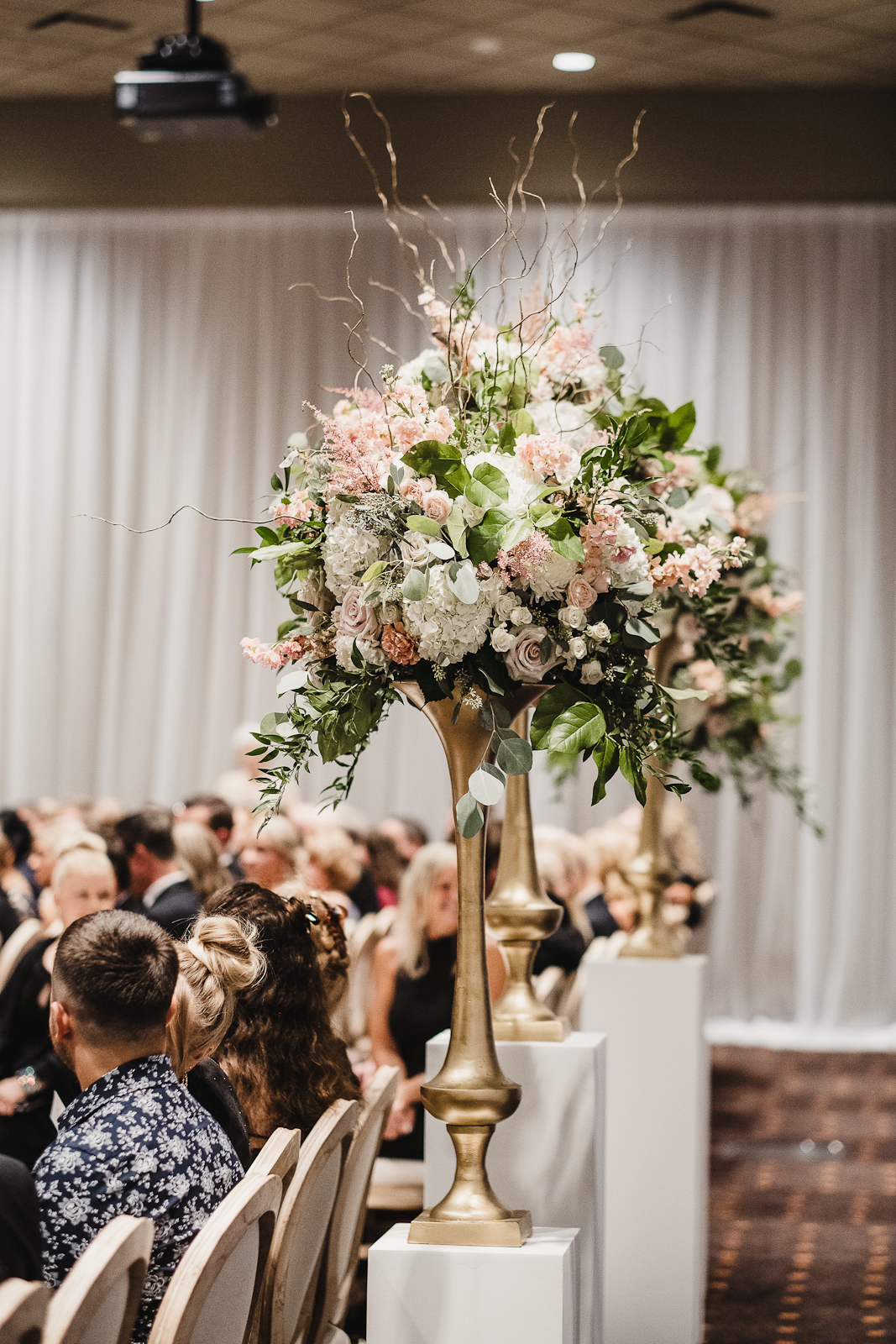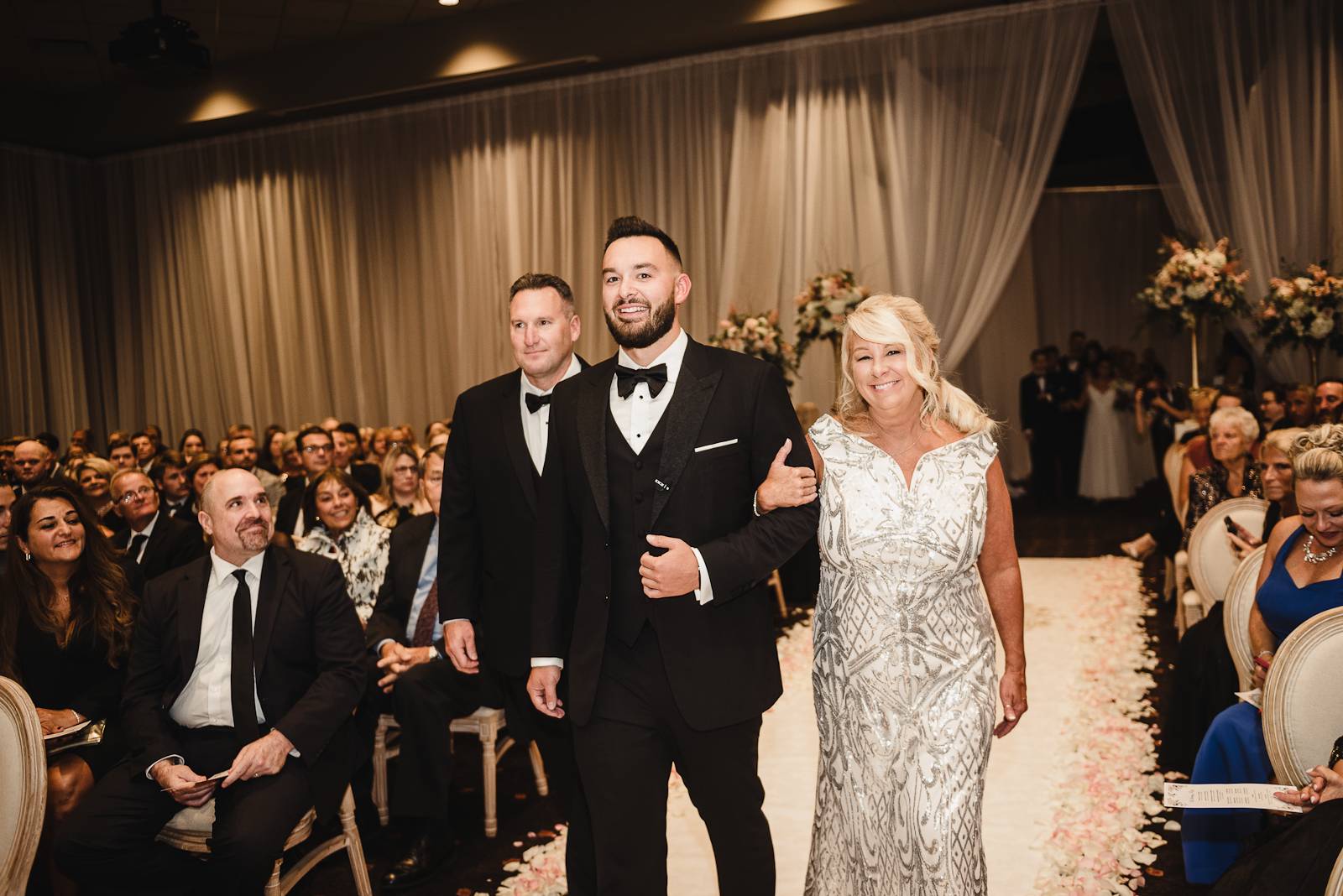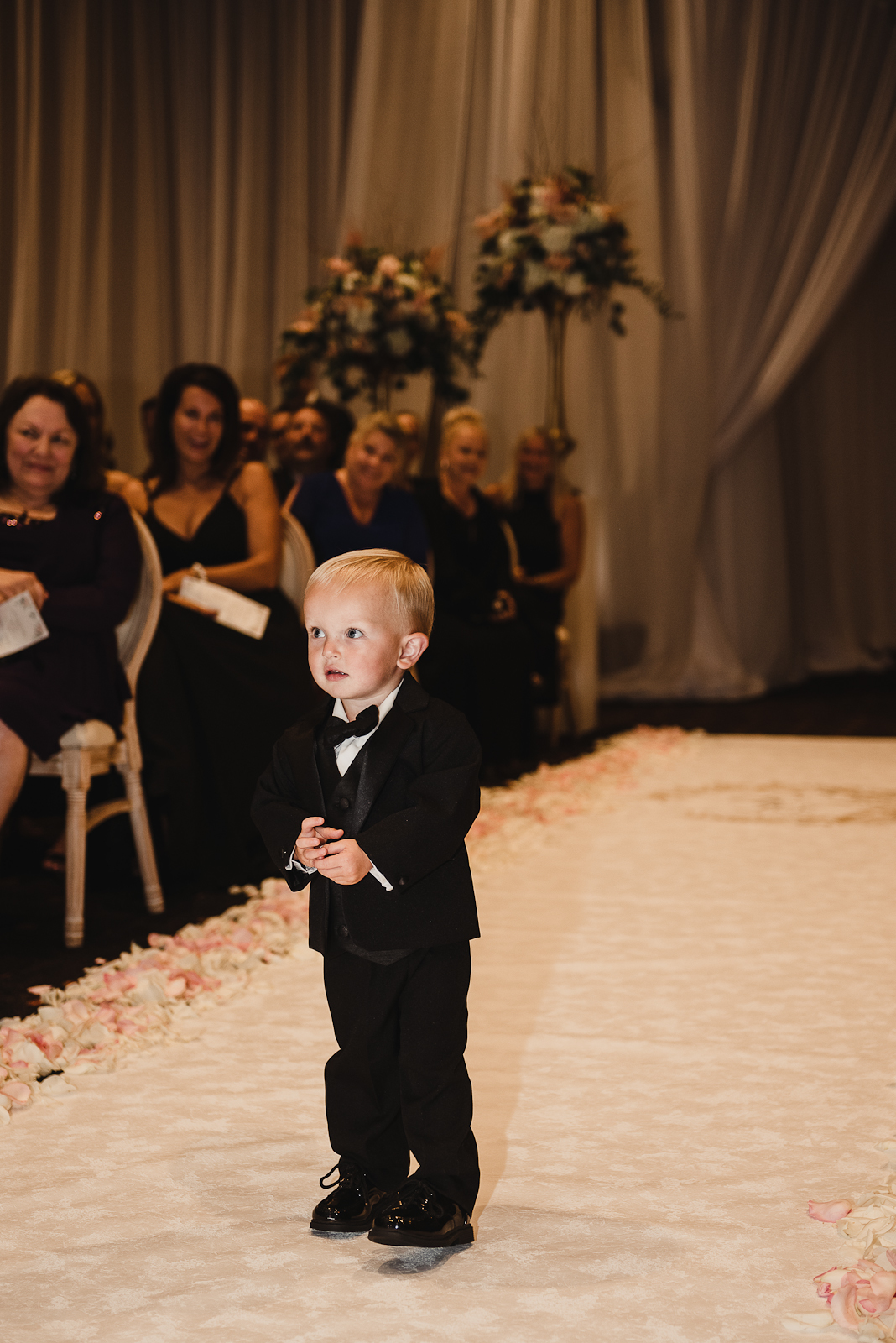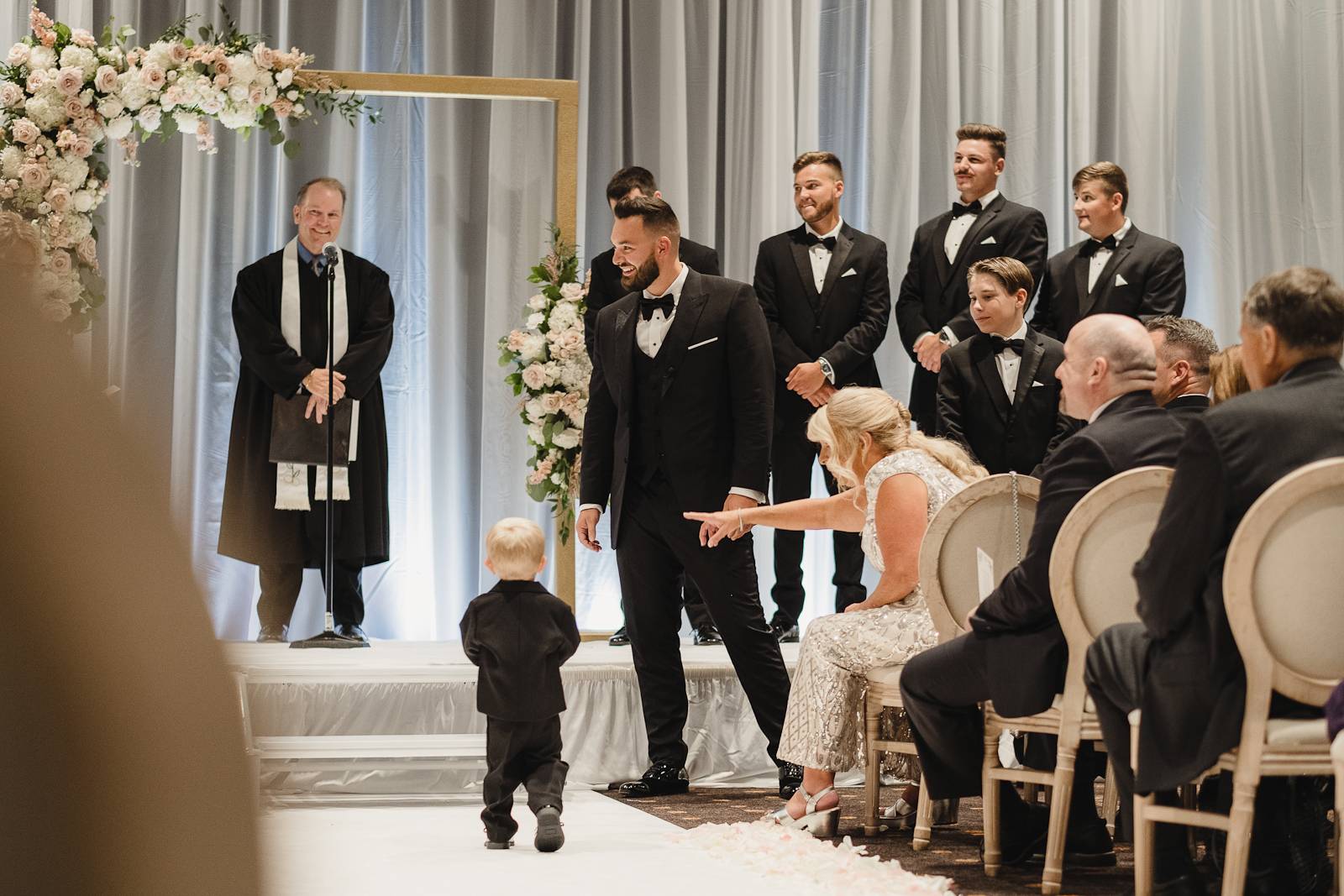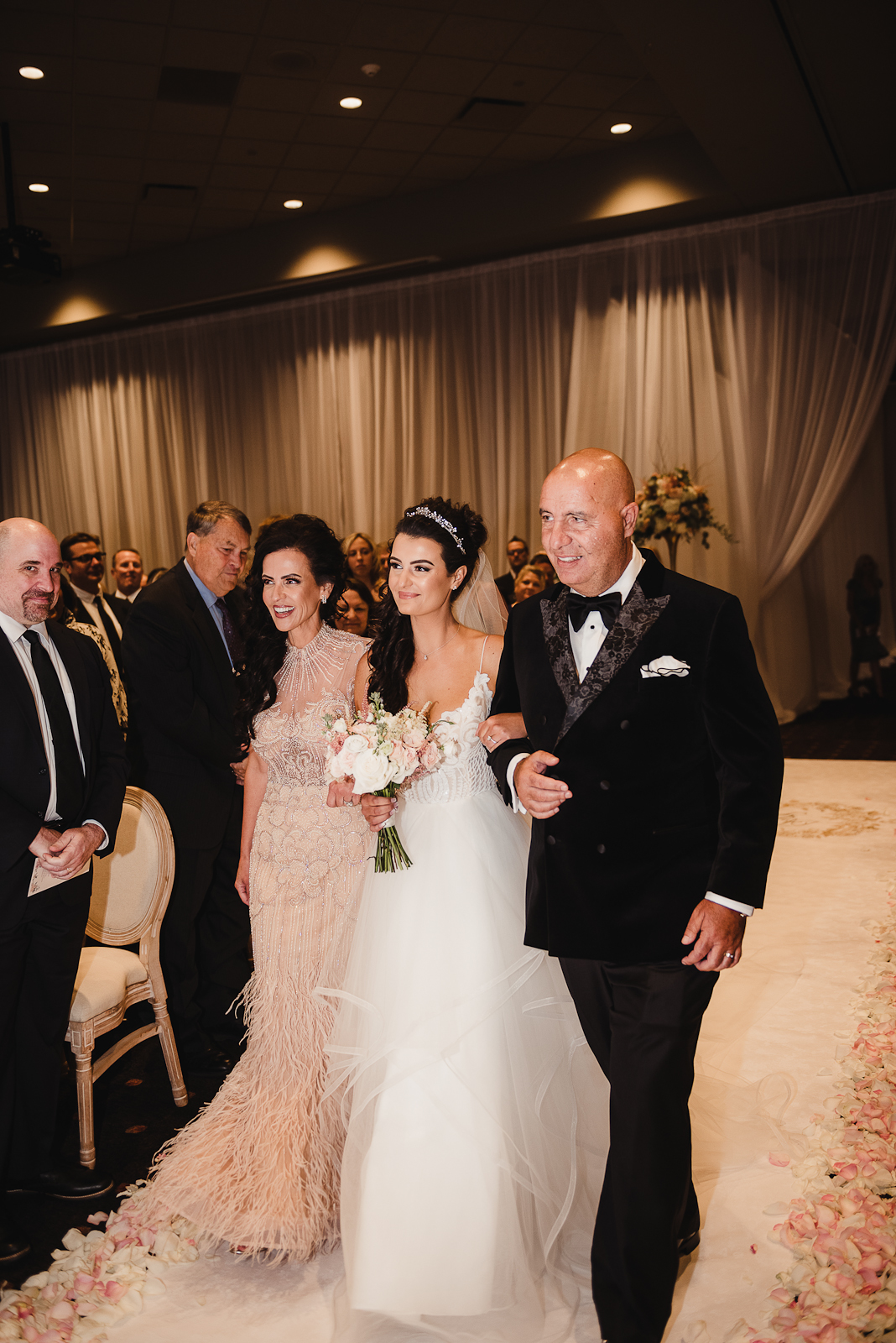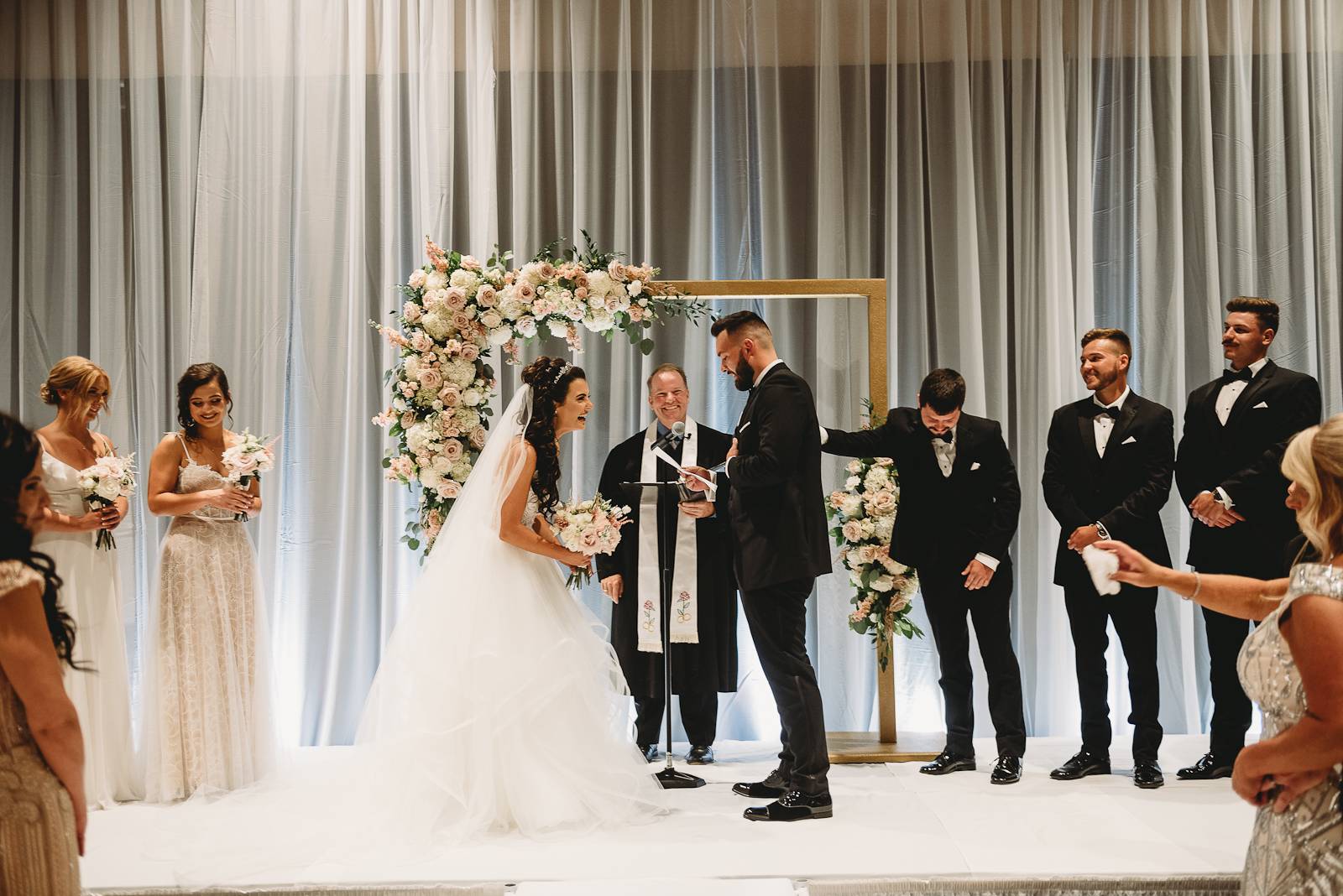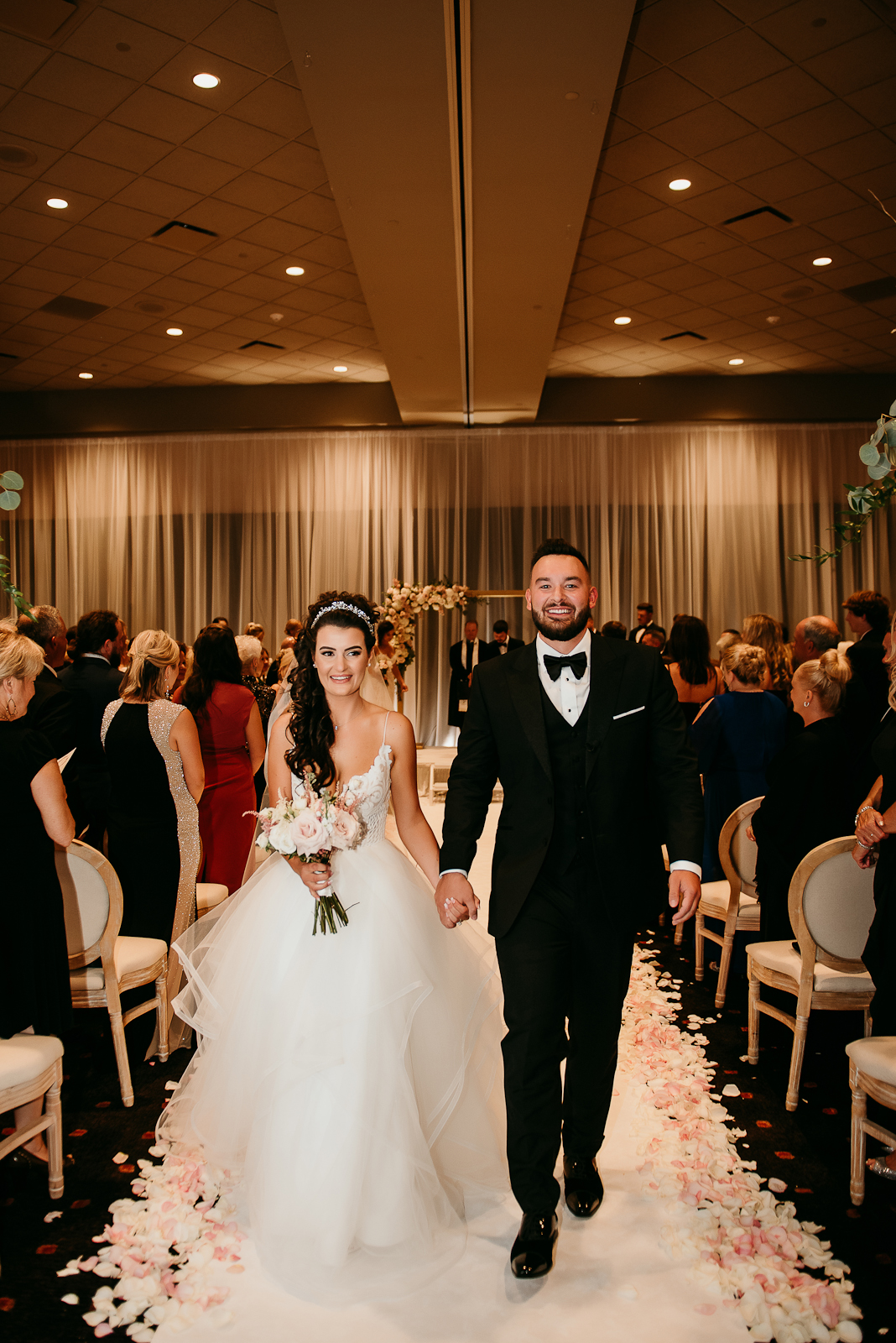 DID YOU USE ANY SPECIALTY CHAIRS, LINENS, CHARGERS, GLASSWARE, OR DINNERWARE? Everything had its own special touch to it. For seating, we used King Louie chairs around the tables and had blush-colored sofas, benches, and club chairs for lounge seating. We used white linens for the tables and champagne satin for the napkins. We also had many centerpieces: 52" tall candelabras with taper candles, gold accent décor vases, and a gold compote bowl with tons of flowers and greenery.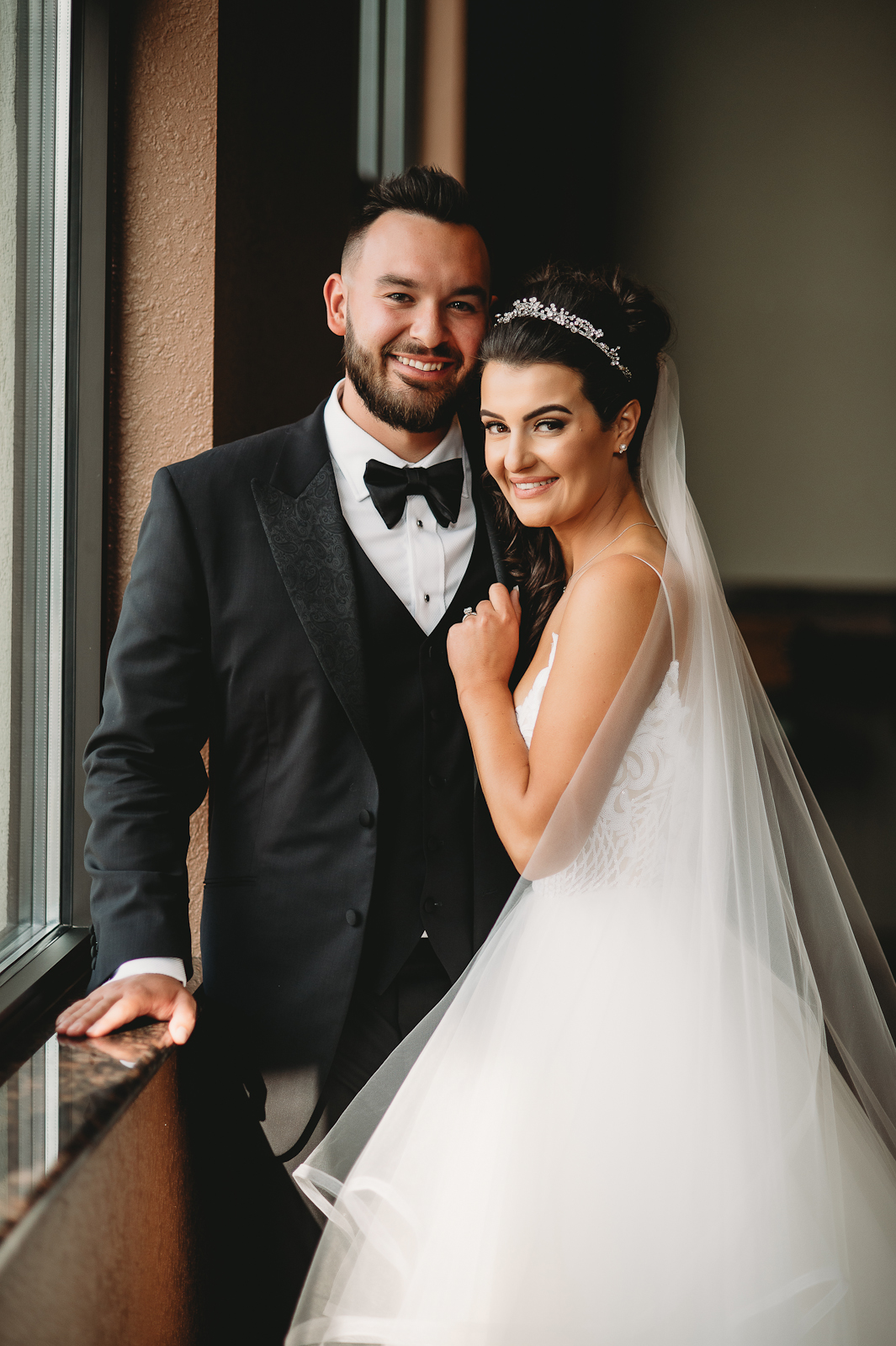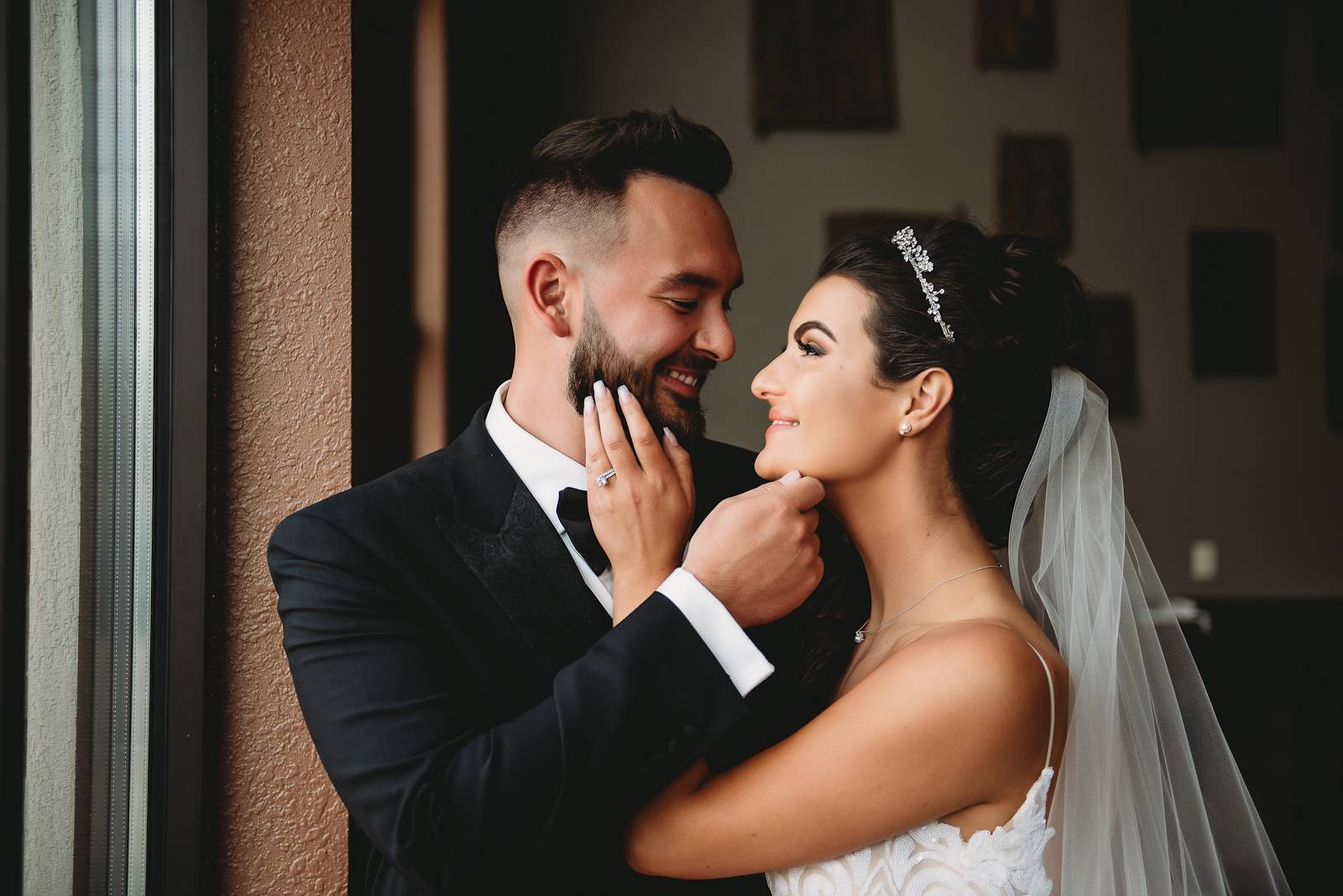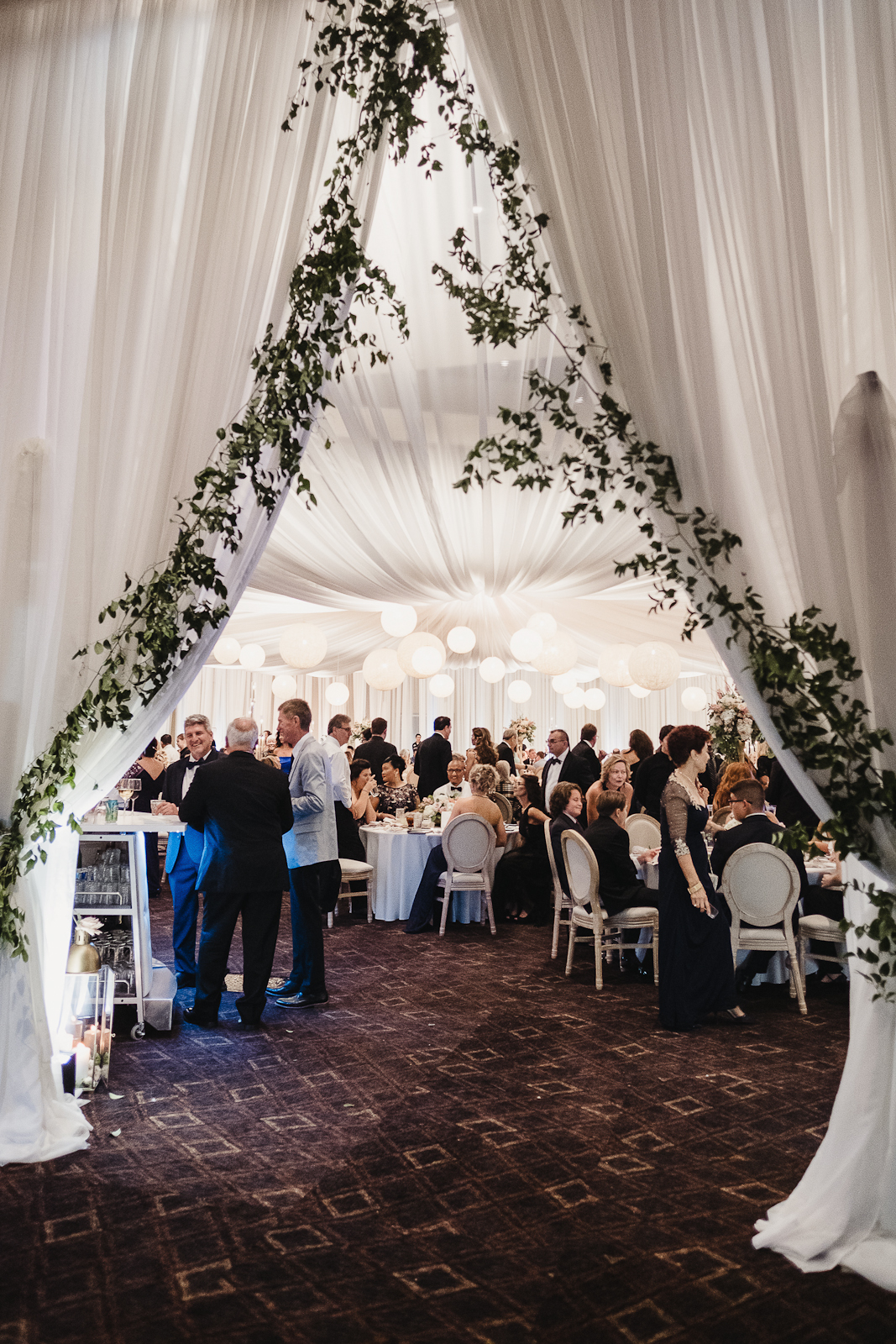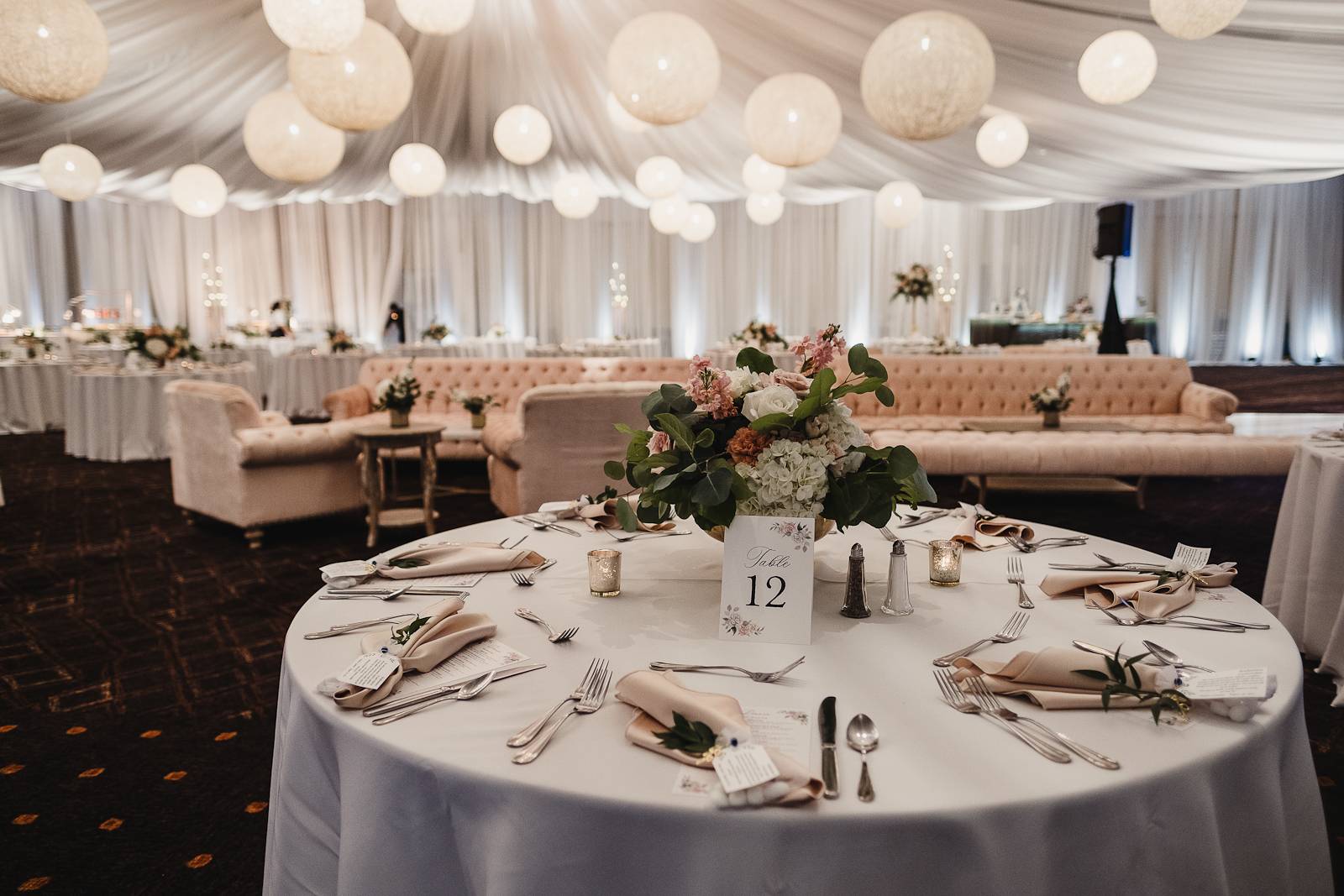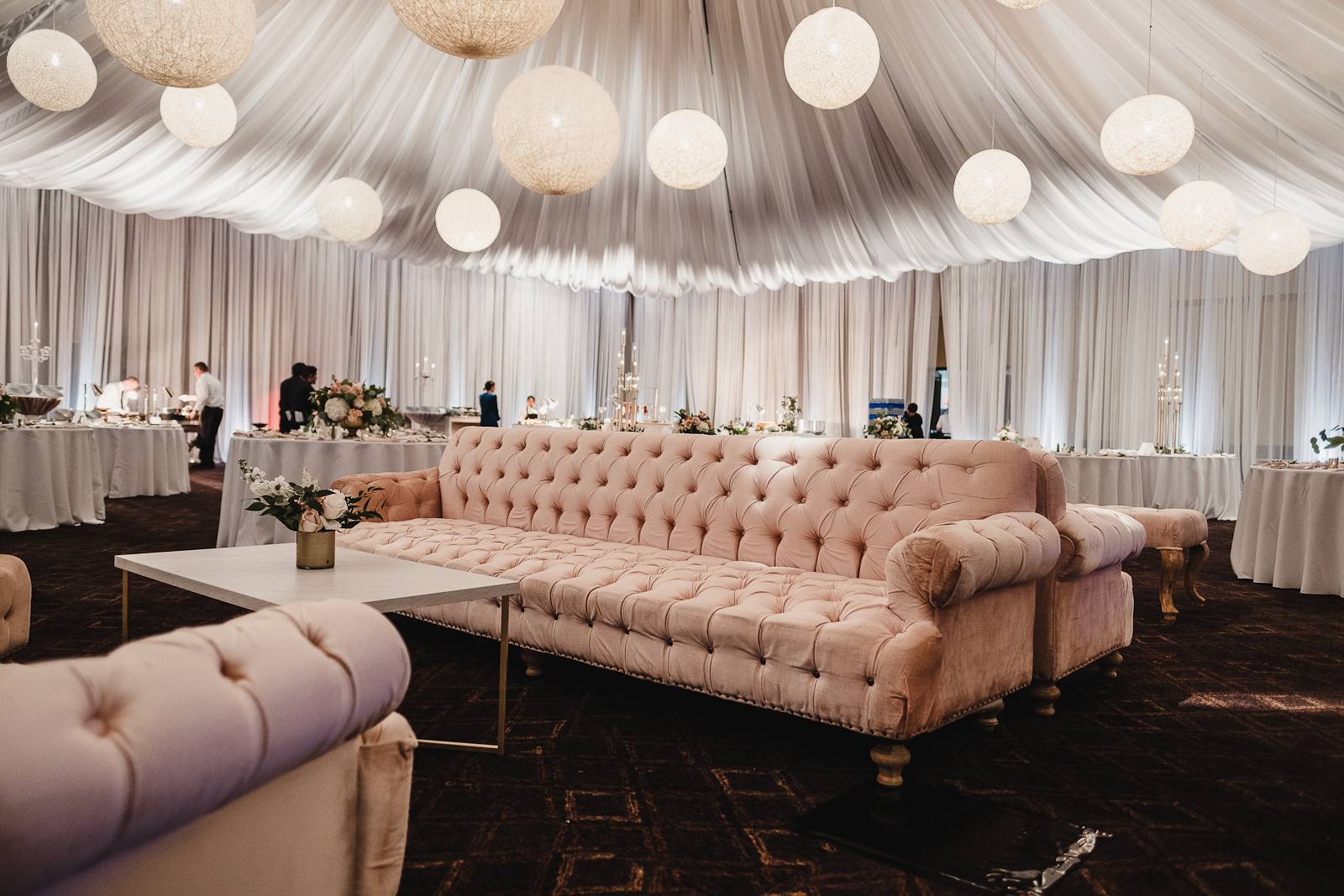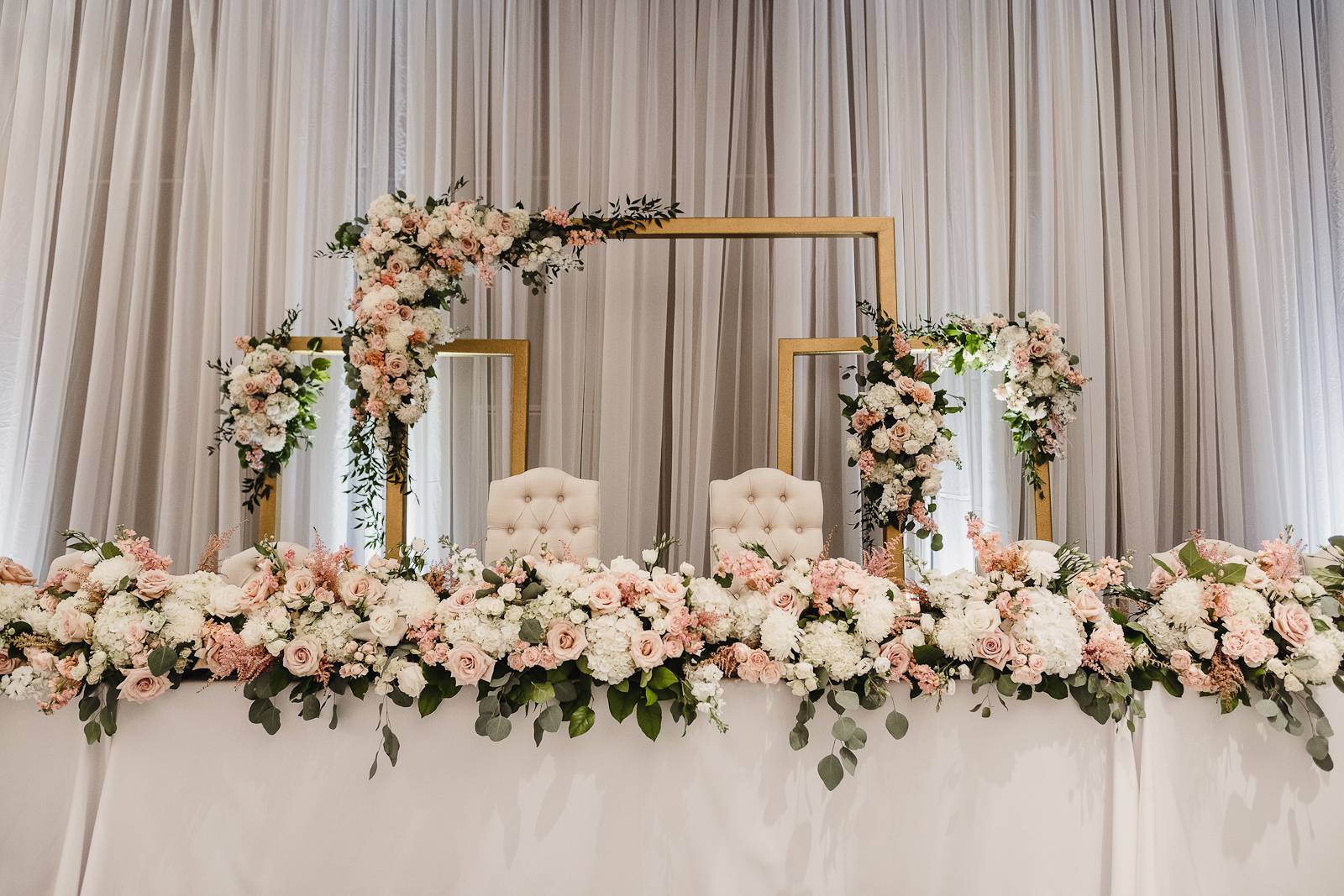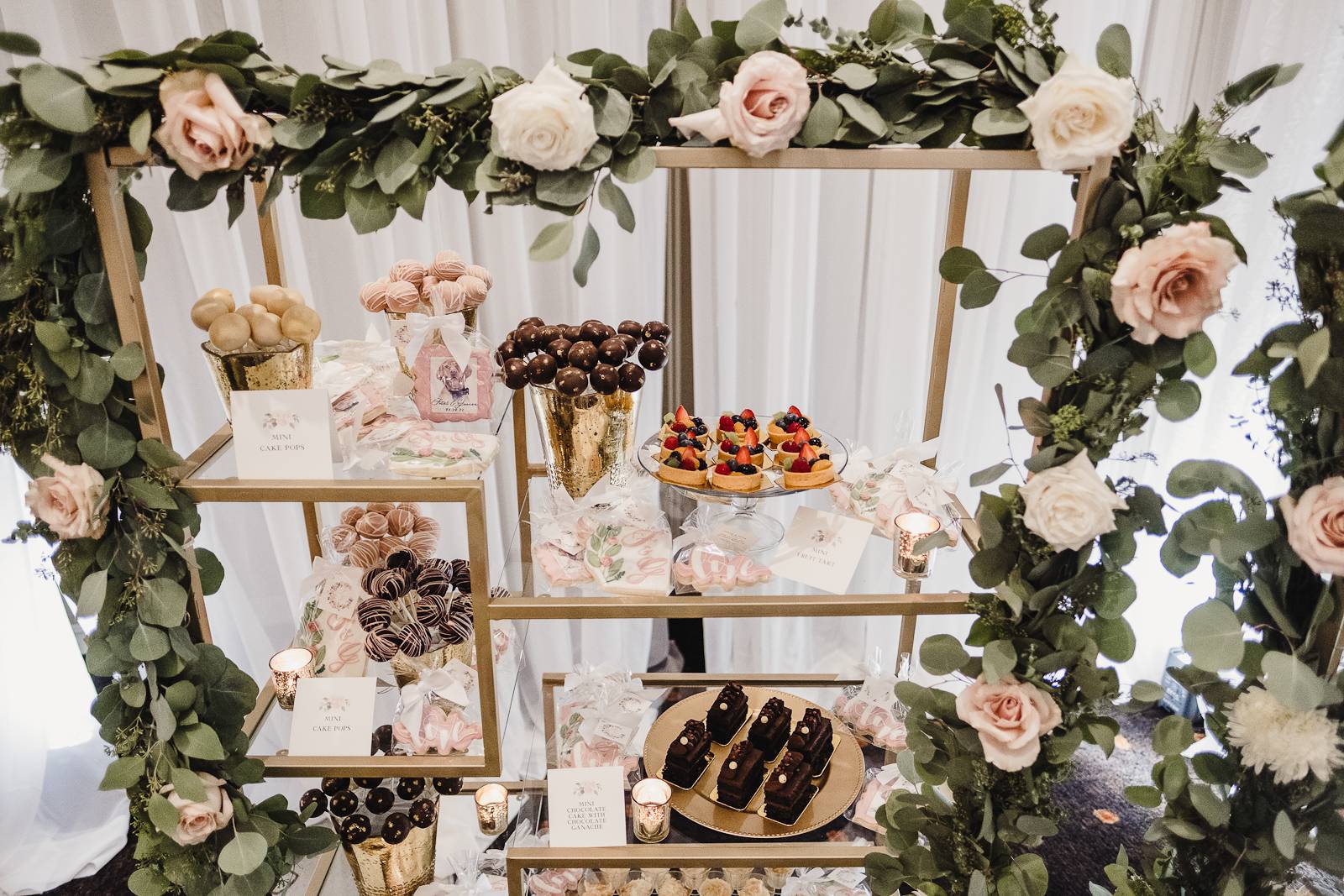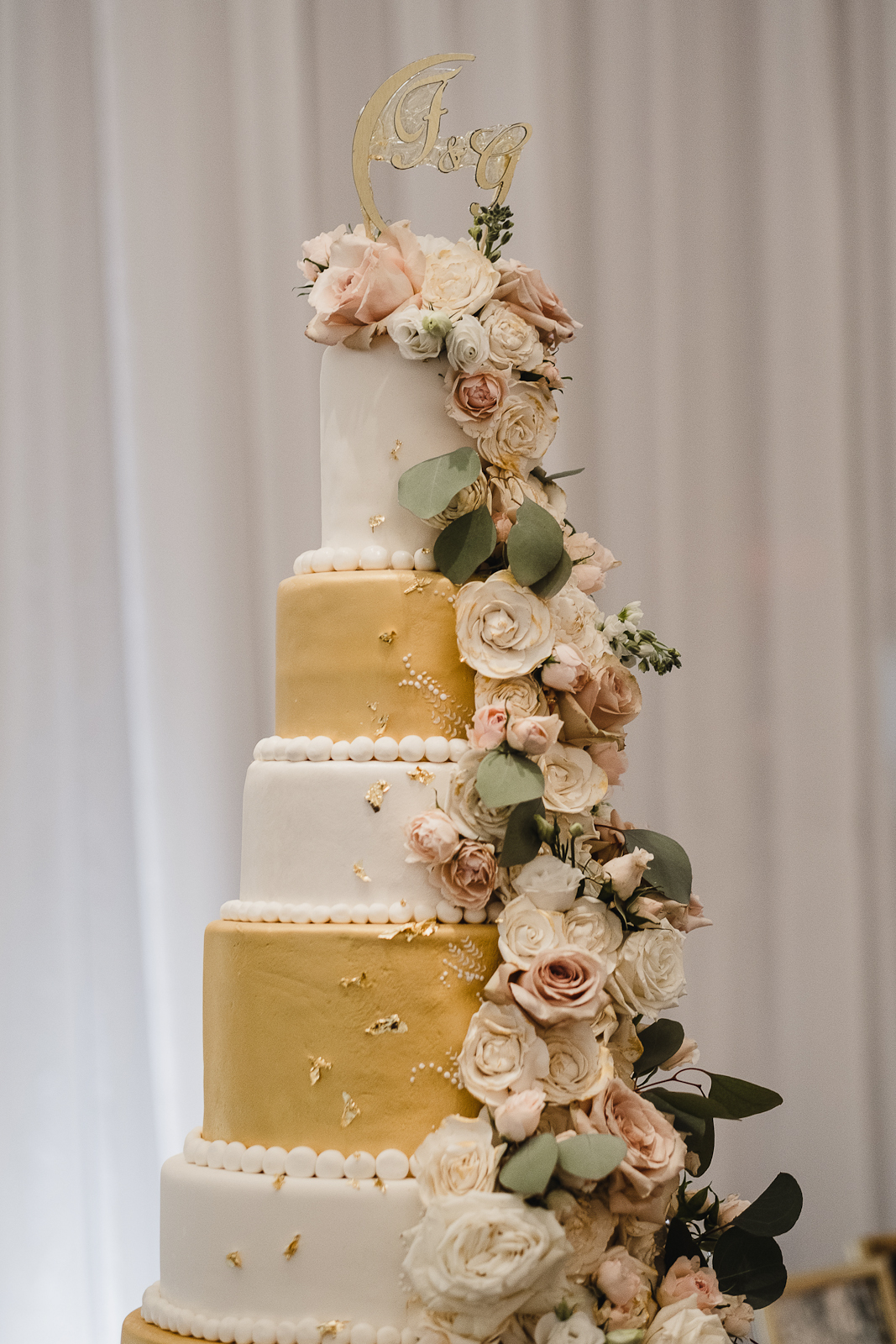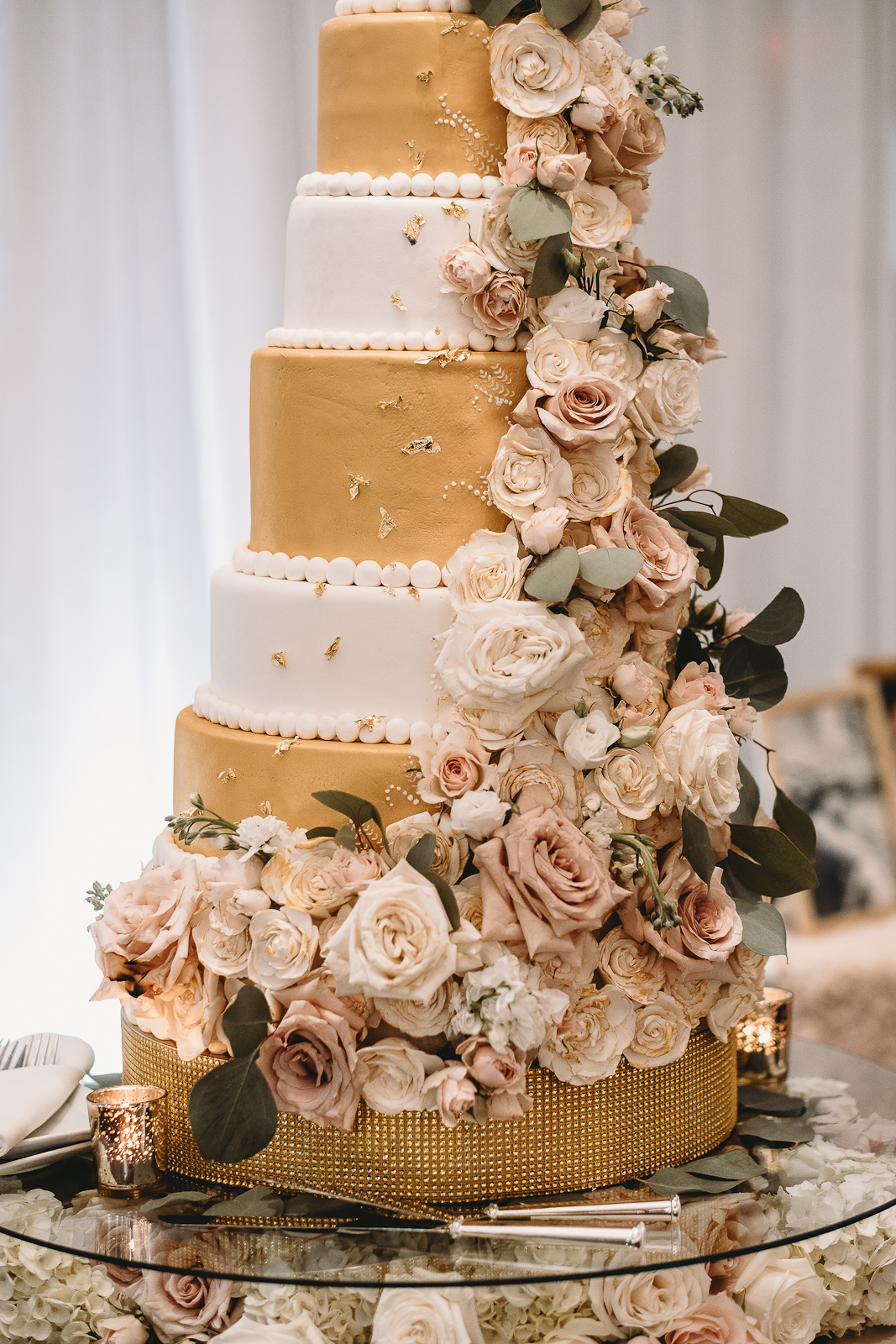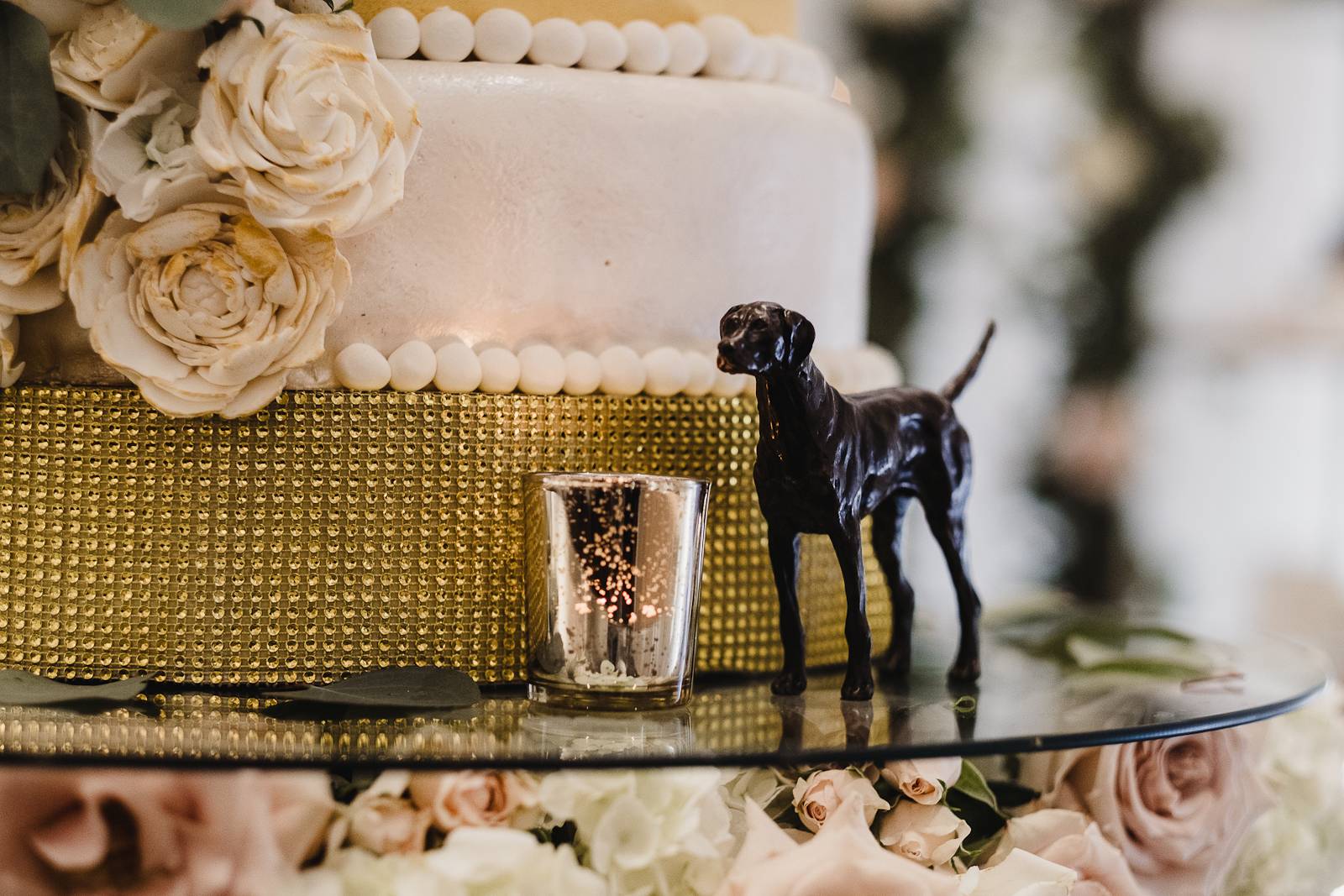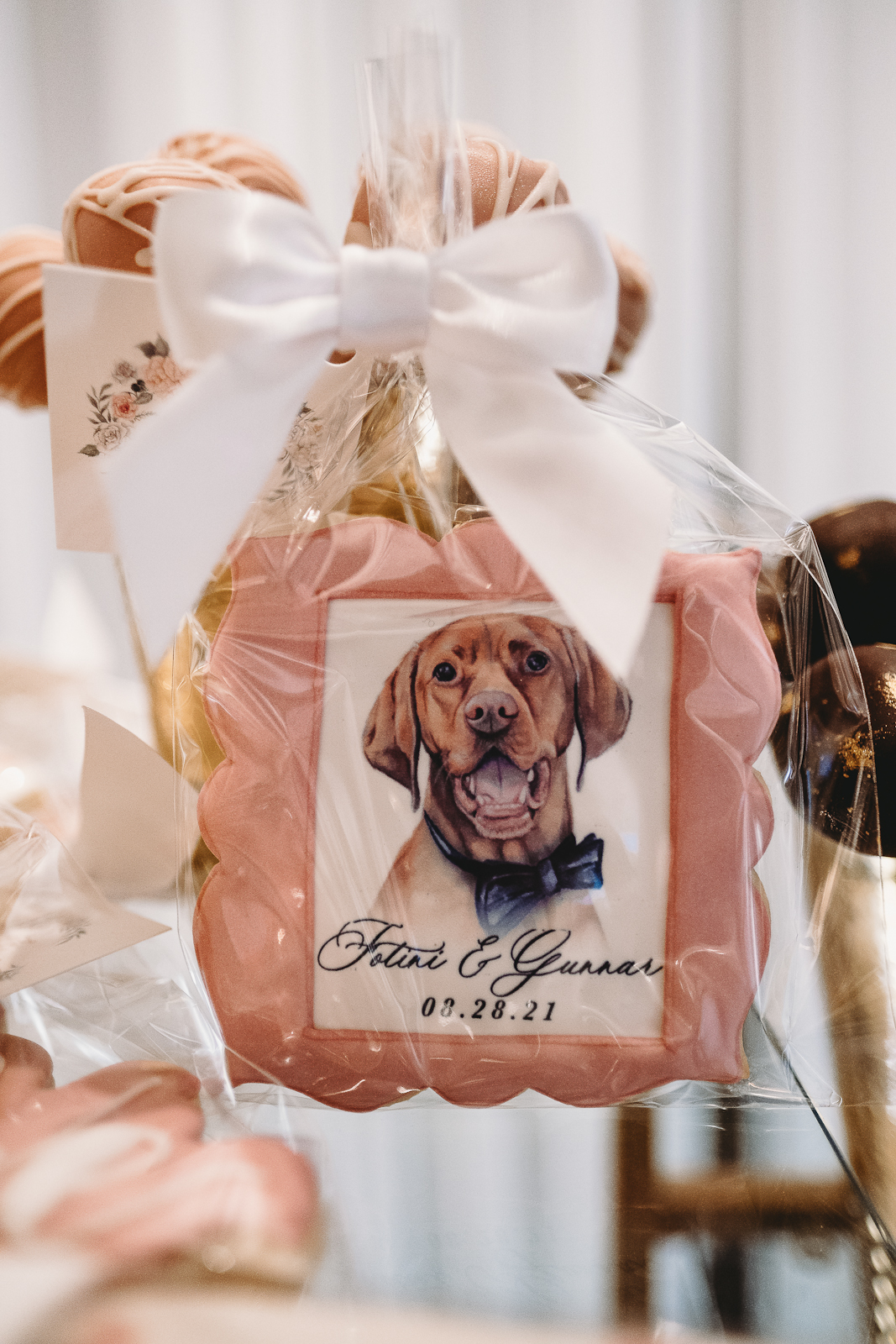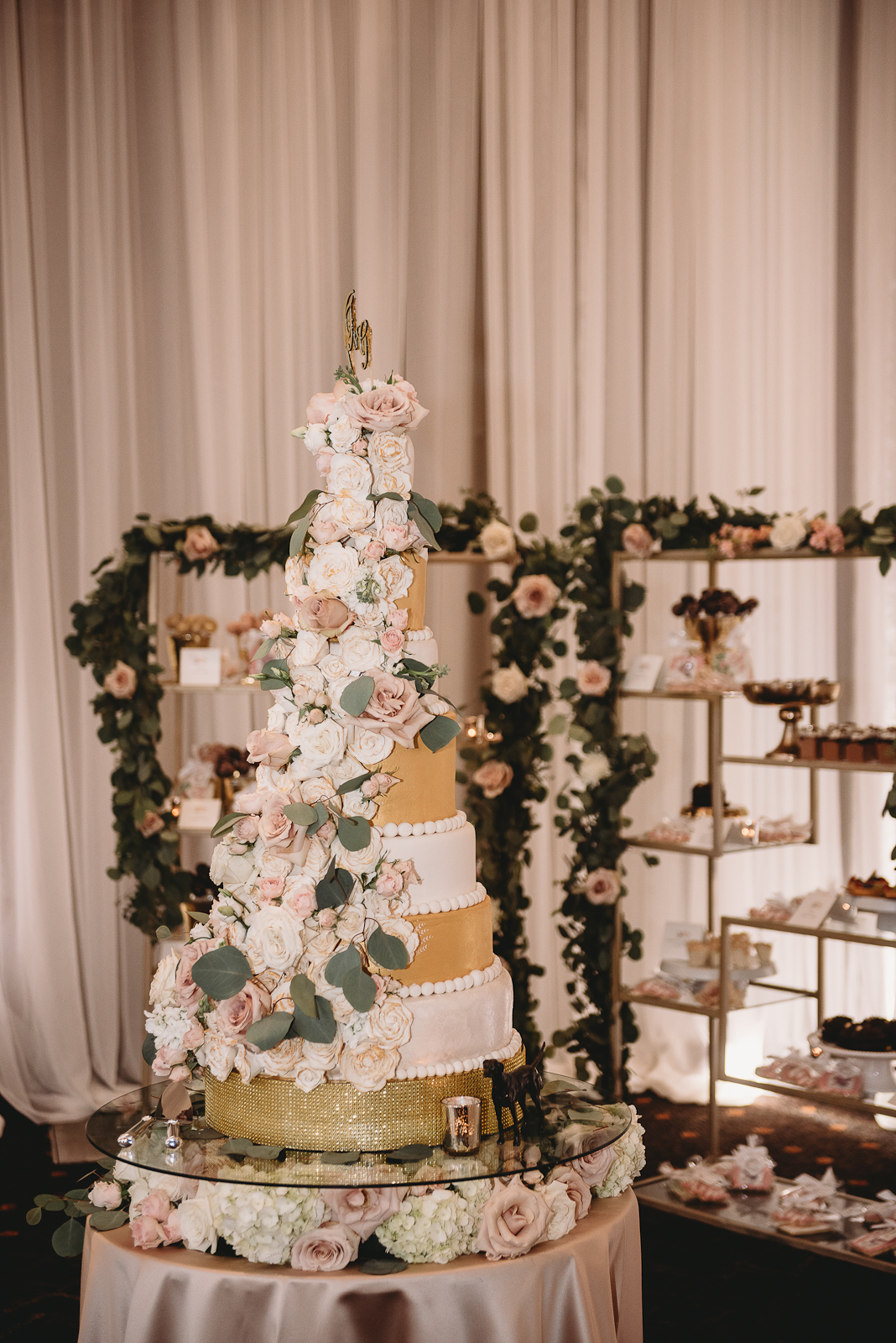 TELL US ABOUT THE FOOD, DESSERT AND ANY SPECIALTY BEVERAGES ON THE MENU: My family is 100% Greek, so we, of course, had to have Greek food! Gunnar and I are huge foodies, so my mom wanted to cover all of our other favorite types of food as well through food stations! We had Shellfish, Prime Rib, Tomahawk Steak, Dim Sum, Roasted Pig, and Rigatoni - we even had bacon-wrapped alligator! Along with so many tasty sides!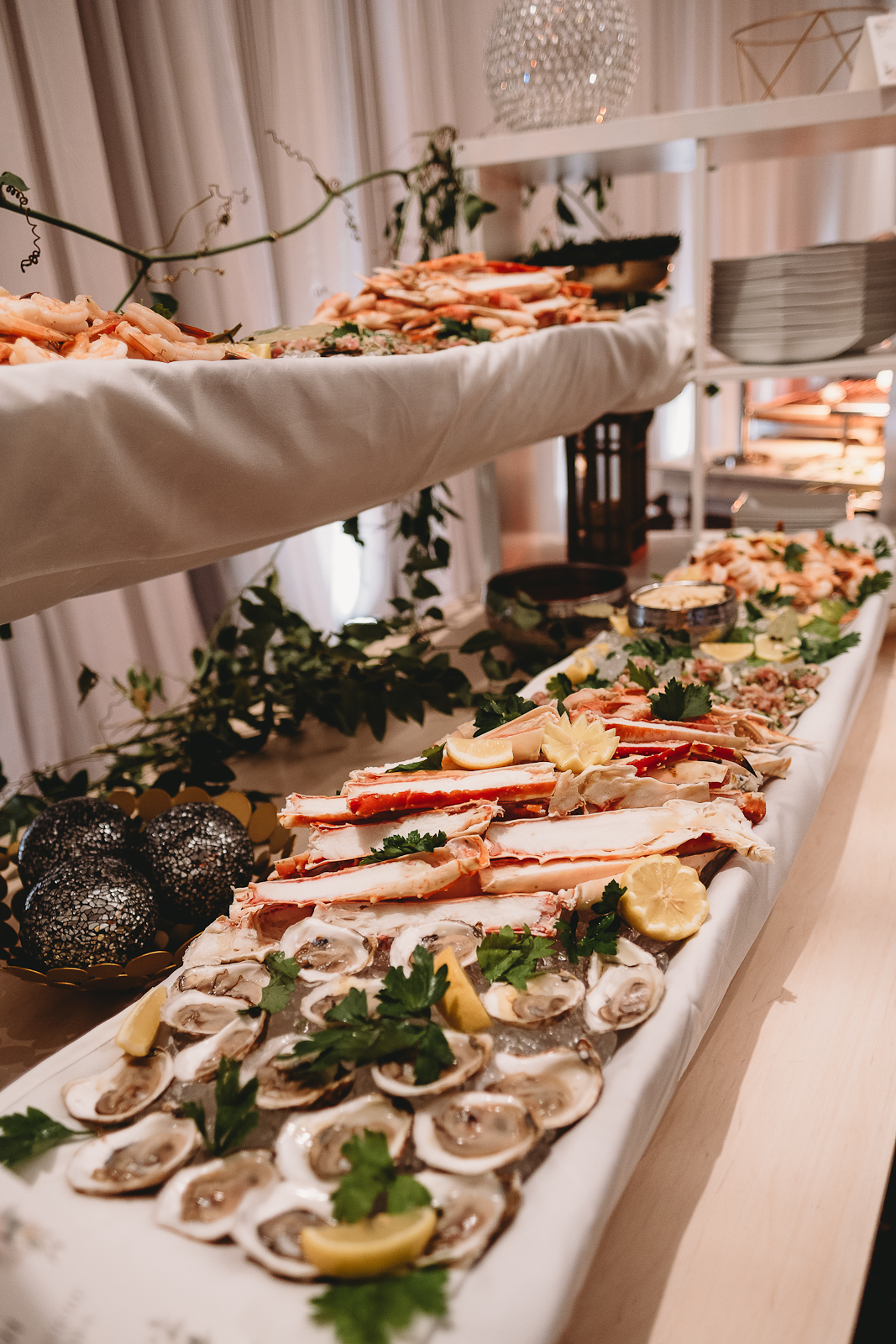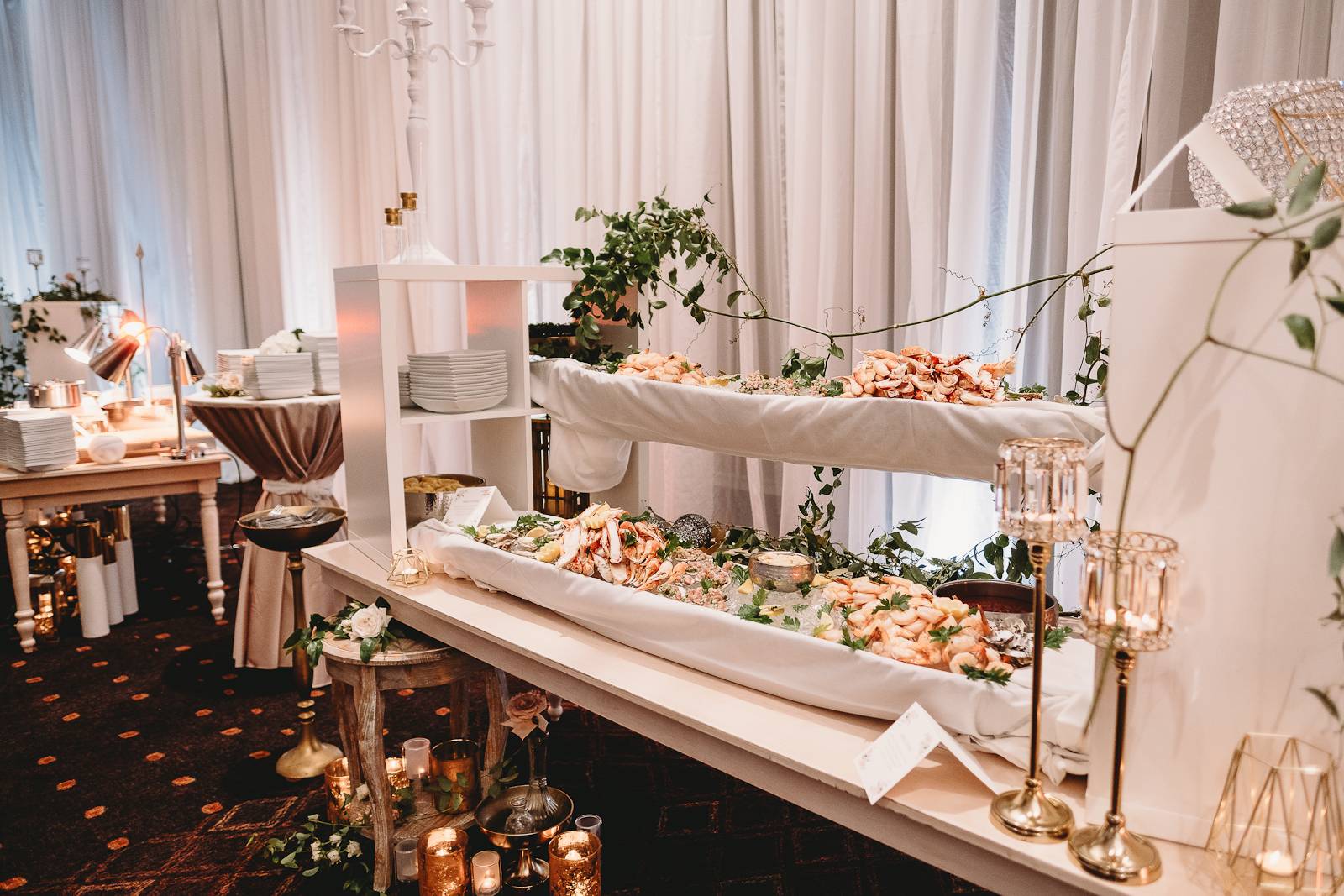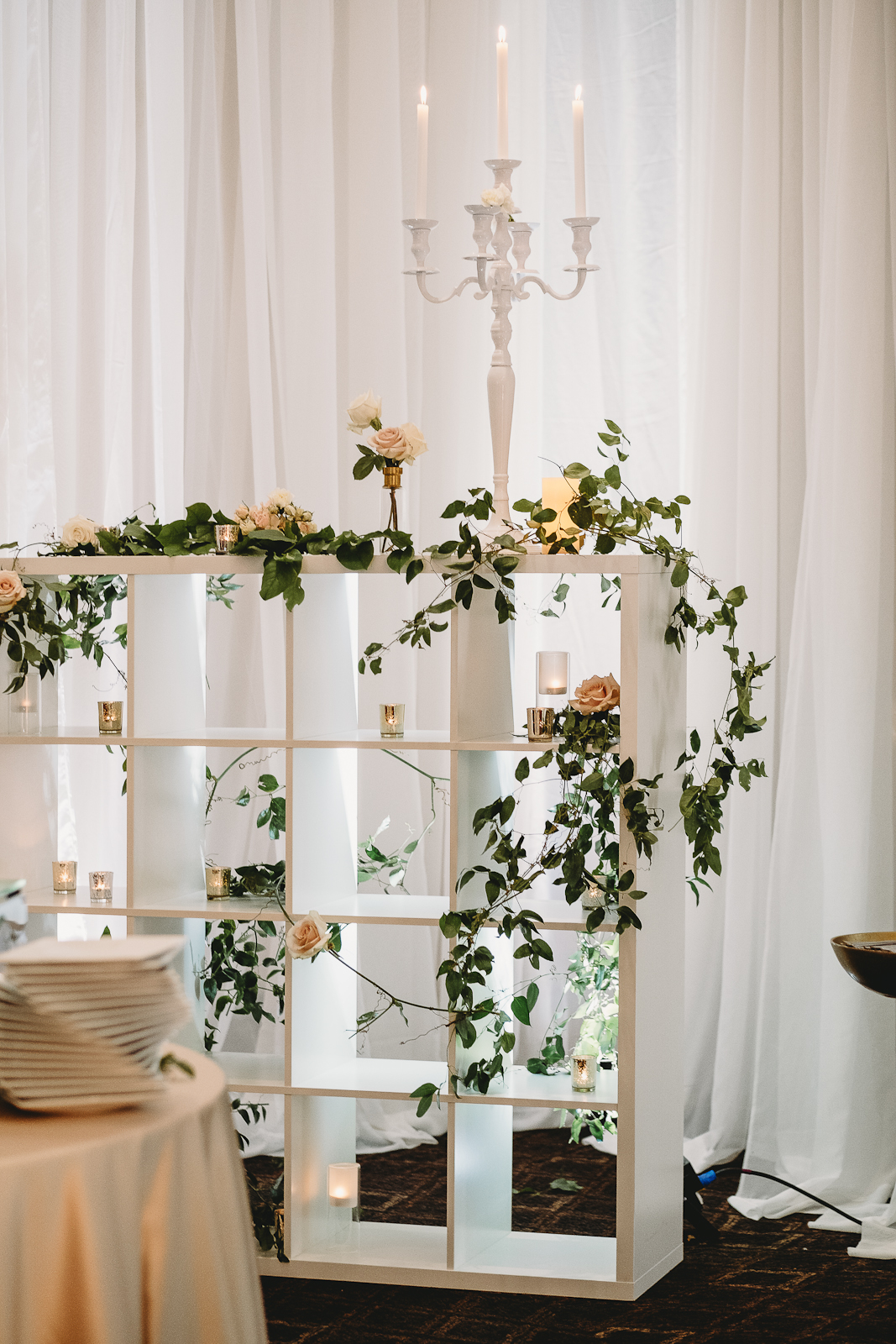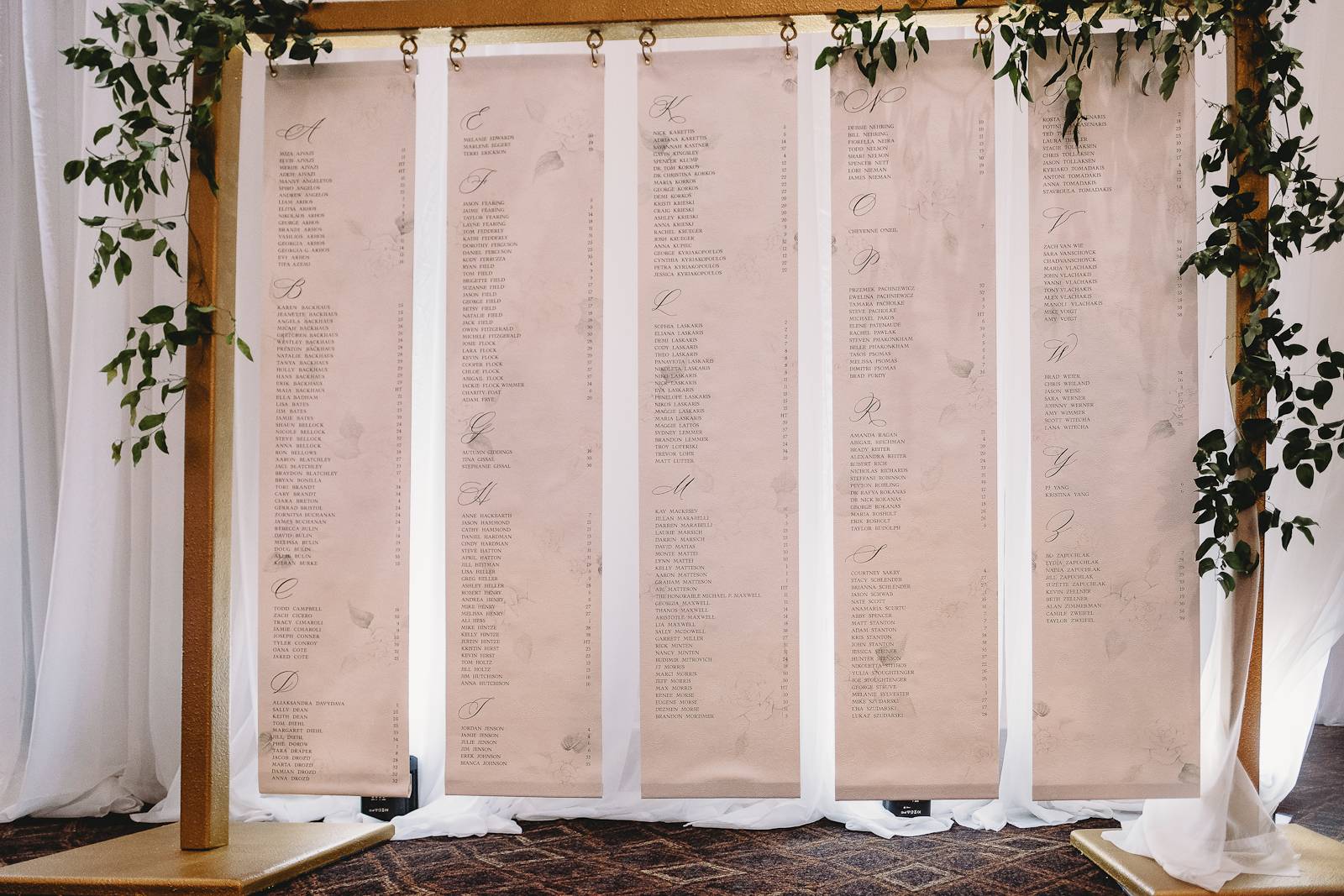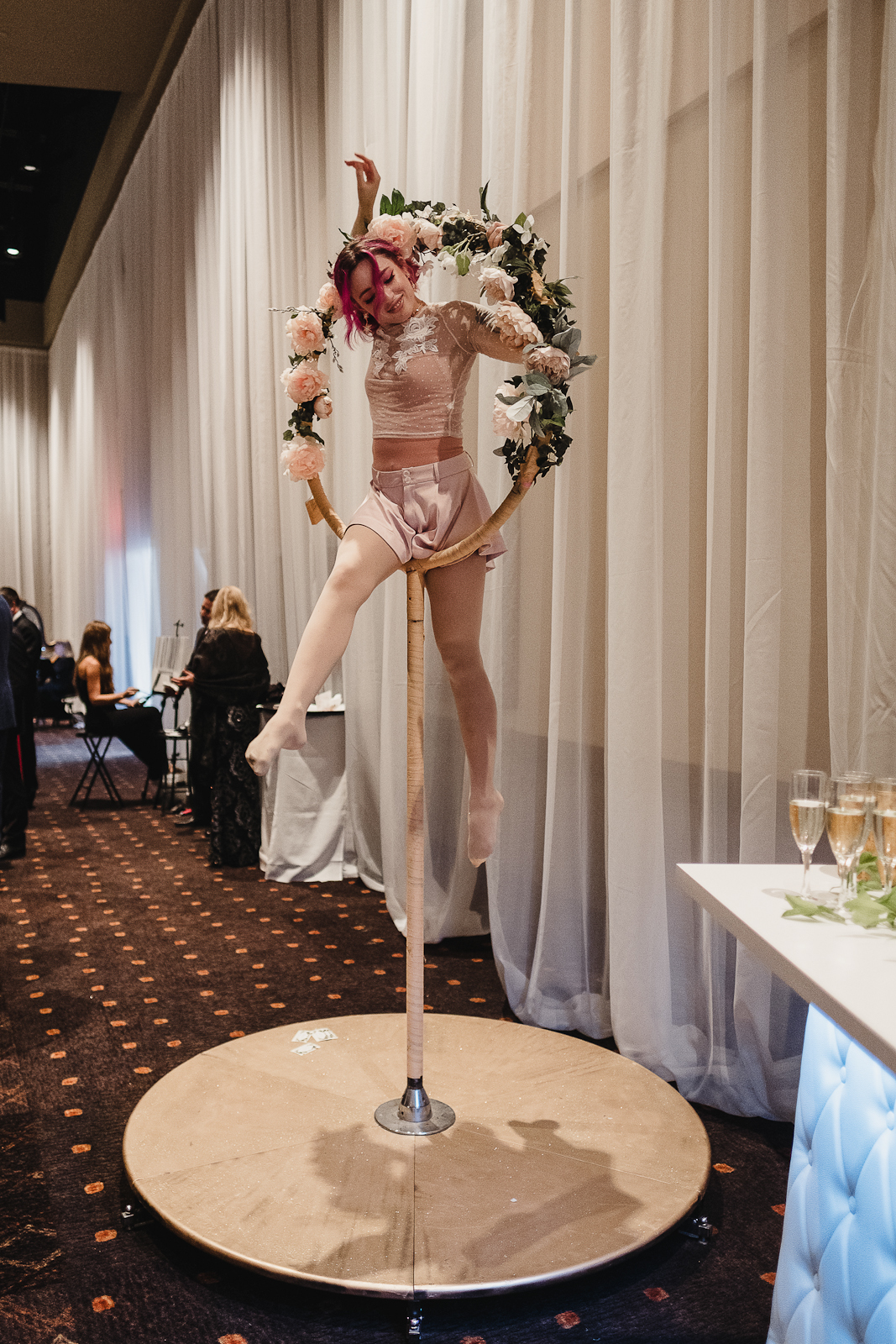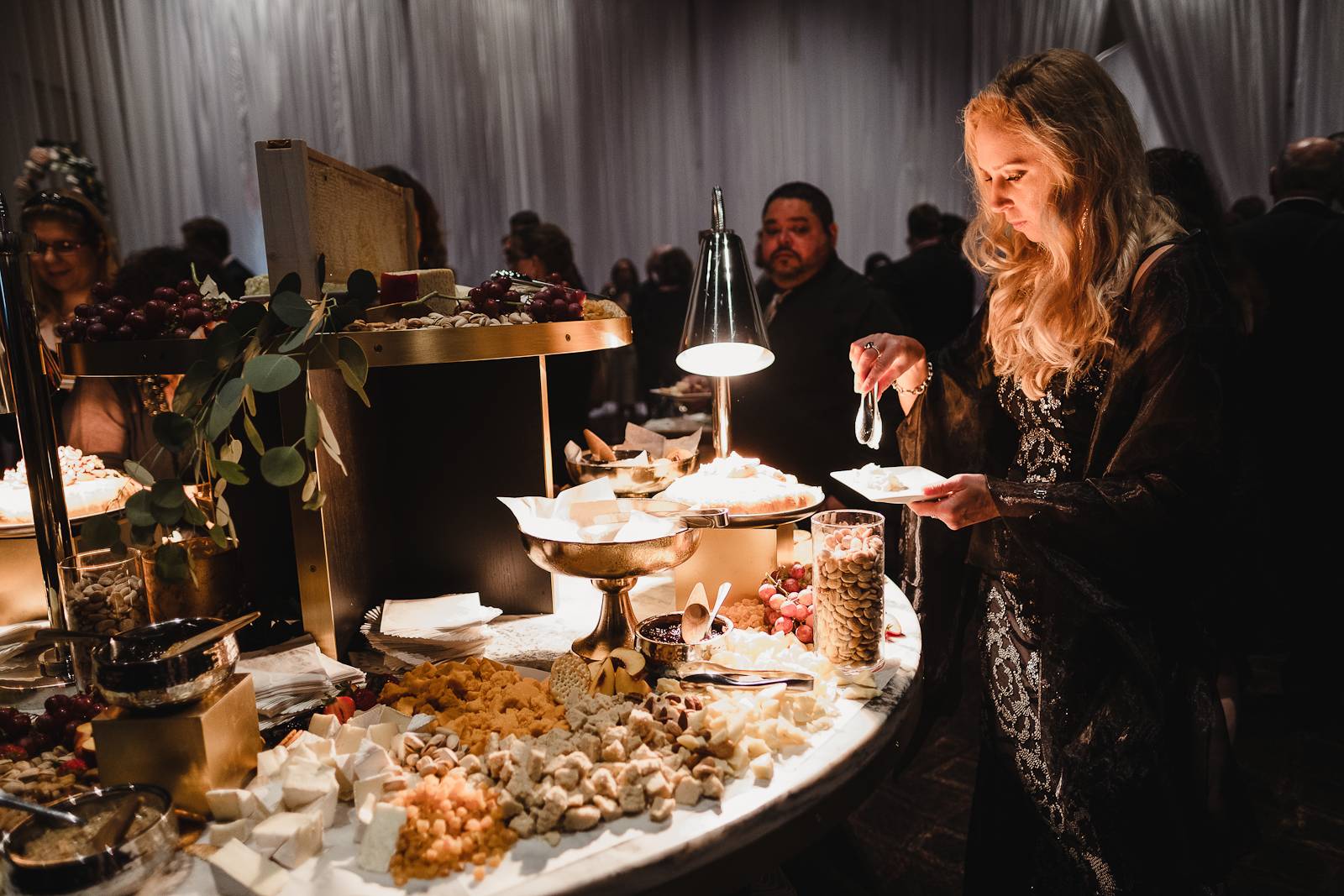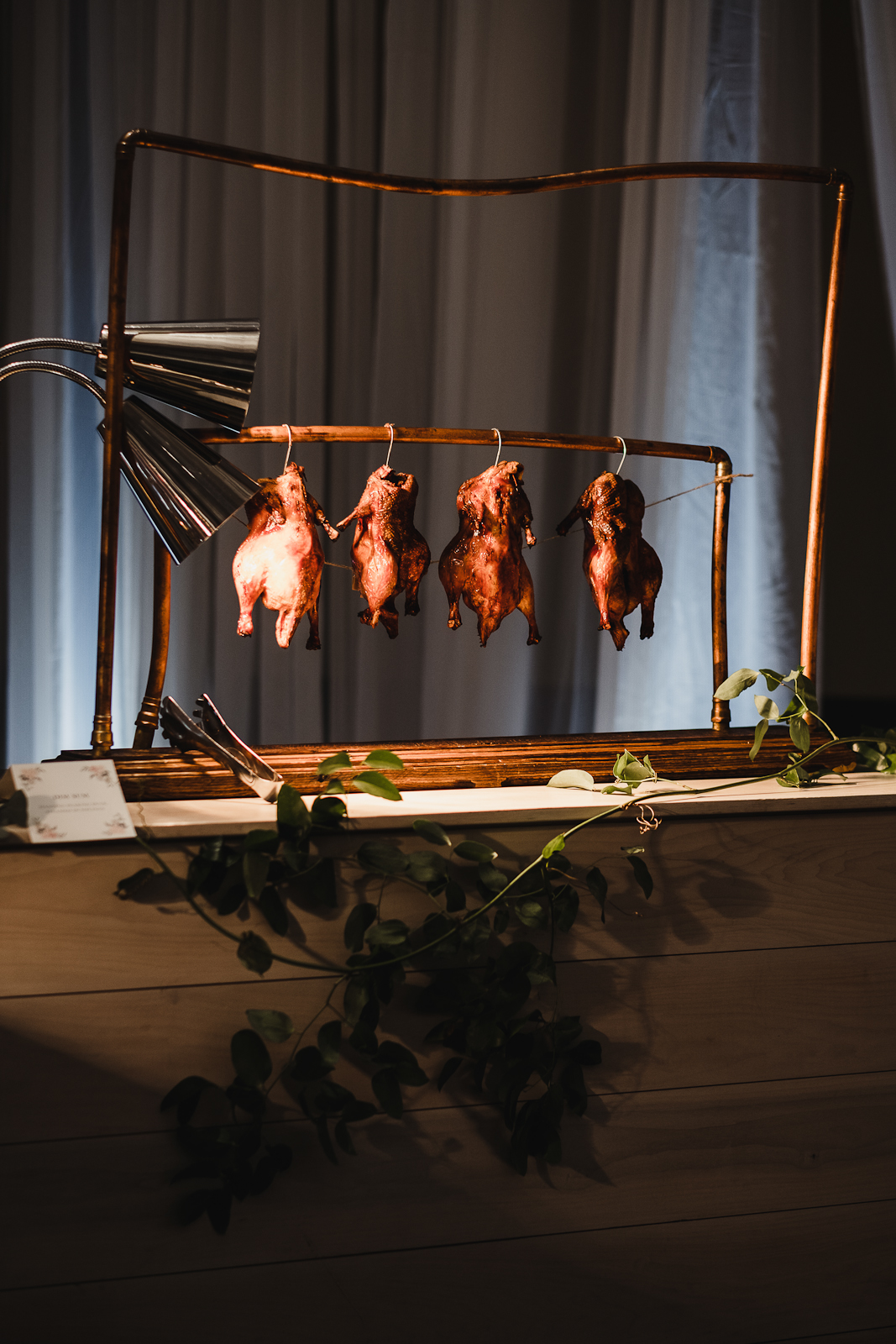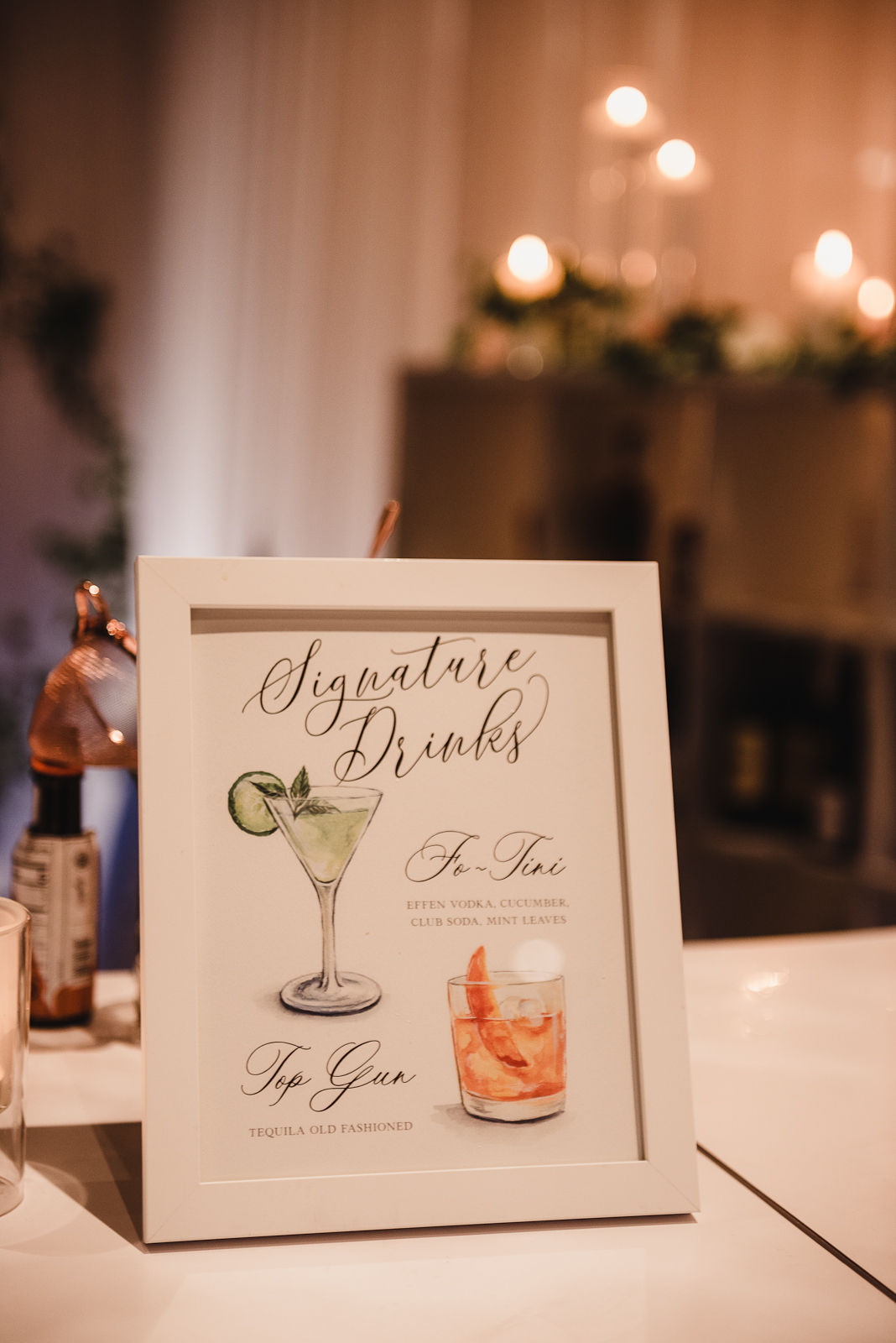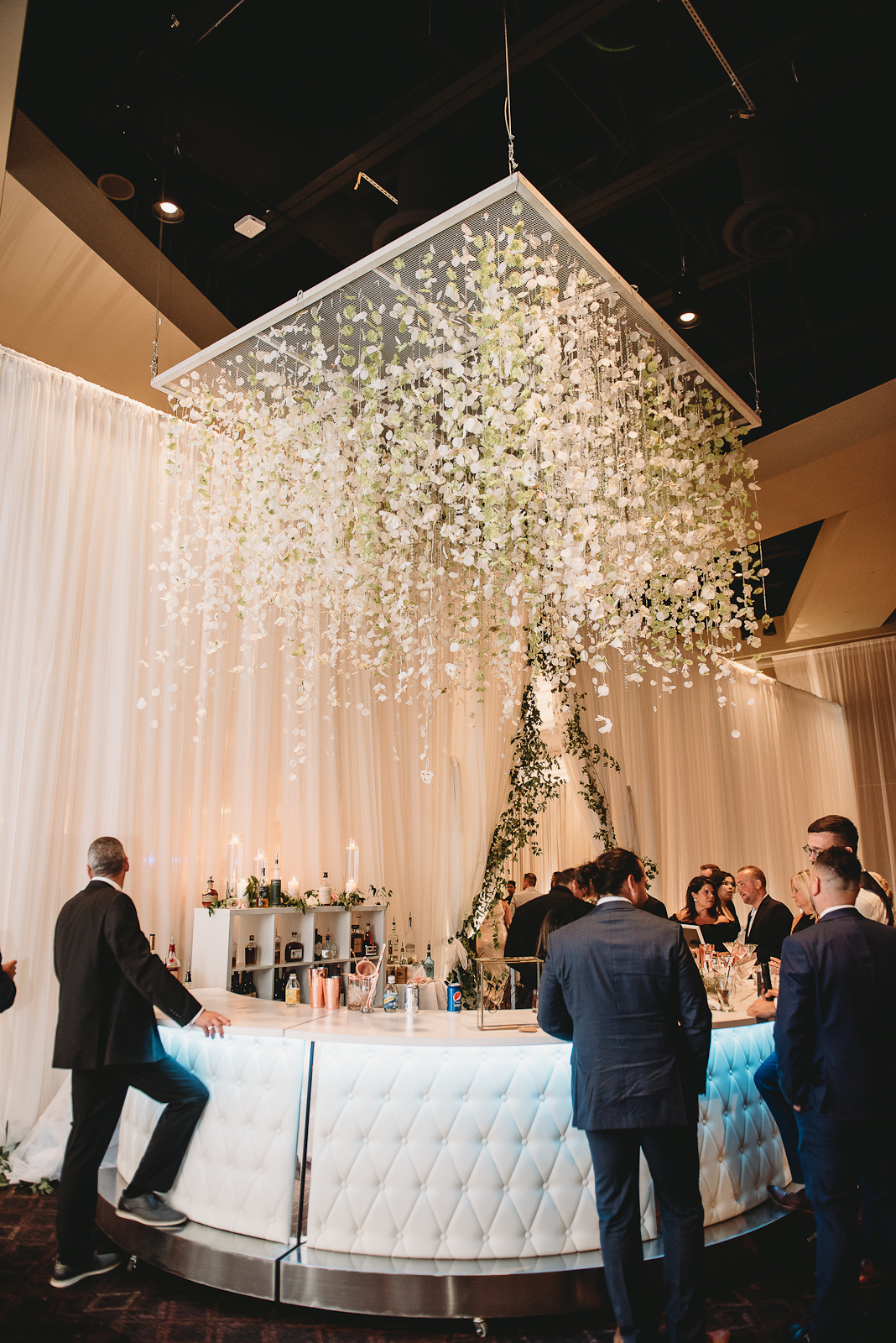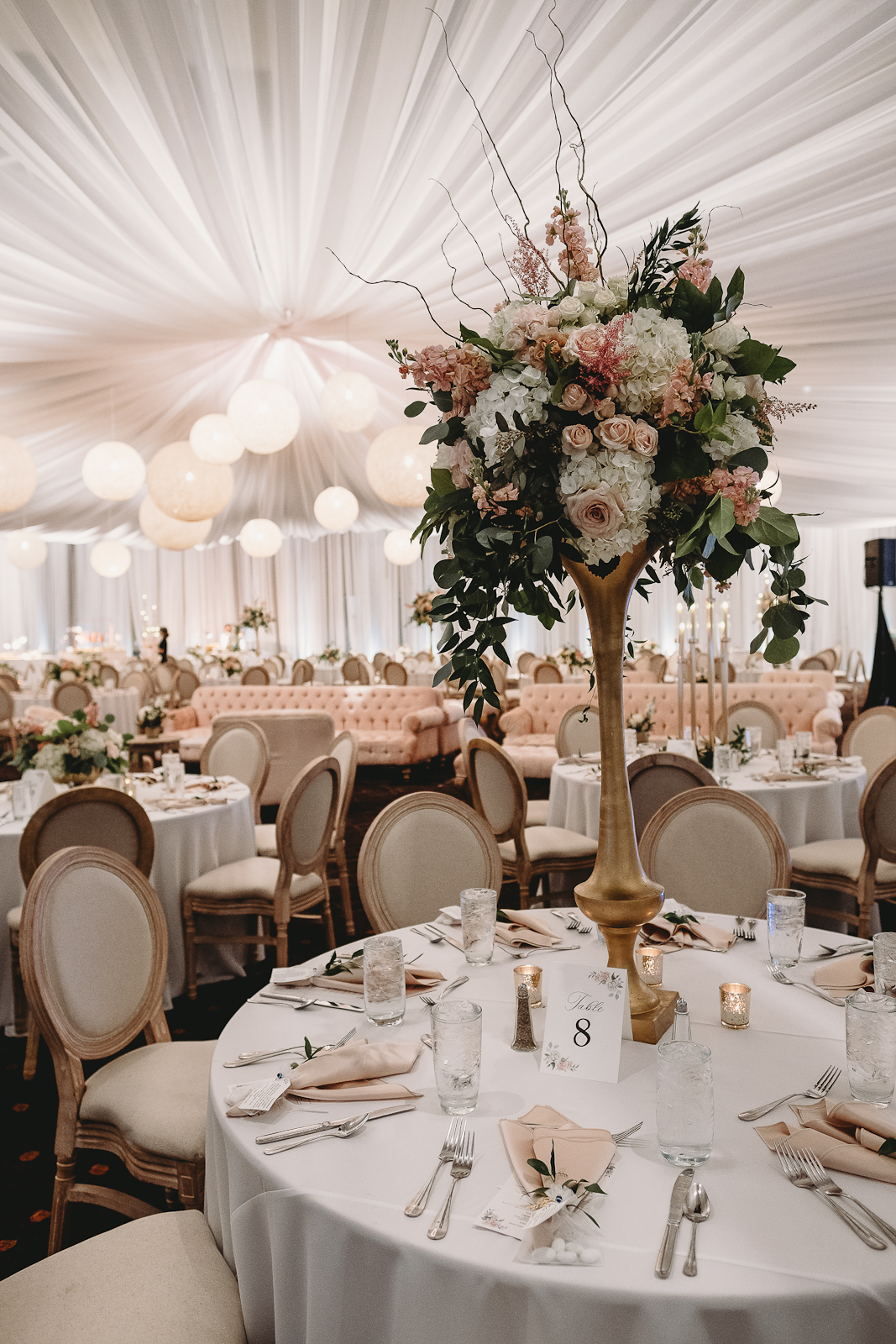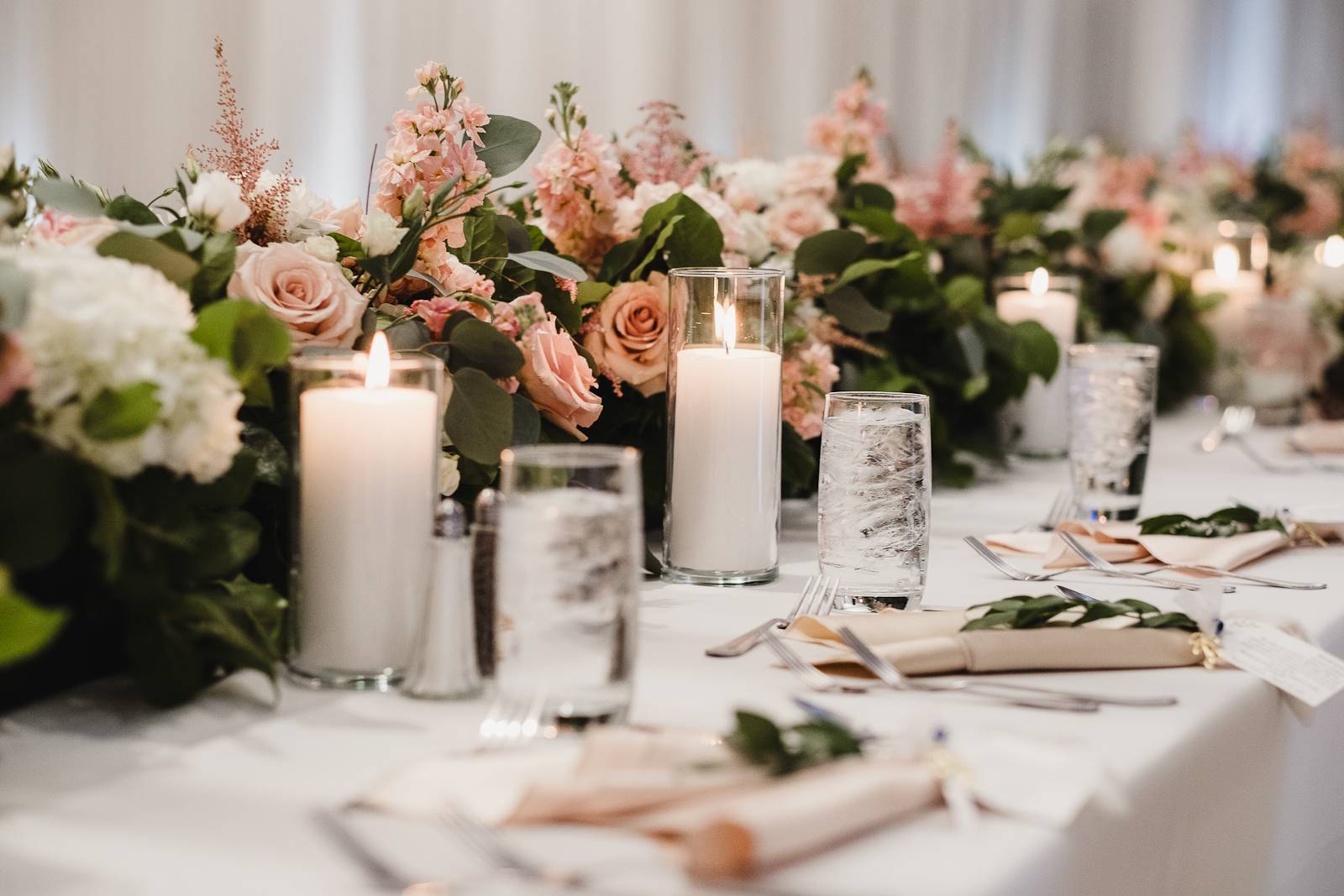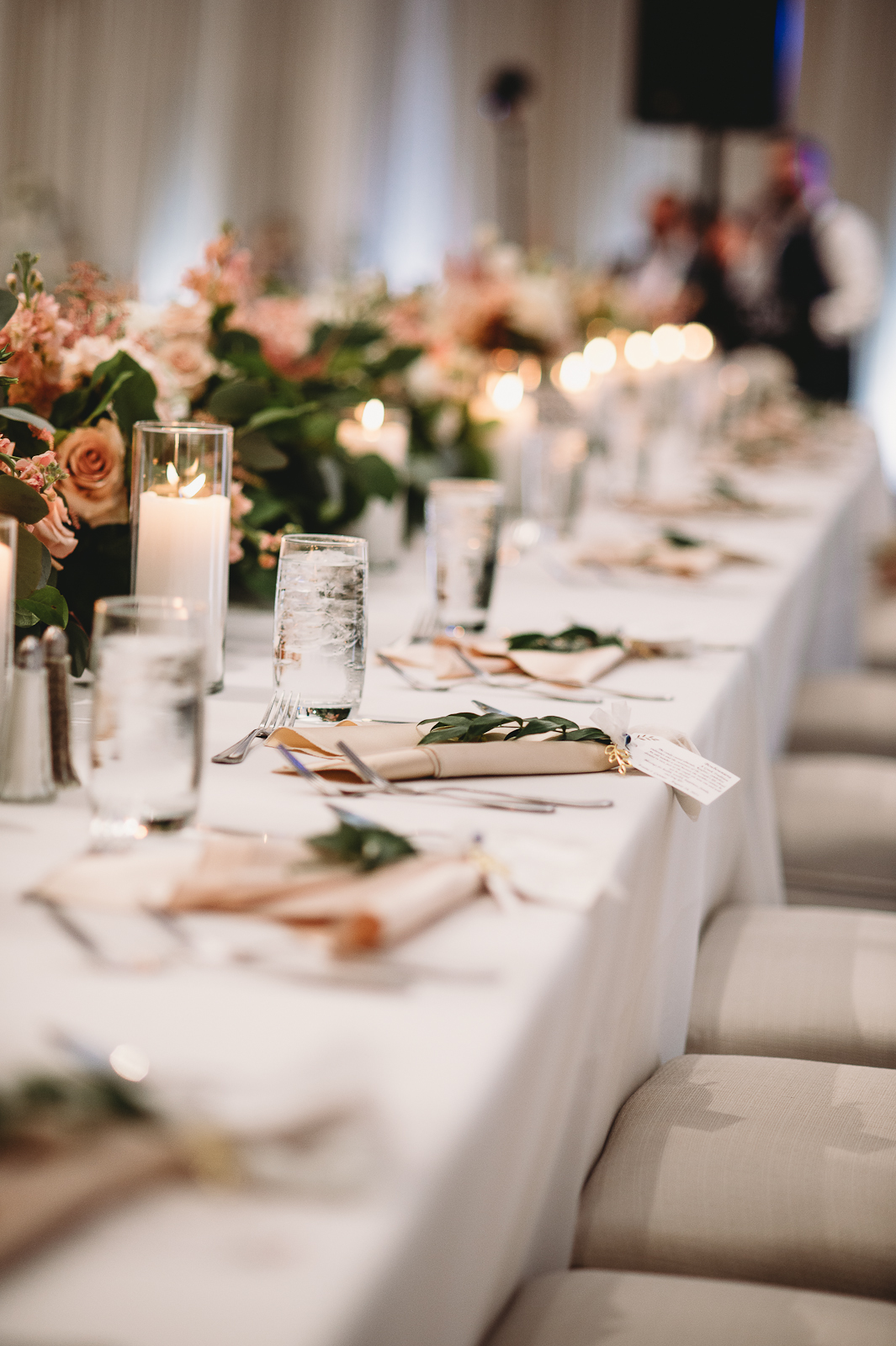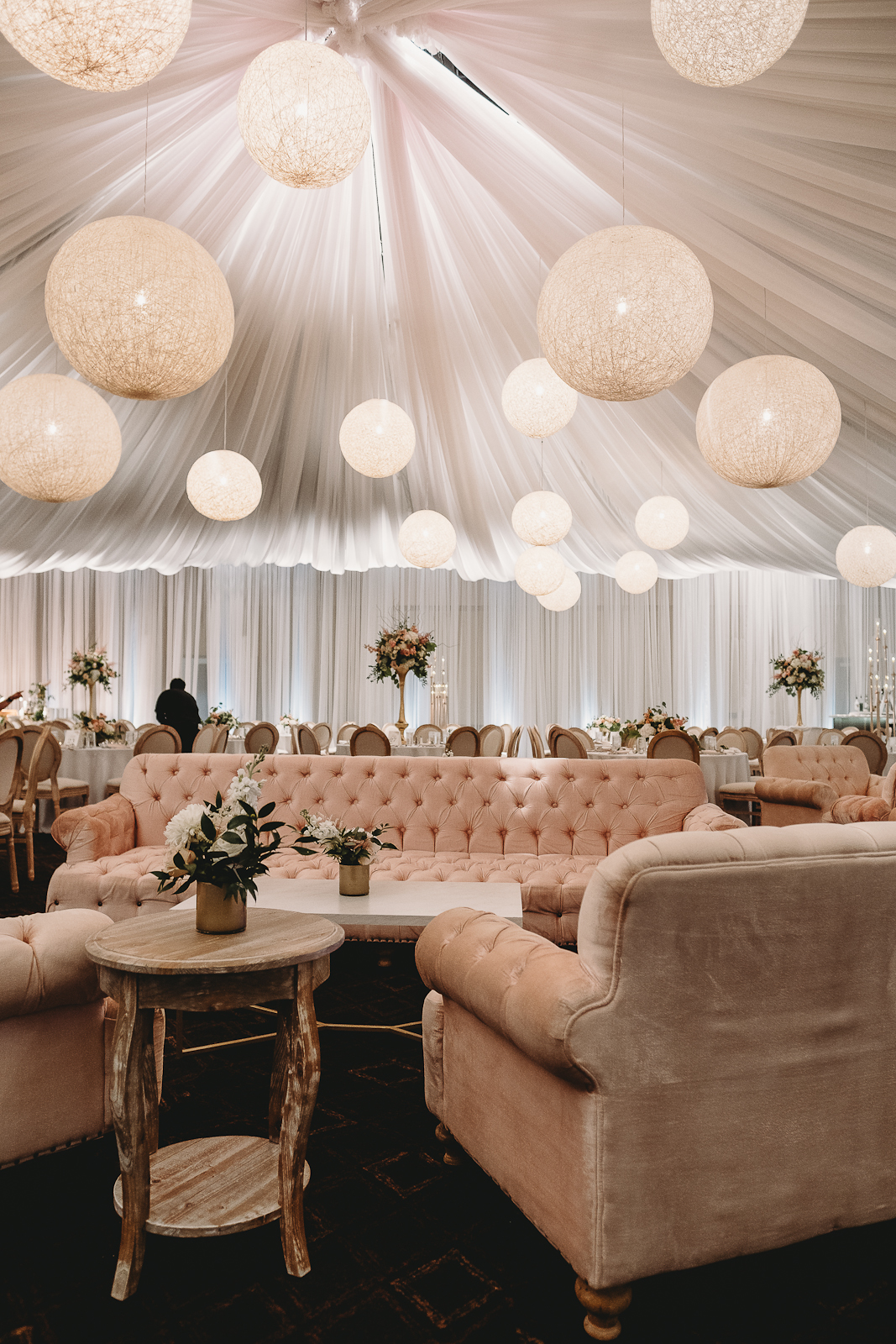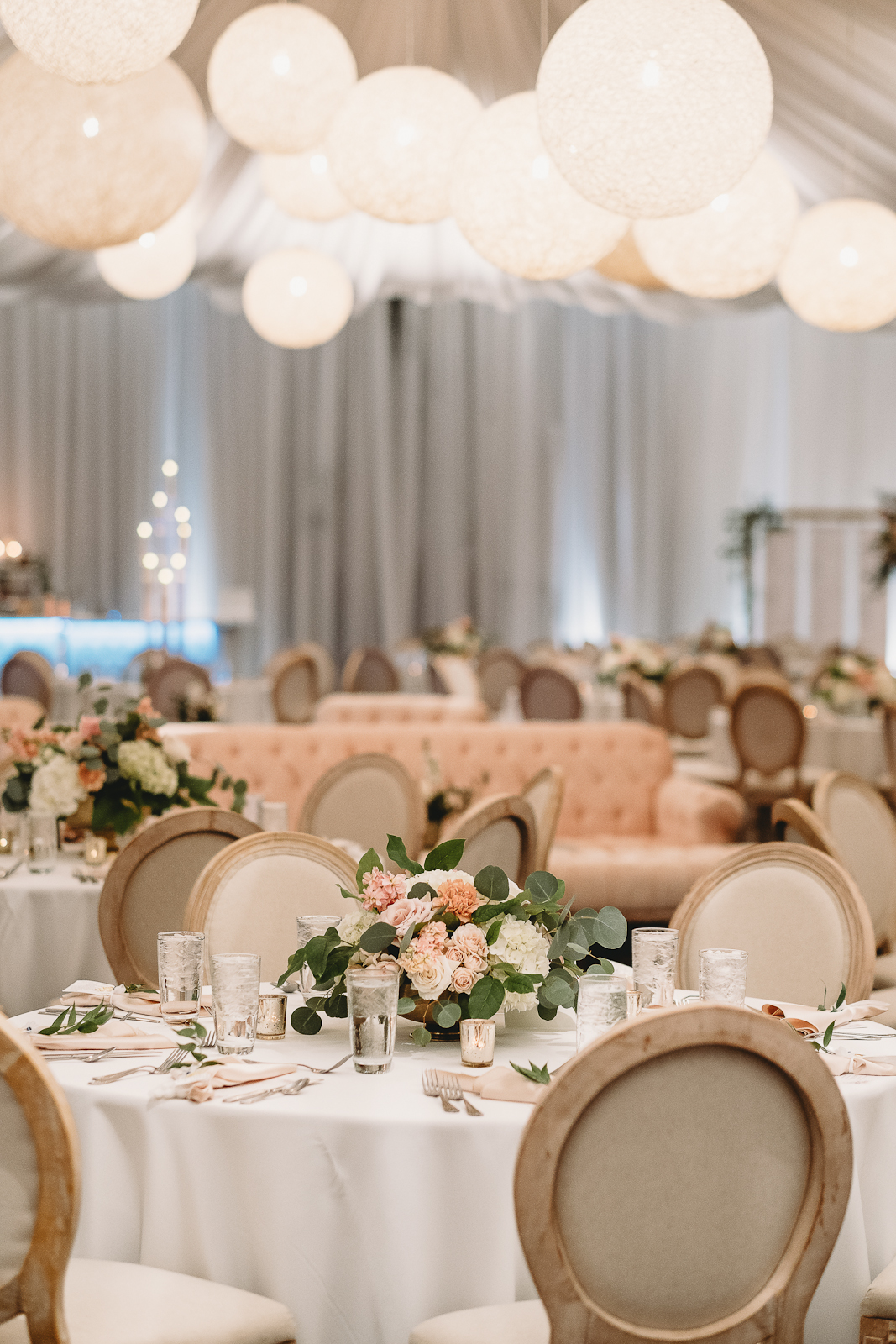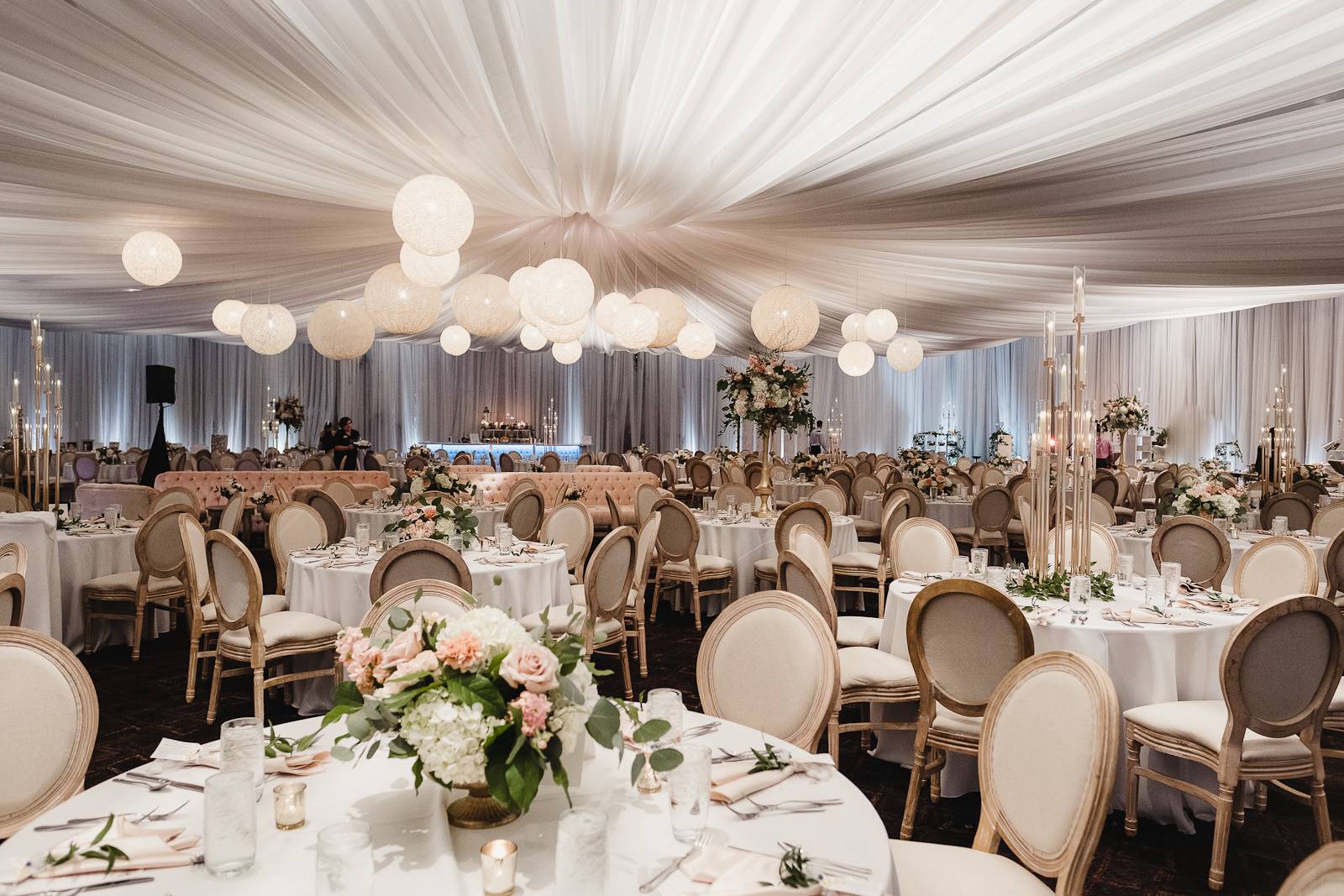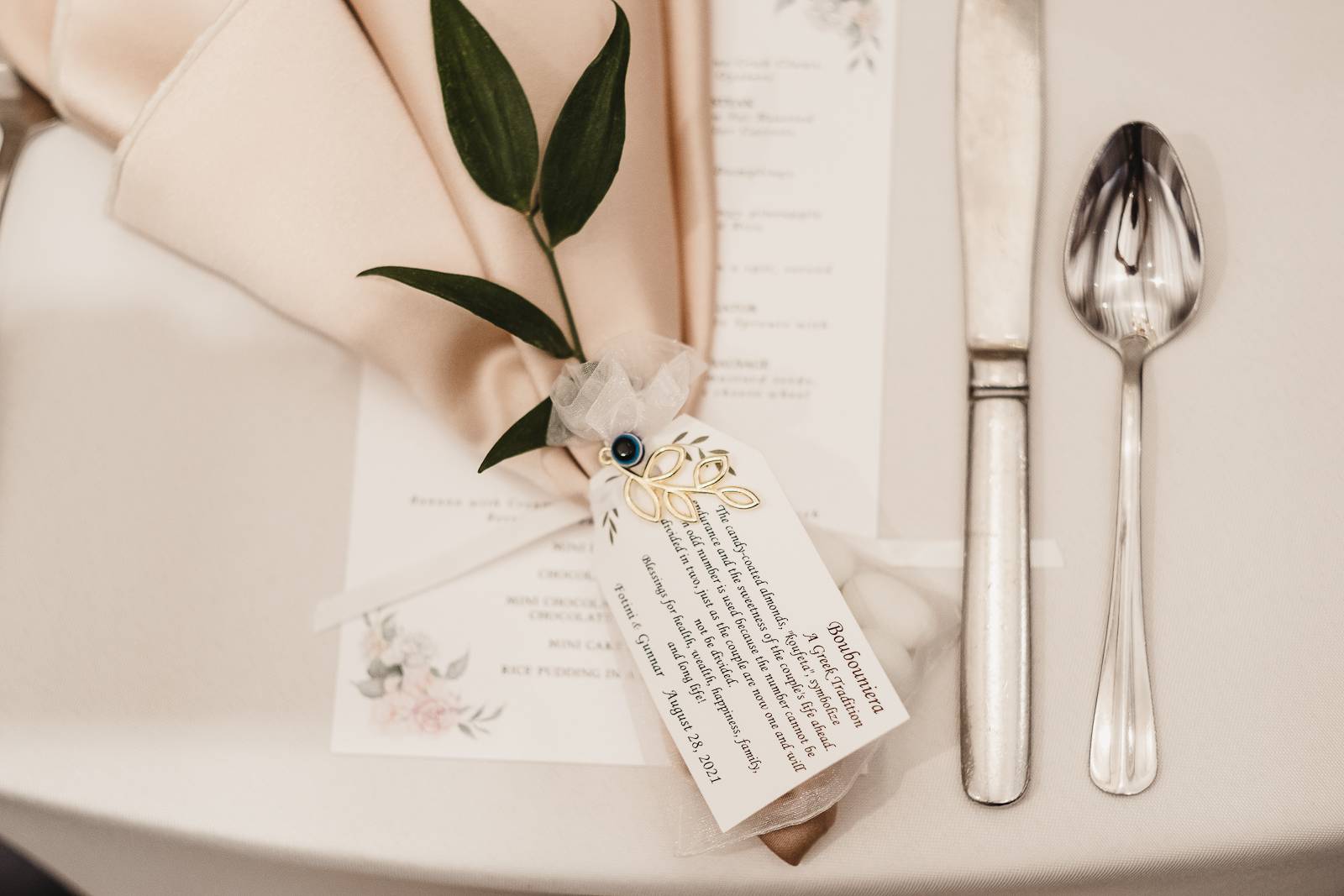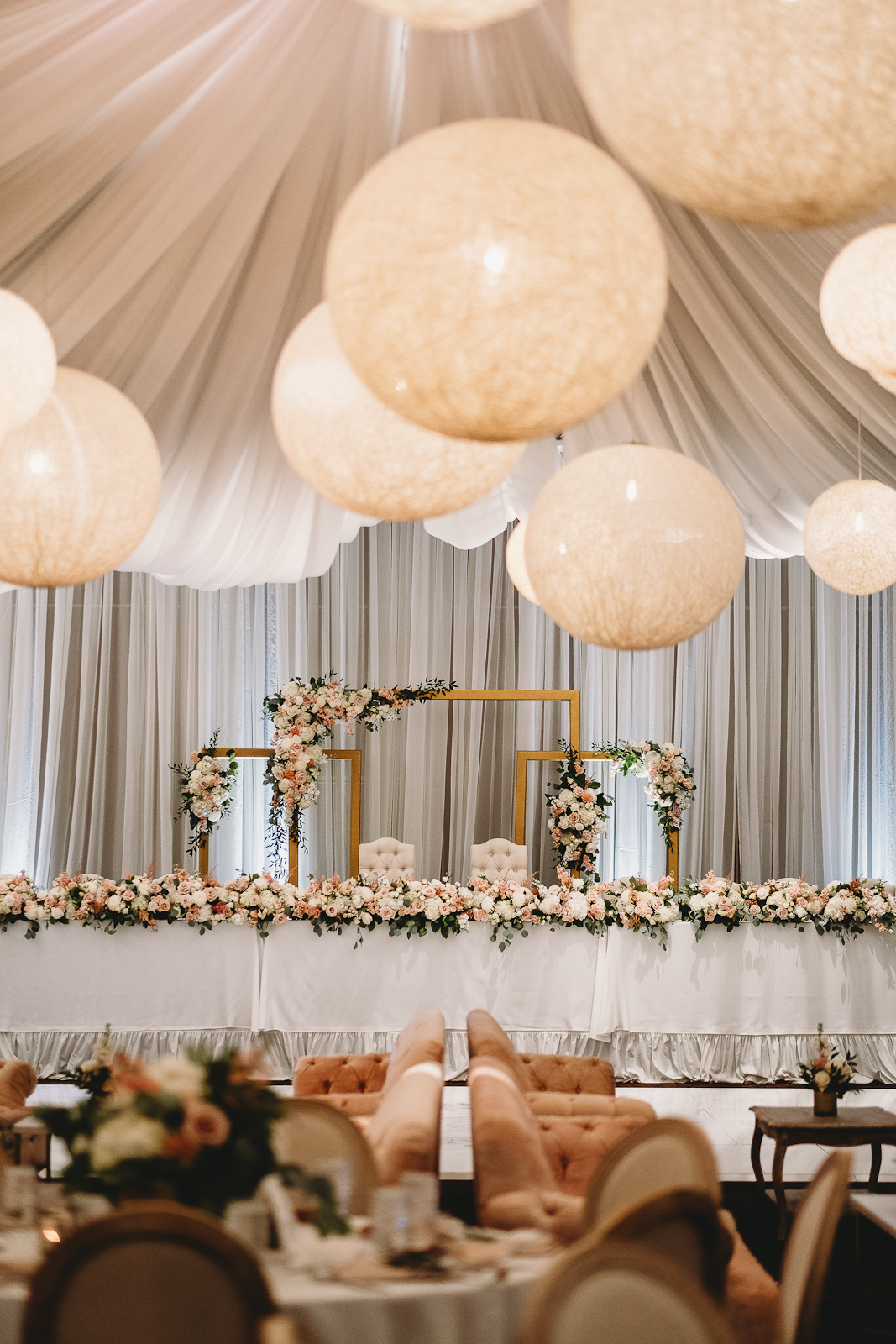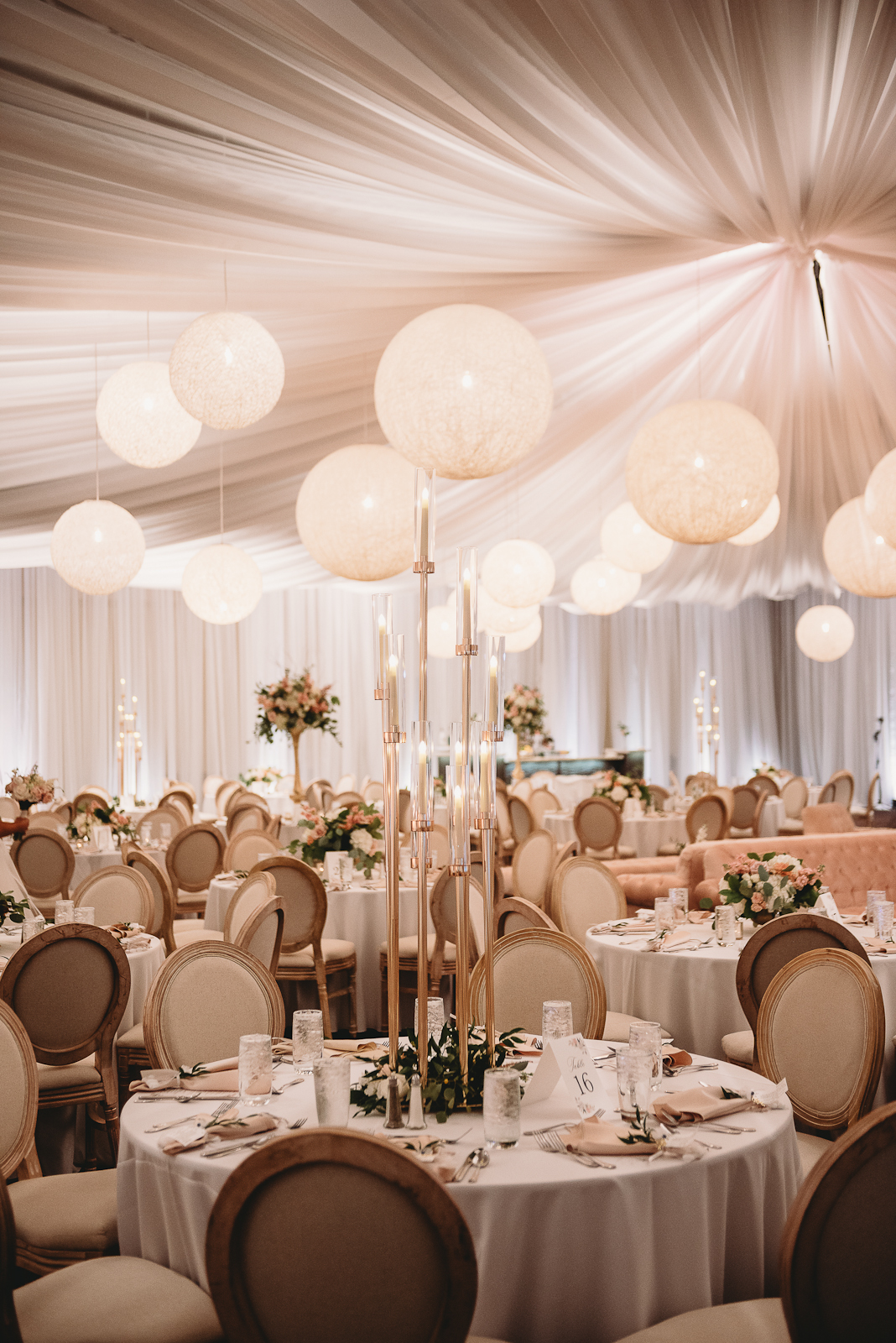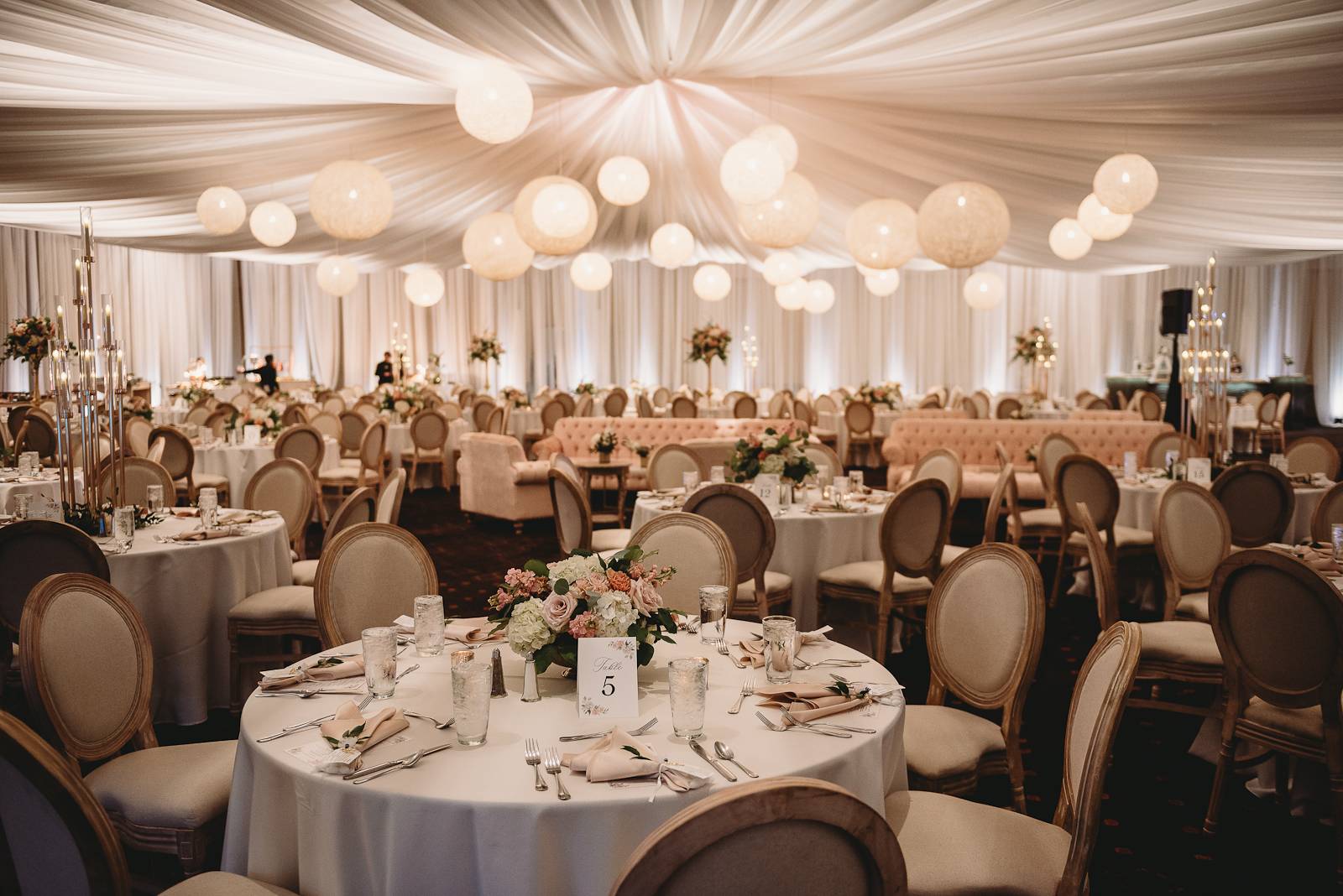 WHAT WAS YOUR FAVORITE MOMENT FROM YOUR WEDDING? There are so many memorable moments, but our favorite part of the day were the speeches and dancing the night away!
TELL US ABOUT YOUR HONEYMOON PLANS: We plan on going to Turk's & Caicos in December! We wanted to go somewhere neither of us had been before. We also wanted to wait until work slowed down a bit and the weather got a little colder in our area.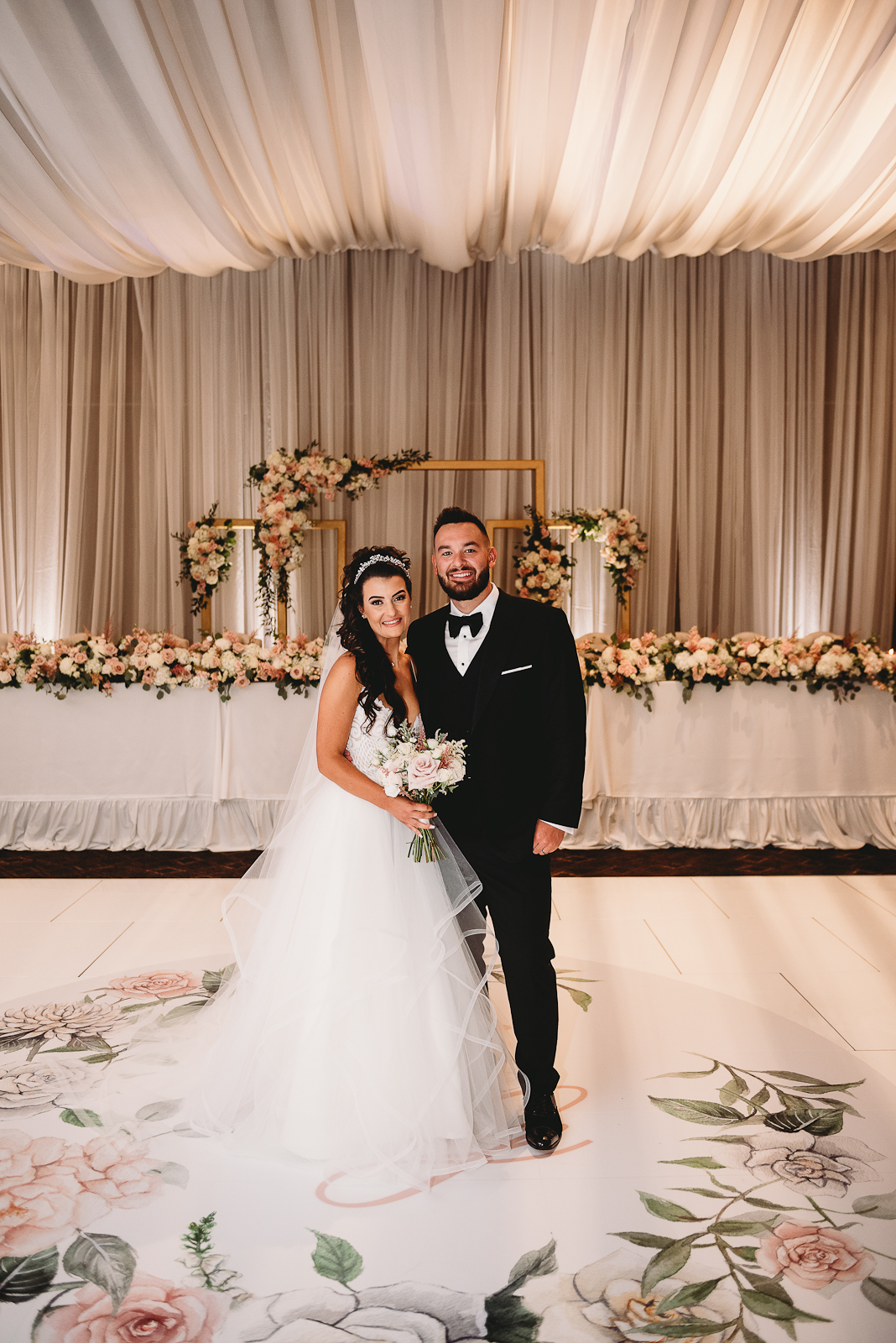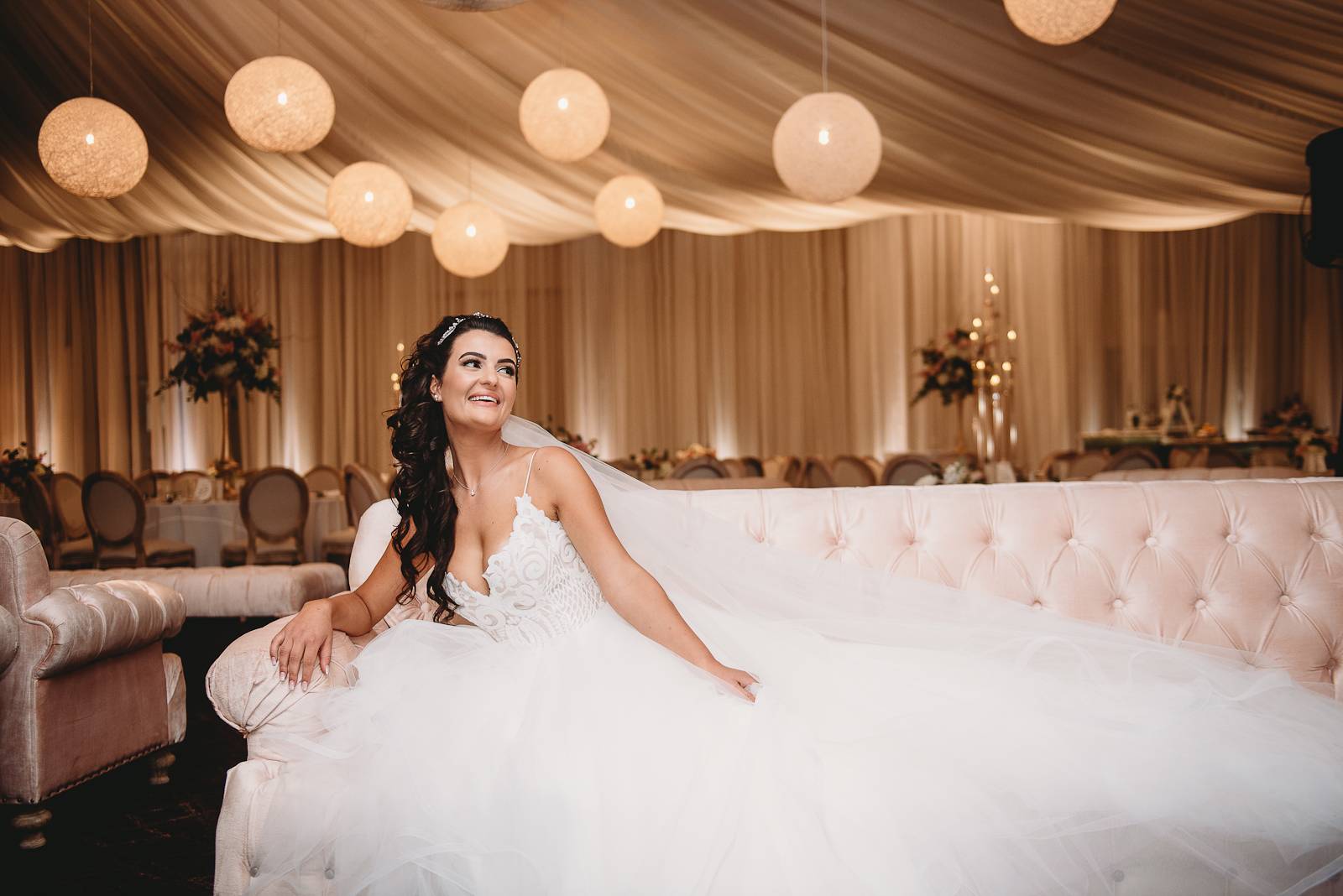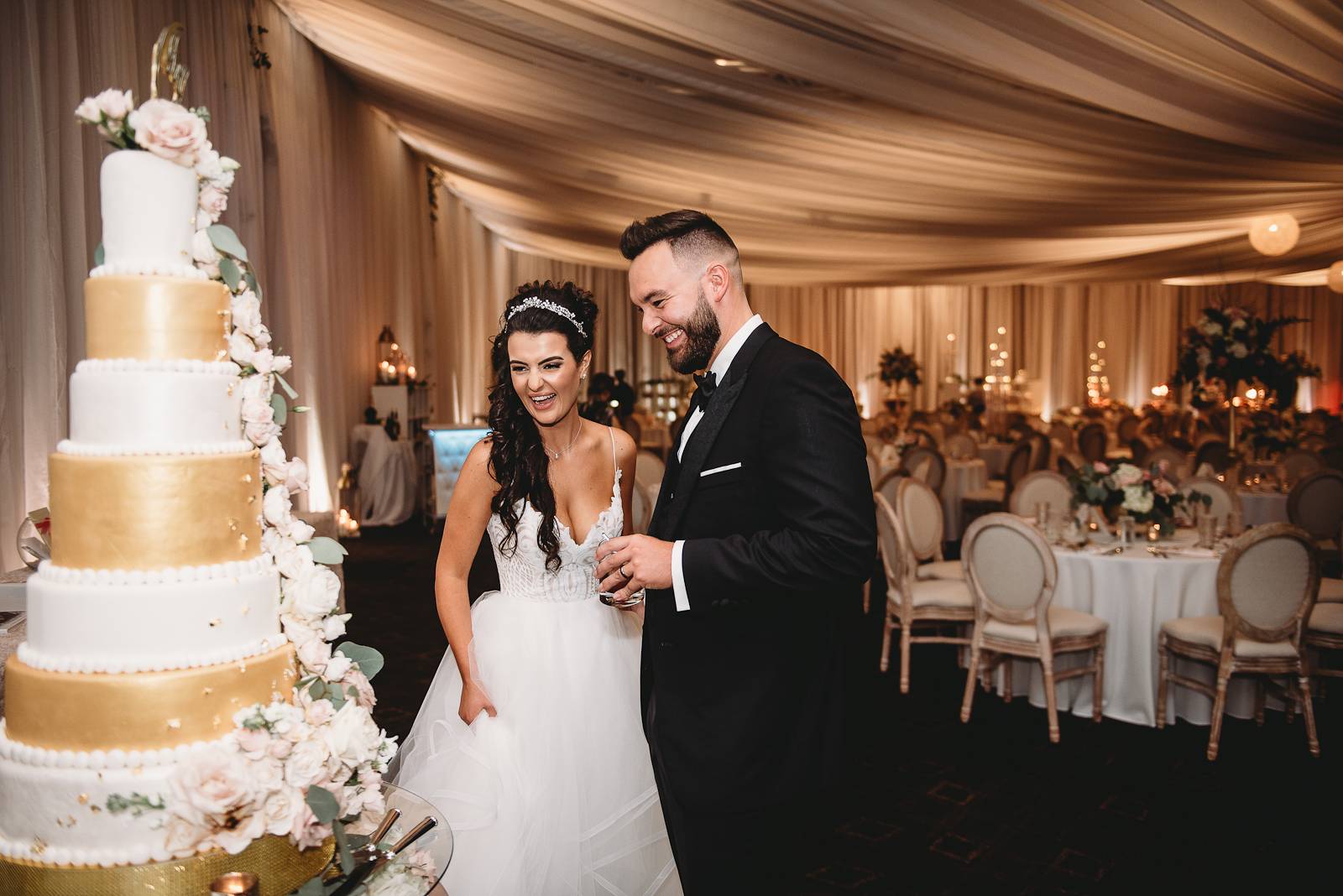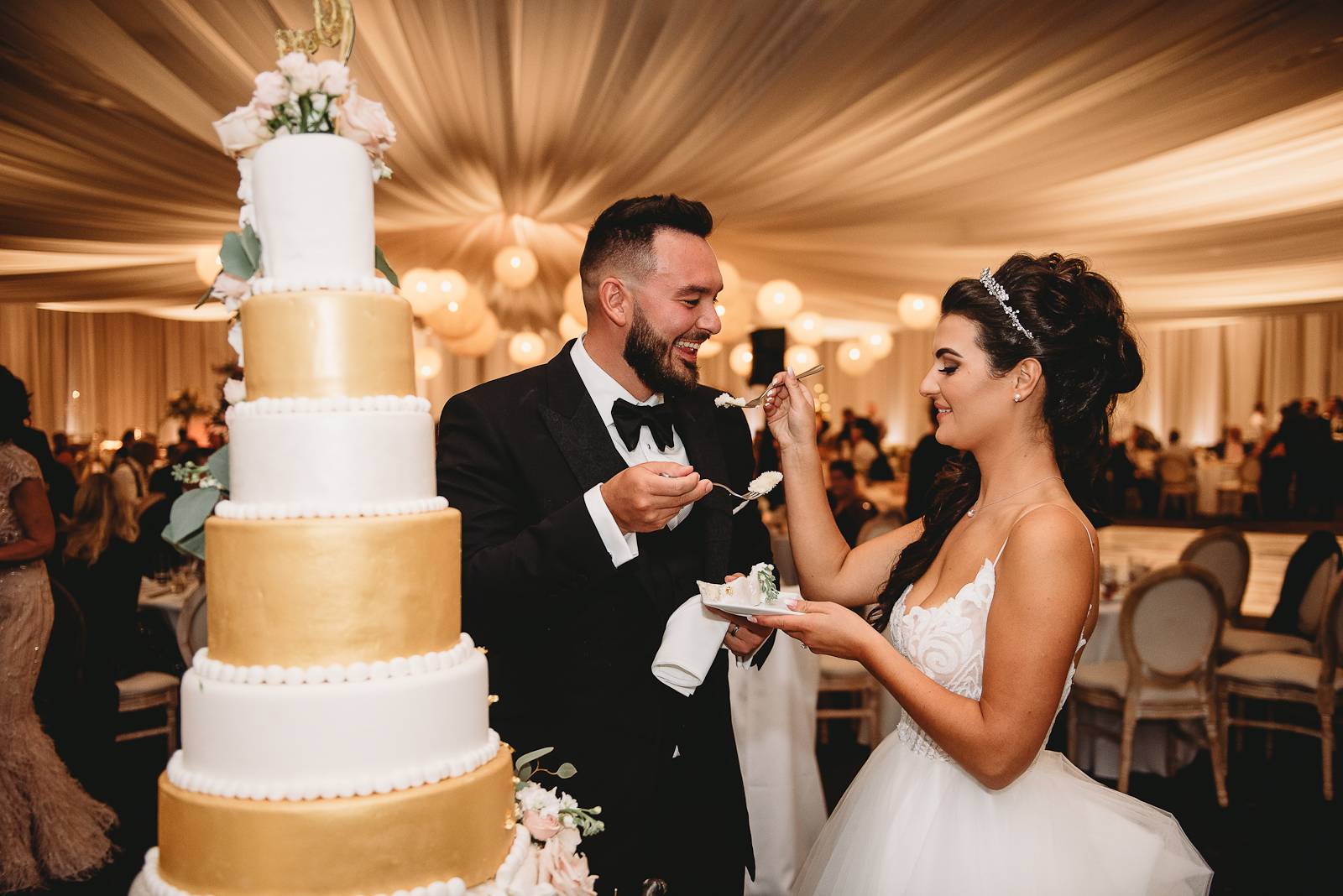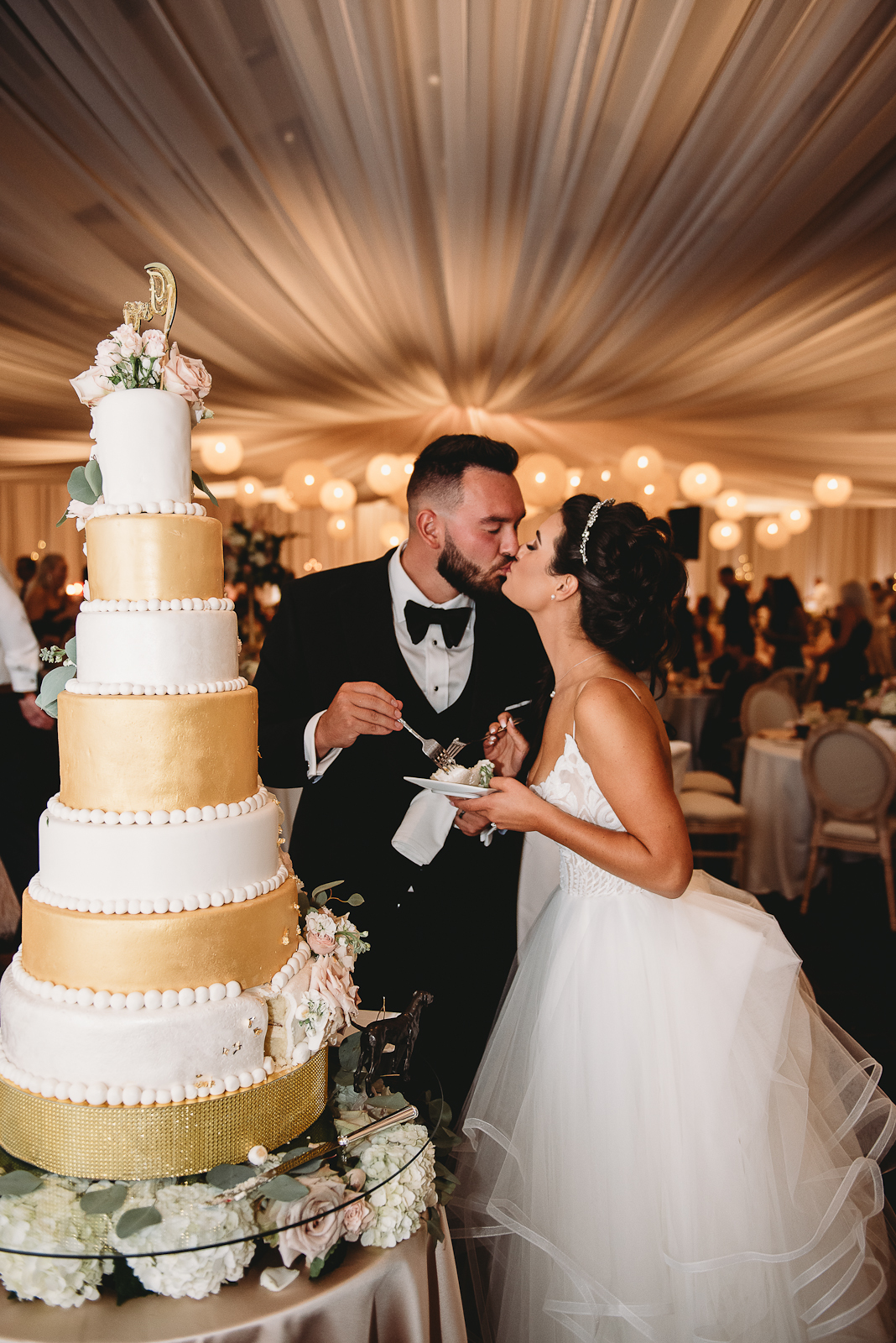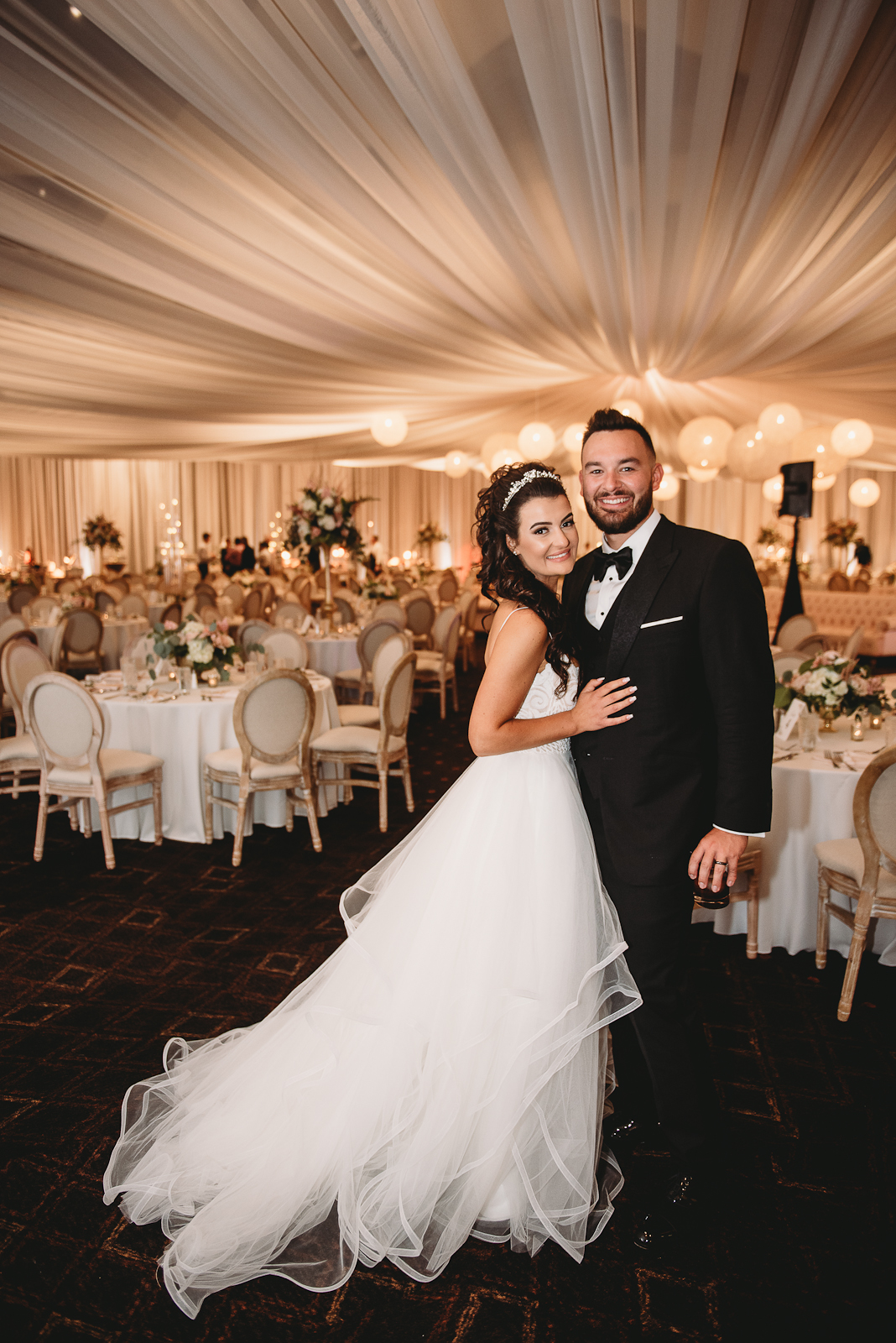 IS THERE ANY ADVICE YOU'D GIVE TO OTHER COUPLES PLANNING THEIR WEDDING? Honestly, everybody always told us to "enjoy the moment" and "take everything in," but it is nearly impossible to do this!! There is so much going on that day and so many emotions, so the best advice we have is to have fun and relax! We also HIGHLY recommend doing a first look (with your dad as well)! It calms your nerves immediately, and it's so nice sharing that moment with your soon-to-be husband!