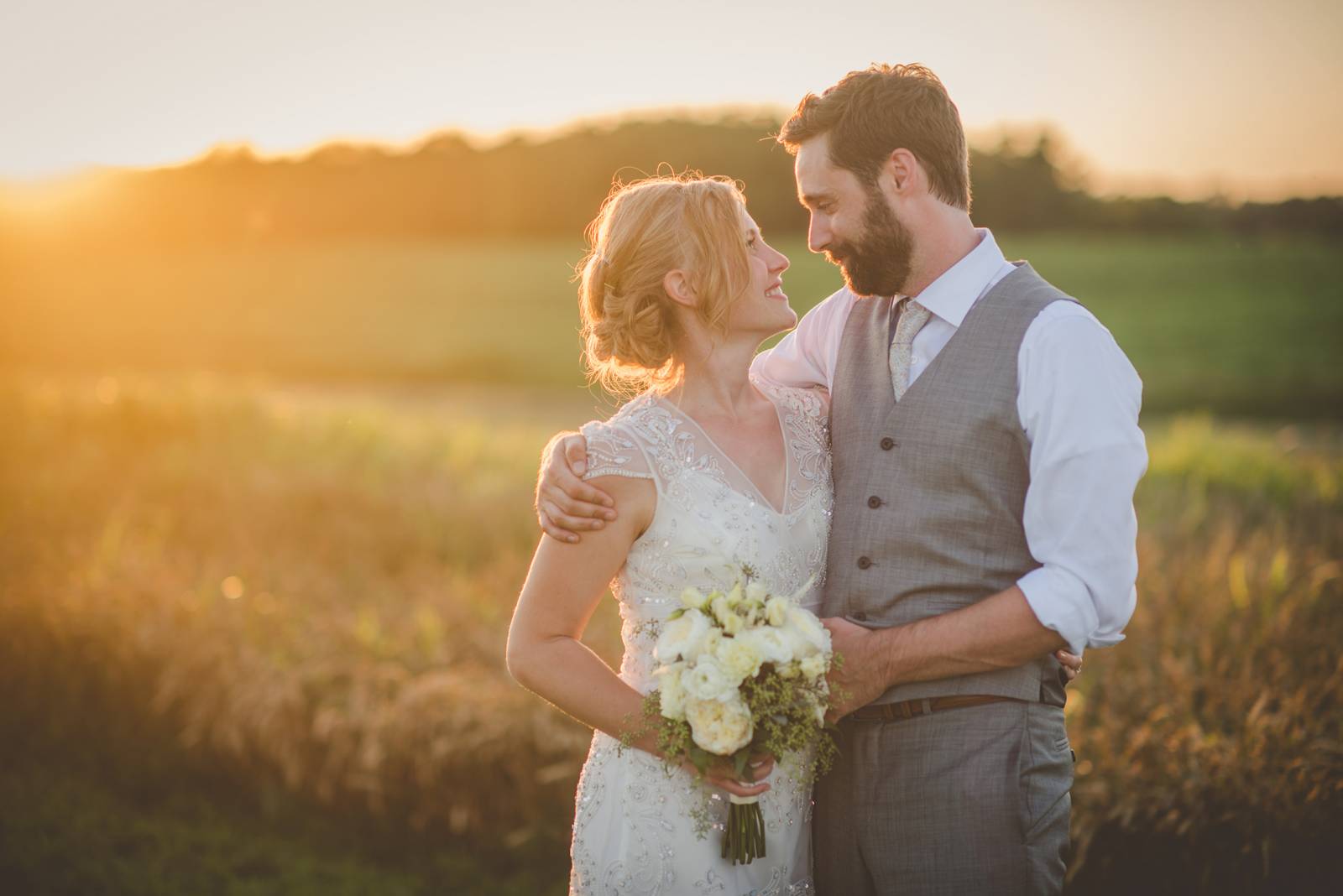 From custom made paper goods, signs and wood centerpieces to farm tables, lush greenery, white blooms and dessert table recipes from Courtney's grandma, this made for an intimate and relaxing affair at Century Barn Events in Mt. Horeb. Courtney explains, "We used a vintage lace tablecloth from my grandma' s house on our family photo table. Arthur' s mom illustrated our place cards. We used champagne flutes from my grandparent' s 50th wedding anniversary. My dad and uncles made a lot of the wood centerpiece elements, and then we used vases and bottles from A La Crate for the flowers."
HOW DID YOU MEET? We met in line outside of the Majestic Theater in Madison. A mutual friend invited us both to a Michael Jackson ' 80s v. ' 90s music video dance party hosted by DJ Nick Nice. I wasn' t going to go, but he texted me and said that he' d already bought my ticket, he and his friend Arthur were going to wait in line and he'd see me in twenty minutes.
HOW DID YOU KNOW HE WAS "THE ONE?" I knew pretty much right away, the first time we made eye contact.
DO YOU HAVE A PROPOSAL STORY? Arthur wanted to propose while we were at his special place, his family' s spot on Lake Winnipesaukee in New Hampshire. We live abroad and come home every summer. We were between countries--moving from Thailand to Myanmar for new jobs--and he was spending a lot of time with his computer. I was frustrated he seemed so distracted, but he was really looking for a ring and trying to have it delivered on time at the lake, where the mail comes by boat. He ended up proposing without a ring because he thought he' d run out of time at the lake. The next day, we told his family as everyone was having their coffee. Of course, there was no ring to show. His grandmother gave us big hugs and went up to her room. She came back and said that nobody ever told her they were getting married before they had a ring, so she hadn' t had the opportunity to offer anybody a family ring. She had three family heirlooms, and we chose the one that fit my ring finger. It had belonged to her mother-in-law, who was also engaged at the lake, so we made our connection after all.
WERE THERE ANY PERSONAL TOUCHES OR DIY ELEMENTS? We made a lot of the visual elements. My dad and brother made the ceremony backdrop. I framed the family photos. Arthur' s mom illustrated our invitations and place cards. I did the displays, signs, menus, invitations, and programs. Our parents really helped us plan the menu. We used classic dessert bar recipes from my grandma instead of having a wedding cake. We met and dated in Madison, so we tried to keep things local. We gave out wedding party gifts from shops on State Street, like Little Luxuries and Jazzman. We are big baseball fans and have both played baseball or softball since we were little. We wanted everyone to enjoy their time in Mount Horeb and get to know each other, so Arthur' s parents hosted a softball game the night before the wedding. We lived in Thailand before we were married, so Arthur wore a silk Thai tie with little elephant print. Nick Nice came out of wedding "retirement" to DJ our reception. During the reception, we took four big family photos with each of our parents' families. We don't get to see our friends and family as often as we would like, living abroad, so it was an important day for us to capture on film. We had the wedding in a white barn because my grandparents had a white barn on their farm.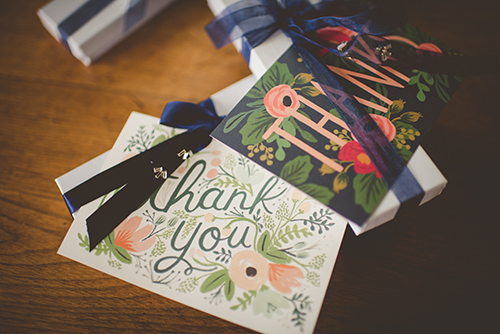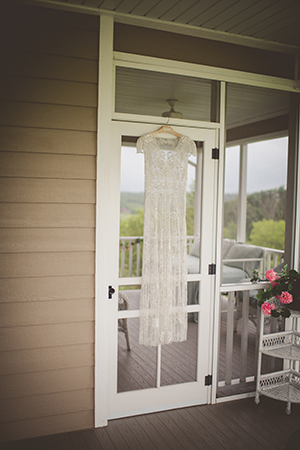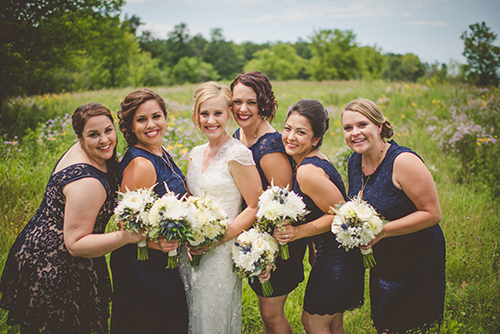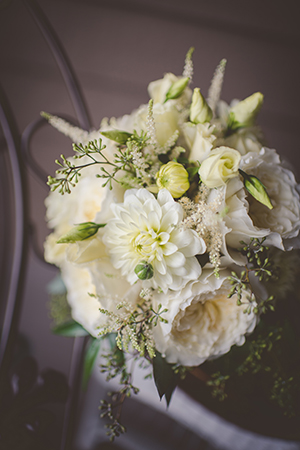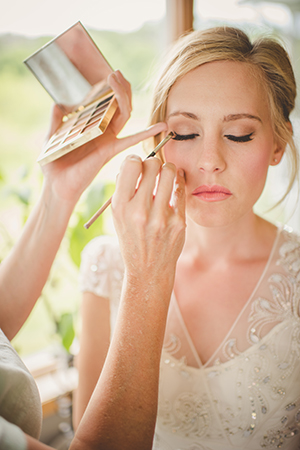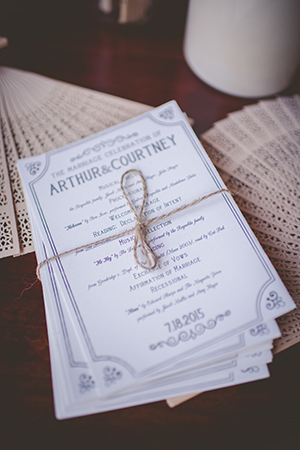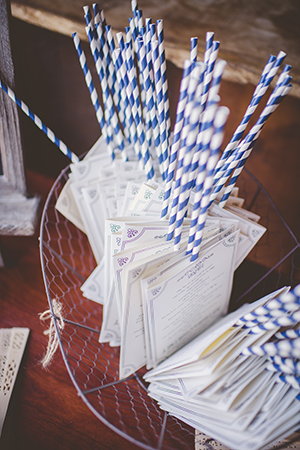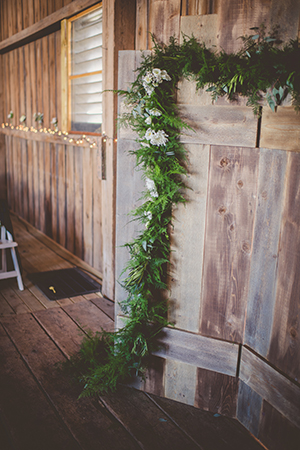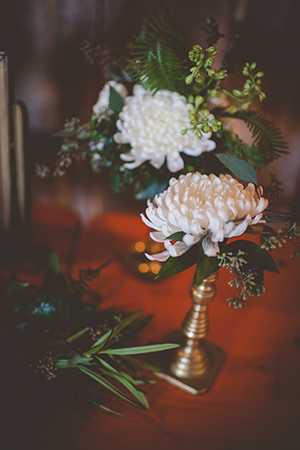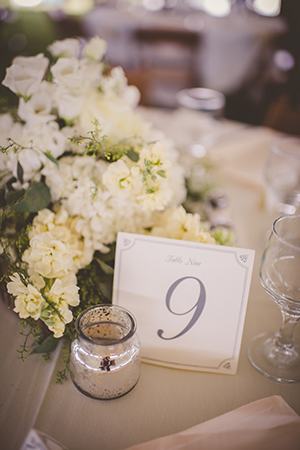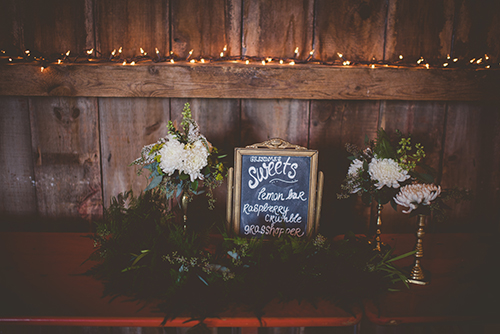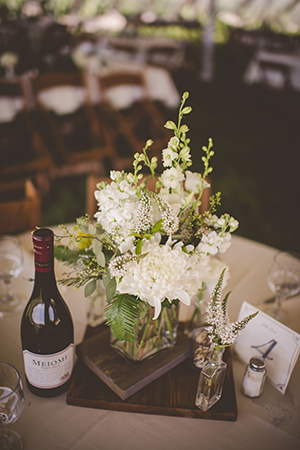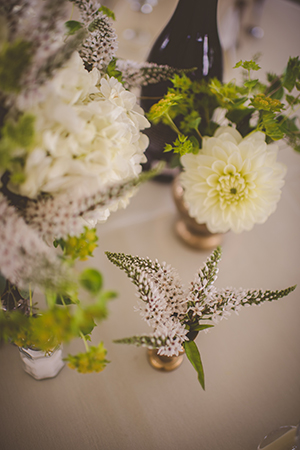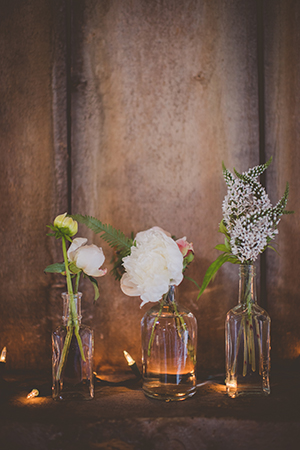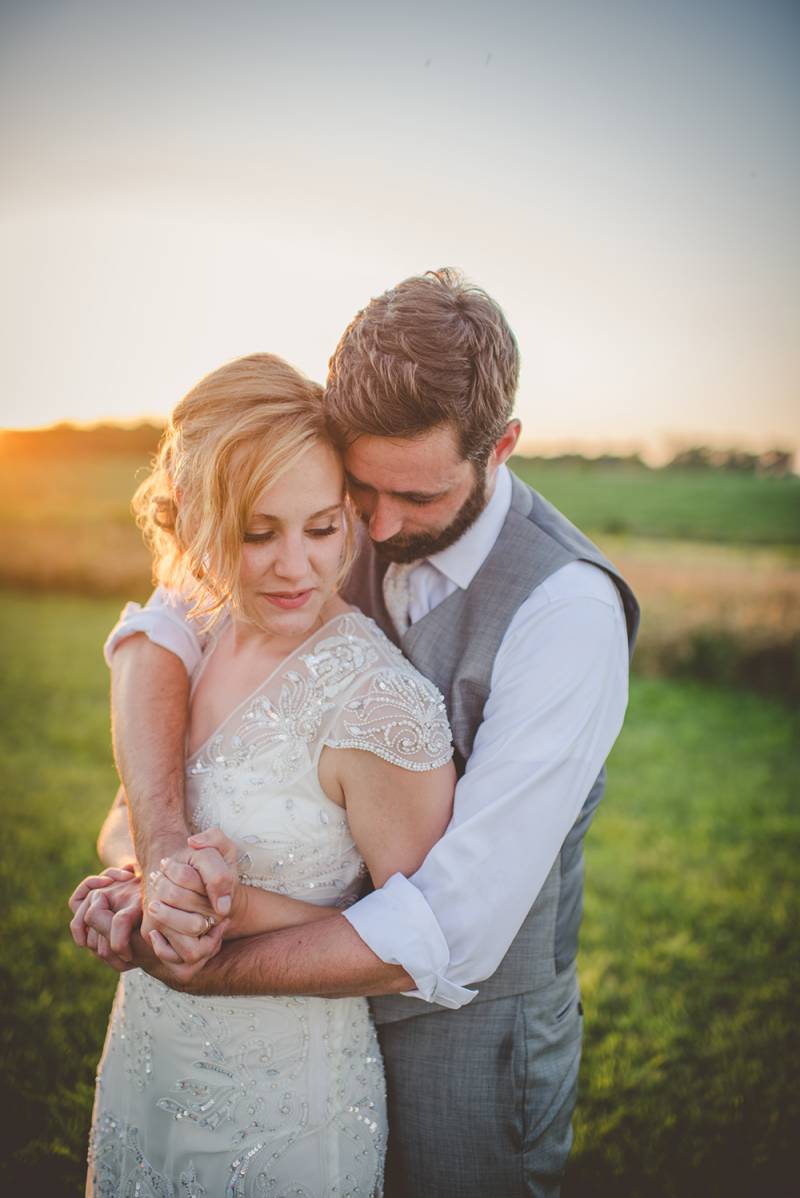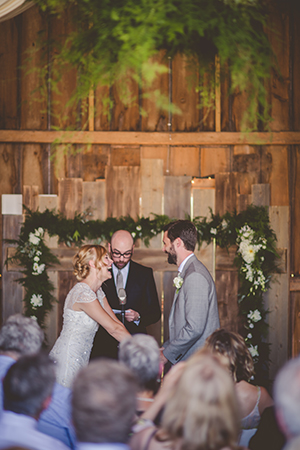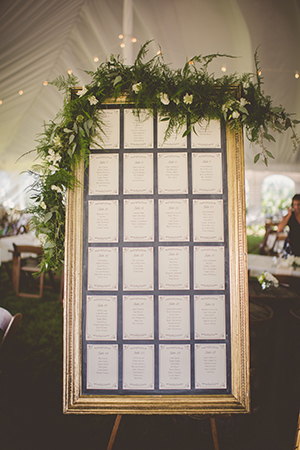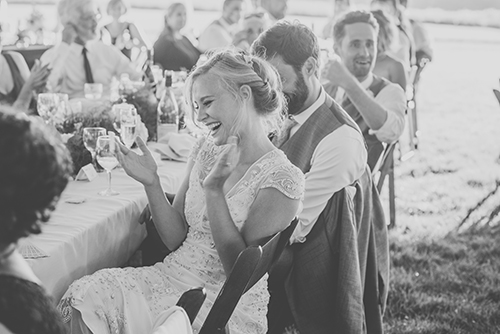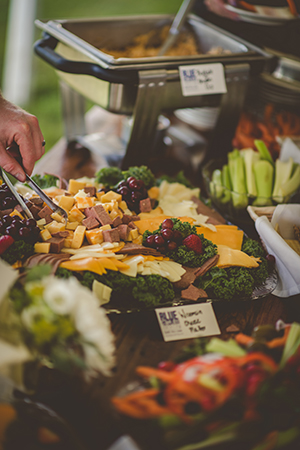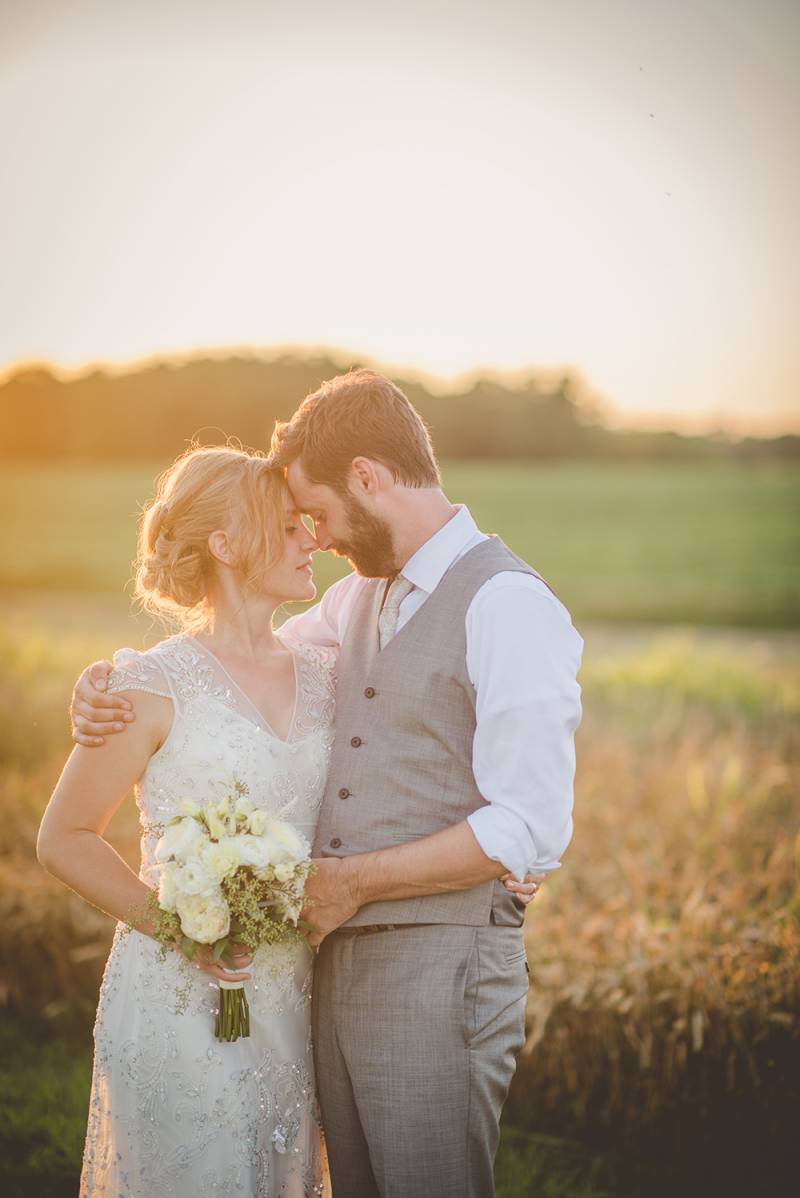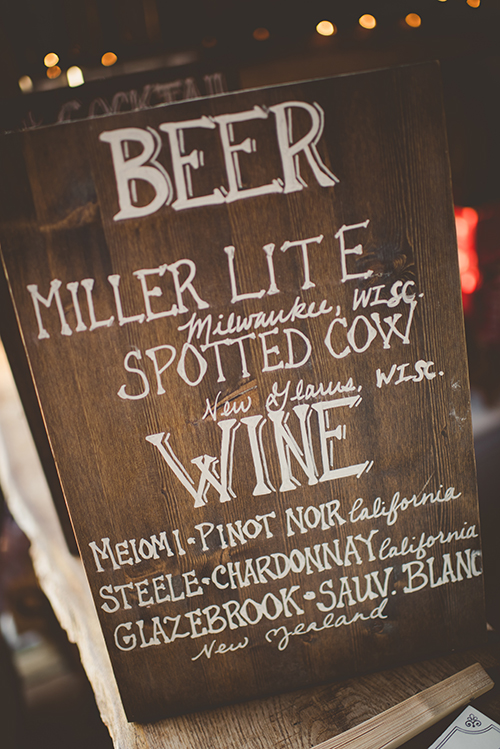 DESCRIBE YOUR WEDDING FLOWERS. Flowers that we had bought and planted with our parents at our homes growing up - in fact, we even used Russian sage that my dad cut from my childhood home and brought to Donna, our wonderful florist. She was very patient and helpful in working with us and what was seasonally available.