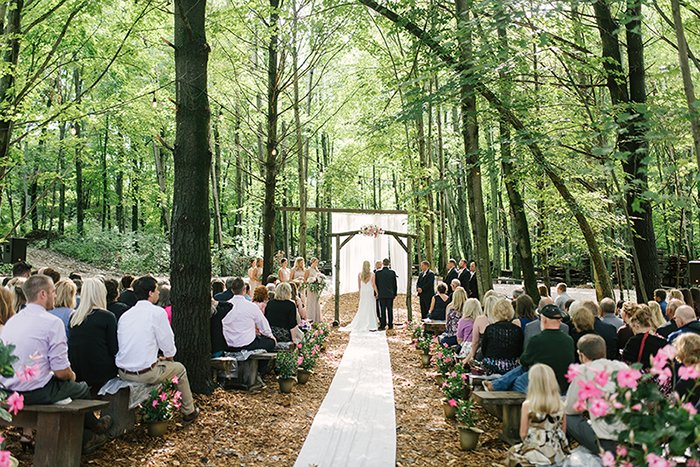 Imagine a romantic wedding in the woods, so unique and in such an idyllic & gorgeous setting surrounded by nature. We are so excited for today's real wedding of Keara & Kevin, shot by Jenna Kutcher of these stunning photos at the Swan Barn Door in Wisconsin Dells. Wood elements draped with sheer white fabrics that were custom made with labor of love by the bride, groom, family & friends, tied in perfectly with blush, gold & navy accents.
WEDDING DATE: 08/20/16
HOW DID YOU MEET? We met through friends while fishing on the Baraboo River. Kevin knew I was the one the first time he saw me with my pink fishing pole.
HOW DID YOU KNOW HE WAS "THE ONE"? We share the same interests and values in life and he is always making me laugh.
TELL US ABOUT YOUR PROPOSAL: Kevin proposed on his parent's front porch. It is the same place where we spent so many nights talking and getting to know each other and also where he asked me to be his girlfriend 9 years ago.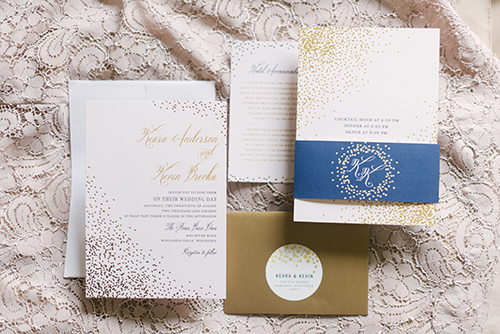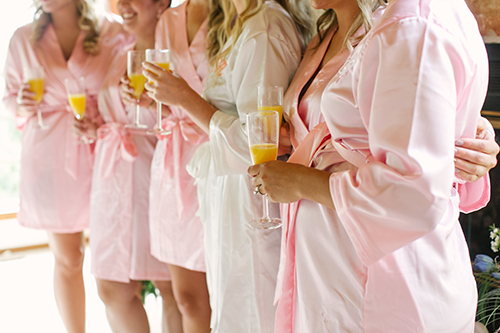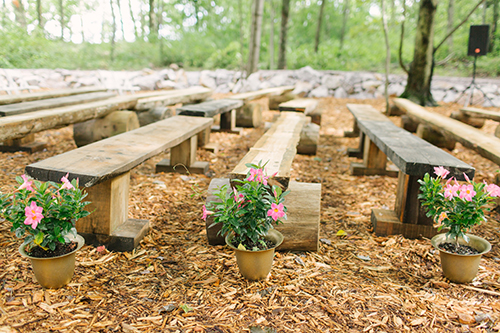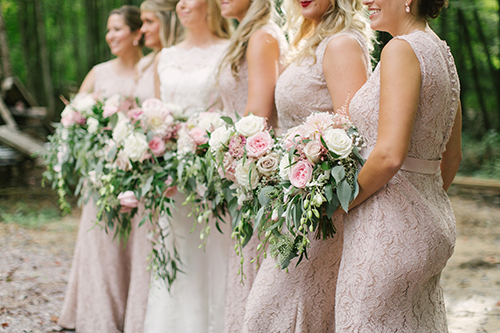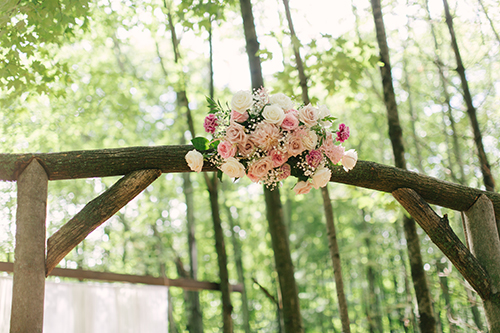 TELL US ABOUT YOUR DRESS: I knew I wanted a lace dress in a silhouette that would be timeless. I bought the dress at the same store that my mother did, 34 years prior in downtown Minneapolis.
DESCRIBE YOUR WEDDING FLOWERS: For the wedding bouquets, I wanted them to be cascading and very full. I love the vintage look of cascading bouquets and how they make such a statement. For the other areas, I wanted there to be an abundance of flowers throughout the ceremony and reception. My mother purchased all of the flowers wholesale and did the arrangements for the reception centerpieces. She also grew potted plants to be used for the ceremony.
WERE THERE ANY PERSONAL TOUCHES OR DIY ELEMENTS? When we found out three weeks before the wedding that the barn was not going to be as completed as we had anticipated, we set a game plan to dress up the venue. All of the fabric and light decorations inside the barn were the result of ten hours of hard work by the bride, groom, family and bridal party members. It was very rewarding to know that the reason our wedding turned out to be so beautiful was because of our own doing. Another personal touch, Kevin and I built the arch that we were married under out of trees cut from his parents land.