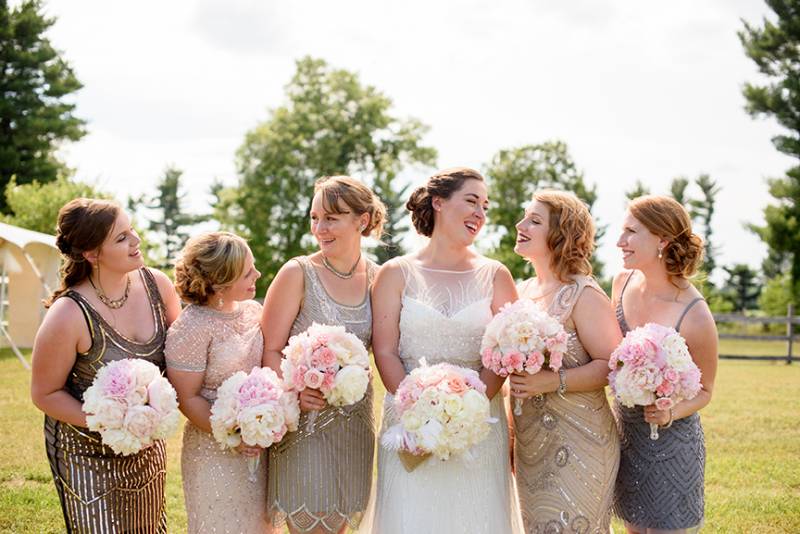 WEDDING DATE: 06/25/16
HOW DID YOU MEET? We met in high school. He was friends with my best friend and just kind of hit it off right away.
HOW DID YOU KNOW HE WAS "THE ONE?" The first time we really fought, like seriously fought, I realized that the only person that I wanted to call and vent to was him. I wanted to vent to him about him. Because I knew that he would talk me down off and rationalize our fight. And he did. I don't even remember what we fought about!
TELL US ABOUT YOUR PROPOSAL: It's pretty embarrassing on my part. I'll start by saying that I am VERY bad at surprises. I am just a very perceptive person so it's hard to pull something on me. Garret and I had been together for 6 years. It was our 7th Christmas together and I was a little annoyed that he was taking so long to propose. So, a little before Christmas I was cleaning and I found an empty Kitchen Aid box - which is odd because we didn't own a Kitchen Aid. But Garret knew that I REALLY wanted one. So, I started to get a little suspicious. But as Christmas morning came and went I was getting even more frustrating. I texted one of my girlfriends for the scoop- she already knew what I was getting. Her text back was simple. "Mary. Please don't get your hopes up..." I was crushed. I had gotten my hopes up. This is where the story gets a little embarrassing. I got so mad at myself for getting all excited that as we got home from Christmas dinner with Garret's family, I started to march upstairs to change into pajamas. Luckily, Garret caught me on the stairs and told me to come back down and open my present. So, with a grumpy face, I stomped down the stairs and into my parents living room. Everyone was there. My parents, Garret's parents, my siblings, his siblings. And when I tore off the wrapping paper, there sat the darn Kitchen Aid box. It had a note on it that said to open it and there inside was a ring box. When I turned to see Garret on one knee, I was so embarrassed by the way I had acted that I actually ran into the other room. Literally, I ran away. Garret coaxed me back and actually proposed and my family will never let me live it down. Garret said that he doesn't mind one bit. At least we got a great embarrassing story to go with our proposal.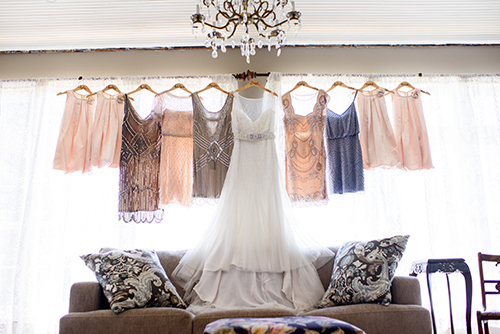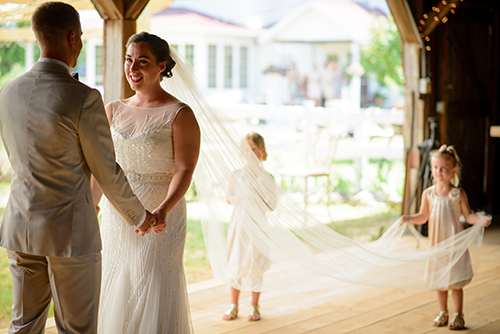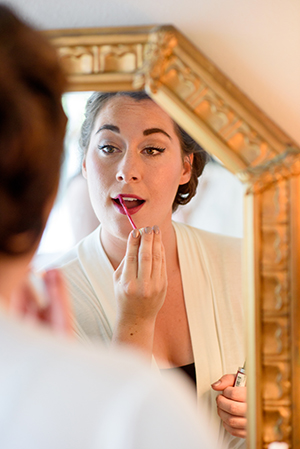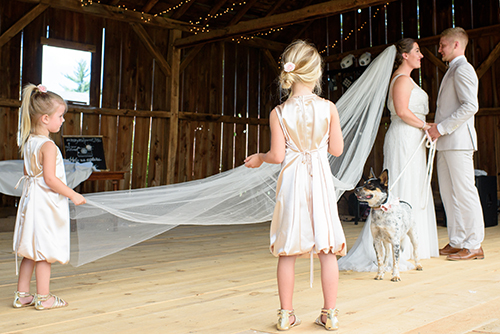 TELL US ABOUT YOUR DRESS: My dress was perfect. It was probably the 100th dress I tried on and only the second one I had liked. The first, a different Rosa Clara, was double my budget. I'm a very frugal person and I couldn't imagine spending $3k on a dress that I would wear once. Lucky for me, my mom found my dress on the sale rack at Bucci's Bridal in Pewaukee. It was my dream designer, Rosa Clara, and it was $1100. It needed some alterations to make it mine but on the day of the wedding, it was truly the perfect dress.
DESCRIBE YOUR WEDDING FLOWERS: Peonies and Roses. I wanted soft, elegant, and glamorous. My mom grew some peonies and ordered the rest from Ovans Peony Farm in Merrill, Wisconsin. We ordered the roses from Global Rose. My mom arranged them with the help of my sister-in-law and god mother.
WERE THERE ANY PERSONAL TOUCHES OR DIY ELEMENTS? We DIYed everything. Literally everything. I designed the invitations and painted the envelopes. With the help of our family, Garret and I renovated the last original barn on my parent's property. We built a dance floor and a bar. We even hung chandeliers and twinkle lights. My mom collected silverware, plates, and glassware from thrift stores for over a year! Tons of people pitched in to help make the pink puff balls that were hung from the tent ceiling. My mom and I went on a gold spray painting spree where we sprayed everything we could find! We sprayed chairs, lamps, mirrors, everything! My mom ordered and grew all of the flowers and arranged them with my sister-in-law and my godmother. She also made all of the cakes and my aunt and uncle helped decorate them. She even made some of the food! My mom is basically a party goddess.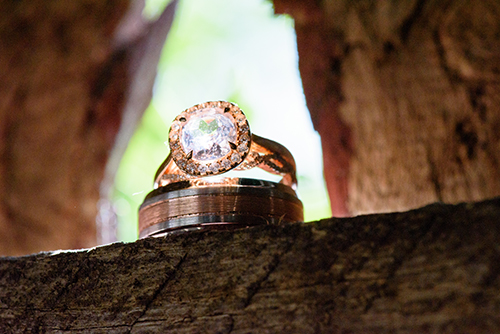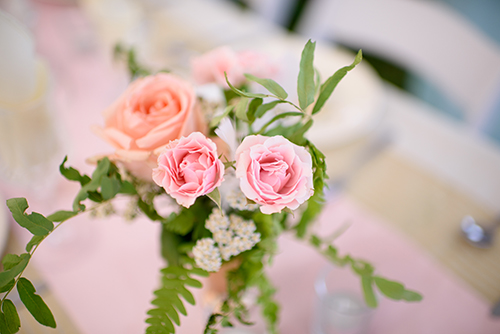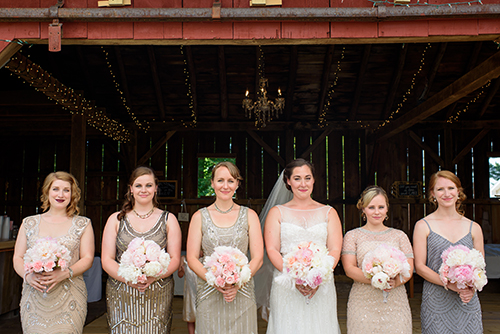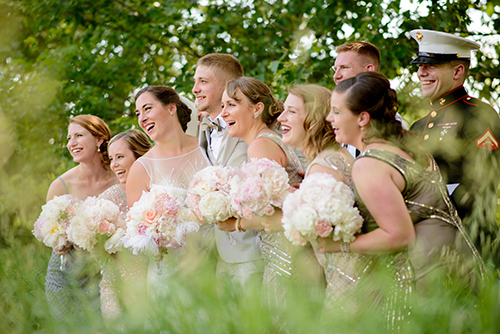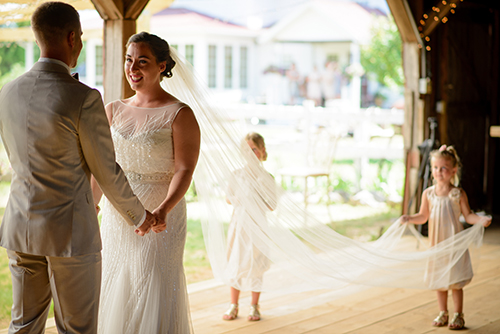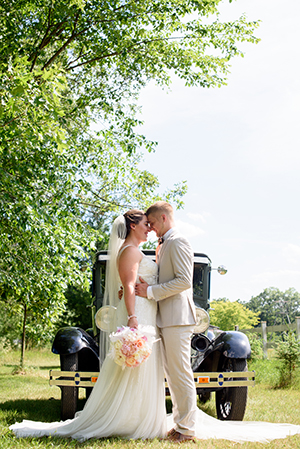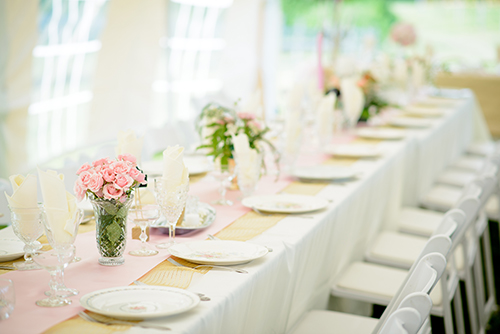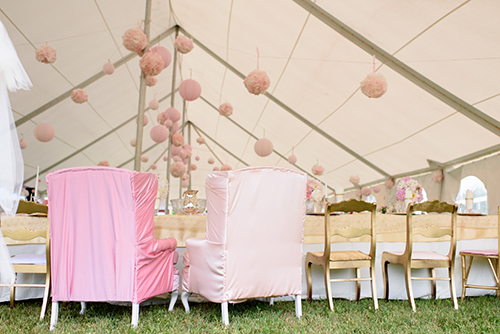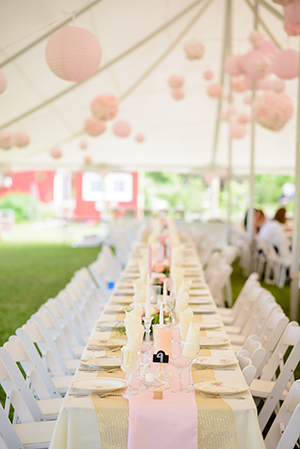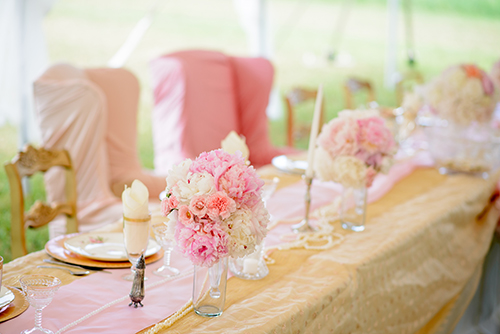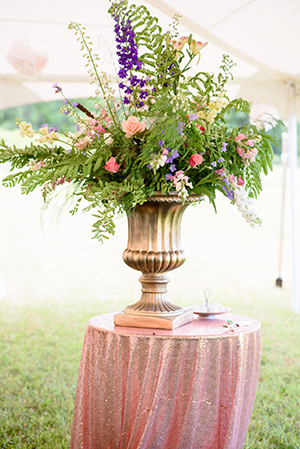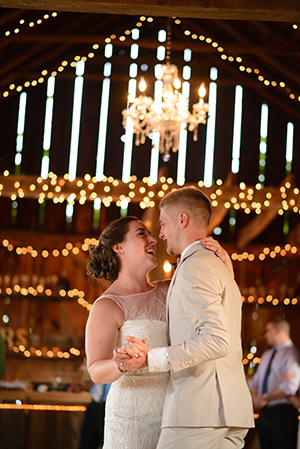 WHAT WAS YOUR FAVORITE MOMENT FROM YOUR WEDDING? After our first look, everyone else went up to the vineyard for the ceremony but my dad, uncle, and I got into my Grandfather's Model-A and drove around the block. The day went by so fast that I was so grateful for those ten minutes of peace to just soak it all in. We drove it all the way up the hill and arrived at the ceremony quite fashionably! My second favorite moment was when 4 people headed to a beach party crashed our wedding! Garret and I had no clue who they were so we chased them down and made then take pictures with us! It was pretty awesome!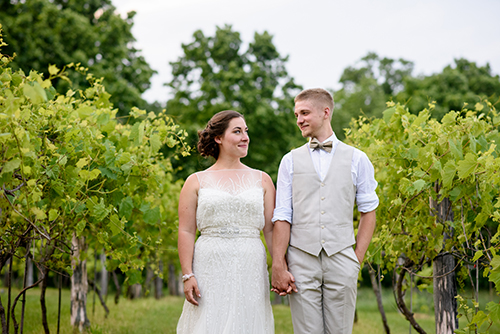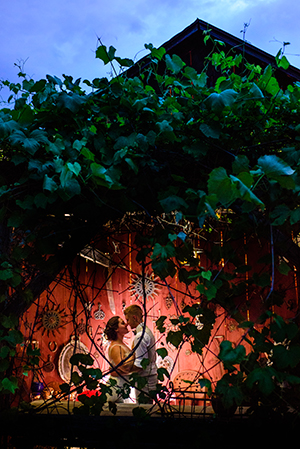 Ceremony & Reception Location - Kuckuk Farms | Bridal Gown - Bucci's Bridal | Groom's Tuxedo - Macy's | Hair & Makeup - Hair's and Graces | Rings - Goodmans Jewelers | Floral - Ovan's Peony Farm, Global Roses | Invitations / Stationery/Signage - Custom made by bride/Catprint | Photographer - Ilana Natasha Photography | DJ / Reception Entertainment - TKO DJ Entertainment