This couple met while attending UW-Madison, so it was only fitting for them to tie the knot right where it all began. The lush all-white florals from Blooms by Brandi served as the perfect accent to a rich jewel-toned bridal party and their authentic Madison photo session...not to mention the Memorial Union chairs cake topper. With Karly Jo Photography behind the lens, take a stroll with us downtown Madison from the church, State Street to campus and the Terrace with a few cold brews in between.
WEDDING DATE:  09/02/2017

HOW DID YOU MEET?  We met the first day of our freshman year at UW-Madison because we lived in the same dorm, realized we had a couple classes together, and quickly became study buddies and best friends. 
HOW DID YOU KNOW HE WAS "THE ONE?" The moment I saw those beautiful brown eyes and the way he made me laugh...I was done.
TELL US ABOUT YOUR PROPOSALl: Alex took me on a surprise vacation for our five year anniversary to New Orleans (I didn't find out where we were going until we got to the ticketing counter at the airport!) While we were there, he took me on a steamboat cruise on the Mississippi River. We were on the back deck admiring the paddle wheel when all of a sudden I turned around and he was down on one knee! Many happy tears were had!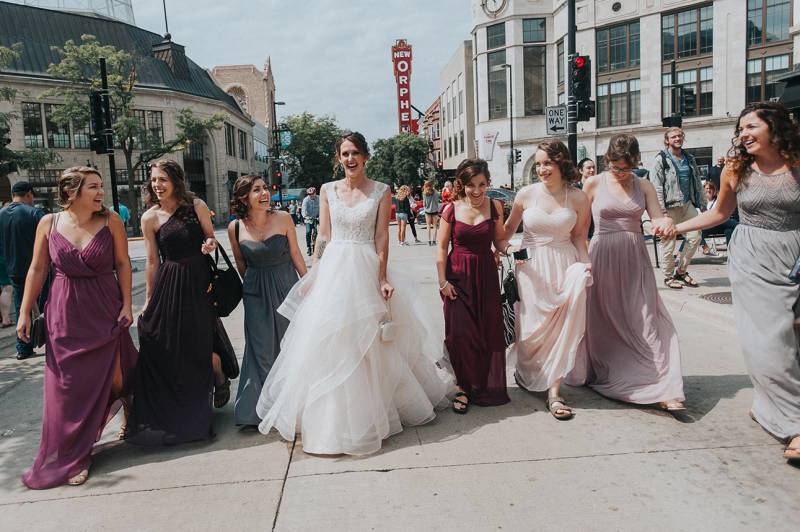 TELL US ABOUT YOUR DRESS: I searched high and low for a dress that was dreamy and romantic but didn't have a typical bridal feel. I ended up picking two separate pieces from different Watters collections and had them sewn together. The bottom was light and flowy, made from horsehair tulle, and the top was lacy and feminine with a peek-through back and buttons all the way up. It made me feel like a queen! 
WERE THERE ANY PERSONAL TOUCHES OR DIY ELEMENTS? We had my brother play the bagpipes for our recessional at the ceremony. My family is Irish, so having the cultural touch was very special. We also had a band all the way from New Orleans to help tie in how memorable our engagement was!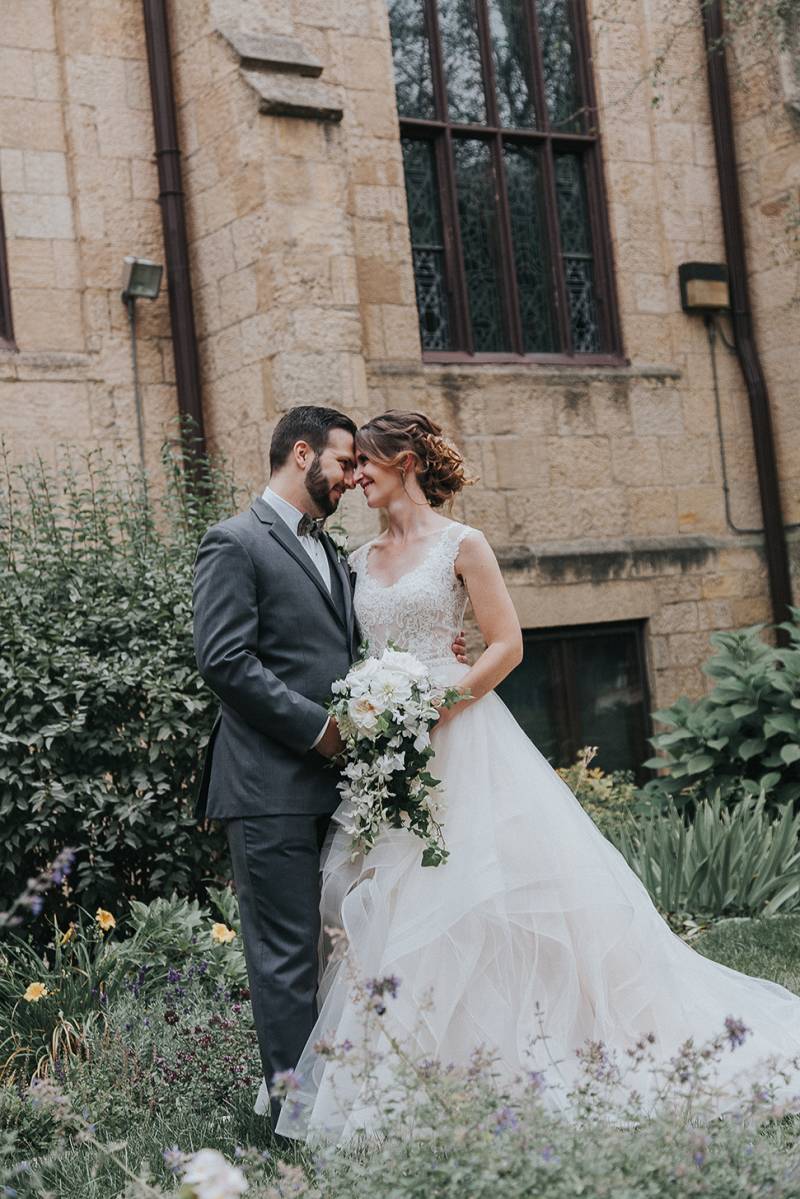 WHAT WAS YOUR FAVORITE MOMENT FROM YOUR WEDDING? That's impossible to pick, the whole day was incredible and full of love but here are a few highlights! Standing on the alter being totally in the moment with my handsome groom, sharing our handwritten vows, and seeing our guests give us two standing ovations; glueing a penny to my shoe with the help of my bridesmaids right before walking down the aisle (an Irish tradition!); when our photographer paid a street musician to play Ave Maria, the song I walked down the aisle to, so we could have our unofficial first dance right on State Street; getting rained on- it's good luck!; crying so many happy tears that my fake eyelashes fell off halfway through the evening, and dancing the night away to live jazz with everyone we love so dearly.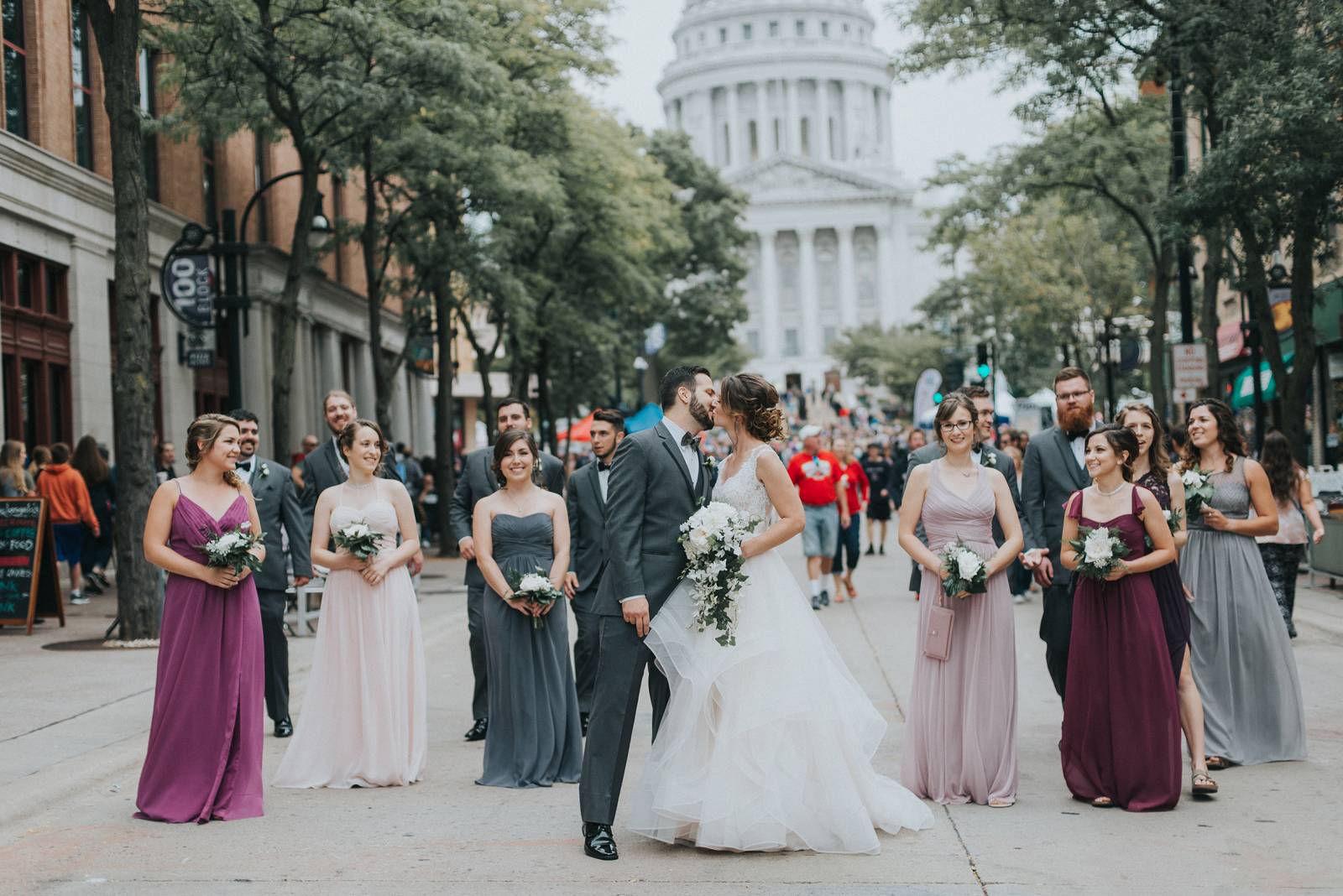 WHAT WAS YOUR WEDDING COLOR PALETTE?  Jewel tones with greens and greys. The bridesmaids' dresses were ballet pink, mauve, light grey, dark grey, magenta, sangria, and plum, and the tuxes were grey
DESCRIBE YOUR WEDDING FLOWERS: We focused mainly on greenery with little pops of white flowers to accentuate the jewel tones of the dresses.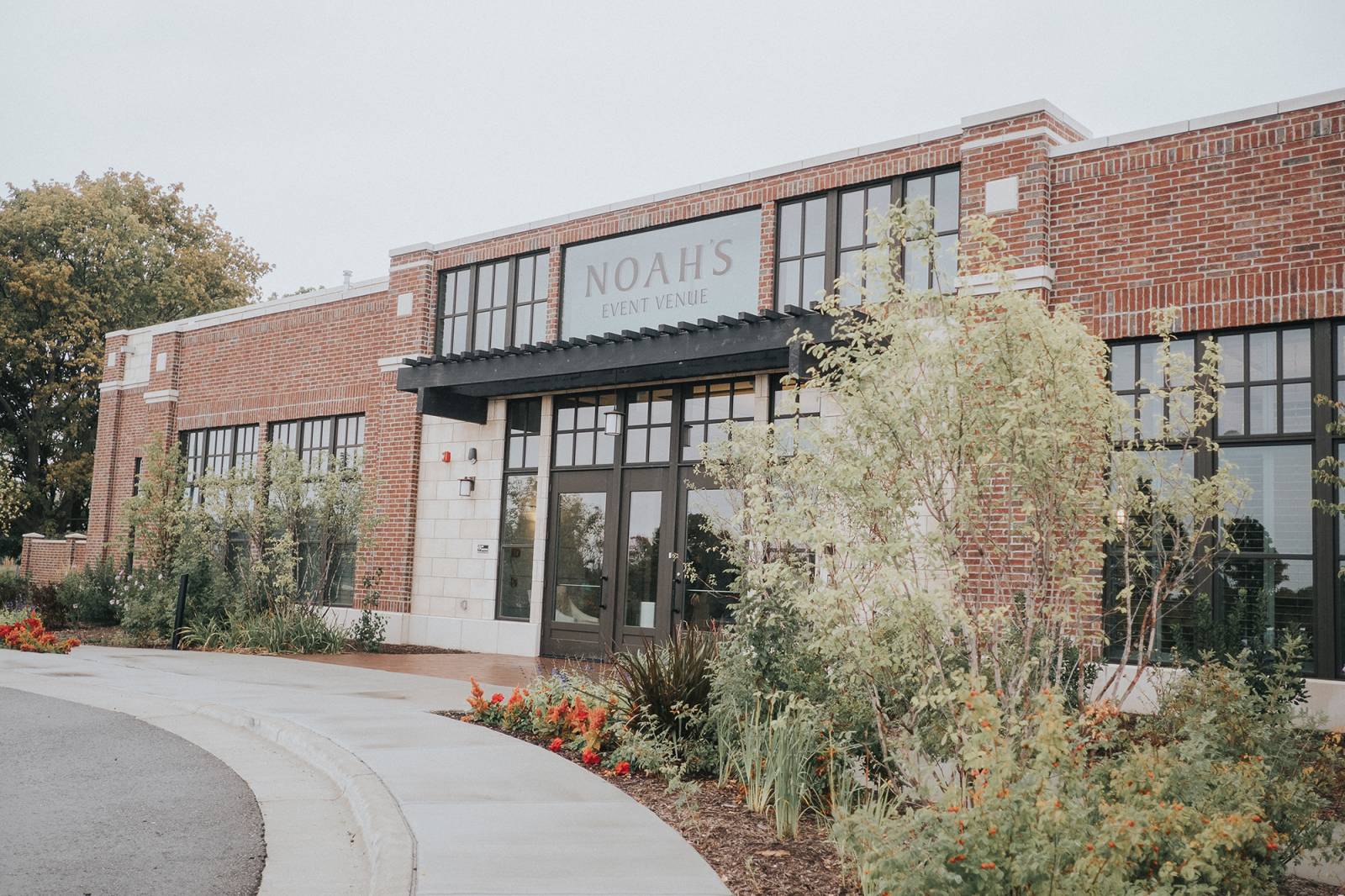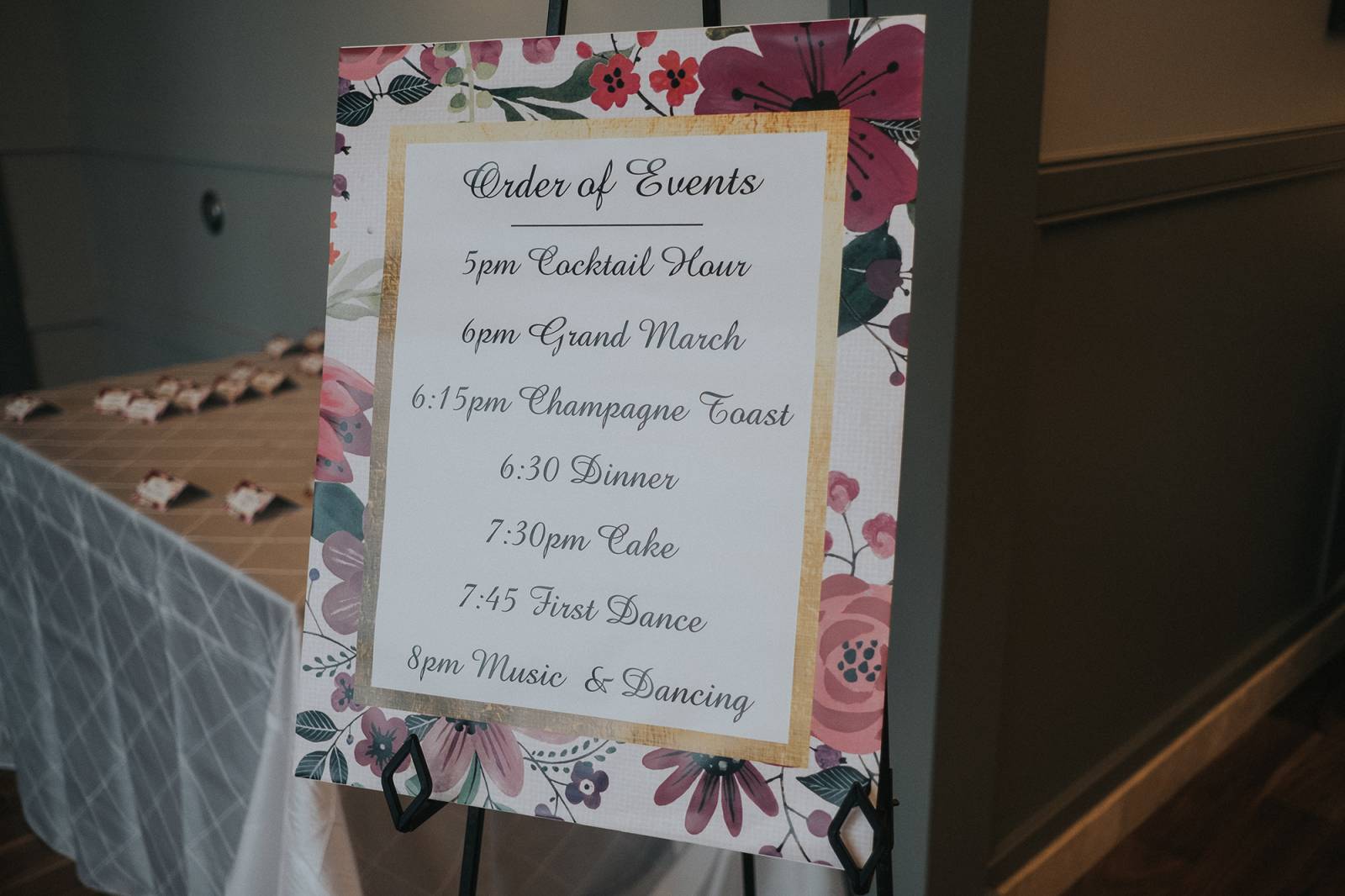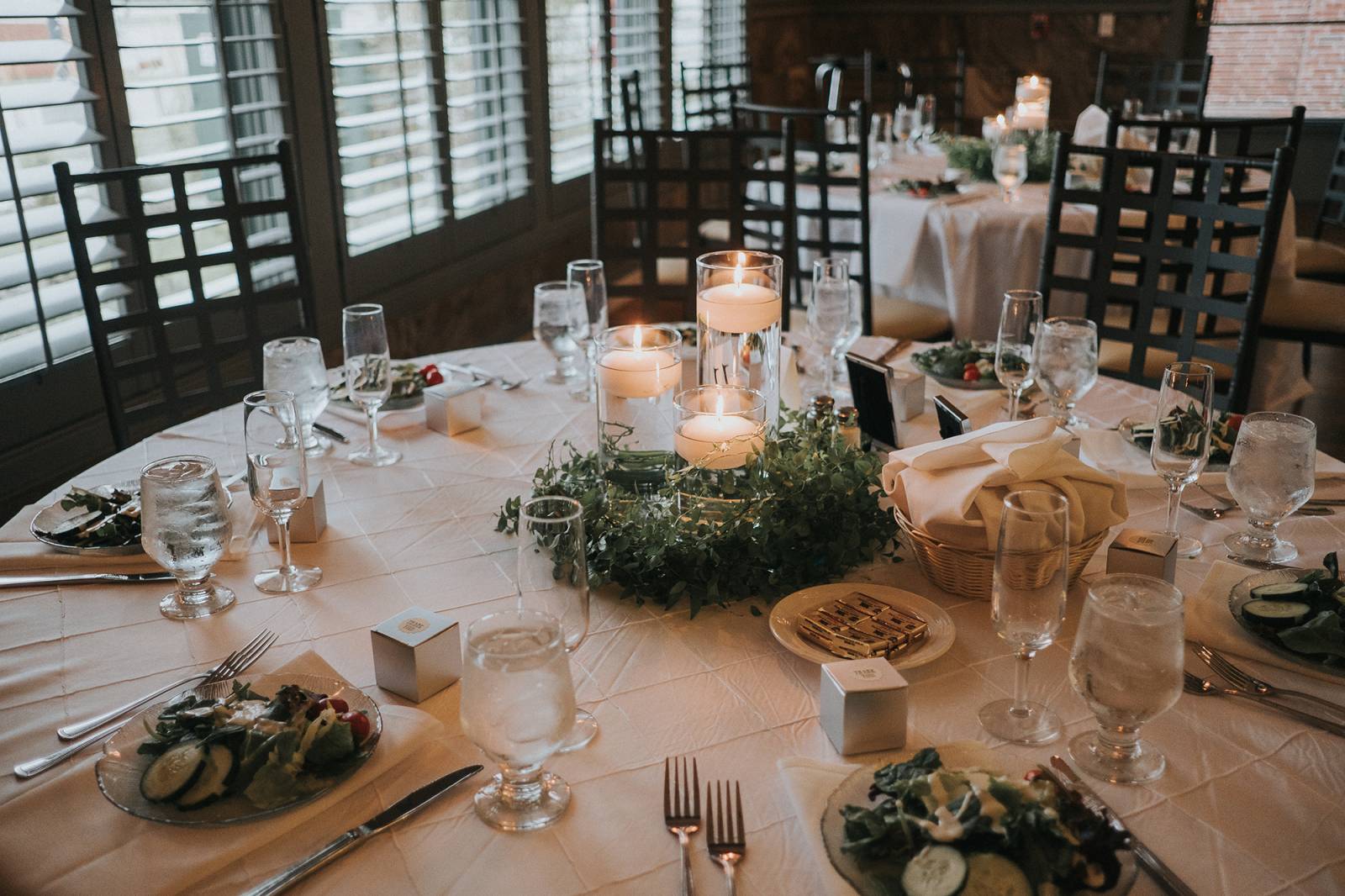 DID YOU USE ANY SPECIALTY CHAIRS, TABLES, LINENS OR DINNERWARE? Our venue supplied all the chairs and linens. We decided to use pin-tuck white linens, and we used the standard glass and dinnerware from the caterers.