With a classic neutral color palette of taupe, grays, creams, and pops of peach garden roses, The Field's Reserve, located just outside of Madison along the countryside of Stoughton, Wisconsin, was the perfect canvas for today's beautiful rustic barn affair. From start - stunning blooms from Simply Glamorous Designs at Oregon Floral, pretty wood signs, a vintage window escort card display - to finish - the couple's cute pup escorted down the aisle by the groom, see all the details below by Shannon St. Clair Photography. And don't miss Ashley and Brooks's romantic highlight film.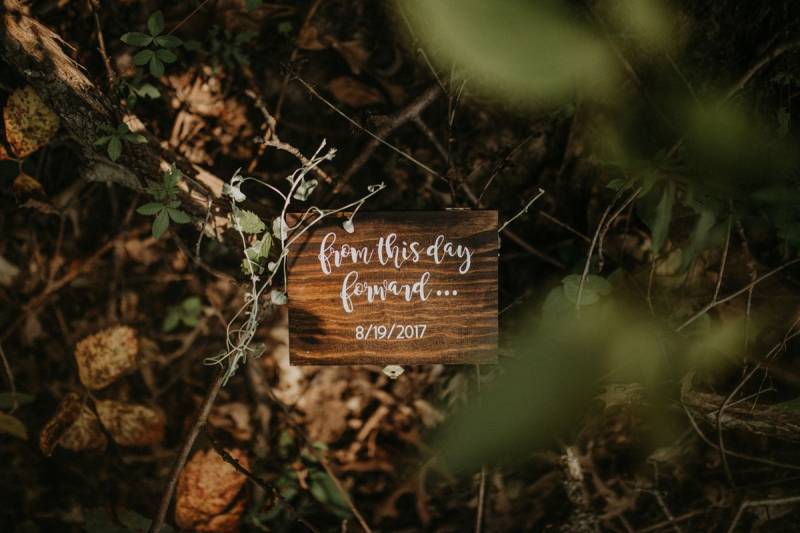 WEDDING DATE: 08/19/17

HOW DID YOU MEET? We met the first day of college in Interpersonal Communication class at the University of Minnesota - Duluth. He found out I had a car at school and got my number - what a charmer! We started dating a few weeks later and have been inseparable since.
HOW DID YOU KNOW HE WAS "THE ONE?" I know it sounds silly and cliche, but I knew there was something special about him the moment I laid eyes on him. I truly feel like we were meant to meet that first day of college. I couldn't have imagined those years without him. There is no "exact" moment I told myself he would eventually become my husband because there were SO many moments.
TELL US ABOUT YOUR PROPOSAL: September 3, 2016. The happiest day of my existence. Duluth, MN is our favorite place. We met and grew our relationship there. We decided to change things up and spend Labor Day Weekend there. A new hotel just opened up and they let us bring our dog with, which was fun! Brooks and I both wanted to wake up early one morning to watch the sunrise because they are incredible there! Saturday morning I woke up at 5:30 AM. Brooks was acting like he didn't want to go. But, we both drug ourselves out of bed, threw our sweatshirts on and headed to the beach on Lake Superior. The sunrise was already incredible. There was even a ship in the background. Brooks knows me and my obsession with pictures, so I set up my phone on the chair, set the 10-second timer, and made him take a picture with me. Brooks wanted to "re-take" it because his hood was up. I set the phone up again and when I went to hug him for a picture, he got down on one knee! I was in shock! And we got it on camera! I immediately jumped in his arms and cried for a good five minutes until Brooks asked if I wanted my ring... Oh ya! The moment could not have been more perfect. I was in Duluth, with my crazy pup and love of my life, getting engaged with a sunrise in the background that felt like it was created specifically for that moment. Best. Day. Ever.
TELL US ABOUT YOUR DRESS: I had a few ideas of what I wanted in a dress prior to trying any on. I was nearly giving up during my first wedding dress shopping day when my dress consultant said she found one she thought I would like. When I saw it on the hanger I said "no way." I decided to try it on anyway and it ended up being the one! I ended up saying "yes" to the very last one I tried on and the one I would have never picked out myself!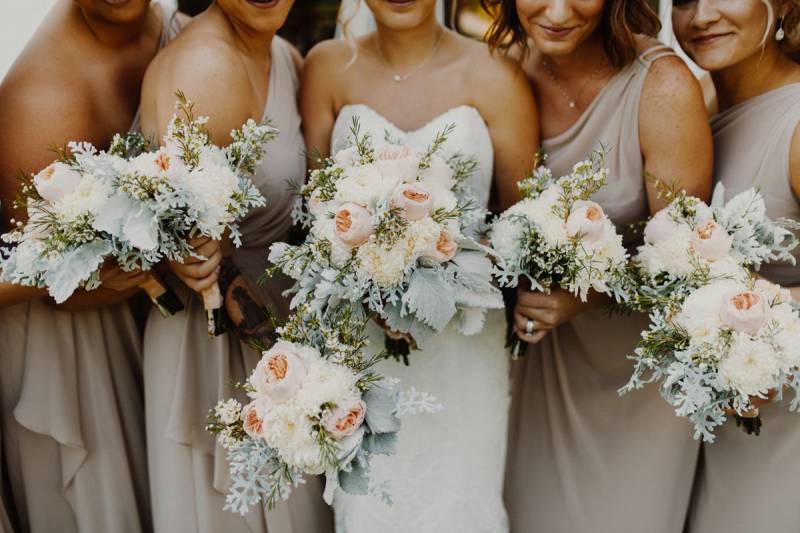 DESCRIBE YOUR WEDDING FLOWERS: We wanted to stick with the neutral colors, but have a small amount of "pop" in color. The flowers really complimented our wedding party colors. They consisted of: a mix of ivory football mums, peach garden roses, cream waxflower, and dusty miller. For the boutonnieres, we incorporated pheasant feathers, as both my husband and I are hunters.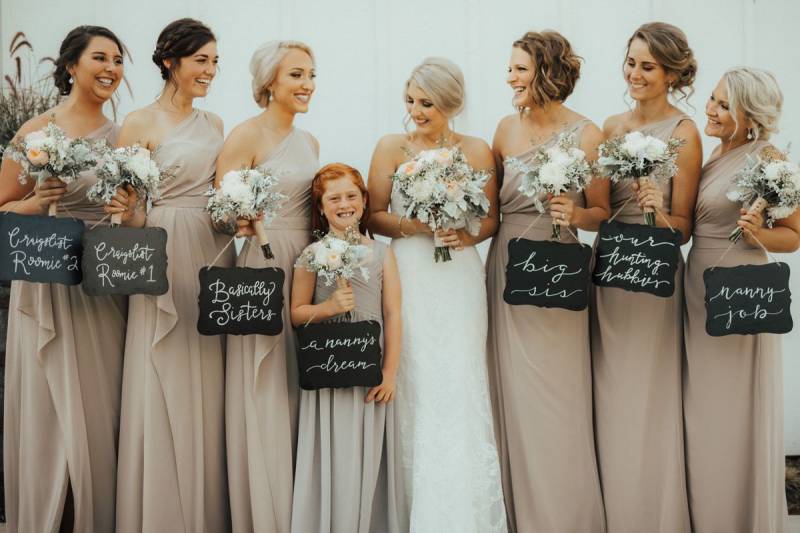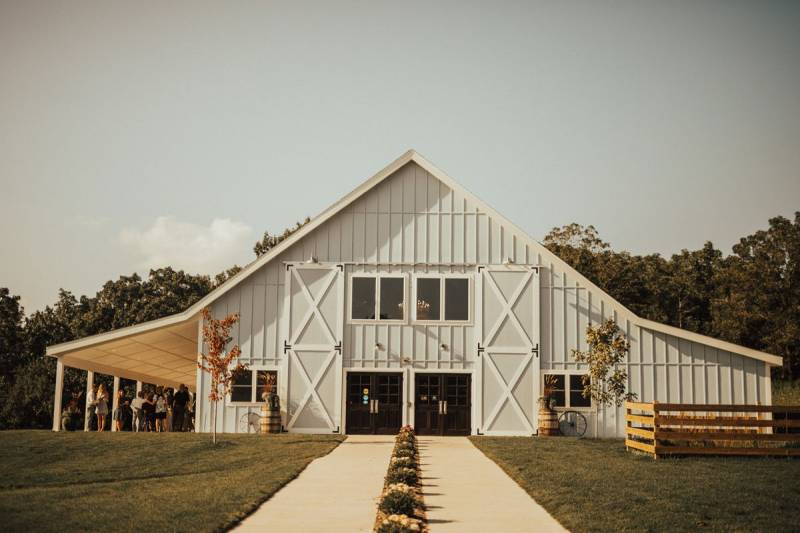 WERE THERE ANY PERSONAL TOUCHES OR DIY ELEMENTS? Several! Brooks had gotten me a Cricut machine for my birthday and we were able to make all of our signs and most decorations ourselves. We also decided our day wouldn't be the same without our dog, Kimber, there. Brooks walked her down the aisle and we took many pictures with her. We even had goodie bags for our guests to take home to their dogs! Another personal touch was that I had gotten my ring fingerprint engraved on the inside of Brooks's wedding band - that is very special to him! We also added a live video feed of the Duluth lift bridge on the big screen the entire night. Since we decided not to marry there, we still wanted to find a way to incorporate our favorite city.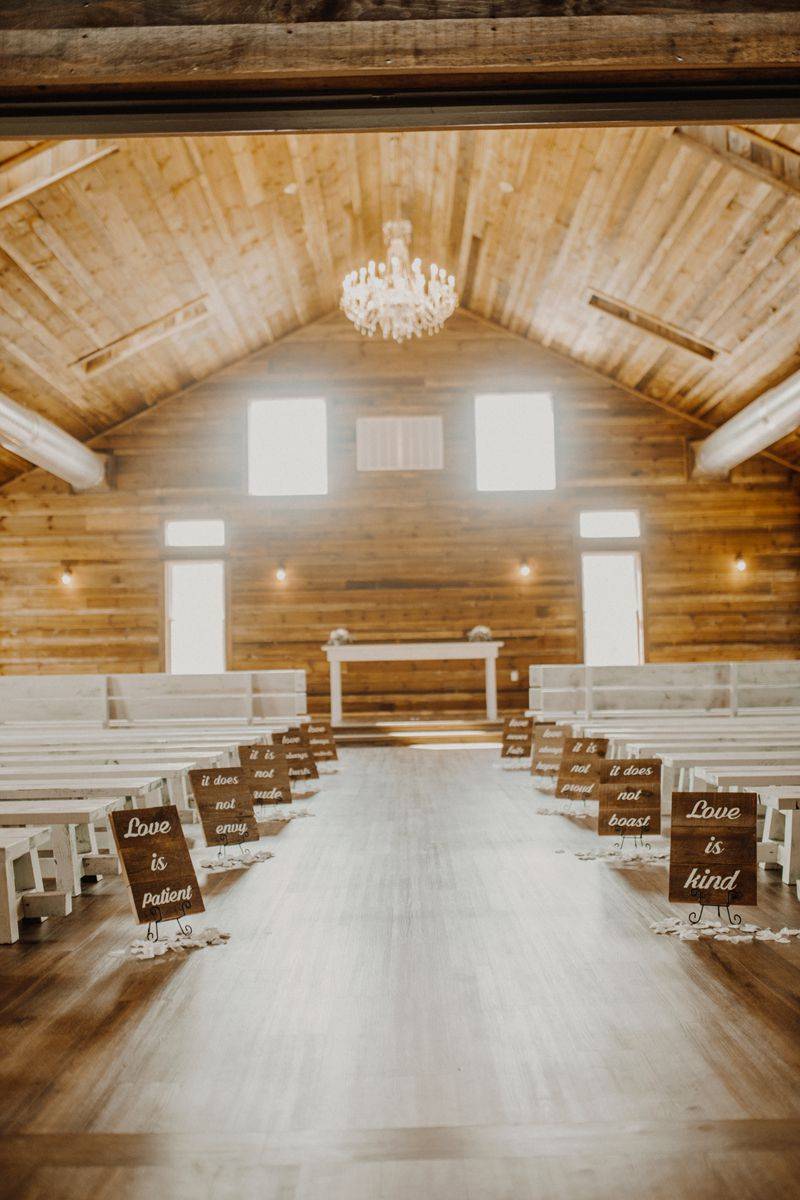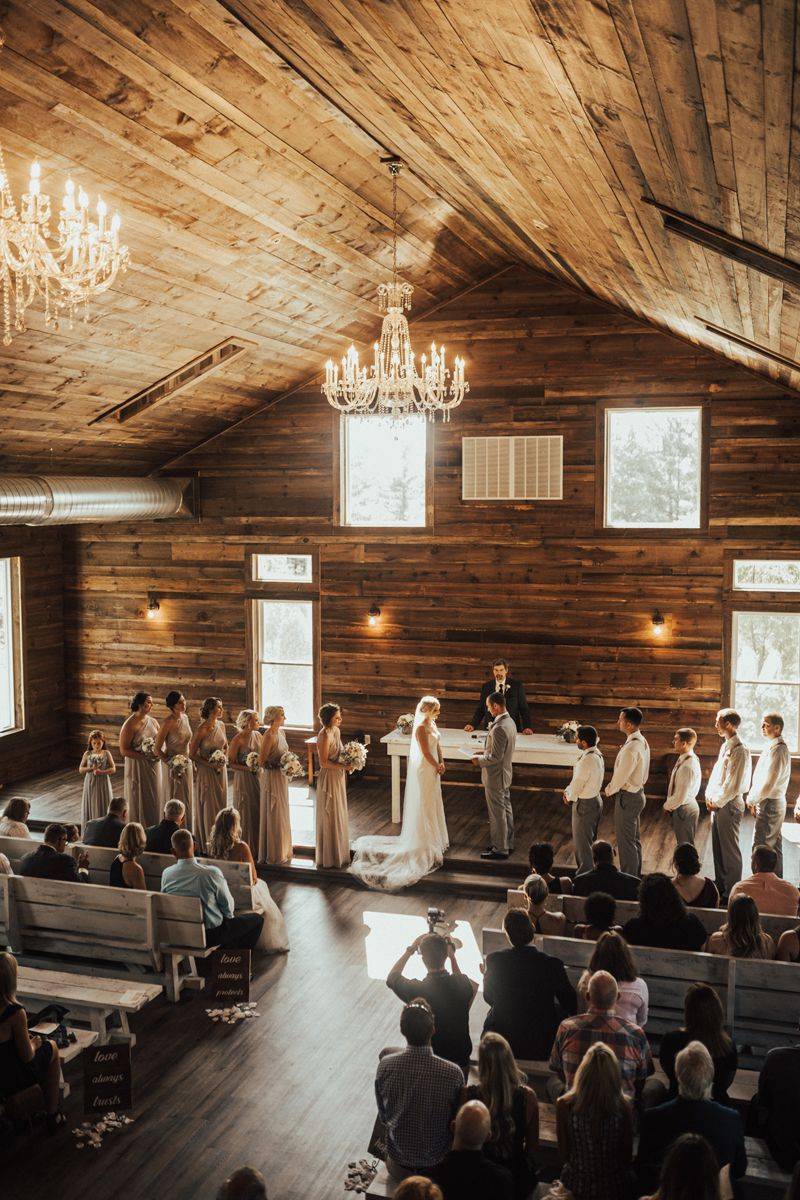 WHAT WAS YOUR FAVORITE MOMENT FROM YOUR WEDDING? My favorite part of the wedding was definitely when we exchanged our vows at the ceremony! Nothing else mattered in that moment and I was so blown away with how amazing Brooks's vows were. It was such a special moment for the both of us.
I would also have to say that our gift opening was also memorable. We both got each other the same thing, a Kimber pistol. Our photographer and videographer both laughed and said, "this is a first"...for more reasons than one.