Abigail and Tyler's love was celebrated on a gorgeous June day amidst timeless black and white details, lush greenery, and loved ones. Captured by Katie Ricard Photography, their Madison wedding at First Lutheran Church and the historic Garver Events included sentimental elements unique to their relationship and even a family line dance! We know you're going to love every charm of their classic day below.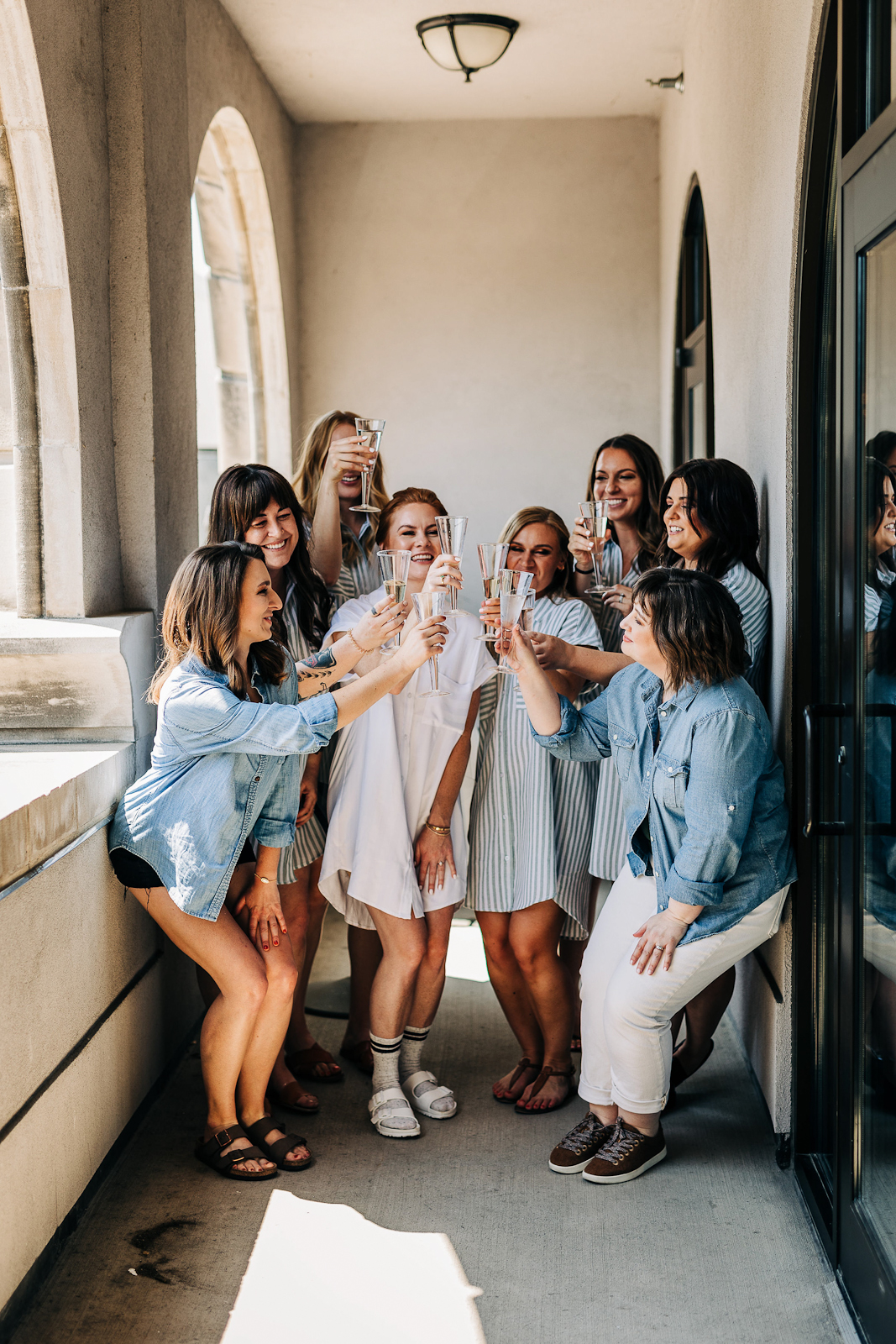 WEDDING DATE: 6/12/2021
TELL US ABOUT YOUR LOVE STORY! Abigail and I met at work. From day one, I felt a certain way about her, and then throughout working with her, the more logistical side of relationships also proved to be particularly wonderful with Abbey.
Spending time with her at work was always a mix of feeling giddy and nervous and the fulfillment of accomplishing things together -- she was a great partner at work before she became my life partner. So really, knowing that we found "the one" in each other was less of a singular moment and more of a culmination of that initial feeling of "who is this person and why do they make me feel this way," success in working together at work and finally living together as the final test -- both before AND during Covid.
I knew that if I still wanted to spend time with Abbey, even when we knew every last good and bad habit each other had, this love would last. Even further, our love not only withstood the test of time and living together -- it grew and continues to grow. The initial love and excitement was a spark, and the commitment to grow together and become an even better partnership continues to throw fuel on the fire.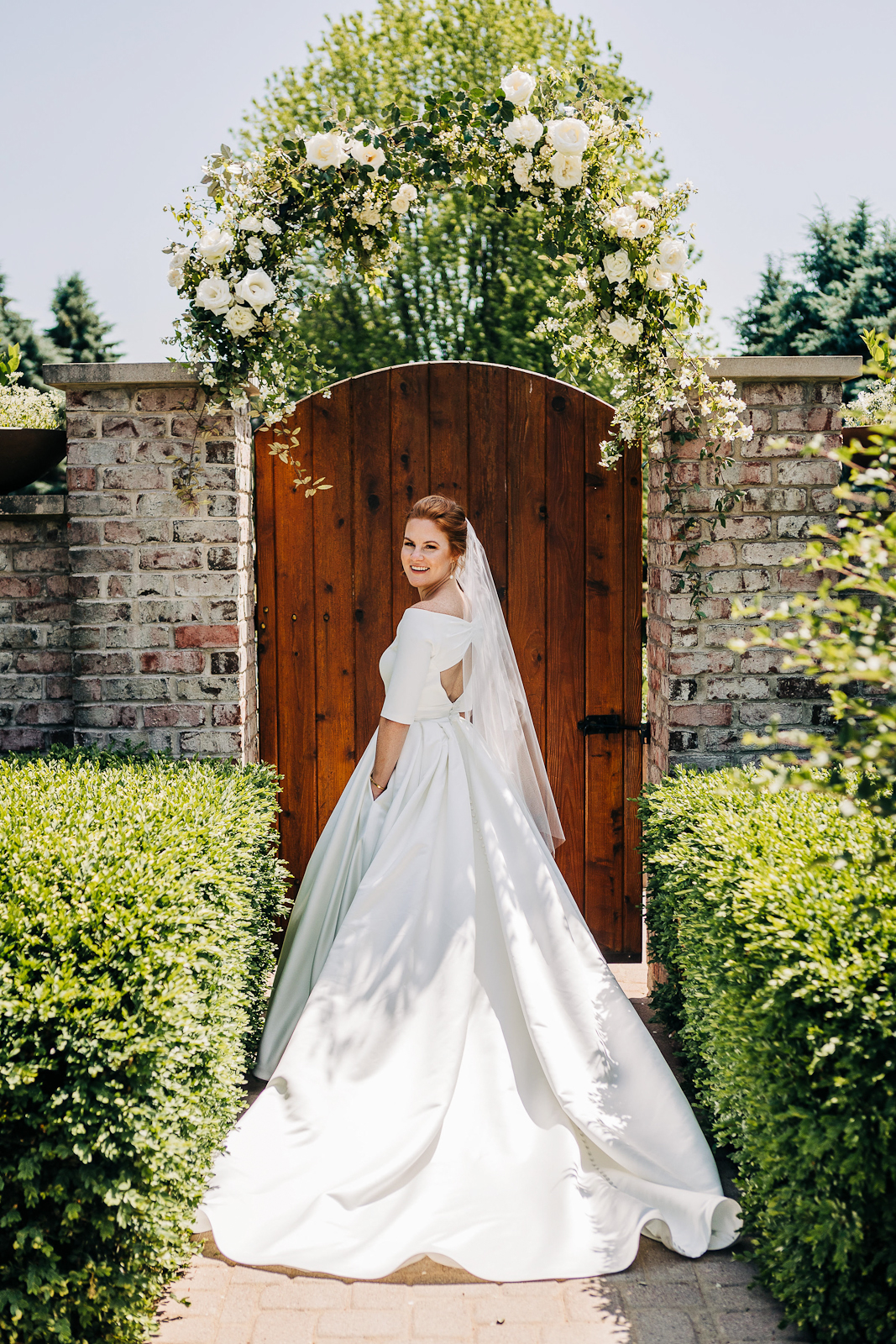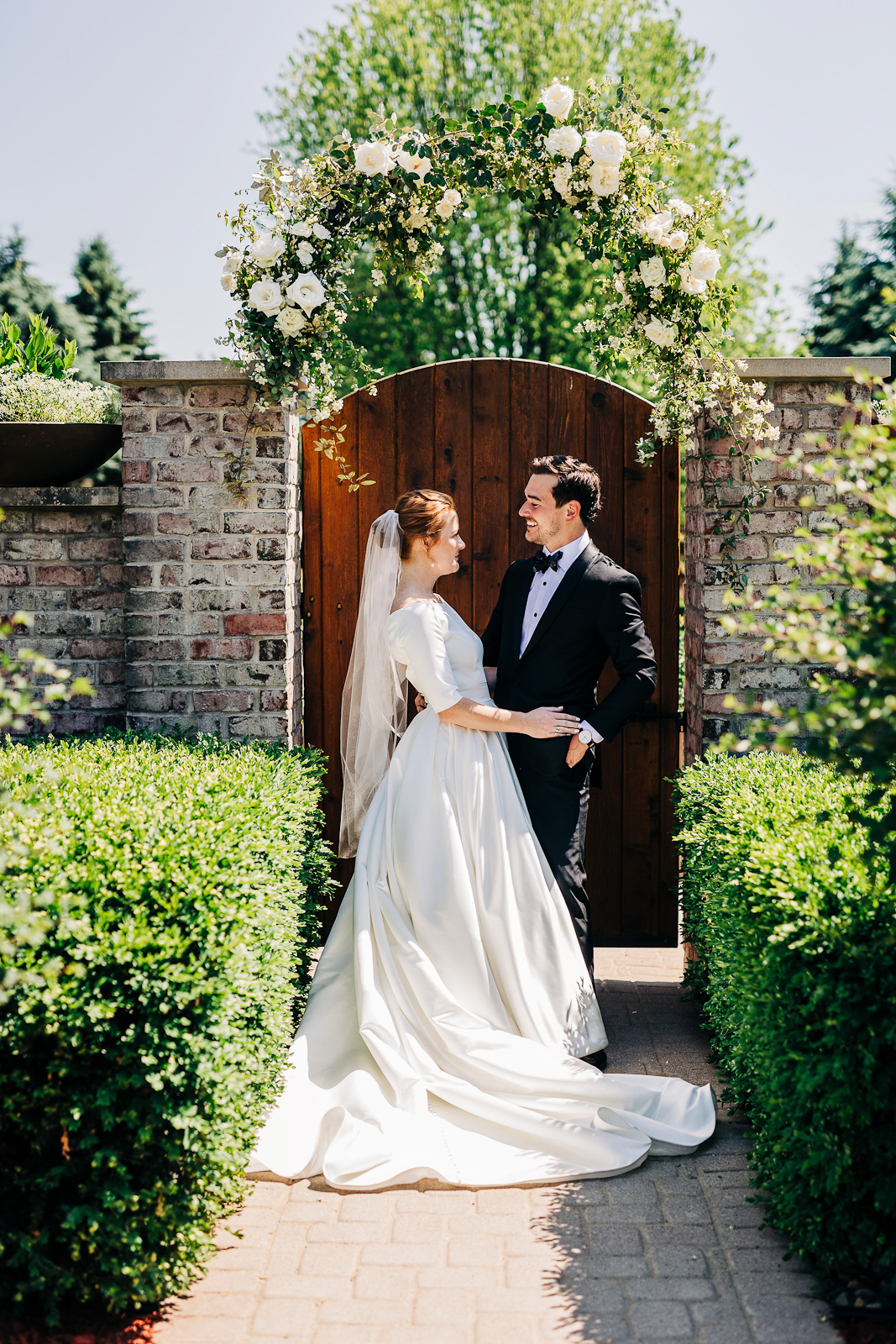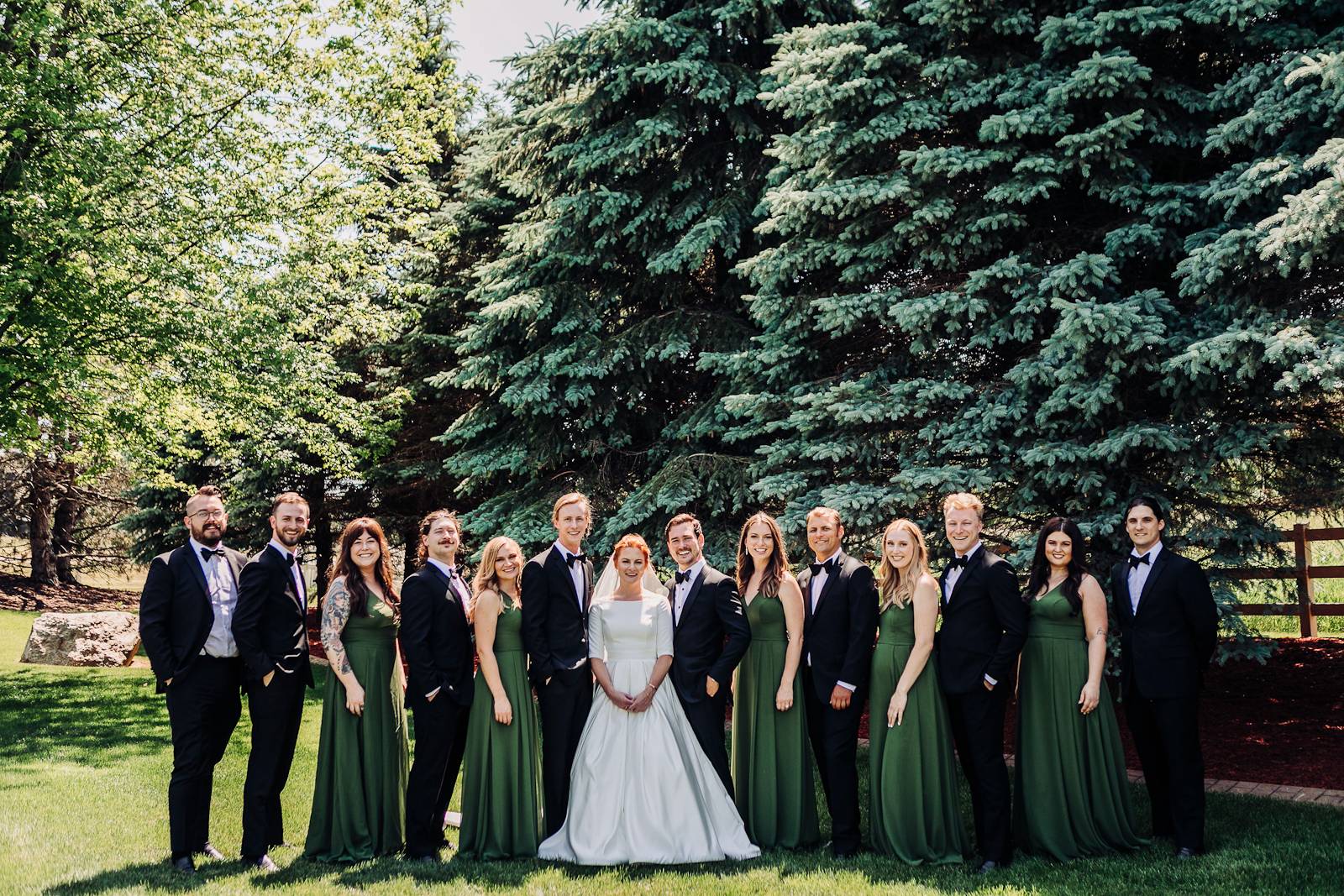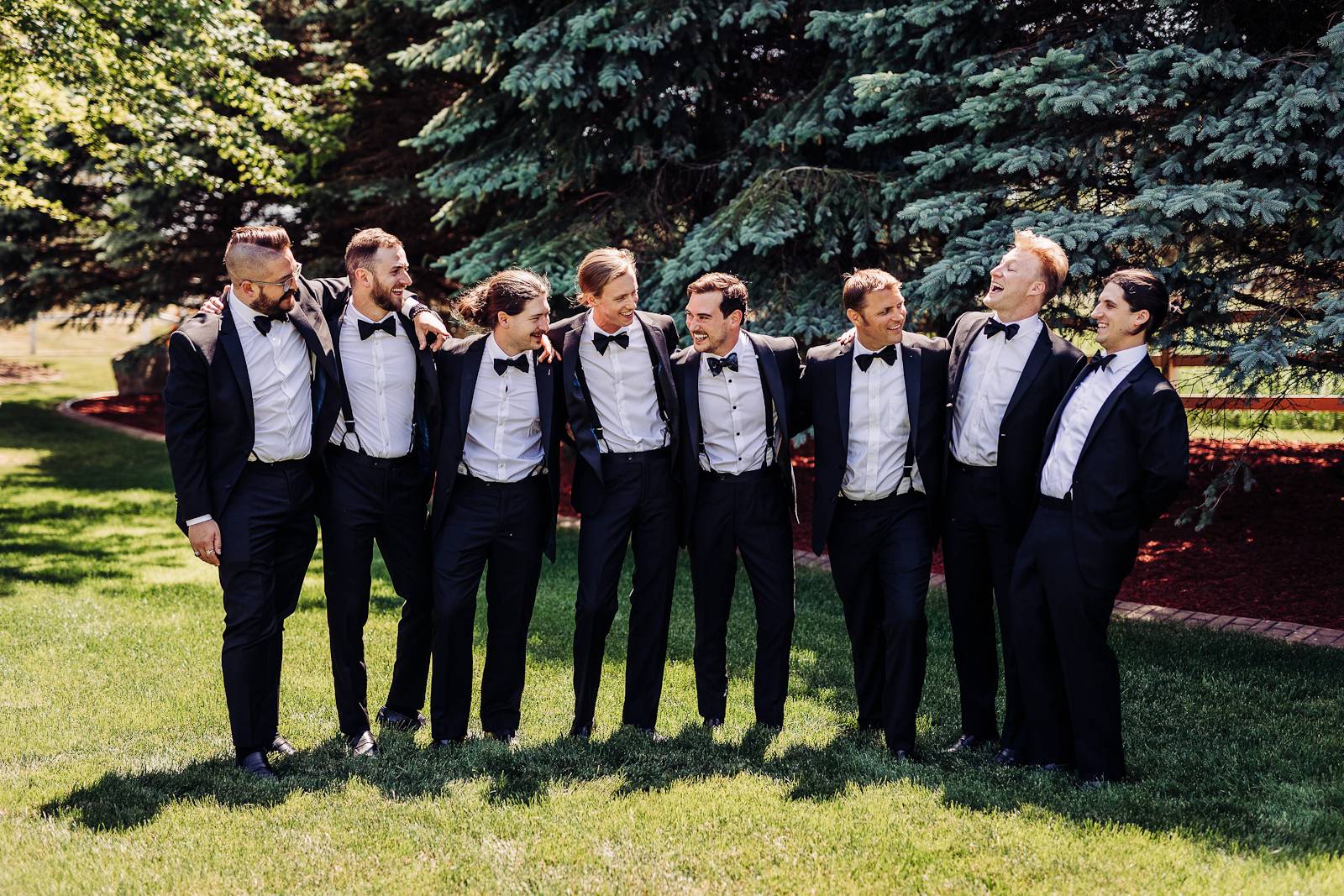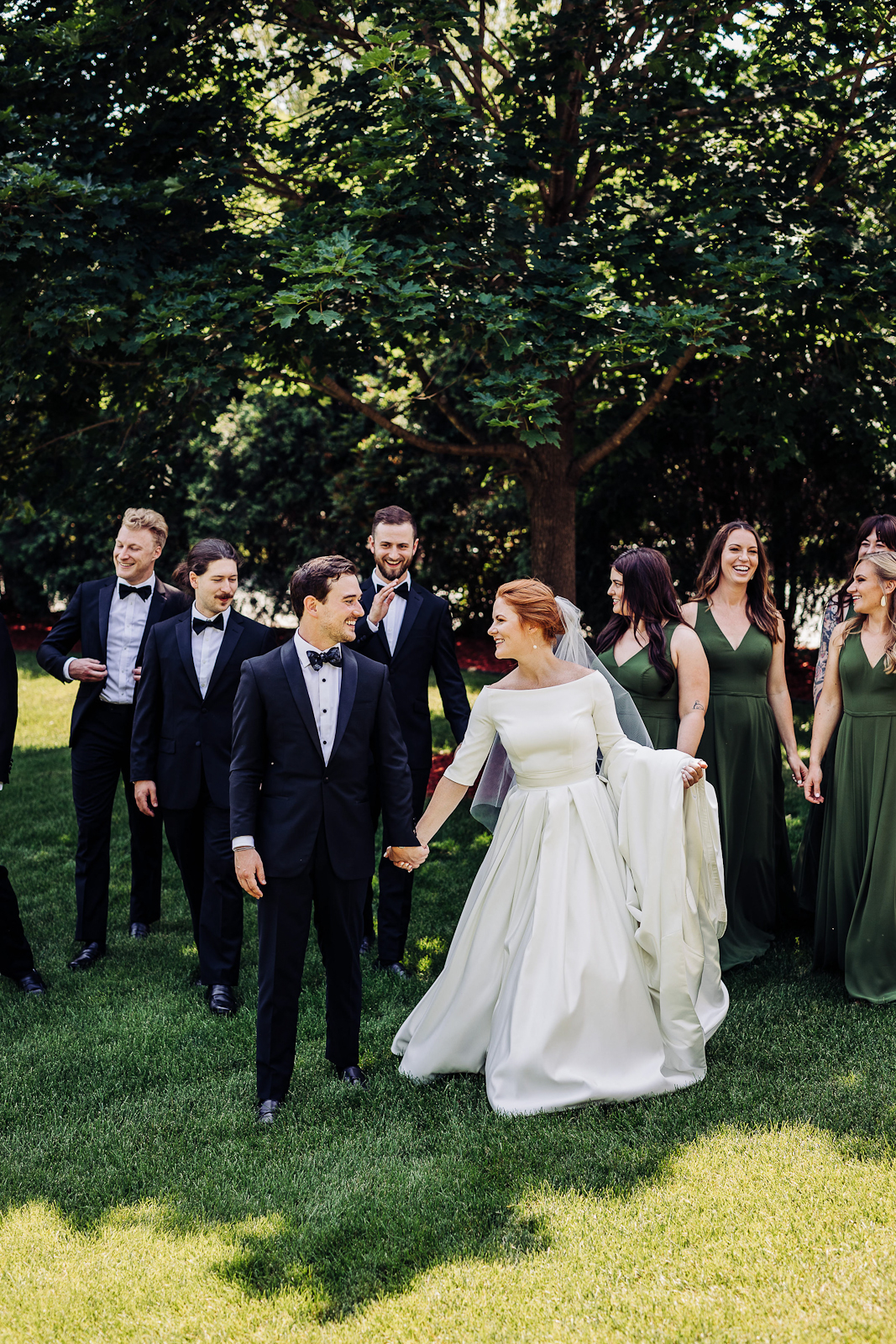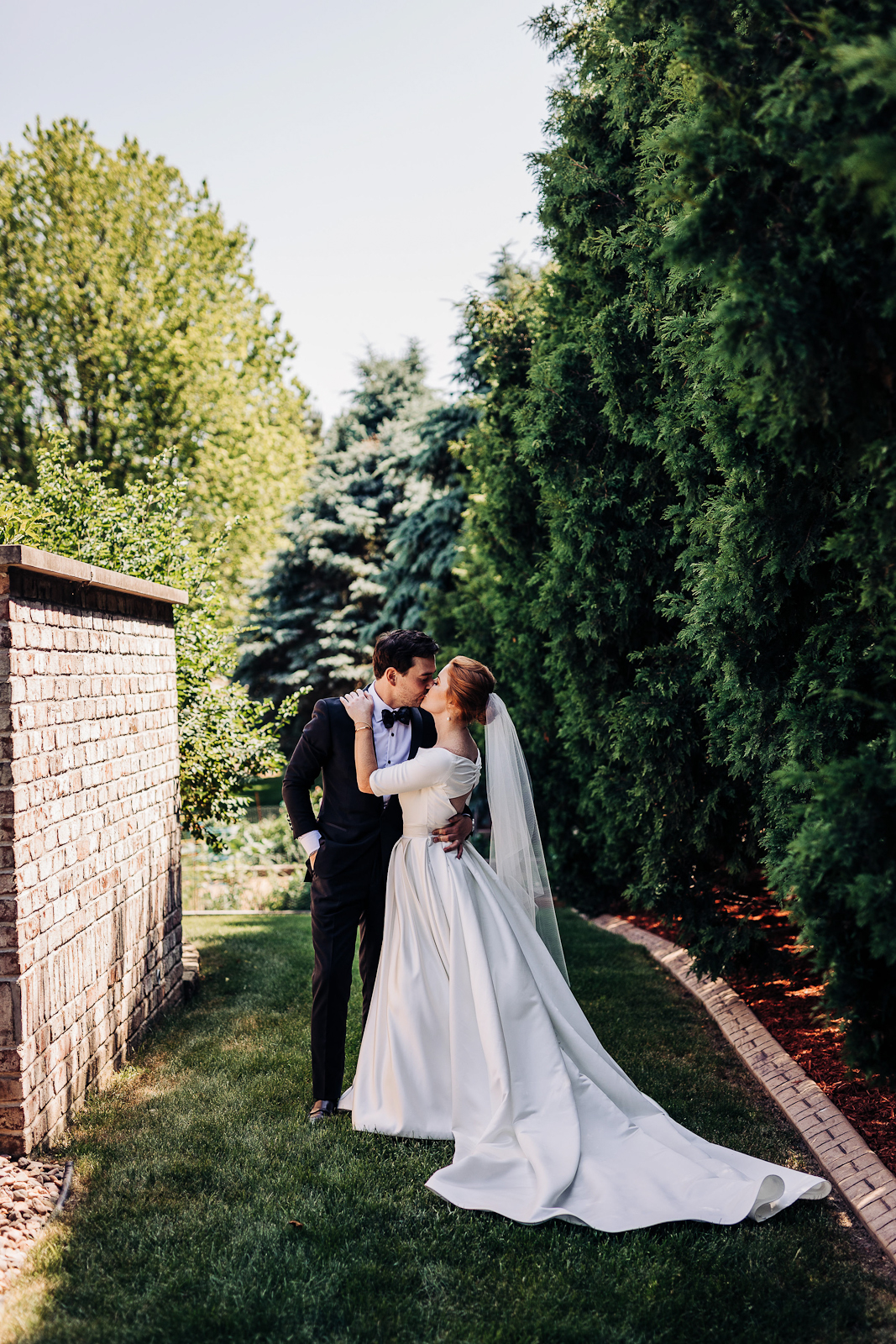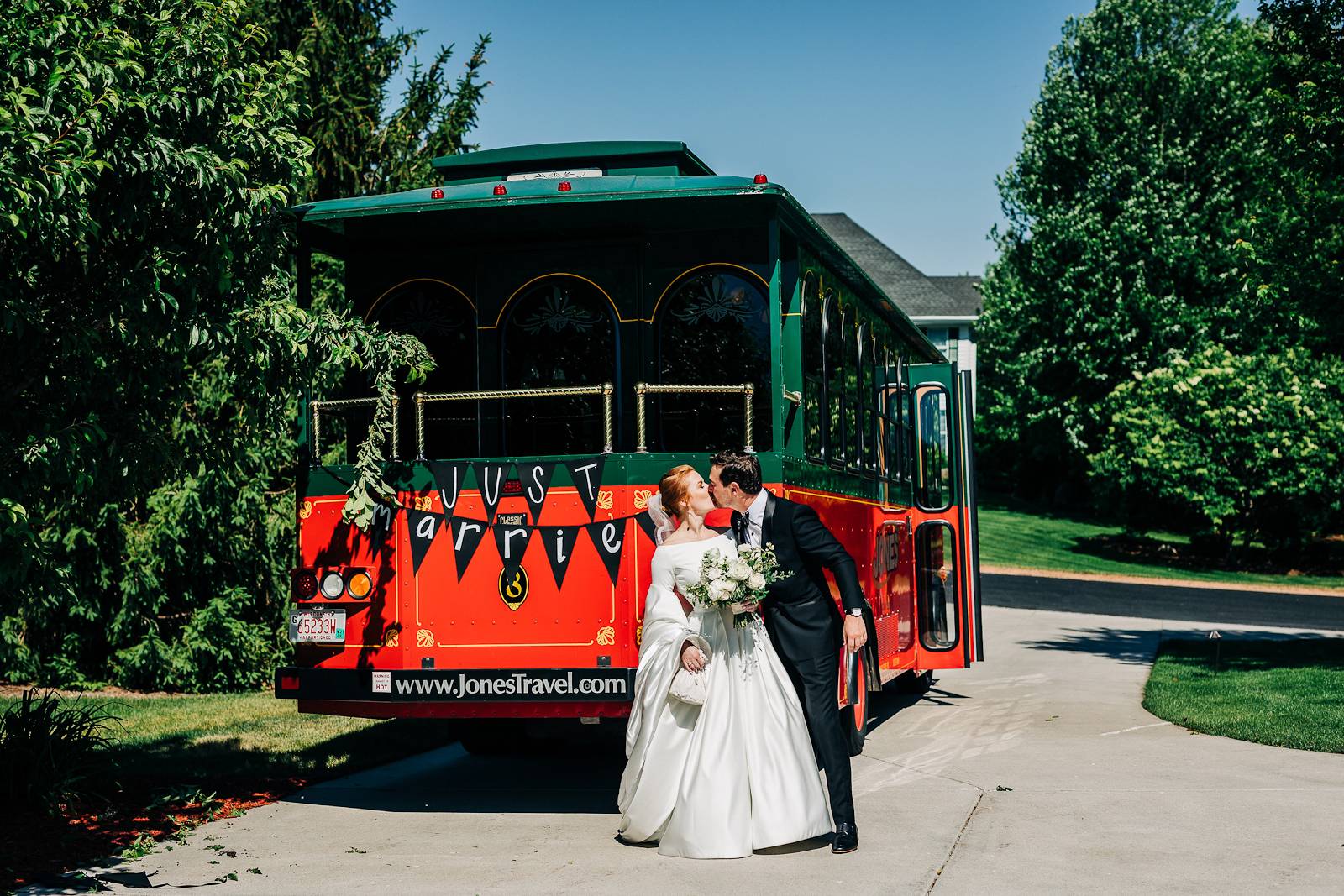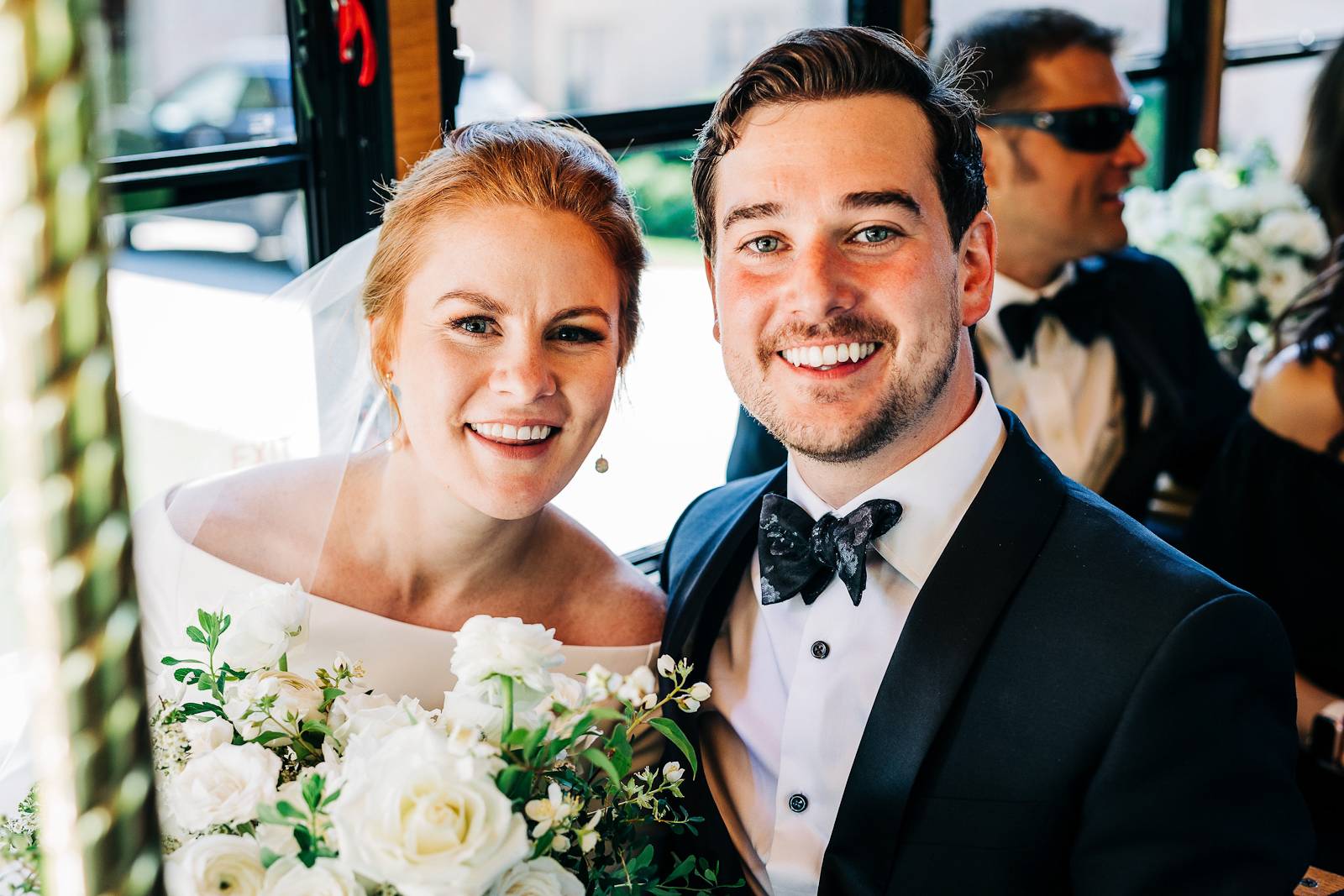 DESCRIBE YOUR WEDDING ATTIRE: My attire was a black tux tailored to the nines with shawl lapels. I wore a black floral bow tie, black silk socks, black loafers, and a watch gifted to me from Abbey.
Our groomsmen, ushers, and fathers matched with solid black bow ties and more basic loafers.
Abbey wore a gorgeous white dress with half-length sleeves, a boat neck, crepe texture, and an open back - a very timeless look. She accessorized with white, open-toed strap heels, borrowed earrings from her mother, and a gifted diamond tennis bracelet from me.
Our bridesmaids played into the green of our color palette with v-neck floor-length dresses that included pleating down the skirt.
DESCRIBE YOUR WEDDING THEME/STYLE IN FIVE WORDS OR LESS: Timeless, simple, lush, peaceful, joyful.
WHAT WAS YOUR WEDDING COLOR PALETTE? Black, white, and many shades of green.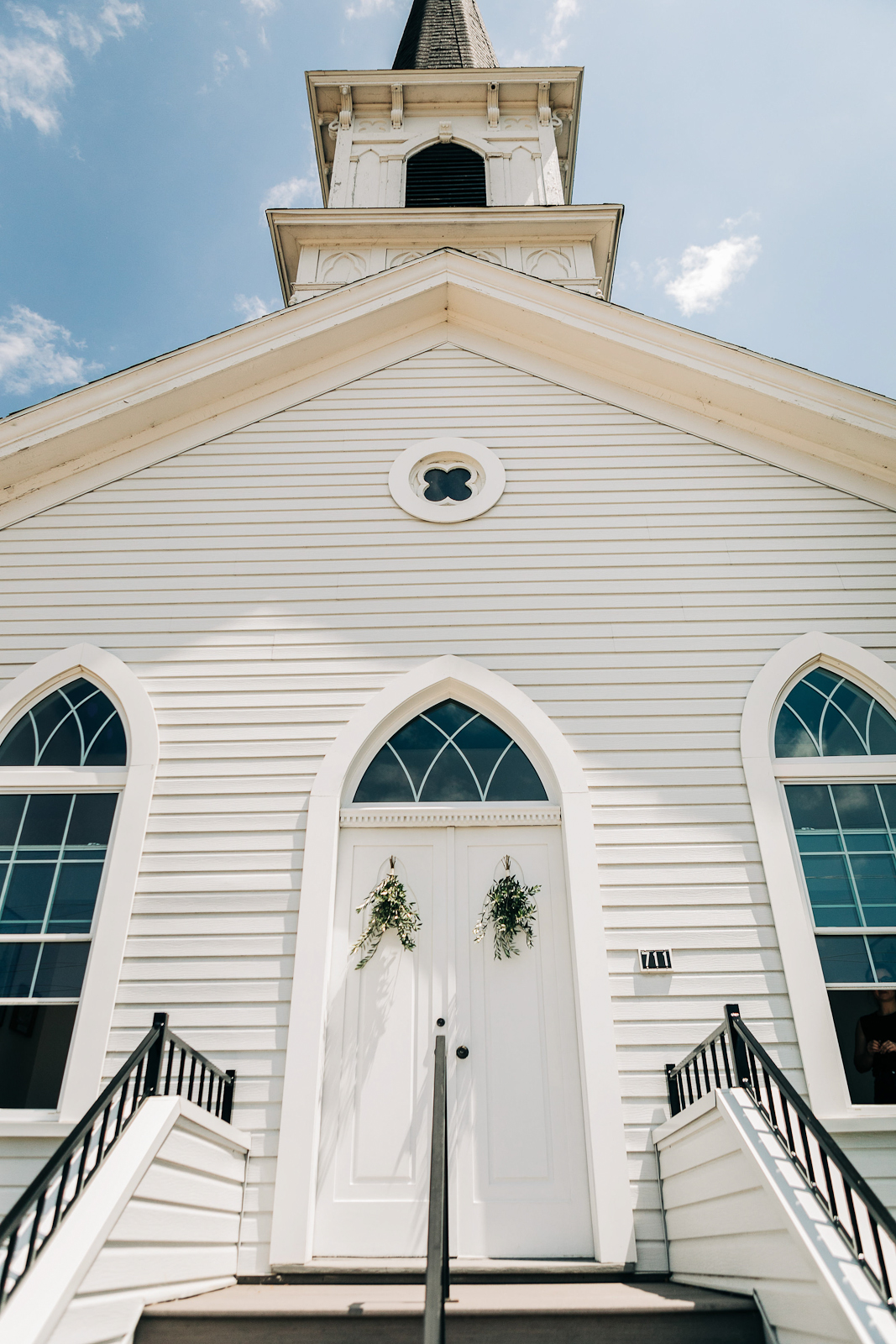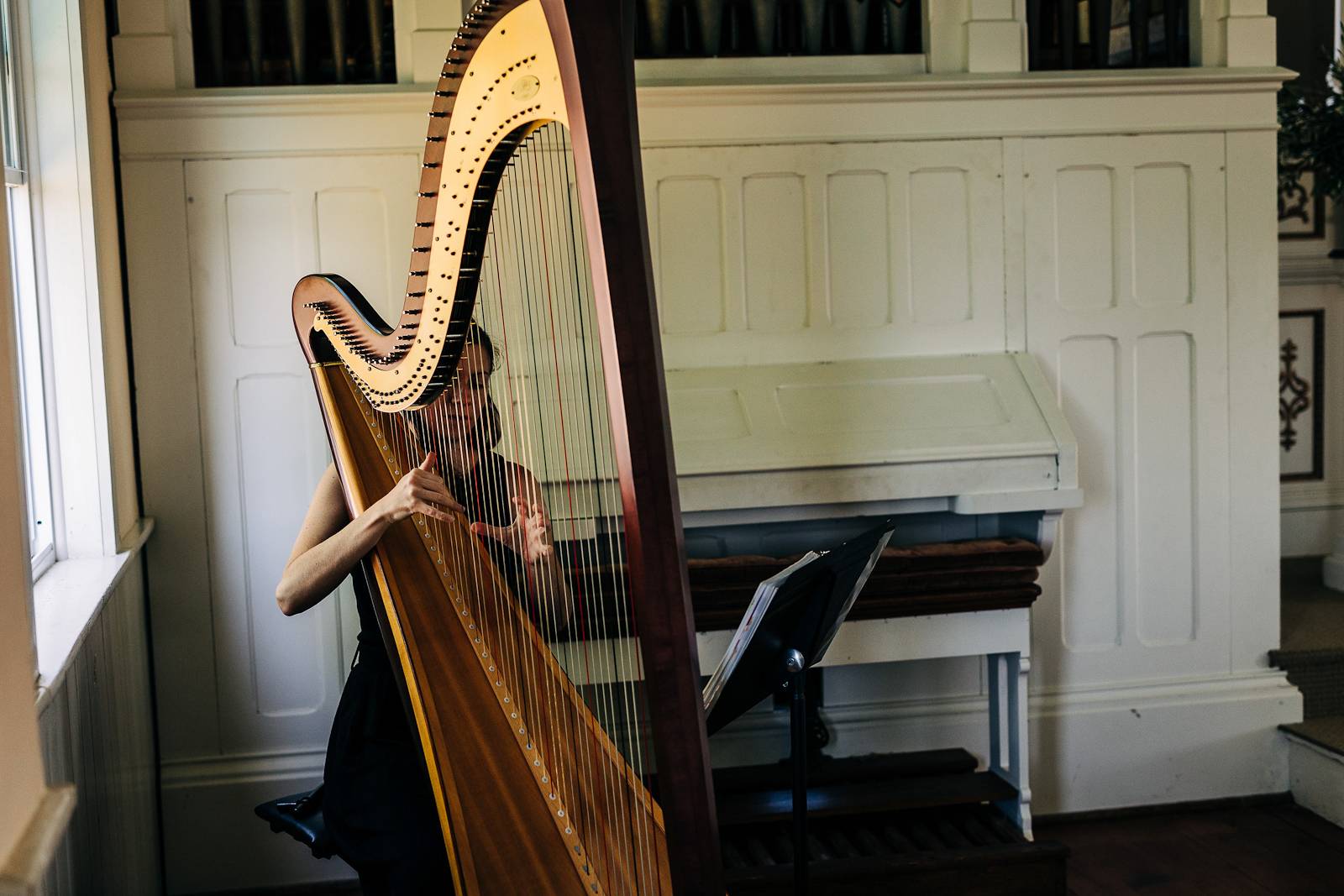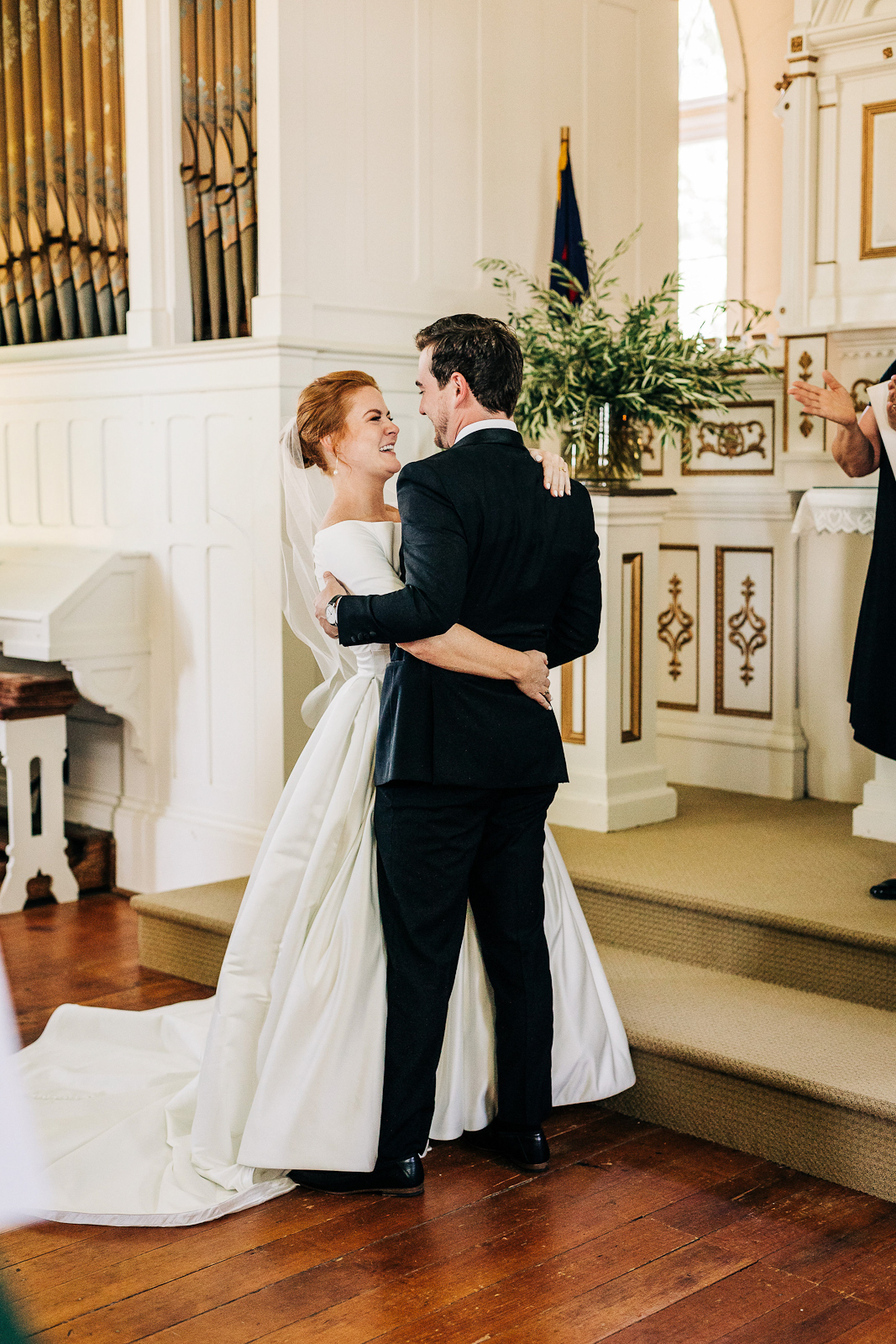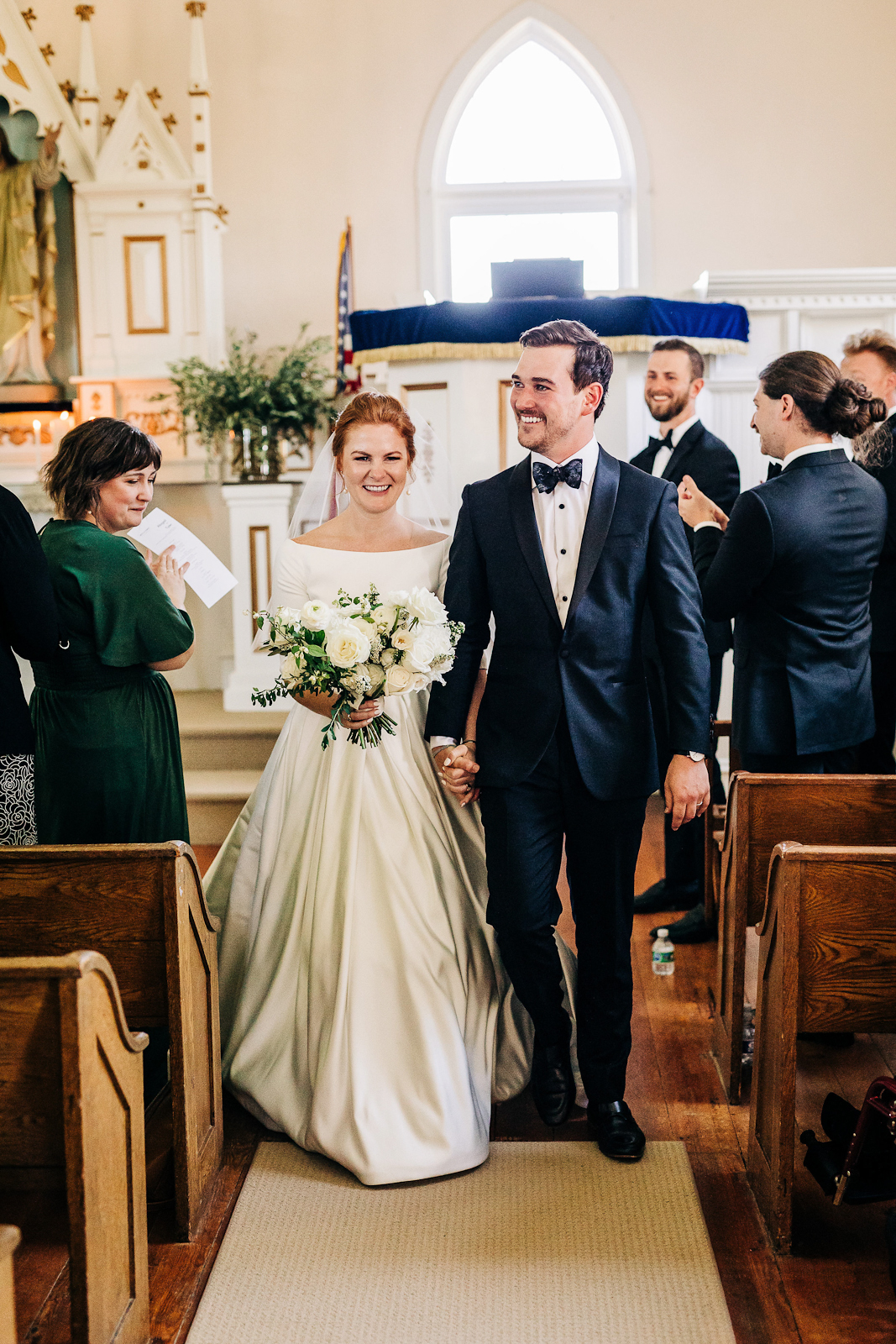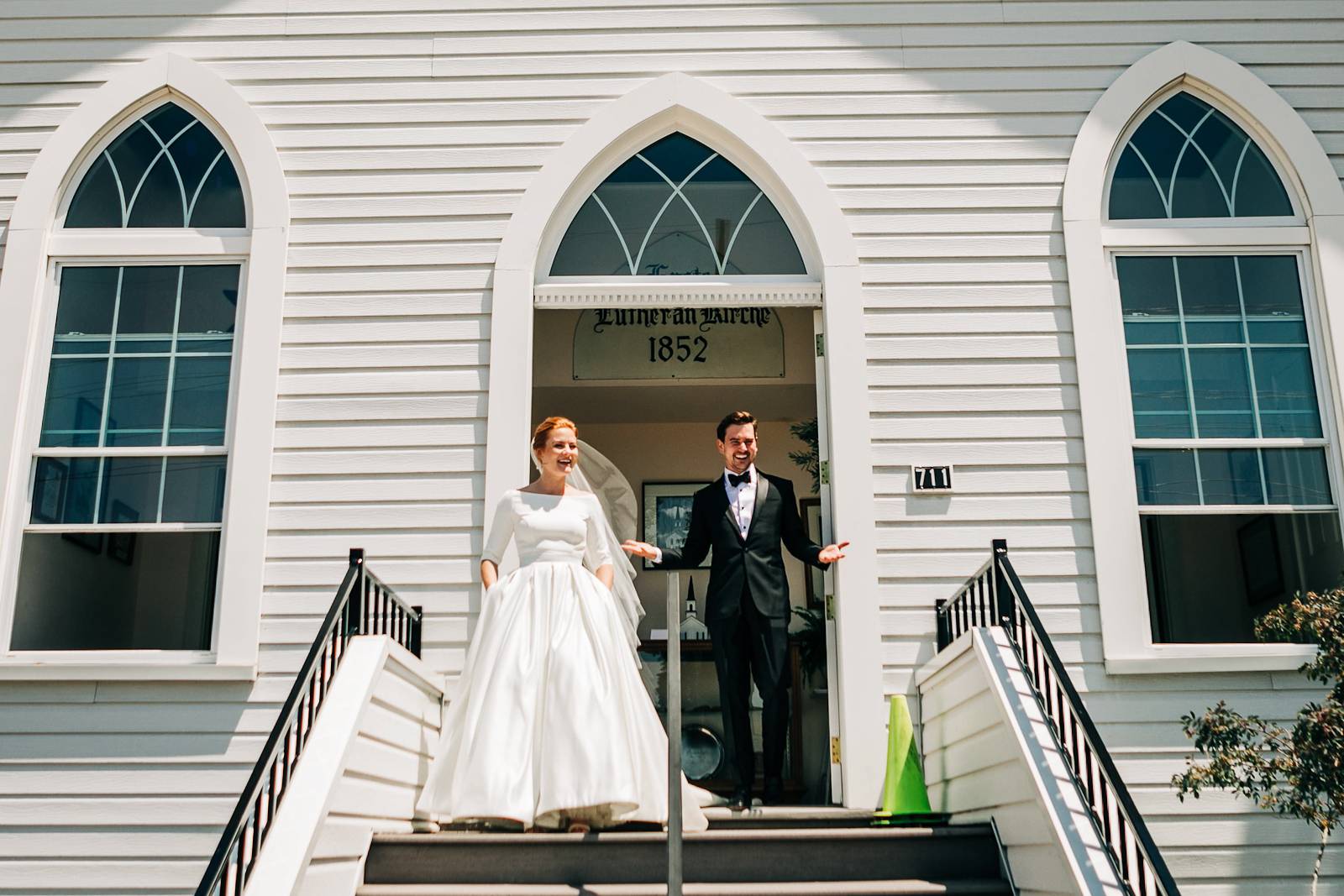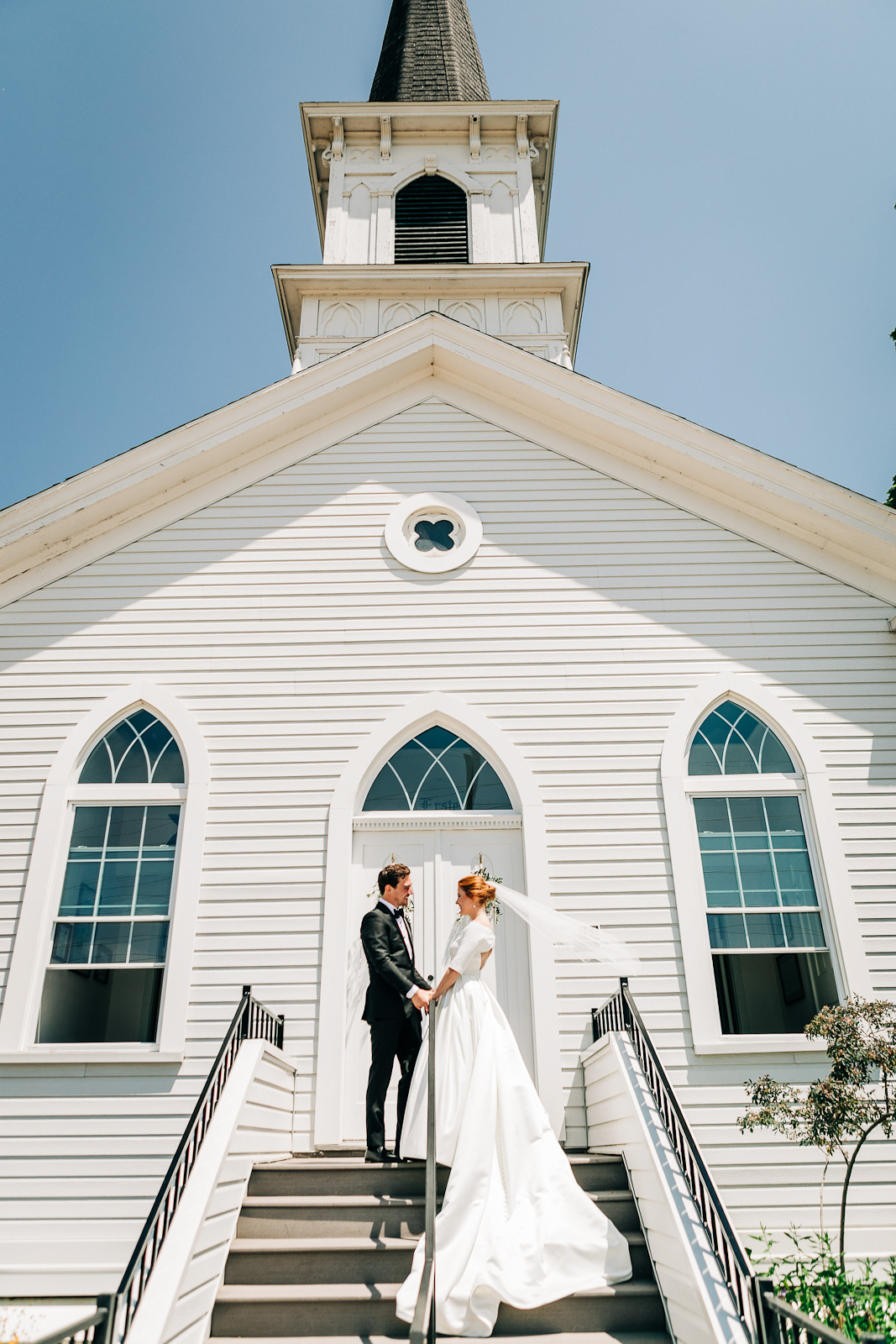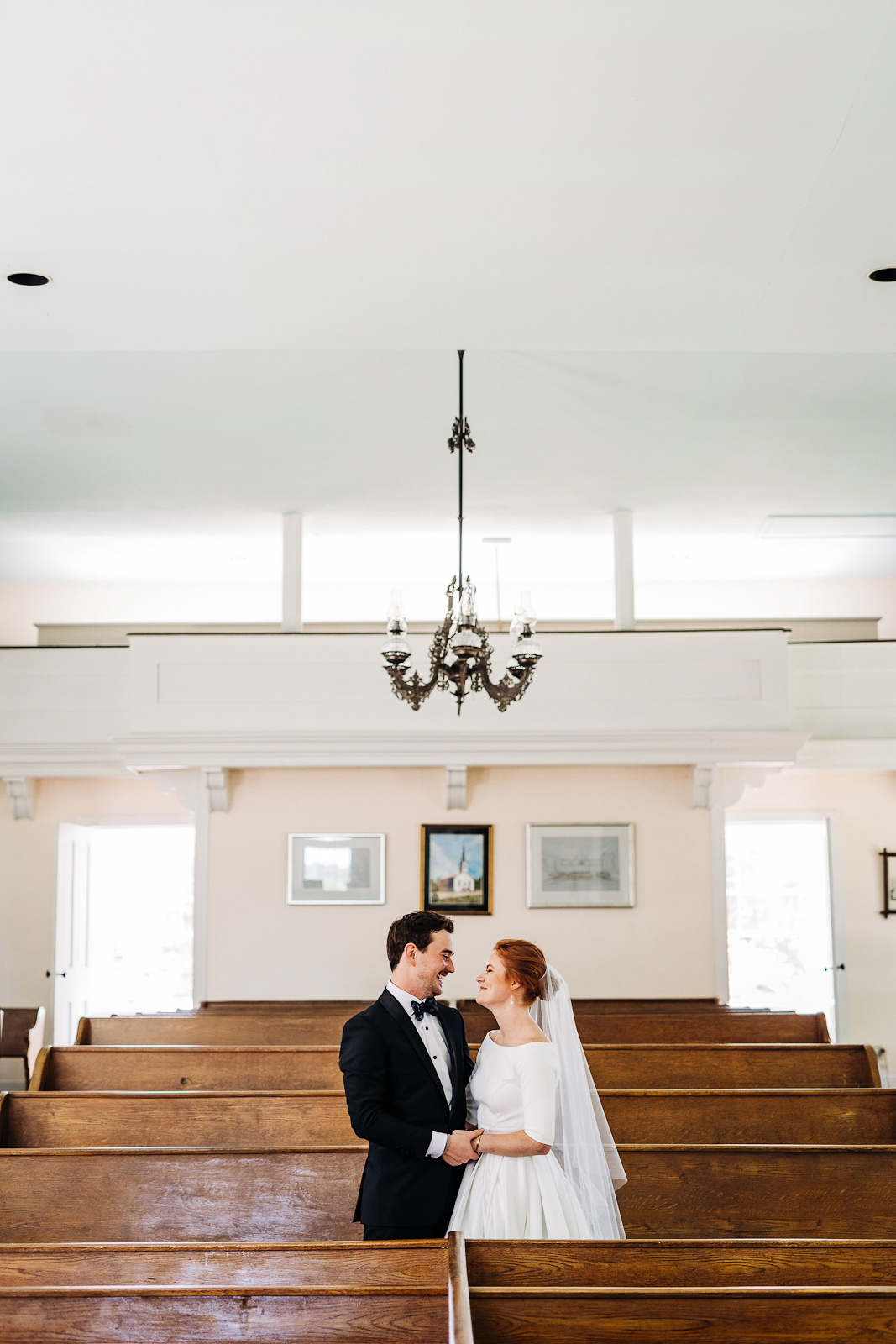 DESCRIBE YOUR WEDDING FLOWERS: We incorporated more plants versus flowers except for Abigail's bouquet, which used a blend of seasonal white flowers, bountiful greens, and a lot of olive branches.
SHARE ANY UNIQUE DETAILS THAT STANDOUT: Custom playing cards were our wedding favor as cards have been a major throughline in our relationship.
TELL US ABOUT THE FOOD, DESSERT, AND ANY SPECIALTY BEVERAGES ON THE MENU: Jambalaya was important to us as it is something we made together early in our relationship, have enjoyed many times from Smack Shack in Minneapolis, and reminds us of one of our favorite trips with friends to New Orleans. We love flavor! We're also sauce fiends, so the chimichurri was a must -- Dan from Garver did a fantastic job with it.
We skipped the cake and went with Calliope Ice Cream as our dessert (ice cream is another big part of our relationship -- usually straight from the carton in bed). Our "specialty" drinks were as straightforward as they come with an Old Fashioned (Wisconsin Classic) and Paloma (we love Tequila and believe it to be the perfect summer drink).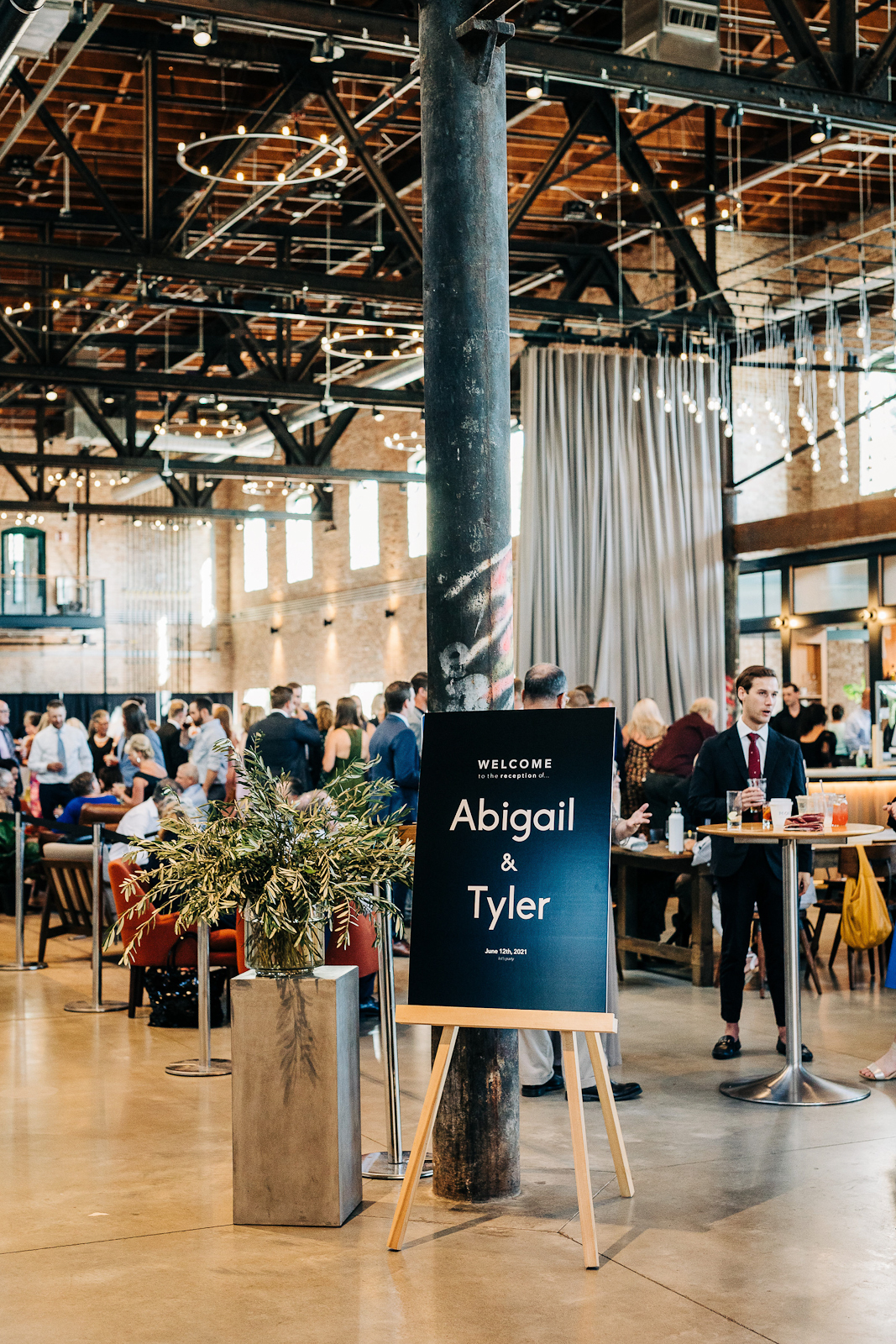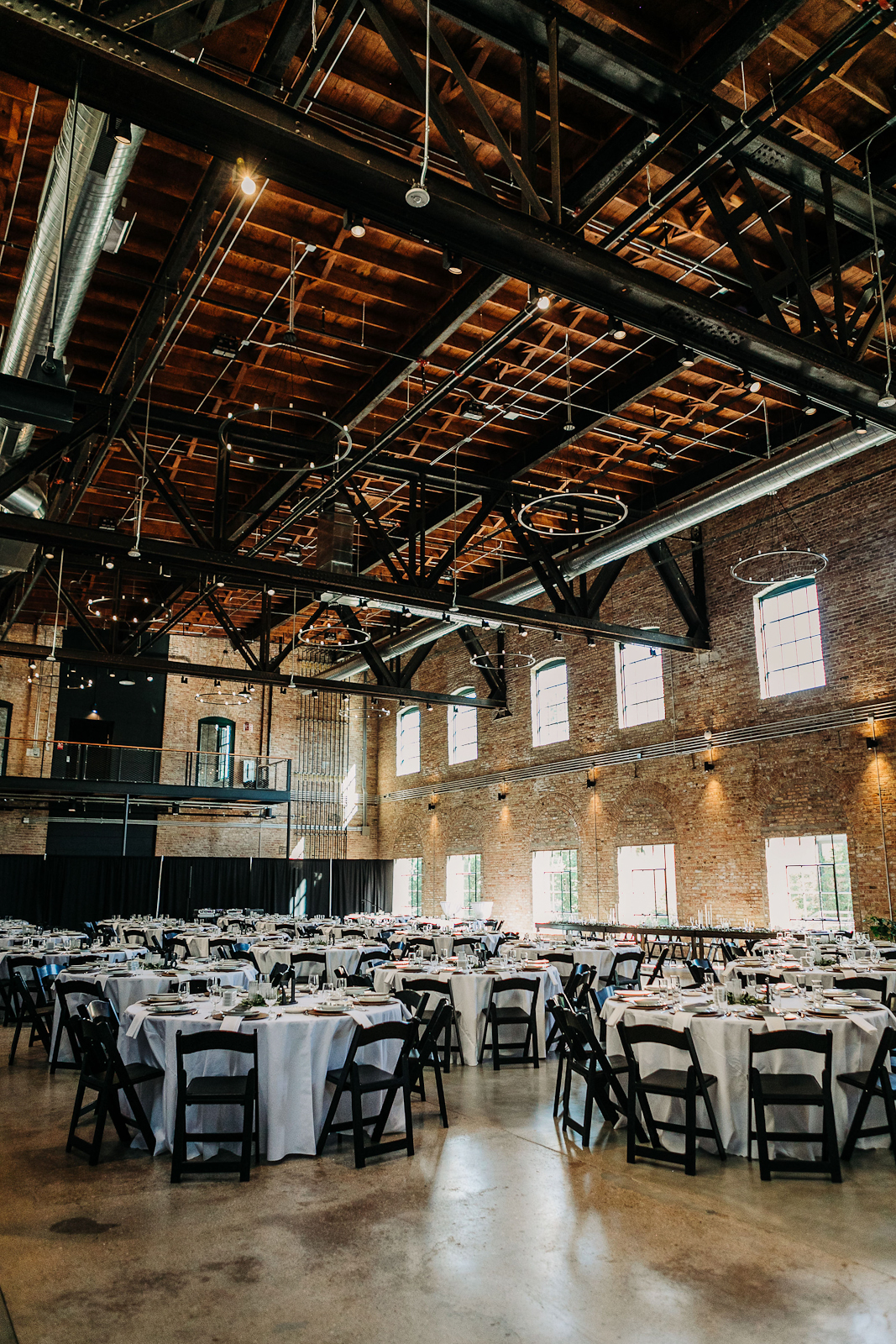 DID YOU INCLUDE ANY CULTURAL OR FAMILY TRADITIONS? IF SO, PLEASE SHARE! Do line dances count?
WERE THERE ANY PERSONAL TOUCHES OR DIY ELEMENTS? We designed and printed the wedding programs, seating chart, and dinner menus.
WHAT WAS YOUR FIRST DANCE SONG? HOW IS IT SIGNIFICANT TO YOU AS A COUPLE? "Love on the Brain" by Rihanna. That song and album were a major part of the early stages of our relationship, and that song sounds a lot like those early memories -- classic, in love, and passionate.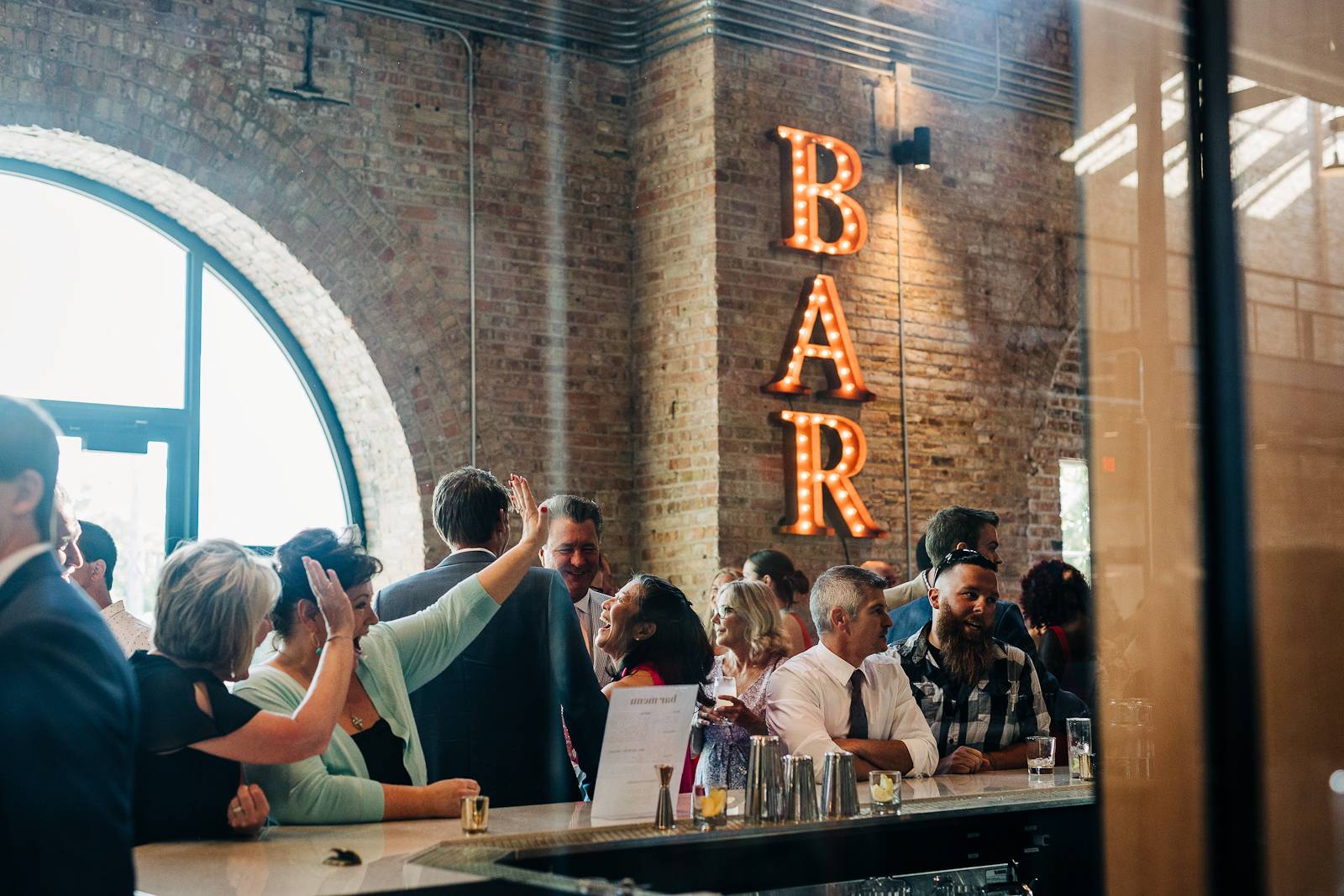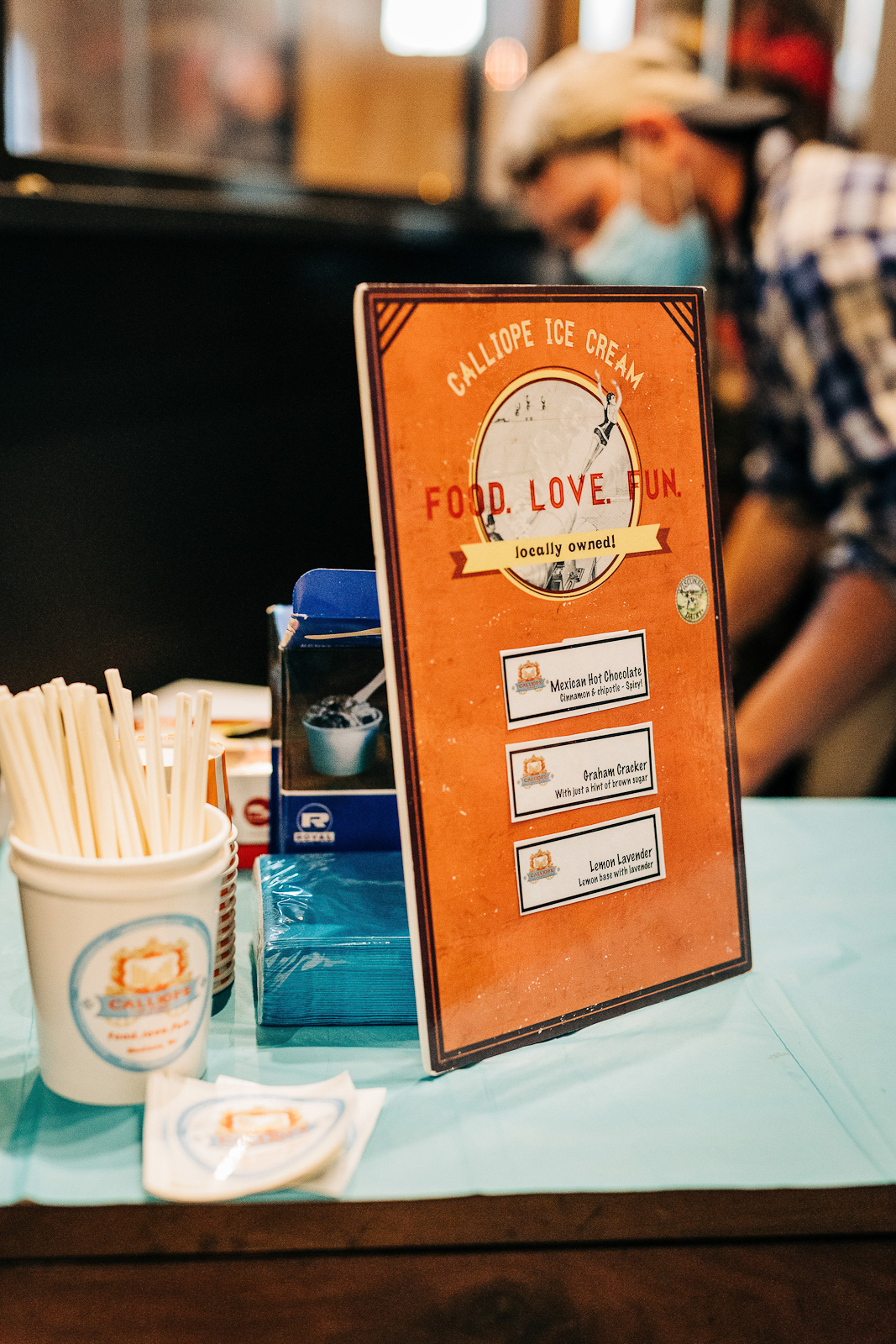 WHAT MADE YOU LAUGH? WHAT MADE YOU CRY? WHAT WERE THE MOST MEMORABLE MOMENTS?
Laugh: Seeing friends and family dance with other friends and family in certain ways we cannot elaborate further.
Cry: Seeing all of our loved ones in one place at the ceremony and the speeches.
Most Memorable Moments: First look. Seeing Abbey walk down the aisle. Walking out of the church as a married couple! Watching everyone dance from the balcony at Garver. An impromptu dance to The Way You Make Me Feel. We had so many memorable moments from our day!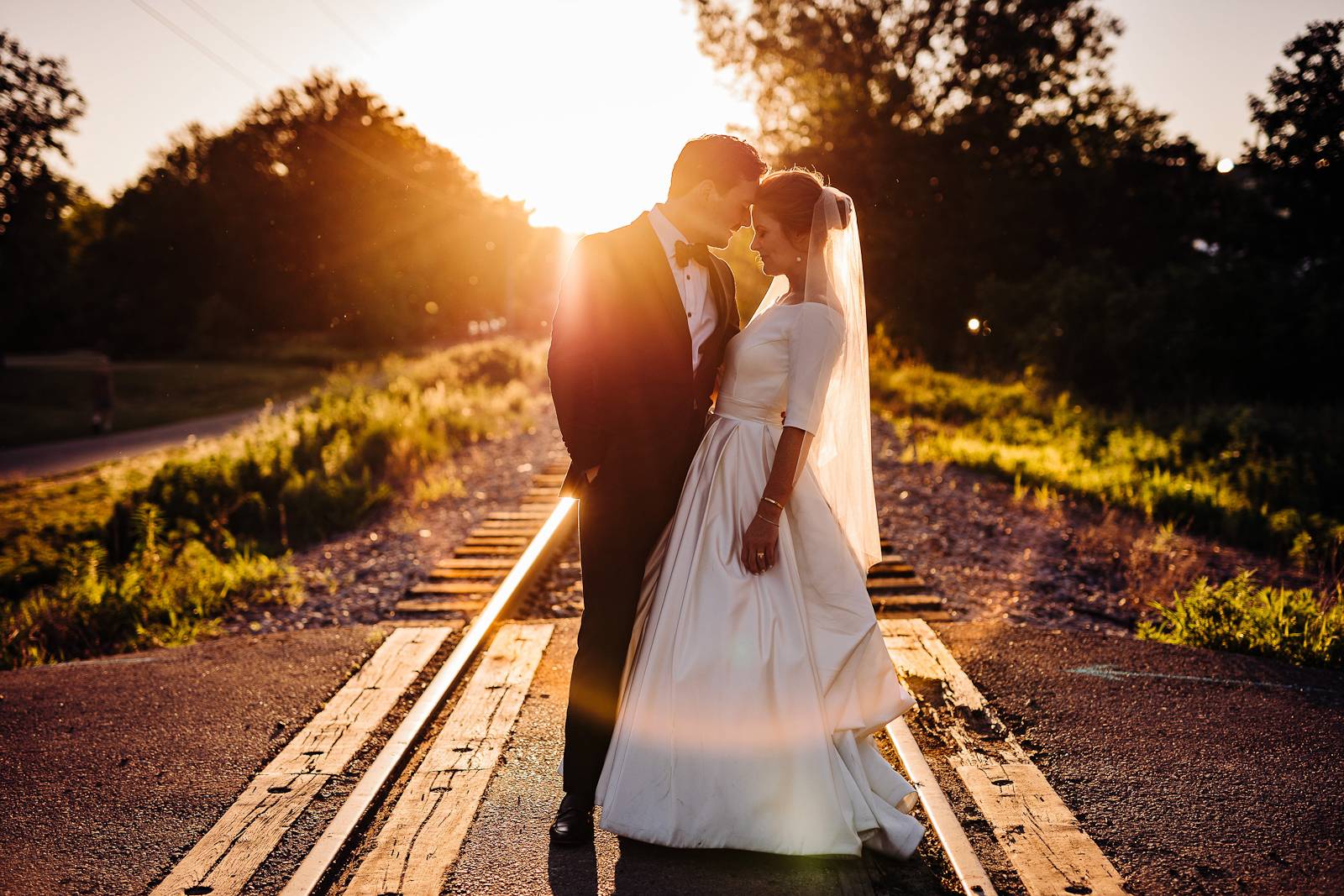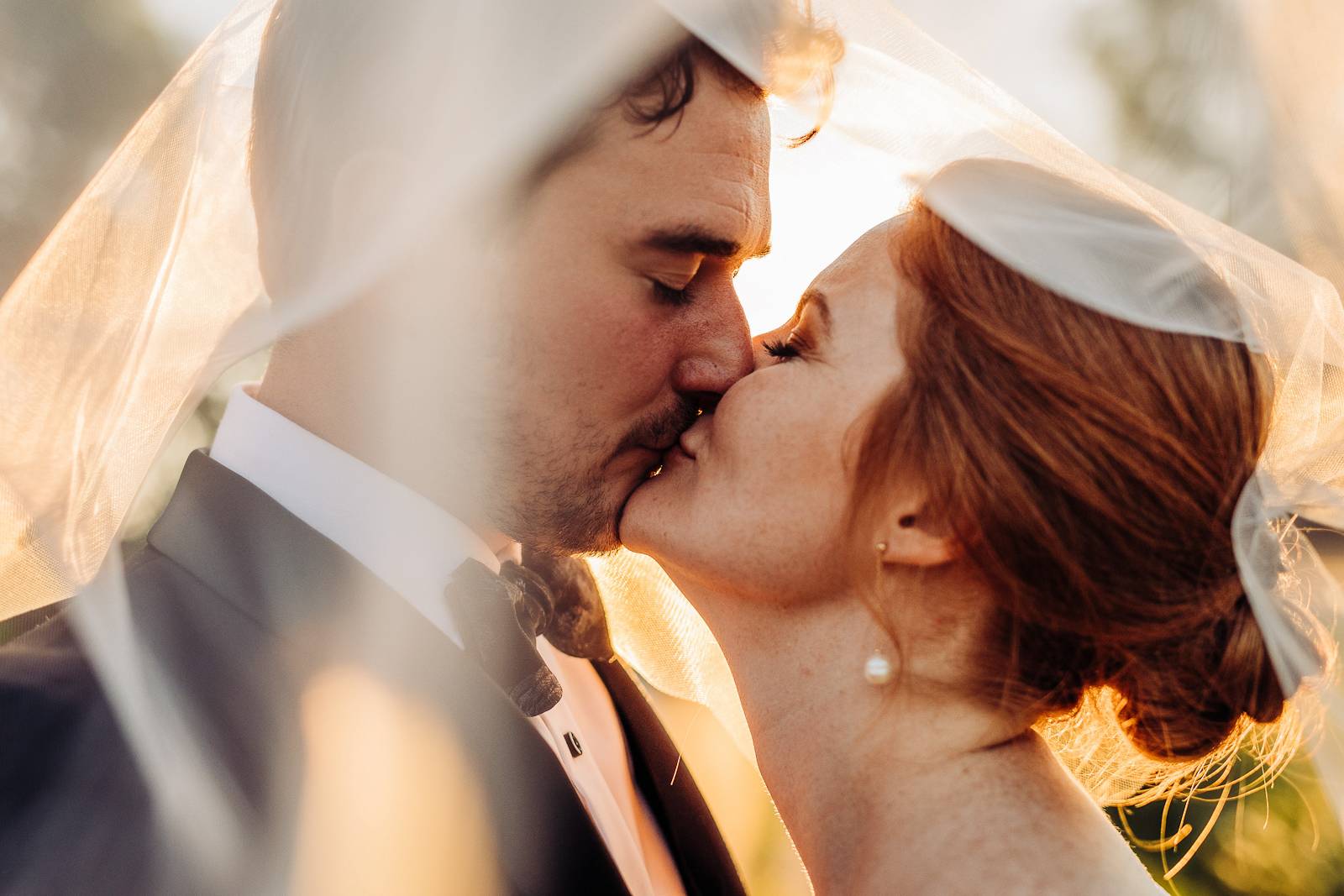 ANY WEDDING PLANNING REGRETS OR SOMETHING YOU WOULD DO DIFFERENTLY? We would have had a dedicated day-of wedding planner.
IS THERE ANY ADVICE YOU'D GIVE TO OTHER COUPLES PLANNING THEIR WEDDING? Wedding Wednesday -- dedicate a day/night every week to get tasks done. Align with each other on what is most important to you, your 'non-negotiables.'
WHAT PLANNING TOOLS HELPED YOU THE MOST? We created a spreadsheet to use.
WHAT DOES LIFE LOOK LIKE AFTER THE WEDDING? Our honeymoon in Big Sur was unforgettable - we can't wait to go back! We bought a house two months after the wedding, got a dog in the fall, and had a baby in the spring. All is going according to plan, and we couldn't be happier.