What do you get when you put together sleek modern-boho style, lush statement florals, delicious food, a championship golf course, and a surprise visit from the Green Bay Packers? Haley and Lucas' July wedding at Trappers Turn! Captured by Indian Summer Photography, featuring a talented team of local vendors, you don't want to miss one detail of this stunning Wisconsin Dells wedding below!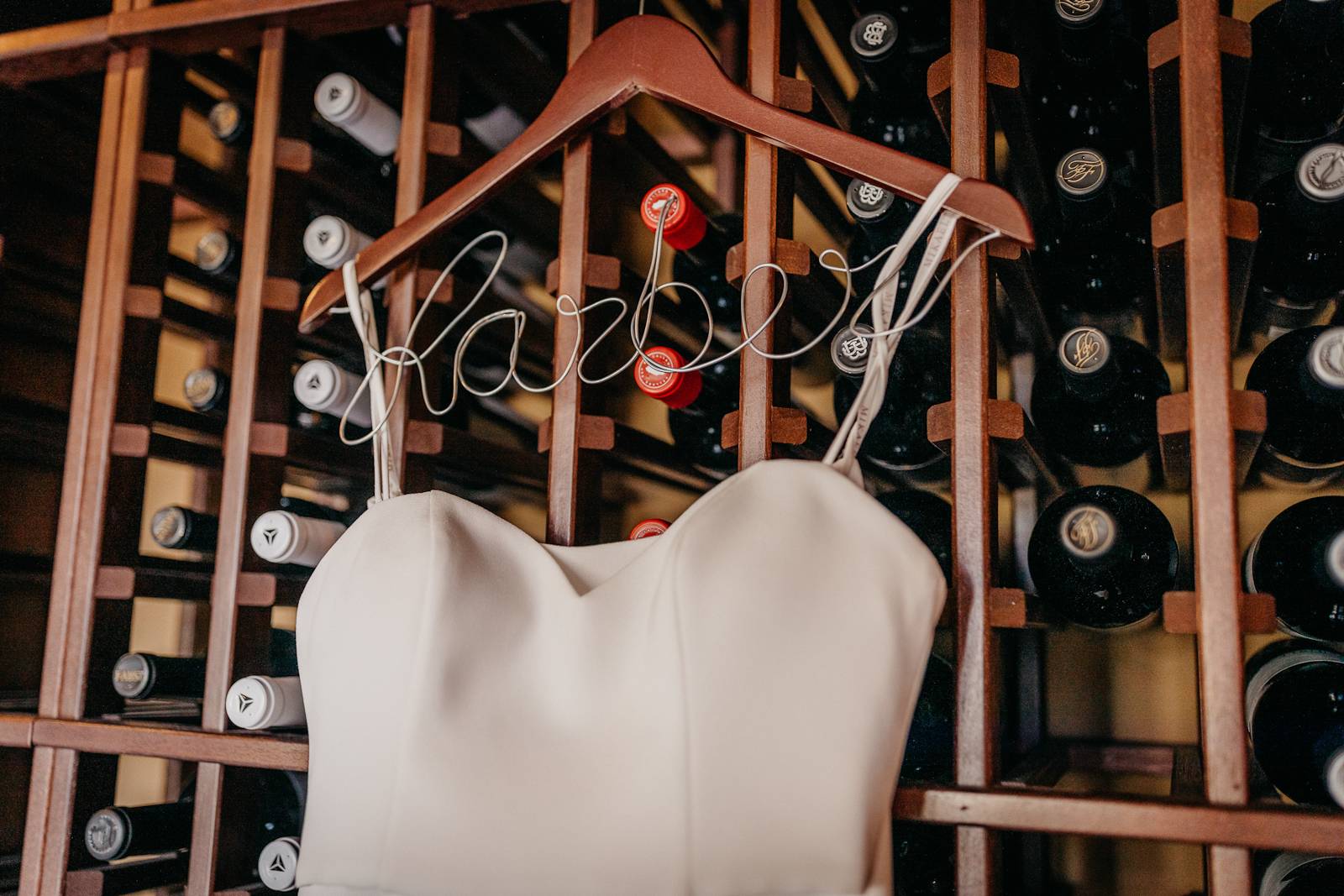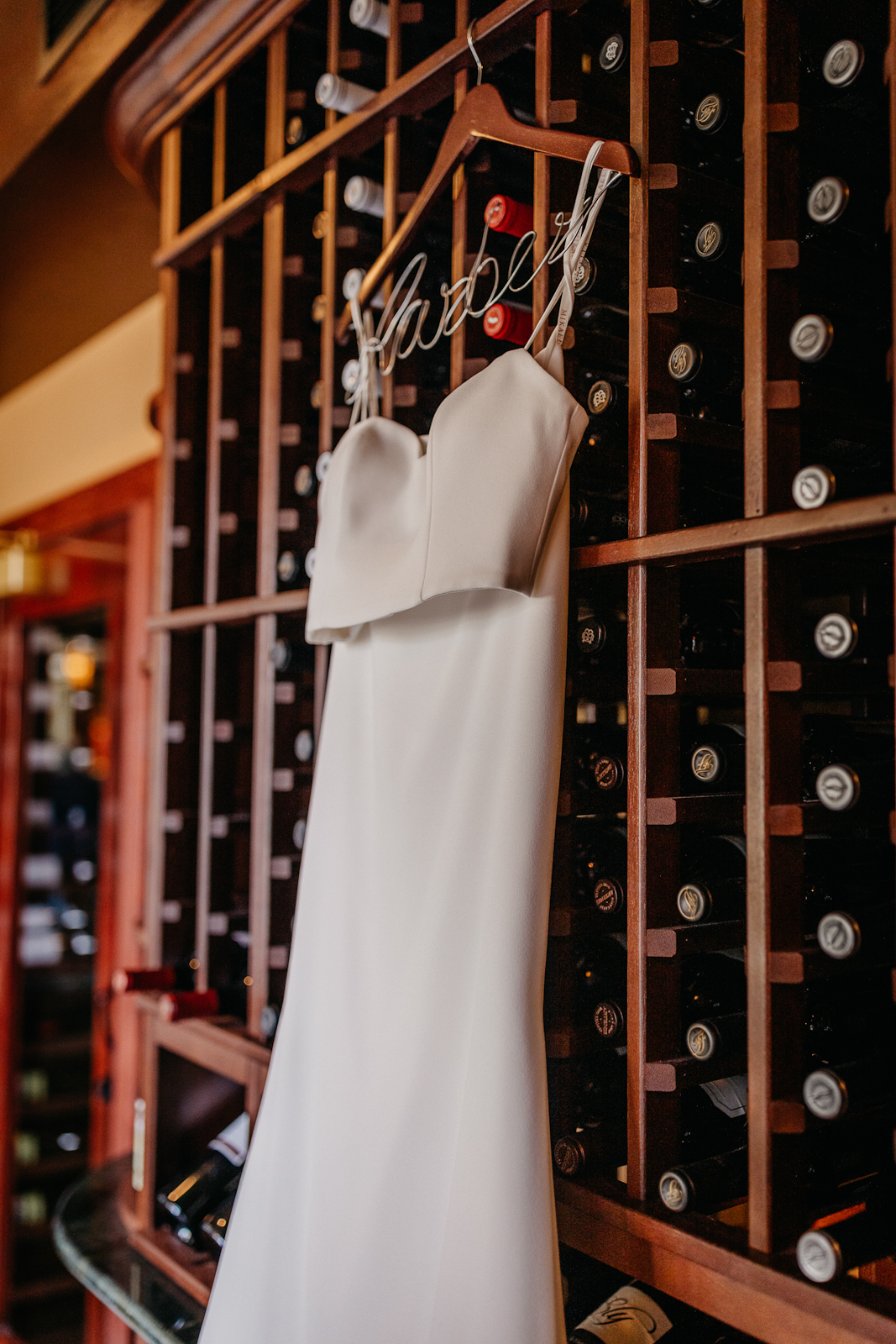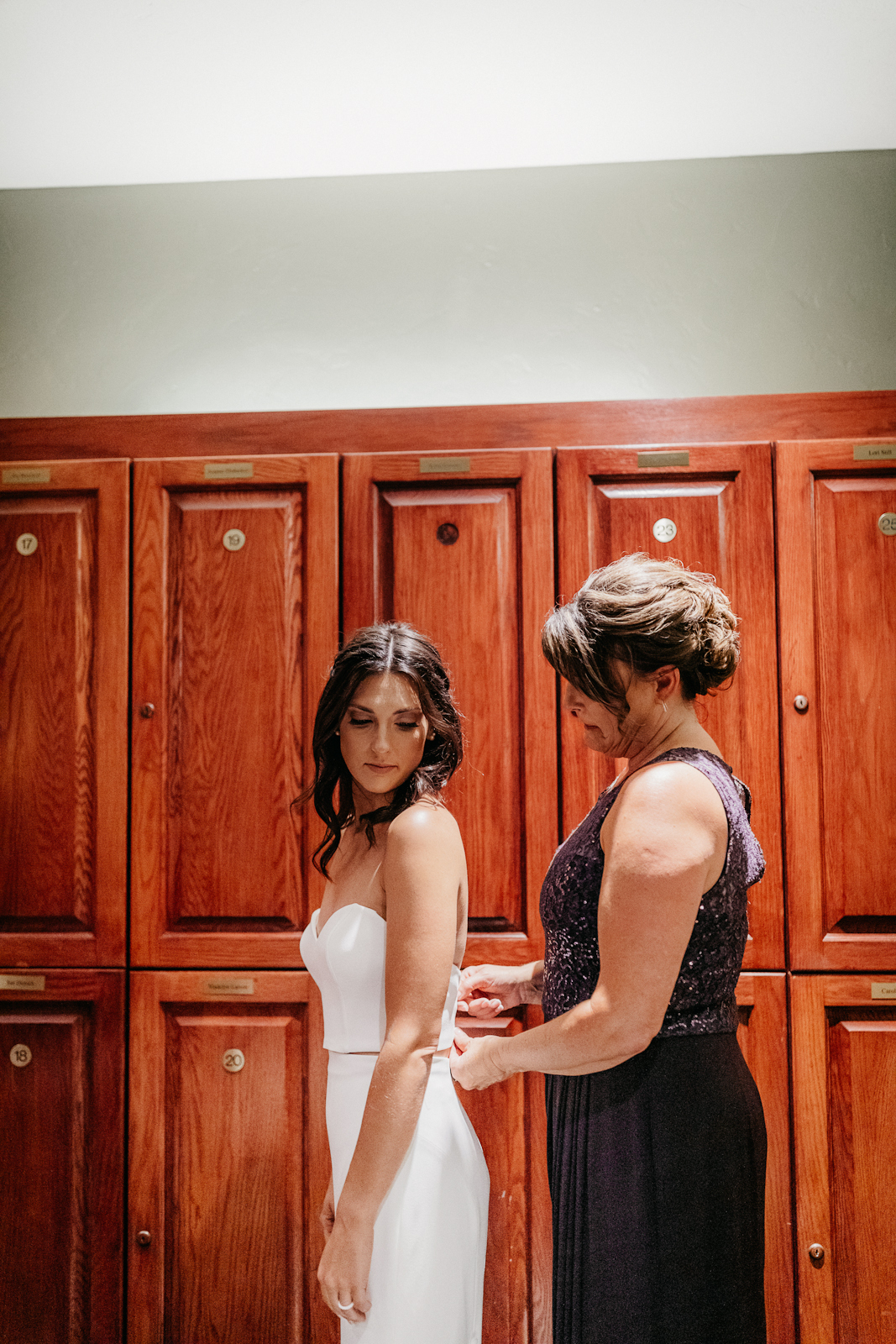 WEDDING DATE: 07/24/2021
HOW DID YOU KNOW YOU HAD FOUND "THE ONE"?
Lucas: When I realized that I cared for her more than anything or anyone because of how I felt when we spent time together.
Haley: When he started to feel like "home" to me. I knew that he was the one I wanted to spend my life with.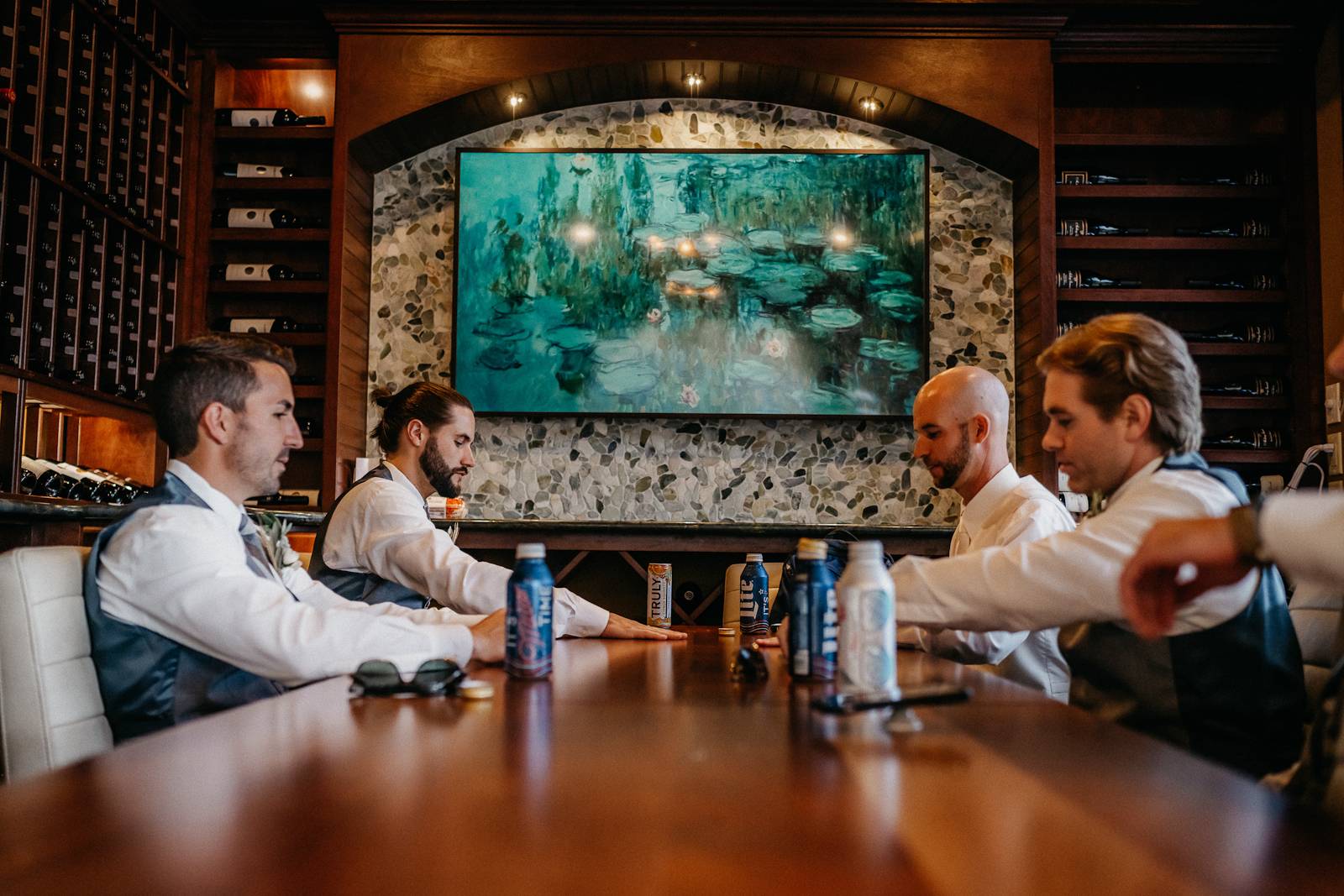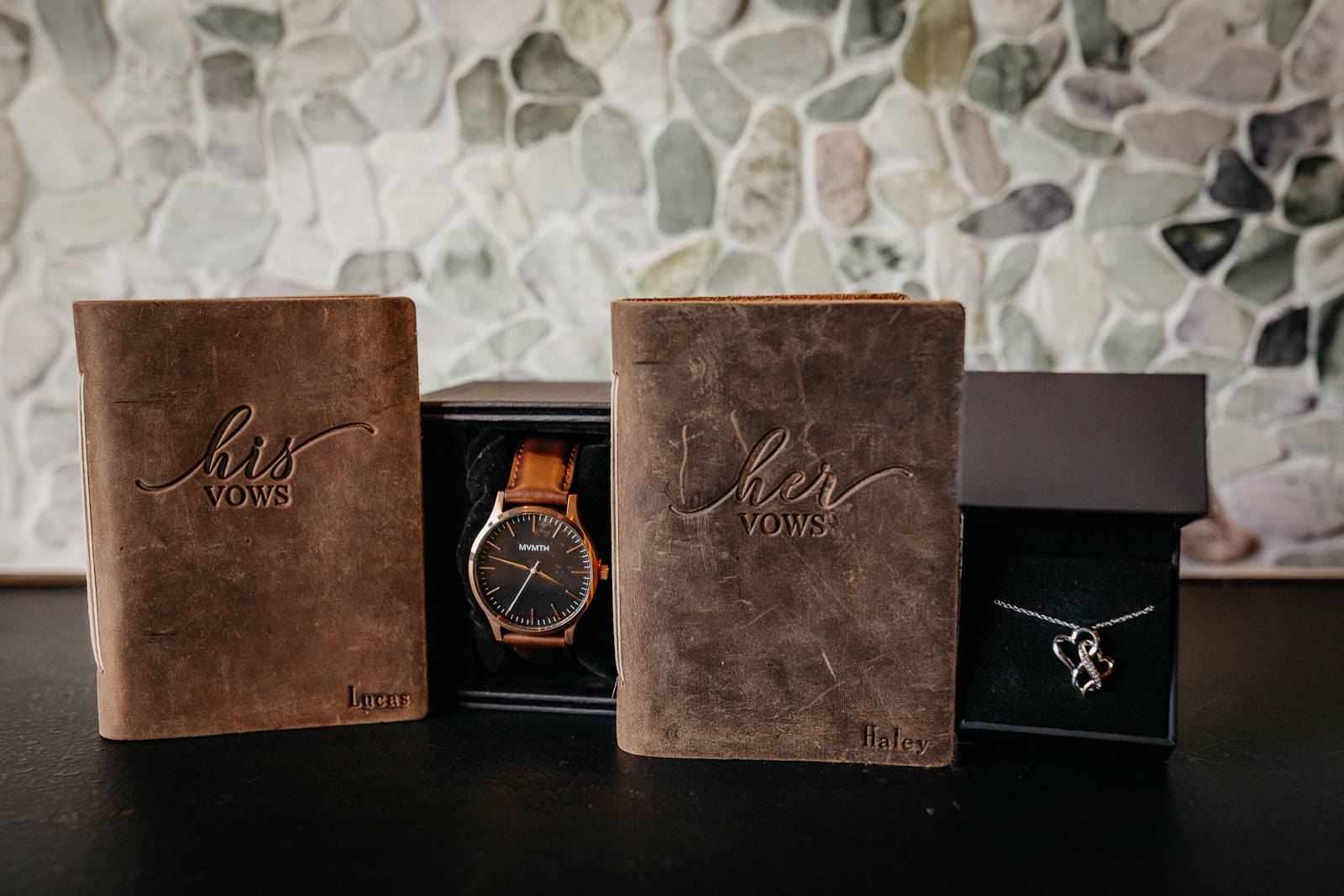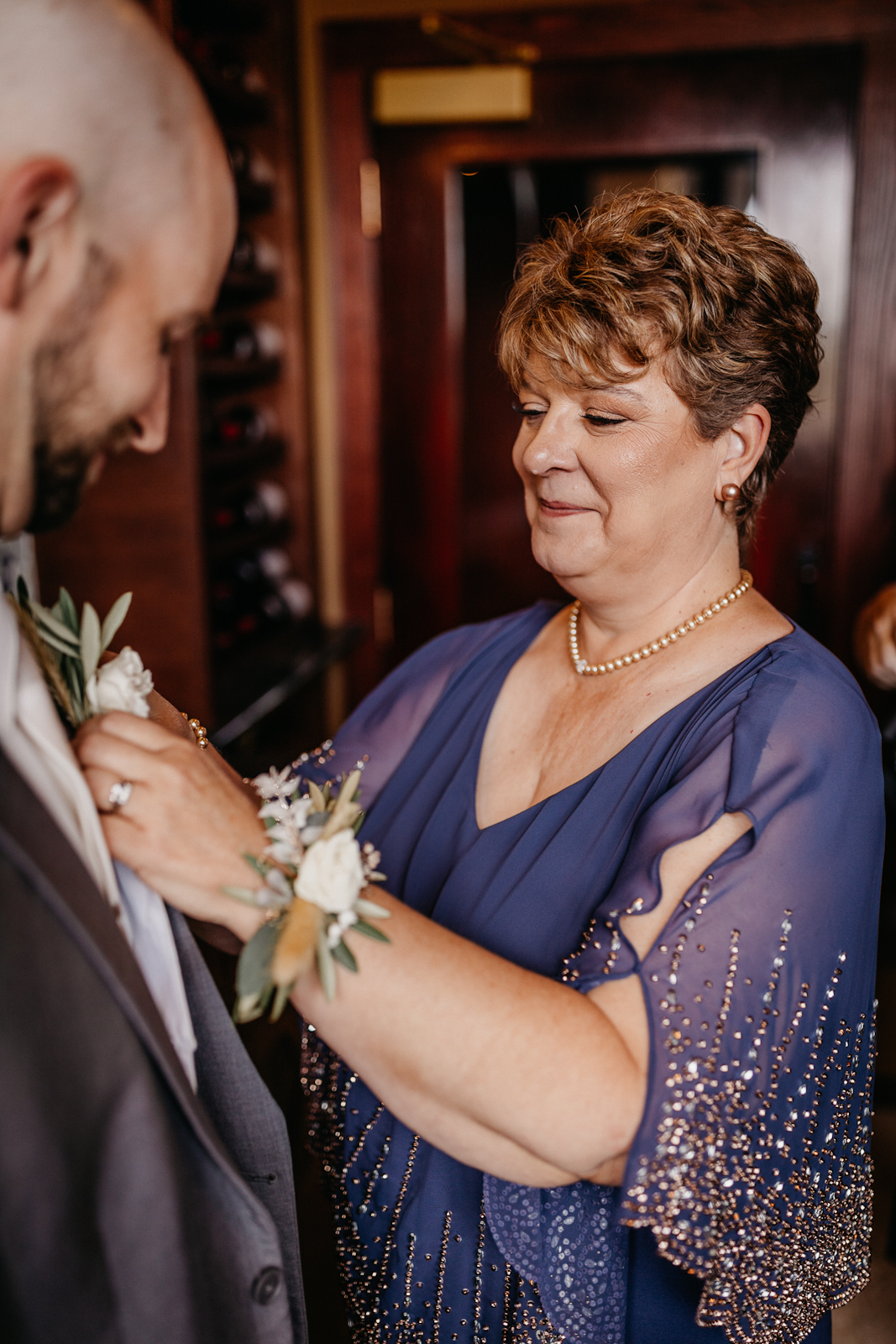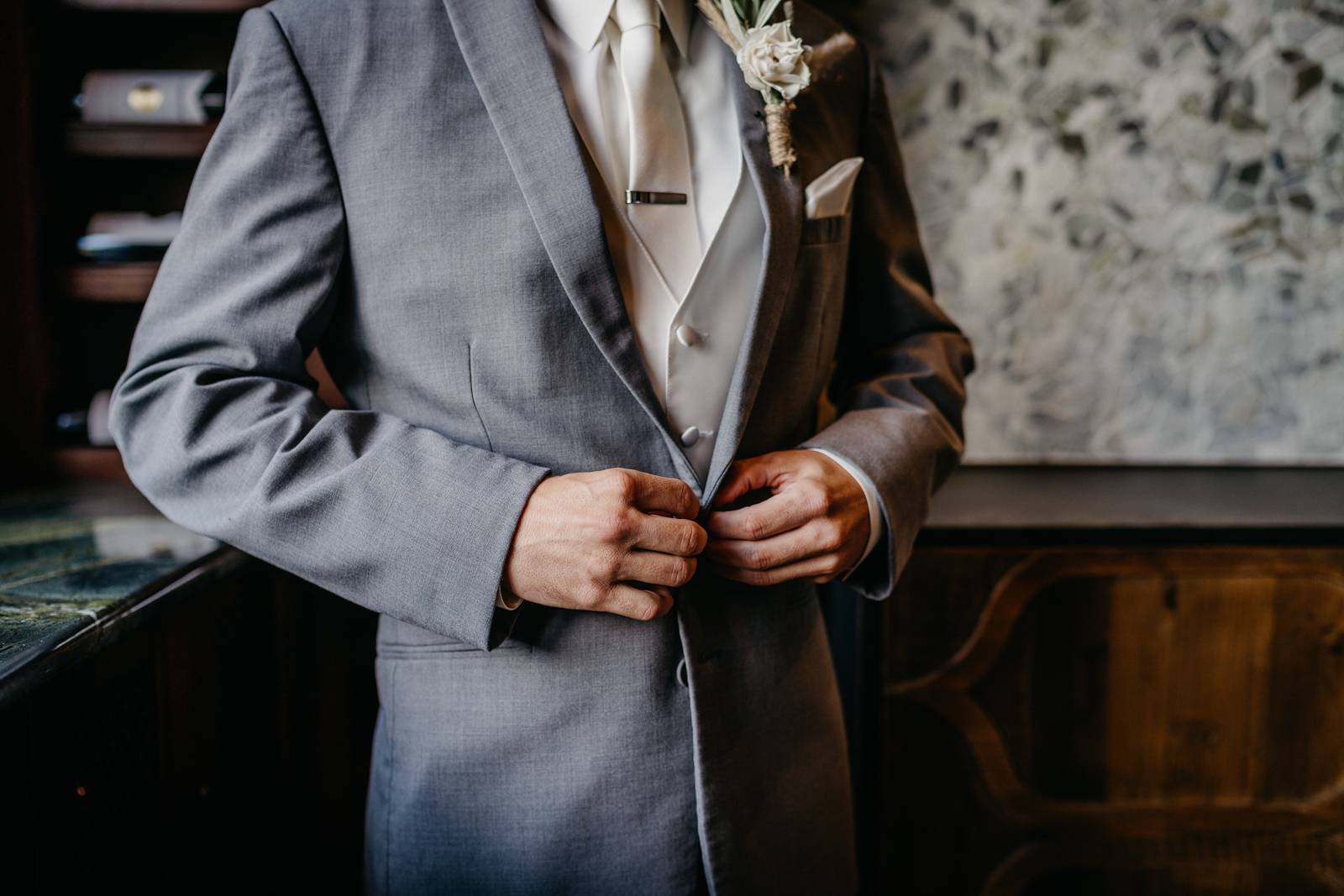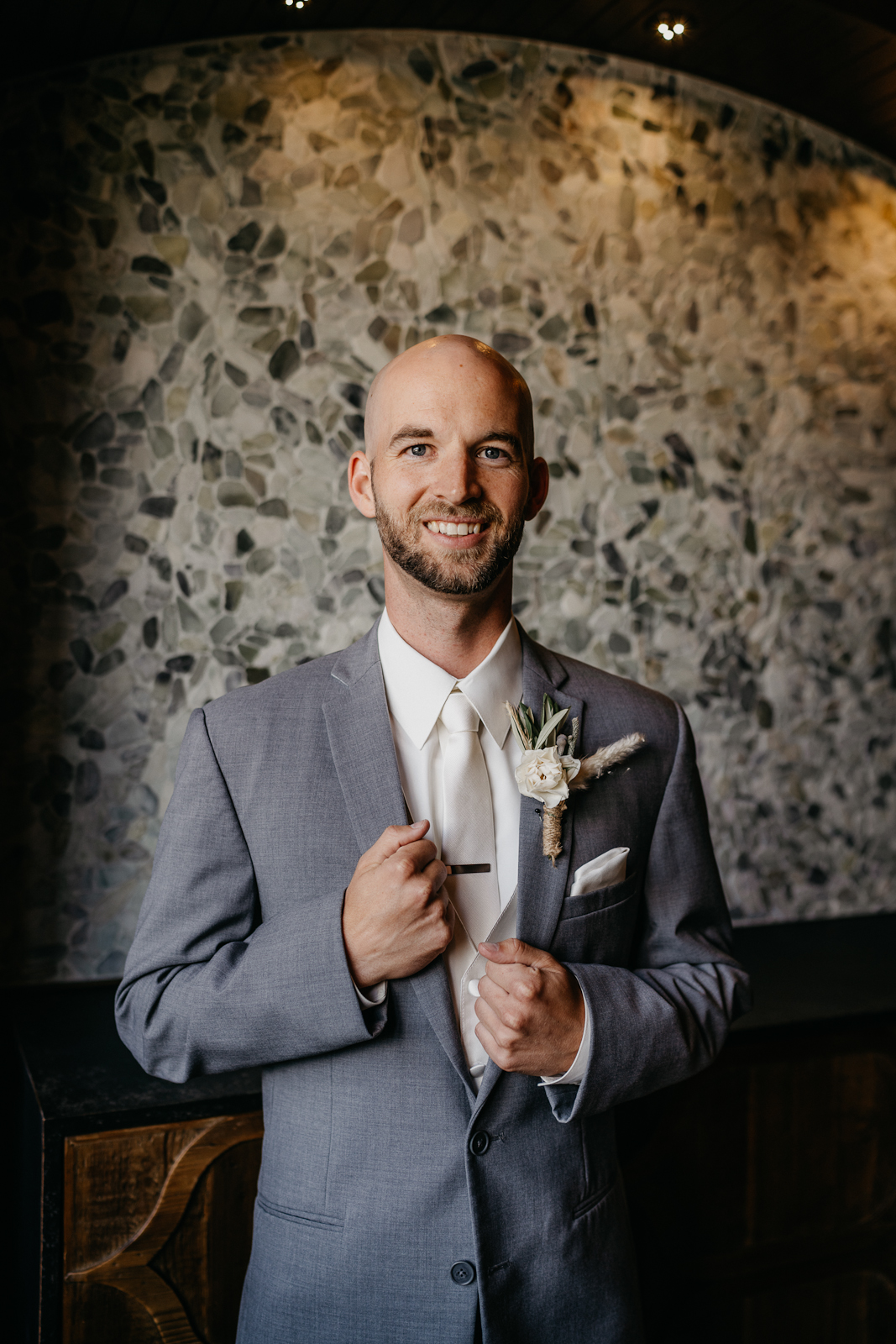 TELL US ABOUT YOUR PROPOSAL: It was a sweet proposal at home following brunch. Lucas was nervous, but with some moral support from our puppy sitting by his side, he eventually found the words I was looking for and popped the question. I get asked if I saw it coming, and the answer is no. I was pleasantly surprised!
TELL US ABOUT FINDING YOUR DRESS: I went to a small boutique in Mt. Horeb. I always knew that I wanted a simple, elegant dress. I tried on a dozen dresses, but it wasn't until the last one I tried on that I knew I had found the one! It was different from any other dress I had ever seen and was exactly how I had imagined.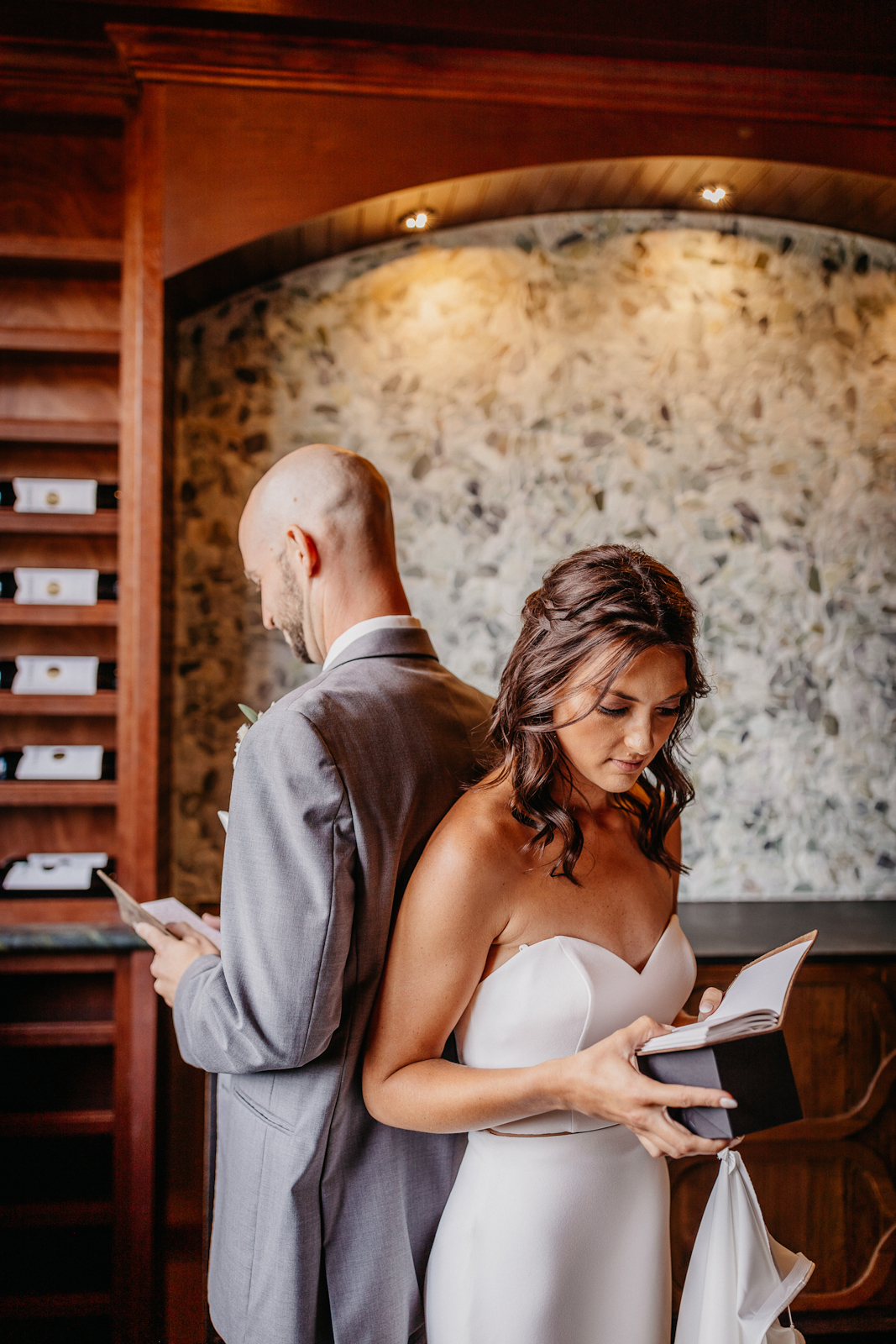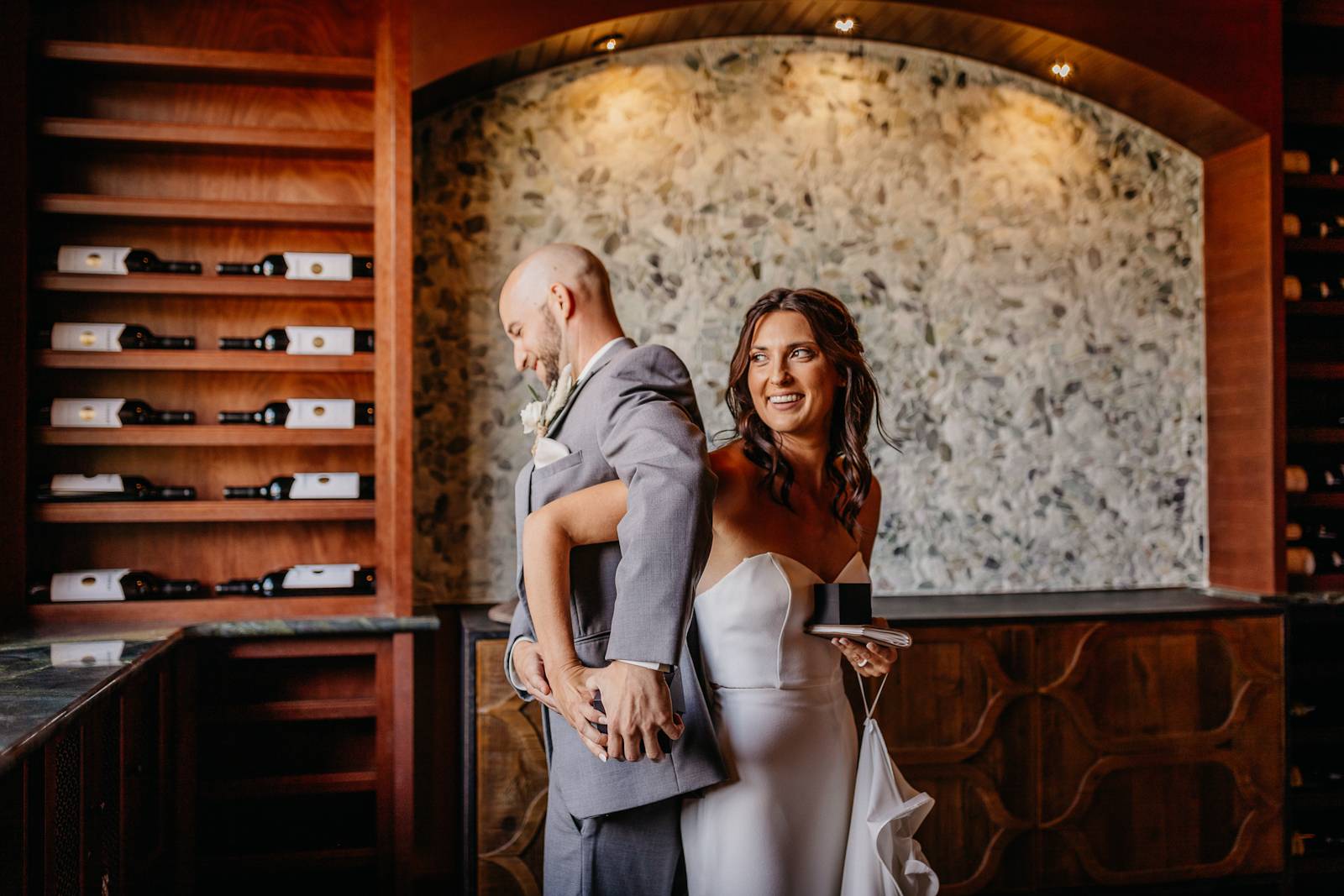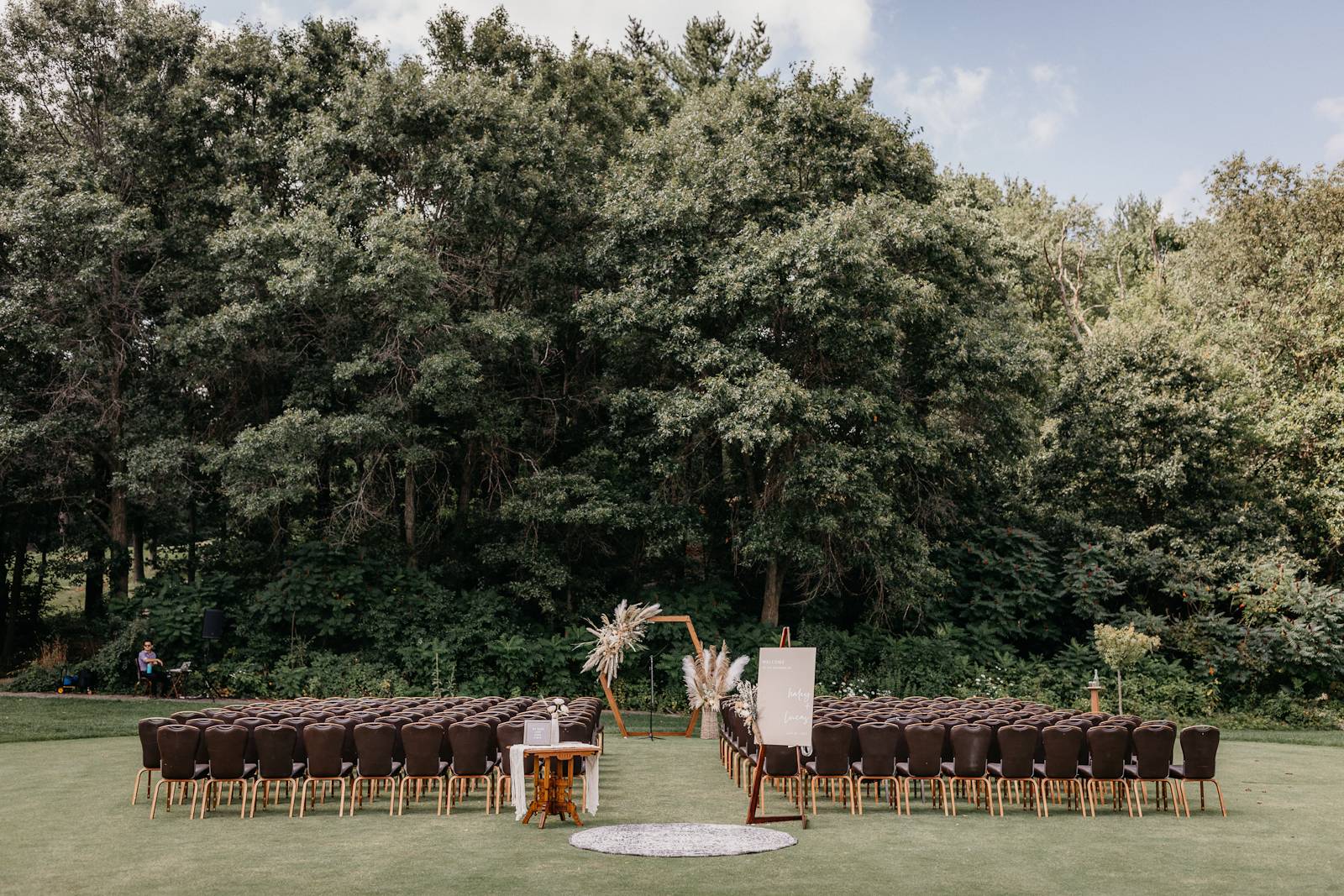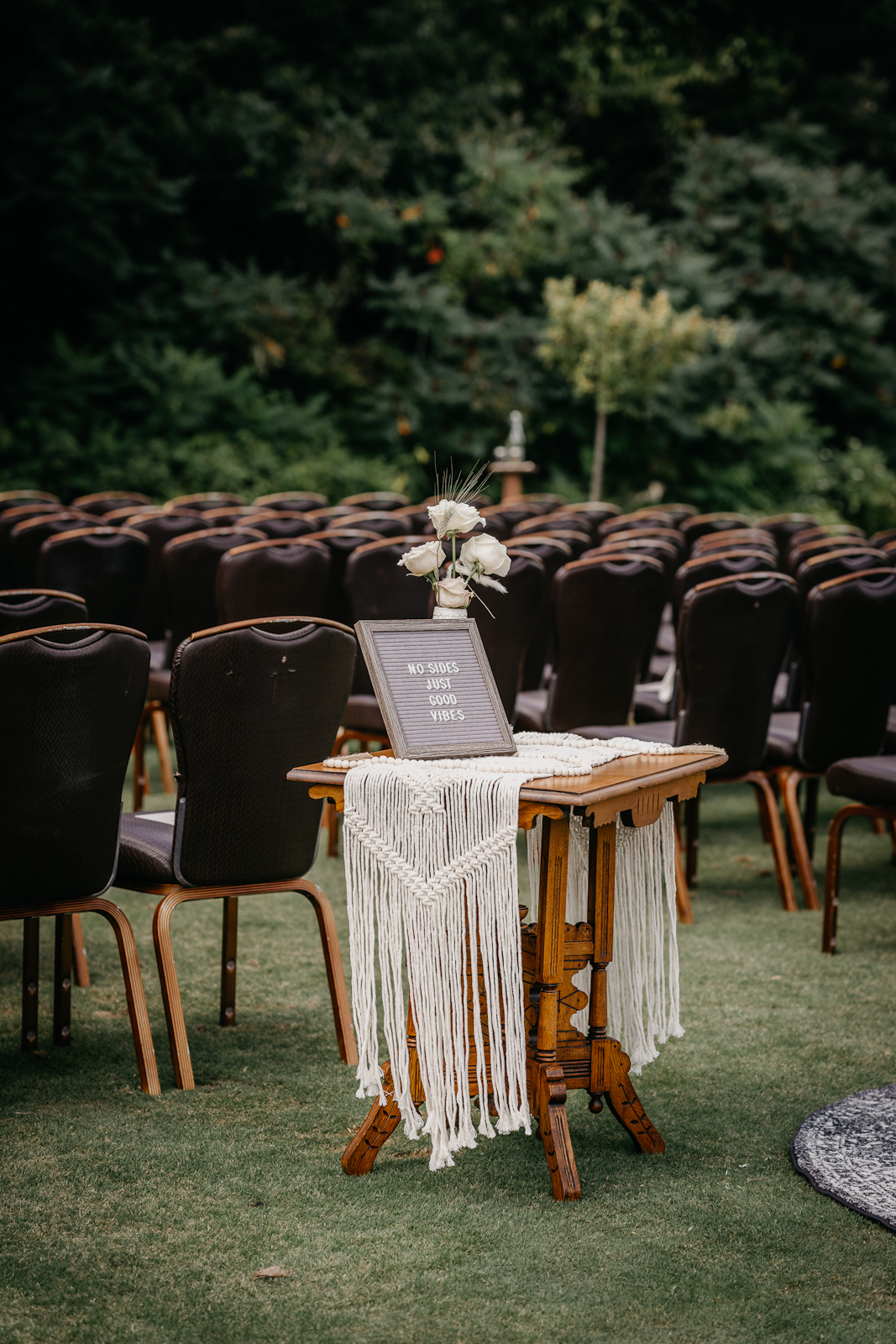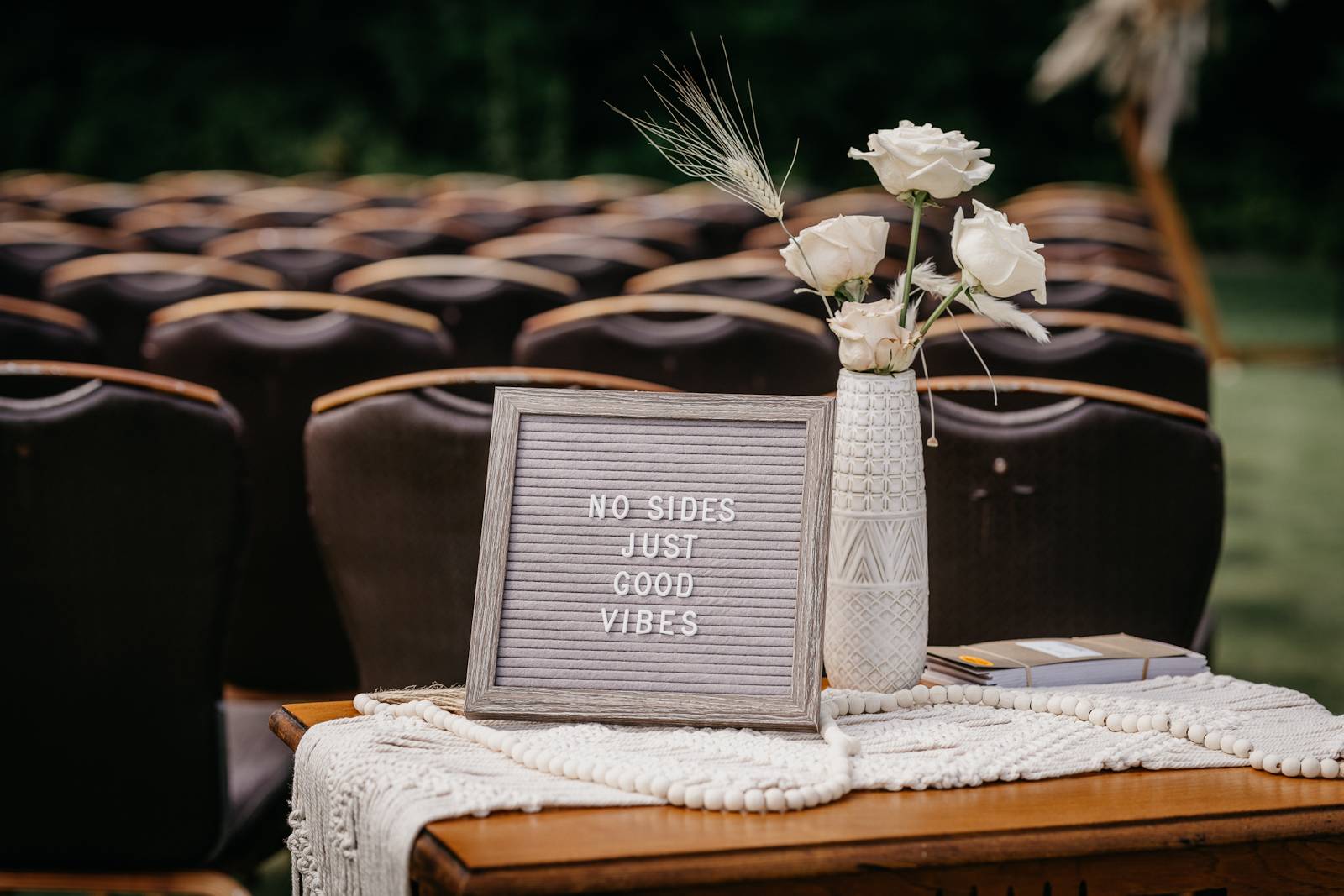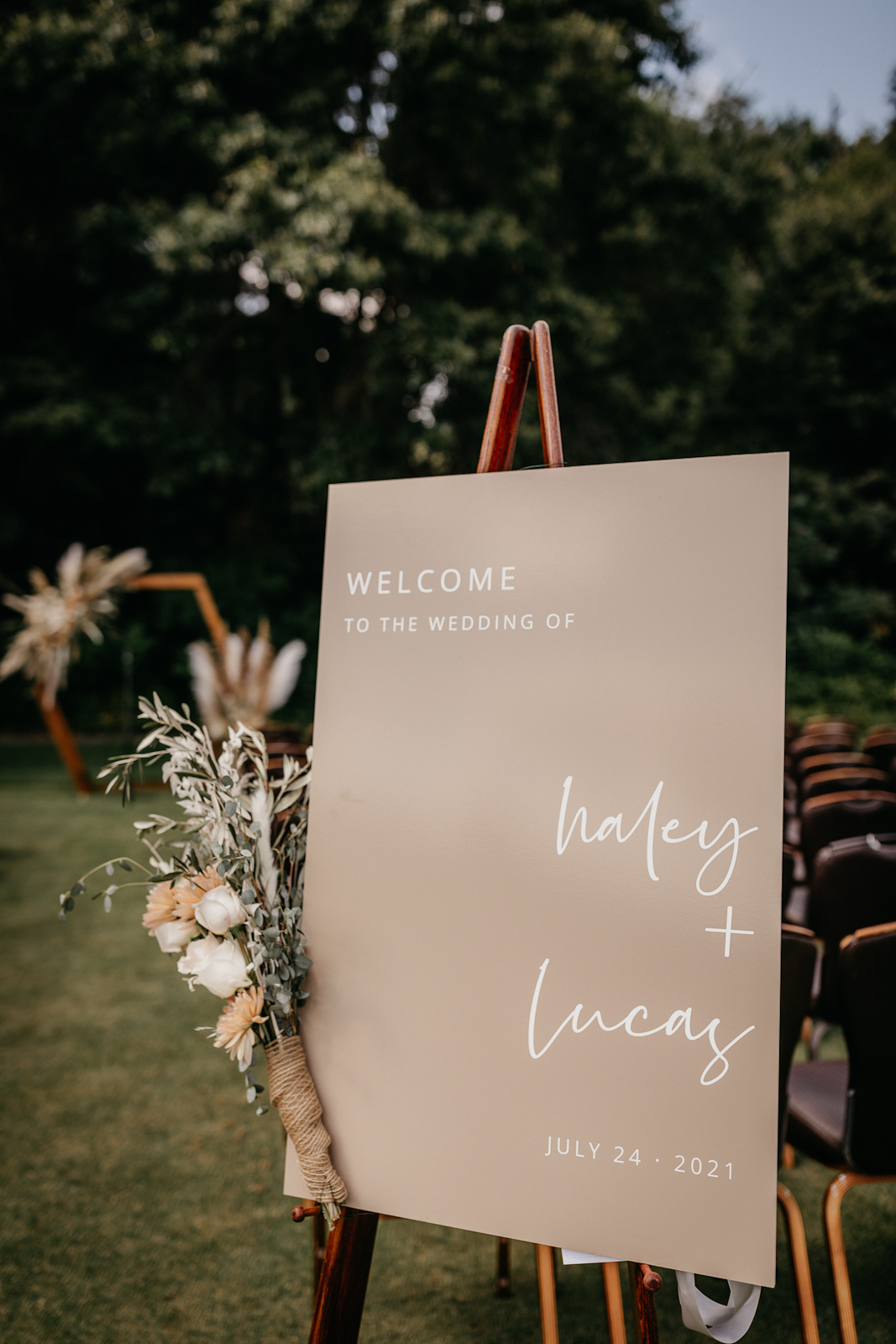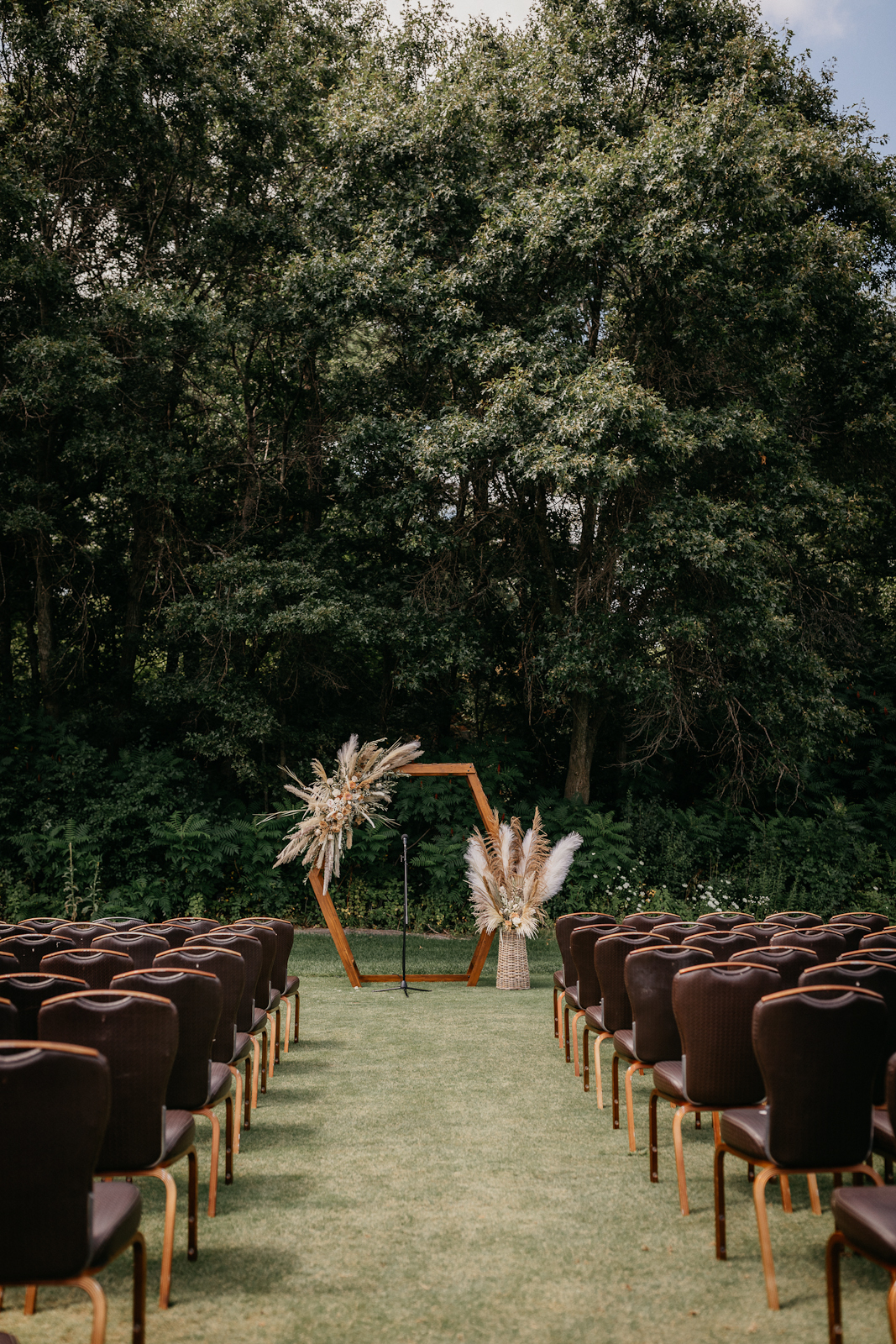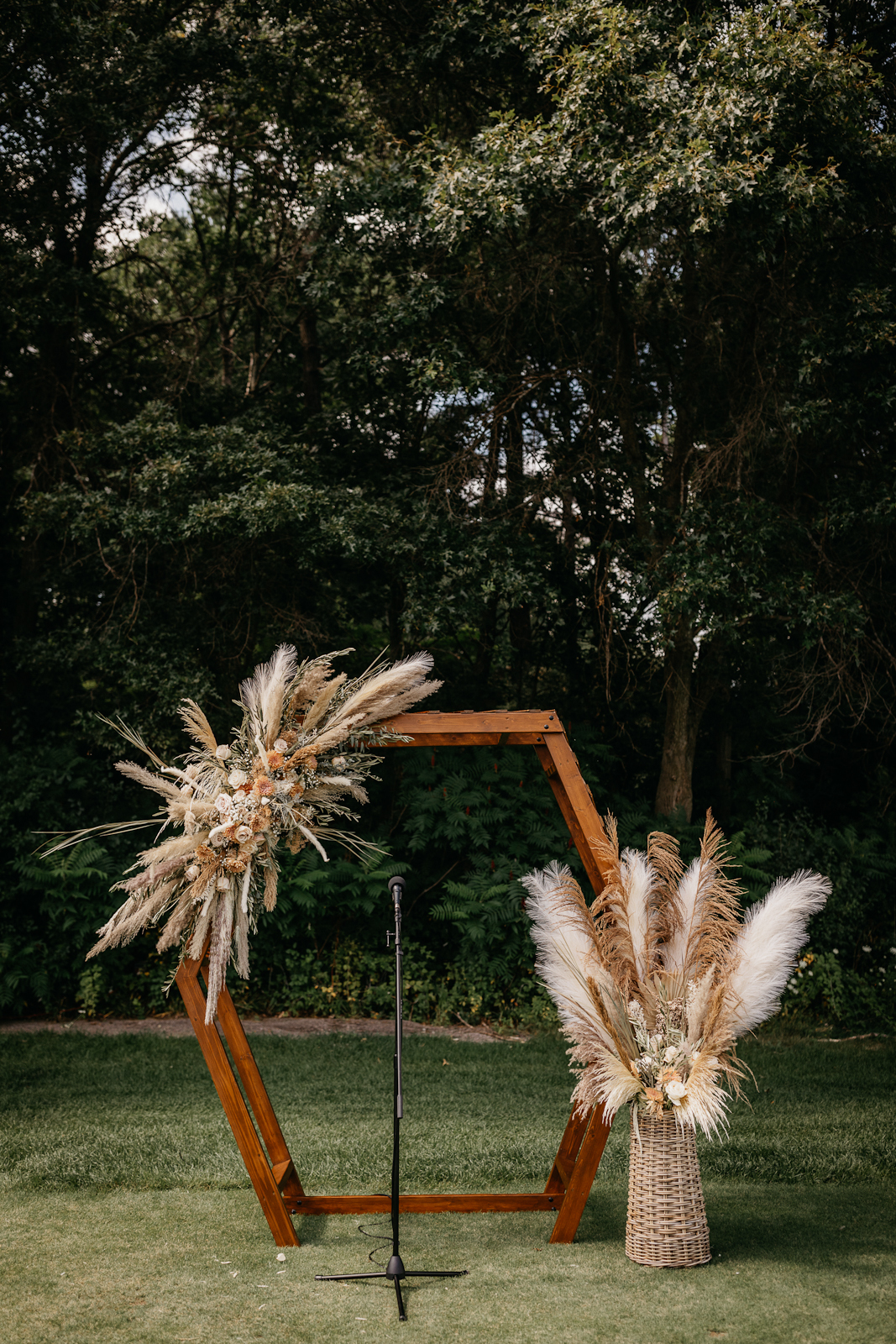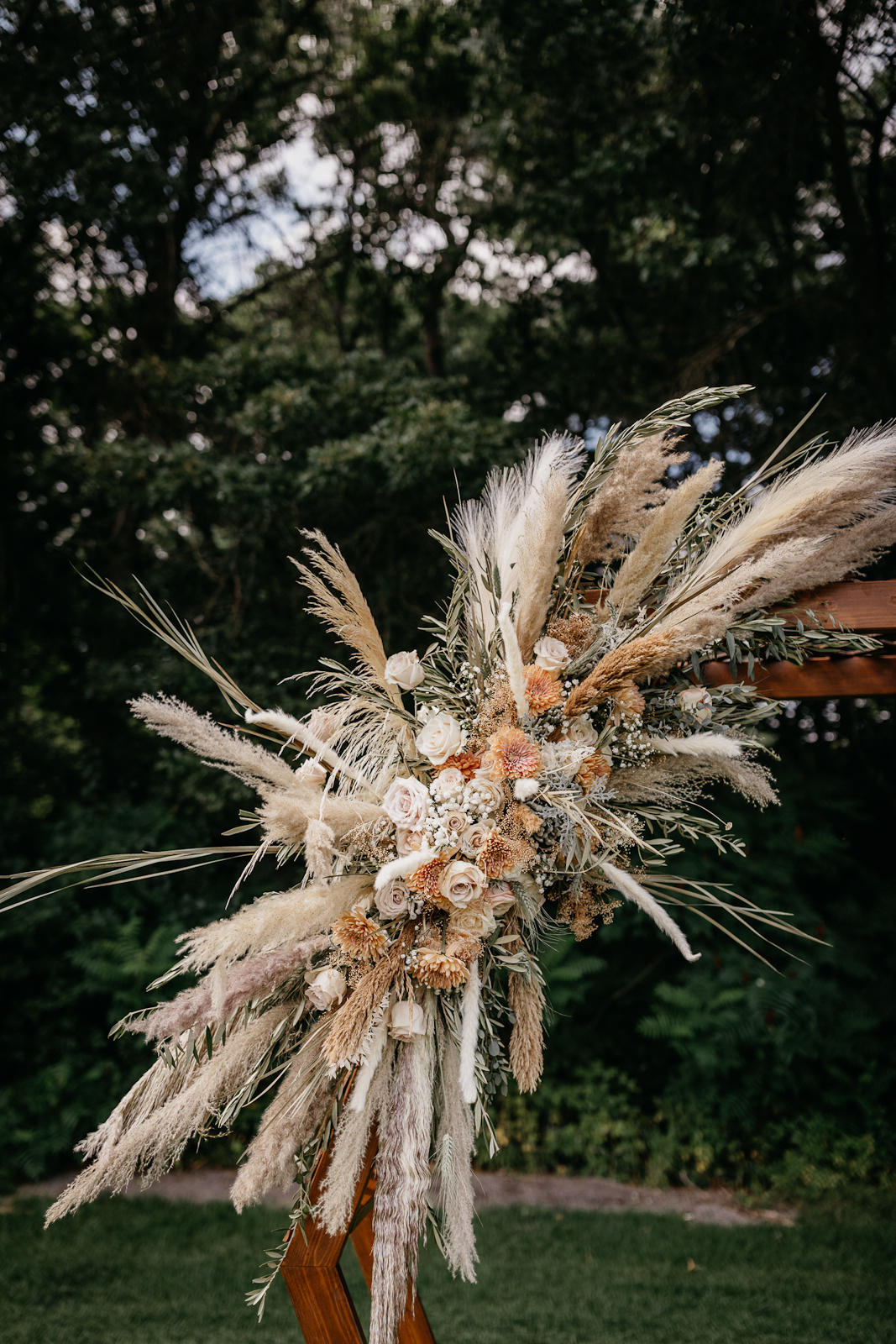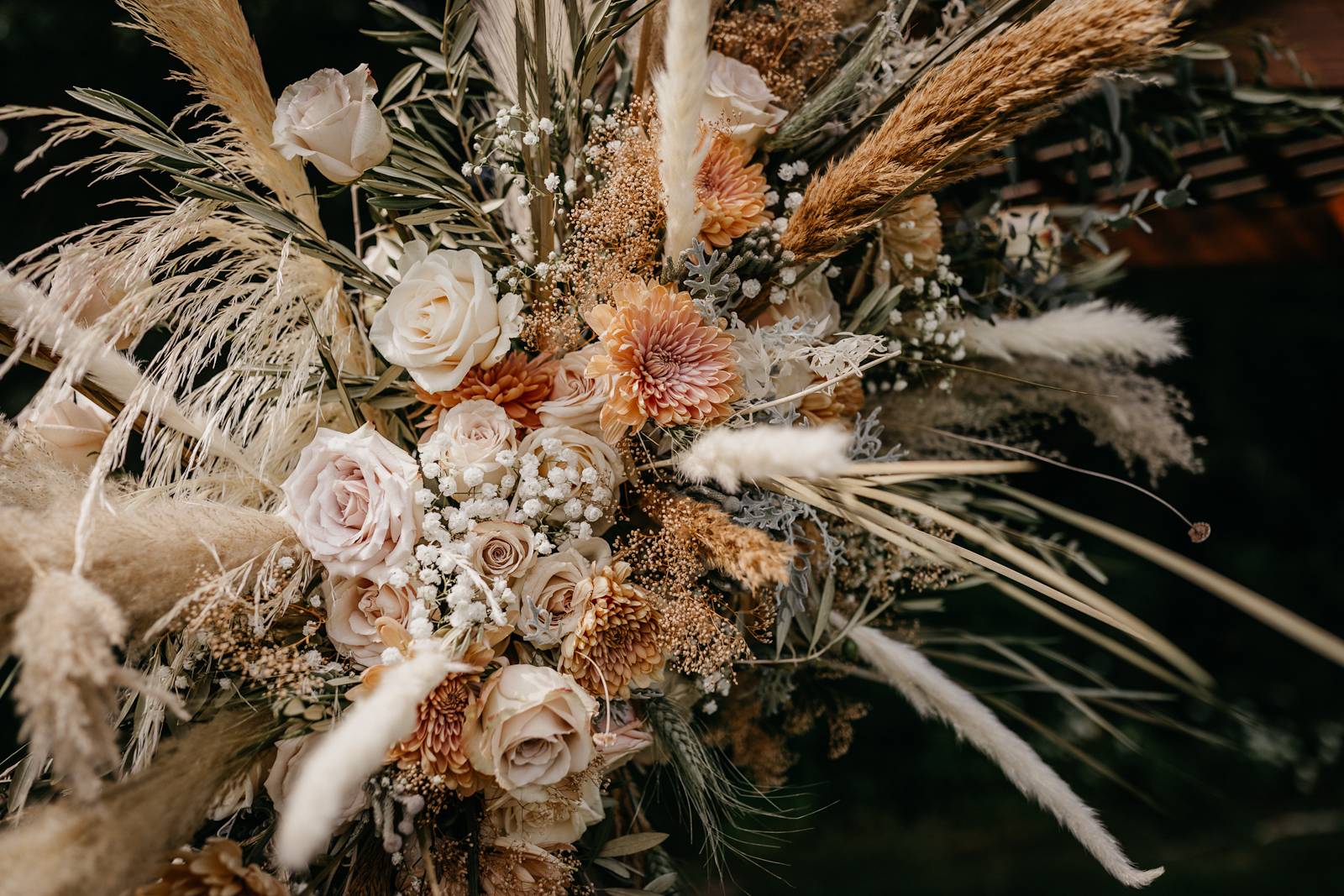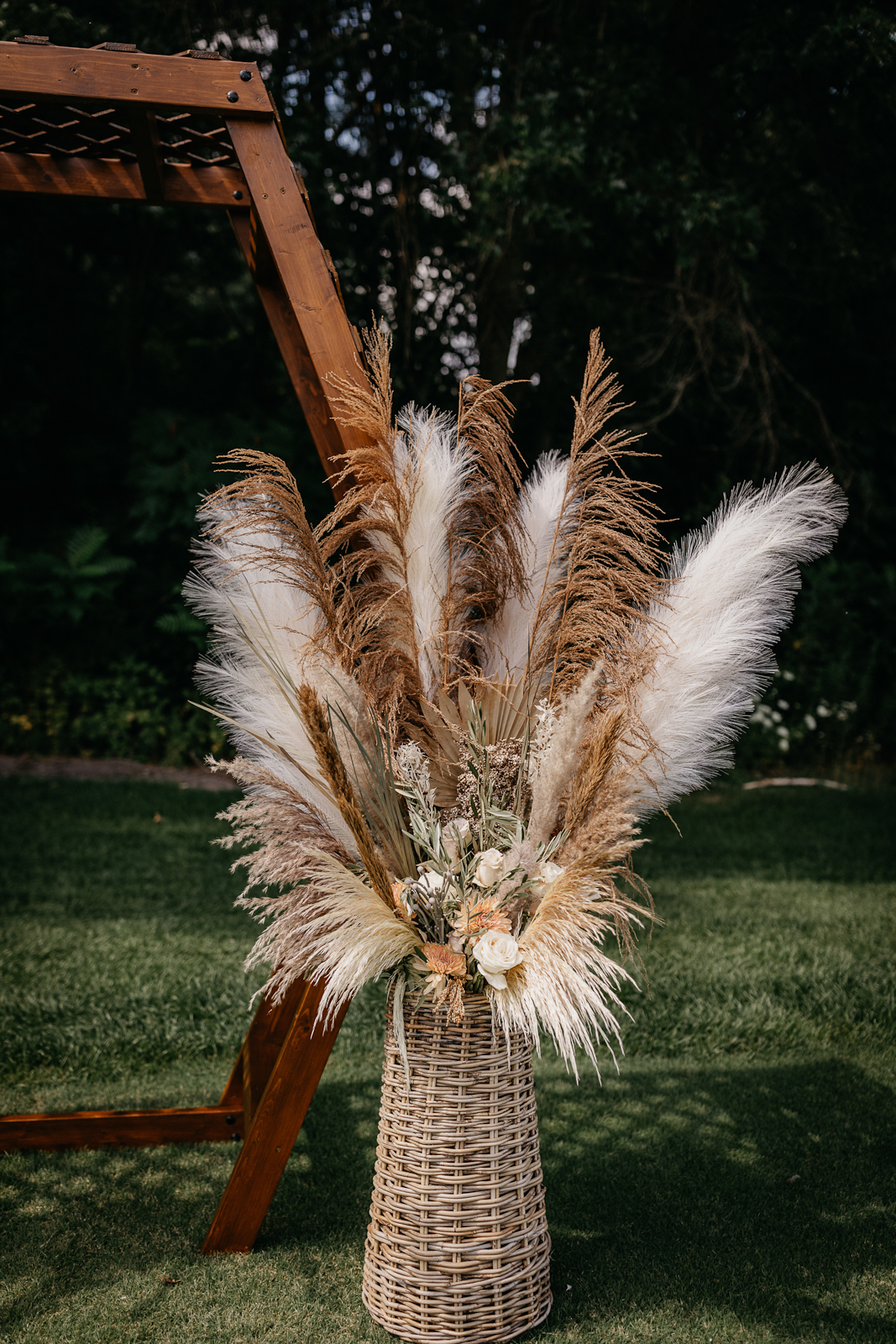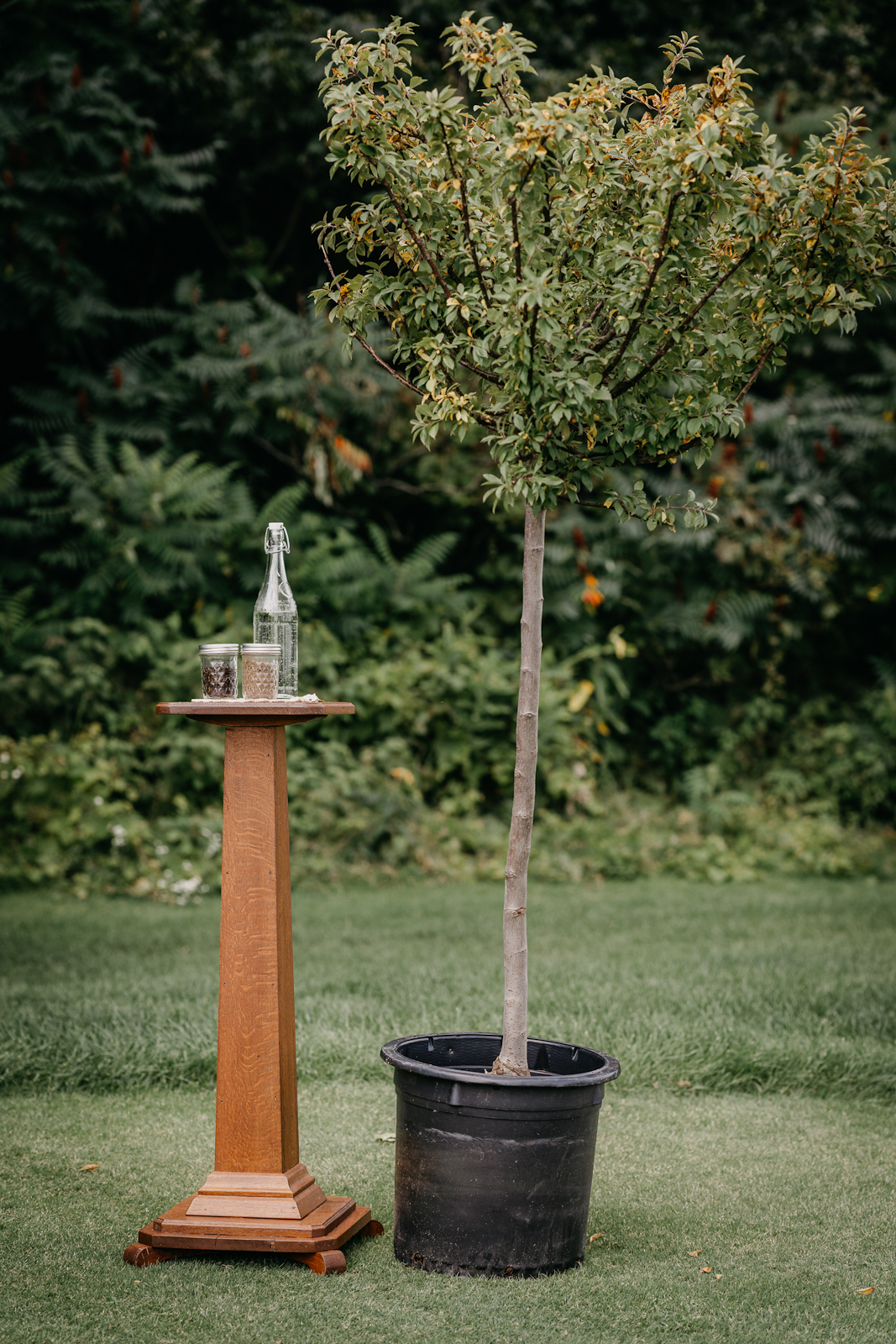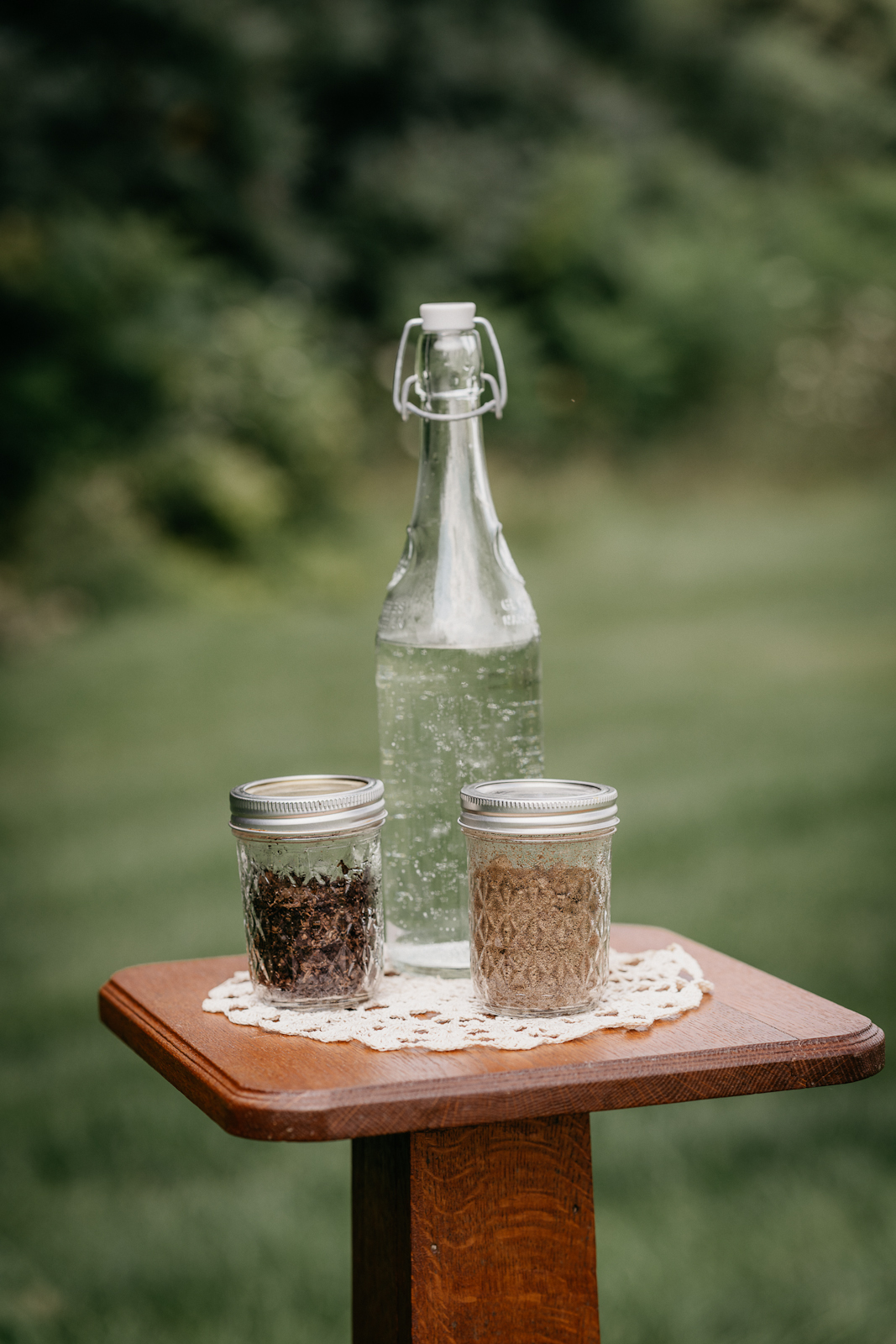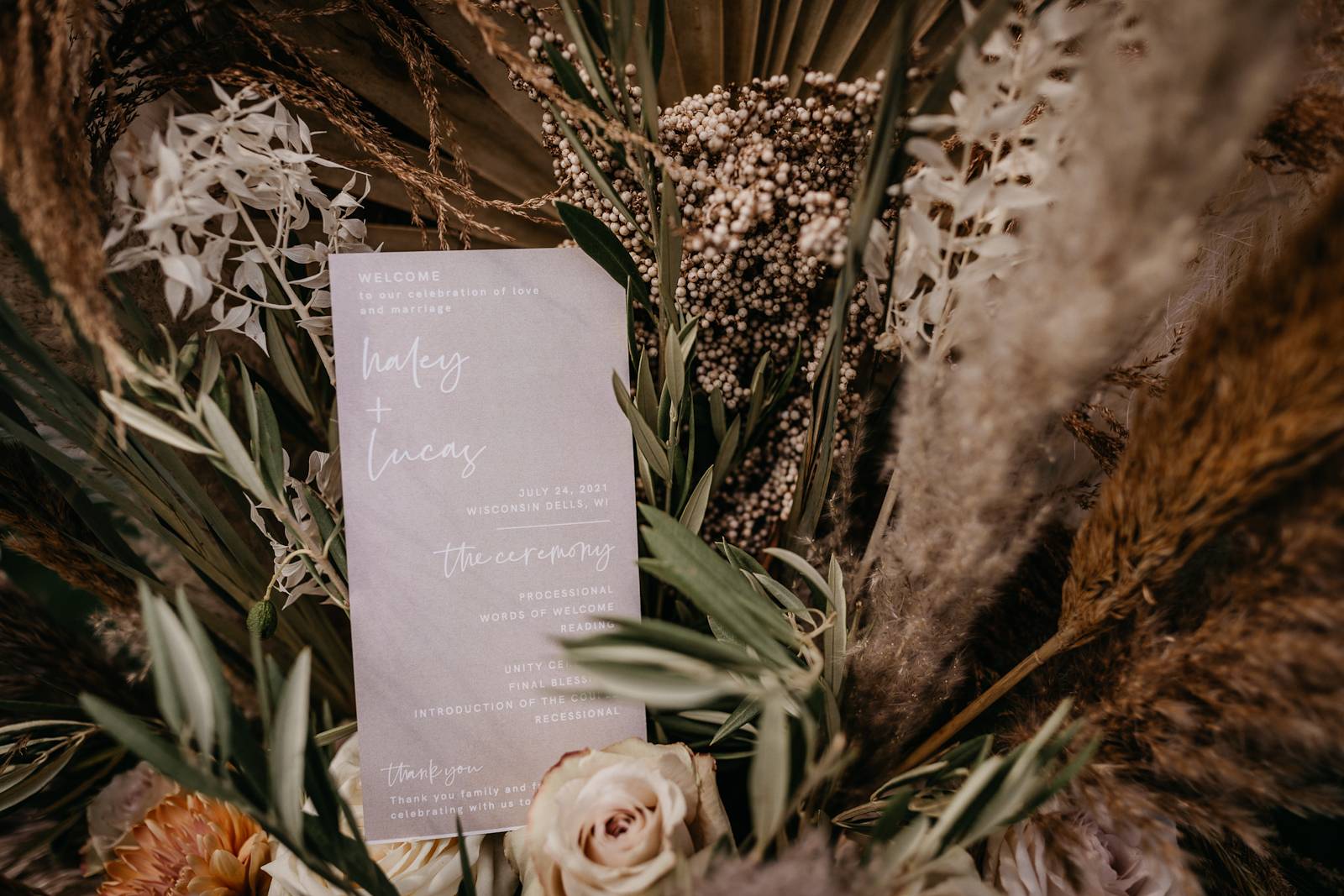 HOW WOULD YOU DESCRIBE YOUR WEDDING THEME/STYLE IN FIVE WORDS OR LESS? Simple + Boho
WHAT WAS YOUR WEDDING COLOR PALETTE? Neutrals
DESCRIBE YOUR WEDDING FLOWERS: My aunt did our wedding flowers! She did an incredible job at understanding my vision and bringing it to life to create the most beautiful floral arrangements with luscious white and light pink roses and the perfect pop of pampas grass.
WHAT WAS YOUR INSPIRATION/DESIGN CONCEPT FOR YOUR OVERALL CEREMONY AND RECEPTION DECOR? A combination of my personal preference of decor style and many hours spent on Pinterest!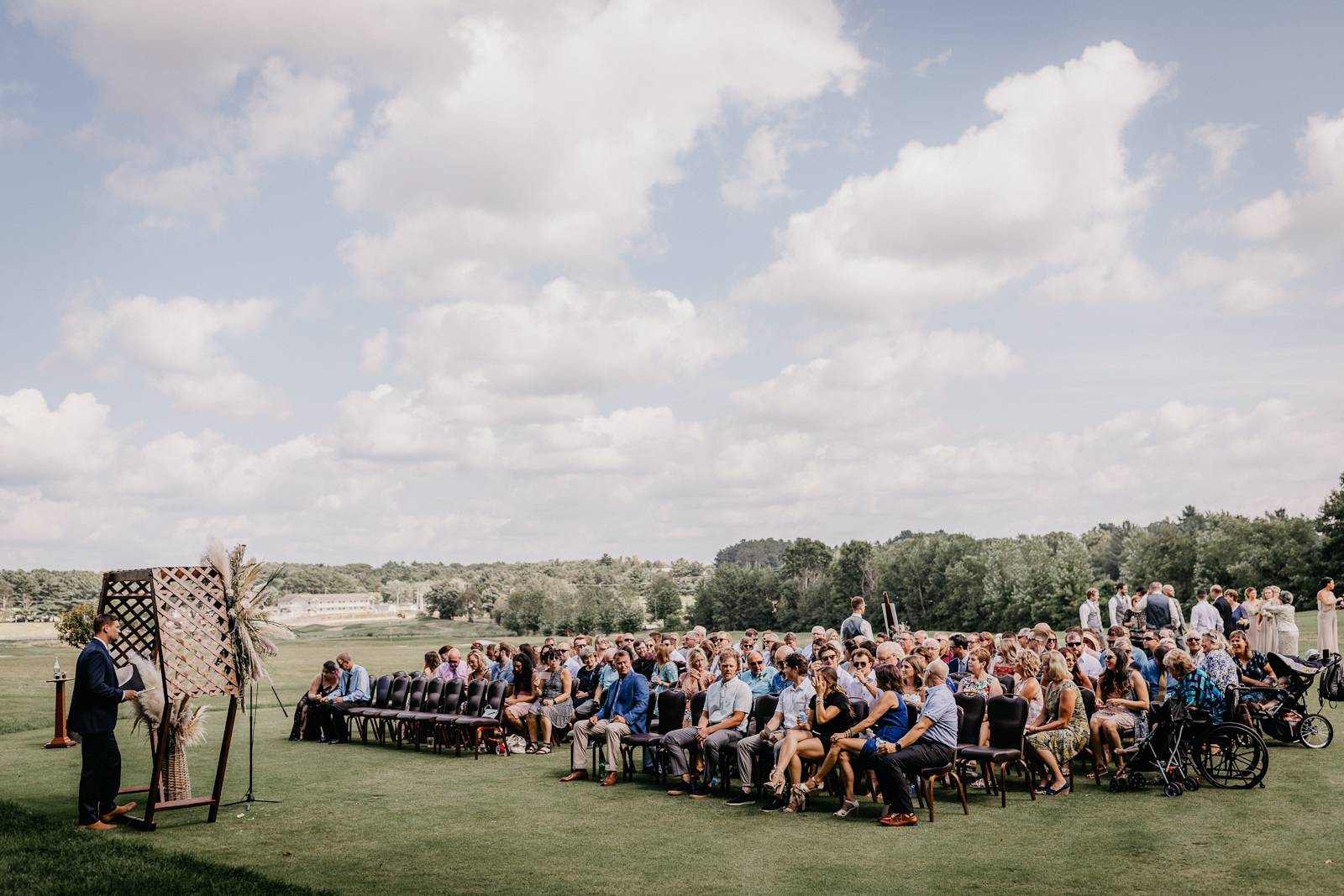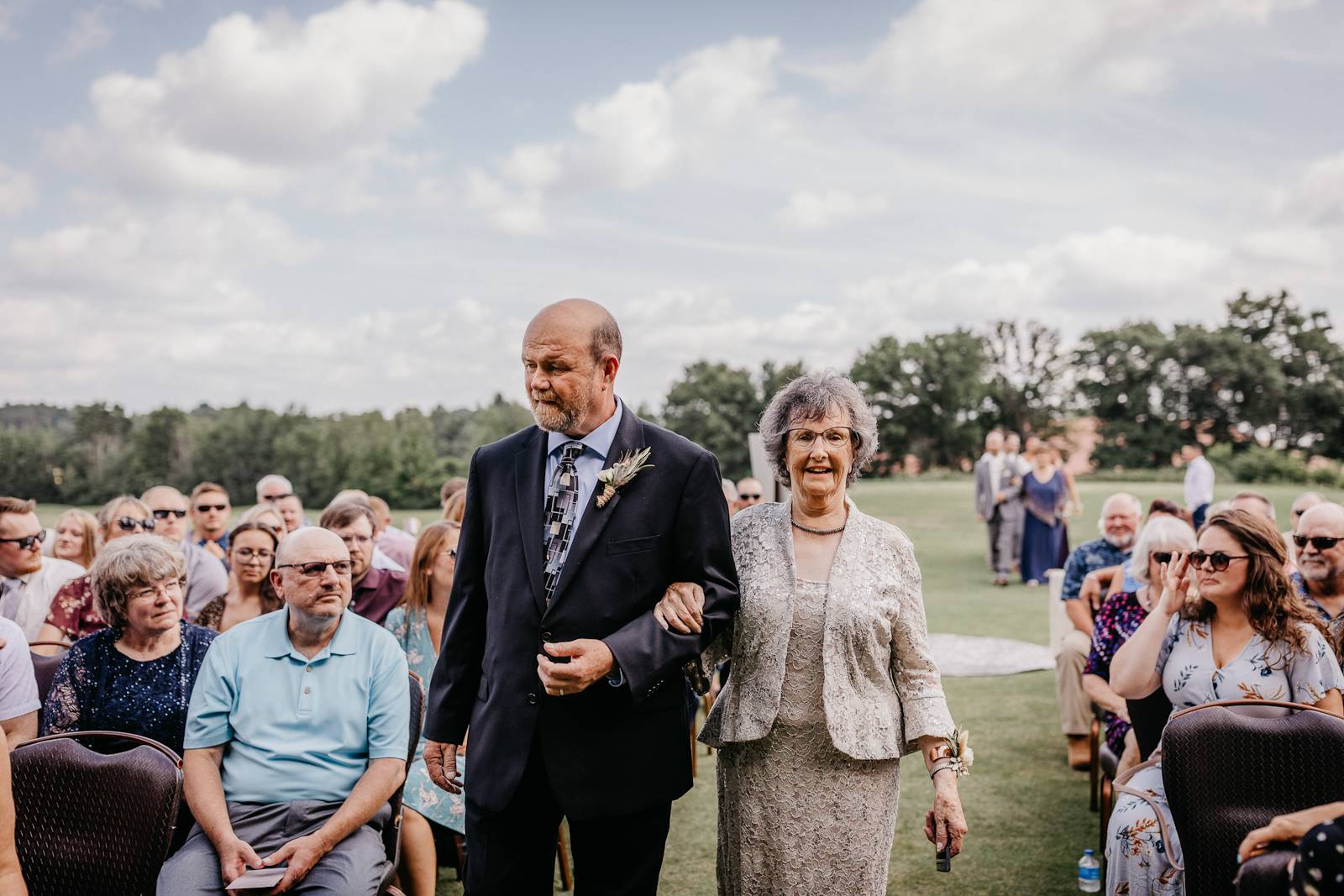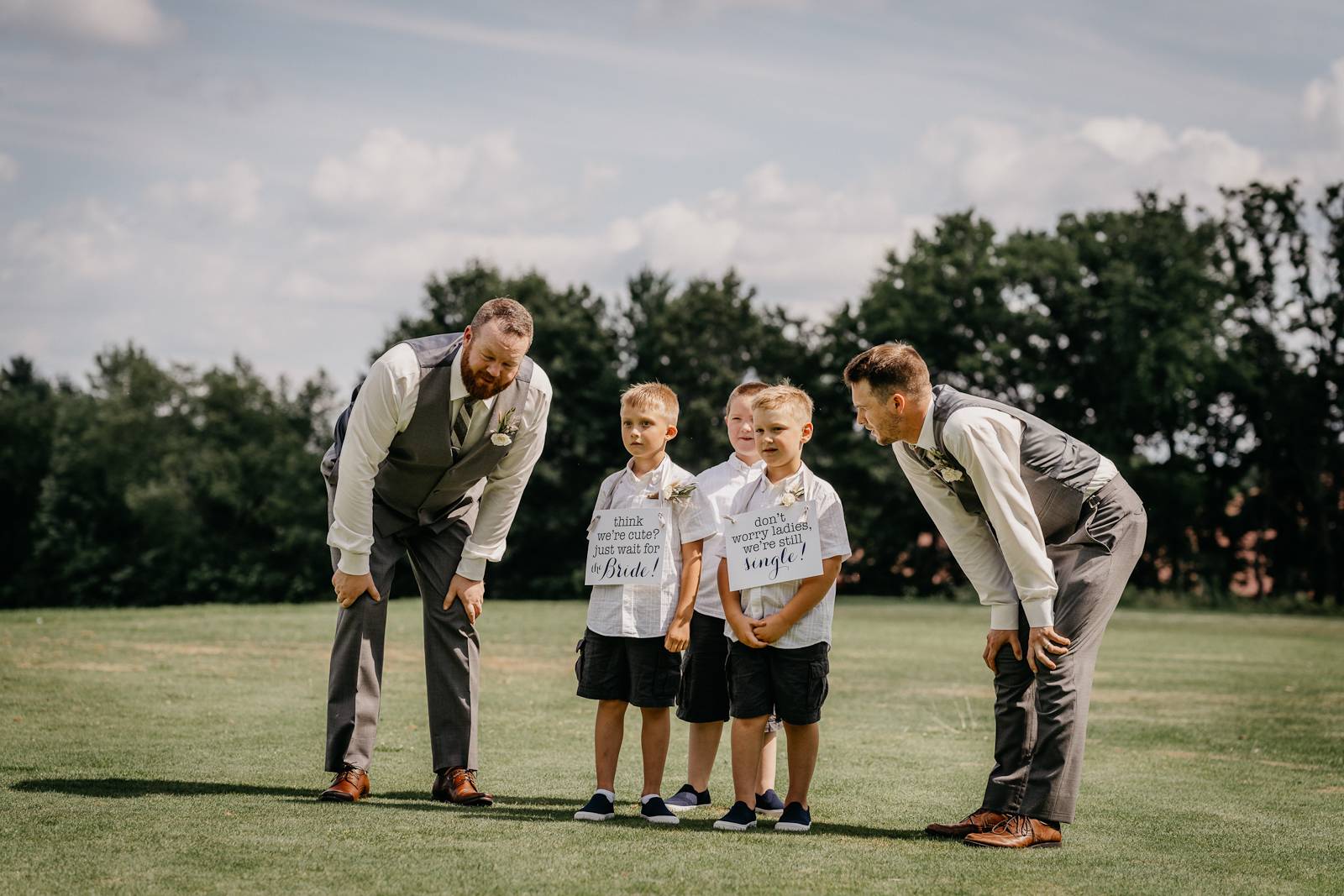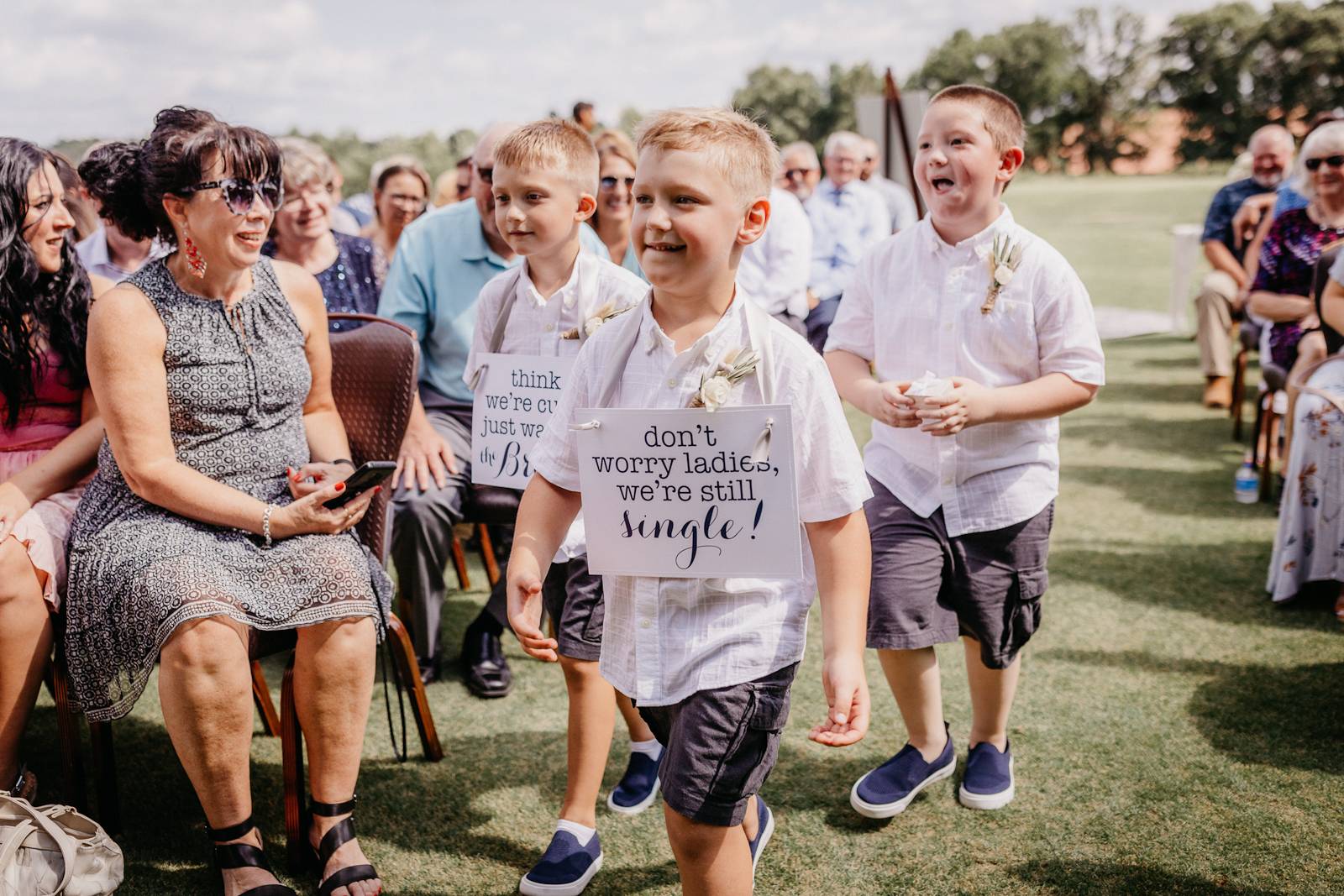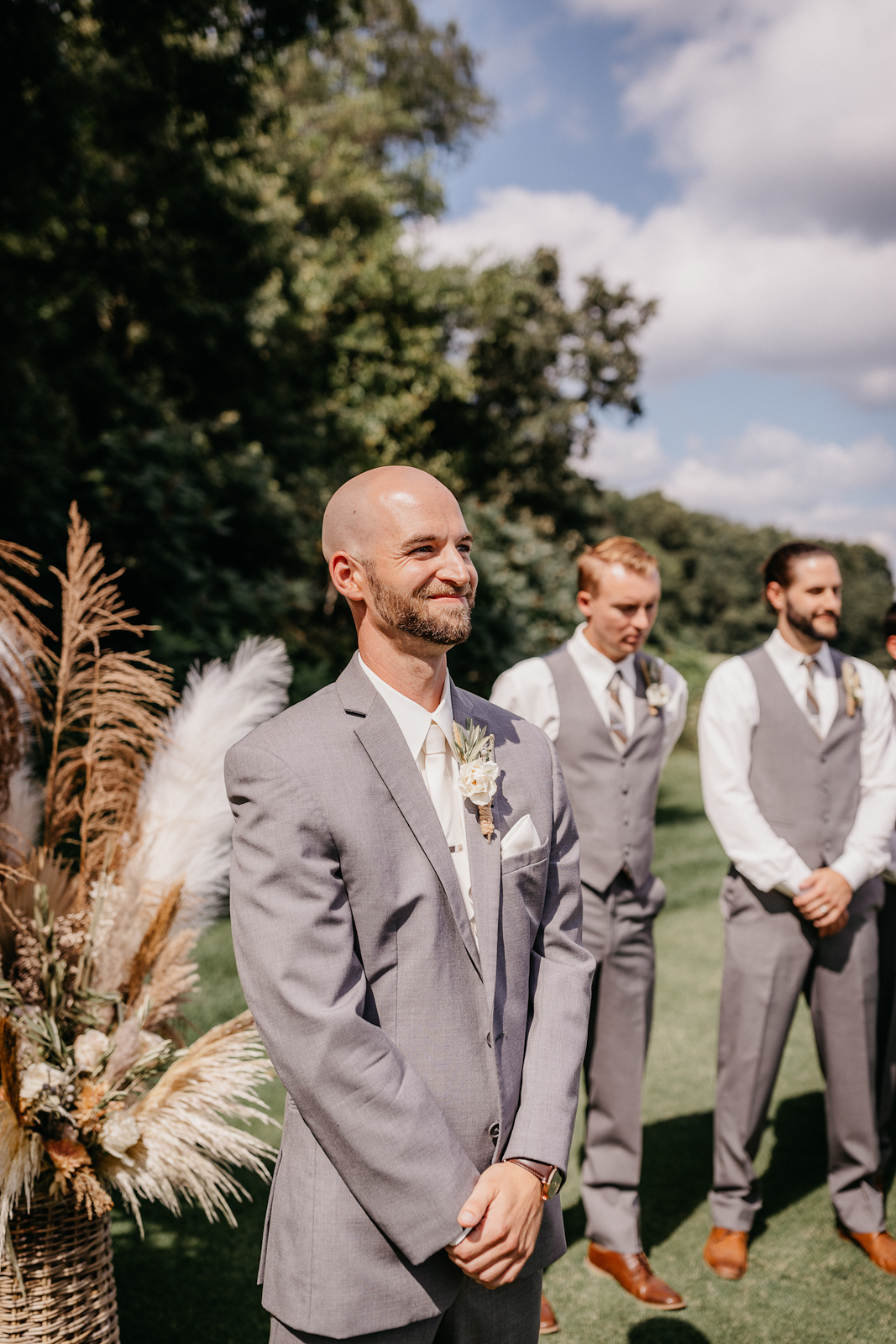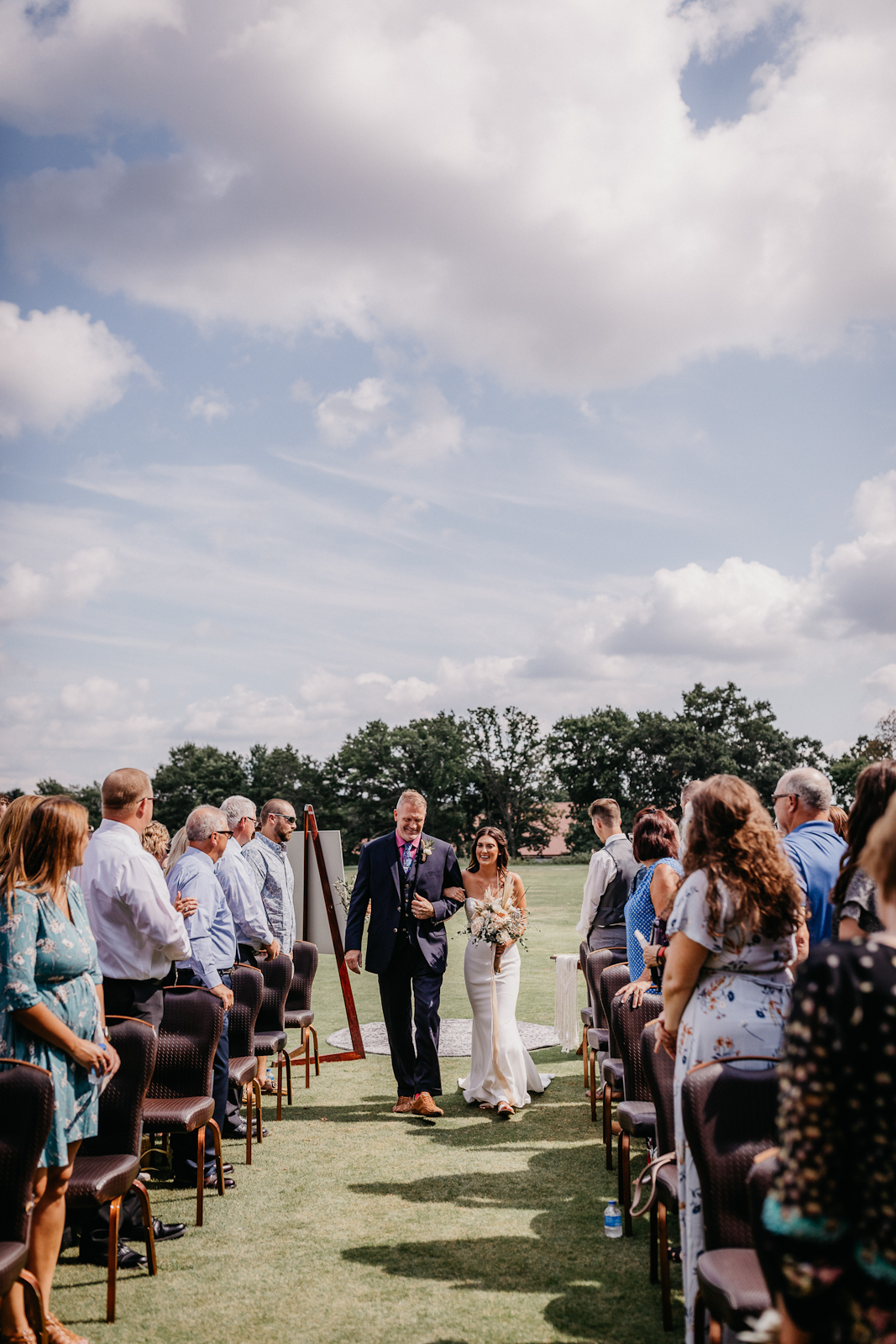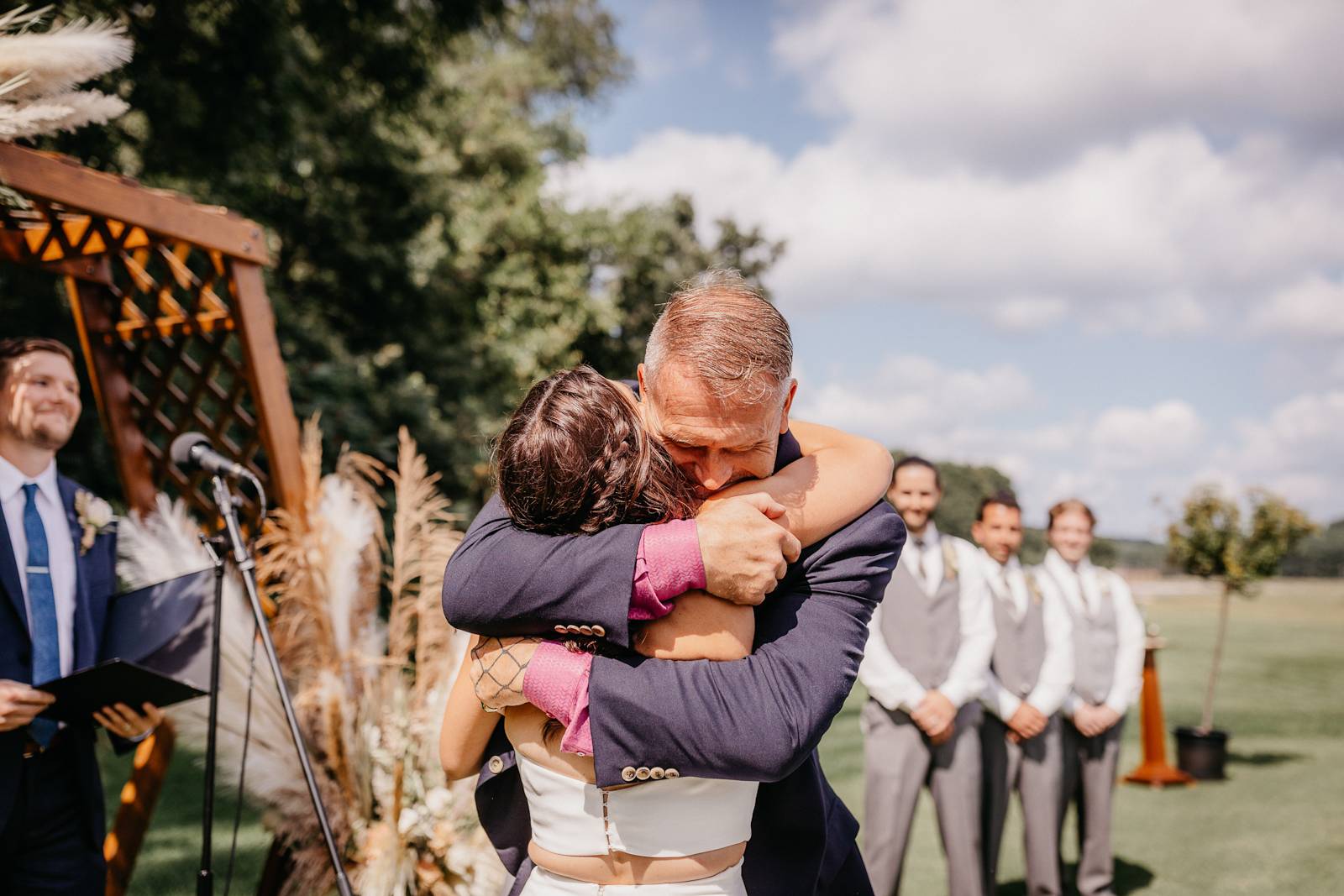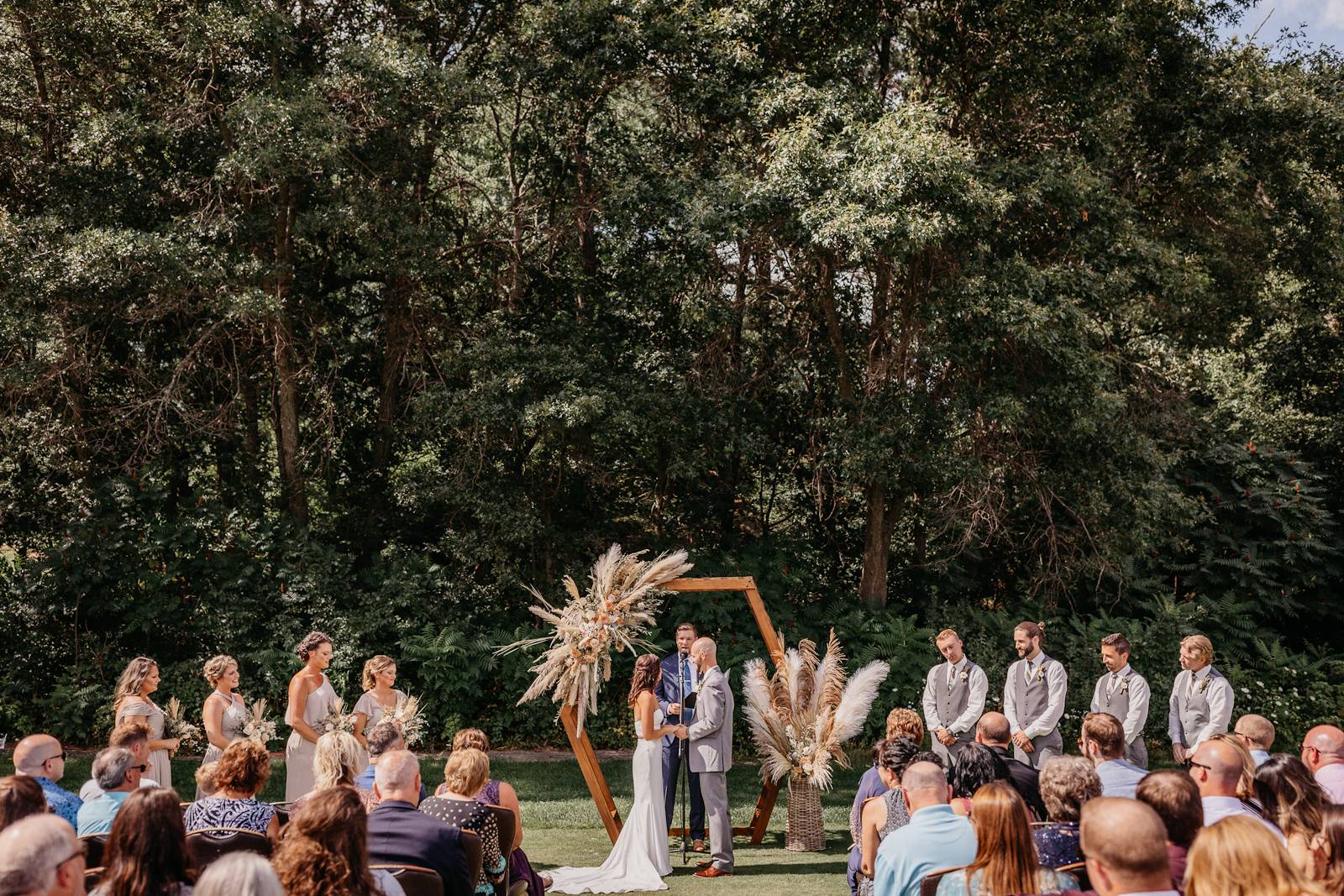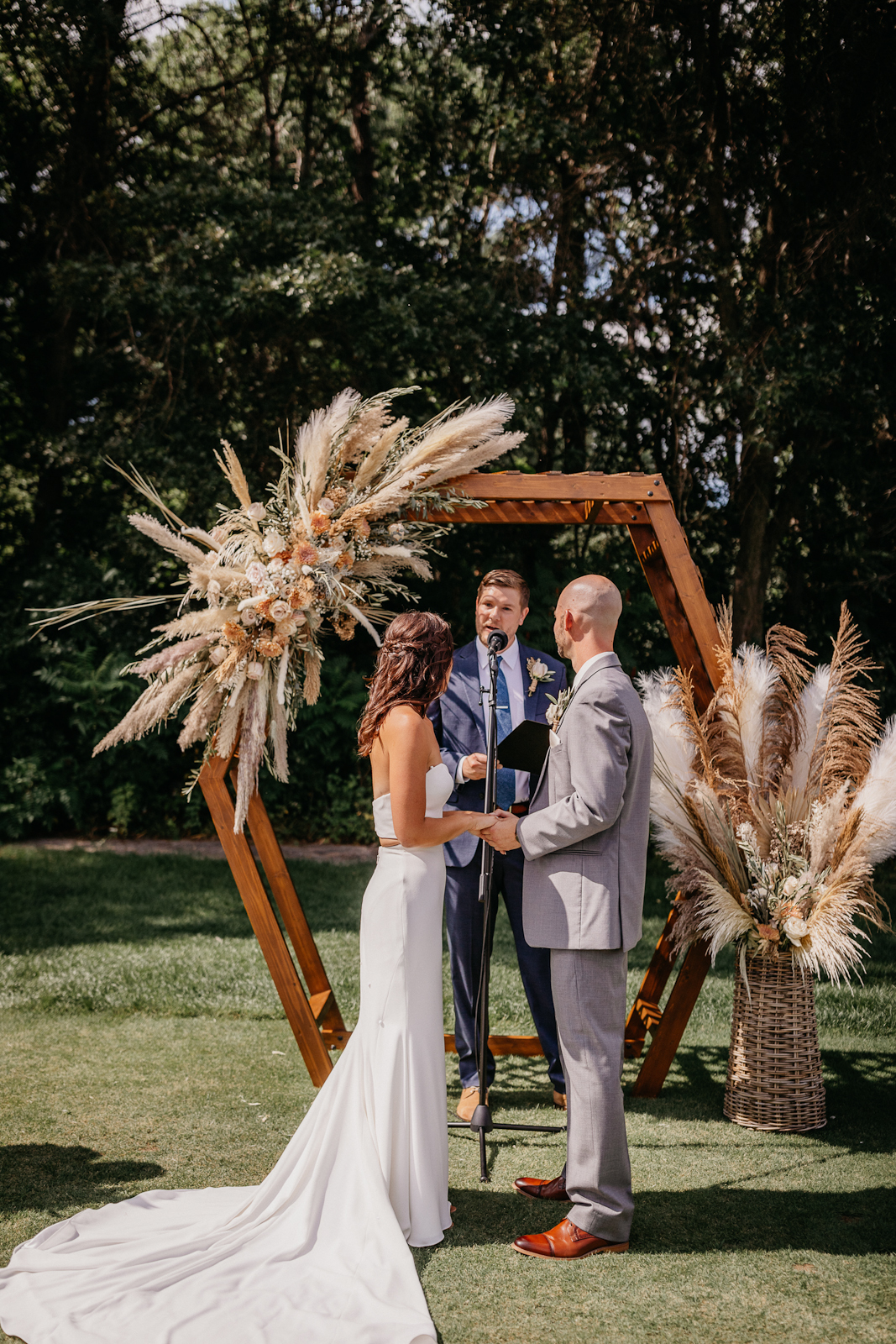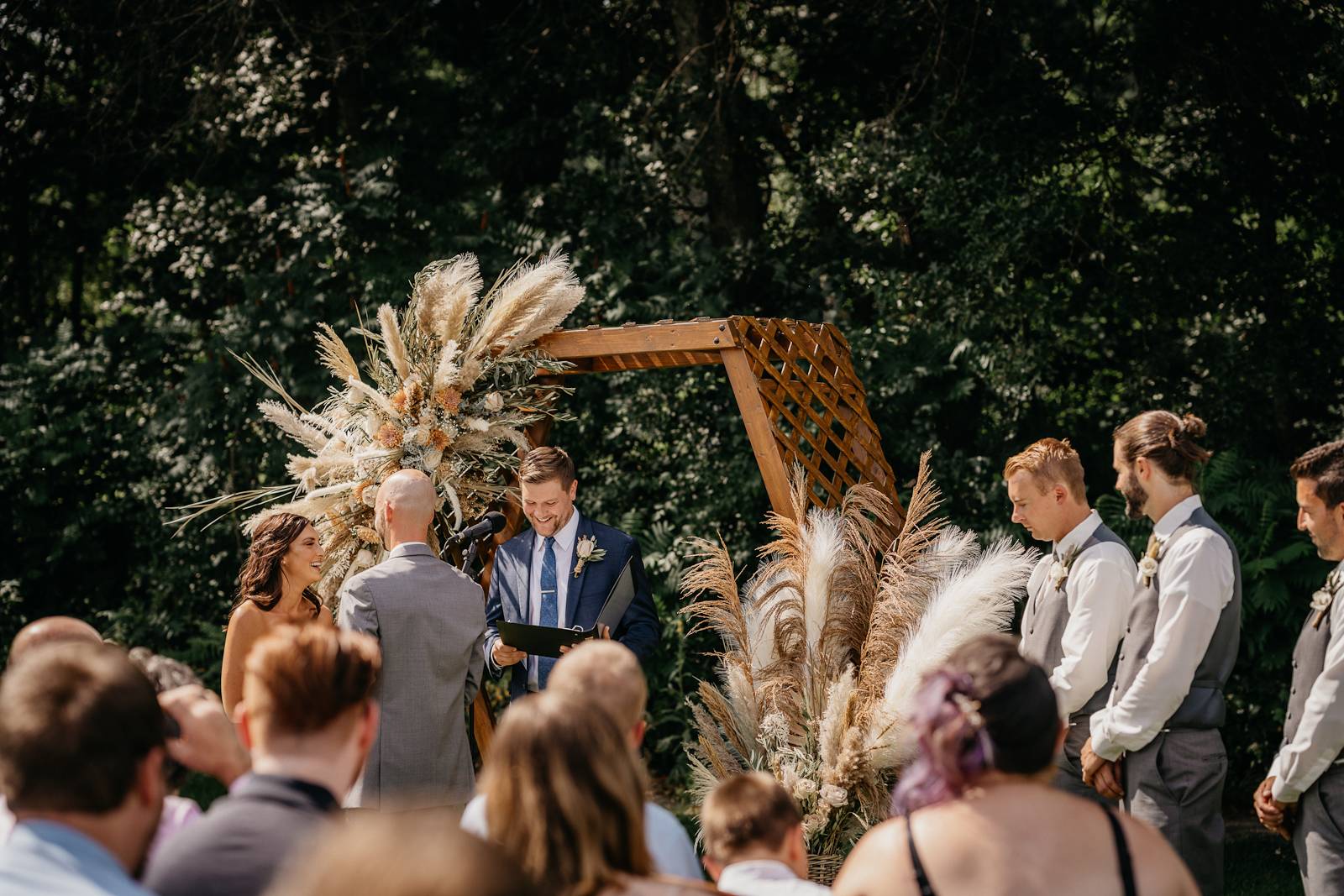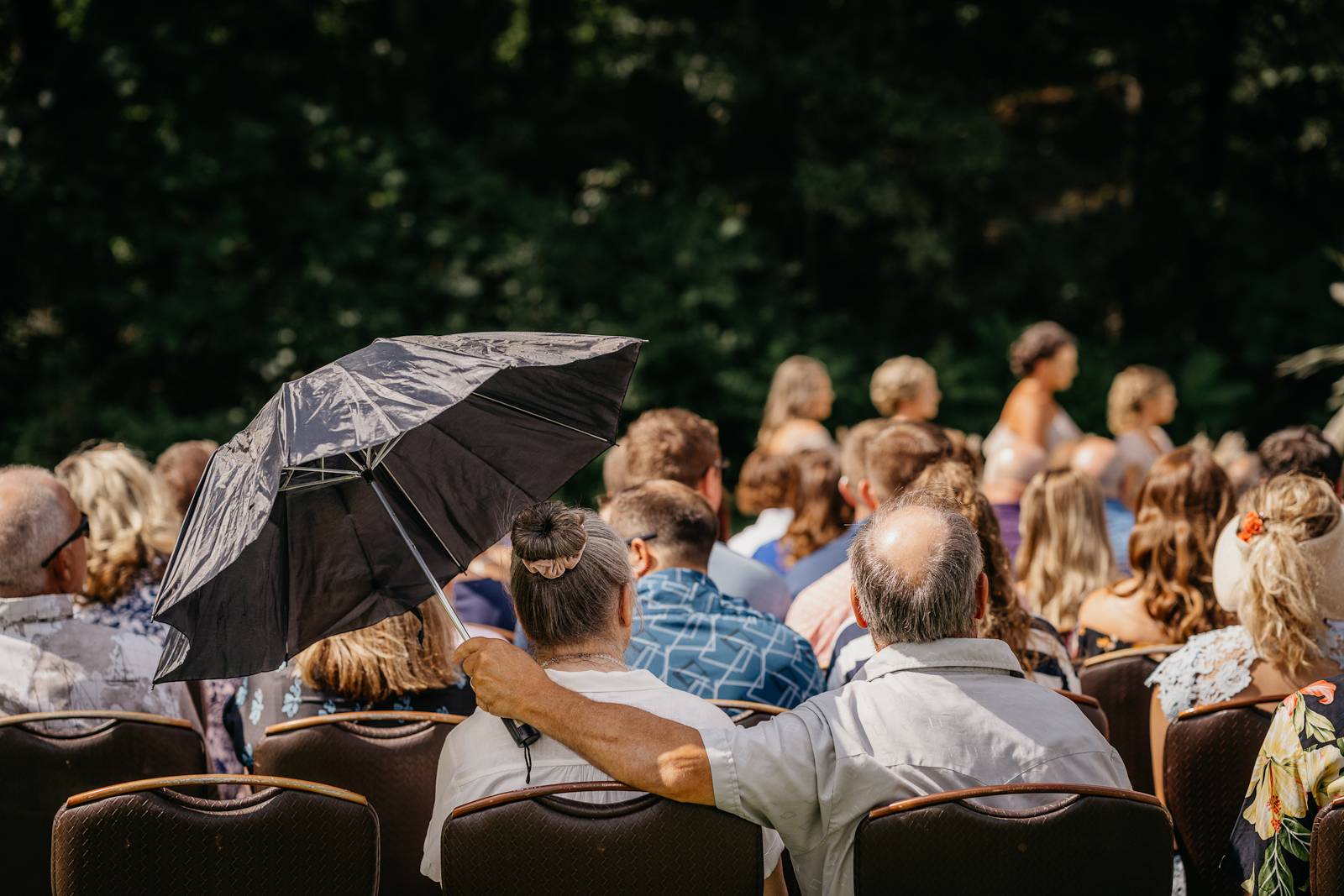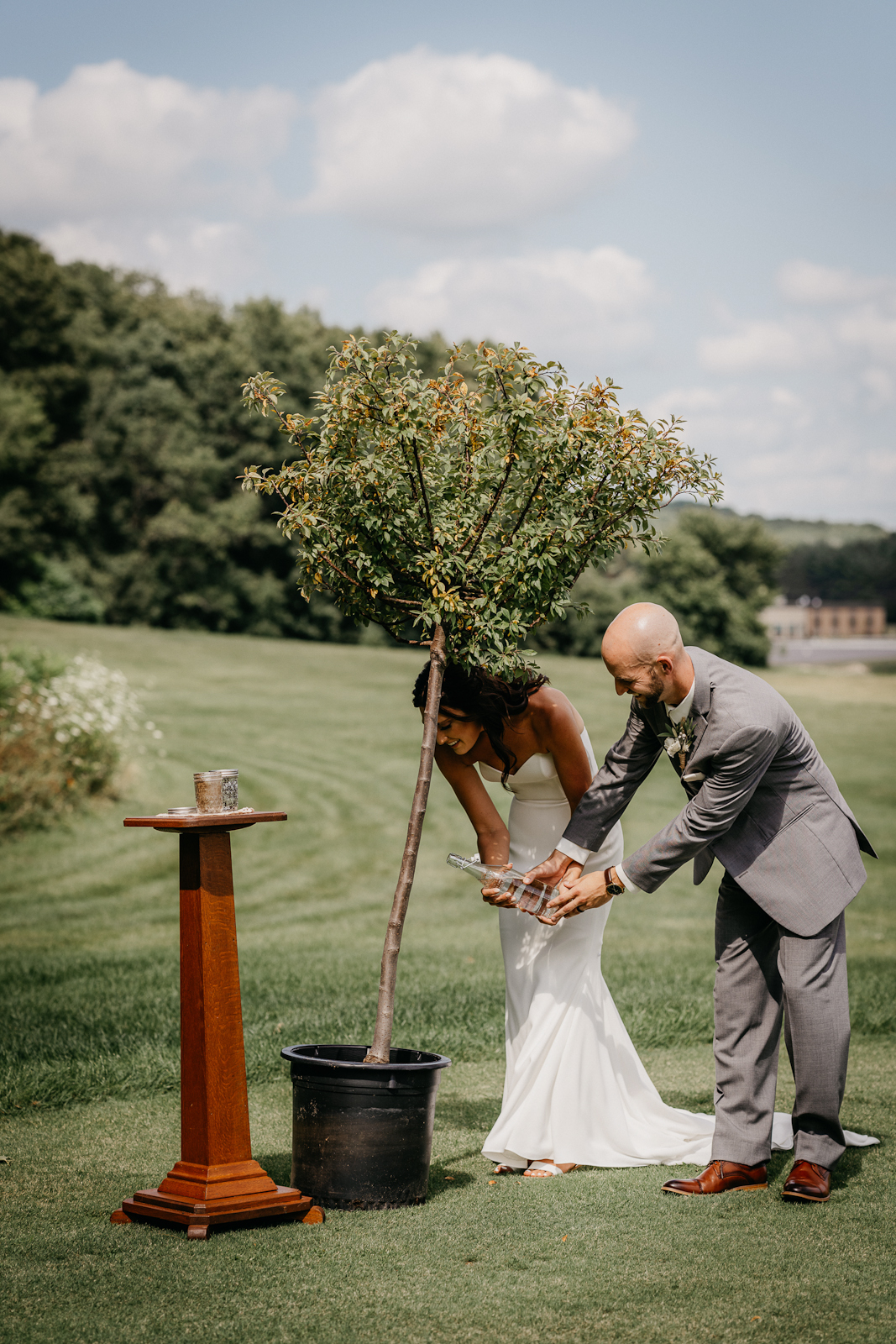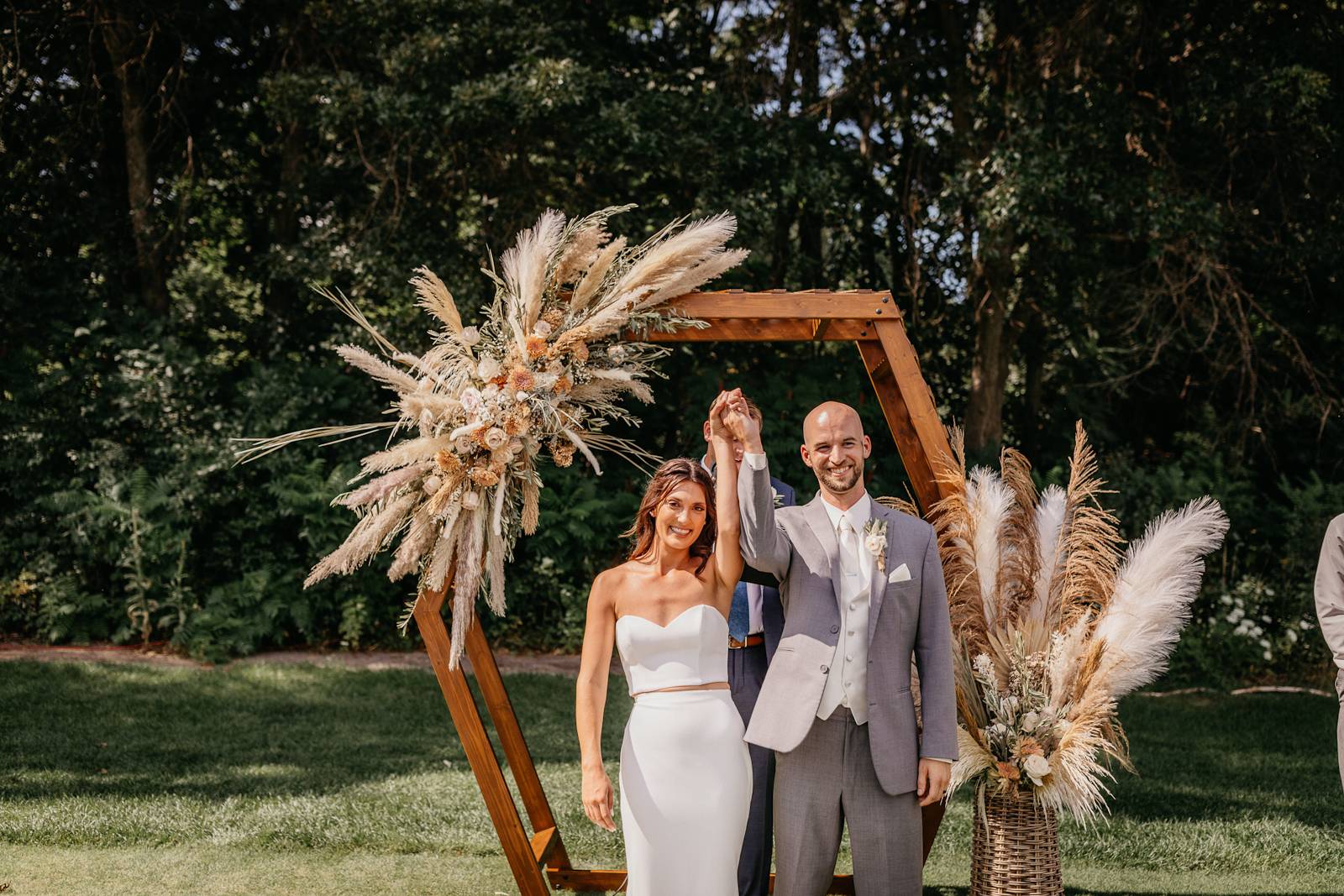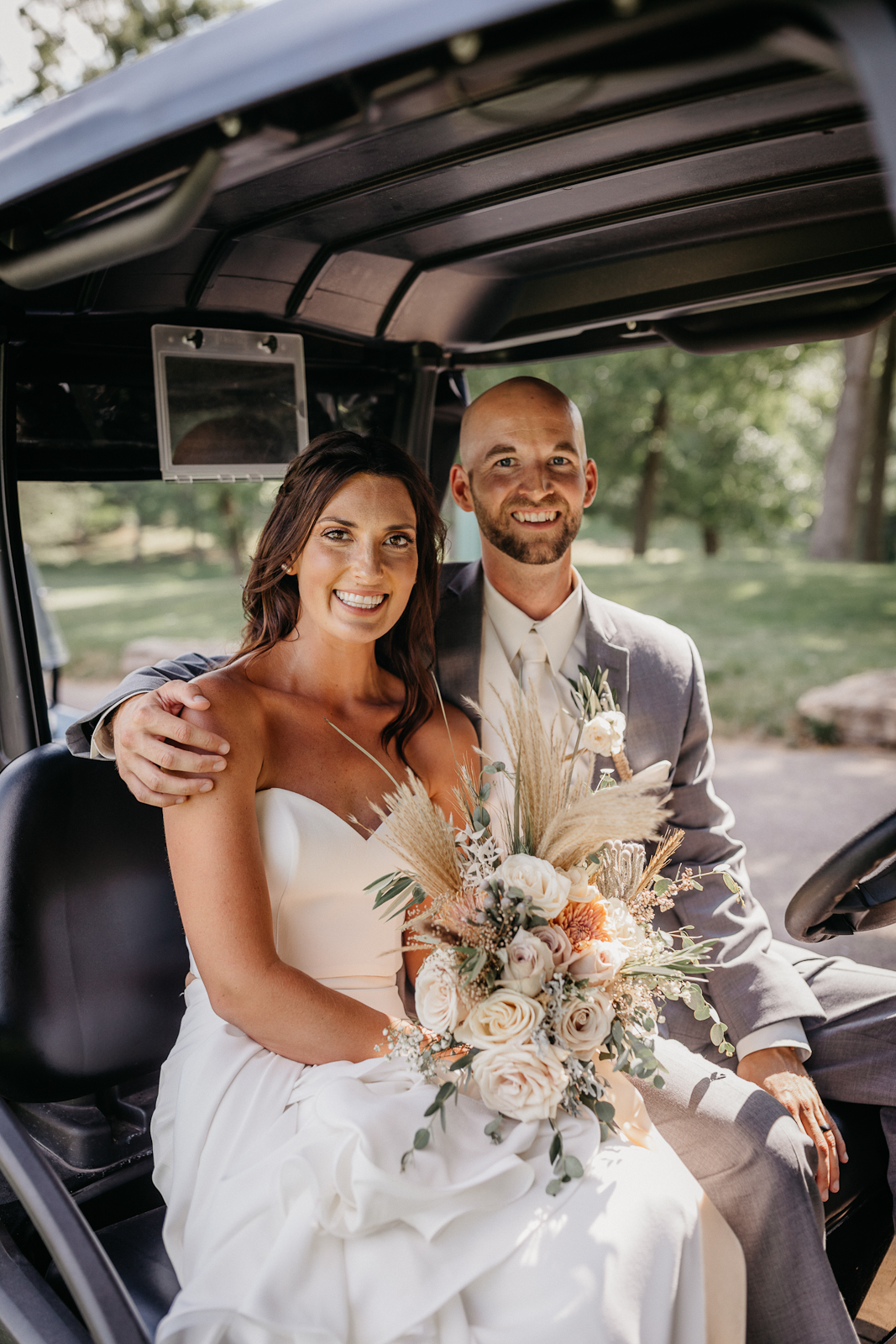 DID YOU USE ANY SPECIALTY CHAIRS, LINENS, CHARGERS, GLASSWARE, OR DINNERWARE? We used the same knife set that Lucas' mom and dad used at their wedding to cut our cake.
TELL US ABOUT THE FOOD, DESSERT, AND ANY SPECIALTY BEVERAGES ONTHE MENU: The food was amazing! Guests had a choice between roasted pork loin, sauteed chicken breast, and braised kohlrabi. For dessert, everyone was served a milk chocolate tower made of chocolate mousse and a caramel sauce. Our wedding cake was also served to our wedding party, which was an almond cake with raspberry filling and buttercream frosting. We also had a late-night snack of pizzas and cookies from one of our favorite local bakeries.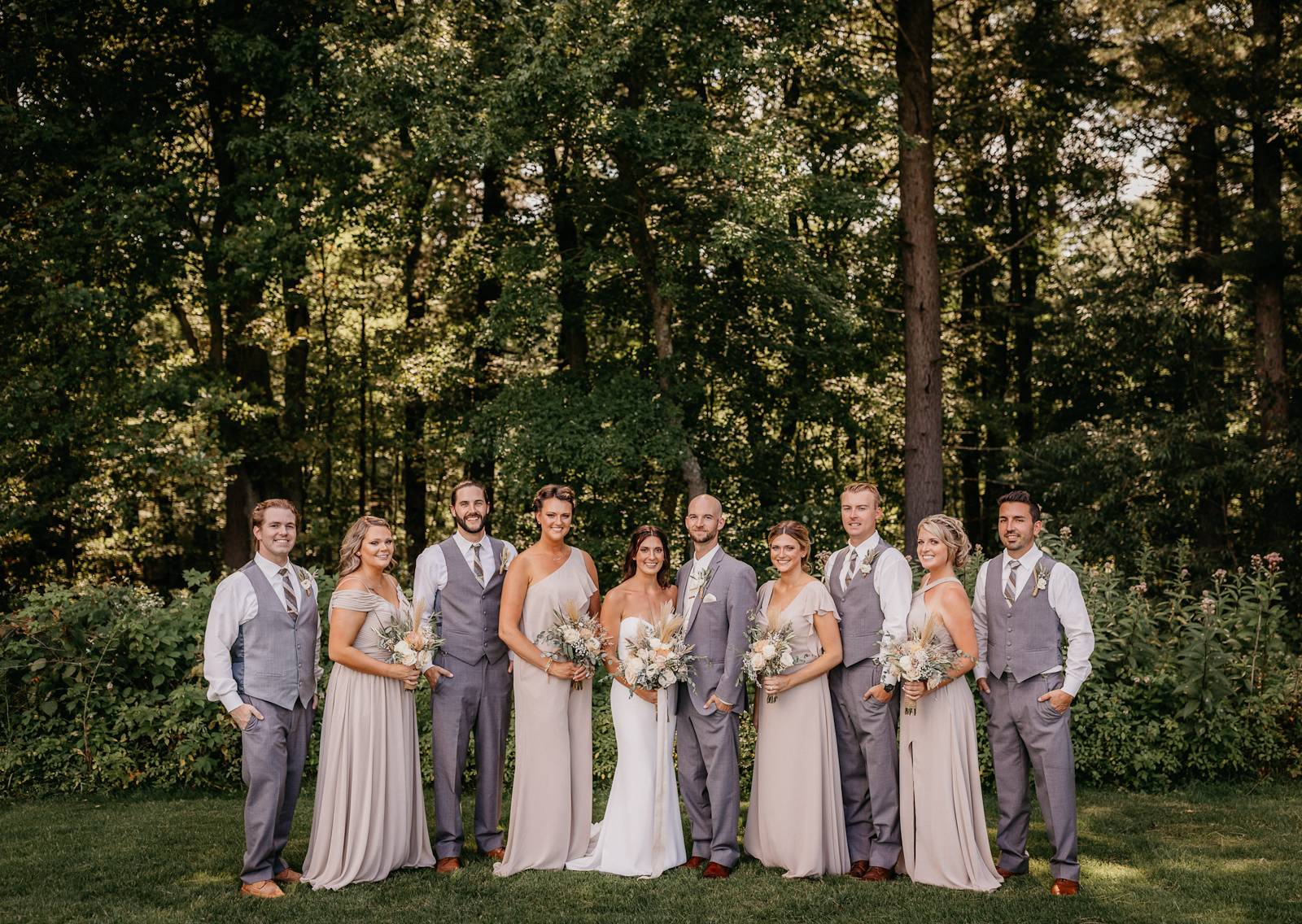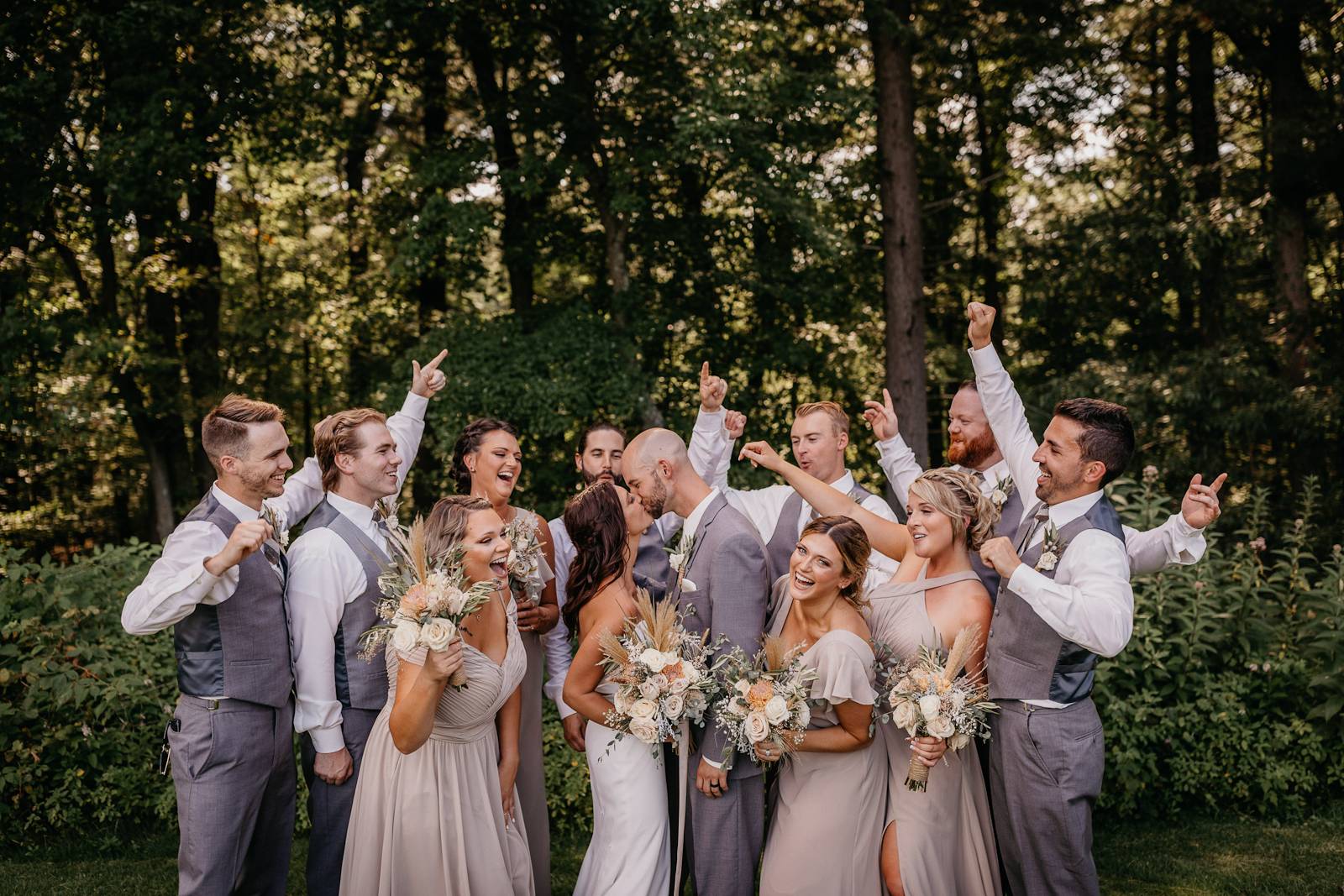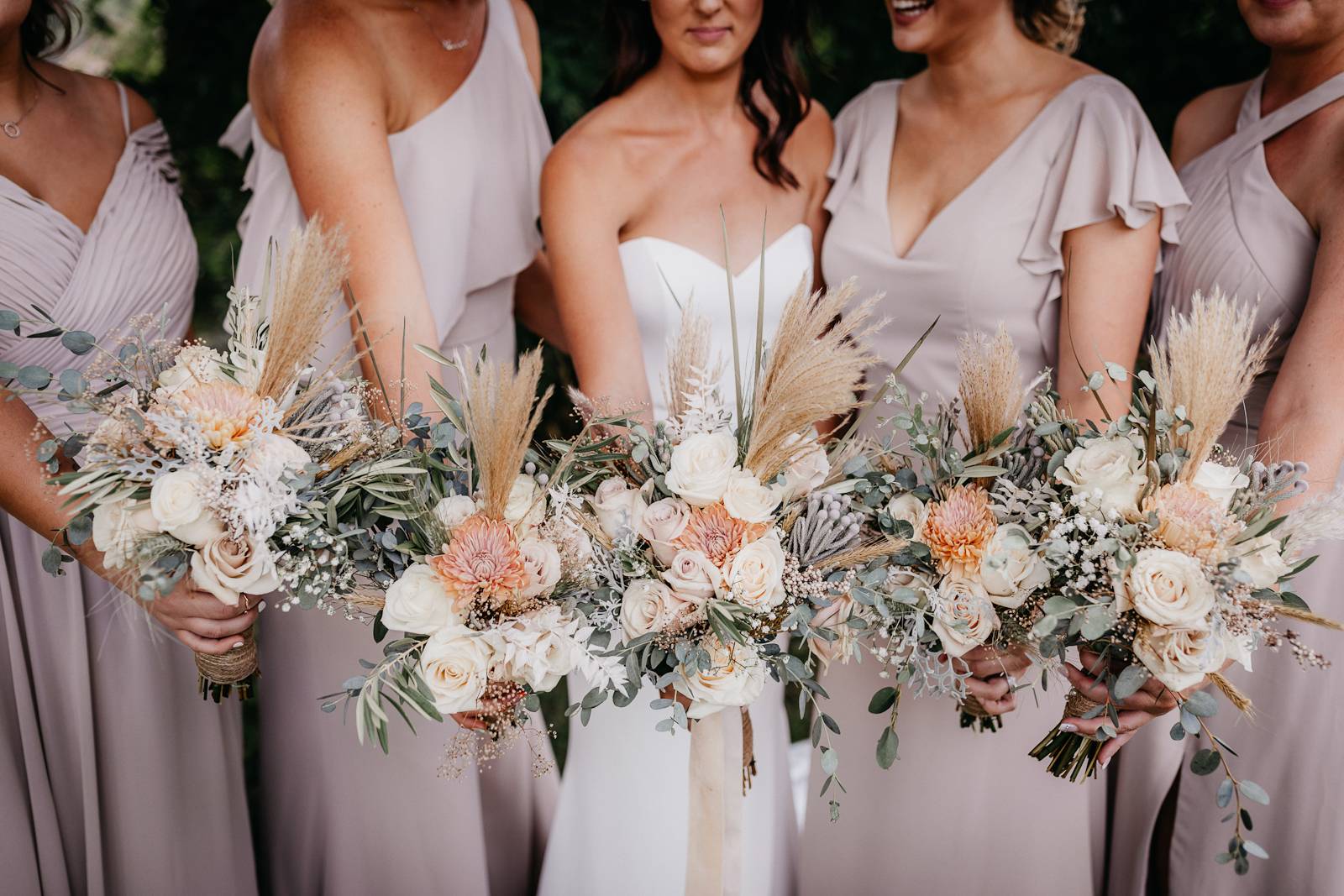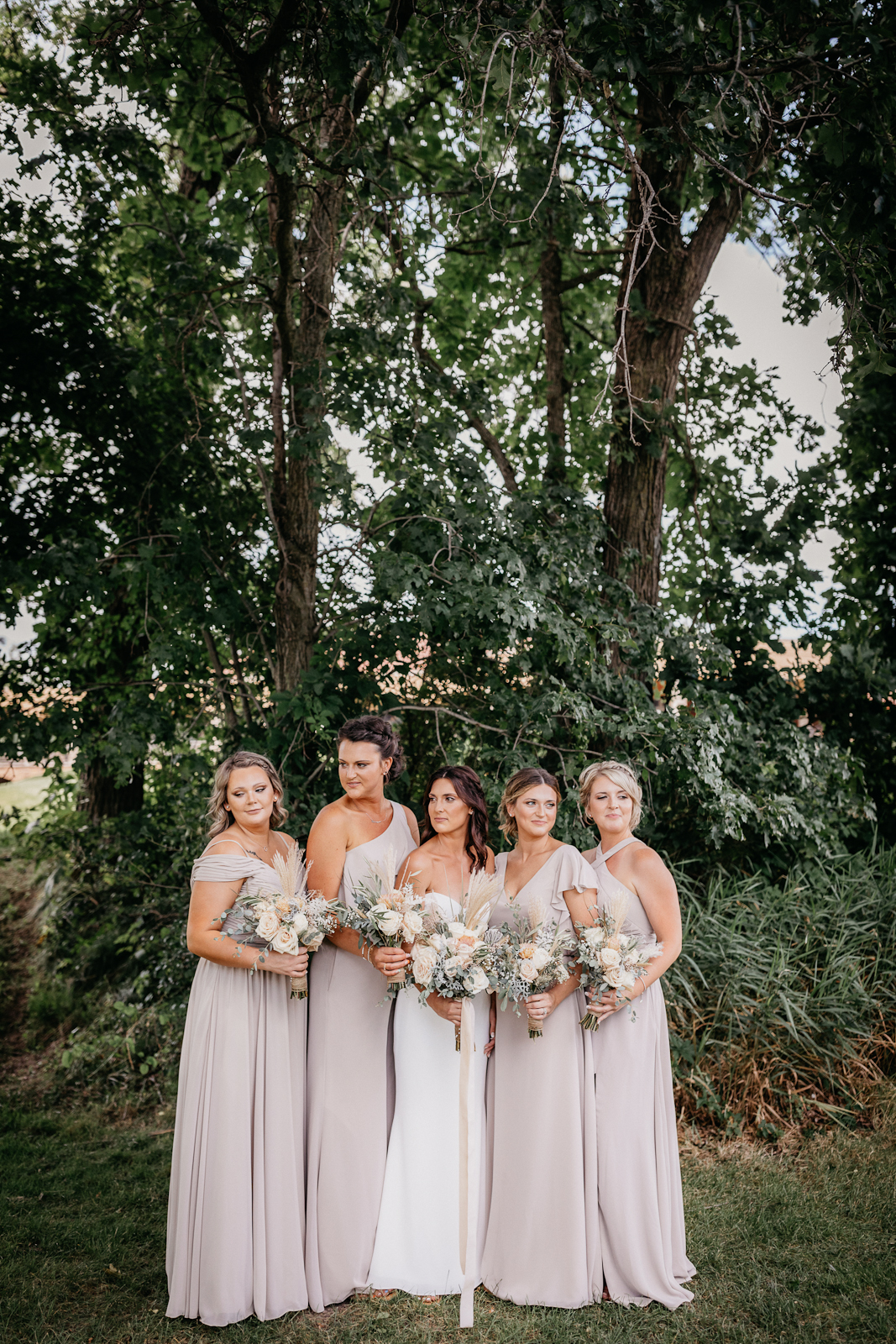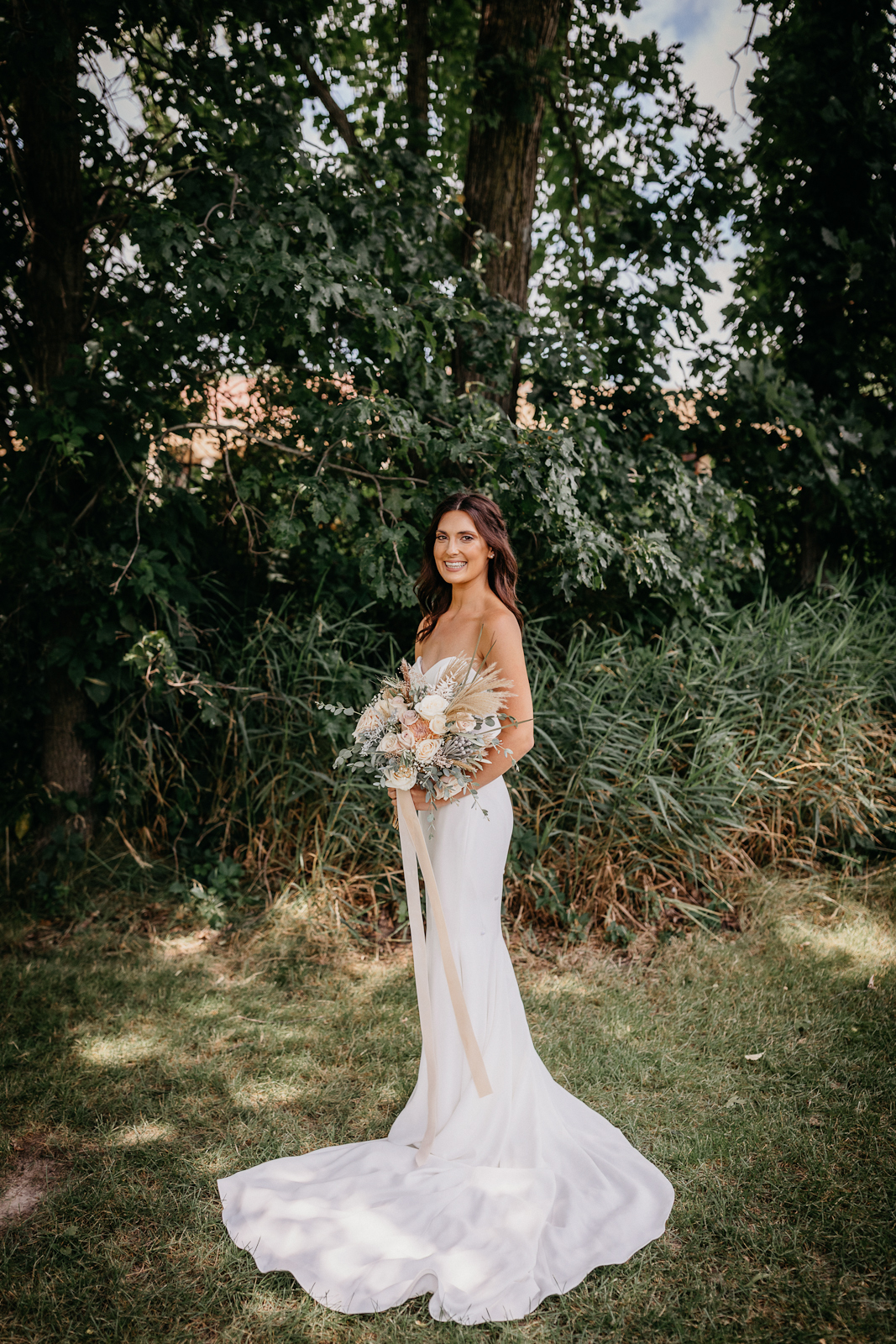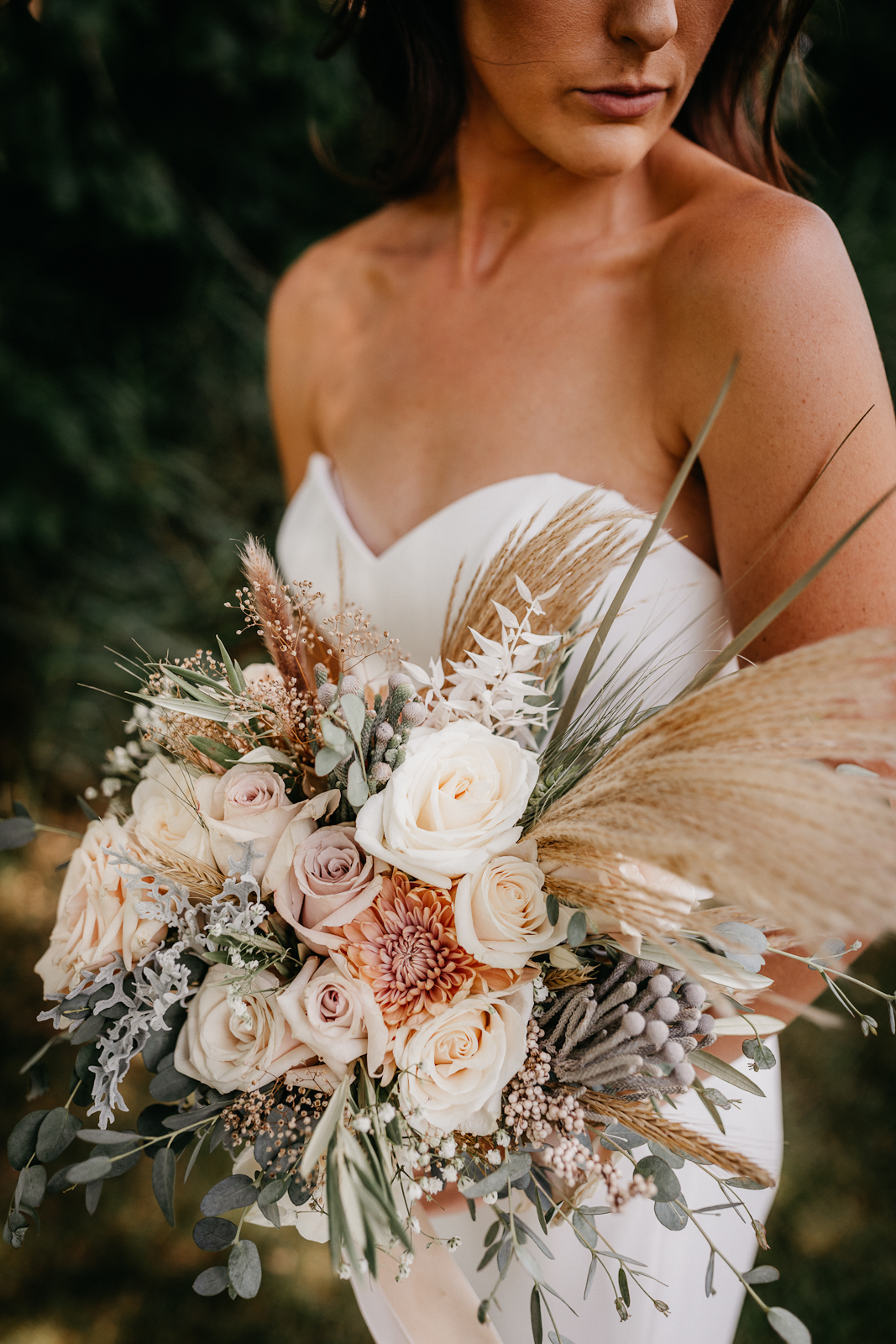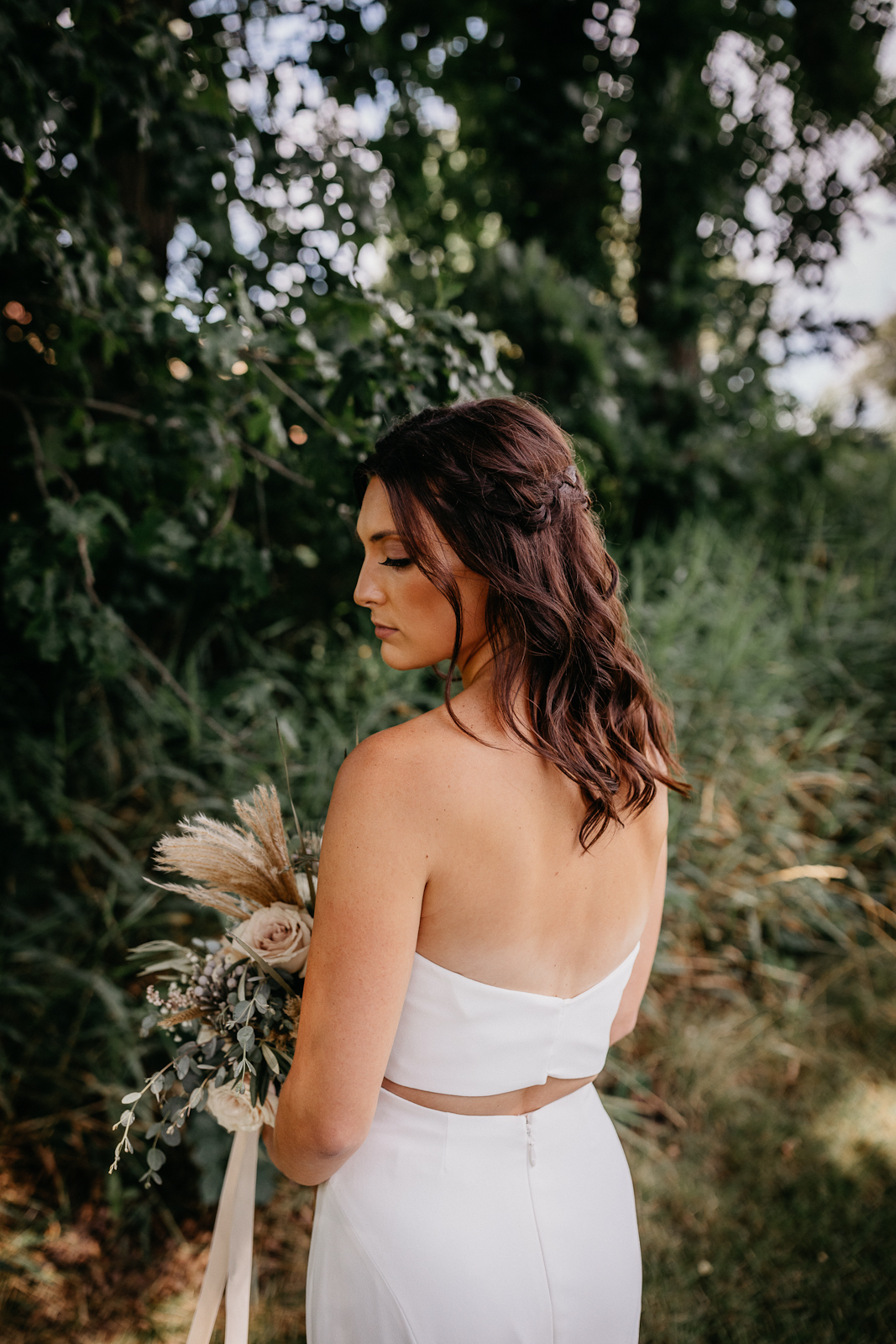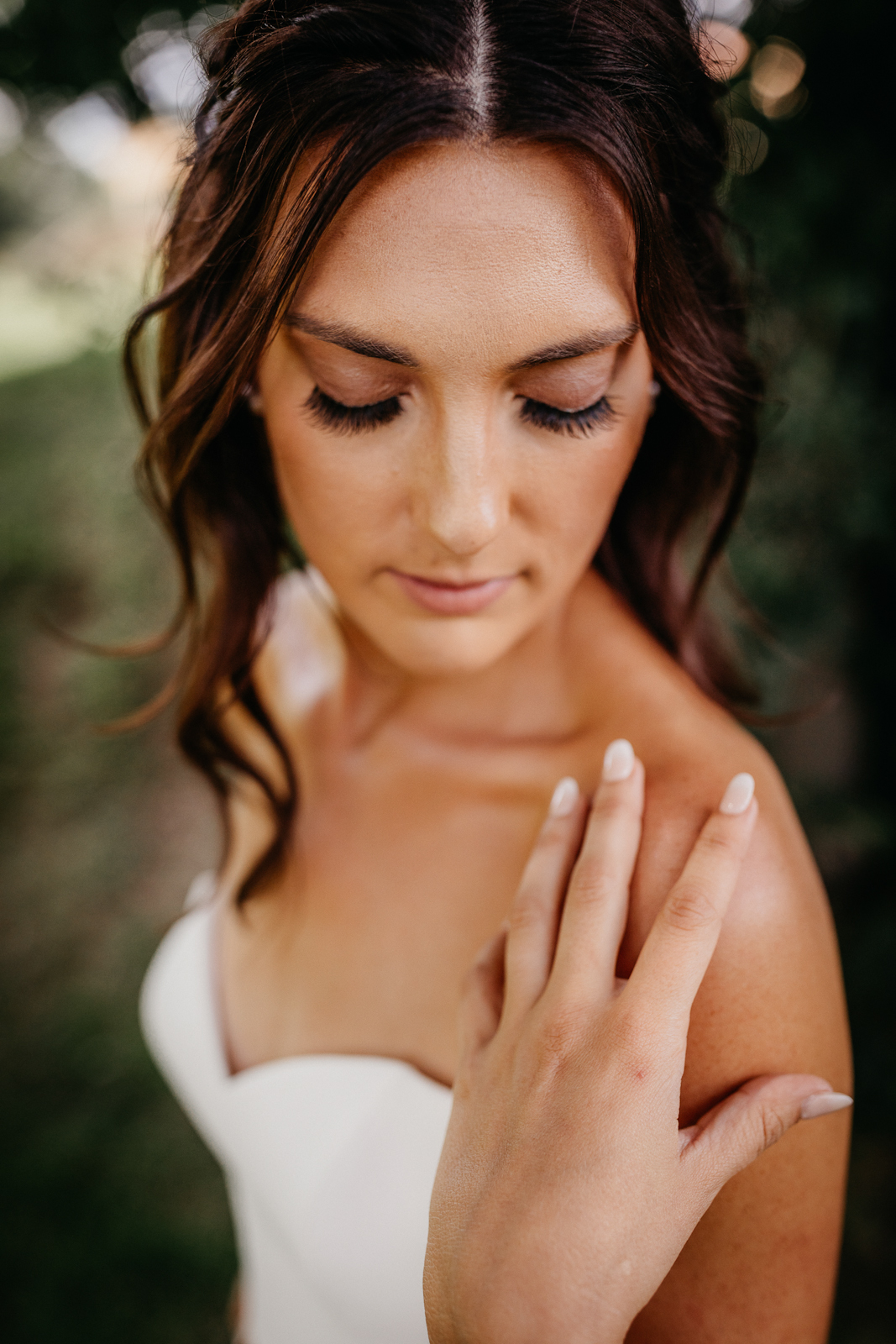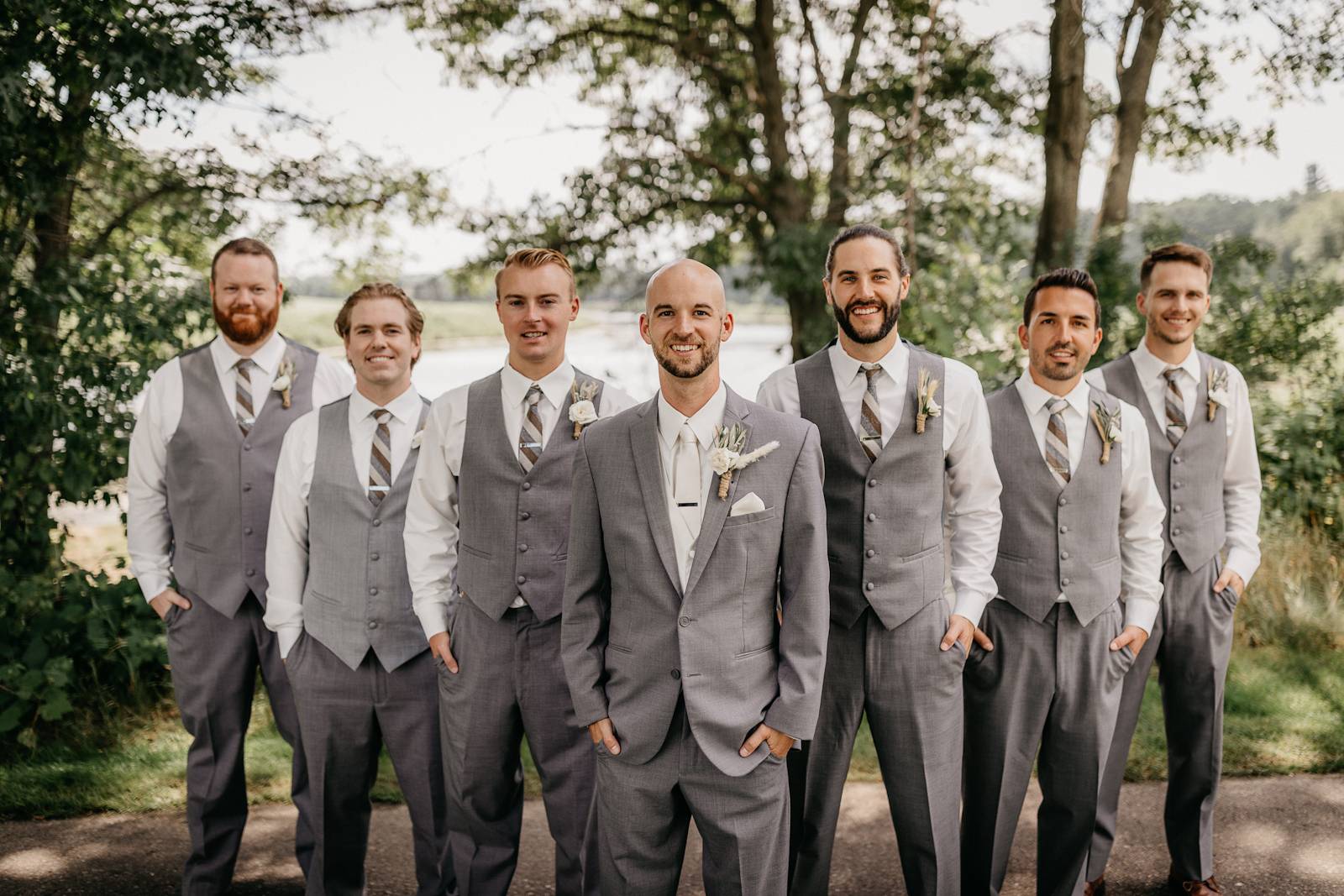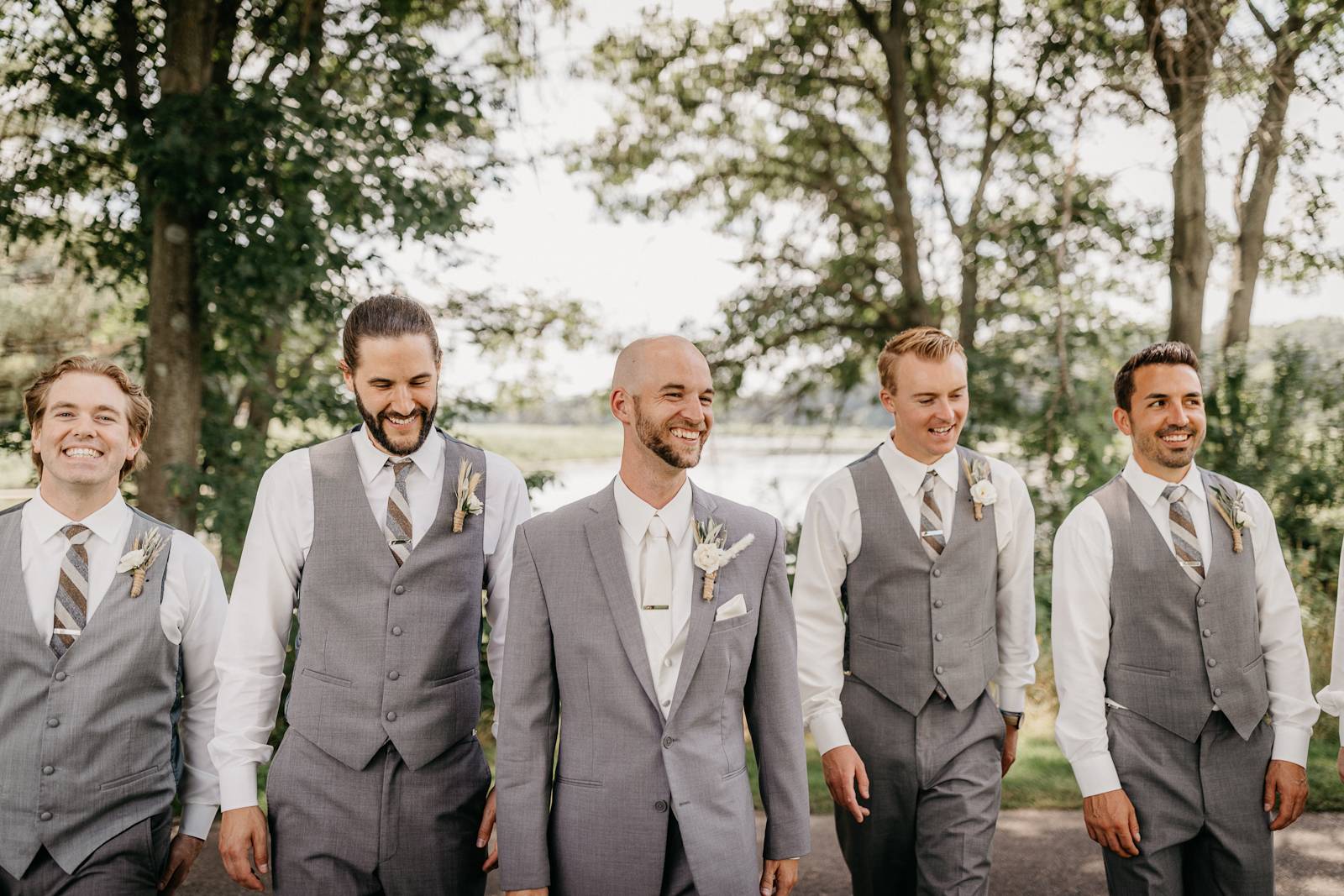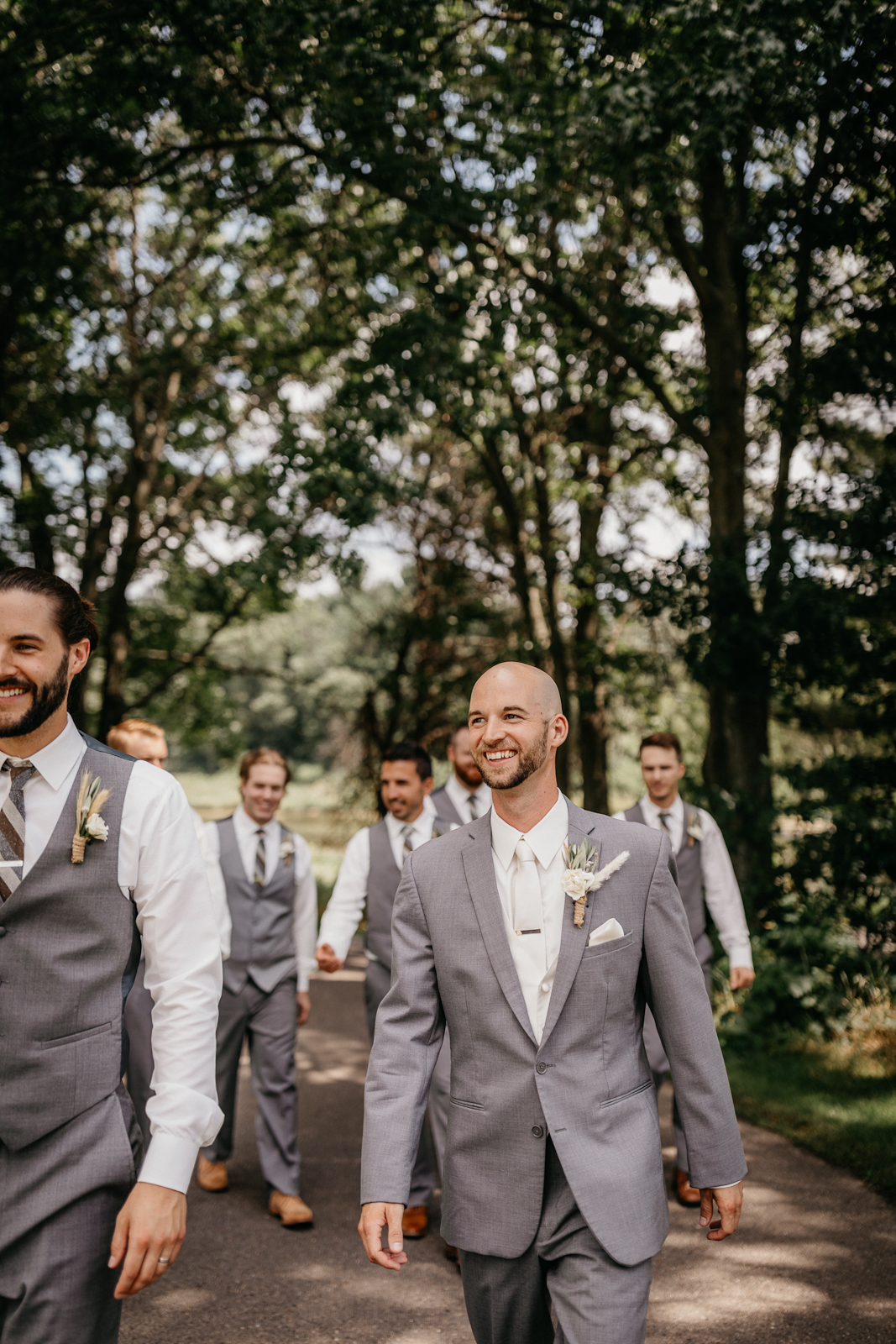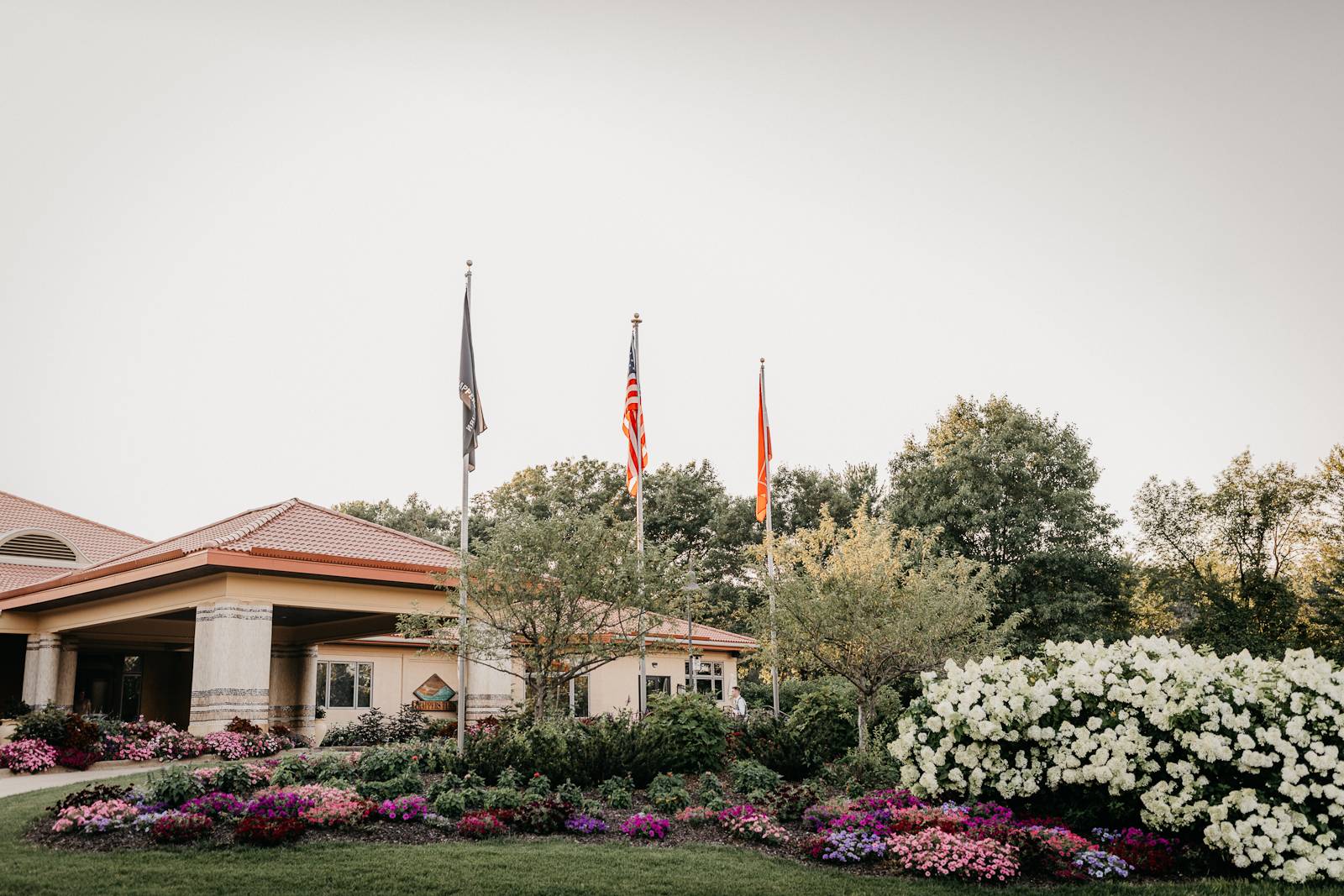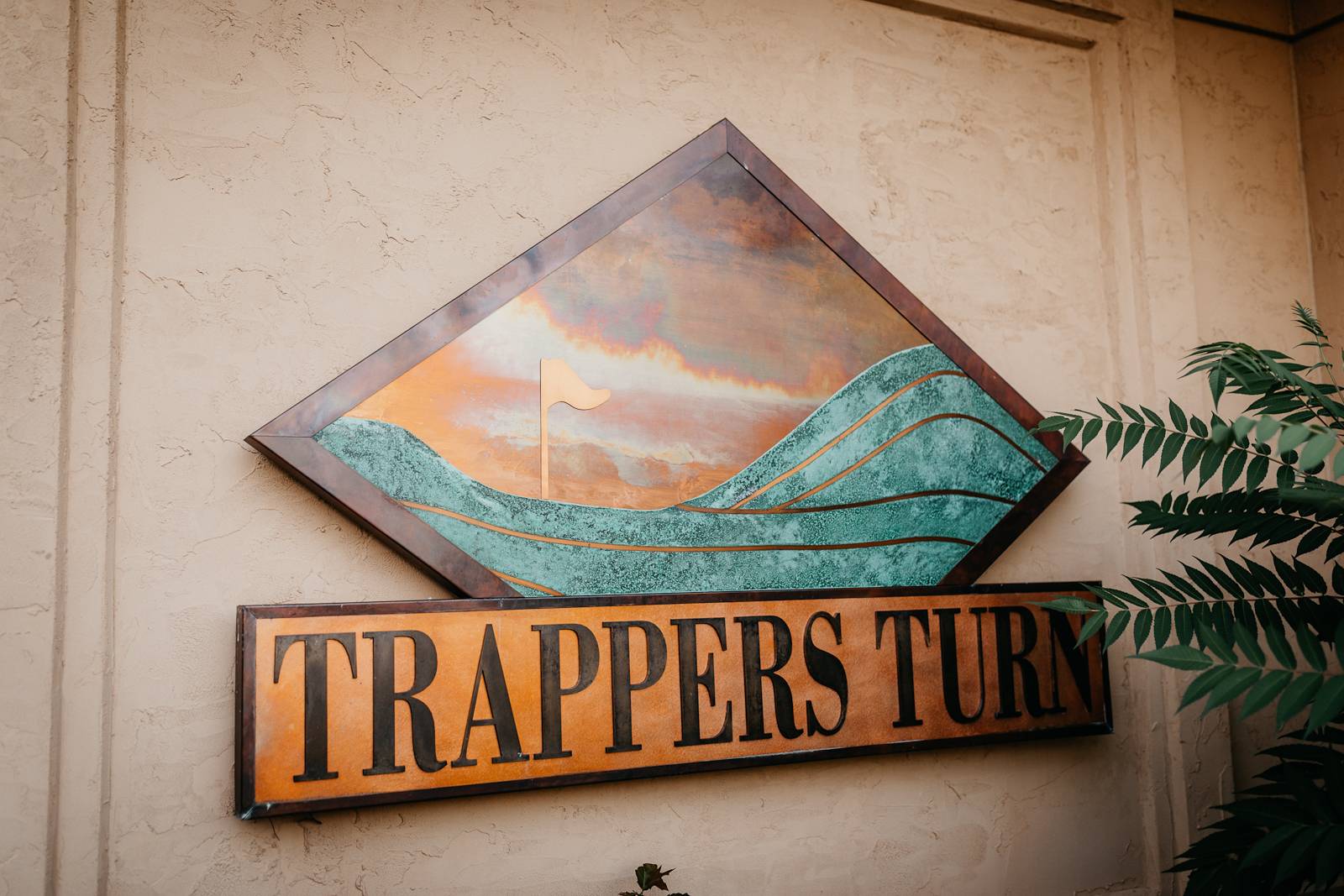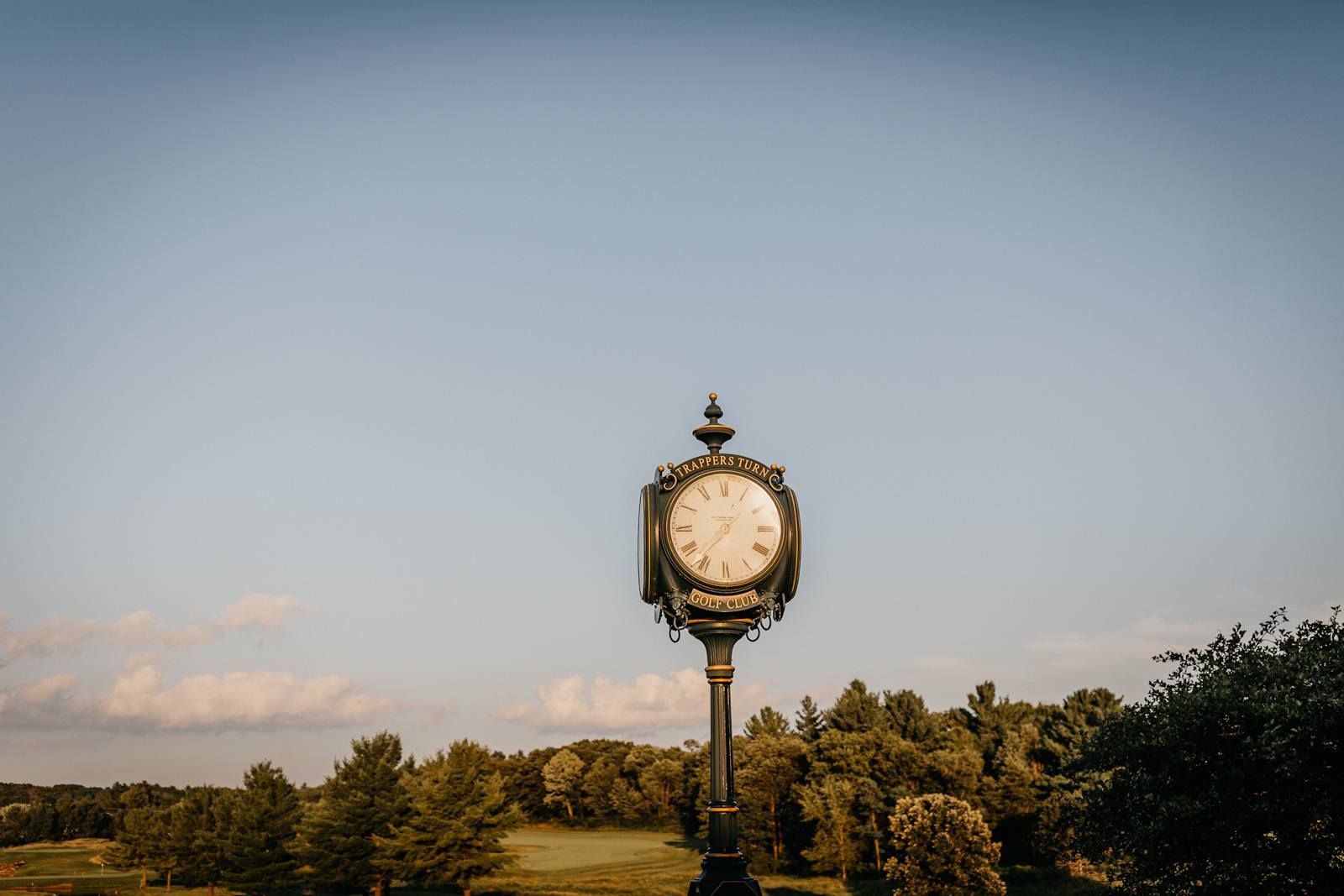 WHAT WAS YOUR FAVORITE MOMENT FROM YOUR WEDDING? Besides saying "I do" and becoming Mr. and Mrs. Farber, another favorite moment was when four former Green Bay Packer players crashed our reception during their 2021 Packers Road Trip! They danced, ate some late-night pizza with us, and took pictures with some of our wedding guests! It was something we will never forget, even though we are Vikings fans!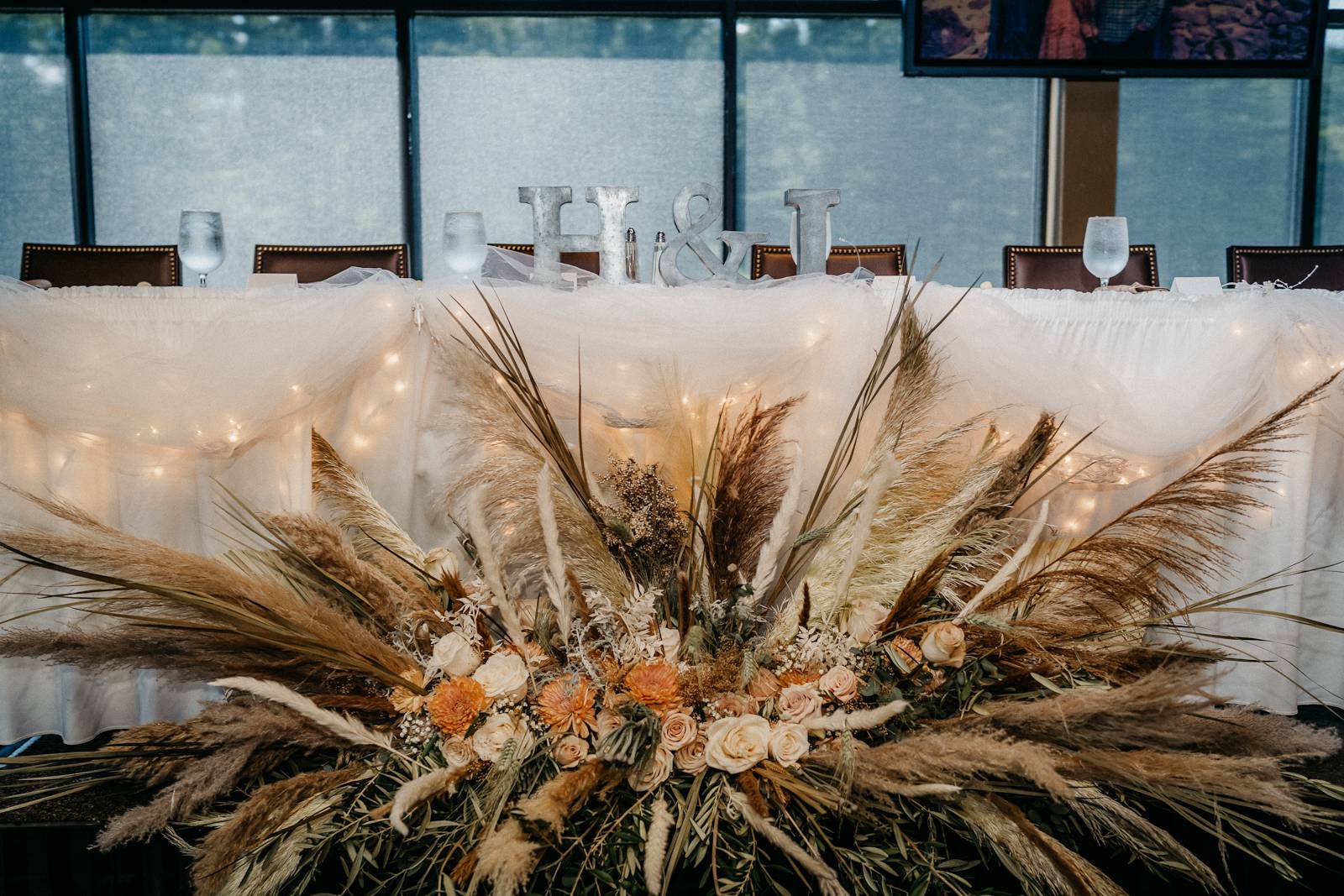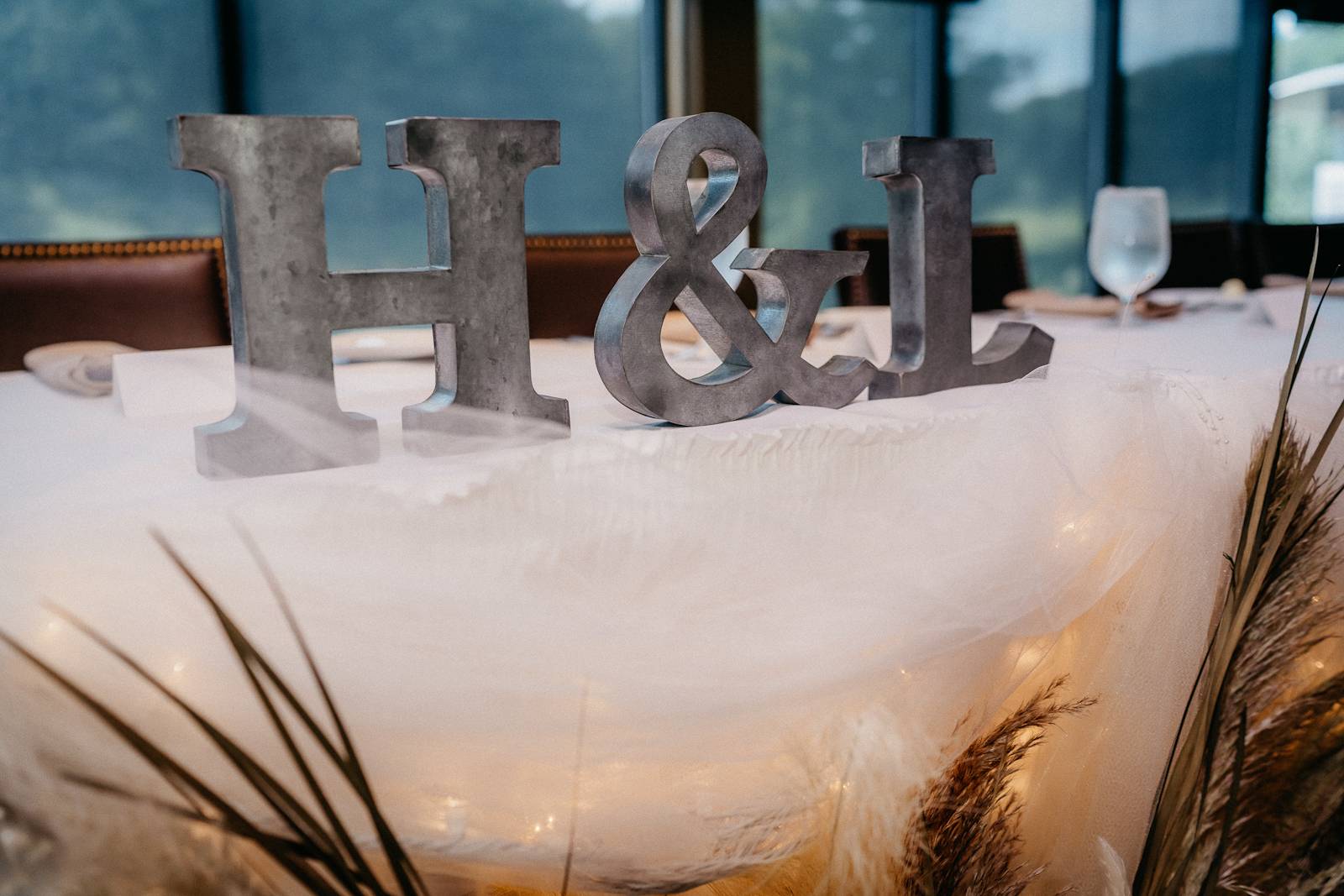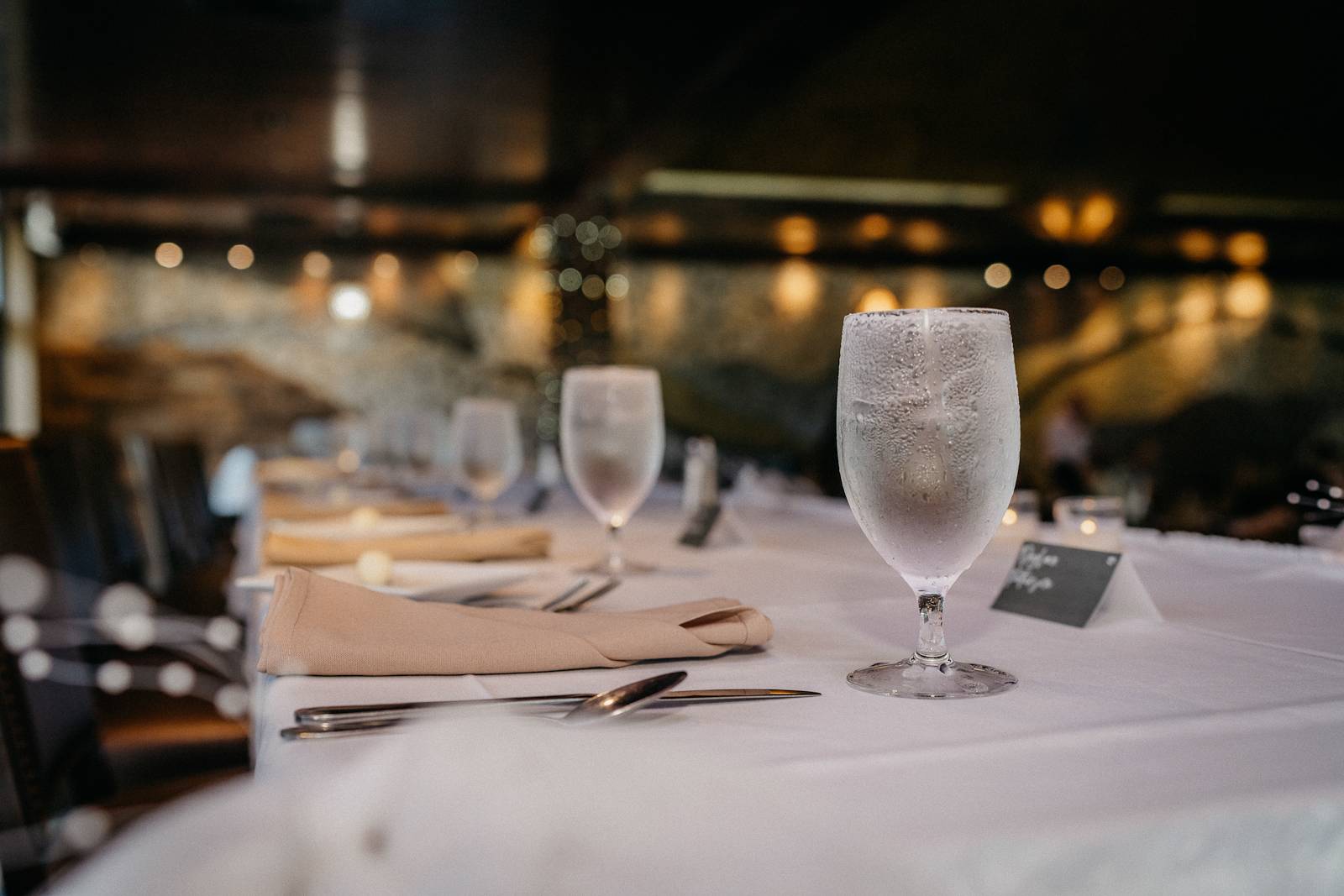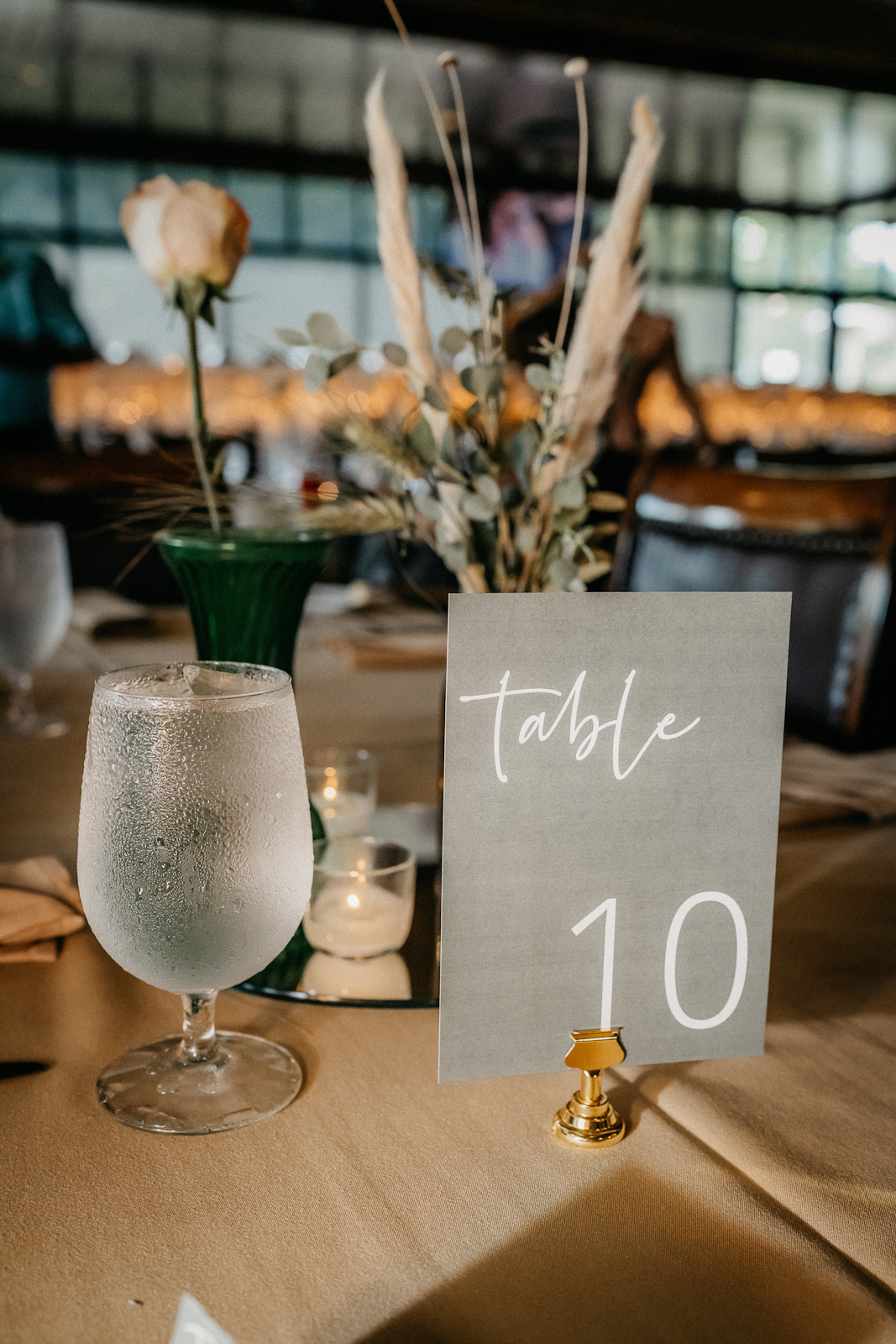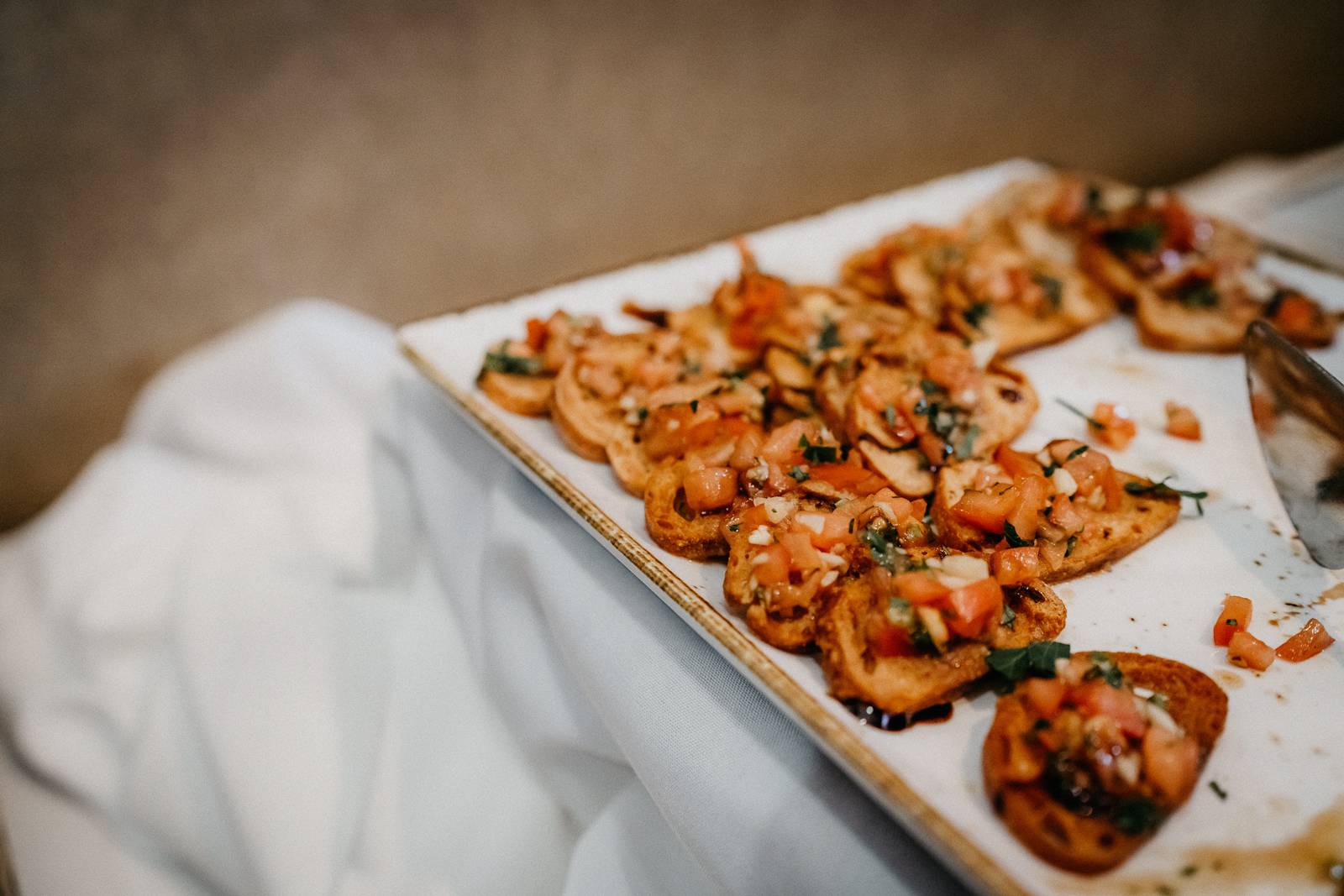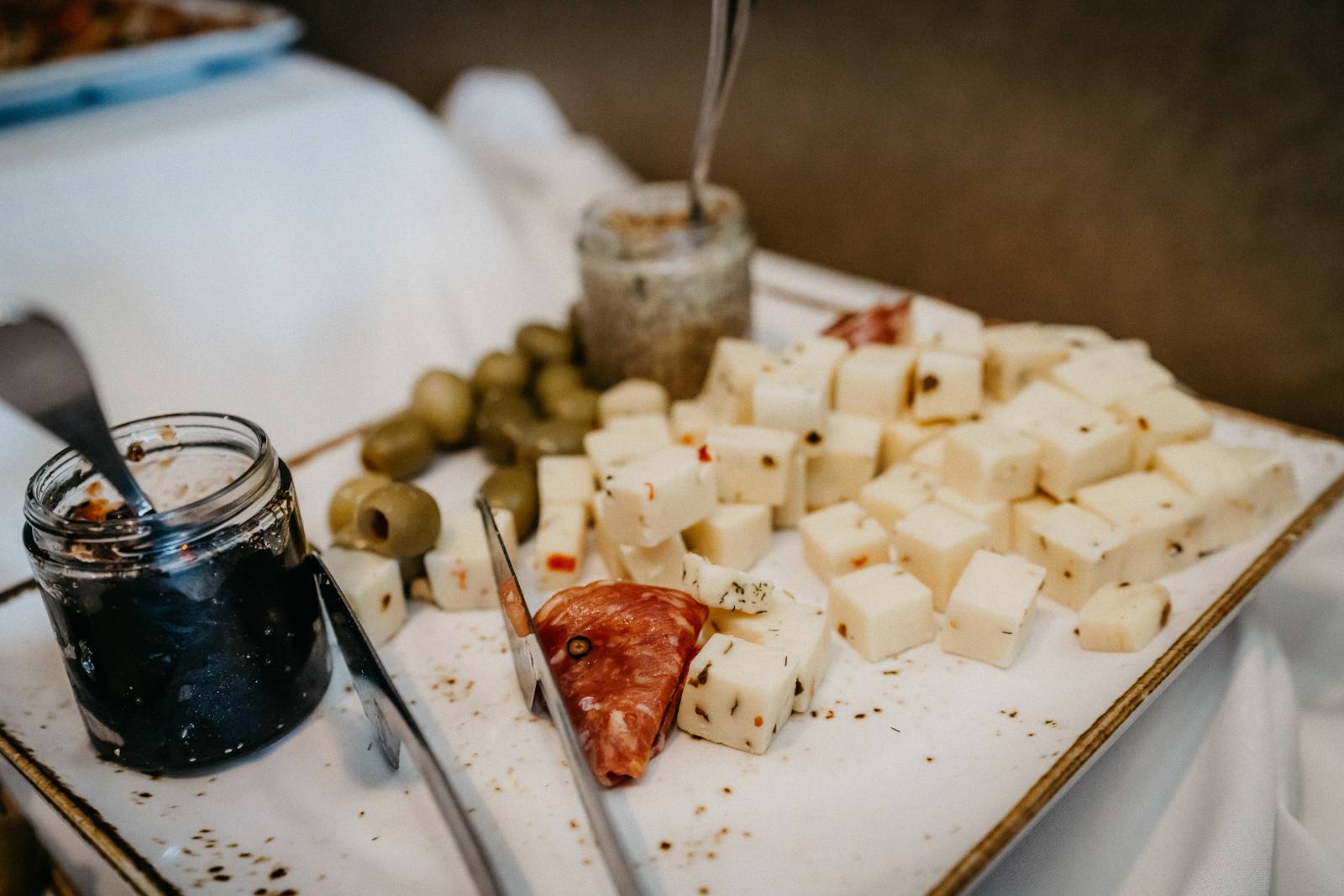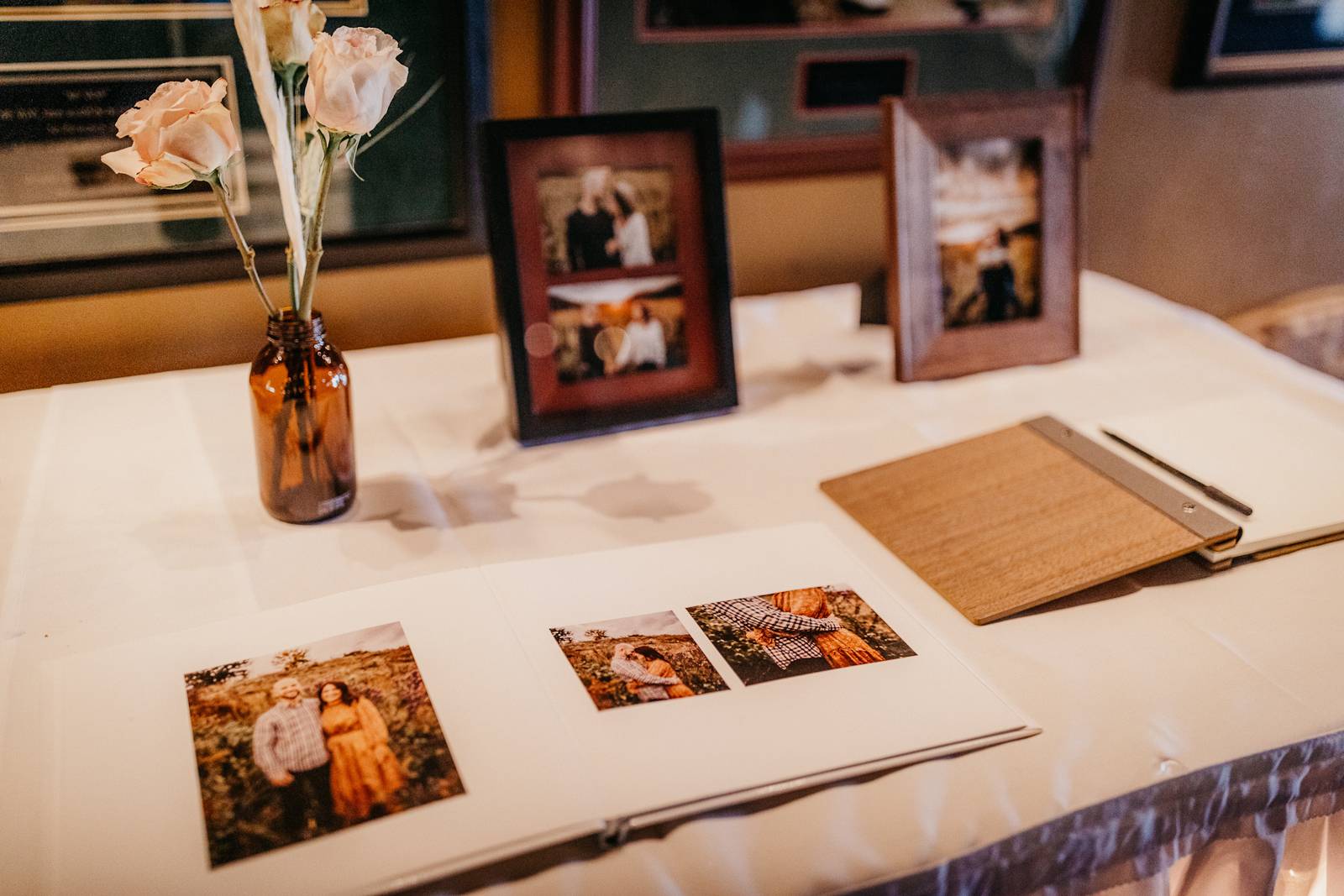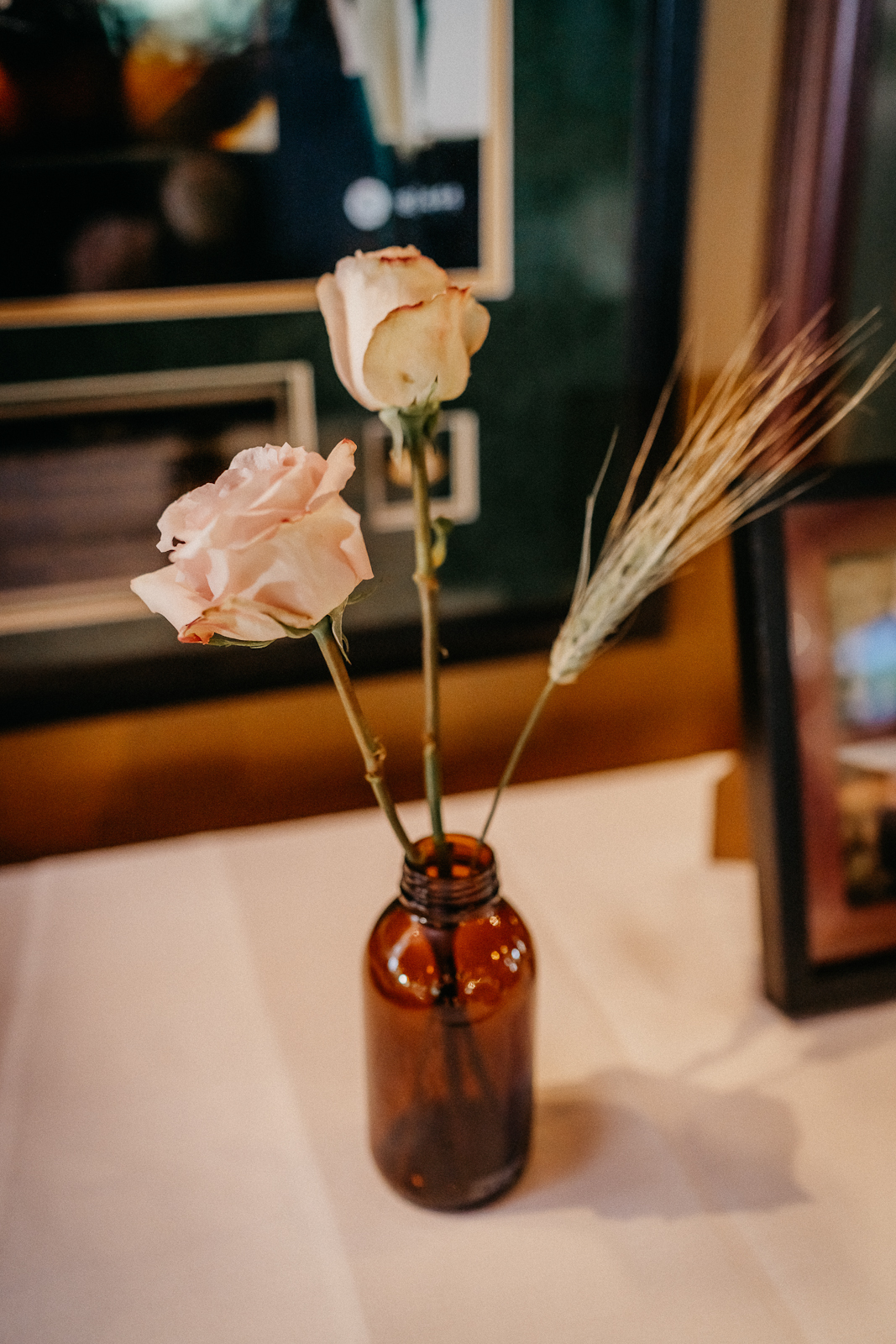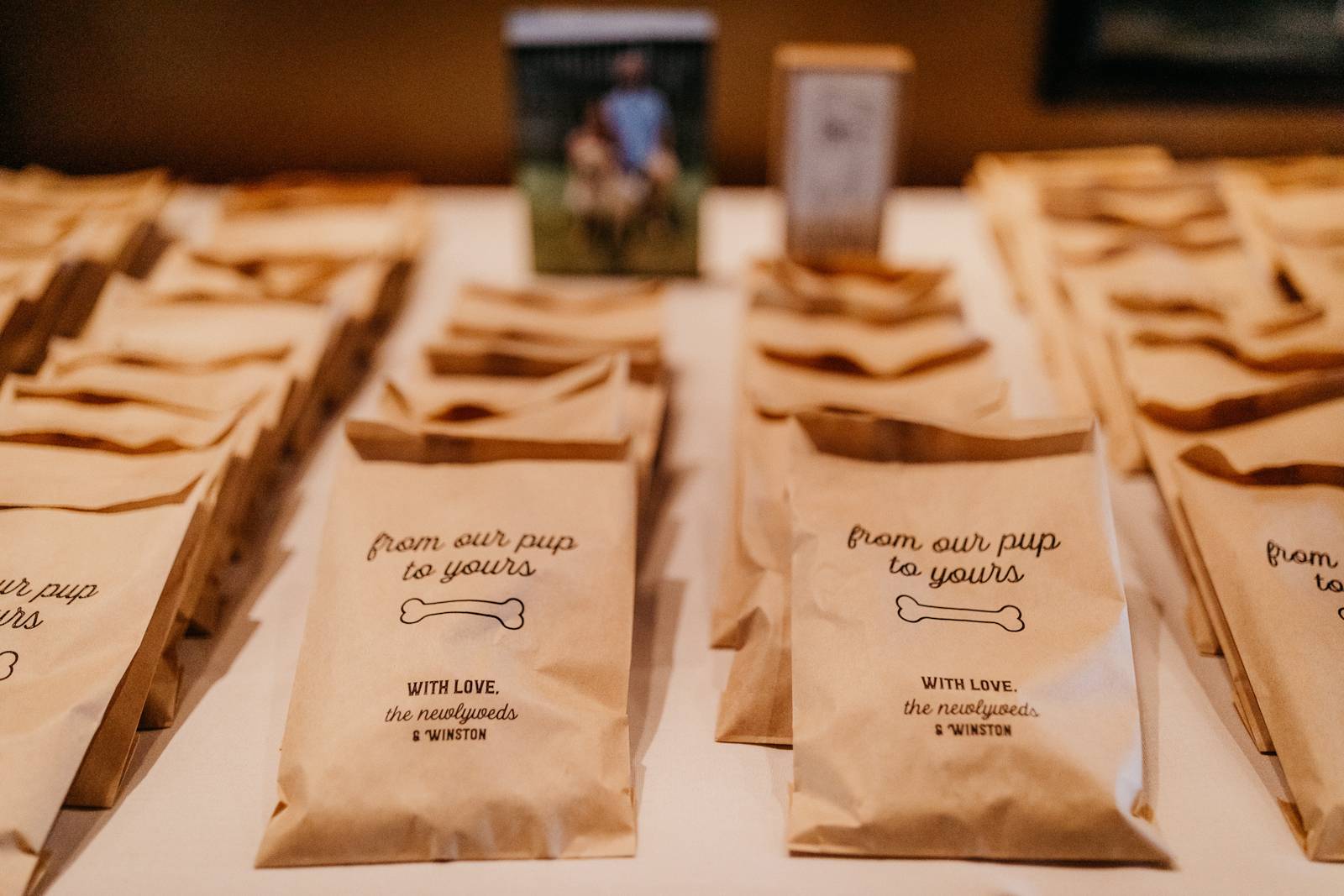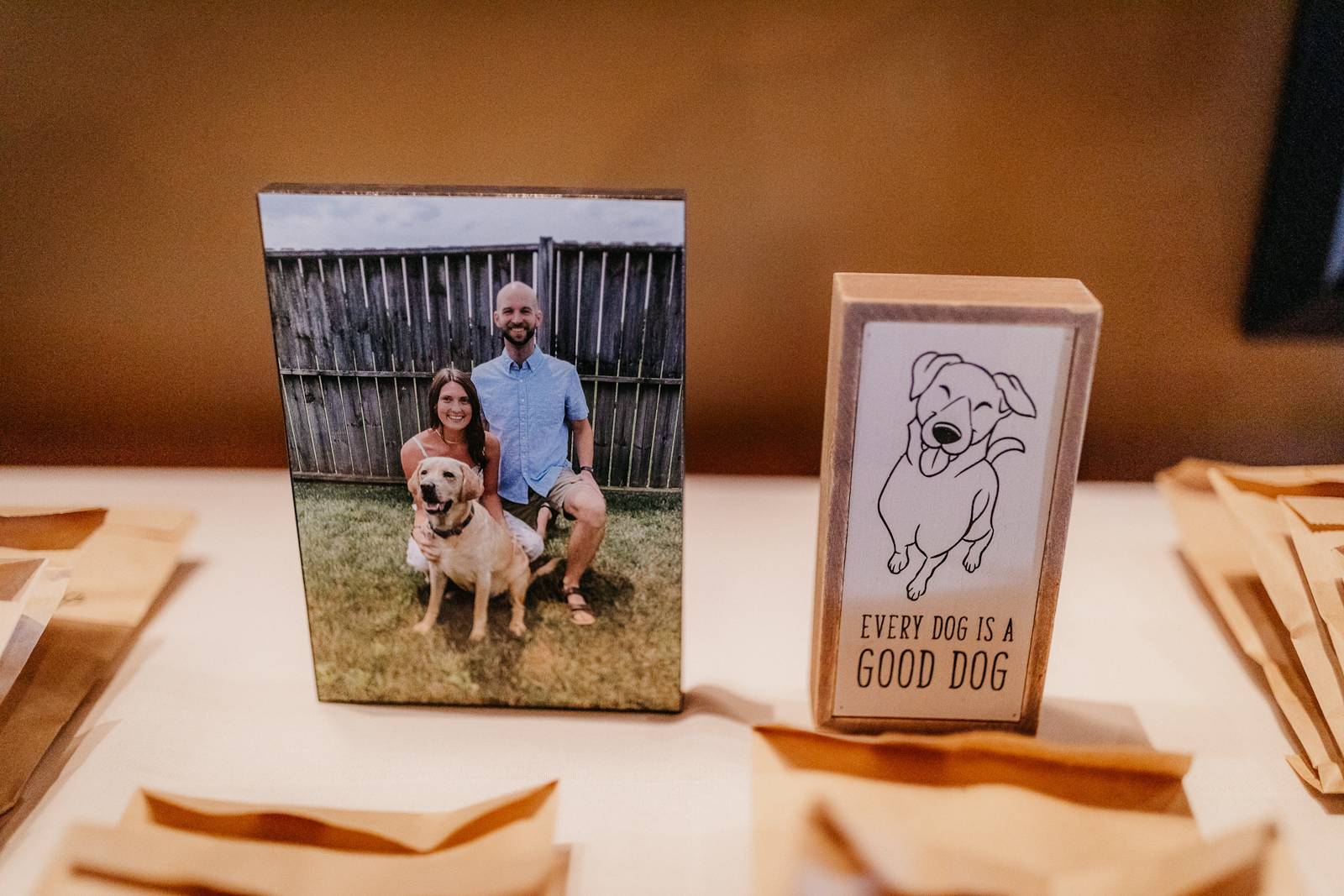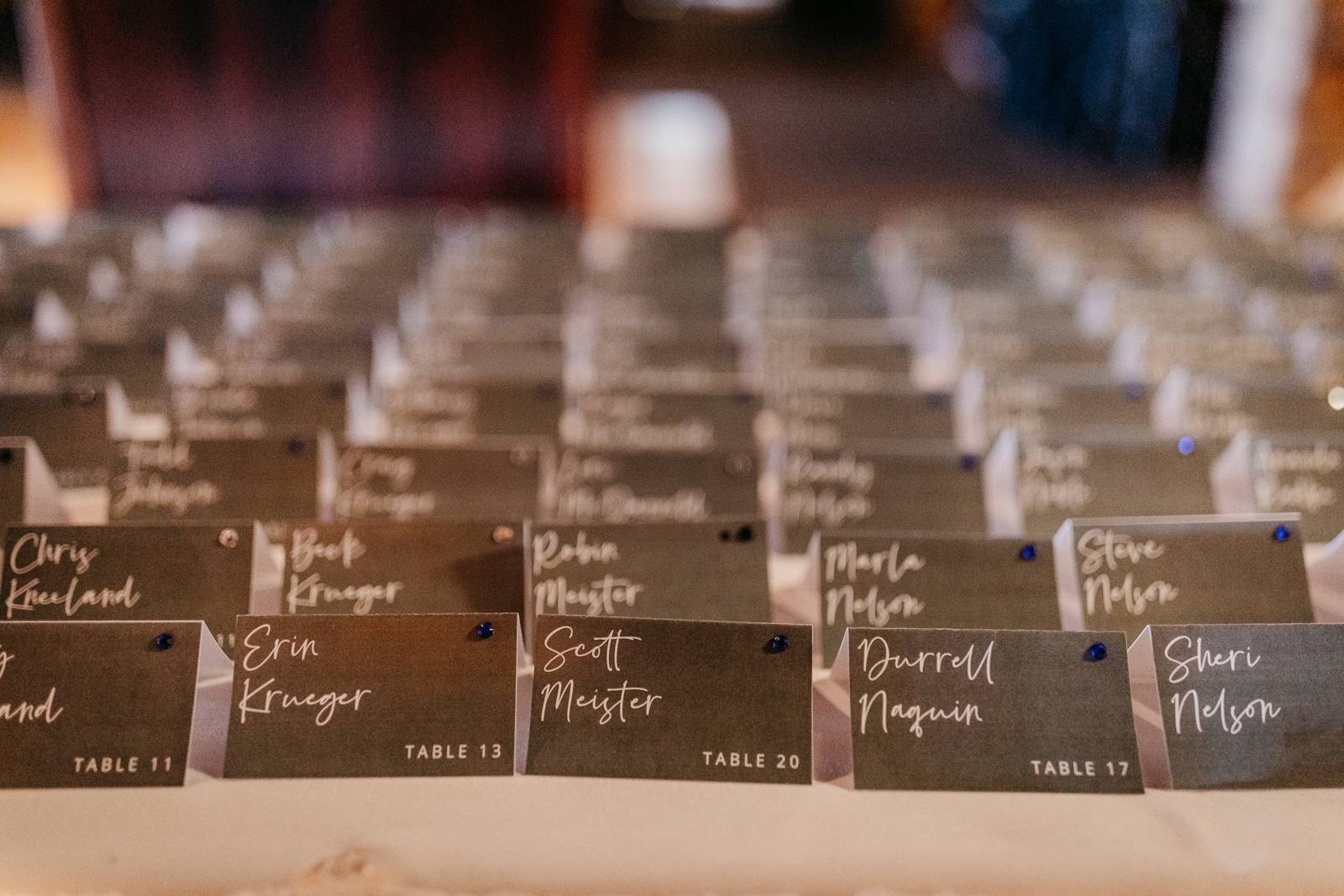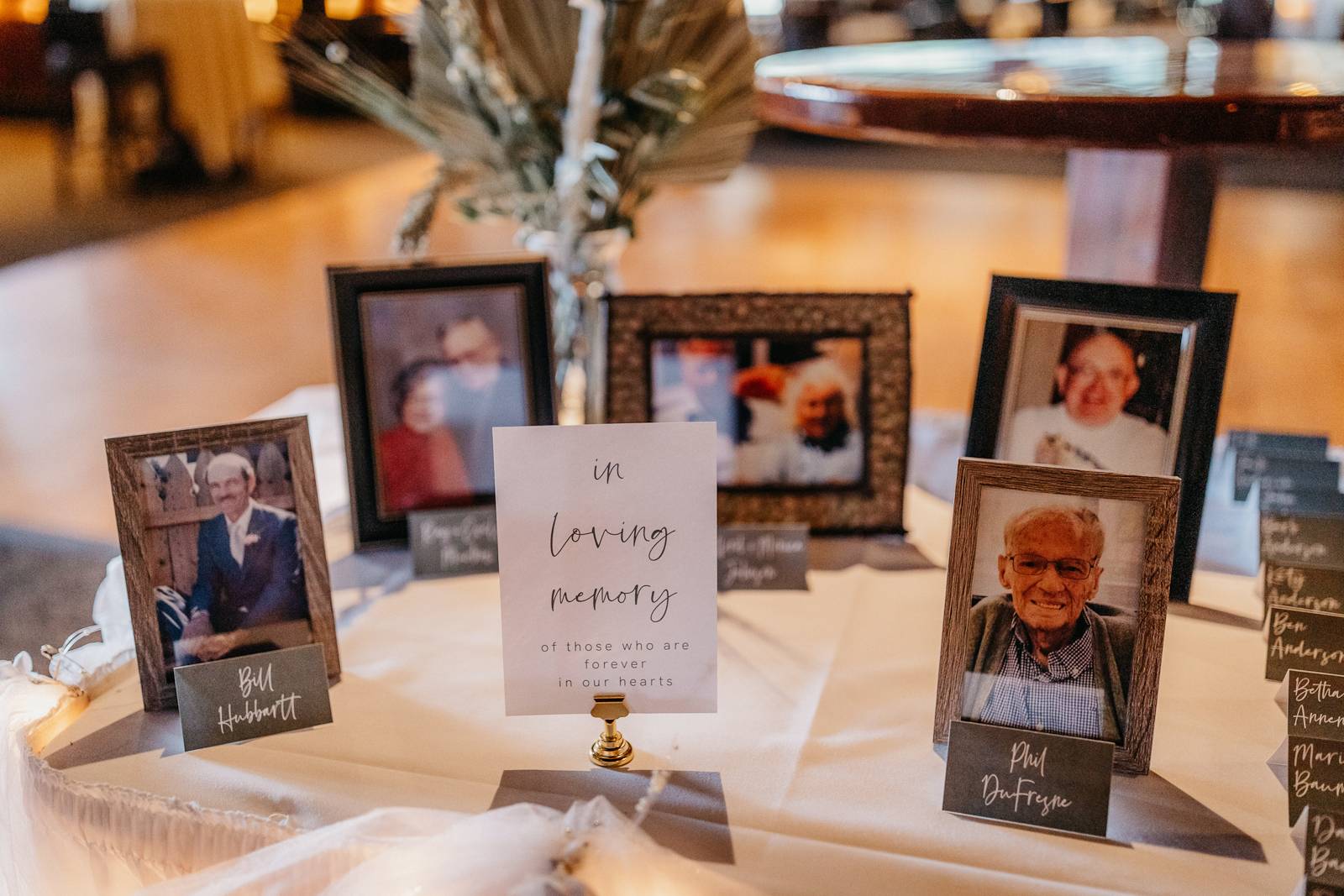 TELL US ABOUT YOUR HONEYMOON PLANS: The Monday after our wedding, we were off to the Caribbean island of Antigua to stay at the beautiful all-inclusive Sandals Resort for seven nights. It was the best week ever!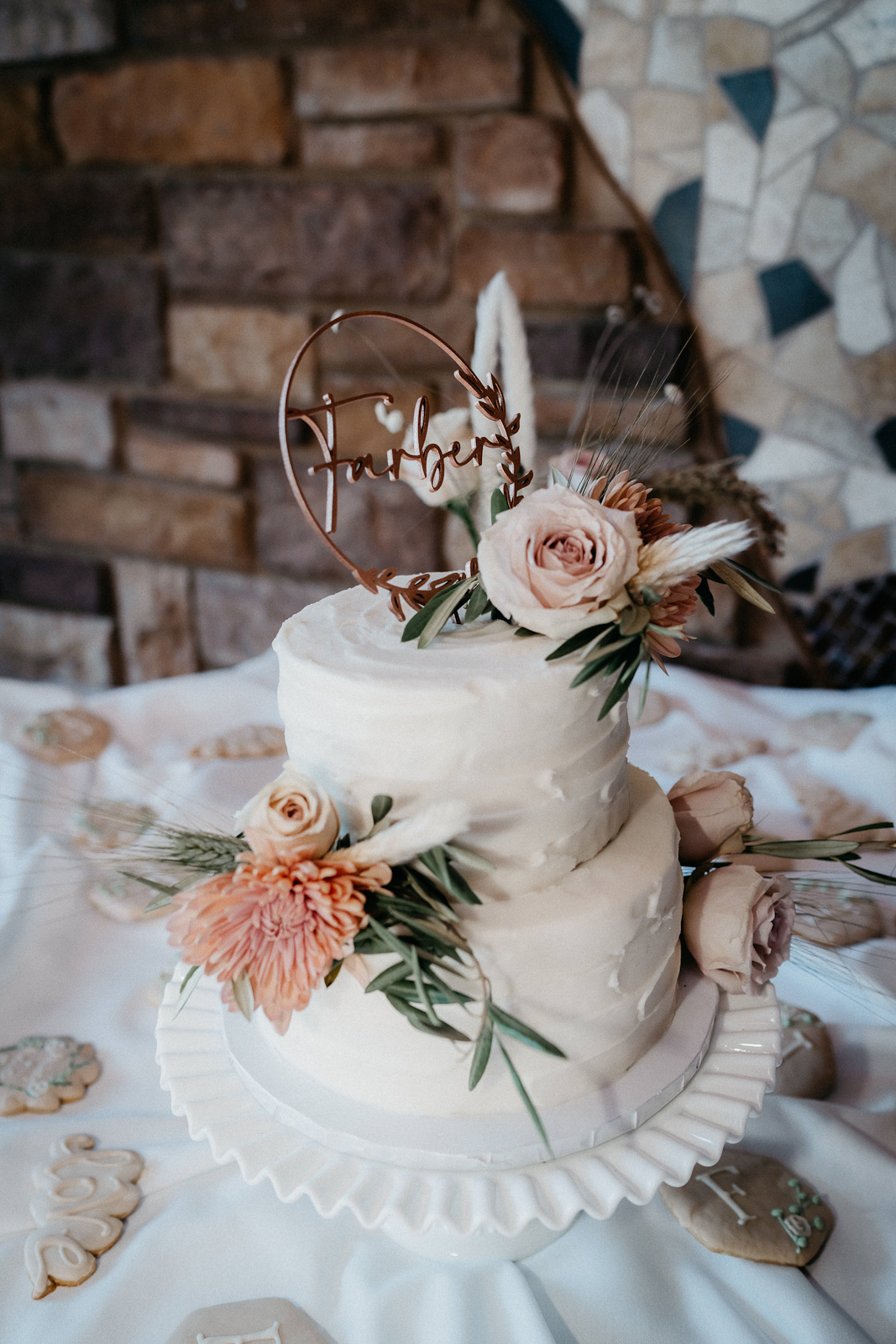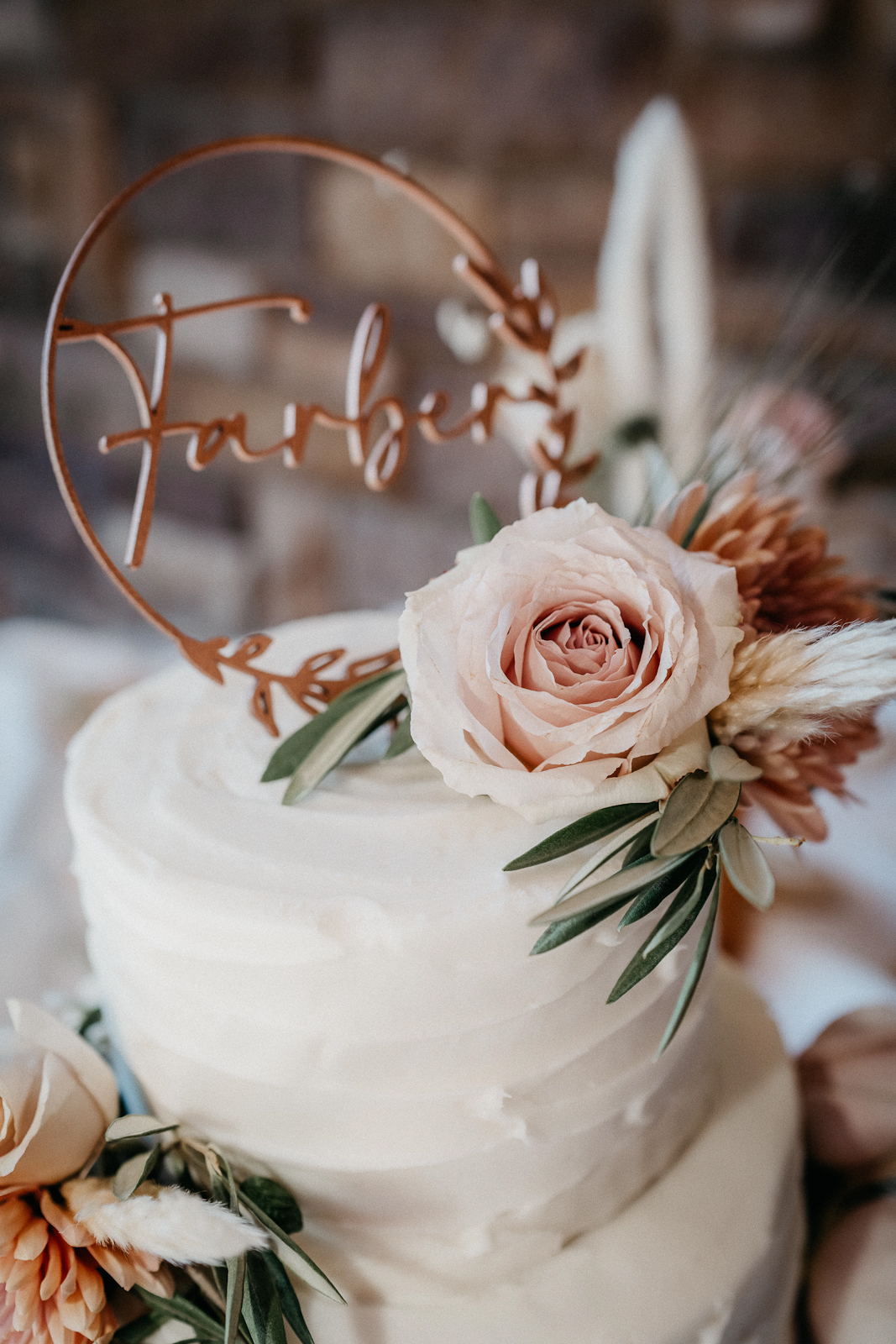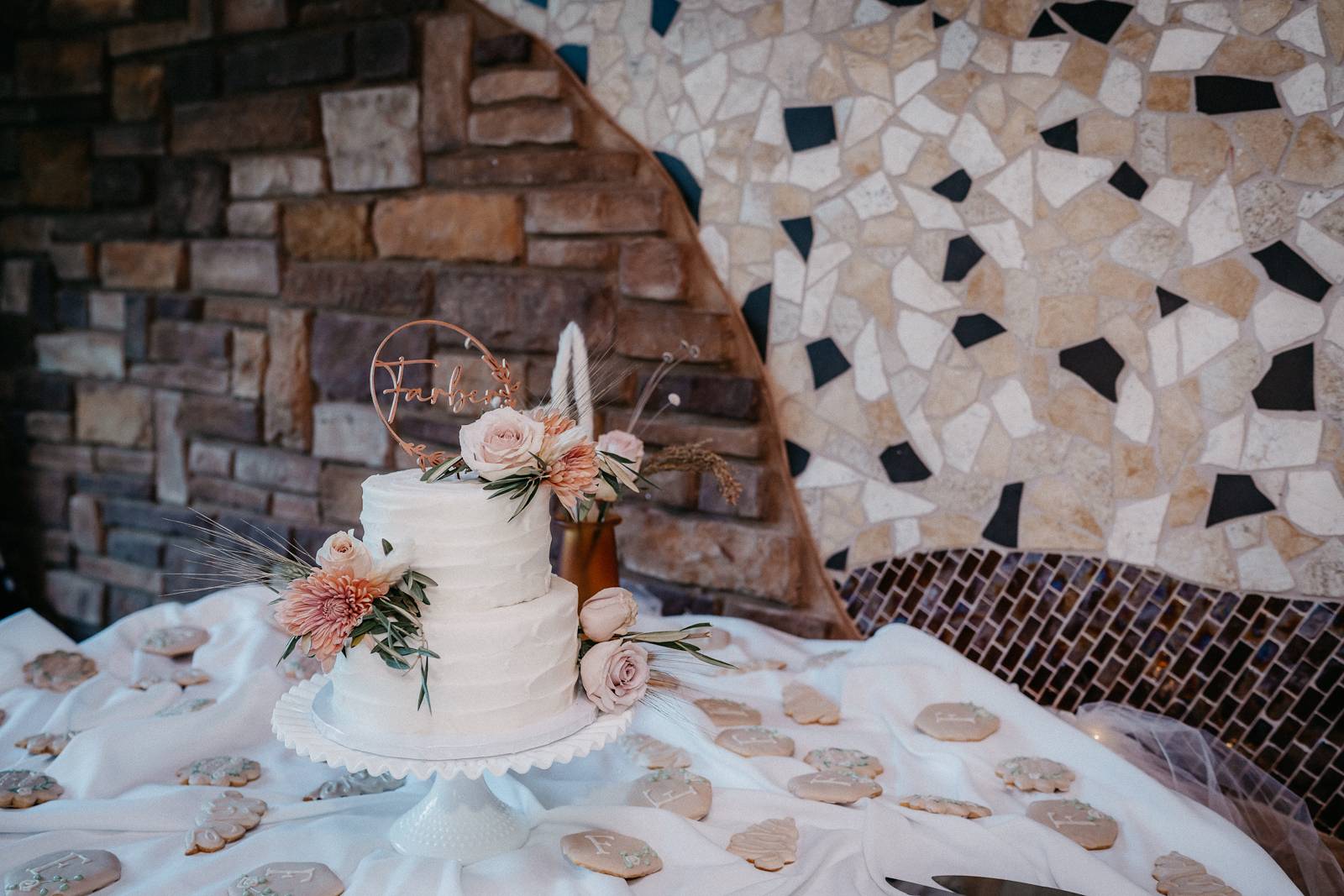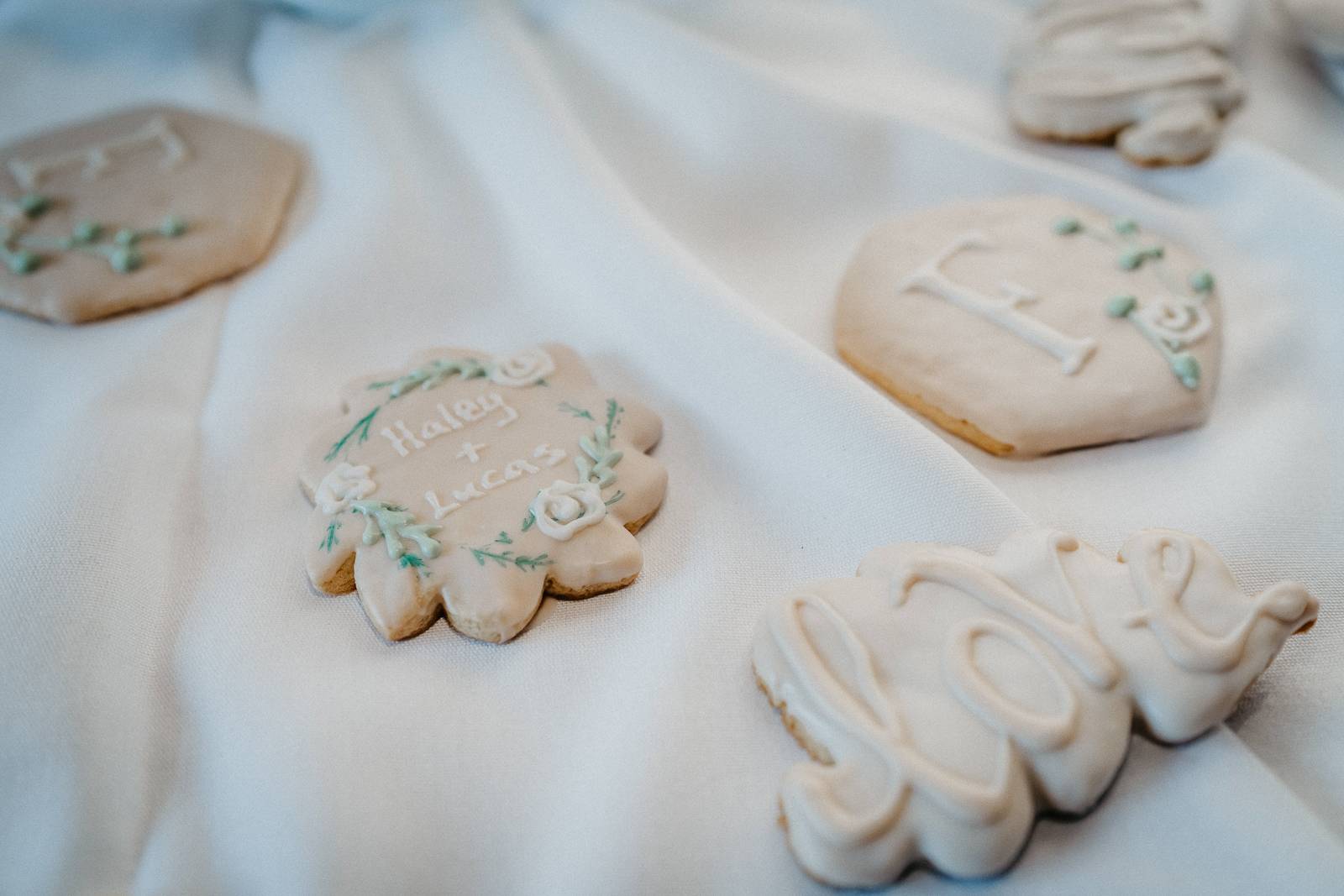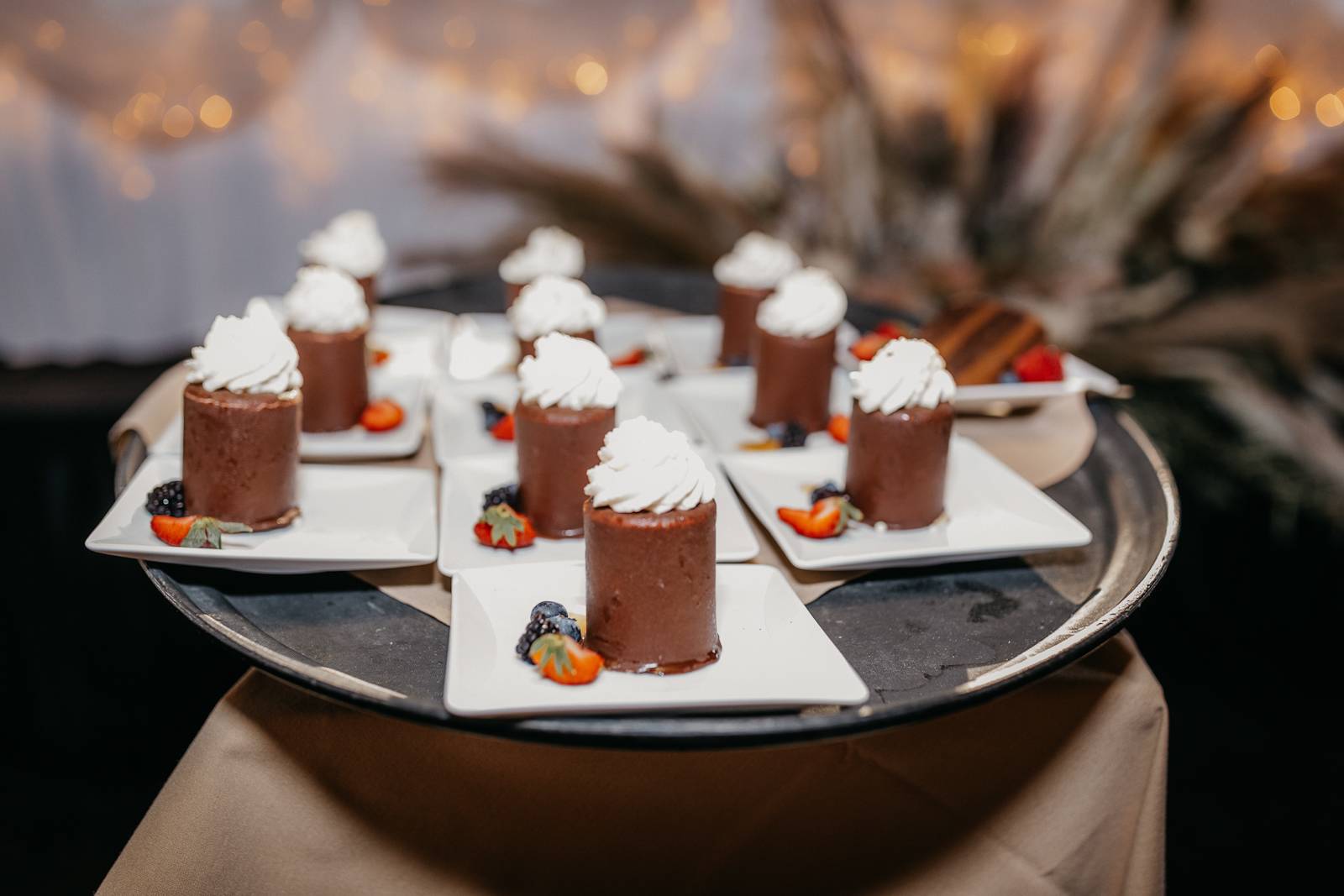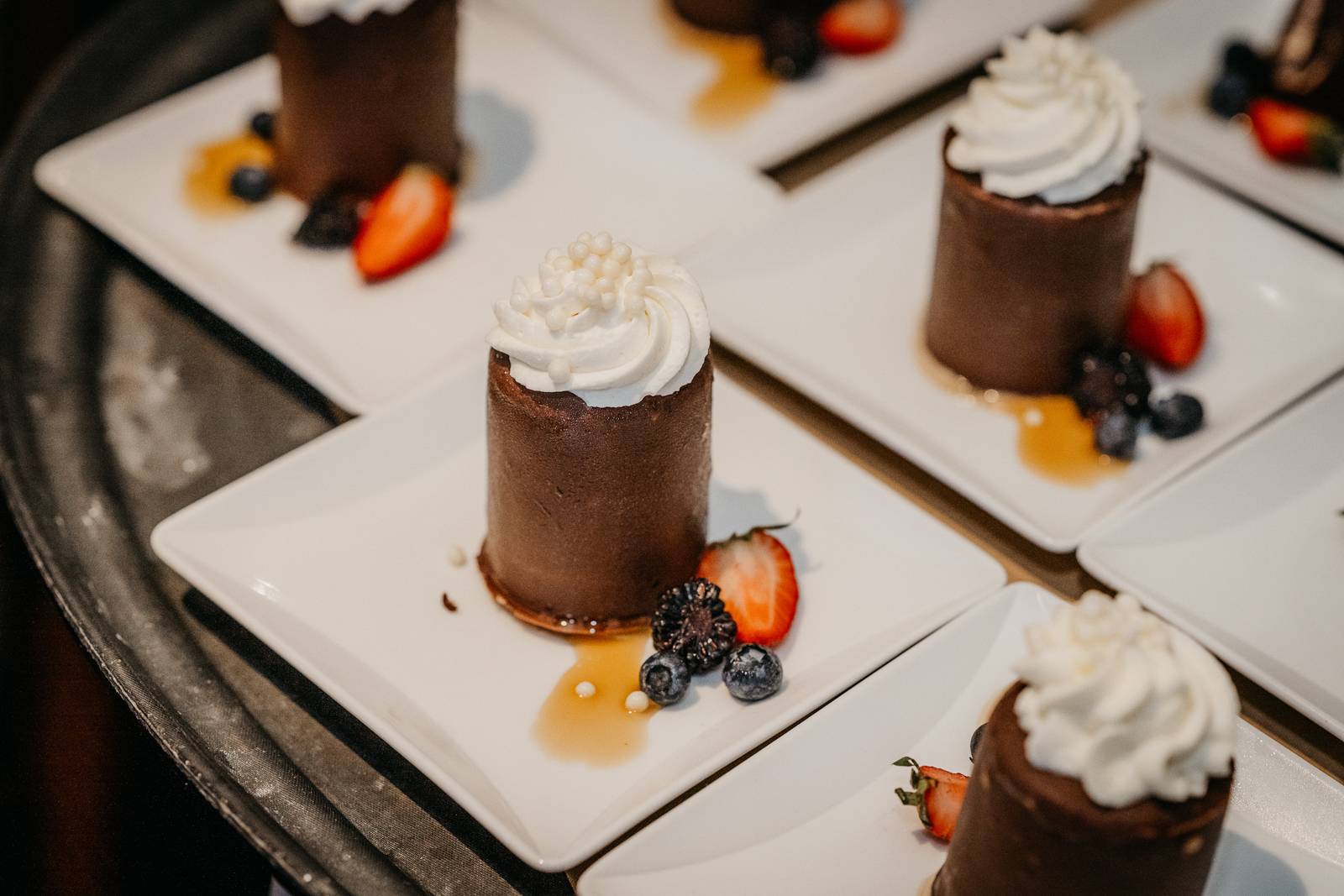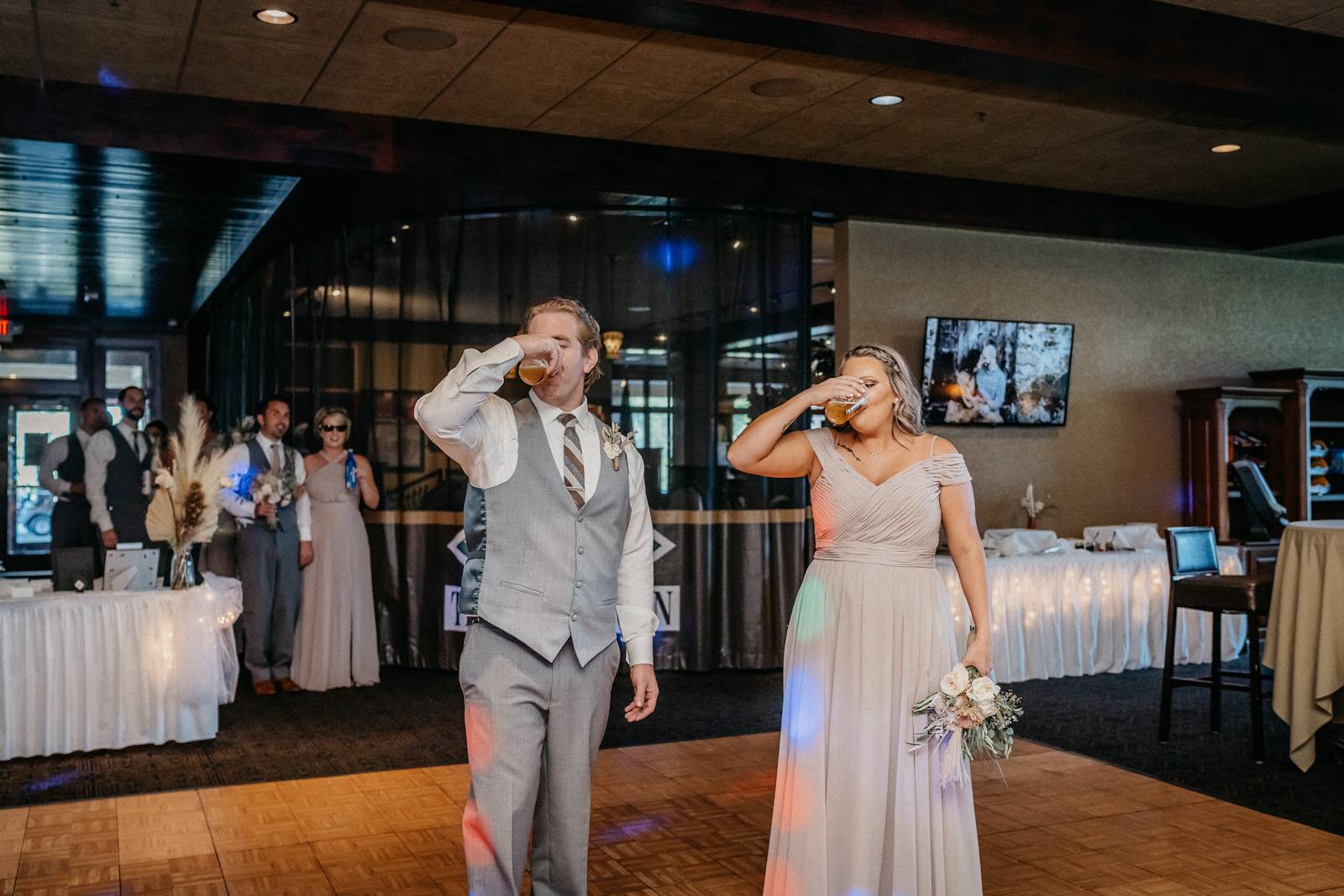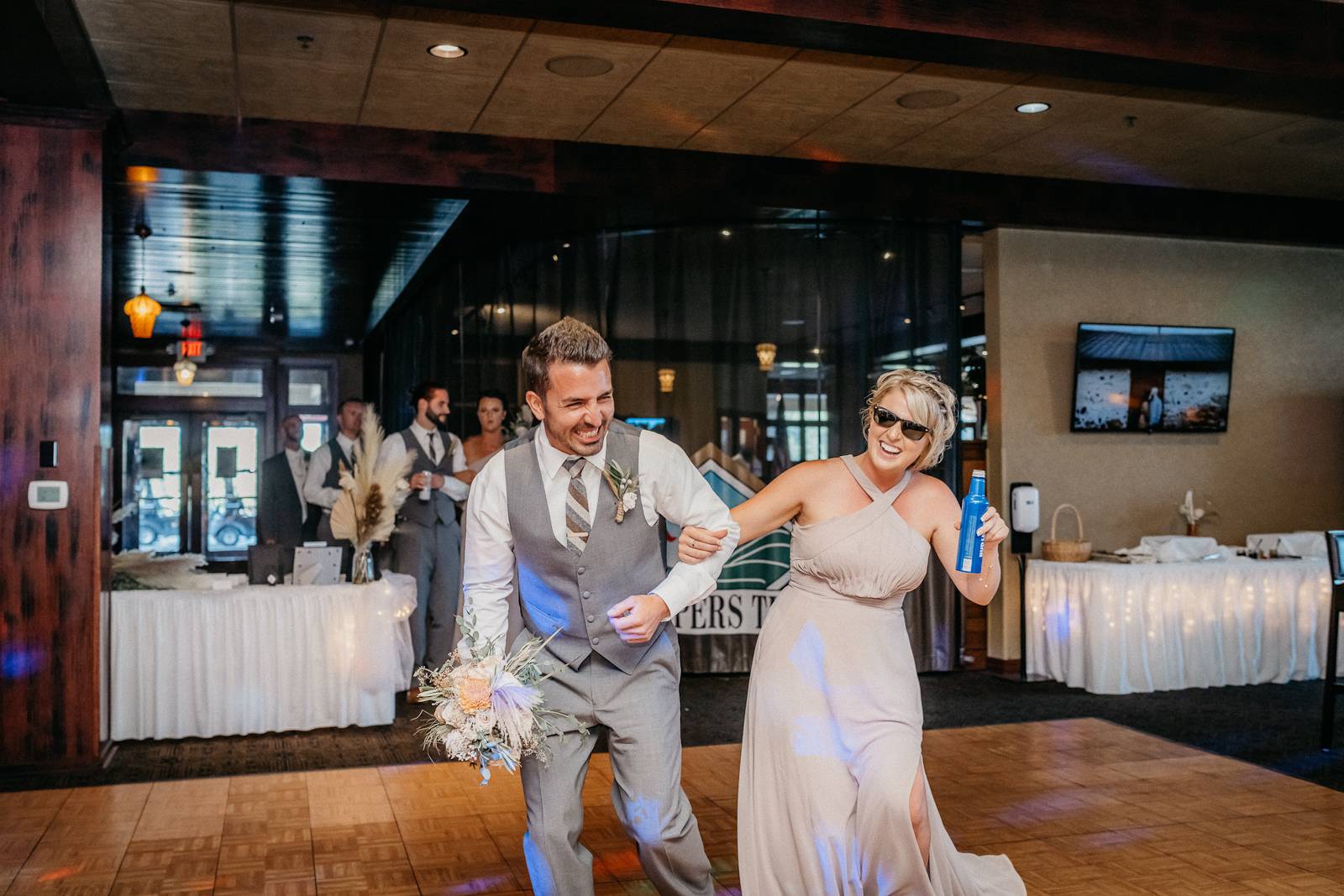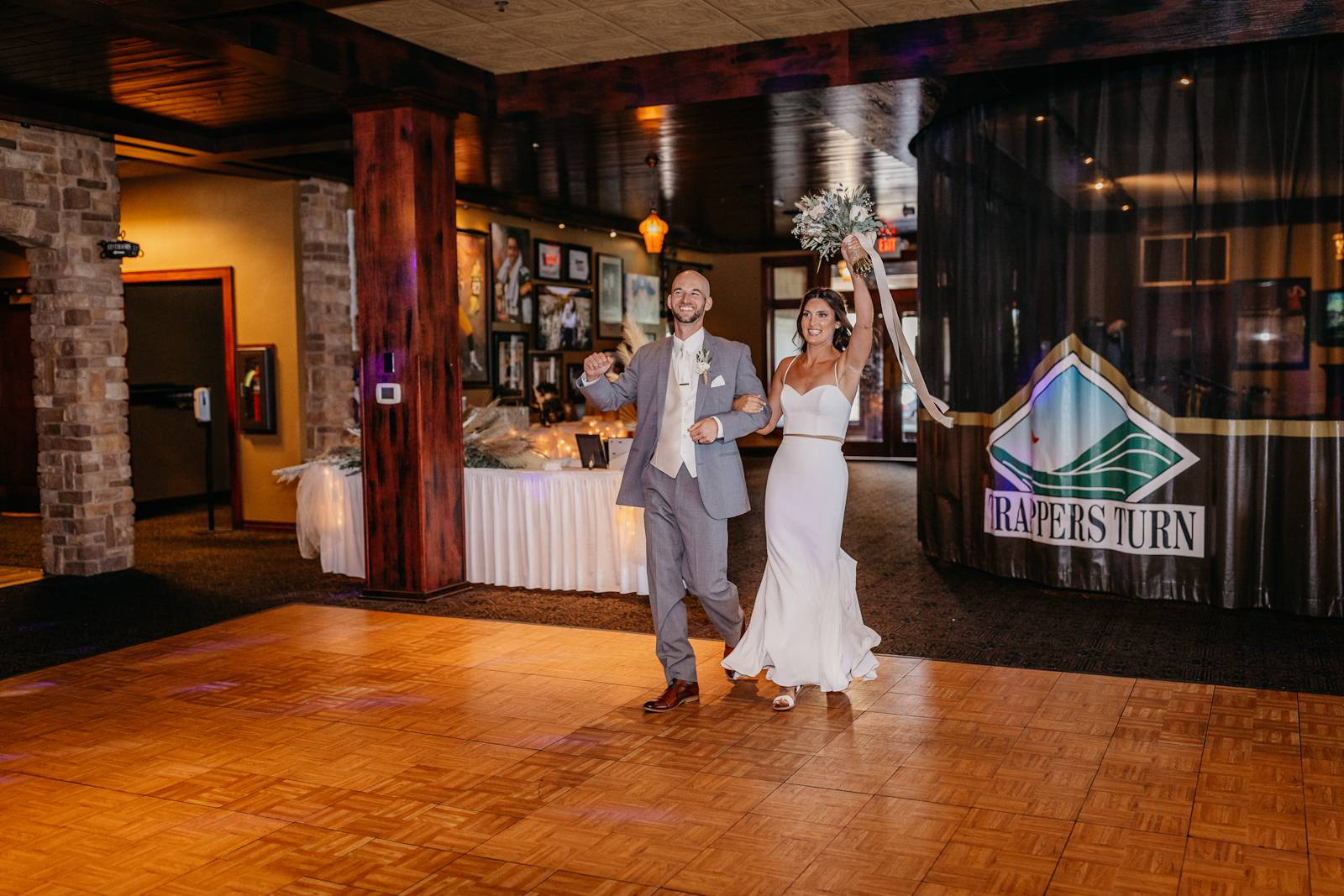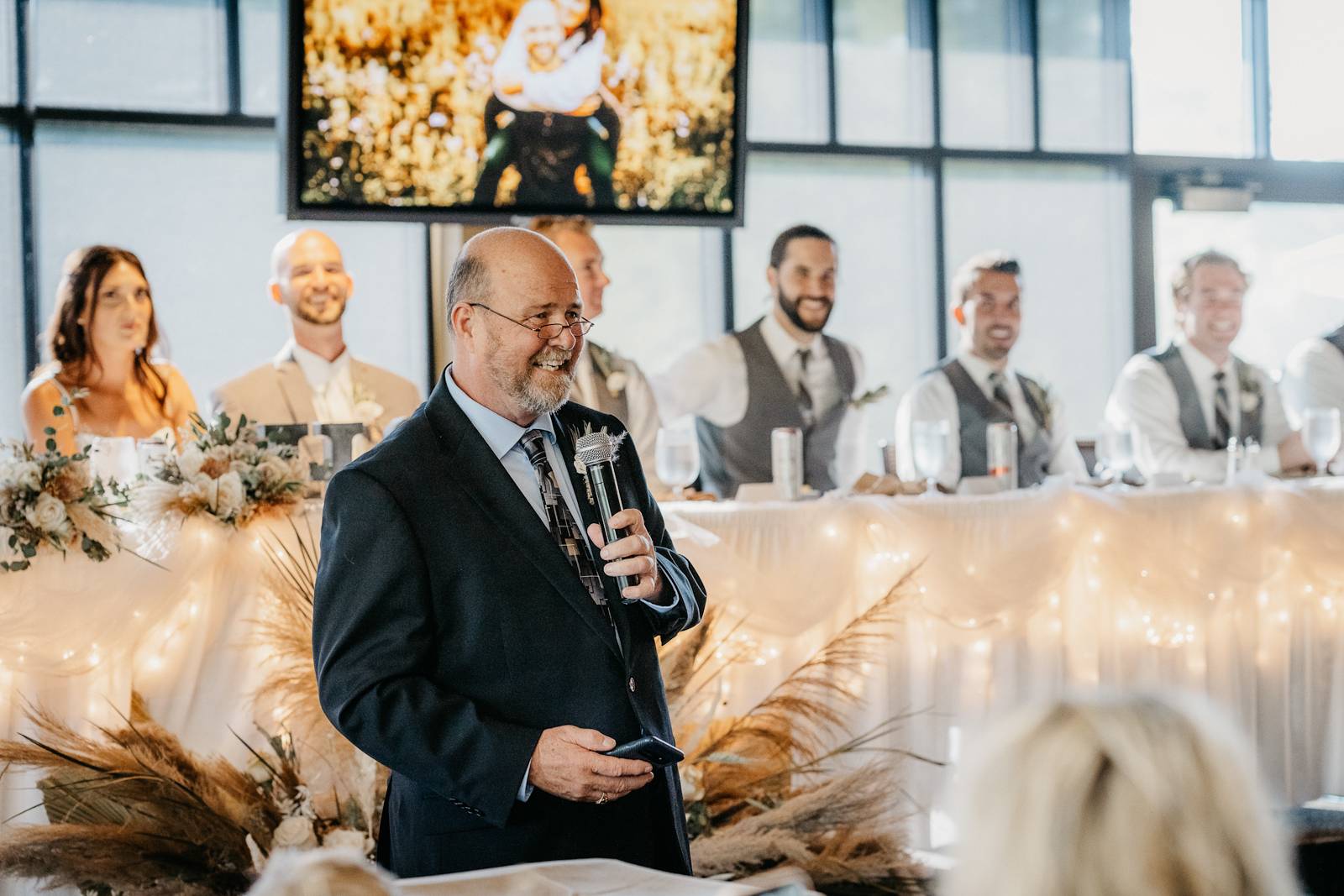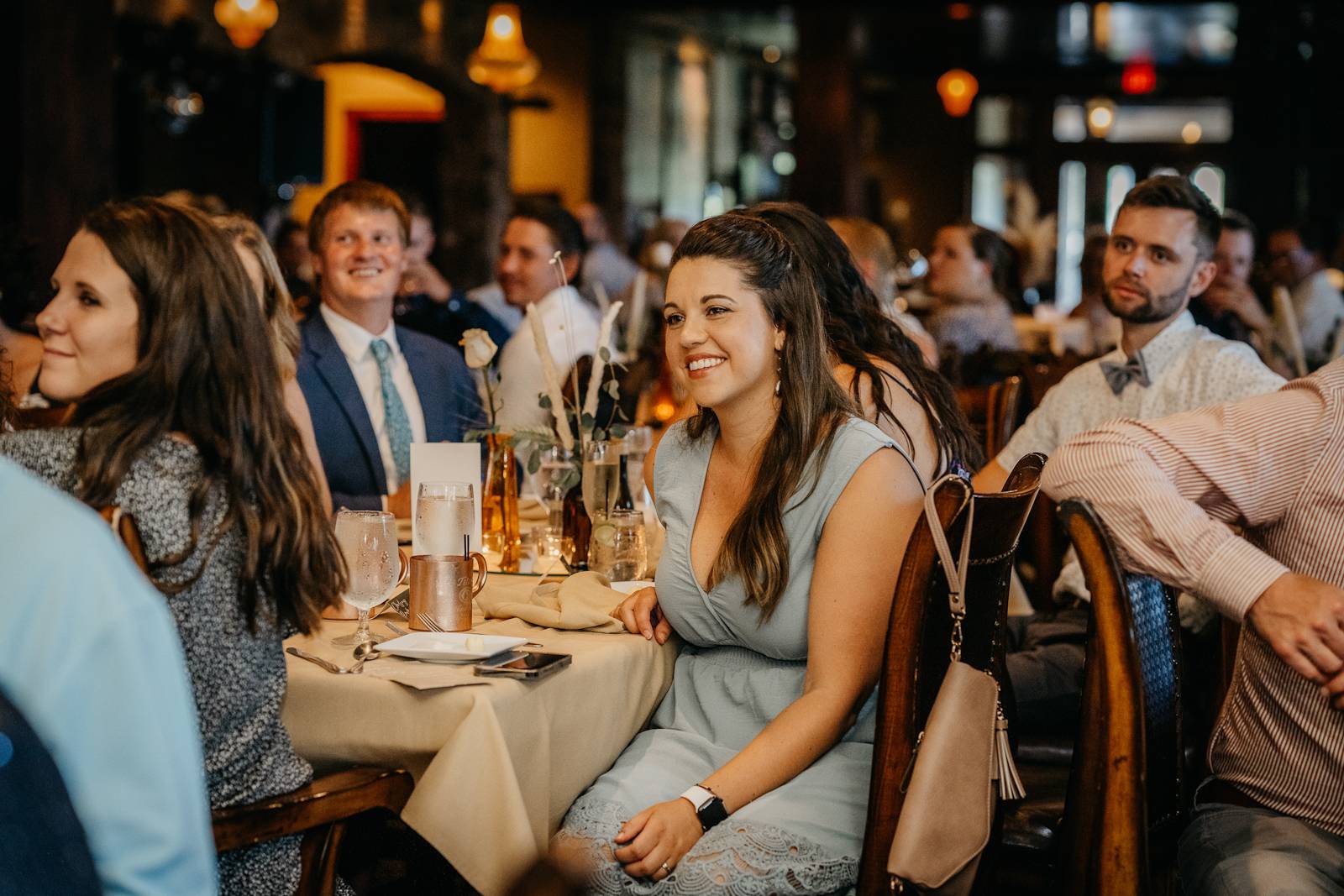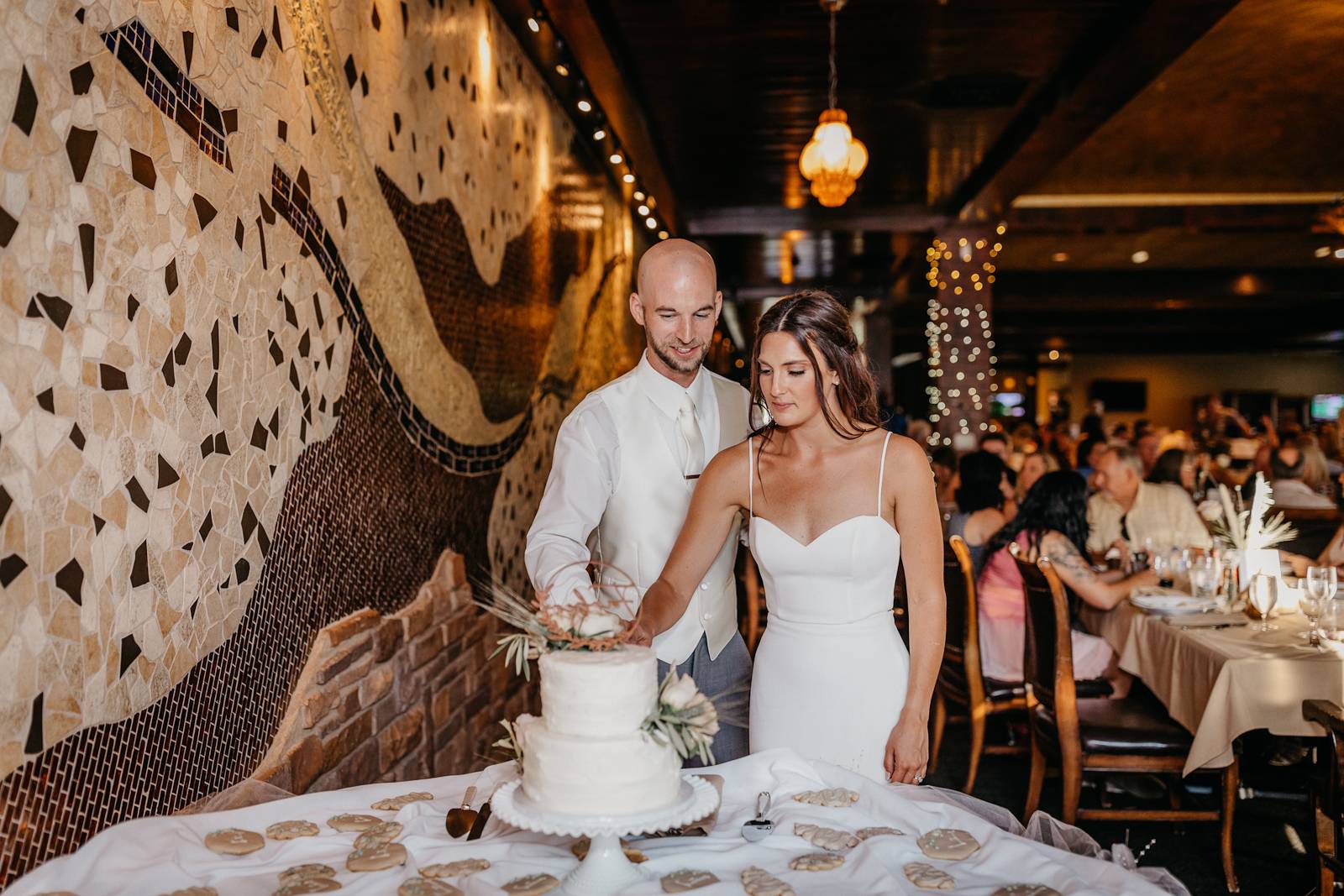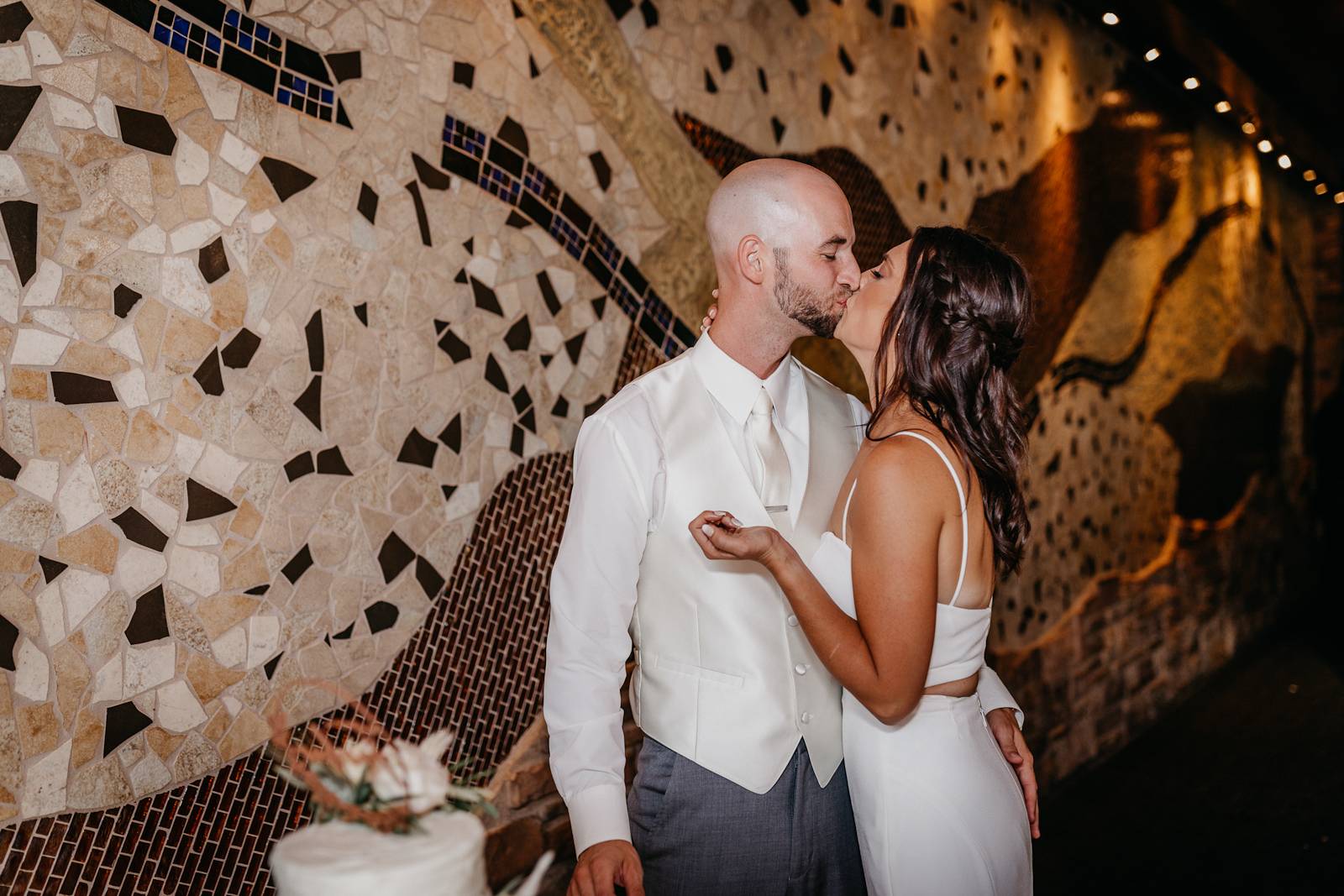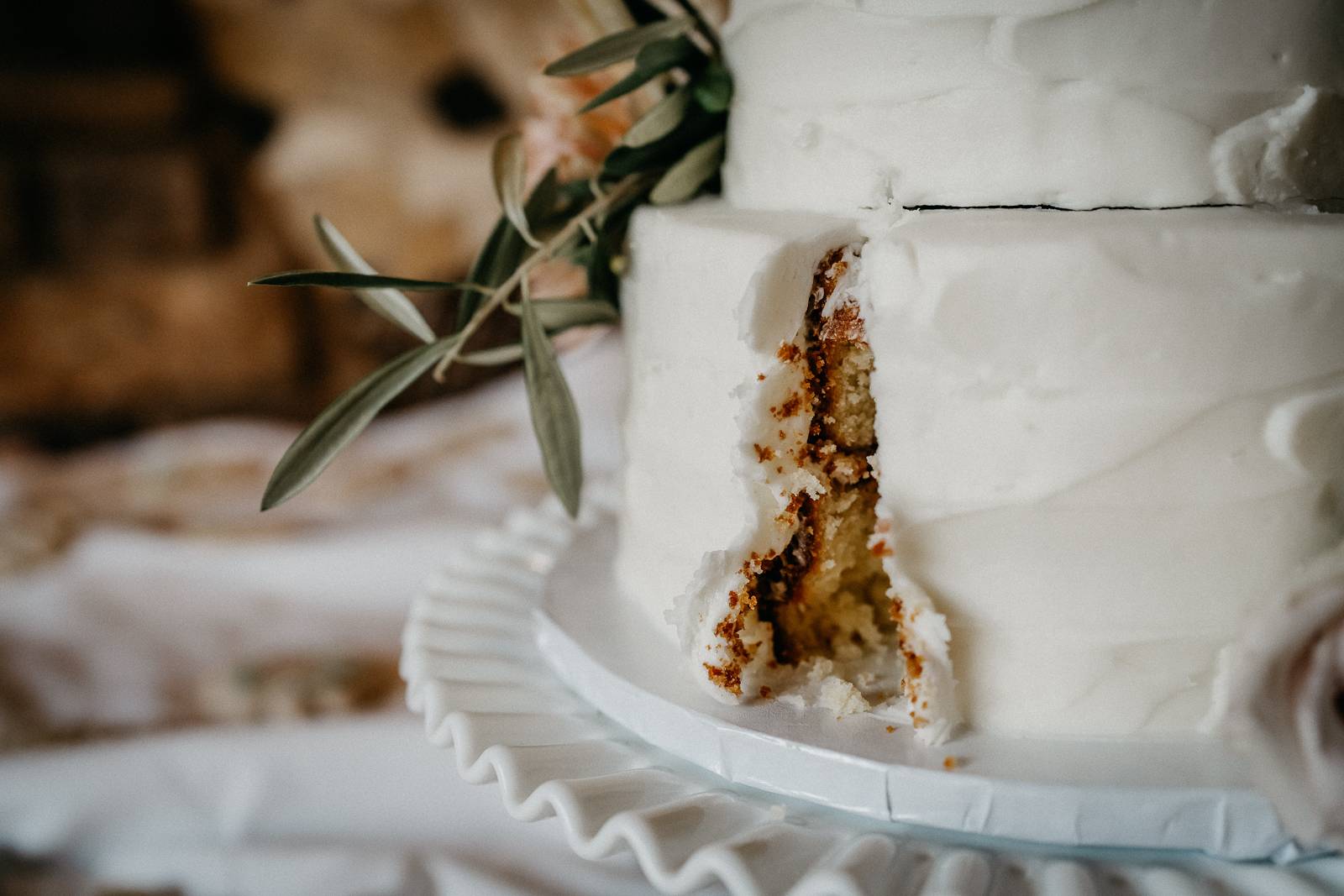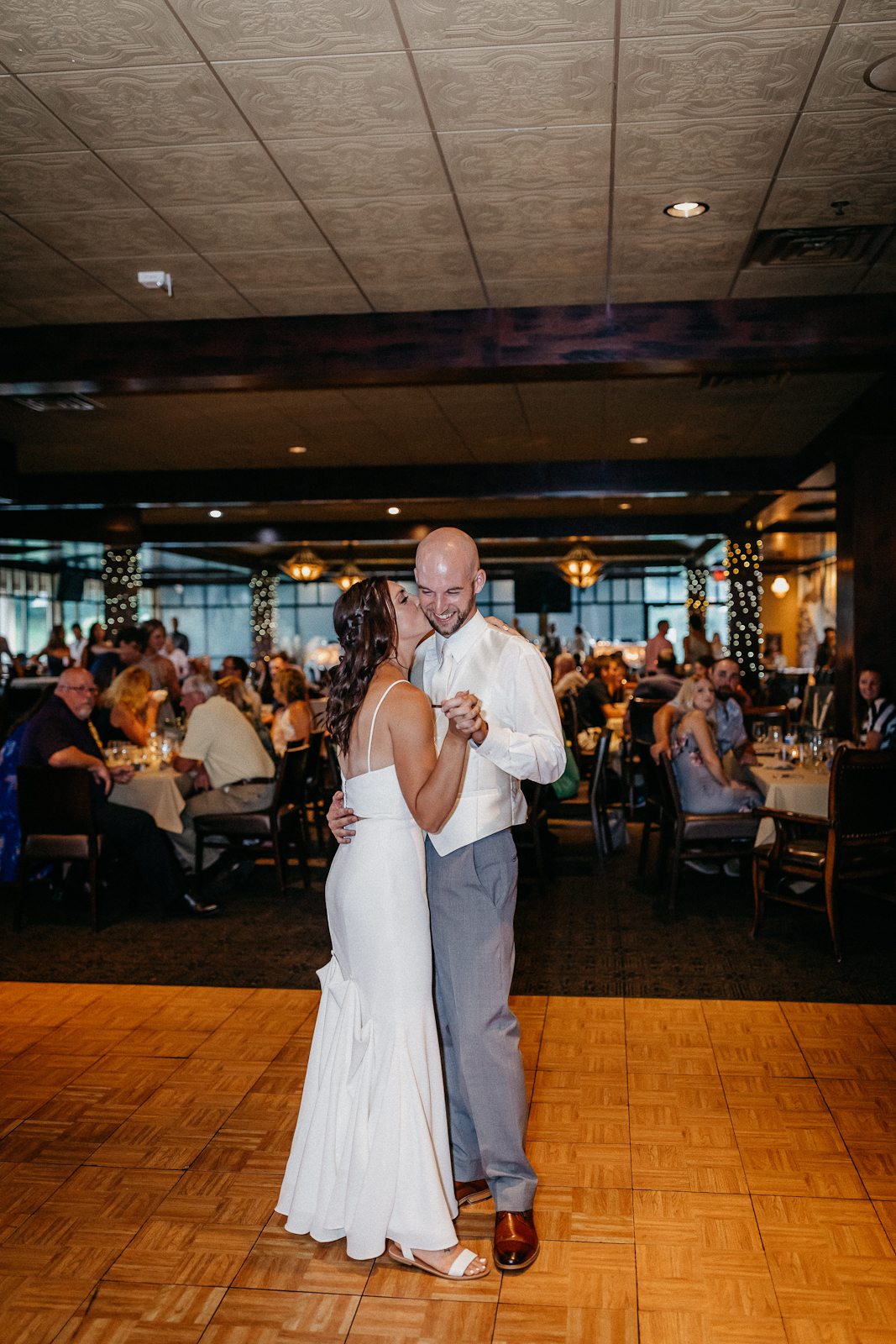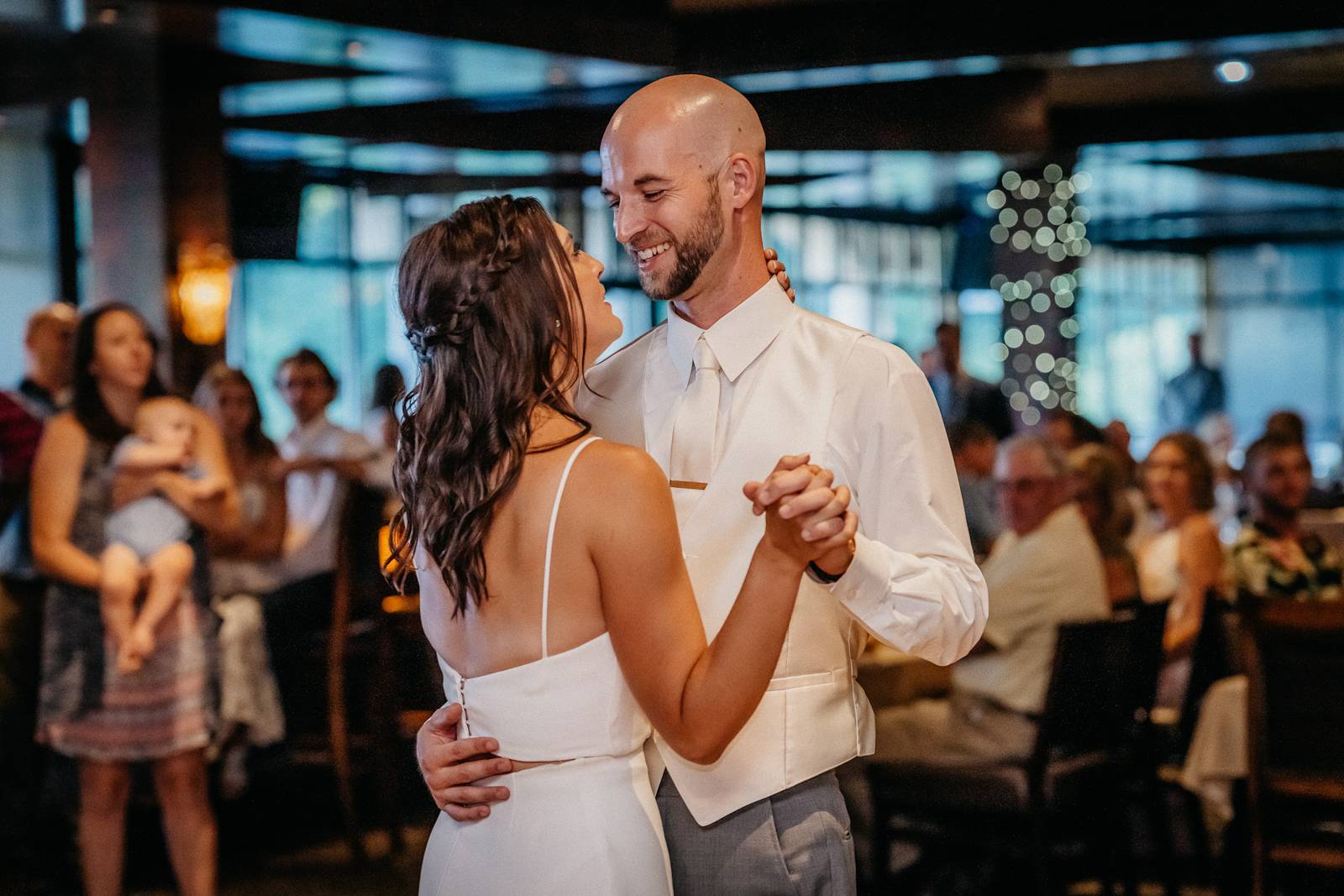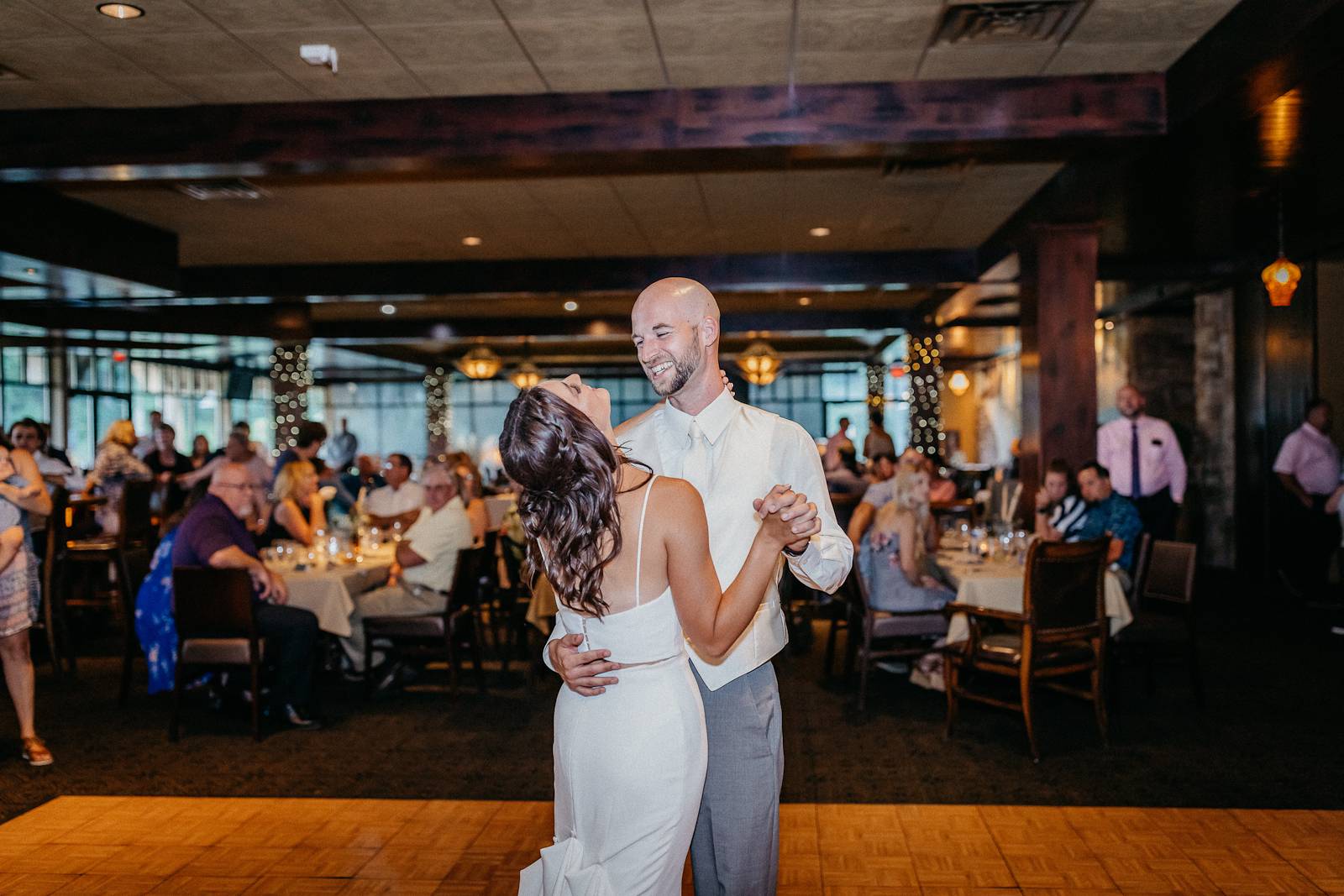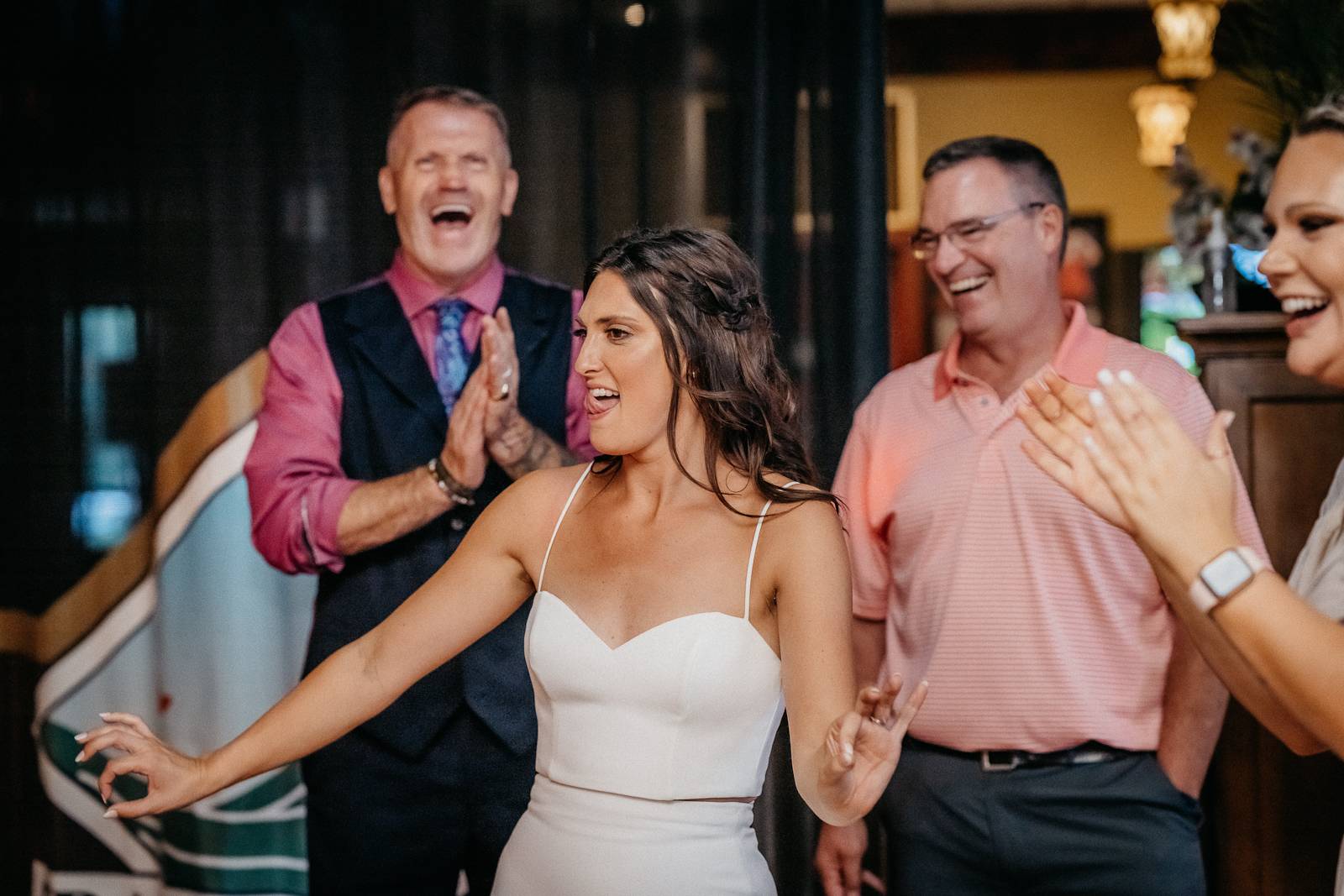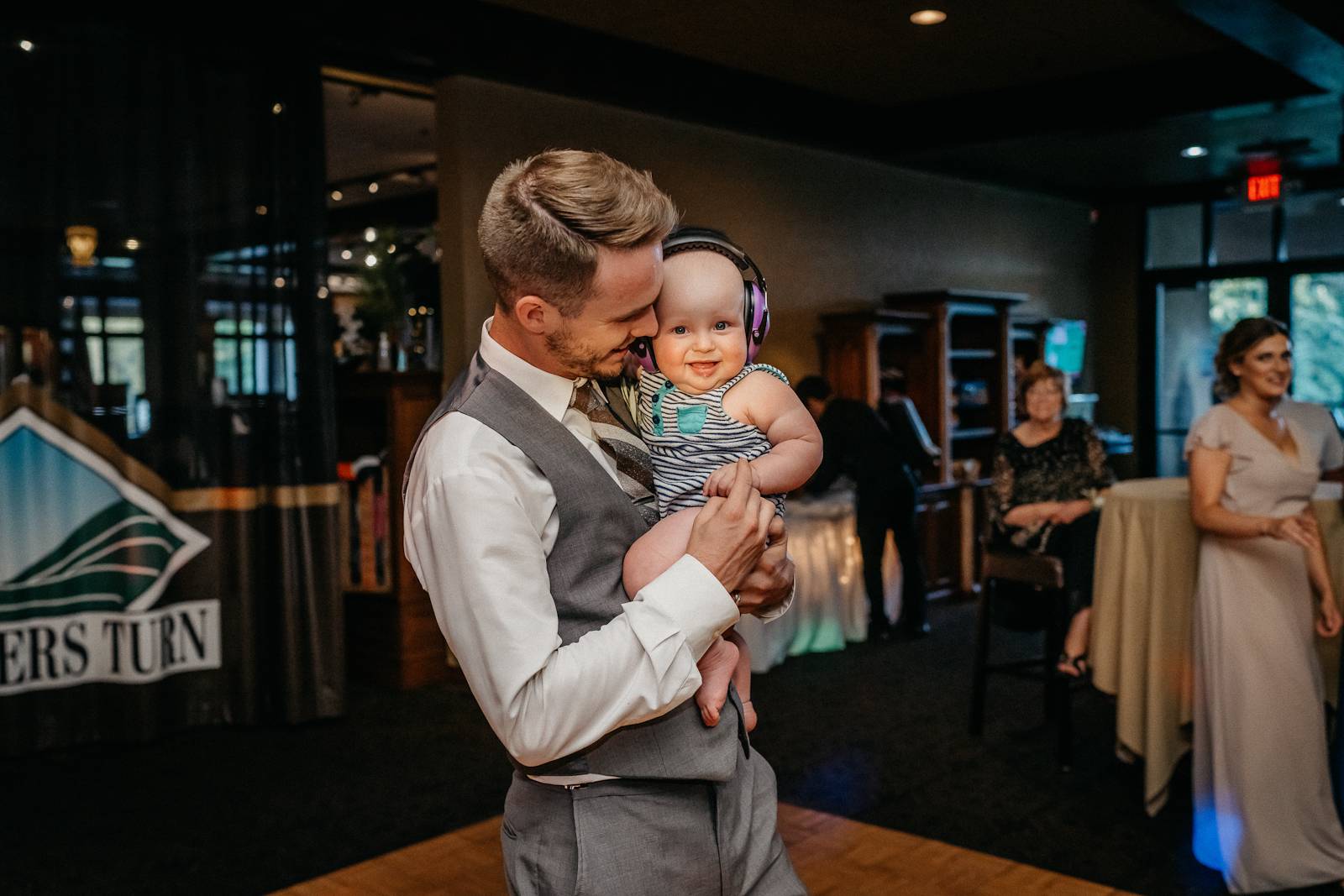 WHAT DOES LIFE LOOK LIKE AFTER THE WEDDING? We welcomed our first baby into the world in April 2022!
IS THERE ANY ADVICE YOU'D GIVE TO OTHER COUPLES PLANNING THEIR WEDDING? Enjoy the chaos. It goes by way too quickly!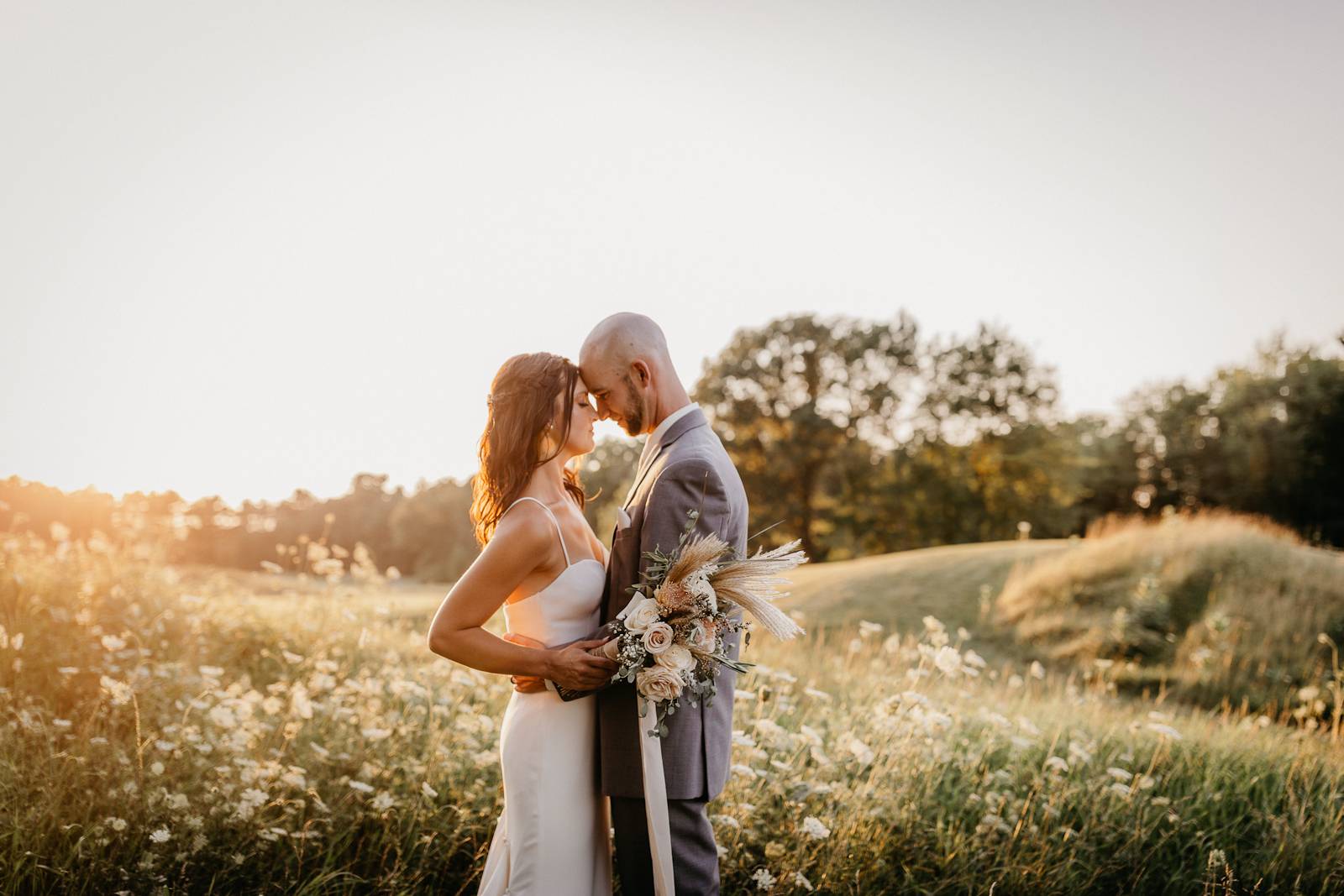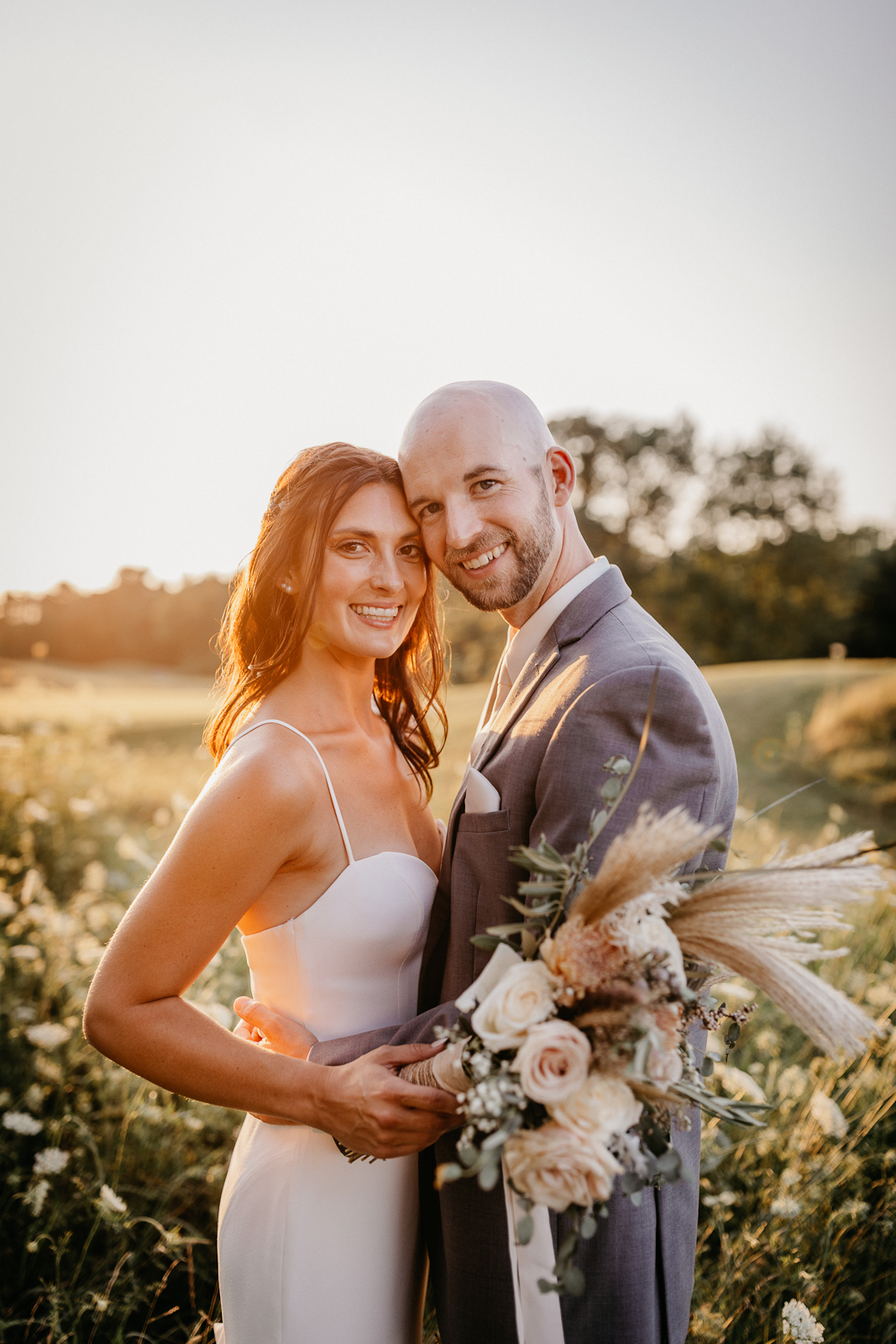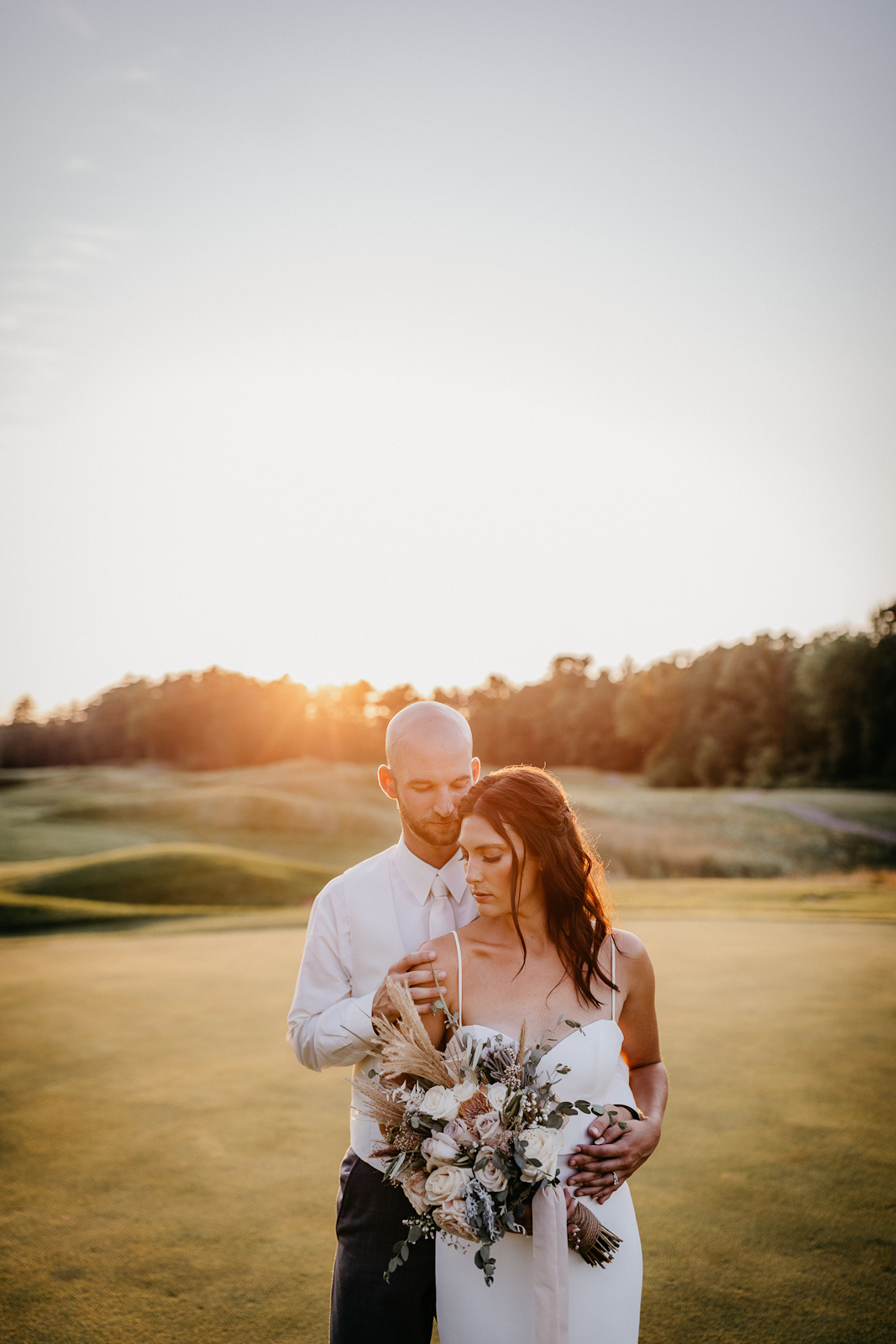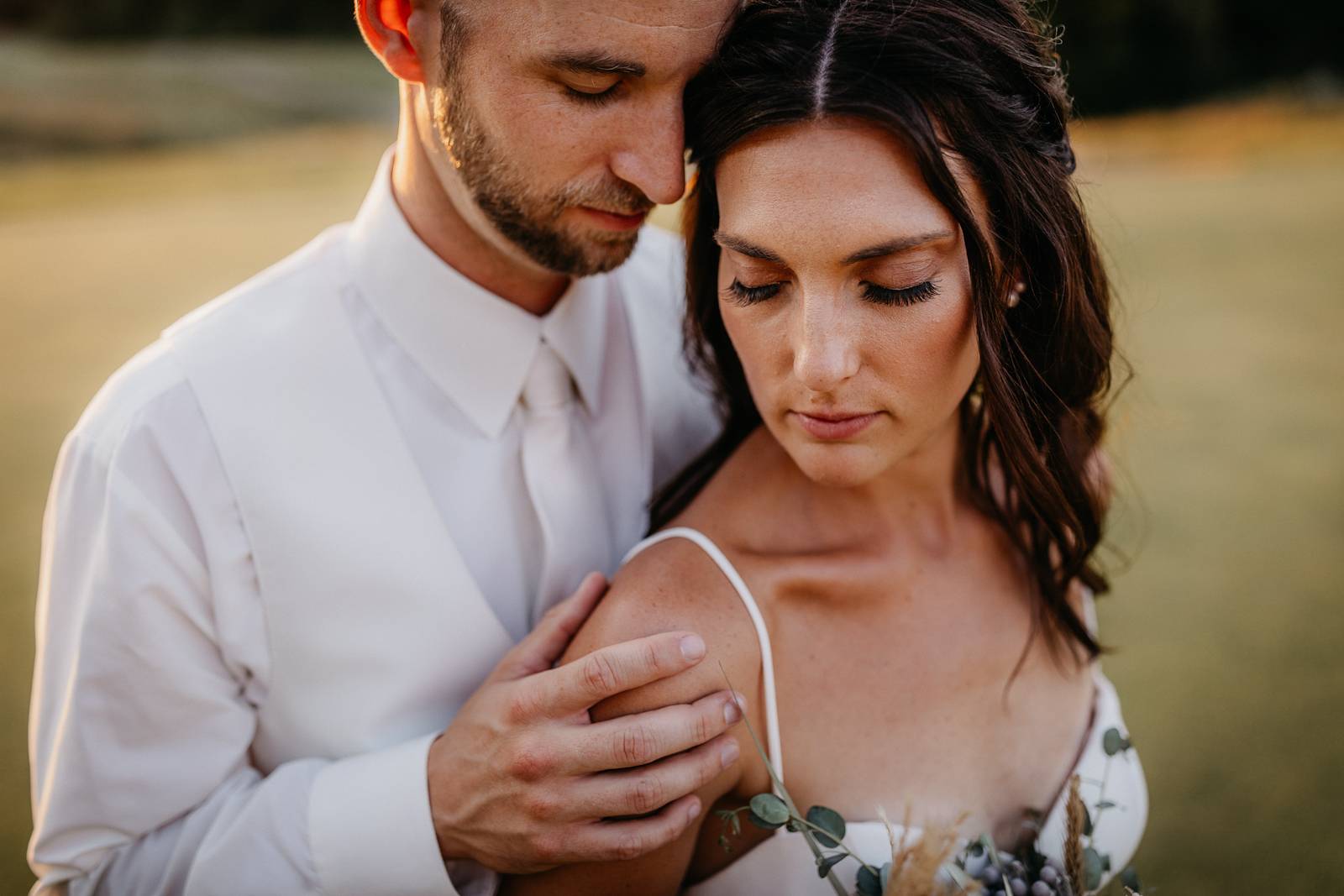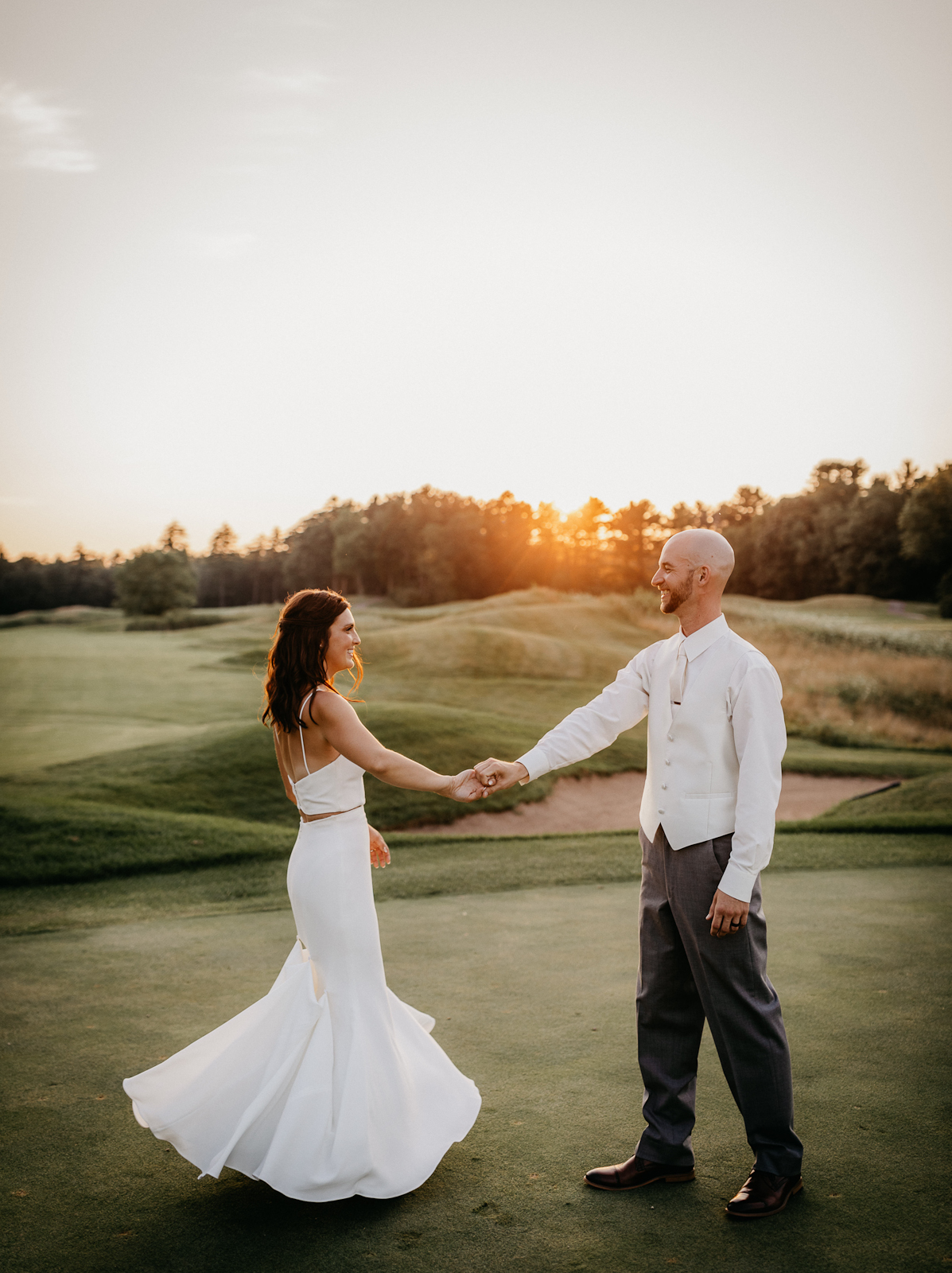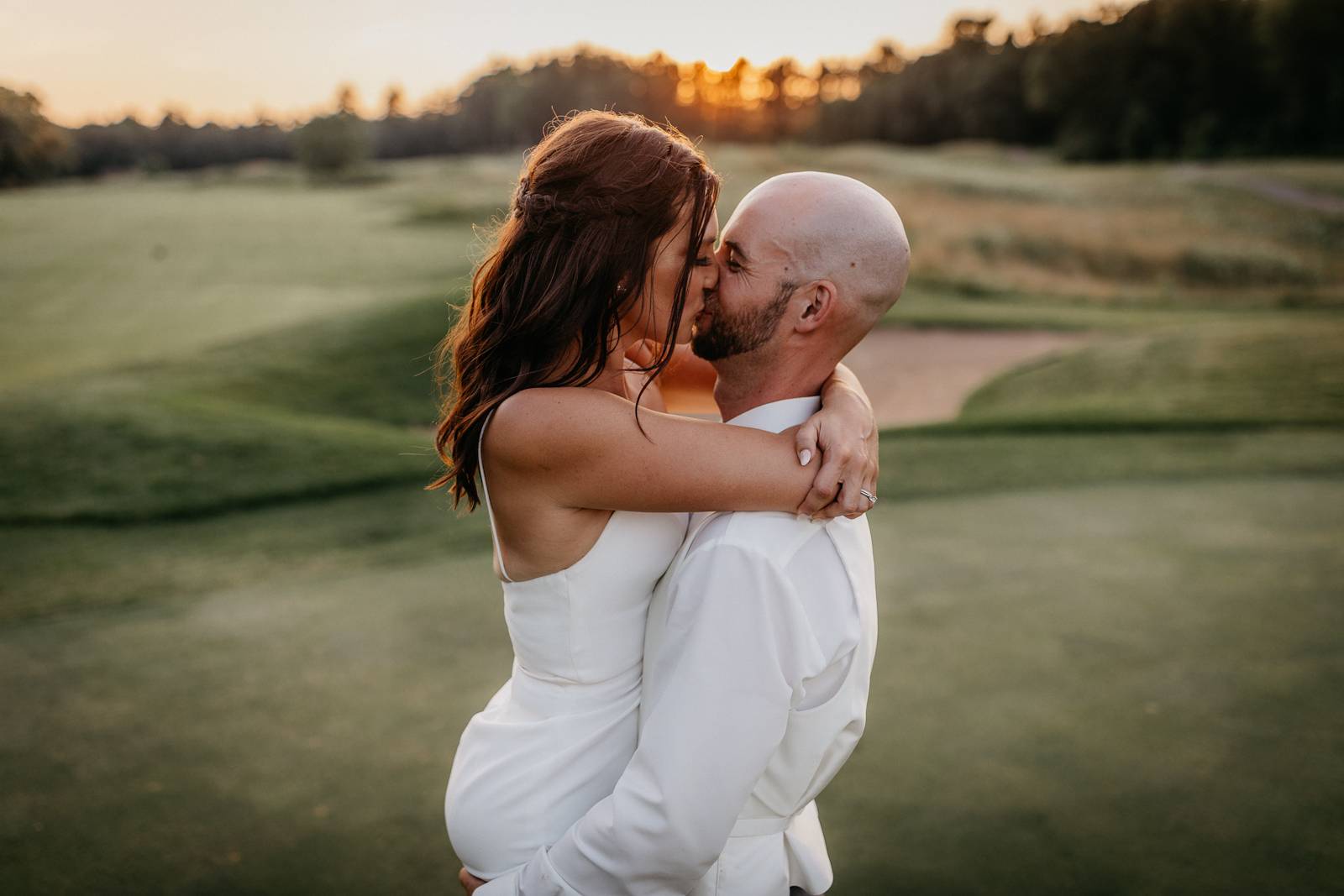 To connect with the vendors involved in Haley + Lucas' wedding, click on their names below! For more Wisconsin wedding inspiration, head to the WedPlan Madison blog.