Love, laughter and happy vibes sum up Andrea and Kevin's wedding day in Wisconsin Dells. Celebrated in hues of dusty rose and sage greens at The Crystal Room, this classy affair is full of personal touches. LK Bridal Studio captured this couple's festive day. Read about Andrea and Kevin's wedding adventure below!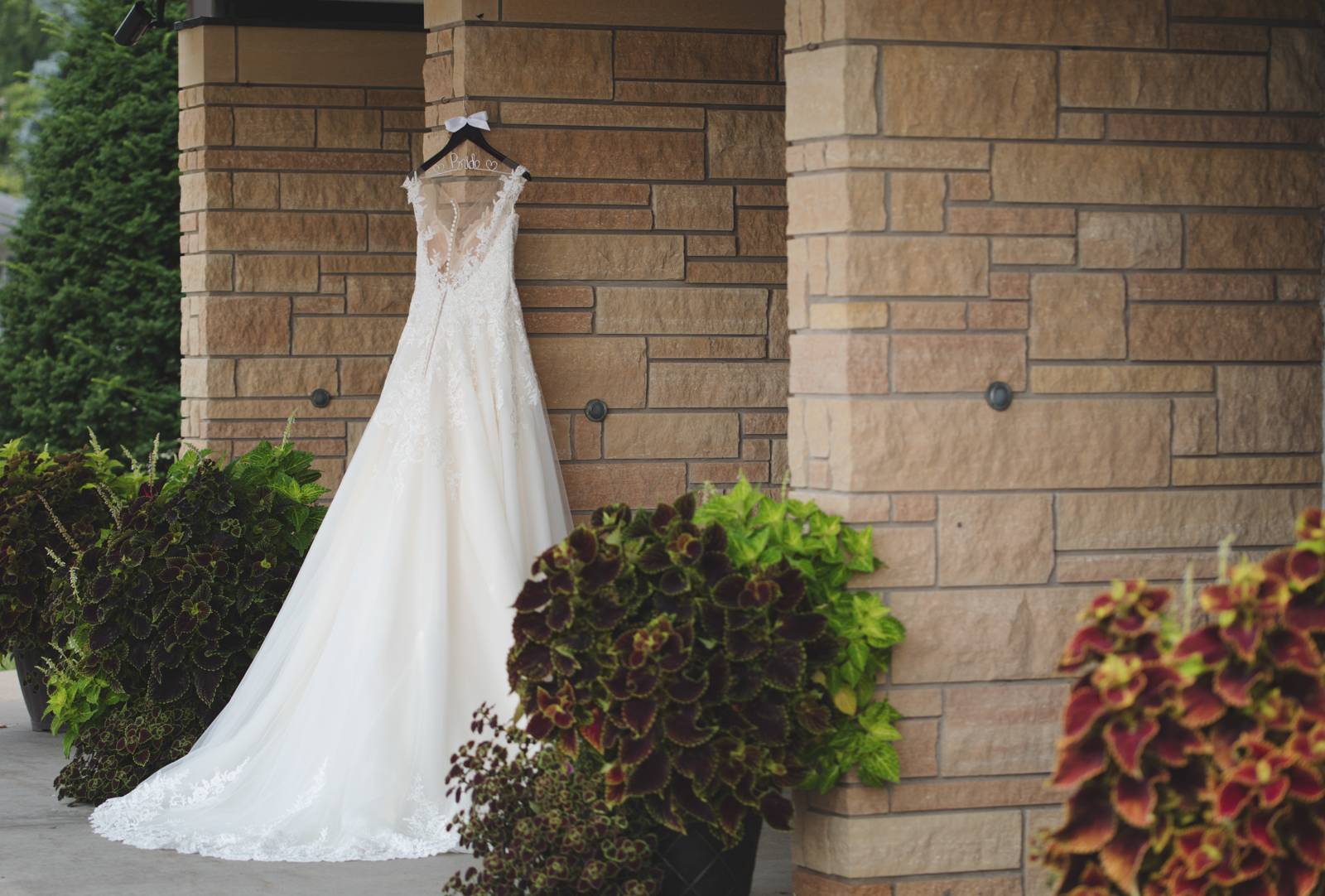 WEDDING DATE: 08/17/2018

HOW DID YOU MEET? Kevin would like me to say that we met when he was on his way to jail. Which is technically accurate, but he was the one arresting and not the one under arrested. We both work for law enforcement.
HOW DID YOU KNOW YOU'D FOUND 'THE ONE'? Kevin says 'trial and error with the previous dating.' We always say we're not perfect, but we are perfect for one another.

TELL US ABOUT YOUR PROPOSAL: The proposal happened while walking in the gardens at Buckingham Fountain in Chicago. I thought he was bending over to tie his shoe, but instead, Kevin pulled the ring box out of his sock! It was too big to put in his pocket. I was so surprised and had no idea it was coming.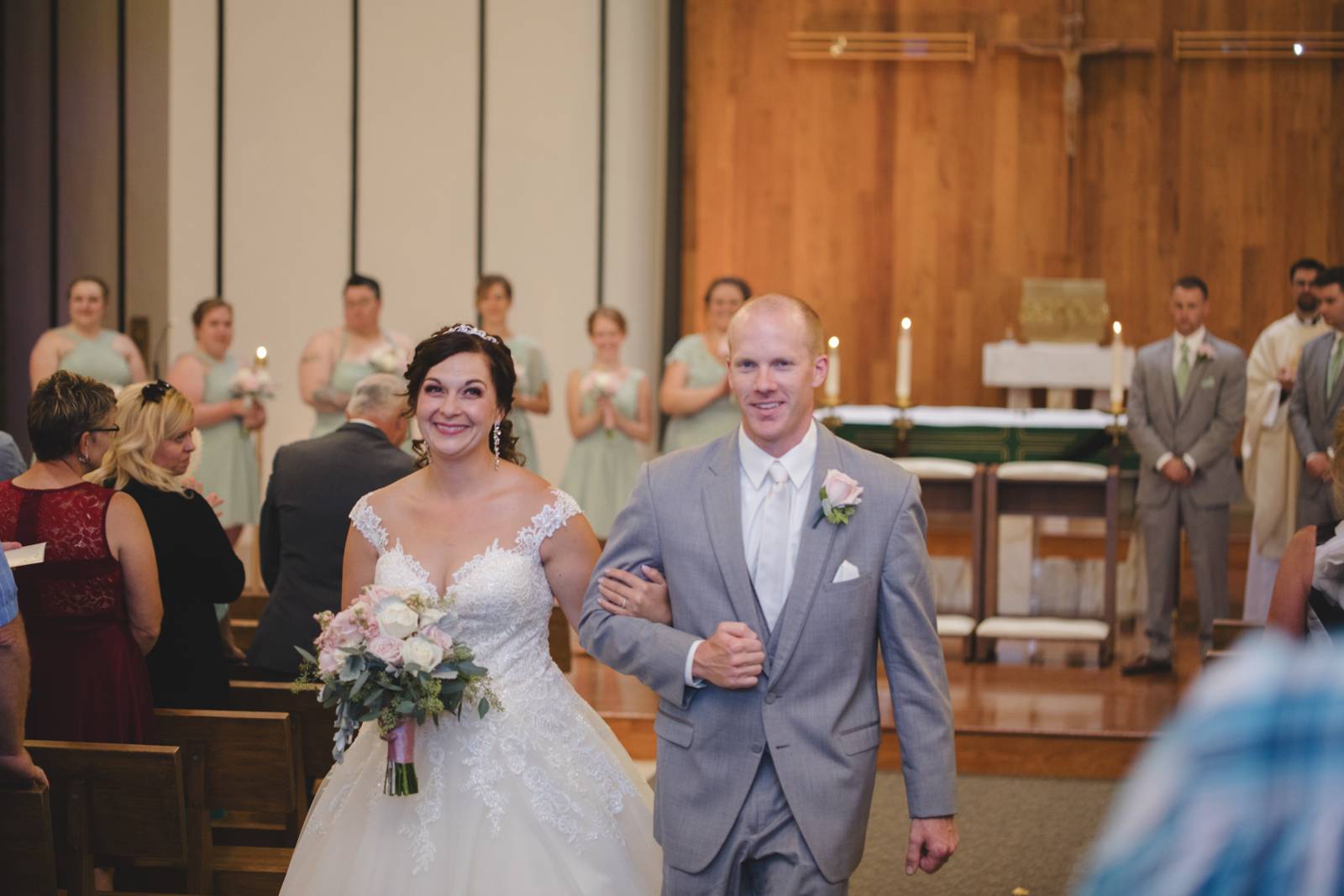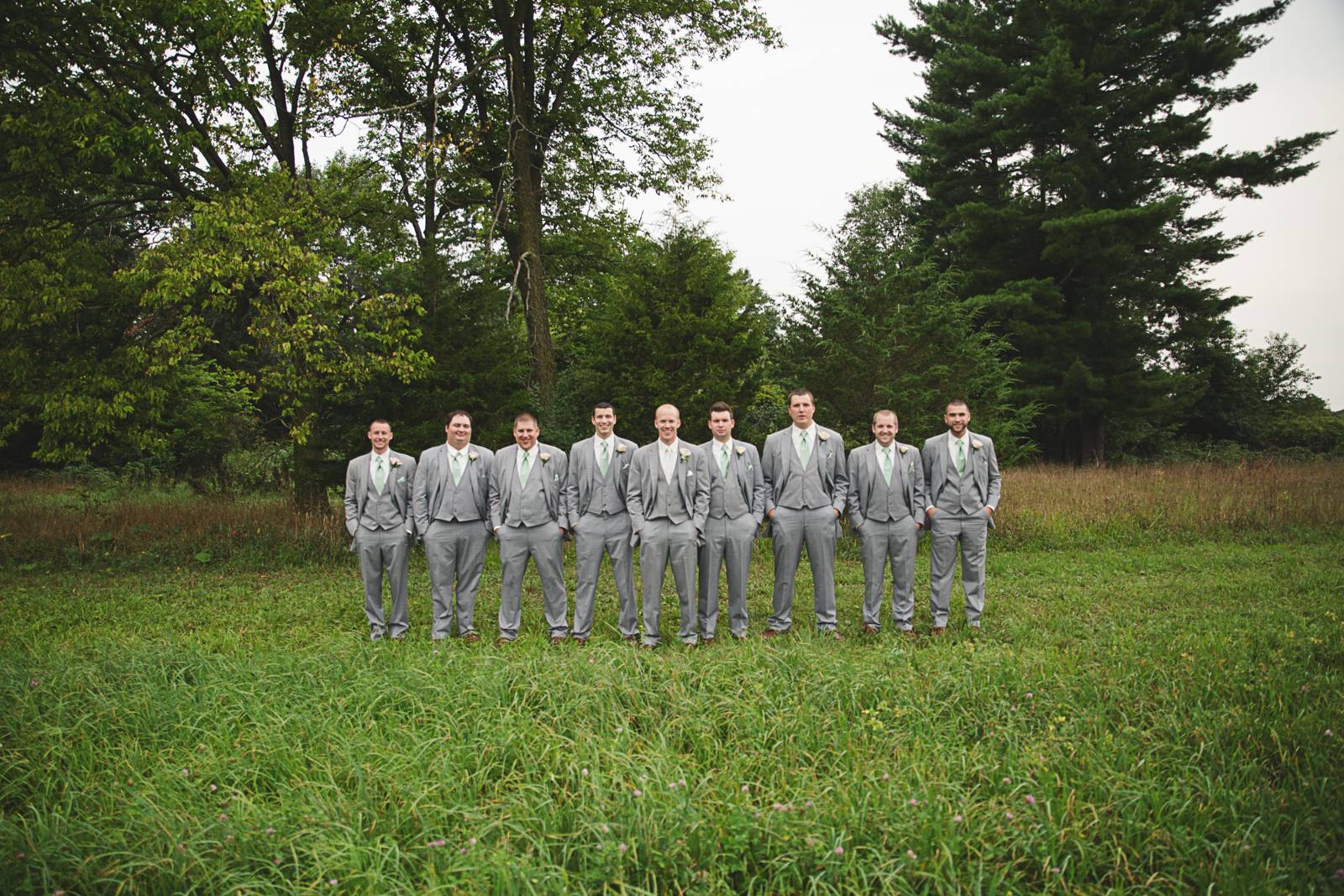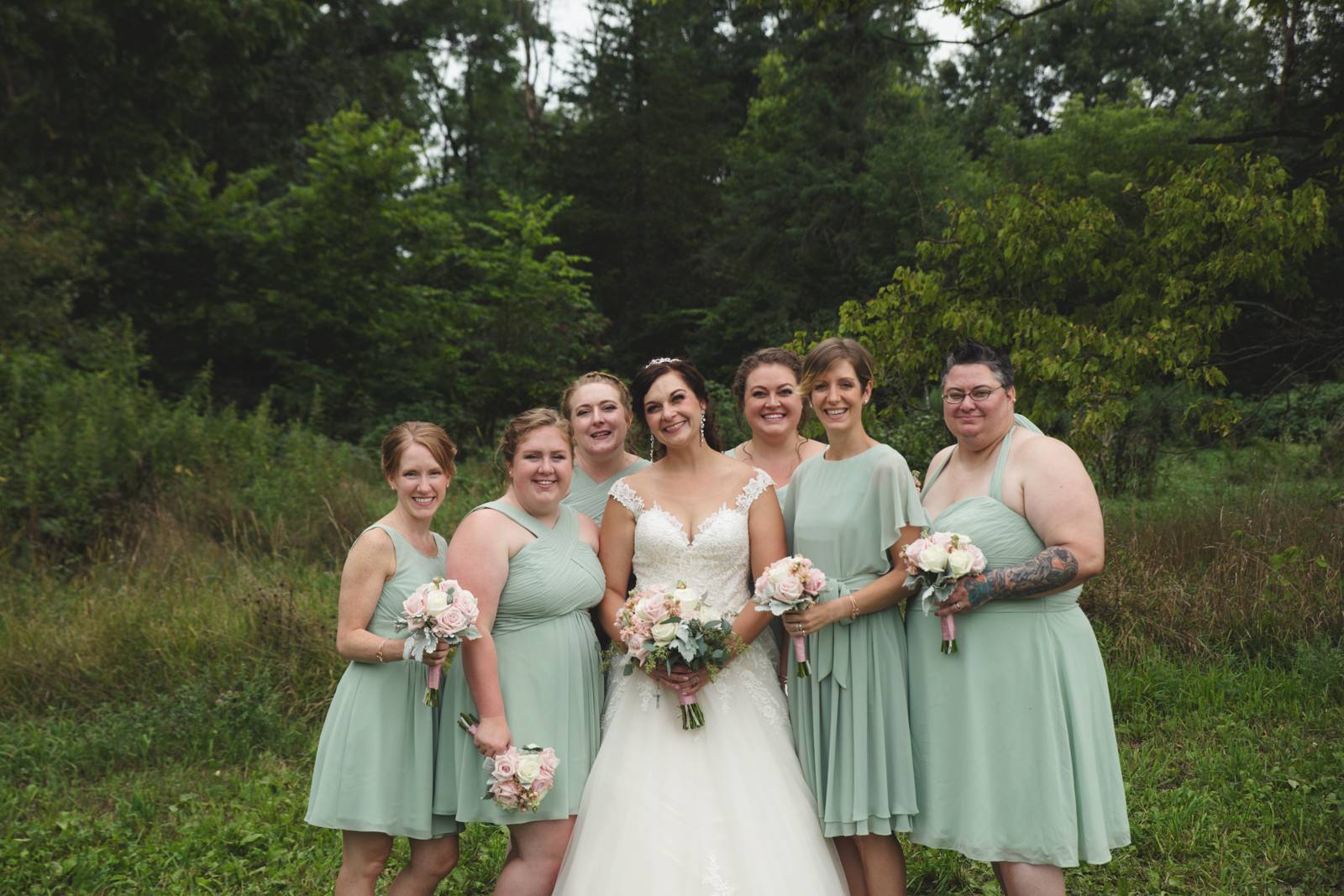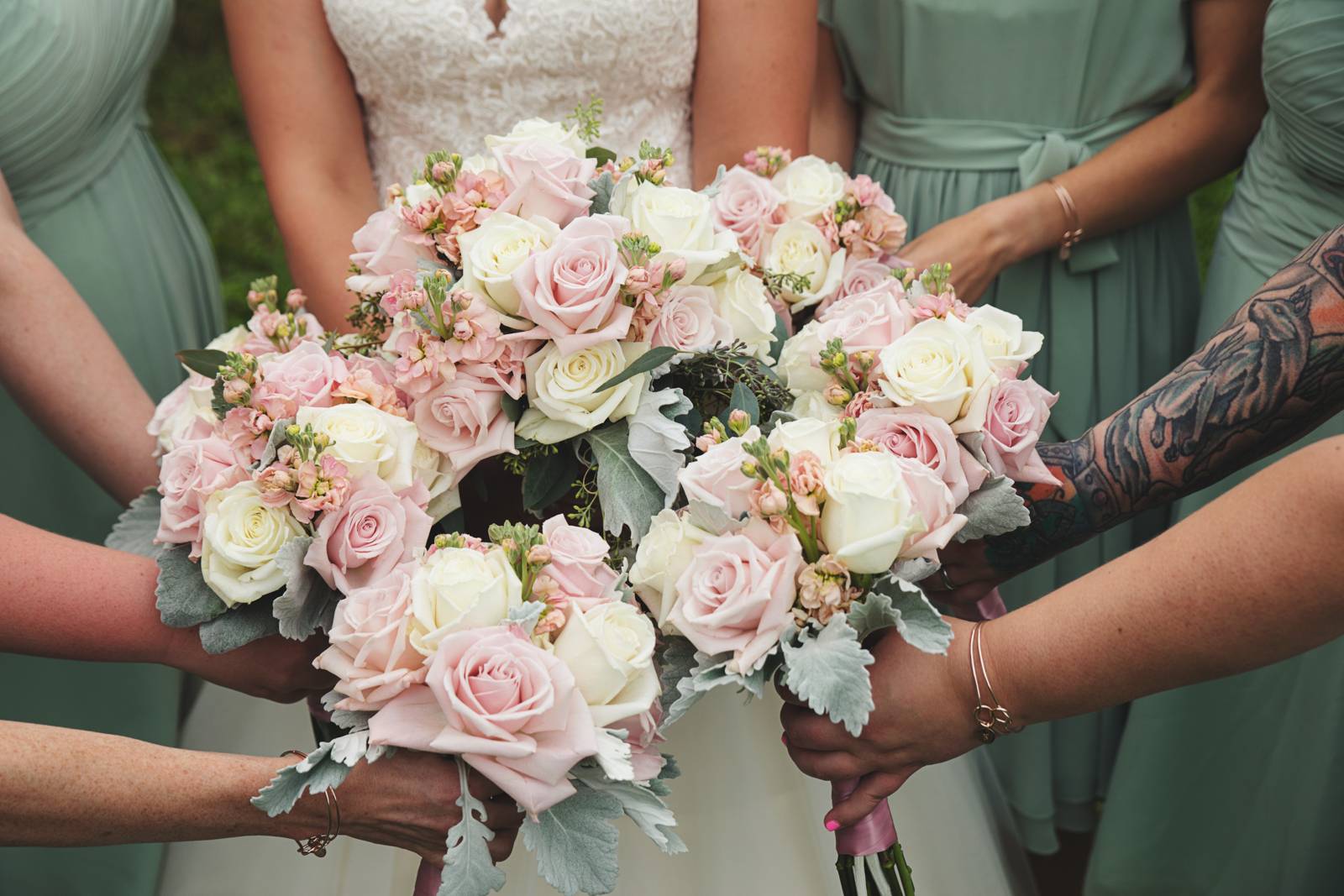 WERE THERE ANY PERSONAL TOUCHES OR DIY ELEMENTS? I have always had a weird affinity for the 'bird silhouette' theme decor, so our centerpieces were decorative bird cages with candles and flowers that we put together ourselves. We ended up keeping that theme throughout and had it on our invitations and signs.

We decided to give little shot bottles and soda tied to a glass mug with a little note of "have a shot because we've tied the knot." We assembled all of these ourselves.

Another element that we added that I really loved was on the walkway up to the church, we had shepherds hooks with "Our Journey Begins" on the first one and then a picture of Kevin's parents on their wedding day, the next was my parents on their wedding day, and the fourth was one of our engagement photos.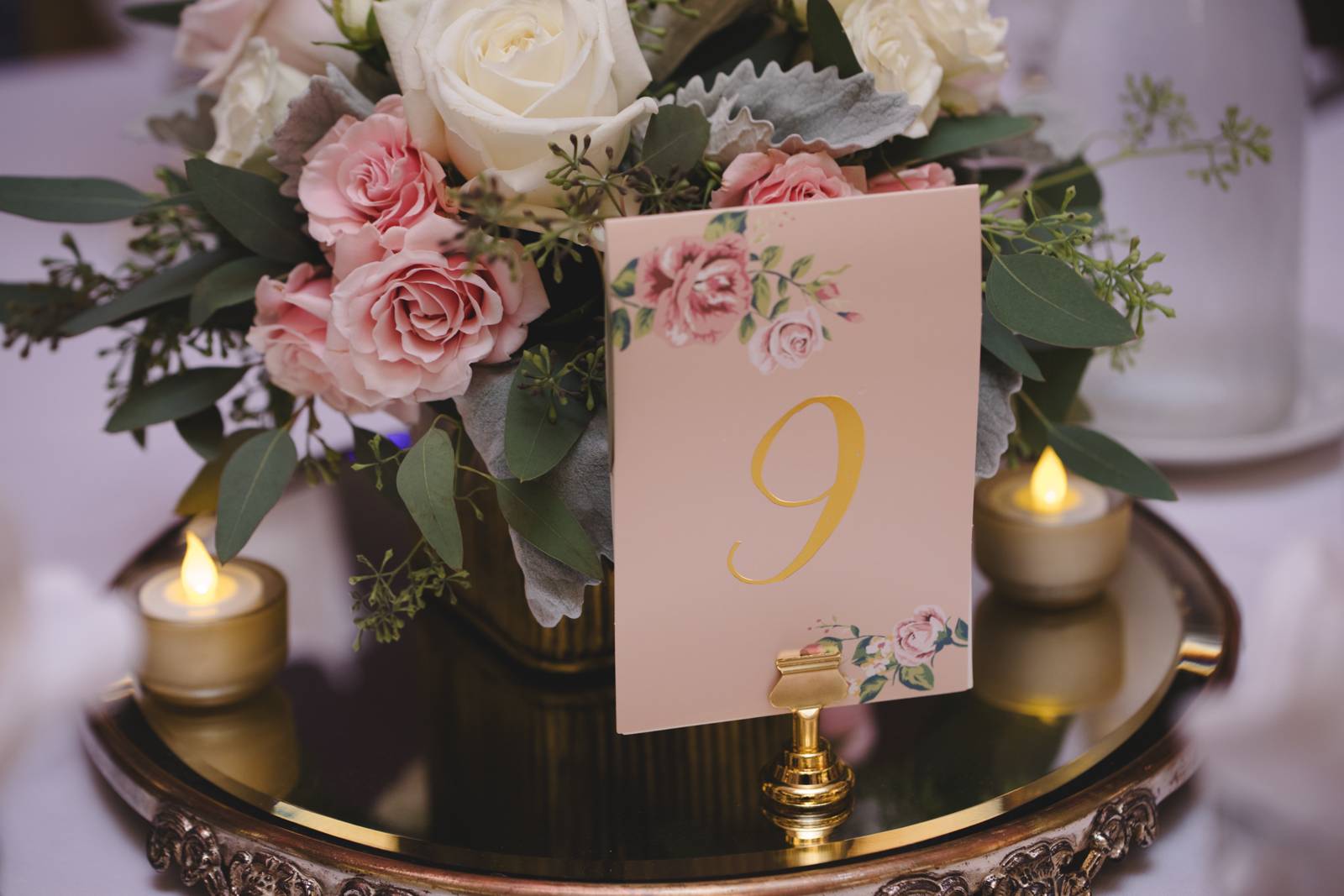 WHAT WAS YOUR COLOR PALETTE? Dusty rose and sage green with gold accents.

DESCRIBE YOUR WEDDING FLOWERS: I wanted the emphasis of the dusty rose color to go with our sage green bridesmaid's gowns. The bridesmaid's bouquets were small and compact, and my bouquet was a larger version with some greenery. I had my deceased mother's rosary weaved into it before going down the aisle as an extra personal touch.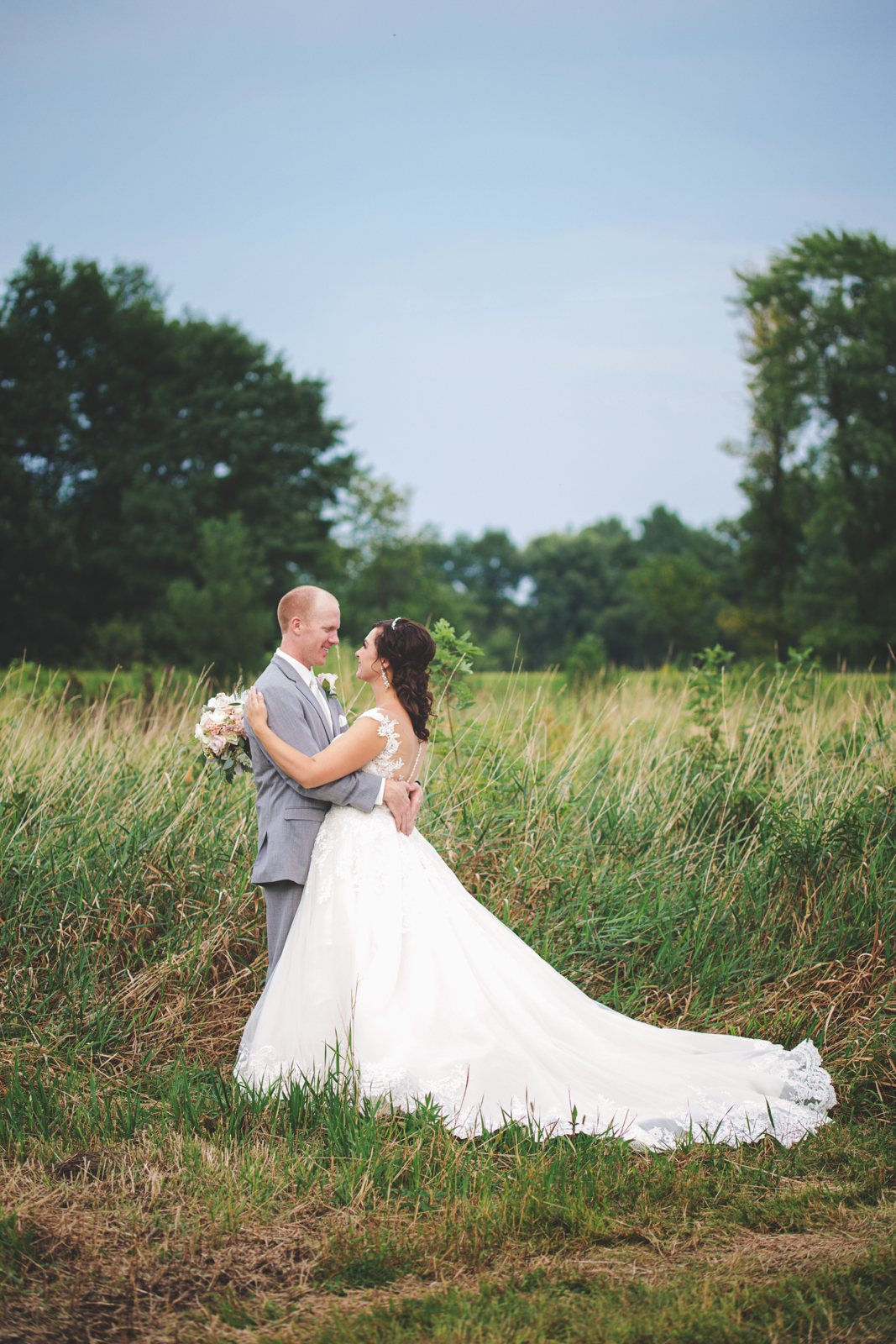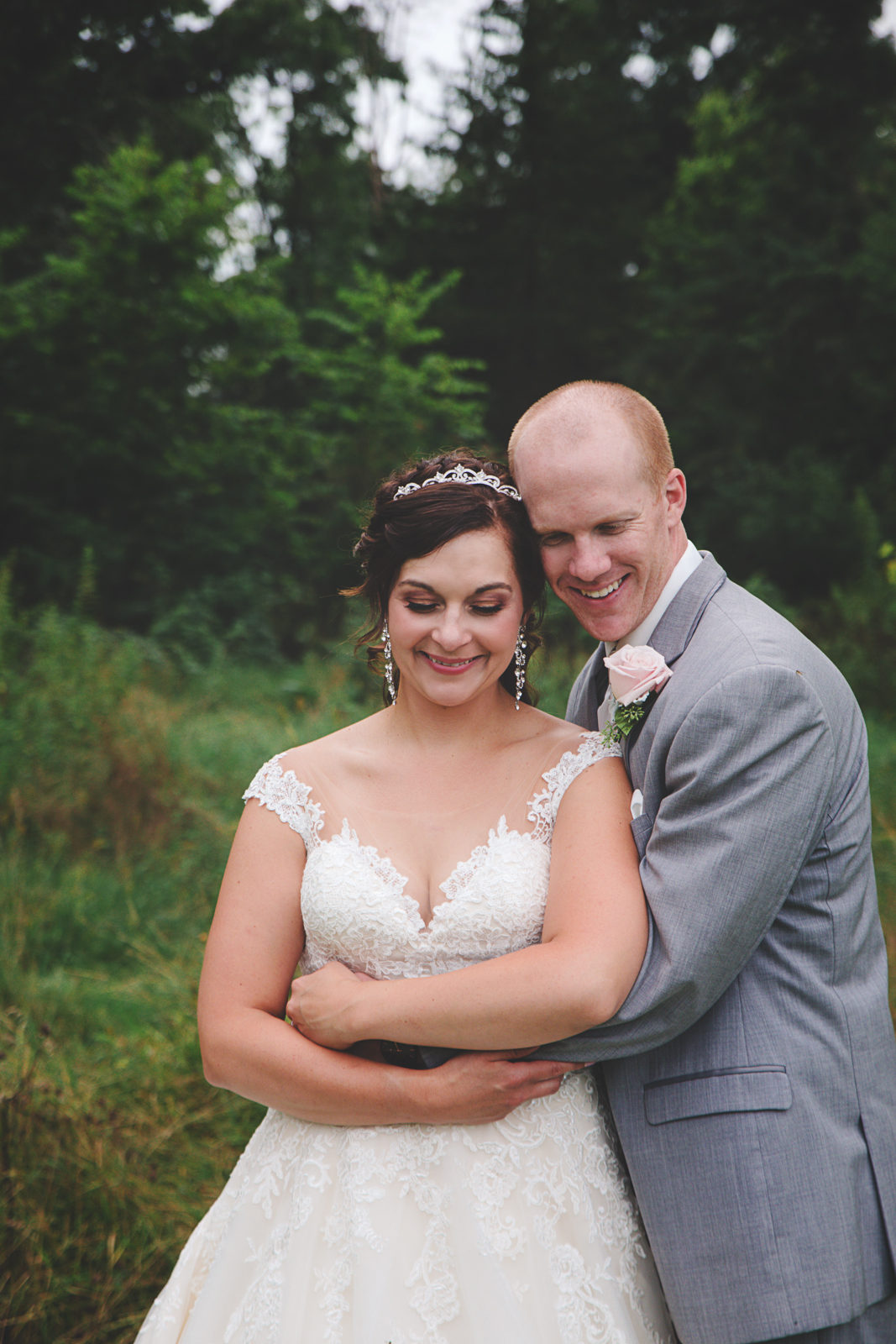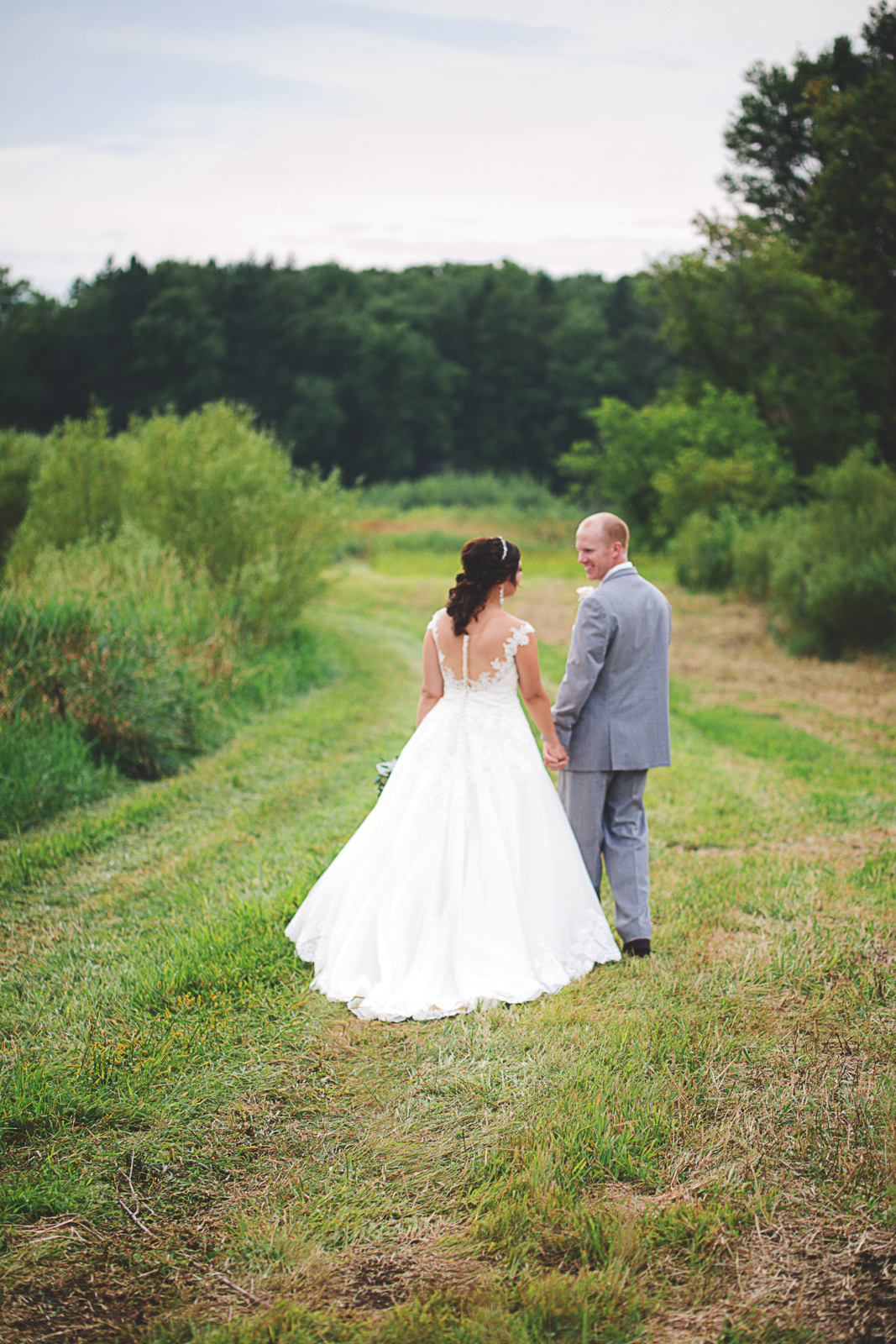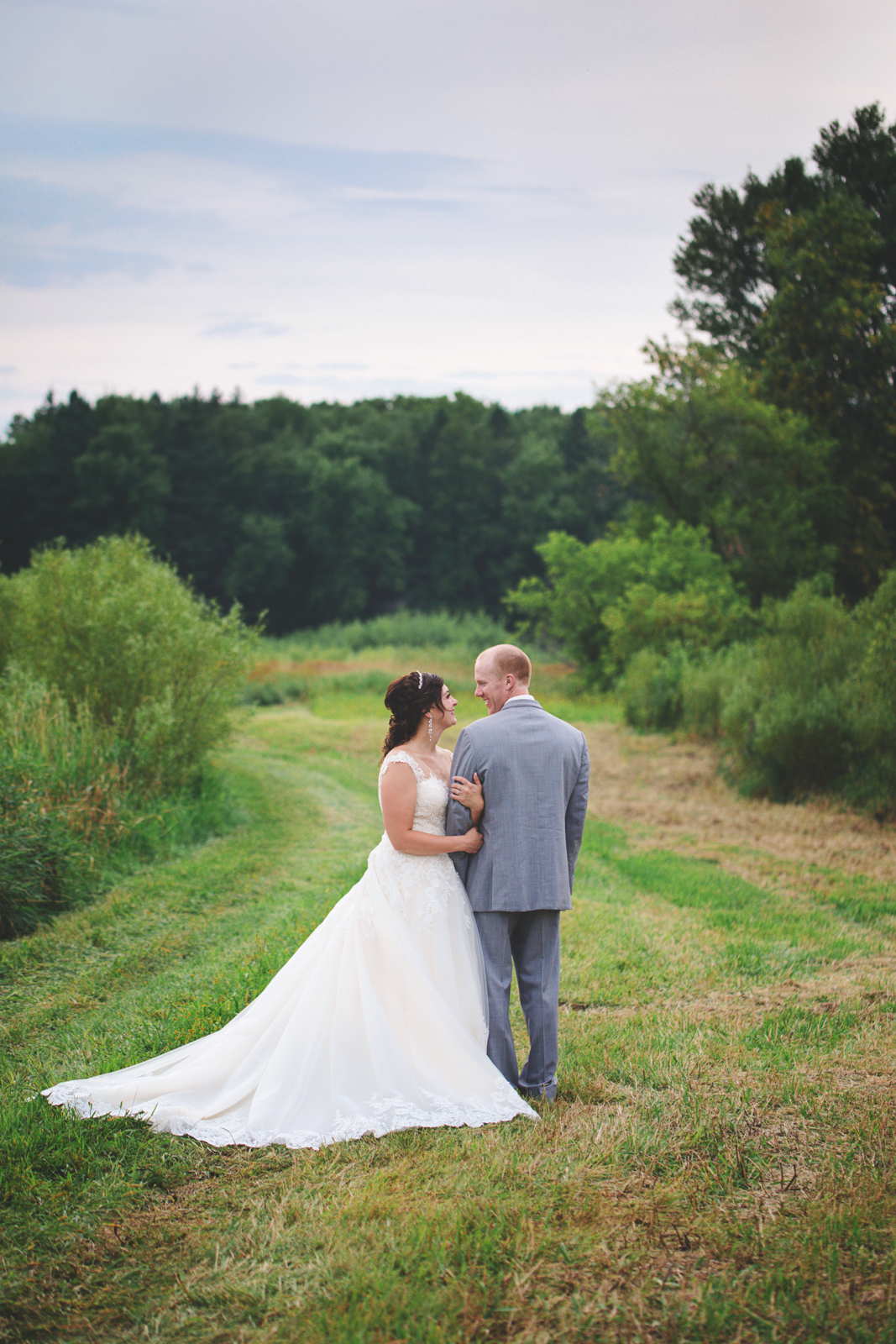 DID YOU USE ANY SPECIALTY CHAIRS, LINENS, CHARGERS, GLASSWARE OR DINNERWARE? We had gold tea-lights with mirrored centerpieces around the birdcages and floral arrangements. We also created two different Snapchat filters and made sure our venue had wifi for our guests to enjoy them.

TELL US ABOUT THE FOOD, DESSERT, AND ANY SPECIALTY BEVERAGES ON THE MENU: We offered a choice of a New York Strip with diced and roasted potatoes and green beans or Rotisserie Chicken with garlic mashed potatoes and a California medley. We had an all-night open bar for our guests.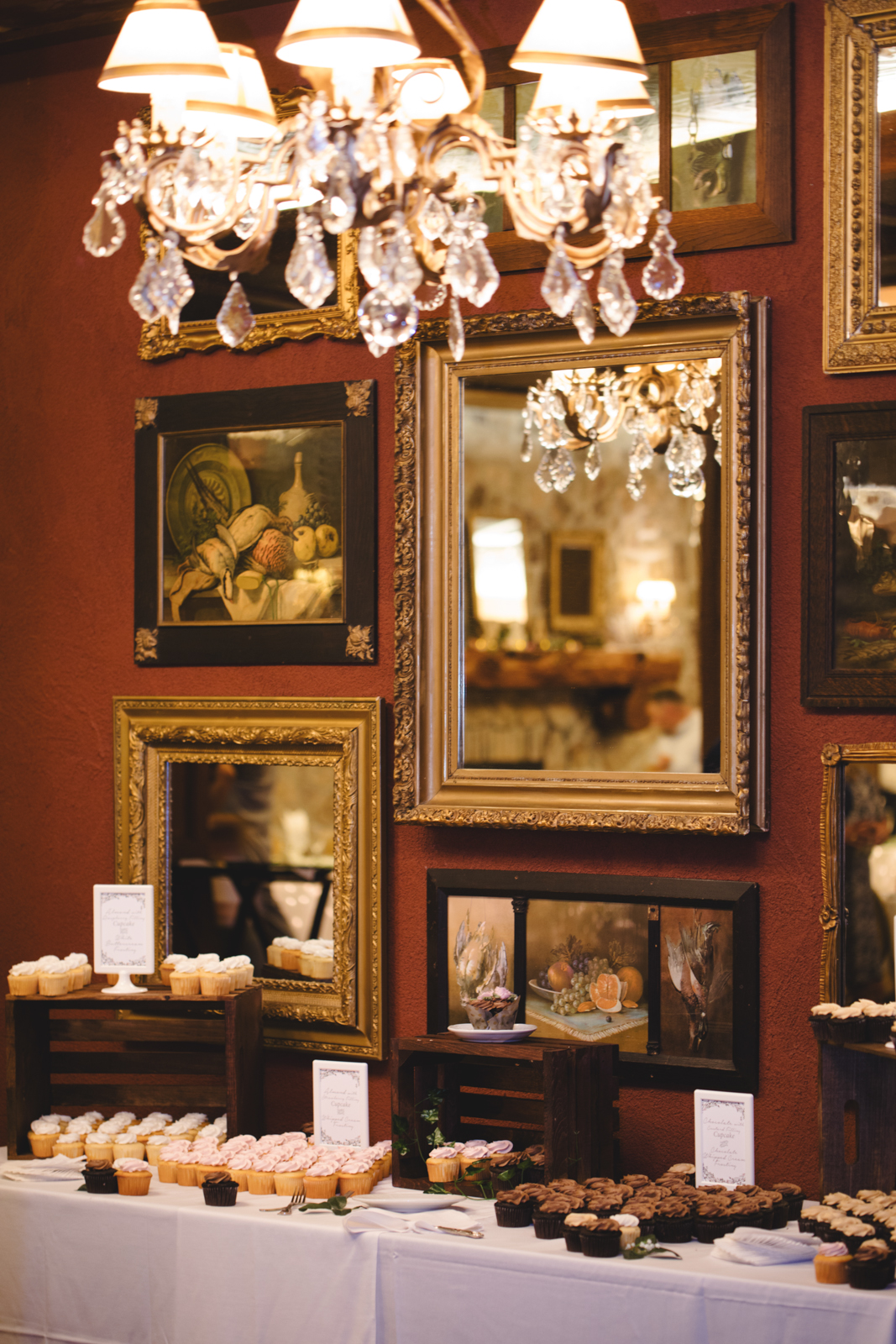 WHAT WAS YOUR FAVORITE MOMENT FROM YOUR WEDDING? Kevin's favorite part was putting the ring on my finger, and mine was our first dance.
TELL US ABOUT YOUR HONEYMOON: We went to Las Vegas for five days and invited some friends along. It was excellent and so much fun! People thought it was a little different that we asked others on our honeymoon, but we wanted the party to continue! We loved having others there to celebrate with us, and we had plenty of couple time with just the two of us.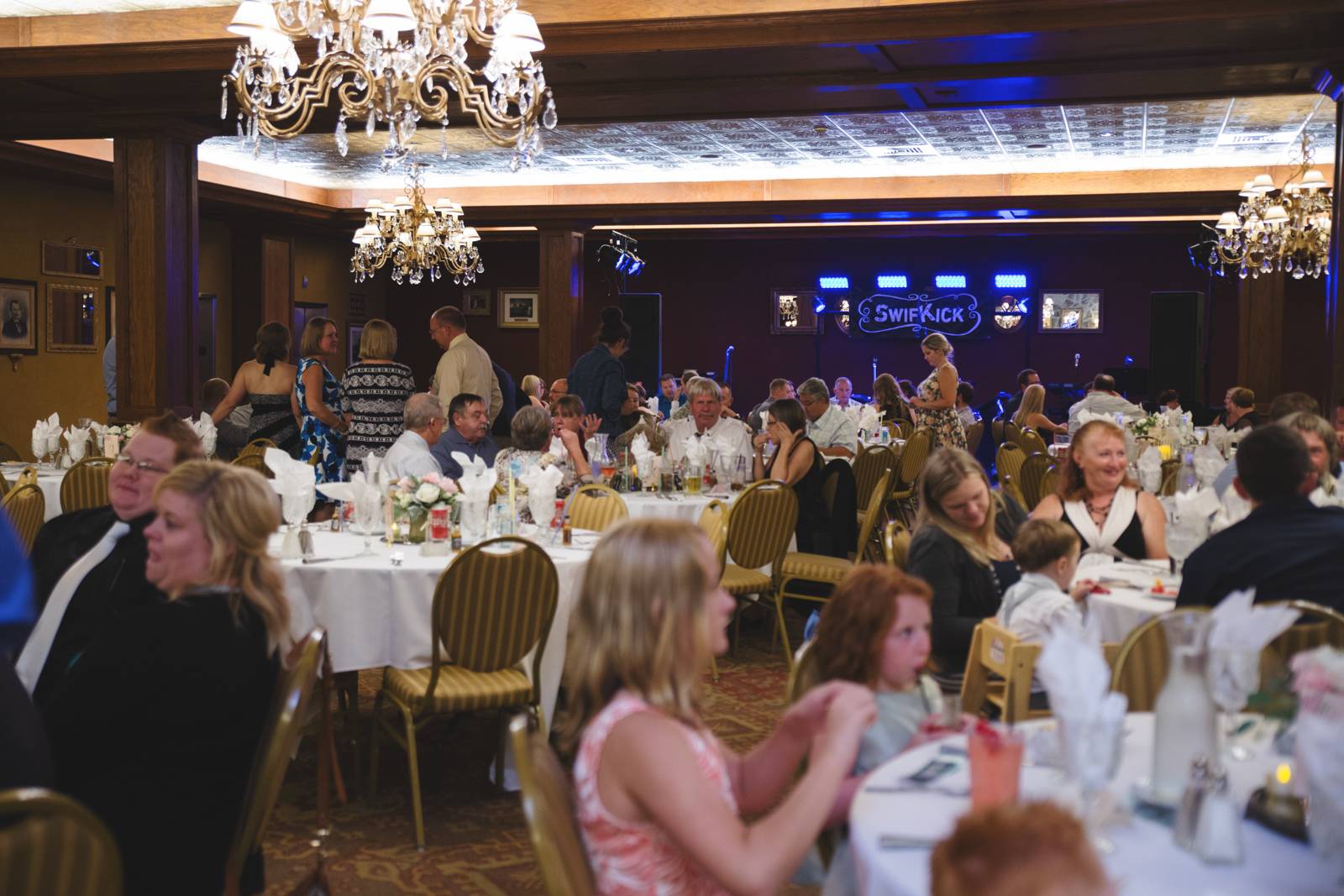 WHAT DOES LIFE LOOK LIKE AFTER THE WEDDING? It feels amazing to be married, and we love spending time together.

IS THERE ANY ADVICE YOU'D GIVE TO OTHER COUPLES PLANNING THEIR WEDDING? Kevin is a planner. From the get-go, he laid out a budget. Knowing exactly what you can and can't spend can take the stress off the decision-making process.

ANY WEDDING PLANNING REGRETS YOU'D DO DIFFERENTLY? We wouldn't change a thing!