Fall has certainly arrived! We are digging all the earthy tones, moody romance, and darker details this season brings with. Emily married Michael in just such a setting in their Madison wedding. Their vows were exchanged in a church setting and then celebrated at the stunning Madison Club. The bride looked radiant in a layered ball gown wedding dress while the groom sported a sophisticated tux from Men's Wearhouse. With cakes created by Gig's Cupcakes, signs crafted by A La Crate Rentals, and music organized by Celebrations Entertainment, this was an incredible event! Read more about Emily and Michael's happy celebration below!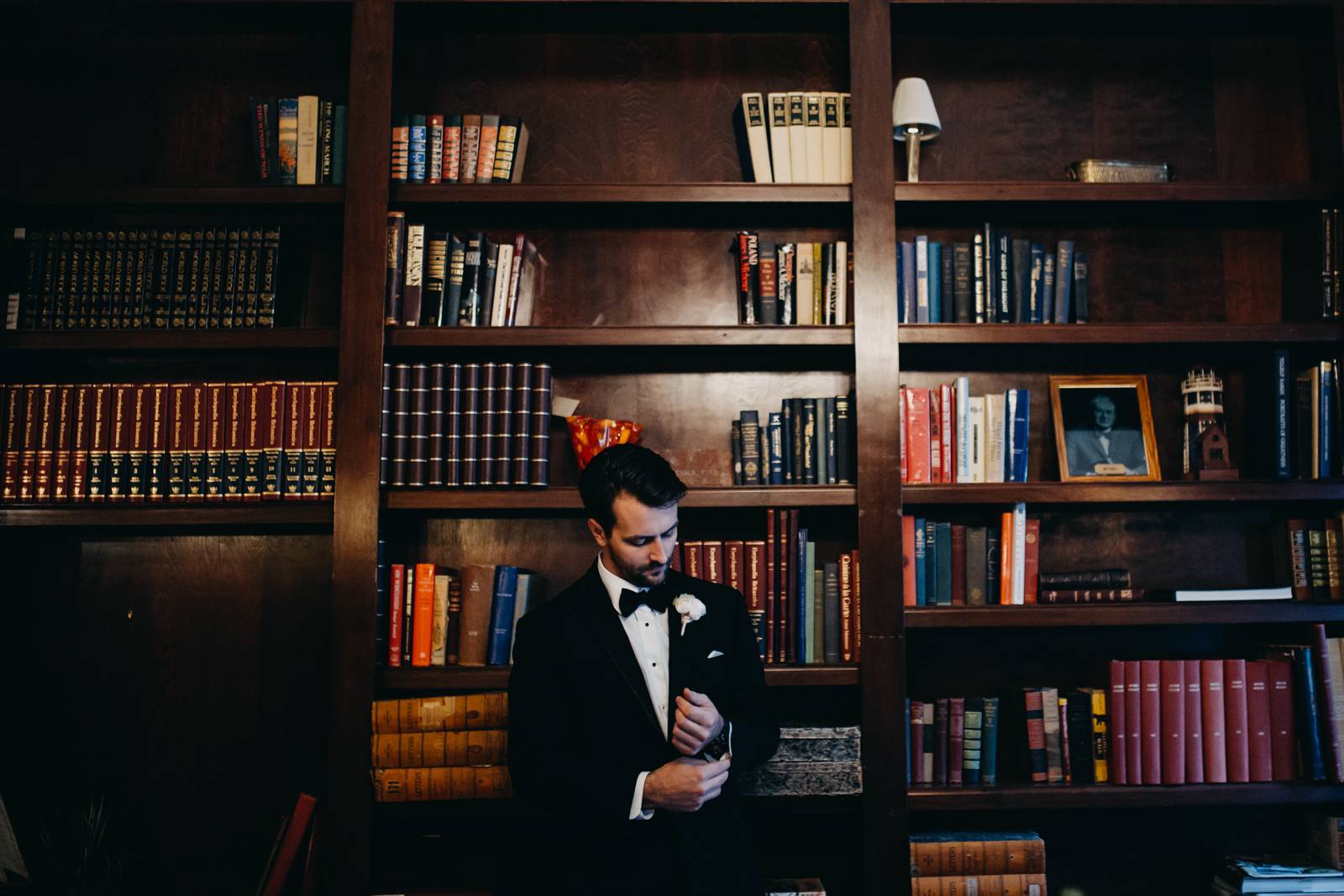 WEDDING DATE: October 7th

HOW DID YOU MEET? We met playing soccer. Michael was a goalie, and I thought he was bossy because he yelled so much, so I didn't like him at first.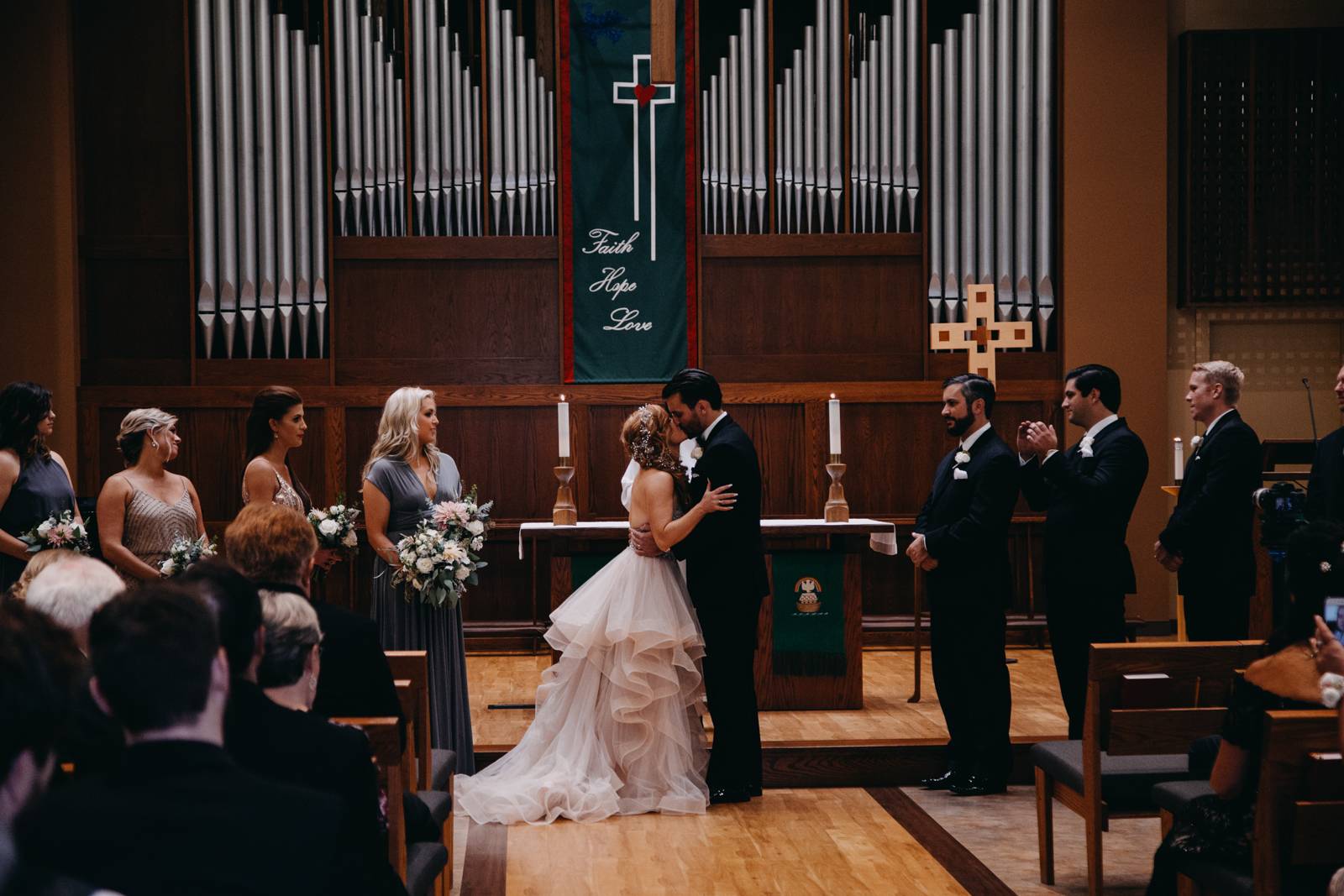 HOW DID YOU KNOW YOU'D FOUND THE ONE? I knew I had found the one in Michael when I saw him interact with his family. They are his #1 priority, and it means the world to me.

TELL US ABOUT YOUR PROPOSAL: I threw a BBQ for Michael's birthday, and, in front of all of our friends, he got down on one knee to propose. He was planning to do it when we closed on our house a few weeks after, but he decided he couldn't wait.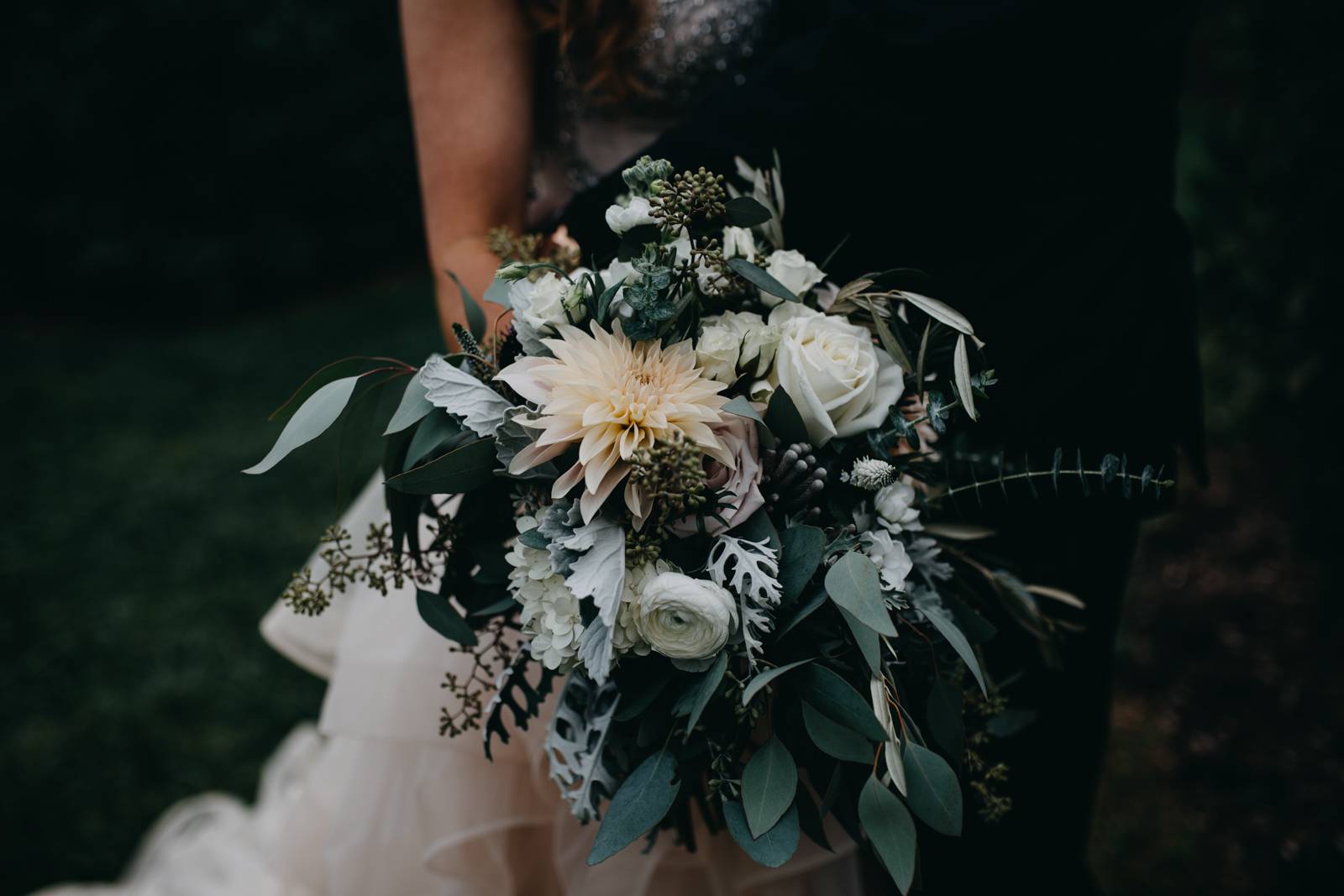 TELL US ABOUT FINDING YOUR DRESS: I was the most indecisive bride when it came to the dress. I started the search with a fitted dress in mind, but I fell in love with the ball gown style.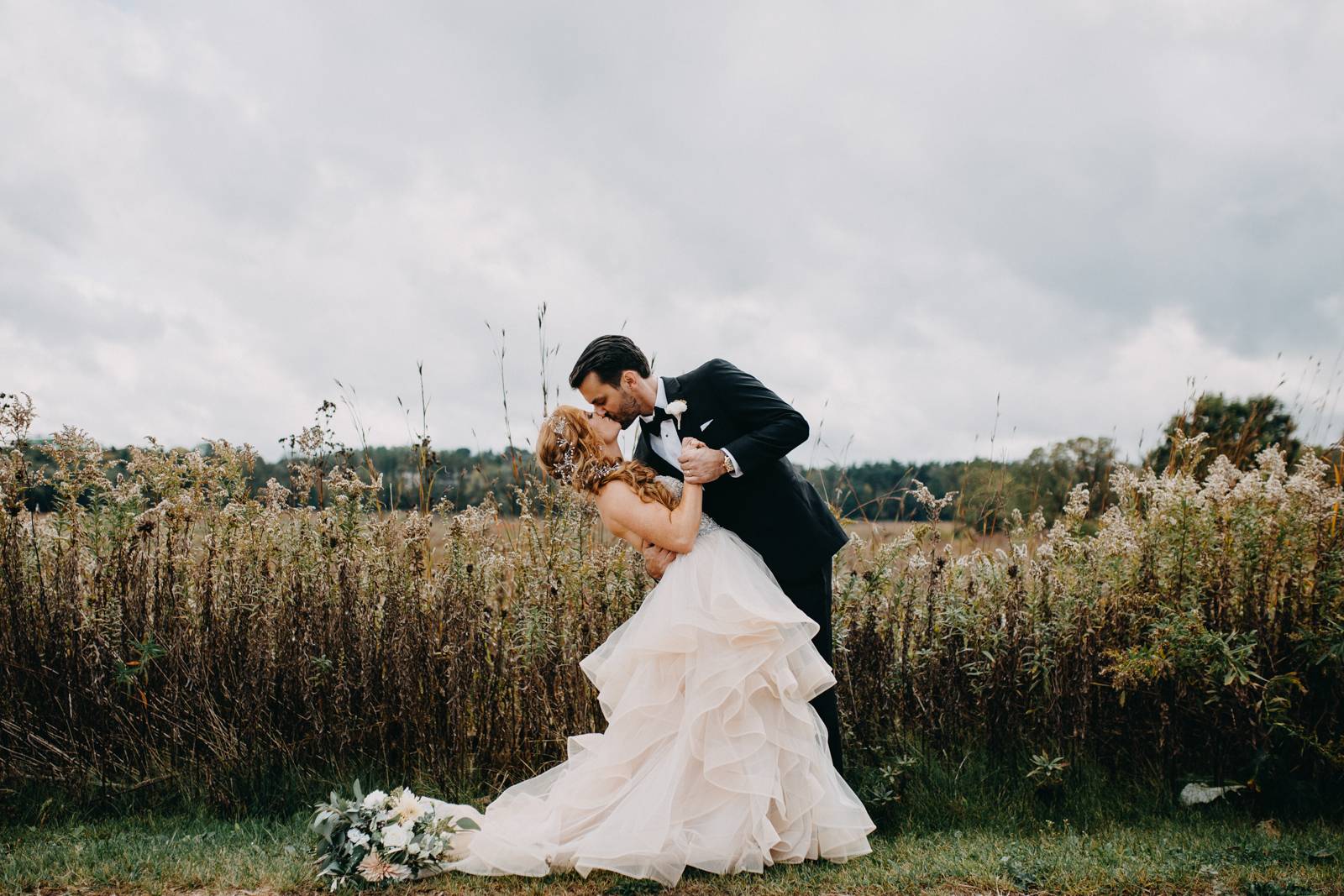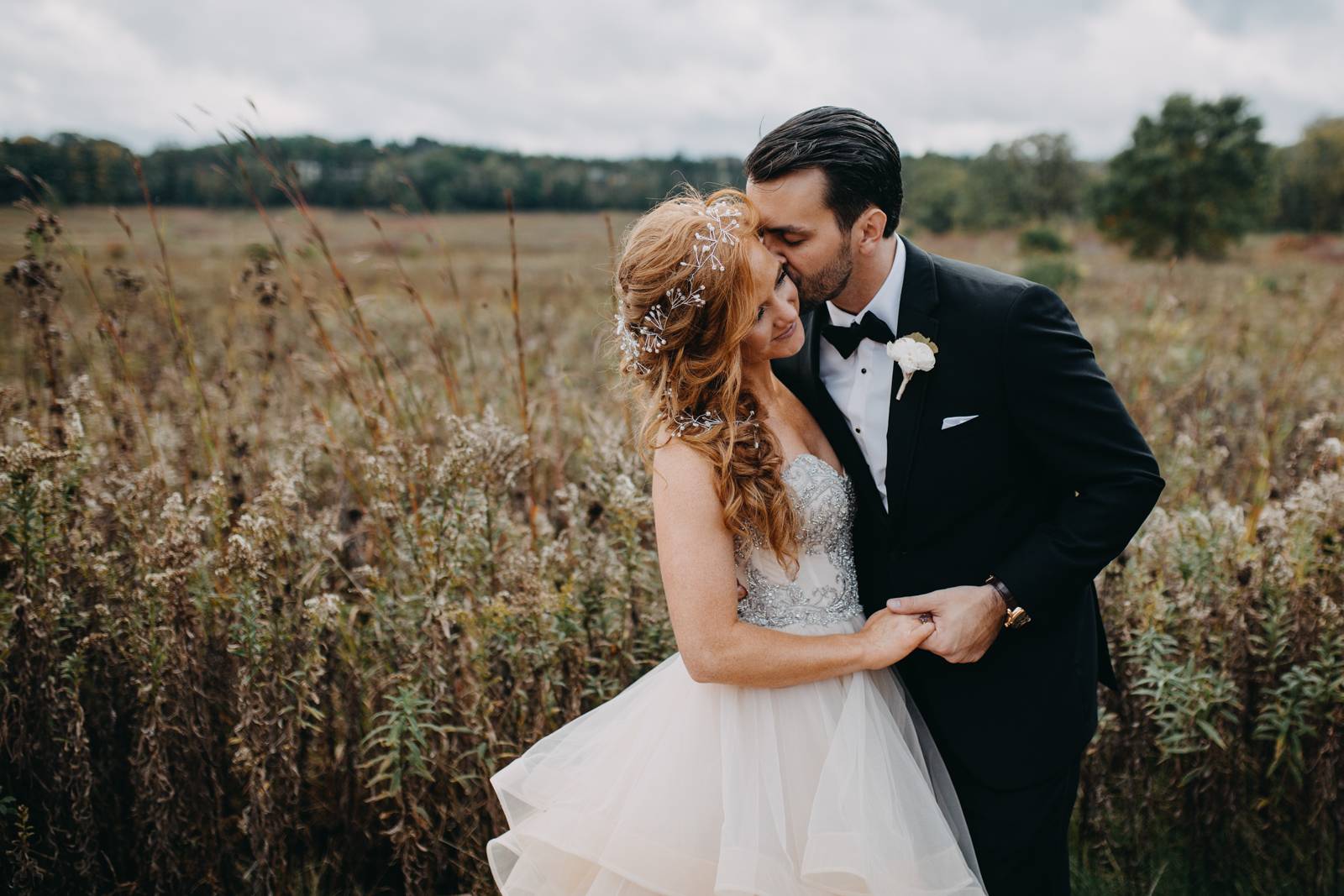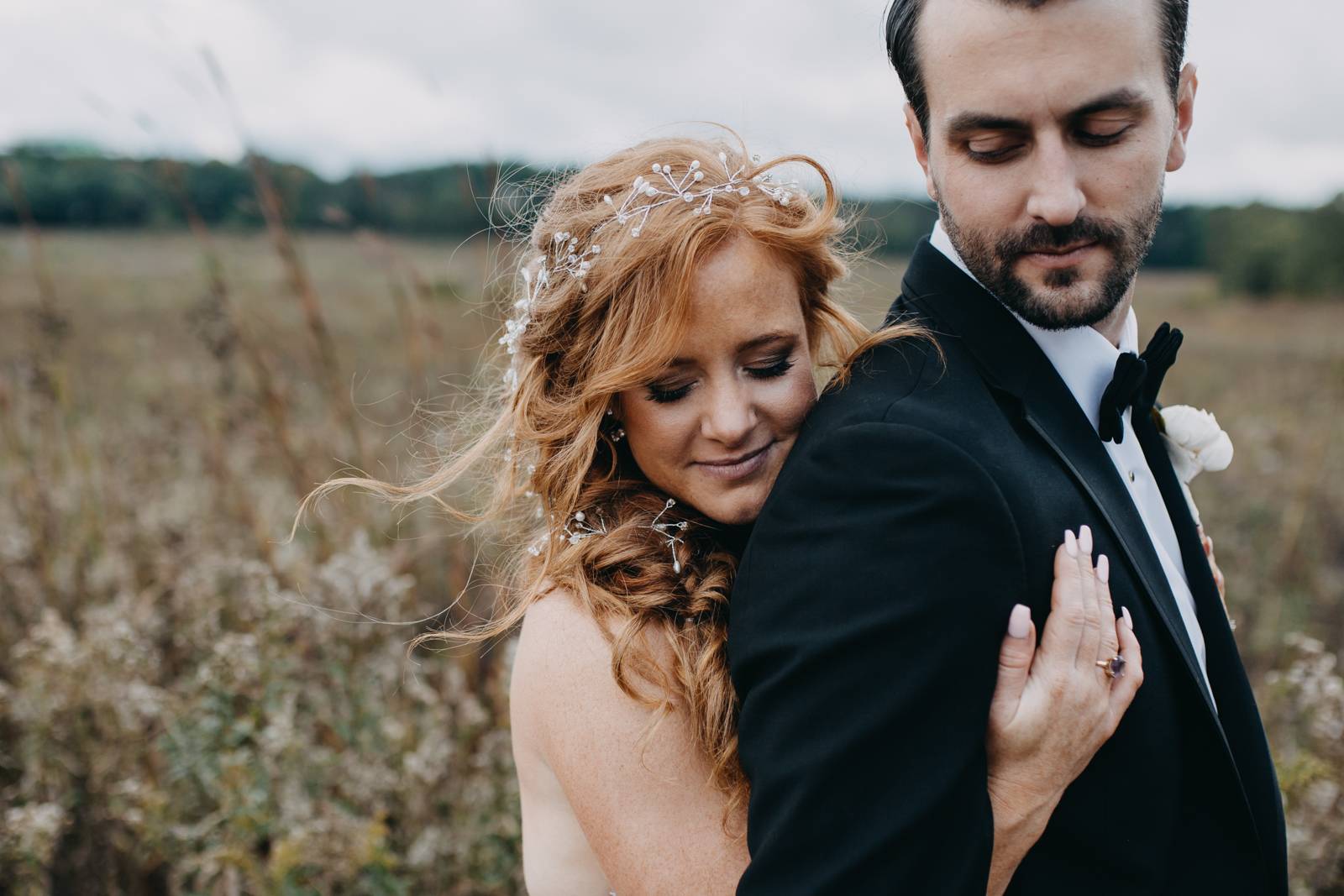 WHAT WAS YOUR WEDDING COLOR PALETTE? Grey, Gold, and Ivory

DESCRIBE YOUR WEDDING FLOWERS: I wanted light colors and greenery, so I didn't have to worry about colors clashing. There are a lot of colors and different designs at The Madison Club, so keeping a neutral scheme seemed wise.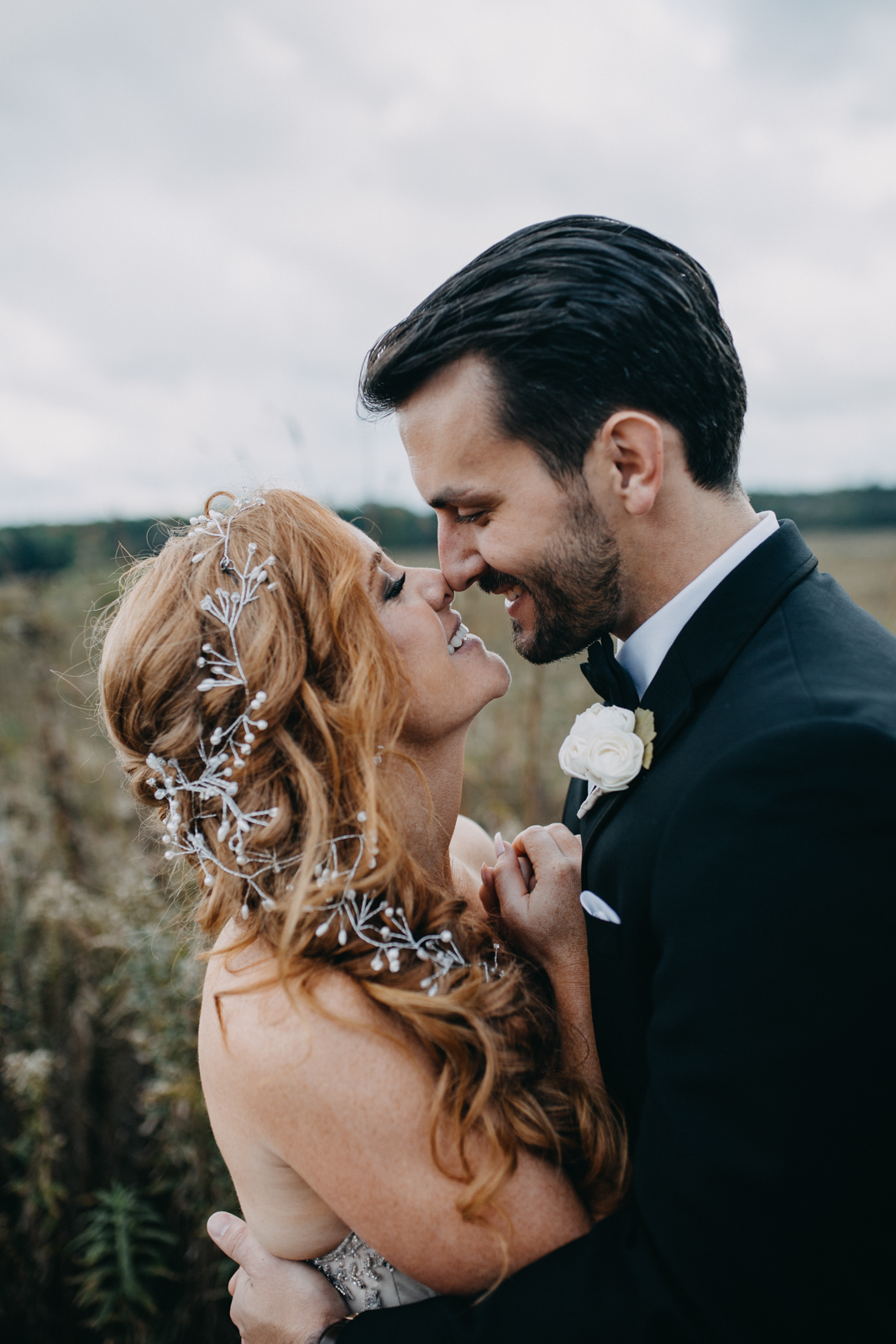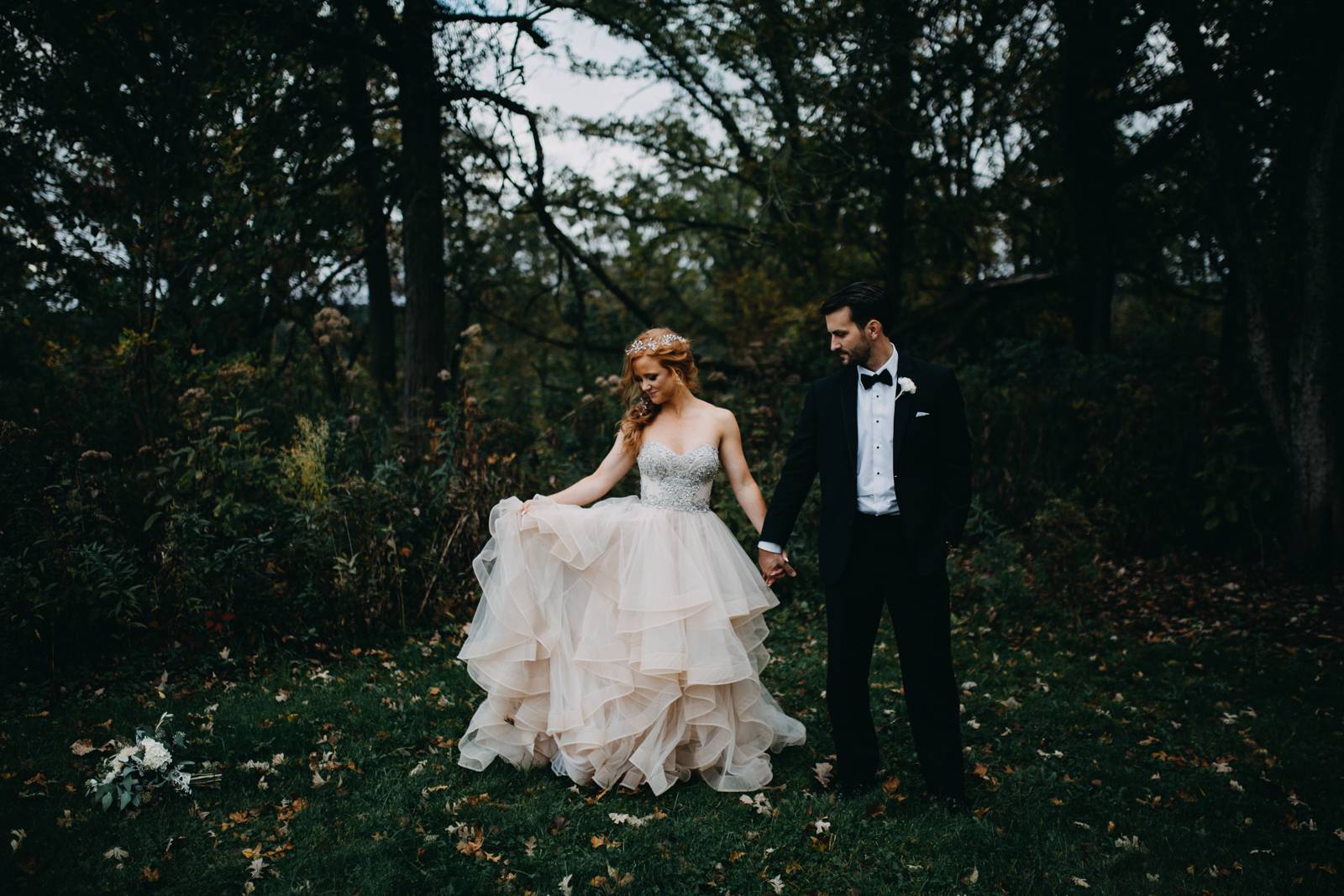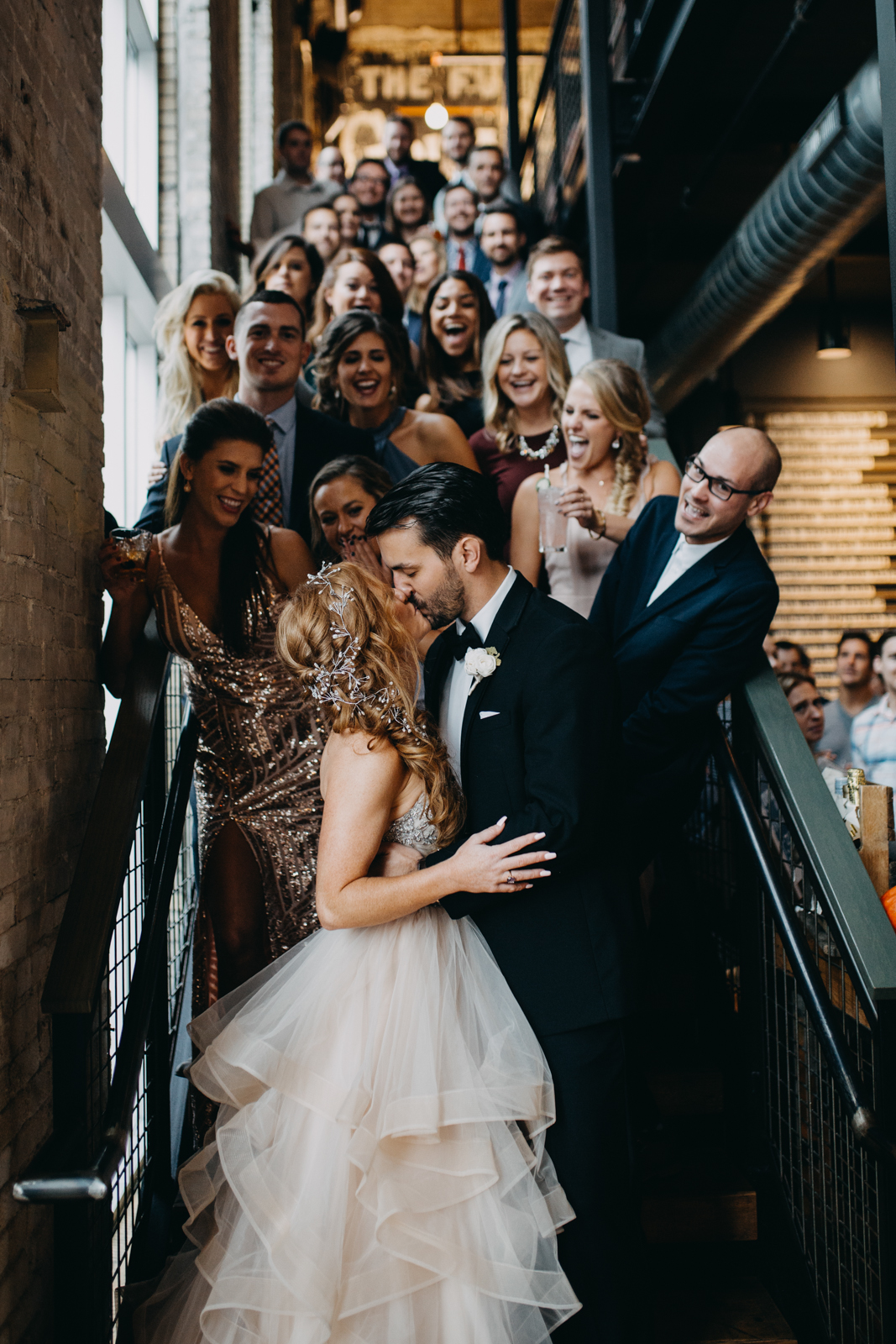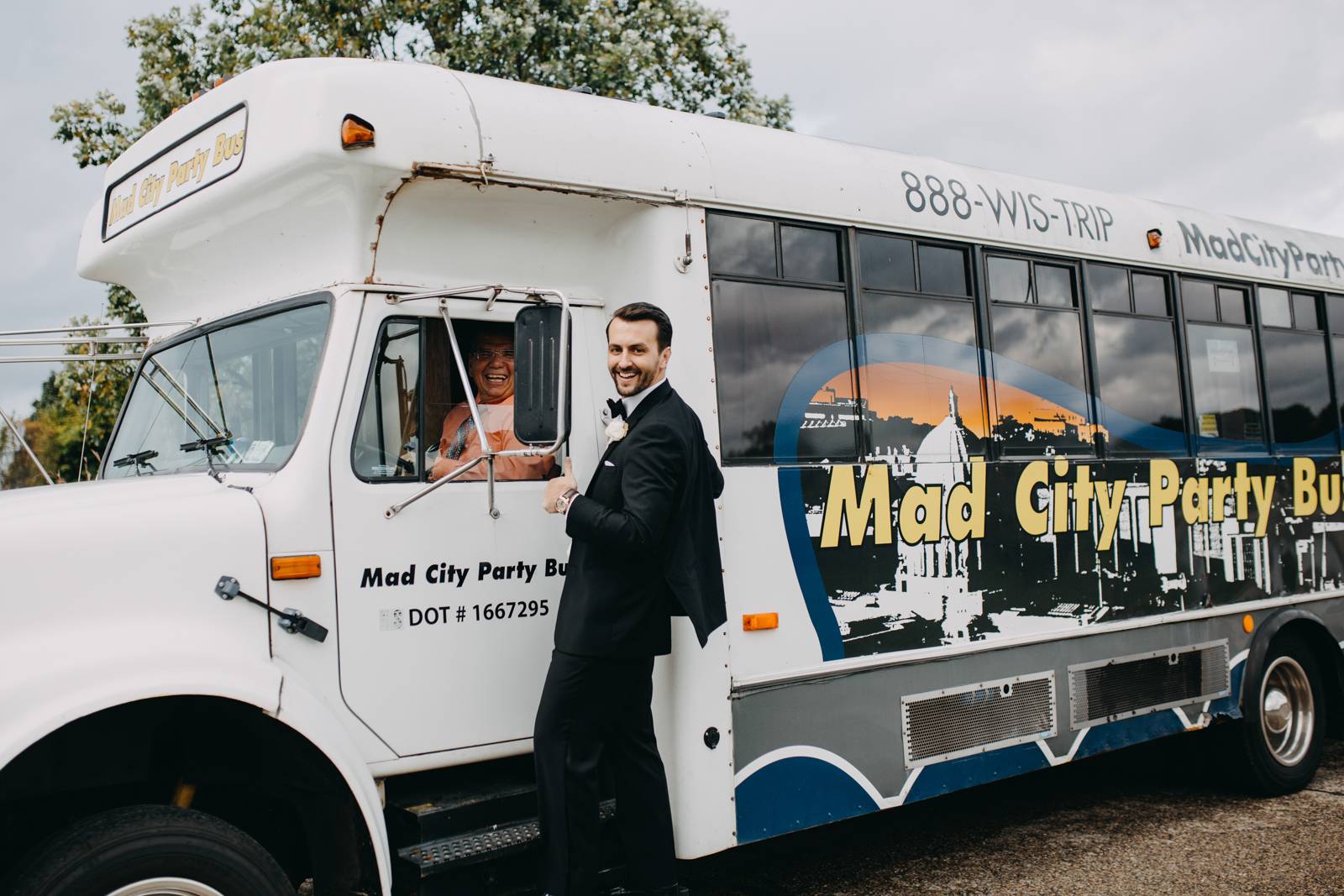 DID YOU USE ANY SPECIALTY CHAIRS, LINENS, CHARGERS, GLASSWARE OR DINNERWARE? We choose a "family-style" table that featured a gold, sparkly linen. We placed this in the middle of the room for our immediate family. We had a big wedding party and wanted everyone to be able to sit with their dates.
WERE THERE ANY PERSONAL TOUCHES OR DIY ELEMENTS? Michael is a BIG Buffalo Bills fan, and I'm a die-hard Packer fan. To make sure he felt extra special, I ordered a grooms cake of the Buffalo Bills. I also surprised him with the UW-Marching Band to kick-off the dancing. It ended up being the highlight of the night.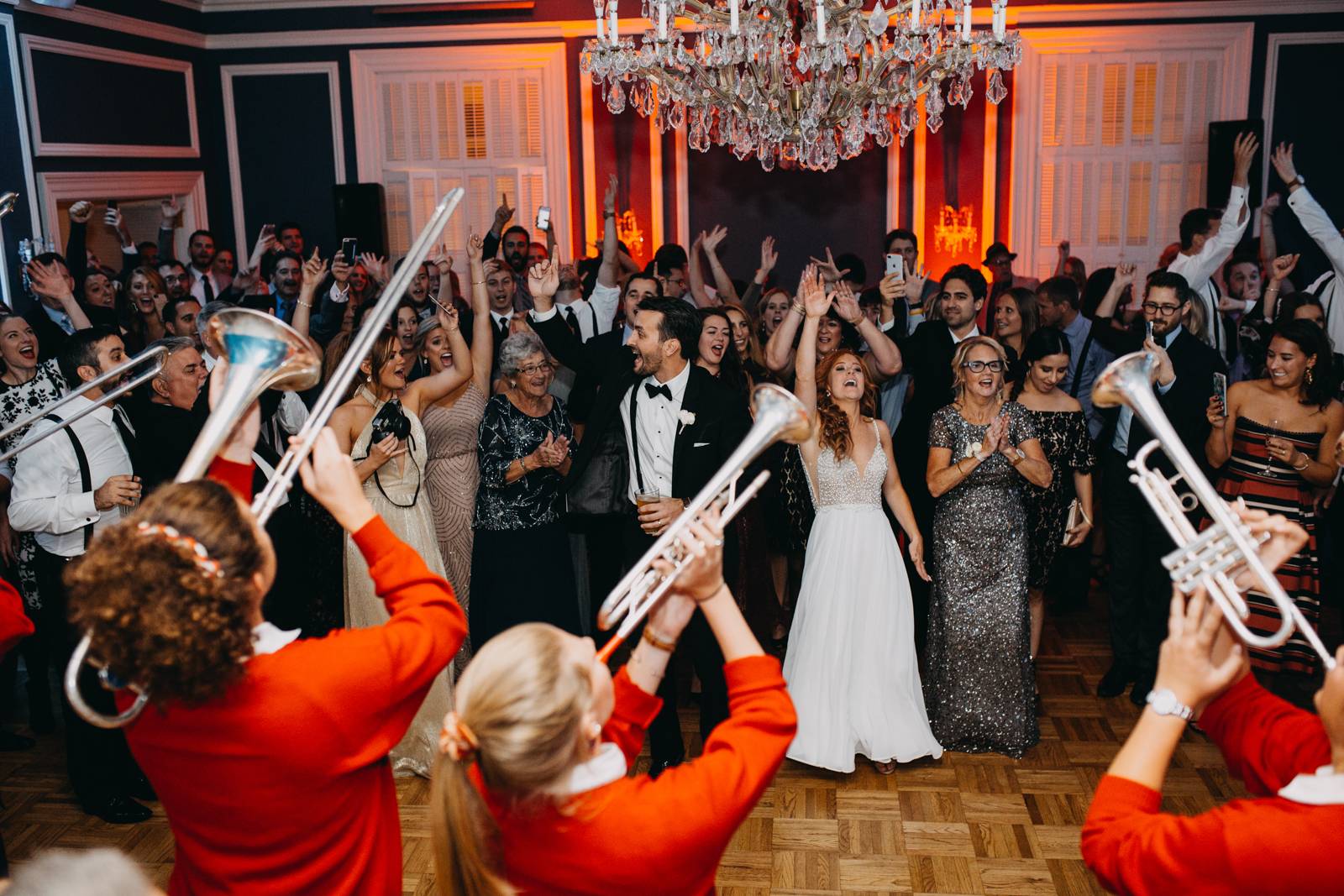 TELL US ABOUT THE FOOD, DESSERT, AND ANY SPECIALTY BEVERAGES ON THE MENU: We worked with The Madison Club's Chef, Adam, on our menu. I used to work at the Madison Club, and my favorite fall food was the Butternut Squash Soup. We made sure to have that and a salad as the first course, and everyone loved it!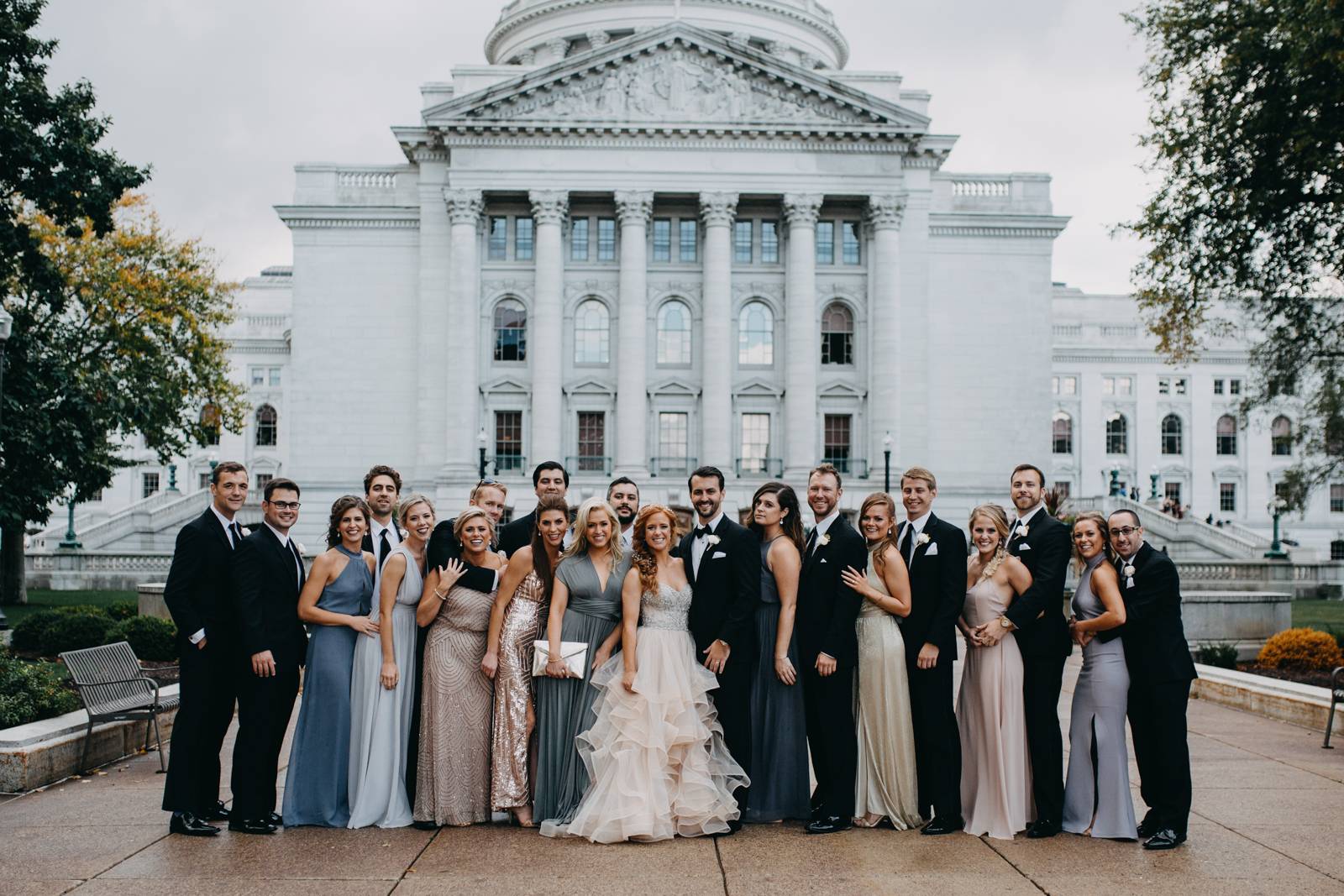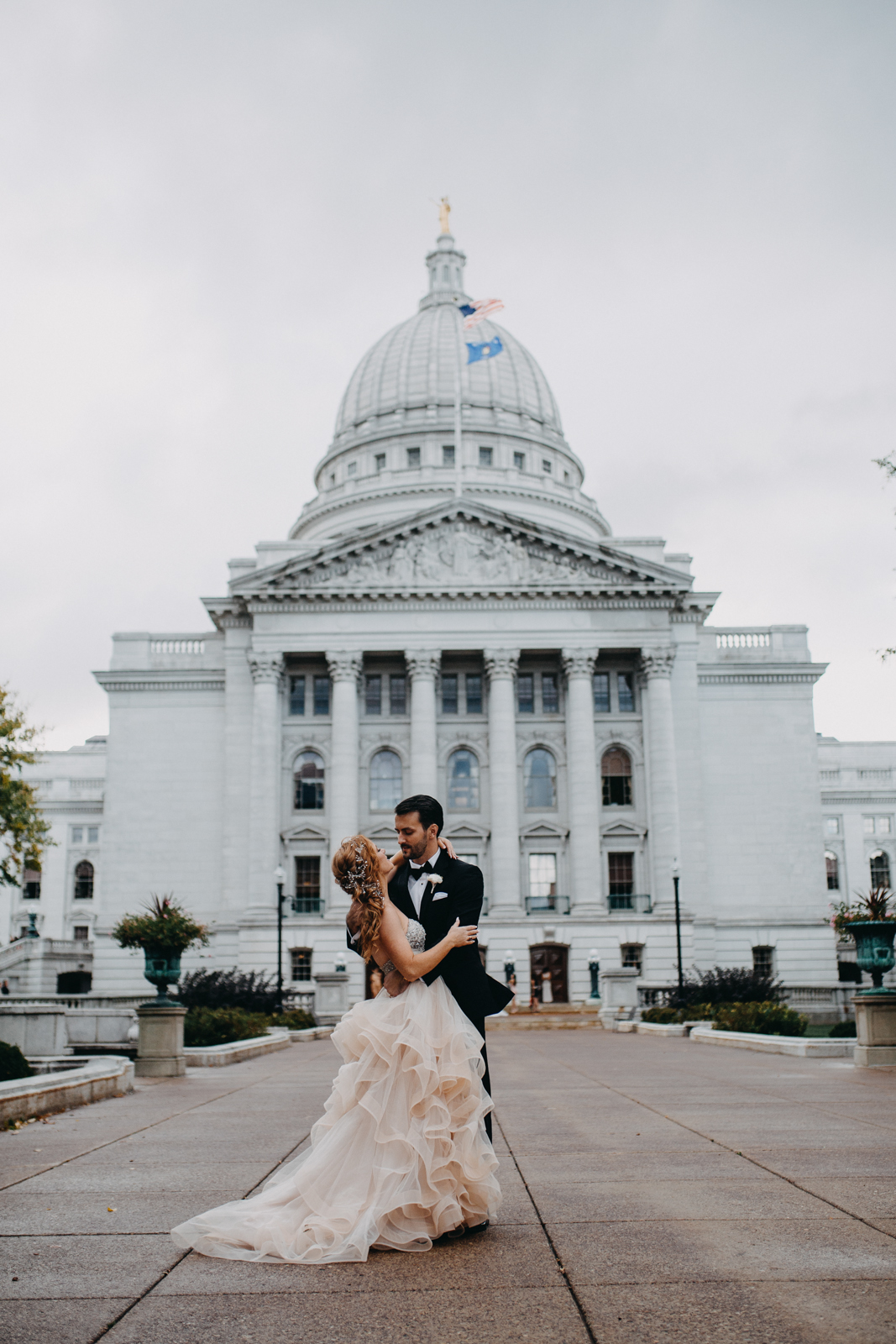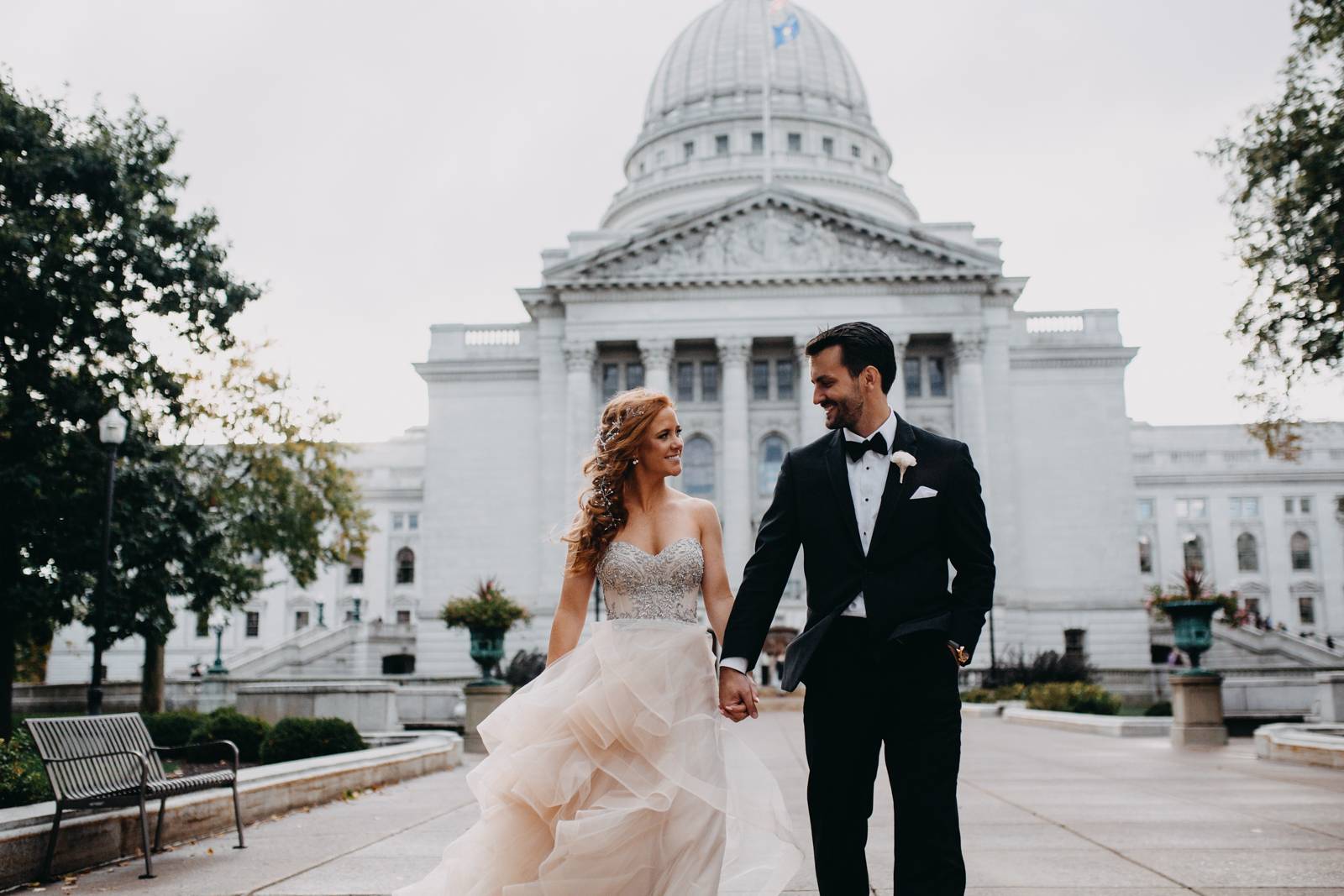 WHAT WAS YOUR FAVORITE MOMENT FROM YOUR WEDDING? My favorite moment was surprising Michael with the UW-Marching Band. He almost waived them off from coming up the stairs because he thought they were at the wrong event. He loved it SO MUCH!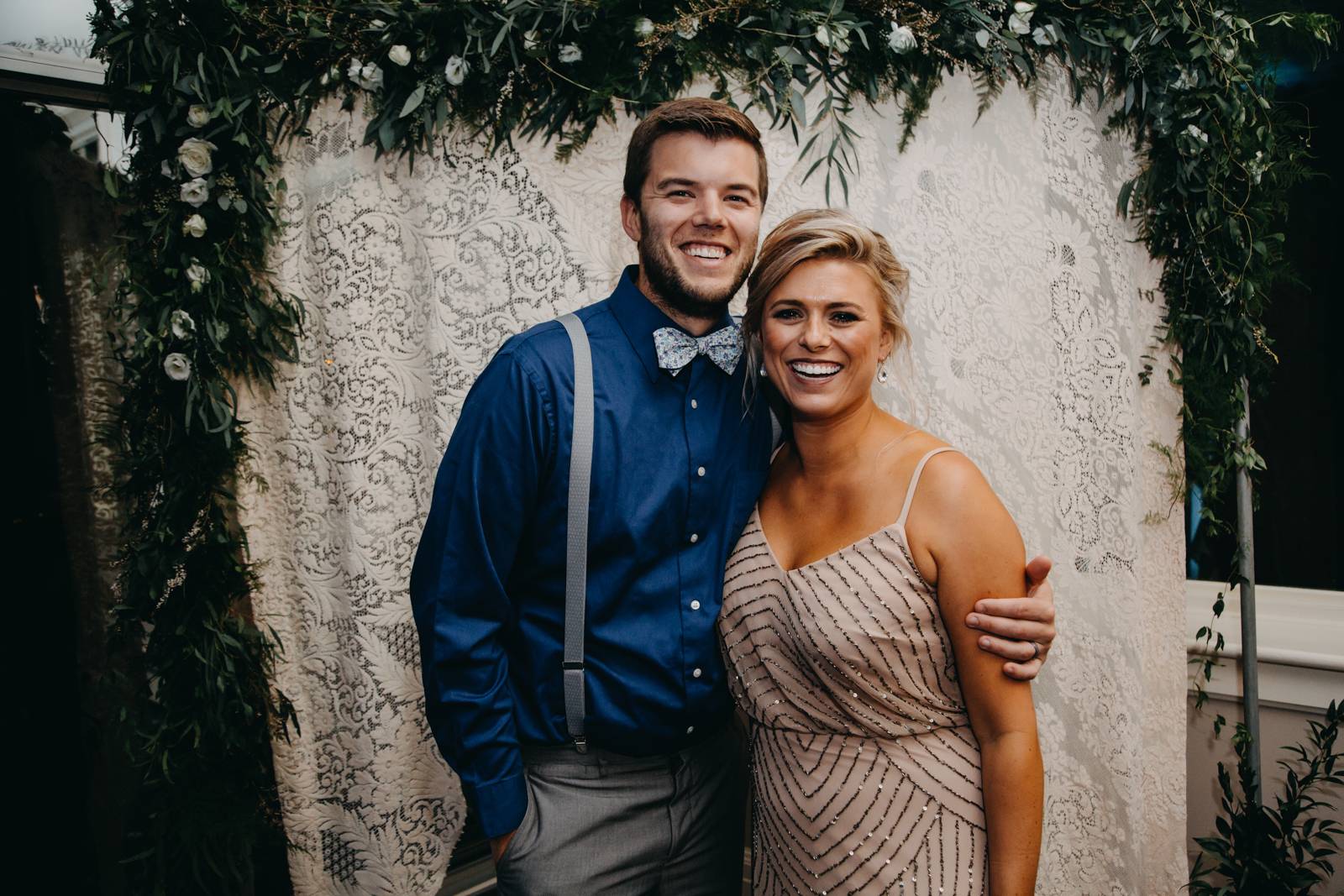 TELL US ABOUT YOUR HONEYMOON: We ventured to Maui. It was the perfect mixture of adventure and relaxation.

IS THERE ANY ADVICE YOU'D GIVE TO OTHER COUPLES PLANNING THEIR WEDDING? Don't spend energy worrying about the details. No one will remember the small details, so don't stress yourself out. It's a happy day. The only thing that matters is those who are there to love and support you.