Today we are sharing a Wisconsin wedding full of color, industrial vibes, and romance. Photographed by Thrive Photography and Films, Amy and Adam's wedding was full of minimalist touches and accented with mood-setting lighting concepts. Read about their love story below, the vision they had for their wedding day, and so much more!
WEDDING DATE: 10/06/2018

HOW DID YOU MEET? We were two of the handful of people that were crazy enough to take the 5 am classes at a group fitness gym. After a couple of months, many hidden gazes across the room, and encouragement from my best friend, Adam and I finally began our relationship together and never looked back.
HOW DID YOU KNOW YOU HAD FOUND "THE ONE"? We just clicked on everything. Relationships aren't always easy, but for the two of us, everything came naturally. We feel the same way about life and how we want to live it together. We understood what is important in our lives and to each other.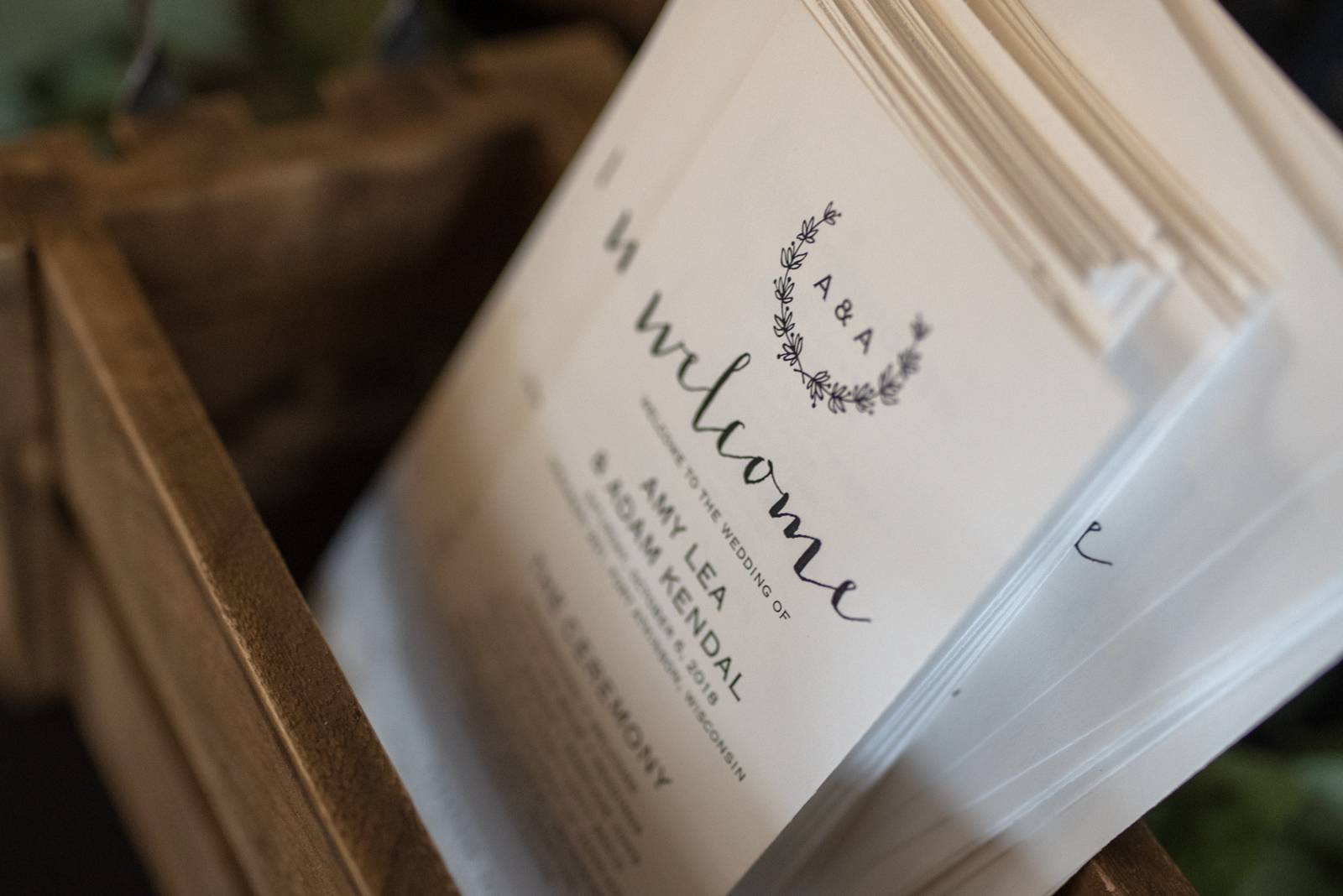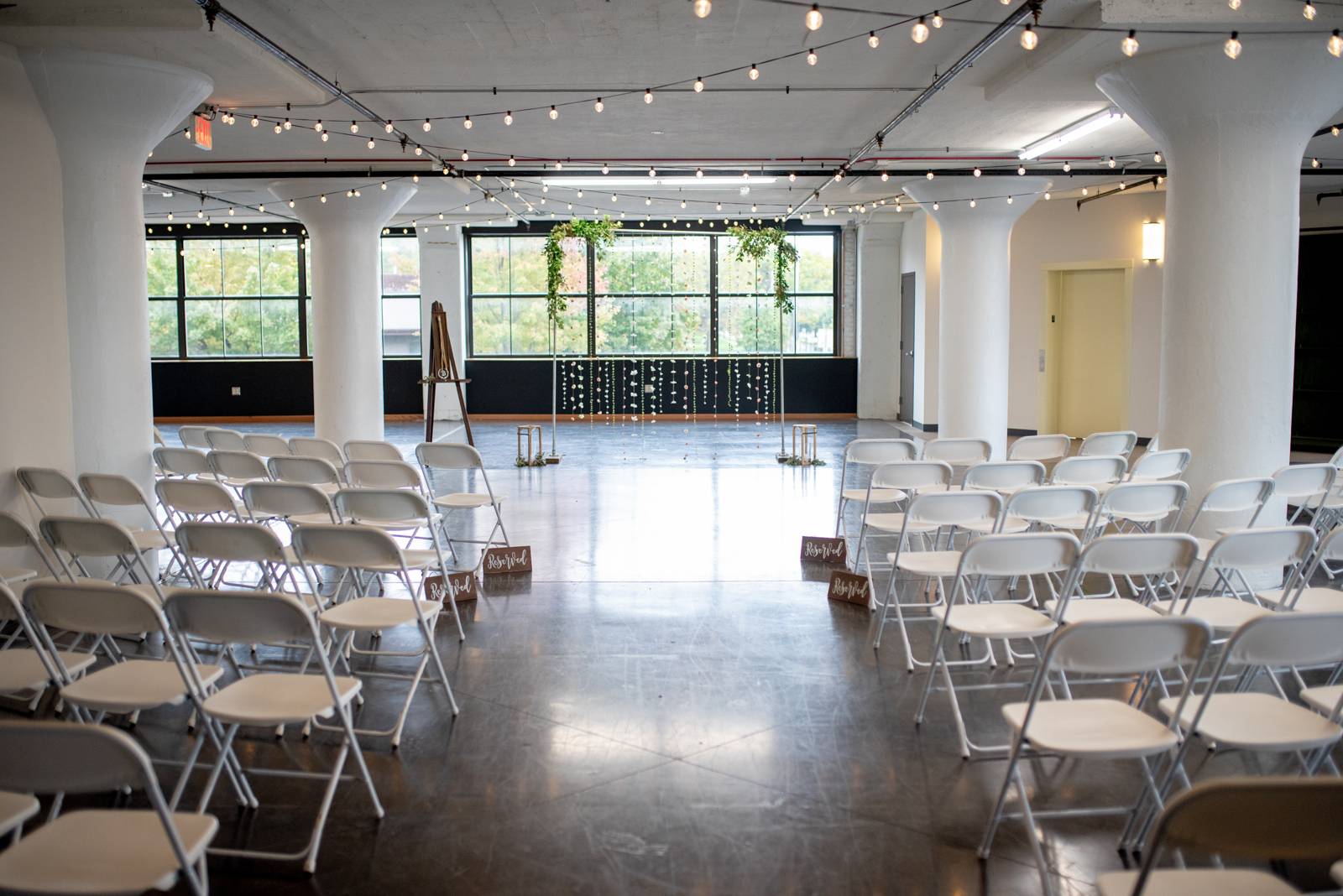 TELL US ABOUT YOUR PROPOSAL: Adam and I were vacationing in Cozumel, Mexico. One night, we visited the most beautiful restaurant on the island with some friends. We had left the resort early to get some extra time in soaking up the sites that the open-concept restaurant offered. Adam was trying to get the best pictures possible to remember the trip. He asked me to take a picture with him on the beach with the sunset in all it's glory behind us. I didn't hesitate to join him. If you ask me, once we reached the shore, time stood still as I glanced over at Adam. He was down on one knee with a box in his hand. Adam asked me to spend forever with him, and I couldn't imagine life any differently.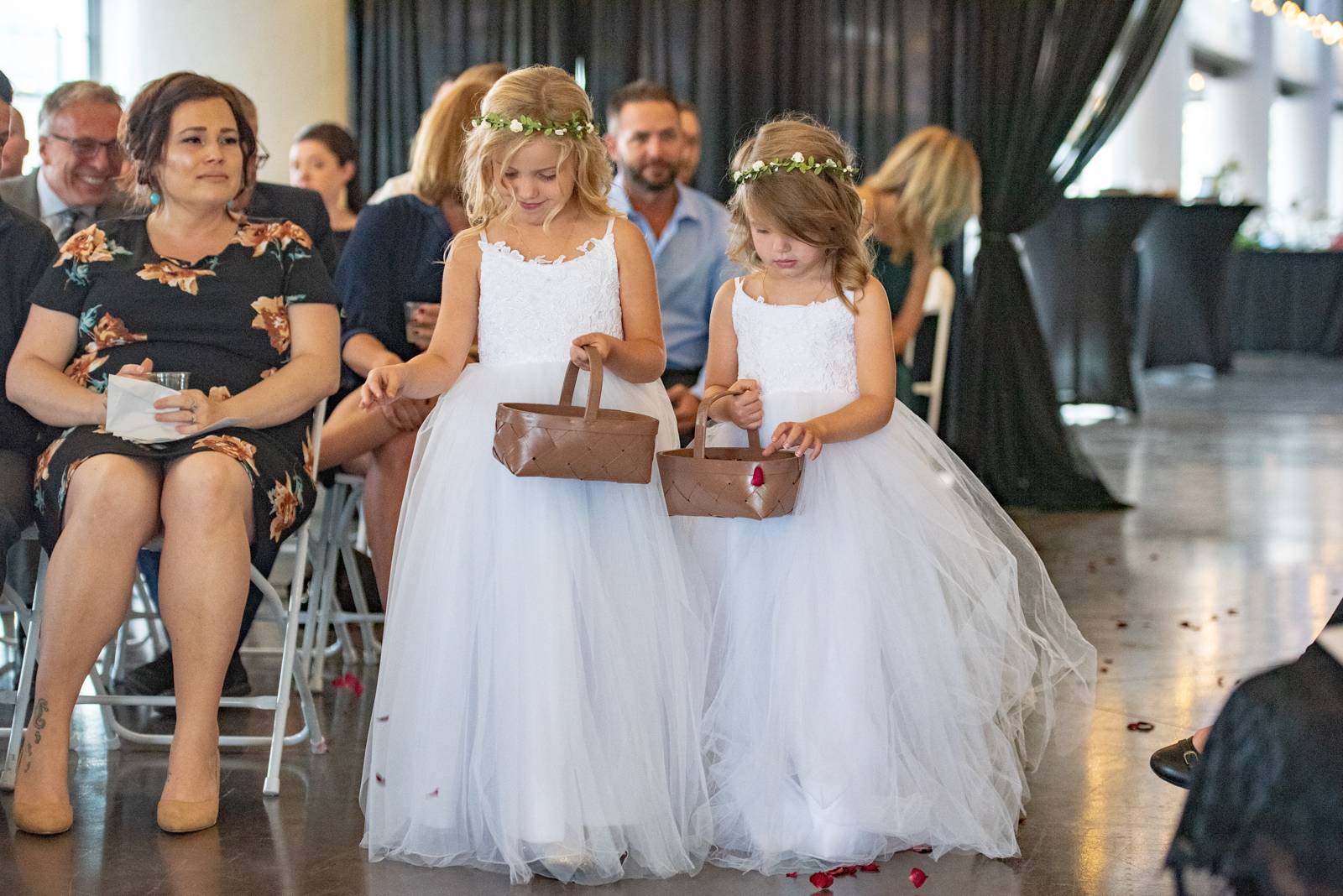 TELL US ABOUT FINDING YOUR DRESS: My wedding dress was the very first thing that was purchased for our wedding. I was bursting at the seams that I was marrying the man of my dreams. I wanted to look my absolute best for him. I knew I wanted to find a unique dress, nothing that was too traditional, something that just truly fit me and my personality. While doing some research on bridal boutiques I came across BHLDN which I immediately fell in love with, it was exactly what I was looking for. Walking into the boutique, I knew I found the place I would find my dress, and just that happened. I found a dress that was everything I was looking for - something unique, nothing too big, easy to move in, but also something with beautiful detail. I knew that was the dress and I knew Adam would love it just as much as I did. And yes, that's right, I found the dress of my dreams at the first boutique I visited.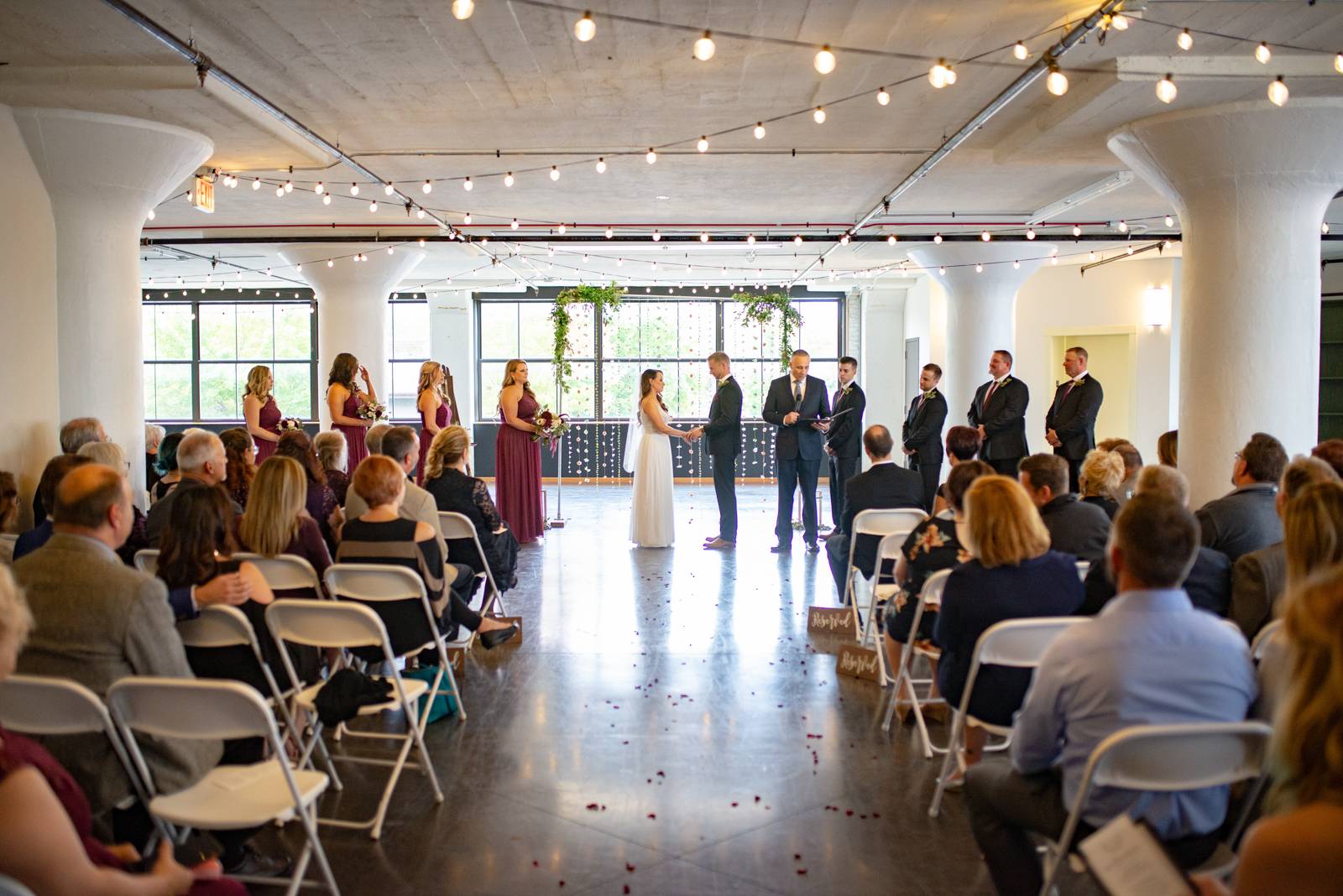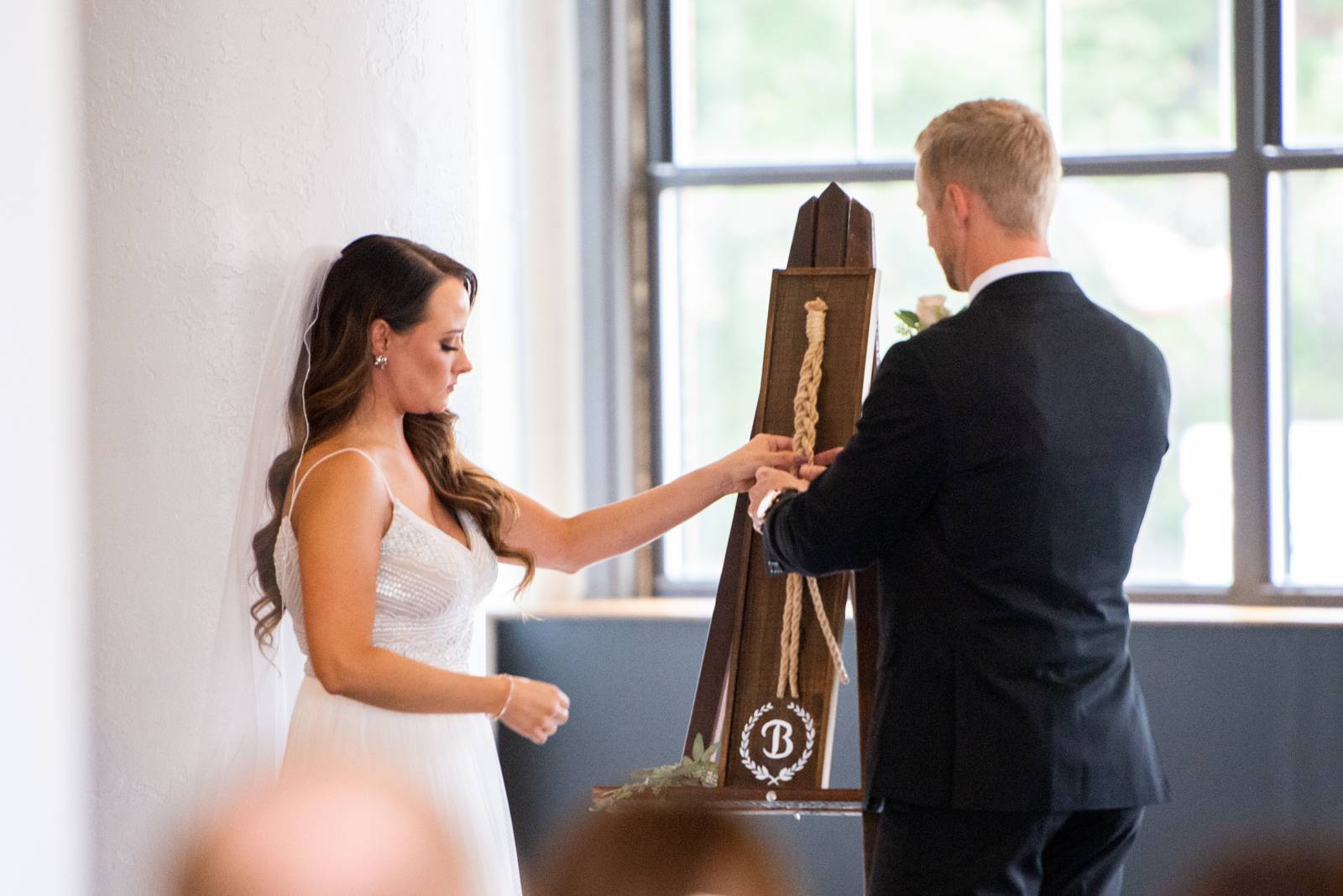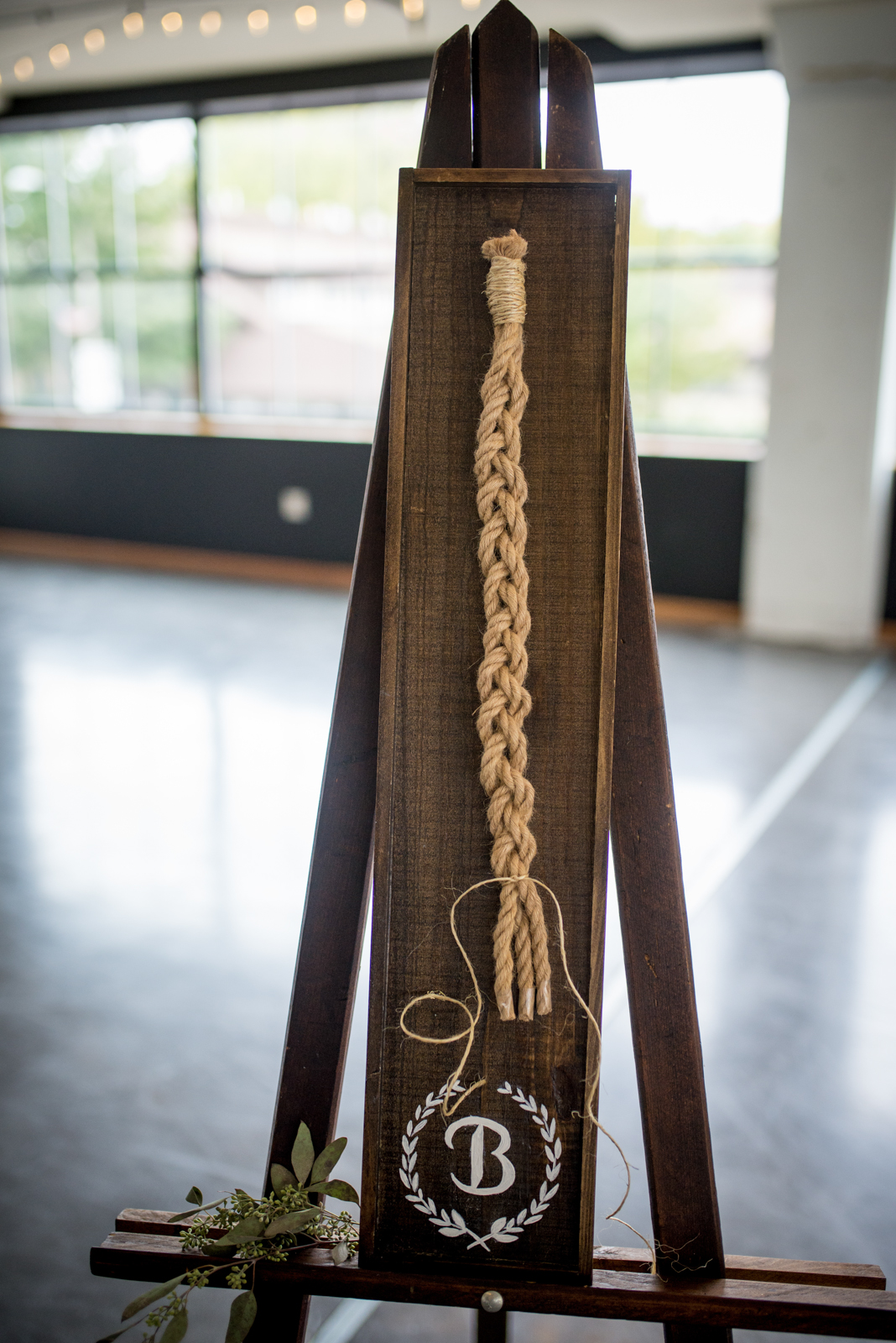 WERE THERE ANY PERSONAL TOUCHES OR DIY ELEMENTS? Our most present DIY element was our flowers. We placed an order with a company called Fifty Flowers after speaking with one of their very helpful specialists. After a phone conference, they helped us construct our floral plan for the centerpieces as well as all the bouquets, boutonnieres, and corsages. Though the idea of boxes upon boxes seemed very alarming, with the help of family and friends, it was manageable. A big help came from a family friend who actually constructed all of the flower accessories.

Another DIY element we incorporated into our wedding day was our cutting cake. Adam's absolute favorite cake is funfetti, knowing that, I reached out to a friend of the couple and asked her to make "secret" funfetti cutting cake. When the time came, and the two of us cut into the cake, Adam was blown away and couldn't wipe the smile off of his face. Which was just what I was hoping would happen.

I saw many different options of lighted marquee letters while visiting bridal shows and loved the idea. One of our friends heard us talking about this idea for décor in the venue and decided to make our day even more special. He made hand-built, from scratch "A & A" marquee letters as our wedding gift. This gift allowed us to not only use as the marquee as wedding décor but also to enjoy it for many years to come. We chose to highlight this fantastic gift on our seating chart table so it would be admired by every guest that day.

We tried to play up the lighting in our venue. Instead of going with the traditional warm white light or a color to match the palette of the wedding, we chose to use a deep blue for our uplighting on the second floor of the space. We wanted to give that area the illusion of being even more open and used the deep blue lighting to give the effect of the night sky. With the addition of marquee string lights in that same area, it created the feel of an outdoor bistro/café giving our guest a draw to that area.

Also, we were lucky enough to have some of our best friends help style us the morning of the wedding. A very good friend of the couple's styled both our hair and another did my incredible makeup.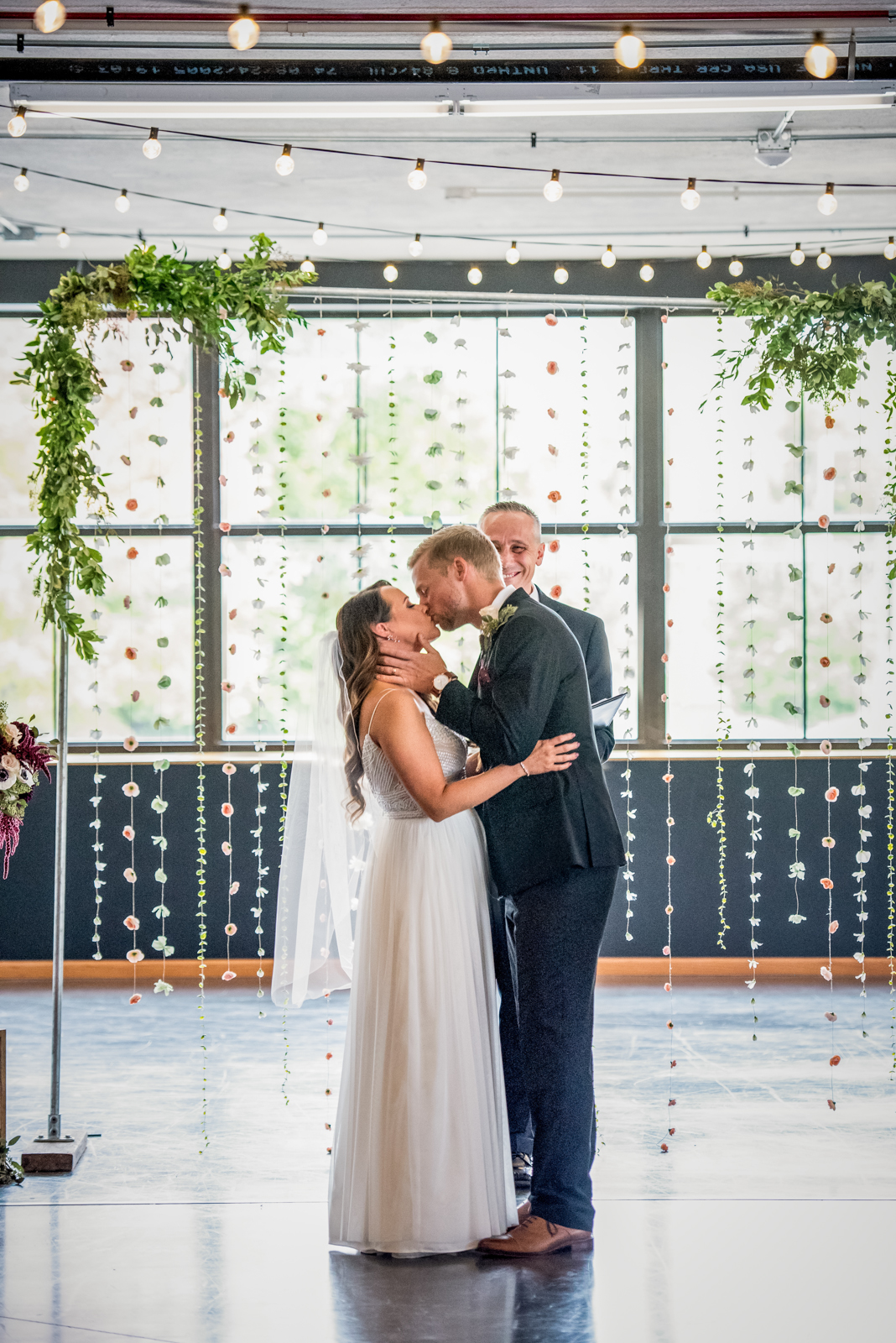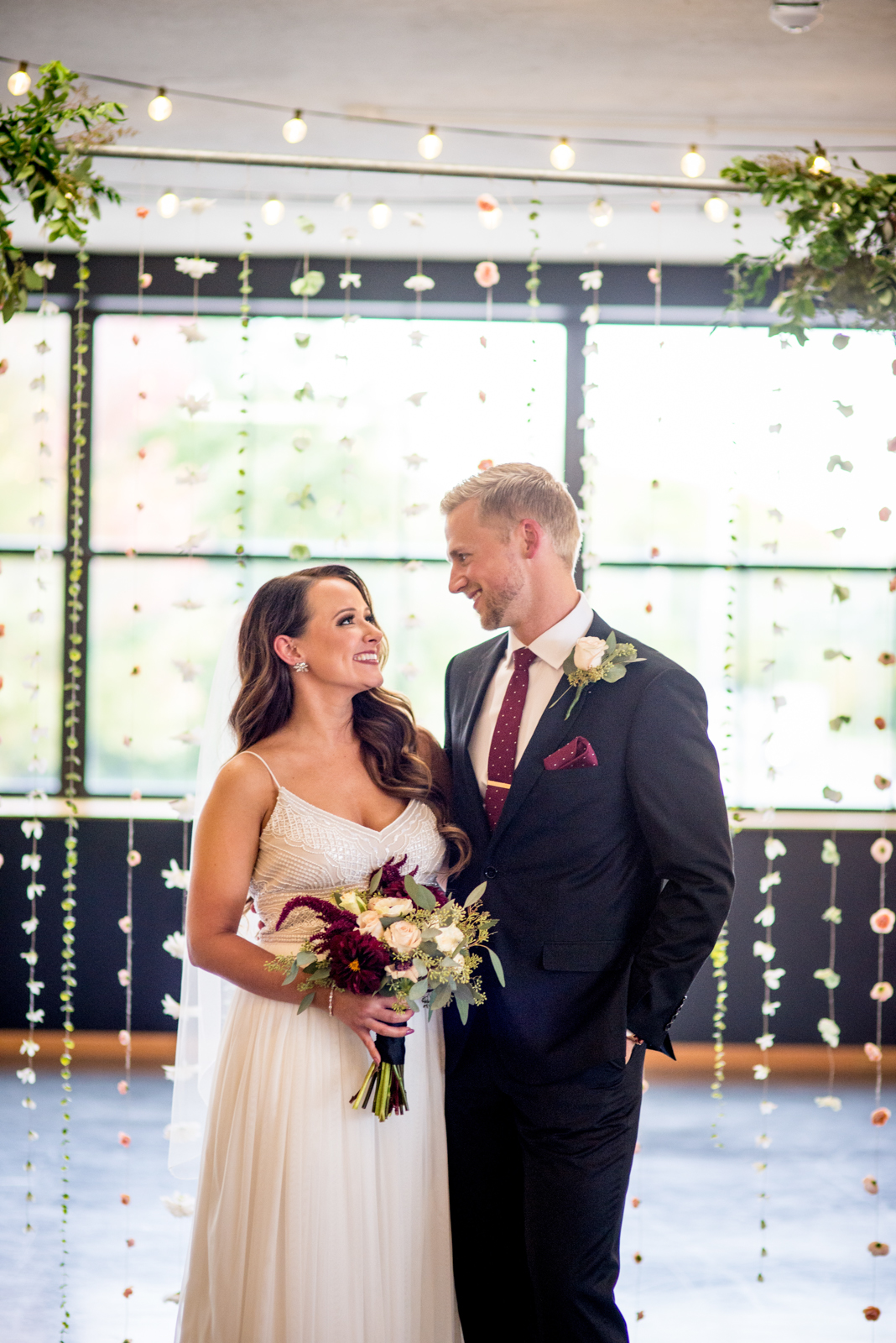 WHAT WAS YOUR WEDDING COLOR PALETTE? Wine, Cream, White, Greens, and Black

DESCRIBE YOUR WEDDING FLOWERS: Aiming for an industrial vibe with the flowers, to match the feel of our venue, we mixed classic white and quicksand colors along with rich, bold, color schemes. Some of the flowers we chose to create this look were berry Dahlias with soft hints Quick Sand Cream Roses and White Cloud Spray Garden Roses. In order to create depth and texture, we incorporated greenery such as Silver Dollar and Seeded Eucalyptus along with Hanging Amaranthus.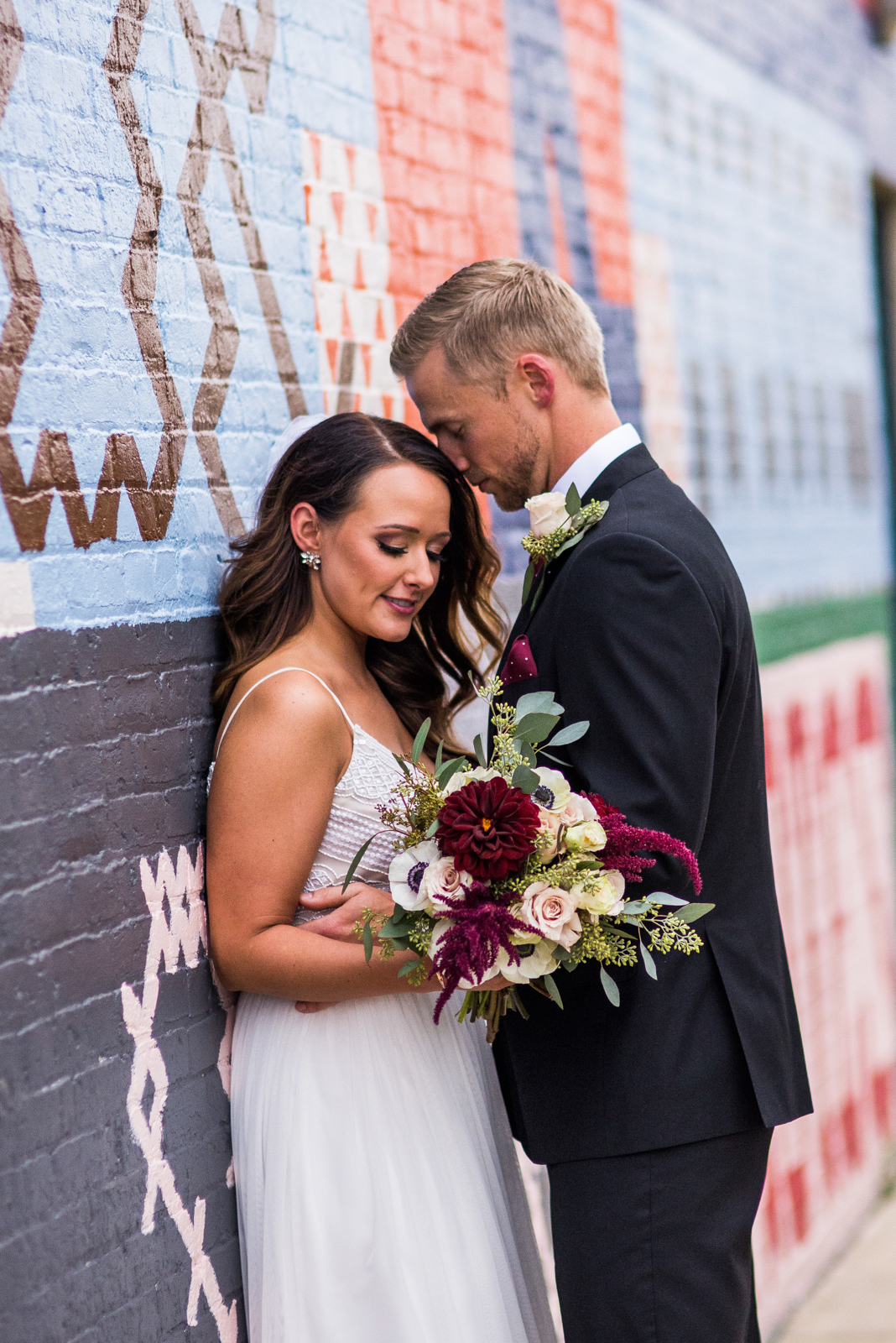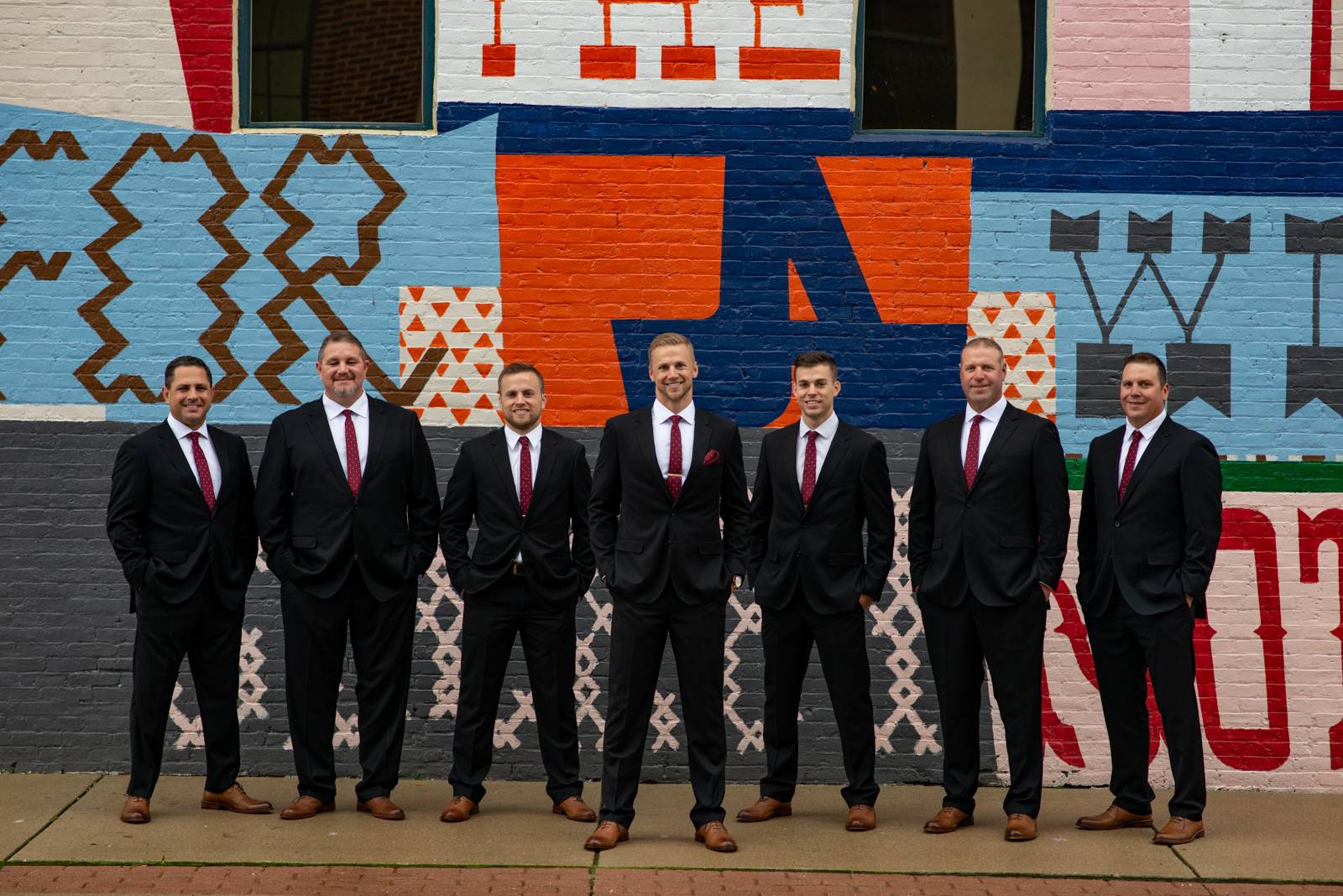 WHAT WAS YOUR INSPIRATION/DESIGN CONCEPT FOR YOUR OVERALL CEREMONY AND RECEPTION DECOR? Adam and I didn't want to add too many details that would take away from our venue. We wanted to embrace its openness and modern but industrial vibe. By adding pops of color that were deep or muted, it gave the space a sense of comfort and warmth for people to feel connected. By using floral and different types of lighting as our main focus for the décor, and accenting with personalized touches scattered throughout, we think we were able to illustrate not only the beauty and history of the venue but also have our relationship and the love we have for each other present.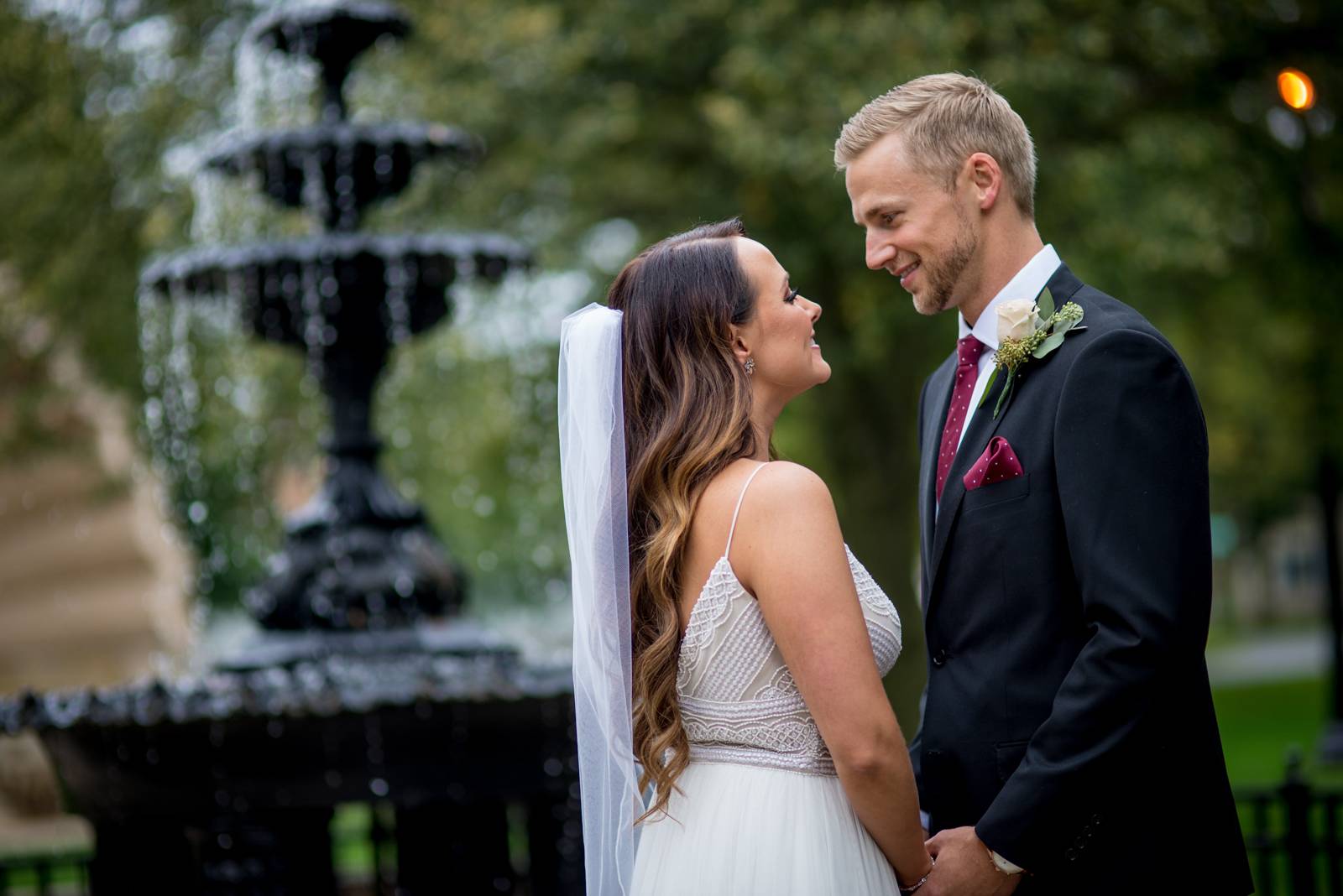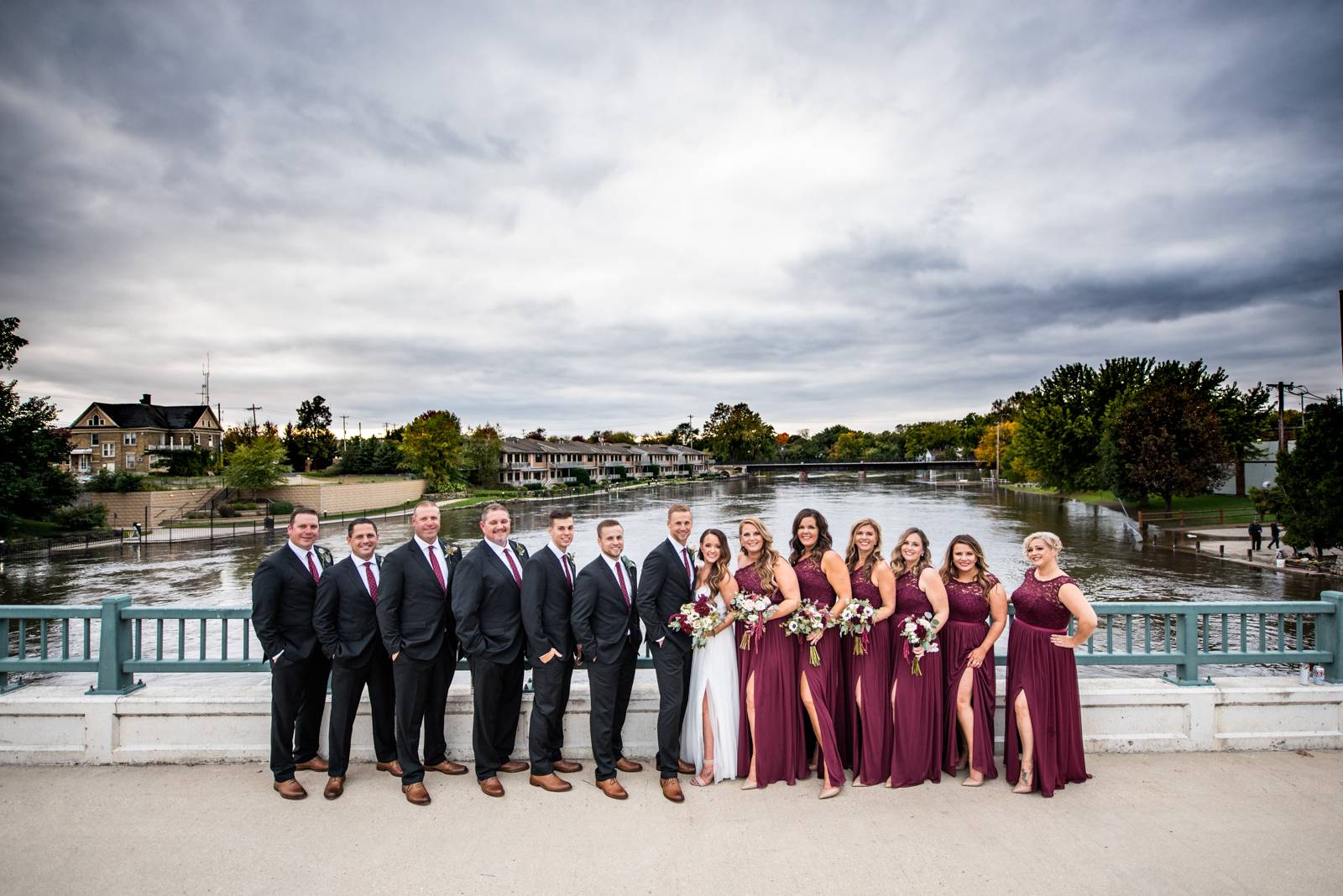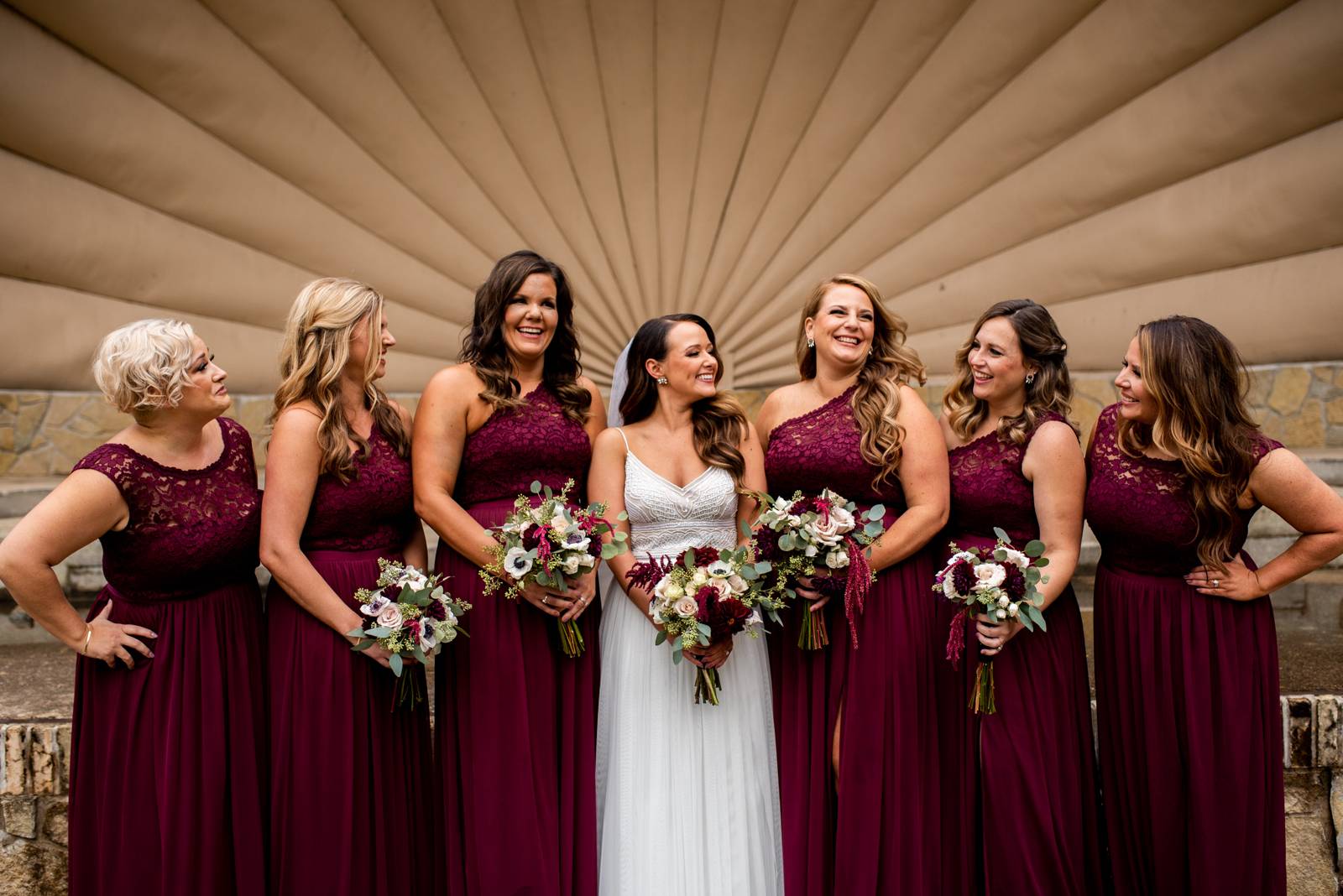 TELL US ABOUT THE FOOD, DESSERT, AND ANY SPECIALTY BEVERAGES ON THE MENU: The food was catered by Best Events Catering out of Janesville and they did a superb job. Dinner was waited service and consisted of options for beef tips with noodles and vegetables, herb chicken with mashed potato and roasted carrots, or vegetable ravioli.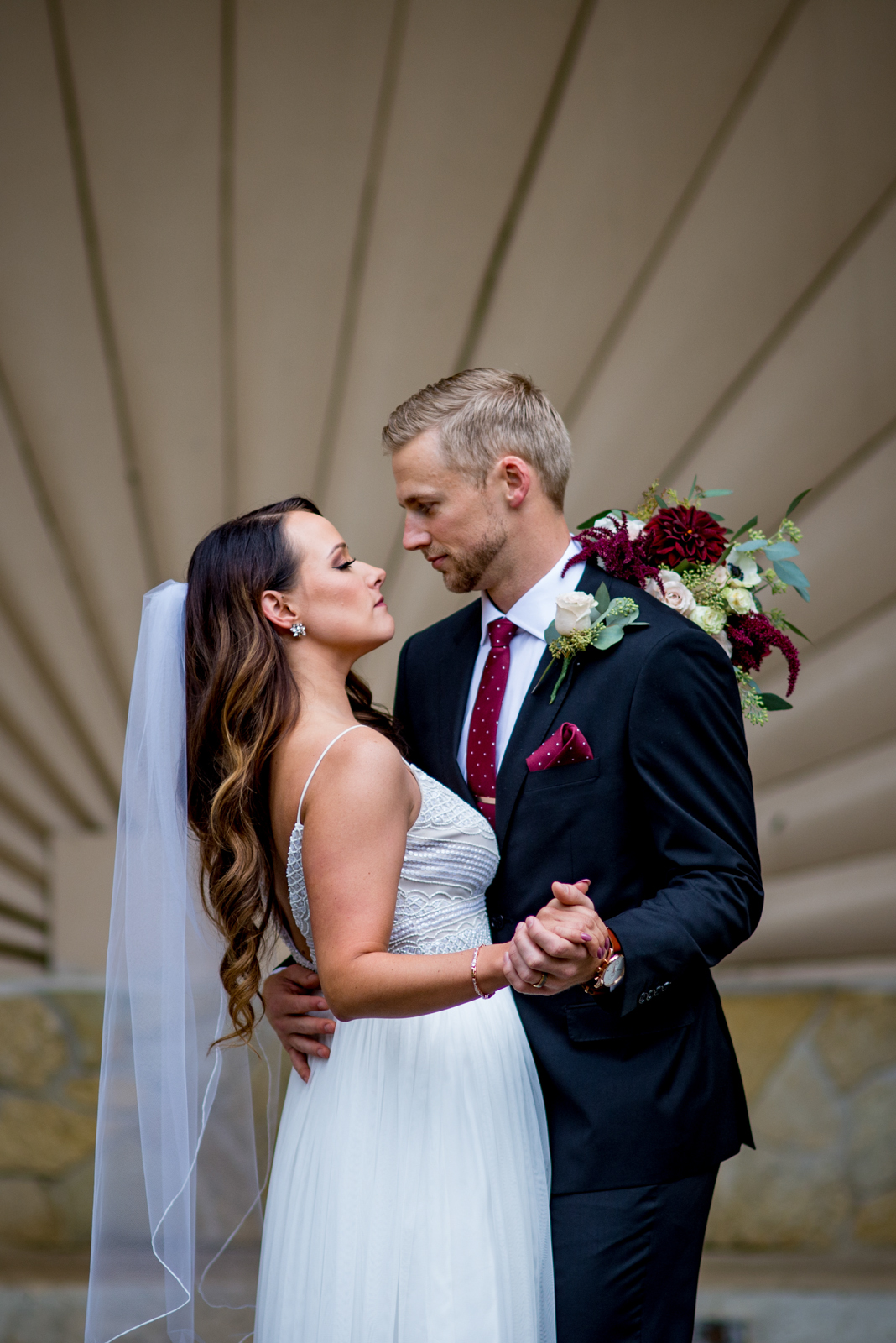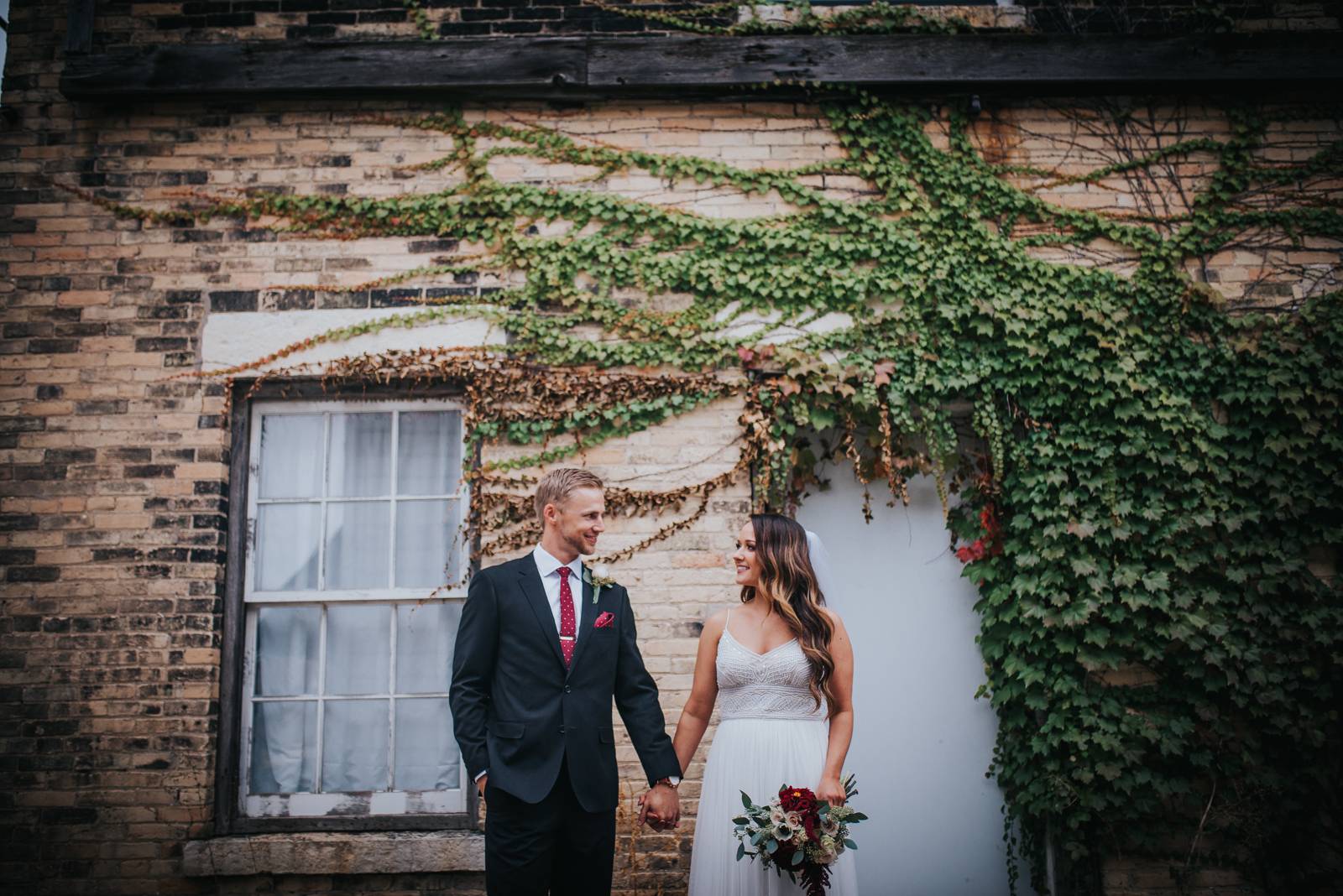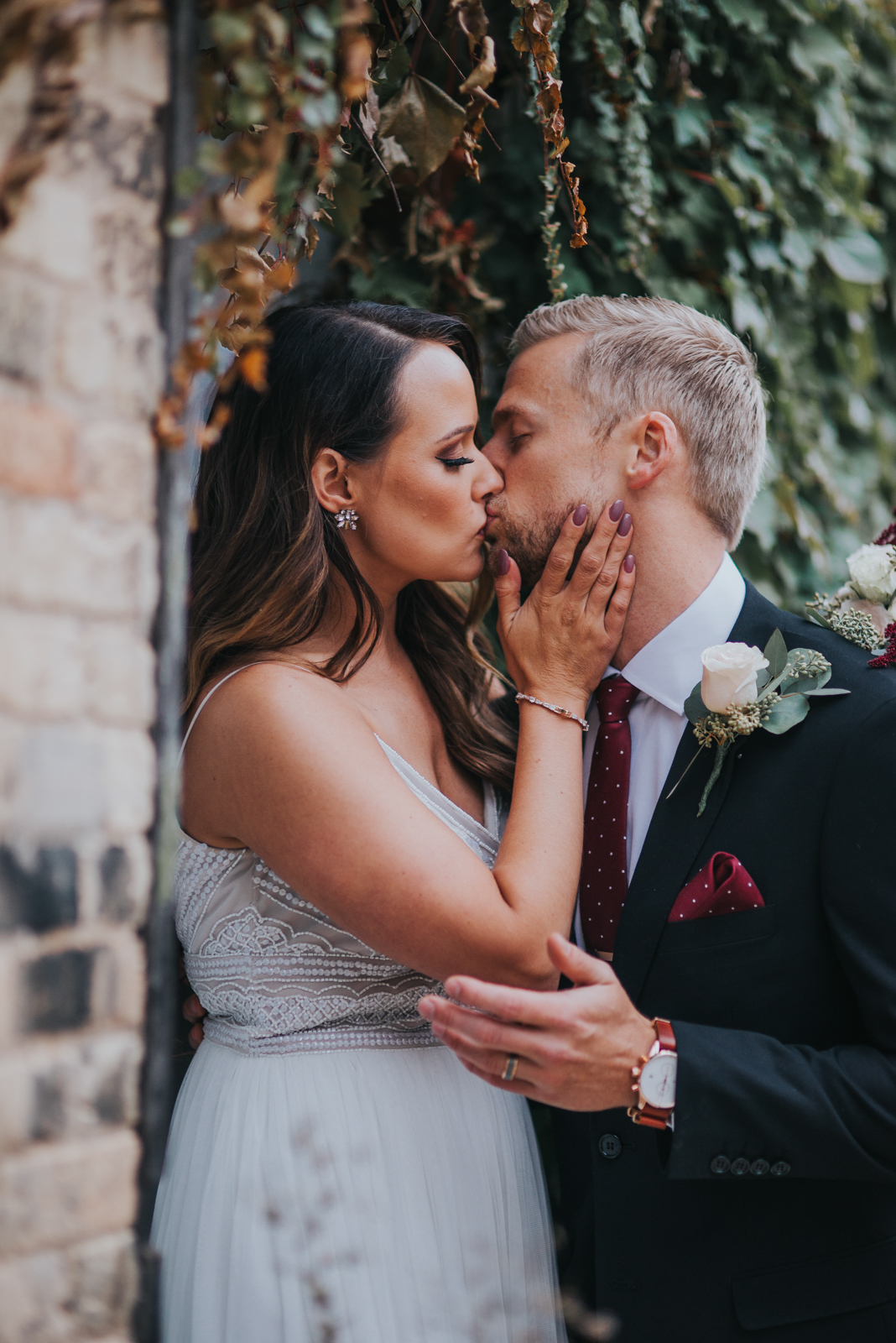 WHAT WAS YOUR FAVORITE MOMENT FROM YOUR WEDDING? That's a difficult question to narrow down. My favorite part of the wedding was our first dance to Dan + Shay's song "Speechless." By this time, all of the formal/scheduled aspects of the wedding were done, and it was finally just time to be together and 100% be able to focus on each other.

Adam's favorite moment was finally getting to watch the woman of his dreams turn around the corner of the entrance to the aisle and start walking towards him. For him, that was the start of the rest of his life of happiness with his wife.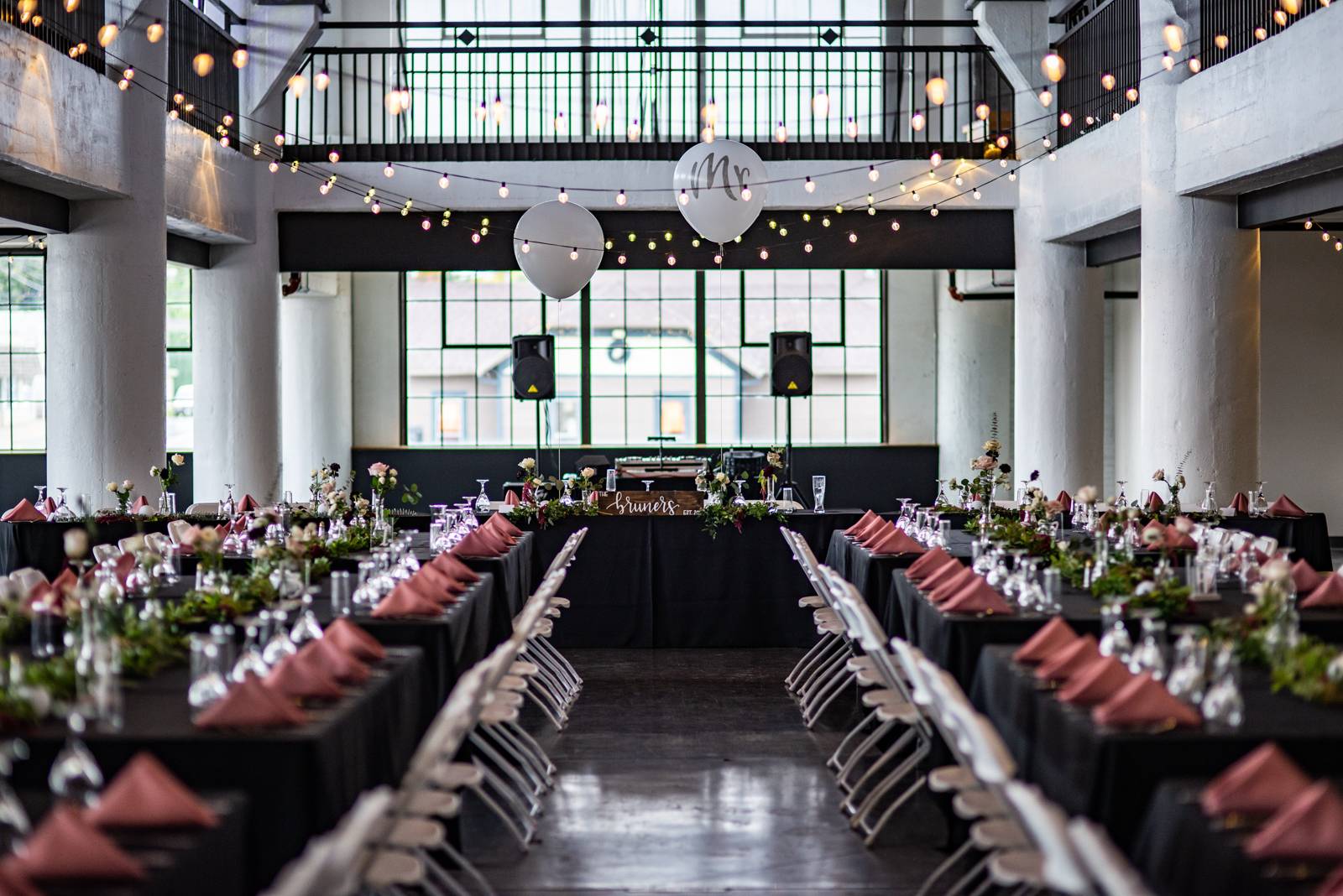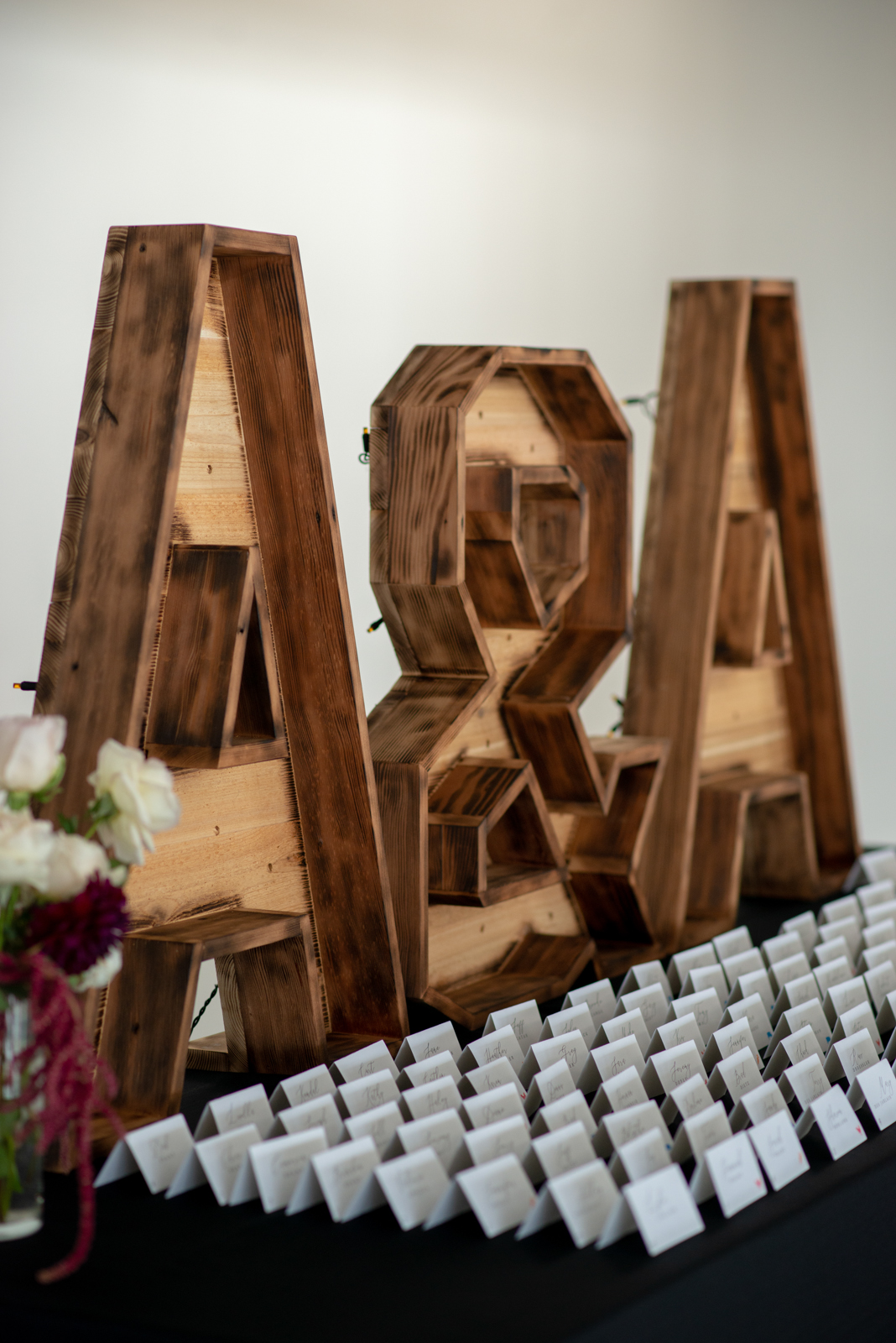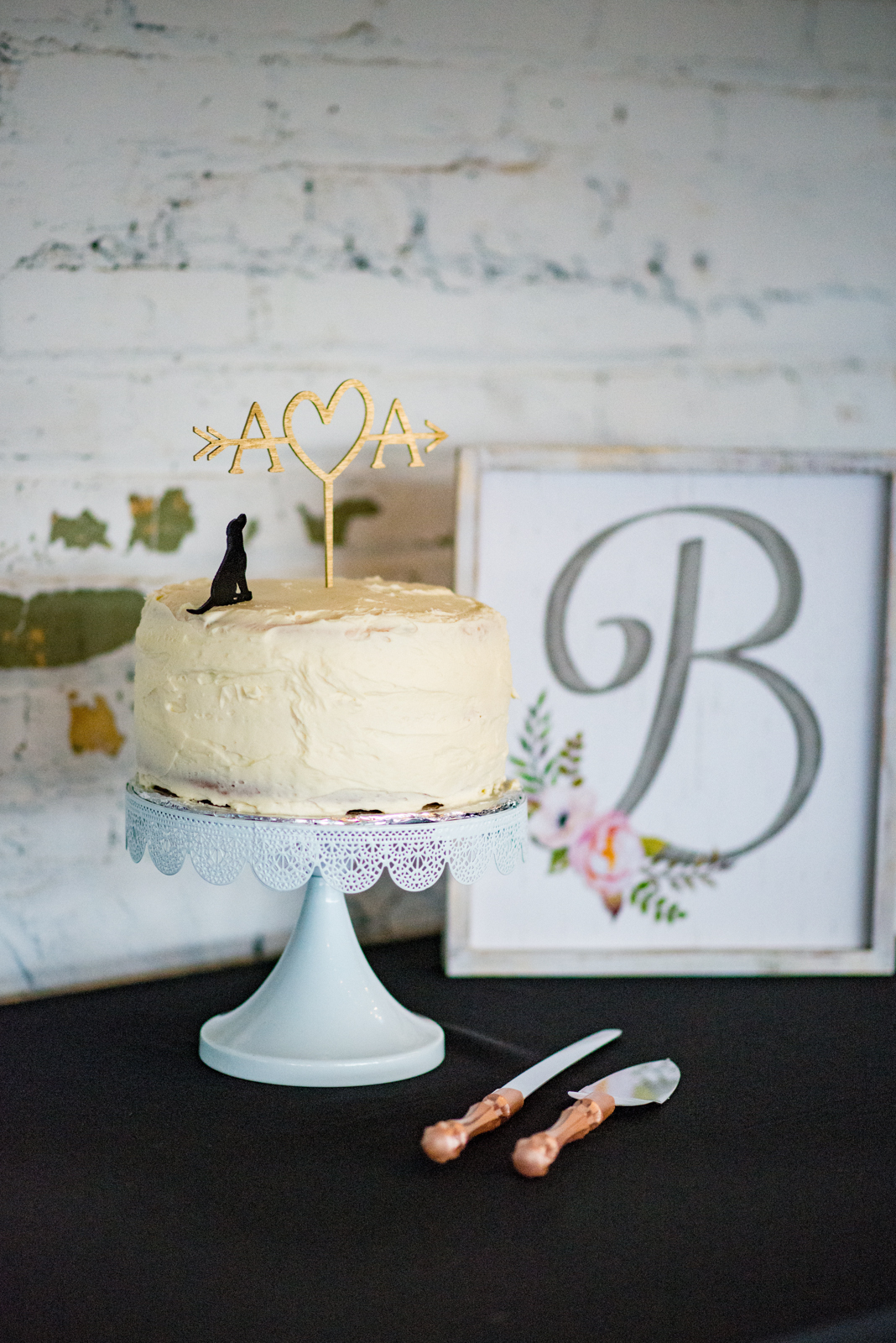 TELL US ABOUT YOUR HONEYMOON PLANS: We are going to be driving up the coast of California to spend time in wine country. Along the way, we will make stops to see all the sights and enjoy being together. We both enjoy wine and have never been to Napa, so we are excited to immerse ourselves in the experience.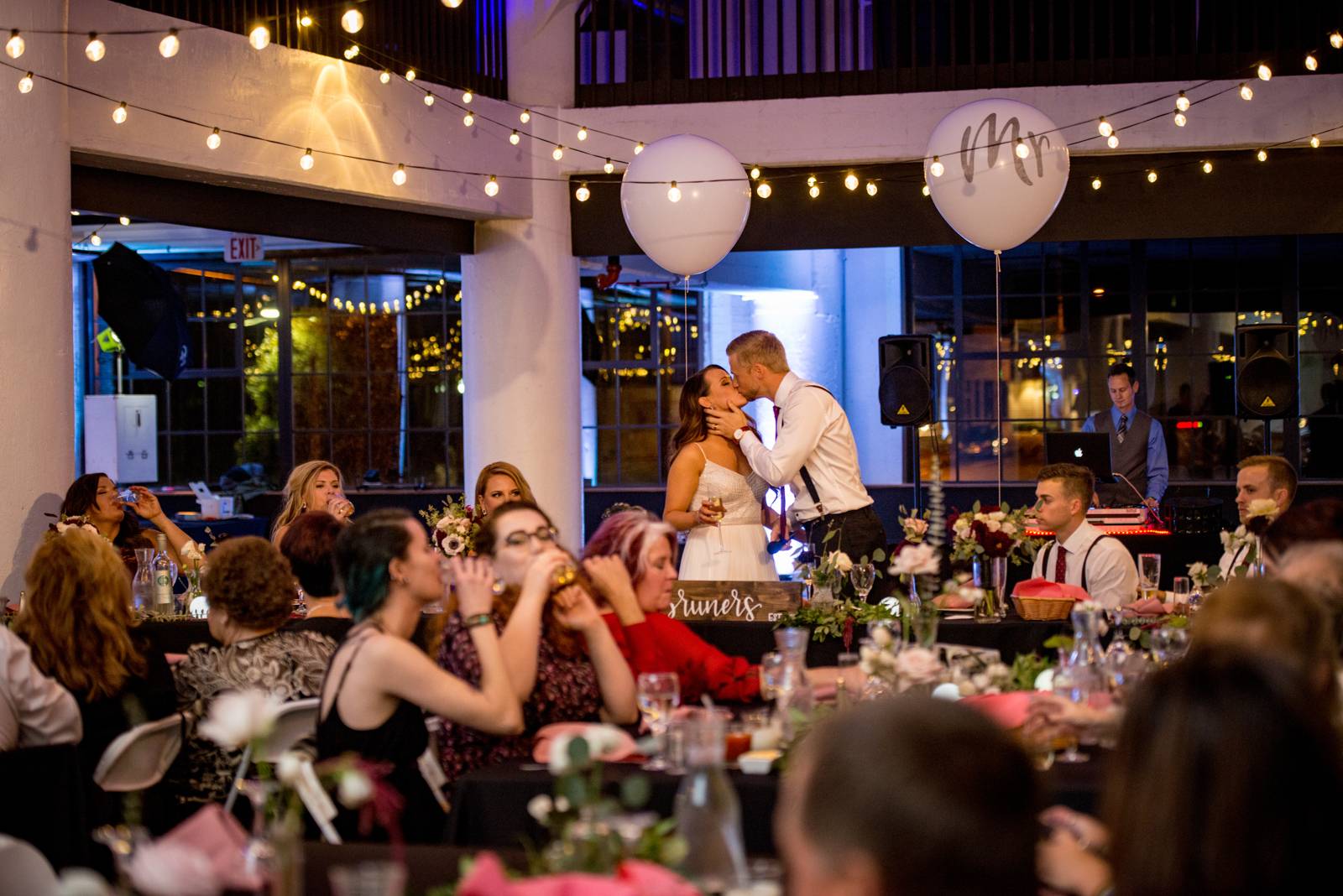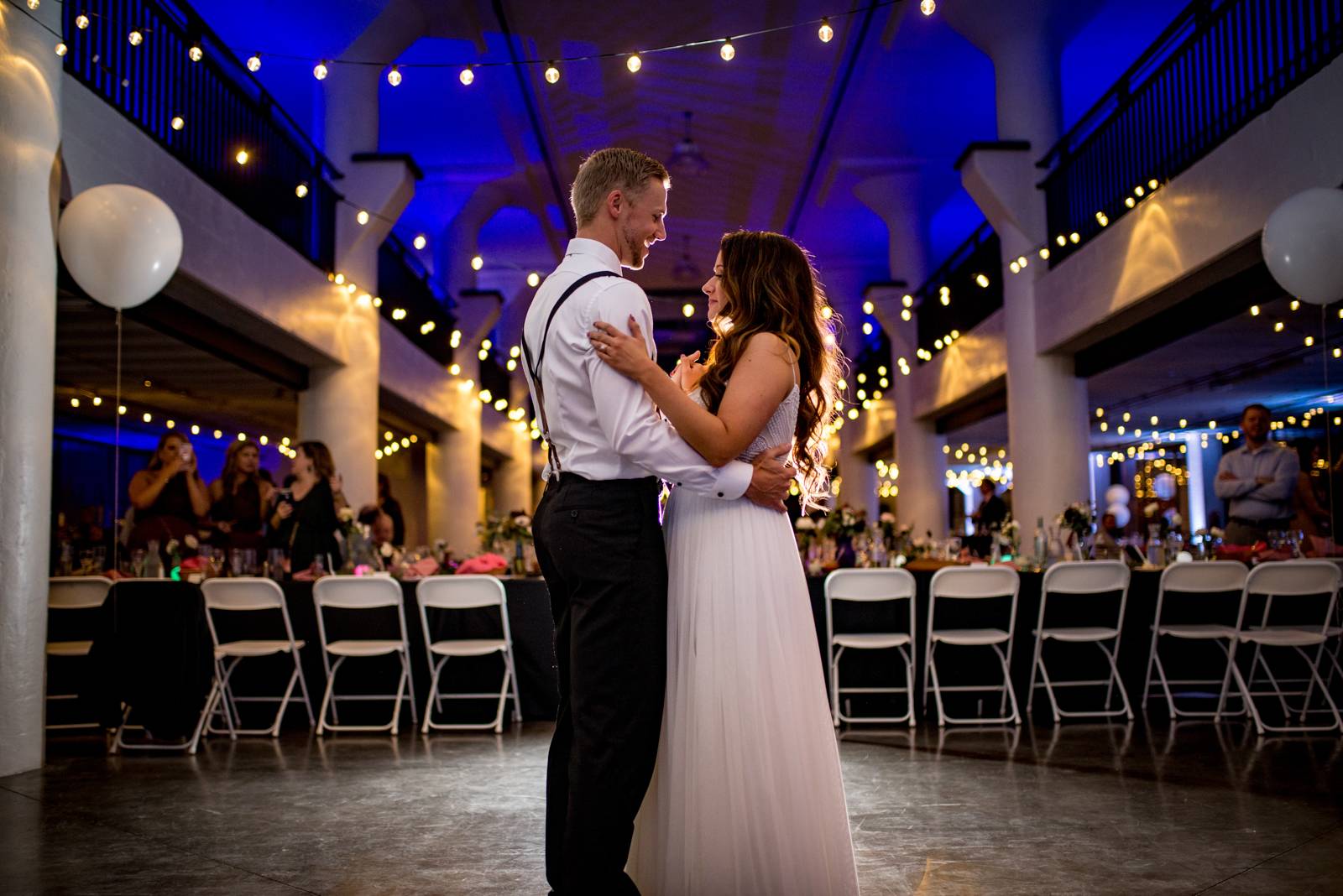 WHAT DOES LIFE LOOK LIKE AFTER THE WEDDING? Life after the wedding is like a dream. Knowing you were lucky enough to find the person who complements you in such an unreal way and makes my heart the happiest its ever been. It is an incredible thing, and I plan on spending forever, never forgetting that.
ANY WEDDING PLANNING REGRETS OR SOMETHING YOU WOULD DO DIFFERENTLY? Timing-wise we probably would have scheduled to have the ceremony begin about an hour earlier (it was scheduled for 3:30 pm). We had to adhere to a strict timeline post-ceremony, and it would have probably been a bit better to have a little more wiggle room in there.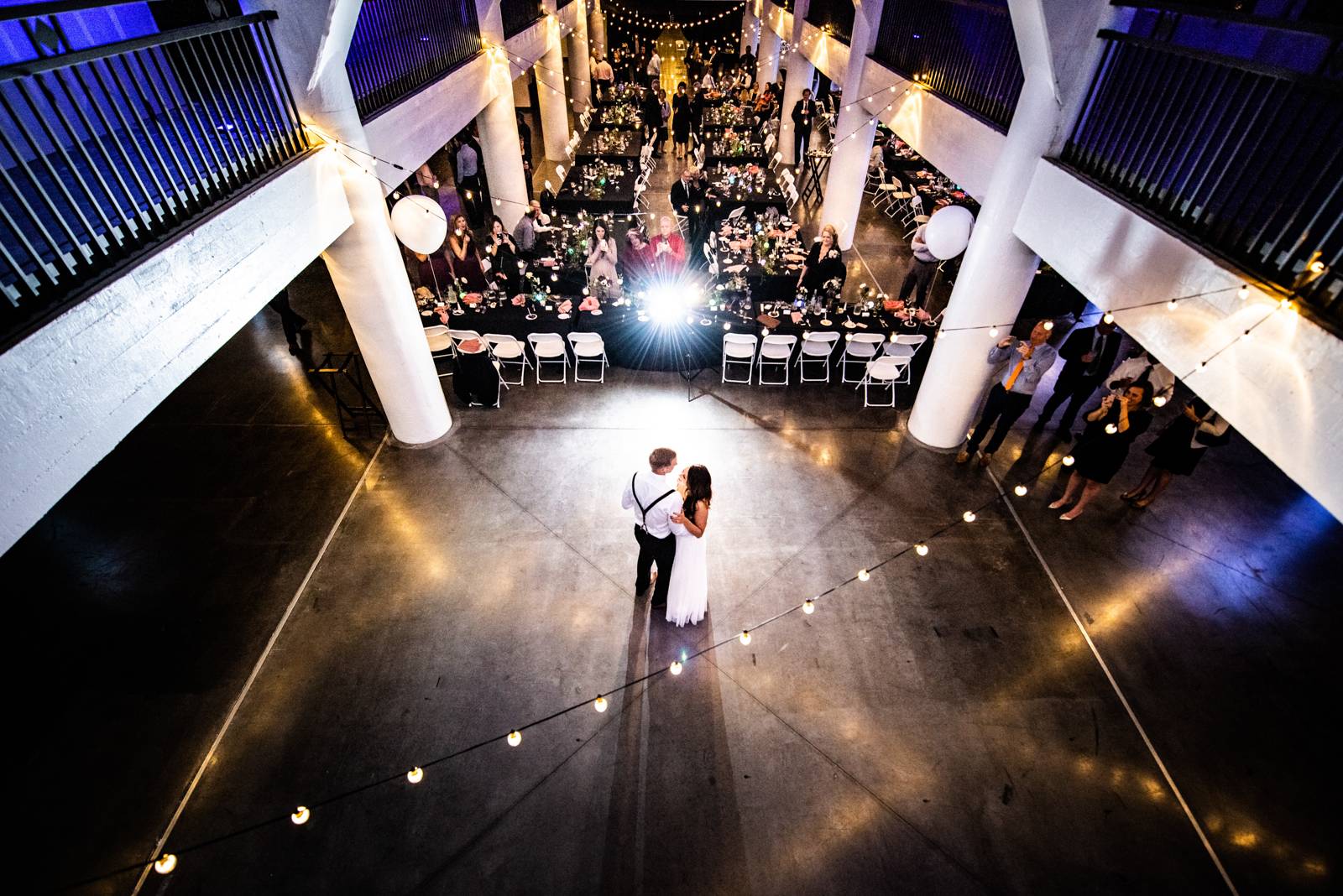 IS THERE ANY ADVICE YOU'D GIVE TO OTHER COUPLES PLANNING THEIR WEDDING? Share the responsibilities of planning the wedding both equally and together. For us, we both knew which aspects of the wedding planning each of us was good with. By sharing responsibilities and making sure we kept an open line of communication, we were able to help limit/reduce any unwanted stress or surprises along the way. Also, be willing to accept any help from friends and family that is offered along the way. It helps with the planning process and makes the wedding day that much more special when you realize how important those individuals are in your life.