While it entailed many twists and turns, Leah and Kyle's wedding day on August, 15th 2020, was beautiful, timeless, memorable, and perfect in every way. This incredible couple planned the day of their dreams in the Wisconsin Dells, with the help of many of our talented local vendors at their side! Featuring Trappers Turn Golf Course, Premiere Couture, Neira Event Group, Craig's Cake Shop, LK Bridal Studio, and Event Essentials, scroll to soak in every detail of Leah + Kyle's gorgeous day!
WEDDING DATE: 08/15/2020
HOW DID YOU MEET? We met in college at UW-Stout in two different ways. In undergrad, we met as friends as we were both on the Cross Country and Track teams. Our spark didn't happen until we independently decided to attend grad school at UW-Stout, and both had a final year of eligibility to compete in Cross Country and Track. We bonded, and the rest is history!
HOW DID YOU KNOW YOU HAD FOUND "THE ONE"?
Kyle: Leah and I went on a day trip one summer in grad school to Lake Pepin, a place I visited a lot as a kid. It was a personal space for me, and we had a beautiful day. At the end of the day, she walked out in front of me on the pier. I knew at that moment she was the right one for me.
Leah: I can't remember the exact moment, but I remember thinking during one of our midnight study sessions at the UW-Stout library, "I'm falling for this guy." So, needless to say, I continued to ask him to keep up on his studies and study nightly with me.
TELL US ABOUT YOUR PROPOSAL:
Kyle: We talked before the proposal about getting married, but I still wanted the proposal to be a surprise. With a little help from Leah's mum, I kept it under wraps and took her on a trip to Door County to her favorite beach, School House beach on Washington Island. I pointed off in the distance like I wanted her to pose for a photo, and when she turned around, I was on one knee with a ring we picked out together. I knew she was surprised because she got down on the ground with me to say yes!
Leah: Kyle proposed in the perfect way - secluded and just the two of us, so we could celebrate together! That morning I got an odd, enthusiastic text from my sister, who knew, saying, "have a great day!" We took our bikes out to Washington Island, and as far as I knew, we were just off on another adventure.
DESCRIBE YOUR WEDDING ATTIRE: Our attire was formal, and the color palette matched the vibe of a late summer evening. I wanted my bridesmaids to all have a different color and my sister's dress to emphasize she was the Maid of Honor. Kyle wanted all navy tuxedos, and his was custom-made! For me, I thought I knew what I wanted in a wedding dress, but it completely changed once I started trying some on. I had in my mind I wanted just a simple no poof, no sparkle, no embellishment dress, but once I started trying those dresses on, it felt like dresses I already had in my closet but just white. My family helped me explore out of my comfort zone, which led to me trying on one dress that wasn't the one but heading in the right direction, and the attendant knew exactly a dress she thought I would like. She brought it over, I tried it on, and knew right away, it was it. It had just the right amount of poof, glam, and the cut and style were right on. It felt like a wedding dress.
WERE THERE ANY PERSONAL TOUCHES OR DIY ELEMENTS? There were many personal elements we included on our wedding day, for example:
We had photos of our grandparents who could not be there or who had passed.

I had a photo of my father around my bouquet since he had passed when I was little, along with a memorial flower arrangement for him.

A rehearsed wedding dance!

We got married in the church I grew up in, and that Kyle became Catholic in.

A custom welcome sign.

Local chocolate on each place setting from Roots Chocolate

Our "guest book" was old-school Wisconsin Dells postcards! People wrote on the back of the postcard and put them in a faux suitcase.

We hand-stamped every invite with wax and a stamper (we greatly underestimated how long this would take!)

As part of COVID lockdown, we started a wedding garden where we grew all our flowers for the ceremony!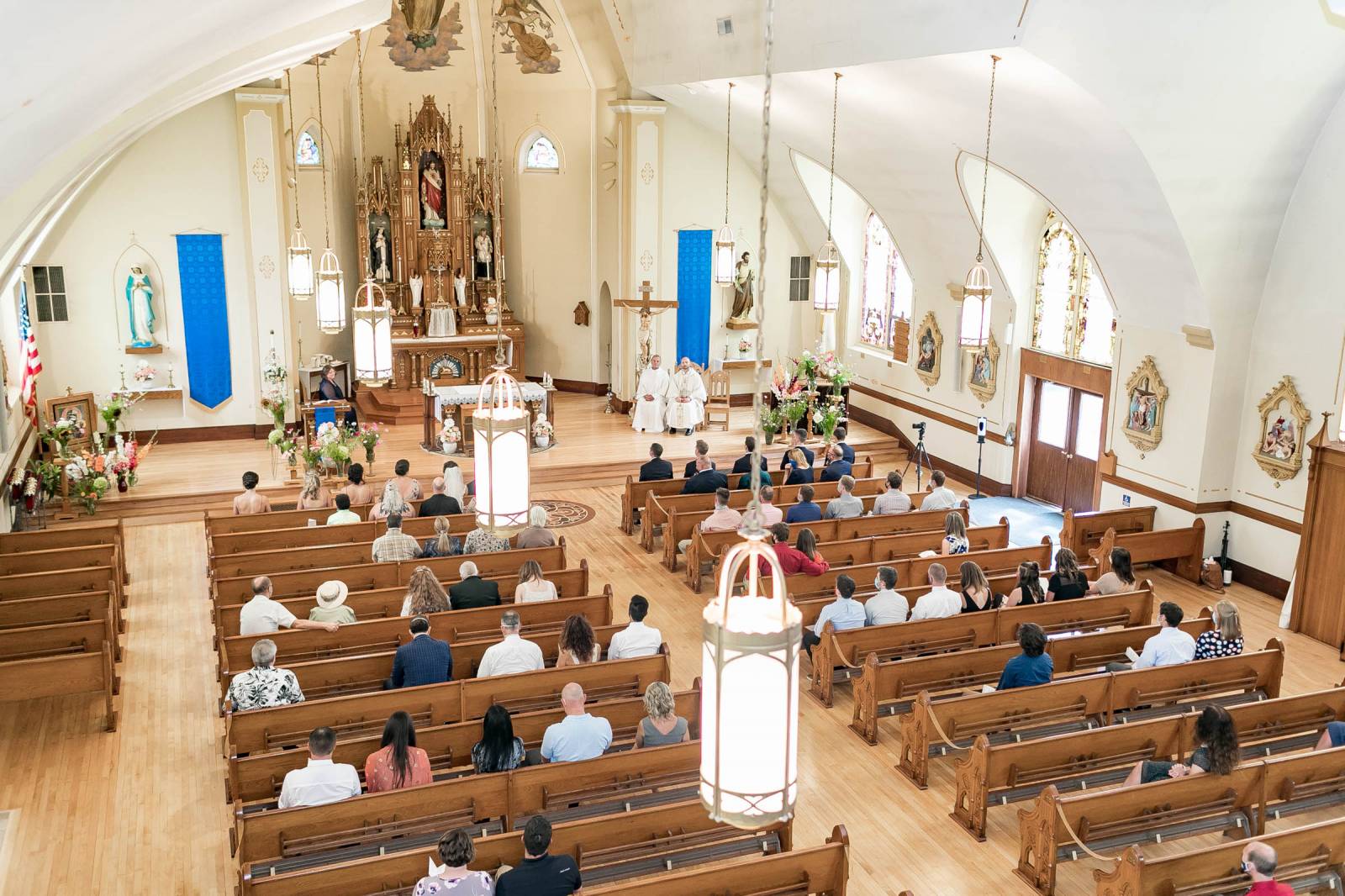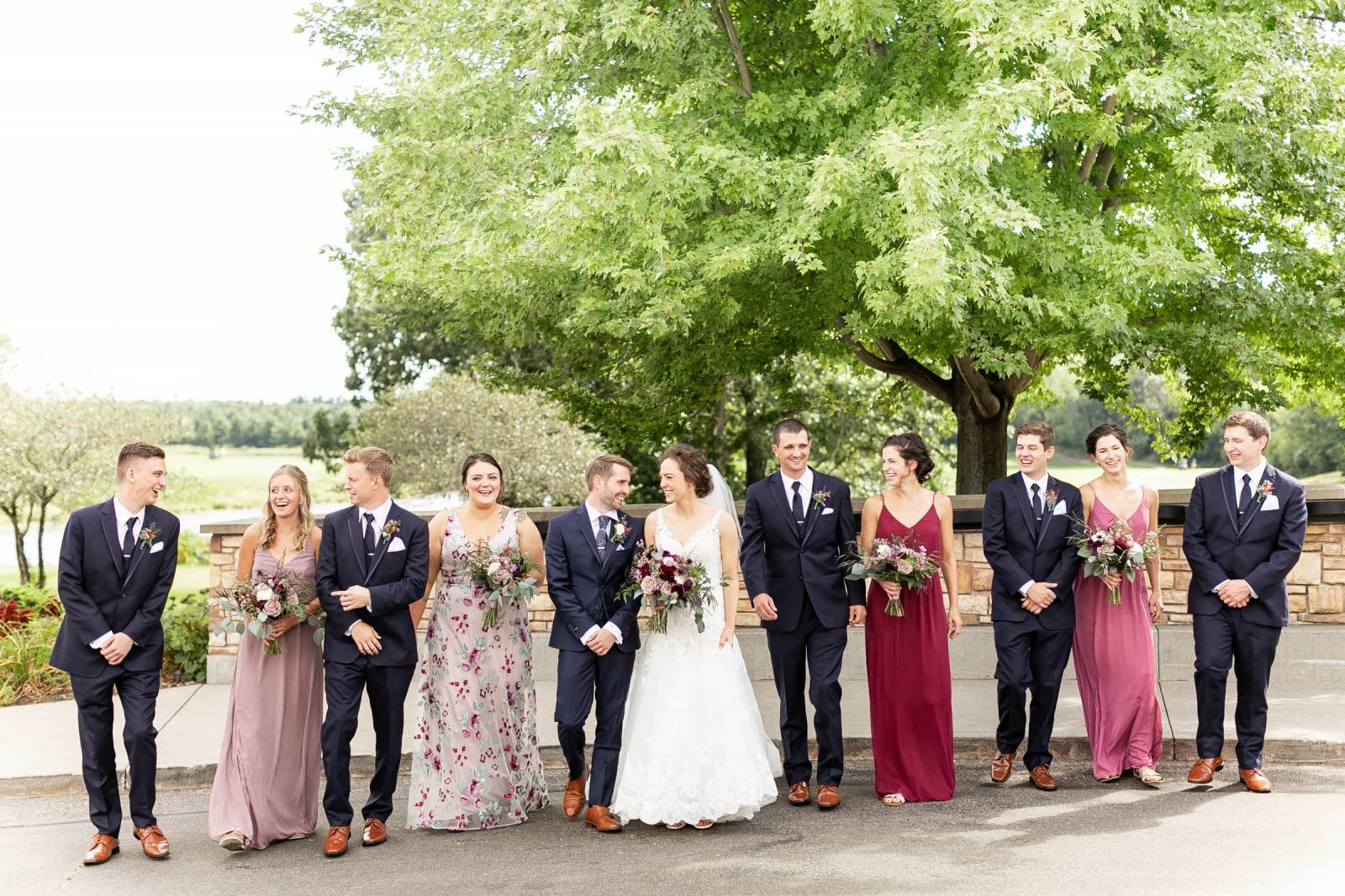 HOW WOULD YOU DESCRIBE YOUR WEDDING THEME/STYLE IN FIVE WORDS OR LESS? Old World Classic.
WHAT WAS YOUR WEDDING COLOR PALETTE? Navy, Sage, Acai/Mauve, Creamy White, Lavender, and Glitter Gold as an accent!
DESCRIBE YOUR WEDDING FLOWERS: We wanted flowers that were an expression of the season and encompassed the feeling of a warm summer night. We grew the flowers that were displayed around the church and then used professional florets for bouquets, boutonnieres, and table displays. For the centerpieces, we wanted something timeless, and big gold goblets with flowers spilling over were just the thing!
WHAT WAS YOUR INSPIRATION/DESIGN CONCEPT FOR YOUR OVERALL CEREMONY AND RECEPTION DECOR? For our reception, our inspiration was a look with simple, clean lines, colors that fit the season, and timeless décor that wasn't trendy. We put together a mood board of classic photography and art that brought out the emotion of Old-World Classic. We took images from magazines, Instagram travel photos, and décor from our favorite restaurants, and then we focused on the simple things we could do to bring that feeling to life.
Having a religious ceremony was important to us, especially since Kyle converted to Catholicism. The ceremony itself was traditional, which gave us a lot of structure, but we chose a priest who had a strong impact on our lives and selected readings and hymns that moved us. We also went very traditional to add a little flair and brought in a string quartet and a local singer who had an amazing voice. We decorated the ceremony with flowers we grew together in our wedding garden, which helped us both enjoy the anticipation and excitement of the moment!
DID YOU USE ANY SPECIALTY CHAIRS, LINENS, CHARGERS, GLASSWARE, OR DINNERWARE? We rented gold charge plates, but Trappers Turn had ornate chairs, cutlery, and flatware that fit the bill very well!
TELL US ABOUT THE FOOD, DESSERT, AND ANY SPECIALTY BEVERAGES ON THE MENU: Trappers Turn has amazing food! We kicked off our reception with a cocktail hour, and the appetizers were deviled eggs and mini charcuterie plates. We live right up the street from Vintage Brewing in Sauk Prairie, so for libations, it was important to us to have our favorite beer of theirs, Keylime Wit. In addition to beer, we offered two cocktail choices: the alcoholic version was a Gin fizz which is Gin shaken with fresh lemon juice and sugar, topped with club soda. We also thought it important to have a non-alcoholic cocktail, which was the Pink Bubbly for us which is half-and-half ginger ale and club soda with a splash of grenadine!
We kept the main course menu "simple" with two options. The first option included a pan-seared airline chicken with wilted spinach, crisp prosciutto ham, roasted brussels sprouts, parsnip puree, and rosemary roasted fingerling potatoes. The second option included pan-seared salmon with carrot puree, roasted apple, green onion, and rosemary roasted fingerling potatoes.
We overkilled dessert, which was totally worth it! The dinner menu included a dessert option: the flowerless chocolate torte for us! We seriously cannot stress enough how amazing Trapper's Turn's food was, but it wouldn't be a classic wedding without a three-tiered cake. Our cake consisted of a layer of lemon poppy seed on top of vanilla bean topped with pumpkin (never too early for pumpkin). Our flower garden inspired our cake design, and Craig's used a painted-on buttercream to create an elegant floral pattern. Then as a party favor, we provided our guests with an individually wrapped truffle from Roots Chocolate, an internationally recognized, local chocolatier out of Wisconsin Dells.
WHAT WAS YOUR FAVORITE MOMENT FROM YOUR WEDDING?
Leah: Oh, walking down the aisle for sure! It was like all this planning and chaos was leading up to this moment. I don't like attention on me, but it was the one moment I could truly embrace as my own. And with the beautiful quartet and singing, my mom walking me down, and my husband-to-be right there, nothing was beating that feeling.
Kyle: It's a combination for me. Our first look, I broke into an ugly cry when I saw her. Then I composed myself during the ceremony, but couldn't help but get choked up when I saw her come down the aisle. The final moment, when we finished the ceremony, I nearly sprinted out of the church with her. I was so happy!
TELL US ABOUT YOUR HONEYMOON: Our honeymoon was altered due to COVID-19, but we enjoyed a week-long of hiking, sailing, and exploring up in Bayfield, WI. It was our first time experiencing a bed and breakfast, and we had a fantastic time at the Old Rittenhouse Inn. We took all our wedding gifts and cards up with us and read and opened all our gifts in the room with a whitefish sandwich!
WHAT DOES LIFE LOOK LIKE AFTER THE WEDDING? Amazing! We recently bought a house, and we love playing in the dirt. We've also kept up our dance lessons from our wedding; it's a fun activity we continue to do together. Leah's mom also replanted leftover seeds from our wedding garden, and they're flourishing right now.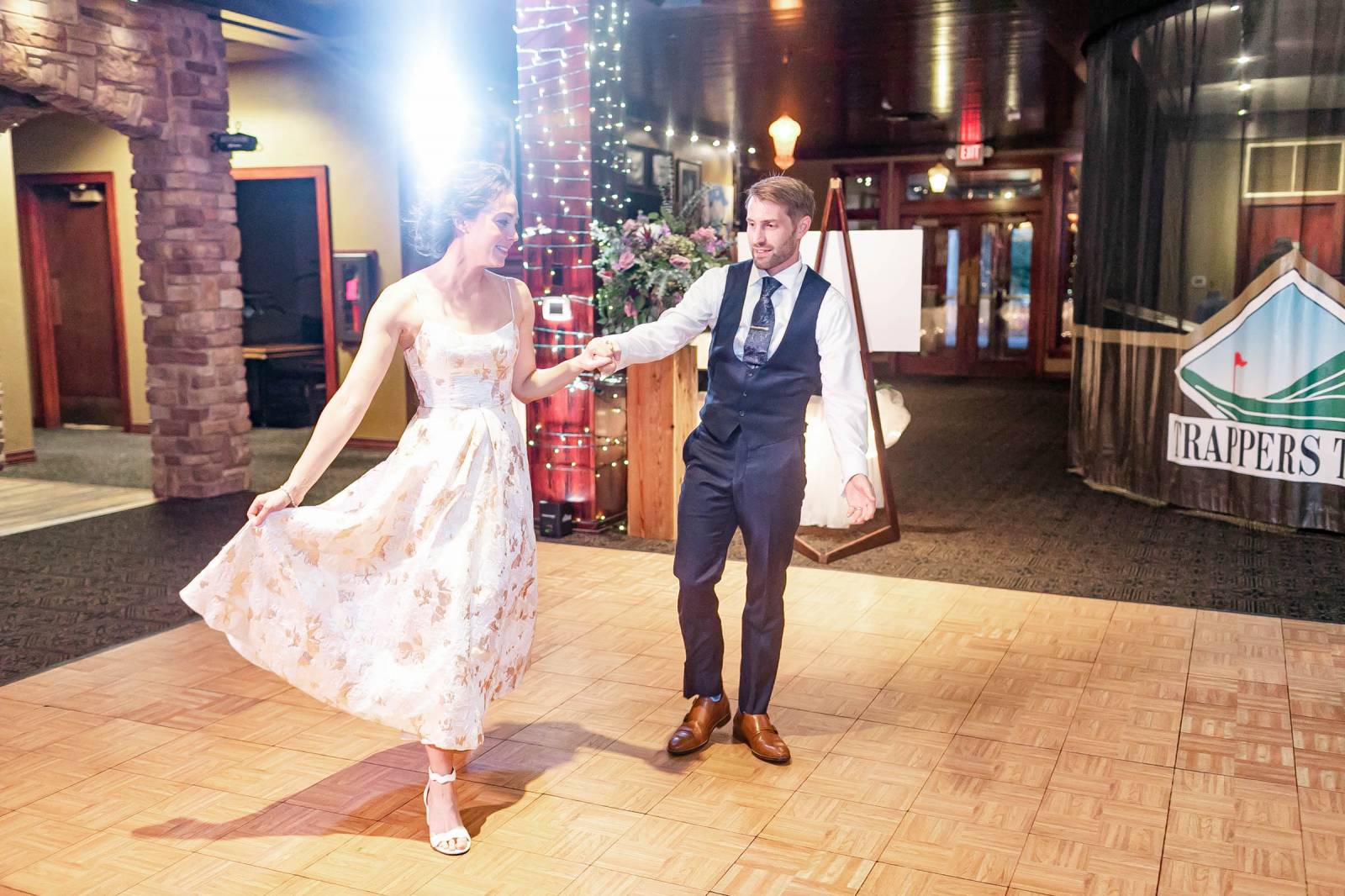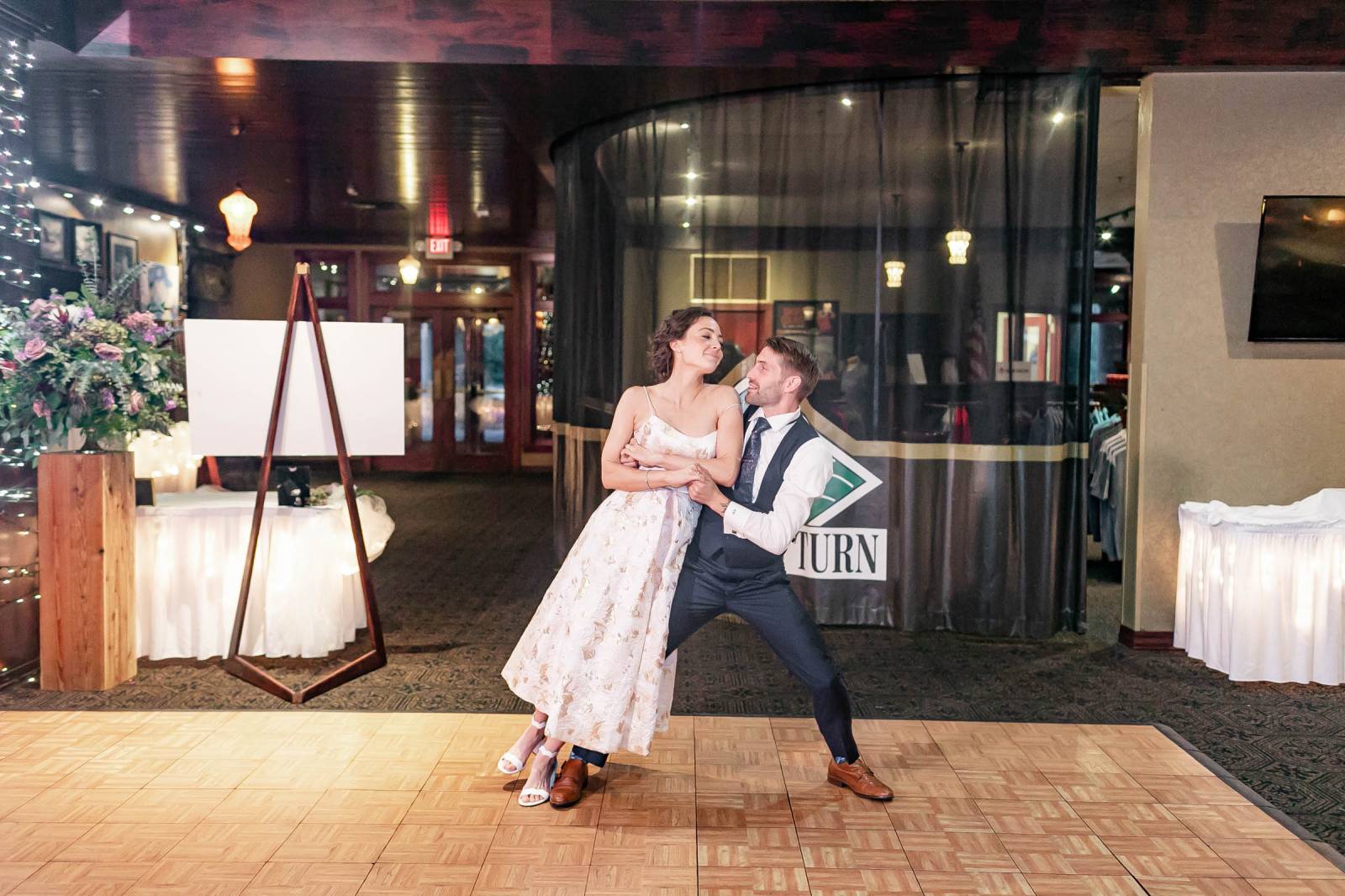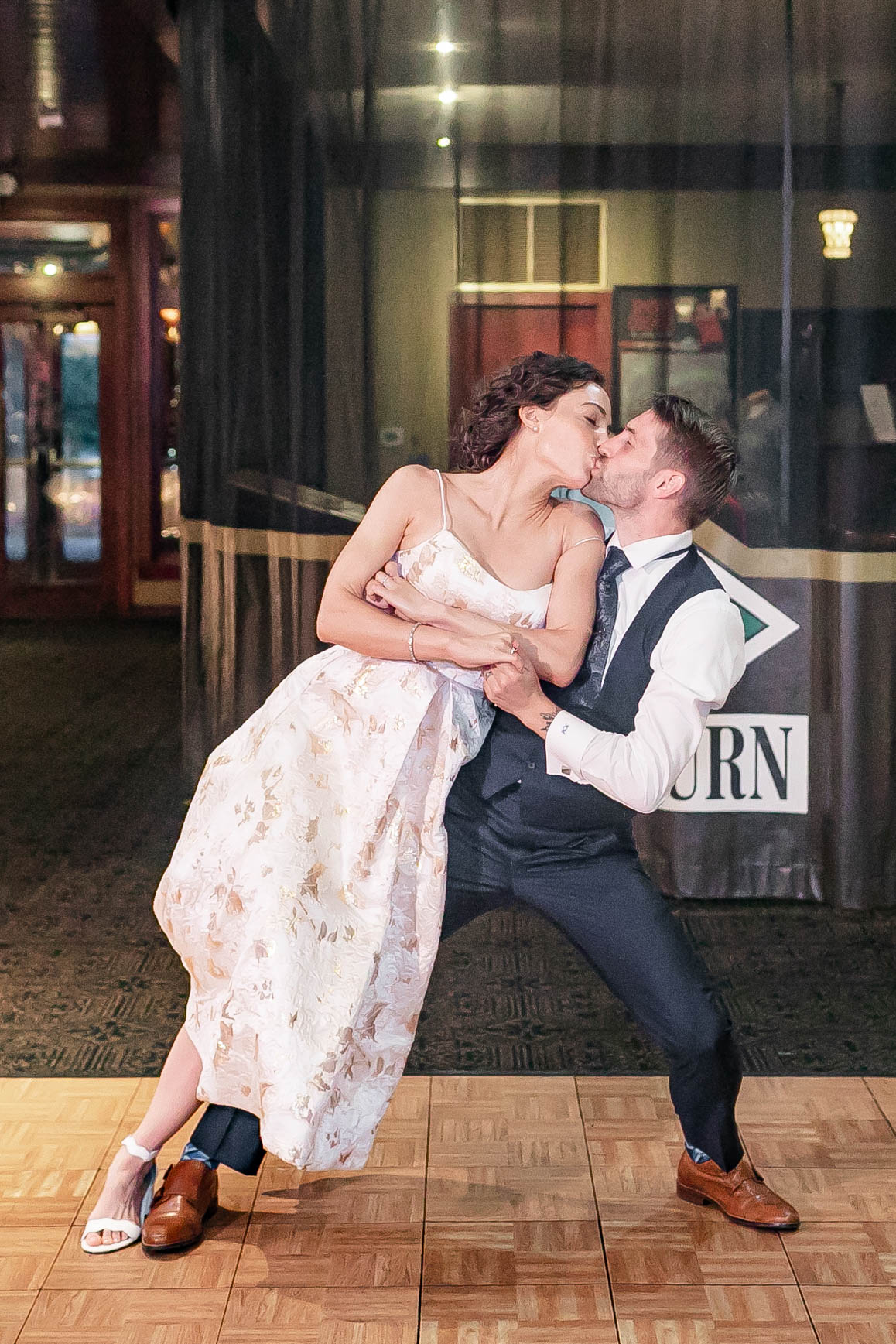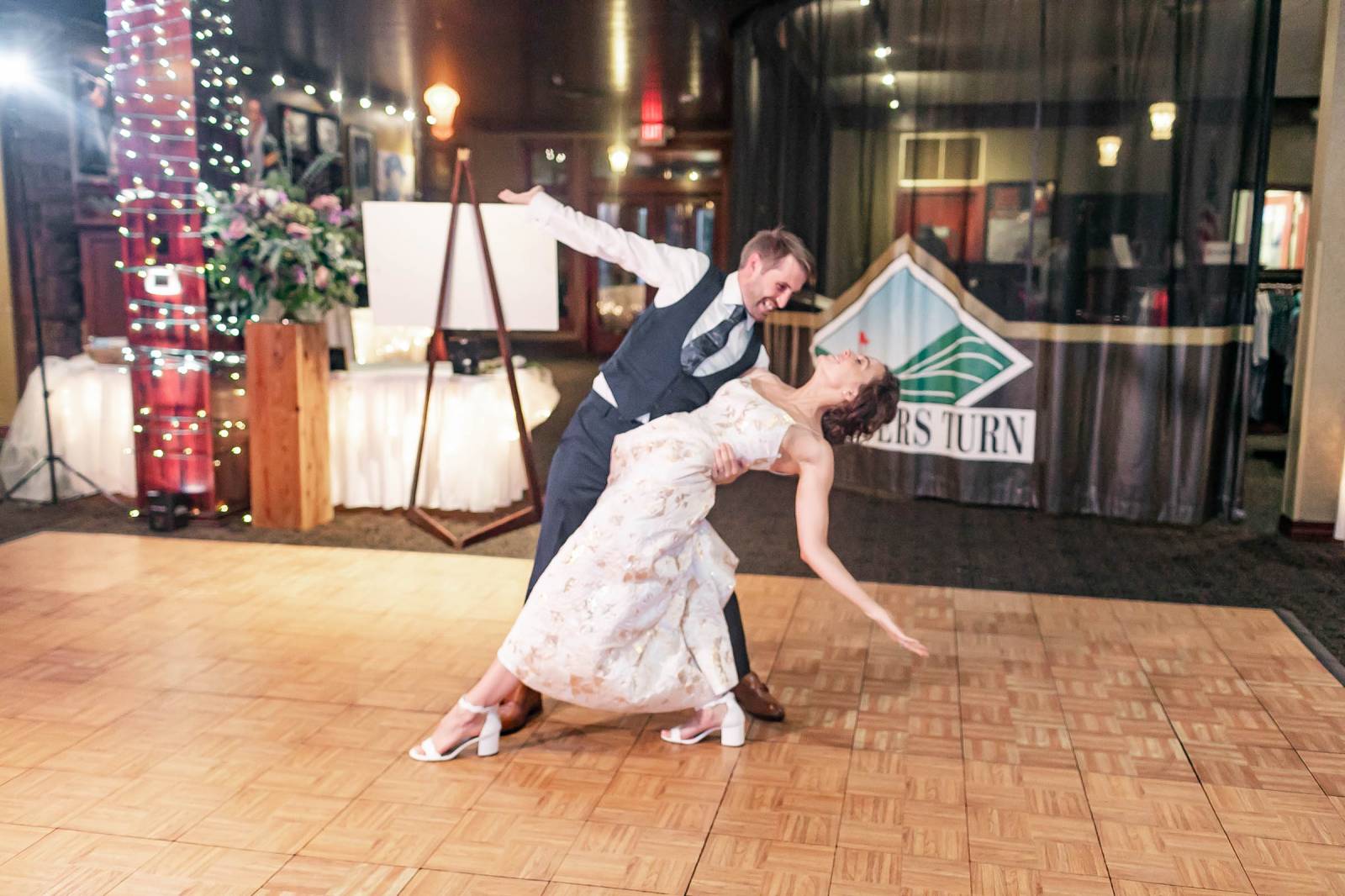 ANY WEDDING PLANNING REGRETS OR SOMETHING YOU WOULD DO DIFFERENTLY? There are little things now that we reflect on how we've grown and could do better just one year out, but the frustrations, naivete are all a part of the experience. It's the elements of not being an expert that makes weddings so personal.
IS THERE ANY ADVICE YOU'D GIVE TO OTHER COUPLES PLANNING THEIR WEDDING? Plan together; this is a group effort and should be fun! Assign specific vendor tasks to each other to take point on but help each other and be forgiving - this is a lot. Find the things to splurge on and things you have a hard budget for. Photos last forever, so we invested in a good photographer and couldn't be happier we did. We also love paper, so having elaborate invites that instantly set the mood of our wedding was something we that was important. On the other hand, Shoes weren't super important to us, so we both chose comfort over style and saved on the budget. We grew our own wedding flowers for the ceremony, which literally took all summer and a few sunburns, but we saved on flowers there and splurged on professional flowers at the reception.
Be prepared for things to happen. We initially lost our wedding venue and cake vendor and thought what could be worse? Then COVID-19 hit, and we readjusted our plans again. So be flexible, but know the wedding community is small, and there are resources and amazing vendors out there willing to help.
Lastly, it must be said, but this is your day. Do what makes you happy and get ready for a lot of opinions to come your way. Weddings can bring the "weird" out in people, but as long as you surround yourself with the people who love and support you, you'll make your day a timeless memory.