With beautiful roses, lush greenery of succulents, dusty miller, and eucalyptus from Hy-Vee, bridesmaids in soft blush hues, and the couple's two dogs escorted down the aisle, you know this Madison farm wedding is going to be an affair to remember. Filled with vintage details, like antique whiskey barrels from A La Crate, a vintage couch, as well as handmade vintage teacup escort cards with succulents. The bride and groom decided to forgo traditional glass clinking at dinner and did "kiss for a cause"- taking donations for a dog rescue the groom's mom fosters for! See all the pretty details below all captured by Chris Hershman Visual Art and don't forget to take a peek (and grab a tissue) at the beautiful wedding film at the bottom.
WEDDING DATE: 10/7/2017
HOW DID YOU MEET? Almost five years ago, we both randomly found ourselves on a week-long, free subscription to Match.com. I was the first to "like" Tyler's photo and after a ton of emails and texts, we decided to meet up for our first real date. We met at Starbucks and ended up talking to each other for nearly five hours. We have been together ever since.
TELL US ABOUT YOUR PROPOSAL: I always said I didn't want to know about the proposal, didn't want to know when it was coming, and I didn't want to have anything to do with picking out the ring; I wanted to be truly surprised. Last fall, we made plans one afternoon to walk around downtown Madison; an activity we like to do, so I wasn't thrown off. When the day came though, I had wanted to stay late at work and didn't want to go downtown.

Finally, I caved and I'm very glad I did because as we turned the corner to go to the restaurant (that Tyler conveniently suggested), the words "Sara, will you marry me?" were up on the Majestic's Marquee. At first, I was completely oblivious and was more concerned about taking the "wrong way" to the restaurant... but once I saw it, I just could not believe it was happening! Tyler had planned to have our friend, Chris Hershman, who is a photographer, hiding out to get photos and he truly captured the moment perfectly. The photos are amazing and we even got to take a little impromptu photo shoot around Madison's capital on the most perfect fall day, which we ended up using as our engagement photos (Chris is also the photographer behind all of our amazing wedding photos).

I found out later that there was so much more planning involved in the proposal. Tyler even planned the day out so we could get married the following year on the same day (which we did) so it really did work out perfectly, despite some hiccups. I truly could not have imagined a more perfect proposal and one of my favorite parts (since it was a surprise to everyone but my parents and brother) was getting to call and tell everyone that we were engaged. Overall, I think Tyler really set the bar high as far as proposals go.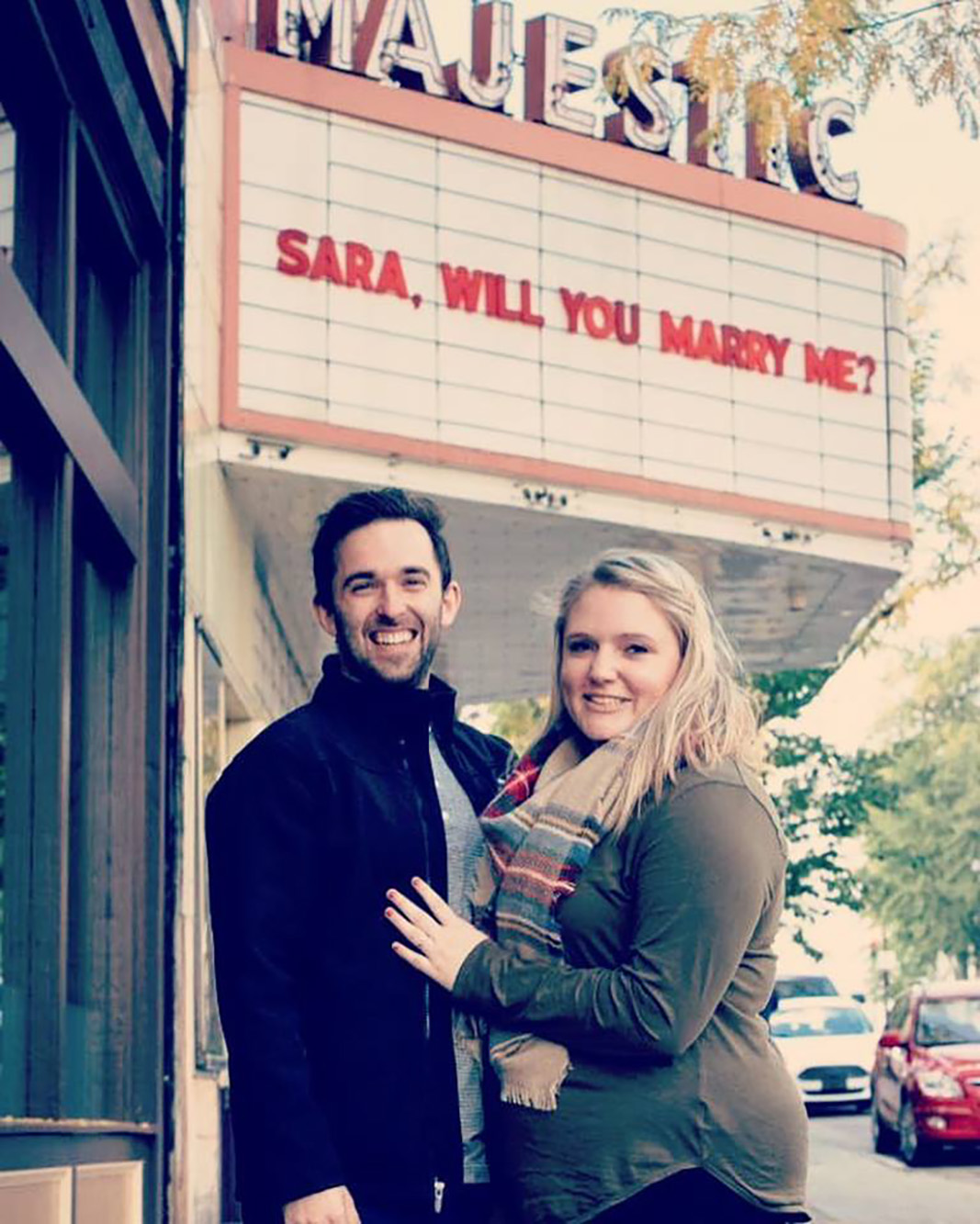 TELL US ABOUT YOUR DRESS: I went into all my bridal appointments with two things I wanted in a wedding dress; I didn't want it to be strapless and I didn't want a train. Needless to say, I ended up with a strapless dress with a beautiful, long, lace trimmed train. I had gone to two other places before my appointment at Julie's Bridal in Monroe, WI. The other places were nice and there were dresses I liked at both of them, but nothing that really jumped out at me. At Julie's Bridal, my dress was the first one I tried on and I knew it was perfect. It had so much detail on the top with lace, pearls, and bling and the A-line skirt and train had so many layers of tulle and lace details that gave it a vintage look. It was also so lightweight and comfortable compared to all the other dresses I tried on. It was perfect.
WHAT WAS YOUR WEDDING COLOR PALETTE? Light gray, petal pink, and sage, with pops of plum and charcoal.
DESCRIBE YOUR WEDDING FLOWERS: All of the flowers were very neutral with pops of color. The bouquets had roses for the color and were paired with greenery (succulents, dusty miller, and eucalyptus). We had flowers for the ceremony which were large arrangements of the lush greenery. Our centerpiece flowers were simple baby's breath, which fit the vintage vibe perfectly.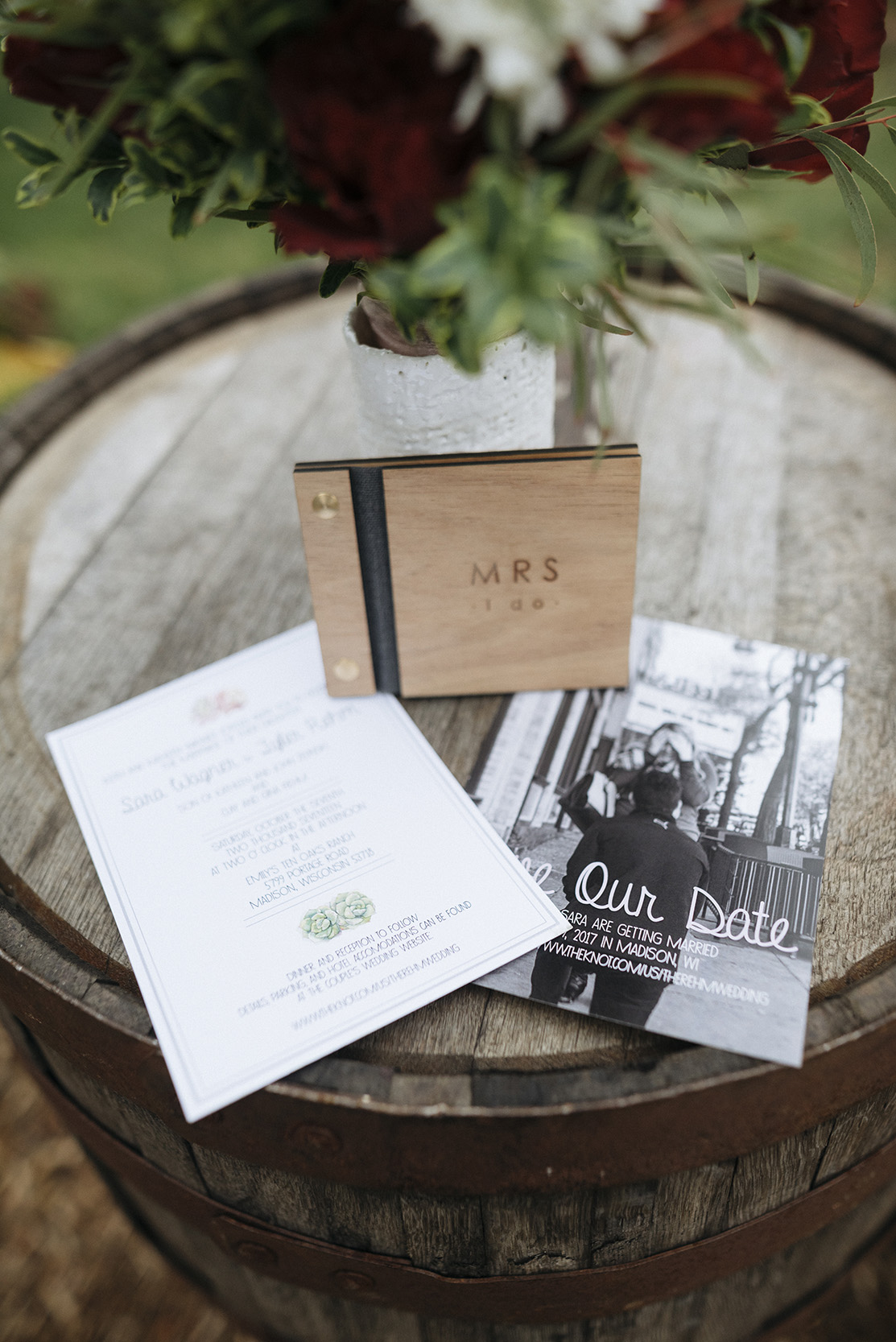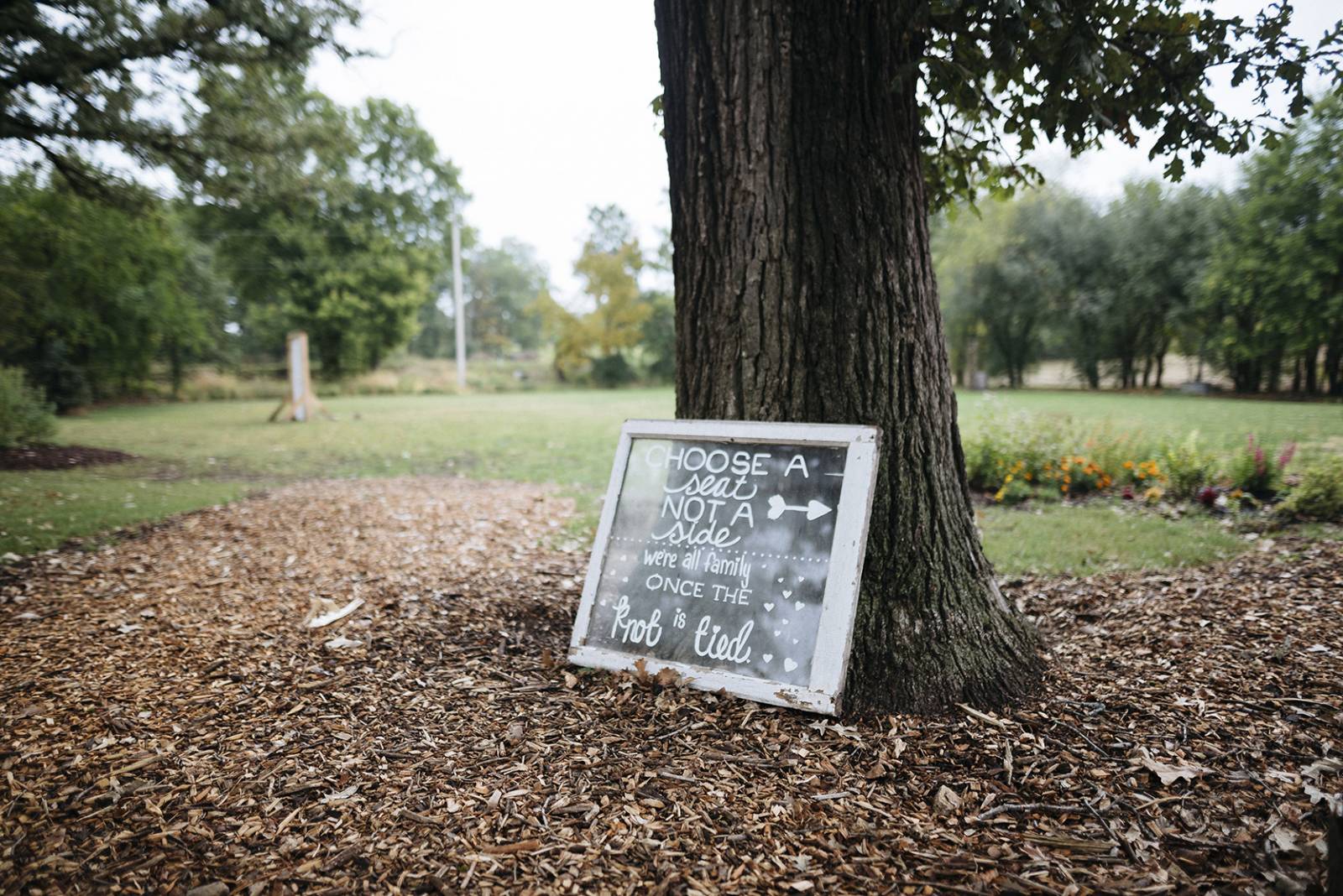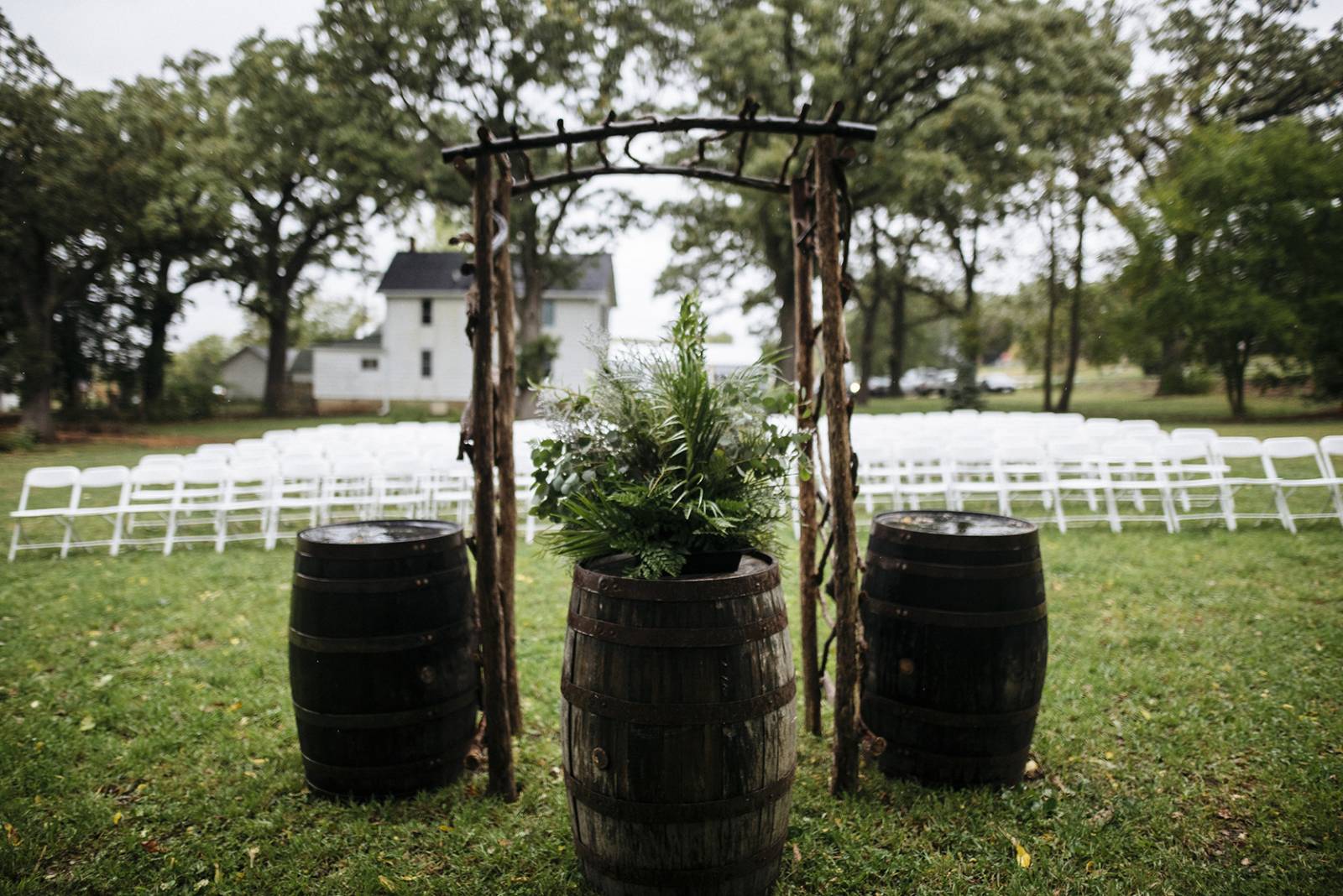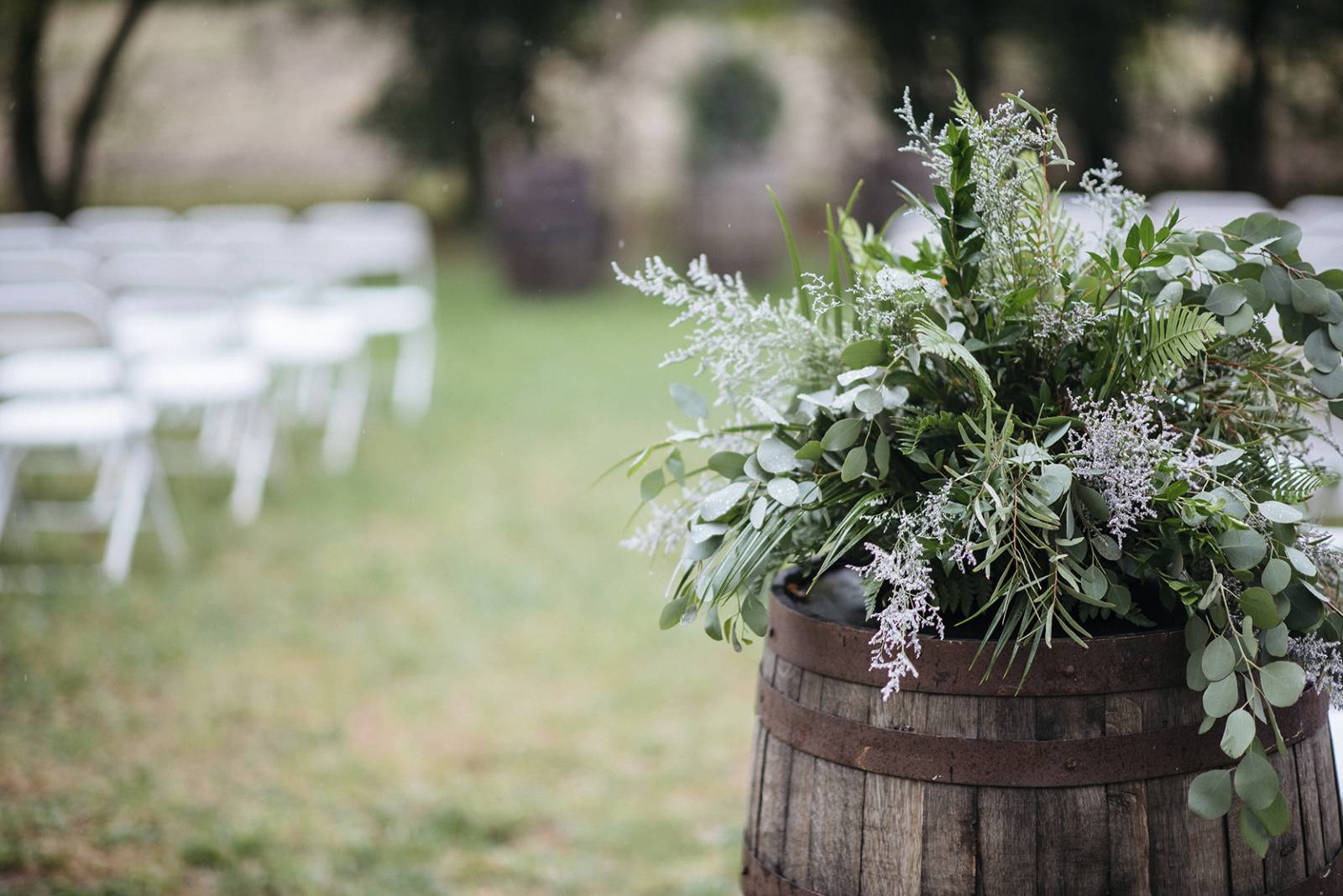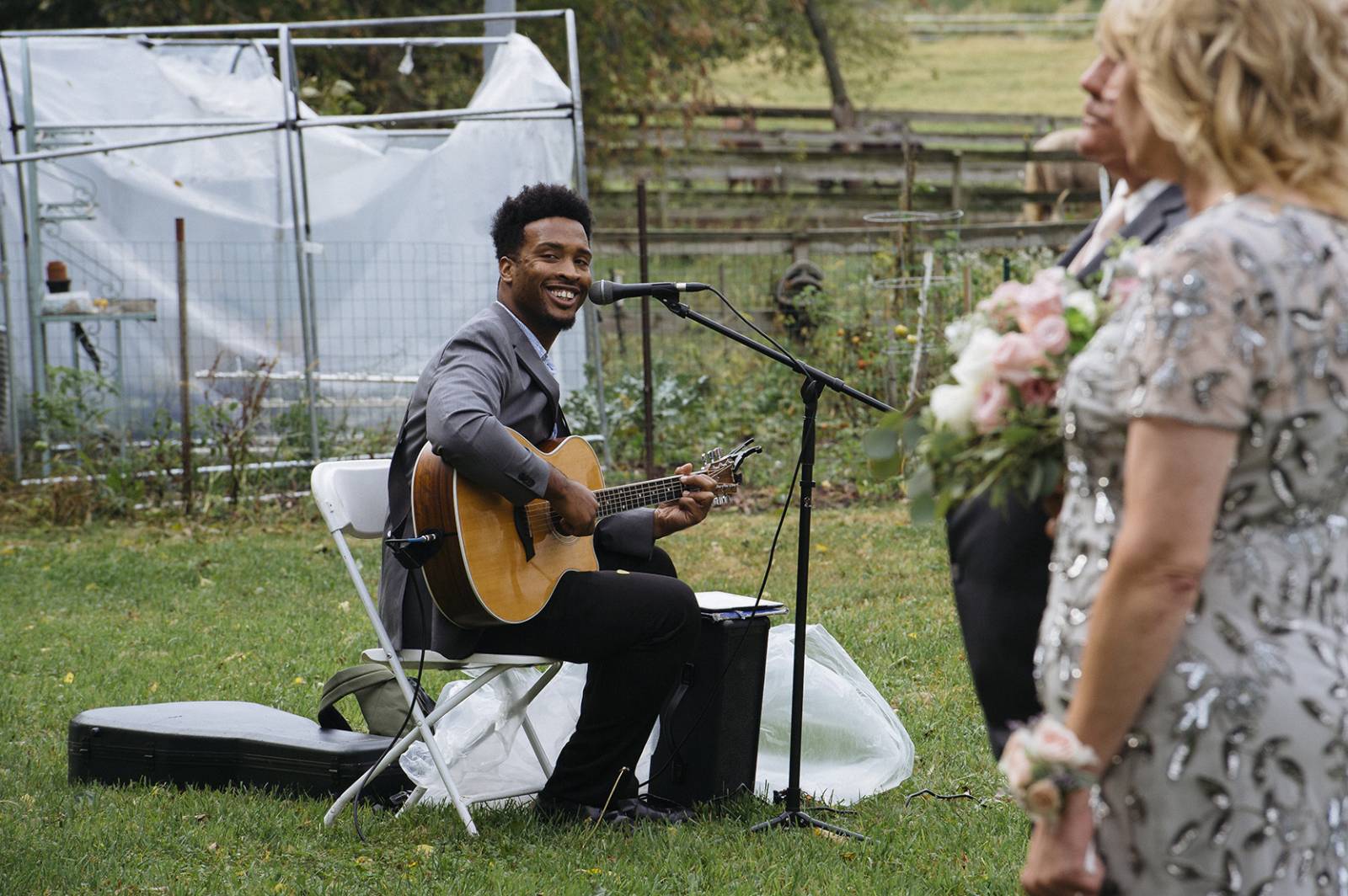 WERE THERE ANY PERSONAL TOUCHES OR DIY ELEMENTS? Tyler and I really wanted to make our wedding a reflection of the two of us, which meant we ended up doing a lot of the decorations and favors ourselves. We also had a lot of help from our family and friends; My dad made a "polaroid" wood frame with our names and wedding date on the bottom of it for people to take photos in. My mom, my maid of honor, and I made mini tissue boxes to hand out at the ceremony, and my uncle found us a beautiful vintage settee couch for us to have to take photos on. I had everyone in my family collecting vintage teacups so we could use them for our seating chart: each guest got a teacup with a succulent in it and a tag with their name and table number.

We also forwent traditional glass clinking at dinner and did "kiss for a cause"- taking donations for a dog rescue my mother-in-law fosters for. Our two dogs were also a part of the ceremony, walking down with our flower girl and ring bearer. Tyler and I had a lot of projects we wanted to do ourselves too. I designed and printed our save the dates, invites, and table numbers. For our centerpieces, I used wood slabs from a tree that we had to take down in our backyard. Once we cut the slabs, I wood burned the table numbers into each of them. We wanted to do something really special for our wedding favors and since Tyler is a booking agent and music is a huge part of our lives, so we made "soundtracks to our day", which included some of our wedding music and our favorite love songs. We burned each one ourselves and I hand wrote on all of them. One of our good friends also sang at our ceremony and performed our first dance song which really meant a lot to us as well. We really tried to focus on the details and although it was a lot of work, we got a lot of compliments on all the personal touches.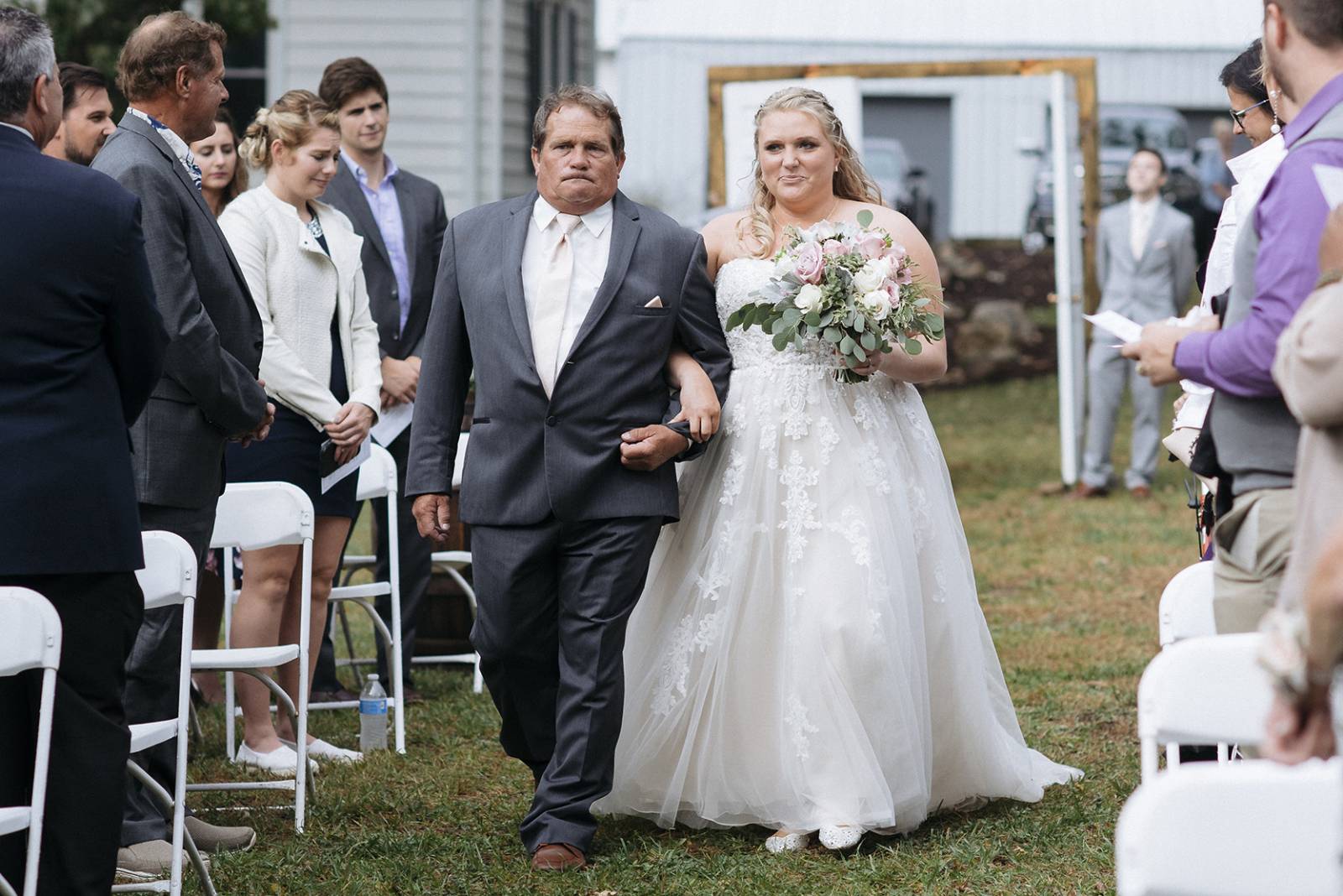 WHAT WAS YOUR FAVORITE MOMENT FROM YOUR WEDDING? Since we did not do a "first look" or anything like that the day of the wedding, the favorite moment for both of us was when I walked down the aisle. We were so excited to get married and you wait for that moment for so long and it was absolutely perfect.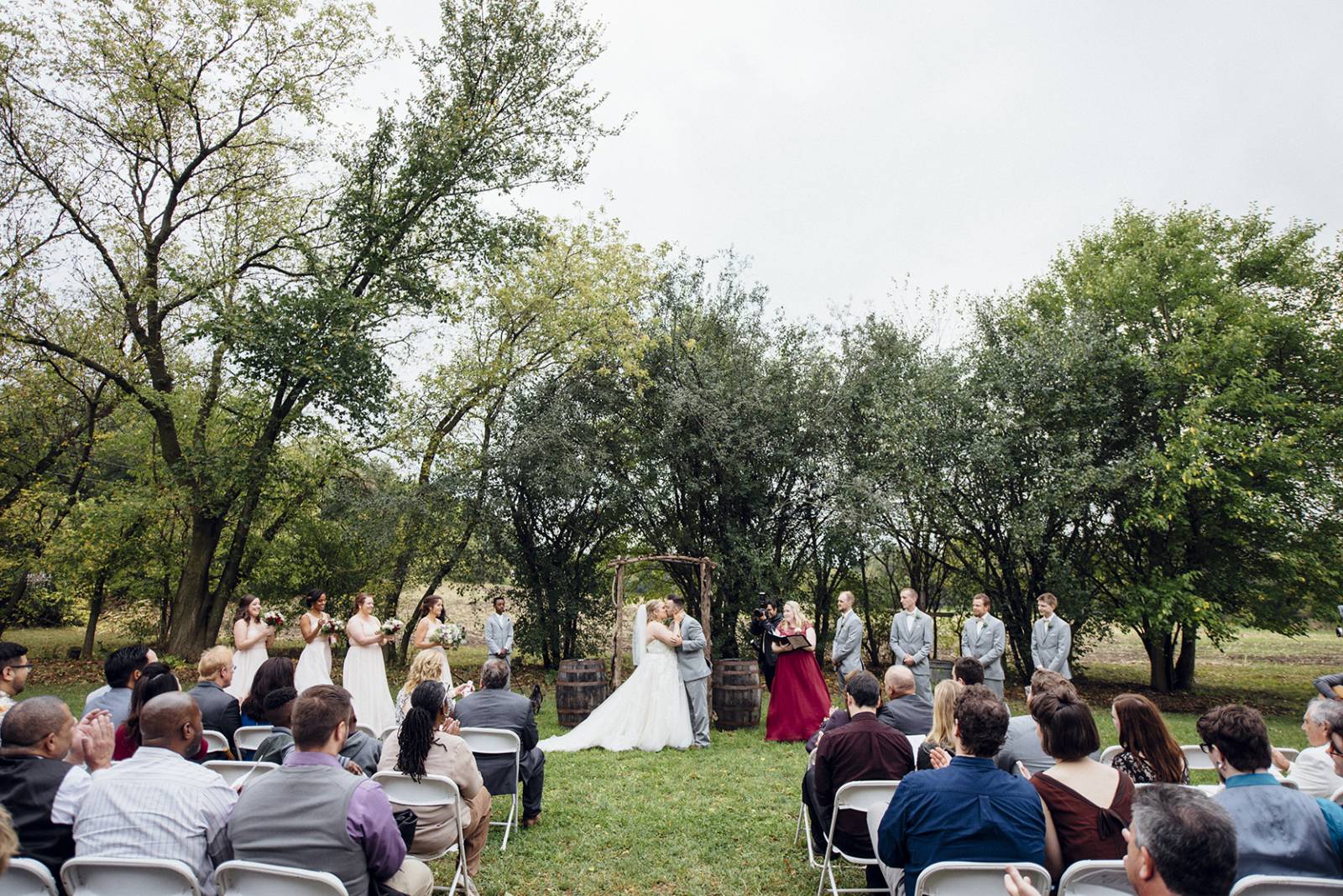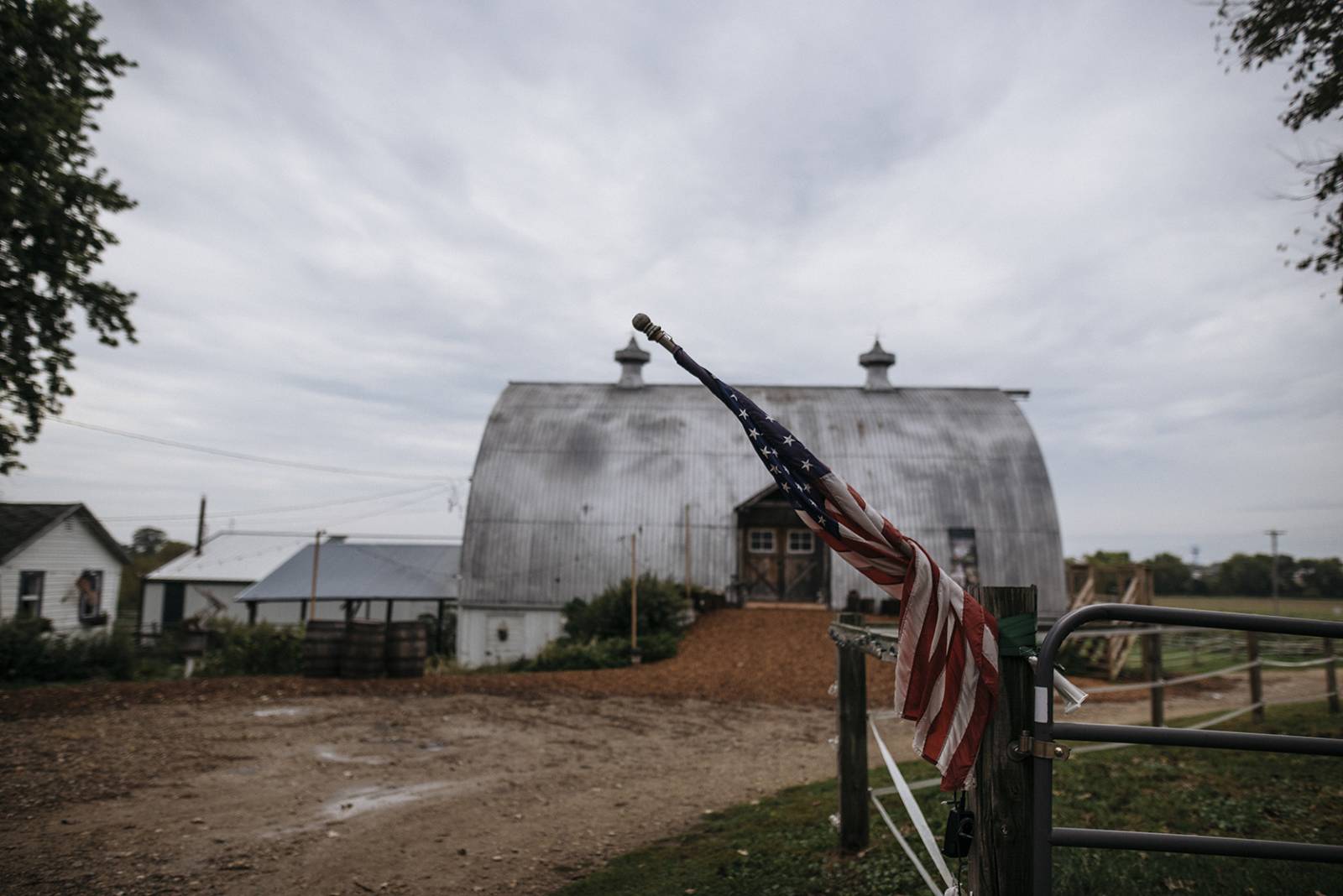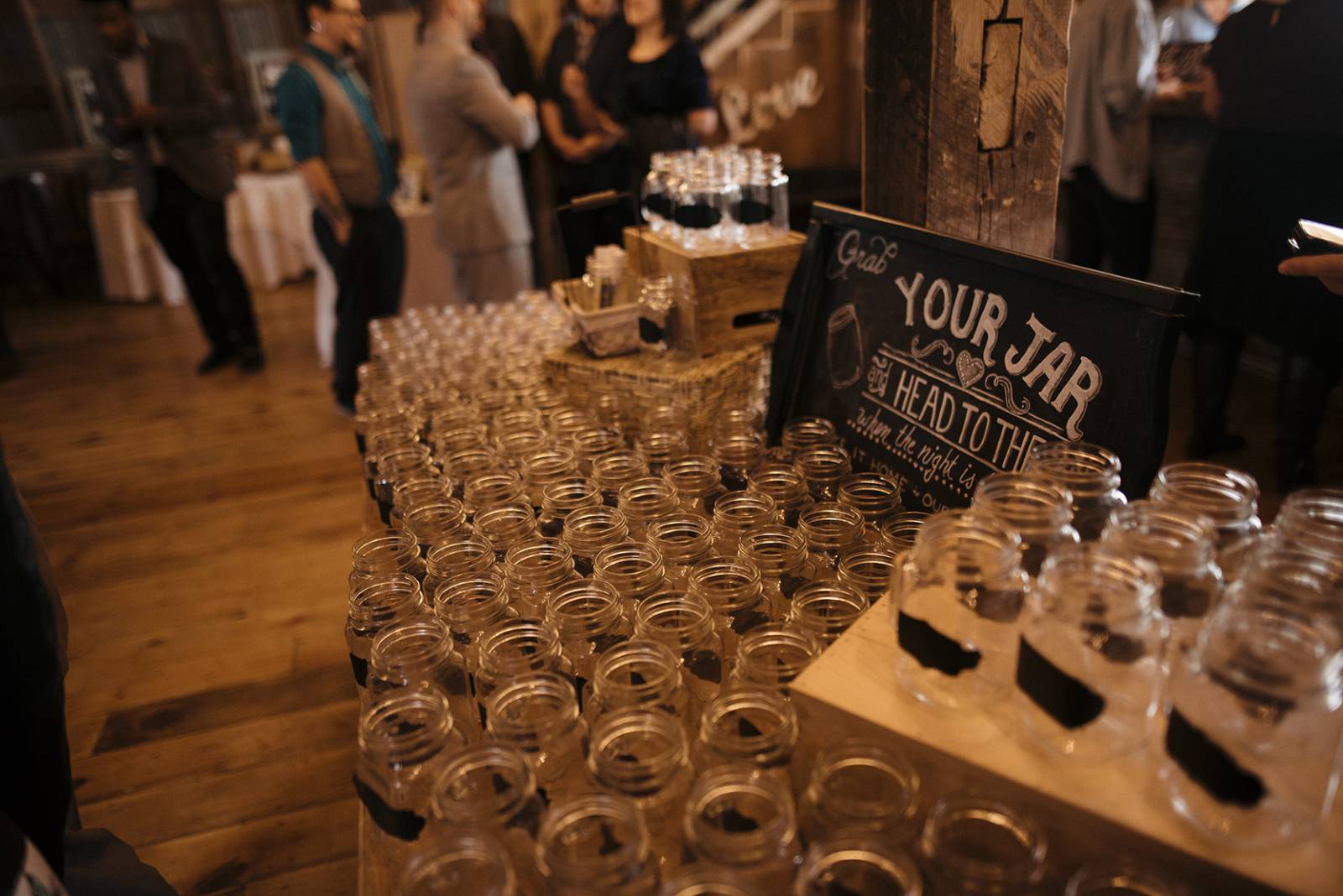 DID YOU USE ANY SPECIALTY CHAIRS, TABLES, LINENS, OR GLASSWARE? All of the chairs, linens, and place setting used for dinner were provided by the venue. The place settings were all a vintage mix of china. We purchased mason jars for all of our guests for the glassware. My parents did buy Tyler and I personalized champagne flutes, a cake knife, and server that were absolutely beautiful. We also purchased personalized "I do, me too" forks for our cake cutting.