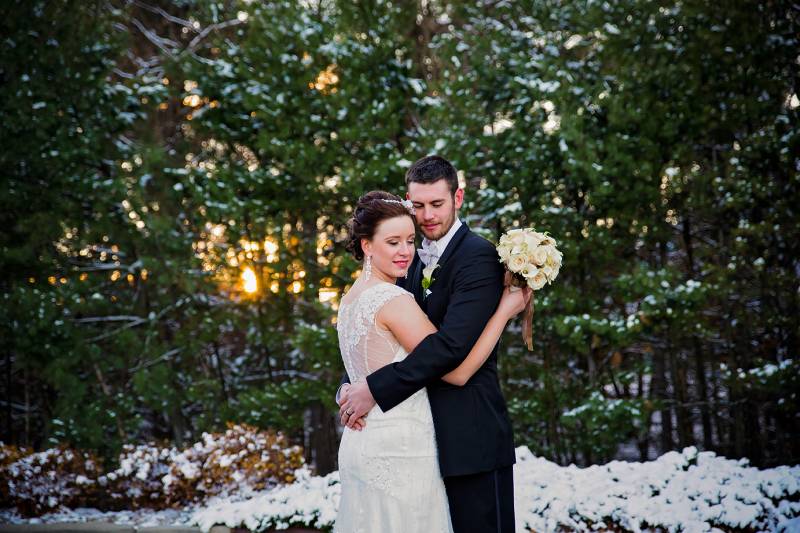 A winter wedding has never looked so appealing with its beautiful russet tones and textures. And when a crisp blanket of fresh snow covers the glistening trees in the woods at Wild Rock Golf Club in the Wisconsin Dells, well, it makes for the most stunning canvas for Erin + Tyler's natural and rustic wedding celebration. These gorgeous photos captured by LK Bridal Studio certainly showcase the absolute beauty of the winter season here in Wisconsin and how it definitely should be an option when considering what season to tie the knot. I'm completely loving the varying shades of the bridesmaid dresses in Espresso, Cappuccino, and Rum Pink from Brides N' Belles that just sets the tone so perfectly.
WEDDING DATE: 11/21/16
HOW DID YOU MEET? Tyler and I met when we were very young and in high school. I was a freshman and he was a junior who just recently moved to the area. We chose our wedding date specifically because it was also the 7-year anniversary of our very first date!!
HOW DID YOU KNOW HE WAS "THE ONE?" Tyler and I have been together for so long, this is a little difficult to answer. We basically grew up together so there were many different stages in our relationship. With each stage came a different reason I knew he was "the one" so it continued to evolve over the years along with our relationship.
TELL US ABOUT YOUR PROPOSAL: Tyler purchased an iPad for me as a Christmas gift, but before wrapping it, he used it to take a VERY special picture. It was our son Parker standing in front of the lighted Christmas tree holding a sign saying… "Will You Marry Daddy?". When I started up the iPad for the first time, that picture was the screen's background. I don't cry easily but that made me sob.